Home

newsitems
newsitems
Italian People vote new Right's Unity 1st, +grow Grillo's "5 Stars". Left Falls Down. = Quid Now ?
Sunday, 04 March 2018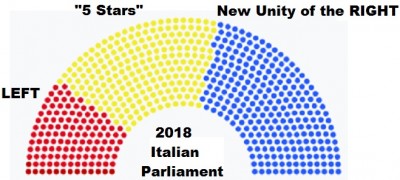 *Strasbourg/Angelo Marcopolo/(partly UpDated)/- The Italian Voters gave a crystal-clear 1st Place to a New Unity of the Right, (where Salvini's ""Lega" Rightists get an UnExpected Boost, closely followed by a Solid Berlusconi's "Forza Italia"-ChristianDemocrats/EPP, with smaller but steady Party "Brothers of Italy"), and they also Strengthened Beppe Grillo's "5 Stars" atypical Movement, while, on the Contrary, all the Left (most of which was in the Government until now) Fell tragically Down, in these long-awaited National Parliamentary Elections of March 2018.
In particular, the New Unity of the Right gets 265 MPs (125 for Salvini's "Lega", 104 for Berlusconi's "Forza Italia", 32 for "Brothers of Italy", and 4 for "We, With Italy"), while Beppe Grillo's "5 Stars" Movement gets 227 MPs.


On the Contrary, Left's Coalition gets Only 122 MPs, while New Leftist Party "Free+Equal" gets 14 MPs.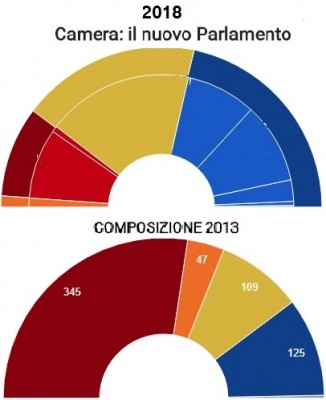 >>> People's Will for Change became Obvious Today, since Italian Voters gave a very Large Absolute Majority to various mainly "Anti-Establishment" and/or "Critical" Parties (Unity of the Right and "5 Stars") on 2018, while they Reduced the Out-Going Center-Left into a Small Portion, marking a Spectacular "U-Turn" to the Contrary of what had been voted in the Past, Back on 2013, (Compare respective Results' Graphics).
Indeed, Compared to the Past, the Right Wins +140 More MPs, and "5 Stars" Win +119 More MPs than Before, while the Left's Coalition Lost -233 MPs Less than what it had in the Past ! 

=> But, since Noone gets Alone a net Majority of MPs, among those 2 Winners of the 2018 Elections in Italy's Parliament and Senate, (See Infra), the Real Question obviously is How to make those 2 apparently Different "Anti-Establishment" Political Blocks, a New Unity of the Right, headed by Salvini's "Lega", and Beppe Grillo's "5 Stars" Movement (now Headed by the Young Di Maio), eventually broker an Innovative kind of Coalition, in order to Govern Together, for the 1st Time.

If they Succeed,  they are due to have a very Large Super-Majority of about 492 MPs, (out of a Total of 630).



Otherwise, anOther Election risks to become unavoidable, sooner or later. WithOut Guarantee, however, that it might really find a workable Solution to this UnPrecedented but Intriguing Political "Puzzle"...

--------------------

The Right would Need, in order to form an Absolute Majority New Government (i.e. 316 MPs), about 50 more MPs, while the "5 Stars" woule need almost the Double.

"Liga"'s Head Salvini had reportedly met the New US President Don Trump already as Early as since April 2016, (i.e. even Before he Won the Conservative Party's primary votes in order to become the Official GOP's Candidate, as he did, Later, on July 2016). And White House's former "Chief Strategist", Steven Bannon, was, reportedly, Now in Italy during this March 2018 Election).

Salvini, a MEP in EU Parliament in Strasbourg, initialy was Member of the "Europe of Freedom and Direct Democracy" Group (EFDD), where the "5 Stars" Movement still is an Important partner.

Later he became "Independent", and Recently joined the New, "Europe of Freedom and Nations" (EFN) Group, Together with France's Marine Le Pen and Netherland's Geert Wilders, as well as Austria's Heinz-Christian Strache, who Recently became vice-Prime Minister in the New Government headed by ChristianDemocrat/EPP Sebastien Kurz.

In addition to his Electoral Alliance now with former Long-Time Prime Minister Silvio Berluconi's "Forza Italia", (a ChristianDemocrat/EPP), Salvini has also, reportedly, said that the Mainstream ChristianDemocrat/EPP movement can be a Good Partner, also because of the existence of some Heads of State/Government like Hungary's Victor Orban.

Silvio Berlusconi, (who had been Excluded from Participating as a Candidate in these Election by a Controversial Measure of the Out-Going Center-Left, currently Attacked by 2 Legal Complaints at the ECHR in Strasbourg : See ...), revendicated a Role of "Guide" and "Guarantor of the Cohesion" of the Center-Right Coalition, (where a notable part is anOther Rightist Party of "the Italian Brothers", headed by Giorgia Meloni, who Confirmed her Endorsement of Salvini).

Berlusconi, a Frequent Participant to ChristianDemocrat/EPP Head of State/Government Summits in Brussels, would be a Useful Ally for a Wider Acceptance of a probable New Italian Government of the Center-Right with Salvini, on the 22nd of March, i.e. at the Eve of the "Deadline" of 24-25 March for Choices due to be officially made in Rome.

------------------------------

The Frontrunner of the Center-Right Coalition, Matteo Salvini, reportedly declared to be open for a Governemental Cooperation "based on a Program", while the Founder and Historic Leader of the "5 Stars" Movement, Beppe Grillo, (currently "Guarantor" of the Party, Headed by the Young Luigi di Maio), reportedly stressed the Need to Focus, Now, on the main "Issues", and a "List of 10 Policy Points" for a New Government.
Di Maio reportedly said to be Open for Any interesting Government Coalition Deals, while Beppe Grillo evoked a "Mix" of Policies, partly of the Center, partly of the Right and/or of ChristianDemocrats, partly of the Left, as a kind of possible Formula in order to "Adapt" to the current Political Context.

-----------------

According to some Polls, the Number 1 Preference of Italians is, naturally, a "5-Stars" - "Center-RIGHT" Government, (i.e. among the 2 Winners), Followed, as a 2nd Choice, by a Shift of "5 Stars" towards the ailing "Center-LEFT", while a 3rd Possibility, that of all or part of the Right adding the Left for a kind of Italy-made "GroKo", arrives 3rd, and even Lower...

But it's, reportedly, also a Majority of 51% who Feel probable that New Elections might become inevitable, sooner of later.

-------------------------------------------------------

However, Despite obvious Differences on Approaching Politics, the "Lega" and the "5 Stars" have several Important Points in Common :

- They Both share a Strong Criticism of the Establishment, (Politicians and Medias alike). Something which has contributed to make them Popular, since it meets most Citizens' current Feelings.

- In addition, they both underline their Willingness to "Be Among the People", as Salvini stressed Today, and/or to "Put the People in front of Real Choices", as Beppe Grillo recalled in a Written Statement, just After the Vote, in his Famous Website.

- For these Reasons, they were Both led to make a  very Large Use of various New Medias at the Internet, (that Salvini reportedly "Thanked" Today, while Beppe Grillo's "5 Stars" Movement has notoriously Valorized also as a Decision-Making process' Tool of great Importance for Citizens' Participation).

- Both "Lega" and "5 Stars" have been Members of the Same Political Group in EU Parliament in Strasbourg, (that of the Atypical "Europe of Freedom and Direct Democracy : EFDD", Headed by British MEP Nigel Farage). Salvini, as MEP, was Initially there himself, (before leaving for the new EFN Group : Comp. Supra), while Grillo negotiated the Entry of "5 Stars" as a Major Partner.

- None among their Atypical Leaders canNot be really taxed as a Hardliner of the "Far Right", Nor as being at the"Left": F.ex., Salvini, nowadays Head of the Rightist Party "Lega", had been, initially, Member of a "Communist Party of Padania" (Italy's Northern Area), while Di Majo of the "5 Stars" is son of a Father reportedly former Member of a "Neo-Fascist" Party in the Past. As for Beppe Grillo, he had been reportedly Harassed and almost Destroyed in his Professional Career by the Hateful Hostility of an important former Long-Time Foreign Minister from the "Socialist" Party in the Past, (main Cause of his Original Political Revolt, which finally proved Successfull), so that he normally could Not Forget all that Today...

+ This seems Related also to the Fact that Many among the Fans of Both these 2 Political Parties seem to be mainly Poor People, or Middle-Class People Threatened by Impoverishment, who Search a Political Refuge in various Atypical, Anti-Establishment Political Parties, after they have been practically Abandoned by the Establishment. This becomes Evident also at the MAP of Today's Electoral Results in Italy, which reveals that, f.ex., All the Southern Areas of the Country have Now been Won mainly by the "5 Stars" Movement, added also to the Center-Right for some among them, while, on the Contrary, Noone was Left, there, to the "Socialists" of the Center Left... Instead, the Only Areas where the Left won in these Elections were a Few Spots located manly at the Center or the North of the Country, Traditionally more Rich, (See relevant MAP).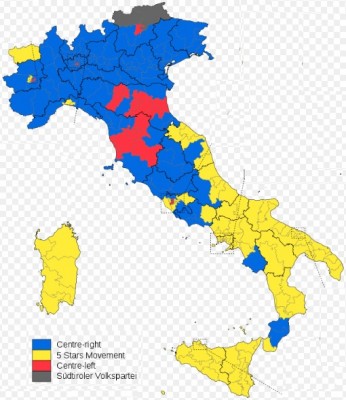 ______________

- On the Substance of main Topical Issues, Most Observers, (including even UK's Mainstream "BBC" NewsMedia, but also the President of EU Parliament's "Freedom and Direct Democracy" Group, British MEP Nigel Farage : Comp. Supra, etc), have noted the Fact that Recent Mass Irregular Migration has become an Important Problem also for most Italian People, (particularly Since the 2015/2016 UnPrecedented "Tsunami" of More than 1,5 MIllions Mass Asylum Seekers/Irregular Migrants, mainly through Turkey, but also via Libya etc., partly Provoked by Deadly Islamist Terrorist cowards Targetting Civilian People, as mainly ISIS in Syria/Iraq, linked to Boko Haram in SubSaharian Africa, and various "Al-Queda"-like Armed Gangs).

+ The Latest Revelations about the Horrible Torture, Killing and other InHuman, Bestial Atrocities (such as f.ex. Taking the Skin out of the Body, and Afterwards Cutting it down to Pieces, etc) inflicted to a Young Italian Girl, Pamela Mastropietro, by 2 Nigerian Immigrants, which Shocked the National and European Press, certainly made Popular Anger and Frustration grow even more.

++ But, in Addition to the Right's (and particularly of Savini's "Lega" Rightists) notorious Reluctance to Admit even More Mass Irregular Migration Waves in Italy, (which have already provoked notorious Problems also to Neighbouring EU Member Countries Austria and France, etc, certain times even pushed to Threaten to more or less "Close" at least some Key parts of their Borders to Italy in reaction, etc), it's also  "5 Stars" Movement's new Head, Di Maio's notorious Criticism since 2017 of what he Denounced as ... "SEA-TAXI Service" (sic !), practically Bringing Migrants to Europe, instead of Protecting EU's External Borders, Calling for "an Immediate Stop" especially of some NGO's operating several Controversial "Rescue Ships" off Libya, which gave a Similar Tone Nowadays.

Something which obviously Reminds (mutatis-mutandis) the ..."Jet"-Propulsion, Luxury Sea Cruise Big Boats initialy Hired in order to Transport Mass Asylum Seekers/Irregular Migrants, Suddenly arriving from Turkey since mid-August 2015, through the Greek Islands of the Aegean Sea, before they board, at Pireus SeaPort, special Brand New Buses Ready to Bring them immediately, free of cost, to the Railway Station, from which they Travelled by Train up to the Northern Greek Borders in front of FUROM, where Free "Wifi", Food, Shelter, Health Care, Maps, Information, UN + NGO Staff, etc., awaited them, so that, when they Managed to get into FYROM, they again Boarded Trains bringing them, Through Serbia and Croatia (by a kind of "Guided Tours"), etc., up to Hungary and Austria, in order to Reach mainly Germany (or Sweden), etc. (See, among others, also, f.ex.: http://www.eurofora.net/newsflashes/news/euparliamentandjetsetirregularmasdmigrationfromtyrkey.html + ..., etc).

So that, when a Polish Officer from EU's "FrontEx", at First (on Summer 2015), Dared use his Gun to Face an Armed Turkish Smuggler, in order to Defend EU's External Borders from Systematicaly Organized Illegal Mass Intrusions, he was reportedly ...fiercely Criticized and Pushed Aside (instead of being Thanked) ! Thus, when, Recently, during December 2017 Christmas and/or at New Year's Eve, anOther CoastGuards' Boat found again almost a Hundrent of more Mass Asylum Seekers/Irregular Migrants still Arriving from Turkey, by TressPassing EU's External Borders, into EU Member Greece, they Simply Transported them to the Nearest Greek (i.e. EU) Island, where they, naturally, joined the Collective Festivities for the New Year... I.e. a Phenomenon obviously Similar, if not Identical, with that which was Denounced, by "5 Stars" current Chief Di Mayo, as a kind of  ... "Sea Taxi", that must "Stop" (Comp. Supra).

Moreover, the Historic Founder (and Nowadays "Guarantor") of the "5 Stars" Movement, Beppe Grillo, has also, reportedly, asked  to "Review" EU's Open Borders Policy under the Shengen agreements, after the 2016 Deadly Islamist Terrorist Attack by an ISIS' coward Lorry Driver against Civilian People at Berlin's Christmas Market.

------------------------

- AnOther Topical, and, in Fact, quite Important (even if Traditionaly considered Secondary) Issue, is that of Bio-Ethics, where at least some Convegences, on certain Key-Points, between the Right and "5 Stars", canNot be Excluded :

- F.ex., concerning the recently "Hot" Issue (f.ex. in France, etc) of Children submitted to Homosexuals' Power under Pretext of "Adoption", in Addition to the Right's usual Social Conservatism on Family and Childrens' Law and Values, even the "5 Stars" Movement's MPs were let Free to Vote in Parliament individually, according to Each one's Personal Views and Feelings on 2016, when the "M5S" decided Not to Back officially a controversialf Proposal to Recognize the StepChild "Adoptions" by Same Sex Civil Partnerships, (etc).

--------------

On Foreign Policy (in Fact Related here, directly or indirectly, at least Partly with Economy, Culture, and even BioEthics, etc), Both the Right and "5 Stars" are quite Favorable to Stopping Controversial "Sanctions" against Russia, and for Developping Good Relations with Moscow :

This has been reported, indeed, not only for Berlusconi, but also for Salvini, and even "5 Stars" Movement's Top Politician Di Stefano, as well as Beppe Grillo himself, (etc).

Therefore, at a Moment when Both the EU and the USA seem to Wonder whether they should Revise their Post-2014 stance vis a vis Cooperation with Russia, (and while even 2019 Ukranian Election approaches, Parallel to forthcoming Moves to Bring Peace in Syria, etc, as well as to Boost Economy), this particular Point might, eventually, play a Bigger Role than usually expected, Both in the Italian and in all EU's Politics in the foreseeable Future.
-----
+Moreover, concerning also the New USA President Don Trump, both the New Unity of the Right and the "5 Stars" Movement's Leaders have reportedly expressed an Interest and often even a Sympathy, at least with some among his main Political characteristics.
It's not by pure chance that Trump's former Campaign Manager and f. White House Strategist, Steve Bannon, was personally visiting Italy during this latest Electoral period.
 Even more Important : Certain Key Original Aspects of Don Trump's atypical policies, - particularly Visible at his Landmark "Nomination" Speeche at Ohio, Summer 2016 (See : ...), and his 1st "State of the Union" Speech in US Congress, at the Beginning of 2018 (See: ..., etc) -  may also Help Find several concrete Converging Points, in Fact Shared Both by the New Unity of the Right and the "5 Stars" Movement in Italy : F.ex., the Criticism of Establishment's Traditional Medias and the Preference for New Internet Tools closer to the People ; Mass Migration Issues ; a Stronger Fight against Deadly Islamist Terrorism, particularly of ISIS' cowards Targetting Civilian People, (be it versus Boko Haram in Africa, from Nigeria up to Libya, or v ISIL itself in Syria, etc); Will for Better Relations with Russia ; preference for Peace instead of involvement at long Wars abroad ; claims to Help also Impoverished People, Reduce unecessary Public Spending for Bureaucracy etc. and Boost real Economy ; (etc).
----------------
++ In Addition, Salvini was, Recently, more Critical than others (asking for Stronger Counter-Measures) against Turkey's latest GunBoats' Bullying of an Italian Oil/Gas Search Ship at EU Member Cyprus' Exclusive Economic Zone (EEZ : See ..., etc), while Beppe Grillo's "5 Stars" MEPs, inside EU Parliament, have also been Often very Vocal Critics of Turkish Authorities' massive Oppression against various Dissidents, as well as versus Ankara's Controversial and UnPopular EU bid.                                                                                                                                                                                      

------------------------------------------

As far as EU's proper Aspects are concerned, roughly speaking, Both the new Unity of the Right and "5 Stars" had notoriously Criticized several Key EU Policies in the Past, (and still do, at least Partly).

But, more Recently, (and even More around these 2018 Election), in one way or another, Both have started to Indicate that, (at least on main Structural EU Issues) they would Try to Find some kind of Compromises and/or would Accomodate themselves with Vital EU Core matters.

At the Right, Berlusconi's Long-Time Experience as former Prime Minister and Links with mainstream ChristianDemocrat/EPP, adds to Salvini's recent Reference to Victor Ortban, Prime Minister of Hungary and ChristianDemocrat/EPP Member himself, (while his participation to Marine Le Pen's new Group in EU Parliament does not exclude that he may follow a Similar Path to that of Austrian Rightist Heinz-Christian Strache, also Member of that Same Group, who Recently Joined the Young Chancelor Sebastian Kurz, a mainstream ChristianDemocrat/EPP, on a "Pro-European" Government Coalition Program, just before Austria Chairs the EU from July 2018, i.e. after Bulgaria, current EU Rotating President, whose Prime Minister Boyko Borisov, has already made a Coalition with his country's Rightists "Patriots", without any problem for the EU).

As for the "5 Stars" Movement, Beppe Grillo's decision to Enter and Remain in Euro-Sceptic and pro-BREXIT Brittish MEP Nigel Farage's Political Group in EU Parliament, of "Freedom and Direct Democracy", should Not push to False and/or Exagerated Impressions :

- Indeed, Grillo has reportedly made also, Recently, a Last-Minute aborted Attempt to Join the ...Liberal Group in EU Parliament, Headed by former Prime Minister of Belgium, Guy Verhofstadt, i.e. one among the notoriously Most Pro-EU Groups !

And his Latest Press Statements, (Symbolic but Locacious), about a Vital Need to Adapt to New Contexts, eventually by Taking a Part of traditional "Right" Policies, and a Part of traduitional "Left" Policies, to Add with something New (etc), obviously indicate a Will to Try to Forge and put into Practice some kind of Original Political Compromises accross all Issues, EU included...

-------------------------

Last, but Not Least, just by Looking at Nowaday's Electoral Results' Map of Italy, as well as on main Issues at stake, Keen Observers can Feel that, most probably, it all boils down to the Fact that a Wide Majority of Italian People, recently Affected by some Controversial Policies of the Establishment, have Desperately Tried to Bring some Change, simply by Voting any important Anti-Establishment Party, be it of the new Unity of the Right, or of the "5 Stars" Movement, so that, in Reality, their Main Aspirations would, logically, Head Towards Similar, if not identical, Political Targets.
It's up to Democracy to succeed to Translate that in Real, effective Political Action.

(../..)


----------------------------------

UN Resolution on Syria CeaseFire Violated by Turkish Invasion killing Damascus Forces+Kurds at Afrin
Saturday, 03 March 2018
*Strasbourg/Angelo Marcopolo/- Shortly before Important CoE's PanEuropean Political Meetings in Paris, where Syria, including the Turkish Military Invasion at its Kurdish Region of Afrin, is due to be discussed, (See: ....), UN Security Council's Unanimous recent Resolution for a Cease-Fire in that Country is Repeatedly Violated by Turkey's Military Invasion, which is more and more Violently Aggressing, Occupying, Bombing, Selling and Killing both pro-Syrian Government Forces and Kurds at the Region of Afrin, despite several Top Political Calls (including by France and the UN) to Respect International Law, (See Infra).

---------------------------------

- The Unanimously Adopted UN SC Resolution, of 24 February 2018, "reaffirms" a "Strong Commitment to the Sovereignity, Independence, Unity and Territorial Integrity of Syria", "recalls the Legal Obligations ... to Cease all Attacks against Civilians", and clearly "Demands that All parties Cease Hostilities, withOut Delay", "for at least 30 consecutive Days, Throughout Syria" (1st Article).

--------------------------------------------------------------------------------
+ UN SC Resolution also asks for "Negotiations" between the "Parties" involved in the Syrian Conflicts, and this Includes practically Anyone with the Sole Exception of ISIL, Al-Queda and other Terrorist Organisations officially Declared by the UNO as such.

I.e. something which Excludes an important Part of Eastern Ghouta's various (even Foreign) Jihadists, but, on the Contrary, should, normaly, Include Syrian Kurds of YPD/SDF, as those who Face Turkish Attacks in Afrin's area, and notoriously are the Best Allies of the USA-led International Coalition against ISIL's Deadly Islamist Terrorists cowardly Targetting Civilian People.       
                                                                                                                                             But Turkey still persists to Refuse any Peaceful Negotiation with the Syrian Kurds, who did Not Attack Turkey, but, on the Contrary, Helped to Fight against ISIS' Horrible Terrorism. And Now, Ankara also Refused, de facto, any Negotiation even with the Syrian Government on Afrin, Despite crystal-clear Condemnations, by Damascus, of the Turkish Military Invasion still going on inside Syria, blatantly Violating its Sovereignity, Territorial Integrity, and International Law.

On the Contrary, the Turkish Military has even Started to Target pro-Syrian Goverment Forces, as reveals also the latest WarPlane Bombings of a former Russian Base in Afrin, where it has just Killed about 40 Persons after more than 5 Hours of Deadly Aerial Attacks, (See Infra).

----------------------------------------------
UN SC CEASE-FIRE VIOLATIONS
BY TURKEY's SYRIA INVADING TROOPS, GO CRESCENDO...
---------------------------------------------------------------------------------
- Already while UNO's Top Political Body was discussing Cease Fire in Syria at New York, during February 24, the Turkish Military Invades and Occupies 2 Syrian Kurdish Villages at Afrin Region : Hecilere and Abu Kab, adding even Deadly Air Strikes which killed Syrian Pro-Government Fighters in Raju's area.

=> And, Scandalously, the only thing that Turkey did, just 1 Day AFTER that important UN SC Resolution (on 25 February) was, on the Contrary, to ... Attack, Invade and Occupy Seven (7 !) Villages in the Syria's Kurdish Region of Afrin : "Samalik, Sheykh Muhhamadli, Welikli, Dudah, Kavanda, Maydan Ikbis" and, later, even "Umranli" !....

Such an Exceptionaly Big Push for Violent Army Attacks and extended Military Invasion and Occupation of 7 More Villages in just 2 Days, as that of Turkish Military inside the Syrian Kurdish Region of Afrin; was Not Observed at Any Other Area of Syria, by Anybody Else then, as, f.ex., a relevant, Chronological MAP of the Syrian Conflict clearly revealed, (See, f.ex., relevant Screenshot of the "SyrianCivilWarMap"'s Data, taken by "Eurofora" then).

 ----------------------

>>> So that French President, Emmanuel Macron, was obliged, on February 26, to call Turkish President Tayip Erdogan by Phone, in order to "underline that UNO's Security Council decided, as a matter of Absolute Necessity, to Cease Fire", and that this "must be, Immediately and Fully, Respected, in order to put a Stop to Indiscriminate Bombing", as an Official Press Communiqué of Elysée Palace, stressed that Day.

+ Macron also "stressed", speaking to Erdogan, that "the Humanitarian Truce applied throughout All the Territory of Syria, INCLUDING AFRIN" Kurdish region, as the French Presidential Palace made it Clear.  

-------------------------------------------------------------

=> But the Only "Reply" is, in Fact, Later that Same Day : February 26, for Ankara's Troops to Attack and Add  +2 More Syrian Kurdish Villages of Afrin Region under Turkish Military Occupation : Anqalah and Sinnarch... While, on February 28, the Turkish Army launches an Attack against Badinli Village, which is, reportedly, "repelled" by the Syrian Kurds at the last minute.

+ Moreover, in Parallel, Turkish-Backed Islamist Armed Gangs, such as "Jabhat Tahrir Souriya (Ahrar al-Sham and Nour al-Din al-Zinki)", apparently coming from Nearby Idlib Region, (the Notorious "Snake-Pit" of Islamist Extremists and Al-Queda-like Terrorists, over-Concentrated near Turkey's Borders, since the Beginning of the Syrian Conflict, and even More After ISIL's Brutal Jihadists were Recently Defeated almost Everywhere Else throughout Syria), reportedly "Captured" the Kurdish Villages of Qah and Darat, (which had Already been Occupied, Earlier, by the Turkish Army, all along the Borderline between Idlib and Afrin Regions)...

Ankara's Military which currently Invades and Occupies the Syrian Region of Afrin, is, indeed, notoriously escorted by various Islamist Armed Gangs, (that Turkey and its Cronies call "Rebels"), while Turkish President Erdogan has, reportedly, already Declared his Intention to, in Fact, Replace the original, Ancestral Kurdish Inhabitants of such Regions, around the Syrian-Turkish Borders, by anOther, Different kind of Population, chosen by Turkey, (i.e. a kind of "War Crime", f.ex. according to the Statute of the International Criminal Court).

=> Indeed, as it was earlier Denounced by the Top-Selling, Mainstream French Newspaper "Figaro" : - At this "Bataille of Akrin", in Fact, "Erdogan is Setting up (Islamist) Jihadist Sanctuaries, accross his doorsteps" :

- "The beginning of the End for (ISIL Terrorists' Chief) El Bagdadi's Troops, ... Reveals, to the World, the Hypocritical Game of the Turkish Army:" Indeed, "Since the (ISIL's) Caliphate collapsed", Turkey has again returned Back to its Worse Policies : After having Occupied Jarabulus and Al Bab (at the adjacent Kurdish Regions of Syria, near the Turkish Borders), it's, Now, for the Kurdish area of Afrin to Suffer by a kind of (Military) Siege: The Turks attack the Syrian Kurds with the Help of Jihadists Katibas, sometimes Called "Moderate Rebels" (sic !) or "Free Syrian Army"... I.e., "as if Erdogan wanted to become a Caliphe, at the place of (other) Caliphes"...

- Because, "these Milicias reveal the profoundly Destablizing role of the Turkish Diplomacy in that Area, particularly at (Nearby) Idlib" : "Under the Disguise (Pretext) of ensuring a Borderline Free of Any Kurdish presence", in fact, "Ankara has Set up Jihadist Sanctuaries at its own Doorsteps", Top French Newspaper "Figaro" Denounced meanwhile.

----------------

UNO's CeaseFire seems to be Respected in All Other Areas of Syria, except from the Kurdish Region of Afrin and (at a lesser degree) Eastern Ghouta, a Part of Damascus' Capital City, (where Russians observe Regularly a Curfew during at least 5 Hours Each Day, and establish Humanitarian Corridors - Rejected and even Attacked by Islamist Jihadists).

But, while Eastern Ghouta's Jihadists (including Al Queda-like Gangs) are obviously enDangering the Capital City of Syria, near Damascus' Center, (See MAP), particularly with Shelling, as also these Last Days when at least 17 Civilian People were Hit, (in addition to Rockets against the Russian Embassy),

on the Contrary, Turkey has Failed to prove in what way Syria's most Peaceful Area, (as USA's Defence Secretary, Mattis, has Recently ReMinded) : that of the Borderline Kurdish Region of Afrin might, perhaps, endanger the Turkish Capital City, Ankara, which notoriously is located Far Away, at a big Distance of Hundreds of kms...

And, at any case, obviously, for any Country, Protecting its own Capital City, is Not at all the Same as Invading anOther, Foreign Country.

-------------------

=> In Consequence, to French President MACRON's above-mentioned Call upon Turkish President Erdogan, on February 26, against extending even further Ankara's Military Invasion in Syria's Kurdish Region of Afrin, (Comp. Supra), is Added, soon Afterwards, on February 28, even UNO's Under-Secretary-General for Political Affairs, Jeffrey FELTMAN's (USA) Official Statements to the UN Securiy Council in New York, who Strongly Criticized the fact that even that "Brief Respite that (UNO's SC) Unanimously Demanded, only Days Ago, in Resolution 2401, has Not Materialized" everywhere in Syria, since, at least in certain areas, "The AirStrikes, shelling, and ground offensives continue" : "We (UNO) Need Implementation", But "that is Not Happening", as he Denounced.  

>>> In particular, concerning mainly the Syrian Kurdish Region of Asrin, Feltman stressed that "we (UN) canNot Forget that (UNSC's Unanimous) Resolution 2401 Demands a Cessation of hostilities Throughout (all) Syria".

=> But, Nevertheless, "Violence Continues in AFRIN", (that UNSG significantly Chose to Cite 1st), Idlib", etc, he Denounced. The First Area ("Afrin"), obviously concerns Directly Turkey's Military Attacks against Syrian Kurds and Pro-Government Syrian Forces, but Also the Second ("Idlib") involves, indirectly but surely, Turkey, since it concerns various Islamist Jihadists and outright Terrorists, who have been Concentrated and Piled up there, by Gathering the Remnants of Al-Quaida-like and/or ISIL's collapse, elsewhere in Syria, who have all been, in one way or another, notoriously tolerated and even Supported also by the Turkish Government...

- UNO's Political USG Denounced, for those Areas, (i.e. "Afrin" at First), "the Humanitarian challenges and Suffering of the People", and, even, went as far as to "Emphasize that Developments in these Areas will undoubtedly render the situation in Syria even more Complex", as he Warned.

=> Therefore, "there will be No sustainable Solution (in the Syrian Conflict) if the (UNO) Council's Resolutions are Not Implemented", Feltman stressed, Urging "all" UN Security Council's "Member States, to Use their Influence" in order "to Ensure Implementation of the Cessation of Hostilities", and "Fulfill their Obligations to End the Fighting in Syria", as well as to make a "Serious Investment in a Political Solution". That's why, UNO's SC "Calls for a ReNewed Commitment, by ALL Concerned Member States to Seriously Work to Implement this Cessation of Hostilities", he pointed out, (as far as Also Turkey's Militarily Aggression in Afrin is concerned).

------------------------

What was Turkey's immediate reaction, at Afrin's Battlefield ?

- After the above-mentioned Turkish Army's "Attack on Badinli" Village, that Same Day of February 28, (reportedly "Repelled" by YPG Syrian Kurds),

+ "Turkish Air Strikes in Afrin", "Killed 13 Pro-(Syrian) Government Fighters" the Next Day, 1st of March, while "Heavy Clashes", with "Many Casualties on Both Sides", were also observed "in Balai Kuy" Village, "between YPG (Syrian Kurds) and the Turkish Army", which also "strongly Shelled ... with Artillery", again, the "Badinli" village, at the Same Time thay Ankara was "Sending New Military Convoys to the Afrin canton", (etc. : See also Infra)...

Such Facts were Reported by various Converging Sources, and particularly by Specialized Web-Media "SyrianCivilWarMap" (SCWM), a Team of Freelance Reporters systematically Publishing (in 3 Coordinated Internet Platforms) relevant Factual Informations, that they claim to gather directly from original sources on the spot, (and which has already been used by Mainstream Medias, including, f.ex., Germany's ARD TV, etc). Its Credibility has been, until now, proven several Times, to be quite Resilient, (as, f.ex., on the Recent "Breaking News" about Pro-Governemental Syrian Popular Forces coming to Join Syrian Kurds' Defensive Fight against the Foreign Military Invasion and Occupation by Turkey's Army, etc).

+ Thus, in Addition, from the 2nd of March 2018, the Turkish Army reportedly "re-Captured" the Villages of Adah Manli and Ali Bakki, "Captured", for the 1st Time, the Villages of Maskanli and Mamali, and "Reached" the important "Raju Town".

- And, this Saturday, 3 of March, the Turkish Military and its Cronies re-Captured Umranli Village, and reportedly Invaded and Occupied, for the 1st Time, the Syrian Kurdish Villages of Bafliyun, Jamelka, Ramadiyah and Shamanli.

- "SCWM"'s anouncement about also "Raju Town" being Occupied by the Turkish Army, was Not yet Totally Confirmed by Other Sources, until now : London-Based NGO the "Syrian Observatory for Human Rights" ("SOHR") said that Turkish Military had Seized a Majority of that Key Town's Setltlements, but Not All, while Syrian Kurdish Forces-led "SFD" Alliance, (the main Ally of the USA-led International Coalition against ISIS), reportedly said that Turkish Army and its Cronies had "Infiltrated" Rajo Town, But "Clashes were (still) Continuing" between SDF and the Intruders.

+ The Worse and most Deadly Hit, was, however, that of Long and Heavy Air-Strikes by Turkish WarPlanes, during more than 5 Hours (from 05 up to 10 a.m.), against a Group of Pro-Syrian Government Forces, located at a former Russian Base in Afrin's Kafr Jina Village, which seems to have Massacrated more than 36 People, (withOut any Fight, since the Syrian Kurdish Region of Afrin is notoriously Deprived, not only of any real Tanks (Unlike ISIL's Islamist Terrorists, who had even Heavy "Abraham" Tanks), and mainly Airplanes, but also from any kind of Air Defence, resulting into a too Easy Pray  for Turkey's Military Invasion's WarPlanes.
At least as long as there is Not Yet any kind of Air Blockade, or "No - Fly Zone" protecting Afrin, Contrary to what France, the UK and USA had done in the Recent Past in Libya, (See, f.ex.: ... + ..., etc), as well as Russia, for 2 Days over Afrin, just After the Recent Downing even of a 3rd Russian Airplane and the Death of its Pilot while Crossing over Nearby Idlib Region, (notoriously Full of Armed Islamist Extremists and Terrorists, Gathered there, Near Turkey's Borders, particularly after the Failure of Al-Queda-like and ISIL's atrocious Terror regime, almost Everywhere else around Syria and Iraq, since the New US Administration of President Don Trump).

------------------

- Meanwhile, various alleged "War Crimes" were Reportedly and apparently Documented :  

Including, f.ex., (after an Earlier Atrocious Mutilation of a Syrian Kurdish Woman's Body, who had been Killed, and Afterwards Sullied in Public, and Video-Taped by a Band of Coawards Islamist Extremists, Cronies of the Turkish Army : See : ...+ ..., etc), Brutal Killings of Defenseless Prisoners of War (POWs), earlier Arrested and Investigated by Turkish Soldiers, as Revealed by several Videos, (Combined Together), published and debated also by "SCWM" and Others, (See: ... + ....), etc.

+Added to Deadly Humanitarian Law Breaches against Civilian People at Afrin's Syrian Kurdish Region, such as, those already Attested by "AMNESTY" International, "HUMAN RIGHTS WATCH", etc, as they've announced Recently :

- Including"Indiscriminate Shelling of Civilian People in Afrin", by the Turkish Military, (i.e. "use of Artillery in Civilian Areas", Prohibited by International Law), regarding which, AMNESTY "Verified Witness Testimony from ... Afrin, that "painted a Grim Picture", resulting from "15 People's Intervews", whose "accounts had been Corroborated by Video Analysis", revealing "Indiscriminate ShellFire", according to BBC, (published on February 28) :  

- F.ex., at Maabatli Village, a Shell hit a House Killing 5 of the 6 People inside : "The Attack Destroyed the House completely, Killing the Father, Mother and three Children younger than 15. A fourth child... is in Critical condition". But, "there are No Military headquarters next to the house… The closest frontline is 41 km Away, at the (Syrian-Turkish) Border", a Resident witnessed.  
                                                                                                                                                                                                                                                                                                                                                                                                                                                                                                                                                             - And, according to "Human Rights' Watch", "the Turkish Military .... Failed to ...Avoid Harming Civilians in 3 Attacks", earlier "in Afrin", which "Killed 26 Civilians, including 17 Children", (etc).

+ In General, During all this Period of Time of 1,5 Month, since the Beginning of the Turkish Military Invasion at Afrin's Syrian Kurdish Area, there is Not yet any systematic Independent Observers' Access to all those Villages which were Attacked and are now Occupied by the Turkish Army and its Jihadist Armed Gangs.

Given Turkey's notoriously Bad Record in Dealing with Kurdish People, and Ankara Government's recent Threats to practically "Replace" the genuine Population of the Occupied Afrin's Syrian Kurdish area by some Other People, Chosen and Transfered there by the Invading Turkish Army, obviously, the Worst Abuses can be Expected, (particularly in the Absence of real External, Independent OverSight)...

In such a Context, Ankara's Prime Minister Yildirim's latest Boasting that the Invading Turkish Military would be, Now, "Surrounding" Afrin's Capital City, (that they seem to have Approached at a Distance of about 20 Kms), located right in the Middle of the synonumous Syrian Kurdish District, appears naturally Alarming, (and having Obviously ByPassed, Far Too Long, the Limits set up, Earlier, inter alia, also by French President Macron and others, between a so-called "Border Security" Operation (as Ankara Claims) and a Blatantly illegal Military Invasion and Occupation of an Independent Country, in gross Violation of International Law...

-----------------------

- Naturally, Syrian Kurdish People, and their Pro-Syrian Government Allies, also Fought Back, during these Clashes, strongly Resisting to Turkey's Military Invasion, and sometimes even ReGaining Ground :

F.ex., in Addition to Earlier Events, also on February 27, YPG reportedly Succeeded to Liberate the Syrian Kurdish Village of Umranli from the Turkish Army, and on February 28, they  managed to "Repel an Attack on Badinli" Village by the Turkish Military. While on the 1st of March, it was reported that YPG "shot down a Turkish Military Helicopter, near the (Syria - Turkey) Border", that, during Ankara's Military Invasion, 8 Turkish Soldiers were Killed in "Clashes" Facing Syrian Kurds and Pro-Syrian Government Forces, (who Lost, however, also 13 among them, that Same Day, "by Turkish AirStrikes" : Comp. Supra), as well as that Afrin's Defenders "Destroyed a Turkish Tank" when it Attacked "Raju District", (etc).

And it's More than a Month and a Half now, that Turkey's Army has proven Unable yet to Reach Afrin City, even so Near to the Turkish Borders and practically Surrounded by Idlib's numerous Armed Islamist Extremist Jihadists, Deprived of Regular Army to Defend it, withOut real Tanks, Neither Airplanes or Helicopters, Not even Air-Defense, and particularly Difficult to Communicate with Bigger Syrian Kurdish Regions, much Further at the East, as well as very Far Away from the main bulk of Syrian Government's Army...

On the Contrary, Turkey's Military has reportedly Lost at least 1 Military Airplane, 2 or 3 Army Helicopters, several Tanks and various Other Vehicles, a Growing Number of Killed or Wounded Soldiers, (and Much More among its Islamist Extremist Jihadists' cronies), during this Longer than expected Invasion and Occupation of Syria's most Peaceful Kurdish Region, (as USA's Defence Secretary Mattis has already observed, right from the Start).

Foreign Observers, in Europe and elsewhere, found Now an Occasion to Remark the Fact that the Turkish Army, (Contrary to Most Other Countries in Europe and accross the World), has ..."Not Fought in Any real War", since the Foundation of the Turkish Republic, all the Way Long Between 1923 - 2018, i.e. almost during a Century ! Turkish Soldiers, indeed, have Only Bullied, from Times to Times, a Few very much Weaker and/or practically UnArmed Targets, (as, f.ex. Cyprus, etc), and/or Massively Oppressed Internal Political Dissidents, (as f.ex. the Turkish Kurds, and/or various Other Opponents in case of Military "Putsch", as Back in the 1980ies, etc), but they DidN't even Fought during the 2nd World War, nor at Any Other Real, fully-fledged Clash, Anywhere Else... And having, Now, to Face even Syrian Kurdish ... Women and Young Girls, notoriously Defending their Homeland, (as they have also just done, Earlier, quite Efficiently, even against ISIS' Brutal Islamist Terrorists, cowardsly Targetting Civilian People), could Not really make anyone feel really "Proud" at all...

To this Exceptional InExperience, was Recently Added also the UnPrecedented Incident of Massive "Cleansing" and "Witch-Hunt" even Inside the Turkish Military, which has notoriously Affected a Large Number of Top Officers and numerous Soldiers since that Strange, 6 Hours-Long, alleged "Coup" Attempt of July 2016, after which, even Experienced Top Army Leaders, as well as Thousands of Turkish Soldiers, have been Exceptionally Dismissed, Persecuted, Arrested and Jailed, (if not Brutally Lynched by Violent Mobs), often ill-treated in Inhuman/Degraded ways. So that Many Dozens of Turkish Army Officers have recently Asked for Political Asylum throughout Europe and elsewhere, (including, f.ex., a Dozen of Turkish Dissidents Refugees, together with their Families, who reportedly asked Asylum in Neigbouring Greece after arriving by Boat at Rhodes' Island, just a few Days ago, but also Earlier, around NATO's Headquarters in Mittel-Europa, f.ex. Germany, the Netherlands, Belgium, etc). In Addition, the "Purges" inside the Turkish Army seem to Persist even Nowadays, as, f.ex., the Latest Dismissals and Arrests of another Group of 178 Officers and Soldiers in Turkey, have just Reminded.

Politically Worse : Ankara has, Unwillingly, provoked an UnPrecedented Alliance between Syrian Kurds and the National Syrian Government's Forces, who have Started, for the 1st Time, to Fight Together against the Turkish Military Attacks and UnProvoked Invasion inside an Independent Country, which has Loudly Denounced such a Brutal Violation of International Law.

In Addition, about a Thousand more of various Critics inside Turkey have been recently Prosecuted, Arrested and even Jailed, just for Calling for Peace and Criticizing the Military Invasion of Syria's Kurdish Region of Afrin, (including Academicians, the National Leadership of Medical Doctors,  simple Social Medias users, etc). This has Trggered several clear "Condamnations" of Ankara's Oppressive practices even there, included by EU Parliament's latest Resolution on Turkey, thanks to a Last-Minute Amendment supported and Voted by All Political Groups on February in Strasbourg, (See : ...).

Last, but not least, even Morally, the Horrible recent Spectacle of Turkey-backed Islamist Gangs, Cowardly Sully the Body of a Mutilated and Killed Syrian Kurdish Woman, (See Video, already Published at: ...), or Brutally Kill a Defenseless Prisoner earlier Arrested and Questioned by Turkish Soldiers, (as 2 Other, more Recent Videos apparently Reveal, taken Combined Together : Comp. Supra), and/or Shamelessly ... Take a Selfie on the Background of an Atrociously Burned Alive and Calcinated Corpse of a Killed Man, (as the Latest Photo surfaced on the Web, allegedly from Afrin, seems to reveal), etc., obviously will Not Fix the ambient Feeling of participating in a Dirty War...

But, probably Most of All : The very Idea that Europeans, including Russians, Americans and Other influential People accross the World, who could and should have ReActed Efficiently Earlier to Turkey's Deadly Military Invasion and Occupation of Syria's Kurdish Areas, with clearly UnProvoked but Destructive Turkish Army Attacks, against, precisely, those Brave Syrian Kurdish People who notoriously Dared and Succeeded to Help Efficiently Face the Worse Islamist Terrorist of ISIL's Coward Killers Targetting innocent Civilian People even throughout all Europe, the USA, and various Other Countries accross the World, might, perhaps, Totally Abandon them withOut any Real and Timely Help for Peace, obviously Risks to Hurt Europe, America and Every Honest Country much Worse, Deep inside its own Conscience, Values, History and Identity, than Anything Else...

(../..)


-------------------------------------

UN Committee Top Official Prof Decaux to EF: Investigate Missing People despite Time+Proof Obstacles
Tuesday, 27 February 2018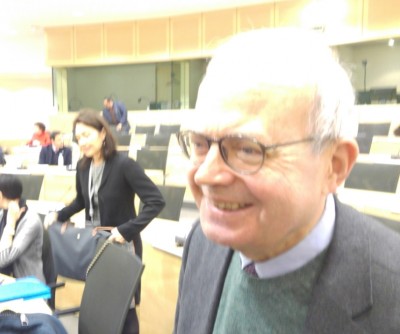 *Strasbourg/CoE/Angelo Marcopolo/- Professor Emmanuel Decaux, of Paris' Pantheon University, an Experienced Member and former President of UNO's Committee on Enforced  Disappearances (CED) at nearby Geneva, speaking to "Eurofora" at the CoE, on the occasion of an International Seminar on such Tragic Issues, co-Organized by UNO, the CoE, and the Foundation René Cassin for Human Rights, Chaired by ECHR's former Long-Time President, Professor Jean-Paul Costa, (Comp. various Costa statements to "Eurofora", f.ex.: at ..., +..., +...., etc), appeared to find that eventual Obstacles to Investigations might be Easier to Tackle, when it comes to Time Deadlines, than when it concerns Destruction of Material Evidence.

Both these Problems appear, particularly, even to one among the Older and World-Famous Cases of Many "Missing" People, with which ECHR and CoE's Committee of Ministers, have been Dealing since Many Years, but withOut, yet, being able to overcome, not even once, the Total Impunity of all those who might be Responsible for More than a Thousand of Enforced Disappearances, because of several practical Obstacles until now :

- Those of Greek Cypriot "Missing" Persons (initially more than 1.689) mainly after the Turkish Military Invasion/Occupation since 1974, for which Ankara's  Government has been repeatedly Condemned by the ECHR, but without yet finding Anyone among those Responsible for their Enforced Disappearance, Despite many Years of Efforts to Implement ECHR's Judgements.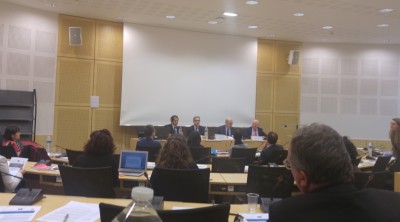 ------------------

President Costa reminded, from the outset, that he had "Presided in the (ECHR's) Grand Chamber case of Varnava v. Turkey", (which, precisely, concerns a great part of those Cyprus' cases).

+ And he Stressed, as a matter of General Principle, that "the Phenomenon of Enforced Disappearances represents one of the Worst Violations of Human Rights, and Spreads in Many parts of the World", while "it may qualify as a "Crime Against Humanity". Nevertheless, "the Number of Disappearances is Currently more Increasing (f.ex. in Mexico, etc), than not", as he observed.

----------------------------------

 - "Eurofora" asked, at First, Professor Decaux, to confirm Whether and How, the UNO's Committed on Enforced Disappearances, (which has Entered into Force only during Recent Years, might, nevertheless, eventually Extend also to some among some among the Older, and Internationaly Famous cases of "Missing" People in Europe, which have already been Judged by ECHR, a Long Time ago, as those, f.ex., of Cyprus, and/or Others, which concern Facts dating at least since the 1970ies.

Just before that, Japan's Consul General and Permanent Observer at the CoE, Takamasa Sato, had told "Eurofora" that his Country was particularly interested also with certain "Missing" Persons' issues, affecting Japanese People, already since the Late 1970ies, allegedly, f.ex. in Northern Corea, etc. And there were also the Notorious Issues concerning certaon Latin American Countries as Argentina, etc., (See Infra).

 - "It's quite Complicated for us (UNO's CED), since there some provisions in the UN Convention according to which the Cases of the Past (i.e. Before its recent Entry into Force, on 2012) are Not Examined, per se", he replied, at first.

 - "Nevertheless, we consider that the Way that a State treats the Past, is an Issue of Today !", he positively stressed.

=> So, when we Examine their National Reports, during the Discussions, we can Raise also such Questions, concerning how they deal with the Past of such Issues, Nowadays, he explained, as far as the followed Practice is concerned.

 - "For the First Time, we had to deal with that on the occasion of Latin America Countries, who are Willing to do so. Because, f.ex., for Argentina this (UNO's Connvention Mechanism) would have No sense if everything Started only After 2012 !", he pointed out.

 - "We (UNO's CED) tried to do alike also with Spain, concerning the Civil War (of 1936), but it was Difficult. And this raises also Questions about How Long in the Past could be we go : F. ex., even Before a Country became UNO's Member ? and/or even Before UNO's Creation ?", etc.

-----------------------------------

 + But, when it came to an even more Specific and Hard Problem, concerning a particular way of Material Evidence Destruction, things appeared even more Difficult :

 - "Eurofora" asked Prof. Decaux whether, according to his Long and World-wide Experience, he had found SImilar Problems Elsewhere, with a particularly Nasty Obstacle recently Denounced in Cyprus, which reportedly Hinders a lot the on-going Investigations on the Fate of the "Missing" People :

It concerns the Fact that, Astonishingly, in too Many Cases, (particularly at the Territories of Cyprus Occupied by Turkey's Army since the 1974 Military Invasion), the Remains of a Lot of "Missing" People are Not Intact, Nor Complete, but Often consisting in Bones Broken in Many Small Pieces, or Tiny Fractions of Pieces, which, in Addition, are, in several cases, ... Dispersed throughout various Different Locations ! It's the Infamous Problem of several "Re-Burrials", i.e. of all or Parts of Mass Graves which have, Curiously, been, Afterwards, Transferred Elsewhere, in an apparently Systematic way, with the Result to make even Identifications of the Victims very Difficult, Tricky, if not Impossible, and, a fortiori, Hinder to Find the Truth on what really Happened to them...

=> To the point that, on 2017, even the President of Cyprus, Nikos Anastassiades, was obliged to exceptionally Denounce openly such Strange Practices as "Criminal" !

>>> It was Surprizing for "Eurofora" to Find Today that even Professor Decaux, one among the Rare UN Experts to have a much Longer and Wider Experience than most others, on Issues concerning "Missing" People (Comp. Supra), initially Reacted with Spontaneous Astonishment, as if he had Never Seen such a Problem Before, Anywhere Else in the World...

He knew about cases where Criminals had tried to abuse of various "Acids", and/or to "Throw" the Bones of their Victims "to the Sea", in Lakes or Rivers, etc.  I.e. Methods of Proof Destruction which might be used in Isolated Cases of only 1 or a Few Victims, but, obviously, Not so much when it comes to Big "Mass Graves", as in the case of Cyprus, particularly since 1974.

On the Contrary, at least his first Reaction, when he heard about those Specific Problems, curiously met Several Times, by Investigations on Cyprus' "Missing" People, Professor Decaux acknowledged his Surprize, and was (exceptioally) Unable to mention clearly Other Similar Problems Elsewhere in the World !

- "Except, perhaps, in some cases in the Balkans ?", he Wondered, but withOut being able to even cite one, Neither to clearly and unequivocally confirm that now....
 => Proof that it's, indeed, a Rare Phenomenon ?

----------------------------
The New President of UNO's CED, Miss Suela Janina, an Experienced Diplomat (who has served also in Brussels on EU issues) from Albania, even if she was initially Scheduled to be the 1st Keynote Speaker, immediatly after the Introductions, nevertheless, curiously went ...Missing, (fortunately only for a Few Hours !), apparently having been Hindered by some Transport and/or other practical Problems, and, therefore, wasn't able to arrive at the CoE in Strasbourg but only very Later.

Thus, Because also of a Press "Black-Out" on the 2nd and 3rd Parts of that Exceptional International Conference, dealing with a particularly "Hot" and Delicate matter of some among the Worst Violations of Human Rights, (and Including, inter alia, also a Confidential Briefing on CoE's Committee of Ministers' on-going work for the Supervision of ECHR Judgements' Execution by the condemned Member States, which Traditionally takes place Behind Closed Doors), "Eurofora" and other Journalists were UnExpectedly Hindered to Interview her, (except from a Short, but Kindly Smiling, Salute when she Arrived, Running to Catch-up with the Time Lost by unknown reasons)...
------------------------------
Cyprus' "Missing" People issues are Scheduled to be Examined by CoE's Committee of Ministers on June 2018, during the Supervision of ECHR Judgements' Implementation by States which have been Condemned for Violations, as, in this case, Turkey.
(../..)

-------------------------------


***

(NDLR: + Fast Translation from the Original in French)


***


EU Member Cyprus' Energy v. Turkey's GunBoats point also at European Defence Future
Friday, 23 February 2018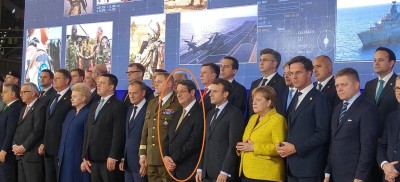 *Strasbourg/Angelo Marcopolo/- Will the EU let Turkey's GunBoat Bullying against International Law Deprive it from the Only New and Growing Oil/Gas Findings in European Territory and/or Directly Linked to Europe and well beyond ?

Today's EU-27 Summit's Reply reads as a Crystal-clear "NO !" : 
>>> Europe wants to Protect Both its Natural Resources contained at its Member States' areas, as well as the relevant EU and International Legality, according to the Conclusions just presented by EU President (former Prime Minister of Poland) Donald Tusk :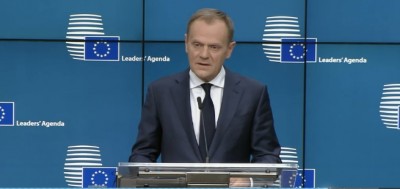 -  The 27 EU Heads of State/Government slamed "Turkey's illegal Violations in the Eastern Mediterranean and in the Aegean" Seas, which are "actions (that) Contradict Turkey's Commitment to Good Neighbourly Relations and their Normalisation with all (EU) Member States", as Tusk reminded, "Urgently Call(ing) on Turkey to Terminate those activities".

 - "All the EU (27) Leaders ... Express(ed) Solidarity with Cyprus and Greece", as well as "Reiterate(d) our Support for the Sovereign Right of the Republic of Cyprus to Explore and Exploit its Natural Resources", President Tusk addded in particular.

- This (Cyprus' Oil/Gas Drilling inside its EEZ) is done "in accordance with EU and International Law, including the UN Convention on the Law of the Sea", EU Confirmed anew.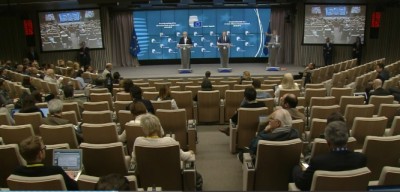 => In Consequence, President Tusk Warned Ankara about relevant "Conditions" on "Hold(ing or not) the (EU) Leaders' Meeting with Turkey in Varna (Bulgaria, current EU Chairman) on 26 March". - "We (EU) are Ready to cooperate with Turkey" on "Assess(ing) Whether the(se) Conditions are there", (or not yet), "at our (EU's) March (22-23) European Council", (i.e. 3-4 Days Before).

Given the Fact tha Turkey's latest, provocative "Navtex" which ProLonged the Military Blockade of Cyprus EEZ's relevant Area, will Expire on March 10, in consequence, it leaves enough Time in order to Judge, on March 22-23, whether the European Ship's Drilling for Italy's ENI and France's TOTAL Companies, (which was Brutally Obstructed by 5 Turkish GunBoats until now) might, eventually, Proceed at least then, EU Officials explained to the Press, inter alia.

This includes also the Heavy Damages provoked to a Greek Ship, Brutally hit by a Turkish one, at the Aegean Sea, meanwhile.

But, it does Not seem to be No Real Change in View, to Judge by several Reactions from Turkey's Officials, who reportedly vowed to "Persist", and from Ankara's Cronies (many illegally Imported as Settlers) at the Occupied Territories of Cyprus, Controlled by the Turkish Army since the Military Invasion of 1974, who reportedly Claimed that Cyprus' Government would Not be able to Exploit its Natural Resources withOut previously obtaining also Their "Authorisation" (sic !)...

I.e., Not Satisfied by having, Already, illegally Usurpated, and still Abusively Exploiting until Now, the Family Homes and other Private Properties of Hundreds of Thousands of Greek Cypriot Refugee/Displaced People (+20% of the Total Population of the Country), Fleeing the 1974 Military Invasion by Ankara's Army, and, since then, illegally Hindering the Return of the Lawfull Owners, and their Access to - or Control of - their Belongings and Ancestral Land, still until Nowadays, (Despite a well esbalishd ECHR's case-Law, which has Repeatedy Condemned Turkey for such Massive Violations of Human Rights), Today they Seek Even to Deprive their Victims Also from their Elementary Right to Try, at least, to Explore and Exploit the eventual Natural Resources of that Part of the Island that was Left to them !

 ------------------------                                                                                                                                                                                                                                                         
=> Therefore, the Obvious Question, particularly in front of Ankara's Brutal Violence, is whether, and at what Level, EU will Really Press Turkey to Respect its Decisions and the International Law, in real Practice and Timely enough.

For this purpose, the 27 EU Heads of State/Government already pointed, Today, to an eventual Cancellation of the forthcoming EU - Turkey Summit, scheduled in Varna (Bulgaria) on March 26, by Warning that they would re-examine the existence or absence of certain "Conditions", during their Brussels' EU Summit, on March 22 - 23, as they Warned Turkey while Criticizing the recent Incidents in Cyprus' EEZ, (but also Other Turkish Military Provocations against Greece at the Aegean Sea), as we've already seen above.

+>>> But, In Fact, this Opposition, Nowadays, between "Cyprus' Energy versus Turkey's GunBoats", is a Timely Challenge for the Development of a real common European Defence policy asap., since it might be the Only Efficient Way to Ensure Turkey's Respect of such EU Decisions...

-----------------------------

Indeed, this EU 27 Heads of State/Government Summit in Brussels, Topically Focused on several Issues linked to Europe's forseable Future, was called, also by the Latest Events, to Reply also to that crucial now Question, which concerns, in fact, not just EU's Economy, but also its recently unfolding Defence policy.

EU Commission's vice-President in charge of Energy, Maros Cefcovic, had spoken to "Eurofora" in Brussels on 2017 about Good Prospects to find, around EU Member Cyprus, "a 2nd Norway", (See : ...), in reference to the Nothern Sea Oil/Gas Fields, discovered since the Late 1990'ies, but notoriously Declining since about 2010 (See Infra), so that this New, Probable European "Eldorado", at the South-Eastern Mediterranean Sea, appeared as a Unique and Timely Chance to Boost EU's Economy with fresh Energy sources Nowadays.

And this, indeed, looks, Now, very Probable, if not already certain, since Cyprus' December 2011 initial Findings at "Aphrodite" Gas Field, made shortly after Neighbouring Israel's own Findings at "Leviathan" Gas Field, nearby, on December 2010, were Followed by Neighbouring Egypt's Findings at "Zhor"'s adjacent Oil/Gas Fields also adjacent to Cyprus' EEZ on 2015, to which was Recently Added the "Calypso" New Gas Field in Cypus at the Beginning of 2018.

With the Participation, mainly of USA's "NOBLE ENERGY" Company (Texas) and Israel's "DELEK",, as well as Europe's "ENI", "TOTAL" and "SHELL", (Italy, France and the Netherlands), due to be Soon Followed also by USA's "EXXON-Mobil", as well as of South Korea's "KOGAS" (etc),  at another part of the Island, Soon, (see Infra).

Meanwhile, EU Commission had already started to Support these moves, particularly by Backing an ambitious UnderSea Pipeline ("East-MED"), due to Link the New Energy Findings, from Cyprus' EEZ Directly into EU's Industrial Center, via Greece and Italy. To this was Added also an undersea Electricity Cable Project ("Asia InterConnector" : Latest EU Decision taken on December 2017), able to include Electricity produced by Gas. As well as, in Parallel, possible NLG Ship Transports, also towards France's PACA Region, Spain, Croatia, etc., already equiped with NLG infrastructures. All these 3 possibilities of Energy Transport from EU Member Cyprus' surrounding area, are DIRECTLY Heading towards EU's Core, (withOut being obliged to previoulsy Criss-cross through any Foreign, Non European Country).  

So that the Experienced, and recently Re-Elected brillantly, President of Cyprus, Nikos Anastassiades, (a ChristianDemocrat/EPP), had Timely Announced, from the Beginning of this New Year 2018, that it was due to be Marked particularly by imminent Developments in the area of Energy.

-------------------------------------------------

But, suddenly .. "Patatrak" : On February 2018 Turkey sends Five (5) WarShips to Block the Italian ENI's Drilling Ship SAIPEM's Access to its Destination :  plot Number 3, located inside Cyprus' Exclusive Economic Zone, (the precise Delimitation of which has been already Agreed by Cyprus, officially, with all 3 Neighbouring Countries : Egypt, Israel and Lebanon, already between 2003 - 2010).

+ As Revealed afterwards also a Transcript published by a Turkish Newspaper, inter alia, a Crash between the Peaceful, Civilian Italian Drilling Ship and one of the 5 Turkish Military WarBoats which were Bullying around it, was Avoided only at the very Last Minute, when, (after the Turkish Warship insisted to Block the way of the Civilian Ship, heading right towards its scheduled course), it's the European Drilling Ship from Italy which was Obliged to make an U-Turn, in order to Avoid an otherwise Dramatic Collision, (UPDATED).

ENI Company's CEO protested, (in statements to the Press made at Neighbouring Egypt), that he was Surprized to see Turkey violently block an Area undeniably belonging to EU Member Cyprus' Exclusive Economic Zone, but, initially, it was Decided to Keep the Drilling Ship at a Safe Distance, and Start various Diplomatic Moves at the European and International level, while also Waiting for the Expiration Date of a provocative Turkey's "Navtex" message, which Claimed to Block that Area until February 22, (i.e. the Eve of EU-27's Brussels Summit).

++ However, Despite open Criticism, inter alia, also by the Presidents of EU Commission, Jean-Claude Juncker himself (former Long-Time Prime Minister of Luxembourg) and his Spokeswoman, as well as of EU Parliament, Antonio Tajani (former Foreign Minister of Italy), etc., Turkey not only did Not Stop its Brutal Obstruction inside Cyprus' EEZ at its Southern Sea-Coasts, but even Decided to Extend Further its GunBoat act of Piracy, (provocatively Anouncing also that several Days Earlier than expected), going as far as even up to the Middle of ...Next Month (March 2018), while it was generaly Known that ENI's Drilling Ship had already assumed, earlier, a subsequent job at Morocco, and would be Obliged to Cancel, at least for the time being, its task in Cyprus, after having been Obliged to vainly wait for too long, (in Addition to the Fact that Each Day of Imposed Delay provoked also a Damage of about +400.000 € daily).

+++ Moreover, Turkey, meanwhile, had already issued so many and various such Controversial "Navtex" messages, that it, reportedly, Threatened to Block, at any moment, (under Hollow Pretexts of "Military Training", etc) a lot of Areas practically ...Surrounding All the Island of Cyprus (sic !), and even Most of its EEZ (See relevant MAP's Photo) !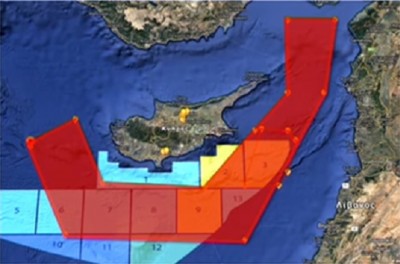 ----------------------------


Ankara also Added a series of purely Political Pre-Conditions for almost All Cyprus' efforts to Develop its Oil/Gas Energy Sources, at any Moment, i.e. practically Excluding EU Member State Cyprus from its Sovereign Right to Freely Explore and Develop its Energy Resources located inside its own EEZ.

+ Even Despite the Fact that, on the Contrary, it's also USA's New President Don Trump's Administration which: - "Feels, very Strongly, that the Republic of Cyprus has the Right to Explore and Exploit its Resources in the EEZ", as his Ambassador, Cathleen Doherty, has just stressed, earlier this week at the Island.

-------------------------------------

=> Meanwhile, shortly After also an "Eurofora"s communication with Experienced UN Secretary General's Spokesperson, Stephane Dujarric, in the Middle of these Events (See: ...), UNO has just Decided to send to Cyprus its new Deputy-Secretary General for "Peace-Keeping Operations", Jean-Pierre Lacroix, to visit the Island, (where UNO has also a special UNFICYP International Force at the Buffer Zone, between the areas controlled by the Turkey's Army and those still controlled by Cyprus' Republic), reportedly from the Beginning of Next Week, (i.e., practically, immediately after the current EU Summit in Brussels).

UNFICYP has Not yet been extended in Maritime areas, but, perhaps, something of that sort, might not be theoretically excluded in the Future totally, particularly when there are Brutal Threats to use Military Violence, as in this case (Comp. Supra, and See also Infra).

-----------------------------------------

++++ >>> Nevertheless, after that Failure of purely Diplomatic Reactions in a 1st Stage, the European Drilling Ship from Italy made also a Last-Minute Attempt to reach the Area for its Scheduled Peaceful Work, inside EU Member Cyprus' EEZ, the very Morning of the Day of EU's Summit in Brussels, on February 23rd, (NDLR : PARTLY UPDATED) :

=> So, all EU's 27 Heads of State/Government had Now an Occasion to ...Watch Together from Brussels, almost "LIVE", a desperate Attempt, by a Peaceful European Civilian Ship, to Try, at last, to reach the Scheduled Area for his Energy-Exploration Work, inside an EU Member State's Exclusive Economic Zone, but be Forced to Quit, by use of Military Violence and repeated Threats from 5 Turkey's WarShips !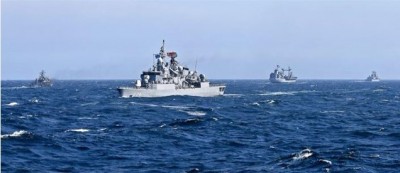 Indeed, that European Civilian Ship from Italy's ENI, after Heading Directly towards its Scheduled Area of Work, had to Face, right in Front of it, those "5 Turkey's GunBoats", which Blocked its course at least Twice, Finally Obliging it to Turn Back and go Away, after abusing of Military Violence, as a relevant Satellite-MAP, Tracing the Drilling Ships' Movements, clearly shows :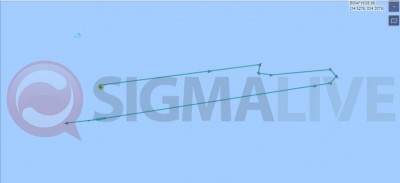 (Cypriot TV "SIGMA"'s ScreenShot on Italian Drilling Ship's Violent Obstruction by Turkish WarBoats)
-------------------

 - "You doN't have the Right, according to the Law of the Sea, and you have No Jurisdiction in this Area, in order to Hinder my way towards my Final Destination. Keep a Distance !", reportedly Warned the Captain of the European Civilian Drilling Ship.

- "If you Enter this area, we shall Take Measures Against you !", repeatedly Threatened the Armed Turkish Military GunBoats, as only "reply", revealing their Brutal Violent Behavior.

----------------------------------------
>>> EU Lisbon Treaty's Article 42,7 ?
---------------------------------------------------------------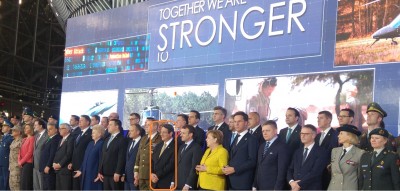 It's in such Exceptional and Dangerous Circumstances, that the Government of EU Member State Cyprus, reportedly considered, Nowadays, the possibility to Trigger the exceptional Mechanism set up, for the 1st Time, by EU's Lisbon Treaty's Article 42, paragraph 7, (somewhat Inspired by the Earlier Example of France, which has already used that in order to help face f.ex. Armed Islamist Terrorist Mobs' Attacks against unarmed, Defenseless Civilian People, etc), in order to Face, Now, the Mob Attacks by Turkey's more Heavily Armed GunBoats and Warships against unarmed, Defenseless Civilian People and Boats, Peacefully seeking to do their Scheduled Work on Energy Exploration and Development for the General Interest of Europe :

- "If a Member State is the Victim of Armed Aggression on its Territory, the other Member States shall have towards it an Obligation of Aid and Assistance by all the means in their power", the current EU Treaty clearly says.

- This is done "in accordance with Article 51 of the United Nations Charter", which Recognizes "the inherent Right of .... Collective Self-Defence if an Armed Attack occurs against a Member of the UN".

+ But it also Points to "the Authority and Responsibility of the (UN) Security Council ...to take at any time such Action as it deems Necessary in order to Maintain or Restore International Peace and Security."

Something which, naturally, canNot be Ignored  in this case, particularly in relation also with the forthcoming Visit to Cyprus by the new UN Deputy-Secretary General for "Peace-Keeping Operations", Jean-Pierre Lacroix, from Monday, (Comp. Supra).

-----------------------------------------------------------

++ Meanwhile, Next Week it's also the first 2 Ships of American "EXXON-Mobil" Company (where notoriously worked almost during all his Life the current USA State Secretary, Rex Tillerson), which are due to Arrive to Cyprus, in order to Prepare the Beginning of their own Drillings in Search of Oil/Gas at the Block No 10, (adjacent to Egypt's "Zhor" Huge Gas Field), at the Autumn 2018.

The matter was reportedly Discussed between USA's Ambassador and Cyprus' President, and it was also Decided that those 2 Energy-searching Ships would be Escorted, for Security reasons, also by the American (Military) Navy !

-----------------------------------------------

 => In this Context, the Natural Question which obviously Flows from all that, is whether the EU will send also a "European Navy" to Protect European Civilian Ships searching to Find and/or Develop New Oil/Gas Resources around EU Member State Cyprus, (i.e. basically inside EU's Territory).

+ Cyprus, which Hosts also 2 Important UK Military Bases, has Already Hosted the European/International Peace-Keeping Fleet for the TransBorder area Between Lebanon and Israel, under a UN Mandate (Negotiated by former French President Jacques Chirac) since 2006, as well as several Bilateral Agreements on Naval Forces' Logistical Help, and/or Cooperations, (f.ex., inter alia, also with Russia, France, etc).

Germany was Leading the Military Navy component of that UN-sponsored Interational Peace-Keeping Operation for Lebanon's Coasts, (while , Hosted in Cyprus' Naval Bases, where Chancellor Angie Merkel had Visited, later-on.

+ And it's mainly the Need to Protect important Energy Transports by Ships, (particularly of LNG), which has notoriously Motivated one among the First Cooperations among Willing EU Member Countries in the domain of Defence, when, since Back on 2008, EU set up its "Atalante" Naval Force for the Fight against Piracy, particularly around the Somalian Sea Coasts, in order to Safeguard Cargo Ships crossing the Suez Channel, right in front of the Strategic European Island of Cyprus...

+ In Addition, Recently, at least 2 Key European Ministers of Defence, from France and Italy, Exceptionally Visited Cyprus, during the Summer of 2017, (in parallel to a French Military Fregate's Arrival at the Island, then, and anOther one, Recently on 2018), just Before the New Oil-Gas Exploraton Drillings start, for ENI and TOTAL Energy Companies.

+ These Moves had, Significantly, Started soon After "Eurofora" had met with New French President Emmanuel Macron, at the sidelines of the "G-20" Summit in Hamburg (Germany) on July 2017, where he Agreed on the Importance and the Need to Protect the Exploration and Development of Oil/Gas Resources at EU Member Cyprus and its surroundings (i.e. Israel, Egypt, etc) for Direct Energy Transports towards Europe's Industrial core, (See : .....).

Macron had Already told us, (as Early as since he was a Minister of Economy, Back on 2015 in Strasbourg, just Before Travelling to Israel then), that he Believed that the Recent Findings of Growing Oil/Gas Resources in Cyprus, Egypt and Israel, added to their Plans for Joint Energy Transports directly to Europe's core (including by EU Commission-supported "East-MED" Pipeline project) represented "a Real Chance", (See: ...).

+ So that when Cypriot President Nicos Anastasiades was Pictured by "Eurofora" a.o. smiling, Together with French President Macron and/or Greek Prime Minister Tsipras, etc., at the Center of a Group of 25 EU Member Countries which Decided recently to Launch Together a "Permanent European Structured Cooperation" (PESCO) on Defence policy, (where Cyprus participated for the 1st Time in History), during the Latest EU Summit in Brussels, on December 2017, (See "Eurofora"s Photos from the spot at : .... + ..., etc), that move wasn't, no more, really a Surprise, but, on the Contrary, totally Natural.

+ ToNight, on February 2018, the EU27 Summit in Brussels, announced the Willingness of EU Countries' Heads of State/Government to "Augment" EU's Budget in the foreseable Future, particularly on Europe's "External Borders' control", as well as "on Defence" policy.

+ Among the 17 concrete Defence Projects, already earmarked since the December 2017 EU Summit's PESCO Event in order to be Funded by the EU as a matter of Priority, (Comp. Supra), at least 3 concern, specifically, "Maritime" Areas, against only 1 conceived mainly in order to be used on Land, (and, even that, includes also an "Amphibious" Vehicle) : I.e. a Ratio of more than 3 to 1, between Sea and Land, in concrete terms...

+ And, by a Symbolic "Coincidence", Astonishingly, the 1st Victory in the History of European Armies (where Many European Countries had actively participated, as Italy, Spain, France, etc), was, precisely in a ...Naval Battle : That of Lepanto, on 1571, where United European Fleets succeeded, for the 1st Time, to Win against Ottoman Turk Warships, practically Liberating the Mediterranean Sea from previous Threats of Turkish Aggressions in the Future. The Next Victories of European Armies, (including, Later-on, also Polish, English, German and even Russian People), Followed, this time, on Solid Ground, during almost the Same Century : on 1683 and 1689, when they succeeded to Defend Vienna (Austria) and Liberate all BudaPest (Hungary) from Ottoman-Turk Military Invasion and Occupation, from which, Europe's Land was Definitively, almost Entirely Liberated, after a Series of such Victories, on 1919, with the Treaty of Sevres (France).

Even More : That 1st European Army's Victory in History, in Lepanto's Naval Battle of 1571, had been Motivated by the Will to Strongly React against a Massacre, committed by Ottoman Turks in ... Cyprus, where they had just Aggressed and Killed the ...Italian (from Venice) Defenders of Famagusta, (in Violation of a Previous Agreement to, at least, Spare their Lives) :  I.e., (by another Astonishing Coincidence), Near the Area where, Today (on 2018), 5 Turkish Military GunBoats Brutaly Aggressed a Peaceful Italian Drilling Ship inside Cyprus' EEZ, (Comp. Supra)...

So that, all these Converging Facts, clearly indicate that the Strategic Island of Cyprus, (the Only one to be Located at the CrossRoads of 3 Continents), has, throughout History, at least an exceptional Symbolic Value and practical Stimulus, for an Efficient Development of European Unity and Defence Policy.

=> A Fortiori Nowadays, when Europe's Natural Resources in much needed Energy are notoriously Declining at their Older Location in the Northern Sea, but, on the Conntrary ...Growing Fast in the South-Eastern Mediterranean Sea, around EU Member Cyprus, together with Israel, Egypt, etc, (See Infra)

----------------------------------------------------------------
EU's OLD NORTH SEA RESOURCS DECLINING
----------------------------------------------------------------------------

North Sea Oil+Gas production had been Booming at the Late 1990ies, but Fell Down already on 2014+, (with some Exceptions only in Norwegian Gas) : F.ex., on Late 1990 UK and Norway represented about 9% of World Oil output, But on 2014 only 3%.

Thus, on 2015, the British Government was Obliged to concede Exceptionaly Big Tax Cuts in the Hope to convince some Companies to use Oil/Gas-Fields remaining idle since 2008, amidst a growing number of Lost Jobs there.

However, on 2016, "Decommissioning of offshore platforms and the accompanying Bills were looming on a Scale Not seen Before, anywhere in the World",

Already since f.ex. 2016, about 50 North Sea Oil/GasFields were reportedly ready to Stop Production, and UK alone expected that 140 more might be Shut down during the Next 5 Years, (2017-2022).
Major Oil/Gas Companies have already Started to Sell their assets in the North Sea, as, f.ex. BP and Shell on 2017, etc.

Royal Dutch Shell surfaced Recently its Interest to use its Liquefaction off shore facilities between Egypt (which might receive also Energy from Israel), and Cyprus (evetually Starting by its "Aphrodite" block 1st Findings by USA's "Noble Energy", Israel's Delek, and Netherlands' Shell), also for Shipping NLG Directly towards EU's Center.    
           
--------------------------------------
NEW S/E MEDITERRANEAN RESOURCES
AROUND EU MEMBER CYPRUS = BOOMING
------------------------------------------------------------------------
Contrary to the Declining North Sea Oil/Gas Fields Timeline (Comp. Supra), the Findings in Cyprus and its Neighbouring Countries : Israel and Egypt, are clearly much more Recent : Between 2010 - 2018.

- "Leviathan" GasField in Israel was announced on December 2010, (after what, the Israelu Prime Minister, Netanyahu, immediately visited Cyprus on 2011), "Aphrodite" Gas Field was announced on December 2011 in Cyprus, Followed now by that of "Kalypso" at the Beginning of 2018, while, meanwhile,  that of Egypt's "Zhor" was Discovered on 2015.              

- Earlier this Week (2/2018), "Bloomberg" reported that, according to the American Geological Research Institute, the Off Shore, UnderSea Energy Resources around Cyprus, Lebanon, Israel and Egypt, could ByPass the 340 Trillions of Cubic Feet in Natural Gas, i.e. much More than All USA's equivalent deposits.

Nowadays, those Countries are examining various Scenarios for Exports, "Bloomberg" noted on February 20, 2018.

-----------

In Fact, Turkey's suddenly Brutal and Violent, illegal Aggression on a European Drilling Ship from Italy inside Cyprus' EEZ, (which had Not been Contested, not even by Ankara before, as ENI's CEO observed, astonished), seems, indeed, much more Motivated by a desperate, against the current, Attempt by Ankara's regime to Undermine the Recent Collective Plans for several Ways to Establish DIRECT Energy Transports to Europe's core, from the area around EU Member Cyprus, (which have been Discussed and Endorsed by most Heads of State/Government of the concerned Countries, including between Cyprus, Israel and Greece, as well as Egypt, etc, certain even by EU Commission itself).

That's why Turkey didn't start to openly abuse of illegal Violence but only when European Italian and French Companies ENI and TOTAL recently Discovered also a New Oil/Gas Field in "Kalypso" area of Cyprus' EEZ, officially announced Earlier this Month, on February 2018, and were Going to Search for even More :

- Simply Because of the Fact that the Economic Sustainability of a DIRECT Energy Transport Link to Europe's core (f.ex. a partly UnderSea Pipeline, and/or a Cable Connexion transmitting Electricity produced from Gas, LNG Liquefaction infrastructures for Modern Ship Transport, et), reportedly Needed a Significant Amount of Energy Findings inside Cyprus' EEZ, to be Confirmed asap.

=> Therefore, by abusing of illegal Violence in an Attempt to Delay, if not even Obstruct, More Energy Findings in Cyprus' EEZ now, Turkey, most probably, seeks to Undermine and/or Popstpone the Profitability of such Direct European Energy Transport Plans from the New, and recently Growing Natural Resources of the Souhth-East Mediterranean area, in an Attempt to Impose, instead, a Zig-Zag Pipeline through the intermediary of a 3rd Foreign, Non-European Country's Turkish Anatolia Plateau in Asia Minor, with Notorious Risks of exceptionaly Dangerous Earthquakes, various Brutal Conflicts, Turkey's Financial Claims and/or its usual Political Blackmails, etc...       
 
F.ex., British Medias had already pointed out, since 2014, that for a Profitable NLG Plan Cyprus Needed to Find more than 6 TCF (Trillions of Cubic Feet) in Gas. It was Not sure that the 1st Finding, that of "Aphrodite", might really have Enough Gas for that.

Therefore, it's Only After ENI/TOTAL, recently Discovered also a 2nd Gas Field, "Calypso", announced only at the Beginning of 2018, while ENI's Drilling Ship, immediately Headed towards Drilling, in Addition, to anOther, 3rd Promising Area, (there where, Suddenly, Turkey's GunBoat Piracy rushed to illegaly Obstruct that), that the Required Threshhold of Gas Volume  for Building a Profitable NLG PLant would have, most Probably, been largely Reached.

=> Such Facts clearly Show, also, that Ankara's Hollow Pretext for Brutally Blocking NOW the European Search of more Energy in Cyprus on February 2018, (i.e. a controversial Claim that the Cyprus' Government should, previously, ask for a kind of ...Authorisation also from the Occupied Territories of the Island, illegaly Controlled by Turkey's Military, since the 1974 Invasion), is Totaly Hypocritical !

Indeed, not only such a Strange and UnJust (Comp. Supra), if not even Scandalous, Pre-Condition does Not Exist Legally, while, in Addition, Cyprus' President Anastasiades has Already Tabled a Legislative Bill in the Parliament, for the Creation of a Fund due to Manage all eventual Revenues from Energy in the Future, in a way Similar to "Norway's Modem", which would be Beneficial to All Cypriots, (Greek and Turkish, etc), but, Moreover :  - It's Obvious, that, IF Ankara Really Wished to Block Energy Searches for the Sake of what it calls "Turkish Cypriot Community",  (in Fact including, Nowadays, also Many illegal Turkish Settlers Massively Imported from Anatolia Plateau, as well as an illegal Occupation Regime notoriously set up and Sustained -Both Economically and Militarilly, as well as Politically - by Turkey's Invasion Army and its Cronies), then, it would have Already Blocked those Energy Searched, a Long Time Ago in the Past, or would have done so at Any Other Time in the Future, instead of Waiting Only Until the Above-Mentioned "Profitability" Threshhold was Reached for Independent Energy Transports from Cyprus' Area Directly to Europe's core, and, Precisely and Only then, Suddenly start to Brutally Block, with illegal GunBoats' Violence, immediately, (Neither Before, Nor After)... These supplementary Facts clearly show that what is Realy at Stake, appears to be something quite Cynical.             
                    
-------------------------------------------------  

Thus, if purely Diplomatic Means Fail again vis a vis Turkey's brutal GunBoats' Bullying, (Comp. Supra), then, History will have anew taught, Both in the Past, (See, f.ex., "Lepanto"-related events, Supra, etc), and Nowadays, (i.e. on February - March 2018, until the Next EU Summit), that the most Efficient (if not even Unique Possible) way to Both Guarantee Peace and Security, as well as Economic Development in Europe, is to Strongly Protect EU's External Borders against Violent Aggressions, by a Dissuasive European Defence and/or International (f.ex. UNO's UNFICYP : Comp. Supra) Peace-Keeping operation, Able to Guarantee that the Promising and Fast-Growing Natural Energy Resources in EU Member Cyprus, Together with its Willing Neighbouring Countries of Israel and/or Egypt, (with which Nicosia is notoriously in Close Cooperation on that matter), will be Freely and Safely Explored and/or Developed further, withOut any Violent Hindrance of those Countries' repeatedly Expressed Will to Help Organize DIRECT Energy Transports towards Europe's core, and Elsewhere in the World, (f.ex. USA, eventually China, etc).

Facts clearly show, until Now, that any Abuse of "Piracy"s Brutal methods, as Turkey just did twice, in blatant Violation of EU and International Law, should be Strongly Dissuaded, if necessary, also with sufficient and convincing Deterrant Force, Able to Convince the Turkish regime to Drop illegal Violence and follow a Peaceful way to debate issues and seek solutions.

 EU Countries have managed, Already since 2008, to set up a Pioneer and Efficient Joint Defence Operation (nick-named "Atalanta") in order to Succesfully Fight against "Piracy" around Somalian Coasts, as far as between the Red Sea and the Arabian Sea.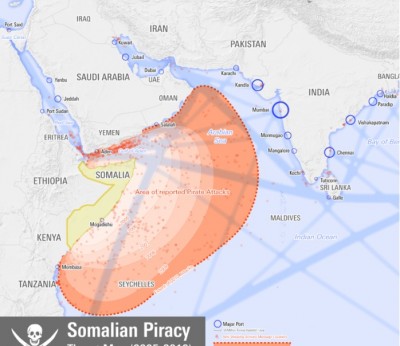 The move was made, mainly, in order to Saveguard Ship Transports, particularly of Oil/Gas, through the Strategic Suez Channel, which crosses Egypt and Faces Cyprus. And Recent EU Statistics reveal that they Really Curbed and almost Suppressed Pirate Attacks, sufficiently well.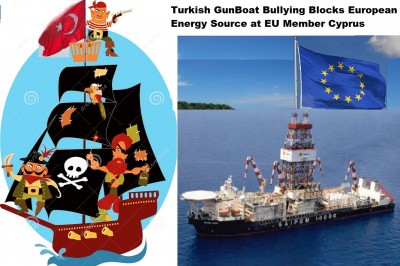 => Since EU did so against Somalian Coasts' "Pirates" illegaly Attacking Energy Transport Ships so Far Away from Europe, why it shouldn't, then, Nowadays, do something Equivalent, also vis a vis Turkey's GunBoats' illegal and Violent Bullying and Threats around EU Member State Cyprus, which notoriously Cooperates closely with its Neighbouring Countries Israel, Egypt, etc, at a South-Eastern Mediterranean area where New Oil/Gas Findings are recently Booming Fast (Comp. Supra), Together with various Plans for Direct Energy Transports to Europe's core ?

(../..)


------------------------------
***
(NDLR : Headlines = Eurofora PHOTO from EU Summit Defence PESCO Event of 12/2017, Brussels)
*** 
CoE: European AudioVisual Production, CO-Productions+Exports Boom: Fairy Tales or Not ?
Wednesday, 21 February 2018


*Strasbourg/Angelo Marcopolo/- It looked like a Fairy Tale ! However, the Reality is More Complex, but, anyway, Interesting...

 A Series of recent Statistics on European AudioVisual creations, published these Days by CoE's PanEuropean AV Observatory (EAVO)'s Experts in Strasbourg, at First Sight, Boom by Optimism :

- F.ex.: There was a Strong Growth of Film Production in Europe, during recent years ! European Co-Productions generated 3 Times More Cinema Admissions ! And European Films Released in Foreign Countries had Grown by +8,5% ! Etc...

It's not inaccurate. But it's not all...

------------------------------

- Indeed, "Overall Production in Europe" was "Growing by + 47%", jumping from 1.444 feauture Films in 2007, up to 2124 in 2016.

However, it's mainly "Documentaries" which "Boomed, almost Doubling" (X 200 %) "to 698 Films in 2016". While "production of Feature Fiction" rose just for 1/3  ( X 33 %), which is not bad.

And among the 36 Countries that EAVO covers, it's "the Top 5 producing" which accounted for an absolute Majority : "53,6% of overall Production", (UK, France, Germany, Spain, Italy).

On the Contrary, "18 Countries produced Fewer than the average" (25 Films a Year), and 5 Countries' production "Declined", (even among the "Top" : f.ex. the UK, followed by Belgium, etc).

But it's also true that other "10 Countries more than Doubled their production volume", while "the Fastest Growth" was "Mostly .. located in Eastern Europe".

F.ex., Russia comes 6th, just After the "Top 5" (Comp. Supra), with more than 1.000 Films. To Note also Spain's Recent Growth, particularly on Documentaries. (While, on the Contrary, UK recently Lost the 1st Place)

----------------------------

- European Co-Productions, indeed, generated "3 Times More Admissions" to Cinemas, "than purely National Films" : I.e., with 24,2% of the Total Production, they got 50,3% of Admissions, (with the UK sky-rocketing).

But, if the Particular case of UK's "GB inc." Companies is Excluded, (since they may have a Majority of Capital, or even All of it, coming from Abroad, resulting, in Fact, f.ex, in a ...American-American Production !), then, the above-mentioned Ration of 3 : 1, is Lowered to just 5 : 3, (and the relevant Percentage Diminishes from 317% Down to 171%).

=> Then, France comes First, followed by Germany and Spain, (while even the Czech Republic outnumbers the UK !)...

However, Co-Productions are Not used so much for Documentaries, (which are the Fastest-Growing AudioVisual products and stay predominantly National : Comp. Supra), but Mainly for Fiction features.
And, concerning Co-Productions with Foreign (Extra-European) Countries, it's Russia which Leads from the European continent, (bypassed only by the Particular case of the UK : Comp. Supra, and Followed by Spain and Portugal).

Last, but not least : Even inside Europe, Russia, which has a Comparatively Low Number of European Co-Productions, nevertheless, appears Interesting in practice, since it's almost the Only one to ...Always Fund the Majority of the Co-Production Costs !

-------------------------------------------

- As for the "Circulation of European Films Outside Europe", Indeed, the Number of those Released in Foreign Countries regularly Grows, from 2012 up to 2016, Jumbing from 509 Up to 650 Films per Year.

But, it's also a Fact that, on the Contrary, the Admissions in Cinemas, for these Films, Curiously ... Fall Down, from 131 Millions to Only 108 or even 82 Millions (between 2012 - 2015/2016) !
 Nevertheless, an Astonishingly Small Part of European Films Released in Foreign Countries (just 9%) has Managed to Attract ..90% of the Total of Admissions ! I.e. showing that Success on Europe's AV Exports is possible, but may depend also on Focusing on certain Key Products...

However, it's also True that these Numbers do Not take into Account the "VOD", on-line and Other Kinds of Releasing Audio-Visual products, (reportedly because there is Not yet a sufficient "Transparency" of those New and Booming ways of Distributing Films Worldwide, Nowadays).

So, as things stand, it's obviously the Uk which came recently First in Admissions of "European" Films Outside of Europe, Followed by France and Russia, (Comp. Supra).

As for the Markets where those Admissions take place, naturally USA comes First, closely followed by China, and, in a Distance, by Mexico, further away : Australia and South Korea, etc.

Among the Smaller Markets, just don't look for Countries as Turkey : Because there, Exceptionally, a large Absolute Majority of Films are simply ...Turkish ! Contrary to Most Other Countries in the World, where the Majority of Films released and seen come from Elsewhere.

On the Contrary, in the Pan-European area, the Russian Market for Films is seriously Growing Nowadays, according to CoE's Audio-Visual Observatory.
-----------------------
In other words, as the Number 1, Top Selling Abroad, European Film Co-Production indicates, (Picturing a ..."Cat" with "Nine Lives" : See relevant PHOTO), Fairy Tales or not (Comp. Supra), at least one thing seems clear : At any case, the European AudioVisual works have ... Many Lives !...

(../..)


------------------------------
BRIEF NEWS
00:00 - 09.07.2018

00:00 - 31.05.2018

00:00 - 26.12.2017

00:00 - 26.05.2017

00:00 - 30.01.2017

00:00 - 14.10.2016

00:00 - 24.09.2016

00:00 - 27.07.2016

00:00 - 03.07.2016
Statistics
Visitors: 28236397
Archive
Login Form
Other Menu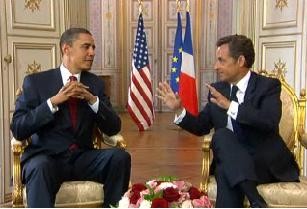 La Turquie, test-clé d'Independance de l'Europe face aux USA, les aménant de chercher en commun des nouvelles idées pour se mettre d'accord ?  
 Le débat, amical mais clair, entre les Présidents Américain et Français, Obama et Sarkozy,  la veille des elections européennes du 7 juin 2009, a montré que la question controversée sur la démande de la Turquie d'entrer dans l'Europe est actuellement le point central et le test le plus pertinent de l' indépendance de la France et de l'Europe par rapport aux Etats Unis.   
 Les electeurs européens, aussi bien en France qu'ailleurs en l'UE, auront une seule chance à trancher, ce dimanche 7 juin 2009, en choisisant leurs eurodéputés pour la période 2009 - 2014, car après ca risque d'être trop tard, vu que tous ceux qui suivent les affaires européennes dépuis des décennies savent qu'en réalité, le moment des décisions sur la Turquie viendra au plus tard en 2013, date rétenue dépuis longtemps pour une importante révision des "Perspectives Financières" de l'UE qui reflètent des choix Politiques fondamentaux.

    Le Président français, (récement encore représentant de l'UE, dans laquelle il joue un rôle important, ensemble avec la chancelière allemande Merkel, et autres leaders européens, ayant une influence notable auprès des Citoyens Européens, comme les derniers sondages montrent), réagissant à la repétition, par le nouveau Président Américain de la vieille position traditionelle de l'Washington poushant toujours vers la démande de la Turquie d'entrer dans l'Europe :

     - "Je ne peut pas laisser détruire l'Europe, (qui) est un élément de stabilisation du Monde", réponda Sarkozy. "J'ai dit au Président Obama que pour moi il était très important que l'Europe ait des Frontières", a-t-il souligné, confirmant la position Franco-Allemande commune, récemment rappellée ensemble avec la Chancellière Merkel.

    - "Il y a une différence (entre France/EU et les USA)...  sur les modalités. La position traditionnelle des Etats-Unis d'Amérique, c'est l'intégration" de la Turquie au sein de l'UE. "C'était la position du Président Bush, du Président Clinton, de tous les présidents américains".     
- "La mienne vous la connaissez : Ce n'est pas l'intégration dans l'Union Européenne. Mais j'ai proposé que nous réfléchissions, l'Europe, la Russie, la Turquie à la création d'un Espace Economique et de Sécurité en commun", a ajout Sarkozy rappelant son invitation de créer quelque chose de neuf et mieux adapté.

    Mais, "cela ne veut pas dire qu'il faut repousser la Turquie dans les ténèbres. La Turquie est un allié dans l'OTAN, (et) une Passerelle entre 2 Mondes, voilà quelle est la meilleure modalité. C'est cela dont nous avons parlé", revela-t-il. Si "nous avons une Différence sur les Modalités, nous n'avons pas une différence sur l'Objectif : Faire de la Turquie un élément de Pont entre l'Orient et l'Occident", Sarkozy assura Obama.

    - "Laissez-nous au moins une légère divergence sur un sujet, cela vous permettra de bien réfléchir pour les prochaines échéances", ajouta Sarkozy en réponse à un journaliste de l'opposition Socialiste qui avait soulevé la question de la Turquie, en la melant (comme un lobby turc notoirement essaie de faire pour exploiter la manipulation de quelques Arabes, la Civilisation Historique desquels fût pourtant detruite par l'ex-empire Ottoman-Turc) avec une question tout à fait différente : celle de la voile islamique (!), avec laquelle elle n'a rien à voir.

    - "Sur la Turquie, Monsieur, vous appartenez à un journal ...qui a appelé à voter, au moment de la présidentielle, pour mon adversaire.... Quel était votre argument à ce moment-là ? Vous disiez : « Attention, Nicolas Sarkozy va trop s'aligner sur les Etats-Unis d'Amérique », et je vois que deux ans après vous dites : « Ah, il y a un sujet sur lequel le Président Obama et le Président Sarkozy ne sont pas d'accord » Cela devrait vous rassurer, Monsieur" , réponda-t-il, en faisant sourire même le président américain, (et laissant entendre que trancher définitivemen la controverse sur la Turquie pourrait être au coeur de l' Elections Présidentielle  en France pour 2012 )
-------------------
    - "Ce que les Etats-Unis peuvent faire, c'est encourager ....TOUT PROCESSUS qui permettra à la Turquie d'être convaincue qu'elle a des amis, que ce soit la France, les Etats-Unis ou l'Europe", réponda Obama, apparamment n'excluant pas, a priori, le point de Sarkozy sur la création d'un espace commun d' économie et sécurité entre l' UE, la Turquie et la Russie (v. supra).

    "Les Etats-Unis ne sont pas membres de l'Union Européenne, nous ne pouvons pas dicter si un pays quelconque adhère ou n'adhère pas à l'UE"; Obama a admis, parlant de la "Turquie, (sur laquelle) le Président Sarkozy et moi nous sommes entretenus sur ce dossier avant".  "Maintenant le Président Sarkozy représente un Etat membre de l'Union Européenne et il a une position différente", opposée à démande turque d' entrée dans l'UE.    
 "La Turquie par contre est un allié de l'OTAN très important. ...La Turquie a fait connaître son intérêt à une intégration croissante avec l'Europe et nous (USA) encourageons cette attitude. J'ai souvent dit que l'adhésion de la Turquie à l'Union européenne serait importante".     
"Mais, (en tout cas) je crois qu'il est important de noter que le Président Sarkozy appuie fortement le travail que la Turquie fait au sein de l'OTAN et je crois qu'il s'intéresse à une intégration économique plus intense avec la Turquie". (Ce qui pourrait se faire, justement, avec un "parténariat privilegié" adéquat et/ou l'idée de créer un espace commun EU - Turquie - Russie  : V. supra).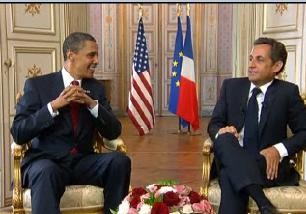 Est-ce que l'effort du Président de la France, soutenu par la chancelière Allemande et l'opinion publique de la plupart des Citoyens Européens la-dessus, de trouver un accord entre l' Europe et l' Amérique sur la Turquie, en proposant de sortir des chemins battus et créer du neuf, en etablissant "un Espace Commun d' Economie et Sécurité" (v. supra), suffira de calmer un lobby traditionaliste à quelques bureaucrates de Washington DC, datant dès l'époque de l' ex-"Guerre Froide", beaucoup plus ancien que le nouveau Président vénu de l' oxygen des "grands lacs" près de Quebec du Canada : Chicago, connu comme "la ville du vent" nouveau ?
-----------------------------------------------------------------------
Le Prémier Ministre Fillon appele à "faire vivre le Rève Européen"
------------------------------------------------------------------------  
 Seul l'avenir le dira. Mais, entre-temps, l' Europe ne peut plus attendre et perdre encore plus du temps et d'energie vitale sur la démande controversée de la Turquie, qui a notoirement menacé d'arrêter l'édification européenne dépuis 1999-2005 :

    Comme le Premier Ministre François Fillon a clairement dit, un peu plus tôt cette semaine, dans un discours éloquent sur les enjeux de l' Election Européenne de ce juin 2009 (V. résumé envoyé aux adhérents d'"EuroFora"),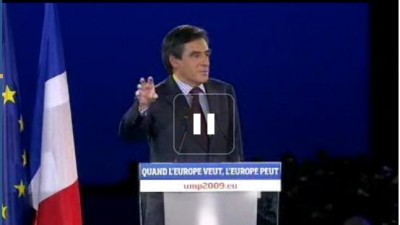 - "S' abstentir, c'est laisser à la Technocratie le pouvoir de dominer" la vie des Citoyens européens, qui devraient prendre l' Europe en branle le corps", et commencer d'agir par toutes les voies politiques démocratiques, prennant conscience que "l' Europe c'est Nous, (i.e. les Citoyens), et "Pas eux !" (i.e. les Technocrates), selon une image symbolique.

    - "Je me souviens de l' Europe obligée de faire Silence, (au Passé), quand "les Grands" décidaient de son sort", rappela Fillon.  "Je me souviens de l'Europe divisée, de l' Europe dominée" par d'autres, '"de l'Europe appauvrie""Je me souviens de Berlin occupé, muré, divisé comme un butin qu'on tire aux dès. Je me souviens du Silence de Varsovie. Je me souviens du Silence de Prague"..   
 - "Nous, les Européens, nous avons bien failli sortir de l' Histoire, et dévenir, pour du bon, les dès d'un jeu joué par d'autres".     
- "C'est pourquoi je ne peux pas concevoir une Europe qui ne serait pas Souveraine, une Europe qui ne serait pas Maitresse d'êlle-même", aujourd'hui et démain, martella-t-il. "Le Monde s'est habitué trop longtemps à une Europe faible, que l'on pouvait traiter avec condescendence".  
 - "Le moment est venu de rélever le défi : Le moment est vénu de montrer que, nous les Européens, avons décidé d'être débout, et d"être nous-mêmes".     
"Dépuis 2 ans (i.e. dès les Elections Présidentielles de 2007), avec Nicolas Sarkozy, nous avons oeuvrer pour relever notre Identité Nationale (de la France), dont nous sommes fiers. Et bien, l'' Identité Européenne mérite tout autant, elle qui prolonge les Génies de nos Nations".


    - "Je crois à la présence d'une Civilisation Européenne", déclara Fillon, largement applaudi par des milliers de personnes ayant entendu une série des Musiques entremelées characteristiques de differents pays européens, et des images lumineuses géantes avec des extraits symboliques de Goethe, de Victor Hugo, de Shakespeare, et d'autres auteurs italiens, espagnols etc celebres à travers l'histoire.

    - "L' Humanisme, la tolerance, la Liberté de la Conscience. La Solidarité. L' Etat de Droit. La confiance placée dans la Science, l' Innovation, le progrès. Toutes ces Valeurs, elles disent clairement où commence et où s'épanuit cette Europe" que nous voulons, observa-t-il.

    En harmonie avec les positions soutenues par le Président du Parlement Européen, eurodéputé allemand, Hans Gert Poettering, et la Chancelière allemande, Angie Merkel, sur la "Dignité Humaine" au coeur des "Valeurs de l' Europe" moderne. Ce qui fait qu'" avec un Elargissement sans fin", même vers la Turquie, c.a.d. "sans Frontières, l' Europe Politique, l' Europe des Valeurs et l' Identité européenne" ne peuvent pas exister, comme a dit aussi le Président francais, Nicolas Sarkozy, recemment à Berlin.

    Fait important : Cette observation de Fillon a été faite le jour-même que le Comité des Ministres du Conseil de l'Europe à Strasbourg concluait une semaine de réunion semestrielle sur les Droits de l'Homme, qui a examiné un grand nombre d'affaires des pires Violations (pex. Tuéries scandaleusement non elucidées, Persecutions et privations arbitraires de Liberté, personnes portées "Disparues", Tortures et "traitements inhumains et degradants", Usurpations illégales des Maisons et Patrimoines privées de Réfugiés, etc., pour lesquelles la Cour Européenne a condamné la Turquie dans plusieurs jugements, dont on attend toujours l' application)...

    - "C'est pourquoi un Elargissement sans fin de l' Europe ne peu pas être un objectif en soi. Parce qu'il ne peut que diluer l' élan européen, et detruire l' Idéntité Européenne"

    -" Voilà pourquoi nous disons, très sereinement, que nous ne sommes pas favorables à l' adhésion de la Turquie dans l'UE", conclua le Premier Ministre de la France; largement applaudi par des gens qui soulevaient le drapeau européen.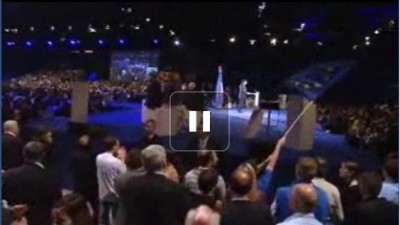 "Ce n'est pas un Slogan de meetings. Ce n'est pas la marque une "Hostilité" au régard de cette grande Nation (i.e. la Turquie), qui doit être étroitement associée à l' UE", pex. par un partenariat priviliegié, ou une autre formule adaptée.

    - "Mais il lui faut des Frontères à l' Europe, il lui faut des Frontières stables, qui lui permettent de renforcer son Unité et son Identité", a-t-il expliqué.

    - "Alors, c'est au nom de cette Europe charnelle, que je m'engage avec vous. Mais, cette Europe-là, ne peut avancer qu' à une seule Condition : celle de l' Europe Politique".

    "Nous avons longtemps douté qu'elle soit possible : Aux années 1970, Henri Kissinger (le notoire ex- Secretaire d'Etat Américain aux affaires etrangères, consideré, à tort ou à raison, comme chef d'orchestre du renversement du Président Allende en Chili, de l' invasion militaire de la Turquie à Chypre, etc), disait, avec une ironie blaissante : - "Ah, l' Europe ? : Quel numero de Télephone ?..." Pendant les 6 mois de la présidence française de l'UE, (7-12/2008), Henri Kissinger n'aurait aucune difficulté de rejoindre l' Europe !", observa-t-il en suscitant des nouveaux applaudissements nourris.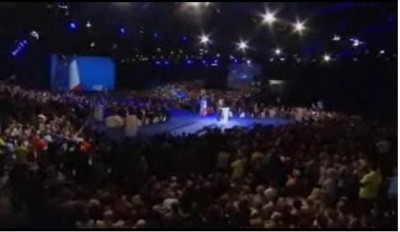 "J'au vu l' Europe Politique se dresser, et prendre ses responsabilités : L' Europe Politique c'est celle qui agit sans délai, et avant les Etats-Unis, pour stopper des faillites Bancaires qui s'enchaînent, qui nous auraint plongés dans une Depression pire que celles des années 1929. L' Europe Politique est celle qui, maintenant, doit mettre un fin à un Capitalisme Financier, qui a perdu sa boussole. L' Europe Politique est celle qui a réussi d'etablir le règles les plus ambitieuses au Monde dans la lutte contre le rechaufement Climatique. Samedi, nous celebrons l' anniversaire du debarquement de la Normandie, où nos amis Américains ont pris une part décisive à nôtre libération. Mais, en décembre 2009, à la Conference (Mondialle) de Copenhague, c'est nous les Européens, qui allons leur montrer le chemin vers cet avénir commun" pour la sauvegarde de l'Environement naturel. L' Europe Politique c'est celle qui, en août 2008, lorsque la Guerre faisait rase entre la Russie et la Géorgie, s'est interposée pour imposer la Paix. Et c'est elle qui doit, maintenant, se doter des moyens Militaires de se défendre par elle-même, pour elle-même", ajouta-t-il en évoquant clairement la création d'une Défense Européenn Autonome.
    "L' Europe Politique c'est celle qui doit bâtir des grands champions Industriels Européens, comme nous avons fait, auparavant, pour (l'avion) Airbus ou (la fusée) Ariadne. C'est celle qui doit exiger la Reciprocité dans les rlations Commerciale avec nos grands partenaires", sans Dumping Social ou Environmental, ni autre Concurrence Deloyale. "C'est celle qui doit se doter comme objectif d'être "le Continent de l'Esprit", réunissant les plus grandes Universités du Monde, en multipliant les Connexions, entre Scientifiques et étudiants."

    "Nous respecterons nos engagements, jusqu'au dernier", souligna le Premier Ministre de la France, peu après que les candidats-eurodéputés de la coalition Gouvernementale (UMP : Mouvement pour la Majorité Présidentielle) ont signé solennement, devant plusieurs milliers des Citoyens, une spectaculaire pancarte-géante avec "7 engagements" pour les Elections Européennes du 7 juin, auxquels figure aussi l'engagement de "s'opposer à l' adhésion de la Turquie dans l'UE".

     - "Parcque ce respet des engagements est une exigence si nous voulons rétablir la Confiance entre les Responsables Politiques et les Citoyens", conclua Fillon, la veille de ces Elections Européennes de juin 2009, après les Abstentions Majoritaires de 1999 et 2004, suivies de 3 "NON" à 3 Euro-Réferenda dépuis 2005, (dates auxquelles, quelques gouvernements du Passé, avaient donné le statut d'un "Candidat" et commencé des "Négotiationa d'adhésion" avec la Turquie, suivies d'un blocage sans précedent de l' édification européenne)..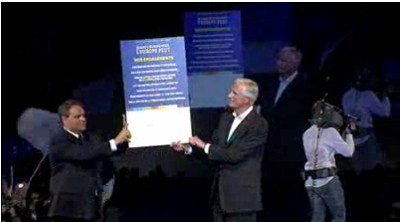 "Nore Europe n'est pas n' importe quelle Europe : L' UE Technocratique n'est pas la nôtre. ... L' UE sans Frontières n'est pas la notre. L' UE desincarnée n'est pas la notre". "Nous portons une idée de l'Europe" qui "n'est pas celle des Statistiques et des Bureaux(crates). L'Europe ce n'est pas qu'une Monnaie. Ce n'est pas qu'un Marché. économique".

- "L' Europe c'est d'abord une Culture. L'Europe c'est une Histoire", a-t-il dit, largement applaudi.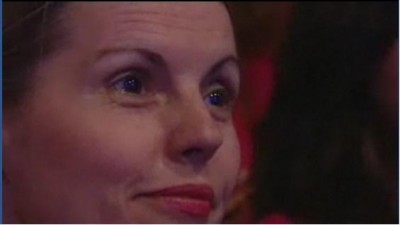 "L'Europe c'est une rencontre entre des Nations qui sont Millénaires et qui sont Brillantes. L'Europe c'est Paris. C''est Madrid. C'est Prague. C'est Londres. C'est Rome. C'est Varsovie. C'est Berlin. C'est Vienne. C'est Athènes : Quant on énonce ces Villes, alors on "sent" nos Héritages et nos Cultures entremelées qui circulent dans nos veines".

    - "Je suis Européen, parcque profondément Français, je sais ce que je dois aux influences de l' Atlantique et de la Méditerannée. J'aime ces Traditions qui offrent à chacun des nos Nations leur éclat. .. J'aime ses saveurs, ses paysages divers. Ils sont également miens, ou, plus précisement, je suis également fait d'eux. Je suis Européen, car, Français, j'aime l' Europe ouverte vers l' Amérique, vers l'Orient, vers l' Maghreb. J'aime les quais de Vénise, ceux d'Amsterdam. J'aime les quais de Thamise où sont vénues pendant des siècles s'amasser les richesses et les nouveautés du Monde. J'aime l' Europe curieuse. L'Europe qui rêve des lointains : L' Europe de Vasco de Gama, de Magelan. de Bougainville, de Charcot, de Monot... Cette Europe qui, aujourd'hui, s'élance vers l' Espace. Je suis Européen parce que Français, j'aime l' Europe qui prospère et qui invente. J'aime l' Europe des Trains à Grande Vitesse. J'aime l'Europe des Satellites et des Fusées. L'Europe de la Mode et des Atéliers d' Artistes. L'Europe des Grands Laboratoires, des Ingéniers. des Entrepreneurs, des Grands Architèctes, des Traditions Ouvrières. Comme rançais, j'aime l' Europe qui dit "NON" à la Tyrannie et qui se soulève à l'appel de la Liberté", a-t-il dit en

 
"Je me sens lié à ces femmes et ces hommes sans nom, qui ont levé la tête, et qui ont sécoué le joug sous lequel .. on les avait fait pliér", dit-il en évoquant pex.. la Révolution Française de 1789, le Siècle des Lumières, l'appel du Général de Gaulle contre l'Occupation NAZI, et les pires heures obscures qu'un  "Fascisme" ou "Communisme" devoyés, suivies de la Guerre Froide avaient plongé l'Europe au Passé.

"Ils sont des millions, ces Héros Anonymes de notre temps, que nous croisons sans le savoir dans nos rues et nos places. Et je ne peux pas concevoir l'Europe sans eux, et sans tous ceux qui poursuivent leur combat contre l'arbitraire et le fanatisme", ajouta Fillon. Faisant pex. rappeler un récent Film allémand, primé au Festival de Vénise, qui décrivait la vie d'un cadre à l'époque d'un régime oppressif, qui avait été chargé d'espioner la vie privée et familiale d'un couple soupçonné d'être dissidents politiques, mais, ému par leur honnêteté humaine et leur sacrifice pour sauver d'autres, a preferé risquer sa place et sa propre liberté pour les sauver, sans même qu'ils le sachent, condamné dépuis à faire un bas boulot d'anonyme perdu dans la foule..


"Quand je vois l'Europe moderne, je vois les résultats de l' Audace de ces hommes qui ont brisé les traditions de conflit et de violence. Je vois des nations soudées autour d'une monnaie unique et protectrice. Je vois 27 jeunesses appelées de grandir ensemble, sans défiance. Je vois 27 peoples unis, qui nous interdisent de jouer les blazés ou les indifférents".

Jettant "un régard lucide sur les errements de la construction européenne", Fillon a observé que "l' Europe n'a pas bésoin d'être idélisée pour être ce qu'elle est ; Cad. une aventure humaine, avec ses faiblesses et ses forces".

"Vous voulez que l' Europe agisse ? Fixez-lui des objectifs clairs. Vous voulez la Démocratie ? Agissez en Citoyens. Vous rédoutez la prétendue Bureaucratie des Bruxelles ? Alors renforcez, par votre Vote, les instances élues au Parlement Européen" qui sont chargés de la contrôler.

- "Si nous voulons faire vivre "le Rêve Européen", .. alors nous avons tous le dévoir de l' engagement", a-t-il conclu, appelant de "engager pour le drapeau tricolore et le drapeau étoilé, car ils symbolisent tous les deux la fierté de nôtre nation et la force de nôtre union".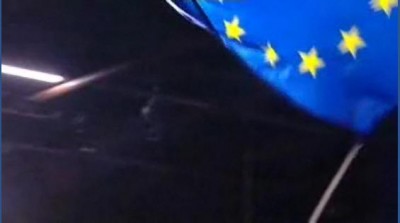 Polls