French Election : Black Out on Virus, but Obligation for Fake 'Vaccines" Challenged
Thursday, 21 April 2022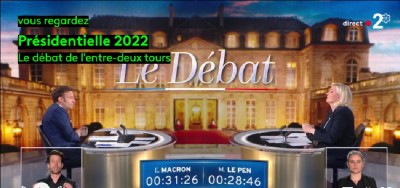 *Strasbourg/Angelo Marcopolo/-    Astonishingly, the Most Important Topical Issue Nowadays : that of the way to face èhe Deadly Virus' Pandemic, was kept ptacticaly Out of the Public Debates pf the Crucial Fnal Round in the current French Presidential Election. But when it did interfere, it trigered a Sharp Criticism  against the way that the Incubent Admioistration attempted to Impose a Few Controversial Fake "Vaccines' on the People, to the Detriment of Both its Human Right to Chose, and of Medical Workers' Liberty, as well as of the efficiency of the Health Protection System...     
========================
    First of all,  WHO Announced several Exceptional 'Problems" Hinfering a normal information gathering Nowadays, particularly on Europe.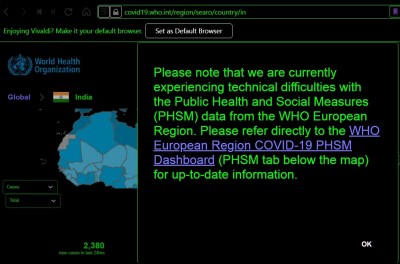 Moreover, a Special WHO's Web-Page for our Area of the World,  revealed that relevant "Data" on European Coutries were now, Suddenly, ..."14 Days" Old (sic !), i.e. a Black Out almost Equivelant and Coicidng with the Crucial Final Round  the current Frech Presdental Elections' process, concluding on April 24...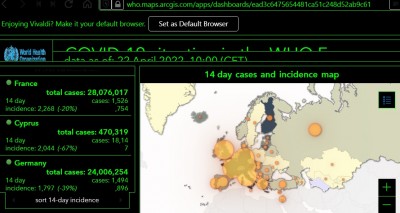 Meanwhile, Challenger Marine Le Pen Complained for Incubent President Macron's Refusal of any Public Debate with him during the 1st Round of the Election. And when he, immediately Afterwards, Vsited Strasbourg's Region, he Skinded any Health-related Issue from a widely Publicized Speech on "Europe'here, by Restrictng the 1st into an Osbur Military Hospital at FarAway Muhlouse City... Last, but not leat; the Only Official Publc Debate between the 2 Finalist Candidates, on April 20, Despite a Log Time Duration, Icluding Various Other Topcal Issues, Surprisingly, did Not Deal with Any "Virus Pandemic" specific Issue, at all. (It Only added a Vague and Short mention about "Hospitals" in general)...

+ Paradoxicaly, an even more Surprizing Fact is that the current Ukranian Conflict, which has practicaly Monopolized the Establishment Medias' Attention during the Letest Weeks, occured almost at the Same Time with a Record-High Augmentation of Virus' Infections, Hospitalisations and Deaths, throughout Many Countries, which Risks to go practicaly UnNoticed, by the Publlic Opinion, particularly ion Europe and the USA, (i.e., by a Coincidence, there where the Copntroversial Fake-'Vaccines" notoriously have a quasi-Monopol)... It's Obvious that, in that way, inter alia, several Recent Developments Revealing various Limts, Imperfections, Counter-Indications, Gaps, Inadequacies, Unefficiencies, or Risks around those Fake-"Vaccines", may Not be percieved by the People fully and/or on time. And rrecent WHO ot other International Developments have, indeed, already started to Reveal maifold Failures in the Contrversial Pseudo-"Vaccines", Affectiong the Human Genome (mRNA + Virus' Vector, etc), Contrary to "Classic" Vaccines, similar to those tested and used Since Louis Pasteur's ionvention, during almost 2 Centuries.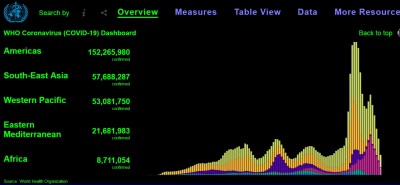 Thus, inter alia, it's also the Growing Controversies on various possibly Negative Side-Effects of such Fake "Vaccines", the Fact that their Recipients are Not Always Protected from Infections, Hospitalisations or even Deaths, while they can even Infect Other People (as "Silent Killers"), added to an Unsustainable Obligation to Add More and more "Doses', 'Bousters", etc., each time, after only 3 or more Months, and/or fori each Variant, etc., (while Some can even be "Individualized" ...sic !), stand inevitably behind their Failure...
Such a curiously Stuborn Insistence to Stick to a Few and Failed Human Genome Affecting Tools goes as Far as to Exclude, in the EU, USA, etc, any Other Kind of Vaccine against COVID, and particularly those "Classic' Vaccines, faithful to Pasteur's well-Tested Idea during 2 Centuries,    ² (i.e. the Majority of Currently Tested Vaccine Projects against COVID), Even if thy have been Nowadays Authorized by tje WHO, (Already at least 3 of them)...
Moreover, whenever "Eurofora" raised a Question about a Hope to Authorize any "Classic' Vaccine against COVID soon enough, (f.ex. at Video-Press Conferences of EU Heads of State/Governements' Summits, of EU Parliament, or  at the French Ministry of Health, etc), there was Never Any concrete Positive Answer... (See, f.ex., at: ... + ... + ..., etc).  And a Last-Minute, Delayed Additon of Only 1 Other "Vaccine", Pretexting that it would be "More Classical' than the Others (Comp. Supra), so that it might Ease People's above-mentioned Fears, on the Contrary, in Fact; it concerned an Obscure USA-made tool, using ...Insects' (sic !) Eggs Geneetic Manipulations, and a "Chimera"-like Transpositon to Humans, Earlier presented by its own Inventors  as an example of ..."Gene Therapy" Novel Tools, (i.e. Nothng to do with Pasteur"s really "Classic" Vaccnes).
=> So that, in Addition to the so-called "Anti-Vaccine" People, there were, Also, many Other People, who would Like to have a good "Classic" Vaccine against the Pandemic, Pasteur-like, Bt were -and Still are- Deprived from it, Against their wish : I.e., to the "Anti-Vaccine" Movement was added those who were, UnWillingly, Refused any Vaccine of their Free Choice, i.e. "Refusnics"...
>>> Such Strange Blunders incited even the President of the "League for Freedom of Vaccinations", a Long-Time Respectable Huma Rights body,  John-Paul Zudier, launch a vibrant call to "Vote for Marine" on 2à22, as the prestigious Newspaper "Le Monde"  observed.
    - Indeed, Marine Le Pen denounced Emmanuel Macron's part of responsibility for "Bullying the Non-Vaccined People", as she called, inter alia, also an unusual, clumsy and isulting Expression, (related to "Shit !", etc), Exceptionaly abused by Macron in Public, for a large Group of People, Against whom; in Fact, an Unprecedented and Dangerous, wider "Hate Speech" emerged Recently in some Countries' Establishment, amidst various Discriminatory and Oppressive Measures, related to the Deadly Pandemic. -"He (the incumbent President Macron) even called us (the Political Opposition) ...;"UnVaccinators" (Sic !).., further Complained Challenger Marine Le Pen.
-----------------------------------------
    + But the Sharpest Denonciation was that Against the "Absolutely Awful" measure to "Fire more than 15.000 Health Workers, withOut Salaries", under the Pretext that "they were Not Vaccinated, as you Required, at Any Price",... Marine Criticized.
    => In consequence, - "I (if Elected) will ReIntegrate them All, and ReImburse the Salaries tha they were Deprived from !", she clearly Vowed.
    Many Victims of such Abuses, by the competent Ministers, Not Only in France, but Also in Other Countries, (as, f.ex., Greece, Italy, USA, etc), have Already lodged  various  Legal Applications to the Courts, including the ECHR in Strasbourg, while in the USA; the Supreme Court, at Washington DC, Recently OutLawed (with a Big Majority) a Similar Opressive Measure concerning Many Jobs at the Private Sector;, (Clearing  anOther one, Limited to Publc Sectors' Hospitals, But Only with just 1 Vote Difference out of 7).
    Exceptionaly, Macron did Not even Reply to such a Heavy Accusation, and Loud Announcement, prefering to Speak about Other Matters...
    Establishment's Medias had Already Censored recently 3 Times Marine's Announcement on the Fired Health Workers in order to Impse a few Fake "Vaccines", since Marine had spoken about it at a Popular Meeting in Avignon, during this 2nd Round, but it's not sure that they might do the same Even after the Unique Public Debate between the two Finalist Candidates... Meanwhile, it was taken over Also by a Dispute between the National Rally's interim President, MEP Jordan Bardela and Cotroversial Health Minister Olivier Veran, where the First Prognosticated that 'we shall probably Discover Many things (i.e. Scandals) during the Next few Years'...
    Controversial Veran seems to be an Interesting lead towards Possible Scandals, since, inter alia, in Addition to his role at the HCQ "Lancet-Gate" Blunder (See f.ex.: ..., etc), he was a Supletif, as MP, of Former "Socialist" Health  Minister Mrs Fioraso at Grenoble, Notorious for her Stuborn Insistence to Submit Human Embryos to Genetic Manipulations; under Former "Socialist" President Hollande, (See, f.ex.: ..., etc), and Wife of a Bio-Technocrat. LGBT-Friendly, Speaking English, with an Homonymous Big-Pharma Company in th USA ("Veran Medical" nowadays Focusing on Research about "Pulmonary" Issues, after having got the responsibility on the COVID Pandemy since the Beginning of 202O at the French Ministry of Health since the Beginning of 2020, he appears to be a Key to Macron's failure for France or Europe to "Find the Antidot" to COVID, as he had  Dreamed Initialy (See: ...)...  As for his Current Claim, that France and tje EU would "Produce and Export the Most Vaccines" against the Virus, it doesN' realy look Better than a Poor Country like ...India, which, Notoriously,  Also Simply puts a Liquid, Invented by Others, inside small tubes, Spread across the World, But has Also Invented its own Vaccine, (a "Classic', Pasteur-like product), already Authorized by the WHO ! Compared to that, just Copy and Paste a USA - Turkish "Uhgur" Controversial Fake "Vaccine", probably pushed by the Amerikan Pentagon, as also Controvrsi "Remdesivir" or "Moderna", since the "Ebola" African Crisis, while the Numerous USA-Army linked "Bio-Labos", Notoriously Spread &ccross the World, full of "Bio-Weapons", Near Foreign Borders, surfaced Nowadays up to the UN SC, by Russia, China, a.o., as f.ex. near Mainz, at the Fraco-German Borders, from where comes the Key-part of Pfizer's Human Genome Affecting Controversial Tool, (close to the HQ of USA"s Military in Germany :  Comp. f.ex. POTUS GVBush's 1st Visit in Europe on 2005)...
    + And, f.ex., we had to Wait for "the Virus' Crisis, in order for the ill-Treatment of Old People in the EPADs to be Revealed", Deplored further Marine, before Announcng a series of Financial and Organisational Measures, (on a Scandalous Issue, (including abnormal Deaths, Refusals to Admit in Hospitals, Abuse as Guinea Pigs;, in order to Test Fake "Vaccines", etc), tiinitialy Revealed by nearby German Press and CoE's Human Rights' Commissioner, (in France, Sweden, etc, since 2020).
    - "But, France could Help Aged People to Live in Their own Home, as Many Wish', suggested Macron, during that same Debate.
    => It looks like a Good Idea... But, isN't it Too Litlle, and Too Late, for Many ?...
___________________
BRIEF NEWS
00:00 - 02.06.2021

00:00 - 18.10.2020

00:00 - 19.06.2020

00:00 - 18.05.2020

00:00 - 20.04.2020

00:00 - 02.02.2020

00:00 - 09.12.2019

00:00 - 27.11.2019

00:00 - 16.11.2019
Statistics
Visitors: 52357307
Archive
Login Form
Other Menu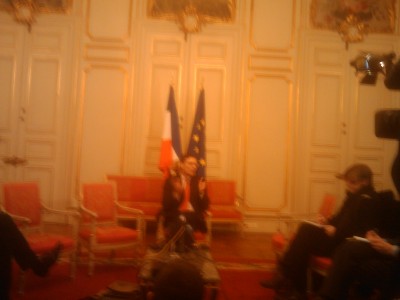 It's important to create a synergy between "mutually stimulating" EU Countries' moves in order to overcome an "Unjust" Crisis "imported from USA", stressed new French Minister for Economic Revival, Patrick Devedjian, in Strasbourg, warning also that, while hoping for a vigorous Obama US Plan, nevertheless, "Time" is of essence for Europe...

In fact, it's EU's own interest to act Fast, before June 2009 EU Election, since, with Lisbon Treaty not ratified yet, it cannot face again the risk of a Majority Abstention, as back in 1999 and 2004, nor another "anti-EU" mood among Citizens, as in the 2005 French and Dutch "No", followed by the 2008 Irish "No", without endangering rare Historic opportunities, currently open for the EU, whose future is at stake.

From Social issues up to High-Tech Scientific Research, concrete action for Economic revival started from Strasbourg and its European dimension, for the new super-Minister Patrick Devedjian, who visited a Popular Social Housing and Infrastructure project at nearby Hagenau village, before meeting new leaders of Strasbourg's unified mega-University in a Scientific Labo at the Campus, close to EU Parliament and CoE headquarters.
Devedjian, who met also with all the spectrum of Local Political  deciders of Alsace region, close to FrancoGerman borders, wants for deeds to meet the words, in real practice, whenever politicians speak about Strasbourg and Europe's development.
-------------------------------
Devedjan to "EuroFora" : "European coordination can act as a multiplicator by mutual stimulations"
--------------------------------
Devedjian was questioned by "Euro-Fora" on his expectations for reciprocal effects of coordinated European plans :

- "We are living in a (European and Global) system where borders are transparent : When we take measures in France, they produce effects also in Germany, in Belgium, Italy, Spain, or other EU countries, and vice-versa. "So, we can have mutually stimulating effects between national revival Plans, if they are somehow coordinated", ..."They can augment each other's effects, acting as multiplicators and levers". "As a State stimulates Local authorities and Private business, similarly, each EU country's economic revival plan may multiply the effects of other EU countries' actions", he told us.

- "F.ex., when I visited Strasbourg University's Scientific labos, they told me that part of the renovation, funded by France, is realized by German companies located only a few Kms away from the border. Thus, the French revival plan benefits also the German economy. And vice-versa : when Germany takes certain measures, they can have beneficial effects also for French companies"

In an era of Globalisation, "nobody can close and isolate himself inside a Fish-Bowl !", he concluded.
----------------------------------
Economy's revival starts from Strasbourg and Europe, for new French Minister Devedjian
----------------------------------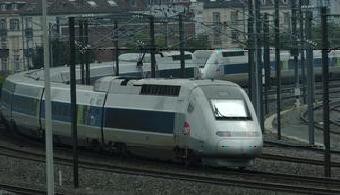 This could be one of the reasons for which the new French Minister for Economic Stimulus chose to make his 1st visit to Strasbourg, the headquarters of European and Paneuropean Institutions, in the Franco-German river borders at the heart of Europe.

- "It was President Sarkozy's idea", he revealed, adding also fresh "support to Strasbourg's European vocation, not only with words, but also with deeds" :F.ex., the completion of a High-Speed Train network, due to stimulate fast links with Germany, Austria, Italy, Hungary and other central EU Countries.
- "This Crisis is Unjust for Europe, because it wasn't its fault". The greatest part of the "Crisis was imported from the USA, where problems are deeper than here'', in the EU. The Crisis "wasn't due to a bad managment by Europe", who was affected by problems which emerged elsewhere. That's why Europe must be united and active enough to face this challenge. said Devedjian, who has just won +5% in popularity...

- "I hope that there will be an "Obama-effect" also on Economy, and that the Plan of the New American President will be substantial enough to face this crisis, which is worse in the USA than in our area", Europe, he added.

"Economic Revival overcomes political divisions : F.ex. Strasbourg's Socialist Mayor "Ries agreed that State actions funded by Public Debt are justified during such exceptional circumstances", noted the Center-Right republican Minister.
---------------
"Zeitnot" for 2009 EU Elections ?
--------------------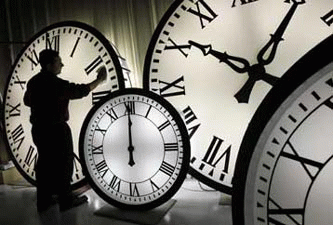 "My problem is Time", stressed Devedjian from the outset, at Strasbourg's University. "I have to engage 75% of funds in 2009, out of a total of 29 Billion euros", he explained later. "Monitoring will be of essence", because we must "avoid bureaucracy or delays. No project should get lost or neglected in complex meanders of adminstrative offices' moving sands", he warned.
- "I must create activities in the middle of the Crisis", he added. Questioned by EuroFora whether he aims to start creating some "hopes before the June 2009 EU Elections", Devedjian, a former leader of the Governing Political Party in France: UMP, did not immediately reply, but revealed, later, that he "hoped to start at least some Projects on May 2009, even if the bulk of Revival Plan's effects are "expected from Autumn 2009".
However, with only 30% of EU Citizens currently aiming to cast a vote at the forthcoming EU Elections on June, (See other NewStory), the  coordinated moves' results are expected to be crucial for Citizens' participation and votes at the forthcoming June 2009 EU Elections throughout all 27 EU Member Countries...Thus, it's vital for all Europe's own Future that coordinated national Economic revival plans start to have concrete results and create hopes for new dynamics before the June 2009 EU Election...
A real challenge, since careful choices are needed : Our aim is to fund projects which "create activities", even "in the middle of the crisis", and have a "lever effect, attracting other investments", Devedjian said. Because the "Stimulus' Plan has 2 aims : A Tactical one : to create New Activities. And a Strategic one : Choose what can become efficient and useful also in the Long-term". 

- "Are you ready ?", he asked Strasbourg University's new President, professor Alain Beretz, with some 700 million euros in his pockets for Education-Research in France. - "We are !", he replied.

- "The Minister's initiative can accelerate funds, and Time is important for us. This concerns the entire renovation of all our buildings", said to "EuroFora" President, Beretz. "I showed some Scientific Research Labos to Mr. Devedjian. But, If we had more time, I could show him also some Education Amphis, whose condition needs to meet Strasbourg's new Mega-University's ambition" to reach the 10 best in the World, as Prime Minister Fillon earlier anounced here.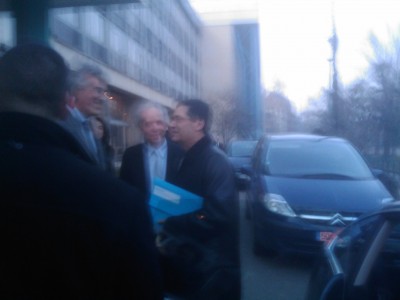 (Devedjian kicks off his Economic Revival tour from Strasbourg University, meeting with its new chairman Beretz, at Scientific Institute Le Bel) 
-----
Regional Prefectures should gather and select projects to be presented for decision before the end of January 2009.
A well-known close friend of President Sarkozy, who succeeded as EU Chairman to launch, in agreement with German chancelor Merkel and even British prime minister Brown, vigorous EU actions against the Financial/Economic Crisis, (starting from the 1st Historic Summit of EuroZone's Heads of State/Government, October 12 at Elysee Palace, followed by Washington G20 Global Summit), Devedjan will have a key role in the realisation of National and EU plans recently agreed in Brussels.
President Sarkozy is expected to arrive himself in Strasbourg, on the occasion of the official inauguration of its brand New Mega-Hospital, on the 9th of January 2009, at the eve of EU Parliament's session here, Elysee confirmed shortly after Devedjian's visit.
EU is due to review its economic revival plans at March 2009 EU Council in Prague, before the April 2 London Global Summit.
***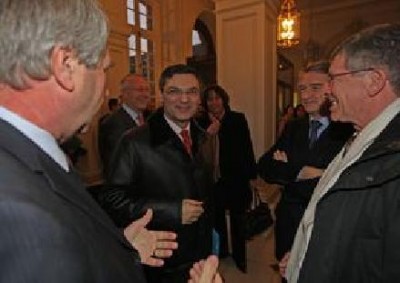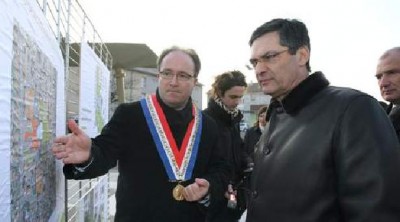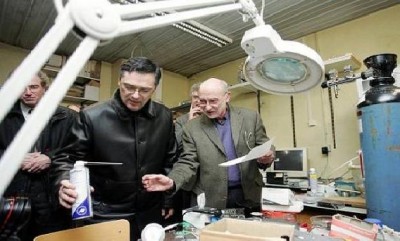 Multi-facet concrete activities at focus : Stimulus Minister Devedjian at the Political, Social and High-Tech fronts in Strasbourg...

Polls