Home

newsitems
newsitems
Virus World Epicenter Capital: Strasbourg/France/EU=Record Deaths => MPs+Meds urge for HCQ Treatment
Friday, 03 April 2020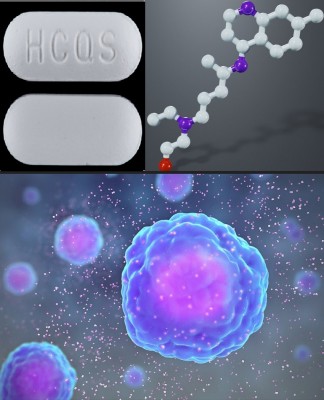 *Strasbourg/Angelo Marcopolo/(Partly UpDated)- In what has become the Capital of the World's EpiCenter of Deadly Virus COVID-19 : Strasbourg's "Great East" Region in France/EU, in the middle of a surprizing Record-High Number of Victims Nowadays, Groups of Medical Doctors and MPs (including EU Parliament's MEP, Senators, etc, as well as a former Health and Foreign Minister : See Infra), have suddenly Urged the Public Authorities to allow the Freedom to immediately Start using the Controversial but Promising Treatment of HydroxyChloroQuine (alias HCQ), under simple Private Medical Doctor's prescription, (currenntly still Prohibited in France, as also in many other Countries), in order to Urgently try to Save threatened Human Lives, withOut still Waiting for further Confirmations by various on-going more Tests, for this and:or other Drugs, in Europe, China, the USA, etc., (See Infra).  
---------------------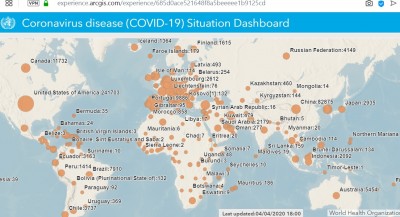 EU has notoriously become the World's "EpiCenter" on this Virus, according to the WHO, Both in the Number of Infected People, and, (much More) in that of Deaths, (even if the USA cases recently grow Fast), as WHO's and ECDC's overall Graphics show very Clearly, (See attached Screenshots).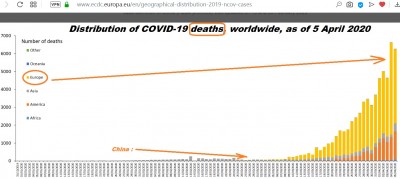 Inside the EU, just on 3 April, France (where Strasbourg's Region is the Biggest Hotspot) added 1.053 more Deaths in total, i.e. OutNumbering even Italy, which had Less : "only" around 764, (and almost Equaling USA, with 1.061 Deaths, But inside a Larger Population of 350 Millions)... For April 4, WHO registered a total of 2.003 more Deaths in France, while Spain (the 2nd runner in Europe) had just 932... (etc).
------------------------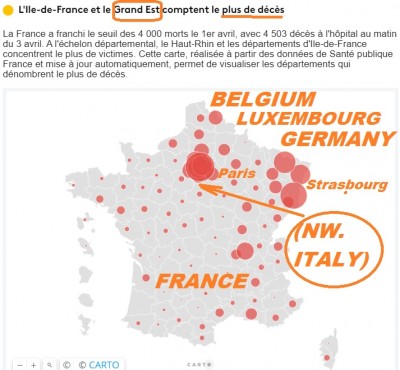 In France, the Most Affected is Strasbourg's area of Alsace and Region of the "Great East", (Host of PanEuropean CoE, EU Parliament's full Plenary Sessions, ECHR, EuroCorps Army HQ, Schengen's Secretariat, EU Ombudsperson, etc). "Eurofora" had Warned, as Early as since February 22, that the Neighbouring North-West Italy's initial Virus Hotspot was Threatening to hit "EU's Franco-German Core", (See: http://www.eurofora.net/newsflashes/news/deadlyvirusheadstoeucore.html, etc). and this became soon true, (since, Scandalously, Not any Measure of Containment wasN't ever taken vis a vis the Borders to NW Italy, Contrary to what China did vis a vis Wuhan : See http://www.eurofora.net/newsflashes/news/delaytoprotecteupeoplefromvirus.html, etc), Heavily Affecting Strasbourg's Region, in France, and Germany's Lânder of Bavaria and Baden-Wurtemerg, Nearby, which are Adjacent to NW Italy and Switzerland.
----------------------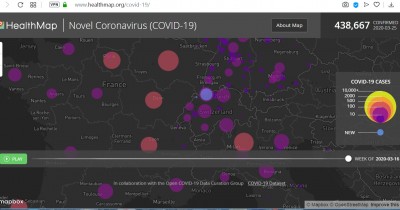 Already, inter alia, f.ex, Strasbourg's Region, on March 16, had More cases of Infections than ...Milan itself ! (See relevant Graphic, attached herewth). And, inside France, its Region of Great East notoriously became the Most Affected Region of the Country, (See Graphics), and was Recently Visited by President Macron, who inspected an new Army Hospital there, for that reason, just before the Latest EU Summit of March 26, which was focused on the Fight against the Virus, (See: http://www.eurofora.net/newsflashes/news/euchinausarussiag20onvirus.html, etc). Still, even Today, Strasbourg's Region has a total of Deaths Bigger from that of ...New York, USA's Biggest Hotspot : 1.402 compared to 1.280...
(Strasbourg's Region was submerged by Virus' Spread from Nearby NW Italy right from the Start : An Old but Explicit MAP published by "Le Monde" at an Earlier stage)
---------------------

The Situation has become so Hard, that Infected and Sick People canNot Find Care in Strasbourg area's Hospitals, no more, so that they are Evacuated Elsewhere, Transfered by ...Military Airplanes or Special Trains into Various Other French Regions, (mainly at the South and/or West), but also in Other EU Countries, as Germany, Luxembourg, Switzerland, Czech Republic, etc., i.e., far Away from their Families, (as pointed out, with "Emotion", also the President of that "Great East" Region, John Rottner, a Medical Urgentist himself, who had Returned back to his Job, on a Part-Time basis, in order to Help Sick People, but has just been Infected himself by the Virus)...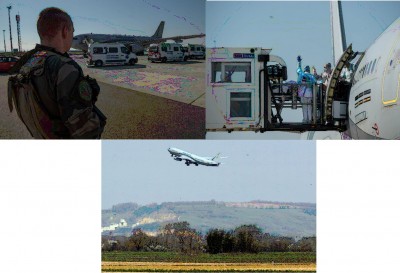 --------------------

Moreover, an apparently growing Scandal looms around vulnerable Old People, Many of them reportedly abandoned in Special Facilities, Out of Hospitals, lacking sufficient Staff, and Deprived of Intensive Care and/or Respirators notoriously Necesary in order to Fight against that Virus, according to some Vague and/or Obscure yet Criteria to choose Who would Benefit from that Crucial Medical Equipments, or Not, and When, to the point that even Legal Complaints have just been lodged at the Supreme Administrative Court in oder to Oblige the Government to Clarify its Policy on this Tragic Issue. USA's "Washington Times" have just published an Article noting that in China Priority is given to those who Risk most of all to Loose their Life, But the Contrary seems to prevail, in real practice, Elsewhere..., making Revolted Citizens to Denounce ... "Hitler-like Methods" (sic !), as the Numbers of Dead grow too Fast in that Vulnerable Group, confined mainly in "EPHAD" Establishments. Nowadays, Strasbourg's Newspaper "DNA", even found that for Virus Diagnostic Tests to Old People kept in Special Facilities, Out of Hospitals, some Authorities prepared to use ..."Veterinary" staff (usually dealing with Dogs and Cats) !...
-------------------------
=> It's in such Circumstances, that some Collectives of Medical Doctors, mainly from Strasbourg's area Alsace (including an MP from President Macron's Liberal Party), followed by Many National MPs, Senators, and EU Parliament's MEP also from Strasbourg's Region, of the mainstream Center-Right Opposition Party of the "Republicans"/ChristianDemocrats-EPP, published these Days Urgent Calls to the Government to Allow to Infected People the Freedom to take from their Private Doctor Medical Prescriptions to use the Hydroxychloroquine (HCQ) or Chloroquine-based Treatments (with Azithromycin and Zinc), that Many notoriously consider as offfering Good Chances to efficiently Face the Virus, (including, f.ex., some Chinese Medical Researchers, French Professor Didier Raoult, USA's President Don Trump, etc).
Pointing mainly to the Fact that such a "Simple", already Available, and even "Cheap" Solution for a much Needed Medical Treatment, seems, indeed, to have a Real Potential to eventually Help Win the Fight against that Virus, (particularly by Strengthening the Human Immunity System, etc), they all oberve, also, that "there is No Time to Loose", f.ex. still Waiting for various Time-Wasting "Tests", while too Many People are being Killed Each Day from that Horrible Virus, (Comp. Numbers cited Supra).
Thus, a Group of Doctors (mainly from Strasbourg's area Alsace), urged to Allow, at least those Medical Workers, who have been themselves Infected by the Virus, to Try their Chances by using HCQ... Another, Similar Group of Medical Doctors, also from here, Denounced as "a Scandal" the current Prohibition to prescribe HCQ to infected Citizens against the Virus, and launched an Internet Petition for the Reconnaissance of such a Basic Right for the People to ask their Private Doctor to give tham that Medicine, (naturally taking all due Precautions for Human Health).
MP Patrick Hetzel, together with a Collective of Many other "Republican" MPs and Senators, (Comp. Supra), including Strasbourg's EU Parliament's MEP Anne Sanders, urged the Government to declare Strasbourg's area of Alsace as a "Sinistered" Area, notoriously hit by the Virus much More than all Others, (Comp. Supra), so that it could "Exceptionaly" authorize the Medical use of HCQ at least Here, in an attempt to Try to Save Human Lives, which obviously Need some Urgent Measures of Protection.
They were, Later, joined even by former Minister of Health, and f. Foreign Minister, Philippe Douste-Blazy, who just Published another Web Petition at "Change.org", urging, together with other Medical Doctors like him, the Freedom to Prescribe HCQ to People affected by the Virus, throughout all France, given the Urgency, during a very Deadly "War", which does Not leave any luxe to Loose more Time, still Waiting for Longer and/or UnCertain/Doubtful Tests : Already, there are important Indications that HCQ, if it's administered Early enough, could really Help to Face, quite efficiently, that Virus,  as well as several Scientific "Studies", and relevant "Measures" taken or prepared in Various Other Countries, accross the World, from Europe to China and USA, etc, which Advance in this Direction, they note.
By a Timely Coincidence, USA's "Washington Times" has just Published an Article on a Recent International Poll, which concluded that a net Majority of Medical Doctors, in Many Countries accross the World, considers HCQ as the Best Available Treatment against the Virus.
Many People's understandable Frustration, in this regard, seems to be due Not Only to the Crucial Risk of Losing a Fast-Growing Number of innocent Human Lives, but Also to the Fact that the Alternative Solution of finding an efficient  "Vaccine", currently seems to be practicaly Postponed for Too much Later, probably even for ... "After 1,5 Year", at Best, i.e. likely due to still Temporize until the "Next Season" (sic !) of 2020-2021, as an Eminent USA White House "Coronavirus" Expert Team Member, Dr. Fauci, told Reporters in a recent Press-point with US President Don Trump. Dr. Fauci has been Chairing an Important Medical Research Organisation in the USA specialized on Infectious Diseases, (after having been Appointed at the Federal Administration, initially by "Socialist" former US President Carter), and, himself, (coming from a Family of Pharmaceutical  Drug-store Owners), has reportedly dedicated his Professional Career, all the way Since 1984 up to 2020 (sic !) into still Seaching a Vaccine against the HIV, that has Not Yet been Discovered until Nowadays !...
On the Contrary, Meanwhile, US Health Secretary Alex Azar, (a Conservative Lawyer, previously hired by Famous late Supreme Court Judge Scalia, and Afterwards appointed by former US President GWBush, a Republican Conservative, followed nowadays also by President Don Trump), announced, on this same occasion, that USA had just "Secured 30 Millions tablets from Sandoz and 1 Million tablets from Bayer of HCQ and ChloroQuine, which are potential COVID-19 Treatments", as he pointed out...
But things went Nasty, when US White House Anti-CoronaVirus Team Coordinator, Dr. Deborah Brix, (a Long-Time cooperator of Dr. Fauci, and herself apointed, by former "Socialist" US President Barack Hussein Obama, back on 2014, as his Anti-HIV Ambasador accross the World), High-Lighted some Incredible "Models" of Experts' Previsions and Hypothesis about ... "1,1 to 2,2 Millions" possible Victims of the Virus, if adequate Containement Measures were Not taken at all, and, ...at least, 100.000 up to 220.000 Deaths (sic !), Only inside the USA, Even if such Containment Measures were applied... Given the Fact that in Europe that Virus is much More Deadly than Anywhere else in the World (Comp. Supra), one can easily Imagine what Huge Mass Massacre would correspond here to such an incredible "Experts" "Model" of Previsions !
---------------
=> In such a Context, it's obviously Inevitable that  many People's understandable Frustration turned towards the already Available, HCQ Medical Treatment against the Virus, (Comp. Supra), as a matter of Urgency, Despite ImPerfect, yet, Verifications, but given the existence of several Encouraging Facts, in order to Avoid further Deadly Delays.
HCQ's Opponents, reacted, inter alia, also by apparently Exagerating a long series of alleged Dangerous Counter-Indications, (particularly about the Heart, etc), that Professor Raoult dissipated by simply calling the People to "Avoid Self-Medication", but, on the Contrary, always Follow "Doctor's Orders" faithfully. While Douste-Blazy asked to Stop Exagerating by painting HSQ "as if it was Poisoned"...
More important : He Warned that the 1st Stage (in 15 Days time) of some current Tests on HCQ, as one among 6 possible Medical Treatments against the Virus, would probably show Bad Results, because the Organizers had Chosen, as Cobayes, some Infected Persons already with Serious Adverse Symptoms, while, on the Contrary, the Efficiency of HCQ required to be given "at an Early Stage", when the First Symptoms are still quite Begnine.             
Current French/EU Tests on HCQ may seem probably Compromised or even Doomed, for at least 3 reasons : (a) They are reportedly focused on seriously Advanced Patients, already at a Crucial Situation, while, on the Contrary, HCQ main Supporters Focus mainly on Prevention/Initial Stage Patients, (particularly in order to use Zinc for Anti-Corps development by Stimulating the Immune System). (b) Apparently, they include some Harsh Critics of Dr. Didier Raoult, the principal French Supporter of HCQ. In Addition, HCQ Supporters are often presented as having an alleged "Anti-System" profile (even if, in fact, this is Not always True), so that the Establishment (which Controls those Tests) Risks to have a Negative Reflex. (c) Reportedly, they use a "Double Blind" Method, where Nobody Knows who takes HCQ Treatment, and who takes simple Placebo, (Not even the Medics !), so that it appears, a priori, Difficult to knowingly establish 2 Equivalent Groups, with Similar Age, Health, Personality/Social status (etc) Characteristics. + Last, but not least, the 15 Days reportedly left in order to arrive to Conclusions, might Not be Enough, (even if some speak about "6 Weeks", something which seems Tragically too Long, when many Hundreds/Thousands of People Die each Day)...
For the Rest, it's absolutely Natural, and even Necessary, that such Tests (as EU's "Discovery" does) Extend also to Other possible Treatments, (as Remdesivir, etc), because Nothing should Stop the eventual Discovery of a New and fully Efficient, (as well as anodyne) Treatment of the Virus COV-3.
But some fierce Opponents to HCQ go Too Far in their Rejection, even Accusing HCQ's Fans for a so-called ..."Scientific Populism" (sic !), Calling "Citizens" participating in debates on Scientiic Choices to "Learn Methodology" of Science, and Reject their alleged "Biais" or "Beliefs", (etc), while others boasted that "Science is Not for the People, But for Scientists !", apparently Confusing between petty Technocrats and Real Intellectuals, as also Underestimating the potential of a fully-fledged, modernized Democracy, etc.
Last, but not least, it canNot be Excluded a priori, that some might, eventually, prefer a, comparatively, "Slow" Exit from that Virus' Crisis, while Others would aspire for a "Fast" one, eventualy for Opposed Political Aims, (not always easy to admit in Public)...
Something like that might Also explain the otherwise incomprehensible Deadly Scandal to Leave the initial Hotspot at NW Italy totaly Free to Hit, First of all, the Neighbouring French Strasbourg's Region, and, Later-on, Germany's Länder of Bavaria and Baden-Wurtemberg, Both Heavily Infected Later-on, withOut taking, meanwhile, Any "Containement" Measure at the Borders, Contrary to what China did Succesfully vis a vis the Wuhan Region, (See, inter alia, also, f.ex. : ..., etc).
Everybody knows, by the way, that USA is currently engaged in a "Hot" Electoral Fight for the Election of its Future President on November 2020, while the EU seems partly Divided on a Key point of Economic/Financial policy after BREXIT, and China's Government had just Opposed its own (and USA's) BioTech Establishment, by Punishing a Maverick Doctor who had Practiced Heritable Genetic Manipulations to Human Embryos  Transmissible to Future Generations from 3 Babies secretly born "Modified", Triggering Grave Risks against Humanity, (See: http://www.eurofora.net/newsflashes/news/chinacondemnsheritablegeneediting.html), etc.
Meanwhile, a Striking Number of various Key Politicians, mainly of the Right Side of the Political Spectrum has been hit by the Virus, until now : Christianemocrat/EPP German Chancelor Angie Merkel narrowly Escaped reently, but Conservative British Prime Minister Boris Johnson was Infected and obliged to enter into a Hospital, while 5 Republican Senators (including the famous Rand Paul) were also hit in the USA, making President Trump lose his Majority in the Senate precisely at the moment of Voting a 2 Trillions $ Package Bill against the Virus' Crisis, and, thus, Obliging him to Accept a series of Amendments serving the Left's Interests (of the Democratic Party) ; even Strasbourg Region "Great East"'s President, John Rottner, a mainstream Center-Right Opposition Leader, of the Republican/ChristianDemocrat-EPP Party, due to run in the forthcoming 2021 French Regional Elections, was also Infected by the Virus (Comp. Supra), shortly after revealing that he had Vainly attempted to Warn French President Macron, since the 1st Marh 2020, of the Deadly Threat arriving then from NW Italy (Comp. Supra) ; while a German Lander's Economy Minister, ChristianDemocrat/EPP reportedly committed Suicide, and France's Patrick Devedjian, a former many times Minister, and f. Head of the mainstrem Center-Right Party "UMP" (currently "the Republicans"), nowadays re-Elected MP and President of Department at Haut-des-Seine, unforgetable Minister of f. President Sarkozy for the Economic Stimulus against the Global Crisis of 2008-2010, and a strong Critic of Turkey's Controversial and UnPopular EU bid, suddenly Died at a Hospital by the Virus, at 75 years of age, (i.e. Similar to the 3 Candidates for USA's Presidency of 2020-2024 : Sanders, Biden and Trump); etc...
(../..)
("Draft-News")
-----------------------------
EU, USA, China, Russia +G20 finetune Various Strategies against Virus : a Comparative OverView
Saturday, 28 March 2020

*Strasbourg/Angelo Marcopolo/- By a Timely "Coincidence", Both the EU and USA, as well as China and Russia, even G20, etc., reviewed, at Leaders' level, their Strategies against Deadly CoronaVirus' Pandemic, this Same Week. From a Comparison, at First Sight, (provided by "Eurofora"), appear Interesting insights, that a More Deep and Thorough Analysis could complete and develop further.
EU Leaders held a specific Summit on CoronaVirus the 26th of March, by Video-Conference, shortly after Member States had already announced relevant National Measures. The Next Day, on March 27, USA President Trump signed an Exceptional "Cares" Bill, and held a relevant, long Press Conference at the White House. On that Same Day (27/3/2020), Chinese President Xi Jinping chaired  a Key meeting of the Communist Party's Political Bureau, after speaking also at its Standing Committee since March 25. Russia had Earlier convened Top Governemental Meetings on Medical and Economic Measures since the 24th of March, followed by a Wider, comprehensive "Address to the Nation" by President Putin, on March 25. In parallel, an Extraordinary G20 Summit convened via Video-Conference, also on March 26, made an official "Statement on COVID-19".
---------------------------------------------------
* The EU, (which has Already become the "Epicenter" of the World in CoronaVirus' cases, and even Deaths, since Early March 2020), still Explicitly Focused on "Limiting the Spread" of the virus, as the Latest EU Leaders' Summit stressed, (See: http://www.eurofora.net/newsflashes/news/differentstrategiesagainstvirus.html, etc), while some Key Leaders Warned that "the Worse lies Ahead".
On the Contrary, Despite a Recent "Explosion" of Infections and Death cases in the USA, President Trump, (who had Already eyed the "Slowing the Spread" target Earlier, since 3 March), seems Now Hesitating between Still "Flattening the Curve" (See also: ..., etc), and "see that Curve start Heading Down in the Other direction, at a Minimum", already "Hoping" that a Way Out of the Virus might emerge "Sooner" than several "Months", as he said at his Press Conference, promising a Reply on Strategy just after a Key Experts' Meeting scheduled for next "Tuesday".
As for China, (where WHO Recently saw an encouraging "Hope" for the World), After having been Hit by that Virus the First, and Hard, at its Central Core area of Wuhan, since December 2019, it is Nowadays notoriously Preparing People to progressively "Return Back to Work", aiming "to consolidate and sustain the Positive Trend in Containing the Epidemic", in order "to Ensure" that it "Keeps Moving steadily in a Positive Direction", (while Also "preventing infections influx from Abroad and epidemic Rebound at home", as it's Recently "Facing increased Pressure of Imported cases").
Neighbouring Russia, (which hadn't, during a Long Period of Time, but Only ...2 Infections, of Chinese Citizens), Soon After "Importing" Dozens of Virus cases '"from Abroad" Later on, mainly Via the EU, Now it seeks "to Prevent the Threat of a Rapid Spread of the Disease", while still "Managing to Contain" it, since Moscow "canNot Fence itself Off from the Threat" completely, as President Putin Warned, (particularly since "a Million People have Arrived in Russia over the past 10 Days" from "Abroad", as Officials point out, speaking of "Risks", for which, Experts do Not Exclude any "Scenario" yet).
+ "G-20" Leaders Ambitiously vowed Now "to Overcome the Pandemic", by "Contain(ing)" it and "Tackling ...its interwined Health, Social and Economic Impacts", as their "absolute Priority".
----------------------------------------------------------
* However, it's also a Fact that Most EU Member Countries, astonishingly, did Not take, Timely, Any drastic Measure to Contain the Virus' Spread, Not Even from nearby Italy's Tragic "Hot-Spot" (See, f.ex.: http://www.eurofora.net/newsflashes/news/delaytoprotecteupeoplefromvirus.html, etc), including, Astonishingly, its Neighbour : France, (whose Strasbourg's Region of "Great East", soon became the Core of Deadly Infections from its Adjacent North-Eastern Italian Region of Lombardy, the notorious "Mecca" of Italian Record-High Deaths), and EU itself did Not call to Shield Europeans from incoming Foreign Air-Flights but Only, obviously, Too Late, i.e. long After the EU had been, Meanwhile, declared "Epicenter" of the World for CoronaVirus by the WHO, in Late March...
USA did Block Flights from China, and, Later-on, also from the EU, etc., But, apparently, Not completely and/or Not Timely enough, so that, After an Initial Period, during which it appeared quite "Shielded" against the Virus, Suddenly the official Number of its Victims "Exploded" Nowadays there, (Perhaps, also, due to an eventual Downplaying, at first, Followed by possible Exagerations Later-on, in some Statistical ways to Present things).
China, Notoriously, Succeeded in Containing the Virus inside Wuhan's Region with a Drastic Blocus, (i.e. Protecting, f.ex., Beijing, Shanghai, and even Xiyang Regions, etc), But faces, Recently, a Risk to Disseminate "Imported" Infections "from Abroad" accross several Other Areas of the Country, Even if the Chinese Authorities have Just Decided to Block InFlights from Foreign Countries Nowadays.
As for its Neighbour and Ally, Russia, it Benefited from an Immediate Closure of Borders to China, staying for a Long period of Time withOut Any Death, Not even Infections, (with the Only Exception of ...2 Chinese Citizens !), But committed the Error to Leave Open other InFlights from the EU, etc., (as Italy, France, etc), which Started, Recently, to "Import" Dozens of Infections at Nearby Saint-Petersburg, etc., Spreading Fast into around a Thousand cases Now, Dispersed at 60 Different Regions. However, Russia is, still, one of the Rare Countries (as Hungary, etc) which now Decided to Close All its Borders (from the End of March), while having "Only" Five (5) Deaths...
------------------------------------------------------------
* Concerning the Crucial Issue of Medical Treatments and Vaccines, etc., against the Virus, the Latest EU Summit simply Reiterated that EU Commission had earmarked for relevant "Research" about "140 Millions €", (already since the End of February 2020). Obviously, this is Only a Pale reflect, compared to the ..."27 Billions $" that the USA have Just Decided to give for such New Drugs and/or Vaccines' relevant Research, as President Trump announced Nowadays... But it's also true that in Europe, Scientific/Technological Reseach is, still, Mostly Funded by National States, and Not so much by the EU, so that a Serious Comparison should, logically, Add Both the Member States' and EU's own Fundings Together. Moreover, French President Macron has, recently, boasted that Europe has "all trumps" to discover a Virus' Antidote, (See: http://www.eurofora.net/newsflashes/news/macronandeuagainstvirus.html, etc), while EU Commission intervened (with an exceptionaly rapid Funding) in order to Keep in Europe a German Company developing a Vaccine, that USA reportedly attempted to recuperate. However, Vaccines seem to need too much Time, given the current, Fast growing Life or Death Urgency, so that many Focus now on possible Treatments, and particularly "Remdesivir", (developed by a Private Company supported by USA Government), and "HydroxyChloroquine", considered as "Cheaper and Simpler" than others, (initially Backed by some in China, and particularly by controversial but hyperactive French Professor Didier Raoult, which, for US President Trump, "is supposed to be the Better of the two", and "seems to have some good Backing", as "there are Signs that it could be doing well" : "we're going to find out Soon", as, Nowadays, there is "a Lot" of "Tests" going on - Both in the USA and in the EU especially France - as he said on March 28).
+ Meanwhile, Russia also started to prepare 7 possible Vaccines, and Invented a Diagnostic Test reportedly giving Results (as "Positif" or "Negatif" in CoronoVirus) in about "2,5 Hours", in Addition to a "ROCHE" Company's Fast Test just bought by the USA Government, and to another French Company's rapid Testing method, in the process of being Commercialized, Together with a Different Chinese Test-method.
But for Life-Saving Treatment, more Interesting seems Russia's announcement, Now, that, just in a Few Days, it managed to Invent a New type of "Ventilator", (an Equipment currently Scarce throughout the whole World, compared to Growing Needs), able to work for 2 or 4 Patients at the Same Time ! In parallel, USA President Trump announced Nowadays Deals with big Private Companies, (including even by Forcing them, via a Legislation on ...National Defense, as f.ex. vis a vis "General Motors", etc), to Produce a Large Number of "Ventilators", (f.ex.: "100.000 in 100 Days", etc), Part of which Might be Sold Abroad to Help f.ex. demanding EU Countries such as the UK and Germany, (where Chancelor Merkel reportedly Tries also to ReOrientate the Car Industry towards producing Ventilators), as France has too Started to cooperate with High-Tech Business, (f.ex. "Air-Liquid", etc) to produce similar Medical Equipments. Meanwhile, the EU Leaders asked EU Commission to "Accelerate ... Help ensuring urgent and adequate provision of Medical Equipment", including "Joint Procurement initiatives for Personal Protective equipment (Masks, Gants, DisInfectants, etc), Ventilators and Testing supplies".
+ "G-20" vowed to "Protect People, especially the Most Vulnerable", But did Not Mention yet any crystal-clear Concrete Measures, (See also Infra), except from "Expand(ing) Manufacturing capacity to meet the increasing Needs for Medical Supplies and ensure these are made Widely available, at an affordable Price, on an Equitable basis, where they are most needed, and as Quickly as possible" (sic !), as well as "proportionate Border management Measures", and  "to SafeGuard our People's Health through the Postponement of major Public Events", (including by ReScheduling the Olympic Games", etc).
----------------------------------------------------
* On the Socio-Economic aspects of the Fight against Virus' Dramatic Consequences, concerning, First of all, Poor People, USA President Don Trump pointed, as Number 1 Measure inside an UnPrecedented, 2 Trillions $ Package Bill (Extensible up to 6,2 Trilliions $), that All Poor Citizens with Low or No Revenues at all, would, Exceptionally Receive "Direct Cash Payments" of 1.200 $ for One Person, 2.400 $ for Two Persons, or "3.400 $ for a typical Family of Four", Monthly, during at least a Three or Four Months' Period of Time, for which is consecrated an initial "300 Billions $" part of that Budget. In Addition, 2 Regular Meals Each Day would continue to be served to Poor Children, who Depended on (now Closed) School Cantines for that, and Even Delivered at their Family Home in Remote Areas, if necessary.
+ In parallel, Russian President Vladimir Putin, announced to "Pay all Families, ...eligible for Maternity aid, an additional + 5.000 Rubles a Month, for Each Child up to Three Years Old", During "the Next 3 Months", (while also Accelerating, for "Children aged 3 to 7", a "New Support package" from June). In addition, in order to "Support" Workers "on Sick Leave and Peple who have Lost their Jobs", all "Sick Leave Payments payments should be calculated based on the amount of at least one Minimum Wage a Month", "Until the End of the Year" 2020. Moreover, the "maximum Monthly UnEmployment Benefit", currently Limited to Only "8,000 Rubles", will be "Increased to ... 12,130 Rubles per Month", he added. At the same time, all Persons who "Face a Difficult Situation", (if their "Monthly Income Declined ... by over -30%"), will "have the Right to ...Stop Debt Servicing", and "ReSchedule" "Loan(s) and Mortgage(s)" "temporarily", while "any Penalties are Out of Question", and "the Bank of Russia" was requested "to set up a Similar ReScheduling mechanism for Self-Employed people, too", "If" they "are Unable to rePay their Debt for Objective Reasons" during the Virus' Crisis. In parallel, "Small and medium-sized Businesses and Micro Businesses, ....now facing objective Difficulties", will see "All Taxes on SMB (except VAT) Deferred ...for the Next 6 Months", and "Micro Businesses should also be granted a Deferral on their Contributions to Social Insurance funds", as well as "Struggling SMEs and Micro Businesses"' "Bank Loans ...must also be Deferred, for the Next 6 Months". (But, at the Same Time,  "those Expatriating their income as Dividends to Foreign accounts should Pay a 15 % Tax", and Rich "people with Over 1 Million Rubles in Bank deposits" (i.e. "Only about 1 % of deposit Holders") , whose "Interest Earned is Not Taxed ...at all" currently, should also Start to "Pay a 13% Tax on this Income", he added, as a matter of "Fairness", since "People with Modest Salaries -Already- pay an Income Tax of 13%" ).
+ Son after, it's also China's CPC Political Bureau, chaired by President Xi, which "Deliberated on 2 Reports about Proverty Eradication" : "The Country will ...Help ImPoverished People Return to their Posts and get Employed, and ... Support those Slipping back to or Falling into Poverty, Due to the Epidemic", it was reported, "Call(ing) for Enhanced Endeavors to Win the Battle against Poverty, as the COVID-19 outbreak has brought New Difficulties and Challenges". In parallel, "Local Governments were Urged to adopt a Targeted approach towards Poverty Relief, keep Anti-Poverty Policies Stable, and Improve Rural weak Links".
+ However, on the Contrary, the latest EU Summit's official "Joint Statement", does Not make any Explicit Reference to the Fight against Poverty risks from that Virus' Crisis, except from a simple, vague Mention of "Tackling Socio-Economic Consequences", and "Flexibility" for EU "Member States" having taken "extensive Action to ... alleviate Social and Employment Problems", as well as to a "proposed Amendment to the EU Solidarity Fund", added to simple Compliments for "the EIB Group's contribution ... for Bank Guarantees to -and Investment in- European Companies, particularly SMEs". Inside EU Member States, f.ex. in France, President Macron had Earlier spoken about Poor People being cared by Humanitarian "NGOs" and "Local Authorities", (i.e., mainly Municipalities), etc., followed by various concrete Measures announced Nowadays by his Prime Minister Philippe, such as : No Expulsions and No Power Cuts for No Payment of Rent or Bills until the End of May ; Extension of UnEmployment Indemnisation during 2 Months ; 1.500 € Monthly, during the Next 2 Months for Self-Employed ; Extension of Aides to Handicapped People, Social Housing, Access to Health Care, Minimum Income for Solidarity (about 600 €), etc, during the Virus' Crisis.
 + In parallel, it's Also in the UK that "BREXIT" Party's Chief, former Long-Time MEP, Nigel Farage, (Rightist), reportedly called to Exceptionaly establish a Universal Basic Income of 1.100 £ Monthly, (as a so-called "Helicopter Money", i.e. Only during a Few Months), for the Poorest People, precarious or withOut any revenue, (who are reportedly estimated to be around 11 Millions there), partially Echoed also by a "Labour" (Socialist) MP, mutatis-mutandis.
+ As for the "G-20" Summit, they "Called upon" the "WHO, IMF, WBG", etc. "to support emerging and Developing Countries facing the health, economic, and social shocks of COVID-19", and "Particularly (the) ...Least Developed Countries, ... notably in Africa and Small Island States, where health systems and economies may be Less Able to cope with the Challenge". "G-20" also mentioned "the particular Risk faced by Refugees and Displaced persons", and promised to "Address Risks of Debt Vulnerabilities in Low-Income Countries due to the Pandemic", while also Asking "the ILO and OECD to Monitor (its) Impact on Employment", in addition to "G-20" Member States' own "Immediate and Vigorous Measures to...Protect Workers, ...expecially Micro-, Small and medium-sized Enterprises, ...and Shield the Vulnerable (People) through adequate Social Protection".
------------------------------------------------------
* On Mainstream Business, and the Economy at large, the Latest EU Summit simply Observed, at First, that EU Member States and taken Extensive Action to Support their (National) Economies, and, for that reason, they "Needed Flexibility", (vis a vis EU's Financial Stability Rules), provided by EU "Commission's Temporary Framework for State Aid", and an "UnPrecedented use of the Geeral Escape Clause under the Stability and Growth Pact", as they underlined, Together with Exceptional Monetary Facilities by the ECB (for €uroZone Countries). In Addition, at EU level, the EU Commission proposed "a CoronaVirus Response Investment initiative", with "37 Billions €, ...under Cohesion Policy", while an "Amendment to the EU Solidarity Fund" would allow to be "also used for Public Health Emergency situations". Advancing Further, (But, practicaly, Postponing Action for Later-on), EU Leaders "invited (EU) Finance Ministers to explore ...possibilities to Scale Up EIB Group's" Bank Guarantees, etc, and, particularly, the "€uroGroup to present Proposals, within 2 Weeks" Time, (i.e. on April), for "a Comprehensive Response", "taking into account the UnPrecedented nature of the CV-19 Schock, affecting All our Countries", and to "Step up ... Further Action, in an Inclusive way", and "in Light of Developments". (+ ECB ?!)... Notoriously, mainly Southern EU Member States (led by France, Italy and Spain, but also Greece and Slovenia, etc), as well as several Commentators, deplored the Lack of Agreement for "EU-Bonds"' editions to support the Fight against the Virus. Mainly Nordic Countries (led by Germany and the Netherlands, but also Austria, etc), appeared afraid of eventual attempts to "Communotarize" (make Common) a Debt due to Others' Decisions, to which they had not participated, and pointed out that a More Adequate Tool would be ESM (the European Stability Mechanism), which currently Holds a Total of 410 Billions € for Emergencies. (As for the EU Countries which have Not Yet Entered in €uroZone, they reportedly plan to make an appeal to the IMF). Perhaps some Interesting Joint Projects funded by special EU Bonds co-signed by all Participating Countries (including Germany, if it found them Attractive) might provide a Solution, in the foreseable Future. But, in the Meantime, National Measures by EU Member States to Back Mainstream Businesses Focused, f.ex. in France, particularly on massive Tax Relief, Postponing Contributions to Social Funds, "Freezing" Debts, Rents, etc., while Germany offered "UnLimited" Loans, with State Guarantee up to 80% of the Risk, (90% for solid SMEs), etc.
+ However, it's Not obvious that this might Compete with USA President Don Trump's decision to Fund a 500 Billions $ Aide to Mainstream Businesses, mainly Industry, (Added to 350 Billions $ for SMEs), inside a Wider exceptional Package Bill of 2 Trillions $, (Extensible up to 6,2 Trillions $, as he said), to which, US House of Representatives' Chairwoman Pelosi reportedly added that various Other Measures to support Economy are due to Follow, Later-on...
+ In China, the above-mentioned CPC's Political Bureau meeting chaired by Xi, reportedly decided "a Package of Macro-Policies and Measures", including to "Raise the Fiscal Deficit ratio", to "Issue special Treasury Bonds" and "Increase the scale of special Bonds for Local Governments", as well as to "Guide the Interest rate to Decline in the Loan market". They also "underscored Financial Policies, such as ReLoan and ReDiscount quotas, as Deferring RePayment of Capital with Interest", etc, in order "to provide ...Financial Services for Epidemic Control, Work Resumption (for the People), and Development of Real Economy". This should be done in the Context of "efforts to Release Demands in domestic Market, orderly ... Resumption of Malls and Markets", as well as to "ensure Normal operation of the Service sector", so that "Household Consumption" would "Expand", "Public Consumption reasonably Raised", "Brick-and-Morta    r Business Activated", and "the prevailing Trend of New On-Line Consumption", (i.e.  via Digitalisation and Internet, as with the WebSites "Ali Baba", or "Amazon" and "Instacart" etc. in the West). In parallel, China seeks to "strengthen International Cooperation" for a "Global Logistics Supply Chain system", with a "smooth flow of International Freight Transportation", (whose Interest is Highlighted Nowadays, particularly for Deliveries of Protective Masks, Diagnostic Test Kits, DisInfectants, and Other Medical Equipment Urgently Needed by Western Countries, Both in Europe and USA, etc., to Timely and Sufficiently help face CoronaVirus).
+ In Russia, President Putin just announced "Govenment and Central Bank ...action to ensure Stable Lending to the real Economy, including through State Guarantees and Subsidies", as well as "a 6-Month Moratorium on Bankruptcy claims by Creditors", or "on the Recovery of Debts and Penalties". He also instructed "the Government to constantly Monitor developments and, if necessary, expand and review the list of the Industries requiring Support", (etc).
+ The "G-20" Summit vowed "to do whatever it takes and to use all available policy tools to Minimize the Economic and social Damage from the Pandemic", "Injecting over $5 Trillion into the Global economy, as part of targeted Fiscal policy, Economic measures, and Guarantee schemes". They promised a "bold and large-scale Fiscal Support", Backing to "the Extraordinary measures taken by Central Banks", "to support the Flow of Credit", and "enhance Liquidity in Global Markets", as well as "Regulatory and Supervisory measures ... to ensure that the financial system continues to support the economy", including to "Facilitate International Trade", for "the Flow of vital Medical Supplies, critical Agricultural Producrs, and Other Goods and Services Accross Borders", while also "Resolving Disruptions to the Global Supply chains".
-------------------------------------------------------------------
+ Last, but not least, the "G-20" Summit's Leaders said that their Health Ministers are due to Meet "on April" for "a Set of ...Urgent Actions on Jointly Combatting the Pandemic", and asked their Trade and Finance Ministers with Central Banks Governors "to coordinate on a Regular basis", (in addition to a "Joint" meeting with Health ministers in the following Months), for relevant (Medical and Economic) "Response(s) to COVID-19", while also Declaring to "Stand Ready stand ready to React promptly and take any further Action that may be required", as well as their "Readiness to Convene again as the situation requires", throughout 2020.
In Addition, in order "to SafeGuard the Future", the "G-20" Leaders  "committed to strengthen national, regional, and Global Capacities to Respond to potential Infectious Disease outbreaks, by substantially Increasing our Epidemic Preparedness Spending", as well as "by work(ing) together to increase Research and Development funding for Vaccines and Medicines, leverage Digital technologies, and strengthen Scientific international cooperation", "including with the private sector, towards Rapid development, Manufacturing and Distribution of Diagnostics, antiviral Medicines, and Vaccines, adhering to the objectives of efficacy, safety, equity, accessibility, and affordability". For that purpose, the "G-20" Summit "asked the WHO, in cooperation with relevant organizations, to assess Gaps in Pandemic Preparedness ... in the coming months, with a view to Establish a Global initiative on Pandemic Preparedness and Response", able to "act as a universal, efficient, sustained Funding and Coordination Platform to Accelerate the development and delivery of Vaccines, (Partly near a Controversial "Microsoft" f. CEO Bill Gates' plan, But More Widely, also) Diagnostics and Treatments". Curiously, any mentions to all Other necessary and possible Preventive actions, to Protect Humans' Health (f.ex. Scientific Research to Strengthen the Immune System, ProPhylaxis, Hygiene, Security, Containment, etc), were Ommitted, in this paper, perhaps drafted in a hurry...


Currently, the "G-20" is Chaired by Saudi Arabia, which was among the few Countries to Start taking Immediate Actions to Protect its Citizens right from the Beginning of the Virus' arrival at its own Territory, (f.ex. Closing Schools, Blocking certain Foreign Flights, etc., Already Since no more than Only about 100 People had been reportedly Infected !).
Saudi Arabia was among those Countries which had been Hardly Hit, in the Past, by the "MERS" Virus, (2012 : meaning "Middle East Respiratory Syndrom"), which, by its Genetic Structure, Belongs also to that "CoronaVirus" Group, Similar to SARS (2003) and COVID-19 (2019) Mutated Variations, affecting Mainly Human Lungs, etc. That's why, SARS and MERS having been its Predecessors, as CoV-1 and CoV-2, Normaly, the Present Virus should Better be Called simply : "CoV-3".  
(../..)
("Draft-News")
------------------------------------
WHO for Offensive on Virus, as Others Stick at Defense : Different Strategies push Gaps among States
Monday, 23 March 2020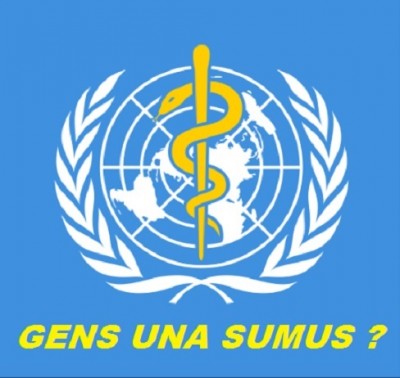 *Strasbourg/Angelo Marcopolo/- Facts: In China (First to be Affected) about 3.300 People Died by the new CoronaVirus in 3 Months, but in Italy (EU) it's Already about 5.500 who Died in 1 Month only (since February's End) !
Meanwhile, in Russia (China's Neighbor) there are Only about 440 People Infected and just 1 Dead, (both Less than Greece or Luxembourg, inside the EU !), in mostly Recent "Imported" cases...
Moreover, in China's "Wuhan" area, (reportedly at the Origin of that Virus), all Inhabitants have just been Authorized to Return Back to their usual Jobs (they can even Travel around their Region), and Transports are Fully Re-established, while, on the Contrary, around the EU, even various Massive Personal Confinements at Home are Currently Spreading (in France, Germany, Spain, even the UK, Greece, etc), and some ask now Even Stricter Measures.
-------------------
Concerning Strategies, some inside the EU, more or less openly, Claim that Stop the Virus would be an "Utopia", and, in Fact, push to Focus on a Defensive "Flattening of the Epidemic Curve", i.e. merely Delaying its Spread, just in order to let the Health Systems (Hospitals, etc) some Time to cope with the Rapid Accumulation of Infections, which have been practicaly let to Spread all over their National Territory, (f.ex., mutatis-mutandis, in France and Spain, partly Greece and Germany, the UK too, etc). In the meantime, the Augmentation of Infections is still much Higher than that of Recoveries, at least until now.
On the Contrary, the Chinese Strategy appears to call for Rapid attempts to Stop and Reverse the Virus, with Early Diagnosis, Early Confinement, and Early Treatments, as the Drastic Territorial Confinement of the Virus around the Wuhan Area Only, mostly Succeeded. In Addition, the New Infections have almost Stopped in China, (with the Exception of a Small Number of "Imported" cases from Abroad), while the Recoveries still Grow every day, Approaching 7/8 of the cases ! Will they manage to Finaly Overcome some reported Errors Initially committed at the Begining ?
In the USA, Recently, inter alia, efforts to boost Scientific/Technological Research for Treatments and/or Vaccines reportedly have Started Earlier than elsewhere, (even if several Other Countries, including in the EU, Russia, China, etc, appear to try to Catch up, more or less Rapidly), and Borders' Protection apparently Moved Drasticaly, (with the Exception of Mexico, which still has a Surprizingly Tiny Number of Only a Few Infections). But a special Big Federal Budget due to Boost the Health System, SMEs, Citizens' Economy, etc., has just been Delayed and Blocked by the Political Opposition (Center-Left "Dem." Party of "Socialists"/Liberals), which reportedly Exploited the Infection and Confinement of 5 pro-Government Conservative Senators, that practically Swept their Majority at the Senate, adding even an Alternative Plan, full of Provocative Demands on various Other, UnRelated Issues, (concerning, f.ex., Migrants, the Electoral System, more Powers to Trade Unions, even the Post, Aviation's relations to "Global Warming", etc), as the Country approaches a Crucial Presidential Election in a few Months...
------------------------------
In the middle of such Circumstances, WHO's Director General, Tedros Adhanom Ghebreyesus, speaking in a Press-point at nearby Geneva, After having, Recently, named the New CoronaVirus a "Pandemic", and while, still, Acknowlding, Nowadays, that the Spread of that Virus is Globally "Accelerating", Nevertheless, for the 1st Time, he clearly Launched a vibrant Call to pass from mere "Defense" into an "Attack" against the Virus !
 - "You can't Win ... Only by Defending. You have to Attack, as well", he stressed.
 - Indeed, f.ex., merely "asking people to Stay at Home and other physical Distancing measures are an important way of Slowing down the spread of the virus and buying Time (Comp. Supra) – But they are Defensive measures", he said.
 - On the Contrary, "to Win, we need to Attack the Virus with Aggressive and Targeted tactics", WHO's Chief stressed.  
- Indeed, "we're Not Helpless Bystanders. We Can Change the Trajectory of this Pandemic", he Boasted.
This comes shortly After WHO's Director General recently Praised China's Latest Reports of "No New Cases" of Infection, "for the First time since the COVID19 outbreak started". Indeed, "Wuhan provides Hope for the rest of the World, that Even the Most Severe situation Can be Turned Around".
- "Of course, we must exercise Caution - the situation can Reverse", he had advised then. "But the Experience of cities and countries that have Pushed Back this CoronaVirus give Hope and Courage to the rest of the World", he had already pointed out.
- In particular, Ghebreyesus pointed, Mainly, at :
* "Testing every Suspected case" ;
* "Isolating and Caring for every Confirmed case" ;
* "Tracing and Quarantining every close Contact" ;
* "Mobilizing Resources internally From Less-Affected Regions ... to Increase Capacity", (f.ex. in France, etc) ;
* "International Solidarity", as, already, "several Countries have sent Emergency Medical Teams to Care for patients and Train health workers in Other Countries that Need support", (f.ex. Russia to Italy, etc, while China sends Material) ;
* "Build a Network of Emergency Medical Teams ... to provide surge capacity of High-Quality health Professionals who can be Deployed to care for patients and save lives" ;
* "Protect Health Workers" ;
* "Address... the global Shortage of ... life-Saving Tools", as "personal Protective Equipment" (f.ex. Gloves, DesInfectants, Masks, Ventilators, etc), of which we must "Rationalize and Rrioritize the Use", by "addressing every part of the Supply Chain, from raw Materials to finished Product" ;
* "Work Together to increase Production, (particularly of "Essential Protective gear", but also Ventilators, etc), Avoid export Bans, and ensure Equity of Distribution, on the basis of Need" ;
* Find "Effective Therapeutics", (for Care + Vaccine, for which "there is a Desperate Need", as he stressed),  with "Treatment that has been Proved to be effective Against COVID-19" : Not "UnTested", but with "the Right Evidence", he also Praised as "Great to see the level of Energy Now being directed to Research Against COVID-19" ;
* Join WHO's "SOLIDARITY Trial", "to generate Robust, high-Quality Evidence as Fast as possible", "that will Help us to move with Speed and Volume", if "More Countries ... sign up to the SOLIDARITY Trial, and Other Large Studies" (NB), so that "we will get Results Faster on which Drugs Work" ;
+ ETC...
Curiously, he didN't Yet Explicitly mention "Vaccines", neither Borders' Closure vis a vis Over-Infected Regions and/or Countries, even this Might be Implied by the General Principles that he stressed. The First, Perhaps, Because he Focused Now on "Fast" Results, (while Some Claim that Vaccines would Delay, but Others Ambition to Move more Rapidly), and the Second, probably for Diplomatic reasons, (Even if, f.ex., Russia and China, etc., are Recently Starting to be Affected by their Reluctance or Delay to Block Travels from some Other, too Infected Countries, of the EU and/or Other Areas in the World : Comp. Supra).
For Comprehensible motives, WHO's Head also Omitted any Explicit Mention (even if it might, eventually, be Implied by his General Call for a large "Offensive" to "Save Human Lives" : Comp. Supra) to the Letters Recently send to the UNO and WHO Chiefs by the Former Iranian President Ahmadinejad, (Surprizingly Backed even by Many USA President Trump's fans : See http://www.eurofora.net/newsflashes/news/ahmadinejadonlabomadevirus1.html + http://www.eurofora.net/newsflashes/news/ahmadinejadonlabomadevirus2.html, etc), to Help Find the "Labo" which might have produced such an "Anti-Human Weapon" as the "SARS-CoV-2" Virus, (as some Already call the New CoronaVirus COVID-19, f.ex. also the Prestigious USA Medical Journal "NEJM", See: https://www.nejm.org/doi/full/10.1056/NEJMc2004973, etc, even if, in Fact, it Should be called "SARS-CoV-3", since, Meanwhile, had appeared also MERS, earlier), in order to take Measures against those Responsible for such a "Threat Against Humanity", as he Denounced.
- At any case, as WHO's Head stressed, all these Measures (Comp. Supra) for "Solving this Problem (of the New CoronaVirus' Pandemic) Require Political Commitment and Political Coordination at the Global Level".
=> That's why, inter alia, he also announced his intention to "Address Heads of State and Government from the G20 Countries" Later "this Week" : Indeed, "we Need Unity in the G20 Countries", and "Political Commitment" with "Strong Solidarity", that Can Help us to ... Fight this Pandemic in the Strongest Way possible", Ghebreyesus Urged.
But, while WHO's Chief asks to become "Offensive" against the Virus, Contrary to Others who Stick to mainly "Defensive" methods, with Different Strategies which push Big Gaps among Countries, (Comp. astonishing concrete Facts cited Supra), What could be the Right Path ?....
(../..)
("Draft-News")
-------------------------------------
ECHR condemns Ukraine for jailing and ill-treating a Handicapped Russian in Crimea before 2014
Thursday, 19 March 2020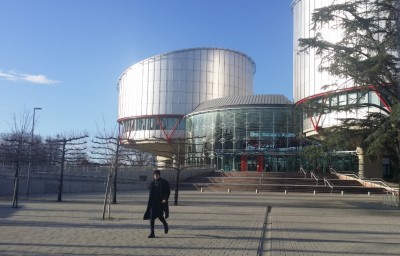 *Strasbourg/Angelo Marcopolo/-  It's after incidents Between the successive Presidencies of Yushchenko (2005-2010) and Yanukovych (2010-2014), that a Handicapped Russian, WheelChair-bound, faced Criminal Prosecution and Prison Detention, at Crimea, for the comparatively Minor accusation of allegedly having "Threatened" a Policeman, who had vainly Detained his Son at an unrelated Murder Case, and "Punched" a local Official, that he considered responsible for having Cut Electricity to his restaurant, in addition, (Disputes on which, Curiously, Nothing is said by the ECHR's judgement published Today).
A. K. Vagapov, Despite being Aged 55 and Suffering from "the Most Severe Level of Disability" ("Category 1"), with "Paraplegia of his lower Limbs", since "a Gunshot Wound to his Spinal cord", leaving him "WheelChair-bound" during 24 Years, provoking also "a Skin ...Ulcer", Nevertheless, he was "remanded in Custody, Pending Trial", right from the Start of the Investigation, afterwards Condemned into "3 Years ImPrisonment", and later Jailed. He was Released only towards the End of September 2013, after "having Served his sentence in Full", ECHR observed.
"During his Detention", he had to be Treated for "Aggravated" "PyeloNephritis", and underwent "Surgery" for that Ulcer, was "Diagnosed with Aggravated ...Bronchitis", and found with "a Black Burn Wound" and "a Burn Blister" on his Feet, (later "Diagnosed" as "3rd Degree -out of 4- ...Burns") that "Failed to Heal", added to an "Aggravation" of his Skin Ulcer (advanced into a "PuruloNecrotic Stage, with ...Fistulas"), but also to "Urinary InContinence", "Acute Conjunctivitis of both Eyes", "a Purulent Inflammation of ...Cellular Tissues" (with an "Abscess" which should "be Surgically Drained" : something reportedly "Contra-Indicated in the ...Conditions pertaining" in his Detention area), and even "a Broken Rib" (sic !) with "Pain in the Chest area", (etc)...
But the "Request(s)" of his "Lawyer" for "a Panel of Medical Specialists" to Examine the ImPrisoned Handicapped man in order "to determine his State of Health and Medical Needs", and Whether it was "Possible to Meet those Needs", or not, inside his place of Detention, or at least to "Allow a Civilian Doctor to Examine" him, were Both Rejected by the Ukranian Authorities.
Thus, meanwhile, Vagapov "had Refused the Treatment(s) recommended by ...These Doctors", (of the Prison System), Complaining that they had "Understimated" the "Poor Condition of his ...Health", and that he had been "Denied Access to the Doctor of his (Free) Choice".
+ In Addition, that Prison "had Not been Adapted for WheelChair-bound detainees", Obliging him to be "Dependant on other InMates for his Basic Needs", (f.ex.,  "Toilet", "Shower", "Meals", etc), "Deprived of daily Walks", stay "Held in a Cell measuring about 11 sq. m and Shared by 3 Inmates, with No Space for any Movement in a WheelChair", have "Fewer Meetings with his Lawyer..., as ...his CellMates had had to Carry him", also provoking "several Accidents..., such as Burning his Feet with Hot water, and Breaking a Rib (Comp. Supra), etc, while "the Physical Conditions of his Detention had been Poor".
=> Therefore, the Jailed Handicapped man "complained to the ECHR that "the Conditions of his Detention", "with regard to his Physical DisAbility", and that "Medical Treatment" were "InAdequate", and Violated the "Article 3" of the PanEuropean Convention on Human Rights, which Prohibits "Torture or ...InHuman/Degrading Treatment", in any circumstances.
-------------------
Russia indicated that "they did Not Wish to exercice their Right to Intervene in the proceedings" (given also the Russian Nationality of the Jailed DisAbled man), as ECHR noted.
As for the Ukranian Government, it Claimed that, "Although" that Jail "had Not been Adapted for WheelChair-Bound Detainees", nevertheless ,"2 people from the Staff (would) have been Alloted to Assist" the DisAbled prisoner.
ECHR "took Note of the (Ukranian) Government's Acknowledgment of the Lack of technical Arrangements" for "the detention of individuals with physical Disabilities", and "reiterate(d) that", as a matter of General Principle, "where the Authorities decide to place and Keep a Disabled person in continued Detention, they should demonstrate Special Care in Guaranteeing such Conditions as Correspond to the Special Needs resulting from his or her Disability".  
On the Controversy whether the Handicapped Prisoner "had been Assisted by ... fellow InMates, or by the (Jail's) Staff" (Comp. Supra), ECHR observed that the Ukranian "Government did Not provide Any Details in that connection", Not even "whether the ...Staff had been Trained or had the Necessary Qualifications"...
Moreover, the Ukranian "Government" did Not Say Anything "on the Incidents which led to ...sustained boiling-water Burns in the course of taking a Shower ..., and having his Rib Broken", as Vagapov had Denounced, (Comp. Supra), ECHR notes, pointing at the incredible Helplesness into which Handicapped People may fall, if they are Obliged to live their EveryDay Life in outlets Deprived of the slightest Facility for Autonomous Movements, (as, f.ex., Metalic Bars, etc)...         
=> "Therefore", the PanEuropean "Court found Plausible... that the ... Injuries" were "a Result of the Failure to Meet" the Handicapped Prisoner's "Basic Needs, in Conditions that would Respect his Human Dignity". "This ...shows that the (alleged) Assistance of the (Jail's) Staff, IF Any, (Comp. Supra), "could Not have ensured (his) ...Autonomy or ...Physical and Moral Integrity".
Indeed, as ECHR had Already noted, at a previous decision on this case, when it had Initially raised relevant Questions to the Ukranian Government, in order to find out its reactions, it's also the f. UN Rapporteur on Torture and other Cruel, Inhuman or Degrading Treatment ..., Mr Manfred Nowak", who stressed that "Persons with Disabilities often find themseles in [situations of Powerlessness], for instance When they are Deprived of their Liberty, in Prisons, or Other Places", where "the  particular Disability of an individual may render him or her more Likely to be in a Dependent situation, and make him or her an easier Target of Abuse".                                                                                                                                                                                                                                                                                                                                                                                                                                                                                                                                                                                                                                                                                                                     
+Moreover, ECHR "refer(ed) to the Findings of the CPT (CoE's Anti-Torture Watchdog) in 2013, that Conditions in the Cells" of that Crimea's Jail, in general,"had been as Miserable as some Thirteen Years Previously (i.e. on 2000), when (it) had First Visited that facility...
>>> In Consequence, "and" given "the Cumulative Effects" of such Facts, ECHR Concluded that "the specific Conditions" of the Handicapped Prisoner's "Detention, in view of his Physical Disability, ...in particular, his InAbility to Access the various parts" of that Jail "Independently, including the Canteen and the Sanitation Facilities, and ...the Lack of any Organized Assistance" for "his Mobility ... or his Daily Routine, must have Caused him UnNecessary and Avoidable Mental and Physical Suffering, Diminishing his Human Dignity".                                                                                                                                                                                                                                                                                                                                                                                                                                                                                                                                                                                                                                                                                                                                                                                    
"That amounted to Inhuman and Degrading Treatment", in "Violation of Article 3, of the" PanEuropean "Convention" of Human Rights, ECHR Concluded.
----------------
+ The Handicapped man had also Denounced to the ECHR that the Ukranian Court's decision to Condemn him in 3 Years of ImPrisonment was "an Arbitrary and UnNecessary measure", which "had Not been Based on relevant and Sufficient Reasons", and "had Failed to Take into Account (his) ...state of Health; it had Never Examined an Alternative, ... such as a Commitment Not to Leave the Town, or Bail", etc.  
In fact, an Initial "Undertaking Not to Abscond", imposed by a 1st Court, had been "Changed", by a 2nd Court, into "Remand in Custody", under Pretext of the alleged "Seriousness and the Nature of the Criminal Offences in issue", (Comp. Supra)...
But the ECHR found that "Neither the (Ukranian) Government's observations, Nor ... that Court ...had made an Appropriate Assessment of the Facts ... (on) Whether ... (this) was Necessary ..., in particular in view of the applicant's DisAbility". "Neither did (it) ...state Which Risks Justified the ... Detention on remand, (f.ex. the Risk of ...Absconding, Influencing Witnesses, or Hindering Investigation").
This was Contrary to "Article 5§1" of the PanEuropean "Convention" on Human Rights, which stressed that "Everyone has the Right to Liberty and security of person. No one shall be deprived of his liberty save in the following Cases, and in accordance with a Procedure prescribed by law ... (c) the Lawful arrest or detention of a person effected for the purpose of bringing him before the competent legal authority on reasonable Suspicion of having committed an offence, or when it is reasonably considered Necessary to prevent his committing an offence or Fleeing after having done so", EuroJudges observed.
=> Therefore, ECHR judged that the contested Measure "did Not Afford the applicant the Adequate Protection from Arbitrariness, which is an Essential element of the "Lawfulness" of Detention, within the meaning of Article 5§1 of the Convention", and,  "Accordingly, there has been a Violation of that provision" too.

------------------------
>>> In Consequence, it's "Unanimously" that the  Strasbourg's Court held that "there has been a Violation of Article 3 of the (PanEuropean) Convention" on Human Rights, because of Inhuman/Degrading Treatments (Comp. Supra) "on account of the specific Conditions of the applicant's Detention ... in view of his Physical Disability", and "a Violation of Article 5§1 of the Convention", about Personal Liberty (Comp. Supra), Deciding to "Award" to the Victim "EUR 3.000, (three thousand euros)", "in respect of Non-Pecuniary Damage, Plus any Tax that may be chargeable", due to be Paid by "the Respondent State", i.e., in this case, Ukraine.
(../..)
("Draft-News")
-------------------------------------
Scandalous Delay to Protect Citizens from Virus hits hard EU People => 1st Measures = Too Late ?
Wednesday, 18 March 2020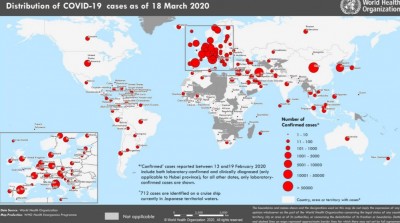 *Strasbourg/Angelo Marcopolo/- A Surprizing and Scandalous Delay, both from EU and certain Member States, to Timely take any Efficient Measures to Protect the People from the dangerous Spread of Deadly Virus COVID-19, Hits very Hard inside the EU, and mainly at its Core, around Strasbourg, (from North-Western Italy to North-Eastern France, Switzerland, Germany, etc), while some massive and/or excessive Coercitive Measures (such as Mass Home Confinement, Total Ban of Foreigners' entries at EU's External Borders, etc), come Scandalously Too Late, (See: http://www.eurofora.net/newsflashes/news/deadlyvirusheadstoeucore.html + http://www.eurofora.net/newsflashes/news/virusriskbutnoeuprotection.html + http://www.eurofora.net/newsflashes/news/viruskillsrighttohealthyenvironment.html, etc),  since Europe became now "the Epicenter" of the World in the Number of Infections and Deaths, according to the WHO, Bypassing China, which chose a Different Strategy !
The Fact that this was Not Fatal, is clearly Proven, inter alia, Also by the Example of Russia, (CoE's Member and part of De Gaule's "Greater Europe"), which has Astonishingly Succeeded, untll now, to still remain withOut Any Death at all, and Only a Tiny number of delayed Infections (mainly "Imported", particularly from the EU), Despite being a Neighbour of China, and having a Huge Territory to Defend... But, mutatis-mutandis, more or less, Also by those of India - another China's Neighbour, as well as Viet Nam, Cambodia and Mongolia ! -  Belarus and Kazakhstan, Mexico (Neighbour of USA, which, on the Contrary, had several Victims), or Hungary, Slovakia, Croatia, and Lithuania, Serbia and Montenegro, Georgia and Armenia, Azerbaijan, etc.  Even Countries like Canada and Australia, which were Hit by the Virus, almost from the Start, and have Relations with China (particularly Australia, who has also Business links in Bio-Tech with Wuhan !), Nevertheless, managed to Contain its progress, resulting Only in a Few Deaths until now (just 1 and 5, respectively).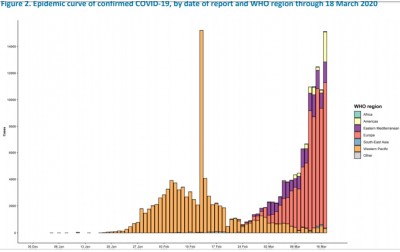 With More than 83.000 Infections and 4.050 Dead, (when we Started this Article : See Infra) the wider EU area has Also outnumbered China with a too Rapid "Explosion" of New Cases, which are SkyRocketing Nowadays, (See relevant Graphic, herewith), while the Chinese new cases, on the Contrary, have Spectaculary Stagnated, recently... As for the Density of the Crisis, measured in terms of Infections compared to the Total Population of each Area, the EU already stands (clearly and by Far) at the Top of the whole World ! (See relevant Graphic).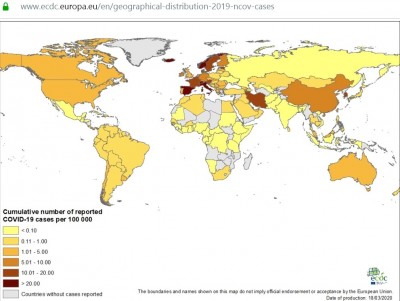 -------------------------
Spectacularly, Europe was mainly Hit at its Core, starting by the Industrial/High-Tech area of North-Western Italy, and Extending at its Neighbouring North-Eastern France (Strasbourg - Paris direction) and Switzerland/Germany, afterwards Spreading to Spain, etc, as "Eurofora" had Warned with an explicit Publication, already as Early as since the 22 of February 2020, (See: http://www.eurofora.net/newsflashes/news/deadlyvirusheadstoeucore.html).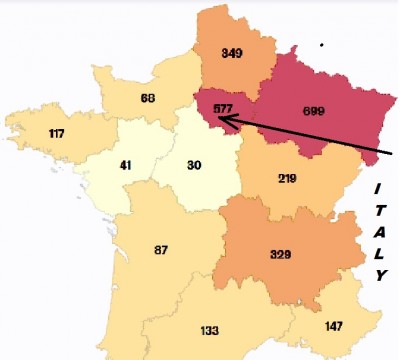 --------------------------------------

This "European" Spread was, reportedly, Not entirely imported from China, but Also due to some Undetermied Endogene "Clusters", (which remain a "Mystery"), while the Genome of the Virus would also be slightly Different. The Geo-Political "Hot Spots" mainly Targeted by that Virus accross the World, were Central China, Europe's core, Iran, and North-Eastern China-throughout the Korean Peninsula, including North and particularly South Korea, (while USA was also hit Seriously, but, comparatively, Less).
The Chinese Strategy, which, apparently, proved to be quite Succesfull, given mainly a Drastic Diminution of New Cases of Infection, and even of Deaths, Recently, (and reportedly Backed by the WHO), was resumed as being that of : - "Early Detection, Early Quarantine and Early Treatment". On the Contrary, China's Media Criticized "some Countries (which) have tried to Play Down the Risks, and the Measures they have taken are not only InSufficient to control the pandemic at home, but also not enough to Prevent themselves from being the source of virus Transmission to other countries"...  
Indeed, f.ex., after the Middle of March, in France, the former Health Minister, Agnes Buzyn, and Strasbourg's "Great East" Region's President Jean Rottner, (Both Medical Doctors), Denounced the Fact that they had Warned, Earlier, about the Gravity of that Virus' Threat, the Prime Minister Philippe and the President of the Republic Macron, Since the End of January and the 1st March, respectively, But in Vain. That's why 3 Lawyers, representing an NGO, have just lodged a formal Legal Complaint now, asking a Criminal Prosecution of the Prime Minister and his former Health Minister, arguying that they "Knew" the Risks for the Population, and Had the Means to Act, But did Not Protect the People on Time.
At any case, it's a Fact that, towards the End of February 2020, at a moment when about 10 People had already been Killed by the Virus at Neighbouring N/W Italy, only ..."1 Bus was Stopped" near the Franco-German Borders, at Lyon, (as Strasbourg's Newspaper "DNA" ironically Titled in its Headline News), while, also, near the Southern Franco-Italian Borders, several Angry Protests were reported for alleged Lack of any serious Measure at that Border or elsewhere, (while Paradoxically Allowing even Many Italian Football Fans to attend a Match near Lyon, Shocking even former Environment Minister and f. Presidential Candidate Segolene Royal...), Until Later-on, when the French Government exclusively Prohibited public Meetings of ..."More than 5.000 People", Only if they take place "in Confined Spaces" (sic !), (See: http://www.eurofora.net/newsflashes/news/viruskillsrighttohealthyenvironment.html). But, almost at the same time, on the Contrary, inter alia, f.ex., even ...Saudi Arabia immediately Closed all its Education establishments, after registering Only ...11 (Eleven) Infections ! As for succesfull Russia (Comp. Supra : with Only ...2 Infections, during a Long Period of Time, except some Dozens of "Imported" cases, Later-on, mainly from the EU, and "0" - ZERO- Dead), it Immediately Closed its Borders to/from Neighbouring China, right from the Start, Despite being one of its Best Allies... So that, even Home Quarantine, suddenly Imposed to all the People, in France and Spain, etc., Only ...After 17 March, and after Many Hundreds of Dead, isn't it a bit Too Late ?
As for the EU, except from some, notable but (Comparatively to the US) rather Limited Financial moves for the WHO and Bio-Tech. Research, Only as Late as after the End of February, (See: http://www.eurofora.net/newsflashes/news/virusriskbutnoeuprotection.html), during a Long, Crucial Period of Time, there is Not any visible Measure for a real Protection of EU Citizens, But an obvious Reluctance to speak about EU's Borders, (initially Abandoned exclusively to Member States), and reported Tension (until Mid-March, included), between Brussels and several EU Member Countries which had Tried to take some National Initiatives to Protect, at least their own Borders from obvious Risks to Import Infections from abroad. On the Contrary, even Italy in a notoriousl Tragic situation, was reportedly Abandoned to itself, in real practice, for a too Long Period of Time, receiving Aid Only ...from China ! We must Wait so Late as Only After Middle March, (after 2 successive Big "Explosions" of the Number of Infections and Deaths inside the EU, and After WHO declared a "PANdemic", added to Europe having become, in the mean-Time, "the Epicenter of the World" in CoranoVirus !), in order to See, for the 1st Time, a timid EU Advice for EU Member Countries to provisionary Stop AirFlights and Entries at EU's External Borders, i.e. ...obviously Too Late, since "the Fox" (i.e. the Deadly Virus) was Already "in the Box" !  Only for some prospects to Support EU Economy, Hopes for Progres appeared in Brussels, until these Last Days, (while, on the Contrary, Even for such notoriously Elementary Needs for the People, as, f.ex., Ventilators, Gants, Masks, DesInfectants, etc., we apparently have Still to Wait...., except from certain Donations of Protective Masks by ...China to Italy, Belgium, France, etc)...
------------------------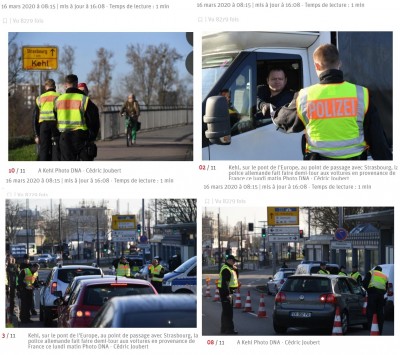 But, in the Mean-Time, even the Symbolic EU's Franco-German Core internal Borders, at the prestigious "Europa" Bridge of the Rhine river, between Strasbourg and Kehl, have ...Closed recently, totaly Separating the two People for the 1st Time since the 1990ies ! And not only Old, but even many Young infected People, (who reached 50% of those at "Intensive Care"), have Now Often to be put into Ventilators' Tubes, in order to Help them Survive, and, for that purpose, they are Now Obliged, around Strasbourg's Exceptionally Hard-Hit Area of Alsace and "Great East" Region (Comp. Supra), to be transfered into ..."Military" Airplanes (sic !), in order to be Urgently Dispatched Towards Regions located at the Other Side of France, i.e. Separated and too Far Away from their Families, (as, f.ex. ...Marseille or Toulon, at the Mediterranean Sea, etc !), Searching to find a Rare Place at an UnKnown yet Hospital, (as, f.ex., the President of Strasbourg's Region, Dr. Rottner, just wrote, in his Twitter account at the Web, with "Emotion").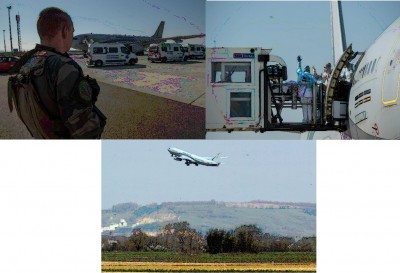 --------------------------

>>> At the Moment that we are Concluding this Article, about 3.250 in China, but More than 5.000 innocent People throughout Europe, have Already been Killed by that strange, mutated CoronaVirus, according to the Latest Data gathered by Hopkins University, (among a Total of 10.031 Victims accross the World) ! 
=> Why, all that ? Why Nothing wasN't done in the EU on Time, using the High Level of Medical Science at our Developed Societies, in order to Spare all these innocent Lives ? Who is really Responsible for this, still on-going, Massacre ?
And what should the European People do, in Solidarity with all the other Victims throughout the World, in order to put, Urgently, an End to this Horrible Nightmare, Save Human Lives and render Justice ?
At any case, No Real European Citizen could ever Forget the Heavy Responsibility of those who, suddenly, may have pushed into a sly Trap, abandoned, and hindered to be saved, so Many innocent Human Persons, for some Dark, InHuman Stakes.
Inevitably, such Facts, (and, particularly, if the overall situation is not urgently redressed on time), incite People to reconsider the veracity of the Hypothesis, (backed by more than initialy expected), about an eventually artificial creation of this CoronaVirus COVID-19 by a Lab, somewhere in the World, (See : http://www.eurofora.net/newsflashes/news/ahmadinejadonlabomadevirus1.html)... Even if this is Not a Necessary Hypothesis for this undeniably Tragic EU Enigma, of apparent Lack of Timely Protection of European People in Danger.

(../..)
("Draft-News")
--------------------------------------
BRIEF NEWS
00:00 - 02.02.2020

00:00 - 09.12.2019

00:00 - 27.11.2019

00:00 - 16.11.2019

00:00 - 28.10.2019

00:00 - 08.05.2019

00:00 - 23.04.2019

00:00 - 01.04.2019

00:00 - 04.03.2019
Statistics
Visitors: 36585478
Archive
Login Form
Other Menu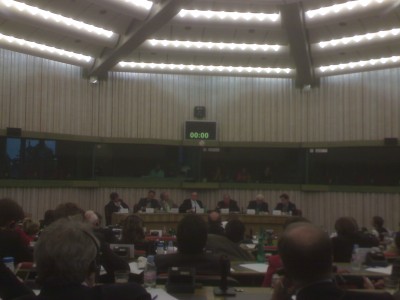 UK Prime Minister, Gordon Brownn's promise to French President Sarkozy that Great Britain will proceed to Lisbon Treaty's ratification was certainly fuelled further by MEPs' warning, meanwhile in Strasbourg, that all Enlargement stops until EU can have efficient Institutions for more than 27 member Countries.    
    EU Parliament's President, German MEP Hans Gert Poettering, formally announced this position, after consulting all Political Groups' Chairmen, Monday in Strasbourg, and most MEPs made the point crystal clear during Plenary Debates on Wednesday.   
     Thus, from Thursday, UK's House of Commons, at Westminster, gave its "Green Light" to Lisbon Treaty's ratification, which was completed later-on, after ovecoming some last minute attempts to block the process.

    - In only 3 other Member Countries we feel some "hesitations" : Poland, Czech Republic and Cyprus", said, meanwhile, EU Chairman-in-office, Slovenian Foreign Minister, Dr. Dimitri Ruppel, speaking to EU Parliament's Foreign Affairs Committee in Strasbourg, However, "I didn't hear any explicit refusal", he carefully added.

    Rupel's fears were later bellied in Cyprus' case, where a wide majority of political parties confirmed their support to the EU Treaty, but fears were confirmed in Poland's case, while Czechs said they waited for their Constitutional Court to pronounce itself.

    A paradox is that the Polish President Lech Kaczynski, who reportedly expressed concerns about Lisbon Treaty, had personally signed himself its blueprint, while, on the contrary, Cyprus' new President, Christofias, despite its own party's opposal, declared that he'll respect the signature of his precedessor, former President Tassos Papadopoulos, in favor of EU Treaty.

    But, "all that noise is a misinterpretations by some Western Media : Poland will ratify the EU Treaty, and even earlier than some other Member Countries", declared to "EuroFora", in a surprisingly optimistic tone, the Polish Chairman of EU Parliament's Foreign Affairs Committee, Jacek Saryuswolski...


Polls