Home

newsitems
newsitems
Russian People Record Vote for Natural Family as France Postpones Artificial Births for Lesbians Row
venerdì, 03 luglio 2020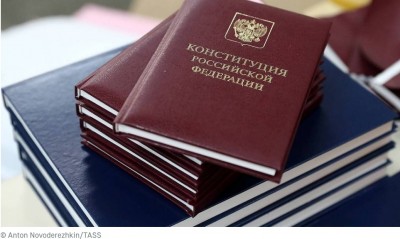 *Strasbourg/Angelo Marcopolo/-
Due to Enter into Force Tomorrow (4 of July) in Russia, is also a landmark Constitutional Amendment for Natural Family, with Marriage between a Man and a Woman, (therefore favorable to Natural Births too), which was Just Voted by a Record High Super-Majority of 78% of Russian People, after an, Also, Exceptional 65% Turnout among Registered Voters, and a Public Campaign of many Months (since before January), Despite the Virus' Pandemic,
almost at the Same Time that France Postponed sine die a Controversial planned attempt to Impose, in catimini, Artificial Births at the Demand of Lesbians, in an UnPopular and Nowadays Risky for Humankind, OutDated Pre-Electoral 2017 alleged Concession to some LGBT Lobbies, apparently Manipulated by Shady Technocrats' Groups, as Genetic Manipulations on Human Embryos crossed, Meanwhile, very Dangerous "Red Lines" on 2018-2020, (See Facts reminded Infra)...
--------------------------------
    Almost these Same Days that the Important Final Round of French Municipal Elections for New Mayors throughout All Cities in the Country didn't attract But Only a Minority of almost 40% of Registered Voters, (Less than in the 1st Round !), and Even the Politically Crucial Parliamentary Elections in Croatia, due to Chose the Government of the Counry, Also fell in a Minority Participation of Less than -50%, for the First Time since the 1990 Elections of the "Democratic" Period, as noted "Wikipedia", it's Only the "Hotly" Disputed Polish Presidenial Elections, with a Big Turnout Close to 64%, and these Russian Constitutional Amendments' Vote which Succeeded to Attract a Super-Majority of Popular Participation up to More than 65% of Registered Voters...
    + In Addition, this Widely ReNovated Russian Constitution of 2020 was Supported by almost the ...Double of Voters, than the Previous one, Dating from 1993, with more than 57,7 Millions of People Now, Instead of Only Fewer than 33 Millions then !
    For the 1st Time, even ...Cosmonaut Anatoli Ivanishin Voted, up from the International Space Station, thanks to a New, Special Digital Technology, ensuring Direct Broadband Communication to Russia, withOut Risks for the Secret of Voting, as "RosCosmos"' Chief Rogozin, reportedly announced...   
    >>> As for the Record-High Positive, "Yes" Percentage with a Super-Majority of 78% of the Voters, it was succesfully obtained Now,
    Despite an "UnPrecedented" level of various "Attacks", mainly of "Foreign" origin, as Denounced Valentina Matviyenko, Speaker of the Russian Federation Council (Senate) : She Citted, f.ex., among others, also "DDos Attacks on the Central Election Commission's (CEC) Websites", "especially from Foreign Internet Accounts", in Addition to "a Flow of Fake-News and Lies, Far Away from Reality", together with "Doctored Videos which attempted to Provoke a Negative ambiance vis a vis this Vote", (etc).
    => The Russian Federal Council will Draft "a Report on July" about such a lot of Facts of "brazen Interference in Rusia's Sovereignity and Domestic Affairs, Violation of Laws, and Spreading of Fake-News", that will be Drafted and Discussed by the competent "Commission for the Protection of State Sovereignity and Prevention of Interference in Russia's Domestic Affairs, chaired by Andrei Klimov, a Top MEP well Known at CoE's HeadQuarters and in EU Parliament in Strasbourg, (Cf. Various Matvienko and Klimov Statements to "Eurofora", earlier, f.ex., at: ...  ..., etc). Already, the Commission "Officially Denounces the Fact that the ... Vote on Amending the ...Constitution was among the Targets of a Foreign Attack", with "Various Illegal Campaigns Forced on us", seeking "to Discredit ...the Amendments... and the Procedure of the Vote", through "Mass Medias outlets, Social Networks Controlled by the West, NGOs and Activists who Constantly collaborate with Overseas Organisations" Abroad, etc. According to Klimov, some "Western Countries, headed by USA, have been Deliberately pushing an illegitimate Interference in the Sovereign Costitutional process, Since mid-January".
    It's true that this 2020 Russian Constitutional Reform is Not a Usual one, but quite Original :
    - F.ex., in Addition to Power Structure Issues, (as on the Presidential Mandate, on Strengthening Parliament's role and Government's Accountability, Boosting a Constitutional Court, Priority of the Constitution over International Treaties, etc), it Also contains a lot of Socio-Economic Issues, (such as Pensions' revalorisation, Minimum Wage's level Guarantee, support to Affordable Quality Health Care for All, etc), as well as Key Society-Wide Matters, (f.ex. on Science, Culture, Historic Truths, Language, Children and Youth, "Care of all Generations of a Family for Each other", etc), including even Popular in Rusia references to "Ideals and Belief in God", Natural Family, etc.
    - According to Presiden Vladimir Putin, the "Changes will enshrine Key Values of the Russian People in the Constitution". Kremlin's Spokesman, Dmitry Peskov, indeed, stressed that "the Difference ...in 2020 was that, Now, more Substantive Amendments" have been proposed. -"The situation is Different. Now the Focus is made primarily on those Amendments, which strengthen the country's Sovereignty and Social nature of our State". "Those Focal Points which come to the Forefront ... are the Most Important for the Citizens , as was seen during the Public Discussion ...of these Amendments.", he reminded.
    => - "For me, the Most Important Amendment is that which stabilizes Marriage as a Union between a Man and a Woman !", has interestingly stressed Duma's vice-President, Pyotr Tolstoy, Head of the Russian Delegation of MEPs at CoE's PanEuropean Assembly in Strasbourg...  
    + Indeed, that's the Only Popular Issue which has Already brought moe than 1 Million Citizens to repeatedly Demonstrate at the Streets of France, particularly on 2013-2014+, against Attempts to Impose the Controversial and UnPopular so-called "Same Sex Marriage", then Notoriously Pushed by Former POTUS Barack Hussein Obama, exerting Pressure throughout all Europe, and accross the World, even by Bullying Poor Countries in Africa and elsewhere ! And, mutatis-mutandis, Similar Ideological, Social and Political Movements were, notoriously, Shaking also USA's internal Debates, among Conservatives and Simple People, at least up to 2016+...
    >>> It's true, however, that the PanEuropean Convention of Human Rights, (whose 75th Anniversary is due to be celebated on Novembe 2020 in Athens), in its Article 12, explicitly reserves to "Men and Women" the "Right" to "Marry" and "found a Family", with a Crystal-clear Defense of the Natural, Traditional Family between a man and a woman, (and, therefore, to Natural Births of Children, too).
    Nevertheless, already, Various, Indirect but potentialy more or less pernicious or even Dangerous, Attempts to "Interpret" and/or "Apply" the ECHR in Nowadays' Challenging situations, particularly coming from Overseas, (especially during Obama's era : Comp. Supra), have notoriously Started to, more or less, Bypass, Diminish, Undermine or Marginalize that ECHR's consecration of the Natural Family, (Even if Nobody Dares yet ask to ... eventualy Modify that PanEuropean Convention Openly : Something apparently Impossible !).
    => That's one reason more, for which Several EU Countries, (such as, f.ex., Poland, Latvia, Hungary, Slovenia, Croatia, etc, followed also by an Attempt in Romania, etc), had Recently started to, precisely, introduce the explicit Consecration of Natural Family inside their own National Constitution, (as, Also, several USA's Member States). A Movement succesfuly Extended Now, on 2020, Also to Russia...
    For the 1st Time in History, Meanwhile, Russia had become very Popular even among ...Conservative American Nationalists, of the Right, (including Intellectuals, Politicians, and Simple People), precisely Because of President Vladimir Putin's Defense of Natural Family, to the point that a large Global Conservative Movement on Christian Families, (HeadQuartered at USA's Illinois), naturally promoting the Traditional Marriage, had even Decided to, Exceptionaly, Organize its Bi-Annual International Conference in Moscow, back on 2014, (where, it was Hindered, at the Last Minute, by the "Sanctions" imposed on Russia under Pretext of the provoked Conflict in Ukraine, during Obama's/Biden's era)...
    + Meanwhile, President Vladimir Putin had been Criticized by some LBTG Activists, but became Popular among the Majority of Russian and Other Countries' People, for having, notoriously, "passed a Law Banning the Propaganda of Homosexuality among Minors" since 2013, as he recently reminded himself.  - "So What ?", he questioned Nowadays. "It's no big deal ... Our Position is Clear" : - "Let People Grow up, Become Adults, and, then, Decide their own Destinies", he reportedly pointed out. Homosexuals, as such, indeed, are No More Oppressed in Russia since 1999.
    ++ And, concerning Children, "as far as 'Parent No 1' and 'Parent No 2' goes", (the Names often Technicaly used vis a vis a "Same Sex Marriage" : See Infra),  ...- "As long as I'm President this will Not happen. There will (Always) be Father and Mother !", Vladimir Putin promised, according to Reuters.
    >>> However, even Famous Black Singer Richie Havens, who had Opened the "WOODSTOCK" Rock Festival of 1969, with his UnForgetable Song "FREEDOM", (Inspired by an Historic Negro Spiritual song "MOTHERLESS CHILD"), apparently, Fell, Nowadays, Victim of Blatant... CENSORSHIP by some "LGTB" Extremists, who ... Systematicaly ERASED, in allmost ALL Versions Published at the Web of the "LYRICS" of his Song, the WORDS : " - "WHEN I NEED MY FATHER, HEY, FATHER !"... ("I can Call him up from my Heart"), and some Vandals went as Far as to Erase Also the WORDS ..."MOTHER, HEY, MOTHER !"...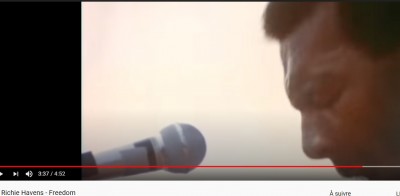 https://www.youtube.com/watch?v=SQ0I0SRW9_U&feature=youtu.be

    This is an Astonishing FACT, that "Eurofora" was genuinly Surprized to Find out these very Days, while Searching, at the Internet, for the Full Text of that Landmark, Historic "Woodstock" Emblematic Song of the UnForgetable "Sixties"... Only a somehow Marginal, ...German (sic !) Website, had a Real Full Version of Haven's Song's Lyrics, with the Simple WORDS "FATHER" and "MOTHER", Together with "MY HEART" and "FREEDOM", as it Really was in the Original, World-Famous Song of the Emblematic Black Singer at the Historic "Woodtstock" Festival !
    >>> Such an Incredible Oppressive Incident, coming Exactly the Years 2019-2020 that French People and others are Desperately Struggling to Prevent a very Dangerous for Humankind, Electoralist Reform, pushed by some LBGT Lobbies, Manipulated by Shady Technocats' Groups (See Infra), which Threatens to Impose, for the 1st Time in History, Thousands of ARTIFICIAL BIRTHS of Children, at the Command of Lesbians, WITHOUT ANY Known FATHER, through an AbNatural  Process Exclusively CONTROLLED BY TECHNOCRATS, (a Social-Moral Conflict which had Already Filled Paris' Avenues Last Year with Hundreds of Thousands of Popular Demonstrations Denouncing, precisely, the abnormal, InHuman and Dangerous Imposition of "FATHERLESS CHILDREN", (an EMBLEMA of those Popular Movements), Obviously is a Blunt Warning of the Horrible, Anti-Democratic Fact that such kind of Brutal Web "ATTACKS" just Denounced by Presidents Matvienko and Klimov at Leningrad and Moscow (Comp. Infra) regarding the Popular Vote on Russia's New Constitutional Amendments, including that Landmark Support to Natural Family, most probably are part of Nowadays' Reality, where some incredibly Anti-Democratic Wrong-Doers have, Obviously Fallen Down to Abysmal Lows, in Attempting to MUZZLE the PEOPLE...
    => As such things go, the NEXT STEP would, Probably, be to Completely ERASE at the Internet EVEN THE WORD ..."MOTHER" (sic !) from that Emblematic Richie Haven's "Freedom" Song at Woodstock Festival's Historic 1969 Opening, (which Notoriously stems from the Traditional Negro Spiritual Song "MOTHERLESS CHILD"), When such Extremist "LGBT" Lobbies, (as Always, Manipulated by some Shady TECHNOCRATS), will Start to Attempt to Impose in Europe even the Horrible "SURROGATE MOTHERS"' Exploitation (as f.ex. in India, etc), notoriously Abused for Artificial Births commanded by somc "Gays" Couples, but Controlled by Technocrats, through "Sperm Banks" and "Donors", IVF, Transplantations, and, Finaly, Taking the Baby Away from the Woman who helped Make it inside her (Rented) Womb... Indeed, those would Really be, also ..."MOTHERLESS CHILDREN" !
-------------------------------------------
    But, even if some Homosexuality might, perhaps, have existed, more or less precariously, at the Margins of Society, already since Hundreds or Thousands of Years, here or there, Nevertheless, it's Astonishing to find that, Suddenly, it all Started to Radically Change, by a "Coincidence", almost around the (Earlier than Expected) Deciphering of the Human Genome, at about 2.000 AC !
    Until then, everywhere, most Homosexuals used to live their own Lives, with their Specificity, withOut Risking to be Humiliated or Ridiculized, sometimes threatened to lose their Dignity, by Attempting to Clumsily ...Imitate the Heterosexual Couples, Pretending to Always be exactly Like them, from almost Any point of view, and at Any Price...
    However, after 2.000 (Comp. Supra, on DNA sequencing), and, particularly, After a Decade of Former POTUS Obama/Biden era (2008-2017), Suddenly, it all Started to Change, Revealing that, in Fact, what was Really at Stake, it's Not so much the Homosexuals themselves, But, rather, ... the CHILDREN that might, eventualy, be Attributed to them ! And, as Homosexual Couples are, Naturaly, Sterile, it's all about ARTIFICIAL BIRTHS, (since so-called "Adoptions" canNot be Enough), obtained by TECHNOCRATIC Means, f.ex. through Sperm Banks/Donations, IVF, Transplantations, Surrogate "Mothers", etc., i.e. Constantly Exposed to Obvious RISKS of GENETIC MANIPULATIONS ON HUMAN EMBRYOS, (See also Infra)... There, Inevitably, Homosexuals serve Only as a PRETEXT, submerged in a Much Bigger than them "Whirlpool", where it's some Shady Technocratic Lobbies that Dominate, with Obvious Risks for the Future of Humankind... (See also Infra).           
    In the Post-Obama/Biden USA it's almost Already done, (with a Popular Opposition, however, Eager to Revive the Struggle for Natural Family and Births), But, Nowadays, it's mainly in European Countries like France that it's still on the Making, full of Contradictions, where Everything seems yet Possible : After a Tricherous 1st Stage, around 2.000, when "Socialist" former Prime Minister Jospin promised that it will all End, simply, by Giving to Homosexual Couples a special Status of "PACS", for some Basic Legal Rights, came a Brutaly Oppressive 2013-2014+ Period with Former "Socialist" President Holland, when he Imposed, by Force, against a Large Popular Wave of Protests, the so-called "Same Sex Marriage", (However, while Also Delivering Children to the "Authority" of Homosexuals on Pretext of so-called "Adoptions", But Vowing that this was "Enough", and Ensuring that Fears to Fall, subsequently, Even on "Surrogate Mothers" for "Gay" couples, and/or Sperm Banks, IVF and Transplantations for Lesbian Couples, would be an "Exagerated" Nightmare, withOut any link to Reality)...
---------------------------
    + Nevertheless, Suddenly, just a Few Years Ago, Until, still, These very Days, Some LGBT Lobbies, (as Always Manipulated by Shady Technocrats' Groups), Started to Claim that an obscure Pre-Electoral Promise of President Macron would have been to Absolutely Impose Artificial Births of Fatherless Children by Command of Lesbians through some Technocratic, absolutely AbNatural Procedures, (including, inter alia, f.ex., also Sperm Banks/Donors, IVF, Pre-Natal Tests, Implantations, etc), which would, Inevitably, Not only Cost a very Heavy (but useless and Totaly UnRelated to Human Health) Burden to the already inDebted "Social Security" Budget, but, in Addition, Regularly Abandon several Thousands of Artificially Produced Human Embryos and Babies at the UnControlled Hands of Technocrats, practicaly Away from any Credible Public OverSight, (to the point that they Could be Easily Manipulated in their Genome, withOut Anyone ever Knowing If and What exactly happened, Not even their "Parents 1 and 2" !), with Obvious Risks, Both for them and Humankind, particularly if such Controversial practices Regularly touched upon an enlarging, Key Part of the Population...  
    - But, such a Controversial Demand wasN't really Discussed during the 2017 Electoral Process, and remained quite Obscure, practical UnKnown, at least to Most People...
----------------------------------
    + Most Important, Many things Happened, Meanwhile, which radically Changed the Situation, and Aggravated the Negative, Dangerous aspects for All the Society, of such a Categorial Demand : In particular, since the Autumn of 2018, we all know that Any petty Technocrat can Manipulate the Genome of Human Embryos until Artificial Births of Mutated Beings whose "Changes" would be Automatically Transmitted to all their Future Generations, (See, f.ex.:..., etc).
    => In such New Circumstances, it has Now Become More UnAcceptable than ever to irresponsibly Submit Many Thousands of Embryos, in Each Country, Every Year, to such Artificial Birth Procedures, which put them at the Mercy of various, UnControlled Technocrats, withOut any Guarantee, Neither Means to Prevent, nor even Know if, and what they might Modify, and/or "Test" in those Human Embryos' Genomes...
    The New Risks, by the Emergence of "Gene Editing" and "Heritable Genome Modification" Technologies during the Last Few Years, are so Tremendous, (f.ex., from Provocation of UnKnown yet Health Problems or even Epidemics by Error, to the Fabrication of Man-Animal "Chimeras", or Other Various Monsters, until that of Obvious or Stealth "Races", in a new, Horrible kind of "Appart-Heid", etc), so that the Future of Humanity starts, inevitably, to be at Stake !
---------------------------------
    >>> So that Important and responsible European Countries such as France, (a fortiori at even at the Highest Level of the State), cannot, and should Not be held "Hostages" of Any selfish Grouplet, (most Probably Manipulated by a Shady Technocratic Lobby),
particularly When, (Even since Before the above mentioned Recent Developments), Already Pre-Existed a ..."Big GAP" Between the People and such Controversial Governemental Proposals, given the Fact that Popular Consultations have clearly Revealed a Strong Opposition from Citizens to Plans for Artificial Births on demand by Lesbians, as even the President of the National BioEthics Committee, Professor Jean-Francois Delfraishy, (currently Chairman of the Anti-Virus Experts Panel), has told "Eurofora", on the occasion of an International BioEthics' Conference at the CoE (See, f.ex., at: ..., etc)...
    => - So that "Something Must be done, to Address that !", Urged, then, Speaking at the CoE, Professor Delfraissy, making a reference to such Obvious Popular Opposition Against Artificial Births on demand by Lesbians, that "Eurofora" had Also Observed, as a Crystal-clear Phenomenon even at a French National Web Forum specially Dedicated, by the Government, to the Collection of Citizens' reactions on such Topical BioEthical Issues, already since Mid-2018.
    + A fortiori, Nowadays, French President Macron's recently Re-Confirmed Political Wish for a Rapprochment between the Center and the Center-Right, (as the on-going New Government's Reshuffle Confirms), while Advancing Towards the Crucial 2022 Presidential Elections, should, Normaly, Avoid such Uselessly "Divisive" Issues...
    Particularly when he has Just stressed, at his Latest big Speech on a Progressive  DeConfinement from the Virus and the Need to ReVive the Economy, the Priority must be Now into "Uniting", and Not Dividing, the People.
-----------------------
    Otherwise, Not only it Would be Difficult, if not Impossible, to Conciliate such a Serious and Radical, Structural and Far-Reaching, Social Change with a Formal or informal, Total or Partial, Period of Urgency, (which, according to the ECHR, must be Limited Only into Exceptional, Urgent Measures, and Not at all for Medium-Long Term Structural Reforms),
    ++ But, in Addition, it's obviously Not so "Democratic" at all, to, eventually, Impose such a Controversial, Radical and Far-Reaching Social and Moral Change, When the People (who had Already Started to Largely Demonstrate its Opposition, with 2 Big Demonstrations, since 2019, and More had been Planned in 2020, Before being Blocked by the "Confinement" Measures related to the Virus), is Still Hindered to make Any Public Demonstration Unless it's with ..."LESS than 5.000 Participants", (Even at Open-Air Space), as the French Top Administrative Court, ("Conseil d'Etat"), reportedly judged Nowadays !
    Simply Because, as it's Notorious, the Political Threshhold from which may depend the Outcome was, and stil is, at the Level of an eventually very Massive Popular Demonstration of about 500.000 to 1 Million People, (i.e. as Back on 2013-2014, and Partly 2019), which naturally Requires full Liberty and Time to organize...
    If Not, (according also to the Latest reported relevant Statement attributed to a New, Controversial, Minister), that "Hot" Matter may be, simply, "Postponed" ONLY towards the 2nd Half of July (sic !),...
    i.e., Obviously "Hidden" in the Middle of a Torrid Summer-time, with the Deadly Virus' Crisis still around, When Most People would have Left for the Usual Mass Holidays, and Even Many Public Services would have Closed, including the Government's Members Dispersed at a Country-side, (etc),
    as it was Scandalously and Shamefully Done, Already, Back on 2013, (with a Different Government, Exclusively "Socialist"), when anOther, Exceptionaly Important Reform on BioEthics, (that of Genetic Manipulations on Human Embryos), had been, Suddenly, fixed, (by a Controversial Former Miister, who "Disappeared" Soon Afterwards), Also for the 2nd Half of July, and Even ...at MIDNIGHT !!!
(See: http://www.eurofora.net/newsflashes/news/mindightattackonhumanembryoinfrance.html, etc [That Article is an Authentic Events' "Collector's Item", even if in French. But with Stunning FACTS, and a Hard but Superb "MUSE" Song]).

(../..)

("Draft-News")

-------------------------------------
Strasbourg Votes Armenian Green Mayor with Natural Immunity v.Virus, focus on Dialogue+EU Demo ReNew
domenica, 28 giugno 2020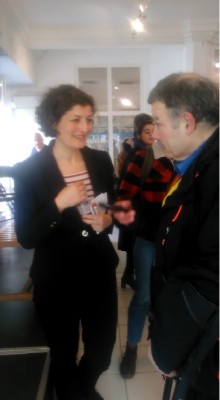 *Strasbourg/Angelo Marcopolo/- Frustrated to Wait even Longer for Shady Genetic and/or Political Manipulations for an UnCertain Vaccine against the Deadly Virus, Strasbourg's Citizens Voted Today, More than Expected : 42%, for an Armenian Green New Mayor, with Natural Immunity versus the Virus, (that she already Faced and Defeated), who Focuses on "Dialogue" (as "Eurofora"s Project, that she Backed : See Infra), and Dreams for a "Democratic ReNewal, may be Also Elsewhere in Europe", as well as to Fight "Against Social InEqualities", Protect "Climate", etc.
Jeanne Barseghian, (who got Elected an Overwhelming 47 Municipal Counselors' Team, Leaving Only 11 and 7 to her Competitors), is an Atypical "Green", who doesN't Owe Nothing to "Socialists" !
On the Contrary, she Succeeded, Today, to Win Against 2 Political Attacks led by former Socialist "Heavyweights" : One who had Remained at the SP (23%), and anOther one, who had been Transformed into a Macronist Liberal, making an Alliance with the Republicans of the Center-Right (34%)... Except Strasboug, its Only at Poitiers that anOther "Green" Succeeded to Win Against a Socialist Adversary, while at Lille anOther one just Missed his "Socialist" Target by Only a Few Votes.
Moreover, she will Certainly Never Forget the Long and Bitter Struggle that People like her had Recently to give Against also the Out-Going "Socialist" Municipality, in Popular Attempts to Stop a Big Car-Lorry Highway Project ("GCO") from Destroying a lot of Natural and/or Agricultural Lands, including a Superb and Unique Landscape at Wonderful "Gardens" scupltured at several Levels aside a Castle kept Open by an Historic Franco-German Family from nearby Frankfurt, and Visited by many Philosophers, Artists, and Other Intellectuals, (including from Russia, as f.ex. the Famous Painter Shaghal, etc), for the Inspiration that gave its Spectacular Natural Views, to the point that it had become part of a European Cultural Heritage, (Kolbsheim Castle).
But, most of all, Barseghian is well an Armenian, and Proud of it : Contrary to an important former French Prime Minister, Eduard Balladur, whose Family had Changed their Original Name (Balladurian), Jeanne's Family Kept preciously theirs. Her Grand-Father was among the First to be Arrested in Istanbul/Constantinople back on 1915, and Killed by the Turks at the Beginning of what became a Genocide... Later she Decided to Learn the Armenian Language, (steming from a State which was the 1st in the History of the World to Become Christian -Together with Cyprus- since the 4rth Century AC), and even Participated in an Original Film created by "ARTE" Franco-German TV of Strasbourg on the OverMillenary History of Armenians at Anatolia Plateau.
So that, apparently Conscious of the Fact that Only a Strong Europe, Based on a Franco-German Core, could Become Able to effectively Protect People from such a Militarist Regime as that of Turkey, Notoriously Violating Human Rights, after being Born Near Paris, she Studied Franco-German Law, went to Berlin with EU's "ERASMUS" Program, and came to Strasbourg to specialize in Environmental Law, (including with a Training at the CoE), where she reportedly Met her Partner, a German from Nearby Freiburg. "Eurofora" witnessed the Fact that Barseghian speaks Fluently "Deutsch", so that she gives easily Press Interviews also to German Medias, in their own Language...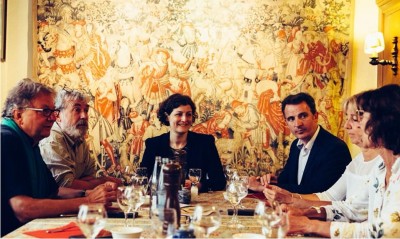 The New Strasbourg's Mayor, (a Jurist herself, as also her Father and Mother), seems particularly Keen to matters such as "Dialogue" and "Citizens' Participation" in Public Decision-Making, so that she's naturally Friendly to "Eurofora" Project's main thrust (See, f.ex., her relevant Replies to our Questions, published earlier, at : ... etc.). It's in such a Context that she also reminded us her additional Proposal to even regularly Involve the City's Municipal Council in Public Debates related to Main Topical Issues due to be Debated and Voted by EU Parliament's Plenary each Month here.
What she might Not Know, is the Fact that, by a Coincidence, her Local Alliance with Iranian-Born Medical Urgentist Syamak Agha Babaei, a Graduate of the International "Pontoniers" Lyceum, (a Former "Socialist" Local Counselor, and Now "Number 2" in her List), Fits Well a Geo-Political Plan, Earlier supported by various European Countries, to use Iran's Strategic Links with Armenia, in order to Transport, by Pipeline and/or Sea and River Ships, Climate-Friendly (Non CO2 producing) Gas Energy, through Georgia-Black Sea-Romania, etc. Directly towards Europe's Industrial Core, (eventually also through Danube and Rhine Rivers, etc, i.e. via Strasbourg).
But, as far as Today's Vote by Strasbourg's Citizens is concerned, it's Not a Secret : Notoriously, a Large Majority of the People (among 60% to 70%, according to Earlier Polls !) Wanted a Change, and Not at all to Continue, for a 3rd Time in a Row, with Any more "Socialists" here, (Neither Traditional, Nor "Recycled" under anOther Political Label).
The "Left" side of the Political Spectrum Concentrated its Forces, ("Communists", "Greens", Leftist Dissidents in Disagreement with the "Socialists", etc). But the "Right" side did Not, (No "Unity of the Right", the "Rightists" abandoned Alone, while the "Center-Right" "Republicans" formed an Alliance with Former "Socialists", Now presented as "Liberals" close to President Macron). => Therefore, the "Left" Won...
Indeed, more or less Similar Political Configurations to Strasbourg's case, appeared also at Bordeaux (Endorsed by National Parties), and Lyon (Rejected by National Parties). But, in the Absence of Any "Unity of the Right", the "Center-Right" Alone, Extended to Former "Socialists", Always Failed, even there...
=> Thus, the Otherwise UnSolved "Enigma" of an Even Bigger Abstention at this 2nd and Final Round of the 2020 Local Elections in France on June, than what it had been, already, at the 1st Round on March, can be Easily Explained, Simply, by the Refusal of the People to Accept to Systematically Drop Any "Unity of the Right" whatever, and Focus, instead, Only into Extending the "Center-Right" to Former "Socialists" : Many among the Voters at the Right Side of the Political Spectrum, simply ...Stayed Home, or went for a Walk at the Countryside !
Only in this way can be Explained why Barseghian, who had Just 28% from the 1st Round, Surprizingly found herself Propulsed Up to 42%..., while a Coalition (Fontanel + Vetter) which Totaled More than 38% of the Votes from the 1st Round (19,86% + 18,26%), Suddenly Fell Down to Less than 35% in the 2nd Round...

On the Contrary, f.ex., mutatis-mutandis, the Combative former Mayor of Aix-en-Provence, ("Republican" Right), who had been Fiercely Fought by the "Socialists", (even with Harsh Personal Attacks), Fought Resolutely Back and Won with a Big Score of More than 43%... And the "Rightists" Won Perpignan, (etc)...
(../..)
("Draft-News")
------------------------
CoE Ministers Committee Head calls to Save UNESCO World Heritage Sainte Sophie from change to Mosque
venerdì, 26 giugno 2020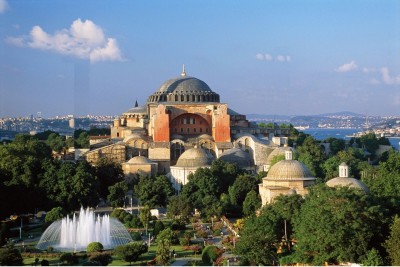 *Strasbourg/Angelo Marcopolo/- PanEuropean, 47 Member States-strong (Russia included) CoE's President,  Alt. Foreign Minister Miltiades Varvitsiotis, launched a vibrant Call to Save UNESCO World Heritage Monument, the Historic, Over-Millenary Church of Sainte Sophie (alias "Agia Sophia"), currently a very popular Museum, from Recent Threats by the Turkish Government, including President Erdogan,  to turn it into a Mosque...  
He was Replying to various MEPs' Questions, (including one from Turkey, on "Freedom of Religion"), at the Standing Committee of CoE's Parliamentary Assembly (PACE), where he has served for a Long Time as former MEP, and Recently Elected vice-President of its Biggest Political Group, that of ChristianDemocrats/EPP.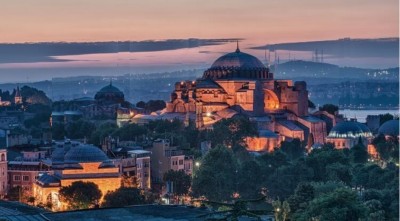 - Currently, "there is a Great Concern for us, (Europe), and a Great Concern for the Global Community, ... about the Attempt to use Agia Sophia as a Mosque", he Denounced.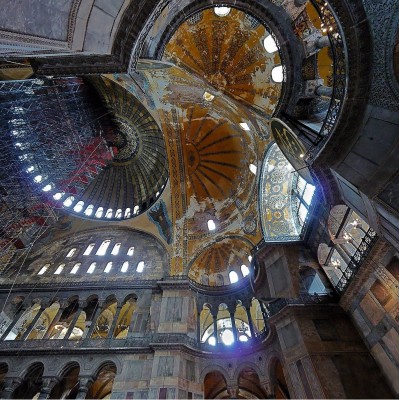 - This goes, "particularly, within the framework of UNESCO", and includes a move "Not to Preserve its (Sainte Sophie's) Global Position as a World Heritage Monument", Varvitsiotis Warned.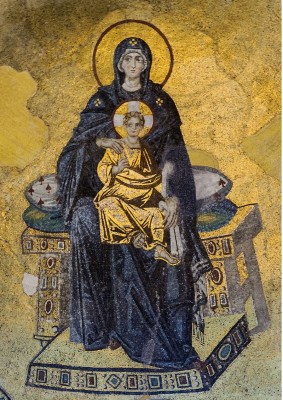 - However, currently, "that Symbolizes a Great Monument, Both for ...Christianity", (particularly "Orthodox", but Not Only: See Infra - During More than 1,5 Millenary, or about 1.700 Years, since the Initial Creation of that Church on 360, throughout the Christian-Greek Byzantine Empire's Civilisation), "and the Turkish Muslims, Since they started their Presence (sic !) in Istanbul/Constantinople", as he said, (i.e. During about 550 Years, Since the 1.453 Bloody Turkish Military Invasion and Occupation of Constantinople).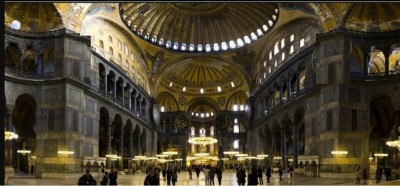 => "So, it's very Important to SaveGuard such Monuments, and give them to the World Heritage", CoE's President-in-office Urged.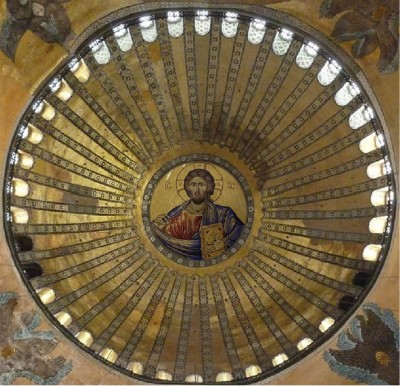 - And this, Also, "as an humble Example of InterCultural coordination", he Modestly Added.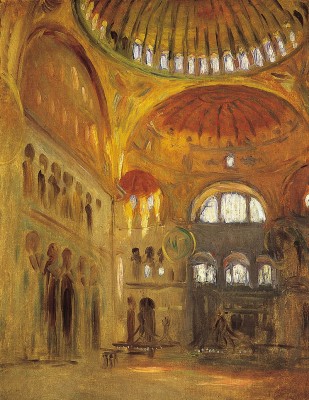 In Fact, notoriously, Greek Byzantines Build that Monument with its Famous Huge Dome, Full of Light and Icons, (Near an Ancient Temple of Apollon), and Turks Surrounded it by some Minarets Outside, added a few Graves or Symbols of Conquest, and Systematicaly Erased or Covered up Icons.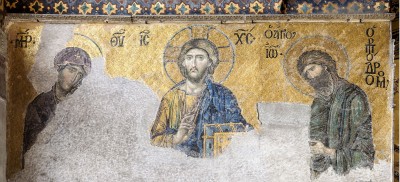 - Varvitsiotis, Earlier, had Warned that he would Not be Free to Answer MEPs' Questions "as a Foreign Minister of Greece", (that he was), since he had Now to "speak as a President of CoE's Committee of Ministers", according to its rules and procedures. (What he really did, Also, just Before the Religious Freedom Question, by Answering, with a very ..."Technical" and Neutral Language, anOther Question, Raised by the President of the EuroLeft Group of MEPs, Dutch Senator Tiny Cox, about 2 Dissident Politicians' Freedom of Expression Violations in Turkey, as found by ECHR, where they had been Prosecuted, Destituted, Condemned and Jailed, for some Simple Critical, but Peaceful Declarations)...
=> To the point that, PACE's New President, Liberal Belgian Senator, Rik Daems, smiling, then, Suggested that "CoE's Assembly should Vote for a New Additional Protocol to the ECHR, Protecting the Freedom of Expression of CoE's Committee of Ministers' President !"...

-----------------------------

+ Meanwhile, however, even USA's Ambassador at large for Religious Freedom, former Long-Time Senator Sam Brownback, (Appointed by US President Don Trump), Published at the Internet a Written Statement on "the Hagia Sophia", stressing that it "Holds Enormous Spiritual and Cultural Significance".

>>> Therefore, "we (USA) Call on the Government of Turkey to Maintain it as a UNESCO World Heritage Site, and to Maintain the Accessibility to All, in its current Status as a Museum".
Sainte Sophie has been Officially Declared as a "Museum" Already Since 1934, (i.e. During almost 87 Years now).
It Attracts "almost 3,4 Millions of Visitors, Annually", (according to "Wikipedia").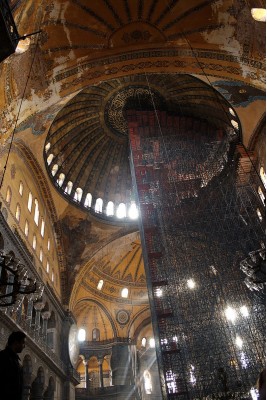 - And it affects "Billions of Believers, of Different Faiths, around the World", wrote Today USA's Ambassador for Religious Freedom, Sam Brownback, (Comp. Supra).
------------------------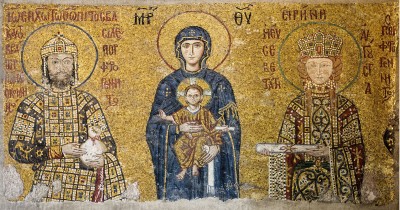 + But, Meanwhile, a Russian MEP had formaly Raised a Question to Erdogan, at CoE's Assembly in Strasbourg, as early as since 2006, about whether the alleged Respect of Religious Freedom in Turkey would Allow for Christian People to become anew able to Celebrate the Divine Mass in Sainte Sophie Cathedral, as they used to do during Millenaries...
++ Already, the International Treaty of Sevres (1920), whose Centenary Anniversary is due to be Commemorated this August 2020, Drafted and Signed by the Winners of the 1st World War and Many Other Countries, had Explicitly Subordinated All "the Rights of the Turkish Government over Constantinople", to the "Faithfull Observation of the Provisions ... as regards the Protection of the Rights to Racial, Religious or Linguistic Minorities" :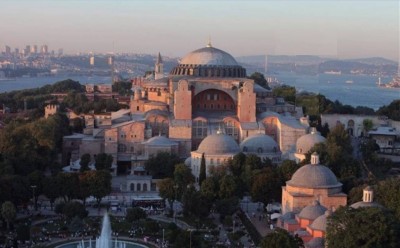 => "In the event of Turkey Failing to" do so, "the Allied Powers expressely reserve(d) the right to Modify the ... provisions, and Turkey hereby agree(d) to accept Any Dispositions which May be Taken" (on Constantinople's fate) !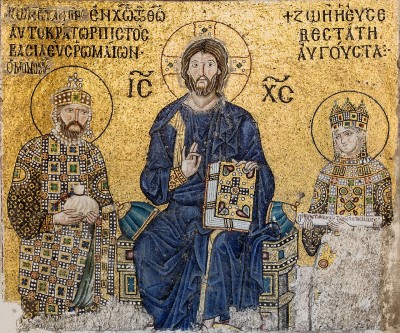 -----------------------

- But, on the Contrary, inter alia, f.ex., when Christian Catholic Pope Benedict on 2005, Followed by German Chancellor Angie Merkel, Later-on, made Official Visits to Turkey, Visiting also Constantinople and Sainte Sophie, various Press Articles and Politicians' Statements had Created an UnForgetable Atmosphere of ...Terror, threatening with "Warnings" on "the Consequences" that Risked to have Any Move which Might be Interpreted as a ...Christian Religious "Prayer" inside Agia Sophia Cathedral...
=> Pope Benedict bypassed that with an open Gesture, which could be Interpreted as a Joint Prayer, inside the Neighbouring "Blue Mosque", while Chancellor Merkel Artfuly used a remarked Long and Deep Look Up towards the Sky, at Agia Sophia, while Crossing Hands, which might be Interpreted, by outward observers, in various ways...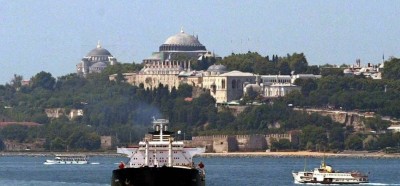 - However, "in 2015, in Retaliation for the Acknowledgment, by (Christian Catholic) Pope Francis, of the Armenian Genocide, the Mufti of Ankara, Mefail Hızlı, (reportedly) stated that ...the Conversion of Hagia Sophia into a Mosque will be Accelerated".     
=> In Consequence, "On 1 July 2016, Muslim Prayers were (Openly) held again in the Hagia Sophia for the First time in 85 Years", according to "Wikipedia". "On November" 2016, a "Turkish NGO ... filed a Lawsuit for Converting the Museum into a Mosque", (which was Stoped at a Court). "On 13 May 2017, a Large Group o People, ... in front of Hagia Sophia ...Prayed ...with a Call for the Reconversion ...into a Mosque". "On 21 June 2017, the (State-Controlled) Direction of Religious Affairs (Diyanet) organized ...the Recitation of the Quran and Prayers in Hagia Sofia", "Broadcast live by State-run Television TRT". "On 31 March 2018 Turkish president ...Erdoğan recited the 1st Verse of the Quran in the Hagia Sophia, dedicating the Prayer ...Especially (to) Istanbul's Conqueror" (sic !). "In March 2019 Erdoğan said that he will Change the status of Hagia Sophia, from a Museum to a Mosque,[69] adding that it was a "very big Mistake" to turn it into a Museum".    He says that it's "a Demand of the Turkish People", and that he'd "Wait until the (Local) Elections' End". In 2020, Turkey's Government is set to celebrate the 567th Anniversary of the Ottoman Conquest of Istanbul, with an Islamic Prayer in Hagia Sophia"  ...as part of conquest festival," Turkish president ...Erdoğan said. In May 2020, during the Anniversary events, passages from the Quran was read in the Hagia Sophia. In June, 2020 the head of the Turkey's Religious Affairs Directorate (Diyanet) said that "we would be very happy to Open Hagia Sophia for Worship", and ..."we will provide our Religious Services, as we do in all our Mosques".
But, meanwhile, the Opposition Party CHP, which Won the Latest Elections at Istanbul/Constantinople is, reportedly, Against that, and its MPs Prefer for Agia Sophia to Remain a Museum...
So that, (withOut Illusions), the New Mayor of Istanbul/Constantinople, Imamoglou, had, apparently, made a quite Better Impression, Recently in Strasbourg, when he had been Heard by CoE's CLRAE.
It's true that Both Istanbul/Constantinople and Smyrne/Izmir Regions, are very Often Opposed, Socio-Politically, to the Rest of Turkey, in Most Elections, during Many Years, to the point that they have routinely Become Familiar, Distinct Opposition "Hotspots" in the Political MAPs formed After National or Regional/Local Elections...
It's Always them, at the West, and the Kurdish Regions, at the East, which are Distinguished from the Rest.
GeoPolitically, mutatis-mutandis, it really looks almost Like the International Sevres' Treaty MAP, (which had Notoriously preserved "Special" Status for Both these Regions) !
Naturally, this does Not Necessarily Mean that Imamoglou, and/or Someone Else around Istanbul/Constantinople, might have Already Become somewhat Similar to the Spanish "Autonomist" MEP Puigdemon, from Catalonia's Barcelona...
-  However, it's also true that, in Paris, still exists, (Between Elysee Palace and Saint Lazare Railway Station), a landmark, Historic "Europe Square",  surrounded by many Streets with the Names of all European Capital Cities, including Moscow and even Constantinople.
Not Ankara : Obviously, Because it's Not Located inside Europe, But in Asia !
(../..)

("Draft-News")
-----------------------------------------
PACE Vote to Build AntiEpidemic System after Hearing WHO+CoEMinisters Heads Ghebreyesus+Varvitsiotis
venerdì, 26 giugno 2020

*Strasbourg/Angelo Marcopolo/-
PanEuropean, 47 Member States-strong (including EU, UK, Russia, etc) CoE's Parliamentary Assembly, after Debating with WHO's Chief, Dr. Tedros Ghebreyesus, and CoE's Committee of Ministers' Chairman, Miltiades Varvitsiotis Today, quasi-Unanimously Voted to "Build a Regional System" for "Effective Pandemic Preparedness and Reaction", "capable of Supporting the responsible International and EU Institutions" in that Task.
- Mainly Because of "the initial Inaction, subsequent Slow Response, overHasty Measures, and PreMature re-Openings", in several States, (against which "Eurofora" has often Warned, since January + February 2020),"which may well be paid in (Human) Lives lost", and/or "in ...Damage to our Political, Democratic, Social, Financial and Economic systems, and in the Non-Respect of several of the Rights guaranteed by the ECHR, ...UNO,...Rights of Persons with Disabilities" (etc), MEPs Criticized, shortly After the Publication of Polls showing that a Majority of European People are Upset by the way EU and/or some States Dealt with the Deadly Virus...
- "Lessons Learnt" from this Crisis, and relevant "Ideas for the Future", are, indeed, a main Direction in which CoE currently Prepares the Next Summit of his Top Political Body, its Committee of Ministers, scheduled for November 4, in Athens, as CoE's Secretary General, Marija Buric, recently underlined, while introducing, Together with Varvitsiotis, a Video-Conference with the Senior Officers of Strasbourg's Organisation earlier.
- Indeed, inter alia, there was also "a Lack of Equipment to Protect Human Health in Europe, so that we had to Buy it from China and elsewhere", Reminded, inter alia, Today, in Reply to MEPs' Questions at the PACE, the representative of the current, Greek Presidency of the CoE, Alternate Foreign Minister Miltiades Vavitsiotis, former Long-Time MEP and vice-President of the Biggest Political Group at the PACE, that of ChristianDemocrats/EPP.
- Varvitsiotis also announced that, in the Context of Europe's Will to Promote a New Vision, Both Efficient and Respectful of Human Rights/Democracy, the Greek Presidency (May-November 2020) had just Launched a Series of Video-"Discussions with Philosophers, Academics, a.o." on relevant topical issues. Among Others, f.ex. "we canNot Accept to have only some who can Afford Access to Health Care, while Others are Excluded", he stressed, (in an indirect but topical reference also to CoE's Social Charter, etc).
 - Indeed, "Public Health control Measures ... Must be Based on relevant Standards and on Public Trust, to be Effective", as well as, to be "Applied Fairly", warns PACE's Resolution, drafted by German EuroLeft MEP Andrej Hunko.
+ Concerning the "Timing" of Action against the Virus, it's true that it attracts most Criticisms, Acknowlegded WHO's Director General, Dr. Tedros Adhanom Ghebreyesus, later-on.  But WHO Declared a "Public Health Emergency, of International Concern", on 30 January 2020, and "on Mid-February we said that this Virus was the "Public Ennemy Number 1", (something that some found then "Exagerated"), before declaring a "Pandemic on 11 March", (and Naming Europe as its current "EpiCenter" some Days Afterwards). Earlier, we had, once, "Only 98 Cases Out of China", and these affected mainly "Countries Neighbouring China", he complained.
"Eurofora" Remembers, however, Already a Critical Publication at our "Forum" on January 26 to 27 (http://www.eurofora.net/forum/index.php/topic,936.0.html), Followed by a clear Alert for Europe on "News" of February 22 to 23 (http://www.eurofora.net/newsflashes/news/deadlyvirusheadstoeucore.html), a Deception for the Lack of EU and/or Other Measures on February 24 (http://www.eurofora.net/newsflashes/news/virusriskbutnoeuprotection.html), and a Criticism for, apparently, "Too Late" EU+ Measures, on March 17 (http://www.eurofora.net/newsflashes/news/delaytoprotecteupeoplefromvirus.html), etc.
- At any case, already a First "OverSight" by Independent Experts on the WHO was Published on April 2020, and an Important "Independent Evaluation" is due to "Start ASAP", observed the Head of the International Organisation.
=> By the way, this Fothcoming "Evaluation" would Also offer an Occasion for any eventual Criticism of WHO's recent Action, (including, f.ex., by President Trump's USA), to be Presented, Examined, and may be, more or less, Taken into Account for due Changes, added Dr. Ghebreyesus.
- Indeed, Even if Trump has notoriously Announced his Intention to Withdraw from the WHO, Nevertheless, he hasN't yet send any Official Letter for that purpose, so that the USA for the Time being, Continue to be Still Considered as a Member of the Organisation, and, f.ex. we Cooperate with North American Experts, etc., he observed.
- In fact, the current "Division of the World", between USA and China, is Dangerous", Because, in order to Win the Fight Against the Virus, the World Needs to be United, versus such an Ennemy of the Humanity", WHO's Chief stressed.
-  As for "Europe", Nowadays, "the Risk Number 1 is Complacency !", Dr. Ghebreyesus Warned Against Hasty DeConfinements...
+ He Left to WHO's Top Experts on "Emergencies" and on "COVID-19" the Task to Develop Further Advise for Europeans :
The First focused on "EU's Problem that Measures are a matter of National Sovereignity", as he said, and gave a central Importance to People's "Trust".  
The Second stressed that "Lock-Down canNot be a Long-Time Solution", (mainly for Economic-Social reasons), and she Urged for "Extreme BALANCE" in Carefully planed DeConfinement Steps.
>>> Last, but not least, PACE's new President, Belgian Liberal Senator Rik Daems, eyed mainly towards how to Develop "Cooperation" with the WHO, in the foreseable Future, and this was Welcomed also by WHO's Chief, in a Global Framework.
- If necessary, We could even "Use Bikes" between Strasbourg and Geneva, which is Not so Far away, Jokingly but Practically observed Daems in fine...
In Addition to being Timely and Healthy, Bikes, indeed, are quite Easy to use Accross Rhine and Rhone Rivers' Bicycle PathWays, added to Rail, as "Eurofora" has Often Witnessed.
+ Meanwhile, as more Serious Practical Steps in order to "Build" Efficiently the Above-Mentioned "Regional System", "Capable of Supporting ...Pandemic Preparednss and ReAction" (Comp. Supra), MEPs also Voted to "Urgently" ask  CoE's Committee of Ministers (currently Chaired by Varvitsiotis) to "establish a Pan-European) Inter-Governemental steering Committee on Public Health", as well as to adequately "Associate" CoE's "European Directorate for the Quality of Medicine and HealthCare (EDQM)", Based in Strasbourg.
(../..)
("Draft-News")
---------------------------------
CoE: Philosopher BHL slams Turkey's Erdogan for Blackmailing Europe, Killing Kurds, Hijacking Libya
martedì, 23 giugno 2020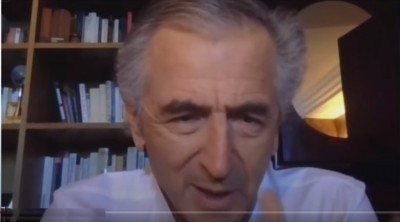 *Strasbourg/Angelo Marcopolo/- In CoE's prestigious Series of Top Interviews with European Great Thinkers, World famous Philosopher Bernard Henri Levi from France, (BHL), invited by the current Greek Presidency of the Committee of Ministers of Strasbourg's Organisation for Human Rights, Democracy and Rule of Law, Slamed Turkish President Tayip Erdogan for "BlackMailing Europe" on Mass Migrants and Islamist Terrorism, added to attempts to ReMake the Former "Ottoman Empire", while also Killing Syrian a.o. Kurds, Yazidi,  and Other Precious Actors for Peaceful and Democratic Dialogue of Civilisations, (See Infra), in Addition to "HiJacking" Libya, "at Europe's Gates".
-------------------------------------------------------------
- "1st" Point : Erdogan "has an Official Agenda, which is Not Hidden : to ReBuild the Ottoman Empire ! It is his Dream"..., BHL Denounced from the outset.

- "Number 2" : "He has a certain Behavior regarding Europe", which "is Based on Blackmail :"
- Blackmail with <<Refugees>> (f.ex. Back on 2015-2016+ when he Notoriously send, withOut any Warning, an UnPrecedented "Tsunami" of 1,5 Millions Mass Asylum Seekers/Irregular Migrants, Tresspass in Europe, including a lot of Thugs or Crooks, even several Deadly Terrorists, as f.ex. those among the "Bataclan" Paris' Massacre Killers, etc. An Attempt Repeated on 2019 at Evros' River, but Failed, after Greek + EU Reactions), "and Blackmail with (Islamist) Terrorism" :  
- F.ex., inter alia, "Erdogan had some Sentences to German People, which were BorderLine in Threatening with Terrorism, if Chancellor Merkel took some Measures which were UnPleasant to Turkey"...

+ "Number 3 :  ...He has an Obsession vis a vis the Kurds, who are the Allies of the West".
- As well as "one of the embodiments of the EnLighted Islam of Today", "presenting a Chance for the Islam of the Future". "Who represent a Possibility of ReConciliation of Islam with Human Rights, Democracy, Equality between Women and Men, etc".
=> "This possibility which Embody the Kurds, is, precisely, What Erdogan Hates, Tries to Crush, Bombs, Invades, and so on"...
 - Among Many Others, Also, F.ex., "the Way he Acted in Syria, a few Months Ago", (Invading and Killing Peaceful and Democratic Syrian Kurds, who had just Helped Win against ISIS Deadly Islamist Terrorists, cowardly Targeting innocent Civilian People). "The way he Acts Today, in Sinjar", (a Yazidi Homeland at North Iraq), "by the Way, Bombing the Rest of Yazidi People (a Persecuted Minority of Monotheists more Ancient even than the Jews), in the Same Gesture", All "this is absolutely a Sorrow for me", and "a Wound for all those who Love Freedom, and a Disaster for those who Believe in Dialogue of Civilisations", he Denounced.
- "If we Believe that the West, and the Rest of the World, have to Build Bridges and Links of Brotherhood", then, "the Kurdish People is One of those Bridges. And Erdogan is Bombing the Bridge !"
=> "This is the Last of the Reasons for which, for me, he (Erdogan) Belongs to a Clan of Autocrats who are Trying to Undermine the Best of our Civilisation", the European Philosopher concluded.
-----------------------------------------
++ Last, but not least, "Europe not only Can, but also Has to Become a Global Power", he stressed in fine.
- Particularly, "in the Current State of the World, where USA is Partly WithDrawing from the Stage", "or, May-be Implicitly thinks that Military Presence is No More Needed everywere, as long as you have, f.ex., GAFA" (Digital Netwoks) "Supremacy, "even if  doN't realy think that it's the case, since Classic ways of active presence Still Remain Important for all, and "the Old Story Continues"..
=> "If the EU is Not Ready to Take its Destiny in its Hands. If France, Germany, Italy", and Other EU Countries, (Including, f.ex. "Greece", etc), "Do Not make some Necessary Sacrifices of Sovereignity, in order to Build a Real Power", then, "it will be a Disaster !" he Warned.
- Indeed, "even Before 1 Generation (25 Years), the World will be Ruled by a Few Foreign Autocrats", (including, particularly, "Radical Islam", Turkey's ReMake of Former "Ottoman Empire", Other "Imperialisms", etc) : "It's a Mess"...
---------------------
+++ On "Libya", he expressed his "Sadness" for its People to "Have to Live Under the Boots of Far-Away Dictators", as Turkey's Erdogan, etc.
- "Libya is at the Gates of Europe",  "It's Our Neighbouring Country, and We should Have Our Word to Say", he added,
Refering, inter alia, also, f.ex., to French "President Macron"'s relevant Statements, "this Morning", (while Meeting with the Tunisian President), expressing his "Concern" for "HiJacking Libya", as he Denounced.
>>> Macron, in fact, reportedly Criticized an even More Blatant, Recently, "Sign of NATO's Cerebral Death", by Delaying to take Sanctions after 3 Turkish WarShips' Provocative Aggressive Threats against a French fregate Trying to Check a Cargo Suspected for Smuggling Weapons into Libya ; Expressed his Understanding for Egyptian President Alsisi's Warning for a Military Intervention If Syrte's "Red Line" was Crossed ; Slamed Turkey for having Violated All the Commitments for Cease-Fire and Peace Negotiations UnderTaken Earlier at the Berlin's Conference (See, f.ex.:...; etc), and Wondered how Long Europe's Security would tolerate Turkey's Massive Imports of Extremist Islamist Armed Gangs from Syria, so Near its Borders...
-------------------------------
+ Almost in Parallel, "Privacy", in "1 World", (i.e. Globalisation), is More than Important", in this regard too :
- F.ex., "I Really Believe that the Freedom of the Human Being Depends on the Quantity of Privacy that remains in his Hands !" So that, "the More you have Privacy, the More you Think, and the More you are Free"... On the Contrary, "the Least Privacy remains in your Fingers, the Least you Think, and you are Less Free".
=> Indeed, "there is a Real, Mechanical Relationship, between the Quantity of your Secrets, and the Quality of your Thought, and the Quality of your Liberty", he Warned. "It's a Law, inscribed in Human Nature : I Could Prove it, by Ancient Greek Philosophy, by Old Judeo-Christian Wisdom : The More Secrets you Can Retain, the More Free and Powerful you are !", BHL insisted.
----------------------------------------------------


However, it's no more a "secret" that BHL was Welcomed, at CoE's Series "In Discussion With...", by the current President-in-office of the PanEuropean Organisation, Greek Alt. Minister of Foreign Affairs, former Long-Time MEP and vice-President of the ChristianDemocrat/EPP Group in PACE, Miltiades Varvitsiotis, who stressed that "Europe" wants to "promote a new Vision of the World", including, Nowadays, by Respecting Human Rights, Democracy and Rule of Law, even during Pandemics.
(../..)
("Draft-News")
--------------------------------
BRIEF NEWS
00:00 - 18.05.2020

00:00 - 20.04.2020

00:00 - 02.02.2020

00:00 - 09.12.2019

00:00 - 27.11.2019

00:00 - 16.11.2019

00:00 - 28.10.2019

00:00 - 08.05.2019

00:00 - 23.04.2019
Statistics
Visitors: 37735076
Archive
Login Form
Other Menu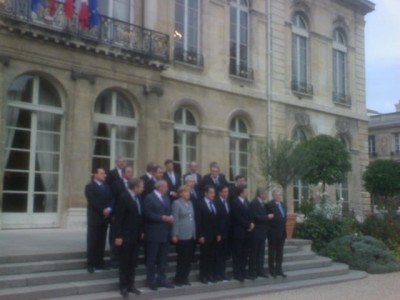 *Paris/ACM/12 October 2008/-
When Europeans really feel a vital need to urgently launch common replies to challenging World Crisis, as the present Financial turmoil of Global Markets, they forge new decision-making tools and new dynamics :

The 1st in History EuroZone Heads of State and Government Summit, organized in Paris at the invitation of French President, and current EU chair, Nicolas Sarkozy, with the participation of 15 national leaders and EU institutions' chairmen, partly enlarged to British Prime Minister Gordon Brown, after a highly symbolic duo with German Chancelor Angie Merkel, at General De Gaulle's birth-village, 50 Years after he welcomed there former German chancellor Adenauer (1958-2008), may have not one, but two results :

- The first, and more urgent, was to launch an "ambitious", "coherent", and "efficient" common European movement, able to stimulate "solutions" to the World Economic Crisis, as Sarkozy anounced from the outset : State Garantees (to new Bank debts up to 5 years), fresh Capital input (f.ex. by buying shares), support to distressed banks, (while also restructuring them), incite the European Central Bank to facilitate commerial bills europe-wide, etc.

"Acting swiftly", from tomorrow, national measures will quantify all these targets, with coordinated actions from all EuroZone's Governments : France, Germany, Italy and others, decided to anounce, at the same time, such concrete measures, according to agreements that we have already made all together, revealed Sarkozy at the final Press Conference, flanked by EuroZone's chairmen : EuroGroup's Jean-Claude Juncker, and Central European Bank's Jean-Claude Truchet, as well as EU Commission's Jose Baroso, to solemnly stress the will to find common European solutions.

- "United and Determined, all EuroZone's Countries will act to prove that Citizens can Trust" the Economy, Sarkozy concluded. If we attract also all EU's 27 countries, Wednesday in Brussels, then we can coordinate action with our American Friends at a Global level, he anounced.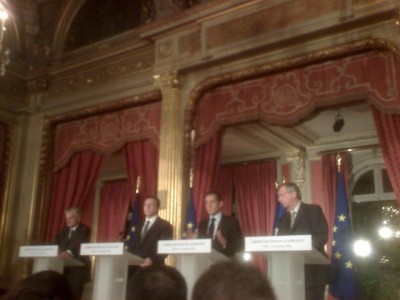 - "With this new Toolbox, we do not want to serve Bankers, but to work for Europe and its Citizens' interests", added Juncker.

- "For the moment, we want to act urgently to regulate the Crisis. But the time will come when those responsible for this, will have to account for their actions. Yes to real Capitalism, No to Speculators. Those who abused, will face sanctions, Sarkozy warned.


Need stimulates activities which create new organs, say biologists, and Gordon Brown, compatriot of Spencer, the famous bio-Historian, would certainly not deny that, after his surprise visit to EuroZone's Summit in Paris, which attracted him one hour more than scheduled...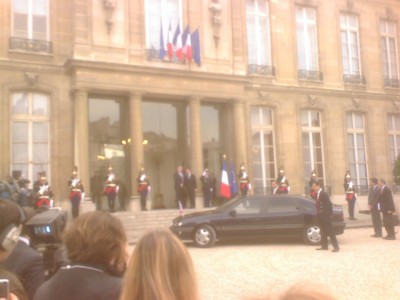 Decisions include also the creation of a Crisis-management European mechanism, which "requires constant Monitoring", as well as strengthening Economic policy cooperation between EuroZone's countries.

Sarkozy will be judged by History not just by the immediate Economic results, expected at the end of this week's decision-making proces at National and EU level, but also by the more far-reaching consequences at the aftermath of this Historic EuroZone 1st Summit : Will it succeed to become a precursor forging a New era in European institution's revitalization ?

Significantly, the French President sat, during discussions, between German Chancelor Merkel, and British Prime Minister Brown, facing the chairmen of EuroGroup, Juncker, ECB : Truchet, and EU Commission, Baroso, with Prime Ministers of Spain, Zapatero (a hot partisan of EuroZone's Summit) at his right side, and Italy's Berlusconi, at his left, surrounded by Austrian, Belgian, Cyprus', Finland's, Greece's, and Ireland's leaders, as well as Slovakia's, Slovenia's, Portugal's, Netherlands', Malta's and Luxembourg's leaders.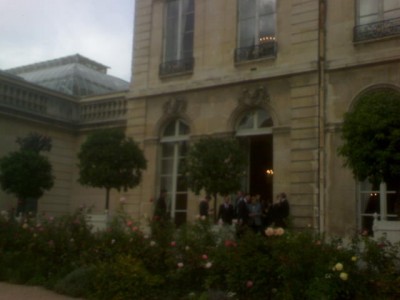 Meanwhile, those who tabled for a rift between French and German positions were faced with a smiling Merkel at De Gaulle-Adenauer's meeting place, a sunny Saturday morning, and a particularly active-looking Merkel inside the French Presidential Palace at Elysee's gardens on Sunday, (as happy few photographers discovered)..
- "De Gaulle's hilltop, at Colombey-les-2-Eglises, gave an astonishing overview to a huge landscape, entirely surrounded by splendid Nature, as far as eyes could see", said to EuroFora an obviously charmed German Journalist.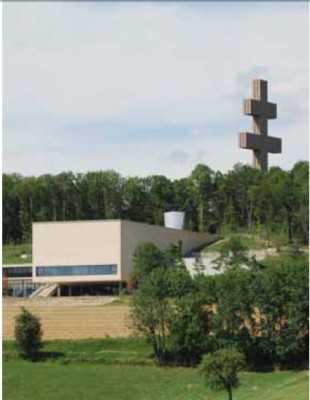 She was describing Saturday's inauguration of a High-Tech Memorial close to the Historic Giant Double Lorraine's Cross, built by famous Novelist Andre Malraux, to perpetuate the Memory of his famous call for "Resistance" to NAZI, and his vision for the creation of New Institutions and Franco-German reconciliation, to foster Europe's role in the World, also for the Future.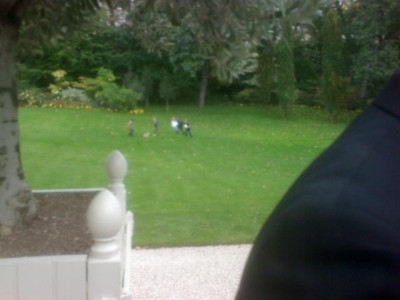 Children playing at Elysee's gardens before the Historic 1st EuroZone's Summit : What Europe's Future will look like ?


Polls