Home

newsitems
newsitems
Presidential Elections: French People to extend Spring 2017 into Summer-Time ?..
Sunday, 23 April 2017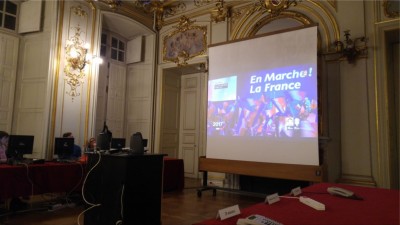 *Strasbourg/Prefectoral Palace/Angelo Marcopolo/- The often Unpredictable French People, (as also the American People, recently), may reserve More Surprizes in the forthcoming, 2nd and Final Round of the 2017 Presidential Elections, crucial for all Europe, and even the World (which is eagerly Watching what is going on in France, just before the German Elections of September 2017), and, at any case, has already indicated, Today, indirectly but clealy, that the Main Power Game will be, exceptionaly, played, this Time, around the Next Elections, of June 2017, for the New French Parliament, necessary in order to Give a Legislative and Budget Majority to the President who will be Elected on May.

Despite a Relentless Harassment of all Top Politicians of the Right (initialy the Popular former President Sarkozy of the Center-Right, followed by his former Prime Minister Fillon, as well as the Rightist Marine Le Pen), by various Judges and Prosecutors (See: ....+...), added to Etablishment's Medias, etc, of the Out-Going Socialist regime of President Hollande, (who was obliged to Decide to Withdraw from the race, even before it starts), and Nonobstant a Good Showing by his "Baby", Macron, (a Socialist-Liberal appointed Counselor and afterwards Minister, before Chosing to become Candidate to the Presidency, even without Party), nevertheless, France still remains, with the Results of the 1st Round of the 2017 Presidential Elections Today, a Country almost Equaly Divided between the Right and the Left :

- The Governing Socialist Party practicaly Broke Down, its Representative, former Minister and MEP Hamon, receiving Only about 6% of the Votes, while, on the Center-Left, Macron gathered about 23,5%, and at the Left, Melenchon Surprized by Growing up to 19,5%. Some 1,5% was shared between 2 Small Leftist Groups.

- On the Contrary, the Mainstream Opposition Party of the Center-Right, the ChristianDemocrats/EPP of the "Republicans", (Created by Sarkozy on 2015, as a Successor of the former "UMP" Governing Party during Chirac's and Sarkozy's Presidencies : 1997-2012), Despite being Exceptionaly Excluded from the 2nd Round of these 2017 Presidential Elections just for a Tiny Difference of about 1%, Nevertheless, Succeeded to Keep intact its main Strength, Gathering around 20% of the Votes with Fillon. But it was OutNumbered, (for the 1st Time in History), as Foreseen by Polls, by Marine Le Pen's Rightist "FN" Party, which reached almost 22%, being Qualified for the 2nd Round.
To this was Added a Good Performance also by Independent Right's Neo-Gaullist Candidate Dupond-Aignan, with almost 5%, together with some 2,5% Shared by 3 Small Center-Right Candidates.

So that it all Resulted at another Cut in Half of the Overall Electorate, again in 2 Parts of approximatively 50 - 50 % Each, between the Right and the Left Side of the Political Spectrum, while Macron and Marine Le Pen will Fight, at the Beginning of  May, for the Final and Decisive 2nd Round, which will Determine the New French President for the Next Period of 5 Years (2017-2022).

But the Point, notoriously, is that Le Pen's Family, (already since her Father and Founder of the "FN" Party), has been systematicaly "Diabolized", in the Past, as a so-called "Extreme Right" tendency, from which Marine herself has done a lot Recently, in order to Alleviate, if not Completely Change such an Old Characterisation, which is Systematicaly Abused by the Socialist Party, in order to Divide the Right, and Govern Often even with a Minority against a Majority of People, already since the 1980ies and 1990ies, up to 2012 Presidentials included, (as well as, in the Meantime,  also at a Local, Municipal Council's level, f.ex. Strasbourg City included on 2014, etc).

So that Macron's Qualification to the 2nd Round, Facing Marine Le Pen, was routinely seen as Inevitably triggering an Obligation for All Other, Bid and Small, Political Parties of the Left and of the Right, to Vote, Both in the Presidentials and in the subsequent Parliamentary Elections, always in favor Whom has managed to Challenge "FN"s Rightists, almost without any Dicussion on that matter. So that Everything would have been Played, already from that Preliminary Stege, withOut any Other, Alternative Choice allowed for the People in the 2nd and Decisive Round of the Elections.

But, Recently in Europe, such a "Taboo" has been practicaly Broken, and Starts to Look at least Partly OutDated, as the Various Contrary Examples, Nowadays Spreading throughout Countries such as, f.ex., Norway, Denmark and Switzerand, had been Partialy Tested in the Netherlands in the Past, is currently approaching in Finland, and, perhaps, even soon in Sweden and/or Austria, already Now in Bulgaria, etc., where several other Mainstream Center-Right Parties have Started, for the 1st Time, to Make various kinds of Governing Coalitions with former so-called "Rightist" Parties, apparently withOut so serious problems, at least until now, (Comp., f.ex., also the relevant Reply given to "Eurofora"s Question by the President of the Norwegian Parliament, at : ....).

It's True that, anOther Important Controversial Issue, in this regard, is the reported, Traditionaly Critical Stance of the "FN" Rightists against some Key Parts of the current EU Institutions, (such as the Shenghen System, €uroZone, etc), to which is Often Added also a quite Popular Denonciation of "Bureaucracy", some so-called "Anti-Democratis" Slipery slopes' Drifts, etc., (which, in Fact, are, regarding Many among them, also Criticized by certain ...Real Pro-Europeans, precisely in the Name of a more Healthy, more Democratic and Efficient Functioning of Europe in the foreseeable Future)...

However, Marine Le Pen promissed, recently, that she would First Ask the French People with a Referendum, (in case it might become necessary, because of possible Disagreements between Paris and Brussels), whether they want f.ex. to get out of the €uro Currency, and/or Other EU Standards, and, If the Reply "No", then, she will be Obliged to Make one or another Compromise, (which looks very Probable, since a Majority of French People reportedly Prefers to Stay inside the €uroZone, use Shenghen's Freedom of Movement, etc). Moreover, at least Some among "FN"s recent Politicians, (including, f.ex., MEP Schafhauser from Strasbourg, etc), have Declares themselves in Favour of an Alternative Construction of Europe, instead of being 100% "Anti-Europeans", as some Persist to Claim, probably Exagerating the Real Dimension of such Issues.

And, Nowadays, from the Other Side of the Coin, Center-Left's Macron, despite his alleged Charming Public Relations capacities, (notoriously Supported by a Big Part of the Establishement, from Paris to London and/or former US President Obama, etc), nevertheless, canNot Hide the Fact that he Personaly is a pure Creation of the Out-Going Socialist President Hollande, (to whom he owed, until now, all his Political Top Jobs, in which he had Appointed him), to the point that he has, notoriously, been often called by the Press even as his ..."Baby" (given also his Exceptioaly Young Age) ! So that it's, obviously, Difficult for him to be Presented as a kind of really "New" Politician, who would realy "Change" the overall Situation and/or Policy radicaly, or as a real and profound "Alternative" to the Establishment, (even if Macron tried to speak a lot against the Traditional Parties).

Moreover, concerning the Key Issue, Nowadays, of the Fight against Deadly Islamist Terrorism, who Often Targets even Innocent Civilian People, Macron has just Committed, may be unintentionaly, what looks for Many People to be quite an unexpected Blunder : At the Eve of this Presidential Election, he said, at an Important TV Debate for all 11 Candidates, reacting to the Latest Deadly Attack by an ISIS' supporter, that People would have to be prepared to Live "for a Long Time ["durablement"] With that Terrorism" (sic !). This Started to be Immediately Exploited by Critics, First of all Marine Le Pen herself, but Even pro-Trump USA NewsMedia "Breitbart" (whose former Chief Editor, Steve Bannon, is currently the White House's "Strategy" Counselor for the New US President), etc., who, naturaly, Launched Vibrant Calls to Urgently Act in order to put a Full Stop to ISIS and other Deadly Islamisty Terrorism the soonest.

But, the Most Important, probably is Elsewhere : Today, indeed, Various Converging Indications clearly Accumulated towards One and Same Main Direction : In Fact, it seems that Much More French People than previously Expected, mostly from the Right but Also from the Left sides of the Political Forum, do Not realy Want for Macron to be so Easily Imposed, already from this Controversial (Comp. Supra + Infra) 1st Round, with Full and UnShared Powers, over All the Country's Political Life, Extending, in practice, for at least 5 Years, the UnGloriously Ending Mandate of his Mentor, the Out-Going President Hollande and his "Socialist" Party, hastily refurbished and almost disguished into a makeshift "Let's Go" ("en Marche") allegedly Citizens' Movement, at the Last Minute, but still Gathering around it the Vast Majority of Socialist Politicians and Apparatchiks, etc... On the Contrary it seems that More French People than initialy Expected, still Wish for a Real Political Alternative, in Substantial Issues, and not just an, at least Partly, only Verbal one...

This Challenge clearly Started to Emerge ToNight, much More Energeticaly than what had been Expected, in Various Ways, Setting in Motion Dynamics moving from Different Directions :

- F.ex., among several other Concrete Examples, when Fillon Decided to Immediately Call his Supporters to "Vote for Macron" at the 2nd Round, in order to Block the Rightists of Marine Le Pen's "FN" Party, deemed to be opposed to so-called "Republical Values", then, Suddenly, his own Twitter/Facebook Web-Pages, where he had Published that Controversial Speech, were Immediately Submerged by a Fast-Growing, Huge Mass of Individual Persons, mainly Supporters of the Center-Right, ChristianDemocrat/EPP "Republican" Party, 99% out of 100 of whom, (while Most Expressing Sympathy for Fillon), Clearly and Repeatedly REFUSED to "Vote Macron".... Creating an Impressive Giant Flow full of Angry People, willing to Fight a real Political Battle with a real Democratic Debate, and not merely obey to a stiched-in result, largely pushed by Establishment's Medias with the Outgoing Socialist Government's Judges and/or Prosecutors, etc. who had Targetted First Sarkozy and afterwards Fillon himself (See, f.ex. Infra)...

+ Moreover, already, BioEthical NGO "Sens Commun" (Common Sense), which had Worked recently to Help Fillon, clearly Stated that its Supporters would Not Back the former Socialist Minister Macron, and such a move was also Extended by a Small Chrtiandemocrat Party.
Various Other Top Politicians of the Center-Right have Not yet pronounced themselves on that Controversial matter, (remaining curiousyly Silent ToNight), so that More seems Possible to Comme in the Next Few Days...

++ To this was Added, in Parallel, also a kind of a Compromise Call, Launched Now by Top Politician Laurent Wauquiez, an Important former Minister and currently President of Region, (who is also, rightfuly considered to Stand very Close to former President Sarkozy's own positions), Proposing, on the Contrary, WithOut necessarily Voting for Macron himself, at least to just Refuse Voting for Marine Le Pen herself. This practicaly Means that People would preferably Abstain from the 2nd Round, or Vote "Blanc", cast an Invalid Vote (f.ex. many Suggested to put again Fillon's Name, even if he has been Excluded from the 2nd Round, (etc). On the Contrary, Wauquiez Urged to Focus on the Subsequent, Parliamentary Elections of June 2017, and Struggle for a Majority of MPs from the Center-Right.

Indeed, in such a case, Macron (even if he had managed, meanwhile, to get the Presidential Job), would be Obliged to Broker a Political Compromise, to strike a Deal with such MPs from the Center-Right "Republican" Party, because, Otherwise, he would be Unable to Pass New Legislation, and/or to Adopt the Yearly Budget, etc., Not even to Have a fully-fledged Government, since, according to the French Constitution, any Government must be Supported by a Majority of MPs at the National Assembly. Otherwise, New Elections have to be Organized, and this May Result f.ex. to Political Changes, and/or to a "Co-Habitation" of Differend, even Opposed Political Parties, (as it has already happened in the Past, during the 1990ies), i.e.  something which had notoriously Obliged the Experienced, former Long-Time President Chirac, even to ... Shorten his own Presidential Mandate for - 2 Years Less (from 7, initialy, Down to just 5), in an Attempt to Avoid Other such "Co-Habitations" and their problems... One can Easily Guess, Today, what Problems would have any French President who might Try to Govern the Country withOut having a Stable Parliamentary Majority, "a fortiori", when we see all those Obstacles that Faces even the New US President Don Trump, in order Start Implementing the Program for which he was Elected, in several "Hot" Key Issues, while Facing a Harsh Opposition inside the State's Institutional machinery, from Judges up to Senators, etc.,  - even if in USA the President can, at least, Chose, Appoint and Keep all his Top Government Officials, (the Equivalent to European "Ministers", etc), by his own decisions, something that in France and other EU Countries is Not Possible without a Parliamentary Majority.

But, meanwhile, several Other Fillon's Supporters, ostensibly Started either to Insinuate, indirectly but Clearly, or even to Openly Urge to "Vote Marine Le Pen" (alias Nicknamed : "MLP"), i.e. for the Rightist "FN" Party, in the Crucial, forthcoming, 2nd and Final Round of these Exceptional, 2017 French Presidential Elections...

Echoing and Stimulating such Moves among Parts of the People of the Mainstream Right, Marine Le Pen herself Launched a Vibrant Call, stressing that, as she said : -"At Last, the Time has Come, to Let the People Free !" (i.e. to Vote for whoever they might want).

+ In Addition, it's also the Independent Candidate of the Right, Dupont - Aignan, (almost 5% of the Votes), who Refused to Call immediately his Supporters to Vote for Macron, at the forthcoming, 2nd Round of the Presidential Elections, but Prefered, instead, to Consult, previously, his Movement's Instances, Next Week. Meanwhile, he also Revealed a Probable Wish to Get some MPs Elected at the French Parliament on June, for his own Political Movement. And Observers have Not even Excluded the Possibility for Dupond-Aignan to, eventualy, Prefer to Support Marine Le Pen's Rightists, instead of Macron's post-Socialist Center-Left...

- But, perhaps, the Most Dangerous for Macron, might be ... Leftist Melenchon's supporters' stance, (who represent about 19,5%). Instead of being considered, as in the Past, an already Given and pre-Determined Support for the Center-Left, on the Contrary, this Time, Melenchon, Exceptionaly, Decided to Abstain from Calling to Vote Macron, but, instead, to Raise that Issue to his "450.000" Supporters, who should "Vote" First, what they Wish to Do : I.e. Vote Macron, or Vote Marine Le Pen, Abstain, or Vote Each one according to his Conscience, etc. An Interesting, and New Phenomenon was the Fact that, Suddenly, his Supporters became Enthousiastic about that Idea, and Loudly Applauded a Smiling Melenchon for having made  such a Choice ! Here, once again, the Political Leader of a Revived Left, spoke in a way which gave a clear Impression that he may Intend to Present, for the 1st Time, his own Candidate MPs at the French Natonal Assembly, next June : - "Stay Grouped", he Urged his Supporters, Stressing that his Political "Movement has just Started, like a Bright Morning"...

Melenchon Succeeded Today even to Arrive 1st, among All, in several Areas, including, f.ex. the Socio-Politicaly Interesting City area of Grenoble, (where an Original, Leftist, Ecologic and BioEthical Popular Movement has already Started to Emerge during Recent Years, (and about which "Eurofora" had Spoken with Melenchon himself, on the sidelines of EU Parliament's Sessions Earlier in Strasbourg), and was, also, Initialy Arriving 1st at Strasbourg City's "European Capital", according to the First Estimations, before, Finaly getting an Important 2nd Place, i.e. OutNumbering Both Hamon, Fillon, and Marine Le Pen, (but Tackled finaly by Macron, at the Last Minute, with a Small Difference) !

The Risk for Macron, obviously is that Melenchon might, eventualy, be convinced by his Supporters (Comp. Supra), to Refuse to Vote, Neither for Marine le Pen, Nor for Macron... Indeed, he clearly stressed, meanwhile, that "Both" these 2 Competitors from the Left and Right side of the Political Spectrum, equaly Opposed his Views for Institutional Reforms in order to Boost Citizens' Monitoring on their Politician's Work, Ecology and Social Acquis.

Such a "Nor - "Neither" Attitude, vis a vis Macron and Marine Le Pen, was Clearly Adopted, ToNight, by Leftist Politician Poutou, (who's got about 1,2%), calling, repeatedly, Both of them "Corrupted Lackeys of Capitalism" (sic !), and Explicitly Refusing to Support (in the 2nd Round) Anyone among them...

Nobody should Under-Estimate such Critical Moves from Nowadays Leftists in France (and, Maybe, also Elsewhere) : Another Symptom was also the Unprecedented Fact that All the 11 Posters arboring the Candidates' Photo, Name and Short Mention of their Main Political Credo, routinely Placed out of Each Voting Station, were Found Grossly Vandalized, in an Exceptionaly Negative Spectacle, right Out of Strasbourg's Historic City Hall, (near the Prefectoral Palace and the Opera), there where CoE had been Created by Europe's Foreign Ministers, Back on 1949 (See relevant, Original Photo by "Eurofora") :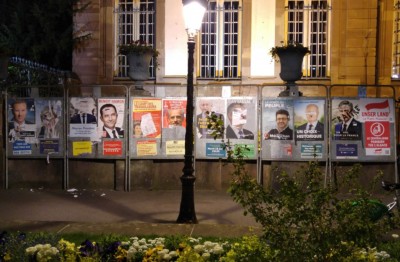 Macron, Marine Le Pen and Fillon were particularly Targeted, but also Hamon, Dupont-Aignan, and Even Small Candidates' Posters, such as Lassale, Asselinau, Charade, (2,4% all), Even Leftist Nathalie Arthaud, etc.,With the Only, perhaps, Exception of Melenchon himself, (which was, However, also Tagged, even if with a Friendly : - "Good Guy : Don't Forget to Change the Institutions !", while Other Gross Graffitis Urged to "Demonstrate at the Streets !", Put an "End (to) this Comedy of Pseudo-Elections !", etc.

+ Almost at the Same Time, in anOther Socialist-held City of France : Nantes, (Local Political Headquarters of former Prime Minister and Foreign Minister of the Out-Going Socialist Government, Ayraud), quasi-Violent Troubles or Riots broke out, between Various Groups of Often Masked Youngters and the Police, Holding Big Protest Posters with Inscriptios of the kind : - "No Banquers, Neither Racists !", with Huge Photos of Macron and Marine Le Pen, respectively, which Made a Tour All Over the World, since Even North American Medias published them !

In the Middle of such an Exceptional, UnPrecedented Context in France, Marine Le Pen Extended her Calls (comp. Supra) to Join her at the 2nd Round, 2 Weeks Later on May, to "All Patriots, who Love their Fatherland", as she said, Directing her Invitations even towards the Left Side of the Political Spectrum... Including even Melenchon's Leftists (formerly "Communists")... To what, Melenchon appeared to, somehow, indirectly, Echoe the Move, by curiously Adding, at the Conclusion of his Short but Sharp Speech, several Unusual Mentions of the Fact that f.ex. he "Love(s) our beautiful Fatherland", etc., (Bis), which inevitably raised some Eyebrows... To the point that Macron Reacted, almost Immediately, choosing to Launch, even himself, an Opposite Call, for all real "Patriots" to Join HIM, instead, trying to Distinguish and Distance them from the (Supposed Extremist) "Nationalists" of Marine Le Pen's "FN"...

But, "Marine 2017"'s potential to Attract also herself a Greater Number of People than Expected, if not so much in the Presidentials of May, at least in the subsequent Parliamentary Elections of June, should Not be Under-Estimated.

Already, f.ex., throughout the "Great East" Region of Strasbourg, (HeadQuarters of EU Parliament's full weekly Plenary Sessions, EU Ombudman, the CoE, ECHR, EuroCorps, Shengen System's Secretariat, etc), Marine Le Pen succeeded Today to Arrive Widely 1st, Scoring almost 28 % of the Votes, Followed (at a Distance) by Macron with Only about 20,5%. For the rest, at the Right Side of the Political Forum stands Fillon with almost 20%, and Dupont-Aignan with some 6,2%, as well as 3 Smaller Center-Right Candidates with about 2,5%. While, at the Left Side, stands Melenchon with nearly 16,5%, Followed by Hamon with Only 5%, and Two Small Leftist Candidates with a Slightly More than 2%. I.e. a Total which theoreticaly Gives a Big Absolute Majority to the Right, with More than 56 % against Only 44% to the Left ! And this is a Phenomenon also witnessed in Other Key, Big Regions, (as, f.ex., the South-East PACA around Marseille-Cannes-Nice, etc).

It's True that, in the Smaller Area of Strasbourg City itself, it's almost ...the Contrary which happened : Macron, Finaly, managed, at the Last Minute, to OutNumber a Strong Competition by ...Melenchon (initialy 1st in Earlier Estimations), with Nearly 28%, compared to almost 24,5%, completing the Left side of the Political spectrum also with Hamon's 9,5%, and 2 Small Leftist Candidates with almist 1,5%. While on the Right, Fillon Scored 20%, Followed by Marine Le Pen with 12,2% and Dupont-Aignan with just 3%, added to 3 Small Center-Right Candidates with about 2,3%. I.e. Totaling something like about a 60% - 40% Majority for the Left DownTown.

However, in Fact, the Reality may be quite Different : Indeed, well Informed Local Strasbourg Sources and Medias alerted "Eurofora" about a Strange, Recently Massive Phenomenon of Many People  Complaining for having been allegedly "Arbitrarily Stroken Out if the Roll", i.e. Erased from the List of Voters, under various Fallacious or Abusive Pretexts, to the point that they eve Lodged Applications to the Courts : They'd Total "at least 17.000 People", i.e. a Number which represents about 13 % of the Votes : Something which Might Change a Lot of things If it has Reversed... Last, but not least, Strasbourg's main City has Recently experienced a Spectacular, Massive "Pupulation Replacement", in several Key Quarters and/or Suburbs, where almost all its Autochton, French-Origin and/or Socio-Culturaly well Integrated Peuple were Incited and/or pushed to go Away, at the Same Time that these Sale Urban Areas were Rapidly Inundated and almost Taken over by Other Populations, Not Only from Out of France, but even from Outside of Europe, and/or Not Western Civilisations, Massively Parked in what risks to become soon a series of "Ghettos" even Worse than those which were notoriously Linked with Islamist Terrorism even in Brussels... So that, this City has notoriously become Atypical of All the Rest of France, (and a kind of Small "Island" of the Left, lost amidst an "Ocean" of the Right, in almost All the Surrounding Areas...  

+ In Addition, as far as All France is concerned, anOther Important Phenomenon of this 2017 Presidential Election, is that the Number of Registered Voters who did NOT Express themselves at all, (either by Abstention, or by "Blanc" and/or "Non Void" Votes, etc), Grew Today Up to about 24% ! I.e.,  - 3,5% More "Abstention/Blanc Votes" than what had been the case Back on 2012 (about 79,5% of Participation), and, Even More Important : About - 8% More "Abstention/Blanc Votes" than what was the case during the Previous 2007 Presidential Election in the Past (84% of Participation)...

>>> In this regard too, the Historically Exceptional and UnParalleled yet, Record High Popular Participation, Back in those landmark 2007 Presidential Elections, as well as the also Record-High score Marked then by the mainstream Center-Right, ChristianDemocrat/EPP frontrunner Candidate Nicolas Sarkozy, right from the 1st Round : More than 31%, still Remain obviously Out of Reach for all Nowadays Competitors !

So that, more Widely, Today Sarkozy's Shadow looms even Deeper inside what really Happened in these 2017 Tricky French Presidential Elections' 1st Round, as Many People have Started to Realize, and even Denounce at the Web (f.ex. in Reaction to Fillon's above mentioned Call to Vote Macron at the 2nd Round : Comp. Supra and See Infra) : Nobody Understood, indeed, why the Experienced and Active former President of France, who had just Created the New "Republican" Party, and even largely Won its Presidency in a 2015 Election, suddenly, was Obliged to submit even to a Second Electoral Test on 2016 among his peers, which was even "Open" to Anyone who paid 2 €uros (sic !), so that, Inevitably, Many , in fact, Leftist or Rightist Fans, who had Nothing to do with the Center-Left, ChristianDemocrat/EPP "Republicans", could Easily Vote, even Massively, in order to Negatively Influence and Seriously Alter the Choice of the Candidate that would represent the France's Main Opposition Party... In the USA, f.ex., both GOP's and Dems' "Primaries" are Generaly Conducted just and Only Among duly attested Members or Supporters of the Party, (any eventual, f.ex. Partial interference, here or there, by a Number of Other, External People, coming from the Outside, withOut being yet Fans and/or Members of the Party inside which they to Interfere, being generaly  Strictly Limited to an Anodynous Minimum, only in some Loal Exceptions, usualy Small and almost Negligeable Tiny Number, in a Few Rare and Exceptional Cases... But, curiously, in France's 2016 case, such a Gross Blunder was openly Committed, with Millions of apparently ill-meaning Individuals Abusing of such a Unique Opportunity to Slyly Undermine the Leading Candidate of France's Main Opposition Party, (as several People have Started to Realize, even more Tonight)...So that, at least a Part of that Bigger Abstention Today, could, most probably, be due also to the Bitterness felt by a Part of Sarkozy's supporters, (despite his Repeated, and crystal-clear Calls to Support Fillon now).

Fillon notoriously thought that he could offer an unquestionable Alternative, Not yet affected then (Back on 2016) by the Socialist Establishment Medias' Relentless slandering and some Controversial Judges/Prosecutors' Eagerness to Harass and/or Pursue Sarkozy, (Comp. f.ex.: ...), but, Finaly, on 2017, he Obviously Fell himself, suddenly, Victim of a Same and even Worse, Last Minute Harassment, (Comp., f.ex.: ...). But things could, very Probably, be quite Differend Today, if Nicolas Sarkozy had been let Free to participate in a Fair Political Competition for the 2017 Presidential Election, many People start to Realize now.

As for Macron, Despite his Qualities, he certainly is Not ... Jacques Chirac, in order to Play so Easily a ReMake of Chirac's 2002 Win versus "FN"' Jean Marie Le Pen (Marine's Father), since de doesn't yet have his Long Political Experience and Authority, and even Less a well Prepared, Rock -Solid Party, like the former "RPR" of Chirac then... (Comp. Supra). And 2017 is Not 2002 in nowadays European and Global Context.

----------------------------------------

=> The Overall Trend, more or less Common to almost All of these Various but Converging Critical Reactions, Both from the Right and the Left Side of the Political Spectrum, is that a Wide-Spread Popular Rejection of Establishment's notorious Plans to Impose a Macron-led Government in France, fueled also by the Young Politician's personal Talent and Declared Wish to Attract and "Gather", around him, for a Modern "Transformation" of France "towards the Future", a lot of various People, "Independently of their Political Origins", as he Stressed, (Comp. also his Favorite Moto : "A Chance for All !",; which, by a Coincidence, repeats almost Precisely a characteristic Expression that Macron had Chosen to use, Initialy, at his Reply to an absolutely Different Question previously raised by "Eurofora" during a Ministerial Visit in Strasbourg that he had paid in the Recent Past : See f.ex, Mutatis-Mutandis, also : ...), Might Not Work as perfectly as some wish..., or even BackFire, in one way, or another !

At any case, the Ambiant Feeling from Tonights' Events is that, in Fact, Nothing should be Taken as Granded, from Advance, and Nobody should Under-Estimate the possible Reactions of French Peuple, who really seem, at least as things stand Now, to kind of ...Extend an Exceptionaly "Hot" Spring of 2017, towards a, perhaps even "Hotter", Summer-Time, (particularly around June's forthcoming Parliamentary Elections, which risk to become, Nowadays, More Important and Crucial than Ever, inter alia, also because of the notorious Fact that Macron has Not Yet set up any Real and Solid Political Party of his own, Experienced and Able to Take over the National Assembly, and guide it along what seems well to be a Longer and more Bumpy Way that some had initialy planified...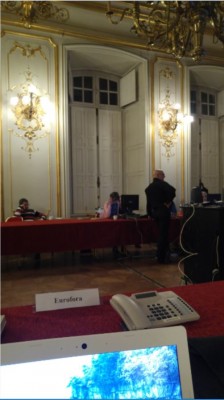 (.../...)

---------------------------------------
Declarations des premiers Candidats Présidentiels après Attentats Meurtriers de Terrorisme Islamiste
Friday, 21 April 2017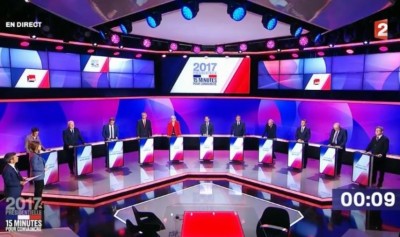 *Strasbourg(France)/Texte Integral/- ...Réagissant tous, pour la première fois, à conditions égales et "à chaud", de suite après l' Aggression armée aux Champs Elysées, au coeur de Paris, la soirée du dernier débat public télévisé, la veille du 1er (et décisif) tour des Elections Présidentielles 2017.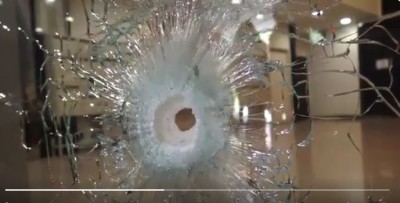 (Dans l'Ordre réellement suivi, attribué au hasard du "Tirage au Sort").
(NDLR: Fillon commencait sa principale intervention, lorsque l'attentat terroriste meurtrier a été annoncé. C'est une des raisons pour lesquelles il en parle plus, et résume seulement l'essentiel, lors des breves interventions concluantes de tous les candidats, ensuite).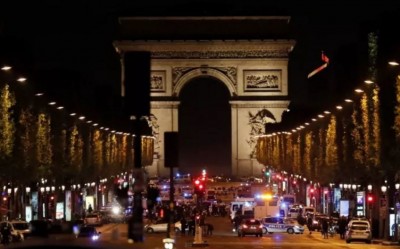 (L' attentat a eu lieu devant un "Centre culturel Turc", dépendant de l' Ambassade de la Turquie, près de la rue Berri, entre "Le Fouquet" et la "VISA Agency" de Paris, etc)

---------------------------------------------------------------------


* Fillon :
--------------

  - "La Nation est solidaire avec les Policiers : Il y en a un policier qui a été tué, 2 qui ont été blessés, dont 1 grievement, on ne sait même pas si ses jours sont en danger.

 - On est en face d'un acte dont on ne peut pas encore clairement qualifier la nature, mais qui ressemble enormement à un acte Terroriste, par les evenements qui se sont produits. On nous laisse entendre qu'il y en a encore d'autres...

- Moi, dans ces conditions, j'annule les deplacements qui étaient prévus dans ma campagne. J' aurai l'occasion de m'exprimer dans la journée

- Je dois tout de suite dire, que, vraiment, la Lutte contre le Térrorisme, ca doit être la Priorité absolue du prochain Président de la République.

- Ce veut dire qu'il faut une Coalition Mondiale pour éradiquer tous les Mouvements Totalitaires qui sont à l' origine de cette violence : L' "Etat Islamique", bien sur, mais aussi tous les autres.

 - Elle n' existe pas : Elle est Divisée. Il y a les Occidentaux, d'un côté, il y a les Russes de l'autre. On se regarde en chiens de faillance. On discute de nos Influences respectives dans ces territoires, alors que ce Danger est en train de monter partout : Du Pakistan, jusqu'à l' Afrique occidentale...

 - Il faut accepter de s'allier avec les Russes, avec les Iraniens, et tous ceux qui sont prêts à mener le combat pour éradiquer cela le plus vite possible.

 - Ca va prendre du Temps : Tous ces mouvements, - et ce n'est pas seulement l' "Etat Islamique", c'est encore Boko Haram en Afrique, en Nigeria, c'est les Talibans en Afghanistan, etc. C'est ce que j' appèle "le Totalitarisme Islamiste".

 + Ensuite, il faut lutter contre la montée du Fondamentalisme à l' intérieur de la Réligion Musulmane. Et ca pose le problème des tous ces penseurs radicaux qui influencent les Musulmans, une Partie Minoritaire des musulmans dans le Monde, et qui sont, le plus souvent, hebergés en Arabie Saudite, et dans les Pays du Golfe.

- Après, ca pose une 3e Question : Les jeunes francais qui sont partis, fait le Jihad en Syrie : Evidement, je dis, une nouvelle fois, qu' ils Ne Reviendront pas, si je suis élu Président de la Répuplique. Car, j' utiliserais un Article, qui est tombé en désuetude dans notre Legislation, qui permet de les Rétirer la Nationalité francaise : Un article qui date du Front Populaire !

 - Enfin, tous les Suspects, cad. ceux qu'on appele "les Fichies "S", qui sont Surveillés en raison de leurs Liaisons avec le Fondamentalisme, je pense, qu'il faut, maintenant, tous ceux qui répresentent une Dangerosité évidente, soit les interpeller, qu'il y a une enquête, et qu'ils soient jugés : On peut le faire, en utilisant ce qu'on appele "l Intelligence avec l' Ennemi". Si l'on établi la preuve qu'ils ont des Rapports, soit avec les Mouvements Islamistes, soit avec des Recruteurs, et c'est d'ailleurs pour ca qu'ils sont classés "Fichier S".

 - Maintenant, la dernière chose que je voulais dire : Il y a des Mouvements qui se reclament du Salafisme, des "Frères Musulmans", etc., et qui sont parfaitement en phase, idéologiquement, avec ces combattants : Il faut les Interdire, et Expulser les persones qui réprésentent "un Danger pour la Securité l'Etat".

 -  En tout cas, on Ne peut pas continuer de vivre dans cette Crainte, dans ce Terreur, qui pèse fortement, évidement, aujourd'hui, sur l' Avenir du Pays, sur la Morale de Francais. C'est bien comprehensible".

----------------------------------------
    [Question : ... des Américains veulent combattre 2 Ennemis : A la fois l' EI.. et Assad. Vous, vous dites qu'il y a 1 seul Ennemi. Pourquoi ?]
---------------------------------------------

    FF.: - "D'abord, il y a 1 Priorité, il y a un Danger Immédiat... (V. Supra)

Bashar Assad c'est un danger pour la Syrie, parce qu' c'est un des animateurs de la Guerre Civile en Syrie. Mais, ce n'est pas un Danger pour le Reste du Monde, pour le moment.

Mais, surtout, la Question Fondamentale  c'est la Russie :

C'est l'implication de la Russie dans le Conflit Syrien. Si l'on ne veut pas discuter avec la Russie, c'est à dire qu' à un moment, ou un autre, on va entrer en Conflit avec la Russie. On va entrer dans un Confrontation avec la Russie. Parce que les Intérêts des Occidentaux, et les intér....
[Interruption: "Mais on parle avec les Russes"]

On parle avec les Russes, heureusement. Je rappelle qu'ils sont un des plus Gros arsenaux Nucléairs sur la Terre, et on n'a pas intérêt à laisser - comme toutes les Guerres ont Commencé, d'ailleurs - par un Processus d' Enchainement des faits divers, d' évenements, laisser se declarer un Conflit, une Confrontation Directe : Imaginez ce qui pourrait se passer, le jour où un avion Américain abattra un avion Russe, ou des Soldats Russes seront tués dans un Bombardement, ou l'inverse : Le Risque est enorme, il est enorme...

- Enfin, on sait qu'aujourd'hui, on ne peut pas mettre le Régime de Bashar Assad dehors, sans l' accord de la Russie. Puisque la Russie assure la Sécurité de ce régime.

 - Donc, voila : on peut encore continuer comme ca pendant encore 4 ans, en se regardant en chiens de faillance, à prendre des Risques pour la Paix du Monde..

- Moi, je dit qu'il y a 1 Priorité : Il faut Discuter avec les Russes, Accepter un Compromis : ce compromis implique qu'ils gardent un certain nombre d'intérêts dans la région. Et c'est-ce que les Occidentaux n'ont pas encore jamais voulu faire, parce qu' ils pensent qu'ils sont les Mâitres du jeu, alors qu'ils ne le sont plus...

------------------------

=> - "Derrière la question du Terrorisme, sur le Territoire Nationale, est la Question de l' Unité de nôtre Nation :

- L' Unité de la Nation est menacée par ce qu'on appele "le Communautarisme", et on voit bien que tous ces sujets sont liés.

- Je veux que l' Ecole de la République apprenne les Fondamentaux, mais apprenne aussi aux Jeunes Francais une Histoire, qui fasse que ces jeunes francais se Sentent Membres d'une Communauté Nationale, et qu'ils aient une Admiration et de la Fierté pour ce qu'est leur Communauté Nationale.

- Ensuite, il faut que nous Aidions les Musulmans de France,  - car ils sont, dans leur immense Majorité, des gens Modérés, qui veulent vivre en Paix, - que nous les aidons à éradiquer l' Integrisme, qui gagne du terrain à l' intérieur de la Réligion Musulmane.

- D'abord, en étant beaucoup plus Strictes sur les Preches dans les Mosqués. Quant ces Preches sont d' évidence Contraires aux Valeurs de la Rapublique, alors, on ne peut plus le tolérer. [1 Mosquée a été fermée recemment] J'ai vu, c'est bien, mais ce n'est pas suffisant : Il y a beaucoup du travail à faire dans ce domaine.

- Ensuite, il faut une Transparence absolue du Financement des Cultes Musulmans. Et, pour y parvenir, il faut mettre en place ce qu'on appele les "Associations Cultuelles", que, jusqu' à maintenant, on n'est pas arrivé d'obtenir des Responsables Musulmans  : Je me suis entretenu avec eux, il y a un peu de temps.

- Et puis, il faut, je le dis encore une fois, Interdire les Mouvements qui se reclament du Salafisme et des Frères Musulmans. Et, (en faisant cela), l'on sait qu'on touche à des Organisations qui ont, aujourd'hui, pignon sur la rue, en termes de Conduite de la Communauté Musulmane. Je pense à une partie d' IOIEF, qui, adhère aux thèses des Freres Musulmans, mais, enfin, la Discussion doit avoir lieu, la Question doit être posée : Pourquoi ?

- Parce que, si l'on laisse se développer cet Integrisme, il prend Hôtage la Communauté Musulmane, elle suscite des Réactions des autres Communautés, d'autres Populations Francaises, et, progressivement, on a cet Eclatement de la Société Francaise, qui est Extremement Dangereux".

[Q.: Vous n'êtes pas favrable à l' Interdiction du Voile à l'Université, ni à l' Interdiction des Signes Réligieux dand la rue].
Parce que je ne veux pas qu'on pénalise les Autres Réligions, au motif qu'il y a un Problème d'Integrisme à l'interieur de la Communauté Musulmane.

D'ailleurs, le Voile c'est un Symbole, c'est une Consequence. La Question c'est l' Integrisme. Donc, on peut, évidement, toujours Interdire des ténues, on peut se lancer sur des débats infinis sur la longeur des juppes; et la couleur des foulards, mais l'on ne réglera rien du tout, puisque la question ce n'est pas cela : La Question est : - Pourquoi ces femmes se voilent ? Pourquoi, il y a 20 ans, elles ne se voilaient pas ? Et pourquoi, aujourd'hui, elles se voilent ? Parce qu'il y a la montée d'une Pression Integriste, très puissante, à l'intérieur de la Communauté Musulmane.

------------------------------------------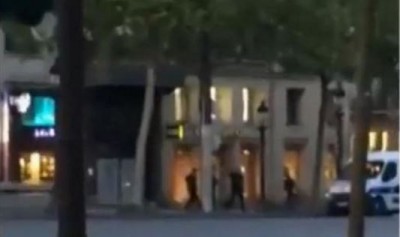 -------------------------------------------------------



* Melenchon :
---------------------------------


- "Nous adressons une pensée émue à la Famille de la Victime, du Policier qui a été  tué, à la Famille et au Policier blessé, ainsi qu'aux Personnes qui ont été traumatisées".

- "Il faut que l'on sache bien que les Criminels ne seront jamais Impunis, dans ce pays, et les Complices ne seront jamais oubliés, quelqu'elle soit leur importance dans la Société".

- "Dans l' attente d' informations plus sures, il me parait nécessaire de répondre d'abord à nôtre dévoir de Citoyens : Pas de Panique. Ne pas interrompre le  processus de notre Démocracie, de manière à bien montrer que les Violents N'auront pas le dernier mot, contre les Républicains".

 - "Enfin, nôtre Dévoir de Citoyens est de Ne pas nous abaisser à des Polemiques dont revent les ..  , mais, au contraire, de réster Unis".

- "Puisque, maintenant, nous sommes à l'heure des Conclusions de la Campage Electorale, il m'incombe à dire, conformement à l' Ideologie qui m'anime, que nous serons d'autant plus Unis, que la Misère et l' Inegalité dans la Répartition des Richesses Ne nous aura pas Divisés".

 - "Nous serons d'autant plus Unis, que nous Ne serons pas dans les mains d'une pétite Caste de tout Puissants, qui disposent de tout, plutôt qu' Egaux en Droits, et Citoyens Libres, dans une République totalement ReNouvellée.

- "Et, enfin, parce qu'il Faut que la Vie toujours l' Emporte sur la Mort, et ceux qui en sont porteurs".

- "Nous serons d'autant plus Unis, que nous aurons un Grand Projet en Commun : celui de Changer note Mode de Production, de Consommation, la Decision de Sortir du plus grand Risque qui pèse sur nous : du Nucléaire".

- "Enfin, Savoir que nous pouvons vivre Heureux, du moment que nous Partageons, et que nous cherchons nous mettre en Harmonie avec la Nature, et les Animaux, comme c'est le dévoir de la Civilisation Humaine, à l'heure où elle est mise en Danger par le Changement Climatique".

 - "A l' Heure des Choix, chacun est juge, bien sur. Telle est la Patrie. Mais qu'on sache bien, que Nous avons bien une Feuille de Route en Commun".
- "Et que chaque Citoyen ... décide lequel d'entre nous est le plus digne. Et cette Feuille de route, nous est donnée par la Devise de la Patrie : Liberté, Egalité, Fraternité".
-------------------------------------


 * Hamon :
---------------------


 - "Je voudrais, à mon tour, m'associer aux Pensées qui ont été exprimées, il y a un instant, et qui sont partagées par Tous ceux qui sont ici, ou nous regardent, en direction, évidemment, du Policier qui a été Tué, de ses collègues qui ont été grievement Blessés, de la Famille de ce Policier qui est dévenu, parce qu'il nous Protège, la Cible de ceux qui veulent mettre un nouveau Episode de Terrorisme dans notre vie - puisqu'll a été caractérisé ainsi par le Président de la République, il y a quelques minutes, et, je crois, la Section Anti-Terroriste du Parquet de Paris a été saisie".  

- "Dire que cet évenement nous rappelle que nous sommes au milieu d'une Crise. Une Crise que vivent Intensement les Francais, et qui n'est pas qu'une Crise Economique, qui n'est pas qu'une Crise Sociale".

- "Qui est aussi une Crise liée à l' Assaut des Forces qui Detestent nôtre modèle Démocratique, veulent nous Diviser, nous Ebranler".

- "Il faut être Implacable, à l'égard de ces Forces-là, tous ceux qu veulent reMettre en Cause les Principes que nous sommes Choisis, les Principes que nous sommes dotés dans la République, et qui veulent aujourd'hui que nous vivons en Démocratie".

- "Cette Crise présuppose que nous fassions aussi des Choix, parce que nous sommes confrontés à des Décisions qui sont Complexes :

 - "Je crois que cette Campagne N' était pas, tout à fait, à la Hauteur de ce que sont les Attented des Francais. Elle n'a pas été à la hauteur, parce qu'elle a été Polluée par l' Argent, elle a été Polluée par les Affaires, et nous aurions aimé avoir un Débat sur les Projets, sur les Programmes".

- Moi, je crois que cette Démocratie s' honore quant elle s'addresse à la Raison, à l' Intelligence Collective, quant les Responsables Politiques se hissent vraiment à la Hauteur des Attentes des Citoyens : Ce que j'ai essayé de faire, tout au long de cette Campagne, par Ethique Personelle".

- "Alors que nous sommes au Coeur du Processus Démocratique, et que nous devons Cherir ce moment Démocratique, justement pârce que d' Autres le Détestent : Notamment les Terroristes qui Assassinent".

- "Je n'ai rien dissimulé, dans cette campagne. Je n'ai pas dissimulé mes Convictions : Je suis un homme de Gauche, et je considère que, dans une Crise comme célà, il faut RéArmer l' Etat, (plutôt que diminuer les services publics)...

- "Qu'il faut RenForcer les Libertés chez nous, ... à l' égard des Libertés de tous les autres, à l' Etranger, etc. Qu'iil faut Cherir l' Europe, comme nous à faire Face à tous ces Assaults, qui, aujourd'hui, Visent à nous Diviser à nouveau".

- "Enfin la Cléf c'est Liberté, Egalité, Fraternité : Choisissez en fonction de votre Raison".

------------------------------------------------------


* Fillon
----------------
(résumé/réference : V. Supra+)
------------------


 - "Dans le Contexte que nous vivons, il y a pas lieu de suivre, ce soir, ni demain, une Campagne Electorale".

 - "Parce que nous dévons, d'abord manifester nôtre Solidarité avec les Policiers , celui qui a été Tué, et ceux qui ont Risqué leur Vie pour notre Sécurité".

 - "Et, puis, nous devons montrer nôtre Solidarité avec une Population francaise qui est, à juste titre, de plus en plus Inquiète, devant la Multiplication de ces Actes Terroristes".

 >>> - "Ce soir, la Seule chose que je Veux dire, est que le Combat Contre le Totalitarisme Islamiste, contre ceux qui Commanditent ces Attentats, contre ceux qui sont à l' Origine de la Montée de cette Intolerance, de cet Integrisme, doit être la Priorité Absolue du prochain Président de la République, et du prochain Gouvernement".

 - "Et ce Combat passe, d' abord, par une Mobilisation Mondiale contre ce Danger pour la Paix".

 - "Il passe, ensuite, par une Lutte sans merci Contre ceux qui Propagent ces Idées Integristes, ceux qui prennent en Hôtage la Communauté Musulmane, pour accomplir leur projet de Domination Politique sectaire"...

(V. Surpra ../..)

---------------------------------------------------------------------------------------


* Dupont-Aignan :
--------------------------------


 - "Je pense à la Famille de ce Policier disparu. Je salue les Forces de l' Ordre, qui Risquent, chaque jour, leur Vie pour notre Liberté : Gendarmes, Policiers, Militaires, etc.

 - "Le meilleur Hommage qu'on peut leur rendre, c'est d' Agir, enfin, pour Vaincre les Barbares, qui Ménacent notre Survie de Nation Libre : C'est cela l' Enjeux".

- "Et c'est un Enjeux Immense. Tel est le Choix que vous allez faire Dimanche : C'est un Choix Historique"
 - "C'est le Choix de la Survie de la France comme Nation Libre".

 - "Notre pays affronte des Défis absolument Colossaux : Sur le plan Sécuritaire. En matiere de Defense Nationale. Sur le plan Economique, avec 6 Millions des Chomeurs. Sur le plan Social, avec une Misère qui gagne tous les jours du terrain".

 - "Dépuis des années, on ne traite pas les Causes du Problème. Je sais qu'une Autre Politique est possible".

- "Traiter avec bon sens les Causes des Problèmes, c'est, p.ex., savoir que, pour retablir la Sécurité, il faut Controler nos Frontières Nationales. Pour créer de l' Emploi, favoriser le fabriqué en France. Pour Ralancer l Activité il faut mieux Recompenser le Travail. Pour préparer la Jeunesse de notre pays, il faut ReFonder l' Ecole. Faire Reculer la Misère.

Mais, tout cela ne pourrait se faire que si le Pouvoir Revient à Paris, si on arrête d' obéir à Bruxelles.

Alors, le Choix est très Simple, Dimanche :
 Soit vous Continuez, 5 Ans de plus, avec ceux qui ont créé les Problèmes. Soit vous allez avec ceux qui ont fait le choix de Servir le pays.

Mais, vous n'avez plus du Temps à Attendre. Le Temps est vénu de Changer".

-------------------------------------------------------------------

 *Macron :
---------------------

- "Je veux, d'abord, vous dire, évidemment, toute ma Solidarité à l'égard de nos Forces de l'ordre, de la victime de ce soir, de ces attentats de ce soir".

- "Et mes pensées pour eux, les familles de ces victimes, comme des blessés".

- "Ce qui c'est passé ce soir, c'est la preuve, une fois  encore, que notre pays est attaqué, en son coeur, par des Terroristes".

- "Et que nous sommes et nous vivons, et que nous vivrons, Durablement, sous cette Ménace".


- "Présider c'est Protéger. C'est la 1ère Mission du Président de la République, desormais, d'abord de protéger ses con-citoyens".

- "Donc, aussi à l' Exterieur des nos Frontières, pour Lutter Partout contre le Terrorisme Islamiste".

- "A l' Interieur de nos frontières, renforcant les Moyens de Sécurité, de Renseignement".

- "Je veux aller Encore plus Loin : Je veux vous Protéger. Je suis prêt".


 - "Mais, ... nous Ne devons pas, aujourd'hui, Céder à la Peur. Nous ne devons, en aucune façon, donner le sentiment, à  nos assaillants, que nous nous Divisons, que nous cédons à leur dictat, ce qu' ils attendent, et c'est leur piège".

 - "Donc, le défi de nôtre Génération, c'est Pas seulement de Répondre à la Ménace Terroriste".

- "C'est aussi, à un moment de Doute, de doute sur l'Europe et le projet européen, à un moment de Doute sur ceux qui tiennent, dans notre Pays, à ses Valeurs, sa Laicité, sa Transformation Economique liée au Numerique, et à la Transition Ecologique, de faire un Choix :"

 - "Le choix de l' Avenir. Et c'est ce Choix, qui sera le vôtre, ce Dimanche".

- "Moi, je veux Rassembler. Rassembler nos con-citoyens, quelqu'elle soit leur Sensibilité d' Origine, autour d'un Projet cohérent : "
- "Un projet de Réforme. de Modernisation du pays. Un projet de Progrès".

- "Je veux Continuer à construire l' Europe".

- "Et, même, aller Plus Loin : la ReFonder. pour une Europe plus démocratique, plus juste. Pour une Europe plus efficace. Pour une Europe de l' investissement. Une Europe, aussi, qui protège".

- "Enfin, je veux, qu'ensemble, nous Transformons le pays, pour préparer l'Avenir. Par la culture, par l' éducation, par la Réforme économique", (etc).
 
- "Ce Projet, c'est celui que je porte".


- "La Question qui vous sera posée Dimanche, c'est celle qui consiste à continuer avec des partis fatigués, qui ne peuvent plus rassembler, avec un dictat que vous connaissez si bien :"

"- Si vous choisissez l' Alternance Profonde, celle que Je porte, celle de (l' Avenir ?)".

-------------------------------------------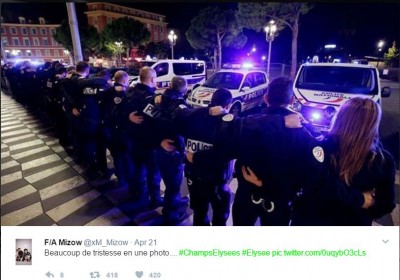 ---------------------------------------------------------


* Marine Le Pen :
---------------------------------


- "... J' avais Reflechi à cette Conclusion : J' avais Pensé parler de la Mondialisation, de notre Civilisation, (etc).

 - "Et, puis, j' ai Ecouté le plateau (de TV News) tout à l'heure, et... j' ai Appris que le Cauchemar ReCommencait. Une fois Encore".


 - "J' ai été saisie par le même Sentiment, que j' ai déjà connu : De Tristesse et de Colère sourde, en même temps : "

- "Sentiment de Tristesse, evidemment, pour les Forces de l' Ordre, qui payent, une fois de plus, un Lourd tribut à la Lutte contre le Fondamentalisme Islamiste".

+ "Et de Colère sourde, parce que, tout de suite, je suis entrain par le sentiment que Tout N' est pas Fait pour Mettre nos compatriotes à l' Abri".

- "Voilà ! Je le dis, simplement, mais Clairement".  


 - "J' ai entendu, ...un  Souci, et Mots de compassion à l' égard des forces de l' ordre".
 
+ "Mais, je crois qu'il Faut aller Plus Loin : Car ils Attendent de nous, Autre chose que des Mots de compassion : Ils Attendent des Moyens pour pouvoir se Defendre, pour pouvoir Combattre ce Danger Gigantesque, que represente le Terrorisme Islamiste".

- "Je Ne veux pas qu'on <<s' Habitue>> au Terrorisme Islamiste !"

- "Je Ne veut pas qu'on dise à nôtre Jeuneusse, qu'elle vivra Avec le Danger, en Toutes Circonstances, Quotidiennement, et, Encore, "Durablement"...

 (Comp. Macron, Supra).


=> - "Je veux qu'on lance un Plan d' Attaque, clairement, Contre ce Terrorisme Islamiste", qui "passe par une Serie des Mésures :"

- "Aux Frontières, et à s'attaquer à la Racine du Mal, c'est à dire à cette Idéologie elle-même, qui pullule sur notre Territoire, dépuis des Années".

- "C'est Fini le Laxisme. C'est Fini la Naiveté !"

 - "On Ne peut pas Laisser à nos Enfants un Pays Impuissant à les Défendre !"

- "Il faut de la Lucidité. Il faut du Courage. Il faut de la Determination".


- "C'est cela que Vous, les Francais, vous devez, Maintenant, Exiger et Choisir".

-----------------------------------------------------------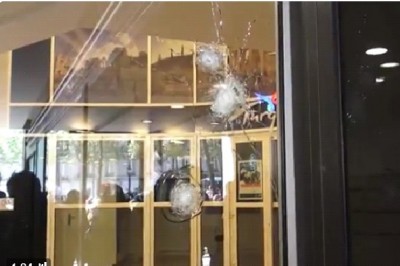 ***
[ NDLR : Le Peuple de la France est assez "majeur" pour Distinguer clairement entre un "Flou - Gris, ou Rose", et des Mésures Concretes, une Strategie Bien Définie. 
Les évidentes Differences entre divers Candidats à l' Election Présidentielle de 2017 en matière de Lutte contre le Terrorisme Islamiste (v. Supra),
n'a d' equivalent que la façon notoirement Inégale selon laquelle fûrent raités, jusqu'à maintenant, les divers soupçons de Corruption pour tous les Candidats principaux, par les Organes Etatiques lors du Gouvernement Socialiste sortant... 
V. p.ex. les Declarations à "Eurofora" par le Président du Mecanisme Anti-Corruption du Conseil de l'Europe M. Mrcela à : http://www.eurofora.net/newsflashes/news/coegrecopresidentonfrenchelection.html]. 
***
("DraftNews", as already send to "Eurofora" Subscribers/Donors, earlier. A more accurate, full Final Version, might be published asap).



***
BRIEF NEWS
00:00 - 30.01.2017

00:00 - 14.10.2016

00:00 - 24.09.2016

00:00 - 27.07.2016

00:00 - 03.07.2016

00:00 - 01.06.2016

00:00 - 12.02.2016

00:00 - 09.12.2015

00:00 - 14.10.2015
Statistics
Visitors: 18715435
Archive
Login Form
Other Menu

Pierre Pflimlin's visionary line : Honouring the Memory of the man who wanted to build Europe on the Mountains, based on Spirit !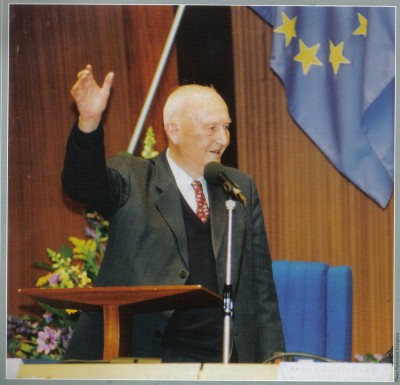 One of EuroFora's best inspirators is naturally Pierre Pflimlin :

We had a chance to personally meet the dynamic and experienced former President of both EU Parliament and CoE's Assembly, France's Prime Minister and Strasbourg's Mayor, only at his 90th anniversary, during an Historic speech at the Council of Europe, exceptionally full of people.

But his energetic figure looked more like a youngster of 19 years old, eager to win the Olympic games !..

Visionary, 2P was, from many points of view :

His daughter, Antoinette, Artist-decorator, and Senator Jung, President of a group of friends, confirmed us an Historian's revelation, that Pflimlin had initially the idea to build all European institutions (EU Parliament, Council of Europe, European Court of Human Rights, etc) at the spectacular heights of Oberhausbergen hills, with an eye-catching view of both French Vosges and German Black Forest Mountains, in the midst of a Forest : A real vision to create a brand New European Headquarters with a big ambition !
But, it seems, that "someone in Brussels" found that picture, precisely, too big for his taste, and threw a spanner on the works...
Pflimlin stroke back a Decade ago, at his Historic 1997 farewell speech :
He urged Europeans to find another, more substantial way, to lift Europe to more important Heights in Future :
- "On which basis can we imagine the birth of a great Europe ?", he asked.
"Certainly an Economic basis ! A solid market economy, meeting also the needs of social justice. A Political basis : Europe must become a strong Political Power, able to influence World's changes, naturally for Peace."
"But I believe that the essential foundation of a greater Europe should be of Spiritual nature : .... The great pacific Revolutions were Spiritual Victories" : They expressed "People's main motivation to live in a society with our Values of Liberty, Democracy, respect for Human Dignity".
"Then, the roadmap is ready : Yes, the foundation of the unity for a large Europe is the spiritual heritage, inspired by Christian Humanism and the Humanism of Renaissance, of Enlightenment, from which emerged a Civilisation focused on the Human person".
"Here is the task to be accomplished. It's very difficult".
"The Time approaches when I'll have to pass over the torchlight. God willing, this torch should enlighten the path of those who are going to build, tomorrow, the great Europe, marked by this Spirit".
(Extract from the Book "Pierre Pfilmin : Alsacian and European", 2007. Texts by Senator Louis Jung, by the long-time f. Director of Strasbourg's Newspaper DNA, Alain Howiller, and by f. EU Parliament's Press Director, Paul Collowald : See dedications, hand-written by the authors, the day the book for Pflimlin's 100th Aniversary was launched at Strasbourg's Press Club and European Parliamentary Association's headquarters, 13 April 2007).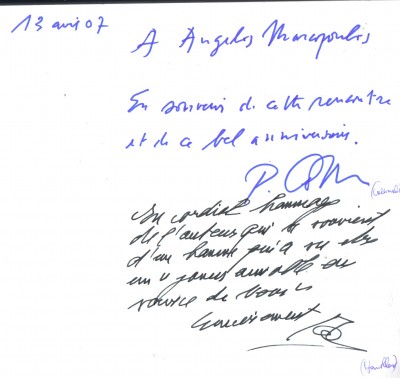 Polls