The European Athletic "Dream Team", after Barcelona 2010 Sport Championship Results
Monday, 02 August 2010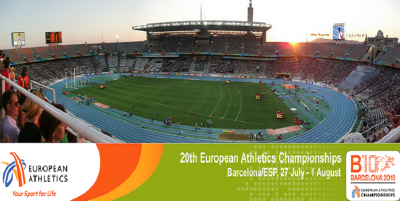 After several key MEPs' recent proposals to create a European "Dream Team", composed by Europe's Best Athletes (*), the Results of the 2010 European Athletics Championship, which has just been completed at Barcelona with the participation of 33 Countries, clearly indicate how this could be done :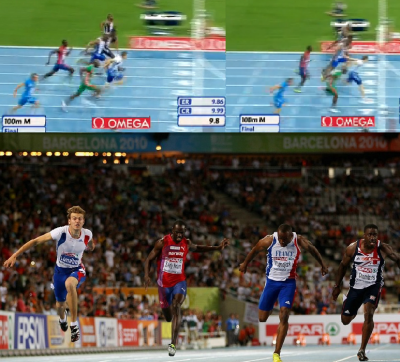 - The FASTER Men and Women in Europe are French :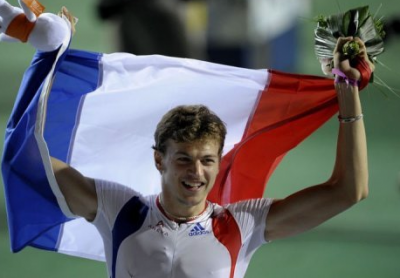 Winning 3 Golden Medals out of 4 in the most prestigious 100m and 200m, in both Men and Women, France comes First in Europe, with the 2010 revelation, Young Christophe Lemaitre, (originating from Haute Savoie, not far away from Strasbourg), who marks a remarkable Triple Win in Both these two Top Sports, plus in Relay), and, among Women, Myriam Soumaré 1st Winner of 200m, Bronze in 100m (and Silver in Relay), together with Véronique Mang (No 2 Silver medal), preceded only by the excellent German runner Verena Sailer (No 1, Gold).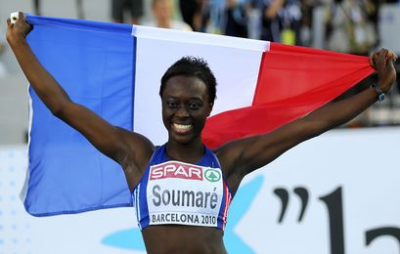 The Fastest Team Spirit is also France's, Men and Women combined, witth a 1st Gold and 2nd Silver medals in Relay, respectively, thanks to succesful 4X100 Teams, (something which, surely, could teach a lot to some French Politicians back home)...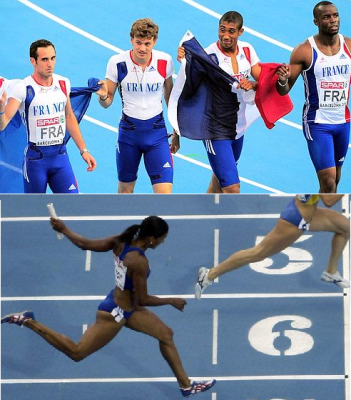 French men are  the Faster even when they have to overcome various Obstacles, but also when they are Walking through the Longest ways, as Golden and Sliver medal winners Mekhissi and Tahri in 3.000m Steeplechase, as well as No 1 winner Diniz on 50 Kms Walk, respectively proved.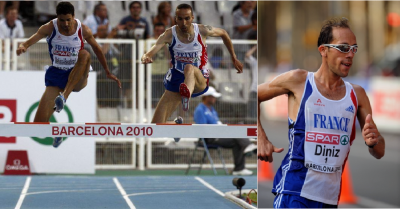 -  But,  the Most Numerous Fast Running Women in all Europe, are unquestionably Russians, who win a Series of 6 Golden Medals (in 400m, 800m, 400m Hurdles, 3.000m SteepleChase, 20 Kms Walk, 4X400m. Relay), 4 Silver, and 4 Bronze, totalling 14 Medals in Track !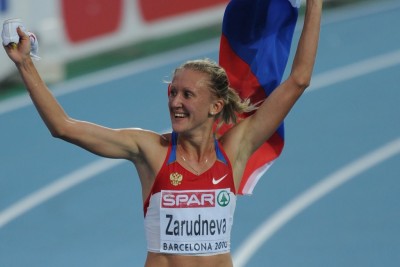 Russian Women are Excellent in Walking Long ways extending many Kilometers (20 kms), Sport in which they succeeded to Win all 3 Ranks, both the 1st, 2nd and 3rd, getting all Medals, Golden, Silver and Bronze...

Both Russian Men and Women are also the Fastest in Team work for Longer Distances, Winning Golden medals in both 4X400 Relays, (including Double Gold Winner also in 400m "solo", Tatyana Firova).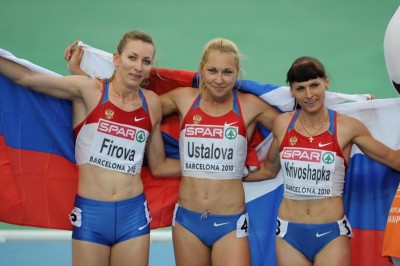 But when it comes to Shorter distance, 4X100 Relay Team work, the Fastest Women are Ukranian, ... naturally closer to the EU.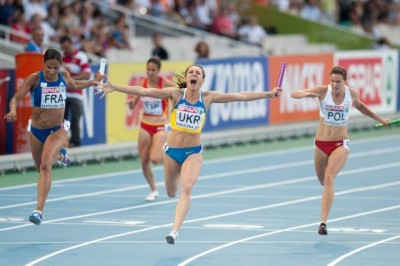 - British Men are Fast in Long Distances "solo", as proves the remarkable Double Win of Mo Farah in 5.000m and 10.1000m, followed by his compatriot Chris Thompson, (Silver).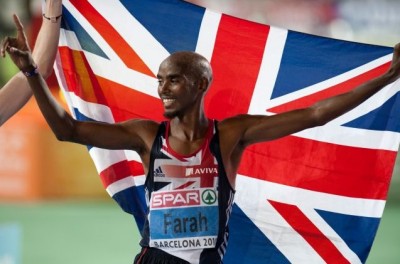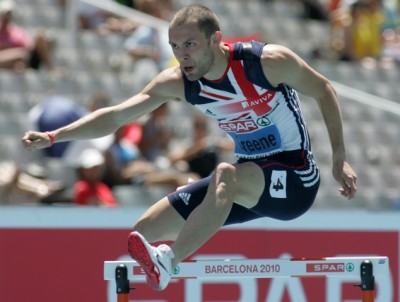 And this goes ....even when they have to Jump over Hurdles, (as attest David Greene and Rhys Williams' Gold and Silver medals in 400m H., but also Andy Turner's Golden in 110m Hurdles, followed in Silver by French Garfield Darien of France).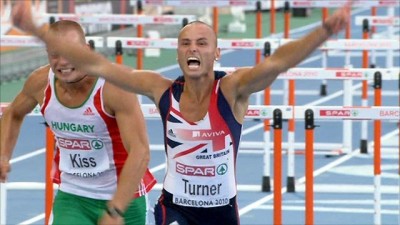 ---------------------------------------------------------------------
- German Women proved to be Excellent in extremely Differend situations :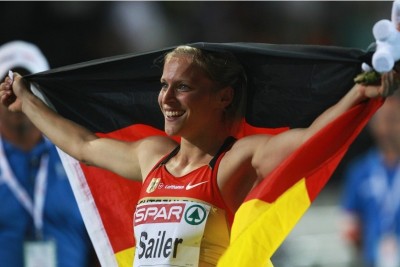 ... Both "Solo", at a Short fast run in 100m, (where Gold was brillantly won by Verena Seiler),  but also Good in Collective, Team run for a 4X400m-Long Relay, (winning a Silver medal).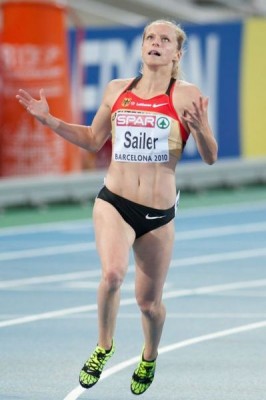 ---------------------
- The Best Athlete in All Men's sports, unquestionably comes from France, with the Historic "Decathlon"'s Golden medal Winner Romain Barras.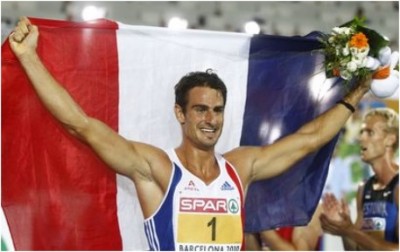 France also won Gold on Pole vault, with Renauc Lavillenie confirming that he's flying High.

- But the Best Athlete in All Women's sports : Heptathlon, comes from Jamaica with a UK flag, thanks to Brittish Jessica Ennis, (closely followed by Ukranian Nataliya Dobrynska).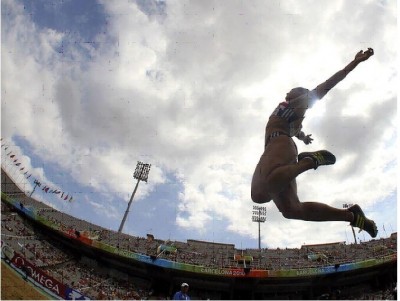 - Propulsion, however, could be a .. German word :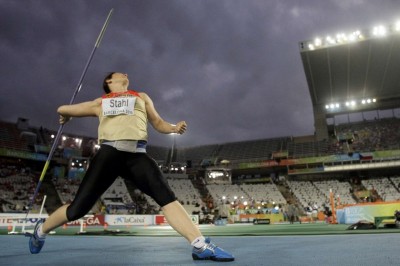 Javelin Throw is, indeed, mainly German, with a Double Win among Women (Linda Stahl for Gold, and Christina Obergfoell for Silver). added to Matthias de Zordo's Silver medal among Men, preceded by Andreas Thorkidsen from Norway.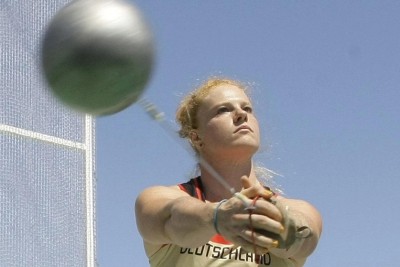 -  Hammer Throw was won also by German Betty Heidler, among Women, while Germans also win a Silver medal on Discus throw, preceded by Piotr Malachowksi's Gold for Poland.    - Even by Throwing ...himself as far away as possible, Long Jumb Winner Christian Reif, came also from Germany..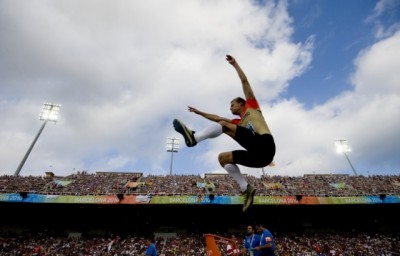 -------------------------
- Best Man to Jump High up towards the stars, remains naturally Russian, Aleksander Shustov.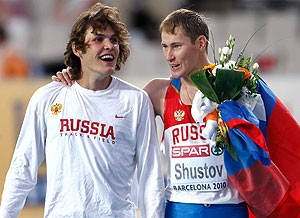 But among Women, it's Croatian Blanka Vlašić, who jumps Higher in 2010, (probably hoping that Croatia's well advanced EU accession bid would succeed to ..jump to conclusions soon)...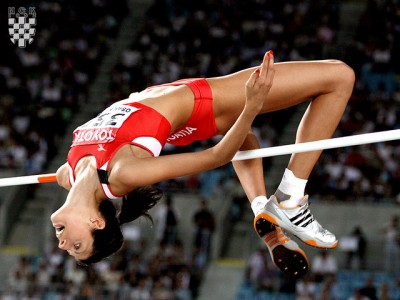 Unless her other Croatian compatriot, Sandra Perković, helps to launch Zagreb's EU bid as forward as she did by winning at Barcelona the Discus Throw Golden medal..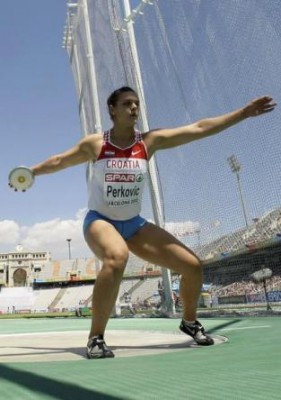 - Triple Jump is however, Ukranian, at least among Women, with Gold Winner Olha Saladukha, (may be inspired by Ukraine's wish to jump over EU's Neighborhood and Eastern Partnership policies towards future Enlargement to Kiev)..

-----------

 - The most Resistant, Fast Running athlete : "Marathon" Winner Victor Roethlin, naturally comes from Switzerland's Heartland :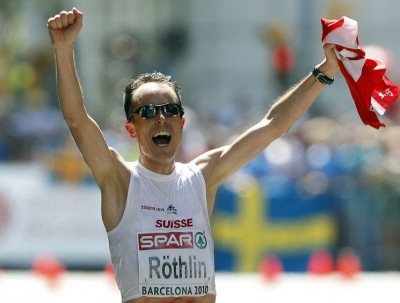 Its "Geographical Center", the Obwalden region, at a splendid Green Environment made of pure Oxygen, Haut Plateaux, Forests, Lakes, Rivers, etc. up to Sunny Mountains Higher than 3.000m, giving eye-catching overviews to Luzern See, etc, (including the Historic Engelberg, where had reportedly arrived a famous Silbermann Organ from Strasbourg's area)...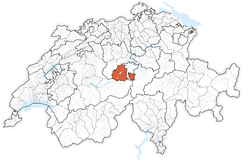 A Timely .. "Refreshing" Finale for the Summer 2010 European Championship at Barcelona, which reportedly felt a bit the Heatwave which plunders Strasbourg' area since late June, exceptionally moving recently up to ...Moscow, in Record-breaking, suffocating Temperatures ! But, given the Short Time now available in August, obviously, in order to eventually transform Roethlin's Symbol into a practical Reality, would  require breaking other "Athletic Records"...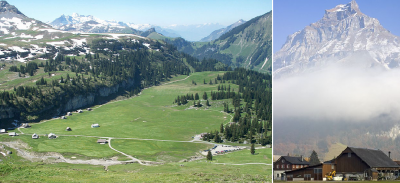 - Last, but not least, a special medal for the most ...Funny Show, certainly deserves to be attributed to those who disguised ... Ethiopian-born, grown up and career Runners Elvan Abeylegesse and Alemitu Bekele, into ...so-called "Turkish" athletes, subsequently disguised, afterwards, even into (Pan)"European" ones !  Whoever got the original idea of doing that, obviously had a  real ...."sense of Humour"..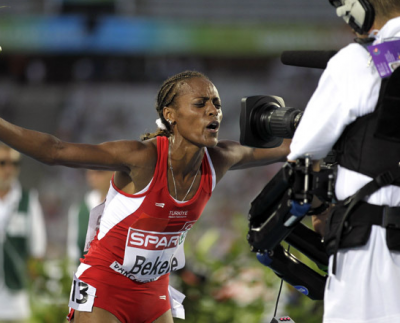 -----------------------------
 - In overall results, the more Numerous Winners Athletes in Europe are clearly Russians, who win the greatest Number of Medals, coming 1st in rank, with 10 Golden, (24 in total) !

France wins the 2nd rank among 25 Countries who won medals, with 8 Golden. It is followed by the UK at the 3rd rank with 6 Golden, and Germany as 4rth, with 4 Golden.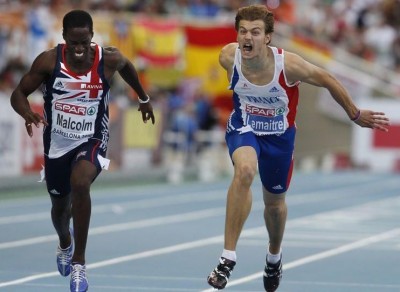 In total, these First 4 Countries, clearly outnumber all other participants by the much Greater Quantity of Medals won (Golden, Silver and Bronze, taken all together) : From 16, 19 or 18 Medals (for Germany, UK, France), up to 24 (Russia).

Among the other medaled Countries, Poland won 9 Medals, Spain 8, Ukraine and Italy 6 each, etc, followed by Eighteen other European, PanEuropean or Neighbouring Countries, with fewer medals (from 1 to 4) such as : EU Member Countries Portugal (4), Belgium (3), Hungary (3), Netherlands (2), Romania (2), Ireland (1), Sweden (1), Finland 1), Chech Republiqe (1), Slovakia (1),  Lithuania (1), Latvia (1), Bulgaria (1),  as well as Switzerland (1), Norway (1), Croatia (2), and Belarus (4), even Azerbaidjan (1), Turkey (2), Ethiopia (2),  etc., totaling 141 Medals in all.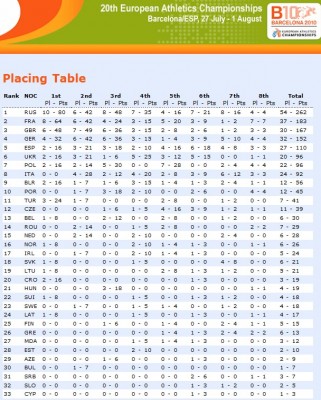 At the overall "Placing Table", among the First Five are : Russia (54 Pl. - 262 Points in Total) and France (37 - 183), in the unquestionable 1st and 2nd Ranks, followed by a "Tight" race between the  UK (30 - 167) and Germany (32 - 152), as well as Spain (27 - 110).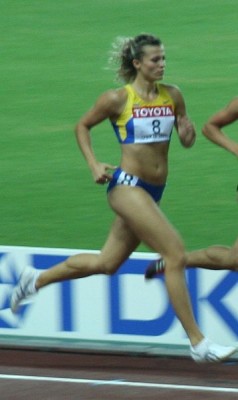 (Ukraine's Nataliya Dobrynska, challenging UK's Ennis won Silver at Heptathlon).
---

Ukraine, Poland and Italy are closely disputing the 6th, 7th and 8th places, with 20-96, 22-96 and 24-92, respectively, while Belarus and Portugal complete the "First Ten" list, at the 9th and 10th place, (with 12-56 and 12-45), respectively.

Follow 23 more European, PanEuropean and other Neighbouring Countries, with 11 Pl. as fex. the Czech Republic, up to Cyprus, Bulgaria, Slovenia, Estonia, and even Azerbaidjan, with just 1 or 2 pl. each.                                     

(P.S. No medals were awarded to Athletes posing for Photographers specialized in "indiscreet" photos, but, considering the galoping Global Competition, nothing seems excluded in the future)...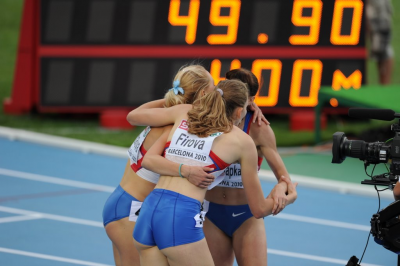 ***
[(Note *) F.ex., among others, EU Parliament's greatest Group's, (ChristianDemocrats/European Popular Party : EPP), Bureau's Member, Head of the French Delegation,  MEP Jean-Pierre Audy,  a few Months earlier, counting the Number of  medals won ny European Athletes at International Sport Events, observed that Europe could  start playing an Important Role in World Sport issues, if it succeeded to unite all those outstanding Athletes together, in one way or another.

Similar Views were expressed, at various occasions more recently, also by several other EU politicians.]  
***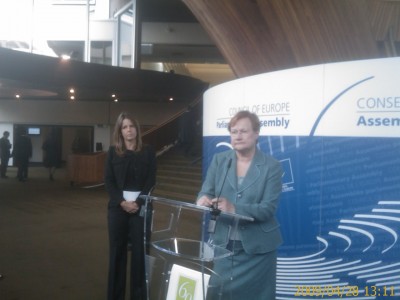 People in Europe and the World expect from CoE to make a succes of its "Monitoring" for Human Rights and Democracy, despite difficulties, said Finland's President Tarja Halonen to "EuroFora" at a crucial moment for the mecanism built 15 years ago by the paneuropean organization which celebrates its 60th Anniversary in 2009.
Halonen, known as "Mother" of CoE's "Monitoring" mecanism, a long-time MEP and former Foreign Minister before becoming Finland's President, holds a long experience in the mattter, after also serving twice as CoE and EU Chairwoman in the past. That's why she is well placed to judge how CoE's "monitoring" should deal today with some crucial issues of importance both to CoE and to the EU.
The move came just a Month before a crucial, last visit to Turkey, scheduled for June, by the President of CoE''s "Monitoring" Committee, Ukranian MEP Serge Holovaty, to finalize his Report on Ankara, the CoE Member State with the longest Monitoring procedure. From its results depends its overall credibility.
This is a Test-case, because, in fact, it's in order to avoid Sanctions threatened against Turkey by a CoE's Assembly's April 1995 Resolution for grave Human Rights violations, Democracy gaps, the continuing Military Occupation in Cyprus, the unresolved Kurdish problem, Aegean differend with Greece, etc., that MEPs decided to create, for the 1st time on April 1996, a "Monitoring" proces, allegedly destinated to check, without excluding Countries who did not fulfill all CoE's standards.
In the Past, the obliged withdrawal of Greece's Military regime and of its "Civil" cover-up out of the CoE had helped bring back Democracy in 1974. But, on the contrary, since April 1996, the idea was to "monitor" Human Rights' respect while keeping most concerned Countries inside the CoE. After Turkey's oldest example, this was extended also to several former "Eastern" European Countries, even if CoE's Assembly has imposed to some of them (fex. Ukraine, Russia, etc., after Belarus, Serbia, etc) various "Sanctions", that Ankara always avoided. Curiously more succesful even than .. USA itself, (a CoE "Observer" since 1995), which has been at least threatened with sanctions some years ago..
EU-effects of CoE's Monitoring process became obvious between 2001-2008, since the "closure" of this procedure, when CoE felt that a Country had met most of its Human Rights, Democracy and Rule of Law obligations, (i.e. the "Copenhagen Criteria" for the EU), helped trigger Negotiations with the EU for "Accession" or other closer relations : This occured already before the 2004 and 2007 EU Enlargements to former "Eastern" European Countries, as well as for the commencement of "accession" negotiations with Croatia, and of "open-ended" negotiations with Turkey in 2005.
    But a stricking new development are Holovaty's recent findings that on core Human Rights issues as Torture and Freedom of Expression, Turkey, even "5 Years after" CoE closed its "Monitoring", back in 2004, inciting EU to start accession Negotiations in 2005, still presents grave problems.
    His findings are of crucial importance after a 2008 CoE Resolution called, "if need be", to "seriously consider the possibility of Re-Opening the Monitoring procedure for Turkey" : A move which might affect Ankara's controversial EU bid, since EU Accession Negotiations are based on the Hypothesis that the Candidate fullfils the "Copenhagen Criteria" (See above)..
-------------------------
    Holovaty expressed his will to check  "Matters still Outstanding" and  those that he "didn't have an opportunity to discuss" at an earlier visit this year, "in order to discuss the more complex issues in greater depth", at his forthcoming New Visit to Ankara, before the December 2009 EU Summit.  This is all based on the 2004 CoE Resolution which stresses that, CoE "will continue.. post-monitoring Dialogue with the Turkish authorities,...in addition to a 12-points list,..and on any Other Matter that might arise in connection with Turkey's Obligations as a CoE member state".
    CoE's Resolution also asks  from Turkey "to secure the proper Implementation of Judgements, particularly in the Cyprus v. Turkey InterState case", of 2001, which concerns also the plight of many Hundreds of MISSING People. It adds Turkey's obligations to "execute" ECHR's Judgements in the Loizidou case,..and in particular adopt General Measures to avoid repetition or continuation of Violations found by the Court" to the detriment of Refugees.
    Nevertheless, Holovaty said to "EuroFora" that "MISSING" persons,"might be included" and cannot be excluded, but he has yet to examine the situation "to find out  which issues will be raised" to the Turkish Government.
    Therefore, "EuroFora" asked Halonen, as the Historic "Mother" of CoE's Monitoring mecanism, if she thought that, "whenever there are grave Human Rights Violations, as fex. "MISSING" persons, attested even by ECHR's judgements, they should be always checked by a Monitoring process. Or could they be forgotten ?"    
     - "We (CoE) must be, at the same time, Fair, Realistic, but not in the mind that "now we have Forgotten", etc., replied to "EuroFora"'s question Halonen, speaking as a matter of general principle.
    - "When we think of those People that are suffering from the lack of Democracy, of Human Rights, and of the Rule of Law", "we should find a base on how to deal with the (Monitoring) system more rapidly"', she stressed.
    - "Sometimes it's very difficult to combine Transparency and Effectivenes together, particularly in this specific case", she went on to say. But, "I have not found a (CoE Member) Country who could be insensitive in this sens", Halonen answered concerning grave Human Rights violations attested by the ECHR.
    - "I have no ready-made answer. I have the expectations that you, in the CoE, will, step by step, find the different types of the monitoring systems."
    Also "because this is a part of the UN's Post-Conflict system, (fex. when it comes to Cyprus' MISSING persons), and it's a more Global system". So that, "If we make a succes in Europe, the others will follow", throughout the World.  "But they expect that we (Europe) are this opportunity, this Opportunity to make a Succes", Halonen concluded.
    In addition, she advised to extend CoE's Monitoring to all its 47 Member States, "because, as long as we hear that, all these monitoring systems are "OK for the neighbor, but not for me", "it's very difficult" to understand. Something which could make easier to Compare...
    Finnish MEP Jaako Laakso, former CoE Rapporteur on the Occupied Territories of Cyprus and one of the 5 Signatories of the Historic CoE's call to create the "MONITORING" mecanism since 1996, was more specific :  - "We (CoE Assembly) have to find a way for the issue of Cyprus' MISSING People to be better followed", he stressed, anouncing his intention to "speak to Mr. Holovaty" about that. "There might be also other ways", added Laakso.
    - The 2008 "Year had been a very Bad one for Turkey with regard to Human Rights in general, and Freedom of Expression in particular", denounced, meanwhile, Holovaty's preliminary Post-Monitoringh Draft Report by Holovaty, published by the CoE on April 2009.
    "Amnesty International believes that freedom of expression is not guaranteed given the various articles of the Criminal Code that restrict it. .. "For example, 1,300 Websites are said to have been closed down by the (Turkish) authorities in 2008" ! While "the new Turkish Criminal Code was used to bring a total of 1,072 proceedings between June 2005 and April 2008, and led to the conviction of 192 people", for expressing views. "Representatives of the Özgür Gündem newspaper, which specialises in Kurdish affairs, ..complained about Numerous Attacks on their Freedom of Expression ...as was everyone who advocated a settlement to the question by means other than the intervention of the army" "According to their figures, 19 Newspapers had been suspended 43 times between 4 August 2006 and 4 November 2008" !...
    Moreover, on 2008,  CoE's "Ministers adopted its 4rth Resolution on the execution of the judgments of the ECHR, ...and outstanding issues regarding 175 Judgements and decisions relating to Turkey delivered between 1996 and 2008...  concerning Deaths resulting from the excessive use of force by members of the Security forces, the failure to protect the right to life, the DIisappearance and/or death of individuals, Ill-Treatment and the Destruction of property". CoE's " Ministers urged the Turkish authorities ...to ensure that members of Security forces of all ranks can be prosecuted without administrative
authorisation" for "serious crimes". Holovaty reminded.
"Nonetheless", Holovaty heard anew of "Several cases of Violence committed last year (2008) by the (Turkish) security forces". Amnesty International speaks of Many Cases of ill-treatment and Torture in the prisons and by the police". "Including, fex."'the death of Engin Ceber, a young man of 29 who died on October 2008 as a result of the TORTURE allegedly inflicted on him by police officers, prison staff and members of the gendarmerie. He was part of a group of people arrested on September 2008 during a demonstration and Press Conference in Istanbul'. Proceedings against suspects are "on-going" in this case.
- " I therefore noted an Obvious Contradiction between the Government's stated "zero tolerance" policy.... of Torture and other forms of ill-treatment, and the different testimonies given", denounced CoE's Rapporteur.  Turkish "authorities must make considerable efforts to guarantee that proper investigations are carried out into allegations of abuses by members of the security forces and that perpetrators are effectively punished" "In this respect, I have requested detailed Statistics on the number of Investigations, acquittals and convictions in cases involving allegations of abuse in order to show the positive impact of the measures taken to date", Holovaty said, repeating a permanently unsatisfied CoE's demand to Turkey since a Decade...
    - "The Political Crisis that shook the country in the spring of 2008 highlighted the Weaknesses of the (Turkish) Constitution", which comes from the Military regime of 1982, "and the Urgent Need of Reforms", stressed from the outset CoE's Rapporteur in 2009. In particular, "the ...Democratic functioning of state institutions, including the independence of the judicial system, are crucial", he observes.
    But, "the Electoral  system and the ways in which it is circumvented do not appear to give those elected complete Legitimacy, and tend to pervert the course of direct universal suffrage", denounces Holovaty, observing that, even 5 Years later, Turkey did not yet change the 10% nationwide Threshold for a party to take any seat, which is "far higher" than the "3%" maximum in Europe and already condemned as contrary to European Standards by the CoE.
    + Moreover, EU Parliament's 2009 Report on Turkey, drafted by Dutch MEP Ria Oomen-Ruijten and adopted in Strasbourg on March, expresses "Concern over the Failure of the (Turkish) Judiciary to prosecute cases of Torture and Ill-treatment, the Number of which is Growing". EU also "is concerned about continuing Hostility and Violence against Minorities" in Turkey. It also "calls on the Turkish Government to launch, as a matter of Priority, a Political Initiatve favouring a lasting Settlement of the Kurdish issue, (while "condemning violence.. and terrorist groups"). EU "regrets that No progress has been made on establishing full, systematic Civilian suprevisory functions over the (Turkish) Military".
    The final results of Holovaty's 2nd and last visit to Turkley will be known later this year, and, at any case, before EU's December 2009 Summit.
Polls