Home

Press Deontology/Ethics
EuroFora supports Professional Journalism's Deontology and Ethics
Вторник, 01 Июль 2008

EuroFora supports  Professional Journalism's Deontology and Ethics
EuroFora's Journalism adheres to the following Professional Press Deontology and Ethics' Rules :

- The European Declaration on Duties and Rights of Journalists (Munich, 1971, based on the "Charter of Professional Duties of Journalists", initially adopted in 1918 in France).

- IFJ's Declaration of Principles on the Conduct of Journalists (1954, rev. 1986)

- CoE's RESOLUTION 1003  on the Ethics of Journalism (1993)

- Society of Professional Journalists' Code of Ethics (1996)


EuroFora also strongly supports CoE's 2007 "Declaration by the Committee of Ministers on the protection and promotion of Investigative Journalism" (2007), and welcomes debates launched by the International Conference of Journalists on a new "Charter for the Quality of Information" (2008).
***
See, respectively :

http://www.snj.fr/article.php3?id_article=66

http://www.ifj.org/en/pages/journalism-ethics

http://assembly.coe.int/Documents/AdoptedText/ta93/ERES1003.HTM

http://www.spj.org/ethicscode.asp

https://wcd.coe.int/ViewDoc.jsp?id=1188517&Site=COE&BackColorInternet=DBDCF2&BackColorIntranet=FDC864&BackColorLogged=FDC864

http://www.alliance-journalistes.net/IMG/pdf/charte_qualite_mai08.pdf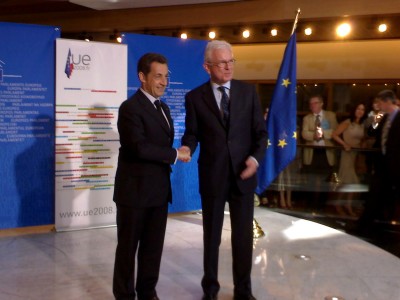 In a last-minute, surprise move, New EU Chairman, French President Nicolas Sarkozy, anounced a proposal in Strasbourg to open an EU Parliament debate on Europe's Identity in the ranup to 2009 Election :
    - "I am conscious of the fact that there is, today, a real Crisis on Europe's
Identity", he replied earlier to a question by Greek MEP Ioanis Varvitsiotes, who had asked him to "advance beyond those who don't really want a Political Europe",
    - "Why not a real Debate on what is Europe's Identity ?", proposed
Sarkozy, in this regard.
    -  "EU Parliament could organize such Debates", he suggested :"It's
better for EU Parliament, than for National Governments, or EU Commission, to
define what is the European Identity", the French President proposed.
    A diplomatic way to avoid obstacles by some Governments and/or some Brussels' bureacrats, reportedly opposed to really free and popular, critical European debates on hot political issues..
    Sarkozy brillantly won the 2007 Presidential and Parliamentary Elections in France in 2007, in the line of the principles anounced at an important Speech in Strasbourg, February 2007, about a Political Europe, and a European Identity on issues which matter to the People.    
Polls