Home

In Brief

Source Conseil d'Europe à ERFRA: Debatre Liberté d'Opposants à Loi livrant Mariage+Enfants à Homos ?
Source Conseil d'Europe à ERFRA: Debatre Liberté d'Opposants à Loi livrant Mariage+Enfants à Homos ?
Friday, 21 June 2013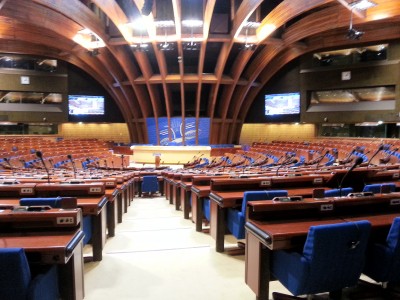 *Strasbourg/Conseil de l'Europe/- L'actualité et les développements récents sur les mésures policières contre les manifestants opposés à la loi controversée et impopulaire qui livre mariage et enfants aux Homosexuels par voie d'adoption, même par étrangers sans aucun lien avec leurs parents naturels, où aux denonciations de restrictions, jets de Gaz et autres brutalités jugées excessives, humiliations, arrestations et gardes à vue systématiques, etc., se sont ajoutées cette semaine aussi des "tentatives d'intimidation" selon les organisateurs, surtout suite à l' étonante condamnation à 4 mois de Prison, dont 2 mois ferme; d'un étudiant bien integré, Nicolas B., apparement ciblé comme un "méneur" et violement poursuivi par nombreux policiers même au 1e étage d'un restaurant, d'où il fut trainé au sol, manu militari et ménotté, avant de se trouver mains et pieds liés, jetté dans un cachot avec 5 criminels de droit commun, et condamné à être enfermé plus de 60 jours en Prison, pendant qu' appels au viol et autres ménaces fusent impunement contre la victime à l' Internet, provoquant une serie d'actions collectives de solidarité au "1er prisonier politique de France" moderne, selon les manifestants,

tout cela pourait encore faire l'objet d'un Débat d'actualité ou d'urgence la semaine qui vient dans la plenière de l' Assemblée Parlementaire du Consei de l'Europe (APCE), si une démande officielle est faite et soutenue "jusqu'à lundi matin à 8 h", a précisé aux "EuroFora" un représentant experimenté et haut placé de la Direction de l' Organisation PanEuropeanne des Droits de l'homme, Démocracie et Etat de droit, qui a 47 pays-membres, y compris la Ukraine, la Russie, etc.

La décision d'accepter, ou pas, est prise par le Bureau de l'APCE, qui est composé par son Président, Jean-Claude Mignon (UMP, du groupe Chrétien-Democrate/PPE), et plusieurs vice-Presidents, ainsi que des Chefs des divers Groupes Politiques (5), y compris l' Italien Luca Volonté, Président du plus grand Groupe : celui des ChrétiensDémocrats/EPP, qui se réuni le matin de Lundi, 24 juin 2013, et définivement acceptée (ou réfusée) par la Plenière de l'APCE elle-même dans un vote prévu le même jour, un peu plus tard, après 11 h.
Pour l'instant, il y a seulement 1 Débat d' Actualité (cad. 1 heure des discussions en séance Plenière), au sujet des révoltes aux banlieux Suèdois et la politique d'immigration, et 3 Débats d' Urgence (cad. avec Rapport et Résolution débatus et votés la semaine prochaine d'abord en Commission et après en séance pubique Plebière), sur divers autres sujets, allant des "persecutions réligieuses en Iran" (en partie déjà discutées auparavent), "la situation en Géorgie" (ibid), et "les protestations populaires en Turquie, par rapport auc libertés de manifester, publier et s'exprimer", déposée par le Groupe de Gauche.

- "Mais l' Assemblée" PanEuropéenne, "pourrait", si bésoin, considérer aussi d'ajouter à la dernière minute "plusieurs débats" d' Actualité et/ou d'Urgence, "le dernier délai" pour présenter une telle démande, étant fixé à "Lundi 8.h", a répondu aux "EuroFora" le responsable de l' APCE.  Il est, d'ailleurs, vrai que c'est une des raisons pour lesquelles plusieurs réunions entre eurodéputés et  leaders paneuropéens ont traditionellement lieu à Strasbourg au plus tard le Dimanche; y compris le Comité des Chefs des tous les Groups Politiques, suivi des Bureaux de chaque famille politique, etc.; jusqu' à tard le soir.

Ce qui serait dévenu, en pratique, encore plus Facile, maintenant, au moins du point de vue du Temps disponible dans l' Agenda de l'APCE, puisque la visite officielle et le discours prévu par le Président du Parlément de l' Union Européenne, (l' organisation-soeur des 27 Pays-membres de l'UE), eurodéputé Socialdemocrate Allémand Martin Schultz, initialement prévue pour le Mardi, 25 juin, fût, curieusement, annulée à la dernière minute, laissant, a priori, assez du Temps pour au moins un débat d'urgence de plus que prévu.

- En effet, comme il a été aussi rappelé aux "EuroFora"  par un autre Officiel de l'APCE, en principe, pour que l' Assemblée Parlementaire du Conseil de l'Europe s'exprime vraiment sur un sujet, il faut un Rapport avec une Resolution adoptés d'abord dans la Commission compétente en la matière, (ici, p.ex. celle des questions juridiques et des droits de l'homme, peut-être ensemble avec la Commission des affaires Politiques et de la Démocratie, ainsi que la Commission de Culture, Education, Medias, etc. qui s'occupe aussi des Réligions, etc), et ensuite débattus et votés en séance publique Plenière"...

Autrement, une rencontre de 45 minutes, qui a été déjà prévue, à ce sujet, sous les auspices du President du plus grand groupe de l'Assemblée, et déjà auteur d'une Question écrite à ce sujet, Euro-Deputé Italien Luca Volonté (ChrétienDemocrate/PPE); pour le Mercredi 26 juin 2013, à l'heure de l' interruption de la Plenière pour le dejeuner (1-1.45), n'est seulement un parmi 3 ou 4 "Side events" qui se tiennent tous au même moment, dans une salle qui ne peut contenir que seulement près d'une centaine de personnes, et, surtout, n'est pas encore integrée dans les travaux de l'APCE, (n'étant pas, p.ex. une "Audition" d'une Commission compétente pour élaborer un Rapport avec Résolution destiné à être votée ensuite par la Plenière, etc), ce qui n'est, d'habitude, suivi que seulement pas un pétit nombre d'eurodéputés, souvent etant classé sasns suite, (même s'il peut, parfois, offrir quelques occasions pour certains contacts utiles pour l'avénir aux personnes interessées, sans plus). Ainsi, a priori, le seul evenement qu'on peut attendre à cette seule occasion semble être la publication d'un Rapport du Centre pour la Loi et la Justice du celèbre Américain, Editeur, Universtaire et Idéologue Conservateur;  Pat Robertson, que son Bureau régional pour l' Europe a annoncé qu'il presentera alors sous la direction de Georg Pupnick, (avec "100 témoignages" parmi les plus de Mille Protestateurs déjà arrétés, selon les estimations de leurs Avocats), mais surtout une synthése actualisée de ce nouveau mouvement populaire, par la Présidente de la "Manif. pour tous", Ludovine de la Rochère, et de la Porte parole du "Printemps français", ainsi que d'autres témoins.

 + En tout cas, le même officiel haut placé du Conseil de l'Europe a, en plus, souligné, en réponse à la même question d' "EuroFora", que le "Débat Libre" prévu à la session Plenière de l' APCE plus tard dans le même après-midi du Lundi, 24 juin, en donnant à tout EuroDéputé une possibilité de parler de tout sujet d'actualité qu'il estime necessaire, pourrait aussi servir comme une tribune publique aussi pour des questions de ce genre, et attire déjà l'intérêt de plusieurs Membres de l' Assemblée PanEuropéenne, puisque, "plus de 50° EuroDéputés auraient été déjà inscrits...

Naturellement, parmi d'autres occasions lors de cette ultime session Plenière de l'APCE avant l' interval de l'été, pourrait être aussi la séance Plenière des Questions orales au Comité des Ministres du Conseil de l'Europe, actuellement présidé par le Ministre Arménien Edwad Nalbandian, (....), prévue pour le Lundi après-midi, entre 15 et 16 h., où; p.ex., des eurodéputés pourraient, éventuellement, s'interroger sur les étonants "vides" dans une réponse collective du Comité des Ministres (qui répresente les Gouvernements des Etats-membres du CdE) dans ladite Question ecrite du Président Volonté sur "les violences policières" contre les manifestants opposés à ladite loi controversée en France, pour demander p.ex. des explications sur les plusieurs autres incidents (bien documentés par Videos, Photos, Témoignages, etc), aussi bien avant que (surtout) après et indépendament aux 3 grandes manifestations du 13 janvier,  23 mars et 26 mai, lors des multiples autres protestations (la plupart entièrement pacifiques) qui continuent encore cette semaine aussi, face à des reactions de plus en plus oppressives, aux yeux des dissidents, qui risquent manifestement de provoquer un "spiral" dangereux.

Ce qui ne semble pas pouvoir être evité simplement en multipliant les patrouilles de policiers, gendarmes et/ou CRS armés jusqu'aux dents avec matraques, pistolet,s gilets pare-balles, etc., sous une chaleur suffocante, au millieu des familles, jeunes gens et touristes, surpris, qui se baladent aux rues piétoniers de la veille ville au centre de Strasbourg, de la Place Kleber jusque, même, près du Cathedrale, etc., surpris de se voir entourés, soudain, de tant de forces de l'ordre qu'on n'avait même pas vu lors des alertes serieuses du plan "vigipirate" face à des ménaces et/ou même attentats terroristes, ni a Paris, ni ici....

C'est dans ces conditions que le mouvement independant dit des "veilleurs", composé essentiellement de jeunes filles et garcons totalement Pacifiques, des mères de famille, des personnes agéesn etc., réunis sur le sol p.ex. d'une place, etc., pour réciter des poemes et/ou d'autres livres, réligieux ou philosophiqies, litteraires, etc., avec des bougies aluumées pendant la nuit, avant de se disperser calmement, en général tard le soir, aurait donné rendez-vous, ensemble avec une composante qui se proclame "Européenne", portant l'image de plusieurs Drapeaux, (celui de la Grande Bretagne 1er), donne rendez-vous exceptionellement à Strasbourg, la soirée du Mercredi, 26 juin, devant l' Ancienne Mairie à la Place Broglie, (près de l'Opera et de la Préfecture du Bas-Rhin/Alsace, cad. presque au milieu du chémin entre le Centre Historique de la Ville de Strasbourg, et son "Quartier Européen", lié par la Place de la Republique et l' Avenue de la Paix, etc), annoncant la participation de plusieurs EuroDéputés aussi, (malgré les travaux et autres rencontres de l' APCE qui se poursuivent tous les jours, dépuis 8h. du matin (Commissions, etc), jusqu' à tard le soir (diverses Receptions par les Representations Diplomatiques, etc), qui est, souvent, aussi le seul Temps que disposent certains Journalistes pour essayer d'ecrire quelques articles sur la base des Interviews et autres Reportages obtenus pendant ces journées notoirement surchargées, (la plupart desq cas en se privant de sommeil et/ou étant obligés de marquer du rétard dans leur travail et dévoir)...

Le lendemain, Jeudi 27, après le Débat d'Urgence (qui sera choisi parmi plusieurs options, le lundi matin : v. supra), la journée sera prise par un débat et vote d'un N-iéme Rapport contre "la Disrcimination pour motifs tenant à l' orientation sexuelle et à l' idéntité du "gender" (genre), préparé cette fois par l' Eurodéputé Norwegien socialiste Hakon Haugli avec la participation de la Porte-Parole de l' Elysée,  Ministre Najat Vallaud-Belkacem, l'après-midi, qui pourait, manifestement, tourner le débat ailleurs, (cad. le retourner encore vers la protection et les droits revendiqués par les Minorités LGBTI, qui ne semblent heureusement plus avoir de graves problèmes au moins pas en France, le détournant des Libertés et Droits Humains de tous Dissidents Politiques, ainsi que du respect dû à la Majorité du Peuple dans toute Démocratie digne de ce nom, où ceux qui dénoncent des brutalités, jets de gaz, humiliations, arrestations, même emprisonement, et/ou harcelements et autres tentatives d'intimidations, dont les dissidents opposés à cette loi controversée et impopulaire selon tous les sondages en France, seraient victimes, soulevent recemment plusieurs questions sans réponse).

Curieusement, il semble, pourtant, que la Ministre ne fera aucune conference ou point-Presse, même pas bref, au moins pas en l'etat actuel des choese, (ce qui est plutôt érange, s'agisant même d'une ex-porte-parole déjà lors de la campagne pré-electorale de 2012), mais elle participera entre 14-15.30 dans une téunion de sous-Commission (d' Egalité des Sexes, etc), tandis que, entre-temps, la plujpart des Journalistes qui suivent les questions Européennes seront, très probablement, attirés loin de Strasbourg, par le Sommet de l'UE à Bruxelles, notoirement organisé ce-même Jeudi après-midi, vers le Vendredi, 27-28 juin 2013...


(../..)

BRIEF NEWS
00:00 - 08.05.2019

00:00 - 23.04.2019

00:00 - 01.04.2019

00:00 - 04.03.2019

00:00 - 29.01.2019

00:00 - 08.12.2018

00:00 - 09.07.2018

00:00 - 31.05.2018

00:00 - 26.12.2017
Statistics
Visitors: 34367664
Archive
Login Form
Other Menu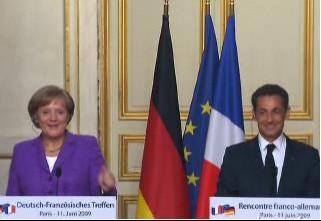 The official presentation of a "Program" respecting People's choices voted in the June 7, 2009 EU Elections, to be debated in EU Council and EU Parliament during its 1st Session on July in Strasbourg, is the No 1 Priority, according to Democratic principles, for the Franco-German axis, said the main winners at the ballot box, French President Nicolas Sarkozy and German Chancellor Angie Merkel.
They stressed  that the New EU Commission's President must have a "Program" in favor of an EU which "protects" its Citizens, regulates financial markets and aims at a "Political" Europe" : a wording they have used as incompatible with Turkey's controversial EU bid.
They also declared ready for a "political" endorsment of "Mr. Barroso's candidacy" in June's EU Council, considering that an official decision would have to be made after EU Parliament's debates and votes, possibly from next month (July), with the legally necessary final acceptance shortly after Lisbon Treaty's entry into force, hoped for September or October.

- "A Program, and Mr. Barroso" : This resumes, in substance, the anouncements made by Sarkozy and Merkel, on the question of current EU Commission's President, Barroso's declared wish to succeed to himself for a second mandate, to be extended during the following 5 years.

 In their 1st meeting after EU Elections, they observed that "the Franco-German axis counted in European Elections' campaign... But, we both keep a realistic view : We saw the number of those who abstained, and we must absolutely give them an answer. We also see the disilusionment of an important number of Europeans vis a vis Europe, and we are aware of the responsibilities we have".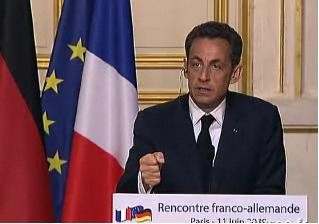 - The "Duty" of the new EU Commission's President, after June 7, 2009 EU Elections' result, "is to act for a Europe which protects the Europeans, to commit himself into working for a better Regulation of Financial transactions, ... and to have a Political will for Europe", underlined Sarkozy.

Therefore, "we have asked M. Barroso... to clarify, to officialy present the intentions he has", he anounced.

- "We want to speak also about the Programme", explained Merkel.

- "It's important that for the next EU Parliament's mandate (2009-2014) we take the right Decisions for Europe.  Obviously on Persons, but mainly Decisions on Issues", she stressed.

- "It's not simply a question of a Person, it's also a question of a Programme". We are "really asking Mr. Barroso to commit himself on a Program, and on Principles, on Values", Sarkozy added.

EU President-in-office, Czech Prime Minister Jan Fischer, accepted the Franco-German stance :

- "Barroso must present his Programme. The Czech Presidency agrees with that", Fischer reportedly said later, after meeting Sarkozy.

But Press reports from Brussels claimed that Barroso had preferred to be officially appointed by EU Council since June, (i.e. next week), "because this was implied by the current Treaty of Nice, according to him", and considered any delay until the possible ratification of the new, Lisbon Treaty on September/October, as "undemocratic".

- "At any case, independently of what Germany and France ask, it's also EU Parliament's wish". "We shall propose Mr Barroso's candidacy... But even in the framework of Nice Treaty, EU Parliament has to be associated in this Decision", the French President observed.

If this is correctly done, then "we support Mr. Barroso's candidature", and "if the (EU) Parliament agrees, we might ratify this decision since July", (i.e. next month), they both said.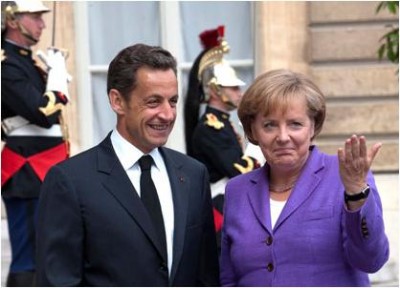 - "France and Germany support Baroso's candidacy, But we want to speak also on the Program. We believe that this Program should be established in close cooperation with EU Parliament, and that's why we have followed an appropriate way", said Merkel.  - If EU Parliament wants, this election can take place on July,  but this must be done in full agreement.
- "We shall support Mr. Barroso's candidacy, without doubt", said Sarkozy. "But we have asked from Mr. Barroso, as I told him yesterday, to put into detail.. his intentions, at the eve of his 2nd mandate, if the situation avails itself.

    France and Germany "don't want to take an Official Legal Decision by writting" during "the next (EU) Council" (on June 18-19), declared Sarkozy.  Because they prefer, at this stage, only "a Political decision" on June, "so that we (EU Council) can work together with EU Parliament", which starts to meet only Next Month, since July in Srasbourg, "leaving a Legal decision by writting for later".

    - "If the Conditions are fuillfiled in EU Parliament, we (EU Council) are ready to give the agreement and make it offficial", said Merkel

    - "But, now we are working in the base of Nice Treaty. If tommorow we want to work in the spirit of Lisbon Treaty, we have to find a proper way", she added.

    - "Of course it's Legally complicated, because we are going to make a Political proposal to the forthcoming Council, for an EU Commission's President, on the basis of Nice Treaty : So, we (EU Council) will not appoint the Commissioners. Only the President.  If EU Parliament agrees, it could endorse this position on July", explained Sarkozy.

    But, on Autumn, "if Ireland ratifies Lisbon Treaty, there will be, at any case, a 2nd Decision, to appoint the Commission's President, this time on the basis of Lisbon treaty, and then, we, the EU Member States, would have to appoint (also) the EU Commissioners", he added.

    As for the precise Timing :  - "Everything is suspended until the Irish vote... Now, we must all make everything possible to help Ireland to say "Yes"" to Lisbon Treaty... The Irish Referendum, ..will take place either on September or on October. It's a Question which depends on the Irish. And,  then, we shall have the Choice of the Candidates for the permanent Institutions of Europe".

    However, "if Ireland says No, we, French and Germans, have to assume our responsibilities, and we'll do so", he concluded.

    But British and Swedish governments were reportedly eager to have a final EU Council decision on Barroso since this month, on June's European Council. While the other EU Member Countries are divided, several of them preferring to wait until EU Parliament pronounces itself, on July, and/or until Lisbon Treaty might be ratified by Ireland at the beginning of the Autumn. Barroso's current mandate ends on November.

    There are also various, contradictory and/or unpredictable reactions inside EU Parliament vis a vis Barroso's wish to continue a 2nd mandate, because many MEPs are openly or secretly opposed, reluctant, or hesitating.

    In the biggest EU Countries, as France and Germany, EU Citizens voted on June 2009 EU Elections for a renovated, non-technocratic but Political Europe which cares for its Citizens, with an Identity, Values and Borders, declared incompatible with Turkey's controversial EU bid, by mainstream, pro-European Governing Parties. Similar choices were also supported in several other small or medium EU Countries.

    On the contrary, whenever, in other Countries, Governing and other mainstream Parties didn't make these choices or eluded them, EU Citizens massively voted for euro-Sceptics whenever they were the only ones to to promise anti-bureacratic change and oppose Turkey's demand to enter into the EU, (f.ex. in the UK, Netherlands, etc).

    It's seems to be an Open Question whether Sarkozy and Merkel's conditions will be really accepted by Barroso, who was appointed on 2004 in a different political context, (with Socialist Prime Ministers in Germany, France, etc), had rejected in the Past the idea of EU becoming "equal to the USA" as "ridiculous", and pushed for Turkey's contoversial EU bid, trying to "soften" or contain the changes desired by the People who voted for Merkel and Sarkozy with another policy vis a vis Turkey on 2005 in Germany and on 2007 in France, as they did all over Europe on 2009.

    In addition to many EPP Governments, it's 3 remaining Socialist Prime Ministers : Gordon Brown in the UK, Zapatero in Spain, and Socrates in Prortugal, who support Barroso, as well as Liberal Swedish Prime Minister Reinfeldt. But their Parties lost the June 2009 EU Elections.

    Questioned whether there was still "Time" for "other" possible "Candidates", Sarkozy and Merkel did not deny, nor made any comment on that, but simply said that "it's not for us to make publicity for any candidates. We anounced our choice ("A Program, and Mr. Barroso"). But we respect any other candidate".

    Among various other names cited are former Belgian Prime Minister Verhofstadt, former UNO's Human Rights Commissioner Mary Robinson of Ireland, Italian former EU Commission's vice-President Monti, etc. Meanwhile, Luxembourg's PM Juncker, (who had been unanimously accepted by EU Council for EU Commission's Presidency on 2004, but refused), announced his intention to resign from "EuroGroup"'s Chair. Thus, he might be available for another Top EU job.

    As "EuroFora"'s "opinion" said (See publication dated 9/6/09) : - "If the current candidates (i.e. Barroso, etc) to the Top EU jobs promise and guarantee to respect People's democratic choices, then, it's OK".

"Otherwise, Europe must find new candidates, really motivated and able to implement these democratic choices of the People."

    Because, "in Democracy, the forthcoming choices for EU's Top Jobs,...should be made according to EU Citizens' Votes in June 7, 2009 European Elections, and main EU Governments' strategic policies".
        

***

Polls