Viewpoint: Regions of Europe: the Alsatian case
Wednesday, 02 June 2021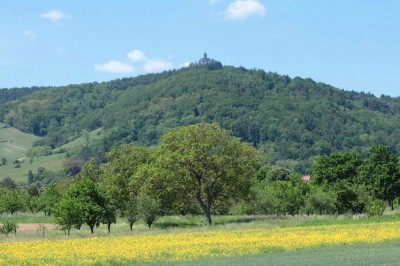 By Patrick Bracker

----------------------------
( ACM : "NewsViewPoint" Columnist Patrick Bracker seeks a revival of the Historic "Alsace" Region, as Bridge between Nations in Europe, criticizing the 2015 choice for a new, "Great East" Region, shortly before the forthcoming French Regional Elections. This represents his Personal view, (on the occasion of a relevant Collective Meeting near High Koenigsburg Castle), and Not necessarily that of "Eurofora".

F.ex., among various other points, (after having Criticized the 2014-5 Abolition of Alsace, See : http://www.eurofora.net/brief/brief/alsacenotoalcaponearea.html), we have already Published that many find Interesting also ...Both realities, including for Bridges between Nations in Europe, (where the Franco-German core obviously is the Key, particularly after UK's BREXIT, but also from the De Gaule - Adenauer link). So, we naively Hope that our French friends will manage to find a way to Combine the Advantages of Both ("Alsace" and "Great East"), in an adequate way. In such Direction, an Artistic Symbol of a Strasbourg - Reims Historic Link,  is ... Joan of Arc herself, Born at nearby Lorraine and active particularly at Reims, on whom also a German Rock Music Group of quality, as "Eloy", has created a sympathetic work, (as usual for them : in English, a language of Franco-German Synthesis : Enjoy Infra ! ). By the way, perhaps something Bigger than expected might Emerge in the forseable Future from this Controversy : Naturaly, with a Right, Ambitious "Vision", as Eloy evoked nowadays (2017 + 2019 and well Beyond, towards a New European Horizon, with No more Fake Europeans, But towards Real Europeans : at the Core of Joan's Legacy)...
--------------------------
Regions of Europe: the Alsatian case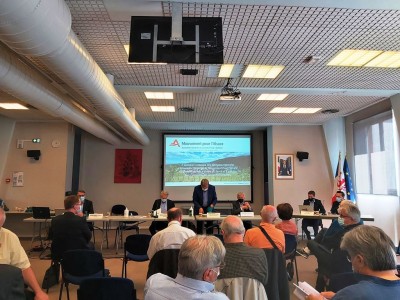 Within the framework of European construction, the perspective of the Europe of the regions represents a fundamental link between the authorities and dimensions of the territories: local, regional, national, European, cross-border and international.
The region allows a structural and human interface between the various organizational layers of a state, between the local and the national, and constitutes a bridge between nations when these regions are located at the borders of the member states of a multidimensional organization such as Europe. One understands here the importance of the bilateral cross-border relationship and the supranational dimension or extraterritoriality. These structures include specific objectives while combining complementary with their members.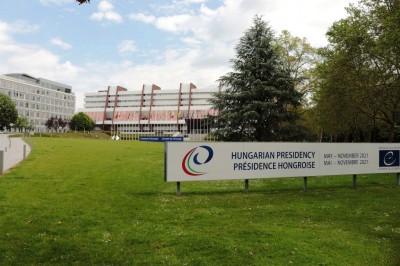 The organizations of the Council of Europe, the CLRAE or the European Union, the Committee of the Regions, the CEMR, respond to these multifactorial dimensions in the continuity of the member states. These internal organizations provide in principle the impetus for progress between the Member States through these regional and local levels.
We know that bridges are one of the logistical issues to be destroyed during real wars. In view of its experience, Europe, on the contrary, builds bridges between member states and external relations. At the intra-European level, bridges are also partnerships, twinning, and cross-border regions. Joint projects and activities of civil society, universities, companies, or shared policies allow for meetings, and to get to know each other. Open-mindedness allows bridging the gaps of ignorance or distance. Let's build bridges!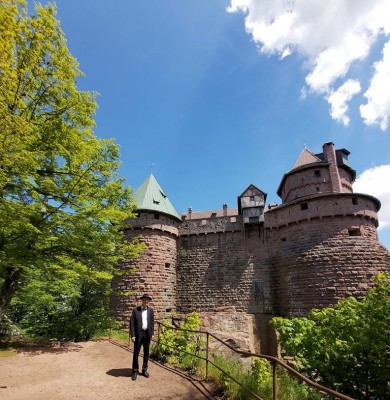 For example, with regard to the Council of Europe's Charter of Local and Regional Self-Government, the reform of the regions in France in 2015, carried out in an unfriendly and authoritarian manner without respecting European law by the government concerned, in no way corresponds to the state of mind intended by the founders of the European project, whose stakes have been well defined since the beginning, after the war. Moreover, the internal law was seriously undermined, since this reform did not respect the concept of equal treatment between regions, even though it was a founding constitutional act of the Republic.In addition to these facts,there was a cynical denial of the anthropological reality of certain regions of this country. The case of Alsace is a flagrant example, it is distressing to note that the decision-makers concerned, did not show respect for the history, nor for the population and the families of this region.

One will remember the opposition of the Senate to this reform which limited the number of regions to 13 instead of 22, while the upper house of Parliament proposed 15 regions. The majority of local elected officials as well as the population in a proportion of 80% were opposed to it. To this day, the majority of the population is still opposed to it at nearly 70%. And one evokes the democratic deficit or the notion of confidence!
In this context, we can also ask ourselves at the local level what were the motivations that pushed the creation of euro-metropolis, too big and destructive of the real estate, environmental and natural quality for the small region of Strasbourg. Is there a complementarity or a will to harm, and if so, for which objectives? Indeed, the European project is also a project of human dimension and quality of life, compared to the size of the big capitals as Berlin, Brussels, Paris, Roma... in relation to these great capitals, the human and geographical dimension of Alsace does indeed correspond to a human dimension of proximity and quality, in a way a laboratory of quality and happiness at the European level since 70 years...Actually the new mega-region named Grand Est seems far of the game.
Obviously, in a European or international perspective, this situation would have serious implications, since the situation in this region has been well known for a long time, and in particular the sufferings and bruises caused by wars or periods between wars when indelicate leaders showed contempt for the local level.
The techniques of totalitarian or contemptuous manipulation of the people are however outdated by recent developments, even if there is a hint of attempts by powers with limited competences in time and in the human domain. In all these situations there are technical errors from the institutional point of view, but above all there are mistakes from the point of view of human values, such as free choice or respect for the living being.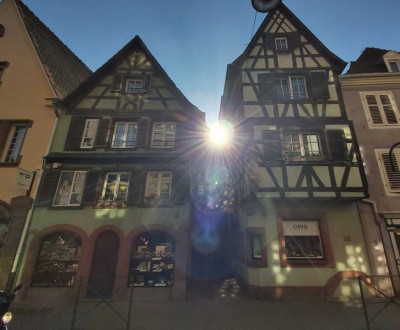 With regard to this fundamental problem, there are intelligent reactions. It is the case of the Alsatian regional reality defended by the Movement for Alsace under the leadership of its President Senator André Reichardt. The open-mindedness of this apolitical movement, symbolized by a large gathering of currents of thoughts, allows the meeting of points of view with different angles of reflection and represents a factor of appeasement of the tensions met because of this process with the forceps carried out during this reform of the regions. The regional elections that will take place in June 2021, six years
after these events, may give orientations to the decision-makers.
-------------------

It will be recalled that the government of the time had not deigned to respond to the recommendation made by the Congress of Local and Regional Authorities of the Council of Europe during the session of March 2016. Yet France had ratified the Charter of Local and Regional Self-Government... The diplomatic issue is also engaged by thi situation. Our international colleagues remain courteous; they are no less duped by the situation. This can naturally hinder or even prevent inter-state or international transactions, or problem solving.

The issues of supranationality and extraterritoriality, as well ontology, are a driving force in the initial philosophy of the post-war founders. The main objectives such as peace, prosperity and the development of the individual and groups in their quality environmental context remain relevant. In this respect, respect for values is an essential element of the trust that citizens can place in responsible entities and representatives.

In the end, this notion of respect is a basic instrument for any form of harmonious development of our societies, individuals and groups.
The restoration of Alsace as a region represents a European challenge.
Patrick Bracker
--------------------------------------------------------------------

Régions d'Europe: lecas alsacien
Dans le cadre de la construction européenne,la perspective de l'Europe des régions représente un lien fondamental entre les instances et les dimensions des territoires: local, régional, national, européen, transfrontalier jusqu'à l'international.
La région permet un interfaçage structurel et humain entre les diverses strates organisationnelles d'un état,entre le local et le national et constitue un pont entre les nations lorsque ces régions sont situés aux frontièresdes étatsmembres d'une organisation multidimensionnelle telle quel'Europe. L'on comprend ici l'importance de la relation bilatérale transfrontalière et de la dimension supranationale ou de l'extraterritorialité. Ces structurations comprennent des objectifs précis tout en combinaison complémentaires avec leurs membres.
Les organisations du Conseil de l'Europe, le CPLRE ou de l'Union européenne, le CdR,la CCRE, répondent à ces dimensions multifactorielles dans la continuité des Etats membres. Ces organisations internes apportent en principeles impulsions pour le progrès entre les Etats-Membres grâceà ces niveaux régionaux et locaux.
On sait que les ponts sont l'un des enjeux logistiques à détruire durant les vraies guerres. En regard de son expérience, L'Europe, au contraire construit des ponts entre les états membres et les relations extérieures. Au niveau intra-européen, les ponts sont aussi les partenariats, les jumelages, les régions transfrontalières. Les projets et les activités communes, de la société civile,universitaire, entreprises, ou de politiques partagées permettent les rencontres, et de se connaitre. L'ouverture d'esprit permet de combler les lacunes des ignorances ou des distances. Construisons des ponts!
Pour l'exemple, s'agissant de la Charte d'Autonomie locale et régionale du Conseil de l'Europe, la réforme des régions en Francemenée d'une façon inamicale et autoritaire hors le respect du droit européenpar le gouvernement concerné ne correspond en rien à l'état d'esprit voulu par les fondateurs du projet européen,dont les enjeux sont bien définis depuis le début, après-guerre. En outre le droit intérieur fût sérieusement écorné,puisque cette réforme ne respectait pas le concept d'égalité de traitement entre les régions, pourtant acte constitutionnel fondateur de la République. Il se rajoute à ces faitsune négation cynique de la réalité anthropologique des régionsde ce pays. Le cas de l'Alsace en est un exemple flagrant, il est navrant de constater que les décideurs concernés, ne firent preuve d'aucun respect de l'histoire, ni de la population et des familles de cette région.
L'on se souviendra de l'opposition du Sénat à cette réformequi limitait le nombre de région à 13 au lieu de 22, tandis quela chambre haute du Parlement proposait 15 régions. Les élus locaux en majorité ainsi que la population dans une proportion de 80% y étaient opposés, et le reste encore en majorité à près de 70%.Et l'on évoque le déficit démocratique ou a notion de confiance!
Dans ce contexte, l'on peut se demander également au niveau local quelles furent les motivations qui poussèrent lacréation d'euro métropole, trop grandeet destructrice de la qualitéimmobilière, environnementale et naturelle pour la petiterégion Strasbourgeoise. Y va-t-ilune complémentarité ou une volonté de nuire, et si oui, pour quels objectifs? Eneffet, le projet européen est aussi un projet de dimension humaineet de qualité de la vie,par rapport à la taille des grandes capitales comme Berlin, Bruxelles, Paris. La dimension humaine et géographique de l'Alsace répond bel et bien à une dimension humaine de proximité et de qualité, en quelque sorte un laboratoire de qualité et de bonheur au niveau européen depuis 70 ans ... Actuellement la mega-région nouvelle Grand Est semble être loin...
Evidemment dans la perspective européenne ou internationale, cette situation comporterait des incidences sérieusespuisque l'on connait bien la situation de cette région depuis longtemps et notamment les souffrances et meurtrissures provoquées par les guerres ou des périodes d'entre guerreslorsque des dirigeants indélicats firent preuve de mépris du niveau local.
Les techniques de manipulations totalitaires ou méprisantes des peuples sont pourtant dépassées par les évolutions récentes, même s'il existe un relent de tentatives par des pouvoirs aux compétences limitées dans le temps et dans le domaine humain. Il y a dans toutes ces situations des erreurs technique au point de vue institutionnels mais surtout des fautes aupoint de vue des valeurs humaines, comme le libre choix et le respect de l' etre vivant.

En regard decette problématique de fond, des réactions d'intelligence existent. C'est le cas de la réalité régionale alsacienne défendue par le Mouvement pour l'Alsace sous la houlette de son Président le Sénateur André Reichardt. L'ouverture d'esprit de ce mouvement apolitique, symbolisé par un large rassemblement de courants de pensées, permet la rencontre des points de vue avec différents anglede réflexion etr eprésente un facteur d'apaisement des tensions rencontrées du fait dece processus au forceps réalisé lors de cette réforme des régions. Les élections régionales de juin 2021, 6 ans après ces évenements, pourraient offrir des orientations aux décideurs.

L'on rappellera que le gouvernement de l'époque n'avait pas daigné répondre à la recommandation faite par le Congrès de Pouvoirs Locauxet Régional du Conseil de l'Europe lors de la session de mars 2016. Pourtant la France avait ratifié la Charte d'AutonomieLocale et régionale...La question diplomatique est engagée également par cette situation. Nos collègues internationaux restent courtois, ils n'en sont pas moins dupes de la situation. Cela peut naturellement gêner, voire empêcher des transactions interétatiques ou internationales.
Les enjeux des supranationalités et d'extraterritorialités, ainsi que de l' ontologie, sont un moteur dans la philosophie initiale des fondateurs d'après-guerre. Les objectifs principaux comme la paix, la prospérité et le développement de l'individu et des groupesdans leur contexte environnemental de qualitérestent d'actualité.A cet égard le respect des valeurs représente un élément essentiel de la confiance que les citoyens peuvent accorder aux entités responsables et à leur représentants.
Au final, cette notion de respect est un instrument de base pour toute forme de développement harmonieux de nos sociétés, individus et groupes.
La restauration de l'Alsace en qualité de région représente un enjeu européen.
Patrick Bracker
---
-(*) Eloy - Jeanne d'Arc (Comp. Supra)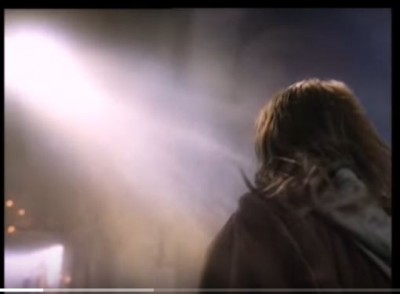 https://www.youtube.com/watch?v=PK4Jjg3-hWg
----------------------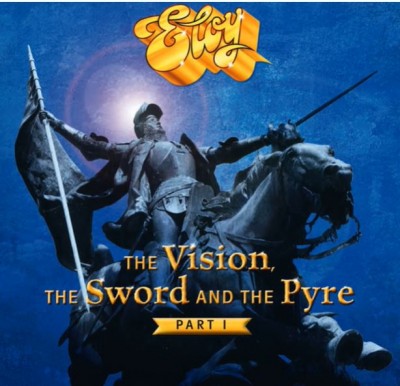 https://www.youtube.com/watch?v=vLofM9eGS0M&list=OLAK5uy_ly65UeVEniXYA7rHWmhFSP_4FxUSyshNQ
+ Lyrics : http://eloy-legacy.com/eloy.php?Area=music&Sub=pyre1&PHPSESSID=hs94vmojqtsbasv631dpg8lai1

---------------------------------------------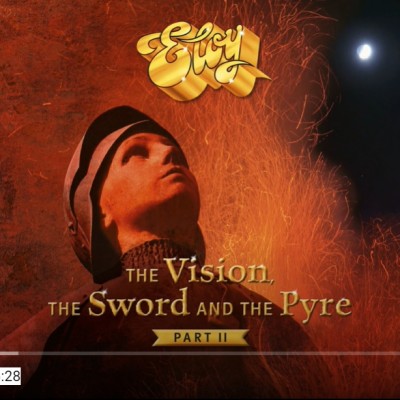 https://www.youtube.com/watch?v=vk1utlg3ykw 
+ Lysics : http://eloy-legacy.com/eloy.php?Area=music&Sub=pyre2&

-------------------------------------------------------

http://eloy-legacy.com/eloy.php?Area=music&Sub=pyre1&PHPSESSID=hs94vmojqtsbasv631dpg8lai1


http://eloy-legacy.com/eloy.php?Area=music&Sub=pyre2&
+ FULL LYRICS (of 1 + 2), in German, French, and English :

http://www.eloy-legacy.com/download/VSP_Lyrics.pdf

------------------------

https://www.youtube.com/watch?v=wpH2A5Pul5M
 
***

BRIEF NEWS
00:00 - 02.06.2021

00:00 - 18.10.2020

00:00 - 19.06.2020

00:00 - 18.05.2020

00:00 - 20.04.2020

00:00 - 02.02.2020

00:00 - 09.12.2019

00:00 - 27.11.2019

00:00 - 16.11.2019
Statistics
Visitors: 53698926
Archive
Login Form
Other Menu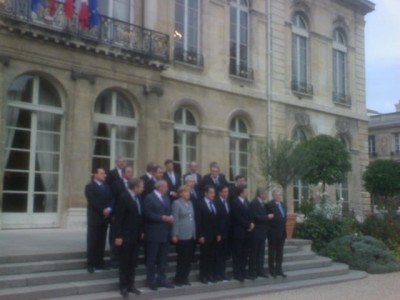 *Paris/ACM/12 October 2008/-
When Europeans really feel a vital need to urgently launch common replies to challenging World Crisis, as the present Financial turmoil of Global Markets, they forge new decision-making tools and new dynamics :

The 1st in History EuroZone Heads of State and Government Summit, organized in Paris at the invitation of French President, and current EU chair, Nicolas Sarkozy, with the participation of 15 national leaders and EU institutions' chairmen, partly enlarged to British Prime Minister Gordon Brown, after a highly symbolic duo with German Chancelor Angie Merkel, at General De Gaulle's birth-village, 50 Years after he welcomed there former German chancellor Adenauer (1958-2008), may have not one, but two results :

- The first, and more urgent, was to launch an "ambitious", "coherent", and "efficient" common European movement, able to stimulate "solutions" to the World Economic Crisis, as Sarkozy anounced from the outset : State Garantees (to new Bank debts up to 5 years), fresh Capital input (f.ex. by buying shares), support to distressed banks, (while also restructuring them), incite the European Central Bank to facilitate commerial bills europe-wide, etc.

"Acting swiftly", from tomorrow, national measures will quantify all these targets, with coordinated actions from all EuroZone's Governments : France, Germany, Italy and others, decided to anounce, at the same time, such concrete measures, according to agreements that we have already made all together, revealed Sarkozy at the final Press Conference, flanked by EuroZone's chairmen : EuroGroup's Jean-Claude Juncker, and Central European Bank's Jean-Claude Truchet, as well as EU Commission's Jose Baroso, to solemnly stress the will to find common European solutions.

- "United and Determined, all EuroZone's Countries will act to prove that Citizens can Trust" the Economy, Sarkozy concluded. If we attract also all EU's 27 countries, Wednesday in Brussels, then we can coordinate action with our American Friends at a Global level, he anounced.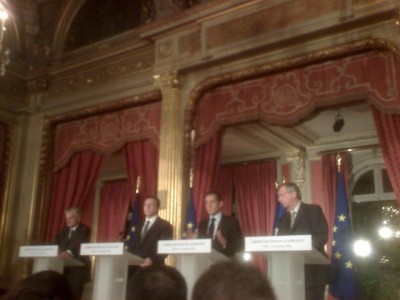 - "With this new Toolbox, we do not want to serve Bankers, but to work for Europe and its Citizens' interests", added Juncker.

- "For the moment, we want to act urgently to regulate the Crisis. But the time will come when those responsible for this, will have to account for their actions. Yes to real Capitalism, No to Speculators. Those who abused, will face sanctions, Sarkozy warned.


Need stimulates activities which create new organs, say biologists, and Gordon Brown, compatriot of Spencer, the famous bio-Historian, would certainly not deny that, after his surprise visit to EuroZone's Summit in Paris, which attracted him one hour more than scheduled...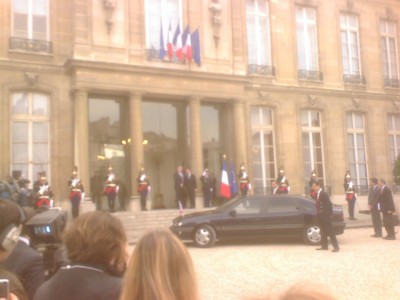 Decisions include also the creation of a Crisis-management European mechanism, which "requires constant Monitoring", as well as strengthening Economic policy cooperation between EuroZone's countries.

Sarkozy will be judged by History not just by the immediate Economic results, expected at the end of this week's decision-making proces at National and EU level, but also by the more far-reaching consequences at the aftermath of this Historic EuroZone 1st Summit : Will it succeed to become a precursor forging a New era in European institution's revitalization ?

Significantly, the French President sat, during discussions, between German Chancelor Merkel, and British Prime Minister Brown, facing the chairmen of EuroGroup, Juncker, ECB : Truchet, and EU Commission, Baroso, with Prime Ministers of Spain, Zapatero (a hot partisan of EuroZone's Summit) at his right side, and Italy's Berlusconi, at his left, surrounded by Austrian, Belgian, Cyprus', Finland's, Greece's, and Ireland's leaders, as well as Slovakia's, Slovenia's, Portugal's, Netherlands', Malta's and Luxembourg's leaders.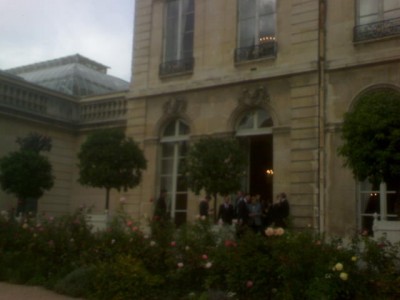 Meanwhile, those who tabled for a rift between French and German positions were faced with a smiling Merkel at De Gaulle-Adenauer's meeting place, a sunny Saturday morning, and a particularly active-looking Merkel inside the French Presidential Palace at Elysee's gardens on Sunday, (as happy few photographers discovered)..
- "De Gaulle's hilltop, at Colombey-les-2-Eglises, gave an astonishing overview to a huge landscape, entirely surrounded by splendid Nature, as far as eyes could see", said to EuroFora an obviously charmed German Journalist.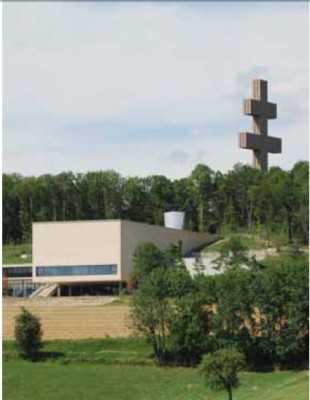 She was describing Saturday's inauguration of a High-Tech Memorial close to the Historic Giant Double Lorraine's Cross, built by famous Novelist Andre Malraux, to perpetuate the Memory of his famous call for "Resistance" to NAZI, and his vision for the creation of New Institutions and Franco-German reconciliation, to foster Europe's role in the World, also for the Future.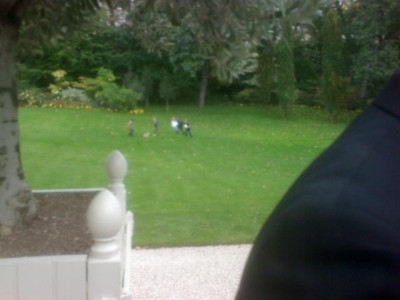 Children playing at Elysee's gardens before the Historic 1st EuroZone's Summit : What Europe's Future will look like ?


Polls