Home

In Brief

"Rainbow" Center-Right/Moral Values/Independents + Greens' start in Australian Election ?
"Rainbow" Center-Right/Moral Values/Independents + Greens' start in Australian Election ?
sábado, 21 agosto 2010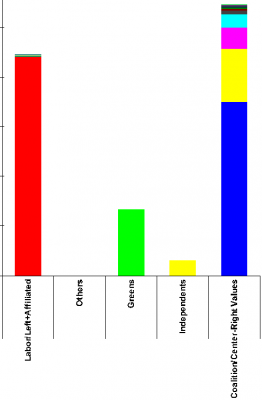 (Partly Updated) - A Pioneer "Rainbow" Coalition of Center-Right Liberals/Conservatives and Independents/Families-ChristianDemocrats etc., eventually joined by "Greens", might take the Lead in Australia, (after Precursor EU attempts initiated at Local/Regional level in Austria's Graz, with thoughts also at National level, and Hamburg's Federated State in Germany, etc), as indicated the 1st "too close to call" Election in the Country's Modern History, where Voters' Majority turned towards various Center-Right Values' candidates, as well as "Greens", away from Labor/Socialists, who lost ground, but keep going until Final Results.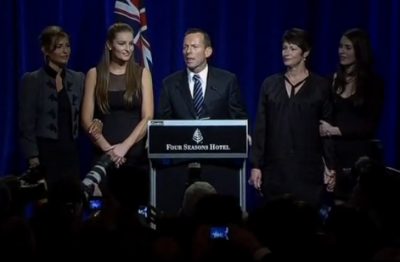 Tony Abbot, the New Leader of Liberals-National/Conservatives' Coalition succeeded to win a crystal-clear Advance with some 500.000 more votes than Labor, getting an edge with 73 MPs (Winning +8 more MPs on 2010 compared to the previous 2007 Election : 65), ahead of Julia Gillard (the out-going Labor Prime Minister) who arrived almost neck to neck with 71 or 72 MPs (Losing - 12 MPs Less from 83 they previously had), compared to 76 needed for a Government, (out of a Total 150) , according to some 80% of Results counted. While "Greens" and others Independents/Small Parties emerge with 1 or 2, and 4 MPs respectively, (Confirming a Steady Rise since 2004 - 2007 earlier Votes).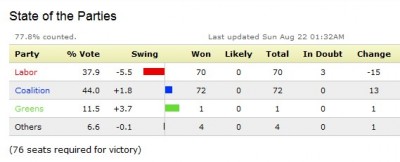 Most important, the Majority of People's Votes seems clearly focused towards the Center-Right at almost 51% : All Together, Center-Right's Values seem to grow towards more than +48 % , (Liberals 39,5% and Nationals 4%, Family First 2,2% and ChristianDems 1%, etc.), with whom are normaly related also at least 3 Independent MPs, formely National/Conservative Party's militants, adding more than +2,6 %).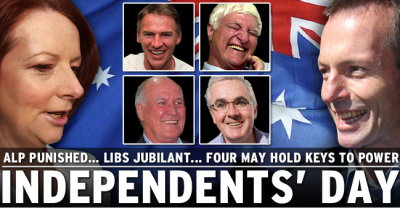 On the contrary, Labor's "Socialists" reportedly lost - 5,5 % of Voters falling down to only some 37,9% I.e. risking to remain a Minority at any case, even if they might eventually convince the Greens, unless they pushed all Independents away from their traditional beliefs (See supra)...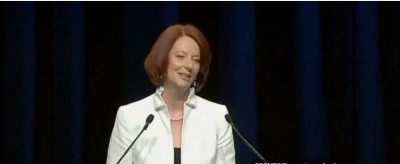 Differend trend for  "Greens" who win almost + 4%, reaching up to more than 11 %, of Votes.  But Greens' Bob Brown' withdrew in the Past his support from a former Labor Government, and was strongly against Iraq War, where USA was notoriously pushed by former UK Labor Prime Minister Blair ("Socialist"). this might go even more for new Green MP Adam Brandt who stood against a Labor candidate and won practicaly thanks to Liberal/Nationals' abstention and/or vote...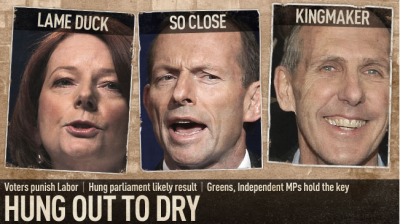 However, the other Group formed de facto by 4 "key" Independent MPs had already prepared links between at least among the 3 former Nationals/Conservatives MPs in view of the 2010 Election, and reportedly decided, according to Queensland's Bob Katter, (with fellow independents Tony Windsor and Rob Oakeshott), to support a New Government which "is going to allow Rural Australia to survive".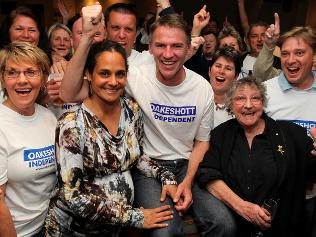 Leaving the Greens, a 4rth New "Independent" MP Andrew Wilkie, known for his Criticism against Fake Accusations pushing to controversial Iraq Invasion War on 2003, which obliged him to Resign from the Australian Government Intelligence Agency, could be Timely : After Republican/Conservative former US President GWBush's astonishing but honest Regrets for controversial Infos they had given him on Iraq, as he said in a key Interview to US Media at the conclusion of his 9 Years Mandate (2000-2008), several appeals are Now made to the New Liberals/Conservatives' Brittish Government (2010) to open an Efficient, Collective and Transparent Investigation on the case of the Bloody Killing of Critical Expert Dr. Kelly, famous for his denunciation of former Labor/"Socialist" Prime Minister Blair's controversial "Reports" claiming that Iraq was hidding "Weapons of Mass Destruction", etc, generally considered to be among the main instigators of Iraq War. Obviously, Wilkie, (who seems Elected thanks to Liberals/Nationals' Coalition Voters against a Labor Adversary), may start now Interesting Cooperations with the new UK Liberals/Conservatives' Government to find all the Truth on this Darkspot of former Labour pro-War UK Governments, with a New Australian "Rainbow" Coalition Liberals/Conservatives + Independents/Small Parties (See supra).
 "Family First" and "ChristianDemocrats" Fellow Parties gathered together almost 3 %, with some 300.000 Votes, i.e. clearly More than Independents, who, with a Comparatively Smaller result of only 2,6% and 267.000 Votes, nevertheless, got 4 MPs and a "King-maker" role for any New Government, while the first were Excluded from any Representation !  Such blatant Inequalities against Moral Values-oriented People can obviously provoke Legitimate Frustrations and Complaints against some Anti-Democratic Discriminatory and/or Bureaucratic "Tricks", unless a Solution is found, to take into consideration these Numerous Citizens' clearly expressed Beliefs in one way or another...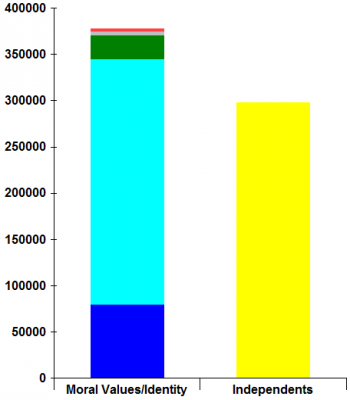 Abbot's declared intention to renew a Strategic turn towards Simple Working People, and his Coalition-building profile, added to Values, may prove to be better equiped in order to attract Smaller Parties/Independents (3 of whom reportedly were former "National"/Conservatives, close to "Family" and "Christian" Voters) and forge a well-cimented New Government Majority based on a Coherent + 51% (See supra). Despite of the fact that even Gillard tried to reach out to some Independents, in a last-minute attempt...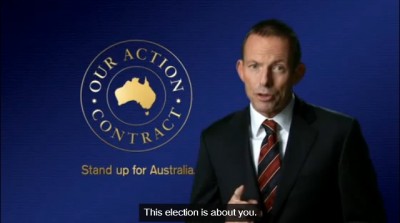 Topical Worldwide Issues on Values as BioEthics (particularly  vis a vis Genetic Manipulation of Human Embryo), as well as Natural Environment Protection might seal a Deal Enlarging the Lib-Nat. Coalition to the "Greens" and/or other New Small Parties' MPs, such as Moral Values'-driven "Families 1st", ChristianDemocrats, Independents, etc.

Such a move might obviously Facilitate Australia's Links with Europe's Franco-German, and even British, Italian, Polish, Romanian, etc. Center-Right Governing Political Majorities, but, perhaps, also Developments : Since, according to some Press Reports, they keep an eye on eventually attracting at least a part of "Greens"/Environmentalists in the foreseeable Future. (Something which had almost started, already, to be, indirectly "tested" also on 2010 Strasbourg-headquartered Alsace Region's Election, where young Wehrling, a former "Green" candidate turned "Centrist", open to possible Agreements with the winner, ChristianDemocrat/UMP Philippe Richert, had succeeded to approach the 5% Threshhold, and was particularly keen on BioEthical issues, as he had told "EuroFora" then). This comes also Timely a few Months before November 2010 US Mid-term Congres Election, which may reportedly witness a Republican Revival : Particularly if it was based on the 2004 GWBush Surprise Win's New Logic, notoriously linked to "Values"-motivated People, who were, nevertheless, almost striped of their Growing Potential by Controversial Manoeuvers of some old Established Aparatchics at GOP's Primaries in last Presidential Elections as early as since March 2008, by practically blocking the Republican Charismatic candidate (Governor Mike Huckabee), while Dem's Charismatic candidate (former Senator Barack Obama) was free to go on : A confirmed Error, which might be Rectified between 2010-2012.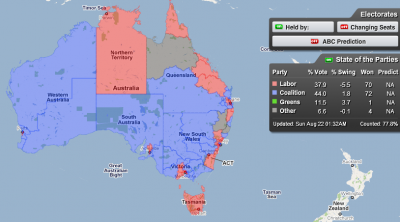 By a curious ..coincidence, Australia's Central-Western areas, pointing towards current Europe,voted predominantly for the No 1 Winner of 2010 Election : the Coalition of Liberals/Nationals+, while some Eastern/Northern areas, looking towards current US, on the contrary had large Labor or differerent votes.. 
Otherwise, Gillard's reported maintainance of a Carbon-Tax bid, even reduced, might, eventually, find at least a short Partial link with certain EU Leaders, (despite several Differencies on other Issues). But her notorious Opposal to former Labor Prime Minister Rudd's pro-Carbon Tax stance, (added to his strong Denonciation of a US-China brokered result at UNO's Climate Change Summit at Copenhagen, 12/2009 criticized as Insufficient : Comp. "EuroFora"'s NewsReports from the spot), that Gillard reportedly dropped after remplacing him, (something which obviously explains the "Leakage" of former Labor Voters towards the Greens in 8/2009), while even EU hasn't yet formed a Common View on that particular point, don't allow any undue enthousiasm..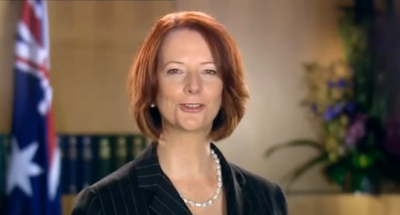 At any case, any eventual attempt, with whatever Trick, to return back to the out-going Labor Government, wouldn't be "illegitimate", as Abbott stressed, since it would go against People's Majority 2010 verdict ?
Obviously, Democracy cannot ignore that the Australian People gave some 500.000 more Votes to the Center-Right Coalition of Liberals/Nationals-Conservatives, whose main Values seem shared also by at least + 560.000 Independents/Families-Christians Voters more, totalling a Lead of over + 1 Million Citizens ahead (See supra)...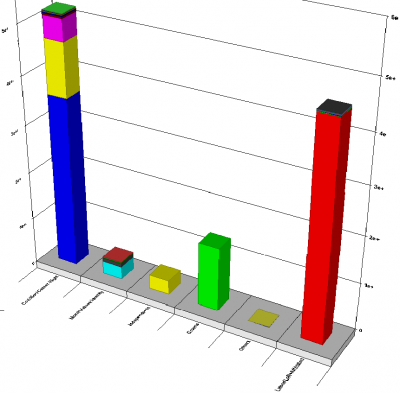 ***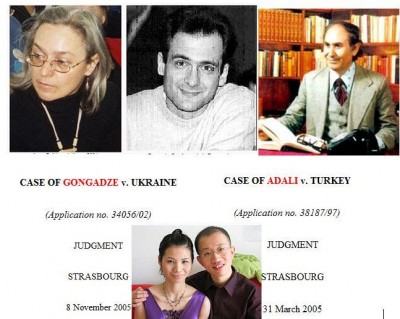 Hu Jia's prize brings SAKHAROV's wife to "EuroFora" on murders of Journalists Politkofskaya, Gongadze and Adali :
- Elena Bonner : "All Journalists' murders must be fully investigated", without Double Standards.                                                                                    

During a special Mega-Event to celebrate 20 Years of SAKHAROV Prize for "Freedom of Thought", attributed in 2008 by EU Parliament to jailed Chinese Cyber-Dissident Hu JIA, the move was reinforced by strongly criticizing the persisting impunity in three cases of Journalists' Murders, such as POLITKOVSKAYA in Russia, GONGADZE in Ukraine, and ADALI in Turkish-occupied part of Cyprus.

Any bureaucratic doubt about whether Cyber-dissidents like Hu JIA might have, or not, a right to be protected as all Journalists must be, particularly when they take risks to search, find and publish original and critical News on issues of general interest to the society, could not resist to the emotion provoked by the message of his Wife, Zeng JINYAN spectacularly transmitted at a big screen in EU Parliament's hemicycle :

- "The most important and most interesting thing he did was to ... say the Truth :.. to write about the phenomena he observed... He never stopped Publishing.. on websites, so that the Public could learn about the reality .. and understand it.  In my view, this has been his greatest contribution", stressed the young wife of the jailed man, eager to cite also the cases of other critical journalists who faced various kinds of "harassment".

 - "Welcoming all those who have suffered for defending Human Rights", EU Parliament's President, German MEP Hans Gert POETTERING, who had invited to Strasbourg all former Sakharov prize-winners from various Countries throughout the World, said that "China needs Europe, and Europe needs China : A great nation" with which "we want to have a good relationship", "association and ..friendship". "But we are never going to stop our fight for Human Rights, and No Government can expect this from us".

    - "It's impossible  to achieve goals of Peace, if Human Rights are left out. In fact, Peace and Human Rights are intrinsequaly linked", added POETTERING.

    It's in this spirit that MEPs adopted, on Thursday, a Resolution denouncing that "the criminal
investigation and trial following the murder of (a) Journalist ...raises serious concerns with regard to transparency and respect for the rule of law", when a "brutal killing has not yet been fully investigated and solved in a satisfactory way".

    The text refered to dissident Journalist "Anna POLITOVSKAYA", a critic of Tchechen conflict, killed some years ago in Moscow, where Russian Authorities have found, arrested and are currently judging two executants, while also searching to arrest also a 3rd one, allegedly escaped in Belgium. But they have not yet found the instigators.
     Similar texts were adopted recently also on dissident Ukranian Journalist Georgiy GONGADZE's murder, for which Ukranian Authorities have at least found, arrested and condemned 2 executants to 12 and 13 Years of jail, but not yet the instigators. For that purpose, they recently accepted an International Experts team to participate to the investigations.     
But, it's only for the Murder of dissident Turkish Cypriot Journalist ADALI, in the occupied territories of Cyprus, that Turkey has NOT yet found ANYONE responsible, and even claimed recently inside CoE that it would be "impossible" to do so !    
These astonishing differences exist despite the fact that ECHR condemned alike Ukraine and Turkey with 2 Judgements on the same year : 2005, for the murders of  Journalists GONGADZE and ADALI, strong critics of Corruption in Ukraine, and of Ankara's policies on mass-influx of Turkish Settlers in the Occupied Territories of Cyprus, respectively.    
Regarless of that, CoE's Committee of Ministers, who is entrusted with the duty to supervise execution of ECHR's judgements, has just asked Ukraine's Government to reply to further questions on Gongadze's murder before March 2009, while Turkey, curiously, got a longer postponement for answering questions on Adali's murder, until June...   
A comparison of these cases, raises serious questions about Double Standards :
------------------------
On TRANSPARENCY :
--------------------------
    On Gongadze's murder, CoE's body speaks even about the participation of
"an INTERNATIONAL group of Experts" in the Investigation, (f.ex. of "Tape Recordings"), accepted by Ukraine.
    On the contrary, on Adali's murder, CoE is obliged to repeatedly ask (for a 2nd
time) Turkey whether, at least, it informed the victims' Family, or not...
------------------------------
- On EFFICIENCY :
-----------------------
On Gongadze's murder, CoE formally "recalls that the Committee (of Ministers) ..URGED the Ukranian authorities.. to TAKE ALL NECESSARY INVESTIGATIVE STEPS TO ACHIEVE CONCRETE and VISIBLE RESULTS in the INVESTIGATION, aimed at the Identification of the INSTIGATORS and Organisers of the Murder", and "STRONGLY INVITED the Ukranian Authorities to provide information on the PROGRESS IN THE INVESTIGATION", before MARCH 2009.

But, on Adali's murder, on the contrary, CoE's body merely .. "took note" of the "arguments presented by" Cyprus, which denounce the absence of any proof of new "investigation" by Turkey. Following Turkey's own suggestion (!), it simply "noted" that there is "no limitation period" for "any new element" to "lead potentialy (sic !) to a Re-Opening of the Investigation". Without saying who might find any such "new" fact, since Turkey stoped searching... It also POSTPONED the issue until .. JUNE  !
-----------------------
 - On the PUNISHMENT OF THOSE RESPONSIBLE :
----------------------
 -  On Gongadze's murder case, Ukranian Authorities already arrested and condemned, at least 2 suspects, to 12 and 13 Years of jail. And on Politkovskaya's murder at least 2 suspects are judged, and a 3rd one "wanted".

On the contrary, on Adali's murder case, the Turkish authorities simply claim that "it had not been possible to obtain new .. information .. on the basis of which criminal charges could be brought against ANY person" !...

Moreover,  a LETTER sent by Turkey ...2 Years after CoE's 2006 call to re-investigate anew Adali's murder case, is totally EMPTY of Facts ! As Cypus' Delegation denounced earlier, Turkey's Letter ONLY CLAIMS that a "New Investigation" was made without any result, but does NOT even cite ANY FACT to prove it :

F.ex.,on the crucial issue of the "MOTIVATIONS" behind Adali's murder, noted by ECHR, Turkey MERELY CLAIMS that "all allegations  were investigated; without result", but OMITS ANY FACT TO PROVE IT !..(It doesn't even remind which were these "allegations").. .

+ On ECHR's astonishment that the Turkish Occupation regime didn't produce any "BALLISTIC REPORT" on the Shots which murdered Adali, Turkey again repeats, 12 years later, that, still, even until now, "it  was not possible to obtain the BalisticReport"...

- As for the astonishing absence of key-WITNESSES' Testimonies, denounced by ECHR, Turkey agains repeats various pretexts avoiding to reveal anything, (Fex. that a person "left" the Occupied Territories  "on 2002", or that another witness was heard, but without revealing nothing of what he said, etc).

Turkey obviously "FAILS TO MEET THE CRITICISM made BY THE COURT" for lack of any efficient Investigation in Adali's case, concluded Cyprus' Government.
---------------------------------------------
Replying to our Question which COMPARED these 3 outstanding cases of "JOURNALISTS MURDERS", Adali, Gongadze and Politkovskaya, in order to avoid "Double Standards" by asking from Ukraine and Russia more than what is asked EU candidate Turkey, many European personalities were critical /

They criticised Ankara's recent claim at the CoE to stop investigating, because it would be "impossible to find anyone" responsible for the 5 bullet shots which killed Kutlu ADALI in front of his Family Home, contrary to the other two Journalists' murders, where Ukraine and Russia at least arrested the executants, searching now for the instigators :
----------------------------------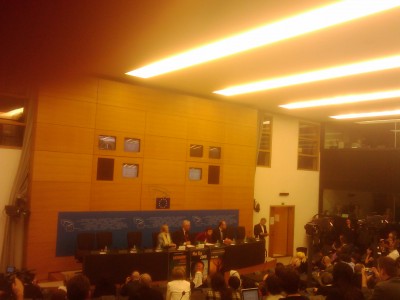 - "Where was that ? In Turkish Occupied Cyprus ? WITHOUT ANY DOUBT : Any murder of Journalist should be investigated in full ! All these Murders must be investigated !", replied the famous SAKHAROV's wife, Elena BONNER to our question on Adali's case, compared to Gongadze and Politofskaya.

    Elena Bonner spoke us EXCLUSIVELY shortly after being honored by the President
of EU Parliament on the occasion of 20 Years of her husband's SAKHAROV Prize.

    A strong personality, Sakharov's wife even had to struggle against an anonymous EU staffer who, astonishingly, tried to stop her speaking when h heard our question on "Turkey" (!) : - "Please, let me translate, she continues
speaking, don't stop us !", had to cry Sakharov's daughter, (a Journalist
herself), who was translating her mothers' reply, (obliged to speak louder to
make her voice heard despite the harassment).. (= + Audio Proof !)

    Earlier, Elena Bonner also fustigated "Double Standards" at another case, on
Western countries' attitude vis a vis Kosovo and the Kurds : -F.ex. "You have
recognized a few 400.000 Kosovars as an "independent" country, but you still
deny that to 30 millions of Kurds in Turkey !", she denounced.
-----------------------------
    - "This (ADALI's murder) is an issue which should be pursued by the Committee
for Human Rights. That's why we have one, and it's its duty to examine cases of
Journalists' murders as the one you referred to. You should bring the case in
front of that Committee", suggested in reply to our question on Adali, EU
Parliament's President, German MEP Hans Gert POETTERING.

    - "It's impossible  to achieve goals of PEACE, if HUMAN RIGHTS are left out :
in fact, Peace and Human Rights are intrinsequaly linked", added POETTERING.
--------------------------------------
    + "For us (European/International Federation of Journalists) it's clear :
Whenever a Journalist is Murdered, the Investigation should continue until
those Responsible are found !", replied earlier to another question on ADALI
EFJ/IFJ's Secretary General, Aidan WHITE.

    Speaking as a matter of General Principle, White asked us for "concrete data"
on the execution of ECHR's judgement on Adali case, in order to "look at it in
depth" and "make a formal statement", in comparison with the other Murdered
Journalist case, also pending at CoE's  Ministers for completing its execution,
on Ukranian Gongadze.
----------------------------------------------------
     From EU Rapporteur on Human Rights, vice-President of EU Parliament Liberties' Committee, MEP Giusto CATANIA, we were told that, since there is an ECHR judgement in both Adali and Gongadge's cases, "Turkey must naturally execute the judgement and make a full and efficient investigation, until those responsible for the Journalist's murder are found and punished".

    Even if "we (Catania's "EuroLeft" Group) support Turkey's EU perspectives, this does not mean that Ankara should not behave properly. On the contrary, it means that they have to meet tough conditions, particularly on Human Rights", was added on the occasion of Adali's murder case.

    Moreover, "since you raise the issue of Mr. Adali's muder as a part of a Series of Journalist's murders, including fex. Gongadze, Politkovskaya, ao., tthen we (EU) could also act together with CoE's Commissioner on Human Rights, Thomas HAMMARBERG, it was suggested.

    - "We (EU) must step up efforts against the problem of IMPUNITY : Real Peace cannot exist without Justice",  stressed also this week at EU Parliament in Strasbourg, French Minister on Human Rights, Mrs Rama YADE.
------------------------
                     

Polls