Home

newsitems
newsitems
Helsinki Summit USA-Russia proposal +Cyber-Law CoE Expert to "EF" on Election Interference: Who ?
Monday, 16 July 2018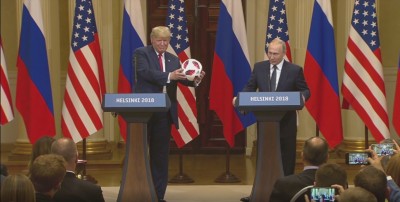 *Strasbourg/Angelo Marcopolo/- Who "Interfered" the most in the US 2016 Elections ? And what Top Experts on Cyber-Security and/or relevant Law Data told "Eurofora" about that notorious "Election Interference" row, and the Proposals made, on this occasion, at the Helsinki Summit between USA and Russia Presidents Don Trump and Vladimir Putin ?  

Questions are legitimately raised, from many converging points of view, about an Issue which rocks in the Establishment's Medias nowadays, Both at the Eve, and at the Aftermath of that Exceptionally Important Top Summit :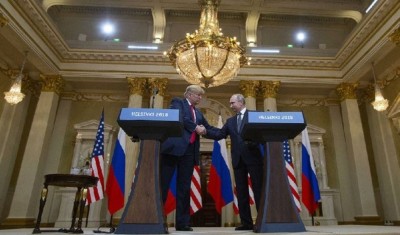 - First of all, the 2 Strongest World Super-Powers, who, alone, possess almost 90% of the Nuclear Arms, as President Trump reminded, Naturally had a Duty to try to Deal with, and Help Solve Issues seriously Affecting the whole World, or a Great Part of it, as more or less "Challenges facing the Humanity" as a whole, such as, f.ex., :
Arms Race, particularly Nuclear Weapons with Nowadays Technologies, Nuclear Proliferation (including North Korea, or Iran, after India and Pakistan etc) ; the "Scourge" of a "Creeping", Deadly Islamist Terrorism, cowardly Targetting mainly innocent Civilian People ; "Peace" and "Regional Crises", (1st of all Syria : mainly to Help War Refugees Return Back Home, and protect Europe a.o. from a Big and specific Demographic "Pressure", as Both, and particularly President Putin underlined. But also Middle-East/Israel, Ukraine conflict : which Divides the European Continent since 2014, etc) ; International Economic Issues (Growth, Trade, Energy, etc) and/or Environment problems, etc. Both Leaders pointed with a crystal-clear way towards those and/or other Obvious Global Priorities.

But, Suddenly, the only "Breaking News" in the Establishment's Medias, which Surfaced right at the Eve of that Crucial Helsinki Top Summit, (the 1st full, after a Brief Trump-Putin Meeting on the Sidelines of the Hamburg "G20" Summit, last July 2017 in Germany, and a Short Exchange during APEC's 2018 Summit : Comp. "Eurofora"s NewsReports from Hamburg, f.ex., at : ... + ..., etc), was Only a partly "Re-Make" about USA's Opposition Bitterness for having Lost the 2016 US Presidential Election, where Appointed Special Attorney Mueller claimed, Further, that he would have Found out Who was that Group of "12" Russian Agents accused of having allegedly Accessed Data in the Dems' Party's ("Socialist"/Liberal Opposition) HeadQuarters, and "Leaked" them to the Public, Before People Vote, (See, f.ex. : ..., etc).

=> Wasn't that (obviously "Dated") Disruption of World-wide Big Issues, most affecting all Humanity (Comp. Supra), by such a sudden "Invasion" of Internal US Politics (interressing mainly its National Opposition Party's grievances), a real "Interference", in the full meaning of the word ?

At least, it's like this, that Bitterly Felt it, Many Europeans, Koreans, Civilian Victims Targetted by ISIS' Deadly Attacks in various Countries accross the World (France, Germany, UK, Spain, USA, Russia, Egypt, Tunisia, Nigeria, Indonesia, Afghanistan, etc), War Refugees, Syrians and Many Others...

As for the USA and Russia Presidents, Don Trump and Vladimir Putin, they Also slamed that Negative, sudden Interference of routine Internal petty Politics, in an Exceptional Summit of the 2 Strongest SuperPowers in the World, with a Global Agenda (Comp. Supra) :

- "This probe is a Disaster for our Country (USA) !", "It is a Shame", "Ridiculous", Denounced Trump. + "And it has had a Negative Impact upon the Relationship of the 2 Largest Nuclear Powers in the World. We have 90 % of Nuclear Power between the 2 Countries. ...it's Ridiculous what is going on with the Probe" (by special attorney Mueller).

- "Total Nonsense !", decried Vladimir Putin about "Collusion" claims checked by that. "Let's discuss these matters in Substance, rather than use Russia-US relations as a Bargaining Chip in the Domestic political strife inside the US", he urged, instead.

----------------------------------

=> In fact, "as you know, the whole concept of that came ... out as a reason Why the Democrats ("Socialists"/Liberals) Lost an election ... that was a well-fought battle ... But ... there was no collusion; I didn't know the President (of Russia); there was Nobody to collude with; there was No collusion with the Campaign. And every time you hear about all of these 12 or 13, it's stuff that has Nothing to do – and frankly, they admit – these are Not people involved in the Campaign". "The Main thing ... is Zero Collusion", replied the US President to a relevant Press Question.

- Therefore, "as President, I cannot make decisions on Foreign Policy in a futile effort to appease Partisan critics, or the Media, or Democrats ("Socialists"/Liberals) who want to do nothing but resist and Obstruct", Don Trump explained. "Nothing would be Easier politically than to Refuse to meet, to refuse to engage, But that would not accomplish anything".

 >>> On the Contrary, "Constructive Dialogue between the US and Russia forges the opportunity to open new Pathways toward Peace and Stability in our World. I would rather take a Political Risk in pursuit of Peace, Than to Risk Peace in pursuit of Politics", he vowed.  

- However, "During Today's meeting, I addressed directly with President Putin the issue of Russian interference in our (US) elections. I felt that this was a message best delivered in person. We spent a great deal of Time talking about it, and President Putin may very well want to Address it, and very strongly, because he feels very strongly about it, and he has an Interesting Idea", Trump Revealed from the outset, (See Infra).

 - Indeed, "Once again President Trump touched on the so-called Russian Interference in the Electoral process in the US. I had to Repeat what I said many times before ... : Russia (as a State) has Never, and Will Never Interfere in US Domestic affairs, including the Electoral process", Vladimir Putin promised.

=> Moreover, Today, "We (Moscow) are Ready to Examine all concrete materials that may be presented", the Russian President Announced.
- This could be done, "f.ex., in the framework of the CyberSecurity working Group, the establishment of which we Discussed during our meeting in Hamburg"'s G20 Summit, he proposed, initially, (Comp. "Eurofora"s NewsReports from the spot, f.ex. : ..., etc).

+ Replying afterwards to a Press Question, Vladimir Putin, stressed that, as a matter of general Principle, "We should Not rely on the Momentary Political Interests of some Internal Political parties inside our countries, But on Facts" :

- "Tell me at least 1 Fact that Proves Collusion during the (2016) Election campaign in the US. This is total Nonsense. We did Not (even) Know each other !", he reminded.

+ However, from a Different (Non-Governemental) point of view, "it's only Natural that the Russian Public (i.e. Private Persons) developed a certain Attitude towards the (US Presidential) Candidates. There is Nothing UnUsual about this". Simply Because "1 Candidate, Mr Trump spoke of the necessity to Restore Russia-US Relations. Naturally, the Russian Public (i.e. the People) developed a Liking for this candidate, and Various people expressed this attitude in Different Ways", (f.ex. also by trying to participate in World Wide Web's Debates, etc). "Isn't it Natural to have a Liking for a person Who wants to Build Relations with our country ? This is Normal", he pointed out.

- F.ex., in this regard, Previously, there were some "Accusations against the (Private Russian)Company "Concord"". But "this company hired American Lawyers, and the Accusations against it just Fell apart in a US Court !", he observed. "This is the 1st thing".

+"Second, as for the 12 alleged Russian intelligence Officers (Comp. Supra), I do Not Know about this yet", But "I'll have a look on that", he promised, (concerning the Latest Mueller's Accusations, curiously published at the Eve of this exceptional Helsinki US-Russia Summit : See ..., etc).

- "The President (Trump) also Asked me this question", "we Talked about this", and  "now" "I can Suggest" the following, Vladimir Putin proposed, pointing at 2 possible Levels of US-Russia Cooperation in this matter :

    (a) Simply use "the Treaty, between the US and Russia, on "Mutual Legal Assistance in Criminal Matters" of 1999", he suggested.

- "This has proven Effective", with, f.ex., already  "up to 150 Legal Proceedings in Russia, at the request of other Countries", as well as, some "years ago", when even "our former nuclear industry Minister was Extradited by the US to Russia and received a sentence in Court here", Putin reminded. That "Treaty provides concrete Procedures for Cooperation" :

=> F.ex., the US relevant "Commission led by US Special Counsel ...Mr Mueller ... should send us (Russian Federation), in compliance with this Treaty, an official Request for Interrogating the People that he believes to be guilty of committing a Crime. Our (Russia's) Prosecutor-General's Office and Investigative Agencies can Interrogate these People, and Forward the relevant materials to the US", he suggested.

+ It's Interesting to note, in this regard, that Russia is, since 1996, Member of the Paneuropean Organisation of the CoE, (HeadQuartered in Strasbourg : and where USA has a Special "Observer" Status), whose 47 Member Countries have all Signed and Ratified a similar, Pioneer (1959) Treaty for Mutual Assistance in Criminal matters. In Addition, as the New CoE's Director General on Legal and Human Rights' affairs, Christos Giakoumopoulos, has Recently Observed, from the outset, at his Speech at the on "Russia and the ECHR", in the "International Legal Forum", at Saint-Petersburg, on May 2018, due mainly to the Transformations influenced by ECHR's case-law and by the New Russian Constitution, "as a result", about 20 Years Later (1996-2018), "Russian Federation is governed Today by a corpus of Law which is Modern, Effective and ... intrinsically European".
(See : https://www.coe.int/en/web/human-rights-rule-of-law/2018-saint-petersburg-international-legal-forum-russia-and-echr-by-christos-giakoumopoulos).

    + (b) "Moreover, we can take anOther Step" further, the Russian President added :

- " We can allow US official representatives, including those from the Mueller-led commission, to be Present at the Interrogation" in Russia, Vladimir Putin announced.

 -  But, "Certainly, in this case, we will be seeking Reciprocal steps from the US : We'll expect the American party to Interrogate the Officials, (including US intelligence, Federal State Officers : See Infra), who are Suspected of committing illegal acts in Russia, in the Presence of Our investigation Officers" in the USA, as well, he proposed.

>>> On this regard, the Russian proposal concerns "the High-profile Case, involving (controversial, London-based Businessman, linked to the complicated, multifacet Magnitsky affair, and against whom an INTERPOL Warrant was edicted, without being really applied) Mr. (Bill) Browder's "Hermitage Capital" Company. According to our (RF) investigative officers, a Group of people – Mr Browder's business Partners – who illegally made over $1.5 Billion in Russia, did Not pay Taxes, either in Russia or the US, but Transferred this Money to the US", where, in Addition, "they contributed $ 400 Million to Ms (Hillary) Clinton's Election Campaign" of 2016, Vladimir Putin Denounced.

- "This is Official Information, included in Their (Browders' Business Partners) Reports : $400 Millions" for Hillary Clinton's Campaign, he noted.

++ In Addition too this obvious INTERFERENCE in the 2016 US Presidential Election, by Private persons, "We (Russia) have Grounds to Suspect that (Moreover) US Intelligence Officers (i.e. USA's Federal State's Agents) supported these illegal transactions", Vladimir Putin claimed.

- More particularly, concerning those Browders' Business Partners (Comp. Supra); "it was up to them, They Might (perhaps) have done this Legally" (i.e. Fund Hillary Clinton), "but the Gains were ill-gotten", (i.e. something apparently Equivalent, also, to Money Laundering too !), he denounced.

-----------------------

+++ Opening an Horizon able to Advance even well Beyond that, the Russian President added that "this is only 1 Step Forward", because "We (USA-Russia) can Talk about Expanding our Cooperation. You're Welcome" : F.ex., "there might be Options that are provided for in the appropriate intergovernmental Treaty", he highlighted.

-------------------------------------------------

* But, despite these Distinctions between Private Persons' or States' eventual Attempts to "Interfere" in an Election, and/or  between Secret Services' mere Hypothesis or Assumptions, and Crystal-Clear "Hard" Facts, particularly Established by Courts and/or existing in unquestionable Legal Norms (Comp. Supra),

a Provocative Question raised by an AP Correspondent (probably Hired since Barack Hussein Obama/Hillary Clinton's Past Era...), which, curiously, CONFUSED between Individuals or Governments, and between Secret Services' often Foggy Claims or Courts/Legal Rules' clarity,
resulted in an Interesting, further Discussion of these matters :

 - "Every (sic !) US Intelligence Agency has concluded that Russia did [commit an "Election Interference in 2016"]", he claimed. While "President Putin denied having anything to do with" that, the same added.  - "Who do you Believe ?", he asked, in a Misleading (See +Infra), too over-Simplistic way...

Obviously, that Collegue didn't explain precisely Which Agency, under Whose Responsibility, and with Which Facts or Arguments, he meant : Perhaps those Claims already made by "Socialist"/Liberal former POTUS Barack Hussein Obama - Appointees ? Or, perhaps, "under" the current (Trump-appointed) New Attorney General, Jeff Sessions, who has notoriously ...Desisted himself from the relevant Investigations ? Maybe under Mr. Mueller's Controversial Investigation : Himself owing to Obama his Exceptionaly Prolonged Service as former FBI Director, and Later Re-Hired as "Special Investigator" notoriously after Deputy Attorney General Rod Rosenstein's intervention on 2017, Himself having initialy been Hired at his 1st Job in a Federal Attorney Administration  Directed then by Mueller, as Early as since Back on 1990-1993 ? (See : ..., etc). Moreover, of Which "Conclusions" did he refer  : May be, merely those strictly Limited into an Anonymous Paper Vaguely evoking some Foggy ..."Estimations", "Best Assumptions", and so on, withOut Citting any Concrete, unquestionable and verifiable Evidence at all (as Most of such "Intelligence" Papers recently used to do in such matters) ?... And What has this to do with the Crystal-Clear, Court proceedings and/or Legal Rules to which the Russian President referred, Making a concrete Proposal for a much more Transparent and Balanced Procedure as Solution (Comp. Supra), with the full Agreement of the New US President (+See also Infra) ?
At any case, this prompted, inter alia, also Further Clarifications by Vladimir Putin, in Reply, (See Hereby) as well as a very Interesting ... "Explosion" of New US President Don Trump's own Critical Arguments on this (much Larger, in Fact) "Election Interference" Issue, (See further Infra) :
 - "1st Point" : - "I have worked in Intelligence (services) too", Replied Putin, (notoriously a Former Long-Time Head of USSR's and even Modern Russia's Federal Security Service), "and I Know How these Dossiers are Compiled" (in the Dark)...

- "2nd Point" : "I consider Russia to be a Democratic State (Comp. Supra). If you don't deny (that) the USA is also a Democratic State, ...then, the Final Conclusion in such Disputes can Only be made in a Court, (i.e. after a Transparent, Contradictory Procedure, and Judged by an Independent and Impartial body, etc, according to Internationaly Established Principles, as, f.ex. also ECHR's Article 8). "Not an <<Intelligence Service>>" (i.e. practically in an One-Sided Dark), he clearly stressed.

+ Moreover, concerning Private Persons, as those who had been Previously Accused by Mueller etc. to have Allegedly Tried to "Interfere" in US Elections and Other Political Events, already as Early as since 2014 (i.e. entirely under Obama's tenure, as Trump also observed), "a Company I mentioned (Comp Supra) "Concord" (including Internet activities, Catering, etc), and one of our Restaurateurs are being accused of interference" Putin noted. But, "Even if that might", eventually, "be the case, ...So what ?" "...They do Not represent the Russian State", he pointed out.

- F.ex., on the Other (USA) Side, "you have Many people, including those with major Billion-dollar fortunes, such as Mr Soros" (controversial Billionaire). "He Interferes Everywhere he can. But what is this? Is it the position of the American State? No. This is the position of a Private person", he observed.

=> When "there is a trial in a USA Court, ...the Court is always the Final instance. Let them figure it out, we will see", he advised.

- But, "this applies to Private individuals only, Not to the State", President Putin Distinguised.

 => So that, concerning "the Latest Accusations against the Alleged Staff of our (Russian State's) Special Services :  There is an InterGovernmental Agreement. Go ahead and Send an official Request. Let the Mueller Commission send us a request, we will do our part, and provide an answer", the Russian President reiterated, Confirming his earlier promise, (Comp. Supra).

+ However, in Addition, "We can Expand this Cooperation, as I already mentioned, (i.e. by Adding the Presence of USA Officials during Investigations inside Russia : Comp. Supra), but only on a Reciprocal basis. We, then, would also expect the USA to provide Access to the persons we believe are the Special Services' Employees", (Comp. Supra).

>>> Indeed, "President Putin ... did .. an Incredible Offer : he offered to have the people working on the case (i.e. Mueller's Investigation Team) come and work with their (Russian Government's) investigators, with respect to the 12 (Suspected) people. I think that's an incredible offer !", US President Don Trump positively Welcomed, on this key point.

=> So, "Let's Discuss these matters in Substance !", concluded the Russian President, by an open Invitation to serious Dialogue on the Heart of the matter.

[+ UPDATED Point] + Moreover, speaking Later-on, to "Fox-News" Media (USA, Conservative), Vladimir Putin reportedly Focused, indeed, much More on the Fact that the Latest Alleged "Interference" of 2016 did Not Concern Any "Fake News", Nothing "False" or Distorted, but, on the Contrary, the Revelation of a blatant TRUTH :

- I.e. that the Leaders of the Establishment of the "Socialist"/Liberal Democratic Party of Obama/Clinton, had done anything they could in order to ... INTERFERE in the Primary Elections inside the DP, in order to MANIPULATE them, and Scandalously UNDERMINE, SABOTAGE Any eventual Trend in favour of the Competitors to Hillary, (i.e. particularly the Popular BERNY SANDERS, etc), and FORCE an Artificial, FAKE Pseudo-"Victory" of the Clintons, as it is well Known : Indeed that's what was Notoriously REVEALED by the "LEAK" of the DNC's E-Mails, allegedly "Hacked" by an Unknown Group, and Aferwards Published by "WIKI-LEAKS", which UnMasked a SCANDAL that led to the RESIGNATION of the Leadership of Obama/Clinton's Party !

=> In other words, the so-called "Hackers" of DNC's Emails, served, in Fact, as ... WHISTLE-BLOWERS, REVEALING the TRUTH about a SCANDAL which Seeked to INTERFERE and MANIPULATE the Primary ELECTIONS inside the D.Party... I.e., the real "INTERFERENCE" was done by the OTHER SIDE...
-----------------------------------------

+ Meanwhile, however, US President Don Trump, had already Raised a Series of Critical Questions, concerning the Strange Behavior of the Other Side, (i.e. of Obama/Clinton's "Socialist"/Liberals), in these cases :

 - With regard to the above-mentioned Controversy about Who might have Revealed the Scandal of DNC's E-mails (Comp. Supra),; the US President observed that, in Fact,  "we have 2 Schools of Thought" :  

 - From the one side, "You have Groups (of People) that are Wondering why the FBI (already since Obama's tenure, Back on 2016) Never took the Server" of the DNC (Comp. supra), Trump denounced. And "I have" also "President Putin - who has just said : - "it is Not Russia" (i.e. Moscow's Government), which hacked DNC's Servers.

 - But, Others, inluding some among "My People, (such as White House Adviser "Dan Coats and some Others"), "came to me", and "said they Think it's Russia"...

=> "I will say this : ...I have Confidence in Both parties", Trump paradoxically stressed. And "I really believe that this (i.e. the Different Views on Who Revealed the Truth) will probably go on for a while"...
>>> "But", at any case, "I really Want to see the Server" which was allegedly "Hacked" at the DNC !, the US President stressed, as a matter of Principle.

 => "Why haven't they (FBI+Attorney General+Investigator Mueller) taken the (allegedly "Hacked" DNC) Server?", he Wondered. On the Contrary, - "Why was the FBI told to Leave the office of the Democratic (Party's) National Committee (DNC) ?", he asked, even at Helsinki's Press Conference, fully attended by Numerous Mainstream Medias...

  - "I have been Wondering that, I have been Asking that for Months and Months, and I have been Tweeting it out, and I have been Calling it out on (Web's) Social Media : -Where is the (DNC) Server? I Want to Know. Where is the server, and What is the Server saying ?", (that some, probably, seek to Hide), Don Trump Questioned. 

  - However, "all I Can do is Ask the Question", observed the new US President, at least as long as the Special Investigator Mr. Mueller, Curiously, still, Refuses to Examine that Key point...

- "But, I doN't think that it can go on, withOut Finding ou What Happened to the (DNC) Server ! ... Where are the Servers ? They are <<Missing>>. Where are they ?", Trump lively insisted.

+ And, in Addition : - "What happened to the Servers of that Pakistani gentleman, who worked on the (Obama/Clinton Party's) DNC ?", the New US President went on to Question further...
Many Experienced Observers immediately reminded that he pointed at the Case of the 3 "Awan Brothers", from Pakistan, who had been Hired to deal with Dem. Party's Computer Servers at the US Congress, including that of former DNC's President, Debbie Wasserman - Schultz, (who had been Obliged to Resign, after that DNC Emails' Scandal, Comp. Supra).
The Awans controlled Dozens of MPs' Servers, whose Contents had been Moved Elsewhere, withOut even Informing them, and Handled in Violation of several Security Rules, while they were making several Visits to Pakistan, often working from there, by Remote Control methods, until Imran Awan was arrested at the Airport, on pretext of a Fraud, but, in fact, in order to Prevent him from Flying away, until Investigations were made.

Before being Fired, those strange Awan Pakistani Brothers were Working at the same DNC section as Seth Rich : the Young IT technician who was Murdered in 2016 on his Way Home, that Many have suspected to be the main "Leaker" of DNC's E-mails to "Wikileaks", whose Chief, Assange, has vainly Campained, together with the Victim's Family, to Find what Happened to him, (even with an Award of some Thousands $ for anyone who would provide Information able to lead to the Arrest of the Murderers).

+ But Don Trump advanced even Further, Today : - "What happened to Hillary Clinton's emails ? 33,000 emails Gone, just Gone", he also Denounced in his prolonged Reply. "In Russia, they would not have been gone so easily. ...it is a Disgrace that we can't get Hillary Clinton's 33,000 emails", he regretted, in addition to all those Strange Incidents surrounding that Fishy affair of DNC's Leaks...

>>> Interestingly, by the way, according to CoE's "PanEuropean/International Treaty of "Budapest" on "Cyber-Crime", the "Criminal Offence" of "Data INTERFERENCE", is "Committed" whenever Anyone "Intentionaly" proceeds to a "DELETION" and/or "SUPPRESSION of Computer DATA", Unlawfully ("withOut Right", as it's written in its Article 4).

=> Hillary Clinton's 33.000 Emails' notoriously abnormal "Disappearance" from her Servers, (Comp. Supra), might fall under this category of Cyber-Crime too.

So that, among others, also Former Obama-Appointed 2013-2017 FBI Director James Comey's strange Failures to even Examine DNC's Servers on 2016-2017, (Comp. Supra), added to his notoriously Controversial dismissal, as allegedly not so important, of the "Disappearance" of more than 30.000 Emails of former SOS Hillary Clinton on 2016, clearly remind the Fact that the so-called "Intelligence Community" in the US Establishment does Not seem so Eager to Really Investigate and Find out All possible Incidents of eventual Interferences into the 2016 US Presidential Election, but, rather, Only those that they can Exploit Politically...     
   --------------------------------

=> In Conclusion, both Presidents of Russia and the USA,  without really accepting, neither denying, a priori anything, in the lack of a serious examination of the Facts,

=> Strived to dedramatise and orientate the Debate about so-called "Interference" Attempts in the 2016 US Elections, in the framework of a much More Transparent, Balanced, and Thorough Dialogue, (f.ex. in front of a Court, and/or through a Legal Procedure established by Mutual Agreement, such as a Treaty, etc : Comp. Supra),

+ while, in addition, Urging to Enlarge the Scope of relevant Investigations to Various Other kinds or Incidents of probable Interferences by Several Different Factors, which have been curiously Neglected, or even Scandalously Ommitted by those who Insist to Accuse and give them Lessons from an obviously Partisan point of view, serving too Narrow interests of some Political Opponents.     

See, f.ex., among others, also the Cases of Soros' systematic Interferences in Other Countries, the Strange Refusal to check the DNC's Servers, and/or the Curious UnderEstimation of Hillary's "33.000" Missing e-mails, etc., as well as the Suspected "Money Laundering" of about Half a Billion €, by Transfering them (without even paying the due Taxes) from Russia to Hillary's Electoral Campaign in the USA, (See relevant Facts Cited Above), etc.

+ Moreover, by Agreeing to make certain Serious and practicable Proposals (Comp. Supra), the Presidents of USA and Russia managed to ...Kick the Ball into the Yard of their Critics :

=> Will, they, Now, Accept, at last, to Start Following a Transparent and Balanced Procedure, in order to Fuind all the Truth about All real "Interferences" on Elections, without Petty Partisan Exclusions, or Not ?

After this 2018 Helsinki Summit, History will Judge them all, (as well as the various People who are Watching what is Really going on).

-----------------------------------------------
Top+CoE Expert on Cyber-Security Pavan Duggal to "EF": WEB INTERFERENCE IN ELECTIONS WILL BECOME THE NEW NORMAL !
----------------------------------------------------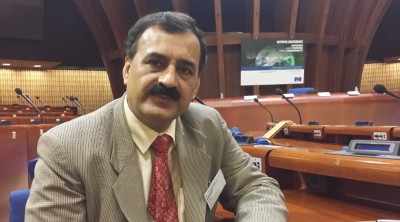 + As for the General Issue of various Interferences, via the World Wide Web, in National a.o. Elections in the foreseable Future, in general, the Opinion of Experienced Cyber-Security Top Expert, and Keynote Speaker at CoE's recent International Conference on "Cooperation against Cyber-Crime", earlier this Month in Strasbourg (11-13 July 2018 : Comp. ..., etc), Pavan Duggal, a Supreme Court Lawyer and prolific Writer of Many Books, Organizer of Annual International Colloquia on Cyber-Law at New Delhi, and Chairman of the International Commission on Cyber Security Law (ICCSL), was resumed in a Brief but Essential and Topical INTW to "Eurofora" :

- In our Question, "Eurofora" pointed at the Fact that, Recently, with those Growing "Hot" Issues of alleged Web "Interferences in Elections", Cyber-Security Changed its overall Environment, passing from Traditional "Crime", towards a quite Different Context, where it's also "Freedom of Expression" which is at Stake, inter alia, as well as Pluralistic Democracy, so that Both Efficient and well - "Balanced" Solutions must be Found, in order to Avoid "Risks to Discredit" the Fight against CyberCrime, (as certain Other Keynote Speakers had just Warned, during that CoE's Conference). What could and should be done in such a Context ?, we asked.

- "I think that Web Interferences to Elections is, Now, going to Become the <<New Normal>> !", Duggal surprisingly Warned, in Reply to the above mentioned "Eurofora"s Question, from the outset.

- "It's Going to Happen", more and more, as we already saw, f.ex., in the case of "India, the Biggest Democracy in the World", he pointed out.

- In this regard, "the Only adequate Protection should be, potentially, Guided by the (Global) Cyber-Security Community", Duggal suggested.

- Inter alia, also "Because it can Influence Many Elections", he pointed out.

- And, "the kind of Power they (culprits) can get is Massive", he estimated.

- However, "Unfortunately, the electronic processes in the World, are Not yet Up to Date, in terms of coming up with the Adequate Cyber-Security Mechanism", Duggal Criticized.

 - In particular, "Cyber Security Law is a Priority Area", he pointed out.

- "But, we Need to Continue Working on that", the Experienced International Expert Urged, in Conclusion, on this Topical Issue.

  In this Context, the Fact that, Nowadays, the 2 Biggest Nuclear Powers in the World : USA and Russia, have just Started to Feel the Need to try to Use some Legal Tools in this area, according to the Proposal just made at this Helsinki Summit (Comp. Supra), as well as to Activate a Cyber-Security Experts Group inside the "G20" Summit, already since July 2017 in Hamburg, Germany, (Comp. Supra, and our NewsReports from the spot, f.ex.: ..., etc), Confirmed now at this July 2018 Bilateral Helsinki Summit, might Pave an interesting Way.

The Importance of the American and Russian Delegations of Experts and relevant Officials, during CoE's recent International Conference on "Cooperation against Cyber-Crime", between 11- 13 July in Strasbourg, (See, f.ex., among others, also : ..., etc), could prove to be just another Timely Step in this overall Direction, for the General Interest of all the Cyber-Community.
(../..)


----------------------------------------------

Former CoE's MEP Savchenko in Kiev's Prison (extended) starts Hunger Strike: -"Something Wrong" ?
Friday, 13 July 2018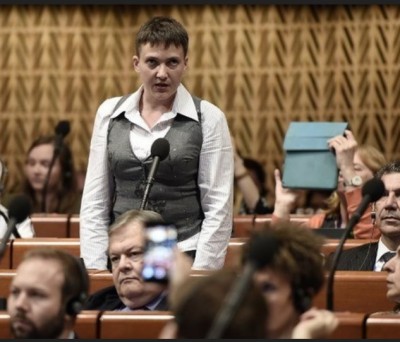 *Strasbourg/Angelo Marcopolo/- Nadezhda Savchenko, the World-Famous Ukranian MP, former CoE Assembly Member in Strasbourg, who is the Only one to have been Imprisoned Both in Russia's and Kiev's Jails, pardoned by Russian President Vladimir Putin, but still held in Pedro Poroshenko's prison Today, after having fallen in Disgrace just for seeking ...DIALOGUE between Western and Eastern Ukranian People, and recently accused even to plan to ..."BOMB" the Rada (sic !), reportedly started a Hunger-Strike as a Court Extended her Pre-Trial Detention for another 2 Months, until September 10, in an affair which Threatens to Condemn her into another 5 Years of more Prison.

Nadezhda, who had been Elected as Number 1 in the List of well known, former Prime Minister Julia Timoshenko's Party, (but excluded later-on, simply because of Meetings with pro-Autonomy Regions of Donetsk/Luhansk), was suddenly accused to plan to "Bomb" the Rada, immediately after she Denounced that the mysterious Deadly "Snipers", who killed Both Demonstrators and Policemen during the Maidan Troubles in Kiev, provoking a Brutal Clash, which Droped a Peaceful Compromise Deal, Agreed between the Opposition Leaders and f. President Yanukovich, in the presence of French, German and Polish Foreign Ministers, Resulting to a Violent Coup and to the current Bloody Division of the Country and Europe, would have been Triggered by some individuals who are nowadays inside that Rada, and that she threatened to UnMask.

"Eurofora" had (naively but sincerely and spontaneously) suggested to Julia Timoshenko, (who reportedly said Recently that she did Not Regret to have given to Savchenko the 1st place in her Party's List at the Latest Elections : Comp. Supra), during her latest Visit to the CoE in Strasbourg, that, after having personally Suffered in Yanukovich's Prison, she could be Credible on Both Sides, if she wished, to try to ReUnite the Ukranian People all Together, with an elementary but ambitious Vision mainly Based on Human Rights, Peace and Development, (See: http://www.eurofora.net/newsflashes/news/juliatimoshenkoforhumanrightsbridge.html).     
     -----------------------------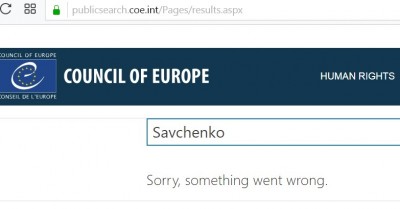 Meawhile, curiously, the Website of CoE's PanEuropean Organisation for Human Rights, Democracy and Rule of Law, when Searched with the Name of its imprisoned former MEP Nadezhda Savchenko, (Longtime Subject of manifold Protests and Resolutions criticizing Russia in the Past), Today only gave an ...Empty space, with the mention :
- "Sorry, something went Wrong".

=> Indeed !..
(../..)
-----------------------
Deep State on Russia and Truth in US Election, eve of Trump-Putin Summit, as CoE eyes CyberSecurity+
Friday, 13 July 2018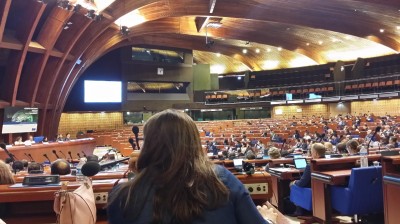 *Strasbourg/CoE/Angelo Marcopolo/- By a surprizing Coincidence, it's just 1 Hour after the Conclusion of an important International Conference on Cyber-Security at the CoE in Strasbourg, Exceptionaly organized in the Middle of the Summer (11-13 July 2018), and only 3 Days before a crucial USA - Russia Summit, between Presidents Trump and Putin at Helsinki, on July 16, that a notoriously "Deep State" Attorney, dating Back from the Era of Former POTUS  Barack Hussein Obama, and Former SOS Hillary Clinton, Mr. Robert Mueller, in fact accused 12 Russians to have Helped Transparency and Truth at the 2016 US Presidential Election, by revealing what Obama/Clinton Party's Staffers had written in their e-mails in the Past.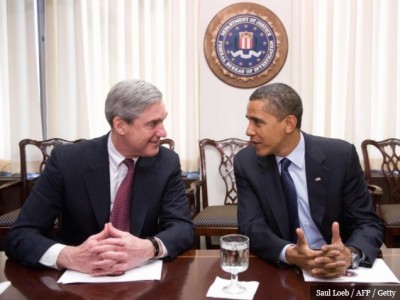 ---------------------------------
But, could CoE's evolving Efforts for "Cooperation against Cyber-Crime" Help Find a Practical Solution in the forthcoming US - Russia Summit in the foreseable Future (See Infra) ? 

----------------------


Meanwhile, Mueller had already pushed, previously, to Convict 13 other Russians by Accusing them, inter alia, to Publish at "Social Medias" Criticism and Help American People Opposed to another Clinton's Return Back to Power during the various pre-Electoral Meetings on 2016.

---------------------------------
"Not entirely True"
-----------------------------------

=> In Fact, this move practically Slamed some's attempt, (earlier, at this same CoE's Conference here), to Accuse Russians for an alleged "Interference" in US Elections via so-called "Fake News" :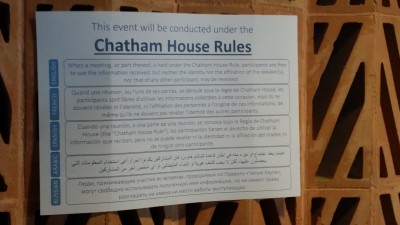 - During a Cyber-Security Meeting inside the CoE, (with a Numerous Participation of USA via Experts, State Officials, Big ICT Companies, Sponsors, etc), placed under strict "Chatham House Rules", (which Hinder Journalists from revealing the Name of those who are Speaking), a participant claimed that "Facebook" and other such Serial Web Deposits Containers, were "Aware of Russian Interferences in the 2016 (US Presidential) Election", as she said.

- Questioned by anOther Participant if she Alleged that Russians might have abused then of "Fake News", she replied "Yes", citting as a concrete Example f.ex. a case in which someone would have published at "Facebook" a "Story which wasN't entirely True", (i.e. Partially False), as she Vaguely claimed.

>>> But Now, on the Contrary, an US Department of Justice's Official Press Release, practically Claims that Russians, in fact, would have Helped Transparency during that Electoral Debate, by Revealing the Truth (and Not "Fake" News at all) on "Socialist" (Liberal) Dem. Party staffers' e-mails concerning core Issues of that Public Debate.

- Indeed,  a DOJ Press Release anounced Today that a "Jury at DC" accepted "an Indictment presented by" Controversial special Attorney Robert Mueller, who "charges 12 Russian nationals", apparently "all, ...Members of the GRU",  accused to have got Data from Obama/Hillary's Party HQ, and "released ...Information on the Internet, under the Names "DCLeaks" and "Guccifer 2.0", etc.

- Even if that indictment does Not Imply Any "Collusion" with Americans, Neither that this had an Impact on the Election, as DOJ anounced,
Nevertheless, by Abusing of an Exceptionaly Hostile Language, Deputy (i.e. Number 2) Attorney General Rod J. Rosenstein, found that "Foreign Adversaries (sic !) ...Attack America" (re-sic !!) in this case too, curiously immitating a Wording notoriously used against the ...Deadly Massacre of about 3.000 People by Islamist Terrorists on 9/11 (2001) !...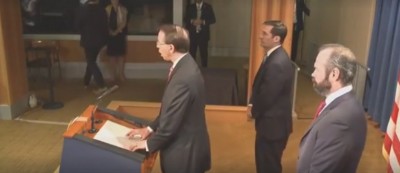 - But Mueller Refused to speak to the Press, preferring to adopt a "NO COMMENTS" attitude, on this issue.

- Rosenstein too, did Not mention any Evidence at all from the reportedly "Hacked" Computers of Obama/Clinton Party's HQ, since the DNC has notoriously Refused to give them to Investigators.

On the Contrary, the DOJ revealed that USA's Services... Spy well enough on their Russian counterparts, since they went as far as to Claim that they knew what exactly GRU Members were looking at, in their Computers, on a precise Day and even Moment !

-----------

Rosenstein is linked with Mueller since his First Job to the US Justice Department, where he had been Hired "through the Attorney General's Honors Program", at the Criminal Division since 1990-1993, then led by Mueller, as "Assistant Attorney General", ("Wikipedia" notes).

Later-on, it was now practicaly ...Rosenstein who pushed to re-Hire Mueller on 2017, when he reportedly helped Trump Fire Comey, and give a new job to Mueller, (precisely on the Investigation of so-called Russian interferences).

Mueller's previous job as former FBI Director had been Prolonged by "Socialist" (Liberal) former POTUS  Barack Hussein Obama, until he became one of the Longest-serving in History.

9/11 Mass Massacre by Islamist Terrorist Attacks against almost 3.000 Civilian People, - including the ill-elucidated Deadly Implosions of WTC's Towers (that Trump had Critically Questioned since then), the Downing of Flight 93, a Chirurgical-Precision Air Crash at Pentagon's HQ, etc, -  occured just 1 Week After Mueller took over the job of FBI Director, from September 2001.             

And, just 1 Month Before the Controversial Deadly Military Invasion of Iraq, on March 2003, (notoriously Pushed by "Socialist"/Liberal former UK Prime Minster Tony Blair, under grossly Fake Claims of Biological "Weapons of Mass Destruction", etc, proven to be "Fake News", at the latest by an Official Enquiry's Findings, published only on 2015), Mueller had Claimed, in an Official Testimony to USA's Senate, that there was "Evidence ... that Baghdad ...Failed to Disarm its Weapons of Mass Destruction", provoking a "particular Concern... that Saddam Hussein may Supply Terrorists with Biological, Chemical or Radiological material", (as "Wikipedia" reminds). 
   
--------------------------------              

+ Surprizingly, by anOther Coincidence with this Week's PanEuropean CoE's Global Conference on "Cyber-Crime" in Strasbourg, at the Eve of Trump - Putin's Summit also in Europe, at Helsinki, Finland, (Comp. Supra), "Mueller, after Leaving the FBI in 2013", for the "Private Sector", (in fact : "Stanford University"), he was Hired for "issues related to Cyber-Security (...!!!)"      

=> It's precisely during that period, on "June 2013", (under "Socialist"/Liberal Barack Hussein Obama's Presidency) that "Mueller defended NSA Surveillance", when the Scandal of Mass Spying, even on German Chancellor Angie Merkel's Mobile Phone, (See "Eurofora"s NewsReport from Brussels' EU Summit of October 2013, at : ..., etc), by Claiming that "NSA surveillance" ... Complied "in Full with US Law and with basic Rights, guaranteed under the Constitution" (sic !).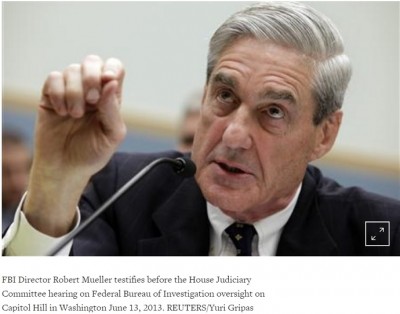 >>> Attacking any kind of "Whistle-Blowers" who might take Risks in order to Reveal Critical Truths, already since then (2013), "Mueller added his voice to the Obama administration's defence of the Surveillance programs", Threatening, since then, to "take all necessary steps to hold [Edward Snowden] Responsive for those Disclosures", as "Reuters" had observed.

- World-Famous Whistle-Blower Edward Snowden was then "believed to be in Hong Kong, after Flying there ...from Hawai", "planning to request Asylum", after having "Divulged Secrets to Britain's Guardian newspaper and the Washington Post, because he believed the U.S. Surveillance programs were illegal and intrusive", Press Agency "Reuters" denounced.

 - <<"The individual who has admitted making these disclosures, .. is the subject of an ongoing Criminal Investigation," Mueller said without naming Snowden>>, pointed out "Reuters".

Snowden, later-on, found Refuge in Russia, as Political Refugee, often Interviewed by EU Parliament and/or CoE's Assembly in Strasbourg, through "Live" Tele-Video Links, (including at Events organized by mainstream ChristianDemocrat/EPP Dutch MEP Peter Omtgizt, of the Center-Right, See, f.ex. .., etc).    

=> That 2016 "Email Leak" from Obama/Clinton Party (DP), known as the "Democratic National Committee" (DNC) Scandal, Revealed, among others, mainly that their Party's Leadership strived, in fact, to "Sabotage Bernie Sanders' presidential campaign", by grossly Interfering into DP's 2015-2016 Primaries, in order to Favour Hillary Clinton.

Those DNC' 2016 Email Leaks (notoriously Spread by "Wikileaks" NGO, whose CEO Assange was Persecuted by former POTUS Barack Hussein Obama for Many Years, despite UN Human Rights bodies' Protests at Nearby Geneva) were notoriously Proved to be Truethfull, leading to the Resignation of the Dem. Party's Leadership then.

It's precisely for allegedly Helping to Reveal to the American People such Gross Attempts by the Obama/Clinton Establishment to Scandalously Rigg the 2016 Election, that Mr. Mueller Now prosecutes 12 Russians..
-------------------
       
The forthcoming Helsinki Russo-American Summit, the 1st since the Election of the new US President Don Trump, back on November 2016, might usefully Deal with Important Issues, of obvious Interest also for the rest of Europe, such as :

 - F.ex., Arms race reduction and Fight against Nuclear Proliferation, North Korea, Reconciliation and Detente, Peace in Syria and the Middle East, Fight against Islamist Terrorism, creation of a Joint Working Group on Cyber-Security, Economic Cooperation, etc.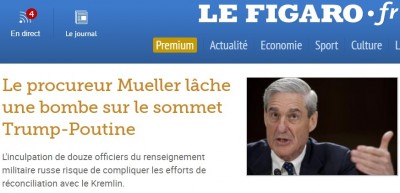 - But, Now, ... "Attorney MUELLER threw a BOMB on Trump-Putin Summit !", titled French mainstream Newspaper "Le Figaro"s Headlines...
    
-----------------

>>> However, could a Solution for the foreseable Future be provided by ..."Cooperation against Cyber-Crime", which was the official Focus of this exceptional CoE's International Conference in Strasbourg, (Comp. Supra), with the Participation of Both USA's and Russia's Experts and/or Officials ?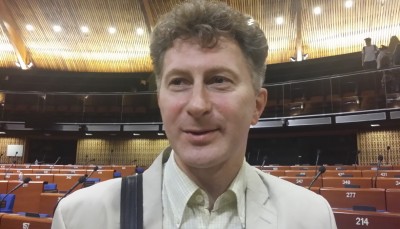 - The experienced Head of Division at the Department for New Threats and Challenges, in the Russian Foreign Ministry, Ernest Chernuckhin, speaking to "Eurofora", just after the Conclusion of that Exceptional CoE's International Conference, (i.e. at a Moment when a Press Embargo-Breaker Journalist had already Revealed, through his Tweeter Account, what was due to be Soon Officialy Announced in Public : Comp. Supra), stressed, with a mysterious Smile, that whenever their is "Dialogue and Cooperation", then, things are "Advancing Well", particulary "under UN Auspices".     

- However, an almost Double-Sized Team from the USA, (with 3 Senior Officials precisely from the DOJ, including on "International Programs", and 2 from the State Department, in charge of Europe and Asia), while Smiling Friendly and speaking to "Eurofora" on other issues Yesterday at the CoE, they Carefully Avoided to Say anything on Future Projects related to "Cyber-Crime", by Soberly pointing to the fact that they "Were Not Authorized to Speak to the Press" about such matters now.

 - Nevertheless, Rumours that USA and Russia might, eventually, set up a kind of Joint "Working Group on Cyber-Crime", due to Monitor any possible Allegation of Interference by a Foreign Government in National Elections, as it had already popped up since a 1st, Brief Meeting between Presidents Trump and Putin on the sidelines of the latest "G 20" Summit, Last Year, 2017 in Hamburg (Germany : Comp. "Eurofora"'s NewsReports from the spot, f.ex. : ...., etc), Emerged Also Nowadays anew, among various Speculations on the forthcoming, July 16, 2018, Russo-American Helsinki Summit.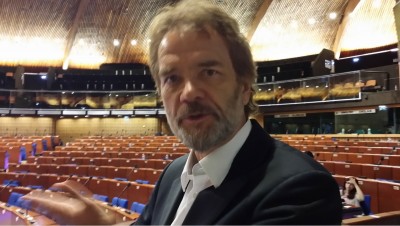 - Speaking to "Eurofora", CoE's Director on Cyber-Security, the Experienced Alexander Seger from Austria, (which now Chairs EU's Presidency for the Period of July - December 2018), who Participated personally in a Session on "Democracy under Attack", told us that a most "Important", key part of this Week's extensive, 3 Days-Long International Conference, were current Efforts to Negotiate an Agreement for a "New Protocol" to CoE's pioneer Budapest Convention against Cyber-Crime, concerning "Evidence and Jurisdiction" on relevant Data "in Cyber-Space", Hopefully on 2019, for which CoE Organizes in Strasbourg 2 Stakeholders' Consultations (including Governments, Experts, Civil Society NGOs, etc) this July and on November 2018.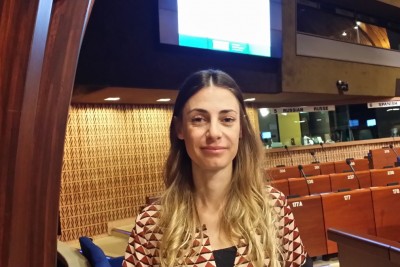 + It's also on 2019 that California-Based ICANN hopes to publish and start Implementing a New "WHOIS" Unified Framework Model, particularly Needed for IP-related Information seeked by Prosecutors, etc., mainly After the Recent EU's Directive on Personal Data Protection and other relevant developments, "But it all depends on Agreements between the concerned Countries", said to "Eurofora" ICANN's Senior Director for Governments and Inter-Governemental Organisations (as f.ex. CoE, OSCE, etc), Elena Plexida from Greece, (who holds also a recent Experience in Brussels, on EU Commission, etc).
--------------------------------------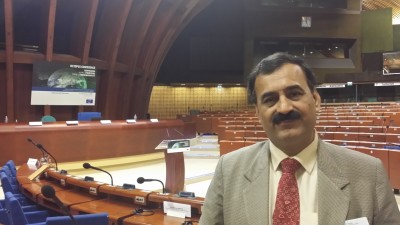 ++ Last, but not least, (and perhaps, most importantly), one of the Key "Panelists" at this CoE's International Conference "Conclusions" on the "Future", earlier this Friday Afternoon, (13 July 2018), the Well Known and Hyper-Active Supreme Court Lawyer, Author of Many Books around Cyber-Law, and Chairman of the International Commission on Cyber-Security Law, Pavan Duggal, from India, (i.e. a Country which had come very Near to give a New UNO's Secretary General some Years ago, while being also notoriously Friendly Both towards Russia and USA, particularly vis a vis its New President, Don Trump), Surprized "Eurofora" Today with his Reply to our Relevant Question on the current Controvery about alleged Foreign Governments' Interferences in National Elections :

- In Future, it's a kind of Global Board, based on International Community's  Cooperation, and competent on Cyber Law, which should Monitor also such kind of issues, Chairman Duggal Kindly advised in substance, (in the Wider Framework of a comprehensive Interview that he gave to "Eurofora", on manifold relevant CyberSecurity issues, due to be Published asap)...
(../..)

--------------------------
A Paradox: China push for European Integration, if EU delays (+Transport/Trade/Decision-Making) ?
Saturday, 07 July 2018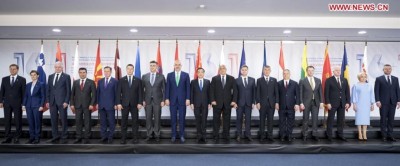 *Strasbourg/Angelo Marcopolo/- A Big but Timely Paradox emerges from an EU Court of Auditors' Report, recently published at nearby Luxembourg, compared to an almost Synchronous, Exceptional Summit between 16+ Central-Eastern European Countries and China, in Sofia, at the Conclusion of Bulgaria's rotating EU Presidency (1-6/2018), and shortly Before Neighbouring Romania takes over the EU Council's chairmanship from January 2019 (1-6/2019) :

Will China's Real GeoPolitical Interests really Contribute to Boost European Integration, at least in certain Key Areas, Faster and Better than EU itself tried alone to do recently ?

With Spectacular Facts as, f.ex., that of the Famous, EU-supported "Magistrale" High Speed Train link, planned between Paris and Budapest, through Strasbourg and Stuttgart, at Europe's Heartland, having been so much Delayed,

while, Today, China reportedly Ambitions to launch an ...Athens - Budapest High Speed Train link, between the Aegean Sea and "Mittel-Europa" area, (See Infra), inevitably, some Legitimate Questions are raised...

- ECA's Latest 2018 Report notoriously Denounced that, in fact, the "European High Speed Rail Network" plan, was, still Today,  "Not a Reality, but an Ineffective Patchwork".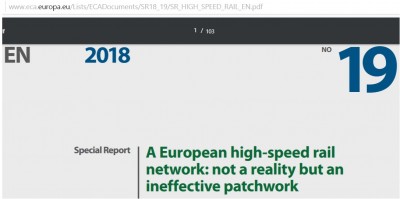 - In fact, what "has been Constructed", until now, is "an ineffective patchwork of Poorly connected National Lines", criticized ECA's Rapporteur Oskar Herics, according to an official press release.

- Simply Because "High-speed lines Crossing national Borders do Not rank among National Priorities", and the EU "Commission has No Power to Enforce them", he explained.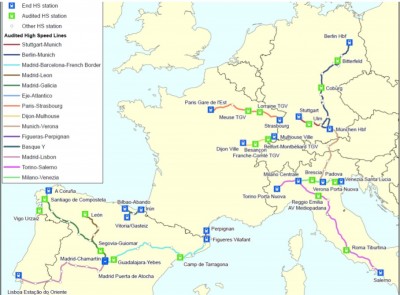 ECA's Report also shows Big Differencies on EU Funds :  F.ex. with various Costs per Minute of Time Won in each case, being very UnEqual among Projects. And/or some land-locked EU Member Countries receiving Much More EU Funds than the Others, (f.ex. Spain : more than 45% of the Total EU Funds !), etc.

However, the Worst seems to be the Fact that although the length of National high-speed rail networks is Growing", nevertheless, in Total, the EU Target of tripling the Length of high-speed rail lines (to 30,000 km) by 2030 will Not be reached, according to ECA. Indeed, the Time lapsed between the Moment such a Project is Planned, and the Date from which it will Start to be Used Effectively, is, in average, Too Long. One of the Longest, until now, being, f.ex., that of Munich - Padova High Speed Train link, reportedly Planned already since 1986, but Expected to be Used only after 2040 !...

----------------------------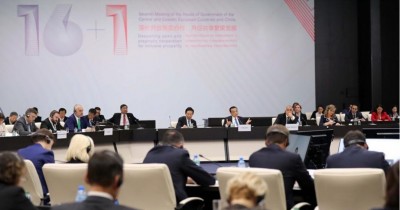 In such a Context, the Nowdays' "16+1" Summit of CEECs and China, (this time attended also by Greece and EU Commission as "Observers"), co-Chaired by Chinese Prime Minister Li Keqiang and Bulgarian Prime Minister Boyko Borissov at Sofia, gives a Strikingly Different View, with a lot of Fast-Track Projects reportedly discussed, including the above-mentioned Athens - Budapest High Speed Train link...
+ But also, reportedly : Car Highways, SeaPorts, Industrial Parcs, Fiber Optic Cable Networks, Electricity producing Power Plants, (etc), and/or even Oil/Gas Pipelines, (as, f.ex., between Greece - Bulgaria - Romania, in order to be Linked to a Bigger, Black Sea - Romania - Hungary - Austria strategic Gas Pipeline project leading Directly towards EU's Industrial Core : Comp. ..., etc).
Timely, China's Move in Sofia (Bulgaria) comes as EU itself nowadays strives to Boost Western Balkans' European Integration, at the forefront of both the Austrian EU Presidency (7-12/2018) and the Croatian CoE Presidency (5-11/2018), just after a notorious EU Commission's Strategic Decision taken recently in Strasbourg..


----------------------------------

+ However, it's Not Only in various Transports Links that China's "Push" towards a stronger EU Integration is felt Nowadays but Also in Other Ways :

- Inter alia, f.ex., Recently, the Experienced President of the ChristianDemocrat/EPP Party, former Long-Time Chairman of EU Parliament's EPP Group and Strasbourg's MEP, Joseph Daul, (also former Head of Agricultural Trade Unions, Europe-wide), speaking at a Political Meeting in Strasbourg, where "Eurofora" was Invited, (Comp., f.ex. : ..., etc), described a Surprizing exchange with the Chinese Ambassador/Permanent Representative to the EU, during which he Asked him to Help broker a Big Deal between the EU and China on Buying many Hundrents of Thousands of Tonnes of Beef Meat, in order to Feed a Network of American MacDonald Fast-Food Restaurants, due to be established throughout all the 1,3 Billions Population strong Country, in the forseeable Future...

Because, on the Contrary, if he was obliged to Negotiate with one by one among the 28 EU Member Countries, then, he would have, obviously, lost a Lot of Time and Energy...

----------------------------------

Pure Real-GeoPolitics, adequately practiced, may, sometimes, have even a Better outcome than Clumsy or Hypocritical "Good Wishers"' vows, remaining withOut effect, or even with adverse effects...

- Indeed, Beijing's obvious immediate Interest to facilitate Trade-routes between Europe and China, indirectly but surely, may also Help EU's further Integration, as well as its Steadfast Geo-Political Views in favour of a "Multi-Polar World", (a De Gaulle/Chirac+ Favorite), almost as a properly ...Robert Schuman's method goes from Economy to Politics :

- "China supports the European Integration, and the Unity of the EU, which is an Important Power for Global Prosperity and Peace", as well as "it Supports also a Multi-Polar World", Prime Minister Li reportedly Stressed Yesterday (Friday) in Sofia.

--------------------------------------

++ Last, but not least, "Eurofora" will never forget a meeting, in EU Parliament in Strasbourg, with a Team of Young Chinese University Students, Government Experts, etc. who had been Systematically Visiting EU Council's, Commission's and Parliament's Headquarters in Brussels, Strasbourg and Luxembourg, (in Addition to Paris, Berlin, London, Rome, etc) :

- Their main, Number 1 spontanous Question to "Eurofora", at the Conclusion of their European Working Visit, was just One :

>>> - "Where is Europe ? (i.e., its main Policy Decision-Making body) ?", they naively, but critically Wondered...

-------------------------------------

Already, the Quest for a Reply to this Key Question, in real Practice, was, indirectly but clearly, at the Substance of the 1st Official Visit to the EU by Chinese President Xi Jiping, as early as since 2014 :

- Indeed, the New (then) China's Leader surprized by his Choice to Visit Paris, Berlin and Brussels, (just after an Initial Trip to Moscow, shortly before that), extended to an adjacent meeting at Nearby Netherlands, (including for the Inauguration of a Trans-Continental Railroad link, etc), in order to meet mainly with the Franco-German Leaders and EU Top Officials, before Concluding by presenting his View on Europe, as it was then, in a landmark Speech at Bruges' College.

>>> In Fact, Xi's Quest for Europe's Political Decision-Making Core, was Obvious, while Flying in almost a perfect Circle Around ... Strasbourg, (as even the semi-Official Chinese Medias pictured : See relevant "Eurofora"'s NewsReport, then, f.ex., inter alia, also at : http://www.eurofora.net/newsflashes/news/chinagreecelinktoeuworld.html, etc), but without landing yet here...

=> The Wish expressed, then, by "Eurofora", naturally was that, in his Next Trip to Europe, EU+ Integration would have Advanced sufficiently enough, in order to Justify his eventual Landing also at the natural Center of that Circle, i.e., Here...

But, for that purpose, History-on-the-making obviously Needs much More genuine, "Real Europeans", and Not Only too many "EurINO"s, (i.e. "Europeans-In-Name-Only")...
So that, if some, inside EU Institutions, might, eventually, anew "Dream" of a European High Speed Train Network (Comp. Supra), then, they'd Better start, at least, Dreaming ...Really Big ! (Comp.: http://www.eurofora.net/newsflashes/news/g20andglobalrailnetwork.html)  


Something that the Forthcoming, May 2019 new EU Elections might, eventually, Help to Settle, at least partially, in one way or another.
(../..)


--------------------------------------

New EU Head, Austrian Chancellor Kurz: build Bridges in Challenging Times before 2019 EU Elections
Tuesday, 03 July 2018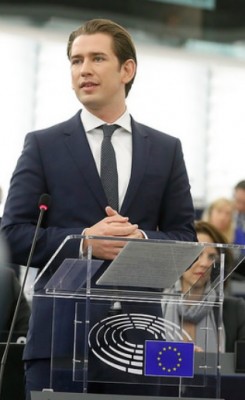 *Strasbourg/Angelo Marcopolo/- EU Parliament's MEPs debated for almost 2,5 Hours New EU Chairman-in-office, the Young Austrian Chancellor Sebastian Kurz's vow to strive to "Build Bridges" among Europeans over the Troubled Waters of these "Challenging Times", just "Before the 2019 EU Elections", as he stressed here in Strasbourg, face to face with EU Commission's President Jean-Claude Juncker, but in the Middle of a Torrid Summer Heatwave flowing Northwards, just After kicking off Symbolically the Beginning of the Austrian EU Presidency for the period of July - December 2018, already since last Week-End, in the Fresh Oxygen up to the Top of Alpes Mountains, Together with EU Council's President Donald Tusk, out-going Bulgarian former EU Chair, Boyko Borisov, and a lot of simple People, carried there Free of Charge, in Reply to Earlier Public Appeals on the Web.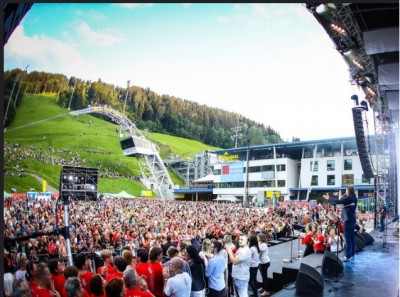 - As a matter of General Principle,  "We (EU) Respect People's Votes verdict", and hold "Solid Relations" with Elected Leaders : That's the Duty of any EU Official, Sebastian Kurz significantly Replied, Later-on, to a Press Question on ...the New, notoriously Atypical "Italian Government", Smiling brightly...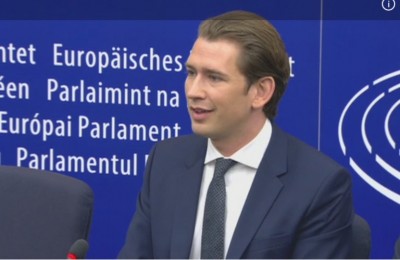 - "I Know that Kurz is Moved by European Spirit", stressed from the outset in EU Parliament's Plenary the Experienced EU Commission's President, Jean-Claude Juncker, who also Dismissed a curiously provocative and oppressive Question by a "Socialist" Radio Correspondent from Portugal about why there were no current attempts to Isolate (sic !) the New, 2018 EU Austrian Presidency, Contrary to what some had already attempted, in the Past, towards 2000, during the era of controversial but popular Rightist former Political Leader Georg Haider, who faced Later an ill-elucidated Violent Death in a strange Car Incident at his Carinthian Region, (where he held a Coalition with ... "Socialists"!).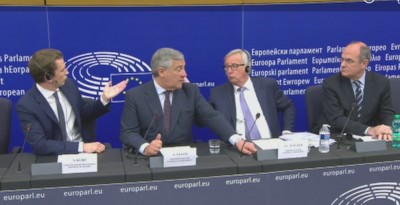 - "The Difference is that this (2018) new Austrian Government has a Program which is Clearly Pro-European !", sharply Replied, at a short but dense Press Conference, Juncker. (For recent Kurz's statements to "Eurofora", during the March 2018 EU Summit in Brussels, See: http://www.eurofora.net/newsflashes/news/austrianchancellornexteuchairkurzonturkey.html, etc.).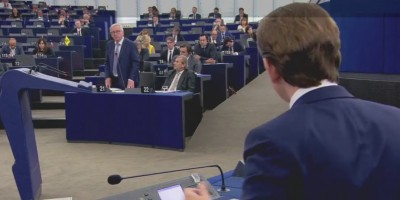 + Moreover, Kurz has just come back from the Latest EU Summit in Brussels, where he met also the Popular ...Norwegian Prime Minister Ema Solberg, as he had already told "Eurofora" as early as since 2017 (See: http://www.eurofora.net/newsflashes/news/austriankurzmetalsowithnorwaypm.html), and showed Now, on 2018, in a Frontline Picture published by the ChristianDemocrat/EPP Party there : Solberg is among the First to conclude a "Unity of the Right" Governemental Coalition, and German Chancellor Angie Merkel has notoriously revealed, at the Eve of the latest German Elections of 2017,  that she considers the Norwegian Top Politician as "the Best Prime Minister" in the World !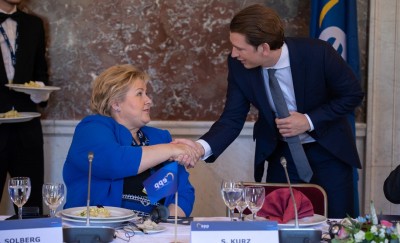 - Inter Alia, "We (EU) must Create the Conditions for the Development of a High-Tech. Europe" also at the Internet, etc. Because, Otherwise, Nowadays, "Most of the Web Giants are in USA or China", warned Sebastien Kurz at his speech in EU Parliament's plenary, Earlier Today. This a Key-part of the in-coming Austrian EU Presidency, whose Program aims to "Protect" also the European Citizens' "Welfare", mainly by realistically Safeguarding and Developping further its "Competitivity" vis a vis the rest of the World, particularly in the Nowaday's Strategic Areas of "Automatisation and Digitalisation".

For those who have Forgotten the Fact that, f.ex., the 1st Mobile Phone (and later-on SmartPhone) was a European Invention, Industrial Fabrication and Commercialisation, as well as the Electronic "Chip", etc., respectively in Finland and in France, it's, therefore, Time to Note also that even the President of the Biggest Political Party in Europe, that of ChristianDemocrats/EPP : former Strasbourg's MEP and Chairman of the ChristianDemocrat/EPP Group of MEPs in EU Parliament, Joseph Daul, had already warned that he Intended to Speak to the main EU Countries' Leaders from 2017-2018 about the Need to Create and Develop European Products particularly on Telecoms, including SmartPhones, etc., as "Eurofora" has heard him saying.

- But, meanwhile, notoriously, the Number 1 Need, recently badly Felt among a large Majority of EU Citizens, certainly is for Europe to "Protect" them from Insecurity (including, naturally, from Deadly Islamist Terrorism, as that of ISIL's Coward Killings Targetting innocent Civilians), and from Manifold Negative aspects of the recent Mass Asylum Seekers/Irregular Migrants' Giant "Tsunami", which suddenly intruded in Europe since 2015/2016 from Turkey, without any sign that they might Return Back Home, at least until now, provoking, in the meantime, a lot of various Incidents, including Brutal Mob Attacks, Bullying, etc, but also Altering Europe's Cultural landscape, particularly with a much More Abrupt massive and systematic "Islamization", even at the Public Sphere, etc., to the point that it became a "Political Issue", as various Recent Elections, in several Countries, have notoriously shown. To the point that the Popular, 4 Times re-Elected, Prime Minister of Hungary, Victor Orban, has just reportedly stressed, during the latest EU Summit in Brussels, that "the People Request 2 things : ... No More Migrants coming in... (and) that those (Mass Irregular Migrants) who are in (Europe), Should Go Back".

=> That's why Kurz, even More than Other EU Politicians nowadays, gives a Key Importance to a "Decent" "Protection of EU's External Borders", also as a Guarantee for a Satisfactory Free Movement inside the EU, without undue obstacles accross National Borders, that he vowed to struggle to fully realize at least "in the middle/long term".

Considering the Latest EU Summit in Brussels' results, at the End of June 2018, as "a 1st Step in the Right Direction", revealing "a New Trend", (f.ex. with its Decisions for "Desembarcation Platforms" at the Outer, and "Controlled Centers" at the inner Suroundings of Europe), Kurz has also explored the idea even for EU - Protected, Safe Areas for Asylum Seekers in Neighbouring Countries, including by a European Force.

Since the progressive Integration of the Western Balkans inside the EU, "Will Complete the European Dream", as the Austrian Chancellor said,
a Parallel Quest for "Stability at the Neighbourhood" of the EU nowadays, takes a Special Character as far as it concerns "Cooperation with 3rd Countries", i.e. mainly vis a vis Africa, Turkey, and Other, such Neighbours that EU should Fund also in order to keep External Asylum Demands' processing areas, whose Safety might be protected even with the Help of EU's Military, as he has reportedly just pointed out in recent Press statements.

In this Direction, both EU Parliament's President, Antonio Tajani, and EU Commission's President, Jean-Claude Juncker, pointed at the Need to Advance well Beyond the Recent Addition of +400 Millions € in EU Funds for Africa, while a 2nd package of 3 Billions € in full Grants was, in parallel, Decided for Turkey.
Juncker vowed to "Speed up" an "EU External Borders Force", able to Add + "10.000 Agents by 2020", to Help the 100.000 National Forces in those areas, and claimed that the 400.000 Millions € added by the Latest EU Summit for Africa would bring the Total EU - African Fund up to 4,1 Billion €, which would be able to Raise about 44 Billions €, (and eventualy Double its overall Financial Impact even to more than 88 Billions €, if EU Member States added their own Contributions, as he speculated. Without, however, clarifying if this would consist just in Loans, or in full Grants, as Turkey has notoriously obtained from the EU by Blackmailing when Ankara send more than 1,5 Million of Irregular Migrants/Mass Asylum Seekers suddenly flow inside the EU via Smugglers, since Back on 2015-2016+s).
----------------------------------------------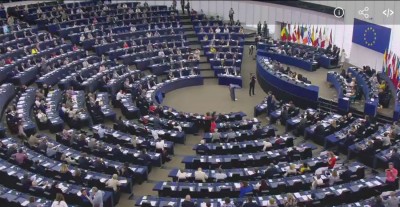 - Meanwhile, Sebastian Kurz, speaking After a Long and "Lively Debate" with various MEPs, noted that there are "Differences of Views", and expressed his support for "Discussions", on the condition of mutual "Respect", but stressed his Belief, that, in fact, "much More Binds us Together, than Separates us", as he concluded.

  - "It's not necessary to agree on everything. We can have Different Views. But we Must Focus on what Unites us, and need to Build Bridges, in order to Move the EU Forward !", Kurz urged MEPs.

  - Particularly Nowadays, when "we can't take the EU for Granted, but have to Work Hard in order to Preserve it, and Make it Better", the Young Austrian Chancellor Warned.

  - Indeed, in addition f.ex. to the imminent BREXIT's outcome, and to the need to Decide soon on EU's Multi-Annual Financial Perspectives", where "Negotiations are Tough", as he observed,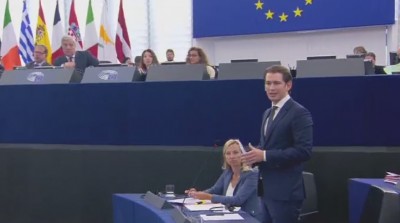 - Nowadays, we are living in the Context of  "an Age of Upheavals", where even "International Order is Changing", while "Tensions are Rising". "Before, Countries were Quewing in order to Enter in the EU", while, "Now the UK goes Out", with "BREXIT", and even "Rule of Law, Democracy and Human Rights, canNot be Taken for Granted", he warned.

    - Expressing his "Hope to Build Bridges in Difficult Areas", the incoming, Austrian EU President in office, stressed in Conclusion that, In fact, still, "We are Fortunate to be Europeans !"

(../..)


-------------------------------------

BRIEF NEWS
00:00 - 29.01.2019

00:00 - 08.12.2018

00:00 - 09.07.2018

00:00 - 31.05.2018

00:00 - 26.12.2017

00:00 - 26.05.2017

00:00 - 30.01.2017

00:00 - 14.10.2016

00:00 - 24.09.2016
Statistics
Visitors: 30505354
Archive
Login Form
Other Menu

They voted to "freeze" UK Government's draft to put People in jail for 42 Days on "anti-terrorist" suspicion without charge, or they abstained. Don't they look suspect ?
-------------------------
CoE's debate on UK controversy stirs PanEuropean check of anti-terror suspects' imprisonment


Former Leftists of the Sixties would boil in hot water if they heard PACE's debate on the controversial 42 days detention without charge, currently drafted by the British Government :
A "Socialist" Government, a Socialist PACE Rapporteur and a Socialist Chair of PACE's Legal Committee, opposed a .. "Conservative" amendment (supported by .. Liberals, Democrats, etc), to freeze the measure, in order to protect Citizens' Freedom, by "waiting" until CoE's Venice Committee checks its conformity with Human Rights' principles.
"Left"'s support to Conservative-Lib.Dem's criticism, wasn't enough to obtain a majority, nor to make things as they were back in the good old days, when "Left" and "Right" had a clear meaning, as "liberty" and "restrictions"...

Conservatives and most Democrats were joined by the Left in voting for the "freeze", as well as Liberal Paul Rowen, while Socialist MEP Ivan Popescu, an experienced MEP from Ukraine (PACE Member since 1996-2008) abstained. But most Socialists, added to a few Liberals and EPP's Right, voted against.

Fortunately, someone inside PACE had the wise idea to shorten the Debate for less than 1 Hour, and put it on the Agenda only at the end of an exceptionally busy day, towards the end of the Evening, when most MEPs had already gone to taste wins and foods at various Receptions all around Strasbourg's "European" area : As a result, not even 42 MEPs weren't present..

Socialist Lord Tomlinson accused the leaders of the PanEuropean Assembly, in its highest body : the "Bureau", to "lack wisdom" by deciding to hold a Debate on an issue that neither the Socialist Chair of the Legal Committee, nor its Socialist "reluctant Rapporteur", did "not want to do", ...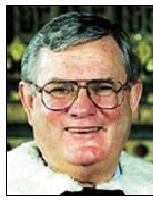 Finally, everybody (critics and supporters alike) was happy to agree, in substance, that the controversial measure "may" gravely violate Human Rights, and therefore, PACE asked Legal Experts of Venice Commission to check UK Government''s plans.

But this might take more than .. 42 Days to do, since PACE's Rapporteur asked the Experts to enlarge their study in a PanEuropean comparison of all that is happening on "anti-terrorism" legislation in 47 CoE Member Countries, including Russia, Turkey and Azerbaidjan..

Bad lack : "The existing 28 days' detention without charge in the UK is, in comparison with other CoE member countries, one of the most extreme : In Turkey, the period is 7,5 days, in France 6 days, in Russia 5 days, and in .. the U.S. and Canada just 2 and 1 days respectively", denounced Democrat MEP Ms WOLDSETH from Norway..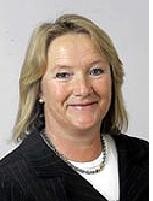 "Numerous respected human rights organisations, including Liberty and Human Rights Watch, have expressed serious concern" "The proposed legislation ...could easily lead to extensive abuses. ...Detention for 42 days means six weeks in which one is taken away from one's family, friends, home and livelihood only to be let off without being charged. That will destroy lives and isolate communities", she added.

- "3 years ago, the UK Government sought to increase the period of pre-charge detention from 14 days to 90 days. Not long before that, it had been only 7 days. There was a vigorous debate ...and a ...compromise was reached of 28 days. We have to ask whether there are proper safeguards in place to extend the period to 42 days. I suggest that there are fatal flaws", reminded British Conservative Clappison.

- "What sort of society holds someone in detention for 42 days and does not have to tell the person who is in prison why they are there, or explain the suspicions that arose and led to their detention? What sort of society believes that that is the way to treat its citizens? That is an appalling injustice, ...A 42-day detention period will not make the UK safer. Instead, it will be the first step to giving in to terrorists; it is saying that we are prepared to sacrifice our democratic rights and the principles for which we have stood for centuries", criticized British Liberal Michael Hanckock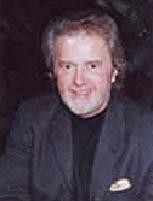 "Comments made ...by Norwegian delegates are unfortunate", replied British Socialist MEP Ms.Curtis-Thomas, accusing them to "besmirch the reputation of our police force, which is one of the Best in the World", as she said, believing that "there are significant safeguards ...to ensure that individuals are not subjected to unlawful detention"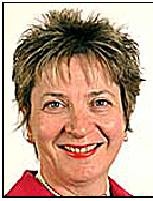 PACE "has serious doubts whether ...the draft legislation are in conformity with the ...case-law of the European Court of Human Rights. A lack of ..safeguards may lead to arbitrariness, resulting in breaches of ... liberty and ...right to a fair trial". PACE "is particularly concerned that: ..the judge ..may not be in a position to examine whether there exist reasonable grounds for suspecting that the arrested person has committed an offence;"; that "... representation by a lawyer may be inappropriately restricted or delayed;" that "information on the grounds for suspicion of a person ...may be unduly withheld.. ;" that this "may give rise to arrests without the intention to charge;", and; in general, that "prolonged detention without proper information on the grounds for arrest may constitute inhuman treatment", says Klaus De Vries' Report, adopted with 29 votes against zero.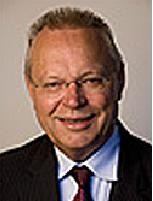 Records don't say if it took him 42 Days to draft his Report, but, at least, he knew why...


Polls