Home

newsitems
newsitems
EU Regions Committee Head +CLRAE v.Chair Lambertz to EF on Tabarnia Split from Catalonia in Spain
Tuesday, 27 March 2018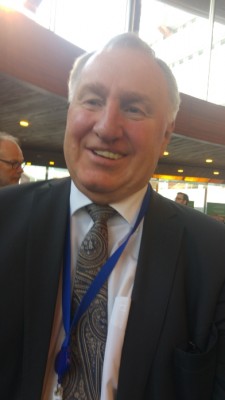 *Strasbourg/CoE/Angelo Marcopolo/- EU Regions' Committee new President in Brussels, and CLRAE vice-President in Strasbourg, Karl-Heintz Lambertz, speaking to "Eurofora" on the latest Developments of the Catalan Issue in Spain, observed, inter alia, also that the Recent Popular Moves for a Detachment of the so-called "Tabarnia" Area from Catalonia Region, (fuelled mainly by Political Disagreements on a Controversial and Failed Unilateral Secessionist Attempt by Former Leaders of the latter), is Not a Unique Phenomenon, since it has Similar, even if not totaly Identical, Examples also elsewhere in Europe (See Infra).
+ And, additional Facts found by "Eurofora", clearly indicate, that the overall "Tabarnia" Issue, might be much More Serious than it seems at First Sight, (as we shall see Infra)... 
--------------------


Lambertz is also a Long-Time Leader of the German-speaking Region in Belgium, and an Experienced vice-President of CoE's PanEuropean Local/Regional Democracy Watchdog : the 47 Member Countries-wide Congress of Local and Regional Authorities of Europe (CLRAE), as well as a Writer of comprehensive Books about Regions in Europe, with a Deep and Extensive Knowledge of Regional realities throughout the entire Continent, and well beyond.
----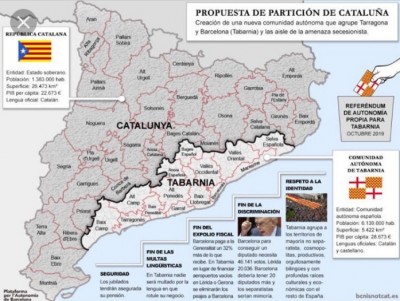 "Tabarnia" is a rather New reference to a Coherent and the most Important Part of Catalonia's Region in Spain, which reportedly pre-existed, as a satirical Geo-Political Idea, at least since 2012, but Became Famous mainly after the December 2017 Spanish Local/Regional Elections (see: http://www.eurofora.net/newsflashes/news/spanishunionistsgrowincatalonia.html, etc), and particularly since a Big Popular Demonstration in Barcelona, at the Beginning of March 2018.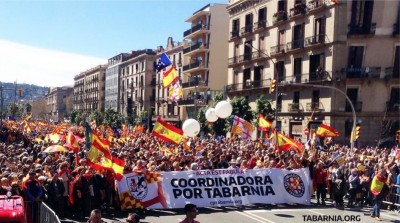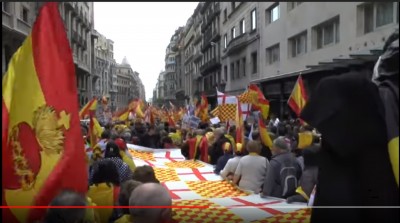 Opposed to the Unilateral Secessionism from Spain, pushed by Catalonia Region's Former Leaders, on the Contrary, the Supporters of "Tabarnia" Idea want, for their Area, to Leave and Get Out of such a controversial, separatist Catalan reality, by Becoming Autonomous, while still Remaining inside the Spanish Country and in the EU.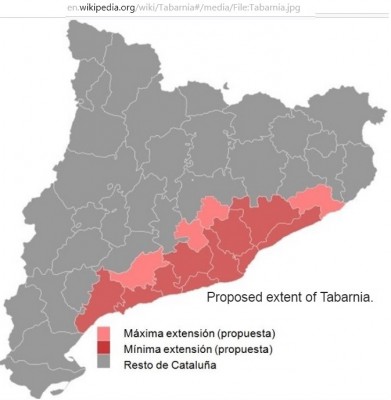 Their Geographic Area includes mainly Barcelona (Capital) City and Taragona, as well as Many Other adjacent Lands, which extend accross Most of the Seaside, and Bring Together some among the Richest and more Developed Parts of the Spanish Catalan Region, (See relevant MAPs, attached herewith).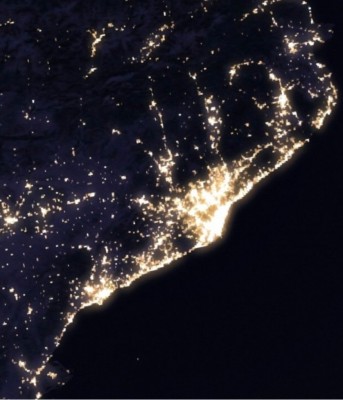 (Tabarnia's area, as seen from the Space - "Plataforma por Tabarnia")
------------------------------


>>> Most Important : In that "Tarbania" Area, a more or less Clear Majority against the pro-Unilateral Secessionism or Independentist Parties has Recently Won the Greatest Number of Votes, particularly in the December 2017 Regional Elections in Spain's Catalonia, in Addition to the Fact that the Separatist Parties Only got, Region-Wide, a Minority of 47%, (receiving a Slightly Larger Number of Seats just Because the current Catalan Representative System notoriously Favors particularly the Outer and/or Rural Areas, which are Backing them, in a way which obviously Provokes an InEquality among Voters, and/or more or less UnDemocratic Results on the Number of Representatives : See http://www.eurofora.net/newsflashes/news/spanishunionistsgrowincatalonia.html).

Indeed, as relevant MAPs Published also by "Wikipedia" clearly show, in the "Tabarnia" Area, (around Barcelona and most of the Seaside), Most of the Voters have Refused the Separatism, (as Also in some Other, but Smaller and Differend Areas, Located Elsewhere).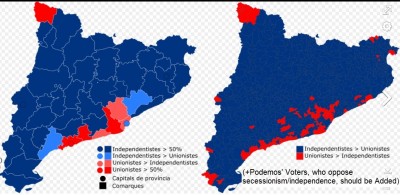 And this Localized Phenomenon should, in Fact, be even Stronger than what these "Wikipedia" MAPs show, Because they, curiously, Exclude the "Podemos" Voters, who (without necessarily supporting directly that "Tabarnia" idea), are, however, Against Separatism, them too...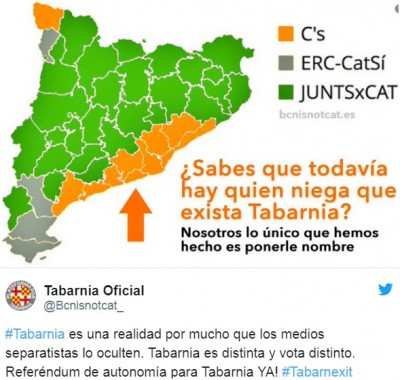 => So that, the "Tabarnia" Movement obviously Supports a clearly Localized Revendication of an Area whose Population Mostly feels United Together by a Barcelona/Taragona-Centered Majority Aspiration towards a Distinct Common Identity, proclaimed to be Both ..."Tabarnian", and Catalan, as well as Spanish and European, (as its Fans Explain even at several, specially dedicated Websites).

The assumed Fact that it's also, for many, a Satirical "Parody" (See Infra), does not exclude the Additional Fact that, at any case, it's, UnQuestionably, Based on a Localized Political Will clearly Directed Against Catalan Separatism.

------------------------------

- It's in this overall Context, that Presidet Lambertz told "Eurofora", in particular, that a Similar (even if Not necessarily 100% Identical) Move, as that of "Tabarnia"s aspiration to Leave a Separatist Catalonia, for anOther Region, Exists Already also Elsewhere in Europe :  

- As, "f.ex., in Italy, and particularly at the Region of Venice", a Part of which had expressed the Wish to Go Elsewhere (inside the Italian Country), as Lambertz observed, in Reply to a relevant "Eurofora"s Question.

- However, Lambertz, (who is an eminent member of the Socialist Group inside the CLRAE), also Added, at his own Initiative, and speaking more widely about the Manifold Developments about the Catalan Issue, from Various and Different aspects, that he did "not like" some Other Attempts by certain Politicians to Exploit the Catalan Controversy for this or another Political Interest, as he said, as a matter of General Principle.
----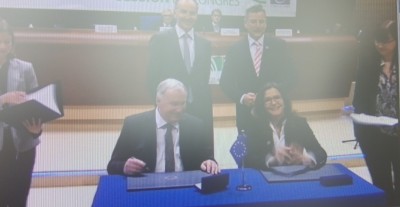 - But it's also a Fact that ECR's President, who Signed Today a "revised Cooperation Agreement" with CLRAE's President, Gudrun Mosler-Törnstrom from Austria, while Speaking at CLRAE's Plenary about Prospects to extend EU's Cooperation towards various Non-EU Foreign Countries, even Out of Europe, was, by a Symbolic "Coincidence", visibly sitting Aside a Seat offiicialy reserved for ..."China" :  I.e. the Only UN SC Permanent Member which has Not Yet any Official Status inside the CoE in Strasbourg, (Russia and USA already having one, as well as the UK and France), and notoriously does Not Like "Secessionist" movements in any Region, at all... (See relevant PHOTO).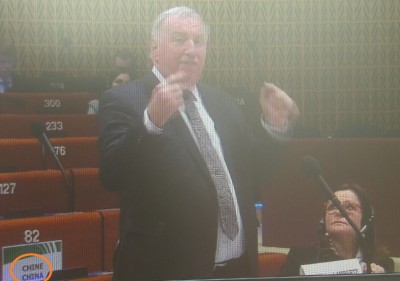 ------------------------------------------

+ Moreover, anOther Official of the CoE, (Strasbourg's PanEuropean Organisation for Human Rights, Democracy and Rule of Law), Afterwards told "Eufofora" that (in a Different Context),  the Canadian Law has a provision for any Region which might, eventually, wish to Seek to become Independent, that If a Part of it, eventually, Wishes, on the Contrary, to Stay inside the Country (Canada), then, it's Free to do so...
 
Canada holds, already since 1996+, a Special Status inside the CoE, (as also the USA, Japan, Australia, Mexico, etc), and some of its Representatives are Often Active, particularly in various CoE's Inter-Governemental Committees, as well as, especially in CoE's Parliamentary Assembly, etc.

--------------------------------------------------------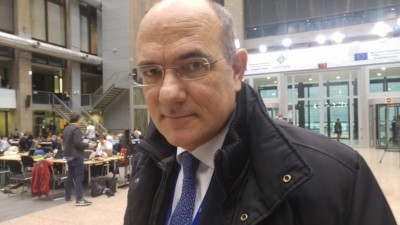 - Meanwhile, Clarifying further that "Tabarnia" Movement Issue, while Speaking to "Eurofora" earlier in Brussels, the Experienced EU Parliament's Director of Communications (including Press/Medias), Jaume Duch, (who knows well Barcelone since his own origin was from that City), stressed that it was, initially, a mainly "Satyrical" or "Comedy" Move, staging "a Parody" of the Secessionists, to whom they are Opposed in Catalonia.

+ In Addition, "they (i.e. "Tabarnia" Supporters) don't speak about Secession from the Spanish Country, but just for the Departure of their Area from the current Catalan Region, on the Level of Local/Regional DeCentralisation", Duch further Clarified explicitly.
 
---------------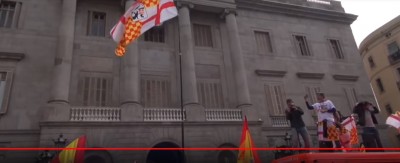 Having, indeed, in Addition to a Distinct, specific Name, Flag and Territory, as well as Core Political Ideology, also ... a potential "President", (initially Personified in the face of Comical Theater/Cinema Actor Albert Boadella : whose "¨Presidential Address" got more than 300.000 Views in "YouTube"),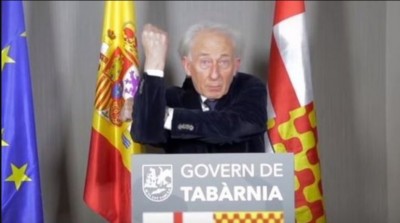 "Tabarnia" (whose "Official" Twitter Account -among Many- has now almost 60.000 Followers), however, particularly after the Success of its March 2018 Popular Demonstration (whose Organizers revendicate about 200.000 Participants),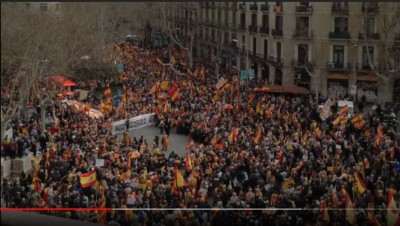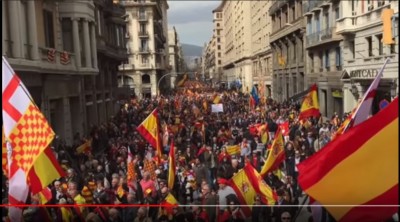 and some 110.000 Web Viewers of its Press Conference in EU Parliament during the latest EU Summit in Brussels on 22/3/2018,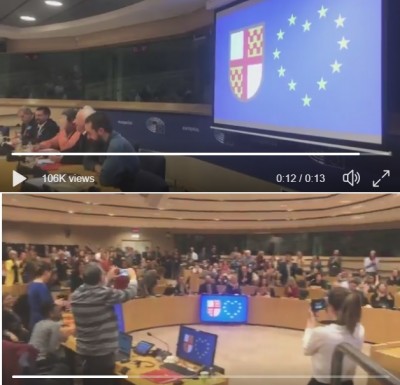 as well as 648.000 Mentions of its Name in Twitter only Last Christmas already, nowadays Cited by "BBC", "EuroNews", etc., it might Become a quite Serious Affair, sooner or later.

"Tabarnia" has, at least, the Merit to substitute rapidly wide-spreading Critical Public Debate, with a sense of Humour based on Serious Facts, to Abrupt Unilateral Moves by a Minority Risking to provoke Dangerous Violent Conflicts, and, at any case, it has certainly Not Stopped from making People Speak about her !...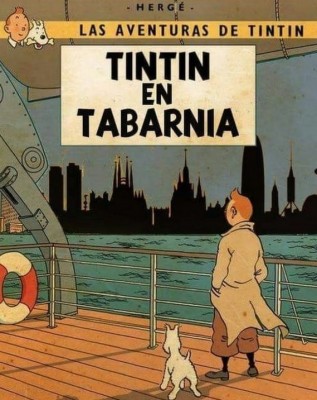 ------------------------------
Last, but Not Least : Facts even indicate that "Tabarnia" Supporters' Wish to get rid from what they percieve (Rightfully of Wrongly, More or less) as a Band of Money-Driven Selfish Egoists, and/or Hypocrits, Oppressive (f.ex. the Exclusion of the Spanish Language from Official Documents in a Secessionist Catalonia, etc), Violent, Corrupted, etc., as an Explicit Cartoon published by "EuroNews" clearly shows (See relevant ScreenShot+ attached herewith), may be, in substance, much More Right than they think :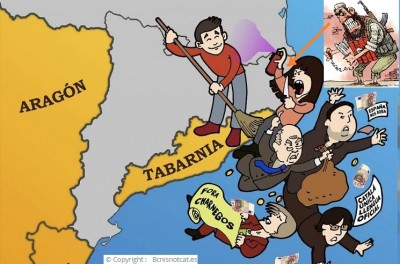 >>> Indeed, the Notorious "Star" of Catalonian Separatists, Carles Puigdemont, has been Born, Worked Most of his Life, and was Elected as Local Representative (to Catalonia Region), always Based at the far away, remote Province of Girona, (at the extreme North-East of Spain, close to France's Borders : I.e. exactly there where came from also the notorious "Imam" of Ripoll City's radicalized Mosque, Together with a Band of other Deadly Islamist Terrorists, that he Led towards the Recent atrocious Massacre which Cowardly Targetted innocent Civilian People in Barcelona (i.e. inside "Tarbania"'s Area) on August 2017, Killing more than 15 and Wounding + 130 Persons ! (A Massacre which, obviously, could have been Much More Deadly and Destructive, reportedly Targetting also the World-Famous Christian Church of "Sacred Family", if that Imam had Not made a Blunder, by Exploding his shelf-made Bombs before reaching his real Target... See :
http://www.eurofora.net/newsflashes/news/barcelonaterrorrevealseuropeanpoliticalproblem.html
).
---------------------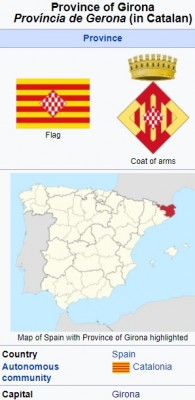 >>> Astonishingly, Puigdemont was Born at Amer City, between Ripoll City (Base of that Terrorist RingLeader Imam), and Girona City, all of them Located very Near to EachOther and inside that Province of Girona, in Catalonia, at the North-East of Spain, facing the French Borders, (See relevant MAP), but Out of, and Far Away from the "Tabarnia" Area, where the Victims of that Massacre were Located...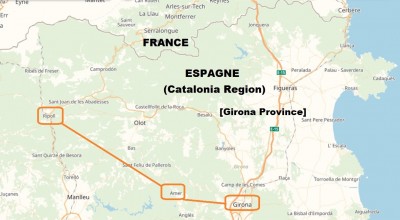 Puigdemont reportedly Worked as a Journalist "in Various Local Publications" from 1982, Before becoming, Later-on, Head Editor of one among the Local Medias at Girone : "El Punt" (now Extinct), infamous for having been "the Most Heavily Subsidized by the Catalan Region's Government", as "Wikipedia" Denounces. This Helped him to find a Job, for a while (1999-2002), as Head Editor of a Regional "Catalonia News Agency", totaly Owned by that same Catalan Government, before Falling Back Down to the Provincial Level, Briefly apointed as Head of a Cultural Center run by Girona City, (2002-2004).

Shortly Afterwards, he Starts a Political Career at the Lowest Local Level, in the Municipal Council of Girona, before becoming Mayor of Girona City (2007-2011+), while, almost at the Same Time, he had been elected as one among the Representatives of Girona Province to the Catalan Region's Assembly.
---
After Waiting until 2016, then, Suddenly, he is Propulsed at the Head of Catalonia, as President, by a Deal Between his Party, CDC, (currently PDeCAT), and the Small Leftist CUP Party, several  Members of which were already Known for their Relations with Controversial local ...Muslim Lobbies, including even with Persecuted and Condemned Dangerous Extremist Islamists, accused to be Mixed in Terrorism, (See :
http://www.eurofora.net/newsflashes/news/barcelonaterrorrevealseuropeanpoliticalproblem.html
).

Key Members of that CUP Party (thanks to which Puigdemont got the Top Job in Catalonia) had Earlier Worked with some Lobbies of Muslim Aliens pushing towards a Right to Vote for Foreign Immigrants to Local and Regional Elections, and even, in order to Free from Prison for Jihadist and Terrorism-related activities, a Butcher - Imam of a Suburb of Barcelona who had been in the Past the ... Indoctrinator of Ripoll's Imam, the radicalized Islamist Terrorism Ring-Leader from Girona Province, and Guide of Barcelona Massacre of 2017 (Comp. Supra) !

=> In Only 1 Year's Time : on 2017, Puigdemont pushed for an UnPrecedented and illegal Unilateral Secession Referendum in Catalonia, which provoked a Serious Crisis in Spain, with obvious potentially Dangerous Repercussions all accross Europe...
Sighnificantly, these Sudden 2016 and 2017 Big Upheavals, (Puigdemont's Election to Catalonia Region's Presidency on 2016, and the subsequent 2017 illegal Referendum for Unilateral Secessionism and Independence, added to the August 2017 Barcelona Massacre by Islamist Terrorists Cowardly Targetting Civilian People : Comp. Supra), Occured shortly Afther the Local/Regional Elections of 2015, where those (CUP and Others) Local Politicians who had Earlier (f.ex. between 2007-2011, etc) worked with the above-mentioned Foreign Muslim Lobbies and/or even Convicted Islamist Extremists, Jihadists and Terror suspects (including the InDoctrinator of Ripoll's Imam, the Ring-Leader of Barcelona Massacre : Comp. Supra), were Elected, for the First Time, at Key Positions in various Catalan Local and Regional Organisations, (Comp.:
http://www.eurofora.net/newsflashes/news/barcelonaterrorrevealseuropeanpoliticalproblem.html
), while, already, "in 2013, nearly a Third (1/3) of those Arrested in Spain on Charges related to Islamic Extremism were Based in Catalonia", (according to the World-Famous British Newspaper "Guardian").
---


+ The "Guardian" also reminds the Fact that, Back "in July 2001, two months before the 9/11 Attacks in New York, Mohammed Atta, who Led the attacks, met Ramzi Binalshibh, the Link-man between Atta's group and al-Qaida, in Cambrils" : ... i.e. there where One among the Two Deadly Islamist Terrorist Attacks (including that in Barcelona) were Committed by Ripoll Imam's Armed Gang on August 2017 (Comp. Supra) !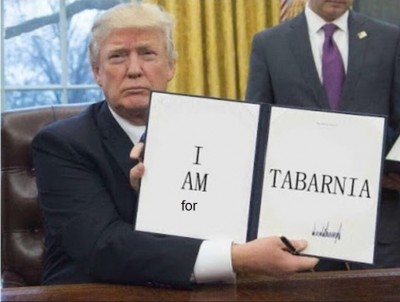 (Even Trump to become pro-Tabarnian ? - "Plataforma por Tabarnia"/BBC/Eurofora)
-----


=> From All these Facts, it seems really Possible, and even Highly Probable, that "Tabarnia"s Move Out of the Rest of Catalonia (Comp. Supra), might, indeed, Help Tabarnian People to get rid (as they Wish : See relevant Cartoon published by "Plataforma por Tarbania", shown Supra), Not Just of Corruption-related, but also of various Islamist Extremism and/or Terrorism-Related Politicians among those Catalonian Separatists...

+ And, on this occasion, Puidgemont's astonishing, Long-Term Personal and/or local Links to his remote Province of Girona, where "Local People (were) Shocked to discover (that) Barcelona Killers lived among them", (as that, above-mentioned, 2017 "Guardian" Article stressed from the outset), Might even Help to, eventually, Avoid having to use so Harsh Methods as (currently) Arresting and Jailing Puigdemont during his Transit by Car from Finland towards Belgium, through Germany, in view of a possible Extradition to the National Spanish Government :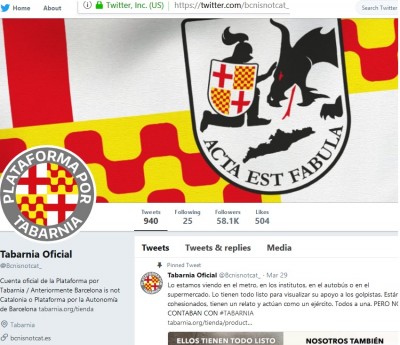 => Thanks to the above-mentioned "Tabarnia" Popular Movement's Dream, indeed, it might, eventually, become Possible, in the foreseable Future, to Simply ...Expulse such Dangerous Separatists, as Mr. Puigdemont is accused to be, Back to his Remote Catalan Province of Girona, somewhere Between his Natal "Amer" City, and Barcelona Islamist Terrorist Massacre Ring-Leader's, Ripoll Imam's radicalized Mosque, located Nearby (Comp. Supra), i.e. far Away from a Brand-New and Independent "Tabarnia" Region of Spain, Away from Barcelona City, but Out there, in the Wilderness...
(../..)


--------------------------


***


("DraftNews", as already Send to "Eurofora" Subscribers/Donors earlier. A more accurate, full Final Version, might be published asap).


***
 
New Austrian Chancellor+Next EU Chair Kurz to Eurofora on Turkey: the Question is: -Which Measures ?
Friday, 23 March 2018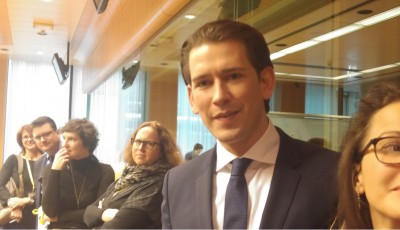 *Brussels/EU-Summit/Angelo Marcopolo/- The New Chancellor of Austria, and Next EU Chairman-in-office for the period of July-December 2018, Sebastian Kurz, Leader of the ChristianDemocrat/EPP Party ÖVP, speaking to "Eurofora" at the conclusion of EU Heads of State/Government's Summit of March 2018 in Brussels, and shortly after Turkey droped, with contempt, crystal-clear Calls recently by EU Parliament and even now by the European Council, about Stopping Military Attacks in Syria's Kurdish canton of Afrin, Armed Provocations against Greece in the Aegean Sea, and, particularly, Bullying by Turkish GunBoats Hindering European Ships to Explore EU Member Cyprus' Exclusive Economic Zone (EEZ) for Natural Energy Resources, as Gas etc, (notoriously needed by EU Industry, Electricity and/or Transports Nowadays, particularly since Older Findings at the Northern Sea are Declining), sharply Observed that, rebus sic standibus, in fact, the Main Question Today is Not so much IF EU should React, but, rather, with "Which Measures", it should do so....

-------------------------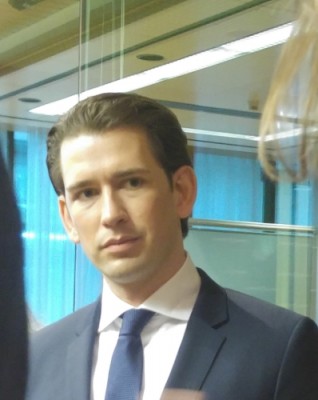 - "Eurofora" observed the Fact that Turkey just Droped Both EU Parliament's latest Resolution in Strasbourg, and EU Heads of State/Governments latest Conclusions in Brussels, which had slamed, particularly, Ankara's GunBoats Bullying against Peaceful Research and/or Exploitation of EU Member Cyprus' Natural Energy Resources inside it's Exclusive Economic Zone (EEZ), but also Dangerous Army Provocations at the Aegean Sea, as well as the Bloody Military Invasion/Occupation of Syria's Kurdish Canton Afrin, (etc).              

=> Don't you think that some Concrete Measures should be Taken, in order to Convince Ankara to respect EU's Decisions ?", we asked.

------------------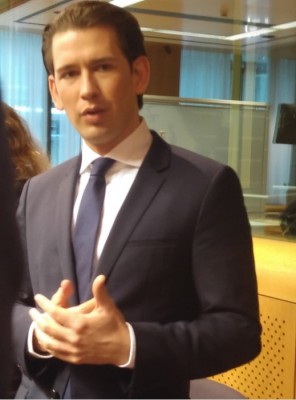 - "My Position on Turkey is very Clear and Strong", (indeed, may be the strongest in the EU), spontaneously reacted the News Austrian Chancellor to "Eurofora"s above-mentioned Question.

-  In consequence, - "You don't need to Convince me !", Sebastien Kurz stressed from the outset, particularly as far as Turkey's controversial and unpopular EU bid is concerned.

=> So that, the real Question, Nowadays, is, not so much "IF", but, instead : - "Which Concrete Measures ?...", the Next EU Chairman-in-office (from July 2018) pointed out, sharply Returning the main Question back to "Eurofora"...

- Genuinely Surprized, initially we simply reacted by observing that "there are Many Kind of possible Measures, such as Symbolic ones, and/or Financial, Political, or even Others", in such a case, and modestly adding that such Decisions are not for journalists but for Political Leaders to take :- Points on which he agreed, thoughtfull... 

+ Subsequently, Kurz did Not Deny a General European Interest to ensure Security of Energy Supplies, by Protecting EU Countries' Freedom to Explore and have Direct Access to probable Oil/Gas Energy Natural Resources eventually located at EU Member Cyprus' EEZ, instead of abandoning all that to the mercy of Turkey's Violent Bullying against European Ships (starting from Italian ENI's), as "Eurofora" had suggested.
Indeed, inter alia, it's also a Fact that, f.ex., the First ever joint EU Defence Policy operation, has been organized - and Still Works, already since 2008 - for the Protection of Ship Navigation from Piracy Attacks around the Sea-Coasts of Somalia, leading to the Suez Channel, notoriously Strategic mainly for Oil/Gas Energy Transports, (which cross EU Member Country Cyprus' EEZ a their subsequent route towards Europe's core, Afterwards in the Mediterranean)... 

---------------------------------------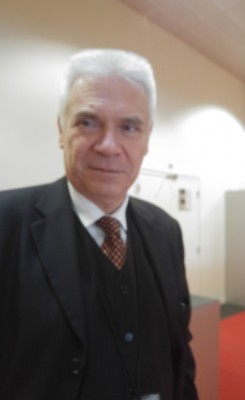 >>> + Meanwhile, New Ambassador/Permanent Representative of Austria to the CoE, former Long-Time CFSP Senior Official in Austria's Foreign Policy at Vienna, Dr. Gerhard Jandl, Replying to a Similar "Eurofora"s Question, earlier at EU Parliament in Strasbourg, highlighted the Next Austrian EU Presidency's Will to Boost also "Defence Policy aspects for the Security of EU's Energy Supplies", as he characteristically said regarding Turkey's GunBoats Bullying (Comp. Supra).

By a Timely Coincidence, it's during the Period of the forthcoming Austrian EU Presidency (July - December 2018) that the Next Oil/Gas Exploration at EU Member Cyprus' EEZ has been Scheduled at the Block Number 10, by American Giant Company EXXON-MOBIL, (while a Return of Italian ENI's Drilling Ship at the Block Number 3 has not been excluded at all by the Company, which has already Declared its intention to Continue its Succesful Oil/Gas Explorations there, particularly after the Strong Official Conclusions of this EU Heads of State/Government Summit in Brussels).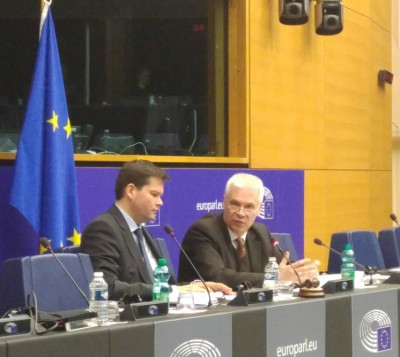 Last, but not least, New Austrian Ambassador/Permanent Representative to the CoE, Dr. Gerhard Jandl's ahove-mentioned Speech on EU's Security-Defence Policy at the eve of the forthcoming Austrian EU Presidency (July-December 2018), made at the Invitation of New MEP Lukas Mandl, Chairman of "PanEuropa" Working Group in EU Parliament, came shortly after an Exceptional PESCO Event on the sidelines of December 2017 EU Summit, which even included several Maritime Surveillance and Other Sea-related Security/Defence Projects, including UnderSeas, etc. (See "Eurofora" NewsReport from the spot, at : http://www.eurofora.net/newsflashes/news/euhistoricdefenceevent.html ).
(../..)


----------------------


***


("DraftNews", as already send to "Eurofora" Subscribers/Donors, earlier. A more accurate, full Final Version, might be published asap).


***

EUParliament Head Tajani to EF +French President Macron: April RDV+Citizen Debate before Decisions ?
Friday, 23 March 2018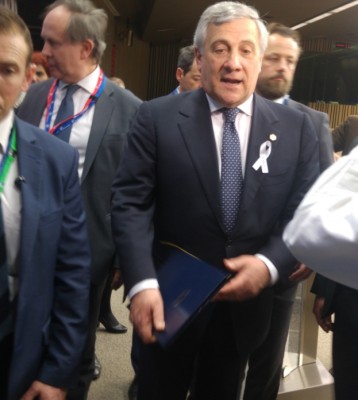 *Brussels/EU-Summit/Angelo Marcopolo/- EU Parliament's President, Antonio Tajani, speaking to "Eurofora" on the sidelines of his Press Conference during the EU Summit of March 2018 in Brussels, confirmed French President Emmanuel Macron's venue in Strasbourg Next Month, and did Not Exclude a cooperation with his Plan for EU "Citizens' Consultations", eventually Starting by that visit of Macron, who meanwhile, (apparently reacting to relevant "Eurofora"s move here : See Infra), took, afterwards, the initiative, (during his subsequent joint Press Conference together with German Chancellor Angie Merkel)) to speak about the Substance of his idea to create such Popular Gatherings all over Europe, (in a way which Brings them even Closer to "Eurofora"s 1997-mainly 2007-2018 Project) :

 - Yes, Indeed, the French President Emmanuel "Macron is due to Come on April" to EU Parliament, as things stand Now, clearly confirmed, on Wednesday, its President, Antonio Tajani, an Experienced former Twice EU Commission's vice-President, f. Top MEP and former Italian Foreign Minister, in Reply to a wider "Eurofora"s Question (See Infra), as things stand Today.

- It's on Tuesday, 17th of April 2018, that Macron is expected to Speak at EU Parliament in Strasbourg, in the Framework of an exceptional series of Hearings by MEPs of Heads of State/Government of EU Member States on "the Future of Europe", and, particularly, about the outcome of the currently on-going Franco-German Talks on the Future of €uroZone.

- Macron revealed, Later-on, Today, during his Joint Press Conference with Merkel, that he intends to Visit, Meanwhile, also Berlin, "in the Next Weeks", in order to Fine-Tune the Franco-German views mainly on Economy and €uroZone, etc. Such Franco-German Meetings are due to continue also on April, and even on May 2018, he added.

+ But, the most Important, from the point of view of "Eurofora"s above-mentioned Question to Tajani, is that the French President is Also expected, (according to other, Well Informed, French Sources), to "get out, shortly After his Speech at EU Parliament's Plenary, and go elsewhere to salute the 1st (EU) Citizens' Convention", which is due to Start in Strasbourg, that Same Day, Inaugurating a Long Series of similar Popular Events throughout all EU Countries, in the run-up to the forthcoming European Elections of May 2019, which are notoriously Planned to spread until around the End of 2018.

>>> And, indeed, the Main thrust of "Eurofora"s Question to Tajani was whether he found Both Feasible and Desirable for that Unique Opportunity of April 2018 in Strasbourg to be Seized io order to Kick-Start also a Joint Move between EU Parliament and various other Similar Popular Events, as those of EU "Citizens' Conventions", in order to Advance towards that kind of "Expression" of EU Citizens' Views on EU Organisations' Activities, and of "Regular Dialogue" between EU "Civil Society" and European Decision-Makers, as that which has been prescribed by the current EU "Lisbon" Treaty's Article 11, (since its Entry into Force, already as early as since 2010), but Not Yet really put in real Practice, at least not fully, (Comp., among others, also: ..., etc). I.e., something almost Identical to "Eurofora"s (+2007-2018) main Project for Systematic EU Citizens - Politicians Debates Before Decisions.
- Exceptionally, on this Key Point, EU Parliament President's immediate, spontaneous Reaction to that 2nd, and More Important Part of "Euforora"s Question (Comp. Supra), was to suddenly become quite Thoughtfull, but chosing, rather, Neither to immediately Confirm that, clearly and Explicitly Now, Nor to Deny any Possibility to do so in the Foreseable Future, no more : I.e., ipso-facto, in other words, Leaving that Crucial Question "Open", with a kind but somewhat mysterious-looking smile...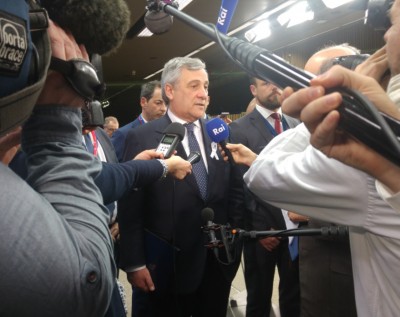 It's also true, that, in Fact, on this particular Moment, as things are going on, it's not even sure that Antonio Tajani won't become, during the Next few Weeks, eventually, the ...New Prime Minister of Italy, (i.e. entering, ipso-facto, inside EU Council), as it was, notoriously, proposed to him, Recently, by one of the main Winners of the Latest Italian Elections, including the Experienced, former 4 Times Prime Minister himself, Silvio Berlusconi, now Head of a New Center-Right Coalition, (Together with Rightist Leader of the "Lega" party, Matteo Salvini), which Succeeded to arrive at the Top of the Votes, and might, even, attract the 2nd Frontrunner, Beppe Grillo's "5 Stars" Movement, in a New Kind of Pioneer Coalition Government, (See: ...).

Given these Facts, as well as the Radical Inovation that "Eurofora"s Suggestion might inaugurate, Tajani's carefully Reserved, immediate reaction to that 2nd and Key point of our Question, (Yesterday, on Thursday), appears, at least for the Time being, quite natural, (particularly as it does not exclude anything, at this moment)...

---------------------------------
+ Macron's indirect but eloquent Reply, goes along "Eurofora" Project's query :
-----------------------------------------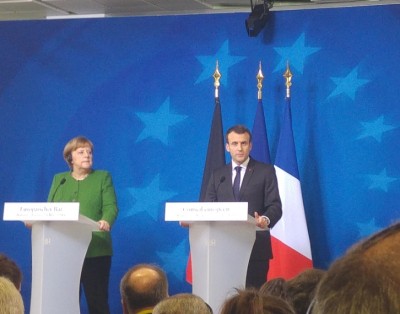 Suprisingly, but Logically, the Next Day, this Friday Afternoon, in Brussels, it's French President Macron himshelf who Suddenly Gave an Eloquent "Push" towards a possible, and much needed, Development, apparently Going almost entirely in the Direction of "Eufora"s above-mentioned suggestion/question to Tajani (Comp. Supra)...

Macron's move came, Unexpectedly, at the very Last moment of his Reply to one of the Exceptionaly Few (3 each) Questions allowed during his Joint Press Conference with German Chancellor Angie Merkel, on the Conclusion of the March 2018 EU Summit in Brussels, where the (almost Synchronous !) Deadly Islamist Terrorist's cowardly Attack Targetting Civilian People in France (Aude) Hindered a Normal, (usualy much Longer) Dialogue with Journalists, since it obviously had to be Cut Short, this Time, in order to give him a chance to Returng Fast enough Back in France, where Tragic Events were still evolving when that Conference started.

>>> Thus, "Eurofora"s Declared intention to Raise a Question related to Macron's wish for EU "Citizens' Conventions" throughout Europe, (Comp. Supra), which we had Transmitted by an Elysée Palace's Press Official, together with our ID, even if it could not be immediately satisfied as such, given the Short Time Available Now, in the Exceptional Context of a Deadly Terrorist Attack against Civilian People, nevertheless, seems to have helped Trigger an Interesting Reaction by the French President, who seized an opportunity given by a (partly unrelated) Different Question raised by a Collegue, (on the Conditions in which various Important EU's Top Jobs were reportedly Attributed to certain Candidates, instead of others), in order to add  a Reply (indirectly but surely) also to "Eurofora"s Query (Comp. Supra), at the End of his Last Public Declaration, just before leaving Brussels !  

Shaped as a matter of General Principle, this particular Macron's "Reply", is very Interesting, (also because he chose practically the Eve of his forthcoming Visit to EU Parliament in Strasbourg, in order to magistraly Boost Main Elements of "Eurofora"s Project) :

 - When "a Procedure has been Launched by the EU Parliament", which "raises several Questions" on Hot Topical Issues, then, "this Procedure Must be Followed" (also by Critical and Independent Observers, as, f.ex., Citizens, Journalists, etc), "and Transparency must be established, so that Decisions will be taken (only) After such a Procedure", he stressed from the outset, (on this special point).

 - For Macron, it's better to Raise Questions, establish a Procedure, and create Transparency : That's the way for things to be done, Democratically", as he characteristically Added.

- On the Contrary, "If (a Critical Question) was Censored, (swept under the carpet), as if there was nothing, that would provoque a Problem", he Warned.

 - "But, (whenever) there is a Democratic Controversy, a Journalistic Controversy : It should be Fuelled. There is a Parliamentary Debate : it should be Treated with calm. And, when all Elements of Truth will be gathered, then, Decide", Macron urged.

 - "That's the Way for a Mature Democracy to stay Alive !", he proposed. I.e., "when, in our Democracies, we have the Capacity for Controversies, and to make them thrive in a Transparent Framework".

 - "Europe" should further Develop its Historic (Comp. Macron's landmark Speech at Athen's Ancient Pnix Rock, near Acropolis, where Direct Democracy had been Invented, at: ...) Capacity to be an "Area where Democracy is living, where there are Citizens' Controversies (Polemical Debates), and Issues are approached in Transparency", he advised.

+ "Truth, and Both Journalists' and MEPs' work, are very Important, in this Framework", the French President added, going even Closer to "Eurofora"s Original (1997-2018) Idea for News-Generating Citizens' Debates before EU Decisions.

- "And that's why, (i.e.) in order to completely ReVitalize (European Democracy) ..., that I am a strong Believer in (EU) Citizens' Consultations !", Macron stressed.

=> -  "The point is for (EU) Citizens to be able to Deal with (take posession of) all Issues of importance for them, in order to Share (Express/Present) their Proposals, and Will for Change", he Explained, (with an Amazing Relevance to "Eurofora"s +2007-2018 Project for European Decision-Making process).

- It's a matter for "a Well-Functionning Democracy and Transparency" on Decicion-Making processes which are still "Evolving", he concluded.
(../..)


-------------------------------------


***


(NDLR : "DraftNews", as already send, Earlier, to "Eurofora" Subscribers/Donors. A more accurate, full Final Version, might be Published asap).


***

EUSummit+Parliament+Germany+France Leaders Tajani+Merkel+Macron slam Turkey Violence (Varna RDV eve)
Friday, 23 March 2018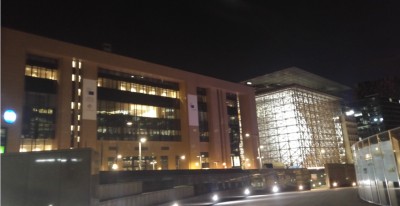 *Brussels/EU-Summit/Angelo Marcopolo/- EU's 28 Heads of State/Government clearly slamed, during a 2 Days-long Summit in Brussels, Turkey's latest Violent Abuses against EU Member Cyprus' Energy, and the Turkish Military Invasion and Occupation of Syrian Kurdish Canton of Afrin, as well as other Provocations at EU's External Borders in Greece across the Aegean Sea, etc, just a Few Days before a Crucial EU - Turkey Bilateral Summit, exceptionaly organized in Varna, Bulgaria (the current EU Chair-holder) Next Week.

But a series of Blatant Rejections by Ankara of all relevant EU Parliament and/or EU Council's Decisions, added even to a Return of Deadly Islamist Terrorism, cowardly Targetting Civilian People, Today in France, (Despite the Heroism of some), added to some Pressure to eventually Water-down Varna's meeting with even more unpopular and controversial Concessions to Turkey, are obvious Challenges that Europe needs to Face efficiently, (See Infra).

--------------------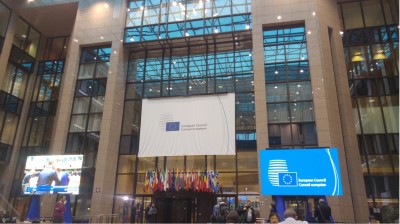 - "The European Council strongly Condemns Turkey's continued illegal actions in the Eastern Mediterranean and the Aegean Sea, and underlines its Full Solidarity with Cyprus and Greece", concluded EU's 28 Heads of State/Government from Thursday Night, as far as Turkish GunBoats' Threats against European Energy Supplies' Security, and Protection of EU's External Borders are concerned, (See also Infra).

=> In consequence, the March 2018 EU Summit in Brussels "Urgently Calls on Turkey to Cease those Actions, and Respect the Sovereign Rights of Cyprus to Explore and Exploit its Natural Resources, in accordance with EU and International Law".

+ "In this Context", (and significantly "Recalling its Conclusions of October 2014 and the Declaration of 21 September 2005", already, prepared according to Statements made by the then Prime Minister of France to "Eurofora"s co-Founder a week earlier at UNO's HeadQuarters in New York, Published then at "TCWeekly"), the EU Summit also "Recalls Turkey's Obligation to Respect International Law, and Good Neighbourly Relations, and Normalise its Relations with all EU Member States, including the Republic of Cyprus", (a "minimal" Condition which had been Explicitly put by the EU in order to Start "Negotiations" with Turkey on its controversial and unpopular EU bid, already from 2005, but Not yet really fulfilled by Ankara)...

>>> Most Important, "the European Council will remain Seized of these Matters" during all the foreseable Future, this Brussels' Summit also Warned Ankara (See Infra).

++ In Addition, EU Leaders expressed (their) Grave Concern over the continuing Detention of EU Citizens in Turkey, including (even) 2 Greek Soldiers, (who were reportedly following the Footprints of Intruders on the Snow, inside Greek Territory at the Borders with Turkey on Evros River, surprisingly leading towards a ...Group of Turkish Soldiers in Turkey's side of the Border, who arrested them, closing them to Jail for a Too Long Time, even WithOut any Court Hearing and/or Decision yet).

These Crystal-Clear, Official "Conclusions" of EU Leaders on Turkey were adopted after Marathon-Long Discussions Over-Night from Thursday to Friday, Stopping only about ...2 o'clock a.m.. To the point that, as "Eurofora" witnessed on the spot, even German Chancellor Angie Merkel was, Exceptionally, led to Cancel her Usual Press-point on the Conclusions of the 1rst Day of Brussels' EU Summits, Contrary to what she was accustomed to do...

"Eurofora" was informed by EU Council's sources that this Turkey Discussion, late Thursday Night, (Despite substantial Earlier Preparations) had a supplementary Duration of at least one Hour-Long.
The rest of that Time, overnight, was spend on Other Foreign Policy issues, concerning mainly Relations with Russia and USA, (particularly on the thorny "Salisbury" alleged poisoning affair, and New US President Don Trump's imminent decision about Taxes on Steel a.o. Imports from certain Foreign Countries, including China, India, Mexico, Canada, etc, respectively).

----------------------

- In Fact, it's "in view of our Monday (March 26) Meeting with (the Turkish) President Erdogan" (in Bulgaria), that EU "Leaders discussed Turkey, pointed out from the outset, at the Concluding Press Conference, on Friday, EU President Donald Trump.

=> "In this Context, the European Council strongly Condemned Turkey's continued illegal actions in the Eastern Mediterranean" (i.e. Ankara's GunBoats bullying European Ships from Italy to Explore EU Member Cyprus' Exclusive Economic Zone's underseas Natural Resources in Oil/Gas : See ...), "and the Aegean Sea", (i.e. various, persistent provocations over EU Member Greece's Sea Borders, which are also EU's External Borders vis a vis Turkey), he stressed.

>>> "This Issue Will be Raised in Varna, where we hope to have a Wide-ranging Discussion on EU - Turkey relations, and the way Ahead" : And, therefore, "I am Aware that it will Not be an Easy meeting...", Tusk Warned Ankara.

+ Because "the EU is Concerned not just with the the Situation in Eastern Mediterranean and the Aegean". But, Moreover, "Certainly a number of Other Complicated Issues will be Discussed in Varna", he Announced.

=> "Including Developments in Turkey" itself, (i.e. the Notorious Aggravation of Massive Violations of Human Rights of various Dissident or Critical People, which have already reached an Historic Record-High level, (Comp., f.ex., among many others, also : ... + ...), "and its (Ankara's) actions in Syria", (i.e. the Deadly Foreign Military Invasion and Occupation of Syrian Kurdish Afrin canton : See ...).

- Significantly, concerning Europe and Turkey, President Tusk, (following a notoriously Big Majority of European People's wish, repeatedly Expressed recently in both various Elections and Polls, etc), Limited that relationship to a Simple "Cooperation", Only in certain (undetermined) "Areas of Common Interest".

- Even there, however, "Still, ... we (EU and Turkey) Need to Find a Way to Talk to Each Other Openly", he chraracteristically observed, (particularly in front of Turkey's repeated Total Rejections of Both recent EU Parliament Resolutions and EU Heads of State/Governments' Conclusions, added, even, to several Provocations, rarely seen before...

-------------------------------------------

+ EU Parliament's President, Antonio Tajani, (an Experienced former Twice EU Commission's vice-President and Top MEP, who served also as Italy's Foreign Minister), Replying to relevant Questions at his Press Conference of Thursday Afternoon (Comp. also Other Tajani's Statements to "Eurofora" on this occasion at : ...), Both reminded his Earlier Call, last Week in Strasbourg, on the Need to Avoid Civilian People's casualties inside Syria, particularly during Turkey's Deadly Military Invasion/Occupation of the Syrian Kurdish Afrin canton, and Added, even more clearly now, a Fresh Call for Ankara to "Respect International Law", in this and other above-mentioned cases.

---------------------------------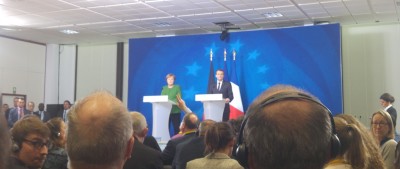 ++ Speaking later on Friday Afternoon, in a Joint Press Conference, Together with German Chancellor Angie Merkel, French President Emmanuel Macron stressed from the outset that "this EU Summit was Important because it allowed to cover several Issues affecting, in fact, Both the European Model (i.e. Principles/Values)and its Sovereignity".

- Among others, (Comp. Supra), "Just a few Days before a Meeting betwen Presidents Tusk, Juncker (of EU Council and EU Commission, respectively), and of Prime Minister Borissov (from Bulgaria, current EU rotating Chair), with the (Turkish) President Erdogan", (Monday in Varna), "We (EU Leaders) have also Spoken, Yesterday Night, about Turkey", Macron observed, particularly, in this regard.

=> Thus, EU Leaders "have Stronly recalled EU's Concern vis a vis Turkey's Behavior nowadays, (Both) in Cyprus' Territorial Waters, and jn the Aegean Sea", the French President pointed out.

+ But "Also concerning its (Ankara's Military) Action inside the Syrian Territory, at the (predominantly Kurdiosh) Canton of Afrin", Macron clearly added, (Comp. Supra).

>>> Because, "I  remind" the fact "that this (Military) Turkish Intervention is Obviously Contrary to the United Nations (Security Council) Resolution 2401", he clearly Denounced, speaking of UNO's Top Body's recent, Unanimously adopted decision for a Cease-Fire throughout ALL Syria, (i.e. including Afrin).         

-----------------------------

+ Indeed, Already as early as since February 28, even UNO's Under-Secretary-General for Political Affairs, Jeffrey FELTMAN's (USA) Official Statements to the UN Securiy Council in New York, Strongly Criticized the fact that even that "Brief Respite that (UNO's SC) Unanimously Demanded, only Days Ago, in Resolution 2401, has Not Materialized" Everywhere in Syria, since, at least in certain areas, "The AirStrikes, shelling, and ground offensives continue" : "We (UNO) Need Implementation", But "that is Not Happening", as he Denounced.  

>>> In particular, concerning mainly the Syrian Kurdish Region of Afrin, Feltman stressed that "we (UN) canNot Forget that (UNSC's Unanimous) Resolution 2401 Demands a Cessation of hostilities Throughout (all) Syria".

=> But, Nevertheless, "Violence Continues in AFRIN", (that UNSG significantly Chose to Cite 1st), Idlib", etc, he Denounced. The First Area ("Afrin"), obviously concerns Directly Turkey's Military Attacks against Syrian Kurds and Pro-Government Syrian Forces, but Also the Second ("Idlib") involves, indirectly but surely, Turkey, since it concerns various Islamist Jihadists and outright Terrorists, who have been Concentrated and Piled up there, by Gathering the Remnants of Al-Quaida-like and/or ISIL's collapse, elsewhere in Syria, who have all been, in one way or another, notoriously tolerated and even Supported also by the Turkish Government...

- UNO's Political USG Denounced, for those Areas, (i.e. "Afrin" at First), "the Humanitarian challenges and Suffering of the People", and, even, went as far as to "Emphasize that Developments in these Areas will undoubtedly render the situation in Syria even more Complex", as he Warned.

-----------------------------------

+ Today, (Friday Noon), German Chancellor Angie Merkel, speaking side by side with French President Macron (Comp. Supra), also pointed at "the Discussion that We (EU Leaders) had Last Night (Thursday) on Issues regarding Turkey", while "Next Week there will be a Summit in Varna (Bulgaria) between the Presidens of the EU Institutions, the Bulgarian (EU Council's rotating) Chairmanship, and the Turkish President".

=> On this occasion, "We (EU Leaders) have Expressed our Concern with regard to Afrin, the Events in the Mediterranean around Cyprus, and also the Question of the 2 Greek Soldiers who are currently in Turkish Custody", she pointed out, (Comp. Supra).

>>> In fact, even if "we want a good Relationship with Turkey", the German Chancellor conceded, (withOut even mentioning, however, Ankara's controversial and unpopular EU bid), "Nevertheless, We (EU Leaders) have Very Big Concerns" on those Turkish actions, Merkel also Denounced.
+ Speaking just 1 Day Earlier at the Bundestag in Berlin, Angie Merkel rejected as "UnAcceptable what is happening in Afrin", (the Syrian Kurdish canton near the Borders with Turkey, which has recently Invaded and Occupied almost all of it), "where Thousands and Thousands of Civilian People face Attacks, obliged to Die or Flee", nowadays, she denounced.
=> "We (Germany) Condemn that, in the Strongest possible terms", Merkel firmly stressed then.
+Significantly, these Days during the EU Summit in Brussels, it's for the 1st Time (at least in "Eurofora" co-Founder's Memory, at the EU Summits that we have attended here since 2005), that, Exceptionally, a loud Public Demonstration against Turkey's Deadly Military Invasion and Occupation of the Syrian Kurdish Afrin canton, was tolerated by the Local Authorities, up to the Famous "Schuman Square", which is Located almost right in Front of EU Commission's and EU Council's HeadQuarters... 

--------------------------------------

But, Turkey's Reactions were Harsh and Astonishingly Negative, Rejecting Everything :

- Already, on EU Parliament's latest Resolution, adopted earlier in Strasbourg by almost All Political Groups against the Turkish Military Invasion/Occupation of the Syrian Kurdish canton of Afrin, (See: ...), Turkey's President Erdogan reportedly Replied by Claiming that "there is Nothing the European Parliament can tell us on this (sic !)"...

=> Thus, EU Parliament's "Statement will go in one Ear, and Out Other ! (sic)", Erdogan reportedly stressed.

+ Turkey's Minister for EU affairs, Omer Celik, cited by "Reuters", went as far as to, in fact, Accuse MEPs to be ... Supporters of Terrorism (sic ! ) :

 - "Calling on Turkey to Withdraw its Troops (from Afrin) is a clear Support for Terrorist organizations" (sic !), Mr. Celik claimed, criticizing the "Decision the EU Parliament has taken".

Many International Observers, however, Critically Noted that Turkey had, initially, attempted to justify its Military Invasion of Syria's Kurdish Afrin Canton by Claiming that it Seeked Only to ensure the Safety of its Borders towards Syria, But, Later-on, its Army started to Intrude even at the Central Core of that Area, surrounding, Attacking and Occupying Afrin's Capital City itself, located at that Canton's Heartland, Far Away from the Borders ! (See : ...).

---------------------------------------------------------------

+ Moreover, Today (Friday), the EU 28 Heads of State/Government Summits' Conclusions on Turkey (Comp. Supra), were briefly Rejected as ..."UnAcceptable" (sic !), by Ankara's Foreign Ministry Spokesman.
++ The Turkish Foreign Ministry earlier droped the German Chancellor's criticism on Afrin by claiming that it had "Nothing to do with Reality", and would be tantamount to "Supporting Terrorist organisations" (sic !)... 


+++ In Addition, Turkish President Erdogan reportedly Phoned to French President Macron in order to Complain for the above-mentioned EU Summit's Decisions and his own words at the subsequent Press Conference with Merkel in Brussels, (Comp. Supra), that he Accused to be "Baseless", (after having, previously even Claimed to find "False Informations" in them)...

----------------------------------

- In Reply, Macron reportedly "stressed", Later Today, inter alia, also that "France had Clearly Expressed its Concern, already since the Turkish Military Intervention in the (Syrian Kurdis) Canton of Afrin, had been Launched", underlying, particularly, that "Nothing should Weaken the Pressure on (Deadly Islamist Terrorists of) ISIL's remaining means in Syria and Iraq", as an Official Press Release by the Elysée Palace in Paris pointed out on Friday Afternoon.

=> Most of all, the French President pointed at "the Need to ... give an Absolute Priority to the Fight against (the Deadly Islamist Terrorism of) ISIL", (as also USA's Authorities had reportedly done in parallel).

>>> Also Because "this is, for France (as also for other EU, Russia and/or American Countries, etc), an Issue of National Security !", Macron Strongly stressed Today.

* Significantly, the French President was Speaking just Hours since a New, Bloody Islamist Armed Terrorist Attack in France's Aude area, cowardly Targetting Civilian People, Killed 4 and Wounded a Dozen of innocent Victims.

- As he Earlier Denounced from the Beginning of his Press Conference here in Brussels, this New Deadly Islamist Terror Aggression Targetting Defenseless Civilians, "are Influenced and in Contact with ISIS or Other External (Foreign) forces Related to Islamist Terrorism", for the 1st Time after a Long Pause since ISIS had been almost Chassed Out of Syria by an US-led International Coalition, particularly under New US President Don Trump, notoriously Fighting in efficient Alliance mainly with the Syrian Kurds.

>>> But, obviously, as it had been Expected by several Observers, (including, even, USA's mainstream "Wall Street Journal", etc), the recent Deadly Turkish Military Invasion and Occupation of the Syrian Kurdish canton of Efrin, had Divided and Weakened that, until now, Succesfull Coalition against ISIS, mainly by Underminig Trust and by Diverting Kurdish People and Resources, from the Fight against Islamist Terrorism, towards the recent Need to Defend Afrin from Turkey's Deadly Military Invasion and Occupation (Comp. Supra)...

=> Indeed, its just a Few Days after even the centrally located Afrin City faced Deadly Turkish Attacks, (including by Artillery Shelling, Airplane Bombardments, Water/Elecricity Cuts, etc), that an ISIL-motivated, Armed Thug suddenly Started, anew, to Cowardly Target, Kill or Wound innocent Civilian People again, as in Today's Bloody Tragedy, (Comp. Supra).

+ And various Other Converging sources had Already Denounced, Recently, that, Shortly After Turkey's recent Military Invasion at Syria's Kurdish Afrin Canton, various ISIS' Attacks had suddenly re-Emerged Both inside Iraq and, mainly, Syria (Comp., f.ex., Facts cited at ... + ...).

++ Given also the Fact that Turkey had Notoriously Helped various Islamist Extremists' Armed Gangs, even Al-Queda-like Terrorists, as well as ISIS itself, to Exploit various illegal Trafficks of Weapons, Smuggling of Stolen Goods, including Oil/Gaz and Cultural Heritage, etc, Recruit of "Jihadists", Money Laundering, etc., for Many Years in the Past, mainly through Turkish territories, this New "Comme Back" of ISIS, precisely when Turkey Invaded and Occupied the Syrian Kurdish area of Afrin, should Not really be a Surprize...

+++ A Fortiori when Ankara has even been Accused, recently, to ..."re-Train" former ISIS' (and/or "Al-Queda"-like) Terrorists, in order to use them to Back its Armed Invasion/Occupation, precisely of Afrin.
---------------------------------

In such Circumstances, it would obviously be an Absurd Big Blunder if any EU Bureaucrat might, eventually, Fall to the Trap to Discuss, almost at the Same Time, UK's Withdrawal Out of the EU, (as this Brussel's Summit of March 2018 actually has just done here : Comp. Supra), AND ...Turkey's controversial and unpopular EU "Accession" bid !

And it would, certainly, be even Worse if, in Addition, anyone might, perhaps, commit the Same Bloody Errors that have notoriously done some in the Past, precisely at ...Varna, where the forthcoming EU - Turkey meeting is scheduled now (Comp. Supra) :

- Back on 1.444, a number of European Volunteer People and Soldiers had, indeed, arrived in Varna, in order to Try to Save the ailing Capital of the Byzantine Empire, Constaninople, surrounded, then, by Ottoman-Turk Troops. But, Some among them, finally preferred to remain Servile "to the (Turkish) "Sultan", while Others Betrayed their Promises, for some petty "Trade" interests... , Droping everything. The Result was to Abandon the remainder to be Slaughtered by the Ottoman Turks, who, immediately Afterwards, found a unique Opportunity even to Invade and Massacrate the Defenders of the over-Millenary Capital City of the Christian-Greek Byzantine Empire : Constantinople, soon Afterwards, on 1453. The Catastrophic Result of that Short-Sighted and Treacherous Cowardise, committed by Some in Varna,  notoriously was to practically Throw the Half of Europe into an UnPrecedented Foreign Occupation, Slavery, Massacers, Massive Oppression, Under-Development and Backwardness, during Many Centuries, seriously Hindering a semi-Occupied Europe's further Development, (as, f.ex., the World Famous UK Encyclopedia "Brittanica" reminds).

Until, Later-on, a Growing Series of European Armies' Vitories, started to Succesfully Defend, (f.ex. at Lepante : 1571, and Wien : 1.683, etc), and Afterwards Liberate, one after the other, most European Lands, (f.ex. netween Budapest : 1.689, and All Hungary : 1699, etc., up to Balkan Countries and most Greece : 1.821-1919), a very Long Time Afterwards...

---------------------------------------------
TODAY's HERO against Islamist Terror : BELTRAME, has unexpected EUROPEAN LINKS...
-----------------------------------------------------------------------

The Hero of Today's Horrible Massacre committed by an Islamist Terrorist in Aude, (France), who cowardly Targetted innocent Civilian People, i.e. Gendarme Lieutenant-Colonel Arnauld Beltrame, who notoriously Sacrificed his own Life in order to Save that of Civilian Hostages, (by Taking their Place), is a well Known Physionomy also by "Eurofora"'s co-Founder: Indeed we were Surprized to find his Photo at Today's Headline News, with his UnForgetably Serious and Deep Eye-sight, that we've met and seen several times, during his Service at Elysée Palace in Paris, and/or as Key Member of the Security Team for the personal Protection of France's f. Presidents Jacques Chirac and Nicolas Sarkozy between 2006 and 2010.

+ Moreover, Arnauld Beltrame's links to Europe have an astonishingly Strong, Historic Symbolism:

Indeed, his Conversion back to Chrisianism had reportedly occured at 2008 : - I.e. the Year of a landmark Official Visit of f. Pope Benedict in France, which Chaired then the EU. This had given Him a chance to raise the Topical Issue of the conditions of EU Citizens' adherence to European Ideals, focusing mainly on the Defence and Development of basic Human Rights.  (Comp. "Eurofora"s NewsReports from Elysée Palace, Notre Dame de Paris, and Lourdes, then, at : ...).

+In Addition, since then, Beltrame had become, reportedly, fascinated also by the study and rediscovery of Europe's Historic Christian roots.

++ And he has just chosen to Risk and Sacrifice his own Life for that of Innocent Civilian People, cowardly aggressed and taken Hostages by a Radicalized petty Thug obviously manipulated and turned into Fanatic Islamist Murderer by ISIL's Deadly Terrorists, atrocious BeHeaders and cowards systematically Targetting Defenseless innocent Civilians, exactly on the Day of the Conclusions of EU Heads of State/Government's Summit, here in Brussels, which notoriously Discussed both Turkey's recent Violent Threats and/or Aggressions, at the Eve of a Crucial forthcoming EU - Turkey Summit in Varna (Bulgaria) Next Week, as well as €uroArea's foreseable Future.

Last, but not least, Beltrame was reportedly Engaged with Mariell, his Future Wife, at Brittany's Abbay "Notre Dame of Timadeuc", (Burned Down by a Criminal, but Restored Afterwards, it Won a "Resistance Award" for Helping during the 2nd World War, the Resistance to NAZIsm at Rohan area : Origin of ...Strasbourg's Historic "Rohan Palace", located near CoE's and EU Parliament's Buildings), during 2016's Easter : I.e. almost as Nowadays, et this Eve of 2018's Easter, when he Engaged for Ever with the History of Humanity.

A ReNovated and Authentic European History, where the Past is inseparably Linked to the Present and its current struggles for Europe's Future.

It should Not be neither Forgotten, nor Betrayed anew at Varna, (Comp. Supra), but rather, Nowadays, adequately Honored and Vindicated.


(../..)

-------------------------------------------------

CoE to Boost Athletes' Human Rights after Anti-Doping Zig-Zag Row between Russia - SKorea Olympics
Tuesday, 20 March 2018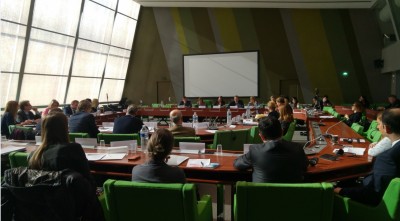 *Strasbourg/CoE/Angelo Marcopolo/- Acting Fast, After the Recent Olympic Games' Row, which initially Excluded, Before Later Restoring to their Rights, many Russian Athletes, regarding Doping Allegations, according to Controversial Procedures, for the First Time, a consistent Draft "Charter of Athlete Rights" was Discussed in Strasbourg, in view of a possible adoption in a Few Months' Time,  at CoE's 47 Member States-strong PanEuropean Organisation for Human Rights, Democracy and Rule of Law, in Cooperation with the Global Anti-Doping Agency (ADA), during an Exceptional International Conference co-Organized Together with CoE's Anti-Doping Convention's Experts, (a European Legal Text, Open for Signature to All Countries in the World).

While, on December 2017, IOC had Banned Dozens of Top, Prize-Winning Russian Athletes, and Stripped them from the Medals and Titles that they had Won, allegedly thanks to Doping, exceptionally Excluding even the Country as such, from the Latest, 2018 Olympic Games at PyeongChang, in South Korea, because of Doping Allegations Dating since the Previous Olympic Winter Games of 2014 at Sochi (Russia), suddenly, on February 2018, the Court of Arbitration on Sport (CAS), cancelled many of those rulings,  reversed or, at least, reduced and limited several others, after Finding that they Lacked of Sufficient Evidence, had been obtained after Controversial Procedures, and/or were DisProportionate, etc. But that Rectification came too Late, for the concerned Athletes, who were Excluded from the 2O18 Olympic Games, added also to various Other Negative Repercussions to the Detriment of their Honor, Reputation, Social and/or Professional Lives.

+ By a Timely Coincidence, the Experienced Russian Health Minister, Veronika Skvortsova, (who has Recently been Elected also President of  the World Health Organisation (WHO)'s Assembly at nearby Geneva), was Today in Strasbourg, where she met with CoE's Secretary General, Thornbjorn Jagland this Same Morning.
-------------------------


=> - "Athletes' Human Rights must be Protected, and their Voices Heard" : This "Issue ..will be addressed at (CoE's) Next Conferene of Ministers responsible for Sport, which will take place in Georgia, on October" 2018, Announced, from the outset, CoE's Deputy Secretary General, Gabriella Battaini-Dragoni, (who has also a personal Experience on that area, since she has served also as former Sports' Minister).

-  Indeed, "the Credibility of the Anti-Doping" Institutions, as well as "the Human Rights of Athletes" require to Act, particularly for their Right to a "Fair Hearing" by an "Independent and Impartial" body, similar to that of EConv.HR's "Article 6", etc. For that, we need to hold sincere and open "Discussions" with all the stakeholders, pointed out ADA's vice-President, the MInister for Children and Equality from Norway, Linda Hofstad-Helleland.

- We want that forthcming "Charter" on Athletes' Rights "to be Robust", and, for that purpose, we must "add Input to the Process" if its Preparation, while also meeting the relevant "Time Deadlines", incited the President of CoE's Anti-Doping Convention's Monitoring Group, Anders Solheim, who introduced to the Debates which followed, (partly Open to the Press, partly "In Camera").

- Several among the Participants to that Debate, (taken among Athletes, NGOs, Experts, etc), Criticized what they found to be the "too Complex", sometimes even "Confusing", character of the current Legal Texts and/or Mechanisms used in the Anti-Doping activities, asking to "Clarify" them for the Athletes+.

=> - "Whenever we speak about Sochi (Comp. Supra), I'd better Put my Glasses on !", characteristically Joked, in this regard, the former Football Player, and currently Chie Technical Development Officer at the FIFA, Marco Van Basten, during a Dialogue between Experienced Athletes, Together with another former Footballer, Jan Age Fjortfoft, from Norway.

+ Other Participants tno that Debate prefered to Focus on the Need for "Transparency" of the relevant Procedures, and for the "Independence" of those due to take Decisions.

++ Last, but not least, several Participants asked for "Efficiency", and "to Make Sure that the Rules are Applied to everybody", etc.

The 2nd Debate, about the Concrete Measures, with which CoE intends to Boost Athletes' Rights, was held Behind Closed Doors (for the Press).

-------------------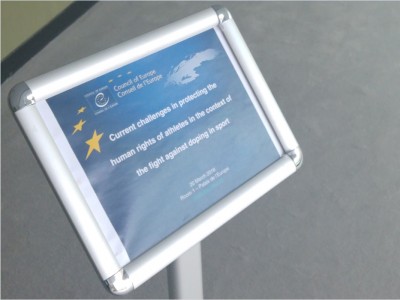 => "Eurofra" found, meanwhile, CoE's Draft "Declaration" about the forthcoming "Charter of Athlete Rights", which is a Document of 5 Pages, in the form of a Legal Convention with 17 Articles :

 - "Sport is Controlled by International ... Federations, National ... Organisations, Professional .. Leagues, Employers, Businesses and Governments", while "Athletes are the Public Face of Sport, and Athletic Performance is fundamental to the Prestige, Popularity and Viability of Sport". In consequence, "the Politisation and Commericalisation of Sport Today, sees a Failure to uphold the Humanity of Sport and the Dignity of the Player, and a Violation, by Sports' Organizations, of Internnationaly Recognized Human Rights", COE's Draft notes from the outset.

 - "Education, Health and Safety", "Equality of Opportunity", "Fair and Just Sporting Conditions", "Privacy" and "Protection of Name, Image and Performance" and "Rights of the Child", as well as "Freedom of Expression", "Representation", "Access to Court", "Procedural Justice" and "Right to an Effective Remedy", concerne the Substantial Rights of the Athletes, and the Means to Defend them.

+ "Freedom from Doping and Corruption", as well as the "Duty to Respect the Rights of Others and (to) Advance Sport", go more in the Direction of their Obligations, (even if CoE's text also speaks of "Freedom from Doping", and about "Athlete"'s "Right to a Sporting Environment ...Free of" Doping) :

- "Doping"'s Definition is considerably Simplified, (compared to the Complex and Confusing original Definition in the Anti-Doping Connfession) : It's just "Using Banned Substances".  
      
- Relevant "Genetic Manipulations" should, normally, be Included into that, since almost All of them use some kind of "Substances", noted a CoE's Expert, speaking to "Eurofora". Moreover, CoE's Draft calls also to "Presetve teh Integrity of Spot, ...Fee from ...Manipulation" (etc), she pointed out, in his regard.

+ At the same time, "Every Athlete has the Duty to Advance and Promote the Interests of his .. Sport and Community", and to Help "Ensure that Everyone can Enjoy Sport, and that the Health of Sport and the Social and Cultural role in Society is preserved", CoE's text concludes.  ,

------------------------

 >>> Curiously, this CoE's "Charter" does Not contain any Definition of what is an "Athlete"... Therefore, "Eurofora", speaking to CoE's Experts, suggested that, in fact, this New Draft might implicitly Refer to the Crystal-Clear Definition already Given by CoE's Anti-Doping Convention, according to which : - ""Sportsmen" .. means those Persons who Participate Regularly in organized Sports Activities". (Article 2).

An eventual Professionalisation is Not a matter of Definition of what is an "Athlete". But, on the Contrary, a "Right", that "every Athlete has", "to Share Fairly in the Economic Activity and Wealth of his .. Sport, which Athletes helped generate", (i.e. If and When he might Wish to do so), as it results from CoE's Draft "Charter of Athlete's Rights" (Article 6, on "Economic Activity").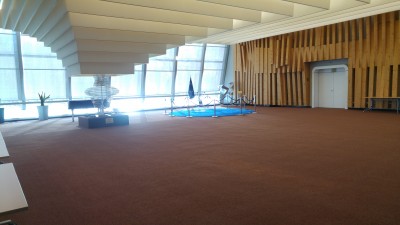 In other words, it Reminds (mutatis-mutandis) the Definition of "Journalism" already given by 2 landmark Decisions of the Inter-American Court, as Early as since 1985, as a Person engaged in a Regular Activity of Searching, Formulating and Publishing News of General Interest for the Society, that a Recent CoE's Book on "Press Freedom" published on March 2017, by a Team of Experts (including the new Secretary General of the European Federation of Journalists from Brussels, etc). Something which is, obviously, much more Closer to ECHR's Case-Law, than a merely "Fiscal" Description of some Bureaucrats who, curiously, insist to Reduce the Noble Vocation of "Journalism", only to a mere ..."Card" attesting what kind of Business might Pay the Majority of an Individual's Revenues (sic !)...

I.e., CoE naturally Prefers, Both for "Athletes" and for "Journalists", a Definition Focusing on the "Substance" of their Real Activities in the Society, instead of Merely Restricting it to a Sly, Fiscal Description, which has Nothing to do with the Substance of the Issue.


(../..)

-----------------------
BRIEF NEWS
00:00 - 09.07.2018

00:00 - 31.05.2018

00:00 - 26.12.2017

00:00 - 26.05.2017

00:00 - 30.01.2017

00:00 - 14.10.2016

00:00 - 24.09.2016

00:00 - 27.07.2016

00:00 - 03.07.2016
Statistics
Visitors: 28236393
Archive
Login Form
Other Menu

They voted to "freeze" UK Government's draft to put People in jail for 42 Days on "anti-terrorist" suspicion without charge, or they abstained. Don't they look suspect ?
-------------------------
CoE's debate on UK controversy stirs PanEuropean check of anti-terror suspects' imprisonment


Former Leftists of the Sixties would boil in hot water if they heard PACE's debate on the controversial 42 days detention without charge, currently drafted by the British Government :
A "Socialist" Government, a Socialist PACE Rapporteur and a Socialist Chair of PACE's Legal Committee, opposed a .. "Conservative" amendment (supported by .. Liberals, Democrats, etc), to freeze the measure, in order to protect Citizens' Freedom, by "waiting" until CoE's Venice Committee checks its conformity with Human Rights' principles.
"Left"'s support to Conservative-Lib.Dem's criticism, wasn't enough to obtain a majority, nor to make things as they were back in the good old days, when "Left" and "Right" had a clear meaning, as "liberty" and "restrictions"...

Conservatives and most Democrats were joined by the Left in voting for the "freeze", as well as Liberal Paul Rowen, while Socialist MEP Ivan Popescu, an experienced MEP from Ukraine (PACE Member since 1996-2008) abstained. But most Socialists, added to a few Liberals and EPP's Right, voted against.

Fortunately, someone inside PACE had the wise idea to shorten the Debate for less than 1 Hour, and put it on the Agenda only at the end of an exceptionally busy day, towards the end of the Evening, when most MEPs had already gone to taste wins and foods at various Receptions all around Strasbourg's "European" area : As a result, not even 42 MEPs weren't present..

Socialist Lord Tomlinson accused the leaders of the PanEuropean Assembly, in its highest body : the "Bureau", to "lack wisdom" by deciding to hold a Debate on an issue that neither the Socialist Chair of the Legal Committee, nor its Socialist "reluctant Rapporteur", did "not want to do", ...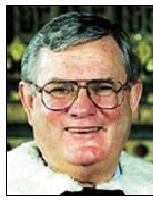 Finally, everybody (critics and supporters alike) was happy to agree, in substance, that the controversial measure "may" gravely violate Human Rights, and therefore, PACE asked Legal Experts of Venice Commission to check UK Government''s plans.

But this might take more than .. 42 Days to do, since PACE's Rapporteur asked the Experts to enlarge their study in a PanEuropean comparison of all that is happening on "anti-terrorism" legislation in 47 CoE Member Countries, including Russia, Turkey and Azerbaidjan..

Bad lack : "The existing 28 days' detention without charge in the UK is, in comparison with other CoE member countries, one of the most extreme : In Turkey, the period is 7,5 days, in France 6 days, in Russia 5 days, and in .. the U.S. and Canada just 2 and 1 days respectively", denounced Democrat MEP Ms WOLDSETH from Norway..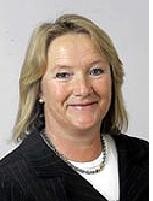 "Numerous respected human rights organisations, including Liberty and Human Rights Watch, have expressed serious concern" "The proposed legislation ...could easily lead to extensive abuses. ...Detention for 42 days means six weeks in which one is taken away from one's family, friends, home and livelihood only to be let off without being charged. That will destroy lives and isolate communities", she added.

- "3 years ago, the UK Government sought to increase the period of pre-charge detention from 14 days to 90 days. Not long before that, it had been only 7 days. There was a vigorous debate ...and a ...compromise was reached of 28 days. We have to ask whether there are proper safeguards in place to extend the period to 42 days. I suggest that there are fatal flaws", reminded British Conservative Clappison.

- "What sort of society holds someone in detention for 42 days and does not have to tell the person who is in prison why they are there, or explain the suspicions that arose and led to their detention? What sort of society believes that that is the way to treat its citizens? That is an appalling injustice, ...A 42-day detention period will not make the UK safer. Instead, it will be the first step to giving in to terrorists; it is saying that we are prepared to sacrifice our democratic rights and the principles for which we have stood for centuries", criticized British Liberal Michael Hanckock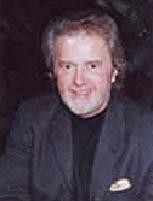 "Comments made ...by Norwegian delegates are unfortunate", replied British Socialist MEP Ms.Curtis-Thomas, accusing them to "besmirch the reputation of our police force, which is one of the Best in the World", as she said, believing that "there are significant safeguards ...to ensure that individuals are not subjected to unlawful detention"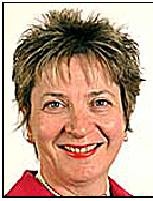 PACE "has serious doubts whether ...the draft legislation are in conformity with the ...case-law of the European Court of Human Rights. A lack of ..safeguards may lead to arbitrariness, resulting in breaches of ... liberty and ...right to a fair trial". PACE "is particularly concerned that: ..the judge ..may not be in a position to examine whether there exist reasonable grounds for suspecting that the arrested person has committed an offence;"; that "... representation by a lawyer may be inappropriately restricted or delayed;" that "information on the grounds for suspicion of a person ...may be unduly withheld.. ;" that this "may give rise to arrests without the intention to charge;", and; in general, that "prolonged detention without proper information on the grounds for arrest may constitute inhuman treatment", says Klaus De Vries' Report, adopted with 29 votes against zero.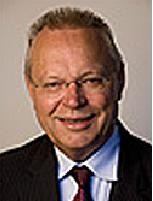 Records don't say if it took him 42 Days to draft his Report, but, at least, he knew why...


Polls