Home

newsitems

CoE Information Society Director Kleijssen to EF: Journalism Definition Extends in Web for Pluralism
CoE Information Society Director Kleijssen to EF: Journalism Definition Extends in Web for Pluralism
Wednesday, 20 March 2019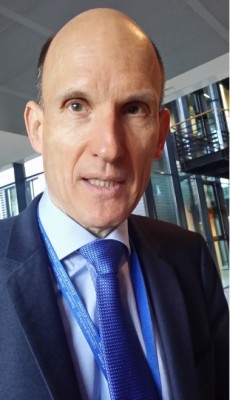 *Strasbourg/CoE/Angelo Marcopolo/- Experienced CoE's Director for Information Society and Fight against Crime, Jan Kleijssen, from the Netherlands, Speaking to "Eurofora" on the occasion of a 2 Days Conference on Medias and Pluralism, particularly in the Modern Digital landscape, organized by the CoE together with "Reporters without Borders' NGO for Press Freedom, observed that the Legal Protection of Journalists would have to be Extended also to certain New Media Actors, (as the CoE has already started to officialy acknowledge : See Infra), in order to become able to succesfuly Face the Challenges for Pluralist Democracy Nowadays.
-------------------------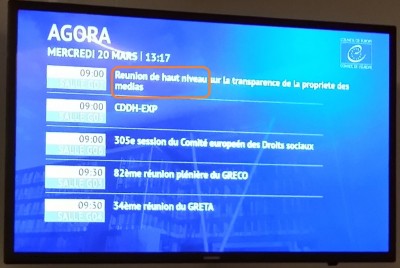 - My main "Message" to this 2019 Conference is that,  while, "Still, the Old Challenges on Regulators, to ensure Medias Ownership's Transparency, and about Finances, on Concentration, etc, they stay", nevertheless, "there are also New Challenges, with the Digital Media Platforms", Kleijssen told "Eurofora" from the outset.
- Particularly "when they are acting whether with Less and less Human Editing, but More and more Automated Editing, (i.e. Artificial Intelligence), because there is a lot of Algorithms in it, a lot of Processes in it, (mainly on Web News Distributed via Artificial Intelligence : "that's an Issue"). => "So, it's important to make sure that Regulators (i.e. States, European/International Organisations, etc) can face these Challenges too".
+ And, "f course, a Challenge that underlies it all, at the Moment, is also about the Physical Safety of Journalists", as it's noted in "the (CoE's) Secretary General's (Thornbjoirn Jagland's) Latest Report (2018), with very Worrying Results of the Surveys carried out in Europe", which show how Many Journalists" faced such serious problems, he reminded.  
- "F.ex., Everybody knows the case of Daphne Caruana Galicia in Malta, (a brutal Murder, where investigations still Delay in lots of things), followed by another one in Slovakia, (with investigation apparently Advancing much faster), as very High-Profile cases (of Killings of Journalists), where, what happened is, of course, Absolutely UnAcceptable", Kleijssen denounced.

+ "But, in addition to that, there is a Lot of "Low Intensity" Intimidation, Harassment, etc., of Journalists. And this is something on which we (CoE+) have to be Alert too, for Medias' Pluralism, as it's part of it", Jan Kleijssen concluded, as far as the 2019 "Cornerstones" are concerned.
----------------------
- In relation to that, "Eurofora" Questioned the CoE's Director for Information Society, about the Controversial Views of "Some (who) Persist to abuse of an Old kind of "Fiscal" Definition of Journalism, claiming that it would Merely mean ...+51% of Revenues paid by any Media Business, regardless of the Content of the Work provided. Thus, f.ex., even a lazy and passive, simple Radio-TV Presenter might have much More Rights and Protection, than a Creative Writer who Risks even his/her LIfe to Investigate "Hot" Issues, Help Discover all the Truth, and reveal to the People the full Findings, when he believes that they affect the General Interest in our Society, as we denounced.                               
 - "No !", reacted Kleijssen. In fact, "there are Texts of CoE's Committee of Ministers which have already said that the Definition of "Medias", and their (Legal) Protection, should be "Extended".
- This includes, f.ex., also certain Bloggers, and Other New Media Actors, who Publish News Regularly, and, may be More Read than Traditional Newspapers, also, sometimes highly Succesfully".
- He said that in Reply to "Eurofora"'s reminder of the case of Daphne Caruana-Galicia, brutaly Murdered in Malta, who had been Hindered, by a Chief Editor, to Publish Critical News in her Traditional "Weekly" Newspaper, (as her Family had revealed to "Eurofora"), and was obliged to create a WebNews Site where she Published Alone, Dangerously Exposed,(See, among others, also: http://www.eurofora.net/newsflashes/news/webjournalistmurder.html, http://www.eurofora.net/newsflashes/news/euparliamentpresidentoncoeandjournalistmurder.html, http://www.eurofora.net/newsflashes/news/daphnewebjournalistmurderenquiry.html, http://www.eurofora.net/newsflashes/news/daphnepressfreedomandcorruption.html, http://www.eurofora.net/newsflashes/news/rsfleaderondaphnemurderandjournalism.html, http://www.eurofora.net/newsflashes/news/eucoenewsondaphnemurder.html, etc).
- Concerning Daphne's Husband's recent Denonciation, at another event, previously in Strasbourg, that "the (official) Investigation its Stuck !" (See: ..., etc), Freedom of Speech NGO "Reporters wihout Borders"' International Director, Dr. Michael Rediske, replied to an "Eurofora" Question with a Bitter Denonciation of the fact that "those who have the means to act, do Not want to do so ! But, unfortunately, we can't send them to the Haye International Criminal Court"...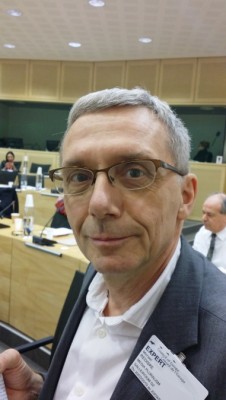 ---------------------------

+ Such a Topic (as Journalists' Protection Status being Extended also to New Medias Actors at the Web), "might also be discussed", during this Conference, later Today, and/or in various other Events on Medias' "Pluralism", where "there will be a lot of Angles", Kleijssen guessed.
-------------------------------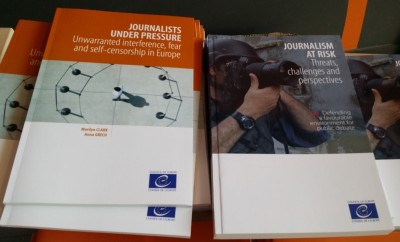 >>> In this regard, 2 landmark CoE's Books, about "Journalism at RISK : Threats, Challenges and Perspectives", and "Journalists under PRESSURE : Unwarranted Interference, Fear and Self-Censorship in Europe", Published on 2015 and 2016, respectively, had been rightfully Chosen by the PanEuropean Organisation for Human Rights, Democracy and Rule of Law of Strasbourg, in order to be Displayed on the spot and Offered to the Participants in this Conference.
+ Between them, had Also been Published a Relevant "Eurofora"s Article, with an Interview of the New Secretary General of the European Federation of Journalists, Ricardo Gutierrez, and the mention made by a representative of CoE's Committee of Ministers, during an International Conference on "Freedom of Expression", to certain Important Decisions taken by the Inter-American Court of Human Rights, precisely on that Question of "Journalist"s  Definition, (Comp. Supra) :
(1) In the First CoE's Book "Journalists at Risk", 2015), Aidan White (Long Time former Secretary General of the Internationonal/European Federation of Journalists, and Nowadays of the "Journalists' Ethical Network", in an Exceptionaly Long Article, basically Urges to Extend most of Traditional Journalists' Legal Protection also to some "Other Actors" of Medias in our Digital Society, on the Condition that they will Accept to Practice the main Principles of Press Deontology, (See: http://www.eurofora.net/newsflashes/news/iachrcoebookandefjsgonjournalismdefinition.html . An Idea that "Eurofora" had Initially suggested to White as Early as since 2009-2010 : See  http://www.eurofora.net/newsflashes/news/digitalpress.html, http://www.eurofora.net/brief/brief/webmedia.html , etc).
(2) In the relevant "Eurofora"s Article" (November 2015 : http://www.eurofora.net/newsflashes/news/iachrcoebookandefjsgonjournalismdefinition.html), we refer to 2 Decisions of the Inter-American Court of Human Rights (cited by a CoE's CM Representative : Comp. Supra), which stressed mainly that : "Journalism canNot be equated to a Profession", i.e. Not "Only through those who are Enrolled in a certain Professional "Colegio" (Corporation)", "because", in fact, "Journalism is the Primary and Principal Manifestation of Freedom of Expression of Thought, .... which is an Inherent Right" of a Person, "and has a Double Dimension  : Individual and Collective", including Both "the Right of an Individual to Express himself Freely, AND that of Society as a whole  to Receive Information", so that any "Violation" of that, Threatens also "to Deprive Society of possible Sources of Information", affecting "a CornerStone upon which the very Existence of a Democratic Society rests", since "it's Indispensable for the Formation of Public Opinion", and "a Condition sine qua non for the Development of Political Parties, Trade Unions", etc., and "the Means that Enable the Community, when Exercising its Options, to be Sufficiently Informed", given the Fact that "a Society that is Not Well Informed, is Not a Society that is Truly Free". + That's why, the very "concept of Public Order in a Democratic Society, requires the Guarantee of the Widest possible Circulation of News, Ideas and Opinions, as well as the Widest Access to Information by Society as a Whole", and "is not conceivable without Free Debate, and the possibility for Dissenting Voices to be Heard".
<< => In consequence, "Journalism is the Primary and Principal Manifestation of Freedom of Expression", and "the Thing that Journalists do, involves, precisely, the Seeking, Receiving and Imparting  of Information", since "the PRACTICE OF JOURNALISM ...Requires a Person to ENGAGE (Him/Herself) in Activities that define or embrace the Freedom of Expression", so that "the Professional Journalist is not, nor can he be, anything else, but Someone who has Decided to Exercice Freedom of Expression in a Continuous, Regular" way.  As for "the Circumstance, Whether, or Not, that Right is Exercised as a Paid Profession, canNot be deemed Legitimate in Determining whether (a) Restriction" might be acceptable, since "that's Not a good enough Reason to Deprive Society of possible Sources of Information". "Unlike Journalism", "the practice of Law or Medicine, that is to say, the Things that Lawyers or Physicians do, is Not an Activity Specifically Guaranteed by the Convention" on Human Rights, and, therefore, it could be Restricted,  for "Reasons ... that May... Justify Compulsory Licencing of Other Professions", but canNot be invoked in the case of Journalism, because .... this could Violate the Basic Principles of a Democratic Public Order", (Comp. Supra), IACHR Distinguished.>>
(3) Shortly Afterwards,the Second CoE's Book, cited above, ("Journalists under Pressure": 2016), clearly Adopts a Similar "Definition" : "Journalist = A Person who is Regularly Engaged in Collecting or Disseminating Information to the Public, with a Journalistic (Public Interest) Purpose". (P. 11). 
+ "Definition of Key Terms : ... Journalist = ... The Council of Europe's Committee of Ministers, in 2000, Defined a Journalist as "any ...Person who is Regularly (Or professionally) Engaged in the Collection and Dissemination of Information to the Public, via Any Means of Mass Communication". (Appendix to Recommendation No. R (2000) 7..." + "Recommendation CM/Rec (2011) 7, on a New Notion of Media, Recognized that the New Media, Created by both Technological and Social Change, has seen the Entry into scene of a New Breed of Reporters : Bloggers, Citizen Journalists, and Others, who Create user-generated Content. The Adoption of this New Notion of Media, Necessitates the Recognition that "the Scope of Media Actors has Enlarged, as a result of New forms of Media in the Digital Age". CoE 2014". (P. 24).
-------------------------------------------------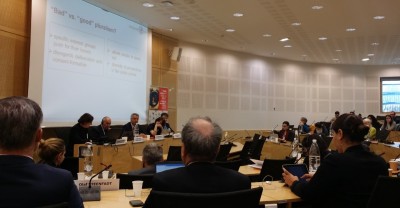 Meanwhile, CoE's 2019 Conference on Medias and Pluralism Today, (Comp. Supra), advanced by stressing the Growing Importance of New, Digital Medias, Both in Quantitative and Qualitative terms, i.e. as being also, potentially More Efficient than Traditional Newspapers, particularly in Stimulating Pluralist public Debates in Nowadays Democratic Societies, i.e. to meet the main Purpose of Journalists' Freedom of Expression (Comp. Supra): 
- "Often, Web Medias Bypass Traditional Medias", observed, f.ex., Nouri Lazmi, President of Tunisia's Independent High Authority for AudioVisual Communication.
- Already, "for Young People aged 16 - 24 y.o.", the "Web has become the 1st main Source of News", noted Maria Donde, "Ofcom"s Expert for International Content Policy, (even if Radio-TV still remains "the Most viewed", according to a recent Poll on "Web Medias' Consumption", at least in the UK).
+ Moreover, their "Real Consumption is "Under-Reported", Donde found. Perhaps, it's also because "Most On-Line News" are read through "Smart-Phones", and "when Passively Strolling".
------------------------------------
- But they are bringing Both "Good and Bad Journalism", or "Risks of Fake News", Lazmi warned.
+ Most of such Medias use to "Behave as Political Opponents in an Arena", with "Strong Political polarisation". On the Contrary,  "Neutral Medias are Marginalized", f.ex. in Libya, etc., regretted Professor Carola Richter, from Berlin's Freie University.
- The "Bad" aspects are the Excessive Role of "Interest Groups", and the InSufficient dimension of "Deliberation" and/or "Consent-Building" functions, he Criticized.
=> But the "Good" aspects, are that Web Medias "Allow People to Speak out", with a "Diversity of Perspectives in Public space", Professor Richter stressed.
+ This Importance of this Key point was particularly underlined by Tarlach McGonagle, Senior Researcher/Lecturer at the Information Law Institute of Amsterdam University, "as part of a Wider Participation in Public Debate".
- Indeed, ECHR has already underlined (f.ex. since "2010") "States' Obligation" to support structural "Pluralism", for which "States must be Guarantors", he observed.
>>> And, those New, Web Medias, precisely, help boost a kind of "ReConfiguration of Public Debate".
- This is achieved now Both with Traditional "Journalists", but "also with Oher Actors" at the Web, such as various "Bloggers", "Corporations", etc., he reminded, on this Focal point, (Comp. Supra).
- Indeed, a "Pluralist" debate for Democracy, notoriously is the main Ideological Legitimation and the Political "Raison d'être" of "Freedom of Expression", on which is Based ECHR's overall "System for Protection of Authors", (as McGonagle noted)
=> I.e., Nowadays, including that necessary "Extension" of Traditional Journalists' Legal Status, also to certain "Other Media Actors", (as CoE's Director for Information Society and Fight against Crime, Jan Kleijssen, has just Highlighted, in Reply to a relevant "Eurofora"s Question : Comp. Supra).
 - In fact, "Europe seems to be in Transition" nowadays, concluded CoE's specialized Head of Information Society Department, Patrick Penninck, towards the End of the "Medias and Pluralism Regulation" Debate, (astonishingly using an Expression that French former EU Parliament's President, the famous Simone Veil, had previously used with "Eurofora" in Sorbonne, Paris, almost a Decade earlier, concerning the different, but also Topical Issue of Popular Participation to EU Elections, (See: ...).   
(../..)
----------------------------
BRIEF NEWS
00:00 - 08.05.2019

00:00 - 23.04.2019

00:00 - 01.04.2019

00:00 - 04.03.2019

00:00 - 29.01.2019

00:00 - 08.12.2018

00:00 - 09.07.2018

00:00 - 31.05.2018

00:00 - 26.12.2017
Statistics
Visitors: 33420624
Archive
Login Form
Other Menu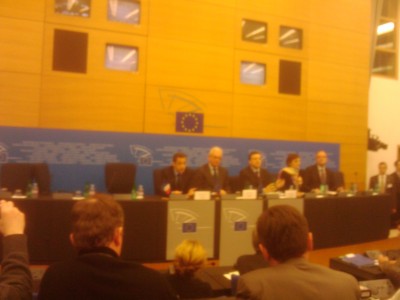 Recent developments proved that Europe can suceed to overcome challenges by aiming at great objectives, and this is needed also in 2009, said EU chairman, French President Nicolas Sarkozy.

    - "It's in the name of Great Ideas, Projects, Ambition and Ideals, that EU can overcome" challenges, stressed Sarkozy at EU Parliament in Strasbourg, in conclusion of a dense 7 months EU Chairmanship. "It's even easier for Europe to have Great projects, able to overcome national egoism, instead of limiting itself only to small projects" (unable to do alike), he observed.     
- "Europe must remain Ambitious and understand that the World needs her to take Decisions". "The World needs a Strong Europe", which "thinks on its own, has convictions, its own responses, its imagination" : "A Europe which does not limit itself into following" others, (as it did in the Past, when it followed USA, f.ex. on Bosnia). On the contrary, "Europe should undertake its own responsibilities", he said, after a series of succes in stopping the War between Russia and Georgia, and organizing the 1st EuroZone's Summit in Paris, which incited the Washington DC G-20 Summit to extend similar decisions World-wide.  

    - "When you sweep it all under the carpet, prepare yourself for hard tomorrows", he warned. "What hinders decisions is the lack of Courage and Will, the fading away of Ideals", he stressed before EU Parliament's 2008 debate on Human Rights and Sakharov prize on Freedom of thought attributed by MEPs to Chinese cyber-dissident Hu Jia, followed by an EU - Turkey meeting on Friday.

    - "I don't abandon my convictions" and "I will take initiatives" on EU level also in 2009, Sarkozy announced later. "France will not stop having convictions and taking initiatives" on Europe. + "It's an Error to wish to pass over the Heads of those who are elected in their Countries" : "It's an integrism I always fought against"', he warned.
---------------------
French EU Presidency faced 4 unexpected Crisis :

- An institutional crisis, with the Irish "No" to EU Lisbon Treaty, just before it started. A geopolitical crisis, wth the threat of War between Russia and Georgia risking to throw Europe back to Cold-war divisions, on August. A World-wide Financial and Economic crisis, arriving at a bad moment before crucial 2009 EU elections. And even a Strasbourg's mini-crisis, with EU Parliament's roof curiously falling down, from unknown reasons, in a brand new building on August, provoking an unprecedented transfert of the 2 September Plenary Sessions...

But it wasn't enough to stop Sarkozy ! On the contrary, it stimulated him...
---------------------------------------

- "The better way to deal with the recent problems of EU institutions (as the "3 NO" by France, the Netherlands and Ireland) is to take them as a "Test" in order to find solutions closer to Citizens' concerns", said later in Strasbourg Sarkozy's new choice as Ministe for EU affairs, Bruno Le Maire.

- On the Institutional front, Sarkozy gave Time to the Irish to think about it, and stroke on December a deal including a New Referendum after the June 2009 EU Elections, in exchange of a promise to keep the rule of "one EU Commissioner for each EU Member Country", and some opt-outs on Defence and Fiscal EU policies, Abortion, etc. If the Irish get a "Yes" Majority, then the institutional package could be completed in 2010 or 2011 on the occasion of Croatia's probable EU accession.

He was accused in Strasbourg to upgrade EU Council and downgrade EU Commision, but he replied that "strong Political initiatives by EU Council reinforce also the more technical role of EU Commission, under the political-technical leadership of its President", all 3 "working together with EU Parliament".


- But, meanwhile, Sarkozy energetically spearheaded an Historic 1st Summit of EuroZone's 15 Heads of State and Government at EU's core, exceptionally enlarged to a partial participation of British Prime Minister Gordon Brown, on October 12 in Paris' Elysee palace, which started to tackle succesfully the growing world Financial crisis.

    It also paved the way for its endorsement by a subsequent Brussels' 27 EU Member States' gathering, before it all come to Washington's G-20 Summit. And "Europe was united, it asked for the 1st G-20 Summit, and it will also organise the next G-20 Summit on April in London", he observed.   
 But a Conference with EU, Russia, African and other Developing Countries, hosted in Strasbourg shortly after Washington G-20 Summit by the French EU Presidency, took a Resolution asking to enlarge participation to Global Economic Governance. Many found, indeed, illogic and unacceptable that f.ex. states as Turkey were given a seat at G-20 level, while all African Countries, and even the African Union itself, representing the greatest Continent on Earth, were excluded...

    Meanwhile, even USA''s "Paulson No 3" Plan, was, in fact, inspired by Europe's No 1 Plan", Sarkozy observed, largelly applauded by MEPs.

    And "Europe showed Solidarity" by mobilizing some 22 Billion credit for Hungary, 1,7 billion for Ukraine, as we do nowadays for Baltic States, etc., he added.

    The move on Economy was extended on December by an EU stimulus' plan totalling some 200 billion Euros, including 5 Billions released by EU Commission for big Projects, as well as various parallel National plans for Economic revival, (fex. 26 billions in France alone). They might appear limited, compared to USA President-elect Obama's reported plan to boost the American economy with 800 billion $, but at least succeded to overcome Europe's divisions for the first time on Economic governance, opening new horizons.

- The French President stressed even harder the unique role of an active EU Council's chairmanship, when he moved swiftly and efficiently, at the beginning of August, to succesfully stop War between Russia and Georgia, at the last minute, which threatened to bring Europe back to Cold War division.

"We (EU) also wanted to avoid a situation like in Bosnia, in the Past, when EU was absent, so that our American friends took their responsibilitues, and EU only followed", despite the fact that the conflict took place in Europe. Now, it was the EU who took its responsibilities".

A roadmap towards a new PanEuropean Security policy, before which all unilateral moves to place new Missiles (from USA or Russia) would be freezed, was proposed by Sarkozy after a meeting with Russian president Medvedev, at the eve of Washington DC's G-20 Summit.

Ukraine's "European" character was stressed at a Sarkozy - Jushenko Summit, September in Paris, while EU adopted on December an "Eastern policy", in which, "I'm convinced that our (EU's) future is to find with our Neighbours the conditions for Economic Development. Peace and Security, by explaining them that.. they must respect (Human Rights') Values, and adopt behaviors different from the Past", explained Sarkozy in Strasbourg.

Meanwhile, the "Union for the Mediterranean" was created, since July's Summit if 45 Heads of State and Government in Paris, as "an organisation for a permanent Dialogue, that we need", mainly in order to tackle the Israeli-Palestinian conflict, by bringing together, for the 1st time, Israelis and Arabs, where "Europe must be present, in order to avoid a frontal clash".

- "If Europe doesn't take its part for Peace in the Middle-East, nobody else will do that in our place", Sarkozy stressed.
-----------------------
    Meanwhile, other EU Agreements were brokered during the French EU Presidency on Immigration, (fex. common Asylum rules, etc), and Climat- Energy :

    - On Climat-Energy, the 2007 German EU Presidency had fixed a triple 20% aim for 2020 (20% renewable Energies, 20% reduction of CO2 emmission, 20% energy efficience/economies), and the 2008 French EU Presidecny realized that, making the necessary compromises in order to modernize EU's industry, but without throwing some former Central-Eastern European Countries into abrupt Economic break down risking "social explosion".

    - Defence-Security EU policy was mainly postponed for April 2009, since both German chancellor Merkel and French president Sarkozy want to strike a deal with the new American president Obama in Strasbourg's NATO Summit.

    However, with all these 4 unexpected Crisis diverting attention to other urgencies, People wil wonder now, what happened to the famous deal proposed by freshly-elected French President Sarkozy on Turkey's controversial EU bid, back on August 2007, to continue EU - Turkey negotiations, but on the double condition that core chapters, intrinsequally linked with EU Membership, will be excluded, and that a collective Reflexion and Debate on Europe's future would start before the end of 2008.

    It was meant to reply to the crucial question : What kind of Europe do we want in 10 or 20 Years from now : A large Market, or a Political Europe, with a popular identity ? In Sarkozy's thinking, presented in his 2 landmark speeches on Europe in Strasbourg, shortly before and after the 2007 Elections, (on February and July 2007), Turkey's controversial EU bid would be incompatible with the second choice.

    It's true that EU Commision's Chairman, Jose Barroso, (who had notoriously declared, as former Portuguese Prime Minister, that he found "nonsense" the idea that Europe might become equal to the US), had repeatedly tried to avoid that Sarkozy's criticism on Turkey might start winning a larger audience in Europe, preferring a discrete "wismens' committee" work. And that most of the personalities later chosen in order to participate in a Committee on Europe's Future, are too much linked with Socialist parties and/or American policies, to be really critical of USA's notorious wish to impose Turkey to the EU, as Sarkozy had noted himself since March 2007..

     - "It's on EU Council's presidency to take political initiatives. EU Commission has other competences", stressed Sarkozy. The "European Ideal" is to "build Europe with the States, not against them". "Ask Europeans to chose between their countries and Europe won't work. You don't choose between your two parents : We must add them together".

    "France and Germany have an Historic Duty to work together, precisely because of what happened to the Past. We have to work hand by hand. We cannot be separated.It goes beyond me and Mrs Merkel today, Mr Schroeder and Mr. Chirac yesterday. It's not a choice, it's a duty to Europe and to the World".  "We need Germany, as Germany needs Europe". Compromise is inevitable, here as everywhere, and each one made some steps towards eachother's positions.

    But "it's true that Mrs Merkel didn't chose her Socialist partners, while I chose mine", Sarkozy said, in an indirect hint that the Socialist Minister of Finance in Germany might be a cause of minor past disagreements in Economy, which were overcome in recent negotiations.

    "We (France and Germany) have particular duties in Europe", but "in a Europe of 27 Member States, it's not enough for France and Germany to agree between them.

    "I always thought that Great Britain has a special role to play in Europe. ... Now, everybody "saw what it cost payed the UK for having been too exclusively open towards the US (and) Financial services. Europe needs the UK, but also the UK needs Europe" :- "We were able to face the hardest moment of the Financial crisis because the UK clearly chose Europe", stressed Sarkozy, reminding Gordon Brown's exceptional participation to the Historic 1st Heads of State/Government Summit of EuroZone, October 12 in Paris (See EuroFora's Reportage from Elysee Palace then).

     - "Some look at Europe with old glasses aged 30 years ago. While we must look at her in relation to what it will be in 30 years" in the Future, Sarkozy concluded.


Polls