Home

newsitems

CoE Information Society Director Kleijssen to EF: Journalism Definition Extends in Web for Pluralism
CoE Information Society Director Kleijssen to EF: Journalism Definition Extends in Web for Pluralism
Wednesday, March 20, 2019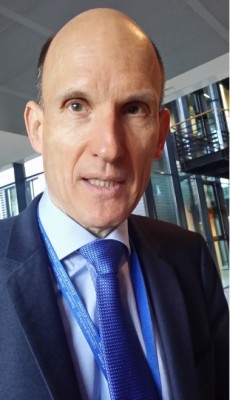 *Strasbourg/CoE/Angelo Marcopolo/- Experienced CoE's Director for Information Society and Fight against Crime, Jan Kleijssen, from the Netherlands, Speaking to "Eurofora" on the occasion of a 2 Days Conference on Medias and Pluralism, particularly in the Modern Digital landscape, organized by the CoE together with "Reporters without Borders' NGO for Press Freedom, observed that the Legal Protection of Journalists would have to be Extended also to certain New Media Actors, (as the CoE has already started to officialy acknowledge : See Infra), in order to become able to succesfuly Face the Challenges for Pluralist Democracy Nowadays.
-------------------------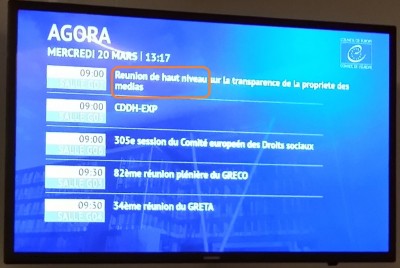 - My main "Message" to this 2019 Conference is that,  while, "Still, the Old Challenges on Regulators, to ensure Medias Ownership's Transparency, and about Finances, on Concentration, etc, they stay", nevertheless, "there are also New Challenges, with the Digital Media Platforms", Kleijssen told "Eurofora" from the outset.
- Particularly "when they are acting whether with Less and less Human Editing, but More and more Automated Editing, (i.e. Artificial Intelligence), because there is a lot of Algorithms in it, a lot of Processes in it, (mainly on Web News Distributed via Artificial Intelligence : "that's an Issue"). => "So, it's important to make sure that Regulators (i.e. States, European/International Organisations, etc) can face these Challenges too".
+ And, "f course, a Challenge that underlies it all, at the Moment, is also about the Physical Safety of Journalists", as it's noted in "the (CoE's) Secretary General's (Thornbjoirn Jagland's) Latest Report (2018), with very Worrying Results of the Surveys carried out in Europe", which show how Many Journalists" faced such serious problems, he reminded.  
- "F.ex., Everybody knows the case of Daphne Caruana Galicia in Malta, (a brutal Murder, where investigations still Delay in lots of things), followed by another one in Slovakia, (with investigation apparently Advancing much faster), as very High-Profile cases (of Killings of Journalists), where, what happened is, of course, Absolutely UnAcceptable", Kleijssen denounced.

+ "But, in addition to that, there is a Lot of "Low Intensity" Intimidation, Harassment, etc., of Journalists. And this is something on which we (CoE+) have to be Alert too, for Medias' Pluralism, as it's part of it", Jan Kleijssen concluded, as far as the 2019 "Cornerstones" are concerned.
----------------------
- In relation to that, "Eurofora" Questioned the CoE's Director for Information Society, about the Controversial Views of "Some (who) Persist to abuse of an Old kind of "Fiscal" Definition of Journalism, claiming that it would Merely mean ...+51% of Revenues paid by any Media Business, regardless of the Content of the Work provided. Thus, f.ex., even a lazy and passive, simple Radio-TV Presenter might have much More Rights and Protection, than a Creative Writer who Risks even his/her LIfe to Investigate "Hot" Issues, Help Discover all the Truth, and reveal to the People the full Findings, when he believes that they affect the General Interest in our Society, as we denounced.                               
 - "No !", reacted Kleijssen. In fact, "there are Texts of CoE's Committee of Ministers which have already said that the Definition of "Medias", and their (Legal) Protection, should be "Extended".
- This includes, f.ex., also certain Bloggers, and Other New Media Actors, who Publish News Regularly, and, may be More Read than Traditional Newspapers, also, sometimes highly Succesfully".
- He said that in Reply to "Eurofora"'s reminder of the case of Daphne Caruana-Galicia, brutaly Murdered in Malta, who had been Hindered, by a Chief Editor, to Publish Critical News in her Traditional "Weekly" Newspaper, (as her Family had revealed to "Eurofora"), and was obliged to create a WebNews Site where she Published Alone, Dangerously Exposed,(See, among others, also: http://www.eurofora.net/newsflashes/news/webjournalistmurder.html, http://www.eurofora.net/newsflashes/news/euparliamentpresidentoncoeandjournalistmurder.html, http://www.eurofora.net/newsflashes/news/daphnewebjournalistmurderenquiry.html, http://www.eurofora.net/newsflashes/news/daphnepressfreedomandcorruption.html, http://www.eurofora.net/newsflashes/news/rsfleaderondaphnemurderandjournalism.html, http://www.eurofora.net/newsflashes/news/eucoenewsondaphnemurder.html, etc).
- Concerning Daphne's Husband's recent Denonciation, at another event, previously in Strasbourg, that "the (official) Investigation its Stuck !" (See: ..., etc), Freedom of Speech NGO "Reporters wihout Borders"' International Director, Dr. Michael Rediske, replied to an "Eurofora" Question with a Bitter Denonciation of the fact that "those who have the means to act, do Not want to do so ! But, unfortunately, we can't send them to the Haye International Criminal Court"...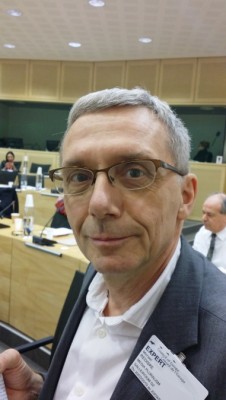 ---------------------------

+ Such a Topic (as Journalists' Protection Status being Extended also to New Medias Actors at the Web), "might also be discussed", during this Conference, later Today, and/or in various other Events on Medias' "Pluralism", where "there will be a lot of Angles", Kleijssen guessed.
-------------------------------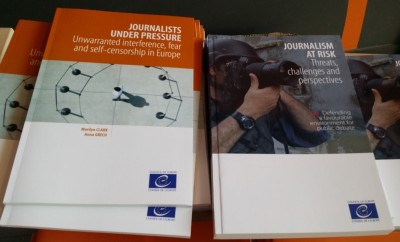 >>> In this regard, 2 landmark CoE's Books, about "Journalism at RISK : Threats, Challenges and Perspectives", and "Journalists under PRESSURE : Unwarranted Interference, Fear and Self-Censorship in Europe", Published on 2015 and 2016, respectively, had been rightfully Chosen by the PanEuropean Organisation for Human Rights, Democracy and Rule of Law of Strasbourg, in order to be Displayed on the spot and Offered to the Participants in this Conference.
+ Between them, had Also been Published a Relevant "Eurofora"s Article, with an Interview of the New Secretary General of the European Federation of Journalists, Ricardo Gutierrez, and the mention made by a representative of CoE's Committee of Ministers, during an International Conference on "Freedom of Expression", to certain Important Decisions taken by the Inter-American Court of Human Rights, precisely on that Question of "Journalist"s  Definition, (Comp. Supra) :
(1) In the First CoE's Book "Journalists at Risk", 2015), Aidan White (Long Time former Secretary General of the Internationonal/European Federation of Journalists, and Nowadays of the "Journalists' Ethical Network", in an Exceptionaly Long Article, basically Urges to Extend most of Traditional Journalists' Legal Protection also to some "Other Actors" of Medias in our Digital Society, on the Condition that they will Accept to Practice the main Principles of Press Deontology, (See: http://www.eurofora.net/newsflashes/news/iachrcoebookandefjsgonjournalismdefinition.html . An Idea that "Eurofora" had Initially suggested to White as Early as since 2009-2010 : See  http://www.eurofora.net/newsflashes/news/digitalpress.html, http://www.eurofora.net/brief/brief/webmedia.html , etc).
(2) In the relevant "Eurofora"s Article" (November 2015 : http://www.eurofora.net/newsflashes/news/iachrcoebookandefjsgonjournalismdefinition.html), we refer to 2 Decisions of the Inter-American Court of Human Rights (cited by a CoE's CM Representative : Comp. Supra), which stressed mainly that : "Journalism canNot be equated to a Profession", i.e. Not "Only through those who are Enrolled in a certain Professional "Colegio" (Corporation)", "because", in fact, "Journalism is the Primary and Principal Manifestation of Freedom of Expression of Thought, .... which is an Inherent Right" of a Person, "and has a Double Dimension  : Individual and Collective", including Both "the Right of an Individual to Express himself Freely, AND that of Society as a whole  to Receive Information", so that any "Violation" of that, Threatens also "to Deprive Society of possible Sources of Information", affecting "a CornerStone upon which the very Existence of a Democratic Society rests", since "it's Indispensable for the Formation of Public Opinion", and "a Condition sine qua non for the Development of Political Parties, Trade Unions", etc., and "the Means that Enable the Community, when Exercising its Options, to be Sufficiently Informed", given the Fact that "a Society that is Not Well Informed, is Not a Society that is Truly Free". + That's why, the very "concept of Public Order in a Democratic Society, requires the Guarantee of the Widest possible Circulation of News, Ideas and Opinions, as well as the Widest Access to Information by Society as a Whole", and "is not conceivable without Free Debate, and the possibility for Dissenting Voices to be Heard".
<< => In consequence, "Journalism is the Primary and Principal Manifestation of Freedom of Expression", and "the Thing that Journalists do, involves, precisely, the Seeking, Receiving and Imparting  of Information", since "the PRACTICE OF JOURNALISM ...Requires a Person to ENGAGE (Him/Herself) in Activities that define or embrace the Freedom of Expression", so that "the Professional Journalist is not, nor can he be, anything else, but Someone who has Decided to Exercice Freedom of Expression in a Continuous, Regular" way.  As for "the Circumstance, Whether, or Not, that Right is Exercised as a Paid Profession, canNot be deemed Legitimate in Determining whether (a) Restriction" might be acceptable, since "that's Not a good enough Reason to Deprive Society of possible Sources of Information". "Unlike Journalism", "the practice of Law or Medicine, that is to say, the Things that Lawyers or Physicians do, is Not an Activity Specifically Guaranteed by the Convention" on Human Rights, and, therefore, it could be Restricted,  for "Reasons ... that May... Justify Compulsory Licencing of Other Professions", but canNot be invoked in the case of Journalism, because .... this could Violate the Basic Principles of a Democratic Public Order", (Comp. Supra), IACHR Distinguished.>>
(3) Shortly Afterwards,the Second CoE's Book, cited above, ("Journalists under Pressure": 2016), clearly Adopts a Similar "Definition" : "Journalist = A Person who is Regularly Engaged in Collecting or Disseminating Information to the Public, with a Journalistic (Public Interest) Purpose". (P. 11). 
+ "Definition of Key Terms : ... Journalist = ... The Council of Europe's Committee of Ministers, in 2000, Defined a Journalist as "any ...Person who is Regularly (Or professionally) Engaged in the Collection and Dissemination of Information to the Public, via Any Means of Mass Communication". (Appendix to Recommendation No. R (2000) 7..." + "Recommendation CM/Rec (2011) 7, on a New Notion of Media, Recognized that the New Media, Created by both Technological and Social Change, has seen the Entry into scene of a New Breed of Reporters : Bloggers, Citizen Journalists, and Others, who Create user-generated Content. The Adoption of this New Notion of Media, Necessitates the Recognition that "the Scope of Media Actors has Enlarged, as a result of New forms of Media in the Digital Age". CoE 2014". (P. 24).
-------------------------------------------------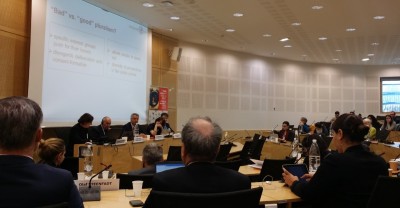 Meanwhile, CoE's 2019 Conference on Medias and Pluralism Today, (Comp. Supra), advanced by stressing the Growing Importance of New, Digital Medias, Both in Quantitative and Qualitative terms, i.e. as being also, potentially More Efficient than Traditional Newspapers, particularly in Stimulating Pluralist public Debates in Nowadays Democratic Societies, i.e. to meet the main Purpose of Journalists' Freedom of Expression (Comp. Supra): 
- "Often, Web Medias Bypass Traditional Medias", observed, f.ex., Nouri Lazmi, President of Tunisia's Independent High Authority for AudioVisual Communication.
- Already, "for Young People aged 16 - 24 y.o.", the "Web has become the 1st main Source of News", noted Maria Donde, "Ofcom"s Expert for International Content Policy, (even if Radio-TV still remains "the Most viewed", according to a recent Poll on "Web Medias' Consumption", at least in the UK).
+ Moreover, their "Real Consumption is "Under-Reported", Donde found. Perhaps, it's also because "Most On-Line News" are read through "Smart-Phones", and "when Passively Strolling".
------------------------------------
- But they are bringing Both "Good and Bad Journalism", or "Risks of Fake News", Lazmi warned.
+ Most of such Medias use to "Behave as Political Opponents in an Arena", with "Strong Political polarisation". On the Contrary,  "Neutral Medias are Marginalized", f.ex. in Libya, etc., regretted Professor Carola Richter, from Berlin's Freie University.
- The "Bad" aspects are the Excessive Role of "Interest Groups", and the InSufficient dimension of "Deliberation" and/or "Consent-Building" functions, he Criticized.
=> But the "Good" aspects, are that Web Medias "Allow People to Speak out", with a "Diversity of Perspectives in Public space", Professor Richter stressed.
+ This Importance of this Key point was particularly underlined by Tarlach McGonagle, Senior Researcher/Lecturer at the Information Law Institute of Amsterdam University, "as part of a Wider Participation in Public Debate".
- Indeed, ECHR has already underlined (f.ex. since "2010") "States' Obligation" to support structural "Pluralism", for which "States must be Guarantors", he observed.
>>> And, those New, Web Medias, precisely, help boost a kind of "ReConfiguration of Public Debate".
- This is achieved now Both with Traditional "Journalists", but "also with Oher Actors" at the Web, such as various "Bloggers", "Corporations", etc., he reminded, on this Focal point, (Comp. Supra).
- Indeed, a "Pluralist" debate for Democracy, notoriously is the main Ideological Legitimation and the Political "Raison d'être" of "Freedom of Expression", on which is Based ECHR's overall "System for Protection of Authors", (as McGonagle noted)
=> I.e., Nowadays, including that necessary "Extension" of Traditional Journalists' Legal Status, also to certain "Other Media Actors", (as CoE's Director for Information Society and Fight against Crime, Jan Kleijssen, has just Highlighted, in Reply to a relevant "Eurofora"s Question : Comp. Supra).
 - In fact, "Europe seems to be in Transition" nowadays, concluded CoE's specialized Head of Information Society Department, Patrick Penninck, towards the End of the "Medias and Pluralism Regulation" Debate, (astonishingly using an Expression that French former EU Parliament's President, the famous Simone Veil, had previously used with "Eurofora" in Sorbonne, Paris, almost a Decade earlier, concerning the different, but also Topical Issue of Popular Participation to EU Elections, (See: ...).   
(../..)
----------------------------
BRIEF NEWS
00:00 - 08.05.2019

00:00 - 23.04.2019

00:00 - 01.04.2019

00:00 - 04.03.2019

00:00 - 29.01.2019

00:00 - 08.12.2018

00:00 - 09.07.2018

00:00 - 31.05.2018

00:00 - 26.12.2017
Statistics
Lankytojai: 32514100
Archive
Login Form
Other Menu
(Opinion)
Paris - Bruxelles - Strasbourg, 2 septembre 2008





Le spectaculaire succès du Président français, Nicolas Sarkozy, (en tête de l'UE jusqu'a décembre), à obtenir de suite un cessez le feu inattendu entre la Russie et la Georgie, immédiatement après sa visite aux Présidents Medvedev et Saakashvili, au pire moment de tensions et heurts violents meurtieurs, qui avaient tué plusieurs innocents et provoqué le deplacement forcé de réfugiés par milliers, lui donne incontestablement une stature vraiment européenne :

A ses liens personnels bien connus avec l'Hongrie, la Grece, l'Italie ou l'Espagne, en sus de son amitié avec la chancelière allemande Merkel, son souhait d'essayer d'attirer l'Angleterre au jeu européen, etc, s'y ajoute, maintenant, une réussite, fragile certes, mais importante, au combat pour la Paix dans la "grande" Europe du général De Gaulle, "jusqu'a l'Oural", qui inclut naturellement la Géorgie, l'Arménie et d'autres pays, et ne peut exister qu'avec rapports de confiance et partenartiat stratégique avec la Russie.

Apres avoir réussi à debloquer la situation au Liban, (pays avec liens culturels historiques en Europe), lors du Sommet pour la Méditerranée à Paris, juillet dernier, (comme atteste maintenant le prémier accord d'echange d'Ambassadeurs avec la Syrie), Sarkozy activa maintenant une présidence française de l'EU bien entreprenante, à l'autre bout de l'Europe, à Moscou, où, contrairement à Napoléon, il a été reçu avec soulagement par le nouveau président russe, ami de l'experimenté Vladimir Poutine.

Cet homme politique rélativement nouveau au plan politique européen, avec une vision souvent critique ou même critiquée, à tort ou a raison, mais ambitieuse et concrete a la fois, qui aime s'adresser aux "Européens", comme il dit, n'est-il pas bien placé pour stimuler le fameux débat sur l' "Identité de l' Europe", qu'il a proposé au Parlement Européen récemment à Strasbourg, moins d'un an avant les Elections européennes de 2009 ?

En 2007, il a réussi à faire monter spectaculairement la participation citoyenne aux élections présidentielles en France, obtenant des récords historiques :

N'est-ce pas, justement ce que l' Europe a bésoin, apres 2 abstentions majoritaires sans précedent aux Elections de 1999 et 2004, et 3 "Non" aux réferenda pour ses institutions en 2005 et 2008, pendant une décennie trouble 1999-2008, (marquée surtout par la demande controversée de la Turquie d'entrer dans l'UE eclipsant les avancées de la Monnaie unique et de la liberté de circulation à l'espace Shengen, avec consequences mal-ressenties par la majorité des citoyens, bien au-délà des clivages du passé), qui a failli stopper l'integration européenne ?

Et cela, au moment même ou une globalisation galopante met l'Europe devant un choix crucial entre saut qualitatif en avant, apte à valoriser une occasion historique exceptionelle à se développer résolument, après les vaines destructions, querelles et tensions des guerres "chaudes" ou "froides" qui lui ont couté son rang dans le Monde, ou réculer définitivement en décadence...

Alors, que certains de nos amis à la Commission en Bruxelles, lui laissent au moins un peu d'espace de mouvement, et qu'ils l'aident à tenter d'insufler de l' oxygène frais et vivifiant aux rapports entre les citoyens et une Europe qui a manifestement bésoin et mérite de retrouver d'urgence un nouveau dynamisme populaire, avec un souci de réalisme mais aussi une vision passionante pour son avenir !

Après tout, les Etats Unis d' Amérique ne se sont pas faits à coups de bureaucratie, nécessaire et utile, mais manifestement insuffisante : Sans l'impulsion d'hommes politiques originaux, d'intellectuels vraiment engagés, et, surtout, sans l'enorme énergie émanant de la conscience d'enjeux à la fois pratiques et grandioses, bien resentis par des millions de citoyens, stimulant leur adhésion active comme pioniers d'un nouveau avenir commun à construire, ils seraient encore une ex-colonie périphérique, affaiblie par stériles divisions, passif et impuissant spectateur des convulsions tragiques d'un Monde à la dérive...

Que les vrais "européens" ré-lisent au moins les fameux discours historiques sur l' Europe d'un Sarkozy bien inspiré à Strasbourg, aussi bien avant qu'après avoir gagné les élections françaises, le 21 février et le 2 juillet 2007, après son 1er sommet des Bruxelles, qui a adopté le nouveau Traité de l'UE en conclusion de la presidence allémande : Bonnes lectures pour cet été 2008, afin de préparer l' avenir qui s'ouvrira (ou fermera) à partir des élections européennes de 2009.
Peut-etre revelera-t-il plus, en ce sens, lors de ses 2 discours-debats prochains avec les eurodeputés, prévus lors des sessions plenières du Parlement Européen a Strasbourg en octobre et décembre 2008...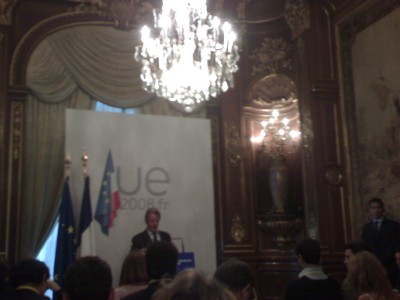 Foreign Minister Bernard Kouchner had already unveiled President Sarkozy's intentions, during a particularly "hot" Press Conference in Paris, where he faced some's insistance for "sanctions", with a call for "a common EU stance". In the meanwhile, he was consulting "all these days" most of his EU, Russia and Georgia counterparts, (as Sarkozy's Spokesman, P-J. Henin confirmed to "EuroFora"). This allowed him to obtained the desired result, as EU Chairman, at a short, exceptional EU Summit in Brussels, afterwards.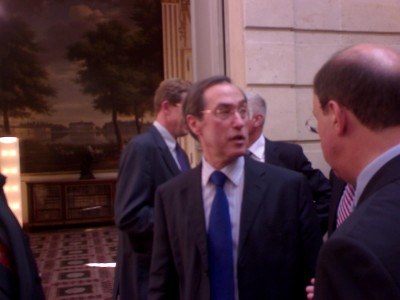 But, Sarkozy's No 1 official, Presidential palace's Secretary General Claude Gueant, active at Elysee during the 2008 Ambassadors' Conference, (together with his Top Diplomat, the experienced David Levitte), is well known for having an overall view : A link with 2009 EU Elections at the horizon ?
Polls