Home

newsitems

CoE Information Society Director Kleijssen to EF: Journalism Definition Extends in Web for Pluralism
CoE Information Society Director Kleijssen to EF: Journalism Definition Extends in Web for Pluralism
20. 03. 2019.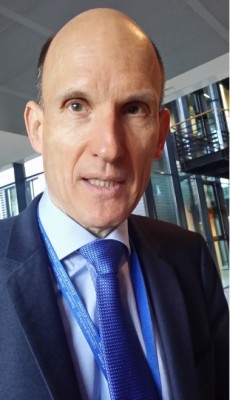 *Strasbourg/CoE/Angelo Marcopolo/- Experienced CoE's Director for Information Society and Fight against Crime, Jan Kleijssen, from the Netherlands, Speaking to "Eurofora" on the occasion of a 2 Days Conference on Medias and Pluralism, particularly in the Modern Digital landscape, organized by the CoE together with "Reporters without Borders' NGO for Press Freedom, observed that the Legal Protection of Journalists would have to be Extended also to certain New Media Actors, (as the CoE has already started to officialy acknowledge : See Infra), in order to become able to succesfuly Face the Challenges for Pluralist Democracy Nowadays.
-------------------------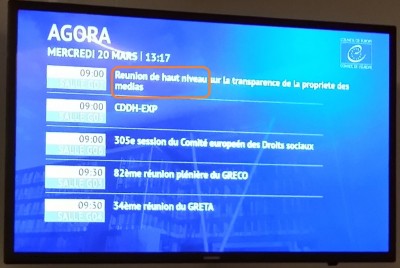 - My main "Message" to this 2019 Conference is that,  while, "Still, the Old Challenges on Regulators, to ensure Medias Ownership's Transparency, and about Finances, on Concentration, etc, they stay", nevertheless, "there are also New Challenges, with the Digital Media Platforms", Kleijssen told "Eurofora" from the outset.
- Particularly "when they are acting whether with Less and less Human Editing, but More and more Automated Editing, (i.e. Artificial Intelligence), because there is a lot of Algorithms in it, a lot of Processes in it, (mainly on Web News Distributed via Artificial Intelligence : "that's an Issue"). => "So, it's important to make sure that Regulators (i.e. States, European/International Organisations, etc) can face these Challenges too".
+ And, "f course, a Challenge that underlies it all, at the Moment, is also about the Physical Safety of Journalists", as it's noted in "the (CoE's) Secretary General's (Thornbjoirn Jagland's) Latest Report (2018), with very Worrying Results of the Surveys carried out in Europe", which show how Many Journalists" faced such serious problems, he reminded.  
- "F.ex., Everybody knows the case of Daphne Caruana Galicia in Malta, (a brutal Murder, where investigations still Delay in lots of things), followed by another one in Slovakia, (with investigation apparently Advancing much faster), as very High-Profile cases (of Killings of Journalists), where, what happened is, of course, Absolutely UnAcceptable", Kleijssen denounced.

+ "But, in addition to that, there is a Lot of "Low Intensity" Intimidation, Harassment, etc., of Journalists. And this is something on which we (CoE+) have to be Alert too, for Medias' Pluralism, as it's part of it", Jan Kleijssen concluded, as far as the 2019 "Cornerstones" are concerned.
----------------------
- In relation to that, "Eurofora" Questioned the CoE's Director for Information Society, about the Controversial Views of "Some (who) Persist to abuse of an Old kind of "Fiscal" Definition of Journalism, claiming that it would Merely mean ...+51% of Revenues paid by any Media Business, regardless of the Content of the Work provided. Thus, f.ex., even a lazy and passive, simple Radio-TV Presenter might have much More Rights and Protection, than a Creative Writer who Risks even his/her LIfe to Investigate "Hot" Issues, Help Discover all the Truth, and reveal to the People the full Findings, when he believes that they affect the General Interest in our Society, as we denounced.                               
 - "No !", reacted Kleijssen. In fact, "there are Texts of CoE's Committee of Ministers which have already said that the Definition of "Medias", and their (Legal) Protection, should be "Extended".
- This includes, f.ex., also certain Bloggers, and Other New Media Actors, who Publish News Regularly, and, may be More Read than Traditional Newspapers, also, sometimes highly Succesfully".
- He said that in Reply to "Eurofora"'s reminder of the case of Daphne Caruana-Galicia, brutaly Murdered in Malta, who had been Hindered, by a Chief Editor, to Publish Critical News in her Traditional "Weekly" Newspaper, (as her Family had revealed to "Eurofora"), and was obliged to create a WebNews Site where she Published Alone, Dangerously Exposed,(See, among others, also: http://www.eurofora.net/newsflashes/news/webjournalistmurder.html, http://www.eurofora.net/newsflashes/news/euparliamentpresidentoncoeandjournalistmurder.html, http://www.eurofora.net/newsflashes/news/daphnewebjournalistmurderenquiry.html, http://www.eurofora.net/newsflashes/news/daphnepressfreedomandcorruption.html, http://www.eurofora.net/newsflashes/news/rsfleaderondaphnemurderandjournalism.html, http://www.eurofora.net/newsflashes/news/eucoenewsondaphnemurder.html, etc).
- Concerning Daphne's Husband's recent Denonciation, at another event, previously in Strasbourg, that "the (official) Investigation its Stuck !" (See: ..., etc), Freedom of Speech NGO "Reporters wihout Borders"' International Director, Dr. Michael Rediske, replied to an "Eurofora" Question with a Bitter Denonciation of the fact that "those who have the means to act, do Not want to do so ! But, unfortunately, we can't send them to the Haye International Criminal Court"...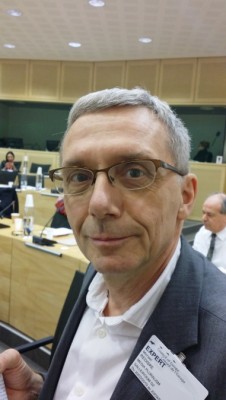 ---------------------------

+ Such a Topic (as Journalists' Protection Status being Extended also to New Medias Actors at the Web), "might also be discussed", during this Conference, later Today, and/or in various other Events on Medias' "Pluralism", where "there will be a lot of Angles", Kleijssen guessed.
-------------------------------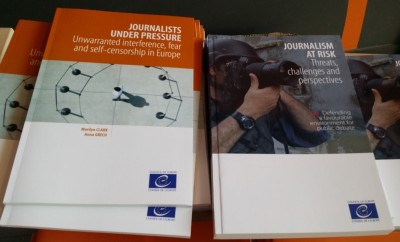 >>> In this regard, 2 landmark CoE's Books, about "Journalism at RISK : Threats, Challenges and Perspectives", and "Journalists under PRESSURE : Unwarranted Interference, Fear and Self-Censorship in Europe", Published on 2015 and 2016, respectively, had been rightfully Chosen by the PanEuropean Organisation for Human Rights, Democracy and Rule of Law of Strasbourg, in order to be Displayed on the spot and Offered to the Participants in this Conference.
+ Between them, had Also been Published a Relevant "Eurofora"s Article, with an Interview of the New Secretary General of the European Federation of Journalists, Ricardo Gutierrez, and the mention made by a representative of CoE's Committee of Ministers, during an International Conference on "Freedom of Expression", to certain Important Decisions taken by the Inter-American Court of Human Rights, precisely on that Question of "Journalist"s  Definition, (Comp. Supra) :
(1) In the First CoE's Book "Journalists at Risk", 2015), Aidan White (Long Time former Secretary General of the Internationonal/European Federation of Journalists, and Nowadays of the "Journalists' Ethical Network", in an Exceptionaly Long Article, basically Urges to Extend most of Traditional Journalists' Legal Protection also to some "Other Actors" of Medias in our Digital Society, on the Condition that they will Accept to Practice the main Principles of Press Deontology, (See: http://www.eurofora.net/newsflashes/news/iachrcoebookandefjsgonjournalismdefinition.html . An Idea that "Eurofora" had Initially suggested to White as Early as since 2009-2010 : See  http://www.eurofora.net/newsflashes/news/digitalpress.html, http://www.eurofora.net/brief/brief/webmedia.html , etc).
(2) In the relevant "Eurofora"s Article" (November 2015 : http://www.eurofora.net/newsflashes/news/iachrcoebookandefjsgonjournalismdefinition.html), we refer to 2 Decisions of the Inter-American Court of Human Rights (cited by a CoE's CM Representative : Comp. Supra), which stressed mainly that : "Journalism canNot be equated to a Profession", i.e. Not "Only through those who are Enrolled in a certain Professional "Colegio" (Corporation)", "because", in fact, "Journalism is the Primary and Principal Manifestation of Freedom of Expression of Thought, .... which is an Inherent Right" of a Person, "and has a Double Dimension  : Individual and Collective", including Both "the Right of an Individual to Express himself Freely, AND that of Society as a whole  to Receive Information", so that any "Violation" of that, Threatens also "to Deprive Society of possible Sources of Information", affecting "a CornerStone upon which the very Existence of a Democratic Society rests", since "it's Indispensable for the Formation of Public Opinion", and "a Condition sine qua non for the Development of Political Parties, Trade Unions", etc., and "the Means that Enable the Community, when Exercising its Options, to be Sufficiently Informed", given the Fact that "a Society that is Not Well Informed, is Not a Society that is Truly Free". + That's why, the very "concept of Public Order in a Democratic Society, requires the Guarantee of the Widest possible Circulation of News, Ideas and Opinions, as well as the Widest Access to Information by Society as a Whole", and "is not conceivable without Free Debate, and the possibility for Dissenting Voices to be Heard".
<< => In consequence, "Journalism is the Primary and Principal Manifestation of Freedom of Expression", and "the Thing that Journalists do, involves, precisely, the Seeking, Receiving and Imparting  of Information", since "the PRACTICE OF JOURNALISM ...Requires a Person to ENGAGE (Him/Herself) in Activities that define or embrace the Freedom of Expression", so that "the Professional Journalist is not, nor can he be, anything else, but Someone who has Decided to Exercice Freedom of Expression in a Continuous, Regular" way.  As for "the Circumstance, Whether, or Not, that Right is Exercised as a Paid Profession, canNot be deemed Legitimate in Determining whether (a) Restriction" might be acceptable, since "that's Not a good enough Reason to Deprive Society of possible Sources of Information". "Unlike Journalism", "the practice of Law or Medicine, that is to say, the Things that Lawyers or Physicians do, is Not an Activity Specifically Guaranteed by the Convention" on Human Rights, and, therefore, it could be Restricted,  for "Reasons ... that May... Justify Compulsory Licencing of Other Professions", but canNot be invoked in the case of Journalism, because .... this could Violate the Basic Principles of a Democratic Public Order", (Comp. Supra), IACHR Distinguished.>>
(3) Shortly Afterwards,the Second CoE's Book, cited above, ("Journalists under Pressure": 2016), clearly Adopts a Similar "Definition" : "Journalist = A Person who is Regularly Engaged in Collecting or Disseminating Information to the Public, with a Journalistic (Public Interest) Purpose". (P. 11). 
+ "Definition of Key Terms : ... Journalist = ... The Council of Europe's Committee of Ministers, in 2000, Defined a Journalist as "any ...Person who is Regularly (Or professionally) Engaged in the Collection and Dissemination of Information to the Public, via Any Means of Mass Communication". (Appendix to Recommendation No. R (2000) 7..." + "Recommendation CM/Rec (2011) 7, on a New Notion of Media, Recognized that the New Media, Created by both Technological and Social Change, has seen the Entry into scene of a New Breed of Reporters : Bloggers, Citizen Journalists, and Others, who Create user-generated Content. The Adoption of this New Notion of Media, Necessitates the Recognition that "the Scope of Media Actors has Enlarged, as a result of New forms of Media in the Digital Age". CoE 2014". (P. 24).
-------------------------------------------------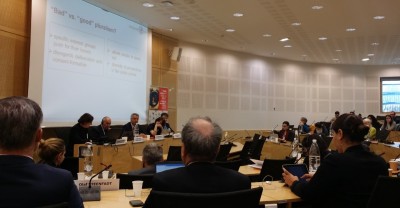 Meanwhile, CoE's 2019 Conference on Medias and Pluralism Today, (Comp. Supra), advanced by stressing the Growing Importance of New, Digital Medias, Both in Quantitative and Qualitative terms, i.e. as being also, potentially More Efficient than Traditional Newspapers, particularly in Stimulating Pluralist public Debates in Nowadays Democratic Societies, i.e. to meet the main Purpose of Journalists' Freedom of Expression (Comp. Supra): 
- "Often, Web Medias Bypass Traditional Medias", observed, f.ex., Nouri Lazmi, President of Tunisia's Independent High Authority for AudioVisual Communication.
- Already, "for Young People aged 16 - 24 y.o.", the "Web has become the 1st main Source of News", noted Maria Donde, "Ofcom"s Expert for International Content Policy, (even if Radio-TV still remains "the Most viewed", according to a recent Poll on "Web Medias' Consumption", at least in the UK).
+ Moreover, their "Real Consumption is "Under-Reported", Donde found. Perhaps, it's also because "Most On-Line News" are read through "Smart-Phones", and "when Passively Strolling".
------------------------------------
- But they are bringing Both "Good and Bad Journalism", or "Risks of Fake News", Lazmi warned.
+ Most of such Medias use to "Behave as Political Opponents in an Arena", with "Strong Political polarisation". On the Contrary,  "Neutral Medias are Marginalized", f.ex. in Libya, etc., regretted Professor Carola Richter, from Berlin's Freie University.
- The "Bad" aspects are the Excessive Role of "Interest Groups", and the InSufficient dimension of "Deliberation" and/or "Consent-Building" functions, he Criticized.
=> But the "Good" aspects, are that Web Medias "Allow People to Speak out", with a "Diversity of Perspectives in Public space", Professor Richter stressed.
+ This Importance of this Key point was particularly underlined by Tarlach McGonagle, Senior Researcher/Lecturer at the Information Law Institute of Amsterdam University, "as part of a Wider Participation in Public Debate".
- Indeed, ECHR has already underlined (f.ex. since "2010") "States' Obligation" to support structural "Pluralism", for which "States must be Guarantors", he observed.
>>> And, those New, Web Medias, precisely, help boost a kind of "ReConfiguration of Public Debate".
- This is achieved now Both with Traditional "Journalists", but "also with Oher Actors" at the Web, such as various "Bloggers", "Corporations", etc., he reminded, on this Focal point, (Comp. Supra).
- Indeed, a "Pluralist" debate for Democracy, notoriously is the main Ideological Legitimation and the Political "Raison d'être" of "Freedom of Expression", on which is Based ECHR's overall "System for Protection of Authors", (as McGonagle noted)
=> I.e., Nowadays, including that necessary "Extension" of Traditional Journalists' Legal Status, also to certain "Other Media Actors", (as CoE's Director for Information Society and Fight against Crime, Jan Kleijssen, has just Highlighted, in Reply to a relevant "Eurofora"s Question : Comp. Supra).
 - In fact, "Europe seems to be in Transition" nowadays, concluded CoE's specialized Head of Information Society Department, Patrick Penninck, towards the End of the "Medias and Pluralism Regulation" Debate, (astonishingly using an Expression that French former EU Parliament's President, the famous Simone Veil, had previously used with "Eurofora" in Sorbonne, Paris, almost a Decade earlier, concerning the different, but also Topical Issue of Popular Participation to EU Elections, (See: ...).   
(../..)
----------------------------
BRIEF NEWS
00:00 - 08.05.2019

00:00 - 23.04.2019

00:00 - 01.04.2019

00:00 - 04.03.2019

00:00 - 29.01.2019

00:00 - 08.12.2018

00:00 - 09.07.2018

00:00 - 31.05.2018

00:00 - 26.12.2017
Statistics
Posetioci: 33374890
Archive
Login Form
Other Menu
"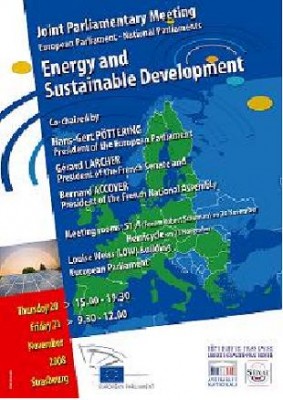 Strategically located between Paris and Prague, Strasbourg offered a natural location for the French and Czech EU 2008 and 2009 Presidencies to tune their agendas for a resolute European move towards Renewable Energies, during an exceptional Joint Parliamentary meeting on "Energy and Sustainable Development", co-organized here by the Presidents of EU Parliament, Hans Gert Poettering, French National Assembly, Bernard Accoyer, and Senate, Gerard Larcher, on November 20 and 21.

    Concluded by a busy-looking French super-Minister of Energy, Environment and Regional planning, Jean-Louis Borloo, the exceptional gathering of Top MPs from all 27 EU States' Parliaments hoped that a Ministerial meeting prepared by Borloo, will pave the way to an overall agreement at the level of EU Heads of State and Government Summit chaired on December 2008 by French President Nicolas Sarkozy, allowing the next EU chair, the Czech Republic, to start working from the beginning of 2009 on concrete measures.   
Speaking to "EuroFora" President Accoyer resumed the general feeling by stressing that "Europe has no Oil-Gas resources, but an important Scientific-Technologic potential. Therefore, we must develop Renewable Energy sources". "Since the Sun is the most abundant and free RES,  we must do the outmost to boost Solar Energy" solutions, he added, at the eve of a special meeting on Solar energy and the Mediterranean organised by Borloo on Saturday.     
Oil-gas supplies' security and diversification were also examined by the EU gathering, after which, President Accoyer replied  to our question on risks of long, expensive and fragile pipe-lines' projects, crossing through foreign countries out of the EU, compared to new possibilities for Sea and River Ship direct EU transport even of Gas, thanks to New Liquification technologies : - "We have just écreated the Union for the Mediterranean for concrete projects like these", Accoyer stressed, speaking of Sea-River Ship Highways, fundeable under EU's TENS programs.     
 Rapporteur on "Energy innovation and sustainable development", Dr. Bedrich Moldan, vice-President of Czech Senate's Environment and Regional Development Committee, added that Climat issues, price uncertainties and diminution of accessible Fossil energies, played together with EU's RST potential in order to make RES both a need and "an opportunity". However, in cases as "Solar Energy, even if the main Scientific ideas are already here, we have to make some technologic breakthroughs in order to find how to produce it on a large scale, store and transport it", Dr. Moldan added to "EuroFora".     
Czech interest for RES was also expressed, earlier in Strasbourg, by Jan Kohout, the deputy Minister pf Foreign Affairs who participated to a workshop on "Renewable Energies" organized by the French EU 2008 Presidency : - "The focus is on Development", he told us.    
On this and other RES issues, Dr. Moldan anounced the Czech EU 2009 chair's intention to organize an important 2-days Conference on Renewable Energies and Sustainable Development late January 2009 at nearby Prague.                
Polls