Bogus "Study" Risks to give Pretext to Block HCQ/AZ/Zinc Cure (f.ex. in France+) !
Saturday, 23 May 2020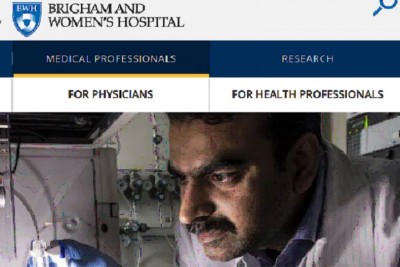 *Strasbourg/Angelo Marcopolo/- Just After US President Tump revealed that he Personaly takes HCQ+ Treatment, Carefuly, as a Prophylaxis against the Virus, (See Infra), while Various Countries Decided to Stockpile HCQ Provisions, (See Ibid), Suddenly, a Bogus Fake-"Study" Published at the LANCET by some Shady, and, in fact, UnRelated Boston Technocrats, Claimed that HCQ would be Both ...Totaly InEfficient, and Greatly Dangerous, against Human Life (sic !), to the Point that, inter alia, it's also new French Minister of Health, Olivier Veran, who, Urgently seized a Top Experts' body, Asking to Immediately Check that Report, and, Take Measures (which Might, perhaps,  include a Total Ban against HCQ, already Heavily Restricted in France, and elsewhere), in only "2 Days"' Time !...

(On the Pre-existing, General Debate about HCQ, See also :  http://www.eurofora.net/newsflashes/news/mpsaskhcqagainstvirus.html, etc) 

However, at least as long as Europe (and soon USA+) is at the EpiCenter of such a Deadly Pandemic Virus, which Still Kills too Many Thousands of innocent People Each Day World-wide, Nobody should be Distracted by such Bogus Fake "Studies", plenty of various Flaws and/or MisLeading or UnSubstantiated Claims, as "Eurofora" Found, after a Thorough Analysis of that Controversial Text (See Infra).
=> Here are the (Main) FACTS,                                                            revealing 11 big FLAWS in that Controversial Text :
-----------------
- (1)- First of all, contrary to some False Impressions, this is Not a clinical "Trial" or scientific "Test" at all, Nor a real medical "Study", But Only a clumsy (See Infra) Compilation of automaticaly distributed and stocked "Data" by Computers Networks : Indeed, it's a Mere ..."Registry analysis" (as the Authors admit themselves), of "Data Obtained by Automatic Data Extraction from ... Electronic Health Records, Supply Chain DataBases, and (even) Financial Records" (sic !), which "use a Cloud-based health-care Data analytics Platform, that includes specific Modules for Data Acquisition, Data Warehousing, Data Analytics, and Data Reporting", exploited by "the Surgical Outcomes Collaborative (<<Surgisphere Corporation>>, Chicago, IL, USA)", (a Private Business "Founded" by one of the Authors)...
=> In Consequence, such a Text has Obvious "Limitations" : F.ex., "Due to (its) Observational ...Design (Comp. Supra), we canNot Exclude the possibility of UnMeasured confounding Factors", and/or "a Cause-and-Effect Relationship between Drug therapy and Survival should Not be inferred", as Even the Authors Warn, in fine... So that real "Clinical Trials will be Required Before Any Conclusion can be reached", particularly "regarding Benefit or Harm of these" HCQ a.o. "agents in COVID-19 patients", they Admit.
--------------------------------------
+ (2)- In Addition, even if they Blame most Pro-HCQ Publications to be "UnControlled Studies", as they repeatedly Accuse them,
However, they Base all their own Claims just on some Automatic Extractions of Data in Registries of ..."671 Hospitals in 6 Continents" of the "World", Totalling More than 96.000 Patients (sic !).
=> How might all those be really "Controlled", (f.ex. for their Veracity and Accuracy, or an elementary Equality of Conditions for so Many Patients and Tests in each Hospital and Country, etc) ?
-------------------------------
- (3)- In Reality, from the point of view of Facts, ...there is NOTHING NEW in that Paper !
>>> Indeed, as its Authors admit, it Only takes into account, Already Known Treatments, which took place Until the ...Middle of April 2020.
=> If there was anything really Scandalous until then, it would have been Known a Long Time Ago...
-------------------------------------
- (4)- The Leading Author, Dr. Mandip Mehra, is Not a Virologist, Neither a Specialist in Infectious Diseases, (Contrary, f.ex., to the pro-HCQ Professor Didier Raoult, etc), but just a ...Cardiologist. And this Controvesial Text is "Funded" by his own "Hospital of Brigham and Women's", ..."Heart and Vascular Center" !
Moreover, that "Brigham and Women's Hospital", does Not have Any Virology Nor Infection "Center", or "Department", at all...
+Even the 2nd Co-Author of that Controversial Text, Dr. Frank Ruschitzka from Zurich, is Also a "Heart Center"'s Director, i.e. a Cardiologist too ! 
 => In Consequence, at least Both the 2 Main Authors are blatantly InCompetet in Infectious Diseases and Virology issues...

-----------------------------------------------------
- (5)- Surprizingly, the main Treatments, to which refer Both US President Trump and Famous French Professor Didier Raoult, (i.e. composed of HCQ, AZ, and Zinc), stay always ...Invisible, withOut Knowing their Specific Results,
Because that Text widely Refers to 4 Groups of Patients using, in one way or another, Chloroquine, among which ...Only 1 Might have Included Also HCQ and AZ with Zinc, WITHOUT Ever Revealing the Numbers for those which, Eventualy, used AZ, since the Author Speaks just, Vaguely, of "Macrolides", which is a much Larger Term, that May Include AZ, But Not Only, given the Fact that there are Also Other Drugs routinely Named like this, (as that Text itself Notes, speaking, f.ex., of "Macrolides, such as Azithromycin and Clarithromycin", etc) !
Obviously, this is a Strange, and Big Failure...
_________________________
 +(6)- ZINC is Essential in the most World Famous "Z-Package" of Treatment, to which Refer Both US President Trump and French Professor Didier Raoult, as well as Various People at the Internet (Explaining it mainly as a Boost for the Human Immunity protection system), against that Virus, but, Astonishingly, it's Totaly Absent from Mehra's data compilation !
---------------------------------
 -(7)- In Addition, that Controversial Text is reportedly Based Only on Data concerning HCQ Treatments which have Started in just ...2 Days After a Virus' Infection was Confirmed : "Patients who received Treatment with these regimens (Chloroquine, etc) Starting More than 48 h. After Diagnosis, were Excluded (sic !)", it says. Mainly in order "to Avoid" reaching "a Critical Phase of Illness, which could Skew the Interpretation of the results, they Claim.
>>> But, if it's notoriously True that HCQ main Supporters, as, f.ex., Professor Raoult, former Health Minister Doust-Blazy, etc, indeed, strongly Advise to act Before reaching f.ex. a Mechanical Respirator and/or an Intensive Care Phase, etc., by Starting to give that Treatment Before serious Lesions may be provoked to the Patients,
Nevertheless, in general, they present that mostly in a kind of  about 10 Days or two Weeks' Period of Time, with a Lighter and an "Advanced" or "Critical" 2nd Phase, Advising to Better Act "at the Beginning", withOut having Ever gone As Far as to LImit everything at a so Extremely Tight and Short Laps of Time as Only 2 Days ! (With the Unique, probably, Exception of a Polish Doctor, according to some reports).
=> In Consequence, such an Excessively Strict "Exclusion" of a So Big Period of Time for Treatment, (i.e. Everything that may be done "After 2 Days" since Diagnosis), does Not seem Faithul at all to the Real Stance of most HCQ Supporters, (but rather a kind of Caricature of their position)... This inevitably Results, for this Controversial Text, into ...Ignoring a Great Part of HCQ utilisations in Hospitals, which might be very Interesting !
------------------------------
- (8)- Those Authors Claim that "the FUNDER" of that Text "had No Role (sic !) in study design, data collection, data analysis, data interpretation, or writing of the report", had no role (sic !) in study design, data collection, data analysis, data interpretation, or writing of the report",
While, in Fact, that "Funder" was Mehra's own Hospital of "Brigham and Women's", and Even his Personal Specialisation's Department of "Cardio-Vascular Medicine" !
--------------------------------
- (9)- Despite pompously Claiming to cover Hospitals from "6 Continents" (i.e. accross All the Planet, being "Large, MultiNational" and "Real-World analysis", as they Boast),
However, it's  just a ...Small Minority of Only about 17% Europeans and 7% Asians patients who were Included, Nonobstant the  Notorious Fact that, Initially, China/South Korea and, Afterwards, Europe were the "EpiCenters" of that Virus' "Pandemic", During the Examined Period of "20 December 2019" and "14 April 2020"...
_-------------------------------------
 -(10)- The main "Result" Claimed by that controversial text would be that, while "Mortality" in the "Control Group", receiving Ordinary Drugs, appeared to stand at just 9,3%, (throughout All Continents of the World : Comp. Supra), on the Contrary, that Other Group, which got HCQ and a Macrolide (Comp. Supra), looks as having a Very Much Higher Mortality, Up to : ...23,8% (sic !)
+ In Addition, while the "Control Group" would have Faced Only a "O,3%" "Risk of de-novo ventricular Arrythmia" as Heart Problem, on the Contrary, the HCQ + Macrolide Group would Jumb as High as Up to ..."8,1%" !
=> I.e., Obviously, Both two Excessively Exagerated Claims, Far Away from what Anyone Else has ever Argued in this "Hot" Controversy about HCQ Treatment against the Virus....
-----------------------------------------------------
-(11)- The Latest relevant Scientific Publication by Professor Raoult about a Previous HCQ+ Trial on 1.061 Patients at his Hospital, made it Clear that his Team "Carefully" controlled all Candidates for such a Test, Excluding Many Cases considered more or less Dangerous for Eventual Side-Effects in Various cases, (f.ex., Heart, Taking Other Drugs with Counter-Indications, Certain Pre-Existing Conditions, Allergies, etc).
=> Did that Bogus, Remote "Study" (rather : hasty Compilation) of many Thousands of Registries' Automatically Collected "Data" in "671 Hospitals" accross "6 Continents" (Comp. Supra) VERIFY Whether such a "Careful" Previous "Control" and selection among All Candidates to a HCQ+AZ+Z Treatment was Really and Fully Made, or Not ?
>>> It does Not seem so... This is a Grave Ommission, a Serious Blunder, since, it would be Obviously Inevitable to Find, afterwards, a Lot of various Negative Side Effects, which shouldn't be a surprise, since they would have been Provoked simply by a Lack of the due "Care" in the Selection of Patients....

-------------------------------------------

>>> In Conclusion, given all these Numerous and Big "Weaknesses" or even Blunders in such a Controversial Text, then, after all, ...WHY THIS RUSH ?
=> I.e., in Other Words, Why did, its Authors, Suddenly Feel, Now, ..."a PRESSING NEED to Provide ...GUIDANCE", (as they Note themselves), on this "Hot" but Long Controversy about the HCQ Treatment against the Virus ?
+ And Why did the Controversial French New Minister of Health, Olivier Veran, Suddenly ask Top Medical Experts to propose Action against HCQ's alleged "InEfficiency and Risks", (according to the Above-Mentioned Report), so Fast as ..."in 48 Hours" ?...

--------------------------------------
A Series of Various, but Converging, Facts, clealy indicate that what is Realy at Stake is Not Only a Purely Medical Issue...
- Indeed, among others, US President Trump's Recent Statements revealing that he has Personaly Started to use HCQ (with AZ and Zinc), after initialy provoking an Hysteric Fury from Establishment's Medias, Finaly Calmed Down when his Medical Doctor attested, in a Letter, that this was a Carefully planed move :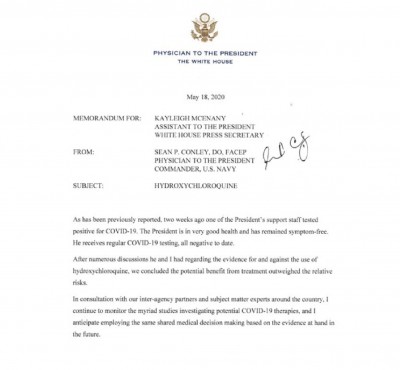 - Dr Sean Conley, FACEP, Commander US Navy, and Physician to the President, at the White House, in a "Memorandum" written for Kayleigh Mcenany, Assistant to the Presient, White House Press Secretary, Published by AONN Media, clearly Reminded the Fact that it had all Started "2 Weeks Ago", when, Suddenly, "one of the President's support Staff Tested Positive for COVID-19", (including the Press Attaché of Vice-President Pence).
=> This made "Conclude", "After Numerous Discussions", between Trump and his Doctor, "regarding the Evidence For and Against the use of HydroxyChloroQuine" (HCQ), that "the Potential Benefit from Treatment OutWeighed the Relative Risks", as Dr Conley wrote in a Balanced way.
+ In Addition, Meanwhile, "I continue to Monitor the myriad Studies Investigating (also Various Other) potential COVID-19 Therapies", "in Consultatio with our Inter-Agency Partners and subject matter Experts, around the Country", he added, Vowing to "employ... the same Shared Medical Decision-Making, Based on Evidence at hand", also "in the Future".
-------------------------
Meanwhile, Earlier this Week, pro-Trump Brazilian President Bolsonaro has just Legalized HCQ Medicine in his huge Country, while, also, British Prime Minister Boris Johnson, reportedly put out to Tender a £ 35 Million Contract seeking 19 Million HCQ Tablets. Recently, it's even the French Army which made Massive HCQ Acquisitions, added to Russia's examination of that issue, in real Practice, (apparently Helping to keep the Country, Despite Galoping Infections, originated initially from the EU, comparatively, with an even More Limited Death Rate than ...Germany itself, widely considered to be an Exceptional "Miracle" in Human Lives' Saving, inside the EU). Previously, Morocco (which is also Particular into reportedly Producing itself abudant Filter Masks for all its People), was the 1st Country in the World to openly Adopt a HCQ Medical Protocol, and, since then, it apparently holds a particularly Low Rate of Deaths in proportion to its Population, Compared to Other similar Countries. And Currently, French Professor Didier Raoult, Head of a Mediterranean Anti-Infections Institute, is reportedly Preparing also anOther, Bigger than before, 2.000 Patients-Strong, Clinical Trial with HCQ, whose Results are due to be announced asap; (etc)...
----------------------
>>> Why should such Moves make some HCQ Critics so Upset ?
=> Let's have a Closer Look at the Leading Author of that Controversial Text, (whose Hospital's Center Funded it, Comp. Supra) : Dr Mandip Mehra, from "Brigham and Women's" Hospital :
 - Mandip, (or, alias, Mandeep), who is, reportedly, Indian and holds a Bachelor's Degree from Gandi Institute at Maharashtra, (Not even Mentioned in his Harvard Medical School "Bio" page, which, on the Contrary, cites 2 UK Diplomas purely "Honorary"...), nevertheless, looks Better Treated by ...Pakistani Medias, Instead of Indian ones ! F.ex., among others, while Indian Medias, Among 3 Articles published on one and same Cardiology Issue at the "NEMJ" Review, mention that of Mehra Only at the ...End, too Briefly, and by mentioning the fact that his paper had been Strongly Criticized, on the Contrary, most Pakistani Medias, dealing with his Opposal to Trump's and Raoult's HCQ+ Medicine, give the Most Important place to Mehra ! Something probably natural, since his Name appears very Familiar and used Also by Many Other People, Both in the Penjab Province, (the Biggest Part of which Belongs to Pakistan, India having Only a Small one), and even at the Adjacent...Kashmir Province, (Notoriously Disputed to India by Pakistani Nationalists, even Terrorists, who Claim that it would be an "Occupied" area), where, f.ex., Even a Popular "Kashmiri" Singer is called "Kailash MEHRA"... Notoriously, indeed, many Pakistani are currently Against Trump, mainly because of Restrictions that he had Imposed on them Earlier, during the Struggle Against Islamist Terrorism, (which had made several innocent Victims inside the USA), while, on the Contrary, several Indians are in Favor of Trump Nowadays, (who had even Appointed, initialy, an Indian-Origin US Ambassador to the UNO).
- In Addition to Not being Related at all with Infectious Diseases and/or Virus, (working in a Hospital which, moreover, has Not Any Center or Department for Infections, Neither for Virus : Comp. Supra), Mandip Mehra, is in Charge of "Brigham and Women's" Hospital's Center for Heart Disease, but has apparently Specialized mainly in Transplantations.
=> Transplantations have incited him to Deal also with "ImmunoSuppressive" Issues, (as well as "Artificial Hearts" and "Genomic Bio-Markers", etc), Obviously Dear even to those who seek to Use Viruses as "Vehicles" able to Penetrate Cells for Genetic Manipulations, (See Infra).
On the Contrary, Trump's and Raoult's "Z-Pack" Medicine (with HCQ, AZ, and Zinc) aims to Strengthen the Natural Human Immunity System, Against Viruses...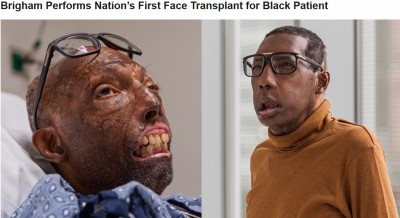 Indeed, his entire Hospital Focuses on Transplantations of Human Parts : Nowadays, its Website's Frontpage boastes, f.ex., for what it calls the "Nations' 1sr Face Transplant for Black patient", picturing a 68 Years Old Bald Man who has taken the Face of a freshly Killed Young Man, with Brown Hair, (so that his Head now remains Half Bald, Half with Brown Hair...), after a "16 Hour Surgery involving ... over 45 physicians, nurses, anesthesiologists, residents and research fellows". But Mehra's Hospital has Already done ... the Majority, i.e. 9 out of 15 other "Face Transplants" in the USA, and "has Long been Recognized as one of the World's Leaders in Transplanation", as it boasts, citting Also "Other Transplant Milestones", including of Kidneys (Since 1954), Hearts (since 1984), Lungs (since 1992), Hands (2014), etc, (Aways Taken from Freshly Killed People, of course).
+ AnOther Particularity of Mehra's Hospital is that its "International Collaborations" consist (Except from an ...1 Store, Tiny House at Bermuda, ...), Exclusively Four (4) Projects, ... All in China (sic !!!!), with Big Partner Companies, in Huge Sky-Rocketing Buildings at Boao, Jangsu, Chengdu, and Hangzhou.  
++ In Parallel, Dr. Mandip Mehra is also Professor at ...Harvard Medical School, whose Current Dean, George Daley, was a Key co-Organizer of that Exceptional "International Summit on Gene Editing" at Hong-Kong on November 2018, which made Big Publicity for a Maverick Young Chinese "Dr. Frankenstein", (Educated, Funded, Directed, and Backed by some USA's Big Technocratic Lobbies related to Former POTUS Barack Hussein Obama's "Liberal" Controversial Policies on Genetic Manipulations of Human Embryos, etc), Notoriously Revealed that he had Secretly made Genetic Manipulations to 3 Human Embryos, Transmissible to All Future Generations, and had pushed them until the Artificial Births in China of 3 Babies, all bearing in them Heritable Gene Editing (See : http://www.eurofora.net/newsflashes/news/heritablegenemaniptrumpxihumanity.html, etc). Any such Alteration of Human Germ-Line affecting Generations, Risky for Human Health and Obviously extrmely Dangerous for Humanity's Future, is currently Prohibited, in one way or another, in Many Countries accross the World, (including USA, China, Russia, France, Italy, Spain, etc), But, that Obama era's Harvard Medical School Dean, had Pushed, (at an Interview Published then), for its ..."Acceptance" (sic !), in the foresable Future !
+ Dean Daley had Already being Pushing, (even Against former Republican US President GWBush's policies), Back on 2001-2008, for Controversial Federal Funding of Genetic Manipulations on Human Embryos, until former "Liberal" POTUS Barack Hussein Obama Legalizes that, since March 2009, (Immediately Followed, then, by anOther Deadly, Mysterious "Virus"' Pandemic, of H1N1, which Started somewhere around South California's Labs near the Mexican Borders).
The Chinese Government had Clearly Denounced, already since November 2018, the Above-Mentioned, Maverick "Dr. Frankenstein-Junior" for such Dangerous, "UnEthical" and "Criminal" Acts, already since 2018. But it's only on 30 December 2019 that Beijing Officially Announced the Condamnation of that Culprit to the Punishment of 5,5 Years in Jail for his Crime, etc., (while Experienced Members of the Chinese Academy of Sciences strongly Criticized, in Parallel, the serious Dangers with which such Maverick Heritable Gene Editing, Affecting all Future Generations, Threatened Humanity's Future, See : http://www.eurofora.net/newsflashes/news/chinacondemnsheritablegeneediting.html).
+=> But, as it is well Known, Surprizingly, just 1 Day Later, on 31 December 2019, it was Also Announced that this Strange, Deadly New Virus, suddenly Attacked China, (starting by Wuhan) !
++ And 6 Months Later, on May 2020, Earlier this Week, Distinguished Members from the Chinese Academy of Science, observed the Fact that, Still, the Open Question of "a Natural Origin of the Virus", Despite Many Scientifics persisting to Search Worldwide, nevertheless, still remains "a Mystery" !...
+++ Meanwhile, Notoriously, Various Hypothesis and/or Questions about an Eventual Artificial Fabrication of that New Virus "by a Lab", (for whatever Purpose : f.ex. "Vaccine" and/or "Bio-Weapon" Researches,  etc), have Surfaced, Together with Some (InSufficient yet) Facts, by several Sources, including a NOBEL Prize Winner Scientist, a Former, Twice-Elected Head of State, etc, (Comp., f.ex., among others, also : http://www.eurofora.net/newsflashes/news/nobelprofonlabmadevirus.html, and : http://www.eurofora.net/newsflashes/news/ahmadinejadonlabomadevirus1.html + http://www.eurofora.net/newsflashes/news/ahmadinejadonlabomadevirus2.html, etc).
++++ And it's also Nowadays that People start to Realize the Potential Importance of the Questions Raised, Meanwhile, by the UnPrecedented Arrest of anOther ..."Dean of Harvard" (Comp. Supra), this time in Bio-Chemistry, Shortly Before the Virus becomes really apparent, Towards the End of 2019,  by the North American Authorities, 2 or 3 Months Before the Pandemic hits also the USA themselves, on 2020, quite Hard.
This "Harvard's Dean" was notoriously Accused for receiving a Lot of UnDeclared Money from Abroad, particularly China, where he reportedly Helped check and choose Scientists for the Top Security Bio-Labo (level 4) at Wuhan, as well as its own and other relevant Bio-Tech Big Projects.  
++++ Both Harvard's Medical School and Bio-Chemistry, as well as "Brigham and Women's Hospital" (Comp. Supra), are Located in Boston, Massachusetts, which Notoriously is a "Liberal" Hotspot for Opposition's Dem's Party of former POTUS Barack Hussein Obama and current Candidate to the November 2020 US Presidential Elections Joe Biden, i.e., of Political Adversaries to the Republican US President Don Trump...
=> Thus, Both current Presidents of China and USA, Xi and Trump,
who, Despite some Recurrent Trade and/or Other Issues, (often Provoked by sly interferences), had, in the Past and even Recently, Managed to Seek and Find some Friendly Compromises and Common Points, (f.ex. just after the Latest Phone Conversation between them, on the ways to Tackle the Virus, etc),
>>> Nowadays, Could and Should Realize that they have some Common Ennemies, (Hidden Both inside China and the US) : A Fact which Incites them to Decisively Become Friends, cooperating on such Core issues, for the Benefit of Humankind !...
And the Real Europeans (in Fact, the Most Hardly Hit by the Deadly Virus) should Play an Active and Important part on that,
withOut Falling in Any Sly Trap to eventually distract their Attention from the much Needed Focus on Urgently Saving so Many Threatened Human Lives !
(../..)
("Draft-News")
---------------------------- 
BRIEF NEWS
00:00 - 19.06.2020

00:00 - 18.05.2020

00:00 - 20.04.2020

00:00 - 02.02.2020

00:00 - 09.12.2019

00:00 - 27.11.2019

00:00 - 16.11.2019

00:00 - 28.10.2019

00:00 - 08.05.2019
Statistics
Visitors: 38594676
Archive
Login Form
Other Menu


  Ten Years of ECHR : 1998 - 2008 show need of Revival in 2009-2010 coinciding with 2009 EU Election   
A threefold, coordinated move by new Top French Political actors in the 2009 EU Parliament Elections, expressed in Strasbourg a will to boost Europe's Political dimension close to Citizens' concerns, going from protection of Economy to defence of Human Rights.    
The move met an exceptional ECHR's call for a "revival" of Human Rights' protection mechanism', in a Mega-Conference, early 2010.   
Obviously focusing on June 2009 Elections to EU Parliament, it involved from the outset the recently nominated "dual" Head of French Governing Party (UMP)  Michel BARNIER and Rachida DATI :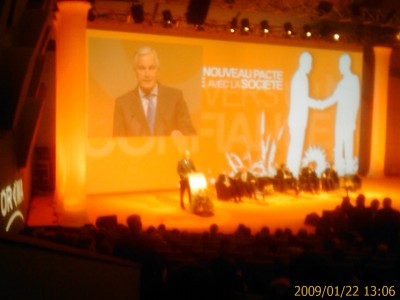 - "As President Sarkozy has clearly said, we (France) are in favor of a Strong, Sovereign and Independent, Political Europe, which protects its Citizens, and not for a large Super-Market, nor for a Europe under influence",
    "This goes for everything, including Energy", added to "EuroFora" the experienced former EU Commissioner, Minister of Foreign affairs, currently of Agriculture and Sarkozy's new pick as Leader of the Governing party UMP to EU 2009 Election, Michel BARNIER                                              .                             
  - Human Rights are important because they are at the Heart of the Political Europe that we aspire for : I.e. a Europe able to act and protect its Citizens, stressed also the New French Minister for European affairs, Bruno LE MAIRE, while meeting Strasbourg's Journalists at his first visit to the CoE.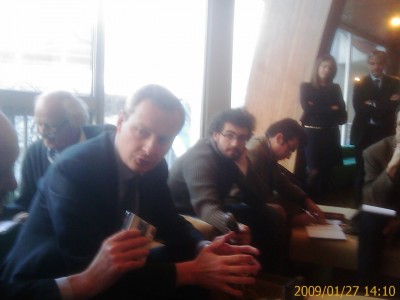 This is one of the main interests for CoE, which is also a natural place for cooperation between EU countries and Russia or Turkey, which was recently helpful at the Middle East crisis, he added.
The move gained momentum with French Minister of Justice, Rachida Dati's main observations at ECHR's 5Oth Anniversary :   
- "While we are seeking Europe's Borders and Identity, you (ECHR) remind us also of its Values", Human Rights, Dati noted.   
Citizens seek more and more often ECHR's help, and the tempo accelerates, Europa awaits a symbol, while national legal orders are not freezed   
And she expressed "support" to ECHR President Jean-Paul Costa's call to satisfy the vital need to revigorate the PanEuropean Court by deciding big changes at a High-Level Conference open to a large audience, a kind of "Etats Generaux" of Human Rights, at the beginning of 2010.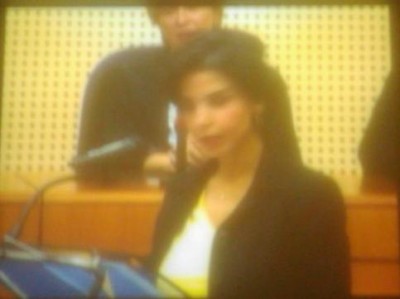 It's not so much the recently growing number of applications for Russia or Ukraine etc, which seems to be Costa's main concern : In fact, the cases declared "admissible" are much fewer...    
But rather the persistent violations of Human Rights, sometimes very grave (ie. murders, torture, abritrary deprivation of liberty, oppression of freedom of speech, destructions of homes/properties, etc), despite numerous, repeated condemnations by ECHR. So that CoE's Ministers, due to "supervise execution" of ECHR's judgements, are overloaded.   
F.ex. most Media noted that Turkey still remains, even in 2008, the 1st among 47 CoE member States in the number of condemnations by ECHR :  257, compared to 233 for Russia, with a population more than the double..    
The problem is that it's not the 1st time at all : During all the last Decade 1998-2008, Turkey was condemned by ECHR much more than any other State, and for particularly grave violations :   
- 1.652 condemnations, compared to 605 for Russia, 548 for Poland, 494 for France, 476 for Ukraine, etc.   
Italy's second place with 1.394 condemnations is a misleading false appearance : In fact, most of them (999) concern mere "procedural delays" in national courts. Same for France.   
On the contrary, Turkey was condemned 180 times for Killings, 192 times for Torture or Inhuman/Degrading treatments, 340 times for arbitrary deprivation of Liberty, 528 times for "Unfair trial", and 169 times for oppression of Freedom of speech, (etc). And the latest, 2008 numbers, indicate no change in this trend, (See supra).   
The current Spanish CoE Presidency (November 2008 - May 2009) has made of the implementation of ECHR's judgements its 1st Priority.   
ECHR's President, Jean-Paul Costa, stressed in its 2009 Annual Press Conference, CoE Member States' obligation to implement the judgements, according to Article 46 of the European Convention on Human Rights.   
Moreover, if CoE's Committee of Ministers delays to ensure implementation, then, the repetition of violations in similar cases provokes a multiplication of complaints tabled to the Court, which overload the mecanism for the protection of Human Rights, denounced Costa.          
A series of Debates on "the situation of Human Rights in Europe", focusing on the "need to fight against Impunity" of perpetrators of grave crimes, is  currently prepared by CoE's Parliamentary Assembly for the session of June 2009.  
The final Timing comes shortly AFTER the EU Elections, but the main Reports should have been adopted before.
Meanwhile, French President Sarkozy and German Chancelor Merkel's recent call "for a Political Europe" in 2009 EU Elections (See earlier "correspondence from Paris, Elysee Palace), seems more and more endorsed also by other EU Countries' Top MEPs :
Thus, f.ex., EU Parliament's 1st vice-President, Greek MEP Mrs Rodi KRATSA, speaking to "EuroFora", agreed that 2009 EU Election would be a "naturally good" opportunity to debate what really interests EU Citizens : "The Future of a Political Europe, able to face the Economic Crisis, with a Culture and identity which attracts the People"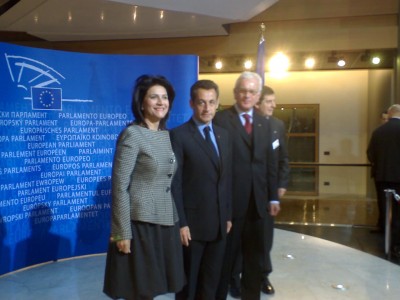 (Photo taken earlier during Sarkozy's 1st visit at EU Parliament, in 2007 : Sarkozy and Merkel's Ideas for a Political Europe inspire also other EU politicians accross the continent)..
.
Polls