Bogus "Study" Risks to give Pretext to Block HCQ/AZ/Zinc Cure (f.ex. in France+) !
Saturday, 23 May 2020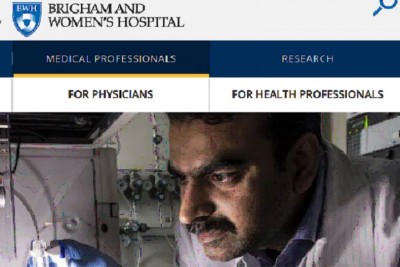 *Strasbourg/Angelo Marcopolo/- Just After US President Tump revealed that he Personaly takes HCQ+ Treatment, Carefuly, as a Prophylaxis against the Virus, (See Infra), while Various Countries Decided to Stockpile HCQ Provisions, (See Ibid), Suddenly, a Bogus Fake-"Study" Published at the LANCET by some Shady, and, in fact, UnRelated Boston Technocrats, Claimed that HCQ would be Both ...Totaly InEfficient, and Greatly Dangerous, against Human Life (sic !), to the Point that, inter alia, it's also new French Minister of Health, Olivier Veran, who, Urgently seized a Top Experts' body, Asking to Immediately Check that Report, and, Take Measures (which Might, perhaps,  include a Total Ban against HCQ, already Heavily Restricted in France, and elsewhere), in only "2 Days"' Time !...

(On the Pre-existing, General Debate about HCQ, See also :  http://www.eurofora.net/newsflashes/news/mpsaskhcqagainstvirus.html, etc) 

However, at least as long as Europe (and soon USA+) is at the EpiCenter of such a Deadly Pandemic Virus, which Still Kills too Many Thousands of innocent People Each Day World-wide, Nobody should be Distracted by such Bogus Fake "Studies", plenty of various Flaws and/or MisLeading or UnSubstantiated Claims, as "Eurofora" Found, after a Thorough Analysis of that Controversial Text (See Infra).
=> Here are the (Main) FACTS,                                                            revealing 11 big FLAWS in that Controversial Text :
-----------------
- (1)- First of all, contrary to some False Impressions, this is Not a clinical "Trial" or scientific "Test" at all, Nor a real medical "Study", But Only a clumsy (See Infra) Compilation of automaticaly distributed and stocked "Data" by Computers Networks : Indeed, it's a Mere ..."Registry analysis" (as the Authors admit themselves), of "Data Obtained by Automatic Data Extraction from ... Electronic Health Records, Supply Chain DataBases, and (even) Financial Records" (sic !), which "use a Cloud-based health-care Data analytics Platform, that includes specific Modules for Data Acquisition, Data Warehousing, Data Analytics, and Data Reporting", exploited by "the Surgical Outcomes Collaborative (<<Surgisphere Corporation>>, Chicago, IL, USA)", (a Private Business "Founded" by one of the Authors)...
=> In Consequence, such a Text has Obvious "Limitations" : F.ex., "Due to (its) Observational ...Design (Comp. Supra), we canNot Exclude the possibility of UnMeasured confounding Factors", and/or "a Cause-and-Effect Relationship between Drug therapy and Survival should Not be inferred", as Even the Authors Warn, in fine... So that real "Clinical Trials will be Required Before Any Conclusion can be reached", particularly "regarding Benefit or Harm of these" HCQ a.o. "agents in COVID-19 patients", they Admit.
--------------------------------------
+ (2)- In Addition, even if they Blame most Pro-HCQ Publications to be "UnControlled Studies", as they repeatedly Accuse them,
However, they Base all their own Claims just on some Automatic Extractions of Data in Registries of ..."671 Hospitals in 6 Continents" of the "World", Totalling More than 96.000 Patients (sic !).
=> How might all those be really "Controlled", (f.ex. for their Veracity and Accuracy, or an elementary Equality of Conditions for so Many Patients and Tests in each Hospital and Country, etc) ?
-------------------------------
- (3)- In Reality, from the point of view of Facts, ...there is NOTHING NEW in that Paper !
>>> Indeed, as its Authors admit, it Only takes into account, Already Known Treatments, which took place Until the ...Middle of April 2020.
=> If there was anything really Scandalous until then, it would have been Known a Long Time Ago...
-------------------------------------
- (4)- The Leading Author, Dr. Mandip Mehra, is Not a Virologist, Neither a Specialist in Infectious Diseases, (Contrary, f.ex., to the pro-HCQ Professor Didier Raoult, etc), but just a ...Cardiologist. And this Controvesial Text is "Funded" by his own "Hospital of Brigham and Women's", ..."Heart and Vascular Center" !
Moreover, that "Brigham and Women's Hospital", does Not have Any Virology Nor Infection "Center", or "Department", at all...
+Even the 2nd Co-Author of that Controversial Text, Dr. Frank Ruschitzka from Zurich, is Also a "Heart Center"'s Director, i.e. a Cardiologist too ! 
 => In Consequence, at least Both the 2 Main Authors are blatantly InCompetet in Infectious Diseases and Virology issues...

-----------------------------------------------------
- (5)- Surprizingly, the main Treatments, to which refer Both US President Trump and Famous French Professor Didier Raoult, (i.e. composed of HCQ, AZ, and Zinc), stay always ...Invisible, withOut Knowing their Specific Results,
Because that Text widely Refers to 4 Groups of Patients using, in one way or another, Chloroquine, among which ...Only 1 Might have Included Also HCQ and AZ with Zinc, WITHOUT Ever Revealing the Numbers for those which, Eventualy, used AZ, since the Author Speaks just, Vaguely, of "Macrolides", which is a much Larger Term, that May Include AZ, But Not Only, given the Fact that there are Also Other Drugs routinely Named like this, (as that Text itself Notes, speaking, f.ex., of "Macrolides, such as Azithromycin and Clarithromycin", etc) !
Obviously, this is a Strange, and Big Failure...
_________________________
 +(6)- ZINC is Essential in the most World Famous "Z-Package" of Treatment, to which Refer Both US President Trump and French Professor Didier Raoult, as well as Various People at the Internet (Explaining it mainly as a Boost for the Human Immunity protection system), against that Virus, but, Astonishingly, it's Totaly Absent from Mehra's data compilation !
---------------------------------
 -(7)- In Addition, that Controversial Text is reportedly Based Only on Data concerning HCQ Treatments which have Started in just ...2 Days After a Virus' Infection was Confirmed : "Patients who received Treatment with these regimens (Chloroquine, etc) Starting More than 48 h. After Diagnosis, were Excluded (sic !)", it says. Mainly in order "to Avoid" reaching "a Critical Phase of Illness, which could Skew the Interpretation of the results, they Claim.
>>> But, if it's notoriously True that HCQ main Supporters, as, f.ex., Professor Raoult, former Health Minister Doust-Blazy, etc, indeed, strongly Advise to act Before reaching f.ex. a Mechanical Respirator and/or an Intensive Care Phase, etc., by Starting to give that Treatment Before serious Lesions may be provoked to the Patients,
Nevertheless, in general, they present that mostly in a kind of  about 10 Days or two Weeks' Period of Time, with a Lighter and an "Advanced" or "Critical" 2nd Phase, Advising to Better Act "at the Beginning", withOut having Ever gone As Far as to LImit everything at a so Extremely Tight and Short Laps of Time as Only 2 Days ! (With the Unique, probably, Exception of a Polish Doctor, according to some reports).
=> In Consequence, such an Excessively Strict "Exclusion" of a So Big Period of Time for Treatment, (i.e. Everything that may be done "After 2 Days" since Diagnosis), does Not seem Faithul at all to the Real Stance of most HCQ Supporters, (but rather a kind of Caricature of their position)... This inevitably Results, for this Controversial Text, into ...Ignoring a Great Part of HCQ utilisations in Hospitals, which might be very Interesting !
------------------------------
- (8)- Those Authors Claim that "the FUNDER" of that Text "had No Role (sic !) in study design, data collection, data analysis, data interpretation, or writing of the report", had no role (sic !) in study design, data collection, data analysis, data interpretation, or writing of the report",
While, in Fact, that "Funder" was Mehra's own Hospital of "Brigham and Women's", and Even his Personal Specialisation's Department of "Cardio-Vascular Medicine" !
--------------------------------
- (9)- Despite pompously Claiming to cover Hospitals from "6 Continents" (i.e. accross All the Planet, being "Large, MultiNational" and "Real-World analysis", as they Boast),
However, it's  just a ...Small Minority of Only about 17% Europeans and 7% Asians patients who were Included, Nonobstant the  Notorious Fact that, Initially, China/South Korea and, Afterwards, Europe were the "EpiCenters" of that Virus' "Pandemic", During the Examined Period of "20 December 2019" and "14 April 2020"...
_-------------------------------------
 -(10)- The main "Result" Claimed by that controversial text would be that, while "Mortality" in the "Control Group", receiving Ordinary Drugs, appeared to stand at just 9,3%, (throughout All Continents of the World : Comp. Supra), on the Contrary, that Other Group, which got HCQ and a Macrolide (Comp. Supra), looks as having a Very Much Higher Mortality, Up to : ...23,8% (sic !)
+ In Addition, while the "Control Group" would have Faced Only a "O,3%" "Risk of de-novo ventricular Arrythmia" as Heart Problem, on the Contrary, the HCQ + Macrolide Group would Jumb as High as Up to ..."8,1%" !
=> I.e., Obviously, Both two Excessively Exagerated Claims, Far Away from what Anyone Else has ever Argued in this "Hot" Controversy about HCQ Treatment against the Virus....
-----------------------------------------------------
-(11)- The Latest relevant Scientific Publication by Professor Raoult about a Previous HCQ+ Trial on 1.061 Patients at his Hospital, made it Clear that his Team "Carefully" controlled all Candidates for such a Test, Excluding Many Cases considered more or less Dangerous for Eventual Side-Effects in Various cases, (f.ex., Heart, Taking Other Drugs with Counter-Indications, Certain Pre-Existing Conditions, Allergies, etc).
=> Did that Bogus, Remote "Study" (rather : hasty Compilation) of many Thousands of Registries' Automatically Collected "Data" in "671 Hospitals" accross "6 Continents" (Comp. Supra) VERIFY Whether such a "Careful" Previous "Control" and selection among All Candidates to a HCQ+AZ+Z Treatment was Really and Fully Made, or Not ?
>>> It does Not seem so... This is a Grave Ommission, a Serious Blunder, since, it would be Obviously Inevitable to Find, afterwards, a Lot of various Negative Side Effects, which shouldn't be a surprise, since they would have been Provoked simply by a Lack of the due "Care" in the Selection of Patients....

-------------------------------------------

>>> In Conclusion, given all these Numerous and Big "Weaknesses" or even Blunders in such a Controversial Text, then, after all, ...WHY THIS RUSH ?
=> I.e., in Other Words, Why did, its Authors, Suddenly Feel, Now, ..."a PRESSING NEED to Provide ...GUIDANCE", (as they Note themselves), on this "Hot" but Long Controversy about the HCQ Treatment against the Virus ?
+ And Why did the Controversial French New Minister of Health, Olivier Veran, Suddenly ask Top Medical Experts to propose Action against HCQ's alleged "InEfficiency and Risks", (according to the Above-Mentioned Report), so Fast as ..."in 48 Hours" ?...

--------------------------------------
A Series of Various, but Converging, Facts, clealy indicate that what is Realy at Stake is Not Only a Purely Medical Issue...
- Indeed, among others, US President Trump's Recent Statements revealing that he has Personaly Started to use HCQ (with AZ and Zinc), after initialy provoking an Hysteric Fury from Establishment's Medias, Finaly Calmed Down when his Medical Doctor attested, in a Letter, that this was a Carefully planed move :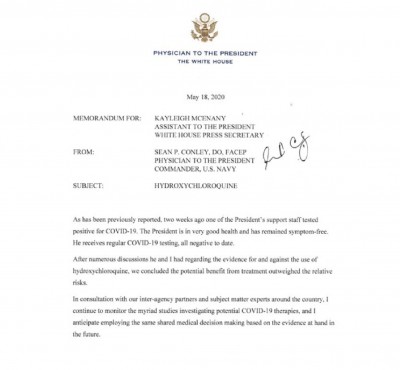 - Dr Sean Conley, FACEP, Commander US Navy, and Physician to the President, at the White House, in a "Memorandum" written for Kayleigh Mcenany, Assistant to the Presient, White House Press Secretary, Published by AONN Media, clearly Reminded the Fact that it had all Started "2 Weeks Ago", when, Suddenly, "one of the President's support Staff Tested Positive for COVID-19", (including the Press Attaché of Vice-President Pence).
=> This made "Conclude", "After Numerous Discussions", between Trump and his Doctor, "regarding the Evidence For and Against the use of HydroxyChloroQuine" (HCQ), that "the Potential Benefit from Treatment OutWeighed the Relative Risks", as Dr Conley wrote in a Balanced way.
+ In Addition, Meanwhile, "I continue to Monitor the myriad Studies Investigating (also Various Other) potential COVID-19 Therapies", "in Consultatio with our Inter-Agency Partners and subject matter Experts, around the Country", he added, Vowing to "employ... the same Shared Medical Decision-Making, Based on Evidence at hand", also "in the Future".
-------------------------
Meanwhile, Earlier this Week, pro-Trump Brazilian President Bolsonaro has just Legalized HCQ Medicine in his huge Country, while, also, British Prime Minister Boris Johnson, reportedly put out to Tender a £ 35 Million Contract seeking 19 Million HCQ Tablets. Recently, it's even the French Army which made Massive HCQ Acquisitions, added to Russia's examination of that issue, in real Practice, (apparently Helping to keep the Country, Despite Galoping Infections, originated initially from the EU, comparatively, with an even More Limited Death Rate than ...Germany itself, widely considered to be an Exceptional "Miracle" in Human Lives' Saving, inside the EU). Previously, Morocco (which is also Particular into reportedly Producing itself abudant Filter Masks for all its People), was the 1st Country in the World to openly Adopt a HCQ Medical Protocol, and, since then, it apparently holds a particularly Low Rate of Deaths in proportion to its Population, Compared to Other similar Countries. And Currently, French Professor Didier Raoult, Head of a Mediterranean Anti-Infections Institute, is reportedly Preparing also anOther, Bigger than before, 2.000 Patients-Strong, Clinical Trial with HCQ, whose Results are due to be announced asap; (etc)...
----------------------
>>> Why should such Moves make some HCQ Critics so Upset ?
=> Let's have a Closer Look at the Leading Author of that Controversial Text, (whose Hospital's Center Funded it, Comp. Supra) : Dr Mandip Mehra, from "Brigham and Women's" Hospital :
 - Mandip, (or, alias, Mandeep), who is, reportedly, Indian and holds a Bachelor's Degree from Gandi Institute at Maharashtra, (Not even Mentioned in his Harvard Medical School "Bio" page, which, on the Contrary, cites 2 UK Diplomas purely "Honorary"...), nevertheless, looks Better Treated by ...Pakistani Medias, Instead of Indian ones ! F.ex., among others, while Indian Medias, Among 3 Articles published on one and same Cardiology Issue at the "NEMJ" Review, mention that of Mehra Only at the ...End, too Briefly, and by mentioning the fact that his paper had been Strongly Criticized, on the Contrary, most Pakistani Medias, dealing with his Opposal to Trump's and Raoult's HCQ+ Medicine, give the Most Important place to Mehra ! Something probably natural, since his Name appears very Familiar and used Also by Many Other People, Both in the Penjab Province, (the Biggest Part of which Belongs to Pakistan, India having Only a Small one), and even at the Adjacent...Kashmir Province, (Notoriously Disputed to India by Pakistani Nationalists, even Terrorists, who Claim that it would be an "Occupied" area), where, f.ex., Even a Popular "Kashmiri" Singer is called "Kailash MEHRA"... Notoriously, indeed, many Pakistani are currently Against Trump, mainly because of Restrictions that he had Imposed on them Earlier, during the Struggle Against Islamist Terrorism, (which had made several innocent Victims inside the USA), while, on the Contrary, several Indians are in Favor of Trump Nowadays, (who had even Appointed, initialy, an Indian-Origin US Ambassador to the UNO).
- In Addition to Not being Related at all with Infectious Diseases and/or Virus, (working in a Hospital which, moreover, has Not Any Center or Department for Infections, Neither for Virus : Comp. Supra), Mandip Mehra, is in Charge of "Brigham and Women's" Hospital's Center for Heart Disease, but has apparently Specialized mainly in Transplantations.
=> Transplantations have incited him to Deal also with "ImmunoSuppressive" Issues, (as well as "Artificial Hearts" and "Genomic Bio-Markers", etc), Obviously Dear even to those who seek to Use Viruses as "Vehicles" able to Penetrate Cells for Genetic Manipulations, (See Infra).
On the Contrary, Trump's and Raoult's "Z-Pack" Medicine (with HCQ, AZ, and Zinc) aims to Strengthen the Natural Human Immunity System, Against Viruses...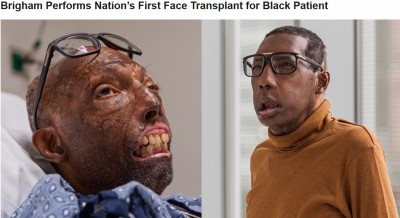 Indeed, his entire Hospital Focuses on Transplantations of Human Parts : Nowadays, its Website's Frontpage boastes, f.ex., for what it calls the "Nations' 1sr Face Transplant for Black patient", picturing a 68 Years Old Bald Man who has taken the Face of a freshly Killed Young Man, with Brown Hair, (so that his Head now remains Half Bald, Half with Brown Hair...), after a "16 Hour Surgery involving ... over 45 physicians, nurses, anesthesiologists, residents and research fellows". But Mehra's Hospital has Already done ... the Majority, i.e. 9 out of 15 other "Face Transplants" in the USA, and "has Long been Recognized as one of the World's Leaders in Transplanation", as it boasts, citting Also "Other Transplant Milestones", including of Kidneys (Since 1954), Hearts (since 1984), Lungs (since 1992), Hands (2014), etc, (Aways Taken from Freshly Killed People, of course).
+ AnOther Particularity of Mehra's Hospital is that its "International Collaborations" consist (Except from an ...1 Store, Tiny House at Bermuda, ...), Exclusively Four (4) Projects, ... All in China (sic !!!!), with Big Partner Companies, in Huge Sky-Rocketing Buildings at Boao, Jangsu, Chengdu, and Hangzhou.  
++ In Parallel, Dr. Mandip Mehra is also Professor at ...Harvard Medical School, whose Current Dean, George Daley, was a Key co-Organizer of that Exceptional "International Summit on Gene Editing" at Hong-Kong on November 2018, which made Big Publicity for a Maverick Young Chinese "Dr. Frankenstein", (Educated, Funded, Directed, and Backed by some USA's Big Technocratic Lobbies related to Former POTUS Barack Hussein Obama's "Liberal" Controversial Policies on Genetic Manipulations of Human Embryos, etc), Notoriously Revealed that he had Secretly made Genetic Manipulations to 3 Human Embryos, Transmissible to All Future Generations, and had pushed them until the Artificial Births in China of 3 Babies, all bearing in them Heritable Gene Editing (See : http://www.eurofora.net/newsflashes/news/heritablegenemaniptrumpxihumanity.html, etc). Any such Alteration of Human Germ-Line affecting Generations, Risky for Human Health and Obviously extrmely Dangerous for Humanity's Future, is currently Prohibited, in one way or another, in Many Countries accross the World, (including USA, China, Russia, France, Italy, Spain, etc), But, that Obama era's Harvard Medical School Dean, had Pushed, (at an Interview Published then), for its ..."Acceptance" (sic !), in the foresable Future !
+ Dean Daley had Already being Pushing, (even Against former Republican US President GWBush's policies), Back on 2001-2008, for Controversial Federal Funding of Genetic Manipulations on Human Embryos, until former "Liberal" POTUS Barack Hussein Obama Legalizes that, since March 2009, (Immediately Followed, then, by anOther Deadly, Mysterious "Virus"' Pandemic, of H1N1, which Started somewhere around South California's Labs near the Mexican Borders).
The Chinese Government had Clearly Denounced, already since November 2018, the Above-Mentioned, Maverick "Dr. Frankenstein-Junior" for such Dangerous, "UnEthical" and "Criminal" Acts, already since 2018. But it's only on 30 December 2019 that Beijing Officially Announced the Condamnation of that Culprit to the Punishment of 5,5 Years in Jail for his Crime, etc., (while Experienced Members of the Chinese Academy of Sciences strongly Criticized, in Parallel, the serious Dangers with which such Maverick Heritable Gene Editing, Affecting all Future Generations, Threatened Humanity's Future, See : http://www.eurofora.net/newsflashes/news/chinacondemnsheritablegeneediting.html).
+=> But, as it is well Known, Surprizingly, just 1 Day Later, on 31 December 2019, it was Also Announced that this Strange, Deadly New Virus, suddenly Attacked China, (starting by Wuhan) !
++ And 6 Months Later, on May 2020, Earlier this Week, Distinguished Members from the Chinese Academy of Science, observed the Fact that, Still, the Open Question of "a Natural Origin of the Virus", Despite Many Scientifics persisting to Search Worldwide, nevertheless, still remains "a Mystery" !...
+++ Meanwhile, Notoriously, Various Hypothesis and/or Questions about an Eventual Artificial Fabrication of that New Virus "by a Lab", (for whatever Purpose : f.ex. "Vaccine" and/or "Bio-Weapon" Researches,  etc), have Surfaced, Together with Some (InSufficient yet) Facts, by several Sources, including a NOBEL Prize Winner Scientist, a Former, Twice-Elected Head of State, etc, (Comp., f.ex., among others, also : http://www.eurofora.net/newsflashes/news/nobelprofonlabmadevirus.html, and : http://www.eurofora.net/newsflashes/news/ahmadinejadonlabomadevirus1.html + http://www.eurofora.net/newsflashes/news/ahmadinejadonlabomadevirus2.html, etc).
++++ And it's also Nowadays that People start to Realize the Potential Importance of the Questions Raised, Meanwhile, by the UnPrecedented Arrest of anOther ..."Dean of Harvard" (Comp. Supra), this time in Bio-Chemistry, Shortly Before the Virus becomes really apparent, Towards the End of 2019,  by the North American Authorities, 2 or 3 Months Before the Pandemic hits also the USA themselves, on 2020, quite Hard.
This "Harvard's Dean" was notoriously Accused for receiving a Lot of UnDeclared Money from Abroad, particularly China, where he reportedly Helped check and choose Scientists for the Top Security Bio-Labo (level 4) at Wuhan, as well as its own and other relevant Bio-Tech Big Projects.  
++++ Both Harvard's Medical School and Bio-Chemistry, as well as "Brigham and Women's Hospital" (Comp. Supra), are Located in Boston, Massachusetts, which Notoriously is a "Liberal" Hotspot for Opposition's Dem's Party of former POTUS Barack Hussein Obama and current Candidate to the November 2020 US Presidential Elections Joe Biden, i.e., of Political Adversaries to the Republican US President Don Trump...
=> Thus, Both current Presidents of China and USA, Xi and Trump,
who, Despite some Recurrent Trade and/or Other Issues, (often Provoked by sly interferences), had, in the Past and even Recently, Managed to Seek and Find some Friendly Compromises and Common Points, (f.ex. just after the Latest Phone Conversation between them, on the ways to Tackle the Virus, etc),
>>> Nowadays, Could and Should Realize that they have some Common Ennemies, (Hidden Both inside China and the US) : A Fact which Incites them to Decisively Become Friends, cooperating on such Core issues, for the Benefit of Humankind !...
And the Real Europeans (in Fact, the Most Hardly Hit by the Deadly Virus) should Play an Active and Important part on that,
withOut Falling in Any Sly Trap to eventually distract their Attention from the much Needed Focus on Urgently Saving so Many Threatened Human Lives !
(../..)
("Draft-News")
---------------------------- 
BRIEF NEWS
00:00 - 02.06.2021

00:00 - 18.10.2020

00:00 - 19.06.2020

00:00 - 18.05.2020

00:00 - 20.04.2020

00:00 - 02.02.2020

00:00 - 09.12.2019

00:00 - 27.11.2019

00:00 - 16.11.2019
Statistics
Besucher: 54912196
Archive
Login Form
Other Menu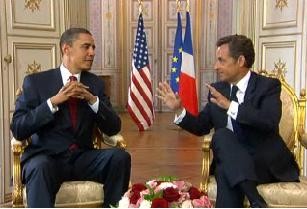 La Turquie, test-clé d'Independance de l'Europe face aux USA, les aménant de chercher en commun des nouvelles idées pour se mettre d'accord ?  
 Le débat, amical mais clair, entre les Présidents Américain et Français, Obama et Sarkozy,  la veille des elections européennes du 7 juin 2009, a montré que la question controversée sur la démande de la Turquie d'entrer dans l'Europe est actuellement le point central et le test le plus pertinent de l' indépendance de la France et de l'Europe par rapport aux Etats Unis.   
 Les electeurs européens, aussi bien en France qu'ailleurs en l'UE, auront une seule chance à trancher, ce dimanche 7 juin 2009, en choisisant leurs eurodéputés pour la période 2009 - 2014, car après ca risque d'être trop tard, vu que tous ceux qui suivent les affaires européennes dépuis des décennies savent qu'en réalité, le moment des décisions sur la Turquie viendra au plus tard en 2013, date rétenue dépuis longtemps pour une importante révision des "Perspectives Financières" de l'UE qui reflètent des choix Politiques fondamentaux.

    Le Président français, (récement encore représentant de l'UE, dans laquelle il joue un rôle important, ensemble avec la chancelière allemande Merkel, et autres leaders européens, ayant une influence notable auprès des Citoyens Européens, comme les derniers sondages montrent), réagissant à la repétition, par le nouveau Président Américain de la vieille position traditionelle de l'Washington poushant toujours vers la démande de la Turquie d'entrer dans l'Europe :

     - "Je ne peut pas laisser détruire l'Europe, (qui) est un élément de stabilisation du Monde", réponda Sarkozy. "J'ai dit au Président Obama que pour moi il était très important que l'Europe ait des Frontières", a-t-il souligné, confirmant la position Franco-Allemande commune, récemment rappellée ensemble avec la Chancellière Merkel.

    - "Il y a une différence (entre France/EU et les USA)...  sur les modalités. La position traditionnelle des Etats-Unis d'Amérique, c'est l'intégration" de la Turquie au sein de l'UE. "C'était la position du Président Bush, du Président Clinton, de tous les présidents américains".     
- "La mienne vous la connaissez : Ce n'est pas l'intégration dans l'Union Européenne. Mais j'ai proposé que nous réfléchissions, l'Europe, la Russie, la Turquie à la création d'un Espace Economique et de Sécurité en commun", a ajout Sarkozy rappelant son invitation de créer quelque chose de neuf et mieux adapté.

    Mais, "cela ne veut pas dire qu'il faut repousser la Turquie dans les ténèbres. La Turquie est un allié dans l'OTAN, (et) une Passerelle entre 2 Mondes, voilà quelle est la meilleure modalité. C'est cela dont nous avons parlé", revela-t-il. Si "nous avons une Différence sur les Modalités, nous n'avons pas une différence sur l'Objectif : Faire de la Turquie un élément de Pont entre l'Orient et l'Occident", Sarkozy assura Obama.

    - "Laissez-nous au moins une légère divergence sur un sujet, cela vous permettra de bien réfléchir pour les prochaines échéances", ajouta Sarkozy en réponse à un journaliste de l'opposition Socialiste qui avait soulevé la question de la Turquie, en la melant (comme un lobby turc notoirement essaie de faire pour exploiter la manipulation de quelques Arabes, la Civilisation Historique desquels fût pourtant detruite par l'ex-empire Ottoman-Turc) avec une question tout à fait différente : celle de la voile islamique (!), avec laquelle elle n'a rien à voir.

    - "Sur la Turquie, Monsieur, vous appartenez à un journal ...qui a appelé à voter, au moment de la présidentielle, pour mon adversaire.... Quel était votre argument à ce moment-là ? Vous disiez : « Attention, Nicolas Sarkozy va trop s'aligner sur les Etats-Unis d'Amérique », et je vois que deux ans après vous dites : « Ah, il y a un sujet sur lequel le Président Obama et le Président Sarkozy ne sont pas d'accord » Cela devrait vous rassurer, Monsieur" , réponda-t-il, en faisant sourire même le président américain, (et laissant entendre que trancher définitivemen la controverse sur la Turquie pourrait être au coeur de l' Elections Présidentielle  en France pour 2012 )
-------------------
    - "Ce que les Etats-Unis peuvent faire, c'est encourager ....TOUT PROCESSUS qui permettra à la Turquie d'être convaincue qu'elle a des amis, que ce soit la France, les Etats-Unis ou l'Europe", réponda Obama, apparamment n'excluant pas, a priori, le point de Sarkozy sur la création d'un espace commun d' économie et sécurité entre l' UE, la Turquie et la Russie (v. supra).

    "Les Etats-Unis ne sont pas membres de l'Union Européenne, nous ne pouvons pas dicter si un pays quelconque adhère ou n'adhère pas à l'UE"; Obama a admis, parlant de la "Turquie, (sur laquelle) le Président Sarkozy et moi nous sommes entretenus sur ce dossier avant".  "Maintenant le Président Sarkozy représente un Etat membre de l'Union Européenne et il a une position différente", opposée à démande turque d' entrée dans l'UE.    
 "La Turquie par contre est un allié de l'OTAN très important. ...La Turquie a fait connaître son intérêt à une intégration croissante avec l'Europe et nous (USA) encourageons cette attitude. J'ai souvent dit que l'adhésion de la Turquie à l'Union européenne serait importante".     
"Mais, (en tout cas) je crois qu'il est important de noter que le Président Sarkozy appuie fortement le travail que la Turquie fait au sein de l'OTAN et je crois qu'il s'intéresse à une intégration économique plus intense avec la Turquie". (Ce qui pourrait se faire, justement, avec un "parténariat privilegié" adéquat et/ou l'idée de créer un espace commun EU - Turquie - Russie  : V. supra).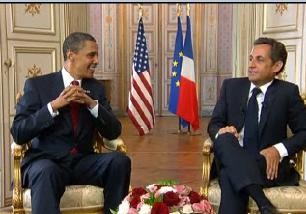 Est-ce que l'effort du Président de la France, soutenu par la chancelière Allemande et l'opinion publique de la plupart des Citoyens Européens la-dessus, de trouver un accord entre l' Europe et l' Amérique sur la Turquie, en proposant de sortir des chemins battus et créer du neuf, en etablissant "un Espace Commun d' Economie et Sécurité" (v. supra), suffira de calmer un lobby traditionaliste à quelques bureaucrates de Washington DC, datant dès l'époque de l' ex-"Guerre Froide", beaucoup plus ancien que le nouveau Président vénu de l' oxygen des "grands lacs" près de Quebec du Canada : Chicago, connu comme "la ville du vent" nouveau ?
-----------------------------------------------------------------------
Le Prémier Ministre Fillon appele à "faire vivre le Rève Européen"
------------------------------------------------------------------------  
 Seul l'avenir le dira. Mais, entre-temps, l' Europe ne peut plus attendre et perdre encore plus du temps et d'energie vitale sur la démande controversée de la Turquie, qui a notoirement menacé d'arrêter l'édification européenne dépuis 1999-2005 :

    Comme le Premier Ministre François Fillon a clairement dit, un peu plus tôt cette semaine, dans un discours éloquent sur les enjeux de l' Election Européenne de ce juin 2009 (V. résumé envoyé aux adhérents d'"EuroFora"),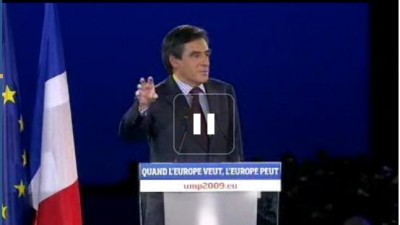 - "S' abstentir, c'est laisser à la Technocratie le pouvoir de dominer" la vie des Citoyens européens, qui devraient prendre l' Europe en branle le corps", et commencer d'agir par toutes les voies politiques démocratiques, prennant conscience que "l' Europe c'est Nous, (i.e. les Citoyens), et "Pas eux !" (i.e. les Technocrates), selon une image symbolique.

    - "Je me souviens de l' Europe obligée de faire Silence, (au Passé), quand "les Grands" décidaient de son sort", rappela Fillon.  "Je me souviens de l'Europe divisée, de l' Europe dominée" par d'autres, '"de l'Europe appauvrie""Je me souviens de Berlin occupé, muré, divisé comme un butin qu'on tire aux dès. Je me souviens du Silence de Varsovie. Je me souviens du Silence de Prague"..   
 - "Nous, les Européens, nous avons bien failli sortir de l' Histoire, et dévenir, pour du bon, les dès d'un jeu joué par d'autres".     
- "C'est pourquoi je ne peux pas concevoir une Europe qui ne serait pas Souveraine, une Europe qui ne serait pas Maitresse d'êlle-même", aujourd'hui et démain, martella-t-il. "Le Monde s'est habitué trop longtemps à une Europe faible, que l'on pouvait traiter avec condescendence".  
 - "Le moment est venu de rélever le défi : Le moment est vénu de montrer que, nous les Européens, avons décidé d'être débout, et d"être nous-mêmes".     
"Dépuis 2 ans (i.e. dès les Elections Présidentielles de 2007), avec Nicolas Sarkozy, nous avons oeuvrer pour relever notre Identité Nationale (de la France), dont nous sommes fiers. Et bien, l'' Identité Européenne mérite tout autant, elle qui prolonge les Génies de nos Nations".


    - "Je crois à la présence d'une Civilisation Européenne", déclara Fillon, largement applaudi par des milliers de personnes ayant entendu une série des Musiques entremelées characteristiques de differents pays européens, et des images lumineuses géantes avec des extraits symboliques de Goethe, de Victor Hugo, de Shakespeare, et d'autres auteurs italiens, espagnols etc celebres à travers l'histoire.

    - "L' Humanisme, la tolerance, la Liberté de la Conscience. La Solidarité. L' Etat de Droit. La confiance placée dans la Science, l' Innovation, le progrès. Toutes ces Valeurs, elles disent clairement où commence et où s'épanuit cette Europe" que nous voulons, observa-t-il.

    En harmonie avec les positions soutenues par le Président du Parlement Européen, eurodéputé allemand, Hans Gert Poettering, et la Chancelière allemande, Angie Merkel, sur la "Dignité Humaine" au coeur des "Valeurs de l' Europe" moderne. Ce qui fait qu'" avec un Elargissement sans fin", même vers la Turquie, c.a.d. "sans Frontières, l' Europe Politique, l' Europe des Valeurs et l' Identité européenne" ne peuvent pas exister, comme a dit aussi le Président francais, Nicolas Sarkozy, recemment à Berlin.

    Fait important : Cette observation de Fillon a été faite le jour-même que le Comité des Ministres du Conseil de l'Europe à Strasbourg concluait une semaine de réunion semestrielle sur les Droits de l'Homme, qui a examiné un grand nombre d'affaires des pires Violations (pex. Tuéries scandaleusement non elucidées, Persecutions et privations arbitraires de Liberté, personnes portées "Disparues", Tortures et "traitements inhumains et degradants", Usurpations illégales des Maisons et Patrimoines privées de Réfugiés, etc., pour lesquelles la Cour Européenne a condamné la Turquie dans plusieurs jugements, dont on attend toujours l' application)...

    - "C'est pourquoi un Elargissement sans fin de l' Europe ne peu pas être un objectif en soi. Parce qu'il ne peut que diluer l' élan européen, et detruire l' Idéntité Européenne"

    -" Voilà pourquoi nous disons, très sereinement, que nous ne sommes pas favorables à l' adhésion de la Turquie dans l'UE", conclua le Premier Ministre de la France; largement applaudi par des gens qui soulevaient le drapeau européen.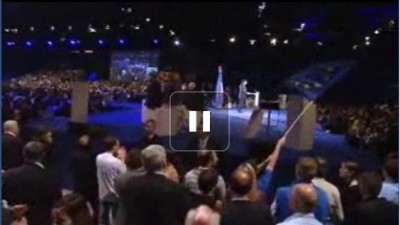 "Ce n'est pas un Slogan de meetings. Ce n'est pas la marque une "Hostilité" au régard de cette grande Nation (i.e. la Turquie), qui doit être étroitement associée à l' UE", pex. par un partenariat priviliegié, ou une autre formule adaptée.

    - "Mais il lui faut des Frontères à l' Europe, il lui faut des Frontières stables, qui lui permettent de renforcer son Unité et son Identité", a-t-il expliqué.

    - "Alors, c'est au nom de cette Europe charnelle, que je m'engage avec vous. Mais, cette Europe-là, ne peut avancer qu' à une seule Condition : celle de l' Europe Politique".

    "Nous avons longtemps douté qu'elle soit possible : Aux années 1970, Henri Kissinger (le notoire ex- Secretaire d'Etat Américain aux affaires etrangères, consideré, à tort ou à raison, comme chef d'orchestre du renversement du Président Allende en Chili, de l' invasion militaire de la Turquie à Chypre, etc), disait, avec une ironie blaissante : - "Ah, l' Europe ? : Quel numero de Télephone ?..." Pendant les 6 mois de la présidence française de l'UE, (7-12/2008), Henri Kissinger n'aurait aucune difficulté de rejoindre l' Europe !", observa-t-il en suscitant des nouveaux applaudissements nourris.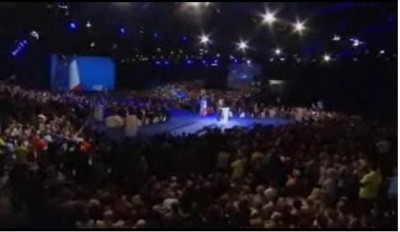 "J'au vu l' Europe Politique se dresser, et prendre ses responsabilités : L' Europe Politique c'est celle qui agit sans délai, et avant les Etats-Unis, pour stopper des faillites Bancaires qui s'enchaînent, qui nous auraint plongés dans une Depression pire que celles des années 1929. L' Europe Politique est celle qui, maintenant, doit mettre un fin à un Capitalisme Financier, qui a perdu sa boussole. L' Europe Politique est celle qui a réussi d'etablir le règles les plus ambitieuses au Monde dans la lutte contre le rechaufement Climatique. Samedi, nous celebrons l' anniversaire du debarquement de la Normandie, où nos amis Américains ont pris une part décisive à nôtre libération. Mais, en décembre 2009, à la Conference (Mondialle) de Copenhague, c'est nous les Européens, qui allons leur montrer le chemin vers cet avénir commun" pour la sauvegarde de l'Environement naturel. L' Europe Politique c'est celle qui, en août 2008, lorsque la Guerre faisait rase entre la Russie et la Géorgie, s'est interposée pour imposer la Paix. Et c'est elle qui doit, maintenant, se doter des moyens Militaires de se défendre par elle-même, pour elle-même", ajouta-t-il en évoquant clairement la création d'une Défense Européenn Autonome.
    "L' Europe Politique c'est celle qui doit bâtir des grands champions Industriels Européens, comme nous avons fait, auparavant, pour (l'avion) Airbus ou (la fusée) Ariadne. C'est celle qui doit exiger la Reciprocité dans les rlations Commerciale avec nos grands partenaires", sans Dumping Social ou Environmental, ni autre Concurrence Deloyale. "C'est celle qui doit se doter comme objectif d'être "le Continent de l'Esprit", réunissant les plus grandes Universités du Monde, en multipliant les Connexions, entre Scientifiques et étudiants."

    "Nous respecterons nos engagements, jusqu'au dernier", souligna le Premier Ministre de la France, peu après que les candidats-eurodéputés de la coalition Gouvernementale (UMP : Mouvement pour la Majorité Présidentielle) ont signé solennement, devant plusieurs milliers des Citoyens, une spectaculaire pancarte-géante avec "7 engagements" pour les Elections Européennes du 7 juin, auxquels figure aussi l'engagement de "s'opposer à l' adhésion de la Turquie dans l'UE".

     - "Parcque ce respet des engagements est une exigence si nous voulons rétablir la Confiance entre les Responsables Politiques et les Citoyens", conclua Fillon, la veille de ces Elections Européennes de juin 2009, après les Abstentions Majoritaires de 1999 et 2004, suivies de 3 "NON" à 3 Euro-Réferenda dépuis 2005, (dates auxquelles, quelques gouvernements du Passé, avaient donné le statut d'un "Candidat" et commencé des "Négotiationa d'adhésion" avec la Turquie, suivies d'un blocage sans précedent de l' édification européenne)..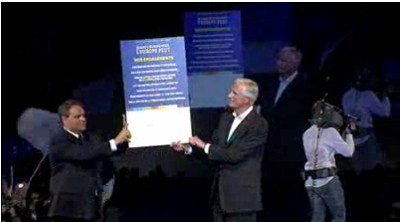 "Nore Europe n'est pas n' importe quelle Europe : L' UE Technocratique n'est pas la nôtre. ... L' UE sans Frontières n'est pas la notre. L' UE desincarnée n'est pas la notre". "Nous portons une idée de l'Europe" qui "n'est pas celle des Statistiques et des Bureaux(crates). L'Europe ce n'est pas qu'une Monnaie. Ce n'est pas qu'un Marché. économique".

- "L' Europe c'est d'abord une Culture. L'Europe c'est une Histoire", a-t-il dit, largement applaudi.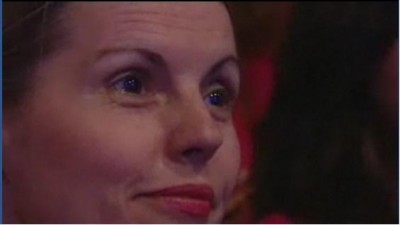 "L'Europe c'est une rencontre entre des Nations qui sont Millénaires et qui sont Brillantes. L'Europe c'est Paris. C''est Madrid. C'est Prague. C'est Londres. C'est Rome. C'est Varsovie. C'est Berlin. C'est Vienne. C'est Athènes : Quant on énonce ces Villes, alors on "sent" nos Héritages et nos Cultures entremelées qui circulent dans nos veines".

    - "Je suis Européen, parcque profondément Français, je sais ce que je dois aux influences de l' Atlantique et de la Méditerannée. J'aime ces Traditions qui offrent à chacun des nos Nations leur éclat. .. J'aime ses saveurs, ses paysages divers. Ils sont également miens, ou, plus précisement, je suis également fait d'eux. Je suis Européen, car, Français, j'aime l' Europe ouverte vers l' Amérique, vers l'Orient, vers l' Maghreb. J'aime les quais de Vénise, ceux d'Amsterdam. J'aime les quais de Thamise où sont vénues pendant des siècles s'amasser les richesses et les nouveautés du Monde. J'aime l' Europe curieuse. L'Europe qui rêve des lointains : L' Europe de Vasco de Gama, de Magelan. de Bougainville, de Charcot, de Monot... Cette Europe qui, aujourd'hui, s'élance vers l' Espace. Je suis Européen parce que Français, j'aime l' Europe qui prospère et qui invente. J'aime l' Europe des Trains à Grande Vitesse. J'aime l'Europe des Satellites et des Fusées. L'Europe de la Mode et des Atéliers d' Artistes. L'Europe des Grands Laboratoires, des Ingéniers. des Entrepreneurs, des Grands Architèctes, des Traditions Ouvrières. Comme rançais, j'aime l' Europe qui dit "NON" à la Tyrannie et qui se soulève à l'appel de la Liberté", a-t-il dit en

 
"Je me sens lié à ces femmes et ces hommes sans nom, qui ont levé la tête, et qui ont sécoué le joug sous lequel .. on les avait fait pliér", dit-il en évoquant pex.. la Révolution Française de 1789, le Siècle des Lumières, l'appel du Général de Gaulle contre l'Occupation NAZI, et les pires heures obscures qu'un  "Fascisme" ou "Communisme" devoyés, suivies de la Guerre Froide avaient plongé l'Europe au Passé.

"Ils sont des millions, ces Héros Anonymes de notre temps, que nous croisons sans le savoir dans nos rues et nos places. Et je ne peux pas concevoir l'Europe sans eux, et sans tous ceux qui poursuivent leur combat contre l'arbitraire et le fanatisme", ajouta Fillon. Faisant pex. rappeler un récent Film allémand, primé au Festival de Vénise, qui décrivait la vie d'un cadre à l'époque d'un régime oppressif, qui avait été chargé d'espioner la vie privée et familiale d'un couple soupçonné d'être dissidents politiques, mais, ému par leur honnêteté humaine et leur sacrifice pour sauver d'autres, a preferé risquer sa place et sa propre liberté pour les sauver, sans même qu'ils le sachent, condamné dépuis à faire un bas boulot d'anonyme perdu dans la foule..


"Quand je vois l'Europe moderne, je vois les résultats de l' Audace de ces hommes qui ont brisé les traditions de conflit et de violence. Je vois des nations soudées autour d'une monnaie unique et protectrice. Je vois 27 jeunesses appelées de grandir ensemble, sans défiance. Je vois 27 peoples unis, qui nous interdisent de jouer les blazés ou les indifférents".

Jettant "un régard lucide sur les errements de la construction européenne", Fillon a observé que "l' Europe n'a pas bésoin d'être idélisée pour être ce qu'elle est ; Cad. une aventure humaine, avec ses faiblesses et ses forces".

"Vous voulez que l' Europe agisse ? Fixez-lui des objectifs clairs. Vous voulez la Démocratie ? Agissez en Citoyens. Vous rédoutez la prétendue Bureaucratie des Bruxelles ? Alors renforcez, par votre Vote, les instances élues au Parlement Européen" qui sont chargés de la contrôler.

- "Si nous voulons faire vivre "le Rêve Européen", .. alors nous avons tous le dévoir de l' engagement", a-t-il conclu, appelant de "engager pour le drapeau tricolore et le drapeau étoilé, car ils symbolisent tous les deux la fierté de nôtre nation et la force de nôtre union".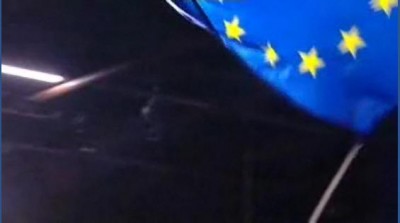 Polls