Home

newsitems

POTUS Trump fans Back Iran f. President Ahmadinejad move v. Labo-made Virus +Anti-Human Criminals /B
POTUS Trump fans Back Iran f. President Ahmadinejad move v. Labo-made Virus +Anti-Human Criminals /B
Tuesday, 10 March 2020
(../..)
(=CONTINUES FROM PAGE "A")
http://www.eurofora.net/newsflashes/news/ahmadinejadonlabomadevirus1.html

 - "That's the only sane thing I have ever heard him (Ahmadinejad) say!", agreed "Ed" too.
- "I don't normally ever agree with Iranian maniacs (Ahmadinejad), but when I do it's about who created the Hunan Virus....", was added also "Laurence Jackson".

- "You go, I'madinnerjacket! (Ahmadinejad)", joined "Bannaghar" too.
-" Ahmadinejad is a man of conscience, something the world doesn't know how to deal with. If he were Irans leader today, they would be better off!!!", "Jonathan" also supported.
- "Agreed", said "JCMR" too.
- "...If this is a man-made weapon it's a pretty crap one", found "BobCurious".
-"No one is saying it was their doomsday virus that was accidentally released, but even performing experiments on how to infect humans with rodent viruses can be dangerous (as we see)", "Cowpow" denounced.
- "That depends on what it's purpose is. It might be intended for economic chaos, rather than human fatalities!", rightfully observed "ellerfeller".
-"That lab must hate Italian seniors", supposed "BugsBunny", because of the Virus' more often targetted (aged) victims.
- "As much as I hate to agree with this clown (Ahmadinejad),... part of me does...", "Mojo" admitted.
- "At first glance it would seen that China is the culprit.........but we have to look at who has most to gain by doing the unthinkable. China was about to finalize a great deal with the US but Iran was not! China cannot afford this CV but Iran needs something to stop the revolution. China could have worked on the technology to make the virus but was too careful not to let it go.......but Iran could have been the main culprit in seeding China so as to create havoc. How was it that some Iranian politicians got so quickly infected ? ......maybe because they had first hand look at the vial......but where too stupid to be too close ? I have no idea. I am just throwing stones at a glass pane. Iran allowed people to get out of infected areas.Iran is said to have opened the doors to prisoners. Iran has some very inadequate safety measures. China is doing its best to control while Iran seems to be only praying for Allah to punish Israel and Trump for this CV. On the other side there are the mega billionaires who have been talking about such viruses just a few months ago. So, is this a money thing, a religious thing or just madness ?"
"Whoever did this will reap the wind. Many people will die. Let us all pray that it will not be us", soberly wondered "disqus_E5omamma".                                                                                                                   
- "You wrote all that because you think a human being made this particular virus?", "Edith 1880" asked.
- "Yes, and he is right. Level 4 biological lab Wu Han China. You have to be crazy to believe it's something that came from bats. Chinese have been eating them for centuries", "Keeper of Odd Knowledge" observed.
- "This Guy (Ahmadinejad) could be on to something... Think about it! Out of the 10's of thousands of food markets that exist throughout China, it just so happens to be in the food market within blocks of the only BSL level 4 lab in China. It could be a leak, which everyone may suspect. But if it was, who leaked it, and how was it that Iran was suddenly one of the first hardest hit countries (dozens of high ranking politicians infected), ...that just so happen to be mortal enemies of the state of Israel.? fact or fiction?", wondered "wildfirexx".
- "I like this guy (Ahmadinezad)", agreed also "Sam Adams".
- "I kind-of agree with him (Ahmadinejad)....", added "SPANGLER the Deplorable" too.
-"Coronavirus, Patent No. US 10-130-701 B2, The Pirbright Institute, UK. Major funding from Bill and Melinda Gates Foundation, Wellcome Trust, EU. Start here. Look it up at uspto.gov. Happy hunting", wished "KauaiGoneGin", after giving some Interesting Factual leads.
 - "I actually agree with this (Ahmadinejad's call)-- the sentiment anyway, not the nonsense. It should be made public who and where the virus was created. Then we should expose all Democrats, before November", urged "Matt Fischer".
 - "You only have to look at the DNC lab to find out where the virus came from. The trick was to get it into the Chinese population to scapegoat the Chinese and crash Trumps economy", denounced "Don't Tase Me Bro!".
-"To scapegoat populists worldwide and have people begging for a one world government, or so they thought. They could easily steal the election from Trump", added "Elf of Destruction".
- "Well that's an easy one: It was the lab at the University of North Carolina. Then, Barack Insane Obama sold it to the Comm. Chinese in 2015 for further gain of function research and to then release it en masse", "007_Conservative" suspected.
-"The head of the Wuhan lab was working on Corona virus gain of function research at UNC. It's one theory. Shiangli Zhi is her name ai think", "Elf of Destruction" added.
-"...The public is already in panic mode. Announcing that it is man-made would increase the panic level by 100. So they will play the "an animal virus that just happened to jump to humans" card....in the city that China has their only level 4 bio lab in", "Cowpow" warned.
-"I'm not saying it is a man-made disease. It is a bat/rodent disease the originated in the wild. No denying here. However, taking this bat/rodent disease that originated in the wild and figuring out how to infect humans with it is something that happened in that level 4 lab", nuanced "Cowpow".
- "Your comment is simply ridiculous... You say it's not a man made disease, and then you proceed to proclaim that man figured out a way to infect humans with it (thus it becomes man made)... I got news for you... Virus that "don't affect humans", infect humans all the time. It's when the virus mutates to a point that it CAN affect humans that things go awry. Every country understands that biological warfare is a dumb thing. Using a virus to attack your enemies will always boomerang back onto you. We are all human, there is no way to create a virus to infect just certain people", claimed "Arminious", (despite evidence of the Contrary : F.ex. COVID-19 notoriously targets mainly Old People, with certain Conditions, etc).
-"And yet every country still continues to experiment...", warned "Cowpow".
+"Again; same city as their only level 4 bio lab. They turned down help from the CDC. They surrounded an entire city with soldiers in hazmat suits that were pointing automatic weapons at citizens who were trying to escape. Their own reporters with inside tips were reporting that it originated in that lab (before they vanished that was). If it walks like a duck and quacks like a duck...", he reiterated.
-"...Countries study virus so that they can be prepared for every eventuality. They don't manipulate the coding of those virus to use against people. As I said, that's a fools game. The virus you're "concocting" is inside your borders, and if accidentally let loose it will cause mayhem among your population. No country tries to do biological warfare anymore. The dangers outweigh the benefits", "Arminius" believes.
- ".... I guess the stories published in credible papers about researchers in China in prison for selling the animals they experiment on to raw meat market street vendors are also just "troof"", persisted to denounce, "Cowpow".
+"...out of the 3.7 million square miles in China, what are the odds of this disease magically jumping from animals to humans in the very same city where China has their only level 4 bio lab where viruses like this are experimented on, with the two events being unrelated? I will save you the math; 13.7 trillion to one. (so you're telling me there's a chance?) I guess statistics lie too now...", "Cowpow" added.
---------------------
-"...it all ties back to here: http://www.waarheid911.nl/b... There's no fear of a False Flag attack now. CoVid IS the False Flag, only it's a real attack. Think of all the 'clearing out' going on behind the scenes. ...Let's follow the breadcrumbs, and avoid the fake CIA marshmallow 'wet market' diversions, as George Webb would say:"
+ "1. 2019-nCoV is a patented US Bioweapon of the SARS - MERS respiratory virus family, with an HIV wrapper. Backing out an isolation and identification of the first victim announced 8 DEC 19, and the 2 to 3 week incubation of what presented as a pneumonia cluster, Patient Zero was the second half of October, 2019. ... 2. Trump, Pompeo and State were in China the second half of October, brokering the New China Trade Deal. Trump announced 'We have a Great New Plan', but then China said, 'Uhh, no we don't!' This infuriated and embarrassed Trump and the US State trade mission. ...3. Also in the second half of October, the 2019 Military World Games was held in Huwei Province, in WUHAN. All of the Pentagon, State and CIA 'wet' operatives were right there IN WUHAN when the China Trade Deal collapsed. Pentagon has 26 bioweapons labs, ready to start 'seeding'. ... 4. Now, you'll recall, in the first half of October, the Fed began frantically covering a sudden global 'liquidity crisis', as credit dried up and the markets froze. This was just after Trump refused to attack Iran for a second time, and then fired Bolton to signal the end to these Perpetual Wars of Greater Levant. That was the trigger for the so-called 'DNC' Soft Coup impeachment effort by the Pentagon-CIA. ...5. That same week as the 2019 Military World Games was seeding Patient Zero with the Super-SARS, just after Perpetual Wars of Levant went off the rails, then the China (Extortion) Trade Deal failed ... that SAME WEEK, a US Big Pharma PAC introduced HR4710 into Congress as a Homeland Security Drug Monopoly Plan, to BAN ALL IMPORTED DRUGS AND VACCINES and also CREATE A PENTAGON IMPORTED DRUG AND VACCINE INTERDICTION TASKFORCE".
++"Coincidence? The L4 Wuhan lab was French-built, it was brand new and staffed by Chinese researchers who were all educated and trained in the West. They were working with Stanford and Harvard on developing US bioweapon SARS and MERS vaccines. The lab was researching known bat immunity to SARS as a potential vaccine adjuvant. Their Harvard co-researcher was arrested by Feds and never heard from again. Neither Stanford nor Harvard has issued any statement. .... So, let's do a Dave Letterman count-down. First the Perpetual War of Greater Levant collapses and Bolton is fired. The the Soft Coup, as global credit instantly dries up. There is a huge global banking crisis! Trump announces a new China (Extortion) Trade Deal! But it immediately blows up during the 2019 Military World Games right there *in Wuhan*. Then a bill to create a US Big Pharma MONOPOLY under Permanent Pentagon Posse Comitatus is introduced to Congress at the same time...and then five weeks of incubation and isolation later, the first case of what's now been branded 'CoVid' by the West is announced by China on December 8th (December 7th in USA, ... Pearl Harbor Day). "We need some catastrophic and catalysing event - like a new Pearl Harbor" Project for a New American Century Smoking Gun? Or just a Wild Coincidence? Must be coincidence. Why, Mike 'End of Days' Pompeo wouldn't even hurt a FLY!"
+++ "- In fact, if you research, you can find a 2010 video where a respected journalist with an inside-leaker from CIA-MI6 stating The Plan was to: 1. start blitz-kreig with Iran by provoking it using illegal insertions, then 2. a Bioweapons attack on China, and use the resulting global pandemic chaos for Patriot Act IV America LockDown.... And that is exactly what played out, and is playing out and will likely play out. The Private Fed just bailed out the international banking cartels last Fall by looting our US Treasury. They now hold all the gold. You hold all the Toilet paper. Do the math. ....Protect your Home, protect your Family, protect your Wealth. Be Kind to Others!", concluded "Antworter".
-"The stock market was ready for a correction, right after the Wall Streeters ran it up to 30,000. They almost go there when the virus news got bad, so they sold a bit early and predictably took their profits. Those who know the game were short the market and are covering this week now that the Dow has hit its 200-week moving average. Watch: Things will now settle down, maybe after another dip, as Wall Streeters begin to buy up all the lost profits of the fools who had turned their money over to 401(k) managers. They do this all the time. The craps table was hot till someone rolled a seven",  added "My O. My".
-"My biggest problem with your theory is that you think the CIA operates under anyone, including Trump. I also think China is nowhere near innocent which you seem to portray them as. The trade deal was necessary, not extortion. I've been there, the people are terrified of their government. I'm hoping it was a CIA operation to cripple the CCP and Iran", replied "Elf of Destruction".
-"It was made with PShuttle. A college kid could have made it. Came from Canada, modified variant found in Wuhan. The end. Nothing more to ever know for sure", claimed "John Hall".
-"Wow! I agree with the Dude (Ahmadinejad) !!!.", was impressed "Croodness".
- "I have only two words for Iran's ex-president Amahdinejad: "Fair enough.", agreed also "Howard Lewis".
- "DANG! I never, ever, thought I'd agree with anything Ahmadinejad said, but he is 100% on target with that. ...Of course, once the WHO determine the virus was manufactured in China, as a militarized weapon, what will they do about it?", wondered "Jack Carter".
-"The Crazy sun of a gun (Ahmadinejad) might have a point", agreed "1955-mullet" too.
-"I'm-all-in-jihad (Ahmadinejad) has a valid point for once", joined also "Munch".
- "One has to wonder . Why would anyone develop such a devastating virus ??? Then the MSM's / The WHO etc... talk only Pandemic and DO NOT say a damn thing about the very people who developed it ! ...", wondered "Gabriel Power".
- "From what I've read about the genome it has 2 places that are the same as HIV, and uses the same pathway to spread and infect. I would say it's a genetically combined virus that was made in a lab, but who's the question. Soros and the .0001 of the elite that want total control of the world would be behind it I'm sure. They're sick bastages that will do anything to take over", denounced "banned usafirst".
-"What kind of Frankenstein lab would be working on a virus that targets the elderly? Those people have got to have their head screwed on backwards. hmm ... perhaps the elderly were just the 'test pilots' .. analysis from this might show how to do other 'selective' projects? My word ... the entire land of China will be sand dunes. They'll lose that battle and I had such high hopes for them in that....", deplored "Waterwllows".
-"The lab is at the University of North Carolina (Comp. Supra), and they made it for the Chinese", found "Jimmy Troutbum".
- "Strange, but I agree with him (Ahmadinejad) on this. The CCP must be held to account. Even if they didn't develop it in a lab, they lied about it and hid it for as long as possible. Par for the course for commies. What's a few million deaths of their own people,let alone the rest of the world in the name of maintaining their own power and wealth?", claimed "Speakthetruth".
-"...Anyways, the patent is owned by Gates, I think. Sue him!", reminded "freedom1776".
(../..)
("Draft-News")
------------------------------------------
BRIEF NEWS
00:00 - 02.06.2021

00:00 - 18.10.2020

00:00 - 19.06.2020

00:00 - 18.05.2020

00:00 - 20.04.2020

00:00 - 02.02.2020

00:00 - 09.12.2019

00:00 - 27.11.2019

00:00 - 16.11.2019
Statistics
Visitors: 55544900
Archive
Login Form
Other Menu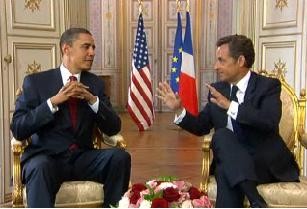 La Turquie, test-clé d'Independance de l'Europe face aux USA, les aménant de chercher en commun des nouvelles idées pour se mettre d'accord ?  
 Le débat, amical mais clair, entre les Présidents Américain et Français, Obama et Sarkozy,  la veille des elections européennes du 7 juin 2009, a montré que la question controversée sur la démande de la Turquie d'entrer dans l'Europe est actuellement le point central et le test le plus pertinent de l' indépendance de la France et de l'Europe par rapport aux Etats Unis.   
 Les electeurs européens, aussi bien en France qu'ailleurs en l'UE, auront une seule chance à trancher, ce dimanche 7 juin 2009, en choisisant leurs eurodéputés pour la période 2009 - 2014, car après ca risque d'être trop tard, vu que tous ceux qui suivent les affaires européennes dépuis des décennies savent qu'en réalité, le moment des décisions sur la Turquie viendra au plus tard en 2013, date rétenue dépuis longtemps pour une importante révision des "Perspectives Financières" de l'UE qui reflètent des choix Politiques fondamentaux.

    Le Président français, (récement encore représentant de l'UE, dans laquelle il joue un rôle important, ensemble avec la chancelière allemande Merkel, et autres leaders européens, ayant une influence notable auprès des Citoyens Européens, comme les derniers sondages montrent), réagissant à la repétition, par le nouveau Président Américain de la vieille position traditionelle de l'Washington poushant toujours vers la démande de la Turquie d'entrer dans l'Europe :

     - "Je ne peut pas laisser détruire l'Europe, (qui) est un élément de stabilisation du Monde", réponda Sarkozy. "J'ai dit au Président Obama que pour moi il était très important que l'Europe ait des Frontières", a-t-il souligné, confirmant la position Franco-Allemande commune, récemment rappellée ensemble avec la Chancellière Merkel.

    - "Il y a une différence (entre France/EU et les USA)...  sur les modalités. La position traditionnelle des Etats-Unis d'Amérique, c'est l'intégration" de la Turquie au sein de l'UE. "C'était la position du Président Bush, du Président Clinton, de tous les présidents américains".     
- "La mienne vous la connaissez : Ce n'est pas l'intégration dans l'Union Européenne. Mais j'ai proposé que nous réfléchissions, l'Europe, la Russie, la Turquie à la création d'un Espace Economique et de Sécurité en commun", a ajout Sarkozy rappelant son invitation de créer quelque chose de neuf et mieux adapté.

    Mais, "cela ne veut pas dire qu'il faut repousser la Turquie dans les ténèbres. La Turquie est un allié dans l'OTAN, (et) une Passerelle entre 2 Mondes, voilà quelle est la meilleure modalité. C'est cela dont nous avons parlé", revela-t-il. Si "nous avons une Différence sur les Modalités, nous n'avons pas une différence sur l'Objectif : Faire de la Turquie un élément de Pont entre l'Orient et l'Occident", Sarkozy assura Obama.

    - "Laissez-nous au moins une légère divergence sur un sujet, cela vous permettra de bien réfléchir pour les prochaines échéances", ajouta Sarkozy en réponse à un journaliste de l'opposition Socialiste qui avait soulevé la question de la Turquie, en la melant (comme un lobby turc notoirement essaie de faire pour exploiter la manipulation de quelques Arabes, la Civilisation Historique desquels fût pourtant detruite par l'ex-empire Ottoman-Turc) avec une question tout à fait différente : celle de la voile islamique (!), avec laquelle elle n'a rien à voir.

    - "Sur la Turquie, Monsieur, vous appartenez à un journal ...qui a appelé à voter, au moment de la présidentielle, pour mon adversaire.... Quel était votre argument à ce moment-là ? Vous disiez : « Attention, Nicolas Sarkozy va trop s'aligner sur les Etats-Unis d'Amérique », et je vois que deux ans après vous dites : « Ah, il y a un sujet sur lequel le Président Obama et le Président Sarkozy ne sont pas d'accord » Cela devrait vous rassurer, Monsieur" , réponda-t-il, en faisant sourire même le président américain, (et laissant entendre que trancher définitivemen la controverse sur la Turquie pourrait être au coeur de l' Elections Présidentielle  en France pour 2012 )
-------------------
    - "Ce que les Etats-Unis peuvent faire, c'est encourager ....TOUT PROCESSUS qui permettra à la Turquie d'être convaincue qu'elle a des amis, que ce soit la France, les Etats-Unis ou l'Europe", réponda Obama, apparamment n'excluant pas, a priori, le point de Sarkozy sur la création d'un espace commun d' économie et sécurité entre l' UE, la Turquie et la Russie (v. supra).

    "Les Etats-Unis ne sont pas membres de l'Union Européenne, nous ne pouvons pas dicter si un pays quelconque adhère ou n'adhère pas à l'UE"; Obama a admis, parlant de la "Turquie, (sur laquelle) le Président Sarkozy et moi nous sommes entretenus sur ce dossier avant".  "Maintenant le Président Sarkozy représente un Etat membre de l'Union Européenne et il a une position différente", opposée à démande turque d' entrée dans l'UE.    
 "La Turquie par contre est un allié de l'OTAN très important. ...La Turquie a fait connaître son intérêt à une intégration croissante avec l'Europe et nous (USA) encourageons cette attitude. J'ai souvent dit que l'adhésion de la Turquie à l'Union européenne serait importante".     
"Mais, (en tout cas) je crois qu'il est important de noter que le Président Sarkozy appuie fortement le travail que la Turquie fait au sein de l'OTAN et je crois qu'il s'intéresse à une intégration économique plus intense avec la Turquie". (Ce qui pourrait se faire, justement, avec un "parténariat privilegié" adéquat et/ou l'idée de créer un espace commun EU - Turquie - Russie  : V. supra).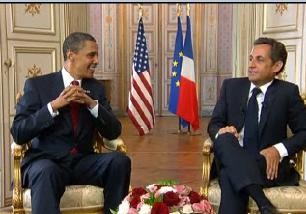 Est-ce que l'effort du Président de la France, soutenu par la chancelière Allemande et l'opinion publique de la plupart des Citoyens Européens la-dessus, de trouver un accord entre l' Europe et l' Amérique sur la Turquie, en proposant de sortir des chemins battus et créer du neuf, en etablissant "un Espace Commun d' Economie et Sécurité" (v. supra), suffira de calmer un lobby traditionaliste à quelques bureaucrates de Washington DC, datant dès l'époque de l' ex-"Guerre Froide", beaucoup plus ancien que le nouveau Président vénu de l' oxygen des "grands lacs" près de Quebec du Canada : Chicago, connu comme "la ville du vent" nouveau ?
-----------------------------------------------------------------------
Le Prémier Ministre Fillon appele à "faire vivre le Rève Européen"
------------------------------------------------------------------------  
 Seul l'avenir le dira. Mais, entre-temps, l' Europe ne peut plus attendre et perdre encore plus du temps et d'energie vitale sur la démande controversée de la Turquie, qui a notoirement menacé d'arrêter l'édification européenne dépuis 1999-2005 :

    Comme le Premier Ministre François Fillon a clairement dit, un peu plus tôt cette semaine, dans un discours éloquent sur les enjeux de l' Election Européenne de ce juin 2009 (V. résumé envoyé aux adhérents d'"EuroFora"),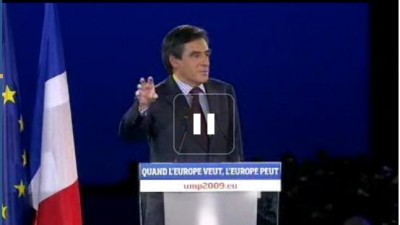 - "S' abstentir, c'est laisser à la Technocratie le pouvoir de dominer" la vie des Citoyens européens, qui devraient prendre l' Europe en branle le corps", et commencer d'agir par toutes les voies politiques démocratiques, prennant conscience que "l' Europe c'est Nous, (i.e. les Citoyens), et "Pas eux !" (i.e. les Technocrates), selon une image symbolique.

    - "Je me souviens de l' Europe obligée de faire Silence, (au Passé), quand "les Grands" décidaient de son sort", rappela Fillon.  "Je me souviens de l'Europe divisée, de l' Europe dominée" par d'autres, '"de l'Europe appauvrie""Je me souviens de Berlin occupé, muré, divisé comme un butin qu'on tire aux dès. Je me souviens du Silence de Varsovie. Je me souviens du Silence de Prague"..   
 - "Nous, les Européens, nous avons bien failli sortir de l' Histoire, et dévenir, pour du bon, les dès d'un jeu joué par d'autres".     
- "C'est pourquoi je ne peux pas concevoir une Europe qui ne serait pas Souveraine, une Europe qui ne serait pas Maitresse d'êlle-même", aujourd'hui et démain, martella-t-il. "Le Monde s'est habitué trop longtemps à une Europe faible, que l'on pouvait traiter avec condescendence".  
 - "Le moment est venu de rélever le défi : Le moment est vénu de montrer que, nous les Européens, avons décidé d'être débout, et d"être nous-mêmes".     
"Dépuis 2 ans (i.e. dès les Elections Présidentielles de 2007), avec Nicolas Sarkozy, nous avons oeuvrer pour relever notre Identité Nationale (de la France), dont nous sommes fiers. Et bien, l'' Identité Européenne mérite tout autant, elle qui prolonge les Génies de nos Nations".


    - "Je crois à la présence d'une Civilisation Européenne", déclara Fillon, largement applaudi par des milliers de personnes ayant entendu une série des Musiques entremelées characteristiques de differents pays européens, et des images lumineuses géantes avec des extraits symboliques de Goethe, de Victor Hugo, de Shakespeare, et d'autres auteurs italiens, espagnols etc celebres à travers l'histoire.

    - "L' Humanisme, la tolerance, la Liberté de la Conscience. La Solidarité. L' Etat de Droit. La confiance placée dans la Science, l' Innovation, le progrès. Toutes ces Valeurs, elles disent clairement où commence et où s'épanuit cette Europe" que nous voulons, observa-t-il.

    En harmonie avec les positions soutenues par le Président du Parlement Européen, eurodéputé allemand, Hans Gert Poettering, et la Chancelière allemande, Angie Merkel, sur la "Dignité Humaine" au coeur des "Valeurs de l' Europe" moderne. Ce qui fait qu'" avec un Elargissement sans fin", même vers la Turquie, c.a.d. "sans Frontières, l' Europe Politique, l' Europe des Valeurs et l' Identité européenne" ne peuvent pas exister, comme a dit aussi le Président francais, Nicolas Sarkozy, recemment à Berlin.

    Fait important : Cette observation de Fillon a été faite le jour-même que le Comité des Ministres du Conseil de l'Europe à Strasbourg concluait une semaine de réunion semestrielle sur les Droits de l'Homme, qui a examiné un grand nombre d'affaires des pires Violations (pex. Tuéries scandaleusement non elucidées, Persecutions et privations arbitraires de Liberté, personnes portées "Disparues", Tortures et "traitements inhumains et degradants", Usurpations illégales des Maisons et Patrimoines privées de Réfugiés, etc., pour lesquelles la Cour Européenne a condamné la Turquie dans plusieurs jugements, dont on attend toujours l' application)...

    - "C'est pourquoi un Elargissement sans fin de l' Europe ne peu pas être un objectif en soi. Parce qu'il ne peut que diluer l' élan européen, et detruire l' Idéntité Européenne"

    -" Voilà pourquoi nous disons, très sereinement, que nous ne sommes pas favorables à l' adhésion de la Turquie dans l'UE", conclua le Premier Ministre de la France; largement applaudi par des gens qui soulevaient le drapeau européen.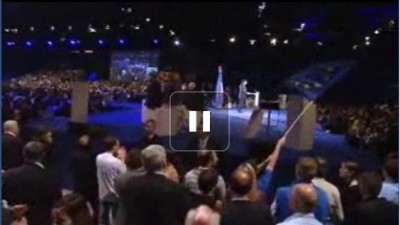 "Ce n'est pas un Slogan de meetings. Ce n'est pas la marque une "Hostilité" au régard de cette grande Nation (i.e. la Turquie), qui doit être étroitement associée à l' UE", pex. par un partenariat priviliegié, ou une autre formule adaptée.

    - "Mais il lui faut des Frontères à l' Europe, il lui faut des Frontières stables, qui lui permettent de renforcer son Unité et son Identité", a-t-il expliqué.

    - "Alors, c'est au nom de cette Europe charnelle, que je m'engage avec vous. Mais, cette Europe-là, ne peut avancer qu' à une seule Condition : celle de l' Europe Politique".

    "Nous avons longtemps douté qu'elle soit possible : Aux années 1970, Henri Kissinger (le notoire ex- Secretaire d'Etat Américain aux affaires etrangères, consideré, à tort ou à raison, comme chef d'orchestre du renversement du Président Allende en Chili, de l' invasion militaire de la Turquie à Chypre, etc), disait, avec une ironie blaissante : - "Ah, l' Europe ? : Quel numero de Télephone ?..." Pendant les 6 mois de la présidence française de l'UE, (7-12/2008), Henri Kissinger n'aurait aucune difficulté de rejoindre l' Europe !", observa-t-il en suscitant des nouveaux applaudissements nourris.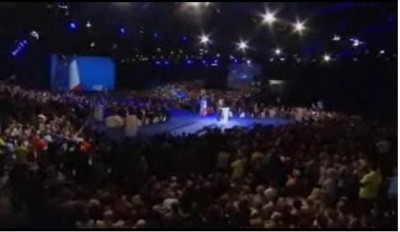 "J'au vu l' Europe Politique se dresser, et prendre ses responsabilités : L' Europe Politique c'est celle qui agit sans délai, et avant les Etats-Unis, pour stopper des faillites Bancaires qui s'enchaînent, qui nous auraint plongés dans une Depression pire que celles des années 1929. L' Europe Politique est celle qui, maintenant, doit mettre un fin à un Capitalisme Financier, qui a perdu sa boussole. L' Europe Politique est celle qui a réussi d'etablir le règles les plus ambitieuses au Monde dans la lutte contre le rechaufement Climatique. Samedi, nous celebrons l' anniversaire du debarquement de la Normandie, où nos amis Américains ont pris une part décisive à nôtre libération. Mais, en décembre 2009, à la Conference (Mondialle) de Copenhague, c'est nous les Européens, qui allons leur montrer le chemin vers cet avénir commun" pour la sauvegarde de l'Environement naturel. L' Europe Politique c'est celle qui, en août 2008, lorsque la Guerre faisait rase entre la Russie et la Géorgie, s'est interposée pour imposer la Paix. Et c'est elle qui doit, maintenant, se doter des moyens Militaires de se défendre par elle-même, pour elle-même", ajouta-t-il en évoquant clairement la création d'une Défense Européenn Autonome.
    "L' Europe Politique c'est celle qui doit bâtir des grands champions Industriels Européens, comme nous avons fait, auparavant, pour (l'avion) Airbus ou (la fusée) Ariadne. C'est celle qui doit exiger la Reciprocité dans les rlations Commerciale avec nos grands partenaires", sans Dumping Social ou Environmental, ni autre Concurrence Deloyale. "C'est celle qui doit se doter comme objectif d'être "le Continent de l'Esprit", réunissant les plus grandes Universités du Monde, en multipliant les Connexions, entre Scientifiques et étudiants."

    "Nous respecterons nos engagements, jusqu'au dernier", souligna le Premier Ministre de la France, peu après que les candidats-eurodéputés de la coalition Gouvernementale (UMP : Mouvement pour la Majorité Présidentielle) ont signé solennement, devant plusieurs milliers des Citoyens, une spectaculaire pancarte-géante avec "7 engagements" pour les Elections Européennes du 7 juin, auxquels figure aussi l'engagement de "s'opposer à l' adhésion de la Turquie dans l'UE".

     - "Parcque ce respet des engagements est une exigence si nous voulons rétablir la Confiance entre les Responsables Politiques et les Citoyens", conclua Fillon, la veille de ces Elections Européennes de juin 2009, après les Abstentions Majoritaires de 1999 et 2004, suivies de 3 "NON" à 3 Euro-Réferenda dépuis 2005, (dates auxquelles, quelques gouvernements du Passé, avaient donné le statut d'un "Candidat" et commencé des "Négotiationa d'adhésion" avec la Turquie, suivies d'un blocage sans précedent de l' édification européenne)..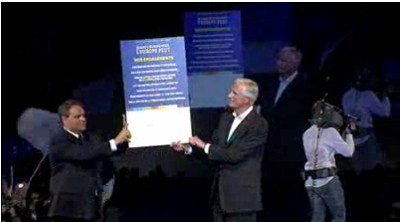 "Nore Europe n'est pas n' importe quelle Europe : L' UE Technocratique n'est pas la nôtre. ... L' UE sans Frontières n'est pas la notre. L' UE desincarnée n'est pas la notre". "Nous portons une idée de l'Europe" qui "n'est pas celle des Statistiques et des Bureaux(crates). L'Europe ce n'est pas qu'une Monnaie. Ce n'est pas qu'un Marché. économique".

- "L' Europe c'est d'abord une Culture. L'Europe c'est une Histoire", a-t-il dit, largement applaudi.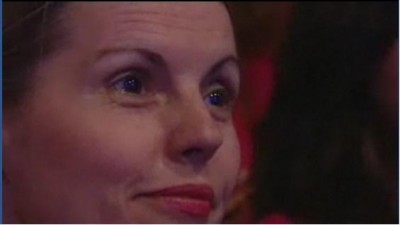 "L'Europe c'est une rencontre entre des Nations qui sont Millénaires et qui sont Brillantes. L'Europe c'est Paris. C''est Madrid. C'est Prague. C'est Londres. C'est Rome. C'est Varsovie. C'est Berlin. C'est Vienne. C'est Athènes : Quant on énonce ces Villes, alors on "sent" nos Héritages et nos Cultures entremelées qui circulent dans nos veines".

    - "Je suis Européen, parcque profondément Français, je sais ce que je dois aux influences de l' Atlantique et de la Méditerannée. J'aime ces Traditions qui offrent à chacun des nos Nations leur éclat. .. J'aime ses saveurs, ses paysages divers. Ils sont également miens, ou, plus précisement, je suis également fait d'eux. Je suis Européen, car, Français, j'aime l' Europe ouverte vers l' Amérique, vers l'Orient, vers l' Maghreb. J'aime les quais de Vénise, ceux d'Amsterdam. J'aime les quais de Thamise où sont vénues pendant des siècles s'amasser les richesses et les nouveautés du Monde. J'aime l' Europe curieuse. L'Europe qui rêve des lointains : L' Europe de Vasco de Gama, de Magelan. de Bougainville, de Charcot, de Monot... Cette Europe qui, aujourd'hui, s'élance vers l' Espace. Je suis Européen parce que Français, j'aime l' Europe qui prospère et qui invente. J'aime l' Europe des Trains à Grande Vitesse. J'aime l'Europe des Satellites et des Fusées. L'Europe de la Mode et des Atéliers d' Artistes. L'Europe des Grands Laboratoires, des Ingéniers. des Entrepreneurs, des Grands Architèctes, des Traditions Ouvrières. Comme rançais, j'aime l' Europe qui dit "NON" à la Tyrannie et qui se soulève à l'appel de la Liberté", a-t-il dit en

 
"Je me sens lié à ces femmes et ces hommes sans nom, qui ont levé la tête, et qui ont sécoué le joug sous lequel .. on les avait fait pliér", dit-il en évoquant pex.. la Révolution Française de 1789, le Siècle des Lumières, l'appel du Général de Gaulle contre l'Occupation NAZI, et les pires heures obscures qu'un  "Fascisme" ou "Communisme" devoyés, suivies de la Guerre Froide avaient plongé l'Europe au Passé.

"Ils sont des millions, ces Héros Anonymes de notre temps, que nous croisons sans le savoir dans nos rues et nos places. Et je ne peux pas concevoir l'Europe sans eux, et sans tous ceux qui poursuivent leur combat contre l'arbitraire et le fanatisme", ajouta Fillon. Faisant pex. rappeler un récent Film allémand, primé au Festival de Vénise, qui décrivait la vie d'un cadre à l'époque d'un régime oppressif, qui avait été chargé d'espioner la vie privée et familiale d'un couple soupçonné d'être dissidents politiques, mais, ému par leur honnêteté humaine et leur sacrifice pour sauver d'autres, a preferé risquer sa place et sa propre liberté pour les sauver, sans même qu'ils le sachent, condamné dépuis à faire un bas boulot d'anonyme perdu dans la foule..


"Quand je vois l'Europe moderne, je vois les résultats de l' Audace de ces hommes qui ont brisé les traditions de conflit et de violence. Je vois des nations soudées autour d'une monnaie unique et protectrice. Je vois 27 jeunesses appelées de grandir ensemble, sans défiance. Je vois 27 peoples unis, qui nous interdisent de jouer les blazés ou les indifférents".

Jettant "un régard lucide sur les errements de la construction européenne", Fillon a observé que "l' Europe n'a pas bésoin d'être idélisée pour être ce qu'elle est ; Cad. une aventure humaine, avec ses faiblesses et ses forces".

"Vous voulez que l' Europe agisse ? Fixez-lui des objectifs clairs. Vous voulez la Démocratie ? Agissez en Citoyens. Vous rédoutez la prétendue Bureaucratie des Bruxelles ? Alors renforcez, par votre Vote, les instances élues au Parlement Européen" qui sont chargés de la contrôler.

- "Si nous voulons faire vivre "le Rêve Européen", .. alors nous avons tous le dévoir de l' engagement", a-t-il conclu, appelant de "engager pour le drapeau tricolore et le drapeau étoilé, car ils symbolisent tous les deux la fierté de nôtre nation et la force de nôtre union".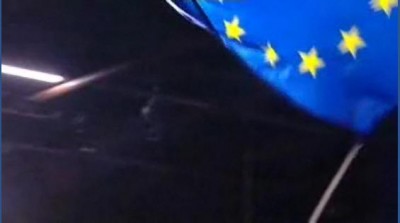 Polls