Turk Kills 5 in Washington State (USA), most Women, eve of Trump - Clinton 1st Debate
Saturday, 24 September 2016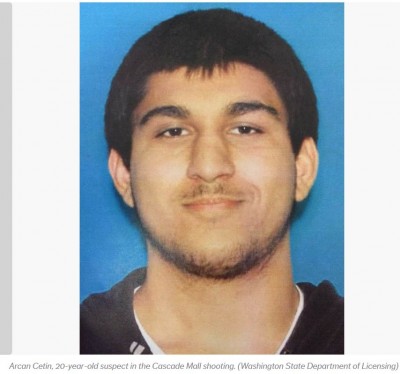 * A Turkish Gunman shot and killed 5 Civilian People with a Hunting Rifle in the USA, (4 of whom were Women, including a 95 years Old Lady, and a 16 y.o. Young Girl, cancer survivor, accompanying its even Younger Sister, a Child, etc).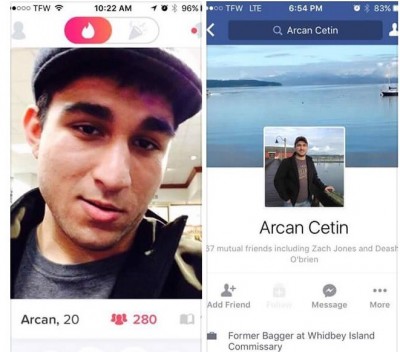 The Deadly Shooting took place in a big Shopping Mal, on a Busy 9 p.m. local Hour of Saturday Evening, near Seattle, Washnigton State, by 20 years old Arcan Cetin, whose Parents both came from Turkey, and Eve of Hillary Clinton - Donald Trump 1st TV Debate, scheduled for Monday, Septembe 26, for the US Presidential Election of November 2016.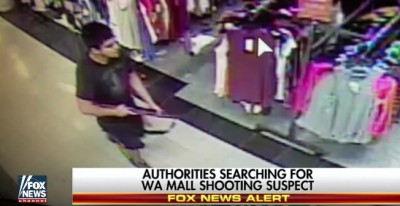 Eye-Witnesses describe "a Bloodbath around 2 Women's bodies lying to the Ground", and another one "without Pulse", etc, local US Media reported, while the culprit initialy Fled to a nearby Car Highway carrying his Gun, at first erroneously confused with a "Mexican" by some
Local Police reportedly didn't exclude, neither confirmed a Terrorist motive, but it's obviously difficult to Hide that, particularly coming straight after Islamic Extremists' Attacks at Minesota and New York, by Knife and Bombs, respectively, committed also by recently radicalized Young Muslim Immigrants, almost in a Series, (See, f.ex. : http://www.eurofora.net/forum/index.php/topic,817.msg1088.html#msg1088), now inside the USA, as previously, from the Beginning of this Summer, in Europe, (at the UK, France, Germany, Switzerland, Austria, etc), both during various Islamic Feasts.

However, given the obvious sensitivity of the matter, particularly shortly before the crucial 1st Clinton - Trump Debate, and given that Hillary had already, notoriously skipped a Senator Rand Paul's Question about illegal Weapons Traffick towards Turkey for Islamic Extremist Gangs in Syria, on the occasion of the 11 September 2011 Deadly Attack against the US Consulate at Begnhazi, in Libya, which Killed Consul General Christopher and 4 Agents, (etc), desperate attempts to cover-up the Terrorist Motivation of Tonight's Washington State Rifle Killings of defenseless Civilian People, 4 out of 5 Women, including a Child and a 95 years Old Lady, wouldn't be a surprise...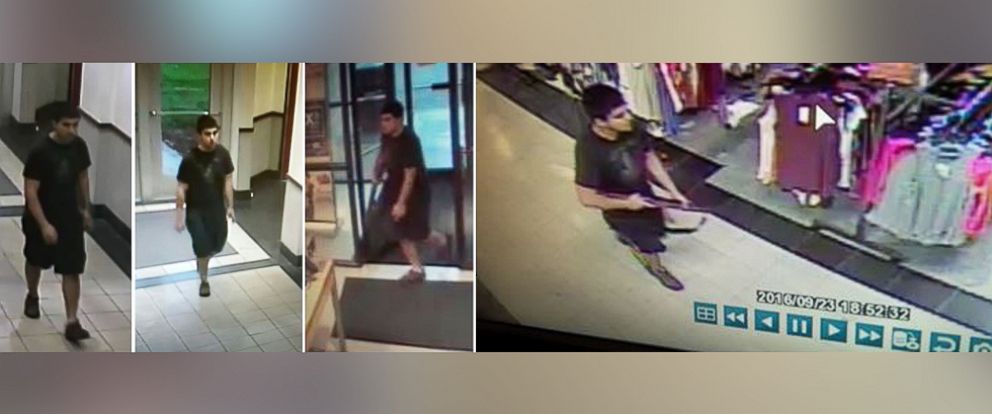 Meanwhile, by a coincidence, this same day, French Authorities arrested a parent of the Propagandist of November 13, 2015 Mass Murders by an ISIS' Armed Gang in Paris, who was in Turkey, part of a Group Half of whom had apparently crossed into neighboring Syria to join ISIS' Headquarters at nearby Raqqa.

In a parallel move, a Spokesman for Turkish President Tayip Erdogan reportedly Excluded Yesterday, as "out of question" for Ankara to Join an eventual US operation to Free Raqqa from the Islamistic Terrorists of ISIS if the US-led International Coalition continues to include pro-Western Syrian Kurdish Militants in the Fight against Islamic Extremists, as it usualy does, both in Iraq and Syria, for years until now.
Videos released recently by Russian Airforce fighting Armed Gangs of Islamistic Extremists in Syria, unveiled, inter alia, Massive stolen Oil/Gas Smuggling from ISIS' Terrorists to Turkey, while Erdogan notoriously Prosecuted and Jailed 2 prominent Dissident Turkish Journalists, including the "Reporters without Borders" 2015 Award winner Editor in Chief of "Cuhurriyet" Newspaper, Dundar, for Revealing a Video showing Heavy Arms (Rockets, etc), being Smuggled from Turkey, Hidden in Trucks allegedly affreted by Turkish Secret Services, and Crossing the Border towards Syria, heading for Armed Extremist Isdlamic Gangs as ISIS a.o., (Comp. relevant Dundar's Statements to "Eurofora", during that event in Strasbourg, at : ...).
Dundar later Escaped Turkey fleeing in Berlin (Germany), after Massive Oppression against Thousands of various Dissidents which followed a strange, only 5 Hours-long "Coup" Attempt, this Summer, but Turkish Authorities afterwards Hindered his Wife from joining him in Europe by briefly arresting her and Confiscating her Passport.
(../..)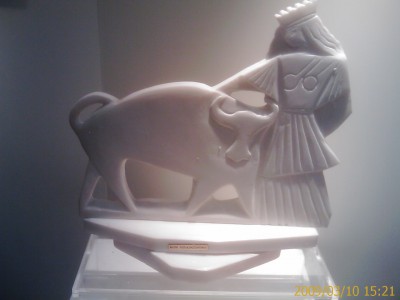 Renew Europe's Historic Legend with Parthenon's pure white marble at the eve of crucial 2009 EU Elections, was the ambition of an interesting Art Exhibition, with more topical Symbols than expected, organized by EU Parliament's 1st vice-President Rodi Kratsa-Tsagaropoulou and MEP Marie Panayotopoulos- Cassiotou, Chair of the Inter-group on Family policy, during March A session in Strasbourg.     
According to the Ancient Legend, God Zeus, charmed by young Girl Europe, was trasformed into a strong Bull with Wings, and when she tamed him with Human affection, they flew over the Sea to live together in a New Land with large, fertile landscapes.  

- "There, they saw the Continent with a "Large Front" ("Eureia -opse" in Greek => Eur-opse => Europe)", reminded the Sculptor, Mary Papaconstantinou, of the European Women Association, honored by awards in Paris, Athens and Strasbourg.

    Thus, Europe's Legend combines Symbols of Energy and Strength, with caring Human personality, to bring towards New, large Horizons :

    - "Modern Art for this Ancient Greek Legend here in Strasbourg reminds that Europe, placing Human dignity at its heart, always finds the strength to overcome any Crisis towards New achievements. And EU Parliament offers Citizens a chance to artfully interact", said MEP Panayotopoulos-Cassiotou.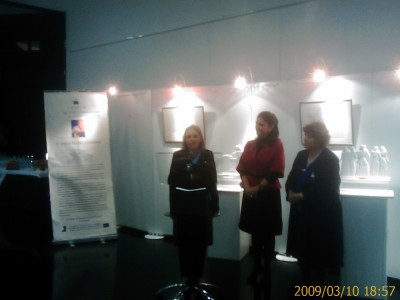 Structured like some Rembrand's pictural sequences, Europe's sculptural exhibition forms a series of many statutes, sized and flat as a PC screen, representing many scenes inspired from the original Legend, "according to Moschos' text, a Writer of the 2nd century B.C.", said Sculptor Mary to "EuroFora".  
    Made by sparkling pure white Marble full of Symbols, they incite to think but also to act, as in front of a Book with half of its pages full of written text, but another half, free to write on white paper..
    While several EU politicians think that one of the most important characteristics of the 2009 EU Elections is that from their outcome may depend Europe's Identity and Future, Culture Minister of Greece, Antonis Samaras (a former MEP) send the message that, precisely, such modern Art linked to Historic legends may help "EU Citizens search the origins of Europe's Identity".
     - "The Legend says that they founded a New City, Thebes, and that reminds us that Europe is always a project of Invention and Creation", added EU Parliament's vice-President, Rodi Kratsa - Tsagaropoulou.
    Sculptor Mary Papaconstantinou said that she "tried for years to find the same White Marble from Penteli Mountain that was used by Praxitelis and all those who created Parthenon", symbol of Democracy and one of the 7 wonders of the World.
    - "By shaping this millenary Greek Marble to revive Europe's Ancien Legend with Modern Art, it reminds that Europe is a Hope for a better Future after Crisis, combining Energy for Development, with care for the Human person", said the sculptor's compatriot from Chios island, famous from French artist Delacroix's historic painting, MEP Panayotopoulos - Cassiotou.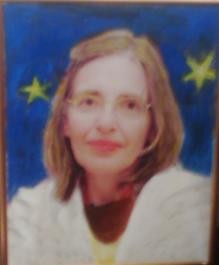 She now lives with her Family close to Rhine river, at EU's heart, near Bonn, where had started to work for the first time on European issues the new EU Parliament's Secretary General, Klaus Welle :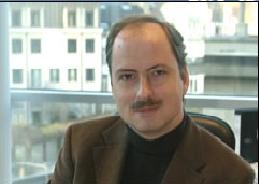 By a symbolic coincidence, Europe's legend built anew with Parthenon's marble, marked for ever the beginning of young and energetic Welle's duties as new head of EU Parliament's administration, since he saluted the retiring, out-going S.G., the experienced Harold Rohmer, shortly afterwards, at another gathering on the same floor of Louise Weiss' superb building in Strasbourg...
    Organisers of both events said that it was a pure coincidence. People are free to believe them, or hope otherwise...
**********************   
They disagree in almost everything, except from one thing :

- EU Parliament's Art unites even opposed politicians in a common belief for Europe : Cyprus' example...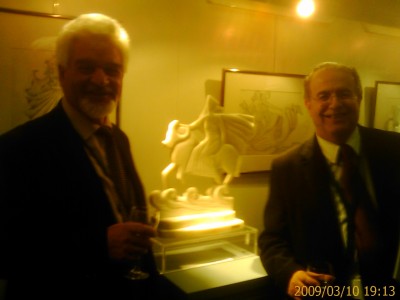 Rarely united together, but posing for "EuroFora" with the statute of Europe and Zeus flying over the Sea, ChristianDemocrat/EPP's MEP Yannis Kasulides, a frontrunner Presidential candidate in 2008, former Foreign Minister and Government Spokesman, and EuroLeft's MEP Kyriakos Triantafylides, Chairman of EU - Palestinian Council delegation, from the governing party AKEL (new Left) of the elected President, disagree on almost everything, except from their common claim that Europe of the Ancient Legend, when she flew with God Zeus from Ancient Phynecia to the West, must have crossed the island of Cyprus !

Hard to prove the contrary, 3.000 years later...
Polls