Turk Kills 5 in Washington State (USA), most Women, eve of Trump - Clinton 1st Debate
Saturday, 24 September 2016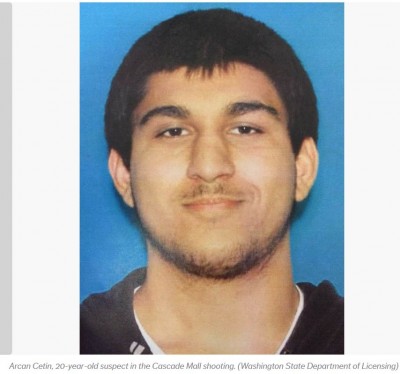 * A Turkish Gunman shot and killed 5 Civilian People with a Hunting Rifle in the USA, (4 of whom were Women, including a 95 years Old Lady, and a 16 y.o. Young Girl, cancer survivor, accompanying its even Younger Sister, a Child, etc).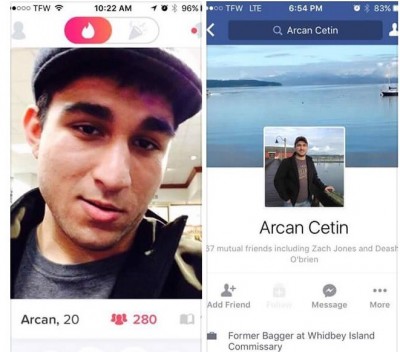 The Deadly Shooting took place in a big Shopping Mal, on a Busy 9 p.m. local Hour of Saturday Evening, near Seattle, Washnigton State, by 20 years old Arcan Cetin, whose Parents both came from Turkey, and Eve of Hillary Clinton - Donald Trump 1st TV Debate, scheduled for Monday, Septembe 26, for the US Presidential Election of November 2016.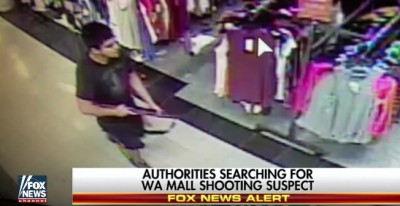 Eye-Witnesses describe "a Bloodbath around 2 Women's bodies lying to the Ground", and another one "without Pulse", etc, local US Media reported, while the culprit initialy Fled to a nearby Car Highway carrying his Gun, at first erroneously confused with a "Mexican" by some
Local Police reportedly didn't exclude, neither confirmed a Terrorist motive, but it's obviously difficult to Hide that, particularly coming straight after Islamic Extremists' Attacks at Minesota and New York, by Knife and Bombs, respectively, committed also by recently radicalized Young Muslim Immigrants, almost in a Series, (See, f.ex. : http://www.eurofora.net/forum/index.php/topic,817.msg1088.html#msg1088), now inside the USA, as previously, from the Beginning of this Summer, in Europe, (at the UK, France, Germany, Switzerland, Austria, etc), both during various Islamic Feasts.

However, given the obvious sensitivity of the matter, particularly shortly before the crucial 1st Clinton - Trump Debate, and given that Hillary had already, notoriously skipped a Senator Rand Paul's Question about illegal Weapons Traffick towards Turkey for Islamic Extremist Gangs in Syria, on the occasion of the 11 September 2011 Deadly Attack against the US Consulate at Begnhazi, in Libya, which Killed Consul General Christopher and 4 Agents, (etc), desperate attempts to cover-up the Terrorist Motivation of Tonight's Washington State Rifle Killings of defenseless Civilian People, 4 out of 5 Women, including a Child and a 95 years Old Lady, wouldn't be a surprise...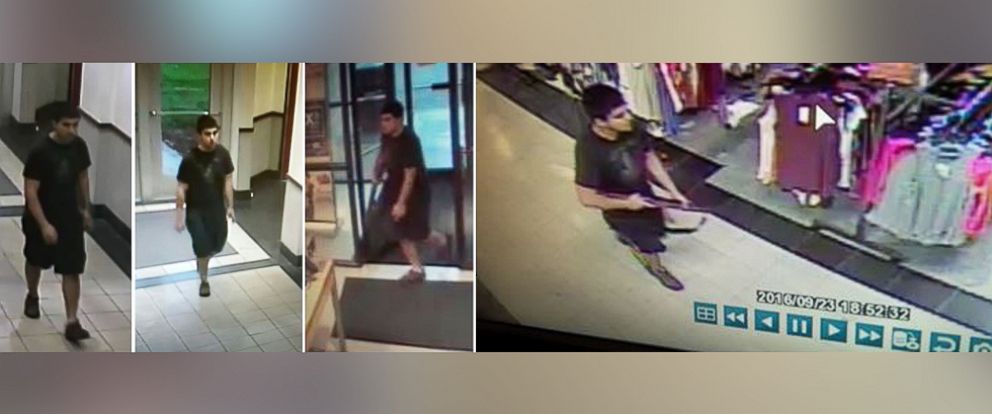 Meanwhile, by a coincidence, this same day, French Authorities arrested a parent of the Propagandist of November 13, 2015 Mass Murders by an ISIS' Armed Gang in Paris, who was in Turkey, part of a Group Half of whom had apparently crossed into neighboring Syria to join ISIS' Headquarters at nearby Raqqa.

In a parallel move, a Spokesman for Turkish President Tayip Erdogan reportedly Excluded Yesterday, as "out of question" for Ankara to Join an eventual US operation to Free Raqqa from the Islamistic Terrorists of ISIS if the US-led International Coalition continues to include pro-Western Syrian Kurdish Militants in the Fight against Islamic Extremists, as it usualy does, both in Iraq and Syria, for years until now.
Videos released recently by Russian Airforce fighting Armed Gangs of Islamistic Extremists in Syria, unveiled, inter alia, Massive stolen Oil/Gas Smuggling from ISIS' Terrorists to Turkey, while Erdogan notoriously Prosecuted and Jailed 2 prominent Dissident Turkish Journalists, including the "Reporters without Borders" 2015 Award winner Editor in Chief of "Cuhurriyet" Newspaper, Dundar, for Revealing a Video showing Heavy Arms (Rockets, etc), being Smuggled from Turkey, Hidden in Trucks allegedly affreted by Turkish Secret Services, and Crossing the Border towards Syria, heading for Armed Extremist Isdlamic Gangs as ISIS a.o., (Comp. relevant Dundar's Statements to "Eurofora", during that event in Strasbourg, at : ...).
Dundar later Escaped Turkey fleeing in Berlin (Germany), after Massive Oppression against Thousands of various Dissidents which followed a strange, only 5 Hours-long "Coup" Attempt, this Summer, but Turkish Authorities afterwards Hindered his Wife from joining him in Europe by briefly arresting her and Confiscating her Passport.
(../..)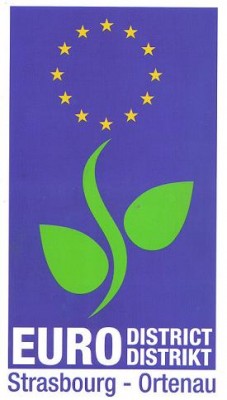 New Plan revealed during EU Parliament's session and while Strasbourg's Unified University was inaugurated, (biggest in France, aiming at EU links).
EuroDistrict Strasbourg-Ortenau's dynamics were boosted by a key Franco-German meeting during EU Parliament's session here, which anounced a swift towards ambitious European aims : To become a showcase for concrete achievements of European Cooperation that benefit Citizens' everyday life and Economy, while also developing a Culture able to serve and stimulate European Organizations' political activities.
With measures to be taken in 2009, Strasbourg-Ortenau's EuroDistrict should become EU's new "Metropolitan area" in the Decade 2010-2020, at the heart of Europe in the performant "OberRhein" region, a Franco-German Expert's Report anounced.
- "Defend European Institutions, and in particular EU Parliament" is a key point of the 2009 Report's threefold focus on "Infrastructures"' economy and quality, "Citizens' everyday life", and "Cultural and Political influence".
According to a Draft Statute, France and Germany agree that "an undeniable element of EuroDistrict's image" should be "Strasbourg's status, as Capital of a Democratic and Parliamentarian Europe".
    After parallel and joint meetings at EU Parliament, French and German Ministers for EU affairs, Bruno LE MAIRE and Gunter GLOSER, started working with representatives of Local and Regional Authorities from both sides at Strasbourg's Historic Town Hall, Place Broglie, for the 2009 Monitoring of EuroDistrict "Strasbourg-Ortenau, during which was published an important Experts' Strategic Study with proposals on how to develop it in the Decade 2010-2020.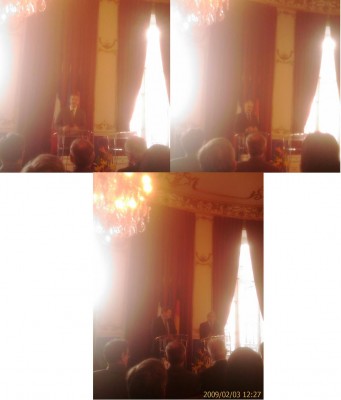 Introducing the 1st Experts' Report on "EuroDistrict" at a moment when it needs "New Ideas" as food for thought, Strasbourg's Mayor, Senator Roland RIES said that "a special Status" should allow "Citizens to share Infrastructures and a common European project", in agreement with his collegue, Mayor of Kehl and German spokesperson for EuroDisctrict, Dr. Gunther PETRY, who focused mainly on the useful role of "Local" authorities in "concrete" achievements.
    - Together with "facilitating Citizens' everyday life", "our countries have also a Political aim", which needs to find "New Forms of Cooperation", said German Minister for EU affairs, Gunter GLOSER. According to a "Subsidiarity principle", which starts from a smaller level, leaving to a bigger entity what it cannot achieve alone, EuroDistict should be the "1st level" in a "Concentric" schema, he added.
    - In fact, "it's a question of Europe's credibility : EuroDistrict must prove that Franco-German cooperation gives results", with "concrete achievements", said the new French Minister for EU affairs, Bruno LE MAIRE. Now, we "must advance further" : There is both "Local and National support" to make of Strasbourg-Ortenau's EuroDistrict "an example on what Europe must do in the Future if it wants to be credible in Citizens' eyes".
    - "Our Mission was to find the region's Potential of the region, "and search adequate Measures to use and develop it"; said German Expert Dr. Erwin VETTER. A main proposal is to "create a New Center for EU Competences", where everything should be concentrated : EuroDistrict, EuroCorps, EuroBest, etc : All in one area, while also linking Airports and other means of Transport, Culture, Education, Science and Research, etc. in order "to create 1 Metropolitan area" before 2020, he anounced.
    - With imagination and organisation "we tried to marry the French and German spirit", added French Expert Bernard COTTIN. He underlined "two points" :  - "In their Everyday Life, Citizens should feel that they are living in One Common Area", (fex. on Phones, Hospitals, Retirement, etc). But EuroDistrict should have also a "Cultural Dimension" : "Strasbourg, had been a little-bit left behind by both countries in the past, but must now find a New dynamic Momentum, at the Heart of Europe, strengthening its Cultural atous and becoming Multi-Cultural, in order to attain a European Dimension and develop the European Institutions", he concluded.
    Symbolically, both Mayors of Strasbourg and Kehl, Ries and Petry, gave to Ministers Gloser and Le Maire as a Gift two Books on Rhine River : Stylicised by both Logos chosen for "EuroDistrict" (as body of a flower), and for Strasbourg's new, Unified University, "UniStra", (as a long "S"), Rhine river came at the focus this week in Strasbourg, headquarters also of the oldest European Organisation : The Committee on Rhine's Navigation.. Meanwhile, Le Maire switched over from German (that he speaks fluently) to French, echoed, the other way round, by Gloser, who also understands French...
---------------------------------
The 2009 REPORT :
---------------------------------

Experts' proposals for EuroDistrict's Legal status is to start in 2009 with a "European Group for Transborder Cooperation", and "replace it, when possible, .. with an Original Form" of a new legal entity.                                                                                                                                                                                                                                                                                                                                                                                                                                                                                                                                                                                                                                                                                                                                                                                                           
Citizens' oriented measures include to facilitate "acces to Health", "Mobile Phones", "Transborder Workers"', "School exchanges", etc., and other measures interesting Citizens, as f.ex. the creation of "Common Hospitals or Rescue centers", etc. Already, an agreement on "Urgent Medical Care" will be signed on February 10.
As "Economic Capital" of one of EU's most performant areas, known as "Ober-Rhein Metropolitan Region" ("superior Rhine" area), Strasbourg-Ortenau's EuroDistrict "should also develop its role of European Cultural and Political Capital, Symbol of Franco-German entente and of a Democratic Europe", Experts' Report concludes.
This goes well beyond developping Bi-linguism, transbrorder Training and "systematic" rapprochment of both Cultures (in Cinema, Theater, Music, etc).
It adds a progressive transfert in EuroDistrict of "elements of the Franco-German Brigade", close to "EuroCorps" Headquarters, and culminates with the promotion of European institutions (see above).
The Report also proposes to launch an "initiative" for "EU Parliament's unique Headquarters", developing Strasbourg's attractiveness vis-a-vis MEPs and staff.
It also includes the development of "a Research and Higher Education pole", among French, German and Swiss partners, "linked with Strabourg's new; Unified University" and "Ortenau's HochSchulen"
It's not a coincidence that this same week was inaugurated Strasbourg's Unified University : - "UniStra" becomes the Biggest in France, (with more than 42.000 students, 5.200 staff, a brand new "European Doctoral College", some 100 Research centers, and a Capital of more than 400 million €  from the State), aiming to create closer links with nearby German and Swiss Universities, fex. Karlsruhe, Fribourg, Stutgard, Bale, etc, as French Minister for Scientific Research and Higher Education, Valerie PECRESSE advised.
(See other, related News, already sent to interested "EuroFora"s subscribers and donors, which will be also posted at the Website asap).
Last but not least :  Non-believers should meditate on the fact that all this was symbolically made in the same Strasbourg Historic Town Hall's room where even the establishement of Council of Europe was decided, 60 years back in 1949...
Polls