Home

In Brief

950 ans aprés: nouveau Guillaume le Conquerant apte à gagner l'Esprit du Peuple Anglais Post-BREXIT?
950 ans aprés: nouveau Guillaume le Conquerant apte à gagner l'Esprit du Peuple Anglais Post-BREXIT?
Friday, 14 October 2016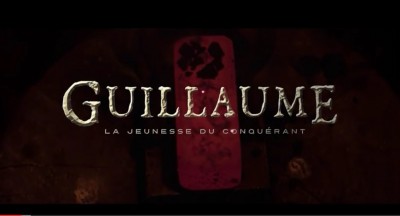 *Strasbourg/News-Viewpoint/Angelo Marcopolo/- Par une rare, mais bien Symbolique Coincidence Historique, c'est juste après le BREXIT de juin 2016, qu'on commemore, ce jour, le 950ème Anniversaire de la Victoire par "Guillaume le Conquérant"  à la Bataille de Hastings (1066), qui a inauguré une épopée des Normands en Angleterre entre 1066-1204, laissant multiples Monuments, (Chateaux, etc), ainsi qu'une grande partie de Vocabulaire d'origine Française (y compris le fameux dicton Royal : "Honni soit qui mal y pense", etc), dans ce qui a évolué, (sur une couche préalable de Vocabulaire d'origine initialement Allemand, plus une Grammaire specifique, avec une touche Celte locale et/ou Scandinave) a su faire emerger, quelques Siecles plus tard, la Langue Anglaise de Shakespeare.
Bref, cette Langue vraiment Européenne, puisque c'est, au fond, pas un vrai Concurrent, mais, en réalité, une création Franco-Allémande, (que Linguistes et même Praticiens seraient bien inspirés à Inventer des Methodes facilitant leur apprentissage "en Triade" : F-A-A), avec une "machine" Celte et/ou Scandinave, et aussi, (en sus des plusieurs racines Latines, via les mots d'origine francaise), quelques mots venant du Grec ancien, (p.ex. en Philosophie, Methodologie, Sciences, Politique, Theatre, Musique, etc), comme dans bien d'autres pays à travers l' Europe (p.ex. aussi la Russie, etc), et le Monde. 

Le Fondateur d' "Eurofora" a pu constater, (au début de la Présidence Britannique de l' UE en 2005, juste après 2 Bombes meurtrieures, attribuées à un groupe de Terroristes morts à Londres), pendant la Nuit, lors d'une traversée exceptionelle entre Londres et Dover, avec 3 amies, dont une brave Australienne, fille d' Irlandais de Diaspora Mondiale, qui revenaient à retrouver l' Angleterre, la France, et autres pays Européens, après plusieurs Decenies d'absence, (Comp., p.ex.: ...), que, jusqu'à maintenant, il restent encore, au moins dans quelques Ruelles vers les Hauteurs, loin des chemins battus touristiques de Dovers, plusieurs Noms d' origine clairement française.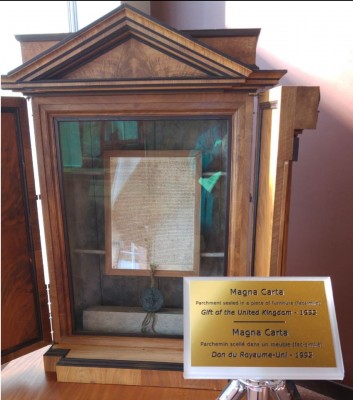 (1025 text of "Magna Carta" at the CoE)

Peu après cette "épopée Normande" en Angleterre, naissait la Mondialement celebre "Magna Carta" de 1025, (dont Theresa May venait de celebrer le 900ième Anniversaire l' année dernière, en 2015, comme Ministre de JHA alors), precurseur des "Bills of Rights" et de la "Declaration des Droits de l'Homme et du Citoyen" en Amérique et en France révolutionaire du "Siècle des Lumières", ainsi que de nôtre PanEuropéenne "Convention des Droits de l'Homme" mise en oeuvre par la CEDH (et executée, de manière souvent controversée, sous les auspices du Commité des Ministers du Conseil de l'Europe), à l'époque contemporaine, à Strasbourg.
=> Aujourd'hui, d'évidence, ce que nous avons bésoin en Europe c'est un Nouveau "Guillaume le Conquérant", capable, cette fois, à Gagner l' Esprit (Geist) du Peuple Britanique, par une Europe Nouvelle !
 Certains (y compris parmi les meilleurs et assez experimentés Leaders Politiques en Europe continentale, comme, p.ex., Nicolas Sarkozy recemment, etc.) y rèvent déjà, (surtout à cette période d' importance politique notoirement cruciale pour le présent et l' Avenir prévisible de l'Europe, et, bien au-délà, de presque tout le Monde, engagée dans un chemin d' Elections decisives aux USA, en France, en Allemagne, et peut-être aussi à certains autres pays stratégiques, bientôt... 
Ci-joint, un Film produit par des Descendants de Guillaume le Conquérant, en Normandie (France), et qui vient d'être publié à cette occasion :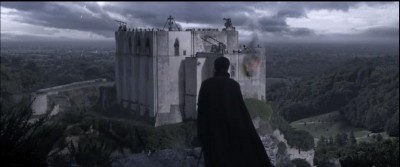 https://www.youtube.com/watch?v=LxNwxzGx1Gc

Pierre Pflimlin's visionary line : Honouring the Memory of the man who wanted to build Europe on the Mountains, based on Spirit !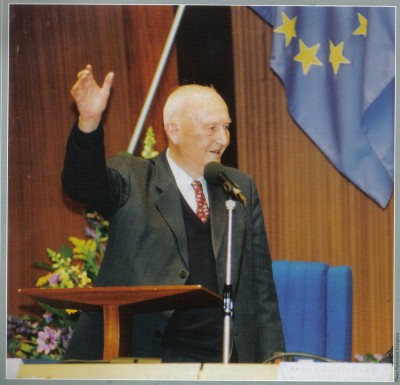 One of EuroFora's best inspirators is naturally Pierre Pflimlin :

We had a chance to personally meet the dynamic and experienced former President of both EU Parliament and CoE's Assembly, France's Prime Minister and Strasbourg's Mayor, only at his 90th anniversary, during an Historic speech at the Council of Europe, exceptionally full of people.

But his energetic figure looked more like a youngster of 19 years old, eager to win the Olympic games !..

Visionary, 2P was, from many points of view :

His daughter, Antoinette, Artist-decorator, and Senator Jung, President of a group of friends, confirmed us an Historian's revelation, that Pflimlin had initially the idea to build all European institutions (EU Parliament, Council of Europe, European Court of Human Rights, etc) at the spectacular heights of Oberhausbergen hills, with an eye-catching view of both French Vosges and German Black Forest Mountains, in the midst of a Forest : A real vision to create a brand New European Headquarters with a big ambition !
But, it seems, that "someone in Brussels" found that picture, precisely, too big for his taste, and threw a spanner on the works...
Pflimlin stroke back a Decade ago, at his Historic 1997 farewell speech :
He urged Europeans to find another, more substantial way, to lift Europe to more important Heights in Future :
- "On which basis can we imagine the birth of a great Europe ?", he asked.
"Certainly an Economic basis ! A solid market economy, meeting also the needs of social justice. A Political basis : Europe must become a strong Political Power, able to influence World's changes, naturally for Peace."
"But I believe that the essential foundation of a greater Europe should be of Spiritual nature : .... The great pacific Revolutions were Spiritual Victories" : They expressed "People's main motivation to live in a society with our Values of Liberty, Democracy, respect for Human Dignity".
"Then, the roadmap is ready : Yes, the foundation of the unity for a large Europe is the spiritual heritage, inspired by Christian Humanism and the Humanism of Renaissance, of Enlightenment, from which emerged a Civilisation focused on the Human person".
"Here is the task to be accomplished. It's very difficult".
"The Time approaches when I'll have to pass over the torchlight. God willing, this torch should enlighten the path of those who are going to build, tomorrow, the great Europe, marked by this Spirit".
(Extract from the Book "Pierre Pfilmin : Alsacian and European", 2007. Texts by Senator Louis Jung, by the long-time f. Director of Strasbourg's Newspaper DNA, Alain Howiller, and by f. EU Parliament's Press Director, Paul Collowald : See dedications, hand-written by the authors, the day the book for Pflimlin's 100th Aniversary was launched at Strasbourg's Press Club and European Parliamentary Association's headquarters, 13 April 2007).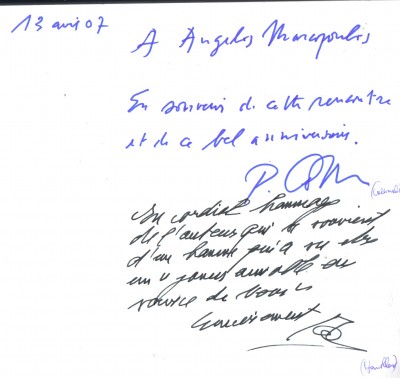 Polls