Home

In Brief

950 ans aprés: nouveau Guillaume le Conquerant apte à gagner l'Esprit du Peuple Anglais Post-BREXIT?
950 ans aprés: nouveau Guillaume le Conquerant apte à gagner l'Esprit du Peuple Anglais Post-BREXIT?
Friday, 14 October 2016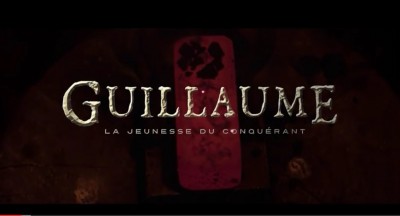 *Strasbourg/News-Viewpoint/Angelo Marcopolo/- Par une rare, mais bien Symbolique Coincidence Historique, c'est juste après le BREXIT de juin 2016, qu'on commemore, ce jour, le 950ème Anniversaire de la Victoire par "Guillaume le Conquérant"  à la Bataille de Hastings (1066), qui a inauguré une épopée des Normands en Angleterre entre 1066-1204, laissant multiples Monuments, (Chateaux, etc), ainsi qu'une grande partie de Vocabulaire d'origine Française (y compris le fameux dicton Royal : "Honni soit qui mal y pense", etc), dans ce qui a évolué, (sur une couche préalable de Vocabulaire d'origine initialement Allemand, plus une Grammaire specifique, avec une touche Celte locale et/ou Scandinave) a su faire emerger, quelques Siecles plus tard, la Langue Anglaise de Shakespeare.
Bref, cette Langue vraiment Européenne, puisque c'est, au fond, pas un vrai Concurrent, mais, en réalité, une création Franco-Allémande, (que Linguistes et même Praticiens seraient bien inspirés à Inventer des Methodes facilitant leur apprentissage "en Triade" : F-A-A), avec une "machine" Celte et/ou Scandinave, et aussi, (en sus des plusieurs racines Latines, via les mots d'origine francaise), quelques mots venant du Grec ancien, (p.ex. en Philosophie, Methodologie, Sciences, Politique, Theatre, Musique, etc), comme dans bien d'autres pays à travers l' Europe (p.ex. aussi la Russie, etc), et le Monde. 

Le Fondateur d' "Eurofora" a pu constater, (au début de la Présidence Britannique de l' UE en 2005, juste après 2 Bombes meurtrieures, attribuées à un groupe de Terroristes morts à Londres), pendant la Nuit, lors d'une traversée exceptionelle entre Londres et Dover, avec 3 amies, dont une brave Australienne, fille d' Irlandais de Diaspora Mondiale, qui revenaient à retrouver l' Angleterre, la France, et autres pays Européens, après plusieurs Decenies d'absence, (Comp., p.ex.: ...), que, jusqu'à maintenant, il restent encore, au moins dans quelques Ruelles vers les Hauteurs, loin des chemins battus touristiques de Dovers, plusieurs Noms d' origine clairement française.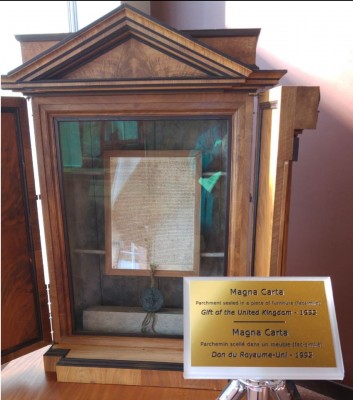 (1025 text of "Magna Carta" at the CoE)

Peu après cette "épopée Normande" en Angleterre, naissait la Mondialement celebre "Magna Carta" de 1025, (dont Theresa May venait de celebrer le 900ième Anniversaire l' année dernière, en 2015, comme Ministre de JHA alors), precurseur des "Bills of Rights" et de la "Declaration des Droits de l'Homme et du Citoyen" en Amérique et en France révolutionaire du "Siècle des Lumières", ainsi que de nôtre PanEuropéenne "Convention des Droits de l'Homme" mise en oeuvre par la CEDH (et executée, de manière souvent controversée, sous les auspices du Commité des Ministers du Conseil de l'Europe), à l'époque contemporaine, à Strasbourg.
=> Aujourd'hui, d'évidence, ce que nous avons bésoin en Europe c'est un Nouveau "Guillaume le Conquérant", capable, cette fois, à Gagner l' Esprit (Geist) du Peuple Britanique, par une Europe Nouvelle !
 Certains (y compris parmi les meilleurs et assez experimentés Leaders Politiques en Europe continentale, comme, p.ex., Nicolas Sarkozy recemment, etc.) y rèvent déjà, (surtout à cette période d' importance politique notoirement cruciale pour le présent et l' Avenir prévisible de l'Europe, et, bien au-délà, de presque tout le Monde, engagée dans un chemin d' Elections decisives aux USA, en France, en Allemagne, et peut-être aussi à certains autres pays stratégiques, bientôt... 
Ci-joint, un Film produit par des Descendants de Guillaume le Conquérant, en Normandie (France), et qui vient d'être publié à cette occasion :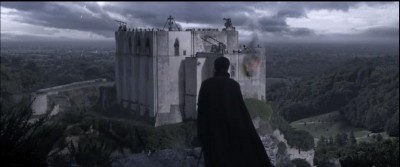 https://www.youtube.com/watch?v=LxNwxzGx1Gc
"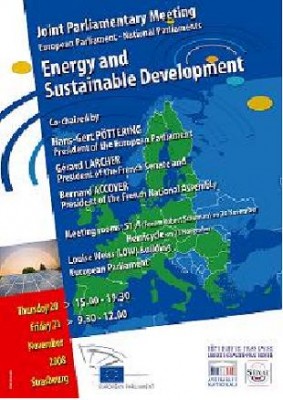 Strategically located between Paris and Prague, Strasbourg offered a natural location for the French and Czech EU 2008 and 2009 Presidencies to tune their agendas for a resolute European move towards Renewable Energies, during an exceptional Joint Parliamentary meeting on "Energy and Sustainable Development", co-organized here by the Presidents of EU Parliament, Hans Gert Poettering, French National Assembly, Bernard Accoyer, and Senate, Gerard Larcher, on November 20 and 21.

    Concluded by a busy-looking French super-Minister of Energy, Environment and Regional planning, Jean-Louis Borloo, the exceptional gathering of Top MPs from all 27 EU States' Parliaments hoped that a Ministerial meeting prepared by Borloo, will pave the way to an overall agreement at the level of EU Heads of State and Government Summit chaired on December 2008 by French President Nicolas Sarkozy, allowing the next EU chair, the Czech Republic, to start working from the beginning of 2009 on concrete measures.   
Speaking to "EuroFora" President Accoyer resumed the general feeling by stressing that "Europe has no Oil-Gas resources, but an important Scientific-Technologic potential. Therefore, we must develop Renewable Energy sources". "Since the Sun is the most abundant and free RES,  we must do the outmost to boost Solar Energy" solutions, he added, at the eve of a special meeting on Solar energy and the Mediterranean organised by Borloo on Saturday.     
Oil-gas supplies' security and diversification were also examined by the EU gathering, after which, President Accoyer replied  to our question on risks of long, expensive and fragile pipe-lines' projects, crossing through foreign countries out of the EU, compared to new possibilities for Sea and River Ship direct EU transport even of Gas, thanks to New Liquification technologies : - "We have just écreated the Union for the Mediterranean for concrete projects like these", Accoyer stressed, speaking of Sea-River Ship Highways, fundeable under EU's TENS programs.     
 Rapporteur on "Energy innovation and sustainable development", Dr. Bedrich Moldan, vice-President of Czech Senate's Environment and Regional Development Committee, added that Climat issues, price uncertainties and diminution of accessible Fossil energies, played together with EU's RST potential in order to make RES both a need and "an opportunity". However, in cases as "Solar Energy, even if the main Scientific ideas are already here, we have to make some technologic breakthroughs in order to find how to produce it on a large scale, store and transport it", Dr. Moldan added to "EuroFora".     
Czech interest for RES was also expressed, earlier in Strasbourg, by Jan Kohout, the deputy Minister pf Foreign Affairs who participated to a workshop on "Renewable Energies" organized by the French EU 2008 Presidency : - "The focus is on Development", he told us.    
On this and other RES issues, Dr. Moldan anounced the Czech EU 2009 chair's intention to organize an important 2-days Conference on Renewable Energies and Sustainable Development late January 2009 at nearby Prague.                
Polls