Home

In Brief

Turkish Smugglers' Victim photo exploited bis versus Trump on 2017 after manipulating EU on 2015...
Turkish Smugglers' Victim photo exploited bis versus Trump on 2017 after manipulating EU on 2015...
Monday, 30 January 2017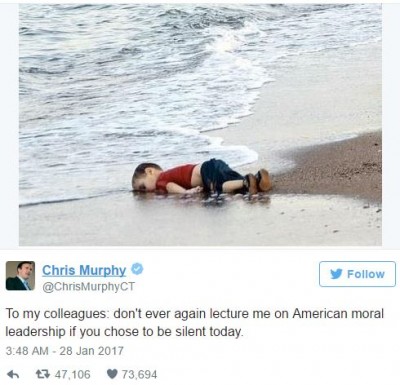 Residues of similar shady Establishment's Networks as those who notoriously Manipulated European public opinion back on Autumn 2015, when Germany was particularly targetted by an unprecedented "Tsunami" of Mass Asylum Seekers/irregular migrants suddenly tresspassing in Europe through Turkey, exploiting a change of policy by a new Government in Greece as far as EU's external borders are concerned, resulting in more than 1,5 Millions of masses exceptionaly difficult to integrate culturally and/or socialy, abused anew, Nowadays, exactly the same Tragic Photo of a young Victim of Turkish Smugglers, (who scandalously still remain unpunished), in a 2nd attempt to grossly manipulate uninformed and/or disinformed people, this time targetting mainly the USA, trying to slander the new US President Donald Trump's efforts to protect his country for more deadly Islamist Terrorist Attacks killing innocent civilians, by postponing for 3 Months all entries of foreigners from a list of countries (established by Obama's Administration) considered to be the most infested by ISIL, Al-Queda and other such Islamist Terrorist networks, until the New US Administration manages to set up more Reliable Vetting Checks for New Entries in the Future :

That scandalously exploited Photo shows a small Kurdish Syrian Kid drown at the Turkish Coasts, (as UK and other International Media's investigations revealed), when a makeshift Plastic Boat used by Turkish Smugglers was, (as they notoriously do too Often, in order to escape border controls while trespassing inside the EU), deflated overnight, while entering Greece's national sea areas. As usual, after the Turkish Smuggler opens a hole in such a plastic boat, he jumbs into another, fast-moving boat of his Gang and abandons alone, in the middle of the Night, at High and Deep Sea, all the Migrants. The young Kid's Father, according to eye-witnesses' published reports, vainly tried desperately to take over that abandoned and sinking boat, to guide it towards reaching a Greek Island, but inevitably failed, while all his Family, (including Wife and Children), were Drown and Killed, since they didn't even know how to swim.

The poor Kurdish Syrian guy had been reportedly over-Exploited by some unscrupulous Turkish business owners, while searching previously to find any hasty Job at Istanbul (former longtime Constantinople), in order to Pay the Turkish Smugglers for a Transport of his Family towards Europe, obliged even to live alone, separated from his Family, sleeping at the door of a dirty WC, etc, until, at last, he managed to gather a few bucks allowing to pay the Gangs systematicaly exploiting such desperate people, often shamelessly, in front even of the eyes of International, f.ex. American, British and German Press Reporters, at the Turkish Coasts, mainly around Izmir (former longtime Smyrna). Such Smugglers' Gangs, (mainly Turkish, but sometimes also Pakistani, etc), notoriously used to keep such Poor People Waiting, until, suddenly, they told them to board hastily a Plastic Boat, often OverLoaded, for a Nighty attempt to tresspass in Europe by reaching a Greek island, for some Hundreds of bucks.

On the contrary, Rich Irregular Immigrants, able to Pay f.ex. 2 Thousands $ each, could be transported asap, by special RDV with Fast-track Independent, modern Jet propulsion Boats, f.ex. carrying each 2 or 3 persons only, and travelling up to the Greek Coasts of the EU, as those which had been often found quasi-abandoned at various Greek Islands, sometimes arresting even one Turkish Smuggler : A real Appart-Heid !

But that Poor Kurdish Syrian Family was obviously unable to find so much Money for the Turkish Smugglers, while also being reportedly desperate to escape apparently from ISIL and other Islamist Terrorists' threats and attacks, around the area of Kobane city then, (where many deadly Fights had notoriously taken place), added also to provoked and/or aggravated Poverty even by Turkish Authorities' persisting then Blockade and/or obstacles of timely border crossings for Kurdish People from Syria, (sometimes even for Wounded), while, on the Contrary, Ankara's regime has scandalously let ISIS, Al-Queda affiliated and other Armed Islamist Terrorist Gangs, find for many Years, "Jihadists" to recruit, Dirty Money, Logistical support, Weapons, etc., sheemlessly throughout Turkey's borders to Syria and Iraq...

Concerning Northern Iraq's region, an Independent International NGO specialized in Humanitarian Crisis affairs, which had send Reporters to directly investigate the real situation near the Turkish Borders, recently (2016) revealed scandalous Facts which clearly show that Turkey is quasi-systematicaly Exploiting its own Life-Threatening and/or Family Homes-Destroying Air Bombardments of Kurish a.o. villages, hamlets, residences, farms, etc., at the Kurdish-populated Northern Iraqi Mountains, in order to Push the local Population to massively Abandon their ancestral Land, and be Forced to transform themselves into Refugees seeking shelter in Turkish Army-controlled "Camps", mostly at the other side of he border, even if they wouldn't like to have to do so !

Scandalously, that repeatedly Abused Tragic Photo of a Victim of Turkish Smugglers (Comp. Supra), was notoriously taken when a ... Turkish Policeman cought the unfortunate Kurdish Kid's body, after vainly trying to escape towards Europe, and ostensibly held it in his hands, in front of almost all the International Establishment Media's Papparazi, triggering a series of "Copy and Paste" at the Web, until it was notoriously Exploited in order to decide to let, initialy, Wide Open, all Europe's Borders, withourt any distinction, control or check, to an unprecedented 1,5 Millions Mass movement previously provoked, filtered, chosen, pushed and exploited by Turkey on 2015-2016, provoking manifold negative repercussions against both Real Political Refugees and European People, as well as Political life, which has Shaken up all the Continent, without still any end in sight, (despited some recent EU attempts to alleviate the various damages already provoked, and/or prevent worse).

It's really Shamefull, after having notoriously attempted (and apparently succeeded, given an irresponsible and/or shady coverage by Establishment's Medias) to Manipulate European public opinion in a recent and unforgetable Past, (9-10/2015), with well-known, afterwards, manifold Negative Consequences to the detriment of European Citizens' lives, (including various Mass Aggressions, brutal Harassments, Rapes, infiltrations of Deadly Islamist Terrorists, various violent killings on 2015-2016, spreading Terror on several Public Transports even near Strasbourg, etc), Moreover, Nowadays, some Accomplices of apparently Similar Networks, attempt to target also the American People, slander the new US President Don Trump, etc., by pushing to provoke again False Impressions by repeatedly abusing of that Same Misleading Photo of a Kurdish Victim of Turkish Smugglers...

(Comp., f.ex., among others, also : http://conservativetribune.com/dems-use-this-photo-to-attack/ , http://ijr.com/2017/01/788914-before-using-this-heartbreaking-photo-to-attack-trump-please-remember-this/?utm_campaign=morning-newsletter&utm_medium=owned&utm_source=email etc).  

Basta ! Somebody should make such shady Establishment's Networks understand that, at last, Enough is Enough, and both European and American, as well as other People in the World, are Not so Stupid and/or Ignorant as they would apparently like to oblige them to be.

The World community obviously needs, much more, to urgently end, at last, that scandalous total Impunity of those who notoriously provoked and exploited Deadly Islamist Terrorism targetting civilians, as well as profited from thus provoked Mass asylum seekers/irregular migrants' unprecedented giant movements, slyly "filtered" and largely chosen by Turkish Smugglers and/or Ankara's greedy Blackmails costing Billions € to European Taxpayers, (including even the Poorest People, obliged to pay VAT etc. on all their meager "revenues") !


BRIEF NEWS
00:00 - 23.04.2019

00:00 - 01.04.2019

00:00 - 04.03.2019

00:00 - 29.01.2019

00:00 - 08.12.2018

00:00 - 09.07.2018

00:00 - 31.05.2018

00:00 - 26.12.2017

00:00 - 26.05.2017
Statistics
Visitors: 31942515
Archive
Login Form
Other Menu


Brixen-Bressanone/ACM/3.8.08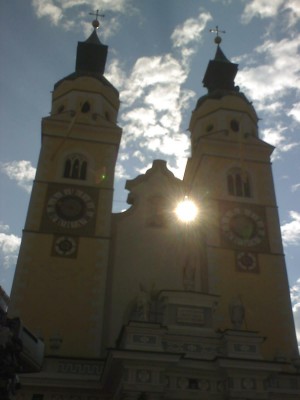 An appeal to make the "World more Human", by defending basic Human Values, helping those in need, and paying hommage to Nature, figured high in Pope Benedict's long-awaited speech at his "First Angelus" in the symbolic, beautiful historic small town of Brixen/Bressalone at the Alpes.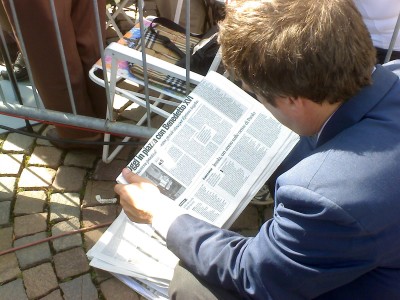 - "No Dictature, nor any destructive force can rob us of the most important goods wich are God's gift", stressed Pope Benedict, referring to elementary Human Values, in a last-minute improvisation of his draft speech, before launching also a call to "help those in need", in order to "make the World more human".
- "Jesus is the focus .. In him is Justice and Freedom", said earlier Brixen's Bishop Wilhelm Egger, after prayers including calls to "Truth, Justice and Freedom", read at a Mass of thousands in the town of Archangel Michael, known as defender of christians against the devil.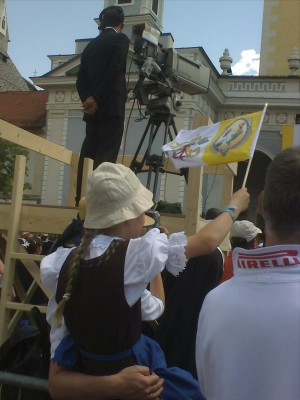 In what looks as a reference to BioEthics' dillemas of crucial impportance, raised at Strasbourg's unique in the World legally binding International Treaty on BioMedicine and Human Rights (1998, with the "hottest" issues added later through additional protocols, some of whom are imminent), he spoke also of the splendid "Nature" at this Alpen's ressort : This fits well Vatican's earlier anouncement that Pope Benedict's "prayer intentions for August" are mainly to "respect God's design for the world", and "become ever more aware of the great gift of God which Creation represents for us".
- "The most important things in our lives cannot be bought, but are only given as holy gifts : The Sun and its Light, the Air that we breath, the Water, the beauty of Earth, Love, Friendship, Life itself", Pope Benedict added, extending also to Natural Environment, another topical issue after recent Climatic upheavals at several parts of the World.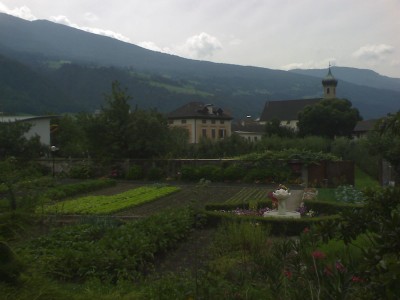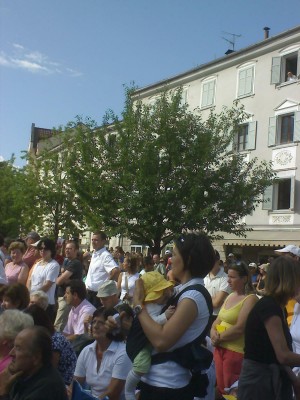 The "preparation of Pope Benedict's visit to France", which currently heads the EU, at mid-September, among exceptionaly important Council of Europe meetings on Human Rights in Paris and Strasbourg, is part of his work, together with his "book on Jesus", during brief Summer Holidays in Brixen, said his Spokesman, Federico Lombardi.
- The Pope's message is mainly religious, theological. But we are living in a concrete world, and ideas may be taken by readers as references to the actuality. However, it's better to wait to se what the Pope will say in Paris and at Lourdes, added to EuroFora Lombardi, who is also Director of Vatican's Press Office.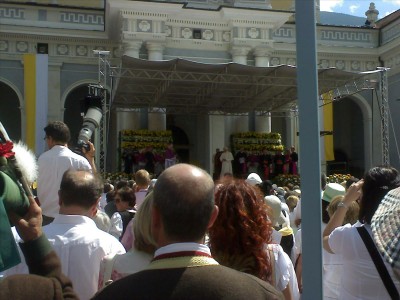 Brizen/Bressanone is similar to Strasbourg by succeeding to make a fertile synthesis of Germanic and Latin sources of Europe, like the two local rivers who meet at the historical center of the town, among spectacular ressorts at mountains' hights.

Headquarters for an Historic Religious Seminar, it attracted recently also a Free University's Educational studies. Well-known as a long-time preferred rest place for former cardinal Radzinger and his brother Georg, it includes areas named "St Benedeto" and "St George"...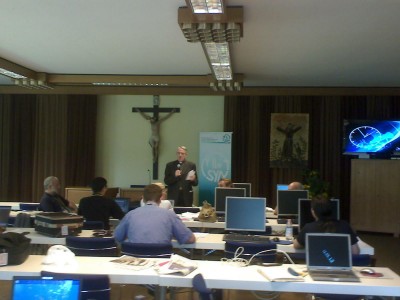 But Pope Benedict's first speech gave also another symbolic rendez-vous :

- "Next Wednesday, August 6, we shall commemorate the 30st anniversary from the death of late Pope Paul VI", who "concluded Vatican II", and "the Transfiguration of Jesus, mystery of the divine light, which exerced a unique fascination to his soul", he said to some 12.000 applauding People, among the happy few who succeeded to have a rare place for an open-air Mass inside the Domplatz a particularly sunny day at the Alpes.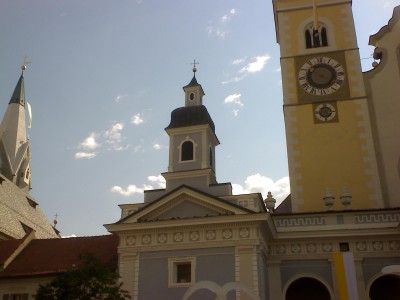 Polls