Home

In Brief

Turkish Smugglers' Victim photo exploited bis versus Trump on 2017 after manipulating EU on 2015...
Turkish Smugglers' Victim photo exploited bis versus Trump on 2017 after manipulating EU on 2015...
Monday, 30 January 2017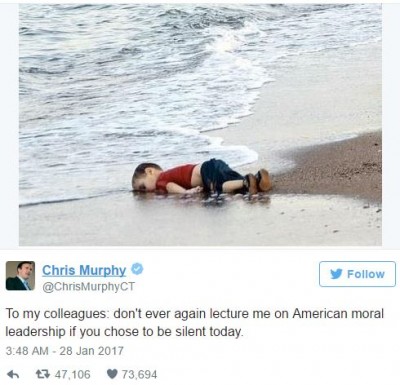 Residues of similar shady Establishment's Networks as those who notoriously Manipulated European public opinion back on Autumn 2015, when Germany was particularly targetted by an unprecedented "Tsunami" of Mass Asylum Seekers/irregular migrants suddenly tresspassing in Europe through Turkey, exploiting a change of policy by a new Government in Greece as far as EU's external borders are concerned, resulting in more than 1,5 Millions of masses exceptionaly difficult to integrate culturally and/or socialy, abused anew, Nowadays, exactly the same Tragic Photo of a young Victim of Turkish Smugglers, (who scandalously still remain unpunished), in a 2nd attempt to grossly manipulate uninformed and/or disinformed people, this time targetting mainly the USA, trying to slander the new US President Donald Trump's efforts to protect his country for more deadly Islamist Terrorist Attacks killing innocent civilians, by postponing for 3 Months all entries of foreigners from a list of countries (established by Obama's Administration) considered to be the most infested by ISIL, Al-Queda and other such Islamist Terrorist networks, until the New US Administration manages to set up more Reliable Vetting Checks for New Entries in the Future :

That scandalously exploited Photo shows a small Kurdish Syrian Kid drown at the Turkish Coasts, (as UK and other International Media's investigations revealed), when a makeshift Plastic Boat used by Turkish Smugglers was, (as they notoriously do too Often, in order to escape border controls while trespassing inside the EU), deflated overnight, while entering Greece's national sea areas. As usual, after the Turkish Smuggler opens a hole in such a plastic boat, he jumbs into another, fast-moving boat of his Gang and abandons alone, in the middle of the Night, at High and Deep Sea, all the Migrants. The young Kid's Father, according to eye-witnesses' published reports, vainly tried desperately to take over that abandoned and sinking boat, to guide it towards reaching a Greek Island, but inevitably failed, while all his Family, (including Wife and Children), were Drown and Killed, since they didn't even know how to swim.

The poor Kurdish Syrian guy had been reportedly over-Exploited by some unscrupulous Turkish business owners, while searching previously to find any hasty Job at Istanbul (former longtime Constantinople), in order to Pay the Turkish Smugglers for a Transport of his Family towards Europe, obliged even to live alone, separated from his Family, sleeping at the door of a dirty WC, etc, until, at last, he managed to gather a few bucks allowing to pay the Gangs systematicaly exploiting such desperate people, often shamelessly, in front even of the eyes of International, f.ex. American, British and German Press Reporters, at the Turkish Coasts, mainly around Izmir (former longtime Smyrna). Such Smugglers' Gangs, (mainly Turkish, but sometimes also Pakistani, etc), notoriously used to keep such Poor People Waiting, until, suddenly, they told them to board hastily a Plastic Boat, often OverLoaded, for a Nighty attempt to tresspass in Europe by reaching a Greek island, for some Hundreds of bucks.

On the contrary, Rich Irregular Immigrants, able to Pay f.ex. 2 Thousands $ each, could be transported asap, by special RDV with Fast-track Independent, modern Jet propulsion Boats, f.ex. carrying each 2 or 3 persons only, and travelling up to the Greek Coasts of the EU, as those which had been often found quasi-abandoned at various Greek Islands, sometimes arresting even one Turkish Smuggler : A real Appart-Heid !

But that Poor Kurdish Syrian Family was obviously unable to find so much Money for the Turkish Smugglers, while also being reportedly desperate to escape apparently from ISIL and other Islamist Terrorists' threats and attacks, around the area of Kobane city then, (where many deadly Fights had notoriously taken place), added also to provoked and/or aggravated Poverty even by Turkish Authorities' persisting then Blockade and/or obstacles of timely border crossings for Kurdish People from Syria, (sometimes even for Wounded), while, on the Contrary, Ankara's regime has scandalously let ISIS, Al-Queda affiliated and other Armed Islamist Terrorist Gangs, find for many Years, "Jihadists" to recruit, Dirty Money, Logistical support, Weapons, etc., sheemlessly throughout Turkey's borders to Syria and Iraq...

Concerning Northern Iraq's region, an Independent International NGO specialized in Humanitarian Crisis affairs, which had send Reporters to directly investigate the real situation near the Turkish Borders, recently (2016) revealed scandalous Facts which clearly show that Turkey is quasi-systematicaly Exploiting its own Life-Threatening and/or Family Homes-Destroying Air Bombardments of Kurish a.o. villages, hamlets, residences, farms, etc., at the Kurdish-populated Northern Iraqi Mountains, in order to Push the local Population to massively Abandon their ancestral Land, and be Forced to transform themselves into Refugees seeking shelter in Turkish Army-controlled "Camps", mostly at the other side of he border, even if they wouldn't like to have to do so !

Scandalously, that repeatedly Abused Tragic Photo of a Victim of Turkish Smugglers (Comp. Supra), was notoriously taken when a ... Turkish Policeman cought the unfortunate Kurdish Kid's body, after vainly trying to escape towards Europe, and ostensibly held it in his hands, in front of almost all the International Establishment Media's Papparazi, triggering a series of "Copy and Paste" at the Web, until it was notoriously Exploited in order to decide to let, initialy, Wide Open, all Europe's Borders, withourt any distinction, control or check, to an unprecedented 1,5 Millions Mass movement previously provoked, filtered, chosen, pushed and exploited by Turkey on 2015-2016, provoking manifold negative repercussions against both Real Political Refugees and European People, as well as Political life, which has Shaken up all the Continent, without still any end in sight, (despited some recent EU attempts to alleviate the various damages already provoked, and/or prevent worse).

It's really Shamefull, after having notoriously attempted (and apparently succeeded, given an irresponsible and/or shady coverage by Establishment's Medias) to Manipulate European public opinion in a recent and unforgetable Past, (9-10/2015), with well-known, afterwards, manifold Negative Consequences to the detriment of European Citizens' lives, (including various Mass Aggressions, brutal Harassments, Rapes, infiltrations of Deadly Islamist Terrorists, various violent killings on 2015-2016, spreading Terror on several Public Transports even near Strasbourg, etc), Moreover, Nowadays, some Accomplices of apparently Similar Networks, attempt to target also the American People, slander the new US President Don Trump, etc., by pushing to provoke again False Impressions by repeatedly abusing of that Same Misleading Photo of a Kurdish Victim of Turkish Smugglers...

(Comp., f.ex., among others, also : http://conservativetribune.com/dems-use-this-photo-to-attack/ , http://ijr.com/2017/01/788914-before-using-this-heartbreaking-photo-to-attack-trump-please-remember-this/?utm_campaign=morning-newsletter&utm_medium=owned&utm_source=email etc).  

Basta ! Somebody should make such shady Establishment's Networks understand that, at last, Enough is Enough, and both European and American, as well as other People in the World, are Not so Stupid and/or Ignorant as they would apparently like to oblige them to be.

The World community obviously needs, much more, to urgently end, at last, that scandalous total Impunity of those who notoriously provoked and exploited Deadly Islamist Terrorism targetting civilians, as well as profited from thus provoked Mass asylum seekers/irregular migrants' unprecedented giant movements, slyly "filtered" and largely chosen by Turkish Smugglers and/or Ankara's greedy Blackmails costing Billions € to European Taxpayers, (including even the Poorest People, obliged to pay VAT etc. on all their meager "revenues") !


BRIEF NEWS
00:00 - 02.06.2021

00:00 - 18.10.2020

00:00 - 19.06.2020

00:00 - 18.05.2020

00:00 - 20.04.2020

00:00 - 02.02.2020

00:00 - 09.12.2019

00:00 - 27.11.2019

00:00 - 16.11.2019
Statistics
Visitors: 52971651
Archive
Login Form
Other Menu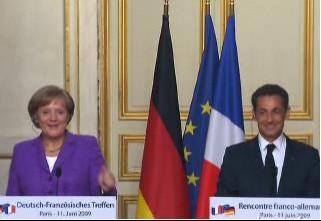 The official presentation of a "Program" respecting People's choices voted in the June 7, 2009 EU Elections, to be debated in EU Council and EU Parliament during its 1st Session on July in Strasbourg, is the No 1 Priority, according to Democratic principles, for the Franco-German axis, said the main winners at the ballot box, French President Nicolas Sarkozy and German Chancellor Angie Merkel.
They stressed  that the New EU Commission's President must have a "Program" in favor of an EU which "protects" its Citizens, regulates financial markets and aims at a "Political" Europe" : a wording they have used as incompatible with Turkey's controversial EU bid.
They also declared ready for a "political" endorsment of "Mr. Barroso's candidacy" in June's EU Council, considering that an official decision would have to be made after EU Parliament's debates and votes, possibly from next month (July), with the legally necessary final acceptance shortly after Lisbon Treaty's entry into force, hoped for September or October.

- "A Program, and Mr. Barroso" : This resumes, in substance, the anouncements made by Sarkozy and Merkel, on the question of current EU Commission's President, Barroso's declared wish to succeed to himself for a second mandate, to be extended during the following 5 years.

 In their 1st meeting after EU Elections, they observed that "the Franco-German axis counted in European Elections' campaign... But, we both keep a realistic view : We saw the number of those who abstained, and we must absolutely give them an answer. We also see the disilusionment of an important number of Europeans vis a vis Europe, and we are aware of the responsibilities we have".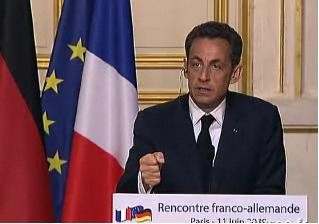 - The "Duty" of the new EU Commission's President, after June 7, 2009 EU Elections' result, "is to act for a Europe which protects the Europeans, to commit himself into working for a better Regulation of Financial transactions, ... and to have a Political will for Europe", underlined Sarkozy.

Therefore, "we have asked M. Barroso... to clarify, to officialy present the intentions he has", he anounced.

- "We want to speak also about the Programme", explained Merkel.

- "It's important that for the next EU Parliament's mandate (2009-2014) we take the right Decisions for Europe.  Obviously on Persons, but mainly Decisions on Issues", she stressed.

- "It's not simply a question of a Person, it's also a question of a Programme". We are "really asking Mr. Barroso to commit himself on a Program, and on Principles, on Values", Sarkozy added.

EU President-in-office, Czech Prime Minister Jan Fischer, accepted the Franco-German stance :

- "Barroso must present his Programme. The Czech Presidency agrees with that", Fischer reportedly said later, after meeting Sarkozy.

But Press reports from Brussels claimed that Barroso had preferred to be officially appointed by EU Council since June, (i.e. next week), "because this was implied by the current Treaty of Nice, according to him", and considered any delay until the possible ratification of the new, Lisbon Treaty on September/October, as "undemocratic".

- "At any case, independently of what Germany and France ask, it's also EU Parliament's wish". "We shall propose Mr Barroso's candidacy... But even in the framework of Nice Treaty, EU Parliament has to be associated in this Decision", the French President observed.

If this is correctly done, then "we support Mr. Barroso's candidature", and "if the (EU) Parliament agrees, we might ratify this decision since July", (i.e. next month), they both said.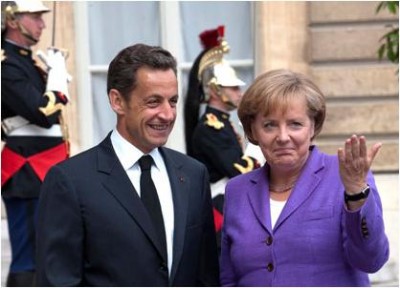 - "France and Germany support Baroso's candidacy, But we want to speak also on the Program. We believe that this Program should be established in close cooperation with EU Parliament, and that's why we have followed an appropriate way", said Merkel.  - If EU Parliament wants, this election can take place on July,  but this must be done in full agreement.
- "We shall support Mr. Barroso's candidacy, without doubt", said Sarkozy. "But we have asked from Mr. Barroso, as I told him yesterday, to put into detail.. his intentions, at the eve of his 2nd mandate, if the situation avails itself.

    France and Germany "don't want to take an Official Legal Decision by writting" during "the next (EU) Council" (on June 18-19), declared Sarkozy.  Because they prefer, at this stage, only "a Political decision" on June, "so that we (EU Council) can work together with EU Parliament", which starts to meet only Next Month, since July in Srasbourg, "leaving a Legal decision by writting for later".

    - "If the Conditions are fuillfiled in EU Parliament, we (EU Council) are ready to give the agreement and make it offficial", said Merkel

    - "But, now we are working in the base of Nice Treaty. If tommorow we want to work in the spirit of Lisbon Treaty, we have to find a proper way", she added.

    - "Of course it's Legally complicated, because we are going to make a Political proposal to the forthcoming Council, for an EU Commission's President, on the basis of Nice Treaty : So, we (EU Council) will not appoint the Commissioners. Only the President.  If EU Parliament agrees, it could endorse this position on July", explained Sarkozy.

    But, on Autumn, "if Ireland ratifies Lisbon Treaty, there will be, at any case, a 2nd Decision, to appoint the Commission's President, this time on the basis of Lisbon treaty, and then, we, the EU Member States, would have to appoint (also) the EU Commissioners", he added.

    As for the precise Timing :  - "Everything is suspended until the Irish vote... Now, we must all make everything possible to help Ireland to say "Yes"" to Lisbon Treaty... The Irish Referendum, ..will take place either on September or on October. It's a Question which depends on the Irish. And,  then, we shall have the Choice of the Candidates for the permanent Institutions of Europe".

    However, "if Ireland says No, we, French and Germans, have to assume our responsibilities, and we'll do so", he concluded.

    But British and Swedish governments were reportedly eager to have a final EU Council decision on Barroso since this month, on June's European Council. While the other EU Member Countries are divided, several of them preferring to wait until EU Parliament pronounces itself, on July, and/or until Lisbon Treaty might be ratified by Ireland at the beginning of the Autumn. Barroso's current mandate ends on November.

    There are also various, contradictory and/or unpredictable reactions inside EU Parliament vis a vis Barroso's wish to continue a 2nd mandate, because many MEPs are openly or secretly opposed, reluctant, or hesitating.

    In the biggest EU Countries, as France and Germany, EU Citizens voted on June 2009 EU Elections for a renovated, non-technocratic but Political Europe which cares for its Citizens, with an Identity, Values and Borders, declared incompatible with Turkey's controversial EU bid, by mainstream, pro-European Governing Parties. Similar choices were also supported in several other small or medium EU Countries.

    On the contrary, whenever, in other Countries, Governing and other mainstream Parties didn't make these choices or eluded them, EU Citizens massively voted for euro-Sceptics whenever they were the only ones to to promise anti-bureacratic change and oppose Turkey's demand to enter into the EU, (f.ex. in the UK, Netherlands, etc).

    It's seems to be an Open Question whether Sarkozy and Merkel's conditions will be really accepted by Barroso, who was appointed on 2004 in a different political context, (with Socialist Prime Ministers in Germany, France, etc), had rejected in the Past the idea of EU becoming "equal to the USA" as "ridiculous", and pushed for Turkey's contoversial EU bid, trying to "soften" or contain the changes desired by the People who voted for Merkel and Sarkozy with another policy vis a vis Turkey on 2005 in Germany and on 2007 in France, as they did all over Europe on 2009.

    In addition to many EPP Governments, it's 3 remaining Socialist Prime Ministers : Gordon Brown in the UK, Zapatero in Spain, and Socrates in Prortugal, who support Barroso, as well as Liberal Swedish Prime Minister Reinfeldt. But their Parties lost the June 2009 EU Elections.

    Questioned whether there was still "Time" for "other" possible "Candidates", Sarkozy and Merkel did not deny, nor made any comment on that, but simply said that "it's not for us to make publicity for any candidates. We anounced our choice ("A Program, and Mr. Barroso"). But we respect any other candidate".

    Among various other names cited are former Belgian Prime Minister Verhofstadt, former UNO's Human Rights Commissioner Mary Robinson of Ireland, Italian former EU Commission's vice-President Monti, etc. Meanwhile, Luxembourg's PM Juncker, (who had been unanimously accepted by EU Council for EU Commission's Presidency on 2004, but refused), announced his intention to resign from "EuroGroup"'s Chair. Thus, he might be available for another Top EU job.

    As "EuroFora"'s "opinion" said (See publication dated 9/6/09) : - "If the current candidates (i.e. Barroso, etc) to the Top EU jobs promise and guarantee to respect People's democratic choices, then, it's OK".

"Otherwise, Europe must find new candidates, really motivated and able to implement these democratic choices of the People."

    Because, "in Democracy, the forthcoming choices for EU's Top Jobs,...should be made according to EU Citizens' Votes in June 7, 2009 European Elections, and main EU Governments' strategic policies".
        

***

Polls