Virus: Hasty DeConfinement (withOut Cure/Vaccine) is Failing, Summer Data indicate
Sunday, 23 August 2020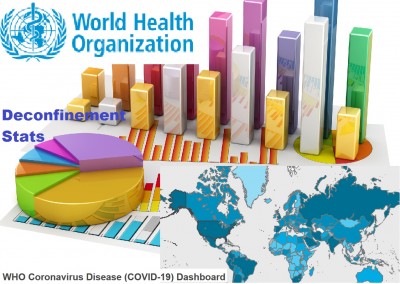 *Strasbourg/Angelo Marcopolo/- Already during Summer 2020, Before Autumn/Winter, a Hasty DeConfinement Started to Fail, Sometimes Even Reversing the Virus Crisis towards a Worse Situation, Official Data clearly indicate, until August 23, particularly in the EU, But Also Elsewhere in the World, (See relevant "Eurofora"s Warnings : http://www.eurofora.net/newsflashes/news/hastydeconfinementrisk.html + http://www.eurofora.net/newsflashes/news/infectionsbypassopeninglimit.html + http://www.eurofora.net/newsflashes/news/whoconcernsonhastydeconfinement.html, etc)
Exceptions seem to be Countries where, at least, some alternative and/or novel Cures appear to be used in practice, as well as those (quite Rare) which have Rapidly Stopped a too Hasty DeConfinement.
Claims that such Recent Trends would Only Concern Youngsters (mainly 20-30 or 40 years old), reportedly Explaining a relative Lack or Delay of Deaths this time, is Refuted Both by Data which show a complete Reversal of the Situation (towards More Infections and Deaths than Before) in Certain Countries, and by Official Warnings, (as, f.ex., by the Ministry of Health in France Nowadays), that such Youngsters have Already Started to "Transmit" the Virus to "Seniors", Augmenting the Pressure on Hospitals, with Inevitable Threats for All Society...
------------------------------------------------
With +3.110 New Infections on August 23, (Followed by +4.805 one Day Later -UPDATED) just After +3.602 and +4.586 More the Days Before, France appears to be a typical Example of this Main Trend, as WHO's Latest Data clearly indicate in its Graphic :


I.e., with its latest August Days' Figures on New Infections per Day, France reached a Level almost Equivalent to that of ...March, (which Notoriously was the Worst Month in this Virus' Crisis) !
-----------------------------------
+ Germany too, After having, during Many Recent Days of August, Reached almost Equivalent New Daily Infection  Numbers to April, Suddenly Jumbed, Yesterday, Even at a Level reminiscent of March, with +3.471 confirmed cases :


------------------------------------------------------------------------------
++ Even more, Spain, After having, Already Since July, Reached anew the Level of April on New Daily Infections, Afterwards, during August, it clearly Matches its Figures of the Level of March, too, with +8.148 New cases Today !


----------------------------------------------------------------
+++ Almost in a Similar situation, Belgium has Reached, in July and August, its Figures of the 2nd Half of April :


----------------------------------------------------------
++++ Slovenia too, since the Beginning of July, Matched the Daily Infections' Numbers of the 1st Half of April, (and, Sometimes, Even those of Deaths of April) : 



------------------------------------------------
+++++ Denmark too, During August, Reached it's April Figures, and, Sometimes, Even those of March :

------------------------------
++++++ Netherlands, Since the Beginning of August, Matched their Daily Infection Numbers of April's End, in a Long Upward Trend :

---------------------------------------
+++++++ Luxembourg, Already since July, had Reached the Level of New Daily Infections of the 1st Half of April, (and Even the Level of Deaths of the Beginning of May) :


-------------------------------------------
++++++++ Austria also, on August Returned Back to the Level of Daily Infections during the 1st Half of April :

----------------

+++++++++ While Italy Jumped Today Over +1.071 New Infection cases, for the 1st Time since May, (After +947 and +845 Earlier, Revealing an Upward Trend). The Last Time Italy had More than a Thousand Infections in 1 Day was on May 12, several Days Before the DeConfinement.

...
(Etc.+...)
===============================
* But, the Most Worrying Situation is that of Countries as Poland, where, throughout August, New Daily Infections became ...the Highest ever !  (While Deaths are Nowadays, Back at the Level of the 2nd Half of May).

--------------------------------------------------------------------------
** Greece, Initialy quite Careful, later, Unfortunately, became a Typical Example of a net ...Reversal of the Situation, with much MORE Infections on August, than in March !...  (And Deaths which Remind the 1st Half of April).



The Country was quite Open to Tourism in Summer, and various (mainly Imported) Infections widely Spread across Many Different Areas, Making practicaly Impossible any Regional Confinement (Contrary to what China did at Wuhan), in a Similar Trend as that which, Earlier, had Inundated Russia by Infections Imported mainly from the EU.
---------------------------------
*** Even More net Reversal of the situation at Croatia, where, After a Good Past, Suddenly, Already Since the End of June, Daily Infections ...Matched and soon OutNumbered Even those of March, while, August, show an "Explosion" of Infections, Growing Higher than ever, Spectacularly Pulverizing Any previous Record during all the Last 9 Days !


Croatia is, indeed, Notorious for its Long Sea-Coasts accross the Adriatic Sea, (as well as Greece for its Islands, mainly at the Aegean Sea : Comp. Supra), so that mass Tourism apparently added to Similar Results...
------------------------------------------------------
**** A somewhat Similar Trend is noticed also in Czechia, which has Returned Back to April Levels of Daily Infections Already Since the End of June, and Just Scored, on August 22, a Record High Number of New Daily Infections : the Highest of all !

-----------------------------------------------------------
***** Slovakia too, (another Tourist resort, for its Mountainous Forests, etc), has Returned Back to its March Levels of Daily Infections, and Just Marked its Highest Ever Number Yesterday :

-----------------------------------------------------------------------
****** Romania is an even More Characteristic case of a Spectacular Reversal, because, Already Since July, it has Pulverized All Past Records in Daily Infections, which Grew almost 2 or 3 Times Higher than Ever Before, through August !

Even Deaths' Numbers Daily in Romania, After Reaching the Levels of All Past Months Since July (April and March Included), they Also Largely ByPassed, during this August, Any Previous Records !


-----------------------------------------------
******* Bulgaria is, apparently, the Biggest example of Reversal in the EU, Bypassing Since June the Number of Daily Infections in the Past, and Growing even X4 of X5 Times Higher than Ever throughout July and August, (while Also SkyRocketing in Deaths with Evolving Top Numbers all the way from June to July and, particularly on August) !


----------------------------------------------------
******** More or Less Similar Reversals are seen Also in almost All Countries of the Western Balkans, from Montenegro to North Macedonia, passing through Bosnia-Herzegovina and Albania, (Most of the times Both in Daily Infections and Deaths), Summer 2020 fully "Explodes" there with Virus !
-


-----

-                                               


---------



-----------



---------------
(+ Etc....)

---------------------------------------------------
 + It's true that, Mutatis-Mutandis, such kinds of Reversals can be observed Also at Various Other Countries in the World during this Summer, from the Maghreb States, (particularly Morocco, which used to be, However, a "Good Example" during the First Months of the Virus' Crisis), up to South Korea and Japan, etc., (proving that Tourism is Not the Only, Nor the Main Cause, but rather a Hasty DeConfinement in Wider terms).


----------

>>> But, Already several Countries are Starting to Fight Back, by Taking or Planning Measures to Limit or Suspend such a Hazardous Hasty DeConfinements, (as, f.ex., South Korea, where the Government Just took certain Restrictive Measures, while its "Centers for Disease Control"'s Director asked to Close Schools anew and re-Impose Home-Working via Internet), etc. [+See Infra].
=====================================                                                                     
=> Indeed, Several Countries, at Various Locations throughout the World, Have Already Decided and Acted in order to "RECTIFY" so Hasty DeConfinements, and - as Facts and Results Prove - this Works quite Well and Fast !
-----------
@ In Europe, Serbia, After a Hasty DeConfinement brought Daily Infections and Deaths between June and July Back to the Elevated Levels of April and March or Even Higher, the Government Started to take New Restrictive Measures, from the End of June Up to August : F.ex., inter alia, Since the End of June, Masks were Imposed in Public Transport and Confined Spaces, as well PlayGrounds Closed in the South and Shops' Hours Limited. On July a Partial Curfew was Examined, and on August Serbia introduced Mandatory Testing at the Borders for any Visitors from Neighbouring Countries, (etc).

=> The Result (Despite social Contradictions) was to Rapidly Start progressively Lowering the Numbers of Both Daily New Infections and Deaths, Bringing Important Positive Changes Already From the Middle (Deaths) or the End (Infections) of July, and Mainly throughout August.


----------------

@@  Near Europe,  in the Middle of this Summer, when Virus' cases had Already "Exploded", Egypt Suddenly re-Started to take various Confinement Measures, including on Better Protecting its External Borders. The Consequence was to effectively CURB Infections and Deaths from Mid-June,  so that, on August, it was almost Nothing left !


 --------------
@@@ Cuba, which had, at First, Succesfully Fought against the Virus, to the point that it had quasi-Disappeared Towards the End of June, Suddenly Faced a Sharp Rise of Infections Between the End of July and the Middle of August, seriously Threatening to Result in a Negative "Reversal" (Comp. Supra). But the Government reacted, inter alia, by Re-Establishing a Shut-Down even at its Capital, Havana, and this Seems to have Started to Work, Re-Diminishing anew, Since Middle-August.

------------------------                                                                                                                                                                                                                                                                                                                                                                                                                                                                                                                                                                                                                                                                                                                                                                                                                                                                                                                                                                                                                                     
@@@@ More Spectacular : Australia had, Initially, managed to almost Eradicate the Virus, Already Since the End of April/Beginning of May, (Both on Daily Infections and Deaths), But, on the Contrary, Around the Beginning of July, First Infections, and Later Deaths, Triggered a complete Negative "Reversal" on August, which has Just been Curbed, during this Same Month, After the Most Affected Federated State : Victoria, Imposed a "LockDown", while, Also its Most Populated Neighbour, New South Wales, had just taken various Restrictive Measures, in Addition to Borders Closure between also several Other Federated States. This was, reportedly, even More Rapidly Succesful than they Believed, the competent Public Authorities having Recently Declared their Surprise for the Infections "Falling Faster than they Expected", Followed also by Deaths, and Proving that "this Strategy Works".


------------------------
@@@@@ Partly more "Pittoresque" : After having "Played" several Games, particularly, by Successively Out-Lawing and anew Allowing ...Cigaretettes and Alcohol Drinks, South Africa found itself in front of an "Explosion" of Infections and soon Deaths, around Middle July. But, after Re-Establishing such Prohibitions, it reportedly Managed to succesfully "Curb" that Negative Trend, and Start clearly Diminishing the Virus' crisis, during August.


====================================
>>> But there are, Also, several Big "Atypical" cases, which do Not Seem to enter in the above-mentioned Schemas of a Hasty DeConfinment and Various Reactions (or not) After it...
Indeed, some Other Realities appear to be the Main Drivers of Virus' Developments in some Huge and Important Countries, such as, f.ex., inter alia, China, Russia and the USA :
---------------------
- First of all, China, Notoriously Succeeded to Win a Hard 1st Fight against the Virus, mainly by a Fast and Strict Confinement of the Hubei Province, where Wuhan City "Hotspot" is located, which Continued during a Long Period of Time, until Any Infection apparently Disappeared there. (as it had Already done, Previously, Anywhere else throughout the Country). At the Same Time, it Used a Lot of Potential Drugs, including HCQ (and even "Traditional Chinese Medicine"), etc.
-------------------


China Never "DeConfined" as long as the Virus was Still Killing People, even if it might be a Smaller Number than Before, (Contrary to what EU States were Controversialy incited to take the Risk to do : See, f.ex. http://www.eurofora.net/newsflashes/news/hastydeconfinementrisk.html , etc). On the Contrary, it only Started a Careful DeConfinement a Long Time After it had been Hit by the Virus, and When Nobody was Dying from it Anymore, in the entire Country.

----------------------

Since then, the Only Visible "Fault" in China's Anti-Virus Strategy was a Partial Late "Opening" of Some Air-Flight Links to Certain Countries, (UnFortunately for Beijing, Including EU Member States...), particularly for Returns of numerous Chinese Students and Other Expats Abroad. Inevitably, this Became, objectively, the "Troian Horse", through which re-Started several, Initially "Imported" Infections, which Rapidly Spread across Different Regions throughout the Country, (Similar Phenomenon as for Russia : See Infra), and, Later during this Summer, Provoked Even some Deaths, (for the 1st Time After a Long Period withOut Any Dead from that Virus).
However, at least for the Time being, (also with Drastic Local Confinement Reactions, to Each suspected "cluster"), China Managed to Keep such a Small Rise in mainly Imported Infections and some Subsequent Deaths, Down to Astonishingly ...Tiny Numbers (almost "InVisible" at WHO's Statistical Graphs !), Compared to the very Much Bigger Volume of Infections and Deaths in Most Other Countries :  
--------------------------
- - Russia, (as Also India, etc), at the Beginning, had Managed to Stay, for a quite Long Period, almost withOut Any Virus' Infection, Neither Death, (the Only Exception being ...2 Old Chinese-origin Men, in Siberia !), Thanks, mainly, to Rapid and Strict External Borders' Closure, (Immediately Starting vis a vis the Neighbouring China, a.o.). But Moscow Fell Victim to its voluntary "Naivety" vis a vis the EU's Member States, for which it had Left Initially Open Access to their Air-Flights, and from which all Russia was, Later, Infected, After a First Group of Imported Infections reached Saint Petersburg, Followed by Various Other Russian Regions, before Spreading accross the whole Country, and Starting to Kill a lot of People.

    So, Later-on, Russia was led to Start a Partly Similar "Confinement" with Western European Countries, (See : ..., etc), which Started Afterwards to be Progressively and Partially Lifted Almost at a quite Parallel Time-Frame, But Not as Hastily and as Massively as in the EU : F.ex, More Restrictions to Air-Flights Still Remained in order, while Even Provincial Governors were Officially let Free to Initiate, or Not, Totaly or Partially, this or that Among Various "DeConfinement" Measures, Whenever they Judged that to Fit Better their particular Regional Realities, under Supervision and posterior Control by the Federal Authorities, (etc).
    But, probably, the Most Important Particularity of Russia was that Even its Official Policy reportedly Focused on a Systematic "Prevention" Effort against the Virus, massively Associated and Added also to its quite Original "Cure" Policy, which (Contrary to Many EU and Other Western Countries, f.ex. France's Controversial Health Ministers, Strongly Contested by Many People, etc), was Centered around Drugs such as, Mostly "HCQ", (Together with "AZ" or "Mefloquine"), at various doses, (even Before the Recent Emergence, Also, of a New Russian Cure with "AviFavir" Novel Drug ; See ..., etc). Moreover, according to OECD, Russia has the 3rd Biggest Number of Hospital Beds in the World, (Even if its relevant Equipment, particularly on Ventilators, appears UnClear).
    => The Result was for Russia to have much Lower Rates for Infections and Deaths by the Virus, in Proportion to its overall Population, than most Western European Countries do, as well as the very Specific Characteristic to Never Experience Any Sharp Drop, Followed by an almost equally Sharp Rise, Later-on, (in several States Even a ..."Reversal" of the whole Situation : Comp. Supra), in the Numbers of Daily New Infections and Deaths, But, rather, an Astonishingly "Smooth" and Steady, Progressive, Slow but Continuous Lowering Down of such Virus-related Incidents, All the Way Until Now, (See WHO's Graphic) :



------------------------------------------------------------
- - - USA had Managed, Initially, to Stay a Longer Time than the EU Protected from Imported Infections via Beijing, etc., Thanks to President Trump's Early Initiative to Suspend AirFlights and Other People's Imports (f.ex. by Sea) from China. However, it had Already Started to be partialy Infected, (particularly at Washington D.C.), mainly by Imports through the UK, Before a "Fatal" Massive Import (Despite Trump's Earlier than Other Countries', But nevertheless, too Late Closure of AirFlghts from the EU), which notoriously Spread the Virus all over USA. Since then, Infections and Deaths Multiplied in the USA, which soon Became a  World's "Hotspot", OutNumbering even the EU, in absolute terms, and Threatening Trump's re-Election Prospects, by Harming USA Economy's previously Good Results, (while the 1st Word in Confinement or DeConfinement Measures inside the US, rests on the Various Governors of the Federated States, often from Other Political Parties, as, f.ex., in California, New York, Michigan, and even Wash. D.C., Added to a Further Spread Recently provoked by Massive Riots and Demonstrations supported by the Opposition).
    Nevertheless, it's also a Fact that USA's Infections and Deaths' Rate, in Proportion to its Population, remained Lower than that of most EU Countries, as well as that, at least Recently, After Reaching a Peak around the Middle/End of July, at least the Numbers of Daily Infections Started to Decelerate and Regularly Lower Down, particularly throughout the Month of August, (while Numbers of new Deaths Stagnated, at a Flatened curbe, Starting to Slghtly Decelerate during the Last 9 Days).

----------------

    In Addition to Trump's Obvious Activism on Boosting Diagnostic Checks for Virus (Contributing to Lessen Further Spread), as well as Technologies and Production of Masks and, particularly, Respirators, (for which he Even Obliged "General Motors" Giant Corporation to play the game, by Forcing it under a ...National Defense Legal Clause !), it Might be Also the alleged "Prophylaxis" effect of "HCQ" Drug, (Notoriously Backed by Trump and his Supporters, as well as Various Other American People, including, f.ex., even Singer "Madonna", etc, and object of several On-Going Trials), which could Hold Part of the Key.
-------------------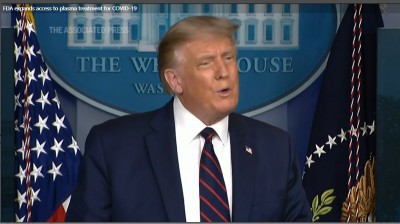 + Things might Soon Ameliorate Further, after ...Today's Announcement by Trump that FDA just Authorized for emergency use a Long-Awaited New Cure from "Convalescent Plasma", (i.e. Anti-Corps from the Immune System of Survivors from the Virus : an Initialy Chinese Idea at Virus-Hit Wuhan, Already thought to be, Potentialy, the Most Promising Solution, by FDA's Director himself, as he had Prognosticated in a Press Interview Recently).
Don Trump just declared that a Main Scientific Study claims that this New Drug Might Save about +35% More Human Lives than Ordinary Drugs, also Supported by some Other Studies too, and that his Administration had Already incited, Earlier, to Collect such Plasma from Donations by Survivors (including through the "Red Cross", etc), so that to be Ready to Start Therapeutic Action, (for which he Also Launched an Exceptional Call even to China)...
-------------------------
In front of All these Facts, it seems that the Time has come, Also for Real European People, to, at last, Ask What "their" Bio-Technocratic "Experts" and related Bureaucrats are Doing, all this Time, in order to Really Fight efficiently Against that Deadly Virus, Instead of Only Abandoning, Initialy, EU Citizens to a Massively Imported Spread of Infections, withOut Taking Any Efficient Timely Measure, (See: ..., etc), Later Blocking and Oppressing any Use Even of "HCQ" Cure, (See: ... + ..., etc), and Afterwards Throwing them at an Obviously Too "Hasty" DeConfinment, (Comp. Facts cited Supra), withOut Any Cure, Neither Vaccine,
Despite Many Hundreds of Millions € Distributed by the EU for so-called "Research", and much More Recently Promised to a Controversial would-be Vaccine of Post-BREXIT's UK (sic !), and/or to a too much Conroversial, and probably InEfficient ex-"Ebola" Drug, (with Too Many "Adverse Side Effects"), Excessively Pushed by a USA "Big Pharma" Private Company and some Establishment's notorious Cronies (See, f.ex. ..., etc), probably leading to just anOther Scandal, (Soon after the Anti-"HCQ+" Notorious "LANCET-GATE" : See f.ex. ..., etc)...
+ By the Way, Both those "Remdesivir" Failed ex-"Ebola" Drug, and Post-BREXIT UK Technocrats' would-be "AstraZeneka"s Vaccine, (whose Company has just Admitted that it does Not want to Guarantee its Safety for Health in the Future !), seem Related to some kind of Genetic Manipulations on Human Beings. On the Contrary, Both "HCQ+" Drug and "Convalescent Plasma" (Comp. Supra), are Mainly Based on the Natural Human Immunity System.
(../..)
("Draft-News")
-------------------------------------
BRIEF NEWS
00:00 - 02.06.2021

00:00 - 18.10.2020

00:00 - 19.06.2020

00:00 - 18.05.2020

00:00 - 20.04.2020

00:00 - 02.02.2020

00:00 - 09.12.2019

00:00 - 27.11.2019

00:00 - 16.11.2019
Statistics
Visitors: 45074547
Archive
Login Form
Other Menu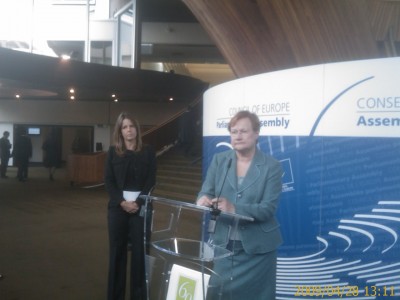 People in Europe and the World expect from CoE to make a succes of its "Monitoring" for Human Rights and Democracy, despite difficulties, said Finland's President Tarja Halonen to "EuroFora" at a crucial moment for the mecanism built 15 years ago by the paneuropean organization which celebrates its 60th Anniversary in 2009.
Halonen, known as "Mother" of CoE's "Monitoring" mecanism, a long-time MEP and former Foreign Minister before becoming Finland's President, holds a long experience in the mattter, after also serving twice as CoE and EU Chairwoman in the past. That's why she is well placed to judge how CoE's "monitoring" should deal today with some crucial issues of importance both to CoE and to the EU.
The move came just a Month before a crucial, last visit to Turkey, scheduled for June, by the President of CoE''s "Monitoring" Committee, Ukranian MEP Serge Holovaty, to finalize his Report on Ankara, the CoE Member State with the longest Monitoring procedure. From its results depends its overall credibility.
This is a Test-case, because, in fact, it's in order to avoid Sanctions threatened against Turkey by a CoE's Assembly's April 1995 Resolution for grave Human Rights violations, Democracy gaps, the continuing Military Occupation in Cyprus, the unresolved Kurdish problem, Aegean differend with Greece, etc., that MEPs decided to create, for the 1st time on April 1996, a "Monitoring" proces, allegedly destinated to check, without excluding Countries who did not fulfill all CoE's standards.
In the Past, the obliged withdrawal of Greece's Military regime and of its "Civil" cover-up out of the CoE had helped bring back Democracy in 1974. But, on the contrary, since April 1996, the idea was to "monitor" Human Rights' respect while keeping most concerned Countries inside the CoE. After Turkey's oldest example, this was extended also to several former "Eastern" European Countries, even if CoE's Assembly has imposed to some of them (fex. Ukraine, Russia, etc., after Belarus, Serbia, etc) various "Sanctions", that Ankara always avoided. Curiously more succesful even than .. USA itself, (a CoE "Observer" since 1995), which has been at least threatened with sanctions some years ago..
EU-effects of CoE's Monitoring process became obvious between 2001-2008, since the "closure" of this procedure, when CoE felt that a Country had met most of its Human Rights, Democracy and Rule of Law obligations, (i.e. the "Copenhagen Criteria" for the EU), helped trigger Negotiations with the EU for "Accession" or other closer relations : This occured already before the 2004 and 2007 EU Enlargements to former "Eastern" European Countries, as well as for the commencement of "accession" negotiations with Croatia, and of "open-ended" negotiations with Turkey in 2005.
    But a stricking new development are Holovaty's recent findings that on core Human Rights issues as Torture and Freedom of Expression, Turkey, even "5 Years after" CoE closed its "Monitoring", back in 2004, inciting EU to start accession Negotiations in 2005, still presents grave problems.
    His findings are of crucial importance after a 2008 CoE Resolution called, "if need be", to "seriously consider the possibility of Re-Opening the Monitoring procedure for Turkey" : A move which might affect Ankara's controversial EU bid, since EU Accession Negotiations are based on the Hypothesis that the Candidate fullfils the "Copenhagen Criteria" (See above)..
-------------------------
    Holovaty expressed his will to check  "Matters still Outstanding" and  those that he "didn't have an opportunity to discuss" at an earlier visit this year, "in order to discuss the more complex issues in greater depth", at his forthcoming New Visit to Ankara, before the December 2009 EU Summit.  This is all based on the 2004 CoE Resolution which stresses that, CoE "will continue.. post-monitoring Dialogue with the Turkish authorities,...in addition to a 12-points list,..and on any Other Matter that might arise in connection with Turkey's Obligations as a CoE member state".
    CoE's Resolution also asks  from Turkey "to secure the proper Implementation of Judgements, particularly in the Cyprus v. Turkey InterState case", of 2001, which concerns also the plight of many Hundreds of MISSING People. It adds Turkey's obligations to "execute" ECHR's Judgements in the Loizidou case,..and in particular adopt General Measures to avoid repetition or continuation of Violations found by the Court" to the detriment of Refugees.
    Nevertheless, Holovaty said to "EuroFora" that "MISSING" persons,"might be included" and cannot be excluded, but he has yet to examine the situation "to find out  which issues will be raised" to the Turkish Government.
    Therefore, "EuroFora" asked Halonen, as the Historic "Mother" of CoE's Monitoring mecanism, if she thought that, "whenever there are grave Human Rights Violations, as fex. "MISSING" persons, attested even by ECHR's judgements, they should be always checked by a Monitoring process. Or could they be forgotten ?"    
     - "We (CoE) must be, at the same time, Fair, Realistic, but not in the mind that "now we have Forgotten", etc., replied to "EuroFora"'s question Halonen, speaking as a matter of general principle.
    - "When we think of those People that are suffering from the lack of Democracy, of Human Rights, and of the Rule of Law", "we should find a base on how to deal with the (Monitoring) system more rapidly"', she stressed.
    - "Sometimes it's very difficult to combine Transparency and Effectivenes together, particularly in this specific case", she went on to say. But, "I have not found a (CoE Member) Country who could be insensitive in this sens", Halonen answered concerning grave Human Rights violations attested by the ECHR.
    - "I have no ready-made answer. I have the expectations that you, in the CoE, will, step by step, find the different types of the monitoring systems."
    Also "because this is a part of the UN's Post-Conflict system, (fex. when it comes to Cyprus' MISSING persons), and it's a more Global system". So that, "If we make a succes in Europe, the others will follow", throughout the World.  "But they expect that we (Europe) are this opportunity, this Opportunity to make a Succes", Halonen concluded.
    In addition, she advised to extend CoE's Monitoring to all its 47 Member States, "because, as long as we hear that, all these monitoring systems are "OK for the neighbor, but not for me", "it's very difficult" to understand. Something which could make easier to Compare...
    Finnish MEP Jaako Laakso, former CoE Rapporteur on the Occupied Territories of Cyprus and one of the 5 Signatories of the Historic CoE's call to create the "MONITORING" mecanism since 1996, was more specific :  - "We (CoE Assembly) have to find a way for the issue of Cyprus' MISSING People to be better followed", he stressed, anouncing his intention to "speak to Mr. Holovaty" about that. "There might be also other ways", added Laakso.
    - The 2008 "Year had been a very Bad one for Turkey with regard to Human Rights in general, and Freedom of Expression in particular", denounced, meanwhile, Holovaty's preliminary Post-Monitoringh Draft Report by Holovaty, published by the CoE on April 2009.
    "Amnesty International believes that freedom of expression is not guaranteed given the various articles of the Criminal Code that restrict it. .. "For example, 1,300 Websites are said to have been closed down by the (Turkish) authorities in 2008" ! While "the new Turkish Criminal Code was used to bring a total of 1,072 proceedings between June 2005 and April 2008, and led to the conviction of 192 people", for expressing views. "Representatives of the Özgür Gündem newspaper, which specialises in Kurdish affairs, ..complained about Numerous Attacks on their Freedom of Expression ...as was everyone who advocated a settlement to the question by means other than the intervention of the army" "According to their figures, 19 Newspapers had been suspended 43 times between 4 August 2006 and 4 November 2008" !...
    Moreover, on 2008,  CoE's "Ministers adopted its 4rth Resolution on the execution of the judgments of the ECHR, ...and outstanding issues regarding 175 Judgements and decisions relating to Turkey delivered between 1996 and 2008...  concerning Deaths resulting from the excessive use of force by members of the Security forces, the failure to protect the right to life, the DIisappearance and/or death of individuals, Ill-Treatment and the Destruction of property". CoE's " Ministers urged the Turkish authorities ...to ensure that members of Security forces of all ranks can be prosecuted without administrative
authorisation" for "serious crimes". Holovaty reminded.
"Nonetheless", Holovaty heard anew of "Several cases of Violence committed last year (2008) by the (Turkish) security forces". Amnesty International speaks of Many Cases of ill-treatment and Torture in the prisons and by the police". "Including, fex."'the death of Engin Ceber, a young man of 29 who died on October 2008 as a result of the TORTURE allegedly inflicted on him by police officers, prison staff and members of the gendarmerie. He was part of a group of people arrested on September 2008 during a demonstration and Press Conference in Istanbul'. Proceedings against suspects are "on-going" in this case.
- " I therefore noted an Obvious Contradiction between the Government's stated "zero tolerance" policy.... of Torture and other forms of ill-treatment, and the different testimonies given", denounced CoE's Rapporteur.  Turkish "authorities must make considerable efforts to guarantee that proper investigations are carried out into allegations of abuses by members of the security forces and that perpetrators are effectively punished" "In this respect, I have requested detailed Statistics on the number of Investigations, acquittals and convictions in cases involving allegations of abuse in order to show the positive impact of the measures taken to date", Holovaty said, repeating a permanently unsatisfied CoE's demand to Turkey since a Decade...
    - "The Political Crisis that shook the country in the spring of 2008 highlighted the Weaknesses of the (Turkish) Constitution", which comes from the Military regime of 1982, "and the Urgent Need of Reforms", stressed from the outset CoE's Rapporteur in 2009. In particular, "the ...Democratic functioning of state institutions, including the independence of the judicial system, are crucial", he observes.
    But, "the Electoral  system and the ways in which it is circumvented do not appear to give those elected complete Legitimacy, and tend to pervert the course of direct universal suffrage", denounces Holovaty, observing that, even 5 Years later, Turkey did not yet change the 10% nationwide Threshold for a party to take any seat, which is "far higher" than the "3%" maximum in Europe and already condemned as contrary to European Standards by the CoE.
    + Moreover, EU Parliament's 2009 Report on Turkey, drafted by Dutch MEP Ria Oomen-Ruijten and adopted in Strasbourg on March, expresses "Concern over the Failure of the (Turkish) Judiciary to prosecute cases of Torture and Ill-treatment, the Number of which is Growing". EU also "is concerned about continuing Hostility and Violence against Minorities" in Turkey. It also "calls on the Turkish Government to launch, as a matter of Priority, a Political Initiatve favouring a lasting Settlement of the Kurdish issue, (while "condemning violence.. and terrorist groups"). EU "regrets that No progress has been made on establishing full, systematic Civilian suprevisory functions over the (Turkish) Military".
    The final results of Holovaty's 2nd and last visit to Turkley will be known later this year, and, at any case, before EU's December 2009 Summit.
Polls