Virus: Hasty DeConfinement (withOut Cure/Vaccine) is Failing, Summer Data indicate
Sunday, 23 August 2020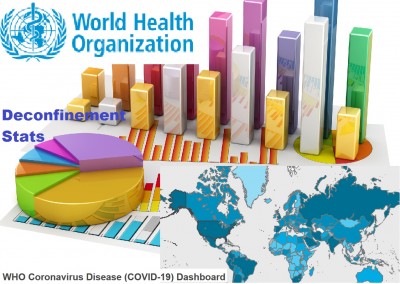 *Strasbourg/Angelo Marcopolo/- Already during Summer 2020, Before Autumn/Winter, a Hasty DeConfinement Started to Fail, Sometimes Even Reversing the Virus Crisis towards a Worse Situation, Official Data clearly indicate, until August 23, particularly in the EU, But Also Elsewhere in the World, (See relevant "Eurofora"s Warnings : http://www.eurofora.net/newsflashes/news/hastydeconfinementrisk.html + http://www.eurofora.net/newsflashes/news/infectionsbypassopeninglimit.html + http://www.eurofora.net/newsflashes/news/whoconcernsonhastydeconfinement.html, etc)
Exceptions seem to be Countries where, at least, some alternative and/or novel Cures appear to be used in practice, as well as those (quite Rare) which have Rapidly Stopped a too Hasty DeConfinement.
Claims that such Recent Trends would Only Concern Youngsters (mainly 20-30 or 40 years old), reportedly Explaining a relative Lack or Delay of Deaths this time, is Refuted Both by Data which show a complete Reversal of the Situation (towards More Infections and Deaths than Before) in Certain Countries, and by Official Warnings, (as, f.ex., by the Ministry of Health in France Nowadays), that such Youngsters have Already Started to "Transmit" the Virus to "Seniors", Augmenting the Pressure on Hospitals, with Inevitable Threats for All Society...
------------------------------------------------
With +3.110 New Infections on August 23, (Followed by +4.805 one Day Later -UPDATED) just After +3.602 and +4.586 More the Days Before, France appears to be a typical Example of this Main Trend, as WHO's Latest Data clearly indicate in its Graphic :


I.e., with its latest August Days' Figures on New Infections per Day, France reached a Level almost Equivalent to that of ...March, (which Notoriously was the Worst Month in this Virus' Crisis) !
-----------------------------------
+ Germany too, After having, during Many Recent Days of August, Reached almost Equivalent New Daily Infection  Numbers to April, Suddenly Jumbed, Yesterday, Even at a Level reminiscent of March, with +3.471 confirmed cases :


------------------------------------------------------------------------------
++ Even more, Spain, After having, Already Since July, Reached anew the Level of April on New Daily Infections, Afterwards, during August, it clearly Matches its Figures of the Level of March, too, with +8.148 New cases Today !


----------------------------------------------------------------
+++ Almost in a Similar situation, Belgium has Reached, in July and August, its Figures of the 2nd Half of April :


----------------------------------------------------------
++++ Slovenia too, since the Beginning of July, Matched the Daily Infections' Numbers of the 1st Half of April, (and, Sometimes, Even those of Deaths of April) : 



------------------------------------------------
+++++ Denmark too, During August, Reached it's April Figures, and, Sometimes, Even those of March :

------------------------------
++++++ Netherlands, Since the Beginning of August, Matched their Daily Infection Numbers of April's End, in a Long Upward Trend :

---------------------------------------
+++++++ Luxembourg, Already since July, had Reached the Level of New Daily Infections of the 1st Half of April, (and Even the Level of Deaths of the Beginning of May) :


-------------------------------------------
++++++++ Austria also, on August Returned Back to the Level of Daily Infections during the 1st Half of April :

----------------

+++++++++ While Italy Jumped Today Over +1.071 New Infection cases, for the 1st Time since May, (After +947 and +845 Earlier, Revealing an Upward Trend). The Last Time Italy had More than a Thousand Infections in 1 Day was on May 12, several Days Before the DeConfinement.

...
(Etc.+...)
===============================
* But, the Most Worrying Situation is that of Countries as Poland, where, throughout August, New Daily Infections became ...the Highest ever !  (While Deaths are Nowadays, Back at the Level of the 2nd Half of May).

--------------------------------------------------------------------------
** Greece, Initialy quite Careful, later, Unfortunately, became a Typical Example of a net ...Reversal of the Situation, with much MORE Infections on August, than in March !...  (And Deaths which Remind the 1st Half of April).



The Country was quite Open to Tourism in Summer, and various (mainly Imported) Infections widely Spread across Many Different Areas, Making practicaly Impossible any Regional Confinement (Contrary to what China did at Wuhan), in a Similar Trend as that which, Earlier, had Inundated Russia by Infections Imported mainly from the EU.
---------------------------------
*** Even More net Reversal of the situation at Croatia, where, After a Good Past, Suddenly, Already Since the End of June, Daily Infections ...Matched and soon OutNumbered Even those of March, while, August, show an "Explosion" of Infections, Growing Higher than ever, Spectacularly Pulverizing Any previous Record during all the Last 9 Days !


Croatia is, indeed, Notorious for its Long Sea-Coasts accross the Adriatic Sea, (as well as Greece for its Islands, mainly at the Aegean Sea : Comp. Supra), so that mass Tourism apparently added to Similar Results...
------------------------------------------------------
**** A somewhat Similar Trend is noticed also in Czechia, which has Returned Back to April Levels of Daily Infections Already Since the End of June, and Just Scored, on August 22, a Record High Number of New Daily Infections : the Highest of all !

-----------------------------------------------------------
***** Slovakia too, (another Tourist resort, for its Mountainous Forests, etc), has Returned Back to its March Levels of Daily Infections, and Just Marked its Highest Ever Number Yesterday :

-----------------------------------------------------------------------
****** Romania is an even More Characteristic case of a Spectacular Reversal, because, Already Since July, it has Pulverized All Past Records in Daily Infections, which Grew almost 2 or 3 Times Higher than Ever Before, through August !

Even Deaths' Numbers Daily in Romania, After Reaching the Levels of All Past Months Since July (April and March Included), they Also Largely ByPassed, during this August, Any Previous Records !


-----------------------------------------------
******* Bulgaria is, apparently, the Biggest example of Reversal in the EU, Bypassing Since June the Number of Daily Infections in the Past, and Growing even X4 of X5 Times Higher than Ever throughout July and August, (while Also SkyRocketing in Deaths with Evolving Top Numbers all the way from June to July and, particularly on August) !


----------------------------------------------------
******** More or Less Similar Reversals are seen Also in almost All Countries of the Western Balkans, from Montenegro to North Macedonia, passing through Bosnia-Herzegovina and Albania, (Most of the times Both in Daily Infections and Deaths), Summer 2020 fully "Explodes" there with Virus !
-


-----

-                                               


---------



-----------



---------------
(+ Etc....)

---------------------------------------------------
 + It's true that, Mutatis-Mutandis, such kinds of Reversals can be observed Also at Various Other Countries in the World during this Summer, from the Maghreb States, (particularly Morocco, which used to be, However, a "Good Example" during the First Months of the Virus' Crisis), up to South Korea and Japan, etc., (proving that Tourism is Not the Only, Nor the Main Cause, but rather a Hasty DeConfinement in Wider terms).


----------

>>> But, Already several Countries are Starting to Fight Back, by Taking or Planning Measures to Limit or Suspend such a Hazardous Hasty DeConfinements, (as, f.ex., South Korea, where the Government Just took certain Restrictive Measures, while its "Centers for Disease Control"'s Director asked to Close Schools anew and re-Impose Home-Working via Internet), etc. [+See Infra].
=====================================                                                                     
=> Indeed, Several Countries, at Various Locations throughout the World, Have Already Decided and Acted in order to "RECTIFY" so Hasty DeConfinements, and - as Facts and Results Prove - this Works quite Well and Fast !
-----------
@ In Europe, Serbia, After a Hasty DeConfinement brought Daily Infections and Deaths between June and July Back to the Elevated Levels of April and March or Even Higher, the Government Started to take New Restrictive Measures, from the End of June Up to August : F.ex., inter alia, Since the End of June, Masks were Imposed in Public Transport and Confined Spaces, as well PlayGrounds Closed in the South and Shops' Hours Limited. On July a Partial Curfew was Examined, and on August Serbia introduced Mandatory Testing at the Borders for any Visitors from Neighbouring Countries, (etc).

=> The Result (Despite social Contradictions) was to Rapidly Start progressively Lowering the Numbers of Both Daily New Infections and Deaths, Bringing Important Positive Changes Already From the Middle (Deaths) or the End (Infections) of July, and Mainly throughout August.


----------------

@@  Near Europe,  in the Middle of this Summer, when Virus' cases had Already "Exploded", Egypt Suddenly re-Started to take various Confinement Measures, including on Better Protecting its External Borders. The Consequence was to effectively CURB Infections and Deaths from Mid-June,  so that, on August, it was almost Nothing left !


 --------------
@@@ Cuba, which had, at First, Succesfully Fought against the Virus, to the point that it had quasi-Disappeared Towards the End of June, Suddenly Faced a Sharp Rise of Infections Between the End of July and the Middle of August, seriously Threatening to Result in a Negative "Reversal" (Comp. Supra). But the Government reacted, inter alia, by Re-Establishing a Shut-Down even at its Capital, Havana, and this Seems to have Started to Work, Re-Diminishing anew, Since Middle-August.

------------------------                                                                                                                                                                                                                                                                                                                                                                                                                                                                                                                                                                                                                                                                                                                                                                                                                                                                                                                                                                                                                                     
@@@@ More Spectacular : Australia had, Initially, managed to almost Eradicate the Virus, Already Since the End of April/Beginning of May, (Both on Daily Infections and Deaths), But, on the Contrary, Around the Beginning of July, First Infections, and Later Deaths, Triggered a complete Negative "Reversal" on August, which has Just been Curbed, during this Same Month, After the Most Affected Federated State : Victoria, Imposed a "LockDown", while, Also its Most Populated Neighbour, New South Wales, had just taken various Restrictive Measures, in Addition to Borders Closure between also several Other Federated States. This was, reportedly, even More Rapidly Succesful than they Believed, the competent Public Authorities having Recently Declared their Surprise for the Infections "Falling Faster than they Expected", Followed also by Deaths, and Proving that "this Strategy Works".


------------------------
@@@@@ Partly more "Pittoresque" : After having "Played" several Games, particularly, by Successively Out-Lawing and anew Allowing ...Cigaretettes and Alcohol Drinks, South Africa found itself in front of an "Explosion" of Infections and soon Deaths, around Middle July. But, after Re-Establishing such Prohibitions, it reportedly Managed to succesfully "Curb" that Negative Trend, and Start clearly Diminishing the Virus' crisis, during August.


====================================
>>> But there are, Also, several Big "Atypical" cases, which do Not Seem to enter in the above-mentioned Schemas of a Hasty DeConfinment and Various Reactions (or not) After it...
Indeed, some Other Realities appear to be the Main Drivers of Virus' Developments in some Huge and Important Countries, such as, f.ex., inter alia, China, Russia and the USA :
---------------------
- First of all, China, Notoriously Succeeded to Win a Hard 1st Fight against the Virus, mainly by a Fast and Strict Confinement of the Hubei Province, where Wuhan City "Hotspot" is located, which Continued during a Long Period of Time, until Any Infection apparently Disappeared there. (as it had Already done, Previously, Anywhere else throughout the Country). At the Same Time, it Used a Lot of Potential Drugs, including HCQ (and even "Traditional Chinese Medicine"), etc.
-------------------


China Never "DeConfined" as long as the Virus was Still Killing People, even if it might be a Smaller Number than Before, (Contrary to what EU States were Controversialy incited to take the Risk to do : See, f.ex. http://www.eurofora.net/newsflashes/news/hastydeconfinementrisk.html , etc). On the Contrary, it only Started a Careful DeConfinement a Long Time After it had been Hit by the Virus, and When Nobody was Dying from it Anymore, in the entire Country.

----------------------

Since then, the Only Visible "Fault" in China's Anti-Virus Strategy was a Partial Late "Opening" of Some Air-Flight Links to Certain Countries, (UnFortunately for Beijing, Including EU Member States...), particularly for Returns of numerous Chinese Students and Other Expats Abroad. Inevitably, this Became, objectively, the "Troian Horse", through which re-Started several, Initially "Imported" Infections, which Rapidly Spread across Different Regions throughout the Country, (Similar Phenomenon as for Russia : See Infra), and, Later during this Summer, Provoked Even some Deaths, (for the 1st Time After a Long Period withOut Any Dead from that Virus).
However, at least for the Time being, (also with Drastic Local Confinement Reactions, to Each suspected "cluster"), China Managed to Keep such a Small Rise in mainly Imported Infections and some Subsequent Deaths, Down to Astonishingly ...Tiny Numbers (almost "InVisible" at WHO's Statistical Graphs !), Compared to the very Much Bigger Volume of Infections and Deaths in Most Other Countries :  
--------------------------
- - Russia, (as Also India, etc), at the Beginning, had Managed to Stay, for a quite Long Period, almost withOut Any Virus' Infection, Neither Death, (the Only Exception being ...2 Old Chinese-origin Men, in Siberia !), Thanks, mainly, to Rapid and Strict External Borders' Closure, (Immediately Starting vis a vis the Neighbouring China, a.o.). But Moscow Fell Victim to its voluntary "Naivety" vis a vis the EU's Member States, for which it had Left Initially Open Access to their Air-Flights, and from which all Russia was, Later, Infected, After a First Group of Imported Infections reached Saint Petersburg, Followed by Various Other Russian Regions, before Spreading accross the whole Country, and Starting to Kill a lot of People.

    So, Later-on, Russia was led to Start a Partly Similar "Confinement" with Western European Countries, (See : ..., etc), which Started Afterwards to be Progressively and Partially Lifted Almost at a quite Parallel Time-Frame, But Not as Hastily and as Massively as in the EU : F.ex, More Restrictions to Air-Flights Still Remained in order, while Even Provincial Governors were Officially let Free to Initiate, or Not, Totaly or Partially, this or that Among Various "DeConfinement" Measures, Whenever they Judged that to Fit Better their particular Regional Realities, under Supervision and posterior Control by the Federal Authorities, (etc).
    But, probably, the Most Important Particularity of Russia was that Even its Official Policy reportedly Focused on a Systematic "Prevention" Effort against the Virus, massively Associated and Added also to its quite Original "Cure" Policy, which (Contrary to Many EU and Other Western Countries, f.ex. France's Controversial Health Ministers, Strongly Contested by Many People, etc), was Centered around Drugs such as, Mostly "HCQ", (Together with "AZ" or "Mefloquine"), at various doses, (even Before the Recent Emergence, Also, of a New Russian Cure with "AviFavir" Novel Drug ; See ..., etc). Moreover, according to OECD, Russia has the 3rd Biggest Number of Hospital Beds in the World, (Even if its relevant Equipment, particularly on Ventilators, appears UnClear).
    => The Result was for Russia to have much Lower Rates for Infections and Deaths by the Virus, in Proportion to its overall Population, than most Western European Countries do, as well as the very Specific Characteristic to Never Experience Any Sharp Drop, Followed by an almost equally Sharp Rise, Later-on, (in several States Even a ..."Reversal" of the whole Situation : Comp. Supra), in the Numbers of Daily New Infections and Deaths, But, rather, an Astonishingly "Smooth" and Steady, Progressive, Slow but Continuous Lowering Down of such Virus-related Incidents, All the Way Until Now, (See WHO's Graphic) :



------------------------------------------------------------
- - - USA had Managed, Initially, to Stay a Longer Time than the EU Protected from Imported Infections via Beijing, etc., Thanks to President Trump's Early Initiative to Suspend AirFlights and Other People's Imports (f.ex. by Sea) from China. However, it had Already Started to be partialy Infected, (particularly at Washington D.C.), mainly by Imports through the UK, Before a "Fatal" Massive Import (Despite Trump's Earlier than Other Countries', But nevertheless, too Late Closure of AirFlghts from the EU), which notoriously Spread the Virus all over USA. Since then, Infections and Deaths Multiplied in the USA, which soon Became a  World's "Hotspot", OutNumbering even the EU, in absolute terms, and Threatening Trump's re-Election Prospects, by Harming USA Economy's previously Good Results, (while the 1st Word in Confinement or DeConfinement Measures inside the US, rests on the Various Governors of the Federated States, often from Other Political Parties, as, f.ex., in California, New York, Michigan, and even Wash. D.C., Added to a Further Spread Recently provoked by Massive Riots and Demonstrations supported by the Opposition).
    Nevertheless, it's also a Fact that USA's Infections and Deaths' Rate, in Proportion to its Population, remained Lower than that of most EU Countries, as well as that, at least Recently, After Reaching a Peak around the Middle/End of July, at least the Numbers of Daily Infections Started to Decelerate and Regularly Lower Down, particularly throughout the Month of August, (while Numbers of new Deaths Stagnated, at a Flatened curbe, Starting to Slghtly Decelerate during the Last 9 Days).

----------------

    In Addition to Trump's Obvious Activism on Boosting Diagnostic Checks for Virus (Contributing to Lessen Further Spread), as well as Technologies and Production of Masks and, particularly, Respirators, (for which he Even Obliged "General Motors" Giant Corporation to play the game, by Forcing it under a ...National Defense Legal Clause !), it Might be Also the alleged "Prophylaxis" effect of "HCQ" Drug, (Notoriously Backed by Trump and his Supporters, as well as Various Other American People, including, f.ex., even Singer "Madonna", etc, and object of several On-Going Trials), which could Hold Part of the Key.
-------------------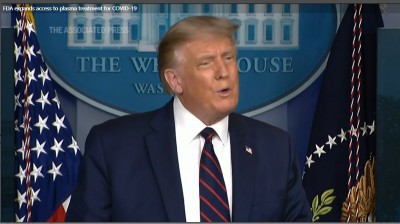 + Things might Soon Ameliorate Further, after ...Today's Announcement by Trump that FDA just Authorized for emergency use a Long-Awaited New Cure from "Convalescent Plasma", (i.e. Anti-Corps from the Immune System of Survivors from the Virus : an Initialy Chinese Idea at Virus-Hit Wuhan, Already thought to be, Potentialy, the Most Promising Solution, by FDA's Director himself, as he had Prognosticated in a Press Interview Recently).
Don Trump just declared that a Main Scientific Study claims that this New Drug Might Save about +35% More Human Lives than Ordinary Drugs, also Supported by some Other Studies too, and that his Administration had Already incited, Earlier, to Collect such Plasma from Donations by Survivors (including through the "Red Cross", etc), so that to be Ready to Start Therapeutic Action, (for which he Also Launched an Exceptional Call even to China)...
-------------------------
In front of All these Facts, it seems that the Time has come, Also for Real European People, to, at last, Ask What "their" Bio-Technocratic "Experts" and related Bureaucrats are Doing, all this Time, in order to Really Fight efficiently Against that Deadly Virus, Instead of Only Abandoning, Initialy, EU Citizens to a Massively Imported Spread of Infections, withOut Taking Any Efficient Timely Measure, (See: ..., etc), Later Blocking and Oppressing any Use Even of "HCQ" Cure, (See: ... + ..., etc), and Afterwards Throwing them at an Obviously Too "Hasty" DeConfinment, (Comp. Facts cited Supra), withOut Any Cure, Neither Vaccine,
Despite Many Hundreds of Millions € Distributed by the EU for so-called "Research", and much More Recently Promised to a Controversial would-be Vaccine of Post-BREXIT's UK (sic !), and/or to a too much Conroversial, and probably InEfficient ex-"Ebola" Drug, (with Too Many "Adverse Side Effects"), Excessively Pushed by a USA "Big Pharma" Private Company and some Establishment's notorious Cronies (See, f.ex. ..., etc), probably leading to just anOther Scandal, (Soon after the Anti-"HCQ+" Notorious "LANCET-GATE" : See f.ex. ..., etc)...
+ By the Way, Both those "Remdesivir" Failed ex-"Ebola" Drug, and Post-BREXIT UK Technocrats' would-be "AstraZeneka"s Vaccine, (whose Company has just Admitted that it does Not want to Guarantee its Safety for Health in the Future !), seem Related to some kind of Genetic Manipulations on Human Beings. On the Contrary, Both "HCQ+" Drug and "Convalescent Plasma" (Comp. Supra), are Mainly Based on the Natural Human Immunity System.
(../..)
("Draft-News")
-------------------------------------
BRIEF NEWS
00:00 - 02.06.2021

00:00 - 18.10.2020

00:00 - 19.06.2020

00:00 - 18.05.2020

00:00 - 20.04.2020

00:00 - 02.02.2020

00:00 - 09.12.2019

00:00 - 27.11.2019

00:00 - 16.11.2019
Statistics
Besucher: 52912889
Archive
Login Form
Other Menu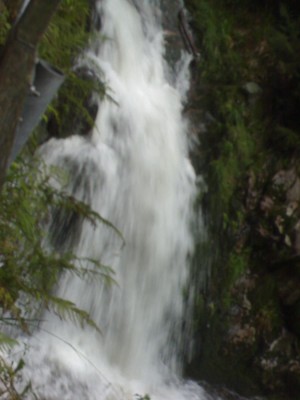 Benedict's "Source" to revitalize Europe : - "The World needs Hope", Pope says, calling to relaunch E.U. via Human Rights !
Paris - Lourdes - Strasbourg : 12 - 17 September 2008.

The vital need to re-launch Europe can be succesfully met by defending fundamental Human Rights of the People, said Pope Benedict XVI in his 1st speech in France, at his meeting with President Nicolas Sarkozy, who currently chairs the EU.

Sarkozy replied by welcoming Christian and other religions' contribution to indispensable Public Debates on crucial issues which affect Human Dignity, Europe, even Humankind, as BioGenetics.

- "When Europeans will see and personally experience that the inalienable Rights of the Human Person .., those of their free Education, their Family life, their Work, ..their Religious Rights, ..are respected and promoted, then, these Europeans will fully understand the greatness of the European construction and will be actively involved in it", Benedict XVI stressed.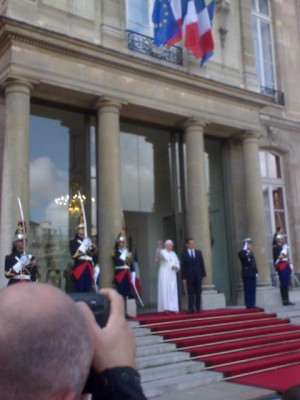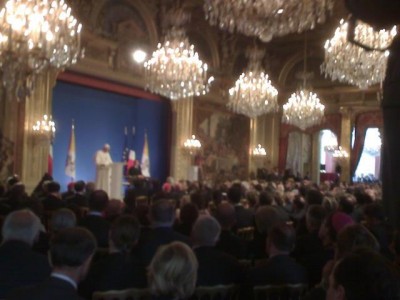 - "It's important that during France's EU Presidency, there is, indeed, a desire for the Church to contribute to protect Human Person's integrity, and I think that there is also a growing Conscience, beyond any polemics, to defend Human Rights, and, thus, contribute to ensure respect for Human Dignity", added to "EuroFora" the Pope's Spokesman, Vatican's Press Director Federico Lombardi.

- "Nobody really told us here that Lisbon Treaty was good for this or that reason to the People. They only told us that we "had" to ratify it, and tried to scare us, but failed", said 2 Irish pilgrims to "EuroFora", after 2 Majority Abstentions in 1999 and 2004 EU Elections and 3 "NO" to Referenda in France and the Netherlands in 2005, followed by the Irish "No" in 2008, during a Decade of EU Crisis since the controversial Turkey EU- bid (1999-2008).
More than .."224 cases of Murders, Torture, "Disappearancies" or Destructions" by "agents of Turkish Security forces", where all those responsible for so heavy Crimes still remain scandalously unpunished, despite regular condemnations of Ankara by Strasbourg''s European Court of Human Rights from 1996 to 2008, were examined the same week by CoE's Ministers, who decided to launch a fresh call "urging" the Turkish Authorities to end this dangerous "virtual Impunity" of criminals, without comparison to European countries.

- "Why not Ukraine, instead of Turkey ?", asked EuroFora a Journalist from "Kiev : the city where it's enough to cross the streets in order to realize that it's a European town", as Sarkozy recently said, before solemnly declaring this week, together with Ukranian President Jushenko and EU Commission's chair Baroso, EU's "recognition that Ukraine is a fully European Country, linked to Europe by culture and History".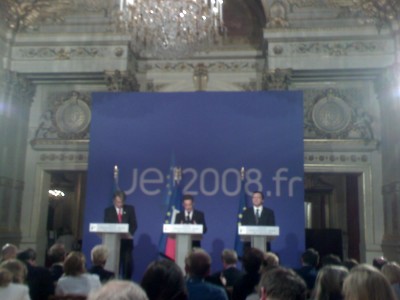 Europe's "Christian roots" and Values, with "openess and mutual respect" to other cultures and beliefs, were highlighted by Sarkozy in harmony with Benedict XVI.

The Human person should be protected "from his inception until his natural death", added the Pope, faithful to BioEthic principles defended by his predecessor and collaborator, John Paul II, of topical importance in France, Europe and the World today, as Sarkozy announced :

- "Fast and important progres in Genetic Science and procreation raise delicate BioEthical Questions to our Democracies", which "involve our view of Humans and Life, and can lead to Social Mutations. That's why they cannot remain only a business of experts", hestressed.

- "It's Politician's responsibility to set a proper framework for such Public Debates", as "France will do on BioEthics in 2009". "Religious and Philosophic traditions must take part, with their ideas and centuries' long experience : A positive Laicity is an open invitation to Dialogue", he said.

- "France engaged in Europe at another Debate on how to make Financial Capitalism more moral", and the "Social doctrine of the Church fits well what is at stake in modern Globalized Economy"

- "But, a "Real Dialogue is not for an elite of a Globalized world : It penetrates deep into the People : That's why Churches should actively participate : .. It's bringing New Oxygen to Public Debates", stressed Sarkozy.

- "Democracy must not be cut off Reason", which is "compatible with Faith", thanks to "the meeting between Christianism and Greek philosophy ", he added, referring to Pope's views. "It means to advance with logic arguments, search what's best and respect common principles of thinking :... It's an everyday need for Public Administration and the Political Debate", he added.
----------------------------
Pope Benedict's 1st visit to France looked like the start of a brillant, manifold demonstration that this was well-founded and could become true in the lives of the People : After its Theoretical foundations unfolded at a "speech to the world of Culture", inaugurating Bernadins' cultural centre, and its dogmatic instrument shaped at an address to the Clergy in the Historic Notre Dame' Cathedral, he started to resolutely reach out to the People :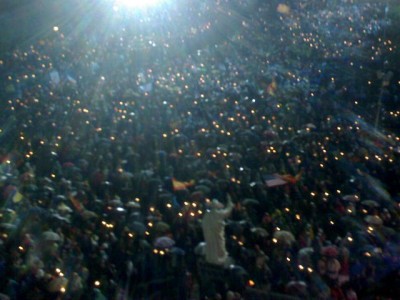 The move went upwards like Bach's music : Begining with a call to more than fifteen thousand enthousiastic Youngsters gathered at Notre Dame's parvis with overnight celebrations, it gained strength in an impressive open-air Mass at Paris'central Invalides'area facing Alexander III's bridge, attended by more than 150.000 people, French Prime Minister Fillon, many Ministers, Foreign Ambassadors, etc, and culminated in a series of pan-European Mega-meetings at Lourdes 150th anniversary, together with all French Bishops, EU Commission's vice-Chairman Barrot, and some 200.000 enthousiastic People from all over Europe and beyond : After a Sea of Lights astonishingly braved Saturday Night's rain, an open-air mass at riverside fields among Pyrenees' Mountains Sunday Morning, was followed on Monday by a Sea of "Compassion" to those facing Health or Life threats, surrounded by an endless gathering of People, whose gigantic dimensions obviously surprised the organisers..

Meanwhile, Benedict had the occasion to speak to the French Priests at Notre Dame of Paris, and with the Bishops at Lourdes, where they prepare a crucial November plenary meeting, due to take important decisions on imminent EU debates and choices about Europe's identity, BioEthics, etc.
-------
- "A new way of thinking about Laicity has become necessary", agreed the Pope with President Sarkozy at Elysee. While keeping the "distinction between Politics and Religion, to guarantee Citizens' Liberty", "religion is important for shaping Consciousness and contributing, together with others, to create a basic Ethical Consensus in society".

- "Searching Essential realities", (as "God" for christians), needs "Speech : "Logos" in greek, i.e. Reason", "able to shape a Community","with creative work transforming Human History". But "Dialogue" is instrumental for "Reason", because it's the way to "search" for Truth", in "Liberty", according to Greek Platonic Philosophy, with Socrates' dialectics. "Reason" implies "Spirit and Liberty", hence the polyphonic "Music" of "Dialogue", in a responsible, "well balanced" way, to avoid "destruction".

Starting with a "Dialogue between christians and intellectual or artistic movements" highlighted at Bernardins' Cultural Center. with former Presidents Chirac and Giscard d'Estain, UNESCO's chair Anastassopoulos, etc., as well as representatives of Muslim Communities, (including a separate Turkish), after contacts with Jews at Vatican's Embassy, the Pope turned towards the People :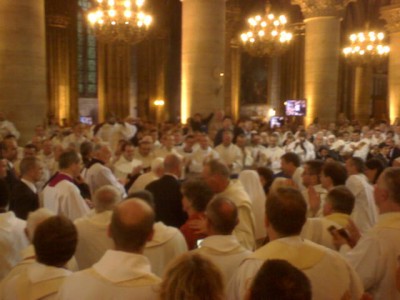 -------------------
To French Priests : "Church built on the rock" !
---------------------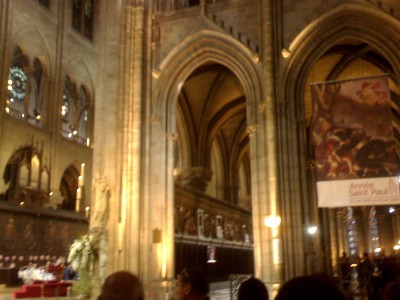 - Speaking to thousands of French Priests at Notre Dame's Cathedral, Benedict highlighted a solid "Church built on the Rock" of conscious and active persons, transmitting "a lively, energetic and sharp" "God's Speech, actively working on Human History".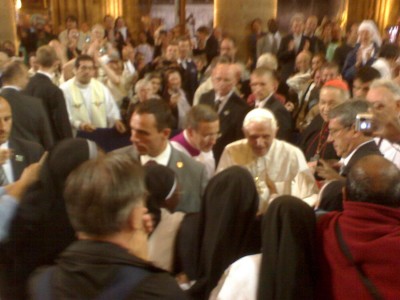 "Praying together" with "representatives of Christian Churches and ecclesiastic communities", (as Orthodoxes, Armenians, Protestants, etc), he called "to reinforce the Unity of the church", against "any form of Division", around Holy Spirit', "the Word","Christ's Justice", and "Love" to fellow- humans : Essentials which "resume all holy scripts", as he said.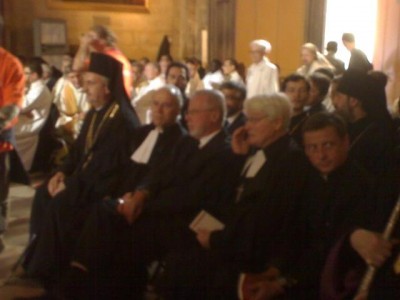 -----------------------
To Young People : "New Horizons"
------------------------
To some 15.000 enthousiastic Young People at Notre Dame's parvis, along Seine's river, Benedict spoke about "the Energy of the Holy Spirit" and "the Mystery of the Cross" : - "The Holy Spirit opens New Horizons to Human Intelligence .. and makes it conscious of the real greatness of Christ's sacrifice, dying and resurecting for World's life".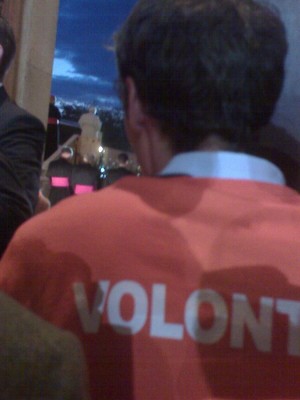 Some "may slander you as crazy, laugh at you, or even persecute you. But, "the Holy Cross is a symbol of God's love", and "givesmoral strength" : "Witness of People's pains, it's at the same time, a precious, unique expression of their Hopes", he told them at Paris' dawn.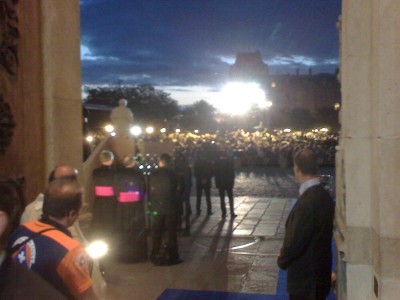 ----------------------------------
Invalides' plateau : "People chosen to become God's friends"
---------------------------------------
At the 1st open-air Mass in Paris' center area of Invalides, facing the Grand Palais, along the river Seine, during an impressive gathering of more than 150.000, French Prime Minister Fillon, Ministers Alliot-Marie, Bachelot, Dati, Jouyet, Assembly's President Accoyer, Senate's Chair Poncelet, former 1st Lady Bernadette Chirac, former Prime Minister Raffarin, many foreign Ambassadors, and other political personalities were present. (While earlier, from the Socialist opposition, Paris' Mayor Delanoye, artist Robert Hussein a.o. assisted at the Elysee meeting).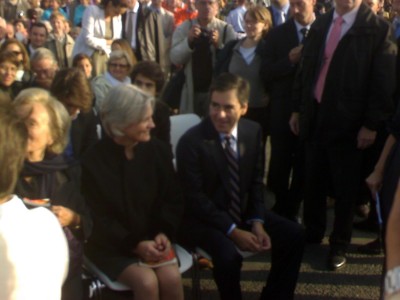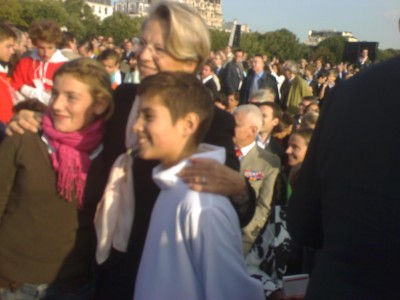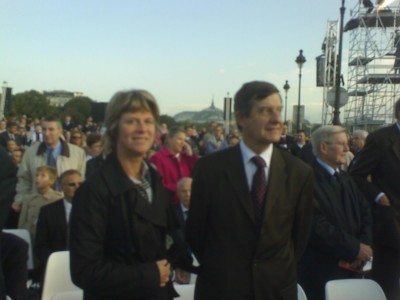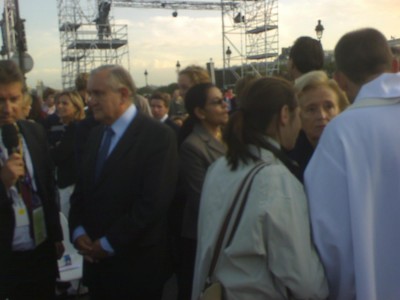 But the "Entry Song" focused on the "People chosen to become God's Friends". The September 11 mass was Dedicated to "Saint Chrysostomus, that great priest of Constantinople", with his "wonderful eloquence and great courage to face challenges", who "made out of despaired and godless people, a people of brothers", opening a possibility to "become all one complete entity", as Pope Benedict reminded.

- "Reason never enters in real contradiction with Faith", stressed Pope Benedict, who prepared his speeches for France during a short Summer rest at Brixen/Bressanone's Seminar, whose Library honors both "Faith and Science".. - "We must use not only our Reason, but also our Faith" : "Get away from Idolatry", "cupidity", "avidity for money, power or even knowledge deviating from essential aims", and other "falses appearances". and "build your Home on the Rock", "with the force that Holy Spirit gives to those who let it act in them", he said to the People of Paris.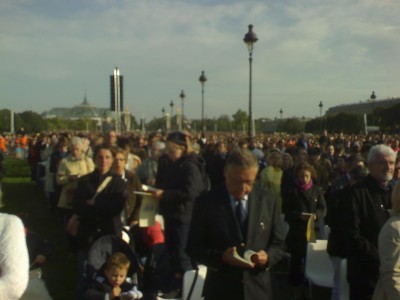 --------------------------------------------------
Benedict at Lourdes : - "Become Light (even) in the Dark !"
------------------------------------------------------------------
- "Our World needs Hope", stressed Pope Benedict, addressing an impressive TorchLight procession at Lourdes' sanctuaries, where a Sea of Lights held by Hundreds of Thousands of People gathered at Pyrenee's Mountains from all over Europe astonishingly kept their flames despite a heavy Rain at a windy Dark Night...

- "150 years earlier (1858 - 2008), ..here, in the cave, ... a simple young girl, Bernadette .. saw a Light". "The everyday life of her Family was, however, made of Misery, Sadness, Sickness, Misunderstandings, Rejection and Poverty... It was hard to live in Jail". Today, "we think to all Human Beings who suffer : The innocent Victims who face Violence, War, Terrorism, Hunger, Injustices, Catastrophes, Hate and Oppression, Violations of Human Dignity and of their fundamental Rights, of their Liberty to act and think. We also think to those who face Familial problems, sufferings from Unemployment, Sickness, Infirmity, Isolation, or their situation as Immigrants, without forgetting those who suffer and die for the name of Christ", he said.

- "But the Shadows of the Earth, did not hinder Sky's Light to shine : <<The Light shines in the Dark>>" ..."A Way full of Light opens in Human History even in its Darkest moments" : ..."As Night falls, Christ tels us : <<- Keep your Lamps alight !>>."Hold a Light while walking in the Night .. sums up our condition as Christians on their way : "We need light, and we are called to become Light !", Benedict stressed to People setting in motion Lights, Flags and Songs with enthousiasm.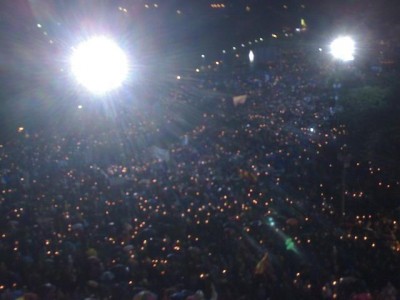 "<<- She looked at me as a Person, who speaks to another Person>>, the poor girl had noted."Light emerges from such a Dialogue", stressed the Pope : "A small Flame called Hope, Compassion and Tenderness dwells inside those who return after being moved by Lourdes' experience". "Christ .. entrusts us with the Mission to let the Light of Charity shine : To make of our Prayers an Act of Love to our brothers and to Fraternal Charity", he concluded.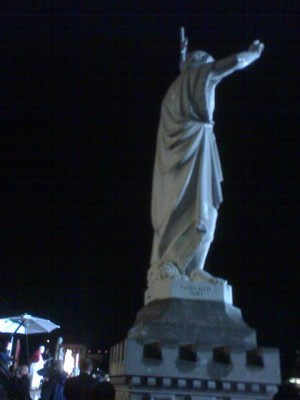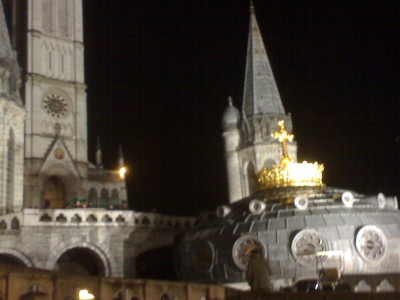 (../..)
Polls