Home

newsitems

French Regional Elections: Strasbourg ACAL's 5 Borders to Republicans(EPP)/Greens or FN Rightists ?
French Regional Elections: Strasbourg ACAL's 5 Borders to Republicans(EPP)/Greens or FN Rightists ?
Sunday, 06 December 2015
*Strasbourg/Prefectoral Palace/Angelo Marcopolo/- A Formula discussed in Germany after the latest 2013 Elections, and considered as a possible Key for the forthcoming 2017 Federal Elections, might determine the Political Future of the Unique Region of France which links the Country with Borders of other 4 European States at EU's Heart, (+Germany, Switzerland, Luxembourg and Belgium), while also Hosting CoE, ECHR, EU Parliamennt's  full Plenaries, Shenghen's secretariat, EUROCORPS, EU Ombudsperson, etc., i.e. that of the New Big Strasbourg's Region, nicknamed ACAL, after this Sunday's 1st Round Elections throughout all French Regions :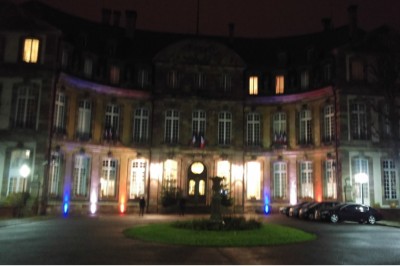 To put it in a Nutshell, either an Unprecedeted Deal is brokered here between the "Greens" and the ChristianDemocrats/EPP led by Nicolas Sarkozy's new "Republican" Party, or the otherwise Irresistible advance of "National Front'"s Rightists will, for the 1st Time in History, snatch the Presidency of the brand New Big Region of "Alsace-Chamgnagne-Ardeche-Lorraine" (alias "ACAL") at the 2nd Round of the Regional Elections, Next Week.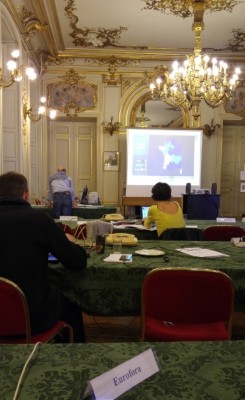 Today, a Huge Wave of Popular Will gave to the Right side of the Political Spectrum, from Center-Right Politicians to FN's Rightists more than 2/3 of the Votes almost everywhere in France, leaving to the Left, (which includes the Governing Socialist Party), almost Nothing at the Top, except, perhaps, of 1 or 2 Regions' Chairmanship, IF the Parties of the Right continue to be Divided between them, (instead of adopting a kind of "Norwegian" or "Danish" new Model of Governance with a Large Majority of all the Right, United Togeher, in one or anoher way), as, mainly, at Bretagne Region, given also the special Personality of the current Defense Minister Drian, SP., (Comp. several Drian's Replies to "EuroFora"s Questions, f.ex. at: ...).

Indeed, the Electoral Domination of the French Parties of the Right, from almost 27 % to Experienced former President of the Country, Nicolas Sarkozy's "Republicans", who attracted also several Center-Right Politicians, to MEP Marine Le Pen's "National Front" Rightists with about 28 %, added to a Better than expected performance of a Small "Neo-Gaullist" Party of Dupond Aignan "Stand up France !" with almost 4%, and various Other Lists, f.ex. "Regionalists" (as "Alsace First", around Strasbourg, etc), reached a Qualified Absolute Majority of about 63%, compared to Only 23 % for the Socialist Party, 2,5% to the Left and 1,5% to the Extreme Left, as well as 1,5% to various Center-Left Candidates, i.e. not even a 29 % or roughly 30 %  in Total, (from which should be Distinguished the "Greens" with almost 3 % Nation-wide, since they have Stopped, since long, a Former Cohabitation that they had with the Socialists in the Past).

In addition to a Persisting Massive Unemployment, the recent Extremist Islamist Terrorist Attacks Killing even more Civilians in Paris, on January and November 2015, as well as the Unprecedented Mass Irregular Migration "Tsunami" of many Hundrends of Thousands of Immigrants/Asylum Seekers from Turkey still Crossing EU's External Borders via Greece (+ another more than 5.000 Today, added to the more than 850.000 who have already entered inside the EU during the last Summer and Autumn 2015, as well as Some Popular Concerns about Social Cohesion, Cultural Identity and/or of what is sometimes percieved as rampant attempts to impose a kind of so-called "Islamization" of France and all Europe, added, these last years, also to certain Topical BioEthical Issues, (such as the Controversial and Unpopular "Same Sew Marriage", including even the Submission of Children to the Power of Homisexuals on Pretext of "Adoption", and a Hasty Imposal of Genetic Manipulations of Human Embryos, Dangerous for all Humankind, etc), added even to Last Sunday's Turkish Blackmail on the EU Summit in Brussels which made Concessions going even Beyond 3 Billions € of Grants to Ankara and promise to Push Further its Controversial and Unpopular EU Accession bid, by accepting even to give a "Visa-Free" regime to all 75 Millions of Turkish Population in order to Come and Go whenever it likes inside the EU, as early as, already, from Mid-2016, has notoriously Started to Provoke a series of Growing Popular Reactions in France, as well as in Other EU Countries, which obviously Explain a great part of such Electoral Results, (See also Infra)...

However, Sarkozy, has been convinced, (including by certain Politicians around his own Party) that this Absolute Majority of about 63 % (Comp. Supra) that the French People have given to all the Parties of the Right Side of the Political Spectrum, canNot yet be Translated in France into a Joint Governance throughout the Regions of the Country, (inter alia also because of Big Differences even on  Economic Policy, etc), and Anounced, officialy, that his "Republican" Party and its Allies will Maintain their Lists in All Regions where they have Succeeded to get More than 10% of the Votes, Regardless of the Local Circumstances, i.e. Excluding as a matter of Principle, any "Fusion" of Lists or Reciprocal Withdrawals in favour of eachother, mainly because he wants to keep the Crystal-clear Political Aim to represent the Real Political "Alternative" to the ailing Socialist Party's Governance, (these last years Criticized almost from all sides, mainly from the Right, but also from the Left), in view also of the Forthcoming May 2017 Presidential and Parliamentarian Elections.

But one of the Problems raised is that the Socialist Party, whose 1st Secretary, Jean-Christophe Campadelis, who has just anounced that it Withdraws, for the 2nd Round of the Elections, its Lists when they Failed to get more than a Low "3rd" Place, mainly in the Two Regions where the "FN" Rightists come 1st with More than 40% of the Votes, (i.e. Marseilles' PACA Region at the South, and Lille's "North-Pas de Calais-Picardy" Region at the North-West, where National MP Marion le Pen, and EuroMP Marine le Pen, have Surfed in the Ballot Boxes even Higher than Expected), nevertheless, has apparently Left "in Limbo" the Important New Strasbourg's Greater East Region of ACAL (Alsace-Champagne-Ardennes-Lorraine : Comp. Supra), where the Socialist Candidate, Jean-Pierre Masseret, despite having Failed to get more than Only 16% of Votes, compared to some 26 % for the Center-Right Candidate, experienced former Minister, Philippe Richert (from the "Republican" Party of Sarkozy+), repeatedly Refused, Tonight, to Withdraw or Fusion his List at the 2nd Round, anouncing his Will to maintain his Candidacy, at any price.

This may give to FN Rightist MEP Florian Philippot, who has been placed at the Head of his Party's list in Strasbourg's New Greater East Region, an Opportunity to Snatch its Presidency at the 2nd Round of the Vote, since he has already got 36 % from the 1st Round, i.e. Distancing Richert with 10 % more Votes.

Indeed, Philippe Richert, who is the currently uncontested President of Strasbourg's traditional Alsace Region, and an Experienced former Minister for DeCentralisation and all Territorial Entities, despite his quite good Popularity here, and independently of the Fact that recent Polls show a Crystal-clear Majority of Citizens Satisfied with his Management of Alsace, while, on the Contrary, in the other 2 Components of the Future 2016 Greater East Region : Lorraine and/or Champagne-Ardennes, the Local Administrations seem to ve mostly Crticized by their Ciitizens, nevertheless, is well Aware of the Fact that the Present, 2015, French Regional Elections are much More Influenced by National and even European "Burning" Issues, as Sarkozy had clearly Warned at his recent landmark Speech in Strasbourg-Schiltigheim  - a District into which Richert and Sarkozy's "Republican" Party came afterwards 1st with 27,5%, compared to Philppot's FN Rightists who got 25,5% at the Second place, the Socialists Falling Down to Only 17,5%, at the Same Area where they used to hold the Mayorship in the Past -  (See : .....).
-----------------------------------------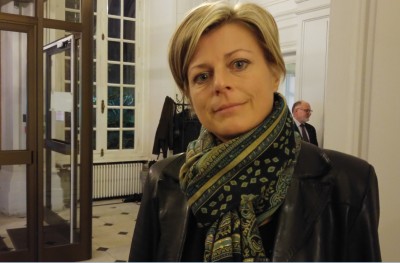 + This was also Confirmed by the Head of the "National Front" Rightists' List in Strasbourg's Department of Lower-Rhine, Hombeline Du Parc, a Human Resources' CEO, who said to "Eurofora" that - "We are very much Satisfied with these Results", (with almost 36% for Philippot's List). "But we already Felt a Big Impetus at Grassroots level, while speaking with People at the Markets, in front of Factories, etc". Mainly because "Unemployment grows, Taxes augment, Immigrants flow Massively inside", etc., while the Other big Parties "have been Governing during a Long Time, but didn't Anything" for these and other Challenges, as she pointed out, evoking some obviously National/European Issues.
  => - "For the 2nd Round, we intend to Mobilize" the Maximum of People, "in order to Mark the Point" ("Drive the Ball Home") at the Final Vote. As for the Other Big Parties "Normaly, they have all Said that they won't make any Alliance (between them) on the 2nd Round. If they do that now, it will be as if they Lied to the Voters. Whenever there is an Alliance, it should be Clearly shown from the Start, with a Joint List, ("as, f.ex. the Republicans did with the Center-Right"). It's Not Democratic to do that in catimini only on the 2nd round", Du Parc found.

    Her Concern, on this Crucial in Practice point, seems due to the Fact that he current Frontrunner in Strasbourg's ACAL Regio, MEP Philippot, who is also Vice-President of the "FN" Rightist Party, Contray to its President, MEP Marine le Pen, and even to its National MP Marion Le Pen, who Succeeded to get More than + 40% of Votes at the 1st Round, having a real Chance to Bypass their Competitors at the 2nd Round even if they Joined Together their Forces, in one way or another, at the Southern PACA and at the North-Western Pas-de-Calais/Picardy Regions, (Comp. Supra), as far as he's concerned, he may rally Risk to be OutNumbered in the 2nd Round, if his Competitors find a way to Join their Forces, because he's the only "FN" Party's "Heavy-Weight" to have got Less than 40% of the Votes, with just 36%, (Comp. Supra).

    Nevertheless, as the Local Socialist Candidate, Masseret, repeatedly Refused Tonight anew any "Fusion" of Lists or Withdrawal in Strasbourg's Greater East "ACAL" New Big Region, and since something like that might, eventualy, be felt as Controversial, (also because Sarkozy, as Leader of the "Republican" Party, has just Confirmed that he Prefers to Focus "clearly" on Creating a "Credible Alternative" to the current Socialist Government, instead of getting Mixed up with it, on the Contrary, Something Else should, obviously, be preferable.
-----------------------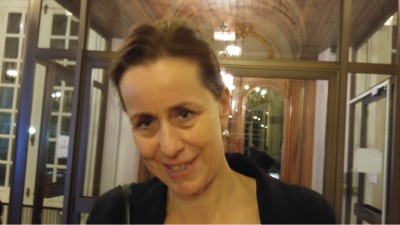 => That's also, probably, why, experienced former Mayor of Strasbourg, and current Senator Fabienne Keller, (from the Center-Right Party of "the Republicans"), speaking to "Eurofora" this Evening, launched a Call for "All" Citizens, independently of their usual Political links, to "Awake Up !", in front of the Present Exceptional Circumstances, and  "Appeal(ed to all Voters to be Mobilized for this 2nd Round, and to Unite around the Candidature which Marked the Best Result, (with 26 % of the Votes now), Except from the FN''.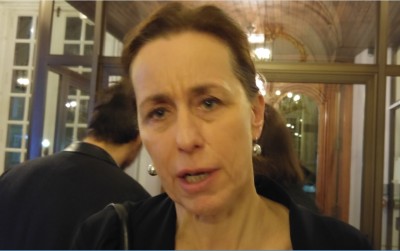 - Because "it's Philippe Richert who Knows how to Manage a Region", who is the Best placed "in order to Promote the Greatest Policies, and Mainly, the very Important, for our Citizens, policy of Employment", as she told us.
-----------------------------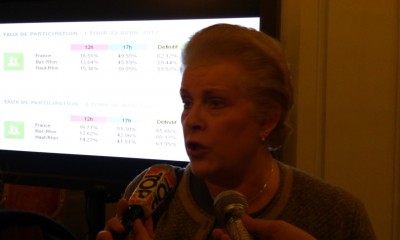 - Careful initialy, Experienced former Minister of Culture and Mayor of Strasbourg City, currently Vice-President of  its "Euro-Metropole" area, for Science, Economy and River Transports, Catherine Trautman, speaking to Strasbourg's Journalists, including "EuroFora", practicaly pointed at a forthcoming Meeting of Parties of the Left, where they might, or not, decide to withdraw in favour of Richert facing FN's Rightists, but Pointed also to the Fact that, "Personaly, I would have Prefered to form a Joint List" (between Socialists and Republicans) for the 2nd Round.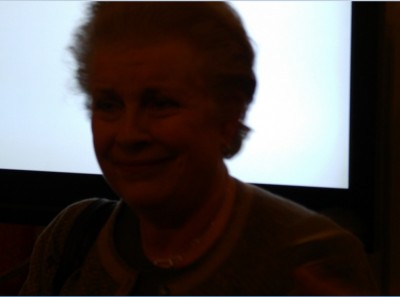 + And she expressed, afterwards, to "Eurofora", her Sadness for the Fact that, Today, the Electoral Results "are quite Worse than what had been Expected", (particularly concerning the Sharp Fall of the Regional Socialist Candidate Masseret, Down to Only .. 16% in Strasbourg's Greater East New Region of ACAL), even if, at National level, the PS' Losses were, comparatively, Milder, (with an average of 23%).    
          = Later-on, both Trautman and the current Mayor of Strasbourg, Senator Roland Ries, also from the Socialist Party, launhed Similar Calls to Keller's (Comp. Supra), joining their voices to that of their Party's National Instances, who Asked from their Local Candidate, Masseret, to "Withdraw" his list from the 2nd Round, so that People would Vote for the Fronruner among mainstream Parties, Philippe Richert (Republican Party), in order to Block FN Rightists, (etc).
>>> But, apparently in Vain, since the Regional Socialist Top Candidate Masseret still Insists to Maintain his List also for the 2nd Round !
    Moreover, it's precisely such an openely Declared Backing by "Establishment"'s Politicians as Keller and Ries, (both Senators and former/current Mayors of Strasbourg, from the 2 Traditionaly Biggest Parties of the Country), which, obviously, Risked to be Exploited by "FN'"s Rightists in order to Denounce, as usual, a so-called "Complicity" between Traditional Parties, (known as "UMPPS", i.e., the Old Acronyms for French Socialists and Center-Right)...
-----------------------------------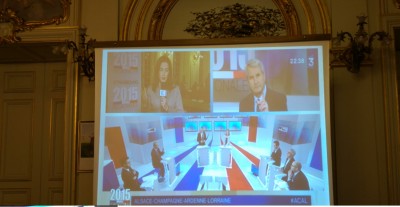 => Therefore, when, suddenly, the Head of the "Green" Party in Strasbourg's New, Great East Region ACAL, i.e. former MEP Sandrine Belier, launched a Call for an Unprecedented kind of "Coalition" ad hoc with Philippe Richert's list at the 2nd Round of these Elections, in order to gather enough Votes to Face "FN"s Rightists, the Surprise was not only for that Fact, but also because many realized that, after all, it might Fit quite Well in the circonstances...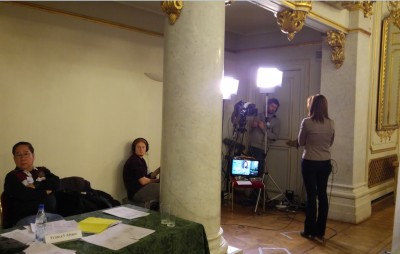 The move was made inside Strasbourg's Prefectoral Palace's Press Room, in the presence of several Journalists, including "EuroFora", while Belier was Electronicaly Connected with a maistream French TV Station where all the other Biggest Political Parties' Leaders for the Presidency of the New, ACAL Region (Comp. Supra), had been gathered Together, during the most Topical Debate on the Results of the 1st, and the Preparations for the 2nd Round of the Votes.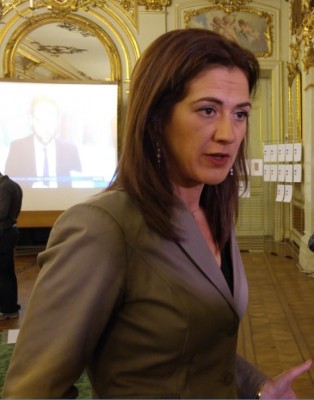 Indeed, Belier's initial Proposal, (that she Discused immediately afterwards with "Eurofora" on the spot : See also Infra), obviously, would Not Hinder at all Sarkozy's legitimate Will to Clearly Distinguish the Center-Right "Republican" Party from the Governing Socialists, (Comp. Supra), since the "Greens" had already Stopped, a few Years ago, a CoHabitation that they had with the Socialist Party in the Past, (and this had been Done both at the National Government level, and at that of the Municipality of Strasbourg, its Region Alsace, etc).

    Moreover, Belier's "Greens" have just managed to get almost 7 % of the Votes throughout the entire Strasbourg's New Big ACAL Region, (and some 8,5% in its Department of Lower-Rhine, even better : 12, 11% in Strasbourg City), i.e. Higher than the Double of their National results throughout all France, Today, (which were only 2,8%). Thus, they can Contribute, in an eventual Coalition with Richert's "Republicans" on the 2nd Round of the Regional Elections here, at least something like More than the 2/3 of his Distance vis a vis Philippot's "FN" Rightists, (Comp. Supra), the Rest (i.e. just a matter of only about +3 %) being Probably possible to Fill just with what had been Named as an "Awakening up" of former Abstentionists, former Socialist and/or Other various Voters. In other words, the "Green" Party Regional Head's offer looks Serious enough in real Practice, because Mathematicaly Able to become a Game Changer...

    + This appeared so more Important, in Practice, that almost All the Other, Not Maistream, Political Parties, curiously started to Anounce officialy, one after the other, that they would Neither Support Philippe Richert to face the "FN" Rightists' Florian Philippot, at the 2nd Round, Next Sunday, Nor Vote for the latter, but, on the Contrary, they would call their Followers to "Abstain" or  Vote "Blanc" !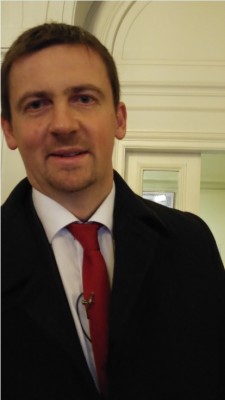 - First, the Leader of the Atypical, Regionalist Party "Alsace First", (aka : "Unser Land", which got nearly 5% at the 1st Round, and is still Opposed to the Controversial Creation of the New, Greater East, Strasbourg's Region ACAL) , Jean-Georges Trouillet, said to "EuroFora" he doesn't find any useful space for the Historic Alsace Region inside the New Structure of ACAL, so that her's not sure at all if his Party will even accept to Vote on the 2nd Round, and, soon afterwards, he Declares that "Alsace First" decided to merely Vote "Blanc".

    - Afterwards, Neo-Gaulist Dupont AIgnant's "Stand Up France !", Right wing Small Party, (which Succeeded, for the First Time, throughout all France, to get much More Votes than usual : I.e., instead of only 1% or 2%, almost 4% Nation-wide, and Even More in Strasbourg's ACAL Region : almost 5%), Postpones its Decision for Tomorrow Morning, while rumours already circulate that it will, most probably, Refuse to Propose Any among the few remaining Choices for its Voters, since it Rejects Both.
--------------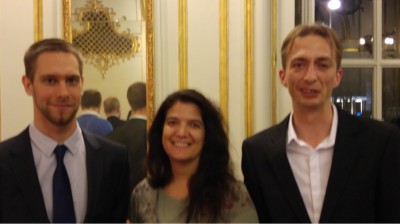 - Even the New and Tiny (but "Fast Growing", as he likes to claim) other somewhat Neo-Gaulliist Party "UFR", led here by Davic Wentzel, which has just reached 1,23 % of the Votes, told "Eurofora" that it won't Call to Vote for Anyone at the 2nd Round, no more, (for Similar Reasons as those cited Supra)...

    - As for the "Left" and Leftist Parties, which got, respectively, 3% and 1,5% here, even if they don't like "FN"'s Rightists in general, nevertheless, they naturaly don't feel, no more, any enthousiasm in the perspective to be obliged to Vote for Richert's Center-Right Party, so that, in fact, canNot really Count on them, no more, in order to Try to Fill the Gap of 10 % of Votes which still Separates him from Philippot, (Comp. Supra).

    => Given these Facts, the proposal from the Regional Leader of the "Greens" to forge a kind of "Coalition" Together with the Center-Right Party of the "Republicans", might be the most Practical Solution, if a real effort is to be made, in order to Stop the (otherwise, apparently "Irresistible") Growth of "FN" Rightists in Strasbourg's ACAL Region.

    Prospects for an adequate Christian Democrat - "Greens" possible Alliance Started to be seriously Discussed in recent Years, First at nearby Germany, as early as at least since the End of 2010, on the occasion of the Governing CDU's Annual Congres at Karlsruhe and of the "Grüne" in Freiburg, (See, among others, also "EuroFora"s NewsReports from those spots, f.ex., at : http://www.eurofora.net/newsflashes/news/cdukarlsruhecongres.html , http://www.eurofora.net/newsflashes/news/germangreenconference.html), just after the Beginning of an indispensable Strong Criticism of some Pseudo-"Green" Deviations from the Original and Authentic Pathway of the Historic Ecological Movement, already Earlier, (Comp. Supra, and, f.ex., also : http://www.eurofora.net/newsflashes/news/germanconstitutionalcourtandbioethics.html , http://www.eurofora.net/newsflashes/news/baeznogreens.html).  

    This Evolved, during 2011 - 2013/2014, after also Pope Emeritus Benedict's Landmark Speech at the Bundestag in Berlin which included "Human Ecology" (See, f.ex. : http://www.eurofora.net/newsflashes/news/lombardibundestagpopespeech.html ) , coupled also with Winfried Kretschmann's Election at nearby Baden-Wurtemberg, and mainly its aftermath, (See, f.ex. : http://www.eurofora.net/newsflashes/news/kretschmannonpopebundestagcall.html ). But Started to Culminate in Top Political Realities just in the run up to - and after Chancelor Angie Merkel's Big Win in the September 2013 German National Elections, (Comp., f.ex. : http://www.eurofora.net/newsflashes/news/newmajorityberlin.html , http://www.eurofora.net/newsflashes/news/ecologyministernatureconvergencewithoutideologicbarriers.html , http://www.eurofora.net/newsflashes/news/degaullevisionatludwigsburgsummit.html , http://www.eurofora.net/newsflashes/news/alsacereferendumcavada.html ; http://www.eurofora.net/newsflashes/news/austrianpeoplevotesrightandgreen.html ,   http://www.eurofora.net/newsflashes/news/germanelectionresultsandprospects.html , http://www.eurofora.net/newsflashes/news/eusummitandwebspyingplusblockade.html ), when the CDU/CSU Governing Coalition notoriously Negociated, for the 1st Time, a possible Alliance with the "Greens". After this was practicaly Blocked by a part of an "Old Guard" of Aparatchicks inside what had become a quite False Pseudo-"Green" Establishment, passively Subordinated to the Socialist Party, mainly since Former MFA Joschka Fischer's era (See : http://www.eurofora.net/newsflashes/news/ozdemirloserssabotagecdugreenscoalitioningermany.html) , that Winfried Kretschmann, Together with certain mainly Young, freshly Elected Delegates from Bavaria, Berlin and elsewhere, Fought to Counter and Reverse, in a very "Hot" and Hard Battle in a subsequent "Green" Party's important Annual Congress before the End of that Crucial Year of 2013, (just after the German People Voted Down a Failed Attempt to Stick Back to a mere Appendice, without any realy Original Political Ideology, Limited into only servily Executing the Orders of the Socialist Party)...

    The move Resulted both into the Election of some New and Interesting Members in the Collective Team of "Greens"' National Leadership, and in a kind of ideological and Political "Rendez-Vous", between Christian Democrats of CDU/CSU and "Greens" for an eventualy New and Fresh, much Better Prepared (Comp., f.ex.: http://www.eurofora.net/newsflashes/news/pederastysuspicionsrocksocialistleadersingermany.html , http://www.eurofora.net/brief/brief/senatepresidentlarchermovesforukrainepeace.html) Effort to Review the New Possibilities for a "Green - Black" (or "Jamaica", according to a Popular Wording in Germany), in the Perspective of the Forthcoming 2017 National Elections. This will, however, be Preceded, much Earlier, by a March 2016 Regional Election at nearby Baden-Wurtemberg, which could be Practicaly Interesting, given Winfried Kretschmann's special personality, also as Involved in Christian Movements for a long Time, as well as for having Shared an Experience of the Historic, Original "Green" Movement's landmark Beginnings, when its Leaders were much More Actively Involved and among the Pioneers, f.ex. at Crucial "BioEthical" Issues of Modern Times, (as it had, Traditionaly, been the case even with many Original "Green" MEPs at EU Parliament).           
    
    Topicaly, Chancelor Angie Merkel spontaneously Brought Back this Issue even at her December 2014 CDU Annual Congres in Köeln, (where she had Invited as Keynote Speaker the current President of all European ChristianDemocrat/EPP Parties, long-time former MEP of Strasbourg, Joseph Daul), when she Criticized some recent Controversial Moves of the Socialists, Reminded the 1st Effort made for an alternative Alliance with the "Greens", and Left clearly Open the Possibility to adequately Advance in such a Direction in view of the forthcoming 2017 National Electionsn (See; http://www.eurofora.net/newsflashes/news/merkelisisislamicterrorismworseeventhanukraine.html). Meanwhile, her Drastic "Energy Schift", after Japan's unprecedented Fukusima Tsunami, in order to Move even More towards "Clean" Enrergy and mainly Renewable Sources via High Tech, etc, as well as some Other CDU Concessions particularly in Social Issues, have obviously Removed certain Old Stambling Blocks of the Past for such a Perspective, and Prepared a Possible Way.

------------------------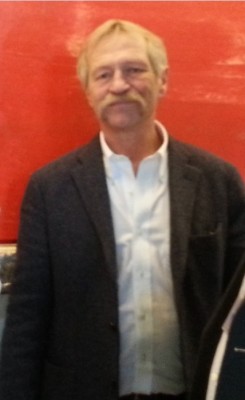 In France, it's mainly the former Collegue of Sandrine Belier, MEP José Bové, who, (Speaking initialy with "EuroFora" at EU Parliament in Strasbourg as early as already since November 2013 -Comp. PHOTO- and Confirming, at least Partly, later-on, at the Beginning of 2014, with a Radio-INTW to a well Known Collegue Journalist in Paris, in view also of the Forthcoming, then, May 2014 European Elections), has clearly Expressed a Personal Stance in favour of some Basic and Topical "BioEthical" Values, which have recently Shaken all France, inter alia also with the Biggest Popular Demostrations ever seen since Many Decades, in Paris and elsewhere, but are also currently at the Top of American People's concerns and mainly among almost All the GOP Candidates to the forthcoming 2016 US Presidential Election, f.ex. for Natural Family, between a Man and a Woman, instead of the Socialist Part's push to Impose (sometimes even by Risking to Abuse Police Violence, as CoE's Assembly has Denounced twice, Threats of Heavy Fines and/or even ImPrisoning, etc) a Controversial and UnPopular "Same Sex Mariage", including even the possibility for Children of Other People to be Submitted to the Power of Homosexuals on Pretext of "Adoption" : Something against which, already, several Foreign States, such as Russia, Belarus, Armenia, Azerbaijan, etc, have notoriously Moved to Outlaw as far as Demands affecting Children Born in their Country are concerned).

    However, it's true that a large Part of so-called "Greens", had Lost, some Years ago, such kind of BioEthical Conscience, sometimes at Astonishing levels, (even in Germany, but more in France, (given also the Lack of a Long History in Ecological Political Movements here, while, on the Contrary, the German History is Full of that, mainly around the former "3rd Way" Movement during the Cold War era, and/or the Civil Society Dissidents' Movement before and after Berlin Wall's Fall, etc). It had become, indeed, Strange, and sometimes Tragi-Comic,  to find several so-called "Nature-loving" "Green" Politicians, declaring themselves Strongly in favour of Naturaly Cultivated "Bio" Foods, such as Tomatoes, Potatoes, etc, but, at the Same Time, don't giving a Damn even on obviously Dangerous Genetic Manipulations on Human Embryos, and/or on the, equaly obvious, Risk to Subordinate the Procreation of Human Beings to the Power of a Shady lobby of Technocrats, through a Massively Spreading Imposal of the Controversial and UnPopular "Same Sex Mariage", given the Impossibility for Homosexual couples to give Natural Birth to Children, who, then, they would attempt to obtain through various Technological Procedures of Artificial Procreations, (f.ex. via In Vitro Fertilisations, Pre-Natal Screening, Transplantations, "Surrogate Mothers", Sperm and/or Eggs and/or Embryos' "Banks", "Donors", Trafficking, etc), with obvious Dangers even for all Humankind...

    This strange, almost "Collective Amnesia" and/or "Schizophrenic" Problem, (vis a vis Nature and Ecology, both for Plants and Atmosphere as well as for Human Beings), particularly spread one or two Decades ago in Germany, and/or Recently in France, has, fortunately, Started to be "Healed", and, is therefore Diminishing, at the Other Side of the Rhine River, but this doesn't yet seem guaranteed in France, where Serious and Crystal Clear Discussions, both inside and outside the so-called "Green" Party, are obviously Necessary.

    Therefore, despite MEP Bové's clearly Positive stance (Comp. Supra), with whom the Regional Head of the "Greens", Sandrine Belier, seems to have had several close and Friendly relations, and Nonobstanding her own Experience in BioEthics, (f.ex., including on the occasion of an EU Parliament's Report on some "Burning" Issues about Nano-Technologies, etc), it's Not Certain that, at least her Entourage, might be really Conscious of the Topical Importance of such kind of Issues in Today's Society, and, therefore, of the Possibility for them to Serve also as, at least a Notable Part of a Series of Issues on which might be Based and Build an eventual Political Alliance between "Greens" and ChristianDemocrat/EPP parties, as f.ex. that of Nicolas Sarkozy in France.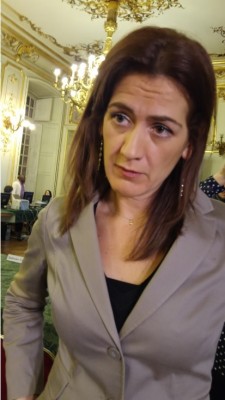 - Speakig this Evening with "EuroFora", Sandrine Bélier appeared to be at least partly Sensitive in favour of Issues such as "Europe, Human Rights and BioEthics", etc, as part of a possible Platform for a kind of Coalition with Philippe Richert's "Republican" List, at the 2nd round of the French Regional Elections, next Sunday. And even her Spontaneous Move to Ask for "Democratic Debates" on Topical Issues of Crucial Importance for Citizens' Lives inside the New "ACAL" Greater East Region from 2016, Fits Well with such a Direction :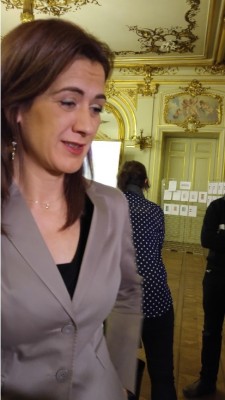 - How could anyone, Indeed, consider Him/Herself a Supporter of really Pluralist "Democratic Debates" and of "Nature", "Ecology", etc., without even Criticizing, if not clearly Denouncing as a Scandal to Rectify asap, that outrageous ..."MidNight Attack", right in the Middle of a sleepy Summer July Month, Back on 2014, with which the Former Minister of Universities, Science/Technlogy and Research of the French Socialist Government, Mrs Fiorasso, (later Downgraded by President Hollande's most Recent Government Reshuffle and New Team), even Openly Declared that "There is No Need to hold a (Public) Debate now, because that Debate (would) had, in fact, already taken place on ...2002", (i.e. more than Twelve Years Ago in a Remote Past !), as she Claimed, when she Imposed, almost manu militari (f.ex. with Police pushing away even Peaceful Demonstrators gathered around the French Parliament at the moment of a Crucial Voting), when it came to Impose, as by a Forceps, a Controversial Draft Bill which Opened a Dangerous Big Door to Genetic Manipulations of Human Embryos, (previously Outlawed in principle : Comp. f.ex. : http://www.eurofora.net/newsflashes/news/mindightattackonhumanembryoinfrance.html).

+ Moreover, BioEthical Issues might, eventualy, be also linked with one of the less known, but real Weaknesses of the -Otherwise, apparently, Irresistible-  Accession of "FN" Rightists' Florian Philippot into the Powerful position of President of the New, Greated East Region of Strasbourg, and probably a main Cause for which he is the Only Top  Political Heavyweight of the "FN", (also as MEP and 1st Vice-President, etc), to have Failed to get More than 41% of Votes, but Only 36%, Contrary to Both Other "FN" Top Heavyweights, Marine Le Pen (at the North-West of France) and Marion Marechal-Le Pen (at the South-East), who marked at this 1st Round of the 2015 Regional Elections their Best ever Score, with which they might, eventualy, Win also the 2nd Round, even if their Competitors United their Voters, unless something else happens, meanwhile.
Indeed, Contrary to them, (and particularly to Marion Marechal-Le Pen, the No 1 Highest Electoral Vote for "FN" Today), Philippot does Not seem at all to be Personaly Interested by such Topical BioEthical Issues, and persisting Rumours from the Past claim that he could be a main Stumbling Block among those who have Reportedly Dissuaded even the current "FN"'s Leader, Marine Le Pen herself, from Expressing a Crystal-clear and Strong Position on such Matters, (curiously, Not even when More than a Million of French People were Demonstrating in Paris f.ex. against attempts to impose a Controversial and UnPopular "Gay Marriage", including the possibility to submit Children under the Power of Homosexuals on pretext of "Adoption", etc), Unlike her Usual way to Speak Out very Clearly and Loudly even on other, Differend Controversial Issues, in General.
+ In Addition, it's also a Fact that Philippot has been recently pinpointed as having played a particularly Important Role in Internal Conflicts inside the "FN", even against some among its Traditionaly Top Key Politicians, who have been Recently Pushed to Leave the Party, at Various Moments, for Differend Reasons or Pretexts : F.ex., the very Founder of "FN", MEP Jean-Marie Le Pen, Father of Marine Le Pen ; MEP and University Professor Bruno Gollnish ; even someone Apparently Unrelated with them : MEP Aymeric Chauprade, former Head of "FN"'s MEPs at EU Parliament, who was noticed by "EuroFora" and many others accross Europe and the World, only after he Actively Participated, back on Autumn 2014, as the Unique Elected Political Representatif from France, to be also a Key-note Speaker at a Crucial International Conference in Moscow focused on the Protection of "Natural Family", (i.e. between a Man and a Woman), and "Natural Births" of Children, which had been initialy Organized by the USA-based International Conservative NGO "World Council of Families",  that was, meanwhile, Hindered to complete its Aim, and Obliged to leave any such Global Meeting to the Responsibility of Russian, mainly Christian NGOs, by the Ukranian Conflict and the Sanctions immediately Imposed to Russia (even against the Use there of Bank Cards by simple Visitors !), by the out-going US President Obama, (who revealed, after his 1st Election, to be a Stuborn Promoter of Controversial and UnPopular "Same Sex Marriage" Worldwide, even in Unwilling Countries of Africa !).
But, such Topical BioEthical Issues, which have notoriously Shaken, in Recent Years, particularly France, (f.ex. with the Historic Popular Demonstrations of 2013-2014+, Stopped only After the January 2015 "Charlie Hebdo" Massacre of Critical Journalists and Jewish People by Extremist Islamic Terrorists of ISIL's atrocious BeHeaders, even of innocent Civilian People), are one of the Reasons which Motivated several People to Vote either for the Center-Right maistream Party of Sarkozy, or for the "FN"s Rightists of Marine Le Pen, (as it happened, mutatis-mutandis, also in some Other Countries, from the UK to the USA, etc).
Therefore, as various Converging Facts (Comp. Supra), apparently indicate that Philippot, Personaly, might, probably, Not Like such kind of BioEthical Issues, this Special Difference could, perhaps, Explain that "Gap" of - 6 % of Votes Less than other FN's Heavyweights, such as Marine Le Pen, and particularly Marion Marechal Le Pen, (on the Contrary, Personaly Involved in the Popular Struggles on such Topical BioEthical Issues, despite her Young Age). So, this Point looks, indeed, as a possible Chance for an eventual "Greens"-Christian Democrats/EPP possible Coalition to Mark a (may be Small, but Sufficient) Electoral Breakthrough among the People here, at the 2nd Round of Next Sunday, from an initialy Unexpected point of view...
But the main Problem for the Regional "Greens" Leader, Sandrine Belier, in this regard, seems to be much more a Part of her Entourage.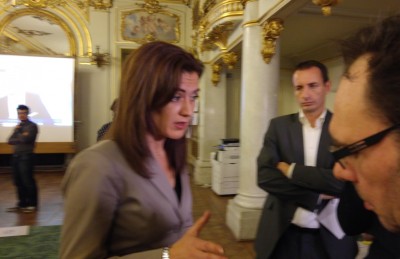 Despite a possible Support by MEP Bové, particularly on this Crucial Point, (Comp. Supra), nevertheless, it's a Fact, that, Questioned by Journalists present here this Evening, including "Eurofora", she appeared rather Uncertain about what might be the Final Stance of her own "Green" Party, (without explaining, however, if she meant only at the Local Level, or, on the Contrary, at the National level, currently led by Miss Emmanuelle Cosse, who doesn't seem more sensitive on BioEthics than Philippot himself)...

Even Worse : Contrary to her Initial Statements transmitted from here, at Strasbourg's Prefectoral Palace's Press Room, to a TV "Live" Debate between all Top Candidates, and even to her Exchanges with "EuroFora", immediately afterwards, where it was Clearly about a "Greens" - ChristianDemocrats/EPP "Republican" Party eventual Coalition for the 2nd Round, (that Philippe Richert didn't Exlude at all, but simply Warned that Time was Precious and Limited, since the Final Lists had to be Officialy Tabled here "in only some Hours", as he said for Tuesday, i.e. 1 Day and a Half, Maximum), suddenly, some Started to Totaly Change the Scope and the Political Meaning of Belier's proposal :

After a Hasty, Short INTW with a Local Website supported by the Socialist Party, where even certain Key Wordings were Strongly Suggested to her, (independently of the fact that she might have replied "Yes", etc, here or there), all out of a sudden, a Series of Media, even mainstream, (but without Local Press Correspondents in Strasbourg, i.e. Condemned to Copy uncertain Intermediaries' claims), most of "Socialist" political tendency, Start to Launch a "Tsunami" of Publications, which All Repeat almost the Same, Totaly Misleading Disinformation : I.e., as they claim, (Copying probably only 1 "source" : Comp. Supra), Sandrine Belier would Not have Called at all for any Coalition between her Party of the "Greens" and that of Philippe Richert's ChristianDemocrats/EPP "Republican Party" Nationaly led by Sarkozy, but, on the Contrary, only for a confusion between Socialists, Greens and Republicans, allegedly due to be brought All Together under a "Republican" or Other Banner, against the "FN"s Rightists.  

+ Even Worse : Several such pro-Socialist and/or Copying Media, went as far as to Claim that Belier's aim might be Not really to Make a kind of Coalition with Richert's Center Right Team (of Sarkozy's "Republicans"), Better Placed in order to Face "FN"'s Rightists with a 26 % of Votes, but, on the Contrary, to try to Stick Together with ...the Socialist Top Candidate Masseret, despite his Failure to get more than only 16% of the Votes, (just in order to get simply Elected as a Mere Regional Counselor for the Next 6 Years, without any power at all, inside a Region which would be Totaly Controlled by "FN"'s Rightists) !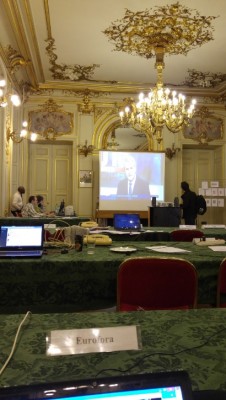 However, at least at her  Exchanges with "EuroFora" Tonight, the Regional Leader of the "Green" Party, didn't Deny at all that her Initial Proposal concerned mainly the Relations of her own "Green" Party with that of Philippe Richert's "Republican" Party, as it was Normal. And, in this regard, she Smiled and Reflected quite Seriously about the Fact that, (as "EuroFora" pointed out at several occasions), by doing so, She was Trying to Break New Ground, by Heading Towards a Pioneed Political Idea, that German Chancelor Angie Merkel, after initialy Hesitating and even Personaly thinking that it might be an impossible "Illusion", (Comp. f.ex. her relevant Statement at the 2010 CDU Annual Congress at nearby Karlsruhe), before Changing her Mind, later on, (given several relevant Political and Ideological Developments meanwhile), Starting to Believe that it was Becoming Worthwhile, if not even quite Necessary, from Now on, to at least Explore also this Possible Direction from Autumn 2013. Last but not least, even a Member of the "Green" Party, Interviewed by a Media claiming, on the Contrary, that Sandrine Belier might have always proposed, from the start, only a Traditional "Grosse Coalition" between Socialists and Republicans, that the "Greens" would merely follow, on the Contrary, Feels Necessary to Reject, at First, the Original Idea of a "Green" - ChristianDemocrat/EPP (i.e. Republican Party) Coalition, by Claiming that "it wouldn't have any (Political) Meaning, unless it was Extended to All Political Parties involved in these Elections, i.e. also to the Socialists"... Obviously, it seems that some might have become really so Afraid of Belier's Politicaly New (specialy in France : Comp. Supra) proposal, that they Felt Necessary to Cover it up immediately !

So, to put it in a Nutshell, after such an Attempt, launched by some pro-Socialist Media (Comp. Supra), to Difform and "Twist" around Belier's initial Proposal, the Move wouldn't be at all an Effort to Create something radicaly New and "Unprecedented" (as she repeated herself many times), but, on the Contrary, only to Repeat what had already been done in the Past :

F.ex. as early as since 2002, (i.e. more than .. Twelve Years ago !), when former French President Jacques Chirac, (in order to Totaly Ensure his Highly Probable Re-Election at the 2nd Round of French Presidentials  (in the 1st Round of which he had Succeeded to Win just with hiw own, Original Program), against Jean-Marie Le Pen (Father of Marine), after the Socialist Candidate Failed to pass the Threshhold at the 1st Vote, suddenly, he was Surrounded (and almost Submerged) by an Unprecedented "Tsunami" of various Socialist Politicians, (even among those who, in the Past, used to not only to Fight against him, but also to Attack him Personaly), who, on the Contary, started, then, a never-ending, Long Litany, pleading, for the 1st Time, in favour of his Qualities, that most of them suddenly Discovered for the 1st Time in their Lives, (even those who, just a few Months Earlier, they were Asking to ... put him into Prison, alleging various Hypothesis of so-called "Scandals", etc)... As a Result, President Chirac found his Government, probably for the 1st Time in his Long Political Life, not as well surrounded as before, but with too much Opportunists strolling around in the Corridors, so that, in less than 2 Years (2002- 2004), he Faced a Big Political Clash on Key European Issues affecting Peuple's Lives, with an Unexpected Heavy Popular "NO" Vote to the Euro-Referendum on a Draft EU Constitution on Spring 2005, notoriously Motivated partly by Economic Austerity Concerns, but Mainly by Turkey's Controversial and UnPopular EU Bid, (which had Started after December 1999, particularly under Socialist Push).
As an Experienced and Energetic Top Politician, Chirac immediately Started there an Important Political U-Turn, (already Anounced at his June 2005 Press Conference at Brussels' EU Summit), based mainly into Raising Higher EU's Conditions to Turkey's EU Accession Process, and Tried to use, for that purpose too, his Faithful New Prime Minister Dominique De Villepin, a New York born Diplomat, (who had previously become World Famous for his Opposal, as former Foreign Minister then, to the Controversial Military Invasion of Iraq, from March 2003, even if France and USA started to Agree on a Modus-Vivendi there, and later also on Afghanistan, already from End of August 2003). At the Beginning, Villepin worked Well in this Direction, and soon became even more Famous and Popular also in France, (Comp. relevant French Prime Minister Villepin's Statements to "Eurofora"'s co-Founder, then Published at "TCWeekly", f.ex. on 9/2005 from UNO's World Summit at New York, and on 1/2006 from Paris' Matignon Palace, etc), but soon (and particularly after a Shady Visit to Ankara by a Controversial then MFA, at the beginning of February 2006) People probably saw that this wasn't enough, (and/or some Foreign Circles might have not liked for certain Villepin's declared Aims about Turkey to be soon Immediately realized, provoking suddenly some unprecedented Internal Divisions), so that Nicolas Sarkozy's subsequent Candidacy for New EU President  -if Chirac decided to not take part in the forthcoming, May 2007 next French Presidential Elections, as he, indeed, anounced later on-  Soon gained Momentum, based mainly on his Clear Refusal even to admit Turkey's Controversial and UnPopular EU bid at all, Resulting to the Biggest Ever Win, at the most attended ever Presidential Election of May 2007 when Popular Participation broke Historic Records, Marking an obviously Stronger Political Change in this particular regard.
+ But, meanwihile, Jacques Chirac had even to take the Uprecedented Decision to .. Sacrifice 2 whole Years from his normaly 7-years long term of Presidency, by Shortening it Down to Only 5 Years, just in order to, precisely, ... Ensure that any Risk for another "Co-Habitation" wiith Socialists will be, from now on, always Avoided tor all ChristianDemocrat/EPP, Democraticaly Elected Presidents of France, given the manifold Counter-Productive Obstacles and various Sufferings that, both himself Personaly, and the entire Government, as well as the French People, even Democratic Principles, and all that so Important for all Europe Country, have had to Face in a recent Past...
An interesting and unforgetable Warning also Today, mutatis-mutandis, for Alsace Region's President Philippe Richert, Candidate now for the Presiidency of Strasbourg's new Greater Region ACAL, on behalf of the Center-Right, "Republican" Party, led Nationwide by also Experienced former President of France, Nicolas Sarozy, whose stance in favor of an Autonomous "Crystal Clear Political Alternative", (Supported Quasi-Unanimously by the Collective Direction of his Party).
-----

However, on the Contrary, Now, Socialist Party's Regional Leader Masseret's declared Stuborn Will to maintain his List for the 2nd Round of the Elections, at any price, might Spare Richert at least from Having to Deal with Too Many Hypocrits of the last minute, so that he Can Focus Right on Moving Forward the Main Key Aims of his Center-Right, Republican Party of Nicolas Sarkozy, who has Notoriously Excluded any kind of  Confusion with the Socialists, in order to become Able to Offer to the French People a "Crystal-Clear Political Alternative" for the Future Government of the Country, (Comp. Supra).

Meanwhile, as things stand until Now, If Sandrine Belier's initial Move goes full steam Ahead, then, Strasbourg Region's "Greens" may really become The Only Political Party which would either Fusion with, or Withdraw in favour of the Christian Democrats/EPP of the Center-Right "Republican" Party, led Nationwide by Sarkozy and headed in Strasbourg's Region by Richert. Such a Unique Fact, even in case it might, eventualy, not prove enough in order to Succesfuly Face the "FN"'s Rightists, led here by MEP Philippot this time, nevertheless, could Stay on Record in History as a Symbolic but Concrete 1st Step towards an eventual "Green" - ChristianDemocrat (alias "Jamaica") Coalition near the Franco-German Borders, Timely coming just a Few Months before the forthcoming German Regional (Lânder) and afterwards even National Elections, scheduled successively for 2016 and 2017, (Comp. Supra)...

-----------------------------------------------
+ But, Other Topical Issues, such as Mass Immigration, Historic/Cultural Identity, Integration and Social Cohesion, Islamisation, ISIL's Terrorism, etc., also play a Big Role
-----------------------------------------------------------

However, the Fundamental Importane of BioEthical Issues of Modern Times can't Hide the Obvious Fact that it's also a Converging Series of Other Topical Issues, such as, f.ex., Mass Immigration, Historic/Cultural Identity, Integration and Social Cohesion, Islamisation, ISIL's Terrorism, etc., (often more or less Inter-Linked Together), which also play a very Big Role, in real Practice, as far as "FN" Rightists' growing Popular Reaction Vote is concerned Today :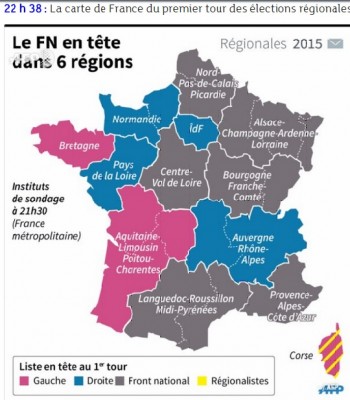 - F.ex., it's enough to take just a Look at a MAP of France showing which Regions got the Biggest "FN" Rightists' Vote, (See relevant PHOTO), in order to immediately Realize the Fact that it's Mainly at the External Borders' Regions, of Southern (i.e. turned towards Arab Countries of the Mediterranean Coasts of Africa), and Northern-East (i.e. Connected with the notorious "Balkan Routes" comming, through "Mittel-Europa" and/or BENELUX, in fact all the Way down from Turkey, etc), which Clearly are the Most Affected... On the Contrary, those Regions which are Located at the Centre of France and/or towards the, Comparatively, much More Protected Borders towards Spain and/or the UK, don't seem to have any of such kind of Problems, and their Presidencies are Not seriously Challenged by the "FN"s Rightists, (at least Not as much as the Others : Comp. Supra).

    => In this regard, Strasbourg's New, Greater East Region "ACAL", is, indeed, one among the, Comparatively, Most Exposed to Massive Immigration, and, often, at quite More Aggressive, sometimes quasi-Systematic recently, Attempts for at least what is Perceived by many People as a kind of "Islamisation" process. F.ex. with a Recently Rapid Multiplication of Islamic Mosques, unprecedently Ostensible Islamic Scarfs and/or Black "Burqas", Beards and "Djelabas", etc. quasi-Systematicaly brandished at Public Spaces, Crossroads, etc, to the point that, sometimes, People don't Feel, No More, Living at a Realy European Culture Country, (as, f.ex., several Long-Time Inhabitants, even of some Suburbs of Brussels, in Belgium, have astonishingly Complained to "EuroFora", and certain Top Political Leaders recently Denounced also in France, etc). Indeed, this New, Greated East "ACAL Region of Strasbourg, is the Only one in France to have Borders with 4 Other Countries : Germany, Switzerland, Luxembourg and Belgium. In Addition, such a North-Eastern Region is comparatively More Affected by Turkish-origin recently Massive Immigration, often Pushed by Ankara's Government which is recently pursuing a Notoriously quasi-Systematic Agenda of Islamisation, while, on the Contrary, the Southern Regions are Dealing much more with French-Speaking Immigrants from those Arab Countries which have Long Historic, Cultural and even Linguistic Relations with France, (and/or Spain, Italy, etc).
---------------------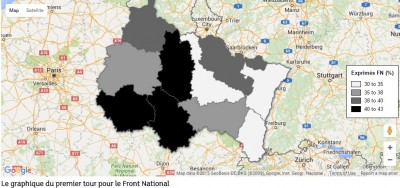 - Even more Astonishing (particularly for Recent Controversial EU Policies), an Unexpectedly Detailed Similarity exists also between a Synthetic MAP showing Where Exactly the "FN" Rightists' stands Higher inside Strasbourg's New, Greater East Ragion of ACAL, (prepared by the Local Newspaper "DNA"), and anOther, Analytical MAP, (prepared by a Critical NGO's Web Site), which Intends to show Where Exactly has Started to Operate a Controversial EU Commission's Plan for a Systematic "ReLocation", among several EU Countries, of Irregular Mass Immigrants/Asyum Seekers from that Unprecedented "Tsunami" which Entered Europe this Summer/Autumn 2015 mainly from Turkey, crossing through EU's still "porous" External Borders at Greece, etc. : The overall Similarity of the Concerned Areas, in Both Cases, is Really Impressing ! (Already Starting at the Borders of France with Belgium and Germany there, where f.ex. Arlon and ZweiBrücken have been chosen -also by the current German Socialist, Turkish-origin Minister of Integration- as Hotspots for 1.000 + 1.000 of such Mass Irregular Immigrats/Asylum Seekers from Turkey ; See those 2 MAPs, Herewith).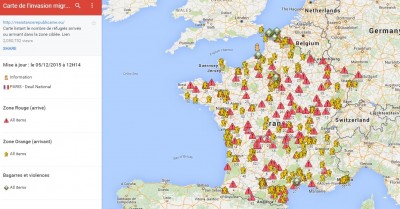 - A Similar Trend can also be Seen even in the much More Detailed Vote Results inside Strasbourg's Great-East ACAL Region, be it among Various Villages, (f.ex. Bischwiller, alias ordinary knicknamed also as "Turkwiller", for ovious reasons of SurConentration of mainly Turkish origin Immigrants, where "FN" Rightists come clearly First, with 40,5 % of Votes, Distrancing the Center-Right "Republicans" who remain Back at just 30 %, while the Socialists are Crashed by Falling Down to Only Less than ...6% !), or even among Strasbourg City's various Suburbs, (f.ex. that which includes Meinau, where the Controversial Turkish NGO "Mili Gorus", considered close to "Muslim Brothers", which already Controls, since several Years, a Double Big Mosque in Turkish and in Arab Languages, has just Started to Build a Huge New Mosque with 2 Giant Minarets and Numerous Big Rooms for various Non-Religious utilisations,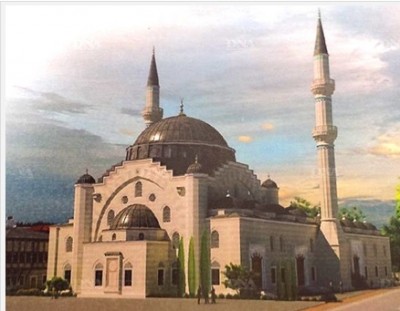 Meinau suburb's project to Renovate + Extend the existing Double Turkish Mosque
-----------------------------------

almost at the Same Time that it reportedly Prepares, at "Haute-Pierre" Suburb, a large part of which was "Bought" with the Money provided and controled by a Foreign State : The Turkish Government, what could reportedly become "the Biggest islamic Centre in Europe", including in order to Train "Imams" for All France and Other Countries)...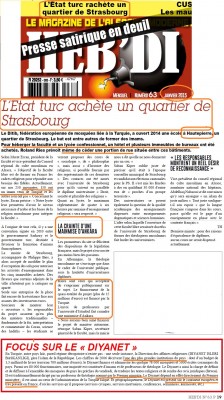 + Nevertheless, (Sign possibly of an InterAction between Various such SocioCultural Aspects, among those already pin-pointed Above), in Addition to the obviously Exceptional case of "FN" Rightists' President, MEP Marine Le Pen, at the North-West around Lille, (who faces at the 2nd Round Experienced former Minister of Social Affairs, Xavier Bertrand, a Sarkozy-Faithful : Comp. various Bertrand Statements to "EuroFora", including when he Headed the Center-Right's List for the 2009 EU Parliament's Elections, f.ex. at : ....),

    it's mainly the Young National MP Marion Marechal-Le Pen, at the South-Eastern Region of PACA, around Marseilles, who Tops "FN" Rightists' Votes, with almost 42%, while she's reportedly known both for her Wish to advance towards a Union of All the Parties of the Right, and for Adding Immigration and Historic/Cultural Identity matters, side by side with Topical BioEthical Issues.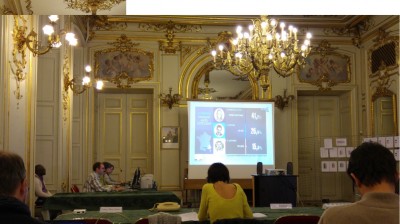 ++ Almost Similarly, (but as an Inversed Mirror), from the Other Side, the Only Center-Right, ChristianDemocrat/EPP Politician from the "Republican" Party of Sarkozy, who Succeeds to Succesfully Challenge, at the 1st Rank in Votes Received at this First Round of the Elections, is the quite Young but already Experienced former Government Spokesman, and later-on, Minister of Higher Education and Scientific Research, Alain Wauquiez, (Comp. various Wauquiez' Statements to "EuroFora", from 2007 up to 2012, f.ex. at : ........), who is Well Known also for his Interest Both to Historic-Cultural Identity issues, related to the Integration of Mass Immigrants, and for BioEthical Issues which have notoriously Shaken France during recent Years (f.ex. 2013-2014+).

----------------------------------
Overall Outlook in view of the 2nd Round :
- Socialists threaten to seriously Exploit the Division of the Right, against the Democraticaly Expressed Will of the Majority of French People !
--------------------------------------------------------------

But, the overall Picture of these 2015 French Regional Elections, (which are an Important Political "Test" before he forthcoming, Crucial Presidential and Parliamentary Elections of 2017, for whom, most Parties are due to Choose their Top Candidates Next Year, i.e. on 2016), could be an absolutely Differend matter...
Indeed, according to some easy to guess, but only Initial and Unverified yet Projections, it could well be that the Socialists may Seriously Exploit the persisting Division of the Right Side of the Political Spectrum, mainly between the mainstream Center-Right of Sarkozy and the Rightists of Le Pen, in order to eventualy Snatch too Many Regions, comparatively to their own Low Vote Results, (while also possibly Throwing the Rest, and partcularly Strasbourg's New Greated East Region ACAL, to the "FN" Rightists, in a kind of at least Objective Complicity, that many Political Observers have already Denounced since the 1980ies and 1990ies, when the "FN" was reportedly Boosted, indirectly, by former long-time French Socialist President Mitterand, precisely, according to such persisting rumours, in order to Divide the Right) :

>>> In Fact, throughout All France, the People has Clearly Voted Today, almost Everywhere, for a Huge Majority at the Right Side of the Political Spectrum, Most of the Times even for a Majority of Two Thirds (2/3) of the Electorate, i.e., roughly, around 63 - 65 % in average ! Even more, here, at Strasbourg's New Greater East Region, the Left side of the Political Spectrum, has Failed so much, that it Totals something like Only 20%, against 75% for the Right side...

However, Despite such Crystal-Clear Facts, a more or less Real Risk seems to Exist, (according also to some unverified yet projections), for several ... Minority Lists presented by the Socialists, to eventualy Snatch Various Regions at the 2nd Round of the Elections Next Sunday, even Against 2 Other Lists of Center-Right's "Republicans" and "FN"'s Rightists, which, if Taken Together, could Total a Crystal Clear Absolute or Even Two-Thirds Majority, (from 52% up to something like 63%, most of the times) ! Simply Because Each one of those 2 Divided Parts of the Right might be, if taken Separately, just Half a Point ( - 0,5%) Less than the Socialist List, even If United Together the Lists of the Right side of the Political Spectrum are often More than the Double of (i.e. X 2 Times Bigger than) the Socialists...

+ Even Socialist Party's so called "pro-Republican Block" against FN's Rightists, alleged stance, does Not seem Clear at all : Indeed, Facts show that, among the 3 Regions where, according to such an alleged Principle, the Socialists should Fusion or Withdraw their List, they only do so in 2 Regions where it's Not Obvious at all that this might be enough, since the "FN" Vote stands so High that the Rightists might Win at any case, (i.e. with Marion Marechal-Le Pen, at the South-East PACA Region, around Marseilles, and Marine Le Pen, at the North-Western Pas de Calais-Picardy Region, around Lille). On the Contrary, by a "Coincidence", the Socialist List is Maintained for the 2nd Round of the Elections, in the Only Region where its Withdrawal could, indeed, play a Crucial Role by Determining the Final Results, (i.e., right Here, at Strasbourg's Greater East Region ACAL, where the Socialist Masseret stubornly Keeps his List, despite having Seriously Failed to gather enough Votes, against the Center-Right's "Republican" Richert, who notoriously Risks, because of that, to See "FN"s Rightist Philippot exploit that Socialist Move in order to Snatch the Top Job) !...

- ------------------------------------------------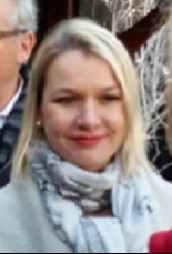 => Thus, may be, a part of the Future could be closer f.ex. to those Politicians who realy Feel a Need for ReNewal, perhaps like Elsa Schalck, the Center-Right "Republicans" Party of Nicolas Sarkozy, Youth section's Head, now a Young Lady and Philippe Richert's No 1 for Strasbourg's Department of the Lower-Rhine, (where "the Republicans" came Clearly 1st, marking a Record High Score of Votes), who had Impressed us, previously, with a really Strong Speech "against Divisions of the Right", but Evolved recently so much in her Style (hopefuly not in the Energic but Friendly Substance !) that "EuroFora" almost didn't even Recognize her interrogative smile, immediately, in a Hurry, just after Sarkozy's latest Landmark Speech here, at Strasbourg-Schiltigheim, (See : ...).

    => "Partie remise", mutatis-mutandis, for the Next Step ?


(../..)

---------------------------------------

***

("DraftNews", as already send to "EuroFora"s Subsrcribers/Donors, earlier. A more accurate, full Final Version, might be Published asap).

***

=====================

BRIEF NEWS
00:00 - 26.05.2017

00:00 - 30.01.2017

00:00 - 14.10.2016

00:00 - 24.09.2016

00:00 - 27.07.2016

00:00 - 03.07.2016

00:00 - 01.06.2016

00:00 - 12.02.2016

00:00 - 09.12.2015
Statistics
Visitors: 23021929
Archive
Login Form
Other Menu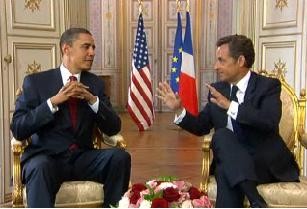 La Turquie, test-clé d'Independance de l'Europe face aux USA, les aménant de chercher en commun des nouvelles idées pour se mettre d'accord ?  
 Le débat, amical mais clair, entre les Présidents Américain et Français, Obama et Sarkozy,  la veille des elections européennes du 7 juin 2009, a montré que la question controversée sur la démande de la Turquie d'entrer dans l'Europe est actuellement le point central et le test le plus pertinent de l' indépendance de la France et de l'Europe par rapport aux Etats Unis.   
 Les electeurs européens, aussi bien en France qu'ailleurs en l'UE, auront une seule chance à trancher, ce dimanche 7 juin 2009, en choisisant leurs eurodéputés pour la période 2009 - 2014, car après ca risque d'être trop tard, vu que tous ceux qui suivent les affaires européennes dépuis des décennies savent qu'en réalité, le moment des décisions sur la Turquie viendra au plus tard en 2013, date rétenue dépuis longtemps pour une importante révision des "Perspectives Financières" de l'UE qui reflètent des choix Politiques fondamentaux.

    Le Président français, (récement encore représentant de l'UE, dans laquelle il joue un rôle important, ensemble avec la chancelière allemande Merkel, et autres leaders européens, ayant une influence notable auprès des Citoyens Européens, comme les derniers sondages montrent), réagissant à la repétition, par le nouveau Président Américain de la vieille position traditionelle de l'Washington poushant toujours vers la démande de la Turquie d'entrer dans l'Europe :

     - "Je ne peut pas laisser détruire l'Europe, (qui) est un élément de stabilisation du Monde", réponda Sarkozy. "J'ai dit au Président Obama que pour moi il était très important que l'Europe ait des Frontières", a-t-il souligné, confirmant la position Franco-Allemande commune, récemment rappellée ensemble avec la Chancellière Merkel.

    - "Il y a une différence (entre France/EU et les USA)...  sur les modalités. La position traditionnelle des Etats-Unis d'Amérique, c'est l'intégration" de la Turquie au sein de l'UE. "C'était la position du Président Bush, du Président Clinton, de tous les présidents américains".     
- "La mienne vous la connaissez : Ce n'est pas l'intégration dans l'Union Européenne. Mais j'ai proposé que nous réfléchissions, l'Europe, la Russie, la Turquie à la création d'un Espace Economique et de Sécurité en commun", a ajout Sarkozy rappelant son invitation de créer quelque chose de neuf et mieux adapté.

    Mais, "cela ne veut pas dire qu'il faut repousser la Turquie dans les ténèbres. La Turquie est un allié dans l'OTAN, (et) une Passerelle entre 2 Mondes, voilà quelle est la meilleure modalité. C'est cela dont nous avons parlé", revela-t-il. Si "nous avons une Différence sur les Modalités, nous n'avons pas une différence sur l'Objectif : Faire de la Turquie un élément de Pont entre l'Orient et l'Occident", Sarkozy assura Obama.

    - "Laissez-nous au moins une légère divergence sur un sujet, cela vous permettra de bien réfléchir pour les prochaines échéances", ajouta Sarkozy en réponse à un journaliste de l'opposition Socialiste qui avait soulevé la question de la Turquie, en la melant (comme un lobby turc notoirement essaie de faire pour exploiter la manipulation de quelques Arabes, la Civilisation Historique desquels fût pourtant detruite par l'ex-empire Ottoman-Turc) avec une question tout à fait différente : celle de la voile islamique (!), avec laquelle elle n'a rien à voir.

    - "Sur la Turquie, Monsieur, vous appartenez à un journal ...qui a appelé à voter, au moment de la présidentielle, pour mon adversaire.... Quel était votre argument à ce moment-là ? Vous disiez : « Attention, Nicolas Sarkozy va trop s'aligner sur les Etats-Unis d'Amérique », et je vois que deux ans après vous dites : « Ah, il y a un sujet sur lequel le Président Obama et le Président Sarkozy ne sont pas d'accord » Cela devrait vous rassurer, Monsieur" , réponda-t-il, en faisant sourire même le président américain, (et laissant entendre que trancher définitivemen la controverse sur la Turquie pourrait être au coeur de l' Elections Présidentielle  en France pour 2012 )
-------------------
    - "Ce que les Etats-Unis peuvent faire, c'est encourager ....TOUT PROCESSUS qui permettra à la Turquie d'être convaincue qu'elle a des amis, que ce soit la France, les Etats-Unis ou l'Europe", réponda Obama, apparamment n'excluant pas, a priori, le point de Sarkozy sur la création d'un espace commun d' économie et sécurité entre l' UE, la Turquie et la Russie (v. supra).

    "Les Etats-Unis ne sont pas membres de l'Union Européenne, nous ne pouvons pas dicter si un pays quelconque adhère ou n'adhère pas à l'UE"; Obama a admis, parlant de la "Turquie, (sur laquelle) le Président Sarkozy et moi nous sommes entretenus sur ce dossier avant".  "Maintenant le Président Sarkozy représente un Etat membre de l'Union Européenne et il a une position différente", opposée à démande turque d' entrée dans l'UE.    
 "La Turquie par contre est un allié de l'OTAN très important. ...La Turquie a fait connaître son intérêt à une intégration croissante avec l'Europe et nous (USA) encourageons cette attitude. J'ai souvent dit que l'adhésion de la Turquie à l'Union européenne serait importante".     
"Mais, (en tout cas) je crois qu'il est important de noter que le Président Sarkozy appuie fortement le travail que la Turquie fait au sein de l'OTAN et je crois qu'il s'intéresse à une intégration économique plus intense avec la Turquie". (Ce qui pourrait se faire, justement, avec un "parténariat privilegié" adéquat et/ou l'idée de créer un espace commun EU - Turquie - Russie  : V. supra).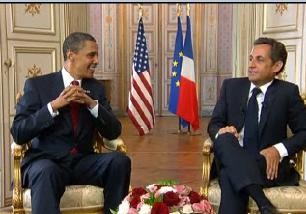 Est-ce que l'effort du Président de la France, soutenu par la chancelière Allemande et l'opinion publique de la plupart des Citoyens Européens la-dessus, de trouver un accord entre l' Europe et l' Amérique sur la Turquie, en proposant de sortir des chemins battus et créer du neuf, en etablissant "un Espace Commun d' Economie et Sécurité" (v. supra), suffira de calmer un lobby traditionaliste à quelques bureaucrates de Washington DC, datant dès l'époque de l' ex-"Guerre Froide", beaucoup plus ancien que le nouveau Président vénu de l' oxygen des "grands lacs" près de Quebec du Canada : Chicago, connu comme "la ville du vent" nouveau ?
-----------------------------------------------------------------------
Le Prémier Ministre Fillon appele à "faire vivre le Rève Européen"
------------------------------------------------------------------------  
 Seul l'avenir le dira. Mais, entre-temps, l' Europe ne peut plus attendre et perdre encore plus du temps et d'energie vitale sur la démande controversée de la Turquie, qui a notoirement menacé d'arrêter l'édification européenne dépuis 1999-2005 :

    Comme le Premier Ministre François Fillon a clairement dit, un peu plus tôt cette semaine, dans un discours éloquent sur les enjeux de l' Election Européenne de ce juin 2009 (V. résumé envoyé aux adhérents d'"EuroFora"),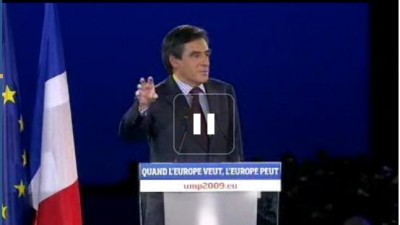 - "S' abstentir, c'est laisser à la Technocratie le pouvoir de dominer" la vie des Citoyens européens, qui devraient prendre l' Europe en branle le corps", et commencer d'agir par toutes les voies politiques démocratiques, prennant conscience que "l' Europe c'est Nous, (i.e. les Citoyens), et "Pas eux !" (i.e. les Technocrates), selon une image symbolique.

    - "Je me souviens de l' Europe obligée de faire Silence, (au Passé), quand "les Grands" décidaient de son sort", rappela Fillon.  "Je me souviens de l'Europe divisée, de l' Europe dominée" par d'autres, '"de l'Europe appauvrie""Je me souviens de Berlin occupé, muré, divisé comme un butin qu'on tire aux dès. Je me souviens du Silence de Varsovie. Je me souviens du Silence de Prague"..   
 - "Nous, les Européens, nous avons bien failli sortir de l' Histoire, et dévenir, pour du bon, les dès d'un jeu joué par d'autres".     
- "C'est pourquoi je ne peux pas concevoir une Europe qui ne serait pas Souveraine, une Europe qui ne serait pas Maitresse d'êlle-même", aujourd'hui et démain, martella-t-il. "Le Monde s'est habitué trop longtemps à une Europe faible, que l'on pouvait traiter avec condescendence".  
 - "Le moment est venu de rélever le défi : Le moment est vénu de montrer que, nous les Européens, avons décidé d'être débout, et d"être nous-mêmes".     
"Dépuis 2 ans (i.e. dès les Elections Présidentielles de 2007), avec Nicolas Sarkozy, nous avons oeuvrer pour relever notre Identité Nationale (de la France), dont nous sommes fiers. Et bien, l'' Identité Européenne mérite tout autant, elle qui prolonge les Génies de nos Nations".


    - "Je crois à la présence d'une Civilisation Européenne", déclara Fillon, largement applaudi par des milliers de personnes ayant entendu une série des Musiques entremelées characteristiques de differents pays européens, et des images lumineuses géantes avec des extraits symboliques de Goethe, de Victor Hugo, de Shakespeare, et d'autres auteurs italiens, espagnols etc celebres à travers l'histoire.

    - "L' Humanisme, la tolerance, la Liberté de la Conscience. La Solidarité. L' Etat de Droit. La confiance placée dans la Science, l' Innovation, le progrès. Toutes ces Valeurs, elles disent clairement où commence et où s'épanuit cette Europe" que nous voulons, observa-t-il.

    En harmonie avec les positions soutenues par le Président du Parlement Européen, eurodéputé allemand, Hans Gert Poettering, et la Chancelière allemande, Angie Merkel, sur la "Dignité Humaine" au coeur des "Valeurs de l' Europe" moderne. Ce qui fait qu'" avec un Elargissement sans fin", même vers la Turquie, c.a.d. "sans Frontières, l' Europe Politique, l' Europe des Valeurs et l' Identité européenne" ne peuvent pas exister, comme a dit aussi le Président francais, Nicolas Sarkozy, recemment à Berlin.

    Fait important : Cette observation de Fillon a été faite le jour-même que le Comité des Ministres du Conseil de l'Europe à Strasbourg concluait une semaine de réunion semestrielle sur les Droits de l'Homme, qui a examiné un grand nombre d'affaires des pires Violations (pex. Tuéries scandaleusement non elucidées, Persecutions et privations arbitraires de Liberté, personnes portées "Disparues", Tortures et "traitements inhumains et degradants", Usurpations illégales des Maisons et Patrimoines privées de Réfugiés, etc., pour lesquelles la Cour Européenne a condamné la Turquie dans plusieurs jugements, dont on attend toujours l' application)...

    - "C'est pourquoi un Elargissement sans fin de l' Europe ne peu pas être un objectif en soi. Parce qu'il ne peut que diluer l' élan européen, et detruire l' Idéntité Européenne"

    -" Voilà pourquoi nous disons, très sereinement, que nous ne sommes pas favorables à l' adhésion de la Turquie dans l'UE", conclua le Premier Ministre de la France; largement applaudi par des gens qui soulevaient le drapeau européen.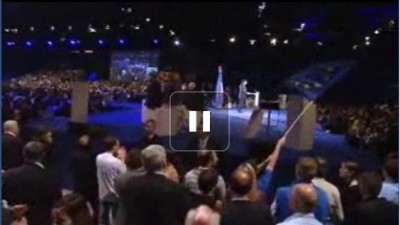 "Ce n'est pas un Slogan de meetings. Ce n'est pas la marque une "Hostilité" au régard de cette grande Nation (i.e. la Turquie), qui doit être étroitement associée à l' UE", pex. par un partenariat priviliegié, ou une autre formule adaptée.

    - "Mais il lui faut des Frontères à l' Europe, il lui faut des Frontières stables, qui lui permettent de renforcer son Unité et son Identité", a-t-il expliqué.

    - "Alors, c'est au nom de cette Europe charnelle, que je m'engage avec vous. Mais, cette Europe-là, ne peut avancer qu' à une seule Condition : celle de l' Europe Politique".

    "Nous avons longtemps douté qu'elle soit possible : Aux années 1970, Henri Kissinger (le notoire ex- Secretaire d'Etat Américain aux affaires etrangères, consideré, à tort ou à raison, comme chef d'orchestre du renversement du Président Allende en Chili, de l' invasion militaire de la Turquie à Chypre, etc), disait, avec une ironie blaissante : - "Ah, l' Europe ? : Quel numero de Télephone ?..." Pendant les 6 mois de la présidence française de l'UE, (7-12/2008), Henri Kissinger n'aurait aucune difficulté de rejoindre l' Europe !", observa-t-il en suscitant des nouveaux applaudissements nourris.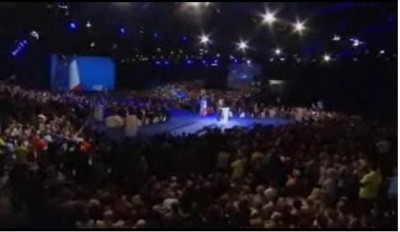 "J'au vu l' Europe Politique se dresser, et prendre ses responsabilités : L' Europe Politique c'est celle qui agit sans délai, et avant les Etats-Unis, pour stopper des faillites Bancaires qui s'enchaînent, qui nous auraint plongés dans une Depression pire que celles des années 1929. L' Europe Politique est celle qui, maintenant, doit mettre un fin à un Capitalisme Financier, qui a perdu sa boussole. L' Europe Politique est celle qui a réussi d'etablir le règles les plus ambitieuses au Monde dans la lutte contre le rechaufement Climatique. Samedi, nous celebrons l' anniversaire du debarquement de la Normandie, où nos amis Américains ont pris une part décisive à nôtre libération. Mais, en décembre 2009, à la Conference (Mondialle) de Copenhague, c'est nous les Européens, qui allons leur montrer le chemin vers cet avénir commun" pour la sauvegarde de l'Environement naturel. L' Europe Politique c'est celle qui, en août 2008, lorsque la Guerre faisait rase entre la Russie et la Géorgie, s'est interposée pour imposer la Paix. Et c'est elle qui doit, maintenant, se doter des moyens Militaires de se défendre par elle-même, pour elle-même", ajouta-t-il en évoquant clairement la création d'une Défense Européenn Autonome.
    "L' Europe Politique c'est celle qui doit bâtir des grands champions Industriels Européens, comme nous avons fait, auparavant, pour (l'avion) Airbus ou (la fusée) Ariadne. C'est celle qui doit exiger la Reciprocité dans les rlations Commerciale avec nos grands partenaires", sans Dumping Social ou Environmental, ni autre Concurrence Deloyale. "C'est celle qui doit se doter comme objectif d'être "le Continent de l'Esprit", réunissant les plus grandes Universités du Monde, en multipliant les Connexions, entre Scientifiques et étudiants."

    "Nous respecterons nos engagements, jusqu'au dernier", souligna le Premier Ministre de la France, peu après que les candidats-eurodéputés de la coalition Gouvernementale (UMP : Mouvement pour la Majorité Présidentielle) ont signé solennement, devant plusieurs milliers des Citoyens, une spectaculaire pancarte-géante avec "7 engagements" pour les Elections Européennes du 7 juin, auxquels figure aussi l'engagement de "s'opposer à l' adhésion de la Turquie dans l'UE".

     - "Parcque ce respet des engagements est une exigence si nous voulons rétablir la Confiance entre les Responsables Politiques et les Citoyens", conclua Fillon, la veille de ces Elections Européennes de juin 2009, après les Abstentions Majoritaires de 1999 et 2004, suivies de 3 "NON" à 3 Euro-Réferenda dépuis 2005, (dates auxquelles, quelques gouvernements du Passé, avaient donné le statut d'un "Candidat" et commencé des "Négotiationa d'adhésion" avec la Turquie, suivies d'un blocage sans précedent de l' édification européenne)..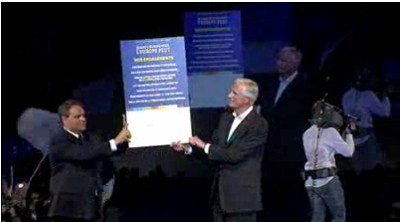 "Nore Europe n'est pas n' importe quelle Europe : L' UE Technocratique n'est pas la nôtre. ... L' UE sans Frontières n'est pas la notre. L' UE desincarnée n'est pas la notre". "Nous portons une idée de l'Europe" qui "n'est pas celle des Statistiques et des Bureaux(crates). L'Europe ce n'est pas qu'une Monnaie. Ce n'est pas qu'un Marché. économique".

- "L' Europe c'est d'abord une Culture. L'Europe c'est une Histoire", a-t-il dit, largement applaudi.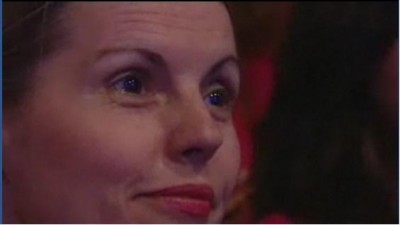 "L'Europe c'est une rencontre entre des Nations qui sont Millénaires et qui sont Brillantes. L'Europe c'est Paris. C''est Madrid. C'est Prague. C'est Londres. C'est Rome. C'est Varsovie. C'est Berlin. C'est Vienne. C'est Athènes : Quant on énonce ces Villes, alors on "sent" nos Héritages et nos Cultures entremelées qui circulent dans nos veines".

    - "Je suis Européen, parcque profondément Français, je sais ce que je dois aux influences de l' Atlantique et de la Méditerannée. J'aime ces Traditions qui offrent à chacun des nos Nations leur éclat. .. J'aime ses saveurs, ses paysages divers. Ils sont également miens, ou, plus précisement, je suis également fait d'eux. Je suis Européen, car, Français, j'aime l' Europe ouverte vers l' Amérique, vers l'Orient, vers l' Maghreb. J'aime les quais de Vénise, ceux d'Amsterdam. J'aime les quais de Thamise où sont vénues pendant des siècles s'amasser les richesses et les nouveautés du Monde. J'aime l' Europe curieuse. L'Europe qui rêve des lointains : L' Europe de Vasco de Gama, de Magelan. de Bougainville, de Charcot, de Monot... Cette Europe qui, aujourd'hui, s'élance vers l' Espace. Je suis Européen parce que Français, j'aime l' Europe qui prospère et qui invente. J'aime l' Europe des Trains à Grande Vitesse. J'aime l'Europe des Satellites et des Fusées. L'Europe de la Mode et des Atéliers d' Artistes. L'Europe des Grands Laboratoires, des Ingéniers. des Entrepreneurs, des Grands Architèctes, des Traditions Ouvrières. Comme rançais, j'aime l' Europe qui dit "NON" à la Tyrannie et qui se soulève à l'appel de la Liberté", a-t-il dit en

 
"Je me sens lié à ces femmes et ces hommes sans nom, qui ont levé la tête, et qui ont sécoué le joug sous lequel .. on les avait fait pliér", dit-il en évoquant pex.. la Révolution Française de 1789, le Siècle des Lumières, l'appel du Général de Gaulle contre l'Occupation NAZI, et les pires heures obscures qu'un  "Fascisme" ou "Communisme" devoyés, suivies de la Guerre Froide avaient plongé l'Europe au Passé.

"Ils sont des millions, ces Héros Anonymes de notre temps, que nous croisons sans le savoir dans nos rues et nos places. Et je ne peux pas concevoir l'Europe sans eux, et sans tous ceux qui poursuivent leur combat contre l'arbitraire et le fanatisme", ajouta Fillon. Faisant pex. rappeler un récent Film allémand, primé au Festival de Vénise, qui décrivait la vie d'un cadre à l'époque d'un régime oppressif, qui avait été chargé d'espioner la vie privée et familiale d'un couple soupçonné d'être dissidents politiques, mais, ému par leur honnêteté humaine et leur sacrifice pour sauver d'autres, a preferé risquer sa place et sa propre liberté pour les sauver, sans même qu'ils le sachent, condamné dépuis à faire un bas boulot d'anonyme perdu dans la foule..


"Quand je vois l'Europe moderne, je vois les résultats de l' Audace de ces hommes qui ont brisé les traditions de conflit et de violence. Je vois des nations soudées autour d'une monnaie unique et protectrice. Je vois 27 jeunesses appelées de grandir ensemble, sans défiance. Je vois 27 peoples unis, qui nous interdisent de jouer les blazés ou les indifférents".

Jettant "un régard lucide sur les errements de la construction européenne", Fillon a observé que "l' Europe n'a pas bésoin d'être idélisée pour être ce qu'elle est ; Cad. une aventure humaine, avec ses faiblesses et ses forces".

"Vous voulez que l' Europe agisse ? Fixez-lui des objectifs clairs. Vous voulez la Démocratie ? Agissez en Citoyens. Vous rédoutez la prétendue Bureaucratie des Bruxelles ? Alors renforcez, par votre Vote, les instances élues au Parlement Européen" qui sont chargés de la contrôler.

- "Si nous voulons faire vivre "le Rêve Européen", .. alors nous avons tous le dévoir de l' engagement", a-t-il conclu, appelant de "engager pour le drapeau tricolore et le drapeau étoilé, car ils symbolisent tous les deux la fierté de nôtre nation et la force de nôtre union".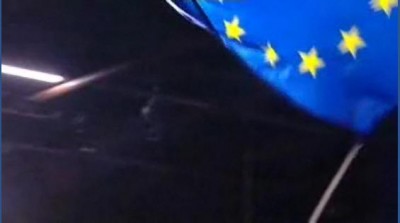 Polls