Home

newsitems

France/Grand Debat/Gilets Jaunes: Droit Citoyen à Dialogue avant Decisions = Solution Démocratique ?
France/Grand Debat/Gilets Jaunes: Droit Citoyen à Dialogue avant Decisions = Solution Démocratique ?
Wednesday, 06 February 2019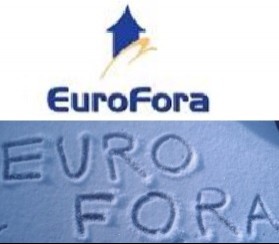 *Strasbourg/NewsViewpoint (+m.à.j.)/Angelo Marcopolo/-
Au coeur d'une Solution de compromis possible au conflit socio-politique dit des "Gilets Jaunes" en France, (qu'on essaie de résoudre, entre autre, aussi par un "Grand Débat" actuellement en cours), pourait être la reconnaissance d'un nouveau Droit Citoyen au Dialogue avec les Autorités Publiques avant les Décisions qui affectent les persones interessées et/ou la Société dans son ensemble.  
"Eurofora" avance, analyse et soutient une telle réforme démocratique moderne, dépuis longtemps, pour l'ensemble de l'Europe. Et une serie d' appuis juridiques concrets existent déjà, aussi bien en France qu' au plan de l'UE, etc. Des recherches originales en droit public, dépuis près de 40 années, en France et ailleurs en Europe ou dans le Monde, qui arrivent bientôt à un point culminant, semblent le prouver clairement.
In s'agirait d'un vrai "Droit", guarantissant une Procedure d' information et écoute des Citoyens, doublée d'une obligation de répondre à leurs observations critiques, avant la décision finale, sous le contrôle de juges indépendants, pour le caractère suffisant, vrai et correct (p.ex. cohérent, légal, proportionel, etc) des réponses données par l' Administration Publique de l'Etat aux arguments eventuellement presentés par le Peuple.
Ainsi, (avec attention pour qu'on ne paralyse pas indument l'action efficace de gouvernements democratiquement élus avec d'eventuels abus excessivement proceduralistes, surtout dans certains domains-clé : p.ex. Sécurité/Terrorisme, Investisments Cruciaux pour le développement économique et/ou Scientifique, etc), la voie d'un Dialogue transparent Démocratique, avec utilisation aussi des Technologies Modernes de Communication, grâce au Numerique, etc, pourrait s' ouvrir à l' horizon.
Le RIC (soutenu par plusieurs "Gilets Jaunes", et d'autres), peut-être un beau "rêve" pour l' avenir, mais force est de constater qu'en réalité, même 1,5 Siècle après la Commune de Paris, la Société actuelle ne paraît pas prête à l' adopter, (au moins pas dans sa forme "complète" avec 3 volets, comme voulu par des GJ). Et ce fait ne devrait pas bloquer toute solution au conflit actuel. En revanche, une telle idée pourrait être portée par des mouvements socio-politiques d'idées, voire des Partis nouveaux, s'ils les souhaitent, et ainsi soumise aux débats d'idées démocratiques, voire même aux Votes du Peuple, ici et ailleurs, pour un avenir, qui, peut-être, ne serait pas trop lointain.
 + Entre temps, vu aussi que plusieurs "gilets jaunes" auraient déjà rejeté des débats sans vote, ni suite, certaines propositions, de lege ferenda, visent la possibilité d'un Vote, qui, en cas de réussite des contestataires, ne permetrait aux Autorités Publiques de l'ignorer et passer outre, avec des mésures (manifestement) non necessaires et/ou disproportionnées, par rapport à des intérêts légitimes importants, que pouraient évoquer les citoyens concernés. (Dans ce cas, on ne saurait craindre un soi-disant "Gouvernement des Juges", car il y aurait aussi un verdict Populaire, et des enjeux incontestablement sérieux). C'est une idée supplementaire, à examiner, creuser, peaufiner/ajuster et débattre...


(../..)
---------------------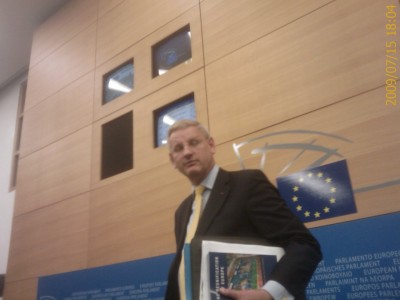 Swedish Foreign Minister, Carl Bildt, speaking  to "EuroFora", denied rumors on Turkey's attempts to avoid an EU check of its obligations on Cyprus on December 2009 by blackmailing Nicosia to either accept any deal with intransigeant Turkish claims contrary to EU values on the island's political issue, or face threats against the territorial integriy of the EU island, semi-occupied by Ankara's army.
On the contrary, the incoming EU President-in-office, speaking exclusively to "EuroFora", promissed that he will act for EU Council's decisions on December 2009 assessment of Turkey's commitments on Cyprus to be kept.

    Bildt was asked to react to Cyprus' President Christofias' denunciation, earlier this week, that some want to exert "pressure" on Cyprus in order for Turkey to escape from its obligations.

    Avoiding to mention any precise Deadline, Bildt, however, warned about "Consequences" in case of "failure" to reunite Cyprus, but without saying whose responsibility an eventual deadlock might be.  
 Asked by "EuroFora" if there is a risk for "Turkey's commitments to "be forgotten or downgraded", "despite crystal-clear EU Council decisions and EU Parliament's latest Resolution on the assessment to make at the end of this year on Turkey's obligations", according to rumours that, instead of pressing Turkey, on the contrary, there might be "pressure on Cyprus", even "blackmail", as Media reported and President Christofias denounced this week, Bildt denied :
- "No ! ", he clearly replied.

- On the contrary, invited by "EuroFora", to "reassure that the Swedish EU Presidency (7-12/2009) will keep a fair stance, based on principles",  Bildt promised that "we (Swedish EU Presidency) will be very clear on all of the decisions taken by the (EU) Council".

He added, however, that "we have very numerous decisions that have been taken" by EU Council, as if he warned, also, on something else.
- "'I am not aware of any sort of statements coming out today''", Bildt started to say, on our reference to Cyprus' President Christofias" denunciation of Turkish lobby's manoeuvers this week, replying earlier to 'another"EuroFora"'s question during a Press Conference at EU Parliament in Strasbourg.

 - '"I know the issues that you' are concerned with'", he added, remembering  the statements he gave us when Sweden was chairing the PanEuropean CoE on 2008.

- "But, obviously, .. I think that Cyprus' Peace negotiations are extremenly important".

- And "'I think that we are at a unique moment in History, in the sens that both (Cyprus') President Christofias and Mr. Talat (the Turkish Cypriot leader), are personally convinced of the need to overcome the division".

 - "It's 20 Years since the fall of Berlin Wal, but we still have a Capital in Europe (Nicosia) that's divided". ,

- 'I don't that we should loose any time in overcoming that"..

 - ''We should be aware of the fact that success will bring great benefits, but failure, will also have major consequences. There will not be Status Quo' " It's a question of seeking a solution, or entering another situation, which is somewhat difficult to see exactly how that could evolve", he warned.

- "That being said, this is a negotiation for Cyprus itself", Bildt admitted.

 - ''We (EU) can support, the (EU) Commission primarily, be technically helpful, and then, of course, there is a specific role for the UN, when it comes to the Cyprus' situation".  
- "At least so far. It might not be for ever'. Certainly not for ever, but for this period of time", Bildt added, skiping now any reference to concrete threats on UNO's Peace keeping force in face of more than 40.000 Ankara's soldiers, contrary to some Press claims, (See previous NewsReports).

     Replying to another "EuroFora"'s Question,  if anyone might attempt to "impose a Deadline for the conclusion" of Cyprus' Talks on December 2009, Bildt avoided to speak of any precise Time-frame, and indirectly evoked the fact that  35 Years of Turkish Invasion/Occupation obviously durated too long :

'- "If I was from Cyprus, I would say that the Deadline was Yesterday ! '",
Bildt concluded.
Cyprus' Government Spokesman, Stephanou, reportedly pointed out that "a settlement is possible on December if Turkey changes its stance", accepting a solution for the reunification of the island based on UNO resolutiona and EU principles.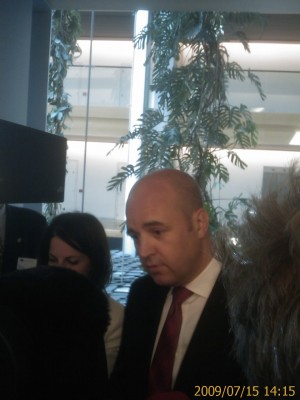 Earlier, EU Chair, Swedish Prime Minister Fredrik Reinfeld, highlighted an "historic opportunity" to "re-Unite" Cyprus according to EU's "basic Values"' (i.e. Human Rights) and 'Rules'", in a last-minute change of his draft speech to EU Parliament in Strasbourg.

    The initial Draft spoke only about "healing" the island.

    Significantly, Reinfeldt linked Cyprus' reunification with Turkey's obligations to respect EU's "Values" and "follow" EU's "common Rules" :

    - What is "called Membership Negotiations" should lead, "at- the end of the day", into "sharing a set of common Basic Values (i.e. Human Rights, Democracy, etc), and following common Rules", stressed Reinfeld from the outset.
    
    - "This is something that those on the Outside (of the EU), are now  contemplating", up "to Ankara", for "a solution" on "Cyprus", observed the EU Chairman, immediately afterwards..  
    - "Both sides of Cyprus have been granted a historic opportunity to together reach an agreement on a solution to re-Unite the island, that has been divided for far too long", said Reinfeldt, modifying his draft text.

-  "The Swedish Presidency will act ...in accordance with Commitments EU has made, on the basis of Criteria that apply", "as a Honest Broker", he promised.    
- "To those on the inside (of the EU), allowing the membership process to become an opportunity to solve protracted disputes, can be tempting", he added.

    "In such cases, we must find solutions that can benefit both sides, and open up a way forward. Otherwise, it would jeopardize the progress we have made towards EU integration", Reinfeldt said.


***
Polls