CoE Assembly SG Sawicki to EF: Russia Deal legally possible during 1st Half of 2019+
viernes, 18 enero 2019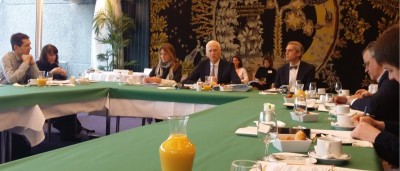 *Strasbourg/CoE/Angelo Marcopolo/- Despite current Claims that Latest Developments would inevitably Exclude Russian MEPs from CoE's PanEuropean Assembly (PACE), on pretext of the Ukranian éConflict, also during All the Year 2019, (See Infra), on the contrary, PACE's Experienced Secretary General, Wojciech Sawicki, replying to "Eurofora"s questions, confirmed that it is still Legally Possible to strike a Deal during 2019, and particularly at its 1st Half.

This clearly results from what he told us Today, during a CoE's Press Briefing with Strasbourg's European Journalists on the forthcoming Winter Plenary Session of the PACE Next Week in Strasbourg, (21-25 January 2019), as well as on Earlier occasions, but also from relevant Expectations of other interested sources, concerning probable Political Developmens inside Ukraine itself, which is notoriously preparing National Presidential and Parliamentary Elections on March and Autumn 2019, respectively, (See Infra).

A Last-Minute Top Meeting, at nearby Geneva, last Monday, between PACE's new President, Swiss  MEP Liliane Maury Pasquier, and Russian Duma's deputy Speaker, Pyotr Tolstoi, and Council's Foreign Affairs Committees' President, Constantin Kosachev (Comp.:..., etc), following the Limits of a Controversial Procedure and Draft Report by Belgian MEP Petra de Sutter on making Relevant Changes to PACE's Rules, (Comp.: ...., etc), did Not manage to mark yet any real Breakthrough, agreeing, nevertheless, to keep going at least a Dialogue also in the foreseable Future.

An UnPrecedented 3,5 Years total Absense of any Russian MEP inside the Paneuropean PACE (2/2014-1/2019), provoked by a Controversial, Last Minute Amendment, Tabled and voted by a Minority of MEPs who smashed a Deal prepared by PACE's Political and Monitoring Committees' Presidents then, was Followed by Moscow's subsequent Decision to Freeze, (initially a Part, and Afterwards the whole), of its Annual Financial Contribution to the CoE, so that Now, the PanEuropean Organisation is reportedly preparing to Cut its Budget and Staff for - 11%, while Measures as Suspension, etc., are expected vis a vis Russia from June 2019, unless a Solution is found beforehand.

Meanwhile, already, Moscow's recent Decisions, reportedly anounced just Yesterday (Thursday), to Continue to withhold its MEPs from coming to Strasbourg on Monday, at the Beginning of PACE's 1st Plenary Session for 2019, as long as PACE has Not yet Guaranteed the inviolability of all MEPs' Democratic Rights to Vote, Speak and Participate, etc., (even from Other CoE's Member Countries, as a matter of General Principle, applicable to all), apparently Risk to have far-reaching consequences.

Indeed, given the established Fact that, until now, the Ratification of MEPs' Credenials is routinely done at the Beginning of the Session of January, for the entire Year to come, almost all commentators concluded  that, if the Russian MEPs really don't come to Strasbourg on Monday, then, they would be practically Excluded from PACE for the whole Year of 2019... And as that conditions Moscow's Payment, or not, of its Annual Contribution (Comp. Supra), then, a probable Non-Payment until June, would give to CoE's Committee of Ministers an opportunity to "Suspend" Russia's Membership to the CoE. In that case, the Foreign Minister Lavrov and others have already said that Russia would definitively Withdraw from the CoE...

--------------------------------------

But, is Now, this "Catastrophe" Scenario really so Inevitable and Fatal, as most Medias and Observers claim ?

- "Eurofora" raised Today anew the Question of eventually possible Alternative Solutions to PACE's Experienced Secretary General, and he Confirmed that, at least in Theory, it is still Legally Feasible, "if a Political Will exists", as he underlined:

>>> To put it in a nutshell, an Important Possibility corresponds to a practical Suggestion initially done by "Eurofora", already more than a Year ago, that Sawicki has already Acknowledged to be Possible : I.e., instead of Examining the Credentials of National Delegations Only Once per Year, (on January), the PACE should become able to do so at the beginning of Any Plenary Session, i.e. at least 4 Times per Year : January, April, June and October, (See: http://www.eurofora.net/newsflashes/news/coereformtoeaserussiasolution.html , etc).

PACE's Secretary General clearly Confirmed Today, in Reply to a fresh Question by "Eurofora" that this was, indeed, Possible, if CoE's Assembly and Committee of Ministers agreed to UpDate the Rules of Procedure (for the 1st) and CoE's Statute (for the 2nd) on a Key-Point of PACE's Plenary Sessions, in the Same way, and Fast enouph, in Parallel, (See for concrete Details : http://www.eurofora.net/newsflashes/news/russiaandpacecrisismayberesolved.html , http://www.eurofora.net/newsflashes/news/coereformtoeaserussiasolution.html , etc).

- This is "Easy" to do "Fast" enough, if PACE and CM Agree on the precise Text that they want, since, in that case, there is No Need for Ratification Procedures inside Each one among CoE's 47 Member Countries, and all can be done here, in Strasbourg, he clearly reiterated.

- But this naturally implies the existence of a clear "Political Will", among COE's Member States, Sawicki underlined anew :

=> Something that Now, Obviously points mainly at an Important, forthcoming Presidential Election in Ukraine, at the End of March 2019, where former Prime Minister Julia Timoshenko (Comp. several Timoshenko statements to "Eurofora", as well as or her Daughter and Lawyer [currently MEP] during ECHR's proceedings against her Imprisonment, f.ex. at: ..., ...., ..., ..., etc) and/or various Other Candidates bypass or match the Out-going President Pedro Poroshenko's ratings in many Polls, in a way which apparently indicates that Ukranian People mighty have had enough of the still on-going, Deadly and Destructive Division of the Country up to War since 2014, Corruption and Economic Slowdown, etc., so that a Positive Change might have, hopefully, become Possible, closer towards Peace in the forseable Future.

- But, when "Eurofora" asked further Sawicki "Until When" does PACE have the Time to eventually Decide to do as advised (Comp. Supra), his Reply was that it must be done, at the latest, "on April" 2019, i.e. at the Next Plenary, of Spring 2019 : Something which practically Excludes the 2nd and Final Round of those Ukranian Presidential Elections, since next PACE it's scheduled towards the Beginning of April, while that Election's 2nd and Decisive Round is scheduled for Later-on, towards the End of April... This leaves Only the June 2019 PACE Plenary for all those required actions : F.ex., Decision to make a Peace Deal, Changes of CoE Statute and PACE's Rules of Procedure, Effective and Adequate Use of such New Possibilities, etc.

Certainly, as Sawicki also observed, CoE's current Rules do Not Oblige its Committee of Ministers to effectively "Suspend" a Member Country's participation, if it doesn't pay its Annual Financial Contribution during 2 Years until next June, but it Simply says that it "MAY" do so, whenever it believes fit, after that point, (i.e., f.ex. on July, September, October, etc).

Nevertheless, the Fact that on June 2019 PACE notoriously has also to Elect the New CoE's Secretary General, for the Next 5 Years (2020-2024), etc., (while Both a CoE Committee of Ministers' Legal Expertise, and PACE's Committee on Rules of Procedure have recently found that All CoE's Member States must Participate and Vote in a so Important Choice), pleads for a Deal preferably brokered Earlier : F.ex. on May.

=> Could it be done, perhaps at the May 2019 "Standing" Committee (may be in Paris) ?

Or, rather, by ...Adding anOther, 5th, "Exceptional" PACE's Plenary Session, precisely on May 2019, giving even anOther such Possibility to Gain precious Time : Indeed, as Sawicki has told us previously it could have one More Opportunity to Deal with the Issue of Russian MEPs' Credentials, and/or Change its own Rules, in this regard.
- Such a Move is Legally Possible, since, currently, PACE's Rules of Procedure provide for "up to 30 Days" for PACE's Full Meetings during Each Year, while, until now, "we don't use but only 20 such Days, Yearly", (i.e. 4 regular Plenaries X 5 Days each = 20, leaving +10 More Days, theoretically Free to be used whenever PACE might like to do so), as he had told us earlier, (See: http://www.eurofora.net/newsflashes/news/russiaandpacecrisismayberesolved.html ).

In such case, Ukranian Presidential Elections would have also completely finished, (Comp. Supra), and, probably, a New Political Context created by the Ukranian Voters, Hopefully more Favorable to Peace-making.

+ A priori, it's not excluded that it might even include a Fair Trial and/or Liberation from Prison for the Famous former Popular Ukranian Heroine, Nadiya Savchenko : The World-known Army Airplane Pilot, who served at Iraq and volunteered in Donbas (Eastern Ukraine), before being Jailed for 2 Years in Russia, (accused of Complicity to Murders), struggling in jail with Hunger Strikes, etc., but afterwards Freed (by Russian President Vladimir Putin's "pardon" and an exchange with 2 Russian Prisoners jailed in Ukraine), after an International Campain for her release, and triomphally returned back to Kiev, Welcomed by President Poroshenko, Julia Tymoshenko, and many People, Elected new MP at the 1st rank of her Party's List, appointed at the Ukranian Delegation to CoE's Parliamentary Assembly in Strasbourg, (etc).

Curiously, Savchenko, after being personaly engaged in efforts to Liberate Prisoners and find "Missing" People from Both Sides at Eastern Ukraine, while also Criticizing Government Corruption, focused on Seeking to Help Peace and Stop that Bloody War, (which has already Killed about 10.000 People, mostly innocent Civilians), became a Critic of Out-going President Poroshenko, accused him and otherts to have Betrayed Maidan's Popular Movement's Values, and Called for Direct Peace Talks between the 2 Sides of Ukranians : Kiev Government and Donetsk-Luhansk pro-Autonomy Regions, (considering the Crimea peninsula a comparatively secondary matter). This made her Opponents from the current Establishment slander her, and Exclude her from the Ukranian Delegation at the CoE in Strasbourg, and even Strip her from her Elected MP Status.

At that juncture, when she reacted also by Accusing a High-Standing Kiev Politician, (engaged at a Key role at Maidan's muscled uprising, then as Top Security Counselor to the 1st acting President of the Kiev regime issued from Bloody Street Clashes on 2014 : Turchynov, including in Kiev's Deadly Military Attacks on the Russian-speaking, pro-Autonomous Historic City of Slavyansk, etc), to have personaly and directly Backed severtak of those Armed "Snipers" who notoriously Targetted and Killed, at Maidan Square, Both Demonstrators and Policemen, provoking Massive Bloody Violent Clashes which Topped the 1st Peace Agreement on Ukraine, that had been Signed Both by the elected but controversial, mainly pro-Russian President Yanukovich, and All the Leaders of the Maidan Demonstrators, under the Auspices of the EU, represented at Kiev on February 2014 by 3 Foreign Ministers of France, Germany and Poland : Fabius, Steinmeier and Sikorski, as well as Ratified by the Ukranian Parliament by 35 v. 2, providing for General Amnesty, Government of National Unity, Presidential Elections that same Year, etc, that was afterwards Rejected by those same Demonstrators' Leaders),
Suddenly, Nadiya Savchenko was immediately Accused, by Kiev's Prosecutor, to plan a ...Bloody Putsch against the current Regime, including Bombing of the Parliament and Murdering President Poroshenko, etc, through Weapons smuggled from the pro-Autonomy Regions, etc., and Shortly afterwards Arrested and Jailed, on February 2018 !

Since then, (i.e. during almost 1 Year now), the former Top Heroine of Maidan's Ukraine, has been Continuously Kept Closed in Prison, (with several "Extensions" of her Detention, despite many Hunger Strikes, and Initial Courts' Judgements asking to let her Free and refusing to block her properties, soon overun), at least until the End of December 2018 included, (with astonishingly Few Informations published on her current short in English, to the point that it's Not easy to clearly find what happens to her Nowadays)...

According to Recent available Press News, she would have been Operated in a Prison's Hospital, and her Health would have reportedly Suffered  from her Latest Hunger Strike, to the point to Exceptionally Hinder her even to be Present at a Court's Hearing, while doing desperate efforts to access her personal Bank Account in order to be officialy Registered among the numerous Candidates to the forthcoming, Mars 2019 Presidential Election, (Comp. Supra).

Indeed, Nadiya Savshenko was among the First to Positively reply to Press Questions about her wish to run for next President in Ukraine, exposing her Political Views for a Peaceful Solution of the Conflict, as Early as already since 2016, and, Afterwards, she reportedly Confirmed that even more clearly, during 2017-2018.

Julia Tymoshenko, while having Dissociated herself from most Savshenko's controversial attempts for Direct Contacts and Talks between Kiev and the pro-Autonomy Regions, etc., (Comp. Supra), and having accepted also her late expulsion from her Party, nevertheless, has Not yet denounced Nadiya Savshenko's personaly, and would have said that she does Not Regret to have selected her in order to run at the 1st Place of her Party's List, back in the Latest 2014 Parliamentary Elections.

>>> Meanwhile, CoE's High Level Panel on Ukraine, set up by Secretary General Thornbjorn Jagland, and composed by former ECHR President Sir Nicolas Bratza from the UK, as well as by 2 Ukranian Senior Officials, in order to Supervise Investigations on the Bloody "Maidan" Events of February 2014, (Comp. Supra), and afterwards also on the Tragic Deaths of Civilians, critical to the subsequent Government, most Burned Alive during other Violent Clashes at Odessa on May 2014, has notoriously Concluded that Kiev regime's Authorities blatantly Failed on their Duty to Investigate that Key Issue of those Mysterious Deadly "Snipers" who reportedly pushed to Drop a 1st Peace Agreement and provoked Bloody Clashes (Comp. Supra).

So that it would obviously be Interesting to know what Nadiya Sevchenko may really have to say on those Mysterious Kiev's "Snipers", if and when, the forthcoming Political Developments inside Ukraine, might, eventually, allow her also to find anew at least her Freedom of Speech.



(../..)

----------------------------------


***


(NDLR : "DraftNews", as already send, Earlier, to "Eurofora"'s Subscribers/Donors. A more accurate, full Final Version, might be Published asap).
***
BRIEF NEWS
00:00 - 01.04.2019

00:00 - 04.03.2019

00:00 - 29.01.2019

00:00 - 08.12.2018

00:00 - 09.07.2018

00:00 - 31.05.2018

00:00 - 26.12.2017

00:00 - 26.05.2017

00:00 - 30.01.2017
Statistics
Visitors: 31530523
Archive
Login Form
Other Menu

    The recent paradox of freezing EU Talks with front-runner Croatia, while continuing controversial EU - Turkey talks, despite Zagreb's acceptance of Refugees' Human Rights to return, that Ankara refuses fex. in Cyprus, while both have "Good Neighborhood" problems vis a vis Slovenia, or Greece, Cyprus and Armenia respectively, can it be justified by the non-fullfilment of EU criteria, as Slovenia says, or, is it "Double Standards" ?    
The question became unavoidable after statements by Presidents of Slovenia and Croatia, Tuerk and Mesic, respectively, to "EuroFora", exclusively or among Strasbourg's journalists this week at the CoE, on the sidelines of its 2009 Summer University for Political Schools, which topically brought them together as successive key-note speakers.

    Comming only a few Months before EU checks Turkey's compliance to its commitments on Cyprus, etc., scheduled for December 2009, this obviously has a special importance for the coherence of EU Enlargement's principles.

     Suspension of EU Negotiations is a normal consequence in case of a Candidate Country's failure to fullfil EU Conditions, such as "Good Neighborhood relations", stressed at first Slovenian President Danilo Tuerk, current CoE's chair.

    But, regarding EU's Criteria,  there shouldn't be any "Double Standards",  reacted Croatian President Stjepan Mesic, commenting the fact that Turkey's controversial EU negotiations continue, while they were recently "freezed" in the case of Croatia, an "unquestionably European Country", which oficially accepts to respect Refugees Human Rights, contrary to Ankara's notorious refusals or reluctance.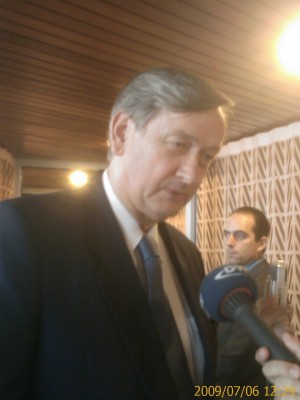 - "EU itself has set as a Criterium (for EU Enlargement) the "Good Neighborhood relations",  and their absence justifies the "Suspension" EU Negotiations, (f.ex. with Croatia), because of a Border dispute affecting the territorial integrity of an EU Member Country, stressed Slovenian President, Danilo Tuerk, CoE's Chairman in office (May - November 2009), speaking to Journalists in Strasbourg including "EuroFora".    
Questioned earlier what "consequences on EU's Enlargement policy" can have the "Ban on EU Membership Negotiations", imposed to Croatia, Tuerk replied that "this question comes down to the fulfillement of (EU) Criteria for membership. One has to look at each Candidate Country ., from the point of view whether it fullfils the Criteria that EU has set. One of them are Good Neighborhood Relations, I'd like to remind. And also, there are other factors, such as Justice, Home affairs, Rule of Law, and others".

    - "Now, ..Candidate Countries are at Different Levels of fulfillement of Criteria", he observed.

    - " Croatia is obviously the closest to that. I'm rather optimistic : I think that in the coming Months we'll have an opportunity to look at all these issues constructively and hopefully we'll be able to make progress". "My main concern, at this point, is the situation in Bosnia : We haven't seen enough progres domesticaly. We haven't seen enough during ..political parties within their country.We need a New Energy, a new energetic move towards the Candidature for EU membership. "Other (Western Balkan) Countries (Serbia, Montenegro, FYROM, Albania) have been making soaring Progress, and I think that they should be ready, in a few Years, for the Candidate status".

    - "As far as the Western Balkans are concerned, .. nobody should be left outside" the EU, Slovenian's President concluded, ommitting to mention Turkey's controversial EU bid.

    - "This process may be seen as Slow, but..  Slovenia has also has also been exposed to various "Booms of Slowness" in our accession period. But now we can say that the process was relatively quick, because changes which occur after becoming EU member, are quite large, and they require proper Preparations before the (EU) membership becomes a new factor, an impacting line for a new (EU) member country".
----------------------------
EU "Solidarity" ?
------------------------------   
Slovenian statements made some participants from certain 3rd Countries as FYROM, etc. claim that "the Principle of EU Solidarity" would "produce a.. rising European Union Nationalism (sic !), against Non-EU Countries", as they said, asking unhappy foreign countries to form a "bloc" to exert pressure on the EU...    
But Croatian President Stjepan Mesic dismissed that, supporting "EU Integration", "after the Economy also in Political" issues, as "the achievement" of our times. In EU there is "diversity, but it's United", he stressed, "EU has to be United so that it can become a central factor of Peace" also at the surrounding areas, he replied.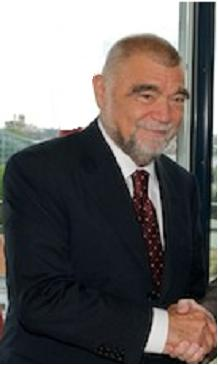 Speaking later exclusively to "EuroFora", the experienced twice President of Croatia, former President of the International "Non-Aligned" movement, denounced "Double Standards" in the way EU treats recently Croatia compared to Turkey :   
 - "I think that there shouldn't be Double Standards", stressed the Croatian President, in reply to a Question comparing the freeze of EU - Croatia talks, with the continuation of EU - Turkey talks, despite the fact that Croatia is an "unquestionably European country", while Turkey's EU bid is notoriously controversial.

    Mesic was reacting to the observation that, even if he confirmed his "respect of Refugees' Human Rights to return, etc. (See infra), nevertheless, EU talks are suspended with Croatia.. While for oher, controversial candidates, who refuse to respect Refugees' Rights to return, etc., as fex. Turkey does in occupied Cyprus and elsewhere, EU negotiations continue".

    - "I believe that Croatia's accession will confirm that all European Countries who fulfill all of the Conditions and achieve European Standards, have to join the EU. There shouldn't be any Double Standards", went on to add in reply President Mesic.

    In this relation, Croatia's President found "of paramount importance", CoE's "mechanisms enforcing ECHR's judgements"
    
    - "On Refugees and Displaced persons, the process will be completed only after the last person demanding to return will be allowed to do so !", President Mesic Croatia stressed earlier, setting a general standard of obvious importance also for otherr candidates, as f.ex. Turkey, often accused to exclude or heavily restrict Greek Cypriot Displaced persons' return to their Family Homes and ancestral land, provoke difficulties to Turkish-Kurd IDPs return to their home regions at the South-East, etc.

    Some "2.000 People are still reported Missing" in former Yugoslavia, for some Years, (as in Cyprus, modern Europe's oldest case, for 3 Decades. Nagorno-Karabach, Tcecnya in Russia, etc, more recently), and Investigations "will only be completed after establishing the fate of the last one of them", he added.
    
    Speaking earlier on "War Crimes", President Mesic stressed that "Leaders are responsible for (the) Wars (of the Past), not the People", and called against Impunity :  "Individuals have to be held Responsible for Crimes. International Penal Tribunals have to persecute those individuals", perpetrators of War Crimes, he underlined.

    Such statements naturally made Mesic rather popular at ECHR, whose President, French EuroJudge, Professor Jean-Paul Costa, looked particularly smiling when he welcomed him later on Wednesday afternoon, after Slovenian President Daniko Tuerk earlier this week.
           

***
Polls