Home

newsitems

Macron tackled by MPs on Nature Polluting, as he slams Trump for droping 2015 Paris Climate Deal
Macron tackled by MPs on Nature Polluting, as he slams Trump for droping 2015 Paris Climate Deal
Friday, 02 June 2017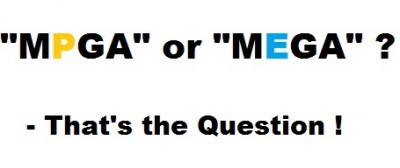 *Strasbourg/Angelo Marcopolo/- While Macron was loudly bashing Trump for withrawing the US from the  2015 Paris' Climate Deal (negotiated by his Predecessor, Obama), that he accused to be a "Mistake" against "Environment", "BioDiversity", etc, at the same time, in an unprecedented move, Representatives from All main Political Parties, urged to drop a Series of Authorisations, given by Macron, to Foreign Mining Companies, denouncing Risks to Harm Natural Environment, Disfigure Landscapes, undermine Agriculture and Tourism Jobs, empoison Fields and Water sources, damage Human Health, etc.

Trump, by doing so, notoriously Kept a Pre-Electoral Promise, on the basis of which, the American People Voted him as New US President on November 2016. While, on the Contrary, the French People practicaly Ignored that Macron had given that Series of 6 Controversial Concessions to Foreign Mining Companies, for the 1st Time in Decades, when he had been briefly Appointed as Minister of Economy (by former "Socialist" French President Hollande) back on 2014-2015.

Related Facts are so Surprisingly "Hot" (as we shal See Infra), that various Sources have even Raised (apparently Legitimate) Questions about the possible existence, or not, of an Equivalent Controversy, on 2017 in France, as about ...Seth Rich's non-ellucidated yet Murder case, on 2016 in the USA, drawing a parallel between DNC, Podesta and Hillary's "Wikileaks" and "Macron-Leaks", because of some Striking Similarities and Coincidences with anOther, UnExpected and ill-elucidated "brutal Death", of en even More Important "Key" Personality in France, mutatis-mutandis...

Macron Accused Trump, twice, to make a "Mistake" on the Climate Issue which can provoke (according to his 2 official Press Releases), even "Hunger, ...Uncontrolled Migrations, ...Wars, .... the Disappearance of Archipelagos and Seaside Cities", etc, as he claimed. In their Open Letter, published at several Mainstream Médias, (f.ex. "Le Monde", "Europe1", etc), "Representatives of the Entire Political Spectrum",  (i.e. the 6 Bigger Parties of France, with the Only Exception of the declining "Socialists") in the Crucial Forthcoming Legislative Elections of 11 and 18 June 2017, at the most directly concerned Region : that of Northern Brittany, express their "strong Determination to Defend this Land against the Risks of Mining Exploitation to the Detriment of the Environment, Agriculture and other Economic Activities, as well as People's Health".

Trump's "White House" official Press Communiqué explicitly Promised that "America remains Committed ...to Robust Efforts to Protect the Environment", a "Strong Record in Reducing Emissions" and in "the Development of Clean Energy Technology", as well as for the US to become "the Cleanest and most Environmentaly Friendly Country on Earth", as it said. He also "Agreed to continue Dialogue, and strengthen Cooperation on Environmental ...Issues, going Forward".

On the Contrary, Macron's "Elysée" Palace Press Communiqué stressed his Refusal to "ReNegotiate a less ambitious Agreement. Never", and launched a "Call" to "Stick to the (2015) Paris Deal", "withOut Yielding on Anything". As for the Issues about Environment and Concessions to foreign Mining Companies in Brittany and elsewhere in France, Macron had reportedly spoken, in the Past, for Concertation between all stakeholders, including affected People, but, in fact, "Despite the Opposition (from various Political Representatives), ...(and) the Strong Involvement of the Population", still "Today, those (Controversial, Mining research/exploitation) Projects go forward, by Forcing, in dark Opacity, in Contempt of Elementary Rules about Independent Evaluations of Environmental Risks, and (withOut) Democratic Concertation", as the 6 Political Representatives Open Letter Denounced.Last, but not least, Even if Both Trump and Macron spoke earlier Together by Phone on that Climate Issue, as well as with German Chancellor Merkel, Canadian Prime Minister Trudeau Jr., etc., nevertheless, while Trump spoke also with UK Prime Minister Theresa May, curiously, Macron did Not.

    But, in the few Next Days Macron even phoned to controversial Turkish President Erdogan to ensure his "commitment" to the Paris 2015 controversial Deal on Climate, and found enoughTime to make a Dubious "Joke" about Poor Comorian People's attempts to cross the Borders on unstable make-shift tiny boats, which have reportedly costed more than 1.200 Deaths... (His staff reportedly presented its Excuses, later-on, in reply to critical Medias' questions).

As for the Mininig projects' Controversy vis a vis Natural Environment and People's Health, Macron's currently competent Ministers : Le Maire for Economy, and Hulot for Environment, reportedly, had Not Yet contacted, nor Replied to the 6 concerned Representatives of all mainstream Political Parties, until now, Neither vis a vis the Protesting NGOs and/or affected People. Only a previous oral promise, by phone, from one of the concerned Ministers : Hulot, to just 1 among the committed Politicians, reportedly highlighted a possibility for, at least, "an Independent Assessment" to be eventualy made, in unknown conditions, at an undetermined moment in the Future.
-----------------------------

    Concerning Employment, Variscon highlighted the eventual creation of some 500 (or 150 in 20-30 years  !) new Jobs, but avoided to speak about those that would be Destroyed and/or undemined by such an operation. However, meanwhile, the reasons for Kidnapping a French agent of a Canadian Mining Company in Congo, whose Liberation (by the Congolese army) had been anounced by Macron during the recent G7 Summit, consisted, (according to mainstream International Medias), mainly to the fact that Local Populations were upset because that Company had Not kept its Promises to Give Jobs to People living there, but, on the Contrary, brought Posted Workers, and didn't yet help create a Health Center for the Inhabitants, as it had said before getting an Authorisation for Mining Exploration there : I.e., precisely this kind of Topical Data which fuel also French People's above-mentioned Concerns f.ex. in Brittany region, (Comp. Supra).

----------------------------------

However, the Undeniable Importance of that "Foreign Mininig Companies v. Natural Environment and Local Population" issue, certainy deserves better :
- Just the 6 or 7 Mining Exploration Licences that a Foreign, Astralian Mining Company, "Variscan", has already been Given by Macron (as f. Minister : Comp. Supra), for the First Time in the History of France during the last Decades, are of a Duration of 5 Years each, Renewable Twice, extend throughout a Wide Range of Metals : Copper, Lead, Zinc and Nickel, Gold and Silver, Tin and Tungsten deposits, including 7 Geographic Areas in Brittany region, which cover about 1.831 km2, and affect several Hundreds of Villages

The 6 Representatives from All Big Political Parties who wrote that Open Letter to Macron's Government (Comp. Supra) are just the Tip of the Iceberg : Much More MPs are, in fact, involved, in one way or another, throughout all the 7 Areas concerned by those controversial Licences for Mining Exploration/Exploitation which have been given by Macron to that Australian Company, in Addition to at least 4 Specialized NGOs, until now : "Attention Mines", "Vigil'Oust Merleac", and "Alternatives-ProjetsMiniers", etc., which have already mobilized a recently Growing big Number of People, Many Popular Demonstrations, etc.

Amidst the various Concerns is also the Fact that, Brittany's Economy Based largely on Agriculture, Food Production, and "Green" Tourism, is Threatened to perish, since Farmers risk to become Unable to Survive with their Lands, because of "Chemical products used" by Mining Companies, while also Tourists, to whom they use to Lend Chambers or Houses, will No more accept to visit Disfigured Landscapes affected by Mining operations. Moreover, "Farmers are currently Short of Water, particularly during recent Heatwaves. But Mining activities consume a lot of Water. Where will they Find it ?", the Regional Press wonders, while pointing allso to Sanitary Risks on Plant, Animal and Human Health. F.ex., the French National Office for Geological and Mining Research ("BRGM"), had already made an Inventory of Metal Resources in Brittany, as early as  between "1958 and 1981". But, in an Official Report of 1982, on the "Monitoring of the Real Results of Mining Exploration" at some of these areas, BRMG concluded that "the Mining Prospection operations had Significant Consequences on the Environment", including, mainly, "Alterations of the status of UnderGround Water" sources...

However, even Today, the Foreign Company "Variscon", reportedly "Refuses to reveal the Chemical Products used for Mining Exploration operations, Claiming that this would be an Industrial Secret", denounced the President of NGO "Attention Mines", Claire Mériaux, according to Local "LaVoidDuNord" Newspaper. Moreover, on the 5th of May 2017, a prior Demand of one among the most involved and active, dissident NGOs : "Vigil-oust Merleac", vainly Asked to assist at an Important Meeting between that Foreign Mining Company and the Public Authorities, about its imminent Projects for Exploration/Exploitation, which was, finaly, Rejected then, i.e. at the Eve of the Final, 2nd Round of the Presidential Elections of 2017, (snatched by Macron, in very Particular Circonstances, and even with an Exceptional Minority of Registered Voters, which gave to the Forthcoming Legislative Elections of June 11 - 18, an unusualy Crucial Political Importance : See at : .....).

--------------------
People's Questions + Facts on eventual Seth Rich - Corinne Erhell resembling Tragedies, eve of US + French Presidential Elections 2016 + 2017 :
----------------------

This Conflict also occured, by a incredible "Coincidence", at the very ...Same Day that Macron's No 1 Specialist on Interet/CyberSecurity, and Political Ally, MP Corinne Erhell (whose Constituency is located at the same area of "Cotes-d'Armor", at Northern Brittany, in which Popular Protests against that Mining Company's operations were culminating : Comp. Supra), suddenly ..."Died brutaly", allegedly by a "Heart Failure", aged only 49 years and looking in good Shape, while Speaking in the Last Pubic Meeting of that top Electoral Campain, right in the middle of the infamous "Macron-Leaks" Scandal rocking then the World Wide Web, and while Various (at "Twitter", "4span" and other "Forums", etc), raised Questions about her Unexpected Death's possible resemblance with the Tragic Death, Last Year in the USA, of DNC emails suspected Whistle-Blower, Seth Rich, which, curiously, still remains UnExplained until Today, despite "Wikileaks" Head Assange's call and even Money Award anounced for whoever would provide Informations allowing to Find and Punish those Responsible for Rich's brutal Death...

MP Corinne Erhell, (who had Drafted Many Reports for the French National Assembly on Internet, EU Digital Strategy on TeleCommunications, CyberSecurity, etc), was also at anOther "direct Opposition to Macron", recently, due also to Environment/Natural Ecology issues and Mining : Indeed, she was Famous for her Strong Refusal of anOther Mining Company's plans to Explore and Exploit Sea Sand at the Seaside around her own HomeCity : Lannion, Brittany's Local Médias reminded Nowadays.
Macron chose to speak about Erhell only 2 or 3 Days Later, at a Meeting with his pre-electoral Staff scheduled to "Thank" and say "Good Bye" to those that he fired, using the Word "Bitter Fate" in order to describe her unexpected and ill-elucidated, brutal Death. At her Funeral, later that same week, Macron also Surprized several observers by repeatedly using in Public the unusual, or even inadequate Wording "a Bite by Fate", refering to the 49 y.o. Victim's sudden and abnormal Death.

+ By another yet, incredible Coincidence, Erhell's HomeTown and MP Constitency at Lannion, is also the area where 2 Strategic UnderSea Telecommunication Cable Networks, for Inter-Continental links between Europe and the USA, are located, (as well as an "International CyberSecurity" High-Tech center, full of competent Businesses and Experts, including France's Biggest Telecom Company "Orange"s Research Labos, Scandinavian "Nokia"s Global CyberSecurity HQ, etc). To the point that, as revealed by a "Wikileaks" publication, earlier, that area hosts one among the Most Important, International Infrastructures of Vital Strategic Importance for USA's own Economy, Defense and Security, which needs adequate Monitoring, according to a relevant CIA emailed Report leaked.

But that ill-elucidated, unexpected, sudden Death of key MP Corinne Erhell, Macron's Specialist on Internet, right at the Eve of the Final Round of the French Presidential Elections, and at the Same Moment that "Macron-Leaks" uproar Culminated, (about alleged Massive Leaks at the Internet of Emails from Macron's campain Team), occured also at the Suburbs of a City (Guingamp) situated almost Between 2 local Hotspots of the parallel Controversy about Mining Projects by Foreign Company "Variscon", opposed by a Growing Number of People near Erhell's own Constituency at "Côtes d'Armor" a.o. Brittany areas : "Merleac" and "Loc Envel", (Comp. Supra, and See relevant MAP, attached herewith).

++ And, by another "Coincidence", (one More, in a Case, which, already has much...), it's also Near the area of Erhell's sudden Death, and even Closer to the "Hottest" point of Popular protests against those Controversial Foreign Mining Company's Exploration/Exploitation plans, (Comp. Supra), i.e. towards the "Merleac" area, that anOther Woman was, suddenly found Brutaly Killed, immediately after the 2nd Round of Presidential Elections  (early May), after having been, reportedly, Kidnapped and "Disappeared" at the Eve of the 1st Round of those same Presidential Elections, back towards the End of April :

- Claire Bouchau, a Young, 35 years old Mother, working as Public Hospital Nurse, violently Killed with a Knife, her body Hidden in an Abandoned Farm House, who was also Sister of an Independent "Green" Representative elected at Brittany's Regional Assembly, and former Sister-in-Law of a Local MP who had recently joined Macron, De Rugy (before he Separates from her Sister, who had been his Wife in the Past) : I.e. that Same MP who was, (by still anOther "Coincidence"), also at the Side of Corinne Ehrell, when she suddenly Died, by an unknown cause, and in a Exceptionaly intense Political Context (made of "Macron-Leaks", 1st round of French Presidential Elections, Foreign Mining Company's controversy, etc.: Comp. Supra)...

This Might be, or Not, really Relevant to all or, at least some among those Other key Facts already Mentioned Supra. But, at any case, had to be mentioned in this Case, as it has several Points in common, (f.ex., Locations, Personal Relations, Dates, etc), and has Not yet been elucidated.

----------(+ Partly UPDATED) -------------------------------

+++ More Recently, while Dissident Mayors, Opposed to that Foreign Mining Company's controversial plans, authorized by Macron, are notoriously Trying to Protect their Territories from any such Mining Exploration operation, including by OutLawing relevant Plane Over-Flights by "Variscan", (which Reacted by lodging a Complaint to the Courts asking to Impose a Heavy Fine on those recacitrant Municipalities, in order to Oblige them to accept its Over-Flights), suddenly, a Municipal Counselor of a Nearby City in Brittany, is ...brutaly Killed by an UnExplained yet Fall of his personal Airplane.

Young and Strong, aged just 35 y.o., (and Flying at the Same Time that his Father also did, nearby), Nicolas Le Borgne, who was Guiding himself his own small Airplane, a Fan of AirFlights and even Professional AirFlight Technician, was, this Time, Heading, from his Town where he had been Elected Municipal Counselor : Dinan, (near Saint Malo), in a Direction pointing towards the most Contested Area of that Mining Company's controversial Exploration/Exploitation plans, (i.e. towards his South-East, nose eyeing the Neighbouring Merleac area's surroundings : See MAP).
Just on May 2017, a NGO involved in Local People's struggle against Mines, denounced the Fact that several eyewitnesses had seen and Photographed Helicopters apparently equiped with GeoProspection tools, suspected to prepare Mining Exploration operations for "Variscan" Company. It had also asked Help in order to Spot on Time and Monitor any such possible new Violation of Dissident Villages' Airspace by agents of that Mining Company, and Alert all those involved, in such a case. 


Since the Cause of such an Exceptional Deadly Air Crash has Not yet been Established, the competent Attorney is due to Make an Investigation, local Médias reported.

Once again : This supplementary Fact might, eventualy, have some relation, whatever, with that Mining Conflict affair, (Comp. Supra), or Not at all. It is just Noted here, obviously Because of the Relevant Over-Flight Quarel, (Comp. Supra).

+ By the way, concerning Both this, and All the Other, Various, above-Mentioned Incidents, which appear, more or less related to the Main Affair cited here, (i.e. that Controversial Foreign Mining Company's disputed plans : Comp. Supra), it's certainly Interesting to Note also the Fact that, the Competent Attorney who might, eventualy, Open, or Not, any Official Investigations in All or Part of these Cases, i.e. that Headquartered at Brest City, in Britany, has just been ...Transfered into anOther Region of France !

Therefore, his Successor, will have to be Chosen, soon, by ...Macron himself, (who has snatched, meanwhile, the Top Presidential job, in the Exceptional Cicumstances already described Supra)...

------------------------------------------------------------------

>>> Meanwhile, at least for the Time being, the Leadeship of "Variscon", the Australian Mining Company, reportedly declared to mainstream French Media (as "Le Monde", "Europe1", etc), that they Intend to rather keep things Quiet, during the present Pre-Electoral Period for the Vote of New MPs in the French National Assembly, the 11 and 18 June 2017, in order "Not to throw Fuel on the Fire", as they characteristicaly said, obviously referring to the current Popular Reactions against Mine Prospectiona/Explorations authorized by Macron, (Comp. Supra).

But, the Mining Company's Leaders intend to "meet the Press" after the ..."19th of June", (i.e. right at the Aftermath of the forthcoming, Crucial, Parliamentary Elections). And "we are Not going to Renounce to our Rights !", warns CEO Bonnemaison, who plans to "Launch the Drillings" only Later this Summer 2017...

So that, Fearing that some might just Pretend to Halt the controversial Mining operations Only during the Electoral Period, but Attack immediately Afterwards, the People Opposed to those Mines prepare themselves for a Legal Battle, and Organise a peaceful Resistance on the spot, f.ex. with various "Early Warning" and/or "Alert" practical mechanisms, etc.

At any case, "it's Indispensable to Abrogate those (6) Authorisations" for Mining Prospection/Exploitation, previously given to that Foreign Company by Macron (Comp. Supra), Dissident NGOs insist, in Conclusion.

>>> For that purpose, the Best (if not the Only) Guarantee, isn't, precisely, to Urgently Ensure a crystal-clear Political Message in the forthcoming Results of the present, Crucial Legislative Elections ?...

----------------------------------------

=> For an UnPronouncable ..."MPGA" (sic !),

or, Simply, a clear : "MEGA" ?
----------------------------------------

In other Words, to put it in a nutshell, French People, f.ex. of Brittany's region, seem Eager to Avoid ...Tricky and uncontrolled Floating accross the "Planets", as Macron notoriously evoked, by paraphrasing now Trump's Famous "Make America Great Again" (Akka: "MAGA", into a : "Make our Planet Great Again" (Akka : "MPGA"), on the occasion of the 2015 Paris Climate Deal, (Comp. Supra).

=> Instead, those French People seem to Prefer adopt a more steady, Safely Grounded, and "Grass-Roots" stance :

- I.e. "Make our EARTH Great Again !"

Akka, a Crystal-Clear :  "MEGA".

At least, it's, naturaly, Easier to pronounce, than Macron's "MPGA" (Comp Supra) ....


(../..)

----------------------------------------------------------------------

***

BRIEF NEWS
00:00 - 09.07.2018

00:00 - 31.05.2018

00:00 - 26.12.2017

00:00 - 26.05.2017

00:00 - 30.01.2017

00:00 - 14.10.2016

00:00 - 24.09.2016

00:00 - 27.07.2016

00:00 - 03.07.2016
Statistics
Visitors: 29203305
Archive
Login Form
Other Menu
Sarkozy stimulated by Irish "No" challenge : - "It's a call to change and build Europe otherwise. Not later, but now. It won't be easy, but it's fascinating !"

-------------------

* Paris, Elysee, June 14, 2008.

Forthcoming EU Chairman, French President Nikolas Sarkozy, created a surprise by declaring that the challenge of the Irish "No" to the EU Treaty, stimulates his belief that we must immediately change the way Europe is built.

A difficult but fascinating task, that he intends to accomplish in the next 6 Months, during which he will analyse developments 3 times to EU Parliament in Strasbourg, on July, October and December 2008.

But Agenda obliged to give a first reply to Questions raised by the Irish Referendum, on the sidelines of a Press Conference with USA President GWBush, in Paris' Elysee palace, Saturday :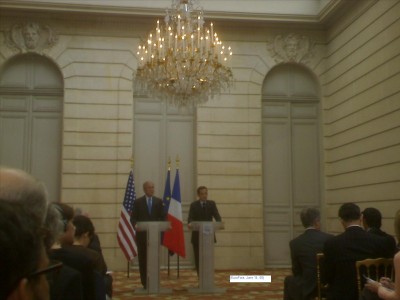 Sarkozy's reply was twofold :

First, the Franco-German position is that EU must make sure "that the Irish Incident does not become a Crisis". Ratification must continue, after 18 EU Member States, also to the rest, as UK Prime Minister Gordon Brown promised.

But, pointing at deeper causes, Sarkozy also criticized bureaucratic "sabotage" of Europe's "founding fathers" original dream. The move reminded his Historic February and July 2007 speaches in Strasbourg on Europe's future, joining criticism to a call for EU's Renaissance, which now became urgent :

(../..)

Polls