Home

newsitems

French People's "NO" to Artificial Births for Lesbians = Stronger than expected +Big Potential
French People's "NO" to Artificial Births for Lesbians = Stronger than expected +Big Potential
Sunday, 06 October 2019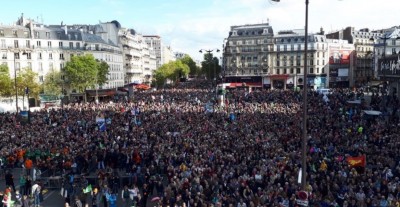 *Strasbourg/France/Angelo Marcopolo/- At the Biggest Popular Demonstration by French People during the first 3 Years of President Macron's term in office (2017-2019), a Surprisingly Wide and Numerous Flow of Protestors filled DownTown Paris, this Sunday of October 6, 2019, in order to Express Citizens' Refusal of a Controversial Government's Draft Measure aimed to Allow, for the First Time in the History of the Country, the use of Medically Assisted Technologies for Artificial Births of Children for Lesbians, (See, already, f.ex. ... + ...), that Critics are Afraid would Hurt Natural Family and/or Child's Rights, even enDanger Humankind, (particularly after Recent BioTech. developments let Heritable Genetic Manipulation of Embryos Affect also Future Generations, already from November 2018 : See Infra).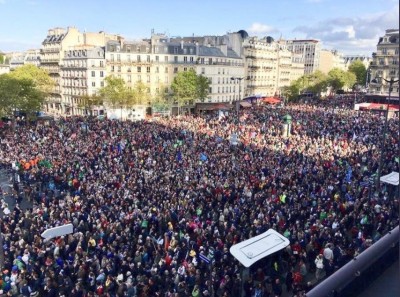 ------------------------------------------
Today's Popular Demonstration was, quasi-unanimously acknowledged to be "the Biggest" of All Recent Demonstrations on the Most Topical Issues, ByPassing, with a Large Participaton, even those of "Yellow Jackets", and/or on "Climate", "Pensions"' reform, etc., and, inevitably, a very "Hot" Controversy immediately Emerged about various Conflicting Estimations of the Total Number of People that it included, (See Infra).
The Flow of Citizens arriving to participate in this Mega-Event, was, reportedly, so UnExpectedly Big, that the Public Authorities asked the Organizers to Add, even at the Last Minute, also a 2nd PathWay for the Demonstrators, towards the Central Meeting Point, just in order to avoid Jams provoked by the UnForseen Number of People arriving to take part, (an Exceptional Fact, which made, However, more Difficult in Practice to Count their Total Number : See Infra) !
----------------------------------------------------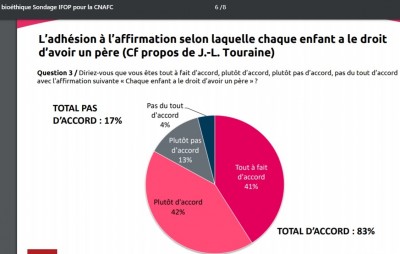 According to the Latest relevant Poll, published earlier This Month of October 2019, by the Biggest and Most Experienced French Polster Company "IFOP", there is a Record Majority of more than 83 % of Peuple in France who Feel that "Children have a Right to have a Father".
 -----------------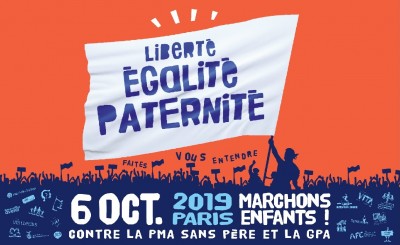 Indeed, a main Focus of the Organisers aimed to Denounce also the Deprivation of Any Father for those Children who might be Artificially Born for Lesbians, inter alia, also by Using the Famous National Moto steming from the French Revolution about "Liberty, Equality, and Fraternity", by succesfully Changing it into : "Liberty, Equality, and Paternity", as Numerous Posters and Flags brandished by Most People, proudly revendicated... (See relevant Photos).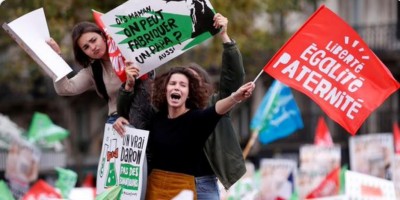 -------------------

Just a couple of Weeks Earlier, on September 2019, even the French Academy of Medicine, (an Eminent body for Consultations to the Government, created since 1820), Published its Official Report on that Controversial Demand to allow Artificial Births of Children for Lesbians, stating that it is its "Duty to Raise a Number of Reserves, linked to possible Medical Consequences", by such an "Abrupt Anthropological Change", as "the Deliberate Creation of a Child Deprived of Father", which "isn't without Risks for the Child's Psychological Development and Well Being", as they Warn, in that Official Text quasi-Unanimously adopted by 69 Votes against only 11, and 5 abstentions.
- "The Usual Claim used in order to Skip the Risks on the Child", "Only Based on some, mainly Anglosaxon Countries' estimations, argyuing an alleged lack of Proved Impact on the Child's Future", "are Not very Convincing", Neither "Methodologicaly, Nor by their Number, and Duration of Observation on Children who have Not yet Reached the Age of existential questions", (i.e. grown up Teenagers), while, on the Contrary, even "the figure of Father still remains of Fundamentl Importance for the Personality of the Child, as remind Psychiatrists for Children, Doctors of Medicin and Psychologists of the Child", that Report of the French Academy of Medicine Denounces, inter alia.
--------------------
Drafted by a former Health Minister, f. MEP and experienced CoE's Rapporteur on BioEthics, as well as Humanitarian NGO "Red Cross" Leader, Dr. Professor Jean-Francois Mattei, (Comp. several Mattei's Statements to "Eurofora", as, f.ex.: ... + ..., etc), that 2019 Report indicates a European level Support for the Popular Opposition to that Controversial Draft Measure, which was Marked in Today's Mass Demonstration, also by the Presence of several MEPs, (such as, f.ex., among others, also the Head of French Center-Right, Mainstream "Republican" Party's MEPs, Philosopher Francois-Xavier Bellamy, as well as "ID" Group's vice-President, Rightist MEP Nicolas Bay, etc). A Huge European Flag's mat stood Higher than All Others, Facing emblematic "Pantheon"'s Building, near the Senate, (which can Force Re-Readings Delaying the adoption of Legislative Bills, and whose Majority is considered Opposed to such Controversial Measures).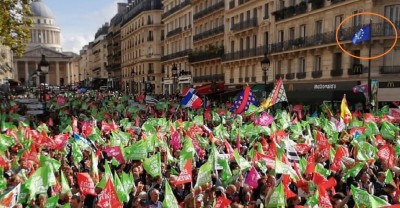 In Addition, 2 out of 3 Candidates for the Top Job of New President of the Mainstream, Center-Right/EPP "Republicans"' Party, due to be Voted at the Next Week-End, mainly Guillaume Larrivé (the Most Committed to BioEthical Issues), but also Julien Aubert, who are by far the Youngest, have Both Worked, more or less, with (Popular in the Right) former President Nicolas Sarkozy, (particularly Larrivé), and are Expected to Cooperate Together in case of a 2nd Round in that forthcoming Election, were Present, leaving Only their Older, and initially believed stronger Competitor, Candidate of the Establishment, Christian Jacob, Former Head of Republican MPs in the Past, Out of Today's Picture, (even if he too, has expressed his Opposition to that Controversial Measure against BioEthics).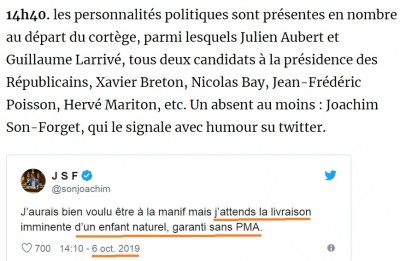 They were Joined, inter alia, also by anOther Rightist MEP and Lawyer, Maitre Collard, the ChristianDemocrat Party's Head, Jean-Frederic Poisson, as well as the Famous Centrist MP, Miss Agnès Thill, a notorious Defensor of relevant BioEthical Values, and Initially Member of President Macron's too Hastily set up Political Party "LREM", which Later Excluded her simply for Daring Criticize the Influence of some Controversial  "LGBTI Lobbies" inside the French National Parliamentary Assembly nowadays...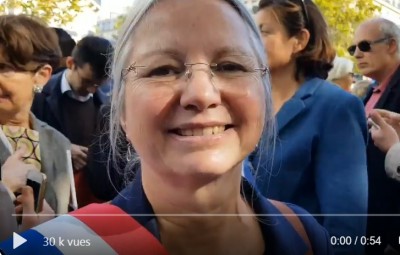 ----------------------------------------------
It's true, nevertheless, that some Earlier Polls claimed that, After an Initial Majority Opposition, by Most People, against such Controversial and Dangerous (See Infra) Artificial Births of Children for Lesbians,  - f.ex. on 1998, 2013, etc, i.e. Before "Socialist" former President Hollande's UnPopular imposal by Forceps of the UnPopular "Marriage" of Homosexuals, including Submission of Children to a Power of Homosexuals under Pretext of "Adoptions", Notoriously Abusing also of Heavy Police Violence against mainly Peaceful Families and/or Young Children (including Even Young Girls) in the bulk of the Famous Critical Mass Demonstrators during 2013-2015 - more Recently, on the Contrary, a Different Majority of about 63 - 64% would have Started to Change Views and now Back that Latest Measure.
However, Facts show that Such Polls do Not seem to be so Credible, as they have been, almost All of them, ...Ordered and Paid by "LGBTI" Lobbies' Associations, even explicitly Focused Only on Homosexuals' "Married" with "Children" (inevitably obtained through various Artificial Bio-Technologies), which obviousy had a Selfish Interest to get such an alleged "Reply" from the Private Business of the Polster who prepared that...
+ In Addition, that Polster, ("Ifop"), after having been Owned and Managed, during Many Decades, by various Normal and Not Controversial Buisinessmen, including, for More than 25 Years by well-known Laurence Parisot, former President of France's Private Business' Association ("MEDEF"), Suddenly was, surprisingly, Sold to Other, very Different Owners, from 2017 :  The Holding "Dentressangle", which was, until then, Paid Exclusively for ..."Medical" Polls, and particularly oriented towards BioMedical Technology "Research", (which, Obviously has vested Interests on "Medicaly Assisted", Artificial Births of Children, f.ex. for Lesbians, etc) !
++ At any case, Usual "Polls' Methods", particularly with their Fast-Track Phone Calls, Suddenly Asking an interviewed person to Immediately Reply, with a Simple "Yes", or "No", if he/she Accepts, or Not, one or anOther Measure, are often "Not Adapted" to complex BioEthical Issues, which "Need Serious Thinking", Before Concluding for or against a Controversial project, as Warned competent Experts at a CoE's Conference on Debates about BioEthics, earlier This Year in Strasbourg, (See : http://www.eurofora.net/newsflashes/news/coebioethicsdebatechildrenforlesbiansandheritablegenemanip.html ).
+++ Meanwhile, the Official WEB CONSULTATION with Public Debates, Open to All Citizens, on such Topical BioEthical Issues, Organized Recently by the French Public Authorities, clearly Resulted into a Big Majority of Participants expressing by Writting and largely Debating with various Arguments, their OPPOSAL to such Artificial Births of Children, Fabricated through BioTechnologies, for Lesbians (and Even More for Gays, given Also the Atrocious Exploitation Risks for "Surrogate Mothers", etc), as "Eurofora" Witnessed at the Conclusion of such Public Debates, and as it was Clearly Shown by the relevant Graphics on the Final Results, Published at that Official Website already on 2018.  
+++ Moreover, even the Experienced and competent President of the French National Ethical Committee, (which had concluded by Proposing such Controversial Measures recently), Jean-Fancois Drelfraissy, speaking Recently at a CoE's PanEuropean Conference on Debates about BioEthics in Strasbourg, on June 2019, clearly Warned about the Need to Carefully Face Huge "GAPs" between People's expressed Views and Government's Plans, particularly on Artificial Procreations of Children, Medicaly Assisted by use of various BioTechnologies, for Lesbians etc, as he Clarified to "Eurofora":  - "When Gaps are Too Important, there is a Problem !", he Warned. (See : http://www.eurofora.net/newsflashes/news/coebioethicsdebatechildrenforlesbiansandheritablegenemanip.html).
--------------------------------------------------------------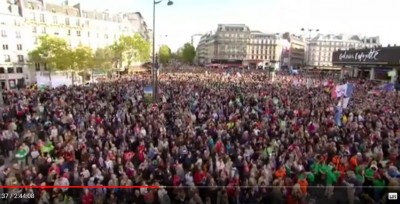 => In such Conditions, and given the Importance of the Interests really at Stake, (which, in Fact, are much Bigger than it seems at first sight, as we shall see mainly Infra), a "Hot" Controversy on the Total Number of Demonstrators against that Governemental Measure, would break out, almost inevitably : Indeed, while the Organizers proclaimed that Participants had Reached about "600.000", (a Record High Popular Participation), on the Contrary, anOther Estimation, made by an unknown until now, Private Company, cited by some Medias of the Establishment (See Infra), claimed that the Total Number of Demonstrators would have been about "74.500". I.e. much less, even if it represents, nevertheless, one of the Biggest Numbers for Recent Demonstrations in France...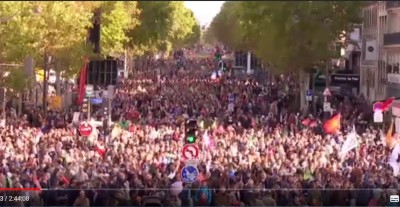 Shocked by such a Huge Difference, the Organizers (a Collective of 21 Associations) formally Asked from the Public Authorities to give "Access to their Videos" which Filmed the Event, and particularly the People's Venue through the 2 prescribed Pathways (Comp. Supra). Pending that official information, they Maintained their own Estimation.
>>> And it's, indeed, a Fact, that the Private Company ("Occurence") which made the above-mentioned Estimation, apparently "ad Minima", seems quite Controversial ! F.ex., among several others Criticisms :
- That Company's CEO is a proven (by his own Tweets) and convinced Supporter of the Governing Party's (LREM) Press Spokeswoman, Aurore Bergé, who is also the MP Responsible for that Controversial Measure on Artificial Births for Lesbians, as well as a Member of a "LGBTI" Lobby ("GayLib"), former Assistant of ex-Minister of Health, Roselyne Bachelot (a notorious pal of "Big Pharma" Lobbies), personally Fan of "Homosexuals' Marriage", and Wife of a "Socialist" MP, himself so Strongly in Favour of Homosexuals' Marriage, that he used to Pose for Press Photogaphs while ...Kissing another Man in public !
- Even if that Company exists and functions since 1998, nevertheless, it's Only Now, on 2019, (as its CEO observes himself, with Satisfaction) that just a Few Medias of the Establishment, suddenly, Started to Cite its alleged Findings, and even Plead in Favour of its Specific Methods on How to Count the Number of Demonstrators in the Present Case : This concerns, Particularly, the "BFM TV", (a pro-Government Media), whose CEO, Appointed Recently, is a Notoriously "Married" Homosexual, who has Even ordered, from a Foreign Company located at anOther Country, Abroad, the Artificial Fabrication, by certain Bio-Technologies, of 2 Baby Girls, through the Paid Services of a "Surrogate Mother" at the USA, that he later "Adopted", with his "Husband", and Imported in France, (where, nevertheless, even the current Government, notoriously proclaims as "an Absolute RED LINE" and "PROHIBITED" Method of Medically Assisted Procreation, precisely the Abuse of such "Surrogate Mothers" in order to Artificially Fabricate and Provide Children to "Gay" couples)... + Even anOther Supporter of that Company, who had Publiced a Short Article on its Methods Last Year (2018), appears as a Fan of current President Macron, that a LGBTI Lobby had Convinced to make a Pre-Electoral Promise, Back on 2016-2017, to Allow such Controversial Artificial Births for Lesbians, (See also Infra). Also all Other Medias which Cite that Company's claims Now, are, Them Too, pro-Government and/or from the "Left" side of the Political Spectrum, such as "Le Monde" (for a Long-Time Owned by notorious "Gay" Millionaire Bergé), "Liberation", "MediaPart", and "France Info" (a Government-Controlled Media), to which is added Only 1 Center-Right's Media: "Figaro", of the Establishment.
- Last, but not least, it's Not Obvious at all, IF the Technical Method, reportedly used by that Company, in order to Count the Number of Demonstrators, (i.e. Cameras Filming the Flow of People Comming to an Event, added to special "Algorithms", etc), was, or Not, Able to Clearly Attest of what Really Happened in this Particular Case, since, (as it was already Noted Supra), it's Only at the Last Minute, that the Public Authorities asked from the Organizers to Add also a 2nd, Different PathWay, through Other Roads, for the Venue of Demonstrators, (Because of Risks of "Jams" at the 1st Pathway, given their UnExpectedly Big Number) : Was, that Company, Able to Put More of its Cameras, Fast Enough, Also through that 2nd PathWay, added only at the Last Minute, and UnExpectedly ?  And, did its "Algorithms" Work Well, and in an adequately Combined Manner, in order to correctly Calculate and Add the Real Numbers of Both PathWays ? Such Questions are obviously Legitimate, But the Right Answers to them, with sufficient certainty, are Still UnKnown.
=> For All those Reasons, inevitably, the Counting of Demonstrators made by that Controversial Company, for the 1st Time used by some Medias, does Not appear Credible enough...
------------------------------------------
+ Meanwhile, several Speakers, also Criticized the Fact that, Scandalously, while 1 out of 3 Citizens in France, mainly Poor People, notoriously Deprive themselves from Health Care, Needed to ensure their Life and/or in order to Stop Suffering, just because they DoN't have enough Money to Pay for it, nevertheless, that Controversial Measure asks even to Waste a lot of Public Funds, in order to Cover by France's inDebted "Social Security", the Costs for Expensive Medical Operations related to Lesbians' Artificial acquisition of Children, Not for Health Necessities, but Only for their strange vice, abnatural Sexual Choices, their private Pleasure and Fun ! Something which Obviously makes it even an "Anti-Social" Measure.

--------------------------------------------------------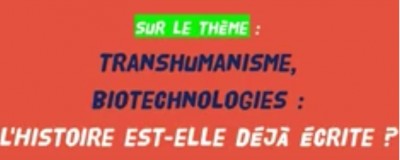 >>> But, the Most Important point lies Elsewhere :
- Indeed, the French Peuple's Massive Opposition to that Controversial Measure seems well to have, in Fact, an Even much More Important POTENTIAL, than it has shown Initialy, at First Sight !
=> Simply Because, curiously, the Main, and most Topical, Argument Against those Artificial Births for Lesbians, was Not Yet Used by many among the Organizers, at least, Not until Now...
It concerns the Double Fact that :
(a) For the 1st Time in History, several Thousands of Children Each Year in France, (+More than 2.000 Yearly, according to the Health Minister), are due to be Artificially Fabricated through "IVF" and/or Other Bio-Technologies, which All give an Occasion for eventual Genetic Manipulations of Human Embryos by the Technocrats who Handle them, (even withOut their "Parents" Knowing exactly What really Happened, from that point of view).
(b) In Addition, such an UnPrecedented Reality, Surprisingly, Appears Shortly After the 1st in the World Emergence of Heritable Genetic Manipulations on Human Embryos, Irreversibly Affecting also Future Generations, (via the application of the Bio-Technological Method nick-Named "CRISPR-car9"), which appeared in China, on November 2018, with an abuse commited by a Doctor vigorously Denounced by the Chinese Government, but Educated, Supported, Publicized, and Linked with some USA Nerworks of Technocrats related to Former US President Barack Hussein Obama's Administration, (notoriously abudantly Funded, during Elections, mainly by "BioTech" Lobbies : See http://www.eurofora.net/newsflashes/news/heritablegenemaniptrumpxihumanity.html, etc).    
The Link between those 2 Synchronous and Parallel Facts appears Also by Obama's notorious Eagerness to Impose, not only inside the USA, but Wider accross the whole World, (from Ireland until, Even, several Poor African Countries, etc), the Controversial and UnPopular "Homosexuals' Marriage", (which, as "Eurofora" and some Others had Already Warned, since 2013+, was due to serve as a Pretext for - and be Soon Followed by - subsequent Moves towards Artificial Fabrications of Children by various Bio-Tech. methods, Allowing eventual Genetic Manipulations of Human Embryos by Technocrats, Making Possible some Serious Risks for Humankind's Future).  

=> All this results, Nowadays, in a Brand New Situation on 2019, which makes, f.ex. President Macron's pre-Electoral promise to some LGBTI Lobbies, Back on 2016/017, Nowadays Caduque, or, at least, subject to a Necessary, Serious Review, able to Take seriously into Account the New Facts :
 - Particularly, the obvious New Risk, for some unscrupulous Technocrats, to eventualy Start Manipulating Genetically the Human Embryos that they Will Now be able to Handle, with all those "IVF" and/or Other Artificial BioTech. Methods to Fabricate a Child for Lesbians, (Comp. Supra).        
Thus, they May be Abused as "Guinea Pigs", in order to "Test" this or that Gene, and/or Genetic Manipulation. Or to Fabricate "Chimeras", between Humans and Animals, f.ex., in order to Take their Organs, for TransPlantation. Perhaps, also to Make some "Monsters" like "Dr. Frankenstein"'s, and/or of "Dr. Moreau's island", etc., for Various Possible Abuses, "Tests", and/or Warfare. Most Probably : Series of Enhanced, and/or Degraded Individuals, for the Fabrication of various, different, "Races", in an "Appart-Heid" like, Hierachical and Oppressive Society, Divided into various Grades of "Slaves" and "Masters". Or, also, Invention of New Kind of Alien Beings, Far Away from Humans, for Specific purposes, (etc+)...
>>> In All these Cases, One Main Point is Common : The Obvious Threat to Put an End to Humanity's Future, as such !
In this regard, as long as there is Not any Known and Easy Way to Prevent such kind of things, and/or at least Detect them, on Time, or Stop and Reverse them, inevitably, the Multiplication of Cases where some Technocrats can Handle Human Embryos under Various Pretexts, (f.ex., via IVF, etc), even withOut their "Parents" being able, not even to Know, what's really going on, pushes towards opening a very Dangerous "Pandora's Box", with unforseen Consequences for all Humankind.  
=> So, as long as More and More People, will Become, progressively, Conscious of What is Really at Stake, Behind an awful lot of False Appearances, in such cases, normaly Popular Reactions against those who, on the Contrary, make Grow such Awful Dangers, will Develop Further, with More Strength, in the foreseable Future, given the Big Potential of what is Really at Stake.  
But, while Striving to Find the Right Way, between some incredibly Stupid Naiveties, and/or Criminal Hypocrisies, Peuple must be also Aware of a Risk to be overtaken by the growing Speed of Bio-Technological and relevant Social Developments, so that they can Act Responsibly to Consciously Shape History, before it becomes Too Late...
---------------------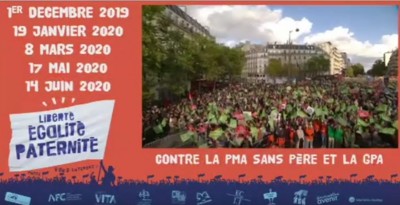 In the present case, Optimist, the Organizers of such Popular Mass Demonstrations, have just Announced a Flexible TimeTable with a Plan of 4 or 5 more Public Rendez-Vous, from December 2019, up to June 2020, (when Final Decisions are Scheduled by the Public Authorities), due to be "Activated" or not, eventually Modified, etc., according to relevant developments.
But, between Fake or Superficial Polls, and Misleading Countings (Comp. Supra), or Various Other probable DesOrientations, an Absolute Priority is naturally for all People involved to become fully Conscious of What is Really at Stake.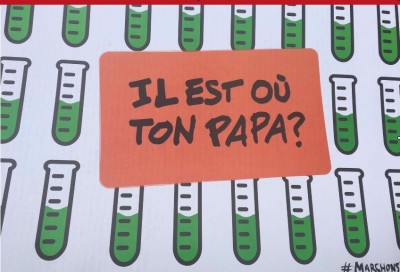 (-"Where is Your Father ?" - Demonstrators' Poster)
--------------------

Both for all the Human Society, and for Individual Persons, (as, f.ex., Eric Clapton reminds with a Famous Song linking his Father to his Son, that he Both Lost too early) :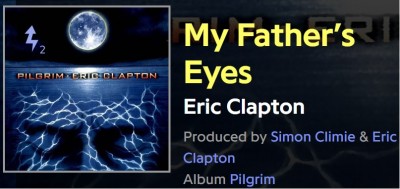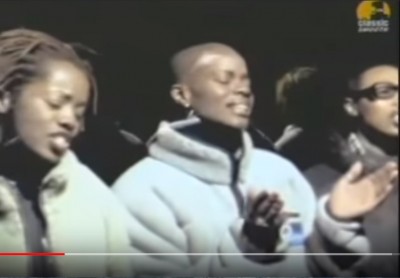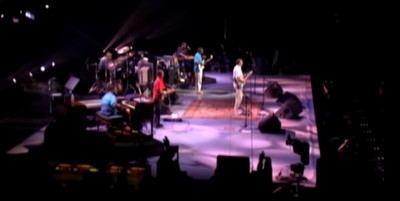 [Verse 1]
Sailing down behind the sun
Waiting for my prince to come
Praying for the healing rain
To restore my soul again

Just a toerag on the run
How did I get here?
What have I done?
When will all my hopes arise?
How will I know him?
When I look in my father's eyes

[Chorus]
(Look into my father's eyes)
My father's eyes
When I look in my father's eyes
(Look into my father's eyes)
My father's eyes

[Verse 2]
Then the light begins to shine
And I hear those ancient lullabies
And as I watch this seedling grow
Feel my heart start to overflow

Where do I find the words to say?
How do I teach him?
What do we play?
Bit by bit, I've realized
That's when I need them
That's when I need my father's eyes

[Chorus]

[Verse 3]
Then the jagged edge appears
Through the distant clouds of tears
I'm like a bridge that was washed away
My foundations were made of clay

As my soul slides down to die
How could I lose him?
What did I try?
Bit by bit, I've realized
That he was here with me

[Chorus][x3]

----------------------------

(../..)

(DraftNews)

-------------------------------------
BRIEF NEWS
00:00 - 18.05.2020

00:00 - 20.04.2020

00:00 - 02.02.2020

00:00 - 09.12.2019

00:00 - 27.11.2019

00:00 - 16.11.2019

00:00 - 28.10.2019

00:00 - 08.05.2019

00:00 - 23.04.2019
Statistics
Visitors: 37750938
Archive
Login Form
Other Menu
Europe brings Development dynamics at Global Crisis' Summit debates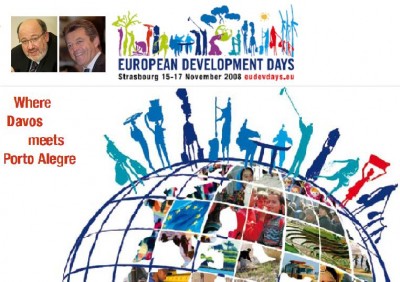 Thanks also to EU Parliament Plenary's Strasbourg gathering, EU, during the French EU Presidency, managed to integrate the Development issues at Top Debates on the World Summit against the Economic Crisis  :

    For the 1st time, it's at the same moment with the Wahington G-20 Summit that EU Commissioner Louis Michel co-organizes here with the French EU Presidency parallel mega-events for the "European Development Days", starting from this Week-End and concluding at the eve of a landmark debate in EU Parliament, next Tuesday, on the outcome and follow-up of the Wash.DC Summit.

    EU and its Member Countries are the biggest donor for UNO's Millenium Development goals, with 56%, but the 27 are currently struggling to develop a collective leadership in Economic and social matters, that the 15 of EuroGroup (together with the UK and other countries interested to be usefully associated) are starting to spearhead, after the initial success of the 1st EuroZone Heads of State and Government Summit, of October 12 in Paris, according to a New Repport by MEPs Pervench Beres and Werner Langen on the 10 Years of EuroZone (1999-2009) debated Monday and voted on Tuesday.

    EU, CoE and World personalities will interact here with Heads of State or Government from Tanzania (African Union chair), Burkina Faso (CEDEAO + UEMOA chair), Zimbabwe (MDC chair), Madagascar, Haiti, Mali, Benin, etc, and some 3000 participants from the Economy, Civil Society, Media, Experts, etc, while the City of Strasbourg adds various related Citizen-events.

    Opened by French Secretary of State Alain Joyandet on November 15, and followed by a video-contact with EU Commission President Jose Baroso on the Washington Summit Sunday, the EDD are concluded by Foreign Minister Bernard Kouchner on Monday, while their main concerns cannot be ignored in the Debate that EU Parliament will hold on Tuesday, (followed by a Resolution on Wednesday), jointly on the G-20 Washington Summit and on EU Commission's work program for 2009.

    A practical opportunity for EU to reflect where it's better to spend EU Citizens' money...

    The move is prolonged in several Paris' meetings of EU chair, French President Nicolas Sarkozy with African Heads of State leading regional Organizations, as from Tanzania (A.U. Chair), Burkina Faso (chair of Economic African organizations), Togo, etc, (in parallel with a Ministerial EU - African Union conference in Ethiopia, followed by a visit to Tchad), logically concluded by a meeting with Robert Zoellic President of the World Bank.

    Many have already warned that an eventual aggravation of Development's Gap accross the World might become much more dangerous to Global Economy, Security, Values and Quality of Life, than Global Warming and/or other, even more serious challenges...

    Will they find an innovative and voluntarist way to really deal with the Development Gap, which might also contribute to help face the Economic Crisis ?
Polls