CoE Local/Regional Democracy Watchdog's Chief Frecon to Eurofora on Ukraine Summit: Boost Dialogue !
Среда, 30 Сентябрь 2015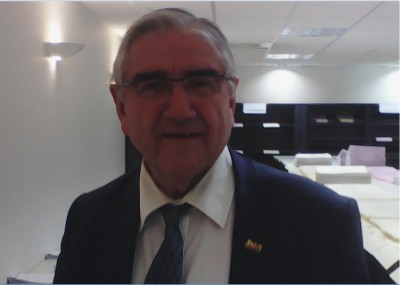 *Strasbourg/CoE/Angelo Marcopolo/-
PanEuropean CoE's Watchdog on Local/Regional Democracy's President, experienced Senator Jean-Claude Frecon, from the Governing Socialist Party in France, speaking to "EuroFora" on the forthcoming Local/Regional Elections in Ukraine on October 2015, which are expected to be Crucial for the Peace process according to the Minsk Agreements, that a Quadrilateral Summit between the Leaders of France, Germany, Russia and Ukraine are due to thoroughly Examine in a Summit in Paris on Friday, endorsed the view that, if a Postponement of those Elections in the Autonomist Regions of Donetsk/Luhansk might Help to Start and Develop a real Dialogue between all sides involoved, on the concrete details of the Future Political Solution to the Conflict, then, that Proposal of Compromise reportedly made Recently by Representatives of those areas, might, indeed, become Helpful.

    => In fact, what is Essential to try to obtain in the forthcoming Summit for Ukraine, is to Boost a Dialogue among all sides involved, according to the Minsk Agreements, on the main oustanding issues, particularly concerning the imminent Local/Regional Elections, the Status of the DeCentralisation in the Donetsk/Luhansk Regions held by Autonomists, etc, he stressed to Reply to an "Eurofora" Question in Conclusion, (See Infra).

      - "We (CLRAE) have already said that a kind of (Local/regional) Autonomy for those areas could be a Good Solution, in Ukraine as elsewhere, but, naturally, in the Framework of the Country's Territorial Integrity", President Frecon stressed from the Outset, as a matter of Principle.

    -"This was inscribed (recently) in the Ukranian Legislation, even if some sectors of the Extreme Right, don't like it at all". CLRAE's Head observed, concerning some Troubles reportedly provoked after the Vote of a relevant Draft Law by the Ukranian Parliament, at a 1st Lecture, that President Poroshenko has strongly Condemned.  

    - "But what do they want, in fact : Return Back to the War ?", Jean-Claude Frecon wondered, reminding the Tragic Deadly and Destructive Ukranian Conflict which has stroke since February 2014 that formerly Peaceful European Country, provoking, according to Figures published at the Beginning of September 2015 by UNO's High Commissioner on Human Rights, at nearby Geneva, More than 8.000 Dead, and 17.810 Wounded Victims, many among them being simple Civilian People.

    - "In order to Avoid War, trying to Help People Live Together, and start some Dialogue between them, Hoping that this Dialogue will be Conclusive" for the completion of a Political Solution, "it's simply Better to tell them (i.e. to the Donetsk/Luhansk Autonomists) that you Remain inside the Ukranian Country, but we  (Kiev's Central Government) give you some Autonomy", he resumed in substance.

    - At any case, "we, neither inside the CLRAE, nor in the Entire CoE, we are Not in favor of saying that, Today we have 47 Member Countries, but in the Future we might have, perhaps more than 50 or even 100 ! No, we (CoE) are Not at all for such a thing", he clearly underlined, adiopting a Critical stance vis a vis Various  recent Trends, mutatis-mutandis, also in some Other European Countries, such as, f.ex. in UK's Scotland, Spain's Catalognia, etc., where Popular Referendums for Independence, or not, have been notoriously asked and voted, (however without obtaining yet any Majority of Votes in Neither among them)..

    - Thus, "F.ex., among others, for Catalonia, it was said in substance that you are part of the Country (Spain), but you can Speak the Catalonian Language too". Also in Ukraine, "even if the Ukranian remains the Official Language of the Country, neverteless, in the Regions where the Large Majority of the Population are Russian-Speakers, they are told that they can Continue to use Both Languages, which, by the way, are Not so Differend between them....", he noted.

    >>> Questioned by "EuroFora" about a Recent Proposal of Compromise, reportedly made earlier this Month, by Representatives of the Donetsk/Luhansk Autonomists, to eventualy Postpone for later-on, (f.ex. for February 2016), the Local/Regional Elections due to be held in that area, as also throughout the rest of Ukraine on October 2015, but apparently strongly Contested by Kiev's Central Government, which claims that the Conditions required for such an Election would Not yet exist, or not entirely fulfilled in the pro-Autonomists' areas, CLRAE's Head appeared quite Positive, but under one Key Condition ;

    >>> - "If we can Hope that a certain Dialogue could be established, then, we have to Try that !", PanEuropean CoE's Watchdog for Local/Regional Democracy's experienced Head clearly advised, in reply to the above-mentioned "EuroFora"s Question.

      - "F.ex., if they tell us that we need some Weeks or Months more, in order to hold a Dialogue, then, I think, that Naturally, this should be accepted", he resumed.

     - "But we don't know yet" if it will work, or not. "So, what I'm advising, in substance, is, despite everything, to put, at least, a little of water in the wine", (typical French expression calling for Moderation),  "Even if we didn't obtain something very Big" (in the key promise for a process of DeCentralisation of Power, in exchange of some other concessions from the Autonomists), "at least, we obtained Some Concessions". And, in general, in this as also in Other cases, "you never know if, what Exists Today, might Not Remain for Ever", he Warned all involved.

    + Meanwhile, "the CLRAE, which will hold its Next Plenary Session" in Strasbourg "in 3 Weeks" Time,is due to "Send a Team of about 30 Observers" for the forthcoming Local/Regional Elections in Ukraine, "and there are 10 People more, comming from the (CoE's) Parliamentary Assembly, who Asked to come Together with us", anounced to "EuroFora" the President of the PanEuropean Congress of Local and Regional Authorities (CLRAE). "Because we have a crystal-clear legal Mandate for that", he concluded.

    => Finally, expressing the Wish of PanEuropean CoE's Competent body for Local/Regional DeCentralisation and Democracy, from the forthcoming Quadrilateral Summit on Ukraine, scheduled for Friday, President Frecon stressed that, - "What We (CLRAE) want, First of all, is that they all Sit around the Same Table" for Peace Talks, as he pointed out.

    - "So, at least the Russians and the current Ukranians Government should be there", together with France and Germany. And he acknowledged that, according to the Minsk Agreements, a "Dialogue" on  certain Crucial Key points, must include also Representatives of all sides, i.e. also or the Donetsk/Luhansk areas held by Autonomists, (Comp. Supra).
    -
    - "Naturally, Yes. But we know that this will be Difficult. That's why, even if we might not obtain, right from the Start, a Full Negotiation, but, at least, a kind of Partial Negotiation, then, it could be OK for us", i.e. for the PanEuropean Organisation of Human Rights, Democracy and Rule of Law, i.e. the CoE, President Jean-Claude Frecon concluded in fine, as thing stand Today.
(../..)


***

EU Vote : Strasbourg's Daul wins 3 landslides, guiding EPP in larger than expected European victory
Воскресенье, 07 Июнь 2009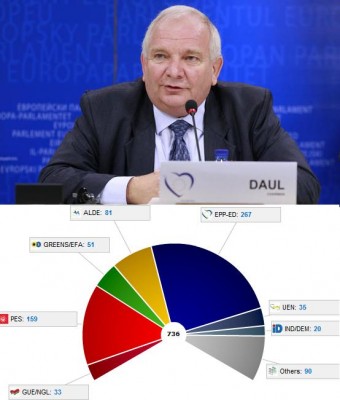 Guiding the largest Group of MEPs to a bigger than expected pan-European victory over exhausted or fragmented competitors, overcoming even the results of a scheduled split, and winning brillant scores at his home town : Strasbourg, region : Alsace, and country : France, Joseph Daul, the President of the European People's Party EPP/ChristianDemocrats, succeeded also to be both present in Brussels and Strasbourg at the same time, thanks to a duplex connexion...

Daul's EPP list got some 28%, clearly distancing PS' 23% in Strasbourg, despite a recently elected Socialist Mayor. More than 29%, compared to PS' less than 17%, in his Constituency : East. Some 33%, (i.e. almost double than "Greens"' 17% who follow), in his Region, Alsace. And his National Party : UMP clearly won in France with 28%, the PS following with only 16%, (equal to "Greens")..

More important, Daul's EPP Group inside EU Parliament, with some 265 MEPs kept a solid 1st place, much Higher than all other Groups, and even augmented its lead over Socialists, who lose many MEPs, falling down to some 160 MEPs only. Thus, he managed to succesfully overcome a scheduled split by British Conservatives and a few others who were added to various Independents at his right : About 90 MEPS searching an attachment. Most of them have already said that they would often vote together, according to selective agreements with the EPP Group.

In fact, it's Daul Group's Solidity, added to EPP candidate MEPs' gains in several EU Countries, which makes of the EPP a kind of "Center of Gravity" in the new EU Parliament (2009-2014), around which, various, more or less close circles of much smaller Groups can float, according to punctual or structural deals.

Many variations become, thus, possible : After losing more than 100 MEPs EU-wide, Socialists, with only 160 MEPs, cannot rely on a tiny (+6) augmentation of the small "Green" group (with only some 51 MEPs), nor on the diminished, 30 MEPs EuroLeft group, to challenge EU Parliament's powers wihout the EPP. But Liberals, despite losing some -20 MEPs, could, theoretically, add their remaining 80 MEPs to EPP's 265 MEPs or so, to get an absolute Majority. Unless EPP's 265-MEPs strong Group succeeds to attract at least some 70 MEPs from Small Groups as UEN, Ind/Dem and various others or Independents, which total more than 145 MEPs in all, to form another Majority, at the center-right..

Wisely, Daul has resisted to Journalists' questions in Strasbourg on who will be the next EU Parliament's President, (while also avoiding questions on EU Commission before June 7), arguying that "we must first see what the final outcome of the (June 2009) Elections will be".

Speculations focused on a choice between an agreement with Socialist Group's leader, Martin Schultz of Germany for a rotating presidency, as previously, or with Liberal Group's leader, Graham Watson from the UK. But other last-minute possibilities cannot be excluded.

If Cameron, the British Conservative party's leader, hadn't been pushed by some to try to make a small split Group out of the EPP (as in a remote Past), then, his MEPs would be Members of a most influential Group in EU Parliament, close to an Absolute Majority (EPP having, in this case, some 360 MEPs out of a total of 736)..

Schultz's confirmation, earlier to "EuroFora", that the PS would like to keep a "technical agreement" of the past with the EPP, (on a rotating chairmanship), wasn't a surprise. EU sources indicated that for the first 2,5 years, among EPP candidates might be vice-presidents Mario Mauro (Italy) or Poland's Buzek, etc., followed by PS' turn.

Watson is focusing on Political aspects :  Contrary to usual talk, now, (particurly if Lisbon Treaty enters soon into force), "it's not so much who will be the President of EU Commission, (i.e. Baroso or someone else) which matters. Because EU needs Political leadership from EU Council (i.e. National Governments) and/or EU Parliament", he told "EuroFora".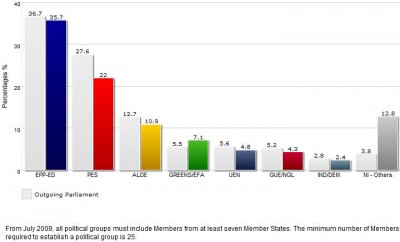 ***

(See related Newstories on EU Elections at "EuroFora.net")
EU Commissioners Kuneva, Reding + Orban to "EuroFora" : "Enormous Potential to boom on-line !"
Четверг, 07 Май 2009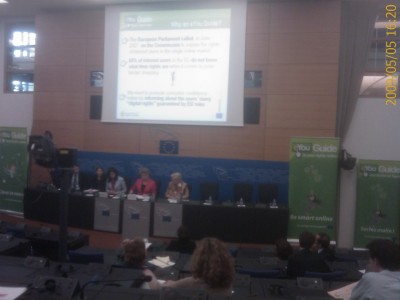 EU has an "enormous Potential" for on-line Media, and EU intends to make it "boom" by "targetting the whole (European) on-line Market, and not just a segment", in order to "sell better for consumers and businesses" by facilitating EU Citizens' access through the promotion of their Rights,  Multi-linguism, etc. including by facing the challenge of Better Networks and Technologic Innovations, replied in substance EU Commissioners Meglena Kuneva, Viviane Reding and Leonard Orban, to "EuroFora"'s questions.

Observing that "some previous attempts to create On-line Media, even in Big EU Countries, did not work enough for the moment, at least not as in the USA" etc., "EuroFora" asked EU Commissioners about their views on the new perspectives opened now, thanks also to "EU efforts to help", "for the developpement of new On-line Media, on the entire EU-level".

-  "The EU On-line Market has an enormous potential, that we don't utilize enough", replied from the outset Reding

- "We (EU) want to bring this Market to a Boom", EU Commissioner on Information Society and Media stressed in her reply to "EuroFora"'s question on the development of new European On-line Media.

F.ex. about 50% of EU households already have a broadmand access, but less than ...7% of them use it to buy on the Internet, so that the current 106 Billion € on-line EU market income, even if huge, in fact doesn't represent but only a small fraction of what is possible in the EU, Reding observed.

"That's why we have to inform both businesses and users", she concluded in reply.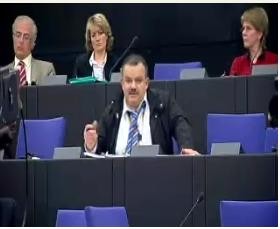 EU Commissioner for Consumers' protection, Meglena Kuneva, also replied positively to "EuroFora"'s question on the current prospects for the development of On-line Media ;

- "It fits", Because "we (EU) are targetting the whole single on-line market" throughout all Europe. "As you can see, this is in the framework of our efforts : " "Digital Agenda for the entire On-line Market", as it's quite right written on screen".

 - So, "this is, indeed, our purpose  : To sell better to the On-line Market, both for Consumers and for Businesses", EU Commisioner Kuneva concluded in her reply to "EuroFora"'s question.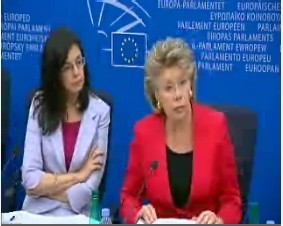 Statistics reveal that, until now, the main obstacle was the lack of "Trust" by consumers to trans-border transactions on-line, mainly because they were afraid that the good they bought might not be as shown in the screen, or not delivered at all, as she said earlier. But, even if Kuneva added to "EuroFora" that "we are not targetting one or another segment of the on-line market,...so that she "wouldn't outline just one sector", in fact, this problem should normally not affect the on-line Media : Because there, the "delivery" is made not physically, at a later Date, but immediately on-line. (Fex. simply by opening access to part or all the content of "News", interactive exchanges, etc).

Reding and Kuneva had just presentented in a Press Conference at EU Parliament in Strasbourg the "EYouGuide", a Practical, easy to read and use, EU Guide to Citizens' Rights in order to "Trust" as tranOn-line consumers at the Internet, available both in Leaflets and at : ec.europa.eu/eyouguide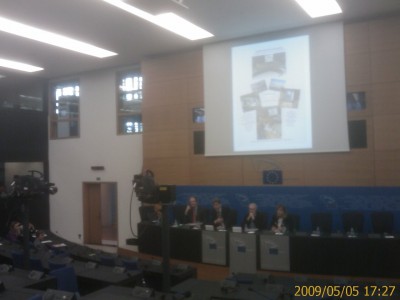 EU Commissioner for MultiLingualism, Leonard Orban, obviously was also Key-person for another main original characteristic behind "EuroFora" project, and any on-line Media that would target the entire EU, including also interactive content for its Readers with "Forums", etc.: The inevitable use of many Languages at the same time in parallel :

Questioned later by "EuroFora" on that precise point, EU Commissioner Orban said that "the challenge is huge, because EU has 23 official Languages to manage", and already the need for qualified interpretators is felt, particularly in many specialized fields, for qualified persons able to master even a scientific or legal terminology. Paradoxically, there is a problem for English speaking interpretors, but also others, since we face also the Competition of a Global Market, including fex. Afrika, Asia, etc.

- But Orban revealed to "EuroFora" that, recently, he had "brought together Scientists, Researchers, the Industry, Businesses, Experts, Politicians, Administrations, NGOs, etc. in order to find out all together what are the needs and the possibilities for the developpement of efficient New Technologies able to do Automatic Translations", including on-line.

Accurately multiply each sentence's automatic translation in 23 languages, as EU has to do, is obviously an immense task.

-"But we hope to arrive to an acceptable average level, mainly through Innovative technologies and organisation, in the following 5 Years", EU Commissioner Orban concluded to "EuroFora".

"EuroFora"'s members, users and readers would certainly urge EU Commission to try to do even better, and mainly faster, (even if it starts, at the beginning, at least in the main 3 or 5 EU Languages, to be followed later on by all the others). Because the practical needs for an easy, simple and efficient, on-line automatic translation is obviously vital for the free and good communication between EU Citizens, as well as for the development of a common European consciousnes.
EU echoes Sarkozy proposal for a common Economic + Security area for Turkey (+Russia), no accession
Четверг, 07 Май 2009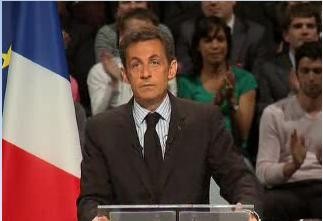 EU Rapporteur on Enlargment Strategy, maistream German MEP Elmar Brok, speaking to "EuroFora", welcomed the proposal made earlier this week by French President Nicolas Sarkozy for the EU to"start Now Talks with Turkey to create a common Economic and Security area", instead of full Accession, at a period when Ankara looks more and more unfit and/or unwilling to respect EU conditions.

    - "For Europe to have strong Political will, it must stop dilutiing itself in an endless Enlargement. It must have borders...Diversities enrich, on the condition that they don't undermine European Cohesion, and don't weaken EU Unity", Sarkozy stressed.
    
    - "Countries like Turkey share a part of common destiny with Europe, with which they have a vocation to build a Privileged Relation, to be closely associated, but not to become Member of the EU"  : "Noone respects his friends by telling them lies. Noone respects his friends by making them promises that will be never kept", he added.

    That's why "we'd better start, from now, negotiating with Turkey to create a common Economic and Security area", Sarkozy proposed.
Significantly, the French President was repeatedly and largely applauded by EU citizens, 3 times, when he made the Turkey point, (strategically placed between Europe's "Political Will" and its cultural heritage, historically open to mutually enriching dialogue with all the World, but never diluted).
    - "We could propose such a great ambition also to Russia, which must not be percieved as an Adversary of Europe, but as a Partner. Thus, we'd create a wide area, of more than 800 Million inhabitants, sharing the same Security, the same Prosperity", he concluded.

    Sarkozy's move was anounced at the eve of a Franco-German Top meeting with Chancellor Angie Merkel in Berlin on Sunday, to jointly launch the EU Elections campain, after an EU Summit at nearby Prague, to launch a new kind of relations, called "Eastern Partnership", with neighboring countries such as Urkaine, Belarus, Moldova, Georgia, Armenia, Azerbaidjan, etc, (to which Russia, reportedly, is not - and does not want to be - included).

    As for Ukraine, which has already expressed her wish to join the EU in future, "Kiev will have a special place, and a very important role to play", replied earlier this week in Strasbourg, to an "EuroFora" question EU Chairman in office , Czech vice-Prime Minister Alexander Vodra.

    - "This direction is more Realistic for Turkey than Accession negotiations", reacted immediately EU Parliament's Rapporteur for Enlargment Strategy, mainstream German MEP Elmar Brok, commenting Sarkozy's idea for "EuroFora"

     Particularly "as far as it concerns the respect of EU Rules by both sides", he added, hinting at Turkey's now obvious inability and/or unwillingness to abide with EU Acquis, EU Commitments (fex. on Cyprus, etc), and European Democracy/Human Rights rules. (Comp. infra).

    Brok added that, in his view, a similar proposal might be made also to Ukraine and other neighbouring Countries, regardless if they have, or not, a "European vocation". This would not necessarily mean that there couldn't be any accession prospects at all." for all the countries that might be included in this area, according to Brok.  But it's preferable, particularly for Turkey, "because it's a more Realistic approach than full Membership".

    On this point, Sarkozy's proposal, (which he'll share with German Chancellor Merkel), seems more crystal-clear.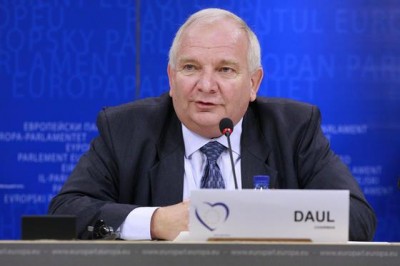 - "Turkey does not fullfil EU Criteria, and will never fullfil EU Criteria" on Human Rights, Democracy and Rule of Law. "Some have been lying to Ankara, but we must tell the Truth, and have honest and close relations with her", said meanwhile to "EuroFora" on the same issue also the President of EU Parliament's largest Group of MEPs (ChristianDemocrats/EPP), Joseph Daul.
------------------------------
"Hot" Debate at EU Parliament reveals CHANGE of mood towards "Suspension" of EU - Tukey talks.
------------------------------
    Earlier this week, many MEPs, and even some of those who were previously in favor of Turkey's controversial EU bid, strongly criticized the persistance and even aggravation of serious Human Rights violations in the country, that ECHR continues to "unanimously" condemn ":
      - "After winning a big victory in the latest Local Elections, the pro-Kurdish party DTP almost doubled its Elected Mayors from 52 to 98", but afterwards "more than 400 politicians were thrown to Prison and prosecuted" by the Turkish Authorities, denounced on behalf of the ChristianDemocrat/EPP Group, Belgian MEP Frieda Brepoels.
     At the same time, "more than 1.500 Children are closed in Turkish Prisons", she added. "What will the EU Commission do" against these facts ?
- "Turkey appears to be at greater Distance away from Copenhagen Criteria after 4 Years of accession Negotiations, than when they started !", denounced on behalf of the Liberal Group, German MEP Alexander Lambsdorf.    
"On the central issue of Press Freedom, Critical Journalists face obstacles for their accreditation, others are prosecuted, condemned, fined and/or jailed, Media blocked or closed", he denounced.   
 - "EU Made 2 grave Mistakes with Turkey : To start accession negotiations, and to continue them", despite everything, criticized Dutch MEP Bastian Belder, on behalf of the Ind/Dem group.
(../..)

Подробнее...
EU's Almunia to EuroFora on Eco Stimulus plans, before London G-Summit : Keep the Rules or Opt-out !
Среда, 25 Март 2009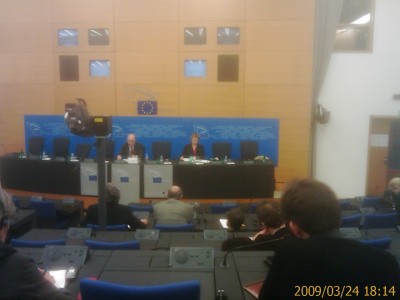 EU Commissioner on Economy and Finance, Joachin Almunia, replying to 3 "EuroFora" questions in Strasbourg before next week's London Global Summit, made it clear that all EU Member States must, more or less, respect EU Rules on the Monetary Stability Pact when they draft their Economic Stimulus policies, unless they want to "Opt-out" of EuroZone, as the UK has already done...
  Several EU Countries must correct imbalances in rather strict Time deadlines, and this is not an  "impossible task", but "a very possible and attainable task", as Almunia told us. But it's only the UK which could practically ignore EU's calls, "because of the Opt-out they have"....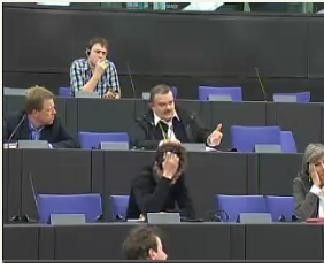 The issue got a larger, EU-wide and even Global Political dimension, one day later at EU Parliament, when USA's new President, Barack Obama's call on Europe to augment Spending against the Economic Crisis at the eve of G-20 Summit, was considered by some EU officials, (as EU chair, Czech Prime Minister Topolanek or EU Commission's President Baroso, etc), as partly deviant to Euro-Zone rules of the EU, whose priority now seems to be a new, multi-polar agreement on the Regulation of World's Financial Markets, to avoid similar abuses and crisis in the Future.  
 Even if he appeared as partly sparing for the moment some of EU's driving forces, as France or the UK, Spain, etc, who got more Time than others, Almunia stressed that, as a matter of principle, all EU Member States should comply with the same rules, applied according to the particular situation of each one of them.

        The results of EU Commission''s check on 5 EU Countries : France, the UK, Spain, Greece, Ireland and Cyprus, gave, at first, an impression to some that a "difference" was made "between EU Countries", as an Italian journalist said.

        F.ex. paradoxically, Greece seems to have, in comparison, some better indicators than other EU Countries checked this week :

    * Deficit in Greece, after reaching 3,7% of GDP in 2007, is estimated at 3,7% in 2008, over 3% in 2009, and exceeding 4% in 2010, according to EU Commission's forecast, (while the Greek Government tabled on just 3,2%). Only Cyprus does better, with a lower deficit than the threshhold of 3%.

    France comes next, whose deficit aims for 2009 and 2010 were revised upwards at 5,6% and 5,2%. In Spain, it's expected to arrive at 6,2% in 2009 and 5,7% in 2010.

    But in the UK, Deficit estimates mount at ..9,5% in 2009/10. In Ireland, the deficit already reached 6,3% in 2008, and is expected to rise up to 11% in 2009, and 13% in 2010 !
(../..)
Подробнее...
BRIEF NEWS
00:00 - 26.05.2017

00:00 - 30.01.2017

00:00 - 14.10.2016

00:00 - 24.09.2016

00:00 - 27.07.2016

00:00 - 03.07.2016

00:00 - 01.06.2016

00:00 - 12.02.2016

00:00 - 09.12.2015
Statistics
Посетителей: 24399629
Archive
Login Form
Other Menu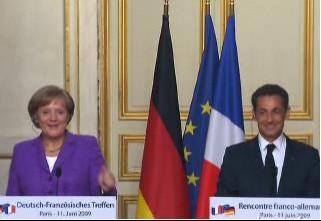 The official presentation of a "Program" respecting People's choices voted in the June 7, 2009 EU Elections, to be debated in EU Council and EU Parliament during its 1st Session on July in Strasbourg, is the No 1 Priority, according to Democratic principles, for the Franco-German axis, said the main winners at the ballot box, French President Nicolas Sarkozy and German Chancellor Angie Merkel.
They stressed  that the New EU Commission's President must have a "Program" in favor of an EU which "protects" its Citizens, regulates financial markets and aims at a "Political" Europe" : a wording they have used as incompatible with Turkey's controversial EU bid.
They also declared ready for a "political" endorsment of "Mr. Barroso's candidacy" in June's EU Council, considering that an official decision would have to be made after EU Parliament's debates and votes, possibly from next month (July), with the legally necessary final acceptance shortly after Lisbon Treaty's entry into force, hoped for September or October.

- "A Program, and Mr. Barroso" : This resumes, in substance, the anouncements made by Sarkozy and Merkel, on the question of current EU Commission's President, Barroso's declared wish to succeed to himself for a second mandate, to be extended during the following 5 years.

 In their 1st meeting after EU Elections, they observed that "the Franco-German axis counted in European Elections' campaign... But, we both keep a realistic view : We saw the number of those who abstained, and we must absolutely give them an answer. We also see the disilusionment of an important number of Europeans vis a vis Europe, and we are aware of the responsibilities we have".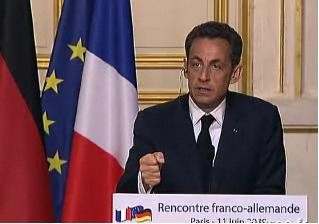 - The "Duty" of the new EU Commission's President, after June 7, 2009 EU Elections' result, "is to act for a Europe which protects the Europeans, to commit himself into working for a better Regulation of Financial transactions, ... and to have a Political will for Europe", underlined Sarkozy.

Therefore, "we have asked M. Barroso... to clarify, to officialy present the intentions he has", he anounced.

- "We want to speak also about the Programme", explained Merkel.

- "It's important that for the next EU Parliament's mandate (2009-2014) we take the right Decisions for Europe.  Obviously on Persons, but mainly Decisions on Issues", she stressed.

- "It's not simply a question of a Person, it's also a question of a Programme". We are "really asking Mr. Barroso to commit himself on a Program, and on Principles, on Values", Sarkozy added.

EU President-in-office, Czech Prime Minister Jan Fischer, accepted the Franco-German stance :

- "Barroso must present his Programme. The Czech Presidency agrees with that", Fischer reportedly said later, after meeting Sarkozy.

But Press reports from Brussels claimed that Barroso had preferred to be officially appointed by EU Council since June, (i.e. next week), "because this was implied by the current Treaty of Nice, according to him", and considered any delay until the possible ratification of the new, Lisbon Treaty on September/October, as "undemocratic".

- "At any case, independently of what Germany and France ask, it's also EU Parliament's wish". "We shall propose Mr Barroso's candidacy... But even in the framework of Nice Treaty, EU Parliament has to be associated in this Decision", the French President observed.

If this is correctly done, then "we support Mr. Barroso's candidature", and "if the (EU) Parliament agrees, we might ratify this decision since July", (i.e. next month), they both said.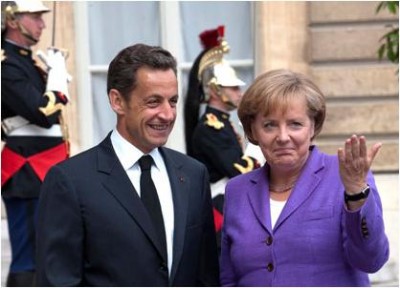 - "France and Germany support Baroso's candidacy, But we want to speak also on the Program. We believe that this Program should be established in close cooperation with EU Parliament, and that's why we have followed an appropriate way", said Merkel.  - If EU Parliament wants, this election can take place on July,  but this must be done in full agreement.
- "We shall support Mr. Barroso's candidacy, without doubt", said Sarkozy. "But we have asked from Mr. Barroso, as I told him yesterday, to put into detail.. his intentions, at the eve of his 2nd mandate, if the situation avails itself.

    France and Germany "don't want to take an Official Legal Decision by writting" during "the next (EU) Council" (on June 18-19), declared Sarkozy.  Because they prefer, at this stage, only "a Political decision" on June, "so that we (EU Council) can work together with EU Parliament", which starts to meet only Next Month, since July in Srasbourg, "leaving a Legal decision by writting for later".

    - "If the Conditions are fuillfiled in EU Parliament, we (EU Council) are ready to give the agreement and make it offficial", said Merkel

    - "But, now we are working in the base of Nice Treaty. If tommorow we want to work in the spirit of Lisbon Treaty, we have to find a proper way", she added.

    - "Of course it's Legally complicated, because we are going to make a Political proposal to the forthcoming Council, for an EU Commission's President, on the basis of Nice Treaty : So, we (EU Council) will not appoint the Commissioners. Only the President.  If EU Parliament agrees, it could endorse this position on July", explained Sarkozy.

    But, on Autumn, "if Ireland ratifies Lisbon Treaty, there will be, at any case, a 2nd Decision, to appoint the Commission's President, this time on the basis of Lisbon treaty, and then, we, the EU Member States, would have to appoint (also) the EU Commissioners", he added.

    As for the precise Timing :  - "Everything is suspended until the Irish vote... Now, we must all make everything possible to help Ireland to say "Yes"" to Lisbon Treaty... The Irish Referendum, ..will take place either on September or on October. It's a Question which depends on the Irish. And,  then, we shall have the Choice of the Candidates for the permanent Institutions of Europe".

    However, "if Ireland says No, we, French and Germans, have to assume our responsibilities, and we'll do so", he concluded.

    But British and Swedish governments were reportedly eager to have a final EU Council decision on Barroso since this month, on June's European Council. While the other EU Member Countries are divided, several of them preferring to wait until EU Parliament pronounces itself, on July, and/or until Lisbon Treaty might be ratified by Ireland at the beginning of the Autumn. Barroso's current mandate ends on November.

    There are also various, contradictory and/or unpredictable reactions inside EU Parliament vis a vis Barroso's wish to continue a 2nd mandate, because many MEPs are openly or secretly opposed, reluctant, or hesitating.

    In the biggest EU Countries, as France and Germany, EU Citizens voted on June 2009 EU Elections for a renovated, non-technocratic but Political Europe which cares for its Citizens, with an Identity, Values and Borders, declared incompatible with Turkey's controversial EU bid, by mainstream, pro-European Governing Parties. Similar choices were also supported in several other small or medium EU Countries.

    On the contrary, whenever, in other Countries, Governing and other mainstream Parties didn't make these choices or eluded them, EU Citizens massively voted for euro-Sceptics whenever they were the only ones to to promise anti-bureacratic change and oppose Turkey's demand to enter into the EU, (f.ex. in the UK, Netherlands, etc).

    It's seems to be an Open Question whether Sarkozy and Merkel's conditions will be really accepted by Barroso, who was appointed on 2004 in a different political context, (with Socialist Prime Ministers in Germany, France, etc), had rejected in the Past the idea of EU becoming "equal to the USA" as "ridiculous", and pushed for Turkey's contoversial EU bid, trying to "soften" or contain the changes desired by the People who voted for Merkel and Sarkozy with another policy vis a vis Turkey on 2005 in Germany and on 2007 in France, as they did all over Europe on 2009.

    In addition to many EPP Governments, it's 3 remaining Socialist Prime Ministers : Gordon Brown in the UK, Zapatero in Spain, and Socrates in Prortugal, who support Barroso, as well as Liberal Swedish Prime Minister Reinfeldt. But their Parties lost the June 2009 EU Elections.

    Questioned whether there was still "Time" for "other" possible "Candidates", Sarkozy and Merkel did not deny, nor made any comment on that, but simply said that "it's not for us to make publicity for any candidates. We anounced our choice ("A Program, and Mr. Barroso"). But we respect any other candidate".

    Among various other names cited are former Belgian Prime Minister Verhofstadt, former UNO's Human Rights Commissioner Mary Robinson of Ireland, Italian former EU Commission's vice-President Monti, etc. Meanwhile, Luxembourg's PM Juncker, (who had been unanimously accepted by EU Council for EU Commission's Presidency on 2004, but refused), announced his intention to resign from "EuroGroup"'s Chair. Thus, he might be available for another Top EU job.

    As "EuroFora"'s "opinion" said (See publication dated 9/6/09) : - "If the current candidates (i.e. Barroso, etc) to the Top EU jobs promise and guarantee to respect People's democratic choices, then, it's OK".

"Otherwise, Europe must find new candidates, really motivated and able to implement these democratic choices of the People."

    Because, "in Democracy, the forthcoming choices for EU's Top Jobs,...should be made according to EU Citizens' Votes in June 7, 2009 European Elections, and main EU Governments' strategic policies".
        

***

Polls