Home

newsitems

G20 Summits: from Hamburg to Buenos-Aires (Germany 2017-2018 Argentina): Quid of a Global Rail Net ?
G20 Summits: from Hamburg to Buenos-Aires (Germany 2017-2018 Argentina): Quid of a Global Rail Net ?
Friday, 07 July 2017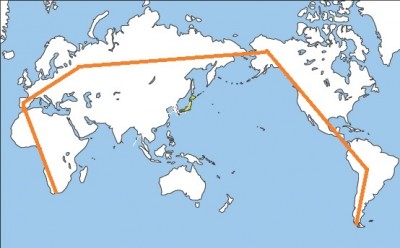 *Hamburg/G20 Summit/Angelo Marcopolo/- An Exceptional, Unprecedented Day of Total Transports Blackout, as far as the 2017 "G20" Summit in Hamburg (Germany) is concerned, looks ...Ideal in order to Dream for its exact Opposite:

=> I.e. the creation of a Global Railway Network, particularly on this Occasion of the Next, 2018 "G20" Summit, scheduled, for the 1st Time in History, at a Latin-American Country, and even Argentina : ...Twice "at the Other Side of the World" !

Indeed, a Very High Speed (TTGV in the Original in French) Train, already Able to reach about 600-700 km/h, exists since many years (f.ex. since 2007 in France), as "Eurofora" witnessed, f.ex. in an Exhibition organized in Strasbourg as Early as back on 2007-2008, along the Franco-German Rhine River's borders, on the occasion of the Official Opening of the 1st Paris - Strasbourg "TGV", an "Only" 350+ km/h High Speed Train.

And, since Today, Hamburg's Total (Public and Private) Transport Blackout, unexpectedly imposed, without any previous warning, (and even with a Misleading Official Info for "G20" Summit Journalists, which had "strongly advised" to use "Only Public Transports" in order to come and go around the International Media Center, while they finaly proved to be Unusable), Obliged us to ...Walk, (even overNight or during a torrid Heatwave, and with Heavy Luggage, withOut Time to Sleep, but with a Leg suffering from Pains, and using Crunches : i.e. too Slowly, and withOut a Detailed Map of the City), for More than 1 Hour, just to move ...between an Hotel and the IMC, almost the Same Time needed with a TTGV/VHSP to go ...from Paris to Berlin (!), ...Dream for a Better Future, was the only way Not to Think about the dire current situation...

Thus, World-Famous Science-Fiction Writer Jules Verne, from France, with a Landmark short but imaginative Novel about a Future City well Linked to Local, Regional, National and Global Networks of Innovative High Speed Transports on the Ground, (Airplanes, Rockets, Spacecrafts and UFOs excluded), was, in the present circumstances, a pretty Handy Inspiration...

But the Best Symbol of our Times was, surprisingly, ...Right Here : I.e. at this, exceptionaly Immobilized Hamburg City itself !

Simply because Hamburg (with its Neighbour City of Druisburg) already is a Trans-Continental, Eur-Asian Terminal Hub for EU - China Railway Transports, officialy inaugurated just a few years ago : Since 2013, on the occasion of the 1st Visit to Europe by the current Chinese President Xi Jiping.

Already, this can go, Directly, as far as to Link EU's Hamburg/Druisburg (i.e., practicaly from the Northern Sea/Atlantic Ocean), up to China's Shanghai, and/or Russia's Vladivostok (i.e. almost at the Pacific Ocean), - passing though 2 Different Roadmaps : via Russia-Kazakstan, or all the way via Russia's Siberian area - which is quite a bit...

"Eurofora"s co-Founder had already conceived and suggested, a Long Time ago, to the French Authorities, the Creation of a PanEuropean, "Madrid - Paris - Berlin - Moscow", High Speed Speed Train (TGV) Network, as Early as Since 2004, on the occasion of an Official Inauguration at Strasbourg's Euro-Fair, soon followed by a landmark, Historic "Quadrilateral" Summit, bringing Together, precisely, Spanish, French, German and Russian Top Leaders, (i.e., by a coincidence: exactly as we had suggested), at Elysée Palace in Paris, organized by the Experienced former Long-Time President Jacques Chirac on March 2005.

+ Later-on Chirac's Government even went as far as to Establish a Joint Branch Company between France's "Alsthom" (the Builder of Famous "TGV") and its Russian counterpart, which, obviously, went exactly in the Same Direction of that EU - Russia Cooperation on High Speed Train Networks that we had initialy suggested.

(It was almost, during he same period of time, as, mutatis-mutandis, also for the Idea - initialy provocative, but afterwards effectively realized - to use Russian "Soyouz" Rockets in order to Launch Satellites at French Gyuanne's "Kurur" Space-Port, which, meanwhile, became also EU's Space Launching area : Our Initial Publication, elsewhere at the Web, had been simply Titled, with a Short, but substantial Headline : - "Soyuz at Kuru ?!").

But, if, Nowadays, you can already Go by Train from Spain all the way up to China's Shanghai and/or Russia's Vladivostok, (Comp. Supra), then, what could and should Follow, (from the point of view of the Above-mentioned "Dream" on the eventual Creation of a Global Railway Network : GRN, Comp. Supra), is quite Obvious :

=> It's enough to Cross over the Bering Straight, between Russia (Siberia) and USA (Alasca), from one side -f.ex. by Building a Bridge, as between Denmark and Sweden, or Crimea and mainland Russia, etc, either an UnderGround Tunnel, as between France and the UK, etc. - and over Gibraltar Rock, between Spain and Morocco, att the Other side, (much More Easy).

Then, the Way is theoretically Open in order to Advance, sooner of later, (naturaly using, at least at the Beginning, also the PreExisting Local Rail Networks), towards Johannesburg, in South Africa, and up to ...Patagonia, in Argentina, i.e. at the 2 Opposite Ends of that Huge Land area which is Formed by the 3 Biggest Continents of the World : African, European and American.

Australia and all Other Parts of the World, could, naturaly, be Linked into the main "Backbone" of such a possible Global Railway Network (GRN) by various transversal Lines, mostly vertical or diagonal, but also horizontal, according to needs and possibilities.

If and When such a Dream might succeed to be realized, then, it would, obviously, be Simple and Easy to just jump into a Train at Hamburg (Germany), and afterwards get out at ...Buenos-Aires (Argentina), Linking directly the 2 "G20" Summits' Host Countries of 2017 and 2018 (Comp. Supra).

From a "Timing" point of view, already, the EU - China TransContinental Railway Network, which exists since Recently (Comp. Supra), reportedly takes about 6 Days to fully cross, from one End to another, (through Kazakstan). A Longer, entirely Trans-Siberian Railway link, (i.e. more Simple to cross, and Arriving up to Vladivostok, Shanghai, etc), already existing too, reportedly needs 8 Days now.

=> So that a Fully Global Railway Network (GRN), as the one Evoked by the Frontline Heading's simplified Design on a World's Map, the we published Supra, should, apparently, take, approximatively, something between 21 and 30 Days (Less than a Month) to cross Entirely, according to the average Low Speed Train links used in that pre-existing example.
Naturaly, a more or less High Speed Train (TGV) Network, theoretically possible to Build progressively, may Shorten these Timeframes Down to approximatively something around 12 or 23 Days (for a Full Trip, all along the Longest line). And a "Very High Speed" Train (TTGV) link (Comp. Supra), might arrive to do the same in, approximatively, about 9 or 15 Days, all for all : i.e. allmost Similar to Today's, already Existing Hamburg/Druisburg - Shanghai Railway link, (Comp. Supra), but then, it would be Really "Global", accross the whole World !

Why do that, when much Faster Airplanes exist, able to cross such Distances in 1,5 Day, instead of 1,5 Week ?

- First, simply Because most Merchandises, for Imports and Exports, (particularly Global), notoriously canNot be Transported by an Airplane, and clearly Need a Ground-based, Solid, Big and Spacy Train Network.
Otherwise, Ship transport may take Much Longer : F.ex., reportedly 10 or 14 Days by Train, compared to  "up to 45 Days" by Ship, from Hamburg to Shanghai.


- Second, because with the Recently Growing, Deadly Islamist Terrorist Attacks cowardly Targetting Innocent Civilian People, an Airplane is much more Difficult to Secure, Saveguard and/or, particularly Rescue, than a Train, (where, f.ex., adequately prepared and Efficient Interventions may either prevent or, especialy, alleviate, at least partialy Save, and/or Restore a Normal Situation).

- Thirdly, because People would be Thrilled to become Able to Travel from one End, to another End of the Earth, while also fully Crossing through the 4 Biggest Continents of the World, ...without having to even get out from their Seat, Table, Family/Group Compartment, and/or Wagon/Bed at all !  And, this, while they Can always See and/or Discover, from their Windows (and/or even by, eventually, Seizing the Opportunities offered by several Stops, as well as Other, Transversal InterLinks) the Beauties and/or Original Characteristics of Every Country, every City or Landscape crossed... Something practicaly Impossible with an Airplane.

As for the Timeframe, No Problem : F.ex., do you want to Waste all your Summer Holidays Limited only in 1, more or less Dull Spot alone, or do you Prefer, instead, to get a Chance to Discover ...30 or 40 New Countries accross the 4 Biggest Continents of the World, (during that Same Time of 1 - 1,5 Month, i.e. in just 1 Summer) ?

All accross such a Long and Flexible Line, People can Imagine, Offer and Organize a very Large and Variable Spectrum f.ex. of Different Touristic "packages", (going from "Super Luxe" to "Business" or "Family", up to Groups, Couples or Individual Travellers, "Night" Travels, Partial or Full Crossings, various Possibilities of Inter-Connections, etc), of All Kinds of Utilisations and Prices, that a more or less Long Series of Train Wagons with several Parts each, can much More Easily allow, that 1 Airplane alone...

- Fourthly, because almost all Airplanes provoke Big Noises and Air Pollution, as well as Climate CO2 Degradation, while, on the Contrary, Railways (particularly Electric and/or Electro-Magnetic, etc), are much more Environment and Climate-Friendly.

+ Last, but not Least : Fifthly, an eventual Future "GRN" will Not Only Add plenty of New Possibilities, partly Cited Above, but it will Also Accelerate, considerably, the Functionning of the Already Existing Railway Networds : By Offering a well and simply Organized General "Backbone" Architecture, more or less, progressively Speeded up by Stimulating the Addition and Accumulation (accross 1 Strategic, Trans-Continental Line) of "TGV", "ICE", "Thalys", and various Other "High Speed Trains", and/or even "TTGV" or "Very High Speed Trains", etc., naturaly, it will Also Shorten the Time needed in order to reach various Other Destinations, served Partly by Transversal InterSections or Links, and Partly by the Main Line of such a "GRN", all around a Wider Area.

>>> After all, "G20" Summits weren't they Created, back then on 2008, in order to Boost Economic Growth, by International Cooperation and Innovation ?

A whole Decade Later, from 2008 to 2017/2018, it's Time to present (or, at least : Start Dreaming of) a brand New and concrete, really "Global" Project, undeniably able to do just that...  

And, precisely, the current "Hamburg - Buenos Aires"/"Germany - Argentina" Symbolic and Practical "2017-2018" Coincidence, is obviously Timely for such a "GRN" Project, as a simple Look at the Map easily shows.

(../..)

-----------------------------------------------------------------------------


Now, the Time has come, our Clock Warns : Back to Grassroots Realities...

- Let's get those Crutches, grab that Heavy Bag, wear a Hat against the Heatwave's "burning" Sunlight, and Start again to Slowly and Painfuly Walk, Walk, and Walk, bit by bit, Slaloming Carefuly Between Groups of "Demonstrators" and/or Closed Lines of Policemen, Barricades, Road Blockades, Broken Glass, etc., often Inevitably Stopping to take a Breath and/or Ease the Sufferings of a Horrible Pain at one Leg, Wipe the Drops of Sweat in an Exceptionaly Hot Atmosphere, so that our Eyes can clearly Look Ahead, all along the 1,5 or 2 Km never finishing, Long Avenues, may be more, (and the 1,5 or 2 Hours, in such Exceptional Conditions : Comp. Supra) which Separate our Hamburg's Hotel (not far away from "Ibis") from the "G20"'s International Media Center, (where even a Supplementary "Zig-Zag" has to be made by Journalists, since the Local Police decided to fully Close all the final Road, and even Add an ...Artificial, Metalic "Bridge", with 2 Long but Narrow and slipery Staircases, in order to simply ...Cross that Street !), Wait again at a Quew, Repeat a, (sometimes Too Long or even uselessly Blocked), Time Consuming "Security Check", Walk along +250 m. or More, until to Find, at last, a Long Mecanic Chair (since Nobody Knows if and where might be any Lift at all, inside a 500-600 m. Long Building with 3 Floors !), just to Rush, Urgently, to Find where might be that Mysterious "Briefing Room", where 2 Exceptionaly Important Press Points might, eventualy, be still taking place, ...Only to Discover that, Unfortunately, ...Both had Finished, just a Few Minutes ago !

Never seen Before, in More than 23 Years of well active Experience in European/PanEuropean/International Press work, including a Big Number of Summits, also in Germany and elsewhere in Europe and the World (+9/1993-2017) !

After all that, we can always ..."Dream" at least.  

- No ?

Ah, that Book of Jules Verne (comp. supra) !  What it has to do with this "G20" in Hamburg ?


***


BRIEF NEWS
00:00 - 01.04.2019

00:00 - 04.03.2019

00:00 - 29.01.2019

00:00 - 08.12.2018

00:00 - 09.07.2018

00:00 - 31.05.2018

00:00 - 26.12.2017

00:00 - 26.05.2017

00:00 - 30.01.2017
Statistics
Visitors: 31530615
Archive
Login Form
Other Menu


Brixen-Bressanone/ACM/3.8.08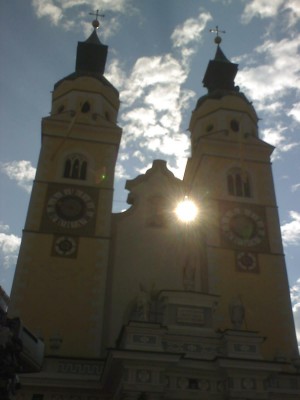 An appeal to make the "World more Human", by defending basic Human Values, helping those in need, and paying hommage to Nature, figured high in Pope Benedict's long-awaited speech at his "First Angelus" in the symbolic, beautiful historic small town of Brixen/Bressalone at the Alpes.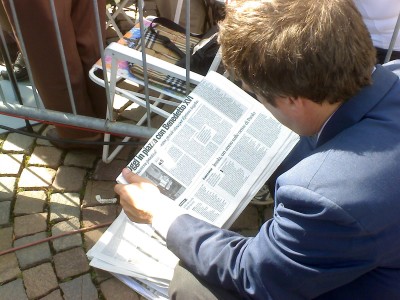 - "No Dictature, nor any destructive force can rob us of the most important goods wich are God's gift", stressed Pope Benedict, referring to elementary Human Values, in a last-minute improvisation of his draft speech, before launching also a call to "help those in need", in order to "make the World more human".
- "Jesus is the focus .. In him is Justice and Freedom", said earlier Brixen's Bishop Wilhelm Egger, after prayers including calls to "Truth, Justice and Freedom", read at a Mass of thousands in the town of Archangel Michael, known as defender of christians against the devil.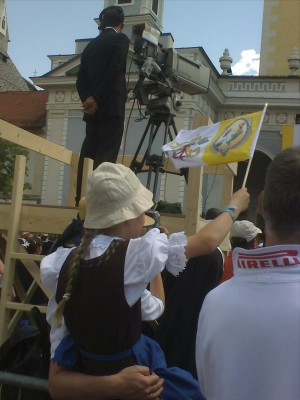 In what looks as a reference to BioEthics' dillemas of crucial impportance, raised at Strasbourg's unique in the World legally binding International Treaty on BioMedicine and Human Rights (1998, with the "hottest" issues added later through additional protocols, some of whom are imminent), he spoke also of the splendid "Nature" at this Alpen's ressort : This fits well Vatican's earlier anouncement that Pope Benedict's "prayer intentions for August" are mainly to "respect God's design for the world", and "become ever more aware of the great gift of God which Creation represents for us".
- "The most important things in our lives cannot be bought, but are only given as holy gifts : The Sun and its Light, the Air that we breath, the Water, the beauty of Earth, Love, Friendship, Life itself", Pope Benedict added, extending also to Natural Environment, another topical issue after recent Climatic upheavals at several parts of the World.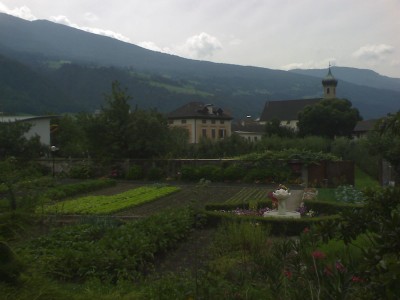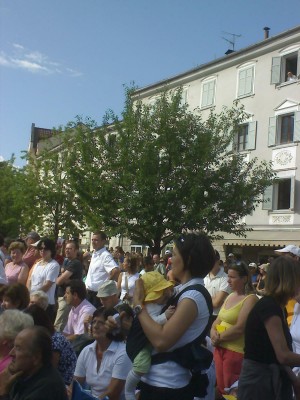 The "preparation of Pope Benedict's visit to France", which currently heads the EU, at mid-September, among exceptionaly important Council of Europe meetings on Human Rights in Paris and Strasbourg, is part of his work, together with his "book on Jesus", during brief Summer Holidays in Brixen, said his Spokesman, Federico Lombardi.
- The Pope's message is mainly religious, theological. But we are living in a concrete world, and ideas may be taken by readers as references to the actuality. However, it's better to wait to se what the Pope will say in Paris and at Lourdes, added to EuroFora Lombardi, who is also Director of Vatican's Press Office.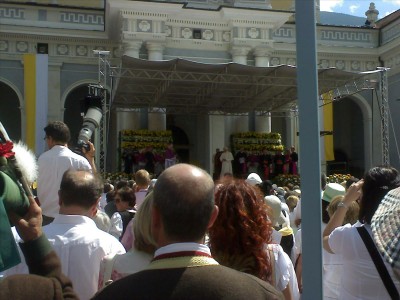 Brizen/Bressanone is similar to Strasbourg by succeeding to make a fertile synthesis of Germanic and Latin sources of Europe, like the two local rivers who meet at the historical center of the town, among spectacular ressorts at mountains' hights.

Headquarters for an Historic Religious Seminar, it attracted recently also a Free University's Educational studies. Well-known as a long-time preferred rest place for former cardinal Radzinger and his brother Georg, it includes areas named "St Benedeto" and "St George"...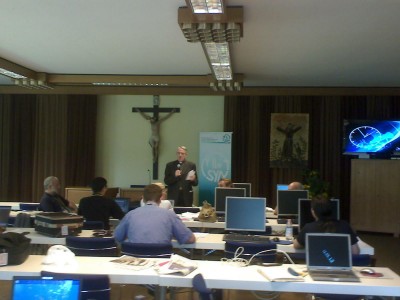 But Pope Benedict's first speech gave also another symbolic rendez-vous :

- "Next Wednesday, August 6, we shall commemorate the 30st anniversary from the death of late Pope Paul VI", who "concluded Vatican II", and "the Transfiguration of Jesus, mystery of the divine light, which exerced a unique fascination to his soul", he said to some 12.000 applauding People, among the happy few who succeeded to have a rare place for an open-air Mass inside the Domplatz a particularly sunny day at the Alpes.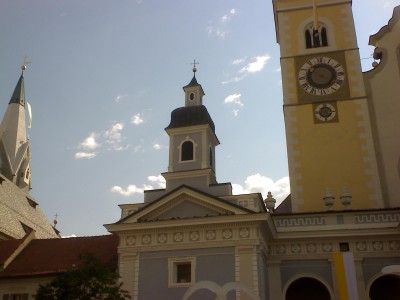 Polls