Home

newsitems

ECHR 9/11 ruling on a Gay Union : Humankind Implosion Risk or Chance for Childrens' Natural Births ?
ECHR 9/11 ruling on a Gay Union : Humankind Implosion Risk or Chance for Childrens' Natural Births ?
Thursday, 07 November 2013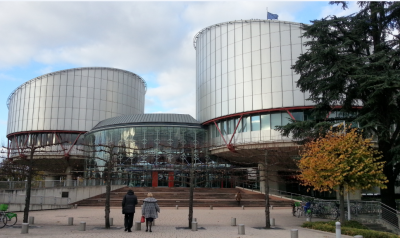 *Strasbourg/Angelo Marcopolo (*)/- An apparently anodynous, or slightly controversial, ECHR judgement published Today, but curiously decided since ...September 11, could, in fact, either give way to a kind of "Legal Hijacking" threatening to result in an even Worse Implosion of Humankind than real 9/11 NY WTC's Demolition, or, on the contrary, Help to find another way to Safeguard Childrens' Natural Births, and, therefore, strengthen the chances for Humankind's Natural general Development in the foreseable Future, according to the Legal Analysis, Interpretation and Conclusions that main Law Actors will make of this Tricky but interesting ECHR's Grand Chamber Judgement on a particular form of Civil Unions that Homosexual lobbies asked to open also for them, apparently skipping delicate issues about Children etc..
---------------------------------------
An important point, which deserves to be marked from the outset, is that ECHR's Grand Chamber doesn't exclude, a priori, the possibility for a Differentiated Legal Treatment of Homosexual partners, (compared to Natural Families composed by a Man and a Woman), mainly Justified by the former's Biological Inability to give Natural Birth to Children, particularly if this Necessary in order to reach the Legitimate Aim of a Law, as it results from Today's Judgement, (See Infra), rendered on the occasion of a measure taken back on 2008 by a former Greek Govenment, which had tried to focus its explanations precisely on this intrinsique Difference between Homosexuals and Natural Families, concerning the Natural Procreation of Children :
Indeed, "the Government's ...main argument is that (the inscriminated) Law ...is designed to strengthen the legal status of Children born Outside Marriage, and to make it Easier for Parents to Raise their Children without being obliged to Marry. This aspect, it is argued, Distinguishes Different-Sex couples from Same-Sex couples, since the latter canNot have Biological Children together", as ECHR's ruling notes (§ 82).
But, in fact, Today's ECHR's ruling, has also many other, delicate Legal aspects, with more or less important Moral, Social and even Political possible repecussions, whose Analysis is both Interesting and Necessary, not only in order to seize some Positive Chances to strengthen Human Rights, but also in order to Help Prevent some apparently inexistent, but in reality very Dangerous Risks for the concerned Persons, Society, Countries and even Humankind (See Infra, particularly just before the conclusion)...
---------------
MAIN POINTS :
---------------------------------
- It's a Fact that, independently of this or that individual judgement by one or another among the many ECHR's Chambers, at one or another moment, which is legally applicable only in that concrete affair and/or could be easily changed by another ECHR judgement in the Future of a fluctuating case law,
>>> it still remains that the official text of the PanEuropean Convention for Human Rights, clearly reserves the "Right to Marry ...and form a Family" just to "Men and Women of marriable age", according to its Article 12.
This would need 47 CoE Member States' agreement in order to eventually change in the Future : something obviously Impossible, particularly given the strong opposition of a Majority of CoE's Member States.. .
------------------------------
+ Moreover, ECHR has repeatedly confirmed, until recently, that, in general, "protection of the (Natural) Family in the Traditional sense is, in principle, a weighty and Legitimate reason which might Justify a Difference in treatment", including vis a vis Homosexuals, in a variety of cases, (comp. f.ex. Karner v. Austria, 1998, X and others v. Austria, 2013, etc, See § 83).
In addition, ECHR also confirmed that "It goes without saying that the protection of the interests of the Child (a Crucial point, often evoked f.ex. by the French Popular Movement "Manif pour tous" and/or the Dissident Group of "Mayors for Childhood/Maires pour l'Enfance", which clearly refuse Same Sex Marriage, etc), is also a Legitimate aim" for such purpose (ibid).
------------------------------------
- However, the present case didn't concern at all any kind of so-called "Marriage" between Homosexuals, but only the simple question whether mere "Civil Unions" should be open also for them, or not : This was clearly and repeatedly stressed by the present ECHR's judgement which notes, f.ex. that "the Legislation in question ... is designed ...(for) a Form of Partnership OTHER than Marriage, referred to as "Civil Unions"", i.e. "provided for a New Legal Form of Non-Marital Partnership", (§ 86 + 87).
--------------------------
- In this regard, ECHR explicitly pushed aside any eventual claim that CoE's Member States might be, eventually, obliged to have some kind of Legal form, whatever, for Same Sex relationships in general, clearly droping that : - "The Court deems it important to ...(note that) ..the present case ... does NOT relate in the abstract to a general obligation on the ...State to provide for a Form of Legal recognition in domestic law for Same-Sex relationships". "In other words", the point at issue "is NOT that the ... State failed to comply with any positive Obligation, which might be imposed on it by the Convention", but, on the Contrary, only "that it introduced (at the State's own Initiative) a Distinction, which in the.. view (of the LGBTI Lobby), would discriminate.. against them", without presenting sufficient and/or necessary and proportional justifications in this case, ( § 75 + See Infra).
-------------------------------------
On the Contrary, it clearly results from this ECHR's Judgement, that, still Today, the large Majority of PanEuropean CoE's 47 Member States, i.e. 38 (Thirty Eight) States, do NOT provide at all for any so-called "Same Sex Marriage" whatever, Contrary to only 9 (Nine) States which did so just "recently", (i.e. most of them after Obama's election to USA's Presidency, back on 2009-2012)... As for merely "some form of Civil Partnership for Same Sex Couples, ... Other than Marriage", it's only "17 (Seventeen) States" which additionally .. authorize" such an "Alternative", compared to much More CoE's Member States : 21 (Twenty one), which do NOT accept Neither of them, still preferring to Focus rather on the Natural Family between Man and Woman, (the only able to give Natural Birth to Children), (Comp. § 91).
Even inside the EU's 28 Member States, as ECHR observed earlier, the Official "Commentary of the Charter of Fundamental Rights of the EU, prepared in 2006 by the EU Network of Independent Experts on Fundamental Rights", pointed out that:
- Certain EU Member "States still ... explicitly Forbid the notion that Same-Sex couples have the right to Marry", and, in general, "there is very Limited legal recognition of Same-Sex relationships", since "Marriage is Not available to same-sex couples", because "Laws of the Majority of States presuppose .. . that ..spouses are of Different Sexes", (I.e. "Men and Women", as ECHR's Article 12 already said).
With the Exception of just "a Few countries", where, on the Contrary, "Marriage between people of the Same Sex is legally recognized", while, "others ... have endorsed a Registered Partnership" only, (f.ex. on "Property", "Inheritance", and other such merely practical issues. And, in this regard, "it is Important to point out that the name 'Registered Partnership' has intentionally been chosen NOT to confuse it with Marriage, and it has been established as an Alternative method of recognizing Personal Relationships. This New institution is, consequently, as a rule Only accessible to couples who canNot Marry, and the Same-Sex Partnership does Not have the same Status and the same benefits as Marriage", EU Experts clearly Distinguished.
Moreover, an "Explicit reference to 'Men and Women'" exists in several "Human Rights Instruments" (including, f.ex., CoE's own PanEuropean Convention on Human Rights, with its crystal-clear Article 12 : Comp. Supra), and "International Courts and Committees have so far Hesitated to extend the application of the right to Marry to Same-Sex couples", they noted, as ECHR reminded today (§31).
------------------
>>> CHILDREN ?
-----------------------------
= > Accordingly, the only Open Issue in the present case (2013) was just to know if, and when (i.e. on which Conditions) a CoE's Member State could legally establish a kind of Civil "Partnership" for Man - Woman Couples, without necessarily inluding even Homosexuals in this, in all or in part.
- (a)- On the 1st point, ECHR's answer, as a matter of General Principle, is a crystal-clear "Yes !" Indeed, "such a Difference" can be Legal, if the concerned persons are not "in Comparable Situations", vis a vis "a Legitimate Aim pursued" by a State, and/or whenever there is an "objective and reasonable Justification" related to Natural Couples Man-Woman, but Not to Homosexual partners, as iit results in substance.
Thus, according to ECHR, such an Aim related f.ex. to the "protection of the (Natural) Family in the Traditional sense is, in principle, a weighty and Legitimate reason which might Justify a Difference in treatment", including vis a vis Homosexuals, and, moreover, "it goes without saying that the protection of the interests of the Child, is also a Legitimate aim" for that purpose (Comp. Supra, and § 83).
- (b) - As regards the 2nd point, ECHR refers to a general case-law asking for the concerned "Difference in Treatment" to respect "the principle of Proportionality", i.e. for "the Measure chosen to be Suitable in principle (i.e. Adequat) for achievement of the Aim sought", and "also ...Necessary, in order to achieve that Aim", "the burden of proof" being; in such cases, "on the respondent Government" (§ 85).
Thus, f.ex., if "the Greek Government (could show) in the instant case that it was Necessary, in pursuit of the Legitimate Aims which they invoked, to Bar Same-Sex Couples from entering into the Civil Unions provided for by (a)Law (of) 2008", as ECHR noted, then, this would be endorsed by EuroJudges.
=> Among various such hypothesis, "it would ... have been Possible for the Legislature to include some Provisions dealing Specifically with Children, born outside Marriage" by a Natural Family, i.e. with a Mother and Father, "while at the same time extending to Same-Sex couples the General possibility of (simply) entering into a Civil Union" only, (i.e. without being obliged to include them even vis a vis the above-mentioned "Specific" Provisions concerning "Children"), ECHR apparently suggests.
At this point, it's also Important to note that, at least 4 among the EuroJudges who voted for Today's ECHR's judgement, decided "by a Majority", found necessary to exceptionaly Publish their Views, explaining, in substance, that they did so only because "Complex ... Issues", "comparable", f.ex. the notoriously Controversial and UnPopular "Adoption" of Children by Homosexuals (rejected by a large Majority of EU Citizens, f.ex. in France, etc., as many Polls attest), was "Not Raised" here :
>>> - Because, otherwise, (i.e. if this included Adoption of Children by Homosexuals), then "any such Adoption would necessarily, and indeed Radically, Affect the situation of the Child to be adopted, and that of the Other Biological Parent (Natural Mother or Father), Raising Delicate Issues with regard to the Best Interests of the Child , and the Other (Natural) Parent's (European) Convention Rights", Warn these 4 EuroJudges, clearly declaring their Firm Opposition against anything of that kind, which would "Affect"any "Third Party", (i.e. a Child and/or his Natural Father and/or Mother) "in any way", as they stressed, (See "Joint Opinion", point 2).
In this regard, (which is obviously Crucial also for Protecting the Natural Procreation of Human Beings from any Risk of eventual Technocratic exploitation of Homosexual couples Sterility, f.ex. by finding a Pretext to massively launch many Thousands of "Medically Assisted Procreations", with PreNatal Tests, In Vitro Fertilisations, Artificial Inseminations, Subrogate Mothers, Sperm/Ovary Banks, etc), the 4 EuroJudges, focusing on the Controversy about the Unpopular "issue of Adoption within Same-Sex couples", whose "Specific Features" had been "explored extensively in (a) partly Dissenting Opinion" to another, recent ECHR Judgement (X and others v. Austria, 2013), which raised "the Issue of Adoption within Same Sex Couples", and, to be precise, "more particularly, ... concerned the possibility for an applicant to adopt her Partner's Child", (i.e. linked with at least 1 Natural, Biological Parent).
- But, here, on the Contrary, "No such considerations apply in the Present case", since "the applicants in this case are Same-Sex Adult couples who simply wish to Formalise their own Relationships", without affecting any Child at all, the 4 EuroJudges' clearly Distinguished.
- Indeed, the concerned "Greek legislation on Civil Unions makes No provision for Adoption .... , and, In other words, the possible Extension ...to include Same-Sex couples would Not raise Issues comparable to those in "X and Others v. Austria", observe in consequence those EuroJudges, (i.e. about the notoriously Controversial and Unpopular LGBTI demand to oblige Children to submit to the Authority of Homosexuals under pretext of "Adoption", in that Austrian case to the Partner of one among their Natural Parents). Thus, they made it clear that it was only because, in the present, "Greek" case, Children's fate was Not affected at all, in their view, that they agreed with the rest of the ECHR's Members. On the contrary, if Childrens' fate was at stake (f.ex. concering Adoption, Medically Assisted Procreation, Subrogate Mothers, etc., then, they would have voted Against the extension of such "Civil Unions" to Homosexuals, as it seems.
--------------------------------------------
For the ECHR, it's only because it found that the respondent "Government have Not offered convincing and wighty Reasons capable of Justifying the Exclusion of Same-Sex Couple from the scope of (that) Law (of) 2008", that it concluded that there was a Violation of Articles 14 and 8 of the PanEuropean Convention on Human Rights, regarding Discrimination vis a vis Private/Family Life, as Today's judgement says (§ 92).
In other words, ECHR does not exclude at all, a prori, any possibility to eventually reserve such Civil Unions only for Natural Families, on the sole condition to have a Justification able to convince that such a Difference of treatment would be Legitimate and Necessary.
It's true that the Greek "Government maintained that the Biological Difference" of Homosexuals, consisting to the Fact that they "Could Not have biological Children together, justified limiting civil unions to different-sex couples", as ECHR's ruling notes. Because "the 'Hard Core' of that Legislation" was "represented" by "provisions" aiming to "establish Paternity" even Out of "Marriage and ... Courts", since they "enabled the Father of a Child Born Out of Marriage, to establish Paternity and be Involved in the Child's UpBringing, without having to be Married to (its) Mother", (§ 89).
- But, "even assuming that the legislature's Intention was to enhance the legal protection of Children born Outside Marriage ..., (nevertheless) the fact remains that, (this) Law ....introduced a form of Civil Partnership, known as Civil Unions, which (also) ... allowed Differend-Sex Couples ... to Regulate numerous Aspects of their Relationship, whether they had Children, or Not", while always "Excluding Same-Sex couples", even from that other possibility to simply Regulate their own Relationship, (regardless of any Children), ECHR critically points out (§ 88), adding that "in that connection", even "the Explanatory Report on the Legislation at issue offers No insight into the legislature's decision to Limit civil Unions" to Natural Couples, Man-Woman, only, (ibid).
As far as it concerns that Part of the 2008 Law which did Not concern Children at all, the Greek Government had "contented that .. (such) Civil Unions ...would result .. in Rights and Obligations – in terms of ...Property status, the Financial relations within each couple and their Inheritance rights – for which (Homosexuals) could already provide a Legal Framework under Ordinary law, that is to say, on a Contractual basis", i.e.. even without using such kind of Civil Unions, ECHR noted, (§ 80).
+ But, "the Court is of the View that .... the Civil Partnerships, provided ...as an Officially Recognised Alternative to Marriage, have an Intrinsic Value for (Homosexuals), Irrespective of the legal effects ... that they would produce", Today's Ruling goes on to add. Because "Same-sex couples ....entering into Stable Committed Relationships", and "Sharing their Lives, have the Same Needs in terms of Mutual Support and Assistance as Different-Sex couples. Accordingly, ...entering into a Civil Union would afford ...the only opportunity available to them under Greek law of Formalising their Relationship by conferring on it a Legal Status Recognised by the State", stressed ECHR. EuroJudges admitted that (as the Greek Government had argued : Comp. Supra), indeed, it was always possible for Homosexuals "to Regulate issues concerning Property, Maintenance and Inheritance, ... as Private Individuals entering into Contracts under the Ordinary Law", "But" they "noted that extending Civil Unions to Same-Sex couples would allow the latter to" do so also "on the Basis of the Legal Rules governing Civil Unions, thus having their Relationship Officially Recognised by the State", as ECHR's Ruling repeatedly underlines, (§ 81).
=> It's, therefore, mainly for that reason that Today's Ruling condemned the Greek State for "Discrimination" concerning the Private/Family Life of 8 Homosexuals who had applied to the ECHR, and ordered it to pay 40.000 € for "Non-Pecuniary Damage" (consisting mainly to the "Frustration" that they said they had felt), as well as another 11.000 € for "Costs and Expenses", - in reply to their demands to reimburse Travels to/from Strasbourg, "Time spent on the case" by controversial NGO "Greek Helsinki Monitor" ... "at an Hourly rate of EUR 100", (sic !), etc - in Addition to "any Tax that may be chargeable to them", in 3 Months time, from the expiry of which, it would also have to pay an "Interest"...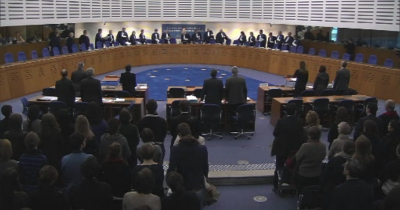 More than 51.000 €, plus Taxes, plus Interests, etc, merely for a ..."Frustration" reportedly felt by a few Homosexuals just because the Greek State hadn't yet "Officially Recognized their Relationship", even if they hadn't any difficulty at all to Regulate their Private Life as they wished (Comp. Supra), at the same time that Poor Natural Families face in Greece notorious Hardships from an exceptionaly Heavy Financial Crisis, innocent Young or Old People are even committing Suicide, Threatened to be thrown to the Street, and/or Starve from Hunger, deprived even of basic Health Care, or just with a "Pension" of only ...300 € per Month, while the Greek State is Hindered to help them, obliged to pay excessive amounts of Money to a disproportionate number of often corrupted Civil Servants and/or Bankers up to -and even well beyond 2020+, etc., can obviously appear as Scandalous to the eyes of many Honest EU Citizens ! (Comp., f.ex. : http://www.eurofora.net/forum/index.php/topic,637.0.html ).
Serious Critical Questions are, moreover, raised also by the Fact that, as the "Dissident" Opinion published by EuroJudge Pinto de Albuquerque (who Voted Against the above mentioned Condamnation) denounces, "the particular interest of (this) case is that the Grand Chamber performs an abstract review of ...a Greek law" : It "not only reviews ...a law which has Not been Applied to the Applicants, but furthermore does it WITHOUT the benefit of PRIOR SCRUTINY of that same legislation BY THE NATIONAL COURTS; ..without any prior national judicial review".
In fact, this complaint should have been declared "Inadmissible for Non-Exhaustion of Domestic Remedies"; because "the ...applicants ...did Not even try to lodge their claim before the National Courts" : "No opportunity was given to the national authorities to address the applicants' complaint at the national level". Thus, "the principle of Subsidiarity was infringed". "The Applicants Failed to use the Remedies that would have enabled the Greek Courts to examine their allegations of a violation of the Convention. Consequently, the Grand Chamber of the (Eurpopean) Court should Not have addressed the Merits of the case, which it did as a European Constitutional Court functioning ....at the direct request of the persons concerned. Not even Hans Kelsen, the architect of the concentrated Constitutional judicial Review system, would have dreamed that one day such a step would be taken in Europe !", the Dissident EuroJudge concludes critically...
-------------------------------------------
A "9/11" against real Human Rights ?...
---------------------------------------------------------------
However, for "EuroFora", the main Risk might be elsewhere :
- Curiously, this controversial ECHR's ruling is published on November, while, in fact, EuroJudges had already taken their Decision on ... "September 11", 2013, i.e. right on the Anniversary Day for the 9/11/2001 Mass Deadly Terrorist Attacks at New York and Washington DC, which have notoriously Marked World's History, bringing Big, unexpected Changes : A too long Delay of 2 Months, which is quite Unusual for the ECHR.
But this is not the only Strange fact in this ruling : Indeed, as we say above, the Greek Government had mainly tried to explain the exclusion of Homosexuals from those Civil Unions created on 2008, by claiming, in substance, that their Aim was to help Raise Children even Out of Marriage, while Same Sex couples were Biologically Sterile and Unable to have Children by themselves. ECHR did not exclude a priori such Differences of Treatment, related to Children issues, between Natural/Traditional Family and Homosexual couples. But a Majority of EuroJudges argued that, nevertheless, even this kind of Civil Unions had an "Intrinseque" Interest for Homosexuals, simply because it gave a kind of "Official Recognition of their Relationship by the State", while the Greek Government hadn't even tried to explain their exclusion from that symbolic advantage f.ex. by any eventual argument which might have been linked to Children or anything else, (Comp. Supra).
However, often, what is most important might be not necessarily what is said explicitly, but what EXISTS OBJECTIVELY, as an unavoidable Legal possibility, inside a precise Judgement :
Apparently, the Greek Government, based mainly on the 2008 Facts, acted in this way also on 2013 in front of the ECHR, because it took for granted that Homosexuals being Biologically Unable to give any Natural Birth to Children, then, it should have been Obvious that they had Nothing to do with a Legislation focused in particular on Making Easy to Raise Children even out of marriage, (specialy when that 2008 Law didn't even give at all to Homosexuals any possibility to obtain at least some Children by "Adoptions").
But this ECHR's ruling, by nevetheless condemning the exclusion of Homosexuals even from such a kind of particular Civil Unions, while, at the same time, it undelines what it finds to be "a Trend currently emerging, with regard to the introduction of forms of legal Recognition of Same-Sex Relationships", (particularly after the 2009 Start of Obama's USPresidential mandate), might, objectively, lead to a situation in the forthcoming Future where Homosexual couples would really attempt to use Legal possibilities as those provided for by the Greek 2008 Law in order to facilitate the raising of Children even out of Marriage...
How ? Obviously by Changing so brutaly the Traditional Legal landscape, that Homosexuals might start to massively "Adopt" Children thus submitted to the Power of even total Strangers to their Natural Family, (something which would naturally Risk to unavoidably Boost also Children "Trafficking" of Children, as,f.ex. it already started to happen in Holland, etc), abuse of "Subrogate Mothers"' atrocity, make a Massive use of "Medically Assisted Procreations", with Sperm/Eggs' Banks, Genetic PreNatal Tests, In Vitro Fertilisations, Artificial Inseminations, etc. i.e. practically submitting Human Procreation to Technocrats, (which would obviously provoke Big Dangers against Humankind, particularly if this would be combined, at the same time, with Parallel Changes introducing possibilities for Massive Genetic Manipulations of Human Embryos, etc., as it has already started to be done in Obama's USA since 2009-2012, in Hollande's France since 2012-2013, etc)...
Certainly, the present ECHR ruling could (and, in our sense : Should) be also interpreted legally in such a way that it couldn't do more than just incite the Greek and other Legislators, when they take the initiative to create Civil Unions or any other Legal Forms for Unmarried Couples, to include also Homosexuals ONLY to those provisions which do NOT concern Children (Comp. Supra). The ommission of similar possibilities for Homosexuals regarding other provisions which deal with Children, would be justified by the obvious Necessity to ensure the Legitimate Aim of preventing such Dangers for Humankind as those against which we have just Warned above, (Comp. Supra : the previous paragraph).
=> Otherwise, this "9/11" decided ECHR Ruling, which was published only Today, (Comp. Supra), could really Risk to become an even Bigger Danger of Major Hazards against Humankind than the real 9/11 was for New York's WTC's Deadly Implosion !...
As in traditional Alfred Hitchkock's films, (Comp. f. ex. with the famous images of those "Birds", and/or of that apparently anodynous Agricultural Crop-spraying small Airplane, which are suddenly both transformed into Dangerous Instruments for Deadly Attacks), as well as in the 9/11's Hijacking of peaceful Civil Airplanes, suddenly transformed into Suicide Bombs triggering Deadly Mass Destructions, TCW's Demolition, etc, IF people are not careful enough, then, obviously, even some apparently "Anodynous" ECHR Rulings as this on the "Vallianatos" case, (curiously published Today, 2 Months after its Adoption at the Anniversary Day of September 11), could, obviously (Comp. Facts cited Supra) be technically "Hijacked"and turned into Legal Instruments of Mass Destruction against a Humankind, then, threatened with an even Worse "Implosion" than that of New York's World Trade Center Skyscrapers, even if this unfolds, at first, Silently....
(../..)
---------------------------------------------------------------
(*) Angelo Marcopolo : DEA/Master in Public Law : 17,5/20 + Research proposed by Strasbourg's Law Faculty for a PhD Thesis' Prize. +Journalist for European News including Human Rights/BioEthics +20 Years: EU/CoE/UNO+ 3/1993-2013.
----------------------------------------------------------------------------------------------
***
("DraftNews", as already sent, earlier, to "EuroFora"s Subscribers/Donors. A more accurate, full Final Version may be published asap).
***
BRIEF NEWS
00:00 - 02.06.2021

00:00 - 18.10.2020

00:00 - 19.06.2020

00:00 - 18.05.2020

00:00 - 20.04.2020

00:00 - 02.02.2020

00:00 - 09.12.2019

00:00 - 27.11.2019

00:00 - 16.11.2019
Statistics
Visitors: 50504445
Archive
Login Form
Other Menu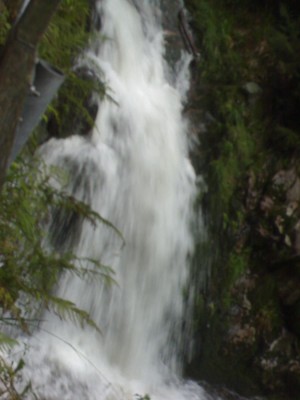 Benedict's "Source" to revitalize Europe : - "The World needs Hope", Pope says, calling to relaunch E.U. via Human Rights !
Paris - Lourdes - Strasbourg : 12 - 17 September 2008.

The vital need to re-launch Europe can be succesfully met by defending fundamental Human Rights of the People, said Pope Benedict XVI in his 1st speech in France, at his meeting with President Nicolas Sarkozy, who currently chairs the EU.

Sarkozy replied by welcoming Christian and other religions' contribution to indispensable Public Debates on crucial issues which affect Human Dignity, Europe, even Humankind, as BioGenetics.

- "When Europeans will see and personally experience that the inalienable Rights of the Human Person .., those of their free Education, their Family life, their Work, ..their Religious Rights, ..are respected and promoted, then, these Europeans will fully understand the greatness of the European construction and will be actively involved in it", Benedict XVI stressed.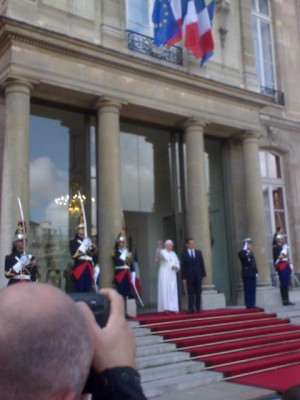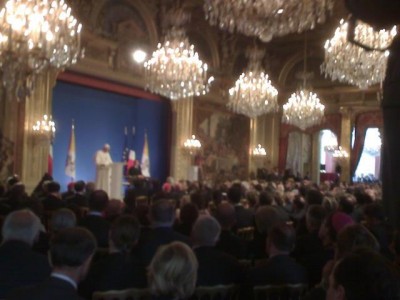 - "It's important that during France's EU Presidency, there is, indeed, a desire for the Church to contribute to protect Human Person's integrity, and I think that there is also a growing Conscience, beyond any polemics, to defend Human Rights, and, thus, contribute to ensure respect for Human Dignity", added to "EuroFora" the Pope's Spokesman, Vatican's Press Director Federico Lombardi.

- "Nobody really told us here that Lisbon Treaty was good for this or that reason to the People. They only told us that we "had" to ratify it, and tried to scare us, but failed", said 2 Irish pilgrims to "EuroFora", after 2 Majority Abstentions in 1999 and 2004 EU Elections and 3 "NO" to Referenda in France and the Netherlands in 2005, followed by the Irish "No" in 2008, during a Decade of EU Crisis since the controversial Turkey EU- bid (1999-2008).
More than .."224 cases of Murders, Torture, "Disappearancies" or Destructions" by "agents of Turkish Security forces", where all those responsible for so heavy Crimes still remain scandalously unpunished, despite regular condemnations of Ankara by Strasbourg''s European Court of Human Rights from 1996 to 2008, were examined the same week by CoE's Ministers, who decided to launch a fresh call "urging" the Turkish Authorities to end this dangerous "virtual Impunity" of criminals, without comparison to European countries.

- "Why not Ukraine, instead of Turkey ?", asked EuroFora a Journalist from "Kiev : the city where it's enough to cross the streets in order to realize that it's a European town", as Sarkozy recently said, before solemnly declaring this week, together with Ukranian President Jushenko and EU Commission's chair Baroso, EU's "recognition that Ukraine is a fully European Country, linked to Europe by culture and History".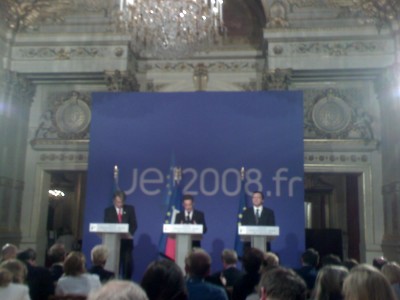 Europe's "Christian roots" and Values, with "openess and mutual respect" to other cultures and beliefs, were highlighted by Sarkozy in harmony with Benedict XVI.

The Human person should be protected "from his inception until his natural death", added the Pope, faithful to BioEthic principles defended by his predecessor and collaborator, John Paul II, of topical importance in France, Europe and the World today, as Sarkozy announced :

- "Fast and important progres in Genetic Science and procreation raise delicate BioEthical Questions to our Democracies", which "involve our view of Humans and Life, and can lead to Social Mutations. That's why they cannot remain only a business of experts", hestressed.

- "It's Politician's responsibility to set a proper framework for such Public Debates", as "France will do on BioEthics in 2009". "Religious and Philosophic traditions must take part, with their ideas and centuries' long experience : A positive Laicity is an open invitation to Dialogue", he said.

- "France engaged in Europe at another Debate on how to make Financial Capitalism more moral", and the "Social doctrine of the Church fits well what is at stake in modern Globalized Economy"

- "But, a "Real Dialogue is not for an elite of a Globalized world : It penetrates deep into the People : That's why Churches should actively participate : .. It's bringing New Oxygen to Public Debates", stressed Sarkozy.

- "Democracy must not be cut off Reason", which is "compatible with Faith", thanks to "the meeting between Christianism and Greek philosophy ", he added, referring to Pope's views. "It means to advance with logic arguments, search what's best and respect common principles of thinking :... It's an everyday need for Public Administration and the Political Debate", he added.
----------------------------
Pope Benedict's 1st visit to France looked like the start of a brillant, manifold demonstration that this was well-founded and could become true in the lives of the People : After its Theoretical foundations unfolded at a "speech to the world of Culture", inaugurating Bernadins' cultural centre, and its dogmatic instrument shaped at an address to the Clergy in the Historic Notre Dame' Cathedral, he started to resolutely reach out to the People :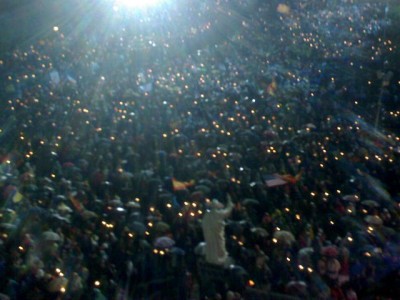 The move went upwards like Bach's music : Begining with a call to more than fifteen thousand enthousiastic Youngsters gathered at Notre Dame's parvis with overnight celebrations, it gained strength in an impressive open-air Mass at Paris'central Invalides'area facing Alexander III's bridge, attended by more than 150.000 people, French Prime Minister Fillon, many Ministers, Foreign Ambassadors, etc, and culminated in a series of pan-European Mega-meetings at Lourdes 150th anniversary, together with all French Bishops, EU Commission's vice-Chairman Barrot, and some 200.000 enthousiastic People from all over Europe and beyond : After a Sea of Lights astonishingly braved Saturday Night's rain, an open-air mass at riverside fields among Pyrenees' Mountains Sunday Morning, was followed on Monday by a Sea of "Compassion" to those facing Health or Life threats, surrounded by an endless gathering of People, whose gigantic dimensions obviously surprised the organisers..

Meanwhile, Benedict had the occasion to speak to the French Priests at Notre Dame of Paris, and with the Bishops at Lourdes, where they prepare a crucial November plenary meeting, due to take important decisions on imminent EU debates and choices about Europe's identity, BioEthics, etc.
-------
- "A new way of thinking about Laicity has become necessary", agreed the Pope with President Sarkozy at Elysee. While keeping the "distinction between Politics and Religion, to guarantee Citizens' Liberty", "religion is important for shaping Consciousness and contributing, together with others, to create a basic Ethical Consensus in society".

- "Searching Essential realities", (as "God" for christians), needs "Speech : "Logos" in greek, i.e. Reason", "able to shape a Community","with creative work transforming Human History". But "Dialogue" is instrumental for "Reason", because it's the way to "search" for Truth", in "Liberty", according to Greek Platonic Philosophy, with Socrates' dialectics. "Reason" implies "Spirit and Liberty", hence the polyphonic "Music" of "Dialogue", in a responsible, "well balanced" way, to avoid "destruction".

Starting with a "Dialogue between christians and intellectual or artistic movements" highlighted at Bernardins' Cultural Center. with former Presidents Chirac and Giscard d'Estain, UNESCO's chair Anastassopoulos, etc., as well as representatives of Muslim Communities, (including a separate Turkish), after contacts with Jews at Vatican's Embassy, the Pope turned towards the People :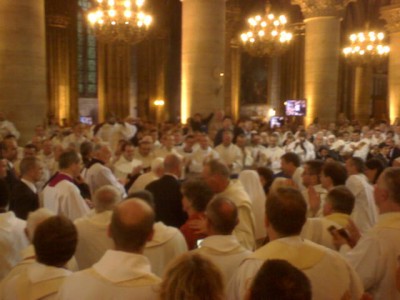 -------------------
To French Priests : "Church built on the rock" !
---------------------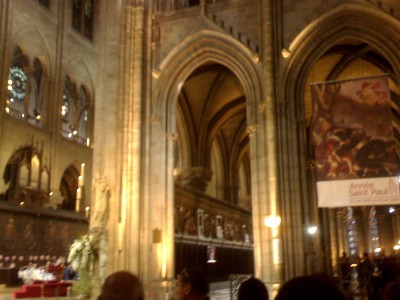 - Speaking to thousands of French Priests at Notre Dame's Cathedral, Benedict highlighted a solid "Church built on the Rock" of conscious and active persons, transmitting "a lively, energetic and sharp" "God's Speech, actively working on Human History".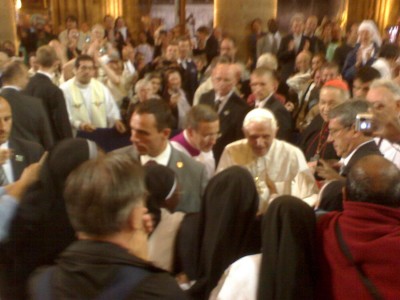 "Praying together" with "representatives of Christian Churches and ecclesiastic communities", (as Orthodoxes, Armenians, Protestants, etc), he called "to reinforce the Unity of the church", against "any form of Division", around Holy Spirit', "the Word","Christ's Justice", and "Love" to fellow- humans : Essentials which "resume all holy scripts", as he said.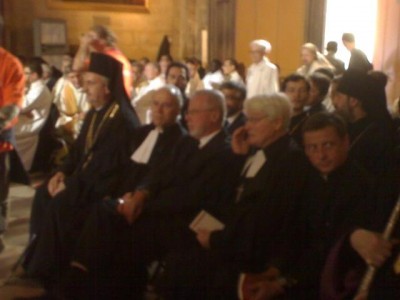 -----------------------
To Young People : "New Horizons"
------------------------
To some 15.000 enthousiastic Young People at Notre Dame's parvis, along Seine's river, Benedict spoke about "the Energy of the Holy Spirit" and "the Mystery of the Cross" : - "The Holy Spirit opens New Horizons to Human Intelligence .. and makes it conscious of the real greatness of Christ's sacrifice, dying and resurecting for World's life".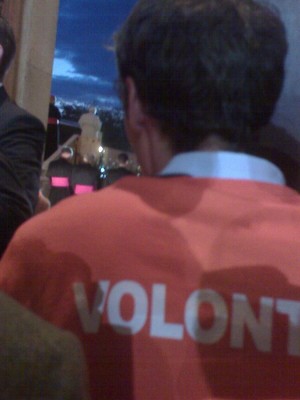 Some "may slander you as crazy, laugh at you, or even persecute you. But, "the Holy Cross is a symbol of God's love", and "givesmoral strength" : "Witness of People's pains, it's at the same time, a precious, unique expression of their Hopes", he told them at Paris' dawn.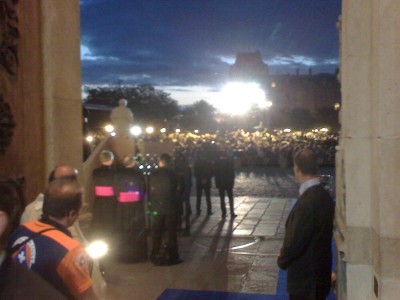 ----------------------------------
Invalides' plateau : "People chosen to become God's friends"
---------------------------------------
At the 1st open-air Mass in Paris' center area of Invalides, facing the Grand Palais, along the river Seine, during an impressive gathering of more than 150.000, French Prime Minister Fillon, Ministers Alliot-Marie, Bachelot, Dati, Jouyet, Assembly's President Accoyer, Senate's Chair Poncelet, former 1st Lady Bernadette Chirac, former Prime Minister Raffarin, many foreign Ambassadors, and other political personalities were present. (While earlier, from the Socialist opposition, Paris' Mayor Delanoye, artist Robert Hussein a.o. assisted at the Elysee meeting).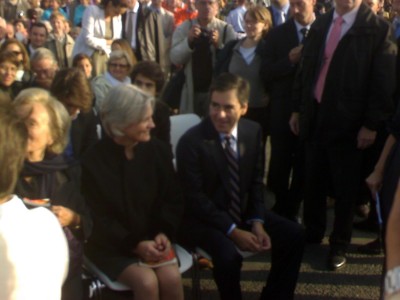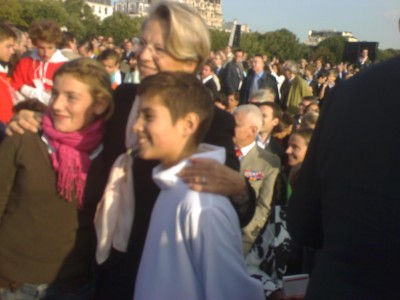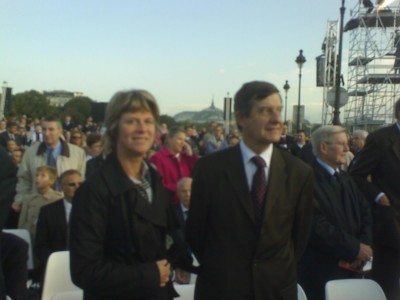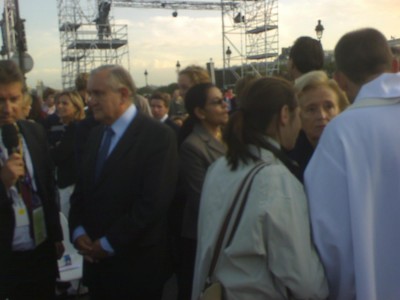 But the "Entry Song" focused on the "People chosen to become God's Friends". The September 11 mass was Dedicated to "Saint Chrysostomus, that great priest of Constantinople", with his "wonderful eloquence and great courage to face challenges", who "made out of despaired and godless people, a people of brothers", opening a possibility to "become all one complete entity", as Pope Benedict reminded.

- "Reason never enters in real contradiction with Faith", stressed Pope Benedict, who prepared his speeches for France during a short Summer rest at Brixen/Bressanone's Seminar, whose Library honors both "Faith and Science".. - "We must use not only our Reason, but also our Faith" : "Get away from Idolatry", "cupidity", "avidity for money, power or even knowledge deviating from essential aims", and other "falses appearances". and "build your Home on the Rock", "with the force that Holy Spirit gives to those who let it act in them", he said to the People of Paris.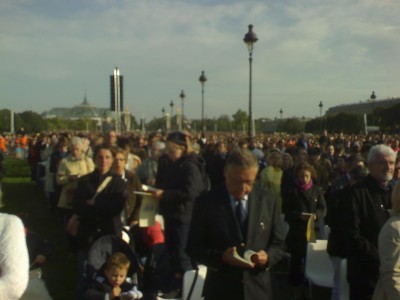 --------------------------------------------------
Benedict at Lourdes : - "Become Light (even) in the Dark !"
------------------------------------------------------------------
- "Our World needs Hope", stressed Pope Benedict, addressing an impressive TorchLight procession at Lourdes' sanctuaries, where a Sea of Lights held by Hundreds of Thousands of People gathered at Pyrenee's Mountains from all over Europe astonishingly kept their flames despite a heavy Rain at a windy Dark Night...

- "150 years earlier (1858 - 2008), ..here, in the cave, ... a simple young girl, Bernadette .. saw a Light". "The everyday life of her Family was, however, made of Misery, Sadness, Sickness, Misunderstandings, Rejection and Poverty... It was hard to live in Jail". Today, "we think to all Human Beings who suffer : The innocent Victims who face Violence, War, Terrorism, Hunger, Injustices, Catastrophes, Hate and Oppression, Violations of Human Dignity and of their fundamental Rights, of their Liberty to act and think. We also think to those who face Familial problems, sufferings from Unemployment, Sickness, Infirmity, Isolation, or their situation as Immigrants, without forgetting those who suffer and die for the name of Christ", he said.

- "But the Shadows of the Earth, did not hinder Sky's Light to shine : <<The Light shines in the Dark>>" ..."A Way full of Light opens in Human History even in its Darkest moments" : ..."As Night falls, Christ tels us : <<- Keep your Lamps alight !>>."Hold a Light while walking in the Night .. sums up our condition as Christians on their way : "We need light, and we are called to become Light !", Benedict stressed to People setting in motion Lights, Flags and Songs with enthousiasm.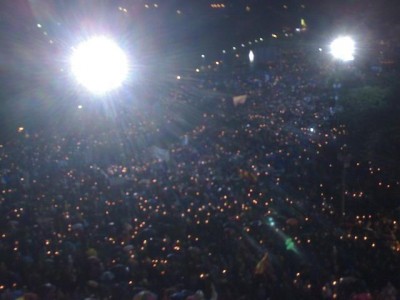 "<<- She looked at me as a Person, who speaks to another Person>>, the poor girl had noted."Light emerges from such a Dialogue", stressed the Pope : "A small Flame called Hope, Compassion and Tenderness dwells inside those who return after being moved by Lourdes' experience". "Christ .. entrusts us with the Mission to let the Light of Charity shine : To make of our Prayers an Act of Love to our brothers and to Fraternal Charity", he concluded.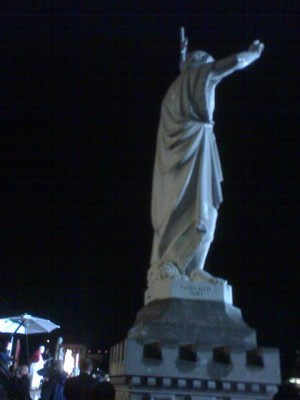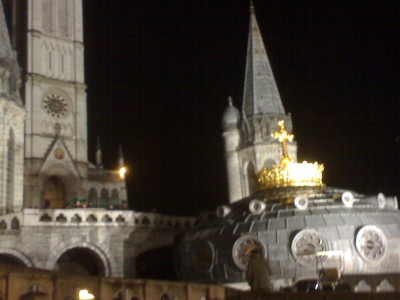 (../..)
Polls