Home

newsitems

Italy: Conte Out After Snobing EastMed Pipeline, EU Christian roots+1st EU Army Victory, eyes Turkey
Italy: Conte Out After Snobing EastMed Pipeline, EU Christian roots+1st EU Army Victory, eyes Turkey
Saturday, 10 August 2019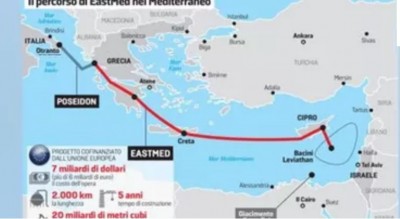 *Strasbourg/Angelo Marcopolo/- Controversial "Professore" Conte, an atypical "Go-Between" suddenly propulsed Prime Minister in the "5 Stars" - "Lega" Coalition Government in Italy, among Anti-Establishment's Leftists and Rightists, should be soon Replaced, after committing 3 Blunders in a row, by (directly or indirectly but surely) Snobing the strategic East-Med Pipeline, at the same time with Europe's Christian routes (cf. Otranto: See Infra), and even the 1st Victory of an European Army in History (at Lepante, on 1571), so that he Faces now a "Non-Confidence" Motion, side by side with his UnPopular Minister on Infrastructures and Transports, gaffer Danilo Toninelli, (notorious for his call: - "Ignorants: Look at Istanbul !")...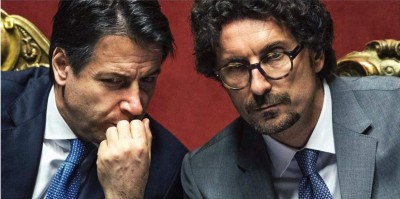 (Conte with Toninelli)

-----------------------------------------
Long After a Coalition by EU Member Countries Italy, Greece and Cyprus with neighbouring Israel, recently Joined also by USA on 2019, had anounced their intention to Sign a landmark Deal on a pioneer "East-Med" Pipeline for Gas Transport, Directly into the EU, from Growing Recent Energy Findings in Cyprus and Israel's off-shore Exclusive Economic Zones, (adjacent to those of Egypt, with whom they are Also Cooperating at various formats), as already Endorsed earlier by EU Commission, Suddenly, last May, Giuseppe Conte reportedly declared his Opposition to that Project, Crucial for EU's Energy Indendence and Security of supplies. This UnExpected disruption was also Followed, earlier This Week, by an also Surprizing Absence of Italy's current Government Officials at an Important Summit of Energy Ministers from Greece, Cyprus, Israel and USA, chaired by the New Government in Athens, on August 7, 2019.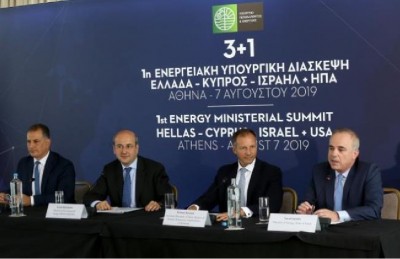 However, EU Commission, after Studying the matter, has Officialy Declared the "East-Med" Pipeline as a "Project of Common Interest" for Europe, and the Experienced, Twice EU Commissioner on Energy, Mario Sefcovic, speaking to "Eurofora" earlier in Brussels, stressed that Recent Oil-Gas Findings in Cyprus, Israel and Egypt's adjacent EEZ clearly indicate that "a Second Norway" could Emerge at that South-Eastern Mediterranean area, (See: http://www.eurofora.net/newsflashes/news/eucommissionersefcoviconcyprusenergy.html), while the Nowadays' Quadrilateral Ministerial Summit in Athens, earlier This Week (Comp. Supra), in its Concluding "Joint Statement" of USA, Greece, Cyprus and Israel's Energy Ministers, "reaffirmed the Support of their Countries for the Implementation of the EAST MED Gas Pipeline, a project of Major Significance for the energy Security of the European Union", while also "Recalling that the relevant Intergovernmental Agreement, has been Finalized by Greece, Cyprus, Israel and Italy, in December 2018, and Approved by the European Commission in February 2019, and Shall be Signed, at the Earliest possible convenience, by All interested parties" (7/8/2019).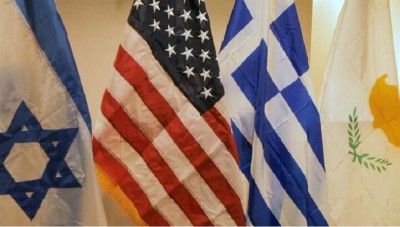 +...
 -----------------------------------------
=> Just 2 Days after that Latest Event, Italy's vice-Prime Minister and Popular JHA Minister, Matteo Salvini, Head of "Lega" Party which is Surfing 1st on Polls, soon after Winning at the European Elections of May 2019 with +34%, Now even with a Stronger Lead of +36-38%, seizing the occasion also of anOther Controvesial "No" of Di Mayo's "5 Stars" Party on 8/8/2019s, (until recently his Partner), to another Strategic EU-backed Project of High Speed Train link between Italy's Turin and France's Lyon Cities, connecting with Strasbourg's EU Parliament plenaries' and CoE's Headquarters, (Opposed particularly by the "5 Stars"' unpopular Minister for Infrastructures and Transports, Toninelli, Accused by Salvini to Block Many Other Important Projects too : See Infra), lodged a Non-Confidence Motion against Giuseppe Conti's Government on 9/8/2019, Urging for New Elections at the Soonest.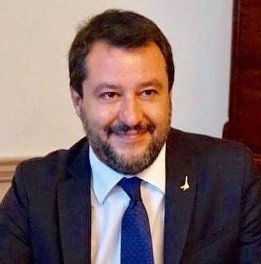 Salvini has Already declared that he "Believe(s) in this Project (of East-Med Pipeline) and ...Invite(d) Italian Companies to Participate", as he reportedly said during his visit to Israel last December 2018.  - "There is No Environmental Impact", he added, while also observing that it can "Help Reduce the Cost of the (Energy) Bill". The Italian Political Leader had, Earlier, also strongly Criticized as Scandalous the Inaction of the Former Government of the Left, in front of Turkish WarShips' Bullying and Threats against an Italian Company "ENI"'s Drilling Ship's Peaceful Energy Searches in EU Member Cyprus' EEZ, (a Brutal Obstruction later Condemned by EU Heads of State/Government's Brussels Summit, who Decided, on June 2019, to prepare "Sanctions" against Turkey's various repeated Violations of Cyprus' "Sovereign Rights" : See "Eurofora"s NewsReports from Brussels at : http://www.eurofora.net/newsflashes/news/macronimportanteustatementoncyprusturkey.html, and Infra).
The Foreign Minister of Italy, Enzo Moavero, (an Experienced Center-Right politician who served as EU Commission's Deputy Secretary General, and worked with Prime Ministers Monti and Letta, before approaching Berlusconi in the Unity of the Right Coalition, Together with Salvini etc. in the 2018 Elections: See http://www.eurofora.net/brief/brief/newitalianforeignministermoavero.html + http://www.eurofora.net/newsflashes/news/italianelectionresultsanalysis.html), meeting in Athens, just 1 Day After the above-mentioned Quadrilateral Energy Summit, with new Greek Foreign Minister Dendias, received his warm Thanks "for the Position he has taken on the Issue" of "the flagrant Violation of the Sovereign rights and Sovereignty of the Republic of Cyprus" by Turkey on Nicosia's EEZ's Energy sources, "and the Frank Expression of his thoughts before the (EU) Council of Ministers; his Defence of European values and European Solidarity". Moavero had already met previously this Year with Israeli Prime Minister Netanyahu, who "lauded... East-Med Pipeline", while, in addition, Greek Foreign Minister Dendias also stressed Now (8/8/2019) that "Greece would like to see the relevant Agreement Signed asap."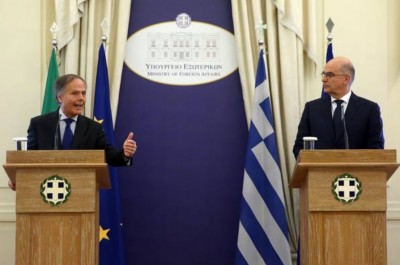 ---------------

=> In case of immediate New Election in Italy, probably around October 2019, Salvini's currently frontrunner "Lega" Party may Govern, with a Strong Absolute Majority, Together with former Prime Minister Berlusconi's "Forza Italia" (mainstream ChristianDemocrats/EPP), and Meloni's "Frateli d'Italia" (a small but growing Rightist Party, member of EU Parliament's Conservatives), similar to the Latest Pre-Electoral Coalition of Unity of the Italian Right, from which stems also the Foreign Minister Enzo Moavero (See, f.ex.:http://www.eurofora.net/brief/brief/newitalianforeignministermoavero.html, etc).

Just After Challenging the Controversial Conte's Out-going Government, Salvini's Party reached an even Higher : 40% Boost from the Italian People, according to Polls, while, in case of a Probable Coalition of Unity of the Right, as Back on 2018, including also Berlusconi's '"Forza Italia", they could Win a 2/3 Majority, allowing to make even Constitutional Reforms, (partly UpDated).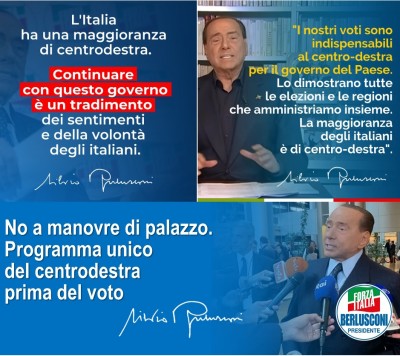 Berlusconi just published a Call for a Joint Program, leading to Elections, among the political forces of the Right, which is currently supported by a strong Majority of Italian People, as he observed, and has, meanwhile, Won together many Big Cities and Regions throughout the Country Recently. He reportedly aims to become Italy's next President, i.e. leaving the Prime Ministerial task to Salvini, who has always been careful to keep Kind Personal Relations with Berlusconi, even when he was obliged to make a Deal with the 5 Stars in order to push the Left Out of the Government. Meloni is reportedly also keen to form a Unity of All the Right, (even in EU Parliament, where her Choice for the Conservative Group would aim to ease an eventual EPP/Conservatives/Identity overall Convergence). Yes to an openly agreed Program for immediate Elections, No to Backoom "Manouvers inside a (closed) Palace", Berlusconi stressed Now, naturally interesting Salvini.

But Critics claim that the possibility also of a "scare-crow" coalition just between Lega and Frateli d'Italia (Both more or less Rightists) should push to Postpone Elections until ...Next Year, (around February or March 2020 !), and meanwhile, President Mattarella, (remnant of a Failed Left of the Past) would appoint alone a Caretaker Interim Government of Technocrats for More than 6 Months' Time : Something obviously Doubtful from a Democratic point of view.
Di Maio's "5 Stars" Party could Not broker Any eventual new Government Coalition deal with the Left, because of a Lack of sufficient Votes, according to several Polls. In addition, the Historic creator of "5 Stars" movement, Bepe Grillo, has just called Left's former Leader and F. Prime Minister Renzi, ... a "Vulture" !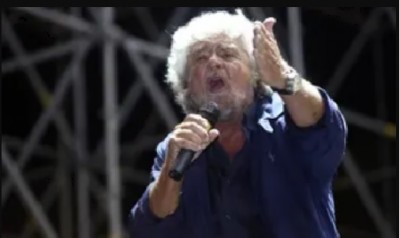 ---------------------------------------------
For the Moment, the Italian Senate and Assembly reportedly Decided to organise 2 key Exceptional Meetings of all their Leadership, on Monday and Tuesday, respectively, while an eventual Vote of the entire Parliament on the Responsibility of Conte's Government is, apparently, due to take place around August 19 or 20, (i.e. leaving also enough Time in order to send, normaly, a New Prime Minister of Italy at the Forthcoming "G7" Summit in Biarritz, on August 24-26, 2019, chaired by France).
-------------------------
Out-going Giuseppe Conte, who had been Chosen by Di Maio's "5 Stars" Leftist Movement, (Now Declining), was a Controversial apolitical "Buffer" between Salvini's "Lega"'s Rightists and "5 Stars"' Leftists, that Medias had Critisized for his Presumptuous and Misleading, 12 Pages-Long  "Curiculum Vitae", where, for the Self-named "Professore", Short (apparently Turistic) Visits of Only a Few Days or Months, mainly during Summer Time or other Holidays, at the Library, Sleeping Rooms, and/or Restaurant, etc. of some Foreign Universities, where he had Not even been Registered as a Student at all, were Abusively presented as so-called "Studies" Abroad, (f.ex. some Days at Cambridge or Sorbonne, 1 Month in Summer at New York, etc), added also to a Mysterious "Teaching" at a Mediterranean University, where Nobody seems to have ever Noticed, as well as to the Absence of Any Publication at all during the Last 6 Years (2013-2018) !...  On the Contrary, Payments by Big Pharma Multinational Companies practicing Genetic Manipulations of Human Stem Cells for Richies, which had allegedly HIred him as a Lawyer, were Ommitted or Downplayed, (See, f.ex.: http://www.eurofora.net/forum/index.php/topic,885.0.html
, etc).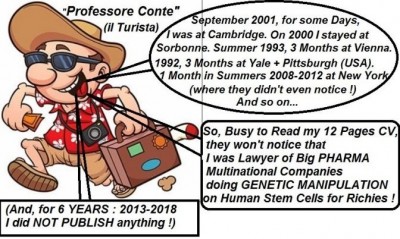 Both the concrete Existence and the Causes for His reported recent Opposition to EU-sponsored "East-Med" Strategic Gas Pipeline (Comp. Supra), Curiously, had Not been Confirmed, Neither Explained, by the Italian Energy and/or Economy Ministries to mainstream Italian Newspapers' Journalists in Brussels (as "Stampa", etc), Vainly raising Questions to concerned Officials, who repeatedly Declined to even give Any Reply on that Controversial matter...
But, by reportedly Doing so on May 2019, Added to the UnExpected Absence of his responsible Minister at the above-mentioned Multilateral Energy Summit of this August 2019 in Athens (Comp. Supra), while, at the Same Time, Conte, on the Contrary, was cited by the Press as Supporting a very Controversial ...Turkish Pipeline from Azerbaidjan, Extended there as "TAP", (i.e. Too Long, Costly, crossing through Seismic, EarthQuake-prone Areas, Exposed to various Violent Conflicts, added to Ankara Government's notorious Political Blackmails, etc, Opposite to "East-Med"'s Direct and Fast Energy Transport into the EU, withOut having to Pass Through Any Foreign 3rd Non-European Country),  inevitably made "il Professore" commit Also 2 Other Geo-Political and/or greatly Symbolic big Blunders, in relation to certain Key Historic Issues :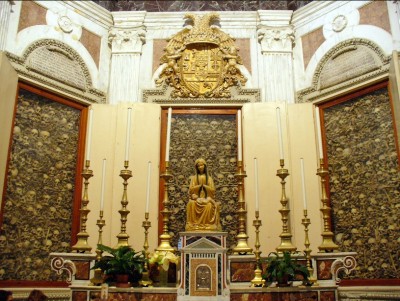 >>> Indeed, it's as if as he grossly Ignored the Fact that the "East-Med" Pipeline project was Heading towards OTRANTO, i.e. the Italian City where a Unique in History Tragic case of Many Hundreds of People prefered to Sacrifice their Lives, instead of Abandoning their Christian Faith and Converting to Islam, as a Brutal Turkish-Ottoman Military Invasion and Occupation had vainly attempted to Force them to do in the Past, Resulting in a Violent Mass Murder of more than 800 innocent Civilians, whose Skuls and Bones were thrown into an Army Tower due to Terrorize bypassers on 1480... Centuries Later, the Victims were Collectively Recognized as "Saints" by the Christian Catholic Church, on an Exceptional Initiative initiated with a Beatification by Pope Clement XIV on 1771, Planned with a Canonisation by now Pope Emeritus Benedict on 2007-2012, and Realized by his Successor, the current Pope Francis on 2013. By another yet Coincidence, their Anniversary is just in a few days, on this Month of August...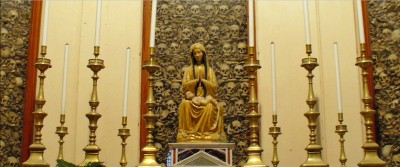 ------------------------------------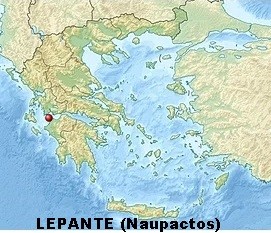 + Moreover, in Addition to a so insensitive apparent gross Ignorance of Italy's and all Europe's Christian Historic Roots, Conte's above-mentioned Negative Behavior, Also seems to have Ignored Even the Fact that the "East-Med" Pipeline project was Designed to Cross ...LEPANTE, (i.e. nowadays Greece's Nafpactos area, between Peloponisos and the Ionian Sea : Comp. relevant Map), anOther Historic Location, with Great Symbolic Significance for Europe,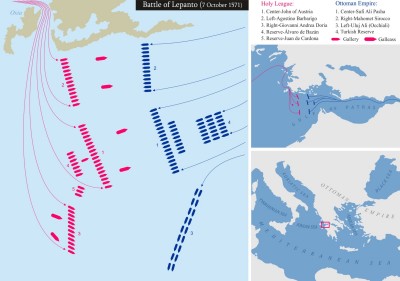 since it coincides with the ...1st Victory of an European Army in History, which took place there, already some 450 Years Earlier, when People from Various European Countries were United there in order to put a Stop to Turkish-Ottoman Military Aggressions throughout the Mediterranean Cities, which used, until then, to Brutally Invade, Occupy, Kill and/or EnSlave Thousands of Victms, (More than 12.000 of whom were reportedly Liberated just After that Lepante's Naval Victory, back on 1571,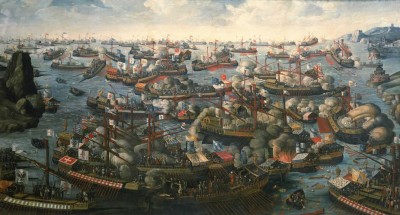 soon Followed by the Succesful Defense of Vienna, in Austria, and the Liberation of Budapest as well as of All Hungary, later-on, during the subsequent 17th Century, Also by successive Victories of European Armies, this time on Land, which Opened the Door for the successive Liberation of almost All Europe from any Turkish-Othoman Military Invasion/Occupation, during the Following Centuries, all the way up to 1921 and the famous International Treaty of Sevres, [whose 100th Anniversary we shall soon celebrate on 2021], signed in France, including even the Liberation of Ancient Greek Cities of Smyrne (Izmir) and Constantinople (Istanbul), the Creation of a Kurdish State, as well as the Restoration of a great part of Armenia's Historic Lands, soon After the 1st horrible Genocide in History, while "Modern" European Armies later Arrived at just 40 km Distance from Ankara)...
+ Conte's apparent gross Ignorance of (or total Indifference for) so Strong Symbols of big Historic Events which Marked Europe's making, became, This Week, even more Shocking, when the Turkish Minister for Energy, Fatih Donmez, provocatively Boasted, during a Visit of Ankara's Officials in the Occupied Territories of Cyprus, held by the Turkish Military since the 1974 bloody Invasion, that Ankara would have "Rights on the Energy Resources recently Discovered at the Island's EEZ (Comp. Supra),  "not only Since 1974, but, already, as early as Since 1571" (sic !)...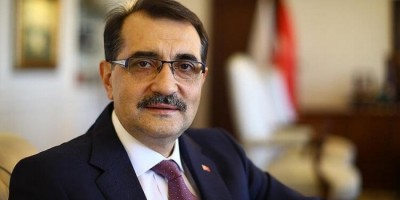 He was Refering to the Bloody Invasion and Occupation of Cyprus by the Medieval Turkish-Ottoman Empire, when its Army Killed "More than 20.000 People in Nicosia" (according to "Wikipedia", etc), in addition to Killing, Hanging, or Torturing and Skinning (Flaying) Alive Famagusta's Heroic Italian Venitian Defensors, as their Leader, Marco Antonio Bragadin, Despite an Agreement to let them Leave Free if they abandoned the City's Castle...
=> It's in an immediate Reaction to such Turkish Atrocities committed since then in Cyprus, (by another Coincidence, on ...August 1571), that the European People, Shocked and Angered by those Treacherous and Brutal Murders, decided to Unite Together and Launch the 1st Victorious Naval Battle of a European Army in History, at Lepante, just 1,5 Month after such Events (Comp. Supra) !
I.e. those Victorious European Fighters of Lepante, (which is considered even as ..."the Beginning of Europe's History", by the New EU Affairs Minister of Italy, the Experienced sLorenzo Fontana), did exactly the Contrary of what "Professore" Conte did Nowadays, by Obsteructing the European "East-Med" Pipeline (due to Directly Transport Energy from EU Member Cyprus, Israel, etc., to Europe's mainland, withOut being Obliged to Cross Any Foreign, 3rd Country : Comp. Supra), and, Instead, Pushing towards a Controversial and Obviously Counter-Productive Turkish Pipeline : Comp. Facts highlighted Supra).
+ Such a Scandalous Anti-European Blunder is Not Surprizing, coming from Conte, a political Pall of the UnPopular Minister for Infrastructures and Transports, the notorious "Gaffer" Danilo Toninelli, (whose Resignation was just Asked at 1st place by Salvini), and who was Recently Marked by his InFamous call for those People that he Insulted as "Ignorants", to ..."Look at Istanbul" (sic !)...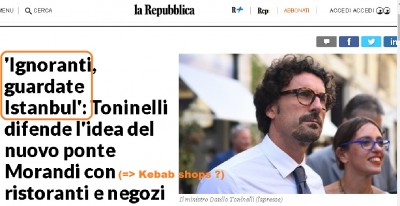 Toninelli commited that gross Blunder in Reaction to Popular Disagreements with his earlier Controversial Idea to Transform a New Genova's Bridge, at the place of an Old one, whose Fall Tragically Killed many Italian innocent Civilian People, into a kind of Bazar, full of "Shops", (probably most of them becoming, sooner or later, ..."Kebap Shops"), ...as it has already been done ..."in Istanbul" (Turkey), according to the Strange Claims of someone who, apparently, has Never Seen Any Other Bridges in the World, Neither in Paris, London, New York, Saint Petersburg or Shanghai, etc., but ...Only in Turkey !...
That Conte's controversial Minister , (also related to "5 Stars" movement), was scandalously Insulting even the Families of the Victims of that Tragic Fall of Genova's Bridge (nick-named "Morandi"), among all those Italian a.o. Critical People, that he ill-treated, already since 2018, with Oppressive Contempt, by Slaming, right from the Beginning of a Text Published at his "Facebook" Account, ... - "Some IGNORANTS, who (dare) Still Discuss My Affirmation" (sic !), as he pompously said, Pushing them (including Morandi Bridge Fall Victims' Families, who, naturally, did No want the Place where their Beloved were Killed to be Transformed into a kind of "Kebab-Shop" Vulgar Banality) to "Think at Galatas' Bridge in Istanbul" !
-------------------------------------
It's in such a Strange Context, as that provoked by Controversial "Professore" Conte and his pal Mr. Toninelli, (Both, normaly due to be Ousted from the Italian Government, at the latest on 19-20 August 2019 : Comp. Supra), that the EU Member State of Cyprus currently finds itself "Surrounded" by 2 Turkish "Drilling" Ships, Backed by Ankara's WarShips, amidst various Provocative Statements by Turkish Officials, (including Maps Claiming that Ankara's EEZ should Extend until Egypt !)...
=> In the MeanTime, the much-needed development of EU's Potential for New Energy Sources, Directly Transportable from South-Eastern Mediterranean Area's recently Growing Findings around EU Member Cyprus, Israel and Egypt (possibly also others : See relevant Map), are Scandalously Delayed, while the EU, on the Contrary, expected to Finalise the Official Signature of "East-Med" Pipeline, reportedly on Autumn 2019.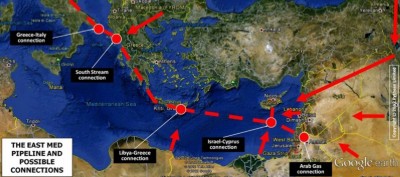 ------------------------------
+ At the Same Time, Preparations have just Started in Nicosia for New UN-sponsored Efforts to find a Solution to the Problem of Cyprus' Peaceful ReUnification, putting an End to the Division imposed by Ankara's persisting Military Invasion and Occupation of the Northern Part of the Island, according to UN Security Council's pertinent Resolutions.
 Cyprus' President, Nicos Anastassiades, just Met with the Leader of the Turkish Cypriot Community from the Occupied Territories held by Ankara's Invasion Military, Mustafa Akinci, and they reportedly Agreed to meet anew, at UNO's Headquarters in New York, on September 2019, Together with the Secretary General of the International Organisation, Antonio Guterres, Experienced former Prime Minister of Portugal, and former UNCHRefugees at nearby Geneva, (Comp. various Guterres' Replies to "Eurofora" in the Past, f.ex., at: ..., + ..., etc).
Anastassiades, who had Earlier pointed out that a Right Reply to the Recent Turkish Provocations was to seek ways to Advance towards a Political Solution, on the Basis of UN SG Guterrez Observations' Paper, on the Outcome of the Latest Top Level Talks at Crans Montana (Switzerland), back on 2017-2018, and mainly on that Stumbling Block provoked mainly by Turkey's insistance to Keep Occupation Troops in Cyprus and a Permanent Claim for Unilateral Military Interventions in the Island also in Future, but he also refered to a Set of Confidence-Building Measures (CBM) that he had already proposed as early as since February 2019.
But the Turkish Cypriot Leader's main Focus reportedly being, Now, essentialy on Cyprus' Energy Resources, (in Addition to More Demands for a Deeper Influence of the Turkish Cypriot Community in the Decision-Making process of a ReUnified Cyprus in the Future), President Anastassiades was Obliged to Reply also on such Topical points:
- In particular, Akinci's recent Claim for a Joint "Committee" to Govern all matters related to the Energy Resources of Cyprus was notoriously Rejected by All Greek Cypriot Political Parties, especially Because that is an Issue for a "Sovereign State's Government", and Not for Any kind of a mere "Committee" related to the Occupied Territories illegally controlled by Ankara's Invasion Army. Anastassiades ensured, however, Akinci that the Turkish Cypriot Community will have its Fair Share in case of Solution of Cyprus' Political Issue, Confirmed that a Set of concrete Measures are prepared for that purpose, (something that apparently interested his interlocutor), and Added an Offer to personaly Inform Akinci on the main Developments for the Exploitation of Cyprus' Energy Resources in the foreseable Future.
+ Meanwhile, Both the Latest EU Heads of State/Government Summit in Brussels, at the End of June 2019, and This Week's Quadrilateral Energy Ministerial Summit with the Participation of the USA, in Athens (7 August 2019 : Comp. Supra), confirmed their Support to EU Member State, Republic of Cyprus' Sovereign Right to Peacefully Explore and Develop its Energy Resources inside its EEZ, and Denounced Turkey's "Provocative" Moves, as an Imminent Decision of EU Leaders on relevant "Sanctions" for Turkey is due on Autumn 2019, (See also: ... + ..., etc).
++ French President Emmanuel Macron, who Chairs this Year the "G7" Summit scheduled towards the End of August 2019 at Biarritz, wih the Participation also of USA's President Don Trump, and is even due to Meet, Earlier, on 19/8/2019, at his Summer Family Residence in Bregancon Fortress, the Russian President Vladimir Putin, Speaking Previously to "Eurofora", has Already Expressed his Interest for the Importance of South-Eastern Mediterranean Sea's Energy Findings between Cyprus, Israel and Egypt for EU's Energy Supplies' Diversification and Security, as Early as Since he was Economy Minister back on 2015, while Also Confirming, Later-on, during the "G20" Summit in new Statemens to "Eurofora" at Germany's Hamburg on 2017, then as a freshly Elected President, the Need to Protect EU Member Cyprus' Energy Resources' development, (as he Told us there, just Before he Sends his Minister of Defense, Francoise Parly, to Visit the Island), and Stressing the "Importance" of the Latest EU Summit in Brussels' official Declaration for the Preparation of relevant "Sanctions" versus Turkish Warships' Bullying, Obstruction and other Provocations, towards the End of March 2019, (See relevant "Eurofora"'s NewsReports from Strasbourg, Hamburg and Brussels, on: http://www.eurofora.net/newsflashes/news/frencheconomyministermacronegyptisraelcyprusgaspipelinebigchance.html + http://www.eurofora.net/newsflashes/news/macrontoprotectcyprusisraelenergyforeurope.html + http://www.eurofora.net/newsflashes/news/macronimportanteustatementoncyprusturkey.html, etc). Meanwile, during an Event organized by the French Ministry of Defense in Paris on 2/2019,  Captain Hamelin, in charge of Strategy at the Naval Force, Speaking to "Eurofora", highlighted the Big Potential Importance for European Security of Energy Supplies which emerge Nowadays, precisely at the South-Eastern Mediterranean Area, among EU Member Cyprus, Israel and Egypt. More, Recently, EU Parliament's new President of Defense Committee, former EU affairs Minister, French MEP Natalie Loiseau, observed, on July 2019 in Strasbourg, that, ...whenever some French Navy WarShips arrive around Cyprus, Suddenly, those Bullying Turkish Warships trend to Vanish..., (See: http://www.eurofora.net/newsflashes/news/eudefenseandcyprusenergy.html).
 +++ In Addition, the Quadrilateral Energy Ministers Summit, between USA, Greece, Cyprus and Israel, earlier this Week in Athens on 7/8/2019, (which Should also be re-Joined by Italy asap, as all its Participants Jointly stressed), has just Decided to "Support the Establishemengt of an ENERGY CORRIDOR of the Eastern Mediterranean" Sea. This Strategic move is due to "Contribute ... to EU"'s Energy Security", mainly by "Actively Promoting the Diversification of Import Sources and Routes", as the official Joint Statement stressed, (Comp. also Supra).
=> This Obviously Adds, Together with the Strategic "East-Med" Gas Pipeline, Also LNG Ship Transports, and eventualy a Plan to Transform Gas in Electricity on the spot in order to Transfert the Electric Current to Mainland Europe by an Under-Sea Cable, (as Israeli Prime Minister Benjamin Netanyahu had already Proposed, during a Previous Visit to Cyprus, (etc).
+ Egypt's Fast-Growing, adjacent Energy Findings, given also a close and regular Cooperation with Neighbouring Cyprus, Greece and Israel, Naturaly is expected to Join one or another among those Energy Transport Means towards Europe's mainland, at any appropriate moment in the foreseable Future.
-----------------------------
Various Other Energy Sources' routes towards Europe might, Obviously, be also Added and/or otherwise Associated (f.ex. in the Wider Context of an South-Eastern Mediterranean "Energy Corridor" to the EU, as this Week's Quadrilateral Ministerial Summit on Energy highlighted in Athens : Comp. Supra), at this Strategic CrossRoads : F.ex., inter alia, eventualy also through Syria, and/or the Suez Channel, from Iraq, Iran, and/or Caspian Sea, Russia (via Bulgaria/Greece), perhaps Libya and/or around Creta Island (where France's TOTAL and USA's ExxonMobil are due to Start soon Exploratory Drillings, as they Already did around Cyprus together with Italy's ENI, etc), Aegan and/or Ionian Sea, etc, (Comp. a relevant Map, above, at least for Part of such Future Possibilities).
But, at any case, one Crucial Dimension should never be forgotten : As we've already seen with the landmark Facts cited above, this East-Med Pipeline is Not Only about Gas. Ipso-Facto, it's also about Europe's Security, History and Identity, as well as Independence, (Comp. Supra). And, if Handled Appropriately, even for much More : I.e., instead of an Apple of Discord, rather a Real-Politics', Down to Earth Incitement for notoriously much Needed there Peace !
Already, by Indirectly involving, almost at the Same Time, in Parallel israel and Egypt (among others, also f.ex., via Systemaic Trilateral Summits with EU Member States Greece and Cyprus, added to ENI's important Recent Fidings at Nile River's Delta, France's active Diplomacy and other Key Relations as well as Marseille's "Foss II" New Big LNG Terminal, etc, Comp. Supra). But Also by Adding an Important Economic "Bonus" for Turkish Cypriots, due to become all Full Citizens of a United Cyprus in the Future, (and, why not : even Turkey itself) in an appropriate way, if and when they would Really Advance towards a Peaceful ReUnification of Cyprus, allowing to Solva that Pending Problem, according to Basic European (EU/CoE) Values and UN SC's pertinent Resolutions, (on the Condition, at least as far as "Eurofora"s Wishes are concerned, that such a move might even Help Settle Ankara's notoriously "Heavy" Problems on core Human Rights' issues). And, again, Why shouldn't that Help Even to Alleviate at least some Partial and/or Preliminary Solutions for the Tragic and too Long Problems of the Middle-East Problem (not to speak about All Lebanon's, perhaps even Syria's Potential Contribution to the above-Mentioned "Energy Corridor"), which has notoriously Hampered, by Ricochet, all Mediterranean Sea's Economic Development, through Possible and Desired Cooperations between Neighbouring African/Asian Coasts' Countries and Europe, (from Lebanon, Jordany and Syria up to Tunisia, Algeria and Morocco, etc) until now ?
Italy's (whose ENI Company is Active in Cyprus and Egypt's EEZ) Foreign Minister Enzo Moavero (from a Center-Right linked to Salvini and Berlusconi, etc), who made This Week the 1st Visit of an Italian MFA in Greece during the last 3 Years, meeting President Pavlopoulos and Foreign Minister Dendias (Comp. Supra), reportedly spoke there also about "Ties Between Greeks and Italians ... made up of a very Ancient Relationship and a Multi-Millennial Civilization", according to ANSA. Obviously, these are not far away from Phoenician, Israeli, and/or Egyptian Histories... But Moavero (cited even by Dendias) Also reportedly spoke about projected "Joint Initiatives" for "Stabilisation of that Area by the Cessation of many Conflicts", with "full Involvement of EU Member States and of the EU".
+ In Addition, French President Emmanuel Macron, who Chairs soon the 2019 "G7" Summit at Biarritz during August 24-26, with the Participation, inter alia, also of USA President Don Trump, UK's New Prime Minister Boris Johnson (expected in Paris sooner) Italy's Prime Minister, (etc), added even to a related Meeting with Russian President Vladimir Putin, earlier, at his Summer Residence at Bregacon Castle), just a Few Days Before Important Top Political Meetings (including on Cyprus, etc) at UNO's HeadQuarters in New York, on September 2019, speaking Previously to "Eurofora" on such Energy Sources' Findings in Cyprus, Israel and Egypt's EEZ, already as early as since he was Economy Minister back on 2015 in Strasbourg, (See : http://www.eurofora.net/newsflashes/news/frencheconomyministermacronegyptisraelcyprusgaspipelinebigchance.html), followed, Later-on, also by another relevant Press Exchange with him on the sidelines of Hamburg's "G20" Summit in Germany on 2017 (Comp. http://www.eurofora.net/newsflashes/news/macrontoprotectcyprusisraelenergyforeurope.html), had Spontaneously underlined the Fact that such Energy Findings There, were, in his view, "a Big Chance for All", (while, adding, Afterwards, that Europe's General Interests should be also "Protected" : Comp. Supra). France's TOTAL Energy Company is active in Cyprus' EEZ Since the immediate Aftermath of a Key Meeting and a relevant Announcement of its Historic CEO Christophe de Margerie with "Eurofora" in the French Presidential Palace "Elysée" already back on 2012 at Paris, (See, inter alia, also, f;ex.: http://www.eurofora.net/newsflashes/news/killedmargeriekeyforrussiaandcyprusenergy.html, etc), before his Tragic Death at an exceptional Air Traffick Crash in Moscow on 2014, (ibid), while, Nowadays TOTAL allied with USA's ExxonMobil also around Greece's Creta neighbouring island, due to be to that projected East-Med Gas Pipeiine.
New Greek Prime Minister Kyriakos Mitsotakis, during his 1st Official Visit Abroad, made Recently in Cyprus, to meet its President Nicos Anastassiades, reportedly Discussed there Both the current Prospects for eventual New Efforts to Solve the Cyprus' Issue, according to EU's Values and UNO's pertinent Resolutions, as well as the Recent Developments on-going about the Energy Findings there, added to Turkey's behavior, etc. And Cyprus' President Anastassiades, has Recently stressed that a Main Reply to Turkey's controversial Behavior around those Growing Energy Findings in Cyprus' Sovereign area and EEZ, are Both EU's prepared Sanctions, and New Attempts to Relaunch Efforts for Progress in a just Solution of Cyprus' Issue according to the above-mentioned EU and UN SC Principles.
As for UNO's Secretary General, experienced former UNHCRefugees, Antonio Guterres, he has notoriously Focused on "Peace" Making, during his Succesfull Campaign for UNO's Top Job, more Recently added also to a Key "Paper" on the Latest Efforts for a Solution of Cyprus' Issue, and its main "Terms of Reference", at the Conclusion of the 2017 Top Meetings in Switzerland's Craz Montana and Geneva), while he's also expected to Chair a Top-Level Meeting about Cyprus in UNO's HeadQuarters at New York on September 2019, (Comp. also Earlier Guterres' Statements, including on "Eurofora" co-Founders' Questions, at EU Parliament and/or CoE in Strasbourg, f.ex. published already as early as since 2007 at "Cyprus Weekly", afterwards in "Eurofora", f.ex. on 2011, 2017, plus: http://www.eurofora.net/images/tcw_29.6.07_intw_u.n._high_commissioner_refugees_f.prime_minister_a.gutierez_echr_president_costa_coe_chair_f.minister_serbia_coe_resolution__declaration_cut__modifief_by_eds_400.jpg, + ..., http://www.eurofora.net/newsflashes/news/unhcrlibyansfightforfreedom.html, http://www.eurofora.net/newsflashes/news/unsgforeffectivenewgenevatryoncyprus.html, etc).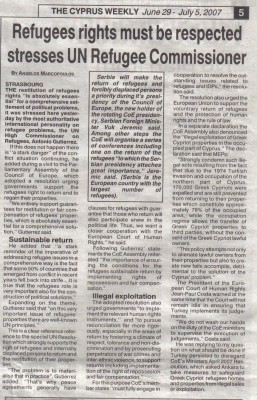 At any case, for Europe itself, the above-mentioned Exceptional "Coincidences" with Otranto and Lepante, highly Symbolic Historic landmarks (Comp. Supra), are Unforgettable and even of Topical Interest, mutatis-mutandis.
(../..)
-------------------------------
BRIEF NEWS
00:00 - 02.02.2020

00:00 - 09.12.2019

00:00 - 27.11.2019

00:00 - 16.11.2019

00:00 - 28.10.2019

00:00 - 08.05.2019

00:00 - 23.04.2019

00:00 - 01.04.2019

00:00 - 04.03.2019
Statistics
Visitors: 36563655
Archive
Login Form
Other Menu


Brixen-Bressanone/ACM/3.8.08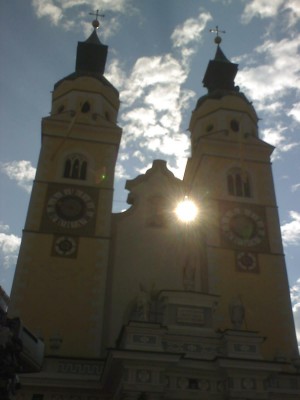 An appeal to make the "World more Human", by defending basic Human Values, helping those in need, and paying hommage to Nature, figured high in Pope Benedict's long-awaited speech at his "First Angelus" in the symbolic, beautiful historic small town of Brixen/Bressalone at the Alpes.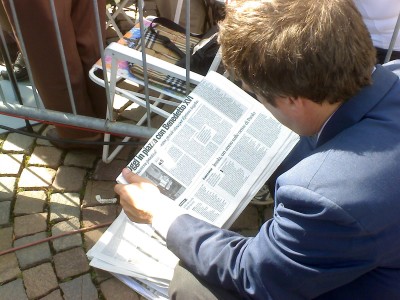 - "No Dictature, nor any destructive force can rob us of the most important goods wich are God's gift", stressed Pope Benedict, referring to elementary Human Values, in a last-minute improvisation of his draft speech, before launching also a call to "help those in need", in order to "make the World more human".
- "Jesus is the focus .. In him is Justice and Freedom", said earlier Brixen's Bishop Wilhelm Egger, after prayers including calls to "Truth, Justice and Freedom", read at a Mass of thousands in the town of Archangel Michael, known as defender of christians against the devil.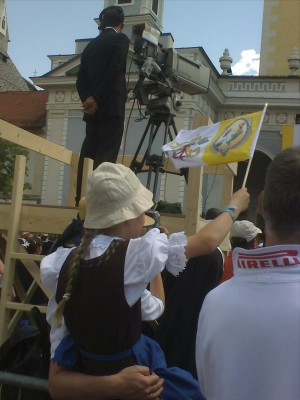 In what looks as a reference to BioEthics' dillemas of crucial impportance, raised at Strasbourg's unique in the World legally binding International Treaty on BioMedicine and Human Rights (1998, with the "hottest" issues added later through additional protocols, some of whom are imminent), he spoke also of the splendid "Nature" at this Alpen's ressort : This fits well Vatican's earlier anouncement that Pope Benedict's "prayer intentions for August" are mainly to "respect God's design for the world", and "become ever more aware of the great gift of God which Creation represents for us".
- "The most important things in our lives cannot be bought, but are only given as holy gifts : The Sun and its Light, the Air that we breath, the Water, the beauty of Earth, Love, Friendship, Life itself", Pope Benedict added, extending also to Natural Environment, another topical issue after recent Climatic upheavals at several parts of the World.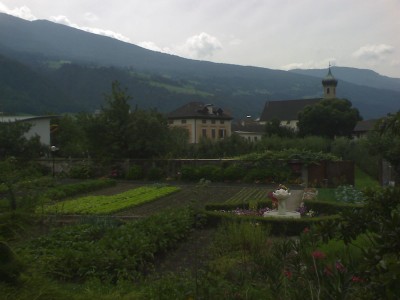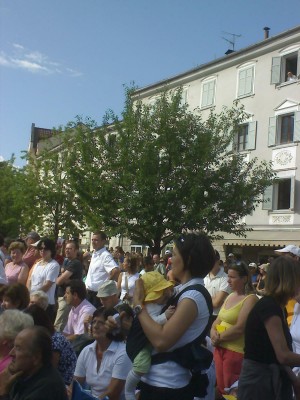 The "preparation of Pope Benedict's visit to France", which currently heads the EU, at mid-September, among exceptionaly important Council of Europe meetings on Human Rights in Paris and Strasbourg, is part of his work, together with his "book on Jesus", during brief Summer Holidays in Brixen, said his Spokesman, Federico Lombardi.
- The Pope's message is mainly religious, theological. But we are living in a concrete world, and ideas may be taken by readers as references to the actuality. However, it's better to wait to se what the Pope will say in Paris and at Lourdes, added to EuroFora Lombardi, who is also Director of Vatican's Press Office.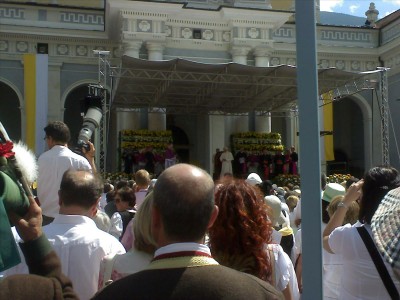 Brizen/Bressanone is similar to Strasbourg by succeeding to make a fertile synthesis of Germanic and Latin sources of Europe, like the two local rivers who meet at the historical center of the town, among spectacular ressorts at mountains' hights.

Headquarters for an Historic Religious Seminar, it attracted recently also a Free University's Educational studies. Well-known as a long-time preferred rest place for former cardinal Radzinger and his brother Georg, it includes areas named "St Benedeto" and "St George"...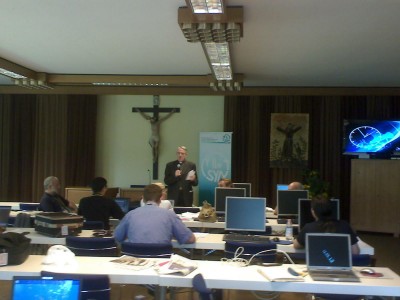 But Pope Benedict's first speech gave also another symbolic rendez-vous :

- "Next Wednesday, August 6, we shall commemorate the 30st anniversary from the death of late Pope Paul VI", who "concluded Vatican II", and "the Transfiguration of Jesus, mystery of the divine light, which exerced a unique fascination to his soul", he said to some 12.000 applauding People, among the happy few who succeeded to have a rare place for an open-air Mass inside the Domplatz a particularly sunny day at the Alpes.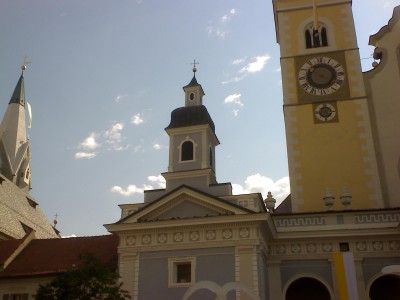 Polls