Home

newsitems

Italy: Conte Out After Snobing EastMed Pipeline, EU Christian roots+1st EU Army Victory, eyes Turkey
Italy: Conte Out After Snobing EastMed Pipeline, EU Christian roots+1st EU Army Victory, eyes Turkey
Saturday, 10 August 2019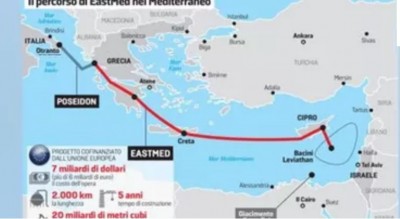 *Strasbourg/Angelo Marcopolo/- Controversial "Professore" Conte, an atypical "Go-Between" suddenly propulsed Prime Minister in the "5 Stars" - "Lega" Coalition Government in Italy, among Anti-Establishment's Leftists and Rightists, should be soon Replaced, after committing 3 Blunders in a row, by (directly or indirectly but surely) Snobing the strategic East-Med Pipeline, at the same time with Europe's Christian routes (cf. Otranto: See Infra), and even the 1st Victory of an European Army in History (at Lepante, on 1571), so that he Faces now a "Non-Confidence" Motion, side by side with his UnPopular Minister on Infrastructures and Transports, gaffer Danilo Toninelli, (notorious for his call: - "Ignorants: Look at Istanbul !")...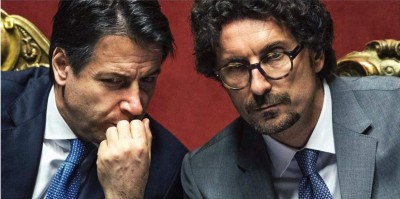 (Conte with Toninelli)

-----------------------------------------
Long After a Coalition by EU Member Countries Italy, Greece and Cyprus with neighbouring Israel, recently Joined also by USA on 2019, had anounced their intention to Sign a landmark Deal on a pioneer "East-Med" Pipeline for Gas Transport, Directly into the EU, from Growing Recent Energy Findings in Cyprus and Israel's off-shore Exclusive Economic Zones, (adjacent to those of Egypt, with whom they are Also Cooperating at various formats), as already Endorsed earlier by EU Commission, Suddenly, last May, Giuseppe Conte reportedly declared his Opposition to that Project, Crucial for EU's Energy Indendence and Security of supplies. This UnExpected disruption was also Followed, earlier This Week, by an also Surprizing Absence of Italy's current Government Officials at an Important Summit of Energy Ministers from Greece, Cyprus, Israel and USA, chaired by the New Government in Athens, on August 7, 2019.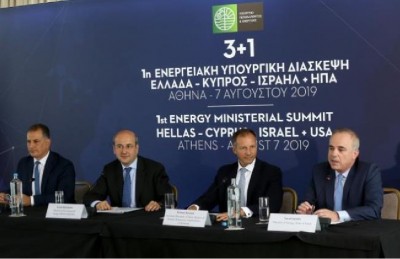 However, EU Commission, after Studying the matter, has Officialy Declared the "East-Med" Pipeline as a "Project of Common Interest" for Europe, and the Experienced, Twice EU Commissioner on Energy, Mario Sefcovic, speaking to "Eurofora" earlier in Brussels, stressed that Recent Oil-Gas Findings in Cyprus, Israel and Egypt's adjacent EEZ clearly indicate that "a Second Norway" could Emerge at that South-Eastern Mediterranean area, (See: http://www.eurofora.net/newsflashes/news/eucommissionersefcoviconcyprusenergy.html), while the Nowadays' Quadrilateral Ministerial Summit in Athens, earlier This Week (Comp. Supra), in its Concluding "Joint Statement" of USA, Greece, Cyprus and Israel's Energy Ministers, "reaffirmed the Support of their Countries for the Implementation of the EAST MED Gas Pipeline, a project of Major Significance for the energy Security of the European Union", while also "Recalling that the relevant Intergovernmental Agreement, has been Finalized by Greece, Cyprus, Israel and Italy, in December 2018, and Approved by the European Commission in February 2019, and Shall be Signed, at the Earliest possible convenience, by All interested parties" (7/8/2019).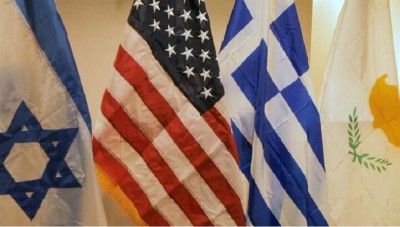 +...
 -----------------------------------------
=> Just 2 Days after that Latest Event, Italy's vice-Prime Minister and Popular JHA Minister, Matteo Salvini, Head of "Lega" Party which is Surfing 1st on Polls, soon after Winning at the European Elections of May 2019 with +34%, Now even with a Stronger Lead of +36-38%, seizing the occasion also of anOther Controvesial "No" of Di Mayo's "5 Stars" Party on 8/8/2019s, (until recently his Partner), to another Strategic EU-backed Project of High Speed Train link between Italy's Turin and France's Lyon Cities, connecting with Strasbourg's EU Parliament plenaries' and CoE's Headquarters, (Opposed particularly by the "5 Stars"' unpopular Minister for Infrastructures and Transports, Toninelli, Accused by Salvini to Block Many Other Important Projects too : See Infra), lodged a Non-Confidence Motion against Giuseppe Conti's Government on 9/8/2019, Urging for New Elections at the Soonest.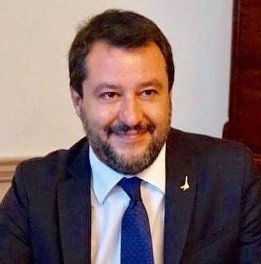 Salvini has Already declared that he "Believe(s) in this Project (of East-Med Pipeline) and ...Invite(d) Italian Companies to Participate", as he reportedly said during his visit to Israel last December 2018.  - "There is No Environmental Impact", he added, while also observing that it can "Help Reduce the Cost of the (Energy) Bill". The Italian Political Leader had, Earlier, also strongly Criticized as Scandalous the Inaction of the Former Government of the Left, in front of Turkish WarShips' Bullying and Threats against an Italian Company "ENI"'s Drilling Ship's Peaceful Energy Searches in EU Member Cyprus' EEZ, (a Brutal Obstruction later Condemned by EU Heads of State/Government's Brussels Summit, who Decided, on June 2019, to prepare "Sanctions" against Turkey's various repeated Violations of Cyprus' "Sovereign Rights" : See "Eurofora"s NewsReports from Brussels at : http://www.eurofora.net/newsflashes/news/macronimportanteustatementoncyprusturkey.html, and Infra).
The Foreign Minister of Italy, Enzo Moavero, (an Experienced Center-Right politician who served as EU Commission's Deputy Secretary General, and worked with Prime Ministers Monti and Letta, before approaching Berlusconi in the Unity of the Right Coalition, Together with Salvini etc. in the 2018 Elections: See http://www.eurofora.net/brief/brief/newitalianforeignministermoavero.html + http://www.eurofora.net/newsflashes/news/italianelectionresultsanalysis.html), meeting in Athens, just 1 Day After the above-mentioned Quadrilateral Energy Summit, with new Greek Foreign Minister Dendias, received his warm Thanks "for the Position he has taken on the Issue" of "the flagrant Violation of the Sovereign rights and Sovereignty of the Republic of Cyprus" by Turkey on Nicosia's EEZ's Energy sources, "and the Frank Expression of his thoughts before the (EU) Council of Ministers; his Defence of European values and European Solidarity". Moavero had already met previously this Year with Israeli Prime Minister Netanyahu, who "lauded... East-Med Pipeline", while, in addition, Greek Foreign Minister Dendias also stressed Now (8/8/2019) that "Greece would like to see the relevant Agreement Signed asap."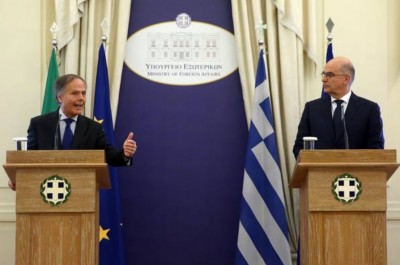 ---------------

=> In case of immediate New Election in Italy, probably around October 2019, Salvini's currently frontrunner "Lega" Party may Govern, with a Strong Absolute Majority, Together with former Prime Minister Berlusconi's "Forza Italia" (mainstream ChristianDemocrats/EPP), and Meloni's "Frateli d'Italia" (a small but growing Rightist Party, member of EU Parliament's Conservatives), similar to the Latest Pre-Electoral Coalition of Unity of the Italian Right, from which stems also the Foreign Minister Enzo Moavero (See, f.ex.:http://www.eurofora.net/brief/brief/newitalianforeignministermoavero.html, etc).

Just After Challenging the Controversial Conte's Out-going Government, Salvini's Party reached an even Higher : 40% Boost from the Italian People, according to Polls, while, in case of a Probable Coalition of Unity of the Right, as Back on 2018, including also Berlusconi's '"Forza Italia", they could Win a 2/3 Majority, allowing to make even Constitutional Reforms, (partly UpDated).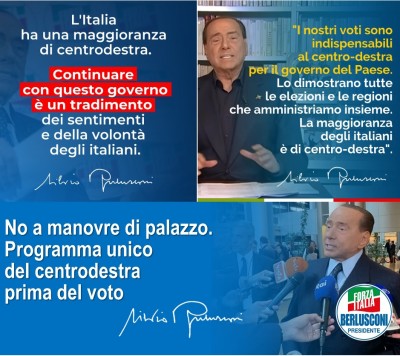 Berlusconi just published a Call for a Joint Program, leading to Elections, among the political forces of the Right, which is currently supported by a strong Majority of Italian People, as he observed, and has, meanwhile, Won together many Big Cities and Regions throughout the Country Recently. He reportedly aims to become Italy's next President, i.e. leaving the Prime Ministerial task to Salvini, who has always been careful to keep Kind Personal Relations with Berlusconi, even when he was obliged to make a Deal with the 5 Stars in order to push the Left Out of the Government. Meloni is reportedly also keen to form a Unity of All the Right, (even in EU Parliament, where her Choice for the Conservative Group would aim to ease an eventual EPP/Conservatives/Identity overall Convergence). Yes to an openly agreed Program for immediate Elections, No to Backoom "Manouvers inside a (closed) Palace", Berlusconi stressed Now, naturally interesting Salvini.

But Critics claim that the possibility also of a "scare-crow" coalition just between Lega and Frateli d'Italia (Both more or less Rightists) should push to Postpone Elections until ...Next Year, (around February or March 2020 !), and meanwhile, President Mattarella, (remnant of a Failed Left of the Past) would appoint alone a Caretaker Interim Government of Technocrats for More than 6 Months' Time : Something obviously Doubtful from a Democratic point of view.
Di Maio's "5 Stars" Party could Not broker Any eventual new Government Coalition deal with the Left, because of a Lack of sufficient Votes, according to several Polls. In addition, the Historic creator of "5 Stars" movement, Bepe Grillo, has just called Left's former Leader and F. Prime Minister Renzi, ... a "Vulture" !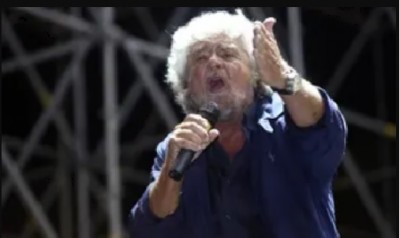 ---------------------------------------------
For the Moment, the Italian Senate and Assembly reportedly Decided to organise 2 key Exceptional Meetings of all their Leadership, on Monday and Tuesday, respectively, while an eventual Vote of the entire Parliament on the Responsibility of Conte's Government is, apparently, due to take place around August 19 or 20, (i.e. leaving also enough Time in order to send, normaly, a New Prime Minister of Italy at the Forthcoming "G7" Summit in Biarritz, on August 24-26, 2019, chaired by France).
-------------------------
Out-going Giuseppe Conte, who had been Chosen by Di Maio's "5 Stars" Leftist Movement, (Now Declining), was a Controversial apolitical "Buffer" between Salvini's "Lega"'s Rightists and "5 Stars"' Leftists, that Medias had Critisized for his Presumptuous and Misleading, 12 Pages-Long  "Curiculum Vitae", where, for the Self-named "Professore", Short (apparently Turistic) Visits of Only a Few Days or Months, mainly during Summer Time or other Holidays, at the Library, Sleeping Rooms, and/or Restaurant, etc. of some Foreign Universities, where he had Not even been Registered as a Student at all, were Abusively presented as so-called "Studies" Abroad, (f.ex. some Days at Cambridge or Sorbonne, 1 Month in Summer at New York, etc), added also to a Mysterious "Teaching" at a Mediterranean University, where Nobody seems to have ever Noticed, as well as to the Absence of Any Publication at all during the Last 6 Years (2013-2018) !...  On the Contrary, Payments by Big Pharma Multinational Companies practicing Genetic Manipulations of Human Stem Cells for Richies, which had allegedly HIred him as a Lawyer, were Ommitted or Downplayed, (See, f.ex.: http://www.eurofora.net/forum/index.php/topic,885.0.html
, etc).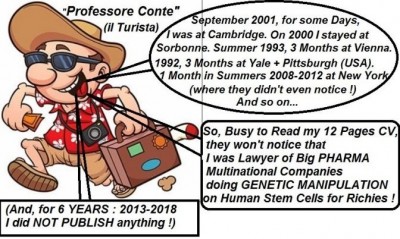 Both the concrete Existence and the Causes for His reported recent Opposition to EU-sponsored "East-Med" Strategic Gas Pipeline (Comp. Supra), Curiously, had Not been Confirmed, Neither Explained, by the Italian Energy and/or Economy Ministries to mainstream Italian Newspapers' Journalists in Brussels (as "Stampa", etc), Vainly raising Questions to concerned Officials, who repeatedly Declined to even give Any Reply on that Controversial matter...
But, by reportedly Doing so on May 2019, Added to the UnExpected Absence of his responsible Minister at the above-mentioned Multilateral Energy Summit of this August 2019 in Athens (Comp. Supra), while, at the Same Time, Conte, on the Contrary, was cited by the Press as Supporting a very Controversial ...Turkish Pipeline from Azerbaidjan, Extended there as "TAP", (i.e. Too Long, Costly, crossing through Seismic, EarthQuake-prone Areas, Exposed to various Violent Conflicts, added to Ankara Government's notorious Political Blackmails, etc, Opposite to "East-Med"'s Direct and Fast Energy Transport into the EU, withOut having to Pass Through Any Foreign 3rd Non-European Country),  inevitably made "il Professore" commit Also 2 Other Geo-Political and/or greatly Symbolic big Blunders, in relation to certain Key Historic Issues :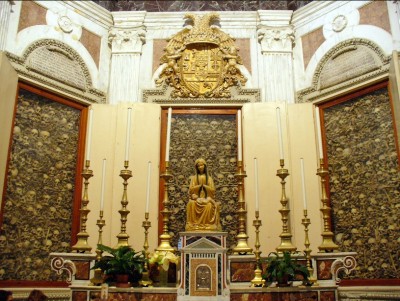 >>> Indeed, it's as if as he grossly Ignored the Fact that the "East-Med" Pipeline project was Heading towards OTRANTO, i.e. the Italian City where a Unique in History Tragic case of Many Hundreds of People prefered to Sacrifice their Lives, instead of Abandoning their Christian Faith and Converting to Islam, as a Brutal Turkish-Ottoman Military Invasion and Occupation had vainly attempted to Force them to do in the Past, Resulting in a Violent Mass Murder of more than 800 innocent Civilians, whose Skuls and Bones were thrown into an Army Tower due to Terrorize bypassers on 1480... Centuries Later, the Victims were Collectively Recognized as "Saints" by the Christian Catholic Church, on an Exceptional Initiative initiated with a Beatification by Pope Clement XIV on 1771, Planned with a Canonisation by now Pope Emeritus Benedict on 2007-2012, and Realized by his Successor, the current Pope Francis on 2013. By another yet Coincidence, their Anniversary is just in a few days, on this Month of August...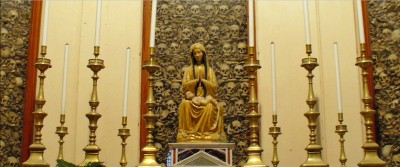 ------------------------------------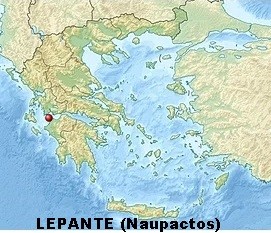 + Moreover, in Addition to a so insensitive apparent gross Ignorance of Italy's and all Europe's Christian Historic Roots, Conte's above-mentioned Negative Behavior, Also seems to have Ignored Even the Fact that the "East-Med" Pipeline project was Designed to Cross ...LEPANTE, (i.e. nowadays Greece's Nafpactos area, between Peloponisos and the Ionian Sea : Comp. relevant Map), anOther Historic Location, with Great Symbolic Significance for Europe,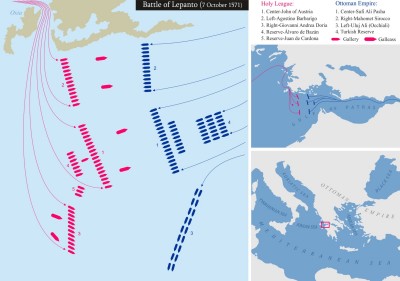 since it coincides with the ...1st Victory of an European Army in History, which took place there, already some 450 Years Earlier, when People from Various European Countries were United there in order to put a Stop to Turkish-Ottoman Military Aggressions throughout the Mediterranean Cities, which used, until then, to Brutally Invade, Occupy, Kill and/or EnSlave Thousands of Victms, (More than 12.000 of whom were reportedly Liberated just After that Lepante's Naval Victory, back on 1571,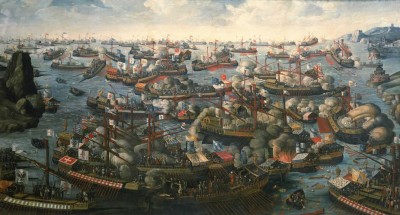 soon Followed by the Succesful Defense of Vienna, in Austria, and the Liberation of Budapest as well as of All Hungary, later-on, during the subsequent 17th Century, Also by successive Victories of European Armies, this time on Land, which Opened the Door for the successive Liberation of almost All Europe from any Turkish-Othoman Military Invasion/Occupation, during the Following Centuries, all the way up to 1921 and the famous International Treaty of Sevres, [whose 100th Anniversary we shall soon celebrate on 2021], signed in France, including even the Liberation of Ancient Greek Cities of Smyrne (Izmir) and Constantinople (Istanbul), the Creation of a Kurdish State, as well as the Restoration of a great part of Armenia's Historic Lands, soon After the 1st horrible Genocide in History, while "Modern" European Armies later Arrived at just 40 km Distance from Ankara)...
+ Conte's apparent gross Ignorance of (or total Indifference for) so Strong Symbols of big Historic Events which Marked Europe's making, became, This Week, even more Shocking, when the Turkish Minister for Energy, Fatih Donmez, provocatively Boasted, during a Visit of Ankara's Officials in the Occupied Territories of Cyprus, held by the Turkish Military since the 1974 bloody Invasion, that Ankara would have "Rights on the Energy Resources recently Discovered at the Island's EEZ (Comp. Supra),  "not only Since 1974, but, already, as early as Since 1571" (sic !)...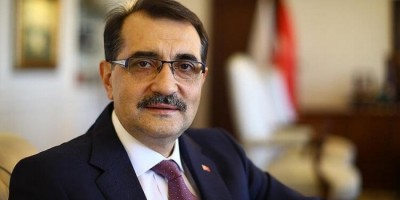 He was Refering to the Bloody Invasion and Occupation of Cyprus by the Medieval Turkish-Ottoman Empire, when its Army Killed "More than 20.000 People in Nicosia" (according to "Wikipedia", etc), in addition to Killing, Hanging, or Torturing and Skinning (Flaying) Alive Famagusta's Heroic Italian Venitian Defensors, as their Leader, Marco Antonio Bragadin, Despite an Agreement to let them Leave Free if they abandoned the City's Castle...
=> It's in an immediate Reaction to such Turkish Atrocities committed since then in Cyprus, (by another Coincidence, on ...August 1571), that the European People, Shocked and Angered by those Treacherous and Brutal Murders, decided to Unite Together and Launch the 1st Victorious Naval Battle of a European Army in History, at Lepante, just 1,5 Month after such Events (Comp. Supra) !
I.e. those Victorious European Fighters of Lepante, (which is considered even as ..."the Beginning of Europe's History", by the New EU Affairs Minister of Italy, the Experienced sLorenzo Fontana), did exactly the Contrary of what "Professore" Conte did Nowadays, by Obsteructing the European "East-Med" Pipeline (due to Directly Transport Energy from EU Member Cyprus, Israel, etc., to Europe's mainland, withOut being Obliged to Cross Any Foreign, 3rd Country : Comp. Supra), and, Instead, Pushing towards a Controversial and Obviously Counter-Productive Turkish Pipeline : Comp. Facts highlighted Supra).
+ Such a Scandalous Anti-European Blunder is Not Surprizing, coming from Conte, a political Pall of the UnPopular Minister for Infrastructures and Transports, the notorious "Gaffer" Danilo Toninelli, (whose Resignation was just Asked at 1st place by Salvini), and who was Recently Marked by his InFamous call for those People that he Insulted as "Ignorants", to ..."Look at Istanbul" (sic !)...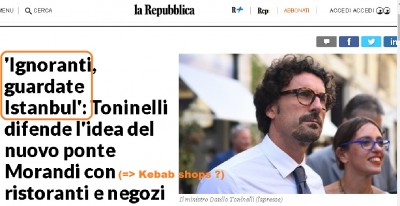 Toninelli commited that gross Blunder in Reaction to Popular Disagreements with his earlier Controversial Idea to Transform a New Genova's Bridge, at the place of an Old one, whose Fall Tragically Killed many Italian innocent Civilian People, into a kind of Bazar, full of "Shops", (probably most of them becoming, sooner or later, ..."Kebap Shops"), ...as it has already been done ..."in Istanbul" (Turkey), according to the Strange Claims of someone who, apparently, has Never Seen Any Other Bridges in the World, Neither in Paris, London, New York, Saint Petersburg or Shanghai, etc., but ...Only in Turkey !...
That Conte's controversial Minister , (also related to "5 Stars" movement), was scandalously Insulting even the Families of the Victims of that Tragic Fall of Genova's Bridge (nick-named "Morandi"), among all those Italian a.o. Critical People, that he ill-treated, already since 2018, with Oppressive Contempt, by Slaming, right from the Beginning of a Text Published at his "Facebook" Account, ... - "Some IGNORANTS, who (dare) Still Discuss My Affirmation" (sic !), as he pompously said, Pushing them (including Morandi Bridge Fall Victims' Families, who, naturally, did No want the Place where their Beloved were Killed to be Transformed into a kind of "Kebab-Shop" Vulgar Banality) to "Think at Galatas' Bridge in Istanbul" !
-------------------------------------
It's in such a Strange Context, as that provoked by Controversial "Professore" Conte and his pal Mr. Toninelli, (Both, normaly due to be Ousted from the Italian Government, at the latest on 19-20 August 2019 : Comp. Supra), that the EU Member State of Cyprus currently finds itself "Surrounded" by 2 Turkish "Drilling" Ships, Backed by Ankara's WarShips, amidst various Provocative Statements by Turkish Officials, (including Maps Claiming that Ankara's EEZ should Extend until Egypt !)...
=> In the MeanTime, the much-needed development of EU's Potential for New Energy Sources, Directly Transportable from South-Eastern Mediterranean Area's recently Growing Findings around EU Member Cyprus, Israel and Egypt (possibly also others : See relevant Map), are Scandalously Delayed, while the EU, on the Contrary, expected to Finalise the Official Signature of "East-Med" Pipeline, reportedly on Autumn 2019.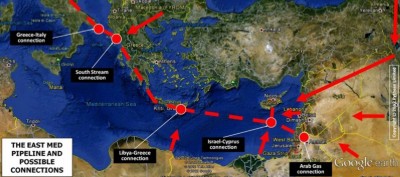 ------------------------------
+ At the Same Time, Preparations have just Started in Nicosia for New UN-sponsored Efforts to find a Solution to the Problem of Cyprus' Peaceful ReUnification, putting an End to the Division imposed by Ankara's persisting Military Invasion and Occupation of the Northern Part of the Island, according to UN Security Council's pertinent Resolutions.
 Cyprus' President, Nicos Anastassiades, just Met with the Leader of the Turkish Cypriot Community from the Occupied Territories held by Ankara's Invasion Military, Mustafa Akinci, and they reportedly Agreed to meet anew, at UNO's Headquarters in New York, on September 2019, Together with the Secretary General of the International Organisation, Antonio Guterres, Experienced former Prime Minister of Portugal, and former UNCHRefugees at nearby Geneva, (Comp. various Guterres' Replies to "Eurofora" in the Past, f.ex., at: ..., + ..., etc).
Anastassiades, who had Earlier pointed out that a Right Reply to the Recent Turkish Provocations was to seek ways to Advance towards a Political Solution, on the Basis of UN SG Guterrez Observations' Paper, on the Outcome of the Latest Top Level Talks at Crans Montana (Switzerland), back on 2017-2018, and mainly on that Stumbling Block provoked mainly by Turkey's insistance to Keep Occupation Troops in Cyprus and a Permanent Claim for Unilateral Military Interventions in the Island also in Future, but he also refered to a Set of Confidence-Building Measures (CBM) that he had already proposed as early as since February 2019.
But the Turkish Cypriot Leader's main Focus reportedly being, Now, essentialy on Cyprus' Energy Resources, (in Addition to More Demands for a Deeper Influence of the Turkish Cypriot Community in the Decision-Making process of a ReUnified Cyprus in the Future), President Anastassiades was Obliged to Reply also on such Topical points:
- In particular, Akinci's recent Claim for a Joint "Committee" to Govern all matters related to the Energy Resources of Cyprus was notoriously Rejected by All Greek Cypriot Political Parties, especially Because that is an Issue for a "Sovereign State's Government", and Not for Any kind of a mere "Committee" related to the Occupied Territories illegally controlled by Ankara's Invasion Army. Anastassiades ensured, however, Akinci that the Turkish Cypriot Community will have its Fair Share in case of Solution of Cyprus' Political Issue, Confirmed that a Set of concrete Measures are prepared for that purpose, (something that apparently interested his interlocutor), and Added an Offer to personaly Inform Akinci on the main Developments for the Exploitation of Cyprus' Energy Resources in the foreseable Future.
+ Meanwhile, Both the Latest EU Heads of State/Government Summit in Brussels, at the End of June 2019, and This Week's Quadrilateral Energy Ministerial Summit with the Participation of the USA, in Athens (7 August 2019 : Comp. Supra), confirmed their Support to EU Member State, Republic of Cyprus' Sovereign Right to Peacefully Explore and Develop its Energy Resources inside its EEZ, and Denounced Turkey's "Provocative" Moves, as an Imminent Decision of EU Leaders on relevant "Sanctions" for Turkey is due on Autumn 2019, (See also: ... + ..., etc).
++ French President Emmanuel Macron, who Chairs this Year the "G7" Summit scheduled towards the End of August 2019 at Biarritz, wih the Participation also of USA's President Don Trump, and is even due to Meet, Earlier, on 19/8/2019, at his Summer Family Residence in Bregancon Fortress, the Russian President Vladimir Putin, Speaking Previously to "Eurofora", has Already Expressed his Interest for the Importance of South-Eastern Mediterranean Sea's Energy Findings between Cyprus, Israel and Egypt for EU's Energy Supplies' Diversification and Security, as Early as Since he was Economy Minister back on 2015, while Also Confirming, Later-on, during the "G20" Summit in new Statemens to "Eurofora" at Germany's Hamburg on 2017, then as a freshly Elected President, the Need to Protect EU Member Cyprus' Energy Resources' development, (as he Told us there, just Before he Sends his Minister of Defense, Francoise Parly, to Visit the Island), and Stressing the "Importance" of the Latest EU Summit in Brussels' official Declaration for the Preparation of relevant "Sanctions" versus Turkish Warships' Bullying, Obstruction and other Provocations, towards the End of March 2019, (See relevant "Eurofora"'s NewsReports from Strasbourg, Hamburg and Brussels, on: http://www.eurofora.net/newsflashes/news/frencheconomyministermacronegyptisraelcyprusgaspipelinebigchance.html + http://www.eurofora.net/newsflashes/news/macrontoprotectcyprusisraelenergyforeurope.html + http://www.eurofora.net/newsflashes/news/macronimportanteustatementoncyprusturkey.html, etc). Meanwile, during an Event organized by the French Ministry of Defense in Paris on 2/2019,  Captain Hamelin, in charge of Strategy at the Naval Force, Speaking to "Eurofora", highlighted the Big Potential Importance for European Security of Energy Supplies which emerge Nowadays, precisely at the South-Eastern Mediterranean Area, among EU Member Cyprus, Israel and Egypt. More, Recently, EU Parliament's new President of Defense Committee, former EU affairs Minister, French MEP Natalie Loiseau, observed, on July 2019 in Strasbourg, that, ...whenever some French Navy WarShips arrive around Cyprus, Suddenly, those Bullying Turkish Warships trend to Vanish..., (See: http://www.eurofora.net/newsflashes/news/eudefenseandcyprusenergy.html).
 +++ In Addition, the Quadrilateral Energy Ministers Summit, between USA, Greece, Cyprus and Israel, earlier this Week in Athens on 7/8/2019, (which Should also be re-Joined by Italy asap, as all its Participants Jointly stressed), has just Decided to "Support the Establishemengt of an ENERGY CORRIDOR of the Eastern Mediterranean" Sea. This Strategic move is due to "Contribute ... to EU"'s Energy Security", mainly by "Actively Promoting the Diversification of Import Sources and Routes", as the official Joint Statement stressed, (Comp. also Supra).
=> This Obviously Adds, Together with the Strategic "East-Med" Gas Pipeline, Also LNG Ship Transports, and eventualy a Plan to Transform Gas in Electricity on the spot in order to Transfert the Electric Current to Mainland Europe by an Under-Sea Cable, (as Israeli Prime Minister Benjamin Netanyahu had already Proposed, during a Previous Visit to Cyprus, (etc).
+ Egypt's Fast-Growing, adjacent Energy Findings, given also a close and regular Cooperation with Neighbouring Cyprus, Greece and Israel, Naturaly is expected to Join one or another among those Energy Transport Means towards Europe's mainland, at any appropriate moment in the foreseable Future.
-----------------------------
Various Other Energy Sources' routes towards Europe might, Obviously, be also Added and/or otherwise Associated (f.ex. in the Wider Context of an South-Eastern Mediterranean "Energy Corridor" to the EU, as this Week's Quadrilateral Ministerial Summit on Energy highlighted in Athens : Comp. Supra), at this Strategic CrossRoads : F.ex., inter alia, eventualy also through Syria, and/or the Suez Channel, from Iraq, Iran, and/or Caspian Sea, Russia (via Bulgaria/Greece), perhaps Libya and/or around Creta Island (where France's TOTAL and USA's ExxonMobil are due to Start soon Exploratory Drillings, as they Already did around Cyprus together with Italy's ENI, etc), Aegan and/or Ionian Sea, etc, (Comp. a relevant Map, above, at least for Part of such Future Possibilities).
But, at any case, one Crucial Dimension should never be forgotten : As we've already seen with the landmark Facts cited above, this East-Med Pipeline is Not Only about Gas. Ipso-Facto, it's also about Europe's Security, History and Identity, as well as Independence, (Comp. Supra). And, if Handled Appropriately, even for much More : I.e., instead of an Apple of Discord, rather a Real-Politics', Down to Earth Incitement for notoriously much Needed there Peace !
Already, by Indirectly involving, almost at the Same Time, in Parallel israel and Egypt (among others, also f.ex., via Systemaic Trilateral Summits with EU Member States Greece and Cyprus, added to ENI's important Recent Fidings at Nile River's Delta, France's active Diplomacy and other Key Relations as well as Marseille's "Foss II" New Big LNG Terminal, etc, Comp. Supra). But Also by Adding an Important Economic "Bonus" for Turkish Cypriots, due to become all Full Citizens of a United Cyprus in the Future, (and, why not : even Turkey itself) in an appropriate way, if and when they would Really Advance towards a Peaceful ReUnification of Cyprus, allowing to Solva that Pending Problem, according to Basic European (EU/CoE) Values and UN SC's pertinent Resolutions, (on the Condition, at least as far as "Eurofora"s Wishes are concerned, that such a move might even Help Settle Ankara's notoriously "Heavy" Problems on core Human Rights' issues). And, again, Why shouldn't that Help Even to Alleviate at least some Partial and/or Preliminary Solutions for the Tragic and too Long Problems of the Middle-East Problem (not to speak about All Lebanon's, perhaps even Syria's Potential Contribution to the above-Mentioned "Energy Corridor"), which has notoriously Hampered, by Ricochet, all Mediterranean Sea's Economic Development, through Possible and Desired Cooperations between Neighbouring African/Asian Coasts' Countries and Europe, (from Lebanon, Jordany and Syria up to Tunisia, Algeria and Morocco, etc) until now ?
Italy's (whose ENI Company is Active in Cyprus and Egypt's EEZ) Foreign Minister Enzo Moavero (from a Center-Right linked to Salvini and Berlusconi, etc), who made This Week the 1st Visit of an Italian MFA in Greece during the last 3 Years, meeting President Pavlopoulos and Foreign Minister Dendias (Comp. Supra), reportedly spoke there also about "Ties Between Greeks and Italians ... made up of a very Ancient Relationship and a Multi-Millennial Civilization", according to ANSA. Obviously, these are not far away from Phoenician, Israeli, and/or Egyptian Histories... But Moavero (cited even by Dendias) Also reportedly spoke about projected "Joint Initiatives" for "Stabilisation of that Area by the Cessation of many Conflicts", with "full Involvement of EU Member States and of the EU".
+ In Addition, French President Emmanuel Macron, who Chairs soon the 2019 "G7" Summit at Biarritz during August 24-26, with the Participation, inter alia, also of USA President Don Trump, UK's New Prime Minister Boris Johnson (expected in Paris sooner) Italy's Prime Minister, (etc), added even to a related Meeting with Russian President Vladimir Putin, earlier, at his Summer Residence at Bregacon Castle), just a Few Days Before Important Top Political Meetings (including on Cyprus, etc) at UNO's HeadQuarters in New York, on September 2019, speaking Previously to "Eurofora" on such Energy Sources' Findings in Cyprus, Israel and Egypt's EEZ, already as early as since he was Economy Minister back on 2015 in Strasbourg, (See : http://www.eurofora.net/newsflashes/news/frencheconomyministermacronegyptisraelcyprusgaspipelinebigchance.html), followed, Later-on, also by another relevant Press Exchange with him on the sidelines of Hamburg's "G20" Summit in Germany on 2017 (Comp. http://www.eurofora.net/newsflashes/news/macrontoprotectcyprusisraelenergyforeurope.html), had Spontaneously underlined the Fact that such Energy Findings There, were, in his view, "a Big Chance for All", (while, adding, Afterwards, that Europe's General Interests should be also "Protected" : Comp. Supra). France's TOTAL Energy Company is active in Cyprus' EEZ Since the immediate Aftermath of a Key Meeting and a relevant Announcement of its Historic CEO Christophe de Margerie with "Eurofora" in the French Presidential Palace "Elysée" already back on 2012 at Paris, (See, inter alia, also, f;ex.: http://www.eurofora.net/newsflashes/news/killedmargeriekeyforrussiaandcyprusenergy.html, etc), before his Tragic Death at an exceptional Air Traffick Crash in Moscow on 2014, (ibid), while, Nowadays TOTAL allied with USA's ExxonMobil also around Greece's Creta neighbouring island, due to be to that projected East-Med Gas Pipeiine.
New Greek Prime Minister Kyriakos Mitsotakis, during his 1st Official Visit Abroad, made Recently in Cyprus, to meet its President Nicos Anastassiades, reportedly Discussed there Both the current Prospects for eventual New Efforts to Solve the Cyprus' Issue, according to EU's Values and UNO's pertinent Resolutions, as well as the Recent Developments on-going about the Energy Findings there, added to Turkey's behavior, etc. And Cyprus' President Anastassiades, has Recently stressed that a Main Reply to Turkey's controversial Behavior around those Growing Energy Findings in Cyprus' Sovereign area and EEZ, are Both EU's prepared Sanctions, and New Attempts to Relaunch Efforts for Progress in a just Solution of Cyprus' Issue according to the above-mentioned EU and UN SC Principles.
As for UNO's Secretary General, experienced former UNHCRefugees, Antonio Guterres, he has notoriously Focused on "Peace" Making, during his Succesfull Campaign for UNO's Top Job, more Recently added also to a Key "Paper" on the Latest Efforts for a Solution of Cyprus' Issue, and its main "Terms of Reference", at the Conclusion of the 2017 Top Meetings in Switzerland's Craz Montana and Geneva), while he's also expected to Chair a Top-Level Meeting about Cyprus in UNO's HeadQuarters at New York on September 2019, (Comp. also Earlier Guterres' Statements, including on "Eurofora" co-Founders' Questions, at EU Parliament and/or CoE in Strasbourg, f.ex. published already as early as since 2007 at "Cyprus Weekly", afterwards in "Eurofora", f.ex. on 2011, 2017, plus: http://www.eurofora.net/images/tcw_29.6.07_intw_u.n._high_commissioner_refugees_f.prime_minister_a.gutierez_echr_president_costa_coe_chair_f.minister_serbia_coe_resolution__declaration_cut__modifief_by_eds_400.jpg, + ..., http://www.eurofora.net/newsflashes/news/unhcrlibyansfightforfreedom.html, http://www.eurofora.net/newsflashes/news/unsgforeffectivenewgenevatryoncyprus.html, etc).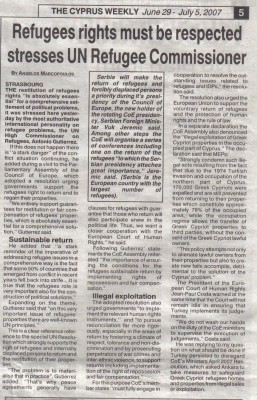 At any case, for Europe itself, the above-mentioned Exceptional "Coincidences" with Otranto and Lepante, highly Symbolic Historic landmarks (Comp. Supra), are Unforgettable and even of Topical Interest, mutatis-mutandis.
(../..)
-------------------------------
BRIEF NEWS
00:00 - 18.05.2020

00:00 - 20.04.2020

00:00 - 02.02.2020

00:00 - 09.12.2019

00:00 - 27.11.2019

00:00 - 16.11.2019

00:00 - 28.10.2019

00:00 - 08.05.2019

00:00 - 23.04.2019
Statistics
Visitors: 37753256
Archive
Login Form
Other Menu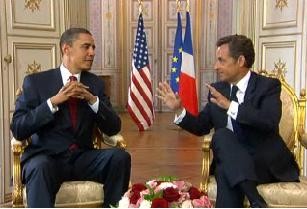 La Turquie, test-clé d'Independance de l'Europe face aux USA, les aménant de chercher en commun des nouvelles idées pour se mettre d'accord ?  
 Le débat, amical mais clair, entre les Présidents Américain et Français, Obama et Sarkozy,  la veille des elections européennes du 7 juin 2009, a montré que la question controversée sur la démande de la Turquie d'entrer dans l'Europe est actuellement le point central et le test le plus pertinent de l' indépendance de la France et de l'Europe par rapport aux Etats Unis.   
 Les electeurs européens, aussi bien en France qu'ailleurs en l'UE, auront une seule chance à trancher, ce dimanche 7 juin 2009, en choisisant leurs eurodéputés pour la période 2009 - 2014, car après ca risque d'être trop tard, vu que tous ceux qui suivent les affaires européennes dépuis des décennies savent qu'en réalité, le moment des décisions sur la Turquie viendra au plus tard en 2013, date rétenue dépuis longtemps pour une importante révision des "Perspectives Financières" de l'UE qui reflètent des choix Politiques fondamentaux.

    Le Président français, (récement encore représentant de l'UE, dans laquelle il joue un rôle important, ensemble avec la chancelière allemande Merkel, et autres leaders européens, ayant une influence notable auprès des Citoyens Européens, comme les derniers sondages montrent), réagissant à la repétition, par le nouveau Président Américain de la vieille position traditionelle de l'Washington poushant toujours vers la démande de la Turquie d'entrer dans l'Europe :

     - "Je ne peut pas laisser détruire l'Europe, (qui) est un élément de stabilisation du Monde", réponda Sarkozy. "J'ai dit au Président Obama que pour moi il était très important que l'Europe ait des Frontières", a-t-il souligné, confirmant la position Franco-Allemande commune, récemment rappellée ensemble avec la Chancellière Merkel.

    - "Il y a une différence (entre France/EU et les USA)...  sur les modalités. La position traditionnelle des Etats-Unis d'Amérique, c'est l'intégration" de la Turquie au sein de l'UE. "C'était la position du Président Bush, du Président Clinton, de tous les présidents américains".     
- "La mienne vous la connaissez : Ce n'est pas l'intégration dans l'Union Européenne. Mais j'ai proposé que nous réfléchissions, l'Europe, la Russie, la Turquie à la création d'un Espace Economique et de Sécurité en commun", a ajout Sarkozy rappelant son invitation de créer quelque chose de neuf et mieux adapté.

    Mais, "cela ne veut pas dire qu'il faut repousser la Turquie dans les ténèbres. La Turquie est un allié dans l'OTAN, (et) une Passerelle entre 2 Mondes, voilà quelle est la meilleure modalité. C'est cela dont nous avons parlé", revela-t-il. Si "nous avons une Différence sur les Modalités, nous n'avons pas une différence sur l'Objectif : Faire de la Turquie un élément de Pont entre l'Orient et l'Occident", Sarkozy assura Obama.

    - "Laissez-nous au moins une légère divergence sur un sujet, cela vous permettra de bien réfléchir pour les prochaines échéances", ajouta Sarkozy en réponse à un journaliste de l'opposition Socialiste qui avait soulevé la question de la Turquie, en la melant (comme un lobby turc notoirement essaie de faire pour exploiter la manipulation de quelques Arabes, la Civilisation Historique desquels fût pourtant detruite par l'ex-empire Ottoman-Turc) avec une question tout à fait différente : celle de la voile islamique (!), avec laquelle elle n'a rien à voir.

    - "Sur la Turquie, Monsieur, vous appartenez à un journal ...qui a appelé à voter, au moment de la présidentielle, pour mon adversaire.... Quel était votre argument à ce moment-là ? Vous disiez : « Attention, Nicolas Sarkozy va trop s'aligner sur les Etats-Unis d'Amérique », et je vois que deux ans après vous dites : « Ah, il y a un sujet sur lequel le Président Obama et le Président Sarkozy ne sont pas d'accord » Cela devrait vous rassurer, Monsieur" , réponda-t-il, en faisant sourire même le président américain, (et laissant entendre que trancher définitivemen la controverse sur la Turquie pourrait être au coeur de l' Elections Présidentielle  en France pour 2012 )
-------------------
    - "Ce que les Etats-Unis peuvent faire, c'est encourager ....TOUT PROCESSUS qui permettra à la Turquie d'être convaincue qu'elle a des amis, que ce soit la France, les Etats-Unis ou l'Europe", réponda Obama, apparamment n'excluant pas, a priori, le point de Sarkozy sur la création d'un espace commun d' économie et sécurité entre l' UE, la Turquie et la Russie (v. supra).

    "Les Etats-Unis ne sont pas membres de l'Union Européenne, nous ne pouvons pas dicter si un pays quelconque adhère ou n'adhère pas à l'UE"; Obama a admis, parlant de la "Turquie, (sur laquelle) le Président Sarkozy et moi nous sommes entretenus sur ce dossier avant".  "Maintenant le Président Sarkozy représente un Etat membre de l'Union Européenne et il a une position différente", opposée à démande turque d' entrée dans l'UE.    
 "La Turquie par contre est un allié de l'OTAN très important. ...La Turquie a fait connaître son intérêt à une intégration croissante avec l'Europe et nous (USA) encourageons cette attitude. J'ai souvent dit que l'adhésion de la Turquie à l'Union européenne serait importante".     
"Mais, (en tout cas) je crois qu'il est important de noter que le Président Sarkozy appuie fortement le travail que la Turquie fait au sein de l'OTAN et je crois qu'il s'intéresse à une intégration économique plus intense avec la Turquie". (Ce qui pourrait se faire, justement, avec un "parténariat privilegié" adéquat et/ou l'idée de créer un espace commun EU - Turquie - Russie  : V. supra).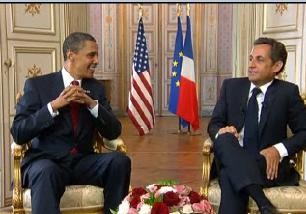 Est-ce que l'effort du Président de la France, soutenu par la chancelière Allemande et l'opinion publique de la plupart des Citoyens Européens la-dessus, de trouver un accord entre l' Europe et l' Amérique sur la Turquie, en proposant de sortir des chemins battus et créer du neuf, en etablissant "un Espace Commun d' Economie et Sécurité" (v. supra), suffira de calmer un lobby traditionaliste à quelques bureaucrates de Washington DC, datant dès l'époque de l' ex-"Guerre Froide", beaucoup plus ancien que le nouveau Président vénu de l' oxygen des "grands lacs" près de Quebec du Canada : Chicago, connu comme "la ville du vent" nouveau ?
-----------------------------------------------------------------------
Le Prémier Ministre Fillon appele à "faire vivre le Rève Européen"
------------------------------------------------------------------------  
 Seul l'avenir le dira. Mais, entre-temps, l' Europe ne peut plus attendre et perdre encore plus du temps et d'energie vitale sur la démande controversée de la Turquie, qui a notoirement menacé d'arrêter l'édification européenne dépuis 1999-2005 :

    Comme le Premier Ministre François Fillon a clairement dit, un peu plus tôt cette semaine, dans un discours éloquent sur les enjeux de l' Election Européenne de ce juin 2009 (V. résumé envoyé aux adhérents d'"EuroFora"),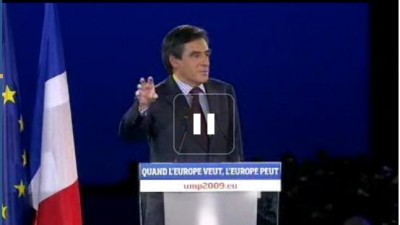 - "S' abstentir, c'est laisser à la Technocratie le pouvoir de dominer" la vie des Citoyens européens, qui devraient prendre l' Europe en branle le corps", et commencer d'agir par toutes les voies politiques démocratiques, prennant conscience que "l' Europe c'est Nous, (i.e. les Citoyens), et "Pas eux !" (i.e. les Technocrates), selon une image symbolique.

    - "Je me souviens de l' Europe obligée de faire Silence, (au Passé), quand "les Grands" décidaient de son sort", rappela Fillon.  "Je me souviens de l'Europe divisée, de l' Europe dominée" par d'autres, '"de l'Europe appauvrie""Je me souviens de Berlin occupé, muré, divisé comme un butin qu'on tire aux dès. Je me souviens du Silence de Varsovie. Je me souviens du Silence de Prague"..   
 - "Nous, les Européens, nous avons bien failli sortir de l' Histoire, et dévenir, pour du bon, les dès d'un jeu joué par d'autres".     
- "C'est pourquoi je ne peux pas concevoir une Europe qui ne serait pas Souveraine, une Europe qui ne serait pas Maitresse d'êlle-même", aujourd'hui et démain, martella-t-il. "Le Monde s'est habitué trop longtemps à une Europe faible, que l'on pouvait traiter avec condescendence".  
 - "Le moment est venu de rélever le défi : Le moment est vénu de montrer que, nous les Européens, avons décidé d'être débout, et d"être nous-mêmes".     
"Dépuis 2 ans (i.e. dès les Elections Présidentielles de 2007), avec Nicolas Sarkozy, nous avons oeuvrer pour relever notre Identité Nationale (de la France), dont nous sommes fiers. Et bien, l'' Identité Européenne mérite tout autant, elle qui prolonge les Génies de nos Nations".


    - "Je crois à la présence d'une Civilisation Européenne", déclara Fillon, largement applaudi par des milliers de personnes ayant entendu une série des Musiques entremelées characteristiques de differents pays européens, et des images lumineuses géantes avec des extraits symboliques de Goethe, de Victor Hugo, de Shakespeare, et d'autres auteurs italiens, espagnols etc celebres à travers l'histoire.

    - "L' Humanisme, la tolerance, la Liberté de la Conscience. La Solidarité. L' Etat de Droit. La confiance placée dans la Science, l' Innovation, le progrès. Toutes ces Valeurs, elles disent clairement où commence et où s'épanuit cette Europe" que nous voulons, observa-t-il.

    En harmonie avec les positions soutenues par le Président du Parlement Européen, eurodéputé allemand, Hans Gert Poettering, et la Chancelière allemande, Angie Merkel, sur la "Dignité Humaine" au coeur des "Valeurs de l' Europe" moderne. Ce qui fait qu'" avec un Elargissement sans fin", même vers la Turquie, c.a.d. "sans Frontières, l' Europe Politique, l' Europe des Valeurs et l' Identité européenne" ne peuvent pas exister, comme a dit aussi le Président francais, Nicolas Sarkozy, recemment à Berlin.

    Fait important : Cette observation de Fillon a été faite le jour-même que le Comité des Ministres du Conseil de l'Europe à Strasbourg concluait une semaine de réunion semestrielle sur les Droits de l'Homme, qui a examiné un grand nombre d'affaires des pires Violations (pex. Tuéries scandaleusement non elucidées, Persecutions et privations arbitraires de Liberté, personnes portées "Disparues", Tortures et "traitements inhumains et degradants", Usurpations illégales des Maisons et Patrimoines privées de Réfugiés, etc., pour lesquelles la Cour Européenne a condamné la Turquie dans plusieurs jugements, dont on attend toujours l' application)...

    - "C'est pourquoi un Elargissement sans fin de l' Europe ne peu pas être un objectif en soi. Parce qu'il ne peut que diluer l' élan européen, et detruire l' Idéntité Européenne"

    -" Voilà pourquoi nous disons, très sereinement, que nous ne sommes pas favorables à l' adhésion de la Turquie dans l'UE", conclua le Premier Ministre de la France; largement applaudi par des gens qui soulevaient le drapeau européen.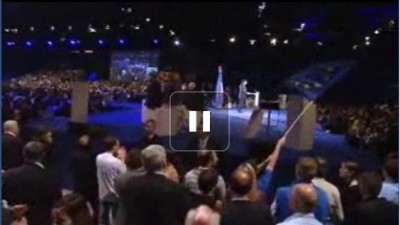 "Ce n'est pas un Slogan de meetings. Ce n'est pas la marque une "Hostilité" au régard de cette grande Nation (i.e. la Turquie), qui doit être étroitement associée à l' UE", pex. par un partenariat priviliegié, ou une autre formule adaptée.

    - "Mais il lui faut des Frontères à l' Europe, il lui faut des Frontières stables, qui lui permettent de renforcer son Unité et son Identité", a-t-il expliqué.

    - "Alors, c'est au nom de cette Europe charnelle, que je m'engage avec vous. Mais, cette Europe-là, ne peut avancer qu' à une seule Condition : celle de l' Europe Politique".

    "Nous avons longtemps douté qu'elle soit possible : Aux années 1970, Henri Kissinger (le notoire ex- Secretaire d'Etat Américain aux affaires etrangères, consideré, à tort ou à raison, comme chef d'orchestre du renversement du Président Allende en Chili, de l' invasion militaire de la Turquie à Chypre, etc), disait, avec une ironie blaissante : - "Ah, l' Europe ? : Quel numero de Télephone ?..." Pendant les 6 mois de la présidence française de l'UE, (7-12/2008), Henri Kissinger n'aurait aucune difficulté de rejoindre l' Europe !", observa-t-il en suscitant des nouveaux applaudissements nourris.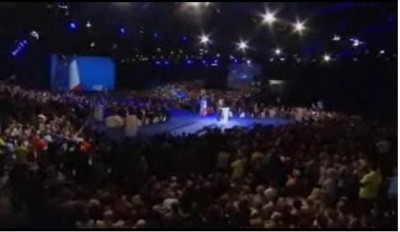 "J'au vu l' Europe Politique se dresser, et prendre ses responsabilités : L' Europe Politique c'est celle qui agit sans délai, et avant les Etats-Unis, pour stopper des faillites Bancaires qui s'enchaînent, qui nous auraint plongés dans une Depression pire que celles des années 1929. L' Europe Politique est celle qui, maintenant, doit mettre un fin à un Capitalisme Financier, qui a perdu sa boussole. L' Europe Politique est celle qui a réussi d'etablir le règles les plus ambitieuses au Monde dans la lutte contre le rechaufement Climatique. Samedi, nous celebrons l' anniversaire du debarquement de la Normandie, où nos amis Américains ont pris une part décisive à nôtre libération. Mais, en décembre 2009, à la Conference (Mondialle) de Copenhague, c'est nous les Européens, qui allons leur montrer le chemin vers cet avénir commun" pour la sauvegarde de l'Environement naturel. L' Europe Politique c'est celle qui, en août 2008, lorsque la Guerre faisait rase entre la Russie et la Géorgie, s'est interposée pour imposer la Paix. Et c'est elle qui doit, maintenant, se doter des moyens Militaires de se défendre par elle-même, pour elle-même", ajouta-t-il en évoquant clairement la création d'une Défense Européenn Autonome.
    "L' Europe Politique c'est celle qui doit bâtir des grands champions Industriels Européens, comme nous avons fait, auparavant, pour (l'avion) Airbus ou (la fusée) Ariadne. C'est celle qui doit exiger la Reciprocité dans les rlations Commerciale avec nos grands partenaires", sans Dumping Social ou Environmental, ni autre Concurrence Deloyale. "C'est celle qui doit se doter comme objectif d'être "le Continent de l'Esprit", réunissant les plus grandes Universités du Monde, en multipliant les Connexions, entre Scientifiques et étudiants."

    "Nous respecterons nos engagements, jusqu'au dernier", souligna le Premier Ministre de la France, peu après que les candidats-eurodéputés de la coalition Gouvernementale (UMP : Mouvement pour la Majorité Présidentielle) ont signé solennement, devant plusieurs milliers des Citoyens, une spectaculaire pancarte-géante avec "7 engagements" pour les Elections Européennes du 7 juin, auxquels figure aussi l'engagement de "s'opposer à l' adhésion de la Turquie dans l'UE".

     - "Parcque ce respet des engagements est une exigence si nous voulons rétablir la Confiance entre les Responsables Politiques et les Citoyens", conclua Fillon, la veille de ces Elections Européennes de juin 2009, après les Abstentions Majoritaires de 1999 et 2004, suivies de 3 "NON" à 3 Euro-Réferenda dépuis 2005, (dates auxquelles, quelques gouvernements du Passé, avaient donné le statut d'un "Candidat" et commencé des "Négotiationa d'adhésion" avec la Turquie, suivies d'un blocage sans précedent de l' édification européenne)..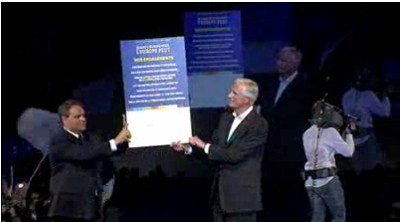 "Nore Europe n'est pas n' importe quelle Europe : L' UE Technocratique n'est pas la nôtre. ... L' UE sans Frontières n'est pas la notre. L' UE desincarnée n'est pas la notre". "Nous portons une idée de l'Europe" qui "n'est pas celle des Statistiques et des Bureaux(crates). L'Europe ce n'est pas qu'une Monnaie. Ce n'est pas qu'un Marché. économique".

- "L' Europe c'est d'abord une Culture. L'Europe c'est une Histoire", a-t-il dit, largement applaudi.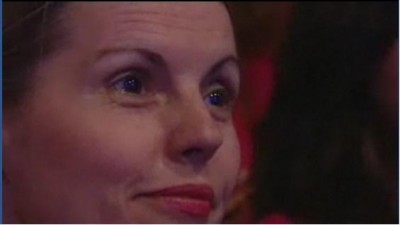 "L'Europe c'est une rencontre entre des Nations qui sont Millénaires et qui sont Brillantes. L'Europe c'est Paris. C''est Madrid. C'est Prague. C'est Londres. C'est Rome. C'est Varsovie. C'est Berlin. C'est Vienne. C'est Athènes : Quant on énonce ces Villes, alors on "sent" nos Héritages et nos Cultures entremelées qui circulent dans nos veines".

    - "Je suis Européen, parcque profondément Français, je sais ce que je dois aux influences de l' Atlantique et de la Méditerannée. J'aime ces Traditions qui offrent à chacun des nos Nations leur éclat. .. J'aime ses saveurs, ses paysages divers. Ils sont également miens, ou, plus précisement, je suis également fait d'eux. Je suis Européen, car, Français, j'aime l' Europe ouverte vers l' Amérique, vers l'Orient, vers l' Maghreb. J'aime les quais de Vénise, ceux d'Amsterdam. J'aime les quais de Thamise où sont vénues pendant des siècles s'amasser les richesses et les nouveautés du Monde. J'aime l' Europe curieuse. L'Europe qui rêve des lointains : L' Europe de Vasco de Gama, de Magelan. de Bougainville, de Charcot, de Monot... Cette Europe qui, aujourd'hui, s'élance vers l' Espace. Je suis Européen parce que Français, j'aime l' Europe qui prospère et qui invente. J'aime l' Europe des Trains à Grande Vitesse. J'aime l'Europe des Satellites et des Fusées. L'Europe de la Mode et des Atéliers d' Artistes. L'Europe des Grands Laboratoires, des Ingéniers. des Entrepreneurs, des Grands Architèctes, des Traditions Ouvrières. Comme rançais, j'aime l' Europe qui dit "NON" à la Tyrannie et qui se soulève à l'appel de la Liberté", a-t-il dit en

 
"Je me sens lié à ces femmes et ces hommes sans nom, qui ont levé la tête, et qui ont sécoué le joug sous lequel .. on les avait fait pliér", dit-il en évoquant pex.. la Révolution Française de 1789, le Siècle des Lumières, l'appel du Général de Gaulle contre l'Occupation NAZI, et les pires heures obscures qu'un  "Fascisme" ou "Communisme" devoyés, suivies de la Guerre Froide avaient plongé l'Europe au Passé.

"Ils sont des millions, ces Héros Anonymes de notre temps, que nous croisons sans le savoir dans nos rues et nos places. Et je ne peux pas concevoir l'Europe sans eux, et sans tous ceux qui poursuivent leur combat contre l'arbitraire et le fanatisme", ajouta Fillon. Faisant pex. rappeler un récent Film allémand, primé au Festival de Vénise, qui décrivait la vie d'un cadre à l'époque d'un régime oppressif, qui avait été chargé d'espioner la vie privée et familiale d'un couple soupçonné d'être dissidents politiques, mais, ému par leur honnêteté humaine et leur sacrifice pour sauver d'autres, a preferé risquer sa place et sa propre liberté pour les sauver, sans même qu'ils le sachent, condamné dépuis à faire un bas boulot d'anonyme perdu dans la foule..


"Quand je vois l'Europe moderne, je vois les résultats de l' Audace de ces hommes qui ont brisé les traditions de conflit et de violence. Je vois des nations soudées autour d'une monnaie unique et protectrice. Je vois 27 jeunesses appelées de grandir ensemble, sans défiance. Je vois 27 peoples unis, qui nous interdisent de jouer les blazés ou les indifférents".

Jettant "un régard lucide sur les errements de la construction européenne", Fillon a observé que "l' Europe n'a pas bésoin d'être idélisée pour être ce qu'elle est ; Cad. une aventure humaine, avec ses faiblesses et ses forces".

"Vous voulez que l' Europe agisse ? Fixez-lui des objectifs clairs. Vous voulez la Démocratie ? Agissez en Citoyens. Vous rédoutez la prétendue Bureaucratie des Bruxelles ? Alors renforcez, par votre Vote, les instances élues au Parlement Européen" qui sont chargés de la contrôler.

- "Si nous voulons faire vivre "le Rêve Européen", .. alors nous avons tous le dévoir de l' engagement", a-t-il conclu, appelant de "engager pour le drapeau tricolore et le drapeau étoilé, car ils symbolisent tous les deux la fierté de nôtre nation et la force de nôtre union".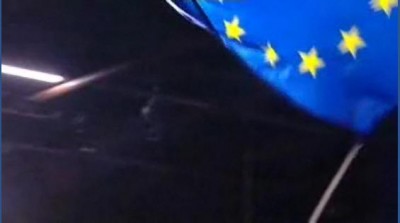 Polls