Home

newsitems

CoE asks Turkey to stop Oppression against Democratic Alternative for Kurds +slams Terrorism on Army
CoE asks Turkey to stop Oppression against Democratic Alternative for Kurds +slams Terrorism on Army
Freitag, 21 Oktober 2011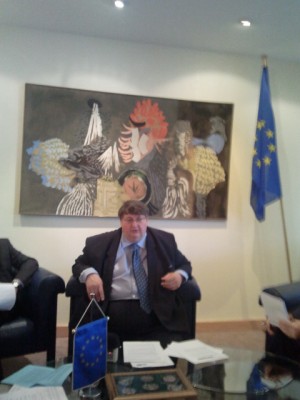 The President of CoE watchdog for Local/Regional Democracy (CLRAE), experienced British representative of the Governing Coalition (Liberal) Keith Whitmore, replying to an "EuroFora" question, stressed that, "certainly",  so many (even Elected) "People being locked up in Jail" in Turkey for three years without Trial, "are Not Acceptable", both because "Human Rights are at the Core of CoE's mission" and also from the Democratic standards point of view.

    Whitmore was speaking of the "Massive Detention of local Elected Politicians" among more than 3.000 People ("Local Officials, Human Rights Activists", etc) from the Kurdish Minority in Turkey since the 2009 Local and Regional Elections, for which the PanEuropean Congres of Local and Regional Authorities (CLRAE) just decided to ask its "Monitoring Committee to closely look" at the matter, "in the light ..of the European Charter of Local Self-Government", that Ankara's Government has to respect.

    The move came in a larger framework of what appeares as an indirect but crystal clear CoE call on Turkey to lift oppresive obstacles to Democratic Alternatives for the Kurdish Minority, while alsoi condemning those who push towards Terrorism and Military clashes after attacks against the Turkish Army at the Iraqi borders, prolonging violent deadly clashes which have already durated more than 30 Years (1984-2011), witout conclusion, showing the need for a Political, Democratic Solution, as Turkey was reminded, (See infra).

     CLRAE's Bureau also decided to ask CoE's "Commissioner of Human Rights", Thomas Hammarberg from Sweden, "to look into the issue of the Detention of local Elected Politicians in Turkey, in the light of the European Convention on Human Rights", whose violations are condemned by Strasbourg's PanEuropean Court.

    Moreover, CLRAE called "the President of the (Pan)European Committee for the prevention of Torture and Inhuman or Degrading Treatments .. (CPT) to examine the Detention Conditions" of jailed Kurdish Elected Politicians such as "Ms Leyla Guven" (a former CLRAE Member) in the Diyarbakir E-type Prison".

    F.ex. Guven "has to share with 23 inmates Rooms normally foreseen for 8 Persons" only, (i.e. 400% overcrowded !!!), with the result to be obliged, every night, to Sleep only for a few Hours in a bed, shared in turns, one after the other (!), as CLRAE's Heads of Delegation, who visited her on the spot after years-long efforts, mainstream ChristianDemocrat/EPP Swedish representative Anders Knape, CLRAE's vice-President,  and Socialist representative Leen Verbeek, vice-President of the Dutch Delegation to the CLRAE, denounced during Plenary Debates earlier this week.  Moreover, she has to consecrate the 3 only Hours per Week during which she is allowed by the Turkish Authorities to communicate with other People, just to try to care for the City which elected her Mayor, without Time to see her Children, during all these 3 Years closed in a Prison where "showering Water is only available for a Short period of Time each day", with a "Poor Sanitation", Hindered to Speak in Court in her Mother Tongue : Kurdish, etc., all this resulting in clear "signs of Stress, such as Perspiration and tension", typical of the "Prisoner Syndrom", etc.
------------
     - But, "instead of having just one or two Statements, I think it's better to set in motion a real Proces", allowing to work in a "Rational, Sensible way, with Factual Arguments, to talk with  the appropriate authorities, and, at the End of this, to have a Proper Reform" and real Change, "rather than only some kind of ephemeral, verbal reaction", President Whitmore went on in his Reply to "EuroFora"s Question, explaining thus why CLRAE''s Bureau also asked him to "Regularly Inform (CoE's) Committee of Ministers", its Top Political body, as well as CoE's "Parliamentary Assembly", etc., in an obvious effort to Start using at the same time various CoE's Monitoring Mechanisms all together vis a vis Turkey, including on the Conditions for Turkey's controversial and unpopular EU bid, "regarding the need to improve Democracy, Human Rights and Rule of Law".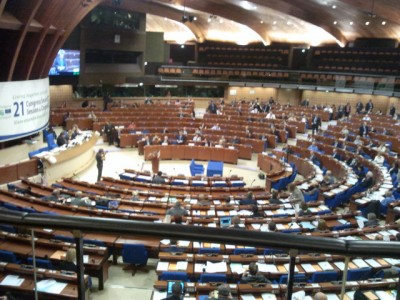 - Because CLRAE's Delegation, which has just made a Visit on the spot, after years of refusal by the Turkish Authorities, strongly denounced in its Report that such "an apparently Systematic, Massive and On-Going Persecution of Local Politicians, is UNDERMINING local DEMOCRACY" !
--------------------------------
    => Therefore, the Vice-President of CLRAE's Monitoring Committee, and vice-Chairman of the French Delegation, Socialist mainstream representative Francis Lec, asked in the most official terms, and "on behalf of all the French Delegation", to "immediately release" the imprisoned former CLRAE Member Mrs Leyla Gulen, after 3 years of jail without even trial.


    - Indeed, "we (CoE) can't just Sit down and Wait !" for even longer, denounced also CoE's co-Rapporteur on the issue of the 3.000 Kurdish Elected and other Local/Regional Officials which are still Jailed since the 2009 Elections, vice-President of the Dutch Delegation, Leen Vebeck.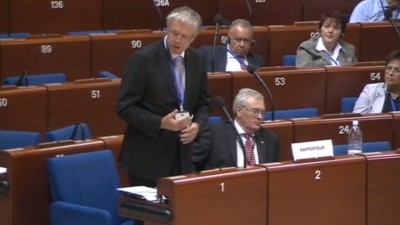 - A fortiori when the jailed Kurdish Elected representatives such as Mes Gulen, "Reject very clearly any Armed struggle", focusing just on Peaceful and Democratic ways for Political debate, as observed also CLRAE's experienced vice-President, Swedish ChristianDemocrat representative Anders Knappe.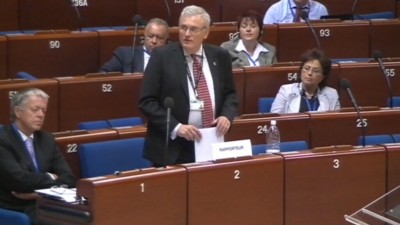 - As for the freedom for her and other jailed politicians to speak their Mother Tongue in Turkish Courts, Austrian representative Mrs Gudrun Mosler-Tornstrom observed that, in several European hotspots this is legally possible, thanks to Interpreter's help, and proposed for CoE's Legal/Constitutional watchdog known as "Venice Committee for Democracy through Law" to advise the Turkish Government on how to proceed, if needed, with adapting its law on this point.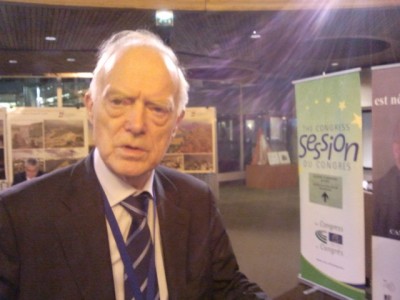 - "I hope that this (CoE criticism on Turkey) would help also Many others among those Elected Officials in Jail" since 2009, f.ex. by speeding up Trials and hopefully liberating most of them, said also to "EuroFora" the experienced former CLRAE President, and current vice-President of its Chamber for Local Authorities, Halvdan Skard from Norway, pointing, at his own Initiative, at this issue, as one of the "most Important" for this CLRAE  session.

    In addition, CLRAE's Bureau had decided since Monday to exceptionaly Publish the Report on the Visit to Detained Kurdish Mayors in Turkey, before starting to hold the above-mentioned Critical Debate at CLRAE's Plenary, as a matter of Urgency, from Tuesday Morning.

    Unfortunately, the anouncements made afterwards by the Turkish Government on violent events on Military outposts which reportedly followed shortly in the Hakkari regions' borders with Iraq (see infra), obviously questioned CoE's "speed" to act, particularly on an issue which remains unsolved for more than 3 Years since the 2009 arrest of many Thousands of Kurdish Elected and other Local/Regional Offcials after the latest Local Elections in Turkey..
--------------------------------------------
    => With these and other Measures from the beginning of this week (see infra), CoE in substance called upon Turkey to stop undermining Democracy in Kurdish areas after massive arrests and persisting long imprisonment of elected representatives even without trial, etc., in order to allow a Democratic Alternative to the Kurdish Minority, as the best antidote to those who push for "terrorist" attacks against the Turkish Military close to Iraqi borders, that CoE also condemned, despite claims thar they might have been "provoked" by new Arrests and Military incursions of the Turkish Army, (which afterwards found, as usual, in such series of events, another opportunity to launch even more massive attacks against Kurdish rebels inside Iraqi territory)...

    Incite Ankara to Solve the Kurdish problem with Democratic means, conrtary to persisting Oppression which reportedly triggered more conflicts, showing once more the limits of Ankara's mainly Military option, appeared, indeed, as the main aim of several CoE's key Officials this week.

    The move unfolded during a strange Series of Events, spread along several Days, starting by a beginning of initial Criticism of the Massive Detention conditions of more than 3000 Elected and other Kurdish Local/Regional Officials, from Monday and Tuesday, followed by alleged "provocations" by even more arrests and afterwards even Military incusrions by the Turkish Army, and resulting towards Wednesday by reported simultaneous attacks of Kurdish rebels against Turkish "Military" targets around the border with the Kurdish Region of Iraq, which, in turn, gave an opportunity for the Turkish Government and Army to launch a Massive Attack, reportedly with Airplanes, Drones, Rockets and Tanks by many Thousands of Military troops inside Iraq.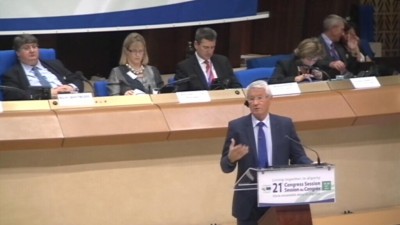 CoE's Secretary General, Thornbjorn Jagland, stressed that " the only effective antidote against terrorism is more Democracy and more Human rights", (as even Turkish Prime Minister Erdogan had said himself in the Past), while CLRAE's President, Brittish Liberal Keith Whitmore, speaking to Journalists in Strasbourg, agreed thatr it's obvious that the Kurdish problem cannot be dealt with by Military means, but needs a Political Solution.
Both spoke on the occasion of "attacks on Military installations in Hakkari", (Jagland), which "resulted in the deaths of at least 26 Turkish Soldiers" and "Police officers", (as Turkish Chairman of CoE's paneuropean Assembly Cavusoglou also noted), concerning "Military outposts in Hakkari in Turkey", i.e. at the Borders with Iraq, as Whitmore's relevant statement observed.
                                                                                                                                                                                                                                                                                                                                                                                                                                                                                                                                                                                                                                                                                                                                                                                                                                           Jagland from Norway also conveyed his "deepest condolences to the families of the 26 Turkish Soldiers who were killed", but also, expressed, more generally, our (CoE's) Solidarity with the People of Turkey who have been suffering from Terrorist Violence for Decades", (1984-2011).

Turkish outgoing rotating Chair of CoE's Parliamentary Assemblmy, Mevlut Cacusoglou, was more outspoken and obviously unilateral, by declaring "outraged by the Terrorist attachs in S/E Turkey which resukted in the deaths of at least 26 Turkish Soldiers". He also "condemn(edà in the strongest terms the authors of these horrendous acts, as well as (a previous) attack on (Turkish) Police Officers", also attributed by Ankara to Kurds. "Terrorists will never achieve their ends through violence and bloodshed", added Cavusoglou just after CoE started to deal with more than 3.000 arrested Elected representatives of Kurds, jailed in Turkish Prisons since the 2009 Local/Regional Elections (see supra). "They do not defend ideas, they seek only to propagate hatred and barbarity". That's why "their acts are a crime against us all", he concluded in a statement co-signed also by Ukranian Foreign Minister Gryschenko.

CLRAE's President, Keith Whitmore, also "declared, the day after the attack on the Military outposts in Hakkari in Turkey";  that, "the Congress strongly condemns the violent attack perpetrated by the PKK which led to a large number of victims. No cause can be defended by terrorist acts. In fact, this attack undermines the basic foundations of our Democratic society", he stressed.
According to various mainstrearm International Media, Kurdish rebels reportedly claimed that they would have been "provoked" by incursions of the Turkish Army and denounced the still on-going 3 Years-long Mass-arrest and Imprisonment even of some 3.000 Elected Mayors, Regional Governors, Municipal and/or Regional Counsilors, etc. since the 2009 Local and Regional Elections
-------------------- 
+ CLRAE/PACE  : "Destructive" measures against L/R Democracy in Turkey, + "Excessive" Threshold (+10%) in National Elections
----------------------------------------------------
    - On the Local/Regional level, CoE's watchdog for Local and Regional Democracy, CLRAE, recently debated and voted a Resolution denouncing the Turkish Authorities for having imposed measures against "Democracy" which are "Destructive", such as the mass Arrests and Jailings of Mayors and Regional Counselors shortly after being Elected, since the beginning of 2009,  (See "EuroFora"s relevant 3/2011 NewsReport).

    + On the National level, the exclusion of any Party which doesn't get more than 10% of votes Nationwide, even if it succceeds to have more than 60% or 70% f.ex. in the Kurdish areas, practically hindering Kurds' normal representation inside the Turkish Parliament, was notoriously denounced as an "Excessive" "Threshhold", without equivalent in any other among PanEuropean CoE's 48 Member Countries, according mainly to a critical CoE Assembly's Report drafted by mainstream MEP former President of the ChristianDemocrat/EPP Group, Luc Van Den Brande, (former Prime Minister of Flanders' Federated State in Belgium, and current President of EU's Committee of Regions' body for Governance, Citizens and Public Administration).

[But the initially powerful and experienced EuroPolitician was afterwards reportedly undermined and practically pushed to quit the CoE on 2009, (focusing later on only on EU issues), following an unprecedented in CoE's History manoeuver, so that nobody else raised anew the issue of that "Excessive" Electoral Threshhold in order to criticize Ankara until now.. However, Van den Brande was exceptionaly present in Strasbourg this week, as a speaker on "Multi-Level Governance", while CoE's bodies were apparently coordinating their views on the aggravating problems of Democracy in Turkey]...
----------------------------
    - Thus, in a subsequent exchange of views at CLRAE's Plenary, after an intervention by a Turkish representative asking to merely condemn the Kurdish rebels' attacks on the Turkish Military outposts at the Borders with the Kurdish Region of Iraq, experienced, mainstream French representative Jean-Louis Testud,, from the Governing party UMP, (ChristianDemocrats/EPP : Center-Right), reminded to Turkey that, more or less recently, "even several European Countries like, Spain, Italy, Ireland, the UK, France, etc, faced in the past various problems of Violent Minorities who wanted to be represented (as such)".

    - F.ex. "Spain was intransigeant against Terrorism, naturally, but it started a Dialogue with the Basques, it helped them to have access to Democracy, it listened to what they had to say, and, today, it's a problem which is on the process of being solved", Testud observed, speaking  just a day before Basques' ETA anounced that it "definitively" drops armed struggle, for the 1st time in History !...

    + Also the Kurdish problem, it's a problem which can be solved, just like the Northern Ireland issue, the Basque issue,  or ours were solved", Testud pointed out optimistically :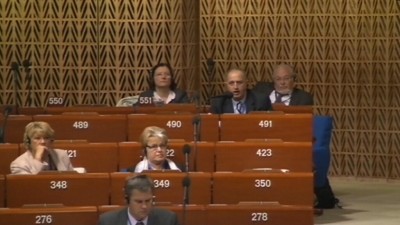 => Therefore, "I believe that if Turkey is really willing to solve the Kurdish problem, they will start a Dialogue with Kurds who are for Democracy, and isolate those who stand for Terrorism", he advised, (according to a schema which has become obvious af the latest National Election of June 2011 in Turkey : Comp. "EuroFora"s relevant NewsReport). In consequence, he "ask(ed) from at least 1 Member of the Turkish Delegation to strongly defend the Democratic Rights of all Elected Kurdish representatives who are Unfairly thrown into Prison !"

But in vain... : There was not any positive reply from the Turkish side.., except from the launch of a Massive Turkish Military attack which reportedly started to kill Hundreds of Kurds, mainly at the Iraqi side of the border, believed to be rebels.

Meanwhile, pro-Kurdish "Peace and Democracy Party" (BNP)  co-Chair Demirtas, strongly criticized Turkish Prime Minister Erdogan, accusing him to face Kurds' recent moves for "Peace" and "Dialogue" only with "Violence" and more "Arrests", by "Hidding the Truth on Burned Villages", "Torture", etc., as well as by voting a "War memorandum" in the Turkish Parliament "2 Weeks ago", as he said, reportedly speaking during a gathering near the recent incidents at Hakkari, in Van.
***

(NDLR : "DraftNews", as already sent earlier to "EuroFora"s Subscribers/Donors. A Final Version, more accurate and complete, is due asap).

***
BRIEF NEWS
00:00 - 02.06.2021

00:00 - 18.10.2020

00:00 - 19.06.2020

00:00 - 18.05.2020

00:00 - 20.04.2020

00:00 - 02.02.2020

00:00 - 09.12.2019

00:00 - 27.11.2019

00:00 - 16.11.2019
Statistics
Visitors: 54924074
Archive
Login Form
Other Menu
(Opinion)
Paris - Bruxelles - Strasbourg, 2 septembre 2008





Le spectaculaire succès du Président français, Nicolas Sarkozy, (en tête de l'UE jusqu'a décembre), à obtenir de suite un cessez le feu inattendu entre la Russie et la Georgie, immédiatement après sa visite aux Présidents Medvedev et Saakashvili, au pire moment de tensions et heurts violents meurtieurs, qui avaient tué plusieurs innocents et provoqué le deplacement forcé de réfugiés par milliers, lui donne incontestablement une stature vraiment européenne :

A ses liens personnels bien connus avec l'Hongrie, la Grece, l'Italie ou l'Espagne, en sus de son amitié avec la chancelière allemande Merkel, son souhait d'essayer d'attirer l'Angleterre au jeu européen, etc, s'y ajoute, maintenant, une réussite, fragile certes, mais importante, au combat pour la Paix dans la "grande" Europe du général De Gaulle, "jusqu'a l'Oural", qui inclut naturellement la Géorgie, l'Arménie et d'autres pays, et ne peut exister qu'avec rapports de confiance et partenartiat stratégique avec la Russie.

Apres avoir réussi à debloquer la situation au Liban, (pays avec liens culturels historiques en Europe), lors du Sommet pour la Méditerranée à Paris, juillet dernier, (comme atteste maintenant le prémier accord d'echange d'Ambassadeurs avec la Syrie), Sarkozy activa maintenant une présidence française de l'EU bien entreprenante, à l'autre bout de l'Europe, à Moscou, où, contrairement à Napoléon, il a été reçu avec soulagement par le nouveau président russe, ami de l'experimenté Vladimir Poutine.

Cet homme politique rélativement nouveau au plan politique européen, avec une vision souvent critique ou même critiquée, à tort ou a raison, mais ambitieuse et concrete a la fois, qui aime s'adresser aux "Européens", comme il dit, n'est-il pas bien placé pour stimuler le fameux débat sur l' "Identité de l' Europe", qu'il a proposé au Parlement Européen récemment à Strasbourg, moins d'un an avant les Elections européennes de 2009 ?

En 2007, il a réussi à faire monter spectaculairement la participation citoyenne aux élections présidentielles en France, obtenant des récords historiques :

N'est-ce pas, justement ce que l' Europe a bésoin, apres 2 abstentions majoritaires sans précedent aux Elections de 1999 et 2004, et 3 "Non" aux réferenda pour ses institutions en 2005 et 2008, pendant une décennie trouble 1999-2008, (marquée surtout par la demande controversée de la Turquie d'entrer dans l'UE eclipsant les avancées de la Monnaie unique et de la liberté de circulation à l'espace Shengen, avec consequences mal-ressenties par la majorité des citoyens, bien au-délà des clivages du passé), qui a failli stopper l'integration européenne ?

Et cela, au moment même ou une globalisation galopante met l'Europe devant un choix crucial entre saut qualitatif en avant, apte à valoriser une occasion historique exceptionelle à se développer résolument, après les vaines destructions, querelles et tensions des guerres "chaudes" ou "froides" qui lui ont couté son rang dans le Monde, ou réculer définitivement en décadence...

Alors, que certains de nos amis à la Commission en Bruxelles, lui laissent au moins un peu d'espace de mouvement, et qu'ils l'aident à tenter d'insufler de l' oxygène frais et vivifiant aux rapports entre les citoyens et une Europe qui a manifestement bésoin et mérite de retrouver d'urgence un nouveau dynamisme populaire, avec un souci de réalisme mais aussi une vision passionante pour son avenir !

Après tout, les Etats Unis d' Amérique ne se sont pas faits à coups de bureaucratie, nécessaire et utile, mais manifestement insuffisante : Sans l'impulsion d'hommes politiques originaux, d'intellectuels vraiment engagés, et, surtout, sans l'enorme énergie émanant de la conscience d'enjeux à la fois pratiques et grandioses, bien resentis par des millions de citoyens, stimulant leur adhésion active comme pioniers d'un nouveau avenir commun à construire, ils seraient encore une ex-colonie périphérique, affaiblie par stériles divisions, passif et impuissant spectateur des convulsions tragiques d'un Monde à la dérive...

Que les vrais "européens" ré-lisent au moins les fameux discours historiques sur l' Europe d'un Sarkozy bien inspiré à Strasbourg, aussi bien avant qu'après avoir gagné les élections françaises, le 21 février et le 2 juillet 2007, après son 1er sommet des Bruxelles, qui a adopté le nouveau Traité de l'UE en conclusion de la presidence allémande : Bonnes lectures pour cet été 2008, afin de préparer l' avenir qui s'ouvrira (ou fermera) à partir des élections européennes de 2009.
Peut-etre revelera-t-il plus, en ce sens, lors de ses 2 discours-debats prochains avec les eurodeputés, prévus lors des sessions plenières du Parlement Européen a Strasbourg en octobre et décembre 2008...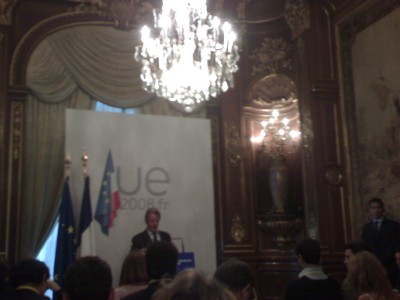 Foreign Minister Bernard Kouchner had already unveiled President Sarkozy's intentions, during a particularly "hot" Press Conference in Paris, where he faced some's insistance for "sanctions", with a call for "a common EU stance". In the meanwhile, he was consulting "all these days" most of his EU, Russia and Georgia counterparts, (as Sarkozy's Spokesman, P-J. Henin confirmed to "EuroFora"). This allowed him to obtained the desired result, as EU Chairman, at a short, exceptional EU Summit in Brussels, afterwards.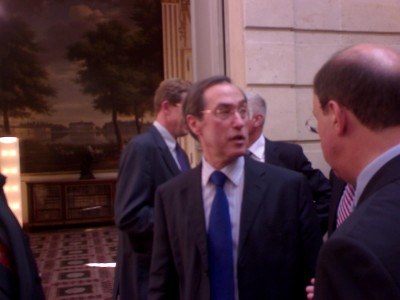 But, Sarkozy's No 1 official, Presidential palace's Secretary General Claude Gueant, active at Elysee during the 2008 Ambassadors' Conference, (together with his Top Diplomat, the experienced David Levitte), is well known for having an overall view : A link with 2009 EU Elections at the horizon ?
Polls