Home

newsitems

Priest Murder in Church by Islamic Terror: New Security Measures were just Taken=> Attack Foreseen ?
Priest Murder in Church by Islamic Terror: New Security Measures were just Taken=> Attack Foreseen ?
Wednesday, 27 July 2016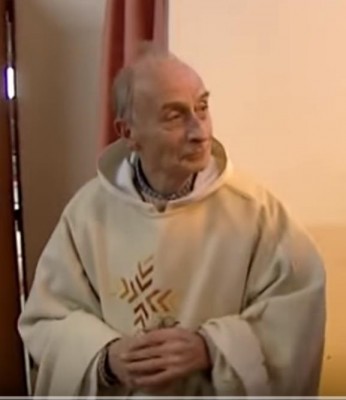 *Strasbourg/Angelo Marcopolo/- The Unprecedented, cold-blood Murder of a Christian Priest inside a Church in France, at an Islamic Terrorist Attack during Mass, which took also 5 Hostages, Wounding Seriously one of them, appears to have been Foreseen, or at least partly Foreseable, since New Security Measures had been Anounced, at least for the most Important Religious Buildings, just a Few Days Before that Horrible Killing, as it results, f.ex., from the concrete case of the Cathedral of Strasbourg, Host of the CoE and EU Parliament's Plenaries, as well as of the ECHR, Shengen system's Secretariat, EUROCORPS, EU Ombudsperson, etc.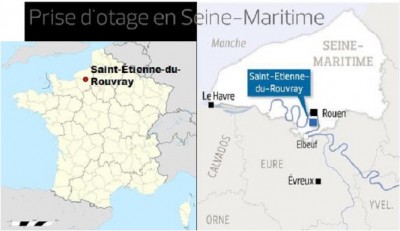 Moreover, ISIL's atrocious BeHeaders, even of Innocent Civilian People, had notoriously Anounced, already since 2015, their Intention to Attack Christian Churches in Europe and elsewhere, i.e. Long Before 2 of its Terrorists commit on 2016 Murder in a French Church, at a very Particular, Politically, Village, (See Infra), where they were Shot Down by Police Warned by a Nun who had Escaped,  when they went Out with the Hostages, crying "Allahu Akbar" and Brandishing Knives added to Fake Suicide Bomb belts. 

Even more Important : The 2nd Islamic Terrorist, which has just been Identified, after being Recently Classified in the "S" Category of Dangerous Suspects who must be followed, since June 29, 2016, had even been Denounced,, by a Friendly State, as Preparing an Imminent Terrorist Attack, and a Special Anti-Terrorist Note had been Issued, on that case, since July 22.

By an Astonishing "Coincidence", it's also on that Same Date, July 22, 2016, that Strasbourg's Cathedral issued a Document Announcing New, Exceptional Security Measures, which was subsequently Read in Public, and Distributed to the Faithful, at the Latest, on the occasion of the Mass of Sunday, July 24, as "Eurofora" found on the spot. (I.e. just 2 Days Before the ISIL Attack against another Church in Normandy, Yesterday Morning, Tuesday, July 26).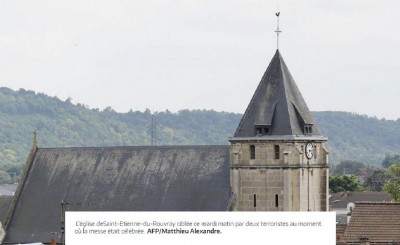 That New Text described a whole Series of Exceptional Security Measures, including, f.ex., Individual Searches on All Persons entering the Cathedral, Suppression of certain Masses, Change of Hours, Systematic Closure of Doors with a precise Timing, Special Entrance and/or Exit Doors, etc., while, in Parallel, already, Security Barriers had been Prepared and Military a.o. Guards were already Present at the Entrance, as we saw Last Sunday.
 In fact, that Deadly Islamic Terrorist Attack "Could have been Prevented", revealed the French Press, but Police's work had been practicaly Obstructed by the Fact that the Necessary Information about the Name of this Dangerous, 2nd Identified Terrorist, had been too much Delayed by Turkey, from 10 up to 26 June : Ankara's Authorities, indeed, didn't inform France beforehand that this person had been apprehended while attempting to join ISIS, so that when the French Police learned his Name, he had already Crossed the Border Returning Back to France, already from June 11, (i.e. more than 15 Days Before the Turks inform the French !), so that he had Escaped from beingg immediately Apprehended at the moment of his Entrance to the Country. 
Turkey had already abused of such a method in the Past (2014), also concerrning France, (when it probably believed to still have some non-satisfied yet Political Demands vis a vis Paris), by sending back 3 Suspects, Islamic Extremists, (including Parents of a Murderer, who had Killed even Small Children aged 5 y.o. with their Father : Merah), without Informing the French Authorities, who expected them to arrive soon in Paris, while, in fact, they had already returned back at another, far away side of the Country, at ...Marseilles, some Days Earlier. Fortunately, at least one of them presented himself, then, to the Police, Later-on...  

Meanwhile, in Addition, even the 1st Identified Islamic Terrorist, (who had been Classified in the Category "S" and submitted to Partial Surveillance, while also Living at the Village where the Attack took place), had reportedly Announced, already more than a Month Earlier, his Intention to "Attack a Church", French Media reported.

He had Spoken about that at least with one of his Pals, while going out of a Local Mosque, as the Latter revealed Now to the Press. That Terrorist had reportedly been Radicalized since Early 2015, Shortly after attending a Mosque, where he was seen by several Witnesses also during the Last Week-End, wearing a "Djelaba", (despite a strange Denial by the Local Imam). In Addition, the 2nd Islamic Terrorist too, had been reported to attend frequently another Mosque, at his HomeTown. A "Salafist" Mosque was notoriously Open near the Church that was Attacked, denounced nowadays the Chief of Centrist Party MODEM, Francois Bayrou, after also several Other Critics. Moreover, the Christian Church which fell now Victim of a Horrible Deadly Islamic Terrorist Attack, had reportedly Given a Plot of Land for the 1st Local Mosque to be built on it.
In such a Context, an alleged earlier Attempt (persistently Pushed by a Muslim Lobby) to start State Funding and Endorsement of Imams in all Mosques, by adopting for them a Similar Legal Status to the French State - Vatican State "Conoordat" regime, (which exists, since a Long Time, Only in Strasbourg's Region, for its Historic Christian and Jewish Religions of the Majority of People), seems Now quite Shaky, if not entirely Inconceivable.

A Fortiori, when Other EU Member Countries, f.ex. even Bulgaria, which Hosts a Small Turkish Minority, have just Started to Prepare Legal Measures Outlawing any such Muslim or other Religious Entities which are Supported by Foreign Interference, (usualy from the Turkish State, whose Government even appoints Imams, Contary to most Other Muslim Communities, f.ex. Arabs or East Asians, etc), Obliging to Use Only the Language of the Host Country in all Ceremonies and Preaching, etc, according to Recent Draft Bills, reportedly Ready to be soon adopted.

Even Less when the 1st Mosque which received Local Public Funds by Strasbourg's Socialist Municipality : that which is Directed by a Controversial Turkish NGO Network of Migrants Hosted in several EU Countries, called "Gori Milli", (which has often been Accused in the Past also for Dangerous Extremist Islamic Trends), was found to be often visited by the only ISIL Deadly Terrorist from Strasbourg's area, an Ethnic Turk, who actively Participated in the Massacres of more than a Hundrend of Innocent Civilian People notoriously Killed on November 13, 2015 in Paris...

All those Deadly, Extreme Islamic Terrorists, who Killed Civilians in Paris and now in Normandy, were found to have Come and Gone through Turkey to ISIL's Headquarters, in the adjacent Occupied Territories of Syria, or, at least, repeatedly attempted to do so. One of the First Groups to do so, a Team of inter-related former Armed Djihadists from Strasbourg, (including a Brother of that Paris' Killer : Comp. Supra), has just been Judged and Condemned in several Years of Prison' sentences by a competent Paris' Anti-Terrorist Court, just a few Weeks ago.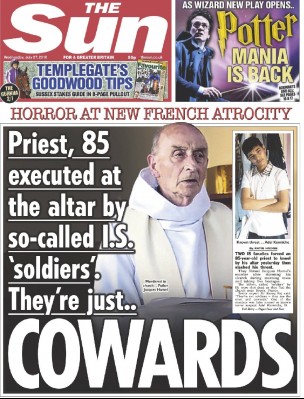 The Latest Horrible Murder of Old Christian Priest Jacques Hamel, by 2 Knifed Islamic Extremists who reportedly Pushed him to Kneel Down, before Cutting his Throat, and Seriously Injuring another Hostage, while Obliging a third to "Film" their Cowardish Crimes against Defenseless Civilian People inside a Church during the Mass, was notoriously Revendicated by ISIL Terrorists, who even Published a Video showing those Bearded and Ancient Islamic Clothes' wearing individuals, at least one of whom had been Raised by his Parents by Depriving him, since he was just a Kid, from a Conscious Cultural Integration in their Host Country, France, as a locacious Photohraph published now mainly by the Brittish Press obviously reveals, showing him with a big Hat arbouring the National Flag of a Foreign Country...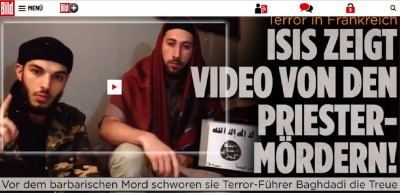 Indeed, in a case as that of Saint-Etienne du Rouvray, a Former Industrial  City of about 30.000 Inhabitants, whose Traditionaly "Communist" Mayor wants now to Augment the Population up to More than 35.000 during the Next Years, but whose Family Structure has Less than 3.400 Couples with 1 or more Children, out of a Total of 11.000 Households, obviously, the Only way to do that is to Hastily and Massively ... "Import" any Population whatever, from anywhere else, inevitably Provoking well known "Integration" problems.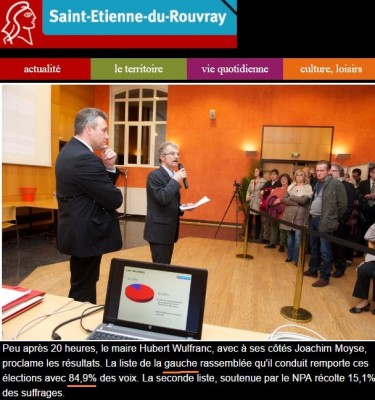 So that the Multi-Culturalism usually pursued by a Municipality where the "Left" got ...100 % of Votes (sic !), in the Latest Local Elections, (with 85% for the Union of the Left, and 15% for the Leftists of NPA, Without Leaving for the Center and the Right Not even O,1% : a Unique Political Phenomenon, Not Seen even at Brezniev's former USSR !..), had, obviously, No Good Results at all,  concerning a recently Denounced Radicalisation by Islamic Extremism, as Tragic Facts confirm Nowadays.

To the point that even the More Radicalized "Leader" of that Horrible Islamic Terrrorist "Duo", (who had reportedly Escaped from Jail by Hypocriticaly Pretending to be a "Moderate" Muslim), was Living, Free to Move around all Mornings and the Week-Ends, just a few Minutes away from the Church against which he launched a Deadly Attack ! (See relevant City MAP).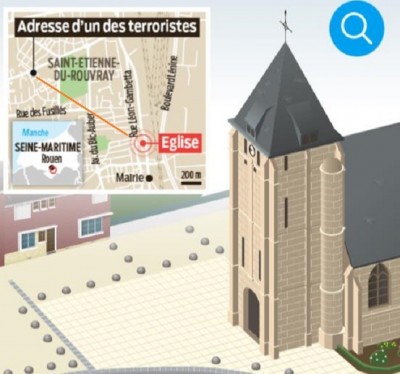 In fact, the Murdered, 86 Years Old, Christian Catholic Priest Jacques Hamel, was probably the Unique "Surviving", still active Person, from a Period of a Remote Past, when that Village wasn't yet Dominated 100% by a Multi-Culti Left (Comp. Supra), Nor as Islamized as it was Forced to become, later-on, (See Ibid). 
And that, inside what is, in fact, a Rouen City's Suburb, to the Direction of Paris' North-Western Suburbs, such as Saint-Denis, (another Traditional former "Leftist" Local Stronghold : Comp. Supra), that some have recently Nick-Named "Molenbeek-sur-Seine", in reference to that Brussels' notoriously "Islamized" Suburb, which was often linked to recent Terrorist Attacks, (See relevant Regions' MAP).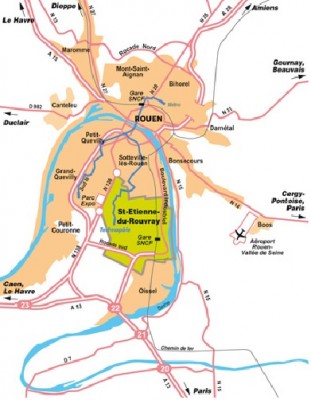 - Meanwhile, Strasbourg region's ArchiBishop, Mgr Jean-Pierre Grallet, in a Message to Journalists, including "Eurofora", sent from Krakow (Poland), where he was also as a Representative of EU Bishops for the World Youth Days of 2016, endorsed Pope Francis' "Condemnation" of that "Horror" of "Barbaric Murder" of a Priest inside a Church, where a seriously Wounded "Faithful" still struggles to survive, "between Life and Death", while "another 3 had been held Hostages"), stressing that "such an Odious Crime affects all the (Christian) Catholic Community, profoundly Shocked", and "associates itself to the Sorrow felt by all".

- However, "it's up to the (French) State and to the Public Authorities", (i.e. including Local and Regional, etc), "to Take the Necessary Measures for the Protection and the Security of the Population", since "this Concerns their Direct Responsibility", as he said, while a "Hot" Debate has just started in France, Germany and all Europe, on the most Adequate and Efficient Public Policy in this regard.

- As for the Christian "Catholic Church" itself, "it has no other Weapons than Prayer and Brotherhood between all Humans", Mgr Grallet pointed out, (citting Rouen's ArchiBishisho, Mgr Lebrun's earlier Statement), reportedly Calling Not to Lay its Arms in Front of Violence, but Resolutely Search to Buid Brotherhood in our World, with due Respect for each Person, and Solidarity with those who Suffer. Christians' Responsibility is also to Pray for those who are profoundly Affected after these Barbaric Acts, and Ask God to give us the Force to "Never Yield to Violence, Nor be Demoralized by it".

+ Nearby Lyon City's Mosque Rector, Kamel Kaptane, reportedly Called Muslims to "Clean our House" ("faire le Menage"), because "it's up to us, Muslims, to Take our Responsibilities. We Must Put our House in Order. What happens is made in the Name of Islam, and in the Name of Muslims. And this, We canNot Accept it", he pointed out, while "Hot" Controversies break out around a Judge's previous Decision to Free from Jail, under Insufficient Control, the Leading Terrorist, who had Pretended to be a "Moderate Muslim", despite Prosecutor's Warning that he was Dissimulating the Fact that he represented a Serious Danger. At the Aftermath of the Normandy Killing, ISIL Terrorists publish, indeed, a Video showing Both Aggressors to have openly Declared their Allegiance to Chief Terrorist El Baghdadi.

However, the Fact that Recent ISIL's Terrorist Attacks in France and in Germany have generaly used quite Rudimentary material Means, (including, f.ex., mere Knives, a Truck, Fake Arms and/or Fake "Suicide Bomber" Equipment, even a ...Kitchen Cooker's "Ticking" machine, etc), seem to indicate that the Deadly Islamist Extremists' Violence might be, in fact, Loosing Ground in real practice, (at the Same Time that ISIL - Occuppied Territories in Syria and Iraq have notoriously Started to be progressively Liberated by the respective National Armies and the International Anti-ISIS Coalition.

 - But, In Wider terms, "Attack a Chuch, and Kill a Priest, is Desecrate the whole Republic", Denounced earlier French President Hollande (Socialist), while the Head of main Opposition "Republican" Party (ChristianDemocrat/EPP), Nicolas Sarkozy, stressed that it also "Affects France's Soul", calling to Urgently Take a Set of Drastic Measures. However, Prime Minister Manuel Valls (Socialist), Warned against "ISIL Terrorists' aim to Provoke a Conflict Between various Religions", at the same time that Rightist Top MP Marion Marechal Le Pen (of the "National Front"), in addition to a Strong Criticism of the current Government's policies, decided to Join herself a New National Guard composed of volunteer Citizens, (earlier proposed by the JHA Minister, former EU affairs Minister Cazeneuve), and Leftist Leader, MEP Melenchon denounced the "InHumanity" of such sly Killers and called to Defend Human Values.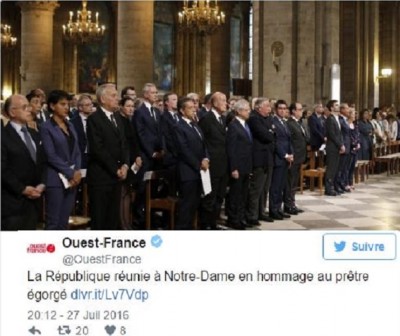 Tonight, almost All Top French Officials, including current President Hollande, and Past Presidents Sarkozy and Giscard d'Estaing, etc., were Present, Together with a lot of People, at "Notre Dame de Paris" Historic Cathedral, in order to pay Hommage to the Murdered Priest Jacques Hamel and other Victims of that Latest Islamic Terrorist Attack against a 16th Century Christian Church, dating from the Era of ReNaissance and recognized as an Historic Cultural Heritage, located at the Heart of Europe, while various Similar Collective Events were also Scheduled throughout most Other main Cities during the Next few Days.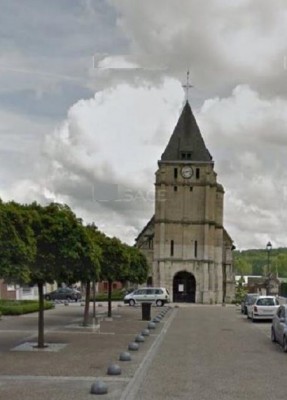 (../..)


***

(NDLR : Partly UpDated)

("DraftNews", as already send to "Eurofora"s Subscribers/Donors, earlier. A more Accurate, full Final Version, might be Published asap).

***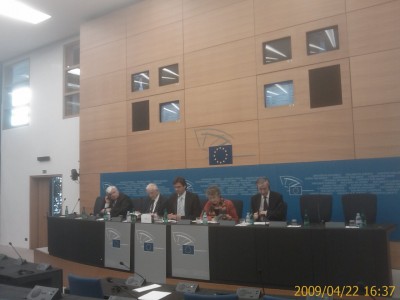 An "Eugenic" loophole Amendment, which might expose to Dangers reminiscent of "3rd Reich's" notorious Genetic Abuses, hidden at the last minute inside an otherwise Good, larger Health policy Package scheduled to be voted on Thursday, was strongly denounced by a coalition of MEPs from various Political Groups and Countries, in a Press Conference held this afternoon at EU Parliament in Strasbourg.

    Mainly calling to "Select Human Embryos", via "Genetic Counselling" and "pre-implantation" Techniques including "Genetic Tests", in order to "Eradicate Hereditary rare Diseases", it might open ways to Dangerous Practices in Future, they denounced in substance.

    But they also made it clear that a much larger Report inside which this Controversial Amendment "No 15" was added in dubious circumstances, officialy destinated to struggle against "Rare Diseases", and drafted by Professor Antonios Trakatellis, was otherwise "an Excellent Report", aiming at a "completely Uncontroversial target" of Health policy on which "all MEPs and Experts are united, believing that Europe should act" to protect People's Health (See "EuroFora"'s earlier News).
    The controversy came at a particularly delicate moment for the EU in relation to Citizens, at the eve of June 2009 EU Elections, and shortly before Ireland re-votes for "Lisbon Treaty"..    
- Denouncing risks of "an Eugenic demand, very similar to what we had during the 3rd Reich in Germany, but now coming from some Scientisists themselves", German ChristianDemocrat/EPP MEP Dr. Peter Liese stressed that critical MEPs were against "Eugenic" engineering with "Selection of Human Embryos", and anything which might ultimately lead up to to a "Selection of Human Race". It doesn't help to "eradicate" Human Lives, he added.

    Several Experts and NGOs expressed "Deep Concern", as f;ex. DR M.C. Cornel of the "European Society of Human Genetics", which stressed, on this occasion, that "the importance of Non-Directiveness in Reproductive issues is a Central characteristic of Human Genetics, after the Atrocities committed in the name of Genetics in the first half or the 20th Century".

     - "This is completely Unacceptable", stressed Italian Liberal MEP Vittorio Prodi, on the Controversial Amendment, also because pushes to "eliminate early Human Life", as he noted.

     - "This opens a Dangerous Road, rather a Motorway", denounced Danish MEP Mrs Margrette Auken, from the "Greens", observing that various similar attempts were made in the Past "not only in Germany, but also in several other Countries, "even at the 1970ies", "f.ex. on forced Sterilisation of Roma" People, and other criticisable situations f.ex. in the UK, in Sweden, etc. as she said.

    + Other NGOs, as f.ex. "LebenHilfe" from Berlin, added that, among various other Risks, could also be that, by exploiting the pre-implantation Genetic Diagnostics and the Selection of "healthy" Embryos, some may "propagate" several "Eugenic" aims, starting f.ex. by pushing to eradicate Human Livies which might "Cost too much" to preserve, ultimately exposing to dangers reminiscent of the "3rd Reich"'s atrocious abuses.

    In consequence, ChristianDemocrats/EPP and "Green" MEPs "decided by Majority to vote against" this Controversial Amendment, anounced to Journalists the 5 MEPs who participated in the Press Conference, representing a wide spectrum, from Liberals to "Greens" and ChristianDemocrats, and from Hungary, Italy, Germany and Danemark up to Ireland (Gay Mitchell), etc.
----------------------------------
    Hungarian ChristianDemocrat MEP Laszlo Surjan said "that it was "Suddenly, at the End of the Procedure" in Committee, that "appeared this (Controversial) Amendment, which has nothing to do" with the main purpose of the Report, on which all agreed.

    He denounced an "Unhonest" move, and called to "avoid this kind of unacceptable situations". Nobody should "Select People", Surjan stressed.

    - "We (MEPs) had No Chance to Discuss" this last-minute Amendment earlier added at a Committee's level, said German MEP Peter Liese

    Speaking to "EuroFora", Dr. Liese, the Spokesman of the ChristianDemocrat/EPP Group in EU Parliament, said that MEPs didn't oppose other references of the Report f.ex. on "Genetic Tests", because they were "no proposals" to impose them, while, on the contrary, there was "a Problem" if anyone attempted to "impose" f.ex. this or that Genetic Technique and "Genetic Counselling", etc. to the People on human reproduction.
-------------
The precise Text :
-----------------
    Controversial parts of Amendment No 15 ask mainly "to lead finally to the Eradication" of "Hereditary" "rare diseases", "through Genetic Counselling .., and ..pre-Implantation Selection of healthy Embryos".

    But  EU Rapporteur Professor Trakatellis, said to "EuroFora" that fears should be alleviated by Guarantees that all this should be done only "where appropriate", when it's "not contrary to existing National Law", and "always on a Voluntary basis", according to other Parts of the Amendment.

    He stressed that the main aim was to allow "a free and informed choice of persons involved", without imposing them anything :  - "It's not an obligatory, but advisary" text, he said.

    To make that point clear, he was ready, in agreement with many MEPs, to eventually drop at least that part of the controversial Amendment which initially called for "efforts to ..lead finally to the Eradication of those rare diseases" "which are Hereditary".

    But, until late Wednesday evening, reportedly together with many other MEPs, he stood by all the rest of the controversial Amendment, (fex. on the "Genetic Counselling" and the "pre-implantation Selection of healthy Embryos"), so that critical MEPs, going from ChristianDemocrats as Dr. Liese, to "Greens" or "Ind/Dem", observed to "EuroFora" that "this was not enough" to close the dangerous loophole.

    Particularly since, as Professor Trakatellis noted himself, "this is already allowed to the U.K.", and "other National Legislations would probably follow, sooner or later" in a similar direction. As for a general call to "Eradicate Hereditary rare Diseases", this "should happen, at any case, in practice, de facto", to protect public Health.
    On the contrary, "our goal should be to help patients suffering from rare diseases, not to eradicate the patients. In case of genetic disease risk, the decision should not be guided by scenarios" made by politicians. "Perents who may decide to accept a child, even if handicapped or with genetic disease, must be respected and supported with solidarity", critical MEPs stated.
    - "Any Pressure" to "a patient or couple (who "should be able to make an informed choice consistent with their own values"),"from health Professionals, Public Health Policies or Governemental Institutions, or Society at large, should be avoided", stresses the "European Society for Human Genetics".
----------------------------------
Each MEP's vote will be registered !
-----------------------------------   
The Socialist Group requested a "Split vote" on the Amendment 15, first without, and afterwards with the words "lead finally to the Eradication" etc.

    But the first "split vote" leaves intact all the other parts of the Controversial Amendment, (i.e. "Genetic Counselling", "Selection of healthy Embryos", etc).

    That's why, 3 Groups of MEPs : ChristianDemocrats/EPP, "Greens/EFA", and "Ind/Dem", have asked for "Roll Call Votes", on everything regarding the Controversial Amendment No 15, and on the final outcome of the resulting Report as amended, which will register all the individual positions to be taken by each MEP.   
Something which will obviously make each MEP think twice before voting for one or another choice, to be sure that he/she will make the right choice in front of EU Citizens, particularly at these pre-Election times...

    Crucial Votes were scheduled between 12 Noon and 1 p.m. local Strasbourg time, in the middle of a long series of various other Reports, and after a long Public Debate on the larger Health policy package, from 9 to 11.50 am.
    The specific Report inside which was hidden the controversial Amendment is due to be debated between 11 and 12 am.

    So that more last-minute Surprises may not be excluded a priori...

    Particularly at the present Historic moment, when even the Institutional Future of the EU depends on the result of a second Referendum on "Lisbon Treaty", later this year, in ...Ireland, a mainly Catholic country, where People are particularly sensitive in such kind of socio-cultural and values issues...
 
      ***     
     (Draft due to be updated).
***

Polls