Home

newsitems

BREXIT turns to atypical Anti-Establishment, reinventing History: Boris better than Cromwell ?
BREXIT turns to atypical Anti-Establishment, reinventing History: Boris better than Cromwell ?
Wednesday, 28 August 2019
(Cromwell throwing a Corrupted Parliament out of Westminster - 1970 Film)
---

*Strasbourg/Angelo Marcopolo/- UnExpected News, that new Brittish Prime Minister, Boris Johnson, wants to Suspend the Parliament, inevitably triggered various Comparisons in History, Starting, naturally, by the Famous Revolutionary English Political Leader, Oliver Cromwell.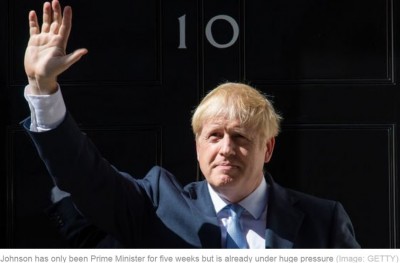 But, after all, he seems to be doing Even Better than that, (even if he wasn't the 1st to think about it on 2019, BREXIT Party's Leader Nigel Farage pushing in such a direction since January 2019 : See Infra) !
The projected Suspension of the Parliament would run from 9 or 12 September up to the 14th of October 2019 : i.e. More than a Crucial Month, due to Focus on Intense attempts for "Hot" Negotiations between the UK Government and the EU for an eventual New Deal, as well as for the Preparation of a "Hard", "No-Deal" BREXIT Alternative possibility, Until Only about 15 Days Before the End of October's fixed Time Deadline (31/12/2019).
It is supposed and designed to Prevent any Parliament's attempts to Undermine the Brittish Government's Decisions on that Exceptional Key Issue, which has kept both the UK and the EU in an Endless, Time and Energy Wasting, CounterProductive Tension, even Much Longer than the Initialy prescribed Period, between the 2016 Popular Referendum and the 29th of March 2019 : i.e. about 3,5 Years !
+ And Controversial, InComing New EU Commission's Head, German former Minister of Health and Defense, Dr. Ursula Von Der Leyen, has, reportedly, even hinted, (among Promises to Various MEPs' Lobbies, in a desperate, Last-Minute Attempt to reach her Rasor-Thin Relative "Majority" with Only +9 Votes' Difference : See http://www.eurofora.net/newsflashes/news/2issuesaftervonderleyenvote.html, etc), to eventually ProLonge even Further that October 2019 Deadline, if necessary...
-------------------------------------
So that, by Taking a so Decisive, Exceptional and Radical Action, against the Controversial "Intermediary Corps" (of Representative Brittish Democacy) at Westminster, (notoriously a Delaying Break to BREXIT), Boris Obviously Advanced, mutatis-mutandis, on a Similar Line as the World-Famous, Historic English Political Leader Cromwell, who went on record for Dissolving the House of Commons (generaly considered, then, as a Corrupted body), as Early as since 1.653 !
Even if Boris wouldn't, perhaps, use, Nowadays, (at least Not in Public), the Same (strongly Critical) Language Against that Intermediary Corps of Representative Democracy as Cromwell notoriously did, (See relevant Video from an Historic Documentary Cinema Film, attached herewith, and Full Speech Infra),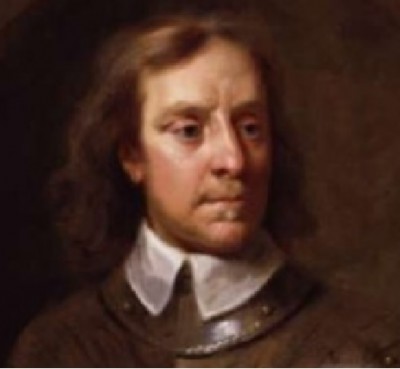 https://www.youtube.com/watch?time_continue=142&v=ro9T5w3vEKM

Nevertheless, it's a Fact that even the Contemporary UK Parliament, apparently, has Not played a good Role at all, during the Negotiations with the EU on BREXIT, to the point that the Experienced EU Commission's President, former Long-Time Prime Minister of Luxembourg and f. €uro-Group's Chairman, Jean-Clade Juncker, has Recently felt Exceptionaly Obliged to Openly Criticize thorse "Strange", as he said, Games that Westminster's MPs played in that regard, (revealing, at the Press Conference of an EU Summit in Brussels, Earlier this Year, that even the then UK Prime Minister Theresa May, ..."Embraced" him, when she realized, that, Contrary to Fake Press Reports from some Medias of the Establishment, he had Denounced Not herself, but just several House of Commons' MPs)...
+ Moreover, "Eurofora" was Astonished, Later-on, during an EU Pariament's Plenary in Strasbourg, when Juncker and May had Exceptionaly arrived to Negotiate an Additional Legal Safeguard to the EU-UK Agreement on BREXIT, about the Controvesial "BackStop", considered as the Number 1 Obstacle to its Endorsement by the Brittish Parliament, (See: http://www.eurofora.net/newsflashes/news/mayandjunckeragreeonlegalinstrument.html, etc),
Discovering, Afterwards, by simply Hearing to a Direct Radio Transmission from London, of the subsequent UK MPs' Debates, which had almost immediately Followed in the House of Commons, just before a Crucial (and, finaly : Negative) Vote, how incredibly Arbitrary, Vulgar, Brutal, Selfish, Contemptuous and Vicious, appeared even the simple Way of Speaking of those, apparently Too Critical and Stubornly Negative UK MPs !  
=> So that it's Not Surprizing that, inter alia, f.ex., Today, a Headline Comment by Pro-BREXIT UK Newspaper "Express", clearly Titles : - "What did MEPs Expect, when they Dishonoured the Will of the People ?", (i.e.  allegedly Undermined the Implementation of thePopular Referendum on BREXIT's results, since 2016)...
-----------------------------------------
+ But Boris Johnson, (at least, until now) seems to be doing, Nowadays, even More and Better than Cromwell himself :
To put it in a Nutshell, in Fact, Boris even Re-Invents History, by succeeding (contrary to Cromwell) to Take the Crown With him and the People, Against those arbitrary, useless and selfish Wrong-doing Intermediaries, holed in that Controversial UK Parliament, and even All of it...  
- First of all, Instead of Quarrelling against the Crown, as Cromwell had notoriously done, (going even as far as to Arrest and Execute the King of that Age, after he had Failed to Arrest Cromwell), on the Contrary, Boris Succeeded to get the Contemporary Queen's Positive Endorsement of his Choice to Suspend the Parliament, surprisingly in a Record-Brief Time lapse, so that it has become, Now, Definitively, a Real and fully-fledged Official Decision !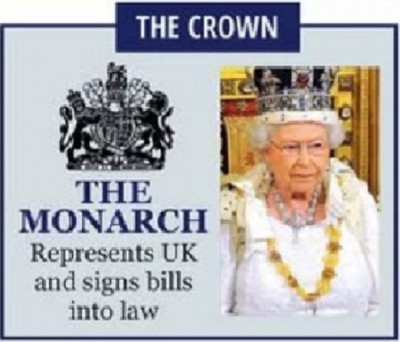 In Consequence, Nowadays, even ...Controversial UK Rock Group "Sex Pistols"' infamous "God Save the Queen" Satirical Parody Song from the Early 1970ies, (reportedly Number 1 then, Despite a BBC Censorship), UnExpectedly, May ... Fit, quite well, a Present Popular Feeling, by a Simple "UpDate", particularly if one just Added, at its First Strophe : "God Save the Queen" the Brief Words +"From a", Before Continuing with (the Exagerated but Partly Understandable): "Fascist Regime", as well as with: -"We Mean it Man, We Love Our Queen !", (Comp. to the Original Video, Herewith)...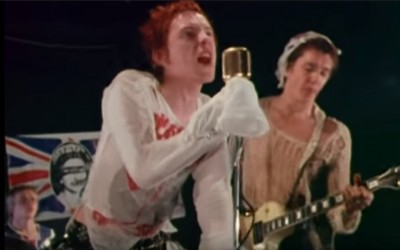 --------------------

- Moreover, Boris' Nowadays Move, goes Even Further, and Hits Also against the UnPopular UK's "House of Lords", (an Original Remain of England's remote Past, partly Equivalent to our Contemporary "Senate", etc), which is Affected by the above-mentioned Suspension of All the UK Parliament (Comp. Supra), Together with the House of Commons.
Angry, those Contemporary UK' "Lords", (where former Socialist Prime Minister Wilson had notoriously Appointed even ...his personal Secretary and his Driver, Since Back on 1976 - sic !), immediately tried to Set up, during the forthcoming Week-End, a kind of "Riposte" to the Government's and the Queen's above mentioned Decision, is possible Before the whole Parliament's Suspension Enters into Force towards the Beginning of September 2019 (Comp. Supra)...
Almost at the Same Time, Other Opponents from the Establishment also Attacked, in Parallel, that Decision to at least 2 Different UK Courts.
But, already, a Brittish Judge in one of them, initially Rejected such controversial demands, pending a final judgement there.
=> Most Important : Boris' exceptional Move really looks to have Became immediately very Popular throughout the UK, since, according to the Latest Polls, published by "Sunday Times", his Conservative Party, suddenly Jumped up to a Crystal-clear 1st Place with + 33% of Voters, Followed, from a Distance, by a Tired "Labour" with Only 21% and the Liberals with 19%, while Farage's "BREXIT" Party (until then, recently at the Top of Polls) Lowered down to just 14%, the Greens ending with 7%, while a New Election is expected during the forthcoming Autumn.
-------------------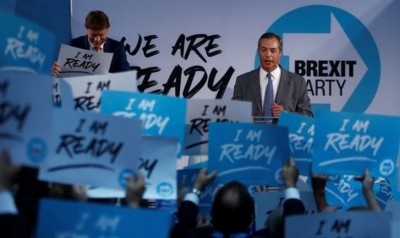 >>> In Consequence, "BREXIT" Party's Chief, former Head of the "UK Independence" Party, who Notoriously Pushed towards and Won the 2016 Popular Referencum for BREXIT, Long-Time MEP at EU Parliament Nigel Farage, Launched Today, for a 2nd Time, a Vibrant Appeal to Boris Johnson for an Alliance in the Preparation of the Crucial Forthcoming Elections, by adequately Sharing between them All the Constituencies, in order to Get the Best Possible Success and a Solid Majority, in the New Brittish Parliament which will Emerge soon.
Nigel has been inciting towards a Cromwell-inspired Dismissal of a unworthy and wrongdoing Parliament, as Early as, already since a landmark Speech at Wales, from January 2019, (Comp., f.ex.: ..., etc), so that, Now, some kind of Anti-Establishment Alliance with Boris would seem Logical.

Such a Perspective "Speaks" to those who Know Well the Substance of Nigel Farage and BREXIT's Original Voters' Main Socio-Political Issues, (which, in Fact, are Mostly a Collection of ...Real Pro-European Concerns, UnFortunately used in order to Escape from - Instead of Fighting  to Change - an EU Bureaucracy perceived as Betraying European People, and Opposed to an UnPopular and Deviating Establishment, Dangerously sliping towards Controversial Globalist Non- or even Anti-European Lobbies of Interest : F.ex., No to Turkey's controversial EU Accession bid, No to a Mass Irregular Immigration particularly by Not Wanting to Integrate Foreigners' Lobbies, Ghettos, and Often Aggressions, Protect National Identity and History, No to useless Bureaucracy, Defend Natural, Traditional Marriage, between a Man and Woman, and Natural Births, Citizens' Access to National Health Care, as well as a Fair Living standard, added to an Anti-War and Friendly to Russia a.o. stance, etc, See: http://www.eurofora.net/newsflashes/news/brexitparadox.html, etc).
=> This could Obviously Lead towards a kind of New, Original, Anti-Establishment overall Movement, which might, eventually, Fit quite Well, more or less, also Boris' own Personality's Main Characteristics and Temperament, as well as Feeling about Brittish People's real concerns.
--------------------------------------------------------
+ TRUMP - BORRIS G7 MEETING :
Adam and Eva, as Adam and Nancy ?
--------------------------------------------------------------------
+ In Addition, the Fact that Boris Announced that Parliament Suspension Plan, Shotly after Returning Back Home from the Latest G7 Summit at Biarritz in France, (the New UK Prime Minister's 1st International appearance), where he Notoriously met also his alleged Pal, USA's President Don Trump, with whom he obviously Shared, in particular, a ...Spectacular Joint Big Laugh, for UnKnown yet Reasons, at their Bilateral Collective Meeting, as many Photos showed, (Comp., f.ex., relevant Photo Attached Herewith), Raises Questions :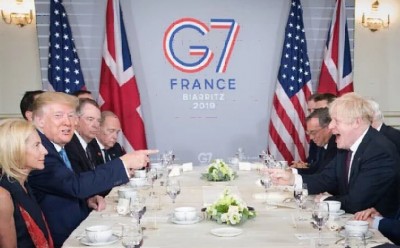 - Was it, perhaps, Trump's Idea and Suggestion for Boris to do so ? Or, on the Contrary, it was Only Boris who thought about Such a Move, and, (may be), Shared it with Trump, just in order to get also his advise ?
Perhaps, we shall Never Find out clearly enough, or, may be, Only Later-on, even if it seems Probable that they might have Spoken Together also about that.
But, already, at least one thing is clear :
- Boris' Move to Suspend a Controversial UK Parliament, would have certainly Pleased Trump, IF he could do Alike in the USA vis a vis a Notoriously Hostile, Obstructing and Trouble-making, even Threatening House of Representatives, nowadays Controlled by Liberals/Socialists of the Opposition's Dems' Party...
After all, Even ...God reportedly Ousted from Paradise, already Adam and Eva, Definitively, when they Committed an Error, provoked by the Devil, as the Ancient Holly Scriptures notoriously say.
=> Why, then, America's POTUS couldN't Oust, (at least on a Provisional basis, f.ex. in order Not to Bother until the forthcoming 2020 US Presidential Elections), just ... Adam Schiff and Nancy Pelosi ?
>>> Are those "Adam and Nancy", perhaps, More ...Immovable from their Seats, (even Provisionaly), than were even Adam and Eva from the Paradise (Definitively) ?...
- On the Contrary, as Cromwell had notoriously stressed, already since 1.653 : "...An immovable Parliament is more obnoxious than an immovable King !"...

That's, obviously, a Legitimate Topical Joke, which might be among those that Boris and Trump visibly Shared during that, Otherwise ...multifacet funny "Bizarre Biarritz" G7 Summit in France, or, rather ..."Bizarritz", (See Facts at : http://www.eurofora.net/newsflashes/news/flopsatbiarritzg7summit.html).
 ---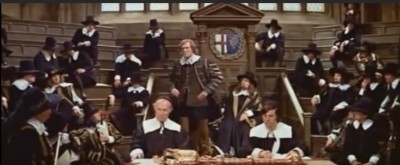 https://www.youtube.com/watch?time_continue=142&v=ro9T5w3vEKM


Oliver Cromwell - Speech:  << ...Gentlemen : An immovable Parliament is more obnoxious than an immovable King! ...
It is high time for me to put an end to your sitting in this place, which you have dishonored by your contempt of all virtue, and defiled by your practice of every vice.

Ye are a factious crew, and enemies to all good government.

Ye are a pack of mercenary wretches, and would like Esau sell your country for a mess of pottage, and like Judas betray your God for a few pieces of money.

Is there a single virtue now remaining amongst you? Is there one vice you do not possess?

Ye have no more religion than my horse. Gold is your God. Which of you have not bartered your conscience for bribes? Is there a man amongst you that has the least care for the good of the Commonwealth?

Ye sordid prostitutes have you not defiled this sacred place, and turned the Lord's temple into a den of thieves, by your immoral principles and wicked practices?

Ye are grown intolerably odious to the whole nation. You were deputed here by the people to get grievances redressed, are yourselves become the greatest grievance.

Your country therefore calls upon me to cleanse this Augean stable, by putting a final period to your iniquitous proceedings in this House; and which by God's help, and the strength he has given me, I am now come to do.

I command ye therefore, upon the peril of your lives, to depart immediately out of this place.

Go, get you out! Make haste! Ye venal slaves be gone! So! Take away that shining bauble there, and lock up the doors.

In the name of God, go! >>
(../..)

----------------
BRIEF NEWS
00:00 - 02.02.2020

00:00 - 09.12.2019

00:00 - 27.11.2019

00:00 - 16.11.2019

00:00 - 28.10.2019

00:00 - 08.05.2019

00:00 - 23.04.2019

00:00 - 01.04.2019

00:00 - 04.03.2019
Statistics
Visitors: 36585559
Archive
Login Form
Other Menu