Home

newsitems

Zapatero, after meeting Sarkozy, calls to stop Strasbourg War for CoE SG Election. But no Peace yet
Zapatero, after meeting Sarkozy, calls to stop Strasbourg War for CoE SG Election. But no Peace yet
Thursday, 30 April 2009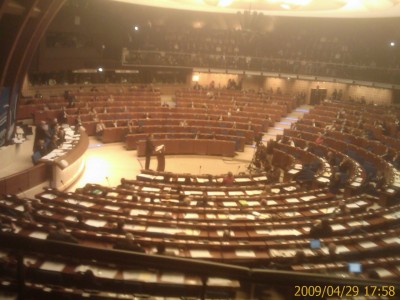 Spanish Prime Minister Zapatero, speaking in Strasbourg after meeting French President Sarkozy earlier this week in Madrid, promised urgent action to stop an unprecedented "War" which erupted among CoE's Ambassadors and MEPs on the Election of its New Secretary General for 2009-2014, in an unprecedented "Crisis" at its 60th anniversary.
    Zapatero was replying to a question by Spanish ChristianDemocrat MEP Agremunt Font De Mora,, who observed that, "by excluding 2 important Members of CoE's Assembly from the Election of New CoE's SG, the Committee of Ministers' Deputies took a controversial decision which provoked the Assembly's reaction.    
- "Here, in the Home of Democracy and Rule of Law, the Executive should always respect the Legislative", replied Zapatero, as a matter of General Principle. "I'll do what I can to assist, and the Foreign Minister (Angel Moratinos) will try to ensure that the decision on the Election will find a satisfactory Solution for the Assembly.  "The Minister, who follows these issues, will be here tomorrow morning, and will be able to tell you more. But, if necessary I'll supervise" that, Zapatero promised
-------  
Naturally, the current struggle for the election of CoE's new SG and the interest shown by 4 important Candidates, is a sign of "Health" for the PanEuropean organization, indicating that old rumours about a so-called "decline" were unfounded...    

 The 4 Candidates registered and heard by CoE's Committee of Ministers are :  The Belgian Senator Luc Van den Brande, President of the ChristianDemocrat/EPP Group in CoE's Parliamentary Assembly and Chairman of the EU Committee of Regions.  The Hungarian MEP Matyas Eorsi, President of the Liberal Group in CoE's Parliamentary Assembly.  The outgoing Speaker of the Norwegian Parliament (2005-2009) Former Prime Minister (1996-1997) and Foreign Minister (2000-2001) Thorbjørn Jagland, recently elected Chair of the Norwegian Committee for Nobel Peace prize. And Senator Włodzimierz Cimoszewicz, former Foreign Minister (2001-2005) and Prime Minister (1996-1997) of Poland. (Both Socialists).    
But a controversial and unprecedented decision to restrict MEPs' choices only to 2 Socialist candidates, drafted behind closed doors under a Socialist Government's chairmanship of CoE Committeee of Ministers' Deputies, on the basis of a Technical opinion on the Procedure by a Socialist Head of Legal Experts, during the mandate of a Socialist CoE's SG, (etc), inevitably embarassed even Socialist MEPs :                                                
- "We (CoE) ask many Countries to hold Democratic and Fair Elections, and we must give the example ourselves by respecting such elementary rules", announced to "EuroFora" from Sunday, after a crucial meeting between Presidents of all Political parties, the Chairman of EuroLeft Group, Dutch Socialist MEP Tiny Cox.  
 - "It's not polite, it's an Exclusion against Top MEPs, an act of War and a Contempt against CoE's Parliamentary Assembly !", denounced on Monday its President, experienced Spanish Socialist himself, Jose Luis De Puig,
----------------------
Resolution voted by 158 against only 1 (and 11 abstentions)...
----------------------    
A quasi-Unanimous Resolution, adopted Wednesday by CoE's Assembly with 158 votes against ..only one (1 !), denounces the fact that Deputies decision, taken "without prior consultation with the Assembly", "raises several issues which seriously impact the Election process", "Restricting the number of Candidates" in a way which "limits (CoE Assembly's) Right to Choose".    
In addition to being undemocratic, this is also contrary to "genuine dialogue", "institutional balance", and "a more efficient functioning of the CoE based on a spirit of co-operation".

    Therefore, "in order to ensure the Legitimacy of CoE's New SG", the Resolution asks "to review" the controversial "proposals", and "allow the Assembly to choose among the 4 existing Candidates".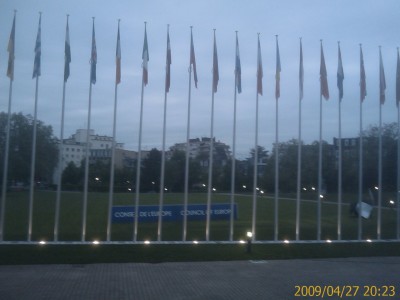 ----------------------------------------
CoE Assembly's Debate illustrates MEP's Unity for Democratic Pluralism
-----------------------------------------
    - "These are Critical times for the CoE : For the past 60 years, CoE...helped the spread of Democracy.., allowing virtually the entire Continent to be represented in this Assembly and ..ensuring that Democratic Choice ..is ..established everywhere. We cannot ..persuade others to strengthen their Democratic procedures if our own procedures can be called into question. It's essential that we are above reproach. Furthermore, ..we all want the new SG to command the Legitimacy, trust and confidence of ...all CoE's elements. ..Trust is more likely to be achieved if this Assembly is allowed a Free and unfettered Choice of Candidates :  ..The Shortlist of 2 names is not acceptable to the Assembly.... We need a Wider Choice", stressed PACE's Rapporteur, British conservative MEP John Greenway (EDG Group).    
"In all elections between 1964 and 2004 the Assembly rightly insisted on being given the Widest possible Choice of Candidates". But, curiously, after the 2005 Juncker's Report, the Deputies' Committee didn't follow many of its main proposals, but cherry-picked only a brief mention of CoE SG's Election, he noted. Moreover, a draft Decision was taken "without Consulting" the Assembly, contrary to the Rules, which weren't yet amended according to the established procedure, necessitating an agreement between Ambassadors and MEPs. "Strongly Urging" MEPs to "lobby our Ministers" on the controversial draft decision of the Committee of Deputies, CoE Rapporteur concluded that "it would be bettter if the Deputies "think again" and "withdraw" it.

    - "Everybody agrees that we've got a Problem". And there is "a Danger of turning this Problem into a Crisis", warned David Wilshire, the President of the EDG Group, speaking of a "Mess".

    "Some.. struck me .. like pouring Petrol onto a Fire" : "What started out as a Procedural problem is fast becoming a Confrontation.. . I . hear : .. "Who runs the CoE ?" If we carry on like that, the outcome will be ..Damage to the entire institution. ..We'll ..end up either with a new SG with the ..support of the ..Ministers, but no support from us, or with a SG. with the full support of the ..Assembly ..but no support from the ..Ministers. That's a Crisis". "We should look for a compromise that we can all rally around. ...CoE's Future is at stake", concluded Wilshire.

    - "We support what is according to the Rules : The Committee of Ministers should listen to us, and we should listen to them", President Wilshire resumed to "EuroFora".

    - "It's regrettable that the Committee of Ministers and the Assembly did not cooperate to review together the Criteria after Juncker's Report", said on behalf of the Liberal Group, Ukranian MEP Serge Holovaty.

    What is more "important in this Symbolic year of the 60th Anniversary of the CoE", is that it "promotes Values, as the rule of Law, Human Rights and Democracy, which mean more than Technical or Procedural Rules : ..Values that include Morals, Ethics and a spirit of Co-operation and Harmony.. the way ..Democracy ...works", without "Arbitrariness", nor using "a lack of regulation.. as an instrument to Abuse powers, or in a Confrontational manner". "Our group was almost Unanimous ..that this Symbolic Anniversary should prove that CoE.. will continue to be a Symbol of Values in Europe", Holovaty concluded.

    - Usually Politicians create Problems, and Diplomats solve them. But now it's rather "the other way round", observed the President of the EuroLeft Group, Dutch Senator Tiny Kox.

    "When the good Lord created Mankind, Politicians and Diplomats didn't represent his best performance". But we "both ..wish to find the best possible SG", he added.  So, let's "assume" that "our Diplomats created a Problem by coming up with a draft ..shortlist of 2 instead of 4 Candidates", because, interpreting 2005 Juncker's Report, they wanted for CoE's "next SG to be a High-ranking figure in the European political Aristocracy."

    "Of course our Ambassadors would have preferred more Candidates; But Mr Blair became special envoy to the Middle East, Mr Rasmussen went to NATO, Mr Putin became Prime Minister, and Prime Minister Juncker became President of Euroland". "The ambassadors' list therefore became a very Short list", and "they ..created a Huge Problem by not accepting the candidacy of 2 other" politicians, both Top MEPs. "They also forgot that our Rules ..demand that the Assembly be consulted before a decision".

     It "looks like diplomatic Power Play", but "let's assume that Ambassadors only want to be the best servants of Democracy. If it's so", then all would "endorse our "Proposal that the Committee ..should present ..all 4 candidates, on which it can indicate its Preference". Thus, "Governments would have a say in the election of a SG", as well as the "Assembly" its "Right to a Broad Choice", concluded Kox.  
---------------
    - "What is at Stake ..is the position and Credibility of CoE's Assembly". Not "individual candidates", stressed René Van Der Linden, former PACE President, on behalf of the ChristianDemocrat/EPP Group (the largest).

    "As long as the 1956 Regulations ..are not ..changed by Agreement between ..Ministers and the ...Assembly, they are valid". "The long-standing Practice, ..of more than 50 Years, .. involved Co-operation, consensus and consultation.. All Candidatures received by the Committee ..were forwarded to the Assembly".  "The 2005 Juncker report, with its 15 proposals, is ..excellent.. However, we cannot "pick and choose". So,  "neither the legal, nor the procedural provisions have been respected'.

    Curiously, they "moved the Goalposts while the Game was under way", Van Der Linden denounced : 4 "Candidates applied and were invited for Interviews, (as) they apparently fulfilled the Criteria". But, only "after the closing date for receipt of candidatures, and following a series of votes, the .Deputies changed ..to a ..restrictive interpretation. This is "Unprecedented". "The Ministers Deputies ..established Different Criteria AFTER the closing Date for receipt of candidatures". "If they want to apply other criteria, ..that must be done in Co-operation with the Assembly, and prior to the opening of the procedure... They failed to do that".

    "This is an institutional Coup d'Etat and an Unacceptable limitation of an important prerogative ..of the Assembly : "A Test Case and a Precedent ...egarding ..the Election of several CoE's Highest Officials". "All future elections, including ..of Judges, will shift to the Committee of Ministers", if MEPs don't react, concluded Van Der Linden.
----------
    - "Socialists ...choosing from among other Socialists : ..We are not a House of Socialists, but a House of Democracy and ..we have to give a Choice to everybody, not only the socialists. That is why we also have a Big Problem. ...We have to be an Example; we have to apply to ourselves the Rules that we ask others to observe. An Election should be a Choice for Everybody, rather than just One Party", stressed Andreas Gross from Switzerland, President of the Socialist Group.

    "We must also be careful about CoE's Balance : ..Electing the candidate to the most important job, means we have to work together" with the Assembly, which "is composed of different Groups". By "designing a process that enabled only One Group"...would mean that the winner did not have Credibility, and did not have the Trust of the whole CoE.. That would Weaken" him.

    - There is "No choice to the Majority of the ...Assembly – and it will, then, Not take part in the Vote, or will refuse even to have it on the Agenda", Gross warned.
---------
    - "It's unbelievable to find more difficult for CoE's Ministers and MEPs to speak together, than for ..Russians and Georgians to sit at the same table : We aren't going to ask a UNO Peace-keeping operation to monitor the Election of the oldest European Organization's SG !", ironised the Head of France's Delegation to the CoE, Jean-Claude Mignon.

    - "This a ridiculous situation. We should get out of it, from the Top, without Winers and Losers, simply by ensuring Democracy's Victory. Ministers' Deputies should be wise enough to hear MEPs, who have a Legitimacy by being Directly elected, and accountable to 800 Million Citizens". "I don't contest Ambassadors' rights : They were appointed by democratically elected Governments. But Assembly's voice must be heard".

    - "All 4 Candidates are able to get the post of CoE's SG, and should be allowed to be presented, preferably in an Alphabetic order, in order not to offend anyone", Mignon proposed.
---------
    - "This is a Moment of Truth for CoE's institutional balance :  Apparently Ambassadors went beyond Juncker's Report", and "pushed the Assembly to a corner. This is unacceptable", stressed Russian MEP Leonid Slutsky.

    "I am a Socialist and glad that Mr Jagland was nominated. But even if Mr. Van Den Brande is from another Group and we dont' always hold the same views, however, nobody can question his Competence, his Professionalism, and the fact that he has done a great deal for CoE's Assembly".

    "All 4 Candidates meet the criteria. ..MEPs must be included anew in the List", concluded Slutsky.
---------
    - "Crisis in our Streets, Radicalisation and Mistrust in 47 Capitals vis a vis the political System can be faced only by giving a priority to Human Rights and Democracy Values which are the specific character of CoE's Assembly, compared to NATOs, WEU's, or OSCE's", said the Head of Lithuania's Delegation, Emanouelis Zingeris.

    - "We must send to our People the message that Democracy works – that it's not a matter for Executive Elites". Thus, "all the Candidates should be brought back at June's session, said Zingeris.
-------
    - "Rejecting the 2 candidates from the ..Assembly is a Blatant attempt ..to shift the balance of Power from Elected Parliamentarians to Appointed Ambassadors". "This is a Cynical attempt ..to Pre-judge our Decision. They have submitted (only) 2 candidates. One is clearly their favourite. The other, although he meets the Juncker criteria, is probably Unacceptable to this Assembly. So they have decided already and made sure that we have no decision to take", criticized Brittish Conservative MEP Robert Walter.

      "We (CoE) are the guardians of Democracy in Europe. Let us show that we can use democracy in our everyday affairs !"

    "The Committee of Ministers normally acts by Consensus. Why on this occasion ..did it decide to take a Vote? - "Unless it was looking for Confrontation"... - "Why not use the normal, consensual procedure to arrive at an opinion, which it could have forwarded to us, and which we would have respected?", Walter questioned.
---------
    Brittish Liberal MEP Michael Hanckock was one of the very few (probably alone), to express a variant position :
      - Even if "I don't like what has happened", and "I don't give a monkey's about the Ambassadors – or,..about national Governments", nevertheless, "  I don't ..believe that our Rights, as Parliamentarians, have been undermined", Because, "when CoE agreed unanimously the Juncker Report, it was certain, to quote ..Bob Dylan, that the times they are a-changin'. ..It was there in black and white that fundamental Changes were needed in the way that CoE is run", he said

    "The 2 candidates on the shortlist from the Committee ..are Socialists, but both ..have been put forward by Non-socialist Governments. Their politics are irrelevant if they are able and properly gifted with the skills that needed for the job. ..What CoE desperately needs, ..is someone .able to do the job and who can bridge the gap between the ..Assembly ..and the .Ministers.. The Juncker report was about CoE's ability to fight back and stand up against pressure from the EU", Hanckock found.

    No "SG ever..delivered what CoE's Assembly actually wanted".  Because "Not a single appointment is made here, ..that is'nt a Political Stitch-up. It's not a Democratic Vote. We are kidding ourselves if we believe that we have Democratic votes here ..Of course we don't; it's done by Party manoeuvring...I remember the last SG (Terry Davies), for whom I voted. It was time for the Socialists to have a SG, and it was impossible for anyone other than a Socialist to be elected SG".
-----
    - "With only 1 Exception, all Speakers have clearly taken a stance for Assembly's competence in the Election of CoE's SG", and "I hope that the Ministers' Deputies, who are watching this Debate, will think anew and change their minds", said Portuguese ChristianDemocrat/EPP MEP Joao Mota Amaral, (a former Prime Minister).
    
    "We are members both of CoE's  Assembly and of our National Parliaments : I lodged 2 written Questions to our Government, to ask him to explain this controversial decision : Did it gave Instructions to its Ambassador in Strasbourg, and which ones ? Did the Government take into account the various arguments on CoE SG's Election and of the need for a Political Balance between those responsible for the CoE ? I recommend to all our collegues to take similar initiatives in their National Parliaments : Let's exert all our Pressure for the Committee of Ministers to change its mind !", Amaral appealed.
------
    - "The so-called recommendation inside the Juncker Report is only a suggestion, while the Decision of the Committee of Ministers' Deputies, ..amends CoE's Regulations unilaterally, without consulting the Assembly at all". But "even if we had accepted it, Mr Van den Brande and Mr Eörsi, who have both held Senior Ministerial office, should not have been excluded" , observed Zoltán Szabo, Head of the Hungarian Delegation.

    "As a socialist, I ought to be happy ..choosing between 2 socialists. But, I am not, ..because I can imagine myself in the position of a Liberal or Christian Democrat colleague. If I had to choose between 2 Liberals or 2 Christian Democrats, I would regard it Not as a Choice, but as a Dilemma !"

    "What kind of Legitimacy, Trust, and Political Influence would the SG. have after such an Election in which 2/3 of MEPs would be disappointed, or might not even vote? A SG elected in this way could only be a Lame Duck !", concluded Szabo.
----
    - "I understand that the Committee of Ministers, along with the Parliamentary Assembly, would like to bring this Fight to an End", said the President of the Liberal Group of MEPs, Matyas Eorsi, one of the Candidates threatened with exclusion from the List, who called "the fact that I could become a Candidate for the highest position in this wonderful Organisation, a Miracle in my life".

     "In the last century, there was a Stupid Game ..played in America. They drove ..in two Cars and started racing towards each other. ..Those who did turn the steering wheel lost. However, if both didn't, they both Died. I wonder whether CoE will be able to survive with co-operation between the Committee of Ministers and the Parliamentary Assembly, instead of dying, due to an institutional Clash",  Eorsi warned,
--------
    But the biggest Surprise, both for some Ambassadors and even CoE's Officials who had told "EuroFora" earlier that they expected a "Weak vote" or even a "Division" of the PanEuropean Assembly, because, as they believed, "many MEPs didn't agree with this Criticism" of the Committee of Ministers' Deputies controversial decision, was when MEPs quasi-Unanimously adopted a critical Resolution, on Wednesday, with 158 Votes for, only one (1) against, and 11 abstentions !...
---------
    Immediately afterwards, 47 CoE Member Countries' Ambassadors and Top MEPs started a marathon-meeting Wednesday Evening, trying to find a solution to the biggest ever instirtutional Crisis of Strasbourg's body, between its Committee of Ministers and its Parliamentary Assembly.

    An Ambassador of a big Western EU Country told "EuroFora" that they would "try to find a Balanced position, which would recpect both the Committee of Ministers' and the Parliamentary Assembly's competences".

    But other Ambassadors were still wondering if there was anything to be done without either their Committee or the Assembly backing off from their respective positions, which opposed a restriction of the number of Candidates to only 2, compared to the presentation of all 4 Candidates, without anyone losing its face...

    However, another important Ambassador was still finding "better to have candidates with the largest number of Governments with them".

    Thus, this 1st "Joint" meeting was rather "Inconclusive", told "EuroFora" a CoE's diplomat afterwards, while a President of a PACE Group simply said that "there was no agreement yet, but the Deputies promised to look anew at their decision in the next few days".
------
    Speaking on behalf of the largest Group of MEPs, ChristianDemocrats/EPP, Cyprus' MEP Christos Pourgourides, a PACE vice-President, asked on Thursday CoE's Chairman in office, Spanish Foreign Minister Angel Moratinos, "what (he) intends to do to avoid a Catastrophic clash between CoE's Ministers and Parliamentarians", "as a result of a recent decision of Ministers' Deputies restricting the Election of CoE's SG", which brought it "very near to a Crisis".

    Moratinos announced in reply that the Spanish Chairmanship of the CoE "decided to Review the (controversial) Decision of the Committee of Ministers' Deputies", after a new "meeting with representatives of all MEPs Groups" earlier that Morning. "There is not a Crisis between the Committee of Ministers' Deputies and the Parliamentary Assembly", and "we are not heading towards Catastrophe", he concluded.

    But, Moratinos was not yet in a position to clearly say what concrete Change might emerge from this "Review" :
    
    - It will be done "in a Positive manner, in the sense of Each body having to respect its own Competence in respect of the new SG", he simply said. "It's up to the Committee of Ministers to propose, and up to the Assembly to choose", he added later.
    - But "we need People.. who are up to the post and the challenges. For that reason, it has to be a "selected" proposal. In that sense, we are in a New dynamic, and we have the report of Mr Juncker", he said from one side.
    - "However, ..the Spanish presidency ..will work to create the conditions for a Co-operative ..atmosphere between the two institutions", he added from the other side, without explaining how he intended to advance in this direction. "From now on, until May 12, we shall do our best to ensure that the candidates proposed by the Committee of Ministers would be endorsed by the Assembly", he added in a diplomatic reply to Spanish ChristianDemocrat MEP Agramunt Font De Mora.

    - "I don't think that the word "Crisis" is exagerated. That's why I repeat the Question : - Are you ready to hear the Unanimous Voice of CoE's Assembly and accept that Democracy wins, i.e. that we (MEPs) will be really Free to Choose among the 4 Candidates ?", asked anew the Head of France's Delegation to PACE, ChristianDemocrat MEP Jean-Claude Mignon.

    - "The Assembly clearly said, by the Resolution adopted yesterday, that it was preoccupied by the decision of the Committee of Ministers' Deputies. Naturally we cannot ignore it. We hear what it tells us.. The Assembly reacted in a way to which we pay all due attention", replied Moratinos.
    
    - "But you should also respect the Committee of Ministers, which acted according to the Rules". And "a decision taken by the Ministers' Deputies is as much Democratic as a Decision taken by the Parliamentary Assembly". "Each one has to respect its own shpere of competence. In this case, the Committee of Ministers Deputies' competence consists into proposing a List" of Candidates. "That's what it has done", he went on to add.

    - "We shall try to better take into account the feelings of the Assembly, but let's respect our respective Competences !". "Each one will do what he has to do, in the sphere of his Competences", Moratinos insisted.- "It's not a Catastrophe, but simply New Dynamics", he concluded.

    Moratinos appeared a little bit more clear when he replied to final question by Polish MEP Mirosława Nykiel, according to whom, CoE's intergovernemental "Legal Experts had said that the decision of the Ministers' Deputies was legally correct", (in a Report kept Secret). "But, nevertheless, a Review of that (controversial) decision is prepared. Was there an error, and how to correct it ?"

    - "There wasn't any error at all, nor anything against the Rules : From a Legal point of view, the decision of the Committee of Ministers' Deputies is irreproachable, and there is nothing to be said", underlined Moratinos, supporting an opposite view to CoE Assembly's Report (See above)..  

    - "But the Parliamentary Assembly voted yesterday Unanimously a Resolution, and it would be a Political Error  not to hear this Appeal launched by the MEPs to the Committee", Moratinos added, more positively. "That's why the (Spanish) Chairmanship will re-open the Debate on this issue, in order to make a New Proposal, able to be addressed more positively by the Assembly", he announced, without revealing concrete details.

    However, at least one CoE Assembly's Officer was rather pessimist, in a meeting with "EuroFora" afterwards : - "They will be no real Change : Didn't you hear what Moratinos said ?", she asked us..
---------------------------
Back to "Cold War" ?..
----------------------------
     - "I don't remember, in more than 30 Years of Experience in the CoE, of any such precedent", with the Committee of Ministers excludiing half of the candidates and obliging PACE to vote only on candidates of one party, replied earlier to an "EuroFora"'s Question CoE Assembly's Secretary General, Sorinas Balfego.

    Indeed, CoE never faced before a similar Crisis in its 60 Years History, (1949-2009) except from an incident during the .."Cold War" period, back on 1955, when the Ambassadors transmitted to the Assembly only 1 candidate, resulting to "strong protests" by MEPs, stressing that it was "essenntial.. to have full Freedom of Choice", a Motion to "postpone" the Election, etc.; Finally an Agreement between the Committee of Ministers and PACE fixed the "Regulations" existing until today, a 2009 Report reminded.

    If the Deputies' draft Decision is really a .. "Coup d'Etat", "an attempt to unilateraly seize Power" inside the CoE, downgrading the PanEuropean Parliamentary Assembly, as a CoE's Official claimed to "EuroFora", then, such moves reportedly against largely Free and Democratic choices even by CoE's bodies, (or at least giving the impression that such things may happen), might obviously be dangerous for CoE's credibility in Future, particularly when Turkey, (which concentrates most condemnations by ECHR for grave violations of Human Rights), would take over the rotating Chair of the Committee of Ministers' Deputies in 2011. UK comes next..

    On the contrary, CoE's pre-existing Regulations (dating from 1950ies and 1960ies) speak about previous "Consultation" of the Assembly by the Deputies, before deciding to transmit Candidates' names for election, which should be "at least two", (etc.), and naturally don't say anything about a Governemental or Parliamentary career for the candidates, since the Committee of Ministers, curiously, ommitted, for the 1st time in History on May 2007, to even consut the Assembly when it was led to change its rules.

    Someone incited, reportedly without vote, for the Deputies' Committee to break a tradition of consensus and hold a vote on each one of the 4 Candidates, in relation to what he/she called the '"Junker Criteria"

    Experienced Strasbourg observers found difficult to guess what Political Stakes might be hidden behind all this unprecedented clash :

    GeoPolitically, both the 2 Candidates threatened with Exclusion, and the 2 Candidates retained, came one from a Western and another from an Eastern European Country : Belgium and Hungary, compared to Norway and Poland, (even if the first might, perhaps, be a little bit more "central").

    And, despite the surprising restriction to only 2 Socialist Candidates, by excluding the ChristianDemocrat and Liberal Candidates, nevertheless, the controversial draft decision had been reportedly obtained by evoking the votes even of at least some ChristianDemocrat and/or Liberal Governments' Deputies, (as an Ambassador noted).

    The Secretariat of the Deputies' Committee and several Ambassadors claimed that their main aim had been to search personalities with Government Experience at their country and with a larger impact at the Media.

    But MEPs replied that Experience on European issues is also important for the job of CoE's SG, and that even a good National politician might not be known by European Media..

    Others, (from both sides), droping any formal pretext, claimed that the real issue was that some wanted to see who was more Powerful inside CoE : The Committee of Ministers, or the Parliamentary Assembly ?

    But even this seemed incomprehensible to Strasbourg's observers, who couldn't understand how it might be possible for National Governments to be apparently so radically opposed to ..their own Parliamentary Majorities !

    So that the hypothesis (supported by several Top MEPs and even some Diplomats) that, in fact, the real problem might be something much "smaller" than it seemed, i.e. as if a small group might, perhaps, have out-manoeovered a larger number of Ambassadors of good faith, behind closed doors, without neither them, nor their Ministers, or Chiefs of State/Government, being fully aware of what was really at stake, started to circulate, in the absence of other convincing explanation.
------------------
On "Juncker Criteria" and .."Obama Criteria"..
---------------------
    The Committee's Secretariat, recently headed by Mireille Paulus from Luxembourg, former head of Cinema support fund "EurImages", reportedly distributed a Legal scenario produced by CoE's Experts which impressed some Ambassadors.

    However, independently of its qualities (unknown, since the Text remains Secret), it's obvious that a Spanish Socialist Chair of the Committee, based on a Report drafted by a Spanish Socialist Head of Legal services, apparently concluding in favor of a method which resulted into the exclusion of all other candidates except for only 2 Socialists, regardless of their capacities, under a Socialist CoE's SG, would inevitably seem a little-bit controversial...

    As for Luxembourg's Prime Minister Jean-Claude Juncker himself, he dismissed rumours in Strasbourg that he might have personally backed the exclusion of 2 candidates : His Spokesman, the Director of Press relations at the Government of Luxembourg, Guy Schuller, after taking time to verify directly with Juncker, told "EuroFora" that, "at my knowledge there isn't any interference by the Prime Minister in the electoral proces of CoE's Secretary General. And we don't comment on rumours".

    The exact sentence in Juncker's 2005 Report says that, in order for CoE to gain more "visibility" in the Media, "it should move, in electing its SG, towards choosing Leading political figures, ..(with) a high and positive profile among their peers and the People of Europe. Ideally, ..following EU's example, it should envisage electing someone who has already served as a Head of State or Government". I.e. Juncker never said that the CoE must be obliged to do so, nor that this should be done to the detriment of political pluralism, i.e. excluding a wide choice among main political parties.
    
    Even a decision taken in May 2007 by CoE's Committee of Ministers, (without "consulting" the Assembly, contrary to the "Regulations" agreed inside CoE since 1950ies and 1960ies, and to the Practice followed since then, as PACE's 2009 Report denounces), speaks of "Candidates who enjoy a High level of Recognition, are well-known among their peers and the People of Europe, and have previously served as Heads of State or Government, or held senior Ministerial office or SIMILAR STATUS RELEVANT to the Post". A diplomatic formulation which apparently leaves large room for manoeuvering, particularly for Presidents of PanEuropean Political Groups of MEPs..

    As some Diplomats from big Countries and other CoE Officials told "EuroFora", "it's true that Van der Brande was Head of Government at the Flamisch Region in Belgium, and former Minister, while Eorsi himself has also served as Minister in Hungary in the Past, in addition to their long experiences in European affairs as Presidents of Political Groups at CoE's Assembly.

    That's why several CoE Diplomats believe that "all 4 Candidates meet the Juncker Criteria", as they told "EuroFora". And almost 20 Ministers' Deputies reportedly voted in that sense, concerning the 2 Candidates threatened by the controversial exclusion, as other CoE sources revealed.

    At any case, this does not explain why the Committee accepted, at first, all 4 Candidates, and even invited them all 4 to present their Programs and debate with Ambassadors repeatedly in March and early April 2009, before, suddenly, ..changing views on April 23, and excluding 2 among these Candidates reportedly on mere Procedural grounds..

    This Question was raised by CoE's Assembly, astonished by the fact that, while "the process for the election of CoE's (new) SG was initiated" since "October 2008", nevertheless, it's only as late as "on 23 April 2009" that the Committee of Ministers' Deputies was pushed to take that controversial decision.

    Meanwhile, Norway's Jagland, said that he had "no objection" for all 4 candidates to be presented at CoE Assembly's votes. (Even if he found "important for CoE's SG to have the support of many Governments. I'd had resigned if I hadn't that", he counter-attacked).

    As for Poland's Cimoszewicz, he found "embarassing" the exclusion of the other 2 candidates, observing that "even my (Political) Group (of MEPs) voted against".

    Moreover, "when we Voted inside the Committee, the Question raised was not to choose the candidate that we preferred as CoE's SG for substantial reasons, but only a Procedural matter, i.e. which candidate appeared closer to Juncker Reports' Criteria" (See above), explained to "EuroFora" an Ambassador of a western country.

    Even if this "procedural" issue might include, at least in some cases, an indirect expression of a preference, it obviously cannot be taken as a crystal-clear vote that would have established a final preference of the Committee according to a substantial choice.

    This fact made several European Politicians smile when they realized that, if such formal "criteria" about previous "government" posts were interpreted so narrowly, then, ...not even the Popular New USA President OBAMA would never have been elected at all, since he only was a simple Senator for 4 years in the past !...  
-----------------------
Next Steps
------------------------
    As the experienced Sorinas Balfego, CoE Assembly's Secretary General, said, "there are so many things that might happen until June, that I prefer not to predict anything, at this stage : As a famous Spanish Football Manager said, "I only focus on the Next Match" !"

    Indeed, Ambassadors, after meeting and discussing with MEPs, decided to "review" the situation Next Week in Strasbourg, on Tuesday and Wednesday, in a last attempt to find a compromise between the Ministerial CoE Session at Madrid on May 12.

    Wisely, CoE's Assembly has reserved its position on the Agenda of its June Session, exceptionally postponing its Bureau meeting (usually held during each session, i.e. this time on April), until the Madrid conference mid-May, as "EuroFora" learned.

    If an agreement is not found with the Assembly's leaders even by the Foreign Ministers in Madrid, then, CoE's Parliamentary Assembly may reply "at the End of May, during its Standing Committee's meeting at Ljubianca" in Slovenia (next CoE's chair), revealed to "EuroFora" PACE's General Services' Director, Horst Schade.
    
    Unless the suspense is prolonged until the last minutes, at the eve of June's PACE Session in Strasbourg, when its Bureau will finalize its Agenda, with, or without the Election of CoE's new SG....

    In case of a prolonged Crisis, perhaps the current SG, Brittish Terry Davies, former President of CoE Assembly's Socialist Group, might stay longer to keep the house in order, until an Agreement is found..  

    - "Nobody spoke me about that kind of thing", replied Davies to an "EuroFora" question on that point, without excluding it, however...

    Davies is sure to stay in office at least until the beginning of September 2009. But, if an election doesn'"t take place on June, then, a next chance is at the beginning of October, (and, if necessary on January 2010)...
    
    Other Officials thought that CoE's Deputy SG, Mrs Maud de Boer-Buquicchio, might take over for a while, until an agreement is reached between Deputies and MEPs.

    But nobody can expect from 800 Million of European Citizens in CoE's 47 Member States to start analysing which one of such Crisis' versions might be more "legal" than another...

    On the contrary, it's the 800 Millions of European Citizens themselves who certainly have a  Right to expect from all their representatives, Governemental and/or Parliamentary, to strike soon an irreproachable deal on a Democratic Election of CoE's new SG, in order be able to really act for Human Rights, without other diversions...
    

***

(NDLR : Another "EuroFora"'s Publication will briefly present the Candidates' views on the main CoE's issues, asap.  Stay tuned on "EuroFora.net" !).
***
BRIEF NEWS
00:00 - 02.06.2021

00:00 - 18.10.2020

00:00 - 19.06.2020

00:00 - 18.05.2020

00:00 - 20.04.2020

00:00 - 02.02.2020

00:00 - 09.12.2019

00:00 - 27.11.2019

00:00 - 16.11.2019
Statistics
Visitors: 55536016
Archive
Login Form
Other Menu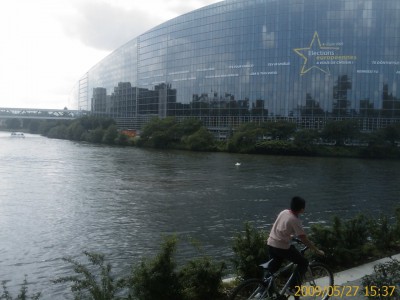 (Opinion).

 In Democracy, the forthcoming choices for EU's Top Jobs, as the New EU Parliament's President, new EU Commission's President (+ probably EU Council's President, EU Foreign Minister, etc) should be made according to EU Citizens' Votes in June 7, 2009 European Elections, and main EU Governments' strategic policies.

At the heart of the biggest EU Countries, in France and Germany, EU Citizens clearly voted for a renovated, non-technocratic but Political Europe based on Values, declared explicitly incompatible with Turkey's controversial EU bid.

This main choice was also supported in several other small or medium EU Countries, such as Austria (cf. promise of a Referendum), Spain (cf. EPP program's reservations vis a vis Enlargment), etc., while EPP Parties won also in Poland, Hungary, Cyprus, etc.

In other Countries, whenever Governing coalitions didn't make these choices or eluded them, continuing to let a Turkish lobby push for its entry into the EU, they paid a high price, and risked to damage Europe, by obliging EU Citizens to massively vote for euro-Sceptics whenever they were the only ones to offer a possibility to promise  real change and oppose Turkey's demand to enter into the EU :

It's for this obvious reason that British UKIP (IndDem) succeeded now (after many statements against Turkey's EU bid) to become Great Britain's 2nd Party, unexpectedly growing bigger even than the Governing Labour Party, as well as the Liberal party  ! Facts prove that it's not an isolated phenomenon : A similar development occured in the Netherlands, where Geert Wilders "Party for Freedom" (PVV) became also the 2nd biggest in the country, (after EPP), boosting the chances of a politician who had withdrawn in 2004 from an older party "because he didn't agree with their position on Turkey". And in several other EU Member Countries, even previously small parties which now focused on a struggle against Turkey's controversial demand to enter in the EU, won much more or even doubled the number of their MEPs (fex. Bulgaria, Hungary, Greece, etc).

On the contrary, whenever Socialist and oher parties were explicitly or implicitly for Turkey's controversial EU bid, they obviously lost Citizens' votes and fell down to an unprecedented low.

In consequence, EU Citizens clearly revealed their main political choices, in one way or another : They voted to change for less Bureaucracy, but more Politics and Values in a Europe really open to EU Citizens, but without Turkey's controversial EU bid.

Recent political developments are obviously different from the old political landscape which existed in the Past of 1999-2004, when Socialists based on Turkish 1% vote governed undisputed not only in Germany, but also in the UK, Greece and elsewhere, France followed old policies decided when it had been divided by "cohabitation", before the 3 "NO" to EU  Referenda since May 2005, before Merkel, before Sarkozy, etc.... before the surprises of 7 June 2009 new EU Elections.

If the current candidates to the Top EU jobs promise and guarantee to respect People's democratic choices, OK.

Otherwise, Europe must find new candidates, really motivated and able to implement these democratic choices of the People.

The beginning of crucial, final Decisions are scheduled for the 1st EU Parliament's plenary session in Strasbourg, in the middle of July, and they could be completed towards the October session, when Lisbon Treaty's fate will have been fixed.


See relevant Facts also at : http://www.eurofora.net/newsflashes/news/2009electionsandturkey.html
http://www.eurofora.net/newsflashes/news/daulelections.html
http://www.eurofora.net/brief/brief/euroelectionresult.html
 ***
Polls