Macron launching the Conference on EU's Future: for a New European Legend ?
Sunday, 09 May 2021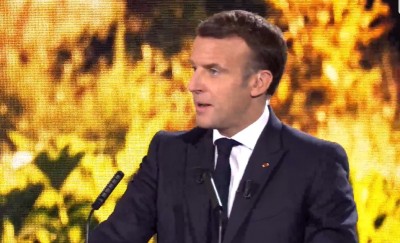 *Strasbourg/Angelo Marcopolo/- "Succeed ... to Create New Legends" in Europe, particularly through "ambitious", key "Big ¨Projects" and "Big Dreams", at the Horison of the next "10 Years", thanks Also to "a much Needed, nowadays, New Breath of Democracy", emerge as the Main Aims of EU's Conference on Eurpope's Future for French President Emmanuel Macron, who Launched Officialy Today, in EU Parliament in Strasbourg, Together wth the Presidents of all EU Institutions, the Beginning of such an UnPrecedented, original collective Event, due to Culminate during the French EU Presidency of 2022.
    + As Macron Resumed soon Afterwards, speaking to Journalists in EU Parliament, "this will be the Year of Joint Reflexions and Projects", where "we have the Right to hold Big Ambitions".

    - For such a purpose, "Be Together in Strasbourg Today, this May 9", (Day of Europe and of Victory against NAZIsm on 1945), "says much on what we (Europeans) have worked during 71 Years", since "this City is the  living Symbol of Reconciliation" and "of that Europe which Refused War, in order to Buid Peace, replacing Occupation by Cooperation", and "we canNot build a European Imaginary, a Feeling of Common Belonging, withOut Symbols", as "Strasbourg, which is Also Home to what Europe thought and wanted in her Democratic appeal and its Values", since "Here beats the Heart of European Democracy, CoE and EU Parliament, i.e. of the Values that Unite us and Inspire us in Building the Future too", he observed.
    - In fact, Nowadays, "our Union Needs a New Democratic Breath, (particularly with Citizens' participation, etc), and that's the Meaning of this Conference on Europe's Future", stimulating a "Founding Momentum".
-----------------------------------------------
    - Because "we should Not become Accustomed to the Present Situation and to the Weaknesses which appear" : "Whenever grand Crisis arrive", as in "this Unprecedented Context" of "the Pandemic which Hits as, since More than 1 Yeatr, Everywhere in the World, but Particularly in Europe", "as in the Past, there are Always profound Doubts, ...which seek to Challenge what we are,  and Underestimate what we have built" : "That's the Risk Nowadays, of Impatience, Lassitude, a kind of Depression, which would have been spread, of Confusion ...where, suddenly, All is Disolved". "This kind of ambiant Defaitism, boils down into claiming that "Europe is Not Up to the present Requirements. We have Not what is needed. I already hear such Accusations against Europe, Each Morningl", he Denounced.
--------------------------------------
     - In fact, "Democracy is one of our (EU's) Great Forces. It belongs to our Identity", Macron went on to add.
    - "Nevertheless, it's insidiously Challenged, more en more, in the name of a so-called "Efficiency"", by "those who Claim that Authoritarian Regimes would be More Efficient into facing Crisis, they would go Faster". But they "Forget the Real Consequences of Authoritarian Regimes : Deprivations of Liberty, Persecutions of Political Dissidents, Jailing of Journalists or Universitarians" (etc), "They Forgot the bites of History, those who back such trends"...
    - On the Contrary, "we must Congratulate ourselves (EU) for having continued to Debate, to pursue, in all ou Democracies, everywhere in Europe, the Democratic Debate, Criticism, Contest, Dispute, Quarell, Parliamentary and Judiciary Control : That's what defines us, and it's also in this way that we (Europeans) become more Efficient, Because that's what allows Democratic and Calm Criticisicm", Macron pointed out. *
    => "Our European Identity is a Productive, Solidary, and Democratic Model, ...attached to the preservation of (Natural) Environment and Climate : An Ambition that that we have pursued" even "during the (Virus') Crisis, with the Green Deal", "a Fair Regulation of Digital Platforms, and Private Life protection. It's the Respect of Law and Liberties", where "Strasbourg is, there too, the main Symbol", he added.
    - "It's a Model Based on an Economic and Social System which showed its Resilience also During the Virus' Pandemic) Crisis, (Comp. f.ex. the Exceptionaly Important and Innovating EU Summit of July 2020 in Brussels, f.ex. at : ... + ... + ..., etc), and we (EU) have Strenthened even More, Yesterday, in Porto (EU informal Summit), in order to Adapt it to Green and Digital Transitions, and bring, there too, New Protections to our Workers, allow a(n Economic) Growth, a Creation of Jobs, synonumous to a Fight against Exclusion and Poverty, promotion of Equality between Women and Men, Respect of Fundamental Rights fo all Workers in all chains of value. That's our (EU's) Model, and I'd like to Remind it here, before we Think about the 10 next Years to come, Because we must Never let it be Weakened : It's a Tresor conquered accross the Times, since it had Nothing Spontaneous", he Warned.
    + But it's also true that "this (Virus') Crisis revealed also some Weaknesses, and ...this Conference on Europe's Future must Help us to Respond to them", since "the Expectations that we Legitimately have, must be Inspired by the Lessons of the (Pandemic) Crisis",  Macron incited.
    (1) "First of all, we understood that Solidarity goes hand to hand Together with Sovereignity", stressed the French President. "We (EU) canNot ...Help the most Fragile People in our Societies, If we doN't Produce". Thus, we (EU Member Countries) were Divided, at the Beginning of this Crisis, on Buying Masks, sometimes on Closing our Borders, even on the (Economic) Revival. We were Divided each time that we did Not have the Reply in Our Hands", so that "we realized that Sovereignity is Also  the Capacity to Produce". "We canNot have a Europe Able to meet its History and Values if we don't become Conscious of the fact that we (EU) are Not merely a big Market of Consumers open to any winds", he Warned. On the Contrary, "we must (also) become anew Producers : ...anew a community of Great Researchers, great Creators, great Artists, great Industry" leaders. "Because Produce, Create on our Land is a Guarantee of our Sovereignity, a Protection for our Model (of Society : Comp. Supra), of our Values : This Cultural, Academic, Industrial, Reasearch's Sovereignity is absolutely Essential !", Macron stressed.
    => "In order to Build that, we (EU) sometimes must ReConquer anew what we had abandoned" , "Identify our strategic Dependencies, and Reply with European industrial Alliancies", ("as,  we've Started to do, ..f.ex. on Batteries and Hydrogen, Semi-Conductors, Clouds", etc., and "Vaccins"). "We Must Advance much Further, because, each time that there is External Dependence, there is (also) European Division", he warned.
    (2) "We have also learned, during the (Virus') Crisis, ...that our Europe was InComplete :"
    - Indeed, "When Europe has the Capacity to act, it acts, as long as it's inspired by Political Will". F.ex. "since March 2020, ...a Central European Bank at the Height" of circumstances, "and afterwards a Pragmatic Suspension of our Budgetary and Competition Rules, allowed, at any cost, our Will for (Economic) Revival",
    - "But, in a number of areas, the EU has Not similar Competences or means", he regretted. F.ex., "1 Year ago, it was so Powerless in the area of Health", and ...it still is Nowadays. This Weakness explained our (EU Member States') Difficulties to be coordinated", Indeed, "in front of Big Schocs , as the Pandemics, we (EU) Must Strengthen our Joint Capacities, because an Adequate Reply stands at a European Level", he pointed out.
    (3) "Last", but not least, "we have observed, sometimes, that Europe doesN"t work Fast enough, and, may be, hadN't sufficient Ambition". F.ex. "3 Years Ago,  here, I told you that I was convinced that, in face of Authoritarianism, the Only adequate Reply was the Authority of Democracy", which "is gained only by Efficiency and Rapidity". But, "our European Democracy is based on Compromise", and "Balance, which is a Virtue that we must protect as a Treasure, because it Avoids any Hegemony. However, it's Also a Weakeness, when it's Suffocating in its own Procedures". In consequence, "We (EU) Must find a new Efficiency and Ambition. Be able to Face Crisis, Adversities, Decide Faster, and, above all, with More Strength".
     - F.ex., when "I see the Numbers of many of Our Projects of Research, Investment in Industrial matters of the Future", and "I Compare them to those of the Chinese or of Americans, we (EU) are Not yet at the Hight of this Ambition: We take, sometimes, Too Many Long Months, in order to reach the end of Investment Decisions which are 5 or 10 Times Less Important than what are our American Friends", he Criticized. Europe has an Advance "in Solidarity" (Comp. Supra), But "Must Find" also "the taste of Future and Rapidity. Invest Massively and ... Fast" enough. "In such matters, we (EU) Must succeed to go Faster, and learn how to Find anew Force and Rapidity in Essential Issues", Macron urged.
    (4) "Finaly, this (Virus' Pandemic) Crisis Affected our Lives profoundly : It Restricted our Horizons, Limited our Aspirations, Imposed Borders to our Displacements, (even) to our Dreams". Particularly for "Young Europeans", and "Artists", etc., "who Suffered very much by this Crisis", "Deprived of their Contacts", etc., he noted.
    - "But, Nothing is Fatal, and ...the Moment that we Launch this Conference is Essential, because it's that from which we should Find anew a Way towards the Future", Macron Optimisticaly invited.
--------------------------------------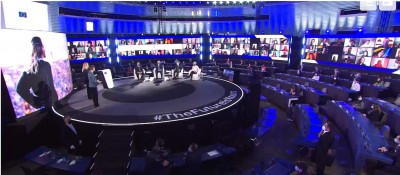 => "That's what is the Conference on Europe's Future about : To Find anew a Collective Democratic Respiration", he stressed. "It should be Inspired from those Lessons that I described, in a Non-Exhaustive list, But Also guided by a Method allowing to Find Long-Term Perspectives, and to forge a Common Vision", he highlighted.
    >> - "Thus, there will be 1 Year of Debates, ...Open to Everybody : to the Institutions, the Parliament, the Social Partners, ...the Think-Tanks, to All Citizens at a European Level, to Local levels, at the (Web) Platform On-Line, available in All (EU) Languages, to Citizens' Panels", he indicated.  "It will be an UnPrecedented Exercice : Take the Pulse of the (European) Continent regarding Our Future !"
F.ex., "in France, we shall Oganise, from the Beginning of Autumn (2021), Citizens' Debates in All Regions, and I asked from all Members of the Government to get Involved", he announced.
    >>> Europe-Wide, "We (Top EU Politicians) Must undertake a Collective Commitment Today : From March 2022, when the Synthesis of Contributions and Debates will be established, we, Political Leaders of various Member States, of EU Parliament, Commission, Will Have to Take that into Account in order to Reform Europe". And, personaly, "I take the Commitment, in the name of the French Presidency of EU's Council, during the 1st Semester of 2022, that the work of the Conference will be Largely Fruitfull, and, for that purpose, we'll Need that All Get Involved", Macron vowed.
    - "That's for the Method. As for the Content, it's for You (involved EU Politicians and Citizens, together) to Write it", the French President modestly Urged. Concerning that, however, "I Wish that this Conference will Announce a Return of Big Projects, Large Ambitions, Great Dreams !", he rightfuly Incited, (anew in a key Direction for which "Eurofora" Pleaded particularly during the Crucial July 2020 EU Brussels' Summit on Relanching the EU Economy, also in order to Succeed to Overcome initial Differences and Find an Agreement between All EU Member States, as it was, indeed, Later done at the End : See ..., etc).
 - "What Europe do we Want in 10 or 15 Years ? With What Borders for it ? Which New (EU) Institutions ? What Big Cultural Projects to Lounch Together ? Why make our Europe the Leader in Reducing (C02) Emissions Faster ? How to Build that Europe of Education, of (Scientific) Research, even More Strong ? New Frontiers in Space, as in our Oceans ? => I.e., "in substance, How to Succeed to Write New Legends ?", Macron wondered.
    >>> Indeed, on this Key point of Synthesis : "A French Poet, recently forgotten, Fabrice de la Tour du Pin, stressed : - "All Countries which do Not have Legends, no more, are Condemned to Die from the Cold !" It's the Same with our Europe : If we do Not have Legends, no more, we shall Die from the Cold", he Warned.
    => But, in fact, "We (EU) Have a(n Historic) Legend. We've just had a look at it, in a Hurry (Comp. Supra). What we Need is to Write New ones. It's up to us, it's up to You to Do so : Thus, I Count on You !", Macron urged, in conclusion.
--------------------------------------

    + 1st to Speak among EU Institutions' Heads, EU Parliament's President, David Sassoli, from Italy, started by pointing at the Symbolic "Impportance for this major Democratic exercise", as he called the Launching of the Conference, to take place "Here in the ...Home of European Citizens ... in Strasbourg, the Seat of our institution, from which we've been absent for so many months as a result of the covid-19 Pandemic", and where  "We (MEPs)...Hope ... very soon be able to Return" for "the Plenary Sessions".
    - Already, "Before the pandemic, the parliament firmly believed in the importance of having an event such as this", he reminded. But, even "Today, after 15 Months of Crisis" and "Delay", at least, ," t's very Clear to us what has Worked and what hasN't worked. It's much clearer to us where the European Union is Strong,... But we're Also aware of where we're Weak and what we could Improve", he pointed out.
    I.e., "the lessons we've learnt from covid are iImportant ones", since, in the EU, "some things have Not worked, and some have", Sassolii observed.
    => So, in general, "We want to Improve the way in which we Function", even if "we firmly Believe that Democracy is stronger than authoritarianism". Therefore Sassoli presented a Series of Concrete Points that EU has to settle :
- "Europe needs to have ... clear Competences in many areas, ...in which member States alone would be Marginalised", he warned.  
- Moreover, "We need to become capable of taking Rapid decisions"... But if" the EU "has to decide Unanimously, if there can be Vetoes, How can it ..respond effectively ?", he wondered.
  => In ordet to Solve such Issues, "We (EU)... Need to move forward with this Unprecedented exercise (the Conference) in Democracy. Institutions and Citizens" together, and "Discuss the way we are withOut Taboos",  But "clear, Pragmatic Suggestions", "Based on recommendations made by Citizens and Debates in the plenary,...followed by Action", he stressed, as well as "a Compass to Guide our work during the coming Decade."
      - F.ex, inter alia, "we need a European policy on human Health".
    - "Social dimension", (particularly after the "Porto" Summit of 7-8/5/2021.
    - "The Right of (Legislative) Initiative should be given to EU Parliament", he added, (while "Eurofora" has succesfuly proposed to Top MEPs to get it Immediately, on  the Basis of the existing Lisbon Treaty, simply by Cooperating adequately with "Citizens' Initiatives", (See : ... + ..., etc).
    - We "also need to increase the Transparency of Elections and enable Citizens to indicate their preference for President of the Commission", so. I hope that the Conference will also deal with the Lead (Spitzen)  Candidate Issue", EU Parliament's Head added.
    - Moreover, "it's Crucial to look at the issue of Unanimity in the (EU) Council", he reminded (Comp. Supra).
    >>> Both in these, and ssveral Other Issues, Sassoli said that he "Firmly Believe(s)  that the awareness of our unity and a common destiny is shared by the majority of our Citizens", because "without a European policy, all our countries, all our communities ... would be Weaker".
    => Therefore, he Optimisticaly  believes that Citizens' involvement may Help to "build a Stronger, more resilient, more Democratic and more United Europe", Such "Message(s) ... can Incite our Citizens to Give us the Responses we Need !", Sassoli optimisticaly suggested.
---------------------------------------------------

    Antonio Costa, Prime Minister of Portugal and current Chairman of EU Council, who had just Hosted all EU Heads of State/Government in a Summit at Porto, Startes with "a message of Confidence in the Future", by observing that almost everything "Changes" in Humans' Lives usually, and it's often "Needed to Develop New Qualities".
    -"71 Years ago", Europe had Started with a mere "Steel and Coal Community", he reminded. "Moves", sometimes needed "Difficult Choices" and/or "Compromises", were not always made at the same time for all. Now "there is a Desire to Move Forward, But we should Not allow Problems to exist, which can Undermine Cohesion", he warned. Particularly since "we're still far away from where we need to be".
Nowadays, f.ex., "Solidarity", "Share of Resources", "Migration", etc., could be Adressed by the Conference, "Frankly and Openly". "New times require new ways of working".
    >>> But, what is Specific, this time, is that "this conference ... should Focus on all the different desires and roles of all the Citizens in Europe, and Not on negotiations between Countries. This is a conference For Citizens, By Citizens and For Citizens! !", Costa stressed.     
    - In fact, "European Citizens Recognise the added V alue of EU action" in general, But want it to Solve  certain "Specific Problems that Citizens face".
     -- Indeedf, "over the past 10 Years, ....Major Topics are Continually quoted as sources of Concern" : F.ex. Islamist "Terrorism" and "Migration", "Economic/Social situation, and  Climate", etc. Over the past 12 Months, "Health" was added.
    => Thus, "We Veed to ensure Vast Citizen Participation. This is a Key point. The conference on the future of Europe should Focus on the Women and Men of Europe. What is Troubling these people? What is making them Dream? This should Not be an exercise which is based in Brussels", the Prime Ministet Warned.
    In this regard, f.ex., "the very High Youth Unemployment rate", and "the difficulties for access to Housing", which humper the "Young Generation", have to be tackled, he Urged, inter alia. Because "Europe will have No future, if our young generations do not have a future in Europe", while, Nowadays, "the largest Threat to the future of Europe and to the prosperity of Europe is the Ageing population", (i.e. the Restriction of Births among European People), he Denounced.
    + Meanwhile, in Addition, Europe "must therefore take the Lead in the Major Causes of Humanity in our century", Costa urged. Such moves should obviously include Nowadays also "BioEthics", where Recent Technological developments have Reached a Crucial Threshhold for the survival of the Human Race, (already since 11/2018, with Artificial Births including Genetic Manipulations of Human Embryos in Labos, which are scandalously and dangerously Transmssible to Future Generations), But also the "Oceans", to which Costa, (in a typical Portugeese Tradition), Focused Today, citting their "BioDoversity and Resources",(etc).
=> Concluding, once again, the EU Council's Chairman-in-office reiterated a vibrant Call for the European People to get massively involved in EU's Conference on Europe's Future :  - "I'd like to give my final words to the People of Europe : ... This conference is Open. It's open, so that All of you can Participate in it", he Invited.
------------------------------------

Ursula von der Leyen, EU Commission's President, was the last EU Istitution's Head to take the floor Today :
- "We should be honest that the conference is not a panacea or a solution to every problem", But "we must Listen to All voices, whether Critical or  Complimentary", she stressed from the outset.
    >>> The Main Point for von der Leyen is that "this conference is a real Opportunity to bring Europeans Together, and to Rally around a Common ambition for our future".
    -Because, otherwise, recently, "there are certain Dichotomies and issues that we should attempt to resolve. F.ex.  some feel Europe is Too Close and too involved in their lives, and for Others it is far too far Away and too Remote and too detached", she Warned. +Moreover, "For some, the narrative of Peace is Not as compelling as for others", she regretted. => Therefore, "this (Conference) is an Opportunity to help Build a New Common Purpose for All Europeans" she Urged.  *
+ Moreover, "the Pandemic has been Traumatic for people in Europe", ("Epicenter" of the World, since March 2020). So that, in order "to move Beyond it", "there is no better way to do that than by offering Perspective, Hope and the Ability to Change things for the Better", (including through this Conference).
- "This pandemic stole more than a year from them. It stole experiences and emotions"..."It stole opportunities from them... And more than anything. It made so Many People, Old or Young, feel Anxious, lonely, and simply Less in Control of their Lives and their future. For the First time in a generation, more people Worry that their children will not be better off than them".
    => "This shows that we Need a New form of Solidarity and social justice Between Generations", she Urged. "This is about justice and rights, not only within our current society, but Across the Generations", Von der Leyen wenst on to add. "I believe we should use this Conference in order to hold a genuine, structured Dialogue between the Generations".   
     - "My view is that Europe has always been at its Best when it is Reverse Engineered. We are at our Boldest when we 1st set an Ambitious goal, or have to act out of Necessity, often without competence or precedence. This is the Europe that Rises to the Challenge, the Europe that just Does it because it Needs to be done", she stressed, focusing on "what Brings Generations Together".
    - "And what will Europe do? What will she Defend ....? Will she be respectful, more Diversified, more United? Or will she be Divided as often we were in the past? These matters may seem too large or too distant, whereas there are so Many Immediate Challenges. However, the course of Our Action will Determine the answers that we will be looking for Tomorrow. And that's precisely why we Need this Conference and why we need to get it Started Now", Von der Leyen urged. .
    => "We will Tackle this task with Humility, recognising that Not everything is Ideal, But also with a real sense of Pride, knowing where we are coming from and the Conviction of what Must be done", she vowed, Concluding "with  Antoine de Saint-Exupery", (who has lived in Strasbourg) : The Most beautiful profession a man can have is that of Bringing men Together. It's up to us Now to keep on Doing that".
___________________________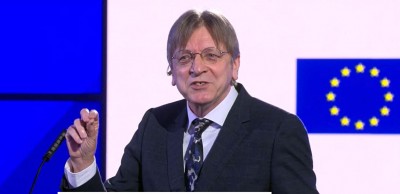 Last, but not least, Experienced Top MEP, former Prim-e Minister of Belgium and f. Presiden of the Liberal Group of MEPs, currently EU Parliament's Head Representative to the Conference on Europe's Future, as well as Co-Chair of that Conference, Guy Verhofstadt, from Belgium, (after a Last-Minute Change of Agenda, just to skip an Euro-Regions' parallel Meeting in Strasbourg, in order to Join EU Parliament's main Meeting with Macron and All EU Institutions' Heads), was the 1st to Reply to an EU Citizen's Question on EU and Culture :

    - "Culture  can become an EU Competence", Verhofstadt replied from the outset. "It's quite Emotional". But, "for me, f.ex. Goethe, Voltaire, the Enlighnement, or Florence and Strasbourg, are European realities". Often, "some Small Things are enough : F.ex., print also a beautiful European Monument in €uro-Bank-notes, and not only National ones. Or, in the Olympic Games, to put, on Players' jackets, from one Side the National Flag, and from another, the European Flag", he suggested, attracting a positive node by President Macron....(Comp. a relevant "Eurofora" Publication on EU and Sport, at : ...). In fact, "Culture needs to be in the Heart of the approach, because it's the Most Solid Base of the EU !", he concluded.
 
**********************************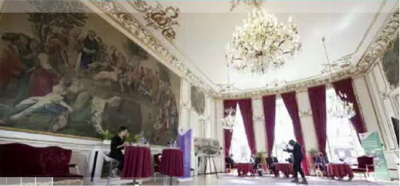 + Meanwhile, Earlier Today, at a  relevant Event organized by the European Regions in the City Hall, (Symbolicaly inside the Historic Room where CoE was Created, 71 Years Before), at the Particular Local/Regional Level of Strasbourg's City and EU Regions, at EU's Franco-German Core, New Mayor Jeanne Barseghian (atypical "Green" from Armena), and Region President Jean Rottner, both felt that they had Specific Potential and Duty to Help Boost EU Citizens' role in the Conference on Europe's Future  :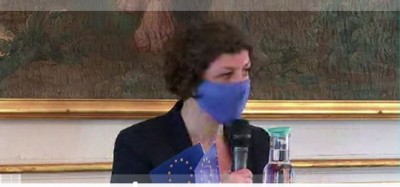 - Barseghian (who has Already expressed several times her Agreement with "Eurofora"'s Project : See ...+ ... + ....) Focused Mainly on "Digital" and "Citizens' Participation" Tools, vowing to make them available to the People for such purposes, as well as offering to Host most Citizens' forthcoming Collective Events, during a Year, added to a possible EU Citizens' Summit.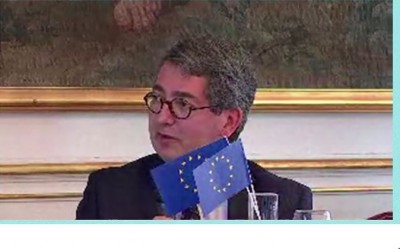 - Rottner, (who represented also the whole National Union of Regions of all France), pointed at the Unique Dimension of the "Trans-Border Fact" in Strasbourg's "Great East" Region, located Near Italy, facing Germany, Belgium, Luxembourg, and even Switzerland, (a Franco-Germano-Italian cultural Synthesis), giving a particular Potential towards "all European People" by considerably "Facilitating" the "absolutely Crucial Echanges" between them, (Comp. Relevant Rottner's replies to "Eurofora"s Questions, f.ex. at: ... + ..., etc), and Ensured about the Region's Political "Will" to Help "Enable Everybody", including "the Youth", to participate in a large "Critical Dialogue" on the Future of Eurpope, in order to "Think of a New World", after the Pandemic, as he highlighted.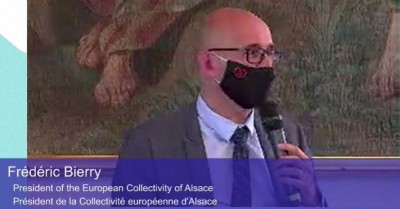 + He was followed by the President of the European entity of Alsace, (emerging from a recent Fusion of High and Low Rhine Departments around their Histpric Area),  Frederic  Bierry, who stressed, in particular, that this EU's Conference on Europe's Future, in particular, "is about Our European Identity" and "Development", currently facing various exceptional "Challenges" thearening even to "Destroy" it, so that "it"s Essential" to Boost People's "Feeling of Common Belonging", through its debates and outcome.
------------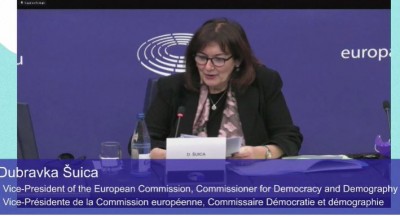 ++ Speaking Earlier, the EU Commissioner in charge of Democracy and the CEFuture, Dubravka Šuica, Ambitiously focused on the aspiration to "Bring (EU) Citizens into the Heart of Decision-Making", in a New way, which could "offer a Greater Role to Citizens, Beyond (EU) Elections" (just once in 5 Years).
Meanwhile, in order to Achieve that, EU Citizens have, During the Conference on Europe's Future, 3 Possibilities to InterAct : - "On the (Web) Platform, in the (Citizens') Panels, and at the Plenary", she resumed.
+++ Interestingly, Many among the other Speakers, (including MEP Eva Maydell, International President of the European Movement : Comp. her Earler Statements to "Eurofora" f.ex. at : ... etc), stressed, in Various Converging Ways, that "we (EU) Need to Hear Criticism" also, from a part of the People whenever there are doubts or misundestandings to dissipate, and "Listen to Critical Voices" too, withOut Ignoring them, as it was Repeatedly pointed out.
Indeed, this 2021-2022 EU's CEFuture must "Not play down the Expectations of the People", but, on the Contrary, "Deliver" on them, because, in fact, "this is about <<We, the European People>> and Trust", Concluded in substance, on behalf of the EU Council's rotating Chairmanship, Vasco Alves Cordeira, from the Regional Parliament of Acores, and 1st vice-President of EU's Comittee of Regions, as a final Warning.
(../..)
("Draft-News")
-----------------------------------
BRIEF NEWS
00:00 - 02.06.2021

00:00 - 18.10.2020

00:00 - 19.06.2020

00:00 - 18.05.2020

00:00 - 20.04.2020

00:00 - 02.02.2020

00:00 - 09.12.2019

00:00 - 27.11.2019

00:00 - 16.11.2019
Statistics
Visitors: 55527783
Archive
Login Form
Other Menu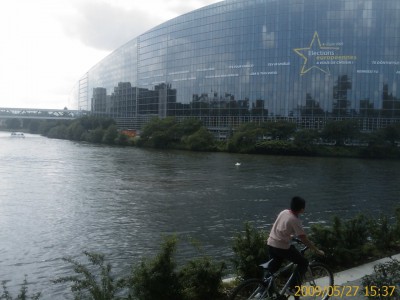 (Opinion).

 In Democracy, the forthcoming choices for EU's Top Jobs, as the New EU Parliament's President, new EU Commission's President (+ probably EU Council's President, EU Foreign Minister, etc) should be made according to EU Citizens' Votes in June 7, 2009 European Elections, and main EU Governments' strategic policies.

At the heart of the biggest EU Countries, in France and Germany, EU Citizens clearly voted for a renovated, non-technocratic but Political Europe based on Values, declared explicitly incompatible with Turkey's controversial EU bid.

This main choice was also supported in several other small or medium EU Countries, such as Austria (cf. promise of a Referendum), Spain (cf. EPP program's reservations vis a vis Enlargment), etc., while EPP Parties won also in Poland, Hungary, Cyprus, etc.

In other Countries, whenever Governing coalitions didn't make these choices or eluded them, continuing to let a Turkish lobby push for its entry into the EU, they paid a high price, and risked to damage Europe, by obliging EU Citizens to massively vote for euro-Sceptics whenever they were the only ones to offer a possibility to promise  real change and oppose Turkey's demand to enter into the EU :

It's for this obvious reason that British UKIP (IndDem) succeeded now (after many statements against Turkey's EU bid) to become Great Britain's 2nd Party, unexpectedly growing bigger even than the Governing Labour Party, as well as the Liberal party  ! Facts prove that it's not an isolated phenomenon : A similar development occured in the Netherlands, where Geert Wilders "Party for Freedom" (PVV) became also the 2nd biggest in the country, (after EPP), boosting the chances of a politician who had withdrawn in 2004 from an older party "because he didn't agree with their position on Turkey". And in several other EU Member Countries, even previously small parties which now focused on a struggle against Turkey's controversial demand to enter in the EU, won much more or even doubled the number of their MEPs (fex. Bulgaria, Hungary, Greece, etc).

On the contrary, whenever Socialist and oher parties were explicitly or implicitly for Turkey's controversial EU bid, they obviously lost Citizens' votes and fell down to an unprecedented low.

In consequence, EU Citizens clearly revealed their main political choices, in one way or another : They voted to change for less Bureaucracy, but more Politics and Values in a Europe really open to EU Citizens, but without Turkey's controversial EU bid.

Recent political developments are obviously different from the old political landscape which existed in the Past of 1999-2004, when Socialists based on Turkish 1% vote governed undisputed not only in Germany, but also in the UK, Greece and elsewhere, France followed old policies decided when it had been divided by "cohabitation", before the 3 "NO" to EU  Referenda since May 2005, before Merkel, before Sarkozy, etc.... before the surprises of 7 June 2009 new EU Elections.

If the current candidates to the Top EU jobs promise and guarantee to respect People's democratic choices, OK.

Otherwise, Europe must find new candidates, really motivated and able to implement these democratic choices of the People.

The beginning of crucial, final Decisions are scheduled for the 1st EU Parliament's plenary session in Strasbourg, in the middle of July, and they could be completed towards the October session, when Lisbon Treaty's fate will have been fixed.


See relevant Facts also at : http://www.eurofora.net/newsflashes/news/2009electionsandturkey.html
http://www.eurofora.net/newsflashes/news/daulelections.html
http://www.eurofora.net/brief/brief/euroelectionresult.html
 ***
Polls