Pagina principale

newsitems

Lavrov call for EU-Russia Modernization Partnership is broad tells EuroFora PACE vice-Chair Kosachev
Lavrov call for EU-Russia Modernization Partnership is broad tells EuroFora PACE vice-Chair Kosachev
venerdì, 30 aprile 2010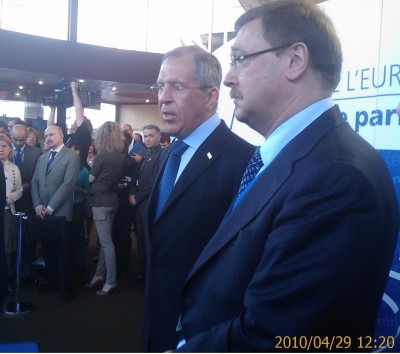 PACE keynote speaker, Foreign Minister of Russia, Sergey Lavrov's Strasbourg call for an EU - Russia "Partnership for Modernization" is a "broad" concept, the Head of the Russian Delegation and CoE Assembly's vice-President Konstantin Kosachev stressed to "EuroFora".

He topically spoke shortly after Lavrov's inspired speech at the PanEuropean body made an overall dynamic overview on Historic Euro-Atlantic developments, et the eve of the May 9 Moscow Summit of Heads of State/Government for the 65th Anniversary of the Victory against Nazism obtained by sacrifices of all People involved (1945-2010), followed by concrete replies to MEPs' Questions on particular issues, as proposals to associate EU Countries in U.S.-Russia talks for a new "Alternative" on "Joint" Security, consideration of Sanctions for Nuclear Proliferation Risks from Iran,  plans to link EU - Russia Electricity Grids, foster a common view on Europe's History, etc.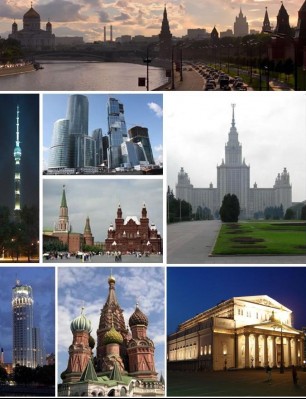 - "Modernization... is a much broader concept than introducing New Technologies'', (as in Space, Energy etc).  It should also include other areas, (such as) the Social Policy, the functioning of the Political System, the Educational or Scientific aspects of our Development, etc", he observed from the outset, (apparently referring also to some aspects of a recent Franco-Russian Summit between Presidents Sarkozy and Medvedev : Comp. "EuroFora"s publication of March 2010).

- "Russia does need Modernization, definitively. So, I believe (that) we (Russia) can take much out of the existing Experiences within the EU. But, on the other side, I believe that the EU can also learn much out of the Russian Experiences, (including  f.ex.) the InterCultural or InterReligious Dialogue, the support given to the Educational System, (etc), (which) are .. good examples of Russian Experiences being of major interest for  EU Countries.  So , (Lavrov's call to boost an EU - Russia) "Partnership for Modernization is Not about Teaching. This is about Exchanging Experiences and Assisting each other (EU and Russia) in order to make better Progress" together, Kosachev concluded.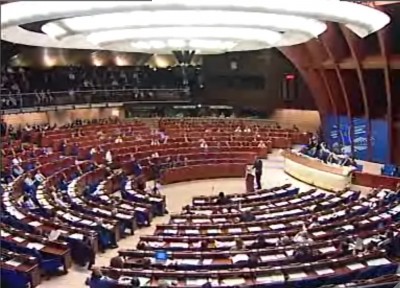 Lavrov's proposal was made after dressing a far-reaching, Historic and GeoPolitical overview accross a wide spectrum of issues related to Europe's Past and Future role in the World, and in the framework of a larger idea for a comprehensive overall Pan-European Architecture for Today's needs :

    The experienced Russian Foreign Minister reminded from the outset that the Historic "Pan-Europa" Manifesto published by "the Founder of the European Idea", Richard-Nikolaus  Coudenhove-Kallergis, since 1923, (i.e. before the 2nd World War), pointed at "the Necessity to start establishing relations from Economy, including between the "United States of Europe" and Russia".

    Today, after 2 or 3 "Hundred Years" of Problems more or less dividing Europe in the Past, "the (European) Continent, once again, faces the same Choice : "Revival or Decline", he  warned
   - "The Disaster of World War II became a powerful Catalyst for the Europeans, who realized the need to build a Common Home", he reminded. "The European Project over the last 60 Years, which includes CoE, would not be possible.. if not for the huge ..Sacrifices made by all Peoples of Europe and North America", (as he said close to the Historic Symbol of Struthof NAZI Concentration Camp near Strasbourg, which  collected "specimens" of Prisoners from all over Europe and beyond, often submitd to atrocious Deadly "Tests", full of all People who struggled against Nazism and Fascism, from France and Germany up to Spain, Russia, Ukraine, Norway or Greece, Serbia, Romania, from the Caucasus, UK and Canada, even Australia, with the sole exception of Turkey among CoE's 47 Member States, since Ankara didn't take part).  "But first of all ..the peoples of the (former) Soviet Union ...took the Burnt of the Hitler Invasion" after "3/4 of the NAZI-led Troops were sent to the Eastern Front and were crushed there". However, "the War was won by all Allies of the anti-Hitler Coalition",  
   Today, "for the Future of Europe, it is important" to recall "that, in those years, the Victors of the "Brown Plague" rose above Ideological Differences : Communists, Monarchists and Anarchists, representatives of the Left and Conservative forces, all sacrificed their Lives selflessly in the Fight against Fascism". 
"Looking into the Abyss prepared for the European Civilization by the Ideology and Practice of Fascism", Europeans realized the need "to ensure reliable protection of Human Rights, Democracy, Rule of Law, and resolution of Social problems". "This is our Common Victory : The Victory of those Values that make us Human".

    - "Even when ..(we) .. lived on Differend sides of the Iron Curtain, and often happened to be ennemies in the Cold War" interval, "the Veterans, participants and witnesses of  World War II, ... in their Hearts, they shared Deep Respect for each other, Mutual Understanding and Brotherhood sealed by common trials and a common victory", he reminded.

    - "These same Feelings led to the Reconciliation of former Enemies", "the most Vivid being the Examples of the Franco-German and of the Russo-German Reconciliation", added also to "what has been happening in the Russian-Polish relations in the recent years", hoping and believing that the Sincere Grief of most Russians and Poles, and the spontaneous reactions of numerous simple Russian and other People weaping, bringing flowers or lighting candles after the recent Tragedy at Smolensk's deadly air incident where the Polish President with his wife and many Senior Officials lost their lives, "will become a Turning Point in overcoming common Tragic Past, thus contributing to the creation of a truly Greater Europe, inconceivable without normal Human Relations, .. and Free from Ideological constructions and Political expediency" :
Russia was and remains "ready" for the Joint work of Historians", and, while "strongly rejecting any attempts to Falisfy History",  "New Russia has officially condemned Stalinism, and never advocated its ideology and practices", added Lavrov, referring to revelations of some tragic errors as that of Katyn 2WW massacre, later attributed to Stalin, almost similar to Modern Germany's repudiation of Nazism and of "Shoa", (unlike Turkey's persisting refusal to recognize the Armenian Genocide, whose 95th Anniversary was commemorated earlier this week almost everywhere else in the World, including in Strasbourg, in the light of New Facts revealed by a 2010 German Documentary Film : http://www.armeniangenocide-aghet.com ).

    - After "the End of the Cold War, Globalization gave us wighty arguments to speak about the whole Space between Vancouver (in the U.S.) and Vladivoctok" (in Russia), beiliving that "there is No reasonable Alternative to this", and that "the situation requires a Radical Review of the existing Institutions", particularly "when the Global Politics is undergoing Regionalization".  "After the collapse of the Berlin Wall, the Dissolution of the Warsaw Pact and of the former Soviet Union, a New Era seemed to have come .. for de-ideologized relations between countries and peoples", and "a New Opportunity emerged to make the OSCE (where all CoE States participate, together with the USA, etc).

    - But, "apparently, the "Berlin Walls" of Consciousness turned out to be rather strong", and "False Ideas, Insticts and Bigotry of the Past were brought in... and have led to what ..Dostoyevsky called : "Self-Annulment of one's True Expectations" : "As a result, the .. Architecture that would unite ... every State .. in the Euro-Atlantic region into a Single Organization, based on Clear and Legally Binding Principles, and providing Equal Security for all" involved, "has failed", he denounced.

    - "The main problem" in the UE - Russia - US area was "that the principle of Indivisible Security, proclaimed in the Euro-Atlantic zone that the Highest level in the 1990s was not embodied in International Law, nor within the OSCE, nor any other formats", the Russian Foreign Minister criticized.

    - "For 20 years (1989 - 2009) Russia has sought New Relations with the West, sometimes Unable to find understanding and appropriate response", Lavrov regretted. Calling "Senseless" any "assurances by word of mouth, wth No follow-up action, nor changes", he warned that  "the Danger of Disappointment, ..is only one step away from the politics of Frustration and Vexation".  Therefore, we must find "ways to overcome the Confidence Crisis that has recently grown into stategic Misunderstanding, which made talk about "Cold Peace" or even "a New Cold War".

    - In fact, what is "at Stake" today,  "is the Future of the entire Euro-Atlantic Region, and its role in the increasingly ... PolyCentric International System of the 21st Century", the Russian Foreign Minister stressed, implicitly hinting also at China, India, the Arab Countries,  and other Emerging New Powers.  

    - Because, "Now, a Good Opportunity has come to overcome this Negative trend,.. and to resolve the Major Problem that Europe .. has been facing during the last 300 Years", Lavrov optimistically stressed.  Today, "we (Europeans) should not settle for mere Co-Existence, as during the Cold War era", when Europe was still divided. Because "the qualitatively New Environment that has developed in Europe" recently, (also in the Wider Context of "an indication for a positive turn in Euro-Atlantic politics" towards "traditional Values of International Relations, such as Moderation, self Restraint and Reconciliation"), "allows, and even demands us to move much Further, notably along the path to Harmonization of Interests", he advised.

    - New, Historic moves could and should be made in Europe now "in the framework of a Single Space for Security, Cooperation and Prosperity : I believe it necessary to say this Today in Strasbourg", Lavrov ambitiously proposed.

    - In particular, an "Open regional Collective Security System", "full-fledged, with Legal Obligations and Mechanisms ensuring its Compliance", "should become an inalienable component" now of the "Synthesis" that already the European pioneer thinker Coudenhove-Kallergis had found to be "the Key into realizing the Future of the European Civilization, and its decent place in the contemporary World", Lavrov stressed.  This should provide "Equal, Indivisible and assured Security of all the States" involved, not only "as a catchy Slogan", but also as a "Reality". "The initiative on the European Security Treaty (EST) put forward by (Russian) President Dmitry Medvedev in Berlin, in June 2008,  (and accepted for Discussion f.ex. at the OSCE by French President Sarkozy in agreement with German Chancelor Merkel since November 2008 and early 2009, reiterated at the November 2009 Berlin Wall Fall's 20th Anniversary Summit and partly highlighted at the December 2009 Corfu OSCE Summit : See relevant "EuroFora"'s NewStories from Berlin, Nov. 2009), offers a simple and clear Solution to the existing Systemic Problem of European Security", he reminded, speaking of recent moves.    

    Because "it is the Unresolved Problem of HARD SECURITY, tha relict agenda of the Cold War era, that (still) hampers the effective Development of .. Cooperation" in Europe, he denounced.        

     - Concerning CoE's specific potential, Lavrov said that he was "aware" of the fact that, according to its "Statute", "the National Security issues do not fall under the competence of this Organization". "However, due to Globalization processes and New Challenges related to them, the very Concept of Security has undergone qualitative Transformation : The question is no longer about Hostile States, against which old-style Coalitions had to be created". But, the "New Challenges and Threats that we are facing are represented by Trans-Border Problems, which ca,n be countered only by Collective unanimous efforts of all the States within the framework of the Broadest International Cooperation, for ensuring Personal Safety", he observed. 
                                                                         
-    Safety for elementary Human and basic Social or Cultural Rights of Citizens, including against deadly mass Terrorism, or Environment protection against Extreme Weather Phenomena (as, f.ex.  Global Warming, or the recent Icelandish Volcanic Ashes' Clouds, pushed by dangerous Atmospheric dynamics, which blocked all Europe's AirFlights, from Reykiavik up to Moscow and Cyprus, provoking wide disruptions and more than 1,7 Billion € losses), protection of Personal Data and/or Identity at the Internet and CyberCrime, safeguarding Cultural Heritage, access to Free Media and to Education, BioEthics, Democratic systems and fight against Corruption, Money Laundering, Human Trafficking, etc., together with certainty provided to Citizens and Businesses by Rule of Law, etc., seem to be among the various areas of action inside the Wide spectrum of CoE's potential eyed by Lavrov.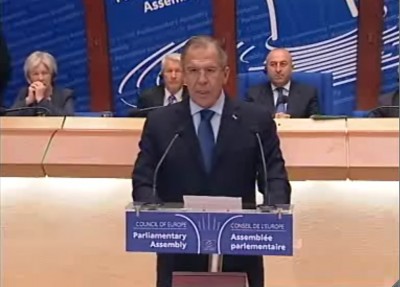 - "CoE has risen from the Ashes of the World War II" and "its Activities in the Humanitarian domain are aimed at ensuring Security of every European, in its Broader meaning", the experienced Russian Foreign Minister observed.

    - "The Pan-European structure represented by the CoE", (with 47 Member States), ..is well functioning in the sphere of SOFT SECURITY, which is related to the Security of the Person and Human Rights", he pointed out, (referring mainly to the main Missions attributed to the CoE by the latest, 2005 Warsay Heads of State/Government Summit).  Because "the better the guarantees of the Social Conditions of Human Life are, the better the (Human) Rights' record is, the stronger the Economy is, the more Protected the Individual is in Society, the Less reasons he has to resolve Problems by using Force" : "This is felt especially strongly in the conditions of the Current Crisis".

    - "It's in this context that ... CoE (can) be a Humanitarian Pillar for the New European Security Architecture", he stressed. In this sense, "the primary Task of the CoE is to become an intrinsic Part of the comprehensive Solution of the European problem", according to Kallergi's Historic call. That's why, now, we "must enhance CoE's role as an establisher of a Common European Legal and Humanitarian Space", Lavrov proposed.

     - Already,  "a Common Legal Space of the (European) Continent" is "formed" by "a vast aray of Pan-European Conventions, (which) have been drawn here (in Strasbourg), are Legally Binding". ("Unlike OSCE's Political documents", "that makes a strong Contrast to the Sphere of Hard Security, where there is No such a truly Collective Organization with International Legal Personality", Lavrov compared).

    - "CoE must be the Leading European Lawmaker", the Russian Foreign Minister advocated, judging "Inadmissible" any attempts "to Diminish its mandate and competence, .. as well as to Limit its Independence, (or) transform the CoE into a Subsidiary body of Other European structures" (as, f.ex. the EU, etc). On the contrary, he would welcome for USA, Canada, and "all OSCE Members to adhere to CoE's Law", (many of its Conventions being already "Open" to International participation, as f.ex. in BioEthics, CyberCrime, etc).

    - "Owing to a more Effective CoE, our Continent will have every Chance to become truly Integrated ...with Human Rights promoted according to Unified Standards", he added.

    - But, also in a wider area of activities with real potential vis a vis People's lives, "all Europeans need an Effective CoE, because the terms of reference of this Strasbourg-based Organization include a Broad range of Large-scale and Topical issues affecting the most Vital Needs of the People", Lavrov observed.

    - This fits well with "Russian President Dmitry Medvedev's declared Policy of comprehensive Modernization.... based on the Values and Institutions of Democracy and Socially oriented Market Economy", he stressed. Today, "the interests of Common Survival require Pooling the Forces, Resources, and comparative Advantages of each Country" in Europe "in Practical terms", Lavrov also observed in this regard. "Such a Joined Movement could be initiated by establishing a Partnership for Modernization between the EU and Russia", he proposed, (Comp. supra).

    A Central part of it can also be "Russian Leadership's" decision to "make it a Priority to Invest in the People, as the Key Development Resource", (including, f.ex. Education, Scientific Research, etc., at the same time that the EU is notoriously focusing on how to really bring Knowledge and Innovation at the heart of its "2020" Economic and Social policy). After Miltary Power since Medieval times, and Private Property since early Capitalism, investing in the Development of Individual Persons' Capacities, such as Education, Health, Professional Experience and Scientific or Cultural Creation, added to a Citizenship actively participating into Democratic decision-making processes, might, indeed, become the 3rd Pilar of a geopolitical area's strength.

    - The "Strasbourg-based Organization" also is "especially Important with regard to the Social and Economic implications of the Global Crisis", added Lavrov, the same day that CoE's Assembly was debating and voting  in Strasbourg 4 Reports, precisely on various aspects of that. "In February 2009, Moscow hosted the 1st European Conference of Ministers responsible for Social Cohesion", and "we support the adoption of CoE's Action Plan in this field", he also said, shortly before Moscow also hosts another CoE's Ministerial Conference on Spatial Planning, which is obviously relevant to Cohesion.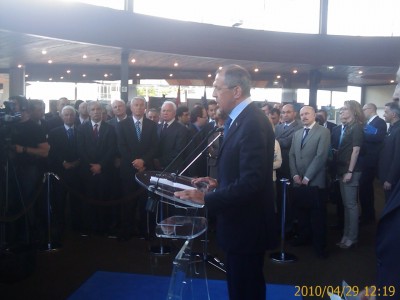 Moreover, the Russian Foreign Minister, Timely launched a Call in Strasbourg "to promote a series of Discussions on the Modern understanding of the European Identity, which should involve the Best Philosophical and Political Minds of our Continent", as he said just a few Days before EU starts debatting, precisely, on "Europe's Future", in order to react to a relevant Report drafted by a Wisemen Committee, obviously expected to be Controversial, according to a Political Agreement which had been prepared by EU Commission's President Barroso and French President Sarkozy, and officially endorsed by EU Council, as a part of an overall Compromise accepting to continue the controversial EU - Turkey Negotiations, (providing many Hundreds of Millions € each year to Ankara's regime since 1999-2001), despite a notoriously wide Popular opposal against Turkey's EU bid, which provoked 3 "No" to EuroReferenda, and was at the center of 3 Electoral Wins at the May/June 2007 French and September 2009 German National Elections by Sarkozy and Merkel, as well as in the June 2009 EU Parliament Elections, not only in France and Germany, but also in Austria and the Netherlands, even in Bulgaria, in the UK, etc. (See "EuroFora"'s relevant 6/2009 NewsReports for concrete Facts).

    But, "Cultural and Language Diversity is one of CoE's greater Treasures", added Lavrov, before symbolically inaugurating an Exhibition called "Ethno-Peace" aiming to promote Russia's "more than 1000" various ethnic origins of the People traitionally living in the huge area spreading from Saint Petersbourg and Caucasus up to Yakutia and Vladivostok. Russian Civilisation, Historically European, after emerging initially as "the road linking the Scandinavians to the Greeks (of the former Millenary Byzantine Empire at Constantinople), was obviously obliged, since the Ottoman Turkish invasion and occupation of Constantinople and the destruction of Byzantine Civilization, to search another free access to the Open Seas by gradually extending its Eastern borders throughout Siberia up to Vladivostok, at the Pacific Ocean.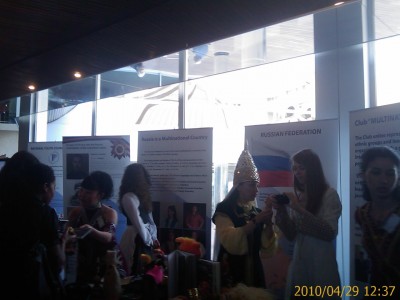 However, during the "Enlightenment" (18th Century) Russia notoriously linked with the rest of the Western European Culture, Art and Science, including French, German, Italian or Dutch, etc, while its main Ideas, Political structure and common Language remained Russian, i.e. traditionaly European, (since even its written form was notoriously invented by Byzantine Christian Monks Cyrile and Methodius, with many Letters inspired from the Classic Greek Alphabet). This was one more reason for Lavrov to ask CoE to "increase the use of Russian and other Languages (f.ex. German, Italian, Spanish, etc), in addition to the 2 Official ones", (French and English). Indeed, after the 1995, 2004 and 2007 EU Enlargements, in parallel with CoE's earlier extension Eastwards, recently, many EU and/or CoE Member States' representatives speak or understand also Russian, (from Bulgaria up to Finland, Estonia or Poland, and from Hungary and the Czech Republic up to Slovakia, Romania, Ukraine, Georgia, Armenia, etc).

    Today, "our (European) Continent has every Chance to become a truly Integrated Space, ... where every Citizen of the Greater Europe would benefit from real Mobility, realized in the Free Movement of Ideas and People", the Russian Foreign Minister added, denouncing the fact that "It's quite hard to understand that the "Visa Iron Curtain" is drawn.. in the opposite side, (i.e. from EU's Shengen area), unlike the Cold War" period, (when it was mainly the former USSR which restricted the Free movement and Contacts among Europeans).  

    This is an Important issue, because, "Ultimately, the level of mutual Integration among European Communities" of People, and "the strength of Contacts between People, define mutual Understanding and Trust, and we can build Security only if we trust eachother", Lavrov observed.

    Concluding, the experienced Russian Foreign Minister launched a Call to "put into Life the Hopes and Ideals of the Founders of the European Integration, and of many European Generations". "Tragic Experiences of the 20th Century, ...should become a Purgatory on the way to Our Common Future".

    -  "The Europe left to us by those who Sacrificed their Lives during World War II to Liberate it from the Fascist plague, (and) paid a heavy price", gives us a Chance, but also "the Task .. to Jointly build it"
------------------
    The move seems to be warmly Welcomed by New CoE's Secretary General, Thornbjorn Jagland, who, after meeting with Lavrov, confirmed officially that : - "We, from the CoE side, want to provide more "Soft" Security in the overall framework of the Security concept for the European Continent".

    It fits also with the proposal made earlier by French President Nicolas Sarkozy, in agreement with German Chancellor Angie Merkel, accepted also by Russian President Dmity Medvedev and Prime Minister Putin, etc., to create a kind of larger PanEuropean Economic and Legal Space, where the EU could develop a Closer Strategic Partnership with big Neighbouring Countries, going from Norway up to Russia or Turkey, etc. (regardless of EU accession issues, or not).

    Questioned twice by "EuroFora" earlier, CoE's New Secretary General, Jagland, has Positively replied by strongly supporting such an Idea, (Comp. October 2009 and January 2010 "EuroFora"'s relevant Publications). And "it's only CoE" which can guarantee a Common Legal Space throughout all Europe, linking together the 27 EU Member States with 20 other Countries, including Russia, as he stressed anew this week while presenting his "Reform" Plan to CoE's Assembly.
------------------------------------------
Lavrov on Particular, Topical issues :
--------------------------------------------
    Replying later to various MEP's Questions, Lavrov highlighted several  concrete points illustrating the above mentioned general principles :

     F.ex., on "Hard" Security in Europe, he unveiled Russia's proposal to the U.S. for a Collective Anti-Missile Shield with the participation of EU Countries, and he appeared to believe that some kind of conditional Sanctions against Iran's reluctance to cooperate with the International Community might become necessary in order to bring Teheran to the Negotiation Table.

On European "Integration", Lavrov anounced Russia's readiness to link,for the 1st time, its Electricity Grid together with that of the EU's, and to boost Cooperation between Historians from differend CoE Countries in order to find and write together objective reports on controversial issues of the Past, helping emerge an overall European view of the continent's History.
-------------------------------
For a Collective, European anti-Missile Shield ?
-------------------------------    
-  Bulgarian MEP Yanaki Stoilov asked Lavrov what was  the position of the Russian Federation with regard to informations about resettling an Anti-Missile Shield by the US in the area of Eastern Balkans, and whether there were Discussions about this subject between US President Obama and Russian President Medvedev, when they recently met in Prague. And, if he things that there is a real possibility for the Russian Federation to engage into Negotiations with OTAN on the issue of an Anti-Missile Shield in Europe ?

- The Russian Foreign Minister replied that he "can tell that there were a lot of Russo-American meetings, and that this subject of the Anti-Missile Shield is always very High on the Agenda.

- "We consider Positive that the Obama Administration has set aside the Previous Plans for an Anti-Missile Shield in Europe, because that was a real Threat against the International Security and the Russian Federation", Lavrov reminded.

- "Certainly, we are Now looking with a lot of Attention on what kind of Alternative to that could be acceptable. And we are looking very carefully at how the position of the new American Administration on this issue is evolving, in practical terms."

-  "During the 1st meeting between (Russian) Presidents Medvedev and Obama, on April 2009 in London, (i.e. at the eve of NATO's Summit in Strasbourg : Comp. "EuroFora"'s NewsReports from the event), we (Russia) raised the Point that we need to Cooperate on Anti-Missile Defence, including also with the involvement of other European Countries interested in cooperating on that, and doing this on the basis of a Joint Collective Analysis of the Situation and of the Threats, to work together right from the outset : (I.e.)   to have Experts from all Countries involved, sitting around the Table , bringing to the Table their Assesment on what are the Missile Threats against them, putting that together, and, on the basis of a Common Analysis, working together to implement Joint Measures to reduce the level of such Threats", Lavrov unveiled.

- Collective "Measures that could  be Diplomatic, Economic, and ultimatelly Military, Technological, if it is decided that the Threats are Open and Direct", he explained.

- So, "there is an Agreement between Presidents Medvedev and Obama  to curry on the Discussions on the Joint Security Analysis  under the Russian - American Presidential Commission, which meets, views are exchanged,  discusses the Real Missiles' Threats. And , at the same time, there is Discussion of the (Anti-Missiles) Shields that the Obama Administration is thinking of putting in place.

- "But, what is a Pitty, is that these Discussions are taking place at a Time when an  agreement has been probably reached between Obama and some Eastern European States on the establishement of a(n) (Anti-Missile) Shield. So there is some  Contradiction in that", he Critically observed.

- "In so far as the Russia - NATO framework is concerned, at one point, there was almost a full Agreement on the Project along the lines, (I believe that even a Test-firing had been ready and Planned for),  I think it was a very Positive project", Lavrov revealed.

- "But then, on the Initiative of our NATO Partners, who may be were offended by something we did on this purpose, so that it was Frozen, it was put off the back shelf !", he regretted.

 - "What we would like to make sure is that it's really a Joint work, by Participation by Russia and the NATO on an Anti-Missile Shield, which are, or will be following the existing Inertia. Which constitutes in the Americans doing what they want to do, and then, NATO coming up with a  clone Anti-Missile Defence, which will be sort of subsued under the American Design, and only then, NATO be ready to consider including us (Russia) in the Implementation of this"... All of this, of course, is in Contradiction with what we want, which is Cooperation right from the Outset", he criticized.

- "(But), we are not losing Hope, and we believe that it could be possible  to have a genuinly Joint Project", the Russian Foreign Minister optimistically stressed.

- But, "at the Present time there are obviously two processes in Parallel,  which is somewhat in Contradiction", he concluded.
----------------------------------
IRAN/Nuclear Proliferation : Conditional UN Sanctions possible
-----------------------------------
    Meanwhile,  it's also on a Topical GeoPolitical issue, such as the Non-Proliferation of Nuclear Weapons and Iran, that the Russian Foreign Minister appeared closer to the stance of main European Union Countries, (contrary to Turkish Prime Minister Erdogan"s recent controversial claims) by starting to discuss conditional UN Sanctions, (even if he refused use of Force) :

    - "How committed is the Russian Federation to further Sanctions' Resolutions, in the event of Proliferation of Nuclear Weapons, (and) how important is it, in Russia's view, that Iran does not obtain a Nuclear capability ?", asked him at first British Lord Anderson, on behalf of the Socialist Group.

 - "Well, i have spoken on this on several occasions, and so has the President (Mzedevedev), and the Prime Minister (Putin) of my Country (Russia), and I said that, for us, it is Inadmissible that any Violation of the Non Proliferation regime, and, of cousre, it will not be acceptable for us that Iran, or any other State, acquires Nuclear Weapons", Lavrov replied.

 - "Therefore, we are Resolutely Determined to Strengthen the Nuclear Non Prolifersation regime, and to resolve all the Problems that exist in this regard,  in particular, obtaining full  Transparency and Clarity about the Iranian Nuclear Program. so that everyone can be convinced that it is of completely Peaceful nature".

 - "When that occurs, and when All of the Oustanding Questions of the (UN) Security Council, and of the International Atomic Energy obtain answers, then, Iran will have all of the  Rights that a Nuclear-free State of the Non-Proliferation regime has".

- But, "we (Russia) find it Regrettable that Iran is Not responding to the many Proposals that have been submitted to it, in particular by the  3 + 3 Group, which includes France, Germany, U.S., China, Russia and the UK. Its Proposals were aimed at engaging a Constructive Cooperation in order to Answer the Oustanding Questions and seek Good Dialogue between the IAE and Iran." If such a negative attitude persists, then, it's not excluded that (UN) Sanctions might become unavoidable. 

- "Currently, we are working on new Steps and New Measures, that could be taken into consideration by (UNO's) Security Council with a vew to convincing Iran that Cooperation is at its best Interest", (i.e. some kind of possible Sanctions), Lavrov revealed.

- However, "Sanctions are not always Effective. We, as Russian Federation, don't believe that they can be very Effective. There are a Number of Historic Examples, when Sanctions decided by the International Community, turned out to be Counter-Productive", he warned.

- "But, through Cooperation with Iran, it is quite Possible that Sanctions would become unecessary, and that is something that the (UN) Security Council will be looking at", Lavrov added, indicating a probably Conditional measure.

- "Sanctions should have only 1 Objective : Namely to incite Iran to resolve all the Outstanding Problems and Issues concerning its Nuclear Program, and to strenghen the Non-Proliferation regime. Sanctions should not be decided in a way that would Change Regime, or cause a Humanitarian Disaster in Iran, or to put Pressure on Iran", he explained, concerning the Choice among various possible Sanctions.

- "And, I believe that, on that basis, we can continue to work with Iran, and, through the Joint efforts of the International Community, it would be Possible for us, ultimately, to receive Answers to those Outstanding Questions (that) I mentioned", he concluded.
-------------------
    - However, Iran was also at the focus of a follow-up question by Swedish MEP Ralf Lindblad : - "Mr Minister, I would like to follow up on the Question of Lord Anderson about Iran :  What gives you the Impression that more Talks with Iran would lead anywhere, as, so far, for Years there have been Talks going on, without anything coming out of that", he asked.

    - "And, also, you said that you are not in favour of a Regime Change. But, of course, then you  agree, that we won't have Enforcement withiout a Change. And you'd probably agree with me, that It would be beneficial for the Iranian Population if they had a Regime with Democracy, Rule of Law and Human Rights, instead of a Dictatorship in the line of the Soviet Dictatorship", Lindblad went on to add.
---------------
    - "This is another Rhetorical question, with the aim to be Heard by the House (i.e.  CoE's Assembly)", Lavrov reacted.  "This is Your (personal) Opinion, and I do Note it"

    - " As far as the Iranian regime is concerned, I repeat once again that the Sanctions which have already been taken in 3 Resolutions by the (UN) Security Council haven't born fruit, haven't yet led to Results", the Russian Foreign Minister criticized.

    - So, "we are going to have to come into an Agreement. You said that there should be Use of Force, but that's just Not Acceptable. Everybody ought to realize that we are going into a Catastrophe like this ! Europe could be affected by the  Effects of that, which could be so Negative in certain areas as the Caucasus etc.", he warned.

    - "Iran is a Difficult Partner. I have already said that we are Disappointed with how Iran has reacted to constructive Proposals made by the International Community. But, you know, Nobody is Perfect.. For the members which are part of the 3+ 3 Group Agreement, we ever say that we started by asking for a Two-Track Approach :  "We are insisting and trying to create stimulus for Iran to come round to the Negotiating Table  with us.  But, at the same Time, we are using the (UN) Security Council to support, as much as possible, the causes for which the EIA has made demands, to solve some of these Unclear issues. And this Two-Track Approach is in all our Resolutions from the (UN) Security Council"

    - "So, there is No Simple Answer to your Question. What convinces me that we need  to Talk ? "Of course we have to Talk to People. That's why Diplomacy has been created for :  To Talk to People, to try to convince the People who don't agree with you. If I understood well, You felt that there is no point in Talking to Iran, and that we should resort to Force. But that is out of question", Lavrov refused that last point, applauded.
---------------------------------------
EU - Russia Electricity Grid link ?
------------------------------------------
    As a concrete new move in a particular but Strategic domain, inside the General Context earlier described for EU - Russia cooperation by Lavrov (See supra), replying to a Question raised by Lithuanian MEP Ms  Birutė Vesaité, he anounced Russia's intention to consider linking its Electricity Grid with that of the EU, starting from Kaliningrad.

    This Topical issue is of great Importance for the EU, as it was recently shown by the Call launched, earlier this Month in Strasbourg, by the New EU Energy Commissioner, Gunther Oettering, to ensure that all EU Power Grids are interlinked together, so that they become able to easily transport Eletricity from one Country to another, according to availability and needs. (Comp. also other Oettinger's statements to "EuroFora" on this occasion).

    - "Recently, the Russian Federation anounced its intention to build a new Nuclear Power Station in Kaliningrad.  And Belarus also anounced that it will be building a New Nuclear Power Station. ... Since the Electricity Power to be produced in Kaliningrad by far exceeds the Needs of that Region,  does this mean that Russia will be integrating its Electricity Grid with the EU Grid ?", Lithuanian MEP Vesaité asked Lavrov.

    - "We (Russia) are Open for Cooperation, in the Broadest possible sense, with others, in the Energy sector. President Medvedev has anounced in 2009 that he wants Energy Cooperation to be lifted up to a New Qualitative Level, both in so far as it concerns and  Nuclear Power, and Oil and Gas. Such Cooperation would be in the Interests of Producers, Consumers, and Transit Countries", replied Lavrov.

    - "I'm not going to get into Details are this Stage", but, "'we are prepared to Cooperate with Belarus for the construction of a Nuclear Power Station there, and we are Prepared to integrate the Kaliningrad Electricity Grid with the Grid of the EU as a whole, in order to meet the needs of Consumers (also) elsewhere', the Russian Foreign Minister anounced.

    - "We are prepared to Cooperate in any Practical, Effective Project on the ground, that would contribute into the Energy Security of all Countries in the (European) Continent. I think that is in the interest of al of us, and or our Sustainable Growth and Development", he concluded.
--------------------------------------------
    However, concerning EU - Russia practical Links, curiously, Lavrov wasn't questioned by any MEP now on the recently emerging perspectives to establish High Speed Train links with the EU through Berlin and/or Budapest :

    Both are obviously important in order to start using European Continent's GeoPolitical potential to build the Biggest High Speed Rail backbone link in the World, going from Spain, France and Germany to Russia, all over Siberia up to the Pacific Ocean, at Vladivostok, close to China and facing Japan, as well as USA's Alaska. This would naturally be also an Ideal context for the development of New, Very High Speed Trains, as f.ex. the TTGV prototype recently presented by France's SNCF between Paris and Strasbourg, which reportedly is due to reach more than 650 kms. per hour.

    CoE's Headquarters and EU Parliament weekly Plenaries' Host City of Strasbourg could soon fit particularly well to such Mega-Projects, and facilitate their realisation, since it's part of the "Magistrale" High Speed Rail Network, planed to link Paris to Stuttgart, Munich, Wienna and Budapest, where Russia was reportedly considering recently to create a  link with its famous TranSiberian Rail Network. Thus, the forthcoming, Jan. 2011 Hungarian EU rotating Chairmanship might provide a Timely opportunity to add a Strategic but Easy to build "Missing link" in such a PanEuropean and Euro-Asian Mega-Project. This could also serve as the Main Backbone for various other "Vertical" Railroads to be progressively added in the Future, linking together also many other European destinations in an overall High Speed Rail Network, able to easily achieve a Unique level of Transport Integration in the World.
---------------------------
A common view on Europe's History ?
----------------------------
    Meanwhile, replying earlier to a Question on his "Vision on History Teaching", raised by Irish MEP Ms Keaveney, Lavrov agreed that, "for Historians, to cooperate with each other in order to shed more Light on the Past, whenever there are still various points of view and interpretations, it's something extremely important".

    - Even if "we cannot re-write the Nuremberg's Judgements (against NAZI Crimes against Humanity), nor the various UN Resolutions, or the documents adopted by the OSCE and by the CoE : We can't re-write History", as he warned.

    - "But we already have such Groups of Historians between Russia and Germany, as well as Russia and Poland, and we'd like to have also the same with Baltic States, and with other States which might be interested", Lavrov anounced.

     - "Just recently, we had a 1st Conference of Ministers of Education from CIS' Countries (former USSR), who agreed to prepare a Joint Project and seek a common View on the History, in order for Young People to have access to common Historic material Facts."

    - "At CoE's level, it would also be an excellent idea to launch such projects, if we want to forge a United Continent, and not a continent which is divided by Nationalistic reactions during Centuries", Lavrov proposed.

    The move could obviously fit quite well also the Russian Foreign Minister's proposal to start debatting "Europe's Identity" and focus on "Our Common European Future".
***
(See also Lavrov's Statements to "EuroFora" and other Journalists at the CoE in Strasbourg,  inside a differend "EuroFora"'s NewStory).           
***
BRIEF NEWS
00:00 - 02.06.2021

00:00 - 18.10.2020

00:00 - 19.06.2020

00:00 - 18.05.2020

00:00 - 20.04.2020

00:00 - 02.02.2020

00:00 - 09.12.2019

00:00 - 27.11.2019

00:00 - 16.11.2019
Statistics
Ospiti: 50504480
Archive
Login Form
Other Menu


Brixen-Bressanone/ACM/3.8.08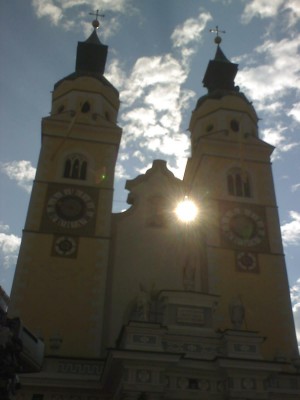 An appeal to make the "World more Human", by defending basic Human Values, helping those in need, and paying hommage to Nature, figured high in Pope Benedict's long-awaited speech at his "First Angelus" in the symbolic, beautiful historic small town of Brixen/Bressalone at the Alpes.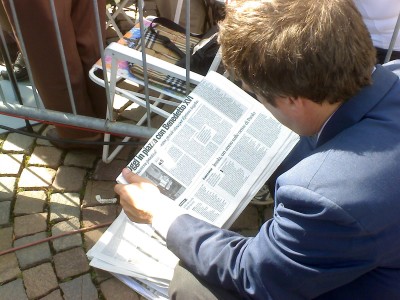 - "No Dictature, nor any destructive force can rob us of the most important goods wich are God's gift", stressed Pope Benedict, referring to elementary Human Values, in a last-minute improvisation of his draft speech, before launching also a call to "help those in need", in order to "make the World more human".
- "Jesus is the focus .. In him is Justice and Freedom", said earlier Brixen's Bishop Wilhelm Egger, after prayers including calls to "Truth, Justice and Freedom", read at a Mass of thousands in the town of Archangel Michael, known as defender of christians against the devil.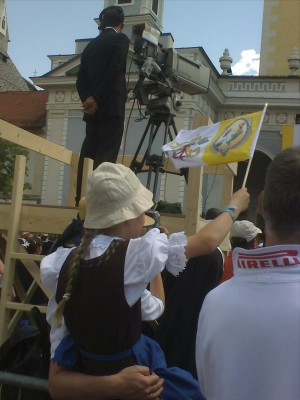 In what looks as a reference to BioEthics' dillemas of crucial impportance, raised at Strasbourg's unique in the World legally binding International Treaty on BioMedicine and Human Rights (1998, with the "hottest" issues added later through additional protocols, some of whom are imminent), he spoke also of the splendid "Nature" at this Alpen's ressort : This fits well Vatican's earlier anouncement that Pope Benedict's "prayer intentions for August" are mainly to "respect God's design for the world", and "become ever more aware of the great gift of God which Creation represents for us".
- "The most important things in our lives cannot be bought, but are only given as holy gifts : The Sun and its Light, the Air that we breath, the Water, the beauty of Earth, Love, Friendship, Life itself", Pope Benedict added, extending also to Natural Environment, another topical issue after recent Climatic upheavals at several parts of the World.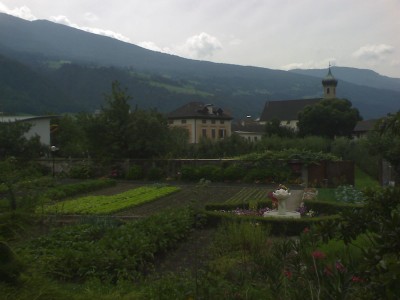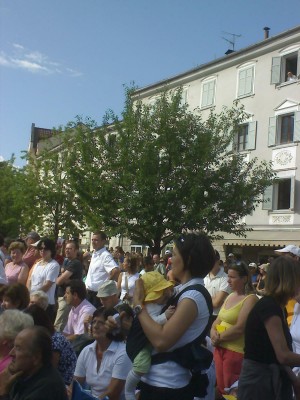 The "preparation of Pope Benedict's visit to France", which currently heads the EU, at mid-September, among exceptionaly important Council of Europe meetings on Human Rights in Paris and Strasbourg, is part of his work, together with his "book on Jesus", during brief Summer Holidays in Brixen, said his Spokesman, Federico Lombardi.
- The Pope's message is mainly religious, theological. But we are living in a concrete world, and ideas may be taken by readers as references to the actuality. However, it's better to wait to se what the Pope will say in Paris and at Lourdes, added to EuroFora Lombardi, who is also Director of Vatican's Press Office.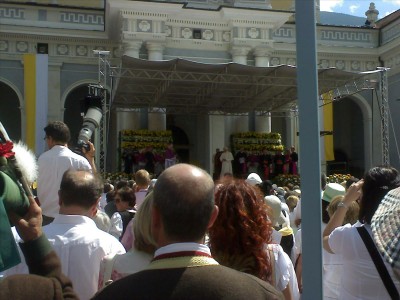 Brizen/Bressanone is similar to Strasbourg by succeeding to make a fertile synthesis of Germanic and Latin sources of Europe, like the two local rivers who meet at the historical center of the town, among spectacular ressorts at mountains' hights.

Headquarters for an Historic Religious Seminar, it attracted recently also a Free University's Educational studies. Well-known as a long-time preferred rest place for former cardinal Radzinger and his brother Georg, it includes areas named "St Benedeto" and "St George"...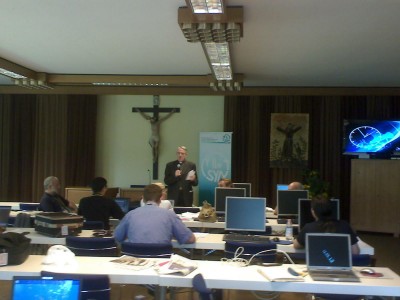 But Pope Benedict's first speech gave also another symbolic rendez-vous :

- "Next Wednesday, August 6, we shall commemorate the 30st anniversary from the death of late Pope Paul VI", who "concluded Vatican II", and "the Transfiguration of Jesus, mystery of the divine light, which exerced a unique fascination to his soul", he said to some 12.000 applauding People, among the happy few who succeeded to have a rare place for an open-air Mass inside the Domplatz a particularly sunny day at the Alpes.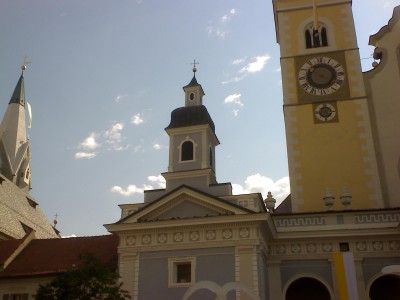 Polls