Home

newsitems

Jacques Chirac: An Ambitious but Human Fighter for a Great Europe, largely Justified by History
Jacques Chirac: An Ambitious but Human Fighter for a Great Europe, largely Justified by History
Thursday, 26 September 2019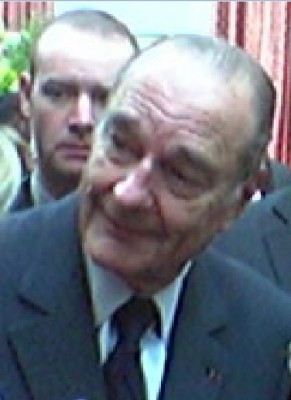 *Strasbourg/Angelo Marcopolo/- The Tragic Loss of one among the Greatest Political and Human Figures of a so Important French Leader and Fighter for an Atonomous and Great Europe, as Jacques Chirac, almost at the Same Time that one of his Younger Successors, Emmanuel Macron, is expected in Strasbourg to Address CoE's PanEuropean Parliamentary Assembly, where Russian MEPs just Returned Back after Years of Sterile Divisions, is a Sad and Astonishing Coincidence, which can only Strengthen and revive its Legacy, which belongs to the History of all European People, and much more in nowadays World.
Indeed, it's no more than just a Few Weeks ago, that, also UnExpectedly, the Experienced Russian President Vladimir Putin, (who had notoriously met Macron Earlier at Bregancon Fortress on August 2019 : See .., etc), had reportedly Declared, from Moscow, that, in his view, Jacques Chirac was "the Greatest Political Leader in the World" that he knew !
But we First learned about Chirac at a Hard Moment, Back on 1976, when we arrived in France for our Post-Graduate University Studies, (initially due to take place in the UK or USA), in a Period full of Quarells, Splits and Break ups, ("Ruptures" in French), Both at the Right and at the Left Side of the Political Spectrum, when he had felt obliged to Resign from his Top Job as Prime Minister, Brutaly Shocked by a Strange Car "Accident" (that some among his Friends reportedly suspected to have been, perhaps, provoked by unknown factors), and Urgently Hospitalized.
Many Years Later, this Experienced, Long-Time F. Minister and Prime Minister, after Becoming also Elected Mayor of Paris, notoriously Struggled several times for the Presidential Elections, that he Won, Later, Many Times, Finally Deciding even to Sacrifice more than 2 Years of his Presidential Mandate, by Cutting it Shorter than the Initially Scheduled 7 Years - Term, just in order to Spare France from more Inaction and petty internal quarrels Weakening the State's Power to Decide and Act, by that counter-Nature "Co-Habitation" of Opposite Political Forces, from the Left and the Right, which had Costed him a lot of worries in the Recent Past, (and has also notoriously weakened even Germany's capacity to act rapidly and decisively enough), often Contrary to the Will Expressed by the Majority of Citizens...
However, Chirac First attracted our real Attention, Sympathy and Admiration, at around 1999, when he Dared spectacularly Lift the Flag of the Need to Develop an "Autonomous" European Defense, even during a ...NATO Assembly's Plenary Session in Strasbourg, Challenging its Secretary General at those times, a Brittish Socialist who accepted some European Defense, Only if it was Not Autonomous...
This was shortly Followed by the crucial 2001 Electoral Campaign, where his "Socialist" Competitor was even openly Threatening to ...throw him in Jail (sic !), among Petty Slandering Pretexts,  but withOut really Daring to Openly Debate on Any Big Political Issue in a crystal-Clear way, while Chirac, once Again, was, on the Contrary, Focusing anew on the Need to Develop a Strong and "Autonomous" Europe in Nowadays World, including on European Defense High-Tech and Other Capacities, (almost as our American Friends had Already done, since a Long Time ago, not hesitating to even Fund, in this way, the Technological Research and Development of their most Performant Big Companies, (which, Afterwards, naturally used that in the Global Economic Competition).
When he Succeeded to WIn, in Both Rounds of that Crucial 2002 Presidential Election, a much Better Period Started, Both in France and in Europe, Not withOut Hard Struggles, and even some punctual Contradictions, (f.ex. on the Controversial and UnPopular Issue of Turkey, that, finally, the European People had to Settle themselves, by "3 No" to French, Dutch and Irish Referenda, until Chirac, as a Big Politician, Understood well the Popular Message, and Adapted accordingly his Policies, Starting Already from Middle 2005 towards 2006, etc).
What Counts most is that Chirac, suddenly unleashed and liberated a visible Strong Will to Create something Really Big in Europe and the World, in Cooperation with Others, to the point that he was even Eager to Check and eventually Promote Any Good Ideas that Friendly or Allied People might Suggest to him, in one way or another, Encouraging, thus, a Wider Creative Mood.
It's a this point that, f.ex., just After Expressing Loudly in Public (at the Inauguration of Strasbourg's Euro-Fair, a Traditional Annual "HotSpot" for manifold Projects 'announcements) our Wish to see, in the foreseable Future, a Modern, High-Speed Train Network, Linking Madrid to Paris and Berlin, etc., until Moscow, throughout all the European Continent's spinal cord, (See a Map), Suddenly, an UnPrecedented yet, "Quadrilateral" Summit between Spain, France, Germany and Russia, was Announced at the Elysée Presidential Palace in Paris, where we found ourselves inside, faster than we could even have dreamed in the Past ! There, almost everybody was also Searching about Big Projects to suggest, (some Russians that we knew from Strasbourg, even kindly Asked for Our Views on some of their alleged Proposals), amidst a wider Creative Atmosphere...
It's true, however, that the 1st Time that we had approached physically towards the Elysee Palace, (by a Coincidence when a Reportedly "Crazy" Individual, had suddenly Attempted to Aggress and Wound or Kill the popular French President, just Brillantly Re-Elected : Something Against which we had naturally Joined a lot of People's Angry Reactions, while also expressing an elementary solidarity and sympathy to the Target of such Brutalities), just in order to Ask some practical Informations for the Future, all out of a sudden, everybody around us was immobilized, the Doors Opened, and a Modern Black Car went out, with Only 1 Person inside, making a Rapid Maneouver, and Astonishingly Stoping, for a while, Right in front of our Face, with that Driver Looking Straight Ahead : We were Surprized to Realize (despite a pair of Black Glasses), that it was France's 1st Lady, Bernadette Chirac hershelf ! Naturally, she Rapidly Drove Away, but that Brief, Unusual Move was so Impressive, that we Never Forgot it...
Notoriously, Chirac often used and entrusted the Good Offices of Bernadette to Diplomaticaly Settle various practical delicate Issues, so that we'll also ever forget France's 1st Lady's Official Venue, Later-on, Near Strasbourg, at Colmar City, on the Occasion of the Inauguration of a Big Replica of New York's World Famous "Statute of Liberty", made by French-Italian Sculptor Bartoldi, who had Lived at Colmar : This happened around 2004, when France and the rest of Europe, apparently had Started to WIsh a Fresh Rapproachment with the USA, After the Crisis and the Notorious Divergence of Views about the Controversial Military Invasion of Iraq, Earlier on March 2003 (See Infra), Searching Now to find a Modus Vivendi for the Future : And it's, really around such Topical Issues, that Bernadette Chirac made a Public Speech, in presence of the American Consul from Strasbourg, as well as she Kindly gave us some Short but Interesting Replies to our relevant Questions to Publish.
Such a Rare Opportunity to Meet and Speak with the 1st Lady of France wasn't offered to us, but Only ... 6 Years Later, when Jacques Chirac had, meanwhile, notoriously resigned from any more Electoral RDV, around 2010 in Strasbourg, where Bernadette Chirac had arrived in the Different Context of her Philanthropic Activities, in a Train rolling throughout all France.
But, in the Meantime, a Lot of various Important Things had Happened !
First of all, surprisingly, Chirac's entourage, and/or even himself, apparently were seriously Examining Many among the various Big Projects' Suggestions, for a Key Role of France in Europe and the World, that We or Others had Published, (even "Anonymously", mainly at "Le Monde"s then Flourishing Internet "Forum", used and read by Many Thousands of People, and with a quite Good Quality then, even if, obviously, any "Competent Service" could easily discover the Real Identity of the Persons which used to regularly Publish there).
The GeoPolitical Context, then, is Mainly that of Jacques Chirac raising the Flag of De Gaulle's "Greater Europe", in order to Express a Crystal-clear Opposition to the Controversial and UnPopular Military Invasion and Occupation of Iraq, since March 2003, by mainly USA and UK Forces, under notoriously Hollow Pretexts and "Fake" Claims (particularly about so-called "Weapons of Mass Destruction", etc) made then mostly by former Brittish "Socialist" Prime Minister Tony Blair, (re-Named by Families and Friends of Young Brittish Soldiers killed at Iraq as : ... "BLIAR" !), as even USA's experienced former White House Security Advisor Condoleeza Rice, (and Afterwards Foreign Minister : State Secretary) Later felt and started to denounce herself.
In that Context, Chirac often animates and almost leads the PanEuropean "Trio" formed by France, Germany and Russia, (Already created since the 1998 CoE's PanEuropean Summit in Strasbourg, under French Presidency, with Chirac and Helmut Kohl, that we had Covered as Journalist). And, particularly from March to August 2003, the Critical Interventions of then Frech Foreign Minister, Dominique de Villepin, at UNO's New York Headquarter's Debates, against the Invasion/Occupatio of Iraq, become Legendary Worldwide.
It's at that Era, that we Publish ("Anonymously" : Comp. Supra) Ideas as such, f.ex., to Bring "Soyuz to Kuru", (concerning Russian Space Rockets at France's and EU's Space Launch Base in Latin America, as it Happened, indeed, later-on, until Now !). Follows also a Proposal to Link France's famous then, High-Speed Train, up to the Russian Network, throughout Siberia, up to Vladivostok, Korea, China's Beijing/Shaghai and Japan, etc, (After, Naturally having Managed, First of all, to Link Madrid-Paris-Berlin-Moscow in Europe :  Comp. Supra). And Chirac's Government, indeed, Starts, then, a Pioneer Cooperation Deal between the French Key Company "Alsthom" and an equivalent Russian Group, activated for such "TGV" Projects... Are Added also Ideas such as to Link Danube and Rhine Rivers, Horizontaly, from the Black Sea up to the North Sea, for "Grand Gabarit" High-Tech Ships, able to Transport Liquefied Gas Energy Right from Kaspian and/or Russian Sources, Directly into Europe, as well as to Extend even Southwards, into the Mediterranean Sea, such River Links (Around Strasbourg) via the Rhone River, etc. : The 1st (Danube-Rhine) Starts to Become Technically Possible already since Late 2002. But the 2nd (Rhine-Rhone) is Blocked, mainly by a Controversial "Green" Politician, and some Controversial Claims, which don't seem thoroughly investigated. On the Key Sector of Smart-Phones, (where Europe had, initialy, a notable Advantage, particularly through "Nokia"s Pioneer Finnish Company, added to France's "Chip", etc), we speak, Briefly, with "France Telecom" (Later "Orange"s), CEO, who Visits Strasbourg, and looks a priori Conscious of the Big Future Potential of SmartPhones Globally, But there is No visible Follow-up then, with the Result for France and all Europe to Lose the Chance to Play a Role in that Important Sector, (that Everybody Bitterly Regrets, in Europe, a Decade Later, when Snowden Reveals the World-wide Scandal of SmartPhones' Spying by Obama's USA on 2013, (even the Personal Phone of German Chancelor Angie Merkel !)... Earlier, we had Strongly Denounced the Abandon of (instead of Developin Furher) Hypersonic Airplanes' Technology, from France, during a "Socialist" Government, under the Suspect Pretext of July 200O's Strange Deadly Crash of "Concord" Airplanes near Paris, that Socialists immediately Exploit in order to Waste precious Public Funds Only for an Old Project of a Controversial, Short-Range and Slow-speed, Banal AirBus for Military Logistics Transport, where Turkey enters Inside, (partly because of Mines producing some ingredients used in that plane), attempting to Boost its UnPopular EU "Accession" Claim... When, on the 14th of July 2002, it's Revealed that, in fact, that Sly Manouver served to Exclude France and Europe, precisely from any Hypersonic Technology Airplanes, (the Only Able to Run Fast enough at a Trans-Continental Range of Global Networks), so that USA, the UK and ... Turkey (sic !) would immediately Exploit it in order to Equip their Brand New Military AirFighter, while also Keeping Boeing's "GlobeTrotter'"s quasi-Monopole even in Civilian Trans-Continental AirTravel, it seems Too Late to Rectify that 200O's Blunder of a "Co-Habitation" with "Socialists" in the Past, and, Unless to Investigate and Reveal All the Scandal around Concord's Strange Crash, and its Exploitation since 7/2000, there might be Nothing Else to do, than to Focus, at least, on Boosting France's and All Europe's Autonomous Defense Capabilities, (as Top Defense Minister Michelle Alliot Marie, and former Head of Chirac's Winner Party of "UMP", immediately comes to Strasbourg, meets us, and Vows to do at her Press Conference)... However, EU's Problems with that "Old Coucou" of A400M Military Transport Planes, will Persist, during Many Years, until ... the UK and Turkey, finally Back Off that Deal, and Drop the Old A4OOM for the American Hypersonic AirFighter (CQFD), Revealing that we were Right when we had Warned against abandoning Hypersonic Technology ! In addition, in the meantime, the Efforts of a French CEO at ESA to broker a Deal betwee EU Countries and Russia in order to Jointlu Create a Brand New High-Tech PanEuropean reusable SpaceCraft, apparently Failed, Undermined mainly by UK's Minority Refusal...
Meanwhile, inter alia, the Notorious Chirac - Blair Quarells persist, until the Controversial "Socialist" Prime Minister pushes the Provocation so far, as to Claim, in a Press Conference at the Brittish Embassy in Paris on 2005, (shortly After a "Haut" Meeting with Chirac at the Nearby Elysee Palace, with a Controversy on EU's Budget), that the French President would be "Only" Interested in EU Funds "for Agriculture", while, on the Contrary, the UK would Care for "Science" (sic !). Shortly Afterwards, Jacques Chirac reacts by deciding to Create the "ANR", a Brand New Body for Choosing and Funding Scientific Research and Technological Development, mainly with Public-Private Investments, and Headed by some Important, Imaginative and active French Scientists...
Almost at the Same Time, he creates even Closer Links between France and Germany, thanks to the New, then, Elected Chancelor, Angie Merkel, who is from a Similar Center-Right Party of ChristianDemocrats/EPP, as Chirac : They Meet Together, in so close range Franco-German Summits, as between ...November and December 2005, First in Paris' Elysee Palace, and Afterwards in Berlin's Glienicke Castle, near Potsdam, (where we had the Chance to Participate on Both).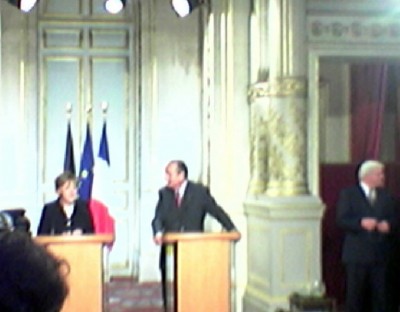 >>> Big Surprize in the 1st : When Merkel arrives, immediately after her Electoral Win, at the Elysee, to meet Chirac, there are Many Journalists packed standing at their Press Conference : However, the French President, curiously Chose, (at his own Initiative) ..us in order to Raise a Question to Both Chiefs of State/Government !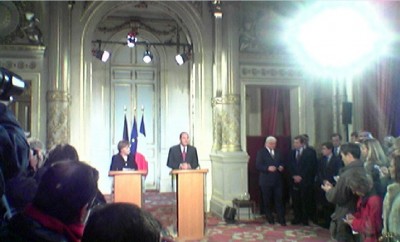 Speaking after the notorious "NO" to the 2005 EU Constitutional Referendum in France, (Not Because Voters wouldn't like Europe, But, in fact, mainly Because Most French People are Opposed to Turkey's Controversial EU "Accession" bid, and didn't have any other way to express that), we simply ask the Franco-German Leaders' Couple, if, since they claim to be "for a Strong Europe", then, will they Manage to Convince Turkey, at least, to Fulfill the Commitments that it has Taken (mainly on Cyprus, etc) ?
- Merkel reacts promptly, Focusing on a "Pacta sund Servanda !", i.e., whenever a State has officially made a Commitment, then, it Must Respect it !, as she tells us, in Reply. Chirac eeems Glad to Simply add that there is a "Full Agreement" between France and Germany, on that key point.
=> The Main Points of my subsequent Article to the Newspaper, where we work then for 15 Years, ("TCWeekly") are immediately Published, and, apparently, widely Commented, (even if some, reportedly, attempt to distord it)...
     But, the Next Step, in Berlin, where Chirac and Merkel meet again, curiously just Next Month : on December 2005, is quite Different :
     - Even if the overall ambiance is very Kind, there are Not so Many Journalists at this Press Conference, and, when Merkel asks now for "a Journalist from France" to Raise a Question, a Sympathetic Collegue from "AFP", Surprisingly, Gives me, with a Smile, the Opportunity to Speak myself (knowing that I come from Strasbourg) !
I really Feel, at that period of Time, as a "French" up to the Bone, (particularly After the latest Years with Jacques Chirac)... But, I canNot Feel free to Take the Place even of France's main Press Agency, "AFP", that my Collegue obviously represents ! So, I'm Obliged to Decline that Offer, and show that he'd Better Ask a Question himself...  He immediately does so, and, in consequence, my Newspaper's Chief Editor, Angry, Censors All my Article from Berlin ! "Punished"...
Meanwhile, However, Chirac, who has Already Understood well, just after the "NO" of the French People to the May 2005 EuroReferendum, that EU Citizens want to "be More Strict with Turkey, concerning the Conditions" put on her UnPopular EU "Accession" bid, as he Characteristically said in Brussels' June 2005 Summit's Press Conference.
He apparently has the Idea to use, for that purpose, the Blatant Violations of Ankara's elementary Commitments on Cyprus, (where the Foreign Turkish Army notoriously persists to Occupy the EU Member Country's Northern Territories, since the 1974 Military Invasion), which are, then, Simply to ... Stop Hindering all Ships bearing Cyprus' Flag to pass from Turkey's Seaports, whenever necessary. (A point Damaging Cyprus' Ship Industry, as well as Dignity as a State, but Nothing more, i.e. a Minimal EU Requirement from Turkey, since when Ankara started its Controversial "Accession Negotiations". But Ankara doesN't seem Ready to do Not Even that little)... A Similar Idea to use this Cyprus' Legitimate Pretext, in order to Stop Turkey's UnPopular EU bid, was soon Advised also by German MEP Hans Poettering, Chairman of EU Parliament's ChristianDemocrat/EPP Group, and Later EU Parliament's President, (as he told us).
=> Thus, Chirac lets Dominique de Villepin (that he has, Meanwhile, promoted into Prime Minister), practically Tell us that, at least Twice : First at New York's UNO Gatherings, on September 2005, (something which immediately makes Top Headline News, then !), and Afterwards, also, (with some More Details), on January 2006, at Matignon, in Paris. Finally, this logically Leads to a Collective, Official Decision of the EU, taken at the December 2006 EU Brussels' Summit, "Freezing" a Series of EU "Accession" Negotiation Chapters, in relation with Ankara's above-mentioned Refusal to Honor its Commitments officially undertaken vis a vis the EU.
------------------
On 2006, Chirac seems to Focus more towards the UNO.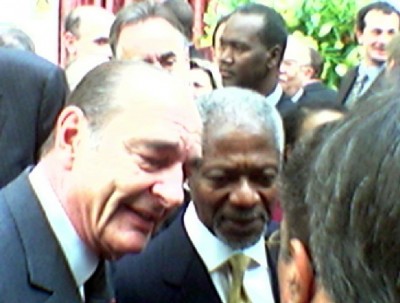 First, inter alia, he apparently convinces UNO's Secretary General Koffi Annan to get a French Spokesman and Press Director for the International Organisation : It's the very Good, Active, Sober and Efficient Stephan Dujarric, that we know since his Previous Job as Geneva-based UN Press Attaché, we have already Cooperated Well with him at a very Delicate Moment in EU Parliament in Strasbourg on 2001, and Worked anew with him at Many Other, Various Occasions, Afterwards, including in Paris, at UNO's New York Headquarters, etc., and who Continued to Work also with Ban Ki Moon, and Now Antonio Guterres. (The Previous UNO Press Spokesman, a Serious and quite Helpful guy too, was of Anglosaxon origin, until he Retired). Dujarric's Nomination is announced during Annan's Visit to Paris.
+ Most Important, even after a Hard and Serious Preparatory Work, Chirac succeeds to receive an apparently adequate Official Mandate for France, by the UNO, in order to Supervise International Efforts for efficient Peace-Keeping at Lebanon's Borders to Israel, where Bloody Conflicts had suddenly broken out on 2006, But, since then, everything seems Calm and in order. Curiously, Germany takes the Lead of the ...Marine Forces in that UNO Peace Keeping Operation, practically supervising Lebanon's SeaCoasts, and Based in Cyprus, (where Merkel visits soon).
++ He also deals with Climate Issues, including by Organising a landmark International Conference in Paris, which Concludes at Elysee Palace with a Chirac speech, etc. There, happens something UnExpected and Exceptional : At the End, President Chirac, accompagnied by a Press Attaché, arrives, Smiling, there where we were standing, Smiles Kindly, and simply asks if things go well... Probably Exhausted by some Previous Events, and certainly Astonished by such an UnPrecedented "Gift", but also Anxious that our Chief Editor of "TCWeekly" might probably Not Publish anything without a "Spicy" Political Meaning of his likes, and erronesouly Thinking that Chirac was almost an "Eternal" Big Figure, that would just be Present there, as long as France and Europe will exist, ..."we" Commit a very Regrettable Error, in fact a Blunder, which is unlike our real, conscious personality, that we shall Never Excuse to ourselves : - We just respond with a few Kind Words, wishing also "Bon Courage Mr. President", but don't ask then any "Spicy" Press Question... That's a BIG ERROR : We'll Never again have any Opportunity to Meet Chirac in so Easy to Speak in Dialogue circumstances, until he Decides, a Few Months Later, to Announce that he definitively Quits the Presidency !...
>>> Meanwhile, Jacques Chirac organizes, at "Compiegne Castle", near Paris, a Franco-German-Russian Summit, Together with Angie Merkel and Vladimir Putin, on late September 2006, which, we Sincerely Felt, that it probably was, in fact, his main Political "Testament", Marking his personal View of Europe and the World.
The Historic Building looks Interesting, as also the Topical Political Issues discussed in that Summit among the 3 Biggest Countries of the Greater Europe. Our then Newspaper "TCWeekly" publishes at least a part of our Press Correspondance from that important event.
=> But, the Real Event, is, Unexpectedly, Elsewhere, and of anOther, Exceptional Kind !
Suddenly, an Experienced Elysée's Press Attaché, unexpectedly asks us if we would like to take an Original Photograph of the 3 Leaders, when they Leave. We obviously agree, and, Together only with another one, specialist Photographer, (something already, quite Strange, given the Big Number of Journalists working there at that moment) Follow her, accross a Long Way around the Castle's Foundations, towards its Other Side, which has a Superbe Opening at a Huge "Green" Space of almost 1 km long, and very Large, towards some Mountainous Cliffs amidst a Surrounding Forest.
Emperor Napoleon reportedly used to Galop there, with many Horses and Soldiers, until a Majestic Central Area, further above, creating an Impressive overall Visual effect.
Meanwhile, Jacques Chirac, first Speaks with Both Merkel and Putin, insists to Show them that Really Superb Big Area's Opening towards a Splendid Horizon.
Afterwards accompagnies them near their Helicopters, and Salutes, one after another, (first Putin, and afterwards Merkel), Slowly, Majesticaly, but Friendly, (as if he wished to take his time, as well as to give them another Chance to see even more from that Wonderful Landscape, and Feel its Natural Greatness, with what it Evokes).
Finally, when they are gone, instead of Leaving, immediately, himself, suddenly, Chirac prefers to Stay Alone, just Looking at that Horizon !
Even when his Car comes to take him, after getting in, he Still prefers to simply Stay there, with the Windows Open, Watch and apparently Think at something.
Rapidly, the Guardian of the Castle takes profit from such a chance to have the President, all alone at his workplace, and brings his Young Child to Salute him...
Chirac, apparently moved, kindly takes the Child's hand, caresses his Head, and salutes him with a Smile. Then, he drops it, and Looks again Towards that Huge Opening at the Horizon.
(We are Silently staying almost Behind him, at his Right Side, partly behind a Bush, so that he probably has not even noticed that we were still standing there, surprized and amazed).
Finally, after Breathing deeply and Watching always at the Horizon, with his Hand still pending from the Car's Window where he had Saluted that Child, Jacques Chirac, having spend there almost a countless Eternity, shoftly gives a sign for the Driver to Start Going Away.
For us, such a Surprizing, unprecedented, but very Human Spectacle, was naively but Deeply Felt as a kind of Sign that President Chirac had Shown to his Hosts a Symbolic image of the Greatness, Peace and Bright Light, that a United Big Europe (as De Gaulle wished) could Achieve for its People,
and that, after this, perhaps considered that his main Historic Mission might have been accomplished, Deciding to Leave.
-------------------------
+ About 10 Years After, on 2015, the Biggest Report ever written in the UK's History, Longer even than Shakespear's Collected Works, that of a Committee mandated to Investigate Controversial former Brittish "Socialist" Prime Minister Tony Bliar's (pardon : Blair's) alleged Responsibilities vis a vis the Destructive and Deadly Iraq's Invasion and Occupation since 3/2003,
>>> Reminded, in several places, the Fact that French President Chirac, had Timely and Clearly WARNED, several Times, that such a Tragic and apparently UnExplicable Blunder, inter alia, also Risked to Provoke a Desastrous "Islamist Terrorism" against all the Western World, affecting mainly Europe !

=> Some Months Later, Neither the Journalists Atrociously Murdered at "Charlie Hebdo", nor those Hundreds of Young People Brutally and Cowardly Massacrated at "Bataklan", shortly Afterwards, (etc), didn't have the Time to Realize that History was just Starting, then, to prove that Jacques Chirac's Warning had been Justified.

(../..)

(DraftNews)

-----------------------------------------------------
BRIEF NEWS
00:00 - 18.05.2020

00:00 - 20.04.2020

00:00 - 02.02.2020

00:00 - 09.12.2019

00:00 - 27.11.2019

00:00 - 16.11.2019

00:00 - 28.10.2019

00:00 - 08.05.2019

00:00 - 23.04.2019
Statistics
Visitors: 37750854
Archive
Login Form
Other Menu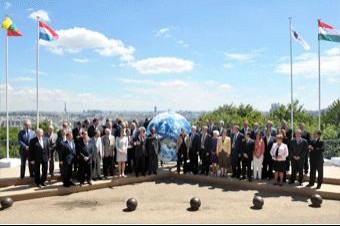 It's at a splendid Natural landscape, inside a Forest plateau with superbe view over Paris, at Saint Cloud, that the incoming French EU Presidency had the good idea to join together all EU Member Countries' Ministers of Environment and Energy, in two overlaping EU Councils in a series, from 3 to 5 July 2008.
Fresh rain happily dissipated July's heatwave, before a bright Sun shined at the conclusion of the EU gathering around a huge statue of Earth (See Photo).

French super-Minister of State for Energy, Transport and Environment, Jean-Louis Borloo, and Minister for Environment, Nathalie Kosciusko-Morizet chaired the first EU Ministerial meeting at Paris' area, together with EU Commissioners Demas and Pielbags, surprising Journalists with improvised Press-points, at key-moments of the discussions.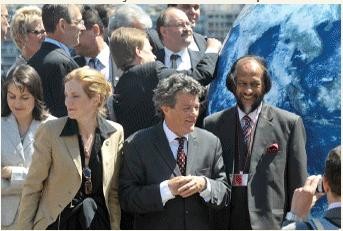 Environment and Energy are key to the development of New Technologies to boost Europe's role in the World, while also responding to Citizens' concerns, stressed Borloo, speaking to Journalists earlier in Strasbourg.

According to well-infomed sources from the French EU Presidency, the aim is to stimulate a growing trend inside EU Parliament, via various on-going Reports developping in parallel, towards achieving the necessary targets before December.

For this purpose, Top-level representatives from Borloo's super-Ministry are expected to come in Strasbourg during EU Parliament's plenary, next Wednesday, a key official told "EuroFora".
Polls