Home

newsitems

EU Parliament Debates on ISIL Terrorist Attacks against Civilians : Europe at Crucial Crossroads
EU Parliament Debates on ISIL Terrorist Attacks against Civilians : Europe at Crucial Crossroads
Mittwoch, 08 Juli 2015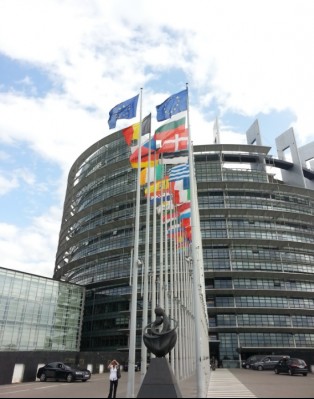 *Strasbourg/EU Parliament/Angelo Marcopolo/- After the Latest Series of Horrible Deadly Terrorist Attacks against defenseless Civilian People by the Extremist Islamic Terrorists of ISIL's atrocious BeHeaders, EU Parliament's Plenary held one of its Longest and most Lively Debates, earlier Today in Strasbourg, and was followed by more specific but Relevant debates on Tunisia, the Review of EU Neighborhood's policy, the Mediterranean area, etc.

The various but generally emotional views expressed by a Record-High Number of MEPs attracted into this Topical and Tragic Debate, offer a unique opportunity to reflect on the Best and more Efficient way for Europe to Tackle one of the most Crucial Challenges of its History.

Given the Exceptional Importance of this issue, "EuroFora" gives a Thorough view of the Full Debate, as it unfolded this Afternoon in Strasbourg's Plenary Session.

-----------------------

    - EU chairman-in-office, Luxembourg's Minister Nicolas Schmit, reminded from the outset the Fact that, recently, back "on Friday, 26 June", (i.e. at the 2nd Day of the latest EU Summit in Brussels : See relevant "EuroFora"s NewsReport from the spot : ....), "a kind of <<Black Day>>, was Marked by a Series of Terrorist Attacks : This time, 3 Countries were Hit, almost at the same moment : France, Koweit and Tunisia", he observed. "These attacks remind, once again, the Ignominious character of Terrorism, and of those who command and execute it", Schmit denounced.

    => - "Our (EU's) Reply must be Firm and with Solidarity" : Already, "from that same Day of June 26, EU Summit clearly anounced that we should Strengthen our Action against Terrorist Threats. This Fight against Terrorism is, for our Open and Democatic Societies, one of the most Important Challenges to face, and one among our 1st Priorities". Thus, the incoming Luxembourg's EU Presidency (from July to December 2015) will make of it a First Rank Priority", he anounced.

    For that purpose, "EU should adopt a Coherent approach in the Fight against Terrorism, covering Both the Internal and External aspects of Security". I.e. "with a substantial and productive Cooperation between (EU) Member States, the (EU) Commission, the European Agency for External Action, and EU Coordinator against Terrorism" (etc), for which we (EU) already  have certain Tools such as EUROPOL, EuroJust, FRONTEX, CePol", etc, "which should be strengthened with the Necessary Means and Resources",  Schmit pointed out.

    - "In reply to the Paris Attacks, on January (2015 : against a critical Weekly Media and Jewish People), Heads of State/Government have adopted, on February 12, a Statement founded on 3 Pilars  : Ensure Citizens' Safety, Protect Values, and, finaly, Cooperate with Partners at the Global stage", while "EU Coordinator against Terrorism has presented a full Report .. on the Implementation of such Measures", and, "on April 28, EU Commission adopted the European Program on Security, on which we Debated Yesterday", he reminded.

+ In particular, "the strong International Dimension of Terrorism", was clearly stressed, while, also,  EU Council's February 9 adopted conclusions on Fight against Terrorism aim to strengthen Cooperation with North African Countries, Middle-East and the Gulf, as well as Turkey", he added, curiously, despite growing and converging rumous, accusations and even Facts, about Extremist Islamist Terrorists as ISIL's atrocious BeHeaders etc., based at the Turkish Borders, getting manifold Logistical support, Money, Recruits and even Arms, from Turkey, (may be, because, the recent Acknowledgment, by Turkish President Erdogan, that Ankara's+- Agents Transported and distributed Heavy Sol-Air Rockets to Armed Groups inside Syria, etc., hadn't yet been known to Schmit), etc.

More interesting : - "EU's Anti-Terrorism Coordinator visited Tunisia, leading an Inter-Services Delegation, following what", Frederica Mogherini, "EU's High Representative" for External Action "proposed to the Tunisian Prime Minister a Series of Measures of support", he anounced. At the same time, "a Task Force for Strategic Communication was established, in order to adopt a Sensibilisation and Communication Stratzegy destinated to the Arab World".

++ " We (EU) must also pursue, actively, our (Multilateral) Cooperation with the UNO, NATO, CoE and Other International Organisations", in parallel with "our Bilateral Colaboration with our Main Partners, such as USA", he added, while observing that, "on June 16" 2015, EU "Ministers of INterior concluded that, during the last Months, tangible Progress had been accomplissed".

    >>> Meanwhile, it's obviously of an "Essential" importance to Prevent Radicalisation", both "inside our own Countries, as well as in our Partner Countries :  - "How is it possible, for young People who went through our (EU Countries') Schools,  to be attracted by those Terrorist networks, which preach a Monstruous Violence?", he wondered. => "A Work "in profundis" has to be done, there,  at many Levels :Education, Integration, our Values", for which, "an EU Network for Sensibilisaton to Radicalisation" is now Ready to be launched", and "Other Measures should be taken, such as Strengthening the Application of Shengen's framework", (f.ex., "a more Systematic Monitoring on Documents and Persons, thanks to a Risk-Evaluation approach"), etc.  - "From July 1st, a Unity for Alerting on  Internet Contents, was set up  inside EUROPOL", "aiming to Reduce the Volume and the Effect of the Terrorist Propaganda and the Extremist and Violent Propaganda at the Internet, while fully Respecting, naturally, (EU Citizens') Fundamental Rights", he pointed out. +Moreover, at the "Internet and Social Networks", "we (EU) must Publish Messages against Terrorist Propaganda, and launch concerted and well organized Campaigns, mainly at the Medias".

    But, in parallel, even "vis a vis the Exterior, in close Partnership with the Countries where the Terrorist Threat is particularly present, we (EU) must Help them to Fight also against its Social Causes", Schmit added, citting factors "such as the Unemployment of Young People, which is a source of Frustrations, becoming, thus, a favorable ground for the recruitment of New Terrorists", as he said, pointing particularly at "Tunisia", which is, unfortunately, an Example" among others, (even if, curiously,  the Worst Global Economic Crisis in Modern History : that of 1929, hadn't, however, provoked the emergence, inside and around Europe, of any such kind of Terrorism BeHeading even defenseless Civilians, etc., though if it had, indeed, incited at the emergence of NAZIsm and Fascism, etc). Among others, the incoming Luxembourg's EU Presidency intends, f.ex., to launch, "Next Week",  also "a Cooperation with Maghreb Countries on Professional Training", he anounced.

    As for "Radicalisation" itself, it's really a "Worrying" phenomenon even because of "the Speed in which it's spreading around": F.ex., "in certain cases, Youngsters are Radicalized in a very Short Period, of roughly 2 Months", he Warned... "Often, it's inside Prisons that are revealed those Young Terrorists ready to act", he observed, anouncing an October 2015 Conference on "ReIntegration and Radicalisatiion in Prisons". +"Another Problem that we have to face is that of the Treatment reserved to Foreign Fighters who Return Back into Our (EU's) Societies", noting also that, f.ex., EU "Commissioner Jourova has shifted EU Funds in order to Include the Fight against Terrorism among the Funding Programs of JHA". ++ "More, has to be done, also, vis a vis decomissioning Fire-Arms, and in order to Strengthen the Fight against Arms' Trafficking". In addition, Schmit also found that EU should "Double Efforts on Information Exchanges between Intelligence Services and Police", (an issue on the Agenda of "Tomorrow's informal Meeting of JHA Ministers at Luxembourg", as he anounced).

>>> However, "Let's NOT Fall to the Trap, set by those who pushed that War of Terrorism against our (Europe's) Populations and against our States : I.e. to Weaken our Democratic Systems and our Values", because "Democracies are  Stronger when their Action respects Human Rights", the incoming EU President in office concluded.

----------------------------------------

    + Speaking on behalf of EU Commission, Demetres Avramopoulos, former Defence Minister in Greece, denounced from the outset the Fact that :  - "the Appalling Attacks perpetrated on Friday, 26 June 2015, in France, Tunisia, Kuwait and Somalia, demonstrate ...the Brutality and Inhumanity of Terrorists" of that kind.

     "Available information tends to demonstrate that the Atrocities committed in Saint-Quentin Fallavier, in Sousse and in Kuwait, bear the hallmarks of Daesh's (ISIL's) Despicable ideology of Intolerance. Their objective is to instil Terror", ... now "Focusing on Soft Targets, such as Religious buildings or Tourist resorts"

    => "I wish to Condemn these acts of Terror in the Strongest terms, and reaffirm our Determination to Address Collectively this threat", EU Commissioner firmly stressed.

    - In fact, "We (EU) need to provide Security to our Citizens, while upholding our Values" on Human Rights, while " we Face constantly-Evolving Threats" : A "Reality" that "the numerous Victims of this Year's (2015) Attacks remind us".

    - The European Commission, together with Member States, worked to "identify Areas in which "the EU can make a real difference in Fighting Terrorism and Radicalisation", in certain "Areas" for the identification of which, it worked together with Member States, the EU Commissioner went on to declare, with voluntarism:

    + In order "to Enhance our (EU's) Capacity to Address this Threat" of Extremist Islamist Terrors, as that of ISIL's BeHeaders, "we have been working closely with Member States", and "Terrorism very High among the future Priorities", he declared.

    - Recently, EU Commission's "European Agenda on Security", (published on "April 2015", but Discussed and Voted by EU Parliament's Plenary  this week in Strasbourg), "embodies a Concept of Security, that encompasses the rule of Law and fundamental Rights", he carefuly observed.

    Already, and "We (EU) have started Working Vigorously on the.. Implementation" of "a number of Actions to Counter the threat posed by Terrorism", that that "Agenda sets out", which includes also "some work of ...High Political and Practical Significance", as he undelined, Focusing on 9 Main Points :

    (1) "First, Preventing Radicalisation remains Essential, EU Commissioner Avramopoulos stressed. In this regard, f.ex., "the Radicalisation Awareness Network Centre of Excellence" is due to be "launched in September" 2015, and both its own Work, as well as "the whole Prevention element of the Counter-terrorism policy at EU level" are  "Crucial".

    (2) "Secondly, on 1 July 2015, the Internet Referral Unit was established at EUROPOL", and "will be fully operational within 12 Months". Its "Mission"  "is to Identify Terrorist Material, in different Languages, and to help secure swift Removal", he anounced.

    (3) "Third", "a 1st Workshop", "with Experts from the (Internet) Industry and the Law Enforcement communities", "will be held on 24 July 2015", before EU Commission launches, by the End of the Year (2015) "an EU-level Forum, Tohether with the Internet Industry", which "will allow us to discuss how we can reduce the Eccessibility of online Terrorist Material, and Counter Terrorist Propaganda on the Internet and in Social Media", he added.

    (4) "Fourthly", on the "Crucial" Issue of "External Borders' Protection", "to support Member States in performing Enhanced and Targeted border Checks", "a first set of common Risk Indicators" was "finalised" by EU Commission, while "EUROPOL and FRONTEX" "have just Revised their Handbook for Border Guards", and, in order "to Detect Suspicious Movements of Goods", "cooperation and information exchange between Customs and Law Enforcement"is due to be "Enhanced", "in the framework of EU's Customs Risk Management", Avramopoulos pointed out.

    (5) "Fifthly", "in order to trace and disrupt Terrorist Financing", an "Anti-Money Laundering Directive" was "recently adopted", and now, we (EU) are "Strengthening Cooperation between Financial Intelligence Units".

    (6) "Sixthly", for the "Need to better Protect our (EU) Citizens and Critical Infrastructure from Terrorist threats", "my services have recently developed" a "Guidance material... on Soft Target protection", (i.e. such as Religious and/or Educational buildings, Media, Touristic areas, etc), while "we (EU) are also Upgrading" the "EU Programme for Critical Infrastructure protection", to "Help Prevent Attacks and Failures", and"improve Preparedness and the Response to incidents."

    (7) "Seventhly", in order "to Assess the Risks from Conflict Zones and support the issuing of Recommendations to Airlines and the Public", EU Commission develops a "Joint Project with (EU) Member States", in the area of "Civil Aviation", which "remains the preferred Target of Terrorists", as he said.

    (8) "Eighthly", in that same sector, the EU Commissioner expressed his Trust to EU Parliament's efforts to Complete "the EU Legislation on PNR", (AirFlight Passengers' Persona Data registry), "so that the Co-Legislators can Agree on a Text that (would) adhere to the Highest Standards of data Protection, and that is, at the same time, Effective".

    (9) "Ninthly", "the Recent Attacks  illustrate the Need for better International Coordination and cooperation", mainly "in tackling the root Causes of Radicalisation, Detecting terrorists' Travels, and building Security Capabilities".

    >>> In particular, "the Attack in Tunisia was extremely Brutal and Symbolic, as it Targeted Tourism – a Vital Economic sector for the country", he denounced : "It was an Attack on Tunisia's Hospitality and its longstanding and Friendly relations with Europe".

    => Therefore, "We (EU) must Stand by our Tunisian Partners and show Solidarity", also because "Increasing Their security will also contribute to enhancing Our Security", he observed.

    - "In the Past 6 Months" (Jan-June 2015, i.e. after the Bloody Attack against "Charlie Hebdo's" Critical Journalists in Paris), "we have made good Progress in a number of areas", but ,"Recent Attacks (of June 26) remind us that a Lot still Needs to be done. We owe this to the Victims, and we owe it to our (EU) Citizens and our Partners", EU Commissioner Avramopoulos urged in conclusion.

-----------------------------------------------------

    * Speaking on behalf of the Biggest Group of MEPs, that of ChristianDemocrats/EPP, German (?) MEP Monika Hohlmeier, denounced the fact that "The Recently perpetrated Terrorist Attacks have shown us  that in our Immediate Neighborhood - in the Middle East, Towards the African continent - has never reigned before so much Strife, so much Cruelty as These Days".

    -"For this reason, it is Imperative that we, on the one hand, Help thePartners who are willing to cooperate with us, to Directly Fight against  Terrorists on the spot", while also, on the other hand, "We Need to address the issue of Security very Seriously and in a very Consistent" manner.

    Sometimes,  this "also means that we must take Action, that, perhaps, we wouldn't desire, but that is Necessary, on this day and era", in order "to Protect (EU) Citizens", she warned, (citting, f.ex., the Controversial PNR system : Comp. Supra).

     + "But we must also be aware that it's Difficult f.ex. to Detect a "Sleeper" Terrorist, (i.e. Disguised, for a Long Time), for whom you may have once noted - 3 or 4 Years ago - that they might be Dangerous, but now it's Hard to Keep an Eye on them,  because, meanwhile, some believed that they had become No Longer Dangerous, for now", she observed. However, in fact, "there are People for whom one has the Impression that they are Not so Different than you and me,  but, all of a Sudden, they become Murderers !", the MEP rightfuly denounced, (as various concrete Cases, in France, Denmark, USA, etc, Tragicaly revealed recently).                                 
 

    => Therefore, "in order to Counteract to this Phenomenon, and to try to get them 0ut of those Circles and Groups, it is very much Necessary, especially to Destroy the Radicalization' Networks". Indeed, "I believe that it is Essential, this Radicalization, and the possibility of Extremists to lure people, and to abuse of them for their own purposes, must be Stopped, with all possibilities allowed by the Rule of Law", Monica Hohlmeier concluded.

-------------------------------------------------------

    - Vice-President of the SocialDemocrat Group of MEPs, Tanja Fajon from Slovenia, also denounced from the outset the fact that "Terrorist Attacks this year (2015) have strongly Shaken Europe and they must he Strongly Condemned", and, "against (Deadly and Destructive) Violence and Hatred, We, Europeans, must Resist Together", as she stressed.

    - "A major challenge", are, indeed, those "young Europeans departing on the Battlefield in Iraq and Syria, who will Return back", she observed, particularly if Violent Extremists "they prepared a Potential Terrorist".

    - But, " we (EU) should not only emphasize the need to strengthen Security, and to Fight the Causes of Radicalisation, without pointing also at the necessity to Tackle Social Causes and  Conflicts. Because we (EU) need to Fight the Roots of Terrorism in 3rd Countries" : Therefore, "we (EU) need to Tackle Poverty, and reSolve Conflicts",  she underlined, apparently adopting a quite Narrow scope among  the various probable Causes, which are obviously much Wider.

    - Moreover, "if Fear spreads in Europe, then, the Terrorists win", Fajon warned.  Therefore, it's "on the Basis of Values that we cherish : equality, freedom, democracy, respect and tolerance", that Europeans can counteract, she concluded.

    - But, according to Fajon, it would be "Wrong to say that all (these) acts of Terrorism are Religiously Motivated. Terrorists and Extremists flourish when people do Not Trust eachother, build Fences and social Stereotypes. It is Not a Clash between Islam and West". Therefore, "We (EU) need to improve Education, social Inclusion, Understanding among different Countries and Religions", the Socialist MEP advised in particular.

-------------------------

    - On the Contrary, Experienced Brittish Conservative MEP, Charles Tannock, speaking on behalf of EU Parliament's Group of Conservatives and Reformists, denounced the fact that, recently, "ISIS offers, now, a New, more Brutal, Territorial Model of Death Cult, in which Terrorist Attacks are More Firmly Based on Attacking Religious Beliefs and minority individuals, and they are More involved in Attacking these (Civilian, unarmed and defenseless) People, than in attacking the State".  This is something Other than what "We (had) became used,  in the Past, when we understood international Terrorist activities of the "Al-Qaida Model" as based on perceived Grievances, no matter how Unjustified", Tannock pointed out.

    - Indeed, now, "a (Shiite) Mosque in Kuwait, a(n) (USA Factory in France and a Beach in Tunisia (full of British Tourists) – there should be little to Connect these 3 Disparate places, but following the Devastating (Deadly) attacks on 26 June 2015, they will forever be Linked in Infamy". Moreover, only "1 Year on from the Lightning Advance of ISIS, the group is becoming a more Permanent Fixture, Tragically and Unfortunately, of the Map of the Middle East. On the Same Day, and (even, just a few) Months after the Liberation of Kobane had been celebrated, ISIS carried out one of its most Deadly Massacres to date, storming the city and Executing up to 250 Civilians, many of whom were Children" :  And "All of the Perpetrators of the(se) Terrorist Attacks were somehow Linked to ISIS in terms of its Poisonous Ideology", he strongly denounced.

    - Moreover, recently, "these Attacks illustrate that, by allowing ISIS to establish a Foothold in Iraq and Syria, a new Magnet for Jihadi Terrorism has been Created", Tannock observed. Therefore, "whilst (indeed) clearly we need to do more in the EU to ensure that our societies remain Vigilant and develop Means to Detect and Prevent Radicalisation and Recruitment, we Also Need to have Enhanced domestic Security Measures", the Representative of the ECHR Group pointed out, (citting f.ex., the Airflight "passenger name records (PNR) system foraviation, and better Internet monitoring of terrorist activities", as he said.

    => " Ultimately, however, we must also take the Fight against Evil ISIS everywhere, particularly militarily in Syria, Iraq and Libya", concludsed the ECR Group Representative, who comes from the Governing Brittish Party of David Cameroon's Conservatives, which recently won the 2015-2020 National Elections.

--------------
 
    + Moreover, questioned (under a "Blue Card" procedure) by Croatian Liberal MEP Ivan Jakovcic, on what he named as "a very Dangerous and Difficult sittuation even inside the European" Continent, f.ex. "in Bosnia and Herzegovina, where stay a large Number of Muslims, often under "Fire" by  those who Call for Terrorism or who want them to Enlist in (Islamist) Terrorism", as he observed, so that "EU should be specialy Concerned and Help Security Agencies there", Tannock enlarged even further that scope, as a connaisseur of "Western Balkans" :

    - Indeed, even further, Today,  "amongst the Muslim Linorities" still present in all the Western Balkan countries, particularly in Kosovo (Autonomous Region), Albania, (Former Yugoslav Republic of) Macedonia, and Bosnia and Herzegovina", (since a notoriously Forced Islamization after the Military Invasion/Occupation of that area by the former Ottoman-Turc Empire of the Middle Ages), "clearly, ...there is a Serious Problem of Radicalisation and of Jihadi Terrorists departing from these countries. Up to Several Hundred of them may be, as we speak, Fighting for ISIS in Iraq and Syria. This is a Serious Problem", Tannock confirmed.

    => In consequence, EU "Member States are Aware of it and NATO is taking it Very Seriously. Everything must be done to Prevent this Flow", because "it is a Major Security Risk to that region", he concluded in reply.

-------------------------

    - "More than 60 EU Citizens were literally Massacred on the (Mediterranean) beaches of Tunisia", "included among the Dead left by the Chain of Three (Terrorist) Attacks on June 26", which are "Added to that Wave of Hatred and Radicalism with which we  (recently) Started to experience an  Unprecedented situation", denounced Spanish MEP Fernando Maura Barandiarán, speaking on behalf of the Liberal Group.

    + " And, what is Worse, we know  that (those who) are hit hard", are "especially those Countries, such as Tunisia, which are Trying to move forward on the Democratic path", but, where, "the Radicals Return to plunge into doubt and Instability", he Warned.

    Already, earlier, many "Began to Realize the Importance and the Need to actively involve the EU, with All the Tools at its disposal, in the Fight against Terrorism in North Africa and Help Countries such as Tunisia, Algeria or Morocco", just "after the (1st) massacre (of Tourists) at the Bardo Museum" in Tunisia, , and "I heard Many (MEP's) Questions in this regard,in the Last (EU Parliament's) Debate", he reminded.

    - Nevertheless, "it seems that some are willing to accept, as usual, such Extreme" situations particularly at the Southern coasts of the Mediterranean : - By the way,  "it makes 20 Years that the High Representative stated in this Chamber that the situation  in North Africa is a Priority for the EU and its Foreign Policy", ...

    - But, in real practice, "What Progress have we (EU) done ? What Objectives have Achieved ? What has Changed ?", the mainstream MEP questioned the EU Commission and Council, criticaly.  In fact, "Financial aid is Not Enough". There is an "Urgency (for the EU)  to actively engage, and not only devote fine Words".

    >>> - Because "our (EU's) Security Border is in North Africa", the Representative of the Liberal Group  stressed. "We (EU) canNot let More Tension and Instability gather in the Southern Borders of Europe", and, in particular, "we canNot afford to lose Tunisia, since the "Islamic State" (Deadly Terrorists), which (still) is far from being defeated, is Knocking at your Door, at Our (EU's) Door", he Warned.

    - That's why, "we (EU) must Re-Formulate the EU's Neighbourhood Policy", (See Infra), and "we must Decide and Act Together for Security Abroad. We canNot Wait Longer for a Comprehensive Help to those Countries which desperately Seek our (EU's) Support", he Urged in Conclusion, while, at the same time, launching a Call for the EU Not to "Arrive Late"...

-------------------------------------------------------

    - Speaking on behalf of the Euro-LEFT Group, German MEP Cornelia Ernst, acknowledged from the outset the fact that "the Horrific Acts of Recent Days and weeks affect us (EU) really Deeply, even myself", as she said.

    - But, until now, even if "we (EU Parliament) have already spoken" about that, and held "Many Discussions", nevertheless, "Nothing has really Changed", Ernst Criticized, (up to that point, almost following the aove mentioned Liberal Group's similar Critical Remarks (Comp. Supra).

    - However, according to a Specific Credo of her "Euro-Left" party, "Most of the Answers" received up to now, "were  only about : "More Monitoring, more Weapons, more Repression", etc, and "this has Not led (yet) to Results that we' like to have", as she found.

    >>> But, "we (EU) Never really Asked ourselves: How can one STop the Support for (Deadly Islamic BeHeaders') as ISIS' Terrorists, in Countries where terrorism is exercised ? How could we (EU) Prevent this Support to be provided? How can Democratic Processes be developed" there ?, she Wondered.

    - "If we were inside Iraq, of course, the Question that we'd have to Ask, would be : - "Why is ISIS so Succesful ?, Because, of course, it has also Support in parts of the population", there, Ernst found. "We need an Honest Discussion about the Causes for which some Young or even Older People, might See Terrorist actions in Their Ideal", as she said. - "When Young People go there and Participate in such Actions, we (EU) must also know the Shortcomings of our Co-Existence", (apparently meaning : between Differend Groups with Differend National/Social Identities, i.e. in a kind of a controversial "Multi-Culti" context, without Social nor Cultural Cohesrion), and, therefore, "speaking Seriously, we must Ask the Question : - "Where are our (EU's) Shortcomings", and "What can we Do?".

    - "I'll never forget ...what the (Christian) Bishop of Erbil (Northern Irak) told us: We do Not need Weapons, but we need Support, indeed, for Reconciliation with the Sunnis (Muslims), namely. Of course, among the local Population, Not with the Terrorists" (of ISIS' inhuman BeHeaders even of Civilian People), as Ernst clarified in fine.

    - But, in fact, "we (EU) don't do anything for that" purpose, she complained. And, by the way, "an (Airflights) PNR, certainly does Not help Europe to go a step further, not even for 1 Milimeter", in solving this problem, so that, "therefore, we (EU Parliament) should Not Waste our Energy for it", (the controversial proposed Air Passengers'Names Registration system), she pointed out in conclusion.

---------------------------------------------------------------

    - In the latest "Terrorist Attacks" (of June 26), "we had a BeHeading in the French town of Grenoble, a Massacre of 38 innocents (Civilians, most Brittish) in the Tunisian resort of Port El Kantaoui, and a (Deadly) Bombing of a (Shiite) Mosque in Kuwait" : "What did all of these attacks have in Common? the simple Fact is the one thing they all had in common was they were done in the name of (Extremist) Islam", observed, on behalf of the Freedom and Direct Democracy Group, Brittish (?) MEP Paul Nuttall.
 
    - And "the Next Terrorist Attack (is) a case of NOT IF, But When and Where" : "I had Warned", about that, "a fortnight ago", and "we had the Answer 48 Hours later", (i.e. on June 26), he pointed out.  

    - "Now I hear people in my own country (UK) Claim the Opposite", i.e. "that ... these Outrages have Nothing to do with Islam. But this is not only Ludicrous, it is also extremely Dangerous", the Briitish MEP warnerd. Because "these Terrorists commit these Atrocities and Quote the text from the holy Book of Islam. .... Indeed, if we are to deal with Radical Islamism then we must at least have the Courage to Name its source.

    -Because, among the main Causes of that, particularly Horrible and Inhuman Terrorism, "It is Not Just Poverty and poor Education", but, also, "it is a literal and Backward interpretation of the Koran", the representative of the Freedom and Democracy Group denounced.

    - "But", on the Contrary, "not only do we (EU) in the West turn another cheek to Extremism, we actively encourage it :  We turn a Blind eye to Misogyny, Homophobia, limb Amputation, and (even) the Funding of Extremism, in return for arms Deals and Oil, and this primarily takes place with the States of Saudi Arabia and Qatar", the MEP accused.

    => Today, however, "we (EU) must make a Stand on Moral grounds, and say Enough is Enough. Because IF we do NOT, I fear that there will be a Clash of Civilisations at some point this Century, and this clash will not be Fought in the Deserts of the Middle East :  It could well be Fought on the Streets, in the Cities and the Towns of Europe !", the Brittish MEP from Liverpool Warned.

    - However, as "Politicians of Today, ... we (MEPs) have a Duty to hand on a Stable and Better Society to our Descendants, and that is Not a society where the Words of a Woman is worth Half of that of a man; it is Not a society where Homosexuals are Persecuted, and it is Not a society where Unbelievers are Second-Class citizens", he pointed out, evoking some among the Sharia's (Islamic Law's) percepts.

    - That's why, Both "Christians and Muslims alike, IF we do NOT take a stand, history will look upon us as the generation that Surrendered our hard-fought liberal Western Democracy, in favour of something Darker, something more Intolerant, and something wholly illiberal. Burying our Heads in the Sand, ....is No longer an Option. We Must Act !", the Brittish MEP urged in Conclusion, after the recent Massacres by ISIS.

    Also because "we Owe it to our Children", Nuttal added, clearly in,dicating that, what is really at stake, is not only the obvious Urgency to face immediate and recurrent, paticularly Brutal Terrorism, but also to Timely prevent an Additional Risk of an Imposed Negative, profound Muttation of the European Society.  

--------------------------------------------------------

    - Experienced Italian MEP Mario Borghesio, speaking on behalf of the European Nations and Freedom new Group, Criticized even stronger the stance that EU Institutions had adopted until the recent series of Terrorist Attacks : - "Do you Seriously think to Defeat Islamic Terrorism with this welter of Confusing and Inconsistent Half-Measures ?", he wondered.

    - First of all, EU "Council doesn'y even speak about any Link between Terrorism and (recently much more Massive than before) Illegal Immigration", despite the Fact that it's also "EuroJust's President who now Recognized that this Human Trafficking may Finance and Infiltrate ISIS inside Europe", Borghesio pointed out.

    - But, the most Important, for the ENF Group's Representative, obviously is the fact that, as he Denounced, "the Religious element is Fundamental", since, "at the Basis of  these Crimes is a Legitimation of that part of Extremist Islam, which is Spread by the Sermons of (some) Imams in Mosques, and in the Social Media".

    => - "Therefore, No Half-Measures : Let's Close down all these Fundamentalist Mosques here (inside the EU) too, as even (a predominantly Muslimand Arab, Third Country, as) Tunisia wants to do", the Italian MEP urged.

    - "Enough is enough about that Masochism, and Bla-bla on so-called <<Islamophobia>>" etc. :  When "I was in front of <<Charlie Hebdo's>> Headquarters, talking to the People there, just a Few Hours after the Deadly Attack", (which Killed a Dozen of Critical Journalists and other Civilians last January in Paris, provoking a very Large OutCry throughout France, all Europe and the World : Comp. f.ex. : .....), "No one did'nt speak about a so-called "Islamophobia"... It's only here, (by certain Other MEPs inside EU Parliament) that some say so". But, "this Masochism and Fake Anti-Racism, is, in fact, a <<Trojan Horse>> that Serves, most of all, for Fundamentalist Islam to <<Block our (EU's) Immunity System's Defense>>, by a <<Virus>> which Spreads around also through the Intimidating Pressure of the (Deadly Terrorist ISIS') Attacks :"

 - In fact, "They (ISIS' Deadly Terrorists) want to Provoke Fear, right in the Middle of our (European) Continent". Because, "in this cases about Islam, we (EU) are Facing, not only a powerful Jihadist Organisation, but also a Political Actor, who has in his Agenda such (Deadly Terrorist) Attacks against our (EU) Countries". So that, "through Blackmail, Horror and Fear, they want to Impose, (progressively), throughout all Europe, their Sharia (Islamic) Law", the Italian MEP Warned, concluding with a  - "Wake Up Europe !" call.

-------------------------------

    - French MEP, University Professor Bruno Gollnish, speaking on behalf of the Independent ("Non Registered" in a Group) MEPs, observed that "there are, at least, 3 main Causes for that Terrorism, which all Depend from our (EU's)" decisions, as he added Critically :"

    - "At First, it's the Destruction, or Attempt to Destroy, the Secular Regimes, even if Autoritarian, which, nevertheless, didn't allow for Islamic Extremism to Spread around :" F.ex., "at Iraq, Libya, and even Syria", etc. Most of it, "was done by Abominable Means, by Diplomatic Manipulations, Destructive Wars, Merciless Blockades, etc., which (also) Provoked a frustrated Hate against the West, that we (EU) haven't yet realised", he pointed out.

    - "Secondly, it's also the Ignorance of the Negative sides of a Religion, in which, May among its extremists, Believe that War is a Legitimate Means for Extending their Community, and that, against what they call as "Wrongdoers" (or "Unbelievers" : "Mecreants", at the Original in French : i.e. all those who are Not Muslims), "including even the Civilian Populations, All Means are Good, even the Most Cruel", (f.ex. BeHeadings, etc), he denounced.

    - "Thirdly, is added even a Massive Migration, made on purpose but beyond any Control, coming mainly from Muslim Countries, which generates a Rootless Youth, Facing our Aging European Societies, which have Renied their (predomlinantly Christian) Faith, their own Roots, their Ideal : They (the current EU Establishment) don't have, no more, in their Agenda but only the Domination of Materialism and the Promotion, of Sexual Deviations, practicing, moreover, a persistent Rejection of what they Had Been, instead of Exaltating the Real Values of their Civilisations of the Past", as the MEP Criticized.

    => In consequence, (Extremist Islamic, Deadly) "Terrorism nourishes itself from thiis field", so that, in fact, even if "all EU Leaders are not Terrorists, however, they have been, at least, its UnConscious Accomplisses", the Representative of Independent MEPs accused, in conclusion.

-----------------------------------------------------

    Vice-Chair of EU Parliament's Petition Committee, Maltese MEP Roberta Metsola, from the ChristianDemocrat/EPP Group, observed that, "Europe and the World have been in the Shadow of Terrorism for a certain length of Time : It's now 10 Years After the worst Terrorist Attacks in London (back on 2005 :Comp. f.ex. "EuroFora"s co-Founder's NewsReports from London, then - several Published at "TCWeekly"+), a few Months from the Massacre of "Charlie Hebdo" (last January 2015 in Paris), a few Weeks from the  Charleston Church Attack in the USA", and "only a few Days from Attacks in France, Tunisia and Kuwait, and a few Hours from new Attacks by Boko  Haram in Nigeria and Al-Shabaab in Kenya : On the Same Day we saw the killing of 66 person in Tunisia, Kuwait and France. ", (etc).

    - In particular, "on the Same Day (26 June 2015) we saw the Killings of 66 Persons in Tunisia, Kuwait and France", partly "Irrespective of their Belief", (in fact, mainly Christians or Shiite Muslims), so that we must make it clear that those Attacks are More related to Terrorism and Extremism", while "whoever carries out such Terrorist Actss has No Religious Faith", in fact. Deadly "Terrorism" (even of Defenseless Civilians), in reality, "has No Religion, and where Religion might be abused as an Excuse, this is an Offence" against real Religious beliefs,

    + Even if "the Aggressors, f.ex. in Tunisia, have committed themselves to the so-called "Islamic State", nevertheless, "that's Not a State, but a Gang, and it does NOT represent the Sunni Muslims" at all  : "It's only an Organisation Responsible for Deaths caused by Meaningless (and excessively Inhuman) Violence" Chairwoman Metsola denounced.                          

    + Meanwhile, "Tunisia, where started the Arab Spring seed, is now in a State of Emergency. Libya remains in a State of kaos.  Al-Shabaab and Boko Haram continue to carry out Attacks almost Daily", (etc), she pointed out.

                   >>>- But, the latest, Deadly "Terrorist Attacks will Not Intimidate us (EU), Neither Minimise our Political Will to Fight Terrorism. On the Contrary, they should Strengthen our (EU's) Determination !", the EPP MEP urged.

    - Thus, Today, "Condoleances are Not Enough !". In fact, "we (EU) can do Much, much More to Stop Terrorism, whenever it occurs", Metsola stressed. "We do so with our Support to those who Suffered" from such Deadly Terrorism, (f.ex. Tunisia, Refugees, etc), but "the EU (also) Needs to ensure that Safety Measures are implemented for All (EU) Citizens".

    => Therefore, f.ex., "it's Time to move towards an ...EU Pact against Terrorism.  A Covenant to oblige the Extremists to come to the Defensive",  ... as well as to " mprove the implementation of EU legislation including  (AirFlights') PNR",(etc)  she cut short in conclusion.

----------------------------------

    + French MEP Gilles Lebreton (ENF Group) asked (under"Blue Card" process) Metsola whether she proposed anything else, in order to "Fight against Terrorism", as she had said, (particularly refarding the Massacre of Tourists in Tunisia), beyond the Controversial AirFlights Passengers Names Registration system, which was "Inadequat", and/or, at least, blatantly "Insufficient", for that purpose, in his view.

    -In her Reply, Metsola observed that, in real Practice, already Today, "there are Many Measures that we would like to Discuss in EU Parliament during the Following Days" :  F.ex., "We are Interested also in the Powers of EU's Counter-Terrorism Coordinator". "We want to Give More Powers to EUROPOL, in order to see how we can establish Cooperations between Police Operations in our Countries". While, even on the Controversial AirFlights' PNR, "I don't agree with you that such Measures might Not be Good against Forces who Threaten our (EU's) Security", as she added. +"There are also Many Other things to be done, but we Need Agreements between the European Institutions", she warned.

----------------------------------

    - Sylvie Guillaume, from the Governing French Socialist Party, warned that "this Moment is Full of Threats", and denounced from the outset "the Horror of those Massacres, Multiplied by their Simultaneous character", since "Terrorist Violence stroke, in a Few Hours, from Isere (Region in France), up to Tunisia, and even Koweit", (etc), as she observed.

    - However, "it's by Refusing any Psychose, and by proclaiming Unity, be it National, European, or even International, that we shall Fight this Unprecedented Phenomenon : ... Resilience wil pass via Responsibility and by Uniting All Together", Guillaume pointed out.

    -  >This "Terrorism is of Great Complexity, with Causes which are, at the same time, GeoPolitical, Social, Economic, or even Pshychological", she noted, Concluding that "such Multiplicity of Causes calls for a Global, Comprehensive approach", as she proposed :

    - From one side, "Yes", this "makes Necessary to Update the European systems of Security and Courts", because of the "Unprecedented and Evolving character of the current Crisis". "It also Requires a New Thinking and Adequate Tools against a Mediatic and Digital Jihad, which allows for Terrorists to reach every point of the National, European and even Global area", as she added. "It even makes Indispensable a full Use of Existing Tools in order to Prevent for Jihadists to circulate in and out of  the Shengen area". It also "necessitates to Tackle the Financial Flows which feed the Terrorist struggle", she admitted.

+ "But we (EU) can't limit ourselves only into an exclusively Repressive" policy, the Socialist French MEP went on to add. Because, "any Solution needs also Measures to Prevent Radicalisation, before it ends up to Violence", she accepted.

=> "Inequality, Marginalisation, Social Exclusion, Difficulties to Access a Quality Education, etc. are also Factors able to Favour Radicalisation", and "EU Commission has just made this clear", Guillaume pointed out.Therefore, "Education, Participation of Young People, Inter-Religious Dialogue,; as well as Jobs and Social Inclusion, have also an Essential Role to pley, in order to Prevent Radicalisation",  she concluded.

 ------------

    - Belgian-Flamish MEP Mark Demesmaeker, Bureau Member at the European Conservatives and Reformers Group : ECR), denounvced the Fact that, "on June 26, the Targets and the Victims of the Terrorist Attacks in Tunisia, Kuweit, Nigeria, etc., were again Innocent Civilian People : Praying Faithful, Summer Tourists on the Beach, Simple Working People, (etc). Apparently, they did Not Fit into the World View in which those Perpetrators believe... But", nevertheless, "we (EU) must Not get Used, in any way, to this abject kind of Bloodshed, he warned.

    - "For a country like Tunisia, this Terror is a Drama : The country laid the germ of the Arab Spring, years ago", but, now, "the Harvest seems Negligible", and the "Society is more Fragile than ever", while, "with the Absence of Tourists, they also Looses its Main source of Income", Demesmaeker observed.

    => - Therefore, Today, "Tunisia Urgently Needs a Perspective" at the Horizon, "an Attractive Project",  with "Work and Progress", being "the only Remedy against Hate preachers" : "EU can provide that perspective. Europe must consider a "MARSHALL PLAN", where  Regional Collaboration could help  the Countries Affected by the Belt of Instability, to be re-launched anew Forward", he proposed.

     - "Because the Aternative is a new and hopelessly Unmanageable Libya, therefore a Coveted Bride in a Perverse......;"ISIS" Marriage", the Conservative MEP Warned, (apparently making implicitly an indirect reference also to the controversial LBTGI "Marriage                                                                                                                                                            which has defraed the Chronicle, provoking unexpectedly Strong Popular Reactions and Massive Protests  in some EU Countries recently, by many People who found that innapropriate, even dangerous, f.ex. for Children, etc)..

-----------------------------------------

    - Liberal (ALDE) MEP Nathalie Griesbeck, from nearby Metz, (France), stressed that, "Facing Terrorist Threats",  "We (Europeans) must all Unite" Together, "not only in Words, but also with Tools, and Actions", in order "to Protect our Values and (EU) Citizens, by Preventing such Abhorrent Acts, that we experience recently, which Poison our Societies"."We (EU)must also be extremely Firm via a vis those Terrorists, because the Strength of our Democracies is at Stake", as she Warned.

    => For that purpose, "Prevention of Radicalisation, Surveillance of (Internet) Networks which are abused by those Terrrorists for their Morbid Propaganda, particularly vis a vis Young People, and the Fight against Arms Trafficking, must become our (EU's) Priorities", she urged.

    +°But we (Europeans) also have to Unite our Forces, by ameliorating the Coordination of Information Exchanges", "Multiply these exchanges... and, paticularly, make them Obligatory, by Maximising EUROPOL, and by Creating an EU Airflights' PNR, which could become an Efficient Tool. We (EU) must also Reform the Shengen Information System, f.ex., in order to make Obligatory to Alert for People Suspected of Terrorism, and Share these Indications", etc.

    => "What is at stake is that (EU) Common Security Policy, that our European Citizens wish", she concluded.   

--------------------------------

    - "It's truly Frightening :" - It's not only "in Tunisia, France and Kuwait" that Terrorist Attacks take place : I'm from the Austrian City of Graz, where a Massacre took place 3 Weeks ago, making 3 Dead and 40 Wounded People, without having yet been officialy clarified whether, even this, had been Motivated by Radical Islam", denounced Austrian MEP Georg Mayer, of the Europe of Nations and Freedom, new Group.

    He was speaking of a June 20 Mass Killing at the Central Square of that Big City at the Center of Europe, where a Bosnian-origin Muslim aged 26, (granted Austrian Citizenship,  Hired in a Driver's job, and Married, with 2 Children), suddenly, shortly after a Quarrell with his Wife reportedly because he wanted to Oblige her to put an Islamic Scarf over her Head, to the point that Austrian Authorities had to Protect her at her demand), he rushed with an Expensive, Big Car, normaly used for Sports, against various Innocent Civilian People at the Pedestrian Zone, Killing a Cyclist, Stumbing with a Knife behind their back a Couple of Elders, Crashing  with his Car (at around 100km p/h. !) 2 other Walkers, (including a Child aged only 4 Years, who Died), and making about 36 Wounded, (a Dozen of them in a Serious situation, and one in Critical, Life-Threatening), before letting the Police quietly arrest him, as if it was a matter of routine...

    - "When these interlinked Murders approach so Close to us, we are particularly Shocked, because ve don't need to look Far away into the Past of our Society in order to perceive Profound Changes :"

    - Even if, Establishment's "Media and Politicians tell us, most of the times, that they (Extremist Islamic Terrorists) would be All ...Individual Perpetrators ("Lone Wolfs"), nevertheless, in fact, "we (EU) have to do with ....an Army of Individual Perpetrators !", Mayer criticized.

     - "For Years we .... Warned that Radical Islam inside Europe will Not Stop short of Assassinations, and we also Warned for Years, that Radical Islam was already at the Center of our (EUs) Society", he pointed out.

    + Moreover, Recently, "We Know that ISIS is already using the new Wave of Refugees in order to Bring back to Europe Targeted Murderers"...

     - "There are 3 different Routes. The most Dangerous is that which goes (mainly from Turkey) via Bulgaria with Forged Passports. Then, there are also these Assassins with EU Passports !", the Austrian MEP denounced.

    => So that, "the Next Battleground is Europe !", as (mainstream German Newspaper) <<Die Welt>> already titled on its Frontpage Headline Articles.

    - In consequence, "Added to the Wave of Refugees, this (recent) Problem of Terrorism, that was Imported (inside the EU) due to the Failures of EU Governments, is one of the Largest that we, ourselves, will have to Face during the coming Years", he warned.

    -------------------------------------

     - "The Threat that we all face in the West – and not just in the West – is from Fundamentalist Islam", denounced from the outset, Brittish MEP Gerard Battten, of the Freedom and Direct Democracy Group (EFDD).

    - Because, those "Terrorists and the Extremists All have 1 thing in Common: they are all reading the Same Book, and it is called the Koran", which "contains Exhortations, such as 'Kill Unbelievers wherever you find them', 'make War on Unbelievers' and 'strike Terror into the hearts of Unbelievers'", Batten observed.

    - "Some people take that Literally", even if "we are told by our Leaders that Islam would be a religion of "Peace and Love". The Problem is that it is, actually a Contradictory Mishmash of Nonsense", so that  "the Extremists and the Fundamentalists actually Choose the Bits that they like, in order to satisfy their Bloodlust,  - and earn themselves 72 Virgins in Paradise, although nobody has actually come back to confirm that they get them", as he added in obvious Black Humour...

    => In consequence, "Western Liberal Democracies must make it plain that Extremist, Fundamentalist Islam has No Place in Western Society !", the Brittish MEP urged.  "We (MEPs) all come into Contact with Moderate, Peace-loving Muslims every day. They are Not the Problem", he aknowledged.  But, "their Ideology (Islam : Comp. Supra) is. We must Support the Moderates Against the Extremists"

    - "These people (Islamic Extremists) accept the "Death-Cult" of Mohammed", he denounced. "The Cult of Mohammed" is "Mohammedanism",i.e. "what we used to call this Religion 30 or 40 Years ago". "Most Religions are Named after their Founders – Christianity, the religion of Christ; Buddhism, the religion of Buddhists; Judaism the religion of the Jews – and yet we Accept the word Islam – (i.e.) Submission to the will of Allah". But, in fact, "it is Not" even that.

    =>  - "Let us make it Plain that we do Not Accept this Ideology, and take practical Measures to Defeat the Extremists", as well as  "support those Moderates who Want to stay in Western Liberal Democracies".  

    >>> Because, Otherwise, If anyone might "want to live under Sharia law, then they should Go and live in one of the Countries where they can do that", (i.e. those Non European, predominantly Muslim Countries, which more or less implement "Sharia"), the Brittish MEP proposed in conclusion.

------------------------------------------------

    - "My First Words must be for the Victims" of Deadly Terrorism, "to whom I dedicate all my Work here", at EU Parliament, said from the outset, Spanish ChristianDemocrat/EPP MEP  Teresa Jimenez-Becerril Barrio. ." I defend the Memory of the Victims, because, by doing so,   we are Defending the Dgnity of all Europeans", she underlined.    
                                                                                                                                                                                                                                                                                                                                                                                           ,
    - "Unfortunately, the Threat of Terrorist Attacks, which was Underestimated for so long, has become so Serious", now,  that our society is Terrified". But this "could be a Victory for the Terrorists", if it went as they want  : -I.e.,"Kill some, to provoke fear to the Public, and thus End all our Freedoms", she Warned.

    => Therefore, "Don't Stop Traveling to Tunisia and Paris, or London, just because they (Islamic Terrorists of ISIS) wanted to sow Pain in the Heart of Europe. Since, if we do so, i.e. If Fear immobilizes us (EU Citizens), then, they'd have won", the Spanish MEP¨stressed.

    - "Therefore, I welcome the (EU Council's) Luxembourg Presidency's (June-December 2015) intention to have as a Priority the Fight against Terrorism", and  "ask to be included in the Security Agenda Better Protection Mechanisms, because it is the Best way to Confront those who want to Destroy the most sacred of our rights,the Right to Life", she urged.

    + Last, but not least,  "I want to send a Clear Message to (ISIS') Terrorists : Our "Society,with many Years of Shared Values, will Never kneel before their Knives, Bombs, and their Guns ! We'll Never, never, never  surrender our Freedom !", Teresa Jiménez-Becerril Barrio stressed in Conclusion.    



    + "I remind to many (MEPS) that  Freedom is Not Incompatible with Security",  she added, just before Replying to a Question raised by Independent MEP Diane Dodds, about whether she found that  "we should ensure that EU Parliament and ... National Governments distinguish clearly, and in a Legislative framework, between those who carry out Vile acts of Terrorism, and their Innocent Victims" : Indeed, "it's Time we make a Law, a Resolution on the Rights of Victims of Terrorism", of all kinds of Terrorism, "not only Islamic, but, f.ex.  also of ETA, etc"..."because Victims of terrorism Represent the whole Society" Today, as the Spanish MEP observed.

----------------------------------------------

    - German SocialDemocrat MEP Josef Weidenholzer, expressed the "Fear that it will Not be the Last Time, but that these things risk to recur", because, "the Ennemy who Threatens us, is among the Worse Enemies : He is Against our Civilisation, our Freedoms, Individuals' freedom, freedom of Religion, freedom of Expression, and our way of life".

    => Therefore, "We must Fight this Enemy by Any Necessary Means : with Wisdom, with Determination, and by being Proactive. We must make a good DeRadicalisation work, we must go in the (exposed) Communities, we have to clear these Suburbs, and we must consider the Causes which drive People into the Clutches of these Terrorists. We need to Win this Fight !", he concluded.

--------------------------------------------

    - Experienced and mainstream Brittish MEP Timpthy Kirkhope, from the Governing Majority of UK's Conservative Party, (leader of the European, Conservatives and Reformists Group in EU Parliament), denounced from the outset the fact that the recent "Horrific Attacks which took place (particularly) in Tunisia ... bring  into sharp Focus the Vulnerability that People face all over the World, against an Enemy Fixed on the idea of Senseless Terror and Destruction : Attacks in Australia, (historically the UK), France and Tunisia show that we (Europeans) are Vulnerable Everywhere. It is Not Scaremongering. It is a Reality".

     - "This Threat Extends Beyond our (EU's) Borders", and "it is clear is that the EU canNot operate in a Vacuum" : "It is Essential we Cooperate with each other in Europe, it is Vital also that we Cooperate with Third Countries to provide Global Security, and of course we need an Effective Strategy to Counter Radicalisation and exchange Information", he observed.

    - Certainly, "Tunisia, like every other country in Europe, cannot be expected to respond to this threat on its own, and it needs our (EU's) help", he noted (See also Infra).

    => In consequence, "We  (EU) Need a Global and  Unified Strategy for the Fight against Terrorism and against ISIS", mainstream conservative Brittish  MEP Kirkhope concluded.

-----------------------------------    

    - "The Fight against Islamic Terrorism will Mark the 21st Century", stressed from the outset Liberal MEP Maite Pagazaurtundúa Ruiz, from Spain.       
 
     - Speaking "with Sorrow, and also with Concern for the Victims,  but with Determination, because ...we are forced to Attack efficiently its ("Islamic Terrorism"'s) Legitimacy", since "Speech and Ideas are as Important as the Courts'or Police action", and "It has a Key Importance that Society doesn't accept  that", while its "Security requires Courageous Leaders, as true Europeans", Ruiz pointed out.

    - Because "there are No fully Secure Borders in a Globalized World, and, as we (EU) will also have to get Involved   Worldwide Defending every Citizen who wants to be Free, it's better to be Clear" : In addition to the "Need for a Security Agenda, we (EU) have no choice but to Consolidate Democratic Countries Outside Europe" also, he observed.

    => - "The current GeoSrategic situation - Alliances with Leaders who are Not always Democrátic- will likely stay effective in the very Short term", the Spanish MEP noted,  wishing "a lot of Courage for that, with our (EU Parliament's) full Support, because it is absolutely Vital for us all", as he warned in conclusion.

-----------------------------.

    - ChristianDemocrat (EPP) MEP Barbara Matesa, from Italy, pointed at the Fact that "our (EU's) Enrmy is Not Detectable, has Military Troops around the World, he is Unpredictable, Has No Face, Nor precise Location, and circumvents the Time/Space Coordinates". Thus, he "has crept into our Everyday Life, Striking Beaches, Factories, and Streets, while we (EU Citizens) go to Work", etc, "provoking Anguish".

    - Because "our (EU's) Ennemy does Not defend a Land, a Treasure, or his Family", but only a "MisConception : the Misunderstanding that (Islamic) Religion should Dominate Every aspect of Human Life, and that Unbelievers must be Punished", the Italian MEP denounced.

    - So that, in fact, "it doesn't matter so much, to search to find in what extent the Recent Attacks in France, Tunisia, Somalia, Kuweit" (etc), "have been Coordinated among them". Because, at any case, "as Now the Threats continue to Proliferate, we (EU) must Focus all our Energy on the Implementation of Concrete and Urgent Initiatives", Matesa urged.

    - Nevertheless, even if "I'm perfectly aware that it's not easy","I also have the Impression that when it comes to Act in real Practice in order to Counter the Jihadist Terror's strategy, you (EU Institutions) stay mirred in political Discussions, often Swampy", she Criticized.

    => "So,in the Fight against Radicalisation and Propaganda, as well as in order to Disrupt the plans of Financing Terror, we (EU) must ... discuss and Find, all Together, Concrete Ripostes (Answers)". Moreover, as "Nobel Prize winner Adolfo Perez Esquivel said, the Only Hope to Defeat Terrorism, resides in observing Democratic Rules", in order to help have "more Democracy and Freedom in these Countries", the mainstream ChristianDemocrat MEP concluded.

---------------------------------------

    + Another Italian MEP, but from the Socialist Group, Daniele Viotti, stressed that "EU was born and developed in order to become a Force for Peace and a Strong Barrier against Fear, Hatred and Destruction, both Inside and Outside its Borders".

    - In fact, "the Challenges that we (EU) face provoke considerable Risks against our (EU's) Cohesion", and "that's also the Mistake of Choices made in the USA, as well as by those who take Decisions on certain Countries, away from EU's Foreign Policy", she denounced.

    => - "Therefore, we (MEPs) have a Duty to Re-Launch  Joint Action of the entire EU", f.ex. by "Optimizing our Security Spending, promoting Cooperation and Exchange of Information", etc., but also to "implement Policies for Social Inclusion", and "escpecialy to Combat Hatred", as that which is related to the Recent Week's Tragedies in France, Tunisia, Kuweit and Niger". Meanwhile, "the EU should Drop the logic of Discipline and Sanctions" alone, also because "We (EU) have the Task to Respect, First of all, the Fundamental Freedoms of Men and Women who are part of the EU, and even those who aren't, but also to "e Clear about the Idea that Security canNot be an excuse for Suspending Democracy", as she said.

    - In consequence, "it's important to ask (all) EU Parliament to express  its SUpport, the more Actively possible, to EU's High Representative for Foreign and Security Policy, as well as EU Commission's vice-President Frederica Mogherini, and, particularly, her attempt for a Secular Breakthrough, because this could be the Best Way to Fight Terrorism", the SocialDemocrat MEP concluded.

------------------------------------

    - Polish Conservative MEP Miroslaw Piotrowski, of the ECR Group, pointed from the outset to the Fact that, when, "recently, we were watching with Horror the Terrorist Attacks carried out in a Bestial way, but also in an Organized" manner, "the Leader of the Islamic State, Revendicating these Attacks,  said that Al-Qaeda was "Too Soft" and (Comparatively) "Pacifist"" !

     - Therefore, ISIL's Extremist Islamist Terrorists who aggress even defenseless Civilian People, "Mercilessly Murdered mainly Christians, but also random Tourists in Tunisia, where nearly 40 People were Killed, and France and other places where Victims had even their Head Cut off", he Denounced.

    - Nevertheless, while ISIL's "Militants from some Islamic Countries  boast and Demonstrate their Muscles", however, "the EU loooks Helpless", particularly "due to an Unfortunate EU Policy, according which, Instead of Supporting the (currently US-led) Fight against Terrorism, on the contrary, it Weakens the Fight against it", f.ex., "by... setting up Committees of Enquiry, inside EU Parliament", etc, Piotrowski Criticized.

    - One of them even risks to "Unveil the Mechanisms of the Fight against Terrorism", and to provoke an "Idiotic Spiral which would Track Special Services' Officers who are Fighting against Terrorism, while the latter would be Over-Secured by a "Plus" of Human Rights' Standards", the Polish MEP complained, (Ommitting, however, to address also the notorious Fact that USA's NSA Mass Surveillance Scandal had reportedly Spied a lot even on ... German Chancelor Merkel's Mobile Phone, as well as over the French Presidential Palace of Elysée, including on Private Big Businesses, etc., in  a very much Wider context)....

    => Thus, show "Determination to Change those Wrong Policies, will be the 1st Step to CounterAct vis a vis (ISIL's)Terrorism, for the Benefit and Safety of EU Citizens", he concluded.

----------------------------------------------

    - Romanian SocialDemocrat MEP Victor Bostinaru sharply Denounced the Fact that "Terrorism has Aggravated during Recent Years, with Considerable Changes, both in terms of Organisational Structure and on its Aims, Methods of operation, Recruitment and Propaganda".

    - But, as always, "the Main Purpose, common to All Terrorists, Remains to Undermine Democratic Values, Human Rights, and Social Cohesion", he reminded.
    >>> "In this Context", the recent "Terrorist Actions have become a Common Threat, both Horizontal and Cross-Border, with a Growing Dynamic" : F.ex., "Only in Early 2015 (Jan. -June) were Registered, Globally, 138 Terrorist Attacks, from which 6 at the Beginning of July. Among those who led attacks are Not Only (Extreme Islamic) Terrorist Organizations known as "Isis", "Boko Haram", "Al-Shabaab", or "Taliban" Terrorist Cells, but also so-called "Solo" Terrorists, "Lone Wolf" Terrorist ,or acting on their Own Initiative", Bostinaru observed.

     + Moreover, "Recent Attacks in Egypt, Tunisia, Libya, Yemen, Nigeria, Mali, Kenya, Syria, Somalia, Kuwait, (even at Syrian Kurdish City of Kobane, where more 100 defenseless Hostages were Killed by ISIS, etc), have Targeted not only over-Crowded, Touristic, Minimum Security areas, which, normaly, should have a Reduced Interest for Terrorists, but, they equally, Targeted Security Forces and to Destabilize Regions, States, areas of great proportions  as MENA etc, in order to Weaken the Confidence of Local Populations and of the International Community on the (affected) States' Capacity to Control that Phenomenon", he denounced.

    ++ In Addition, "that Terrorist Threat does Not Stop at EU Borders, and the June (2015) Attacks, which took place in Austria (Comp. Supra) and France (Comp. Supra), and the Forecast of (also Other) Imminent Attacks in (EU) Member States recall this actually", the Romanian MEP Warned.

    => In consequence, "I want to Emphasize the Importance of increasing Synergy among  EU States in order to Face this Threat, as well as of full Implementation of the effective anti-terrorist Strategic Aims, as stated in EU's Security Strategy, whose elements were Agreed by the (EU) Council in February (2015) and reiterated among June 2015 EU Summit's Priorities", as he reminded, while also expressing" Support to (EU) High Representative (Frederica Mogherini)'s Initiative to prepare a Comprehensive Strategy for 2016", he concluded.

-----------------------------------------------

    - However, another MEP, Afzal Khan, representing UK Labour at EU Parliament's Security and Defence Subcommitte, even if he acknowledged the Fact that "Terrorist have No Mercy", "they are Modern Bandits", and "the Death Numbers ... are Reminders that the Fight against Extremism, Globally and here in Europe, is Far from over", as "the Recent Terrorist Attacks by ISIL" demonstrate, nevertheless, Found some "Good News" in the "Muslim World"'s "increasingly .. Firm Stance against Extremism Falsely conducted in the Name of Islam", as he said.

    => "EU should Support such efforts by partner (Muslim Countries') Governments as well as ordinary (Muslim) Citizens. since "ISIL"'s "Terrorists .. do Not Discriminate", they "Kill Muslims and Non-Muslims alike", Socialist MEP Khan felt.

    - F.ex., "in the Last few Weeks, they have Killed Tourists in Tunisia, Egyptian Soldiers in the Sinai, Pakistani bus travellers in Karachi, Worshippers during prayer in Kuwait, and beheaded one person in France", he noted, (curiously Mixing Defenseless Civilians with Armed Soldiers, Forgetting the Fact that most Victims in Tunisia were Brittish Christians, and that even Kuwait Victims were from a Religious Confession opposed by ISIL's Extremist Islamic Terrorists, as well as Ommitting the recent Deadly Aggressions, mostly of Christians, in Austria : Comp. Supra, etc)...

    => Thus, Khan found that "the Underlying Root Causes" were the Need for "a comprehensive, just and enduring Middle East Peace", he assimilated to "devastating" "Extremism" the Fact that, as "recent Pubic Opinion Polls suggest", "46% of Brittish" People "believe that Muslims do Not Share Brittish Values", and called to "Work within (Ethnic and/or Religious) Communities", "as well as to Ensure ... Justice and that the Social and Economic Well-Being of All" would be "adequately met", (etc).  

---------------------

    - But Conservative and Reforist MEP Karol Karski, from Poland, elected EU Parliament's Questor, asked Khan if he thought "Necessary to Restrict the increasing Immigration of People from the Southern part of the Mediterranean to Europe", "so that .... the Terrorist Threat that exists among these People, wouldn't be Transferred to Europe" ?

- Khan found that "this is Not the Best Answer to the Problem" of ISIL's Terrorism. Instead,  "we 5EU) Need to ... Look at the Root Causes, of why so many People, who have their own Home, .. Families and ... Society, are Forced to Leave". In order to Oppose thatn, "we Need to Brfing ... more Stability and .. Equality in the World", instead of "Attacking the Refugees", as he said, (curiousloy assimilating Mass Irregular Economic Migration of entire Populations, and Political Refugees forced to Flee targetted Oppression of Dissidents to Muzzle)...

+ Kristina Winberg, Swedish MEP of the Freedom and Democracy Group, and Member of EU Parliament's Delegation for Maghreq Countries, Denounced the Fact that, "In Sweden, f.ex., Foreign Fighters are gien Priority in Employment, ReHabilitation, and so on", instead of , on the Contrary, "Imposing Tougher Penalties", as, "f.ex., go after Resolution 2178" and "Take from them their Citizenship, so that they will Never Return agains into Europe". Why not ?, she adked him.

- Afzal Khan simply Replied that "those who Commit Crimes, must do their time" (in Jail)... "We .. must make Sure that those who are actively Committing those Offenses, do Not have such Opportunities", as denounced by Winberg, (Comp. Supra).

- "But, at the same time, those who are Innocent should Not be Punished", and "Hard Working People" should be "given Equal Right and Opportunities", he pleaded, going slightly Off Topic...

----------------------------------------

    - "A Wave of Terrorist Attacks faces recently Europe, where Tens of People have Lost their Lives, unfortunately", denounced  Greek MEP Lambros Foundoulis, an Independent from the "Golden Dawn" Rightist Party,

    - "Co-Fighters and Accomplices of those Terrorists of the Islamic Khalifate, import Terror even inside our Fatherlands. Unfortunately, they are characterized by Fanatism, while Europeans seem Unable to give a Resolute Reply, so that those Attacks risk to Augment Dramatically in the Future", Foundoulis warned.

    => On the Contrary, "We (EU) mùst Give a Strong Answer to these Acts of Cowards", and "Find a way to Protect ourselves from such Invadors", the Greek MEP urged.  - "I speak with Anger, but also Pain", because, "1,5 Year ago, when Leftist Terrorists Murdered, as Dishonest Cowards, my Son, Georges Foundoulis,  and his Friend, Manolis Capelonis, two Young Boys, in front of our Offices, there wasN't yet Any Reaction from all those who appear Today as so Sensitive...", the Father of the notoriously Brutaly Killed Son, (by two Cold-Blood Murderers who Shot the Victims by Gun many times, even when one had fallen into the Ground, as 2 crystal-clear Videos published at the Web, have revealed), further Denounced, with visible Emotion, while also reminding his Proposal "to declare November 1st, (Date of that Double Political Murder, back on 2013), as a European Day against Terrorism".

    >>>  - But, in that case, until now, "Nobody  bothered to Find the Murderers. Some didN't even act at all, because they had a Political Interest to stay inactive. All that makes me Wonder : Are we Better than those Terrorists, or are we simply Hidding ourselves behind a Fake Mask ?", Greek MEP Foundoulis Critically Wondered in conclusion.

-------------------------------------------------

    - In fact, "Each one of us (MEPs) has a Responsibility and Duty to Protect People's Lives, Dignhity and Fundamental Rights, anywhere in the World", reacted Hungarian ChristianDemocrat MEP Kinga Gal, Vice-President of EU Parliament's Committee on Civil Liberties, Justice and Home Affairs.

    - But, Extreme Islamic Terrorist "Attacks in recent times, are Frightening, by their Symbolism and Reality, because it means that Anyone among us, Anywhere in the World", could become a Victim", she Warned.

    - "Such deeds (even) seem without any Explanation. We must Prevent them", "Standing Together" and "Looking for Partners in the World", with all "the available Tools", including "Trained and Efficient Guards, Necessary in order to Ensure Security and our Values", MEP Linda Gal urged.

    + Moreover "we must Stop Young Adults from becoming Radicalized, in front of our eyes, even inside normal Societies". But we should "also Speek about the Innocent Victims", f.ex. those "who are Persecuted because of their Faith : I am thinking of those Christians, many Women, even Children, who are Today Victims of "ISIS"' Atrocities : They are the Martyrs of our Century ! In addition, .... there are also Human Losses in terms of Thousands of Years of invaluable Monuments, in the Destruction of Regions which were Cradle of Civilisations", etc., "for which, all Humankind is BeLittled", the mainstream ChristianDemocrat MEP denounced in conclusion.

--------------------------------

    - "A very Serious Danger faces the World and Europe, due to the Terrorist Attacks", warned Romanian SocialiDemocrat MEP Doru-Claudian Frunzulică.

    - But, "this Global Threat should be Tackled Globaly", he went on to add. "At European level we should take All possible Measures to maintain the Security and safety of our Citizens", and support "Building a Cross-Border Response to this Threat".

    - That kind of "Terrorism aims at Undermining our Societies and ...way of life. It is a direct attack on core EU Values :  Democracy, the rule of Law, respect for Citizen's fundamental Rights, and unity in diversity – and a Threat to the Security, Peace, Stability and Prosperity  that European Integration has given or is trying to give its citizens". Therefore, "Preventing and Combating Terrorism requires ensuring that security, human rights and law enforcement are complementary, and that EU Foreign and security policies tackle terrorist threats around the World and their causes", he concluded.

-----------------------------------------------------

    - "The once External Threat to Europe, Today definitely became Internal" : That's "the Message of the Terrorist Attacks of June 26  on France, Tunisia and Kuwait", denounced Croatian MEP Ruza Tomasic, Member of the Bureau  of the Conservatives and Reformists Group.

    - But, at the same time, a "Lukewarm approach towards the Islamic Extremists who are Imported into Europe, and those who are on our Soil, brought up in Hatred Western Values", while "Terrorists are highly efficient in Abusing of our (EU's) Weakness", she Denounced.

    + Indeed, "Today, Europe stands out Shy of its Christian Roots, as if it was Ashamed of its Identity,  and Nations and Countries withOut Identity are Easy Targets for those who want to Impose to us anOther Identity". In fact, "its (EU's) DesOrientation and InDecision is such, that we (EU) actually attract and encourage" those Terrorists,  Ruza Tomasic warned.   
                                                                                                                                                                                                                                                                                                                                                                                                                                                 
=>  In fact, "it's High Time to Clearly state that the Extremists, that is people who have come together in order to Harm Others inside the EU, do Not have any Rights, and that each of them has Chosen his Life, and  Decided that in Europe there is No Place for him", the mainstream Croatian MEP urged in conclusion.

-------------------------------    

    On the Contrary, Turkish Minority MEP from Bulgaria, Ilhan Kucuk, of the Liberal Group, asked for even More "Really Multi-Cultural Society", for the sake of which exist "Tolerance and Democracy", as its "Guarantees", instead of "Self- Closure and Isolation", as he claimed, speaking of "an Important, Strategic Choice", that "Europe has to make", because of "the Challenges it faces Today":

    - Accusing the "Arab World, South of our (EU's) Borders", to "Face  Unprecedented Conflict that led to the Rise of Terrorism",  so that, "from Libya to Syria, literally Disappear whole Countries", Kucuk found that "we are  All Victims of the  Brutality of the Terrorists. We are All Targets - Europeans, Arabs, Christians and Muslims !", as he characteristically said.

    For the rest, naturally "Terrorism (in general) is the greatest Threat to our (EU's) Security, and has to be Neutralized". For that purpose, "We (EU) must mobilize all its available resources in the name of restoring Stability and Security at All points of conflict", as Turkish-Bulgarian MEP added, while Bloody Conflict has just also re-Started, even more Deadly than before, also inside "ISIL" Terrorists' main Corridor : Turkey itself, after the latest Tragic Deadlock on the Kurdish problem.

-------------------------------

    - "We (EU) should End the temptation to support Authoritarian Regimes", since "this would be a Mistake we (EU) would Pay in Time, because it would follow even More Territorial Conflicts", (as, f.ex., it's already the notorious case around Turkey), pointed out, at this juncture, Italian MEP Fabio Castaldo, from the EFDD Group.

    - But, Contrary to almost all Other MEPs (Comp. Supra), he called Not to "Pretend that you can ensure our (EU) Security simply by spending More on Weapons, Intelligence, Security : Certainly, this can be Helpful, but ... you would End up like that Child who wanted to Drain the Water from the Sea with a Shell", as Castaldo said, prefering to focus almost exclusively into "Pushing for Moderate Islam", hoping "to Isolate real (Extreme Islamic) Terrorism", (i.e. almost by Repeating what has already been done inside Turkey, with Tayip Erdogan, etc, and didn't work yet)...

------------------------------------------------

    - Replying to MEPs, EU Commissioner Avramopoulos Warned MEPs that, "unfortunately, the Threats posed by Terrorism" "will be for a Long Time, a Crucial issue for our (EU's) Citizens", and, therefore, he was "Grateful" to EU Parliament "for having put this point on the Agenda".

    - "In the Past 6 Months, EU Commission has .. put forward ... a set for Concrete Actions to Counter this Threat", but Now "We (EU) Need to Join our Efforts to Ensure that there will be a Swift and Continued Implementation of these Proposals, in full Respect of the Rule of Law and Fundamental Rights", as he said.

    + On the "Remarks" made by some MEPs about "Western Balkans", Avramopoulos "assured that,  in matters of Security too, the Western Balkans are Key Partners. Stability in this region is Crucial", and that's why "We (EU) are implementing Targeted Actions with the Western Balkans on Radicalisation and Firearms cooperation with Europol".

    ++ Finally, observing the Fact that "Many" MEPs "Focused -as normal- on Tunisia", after one of the most Deadly recent Massacres of Civilian People, (Comp. Supra), the EU Commissioner stressed that "Tunisia .. are Partners and they have our (EU's) Full Support".

    In particular, It's "In the framework of the EU European Neighbourhood Policy (ENP) review (that) we will develop – and will keep developing –Targeted Policies with Tunisia", by "working on it Together with (EU's High Representative for External Action)  Mrs Mogherini and Commissioner Hahn" (competent for EU Neighborhood+ policies). "More will be said on this in the Next Debate" of EU Parliament, later this Afternoon, specifically focused on the latest events in Tunisia itself,

    ---------

    + EU Council's President in office,  Luxembourg's Minister Nicolas Schmit, observed that "We all Agree that their is an Urgency" ; "We must Intensify our Cooperation .. and take effectively the necessary Preventive and Reppressive Measures".

    - "We (EU) must persist to Support those Third Countries with which we are involved in the Struggle against Terrorism, particularly by elaborating Coordinated Action Plans", etc.. More specific Details will be unveiled during the two forthcomping Debates on Tunisia and EU Neighborhood Policy, later this Afternoon, Schmit added. In this framework, "Countries like Tunisia, ... are particularly Vulnerable and we (EU) Must Actively Support them", he stressed in Conclusion.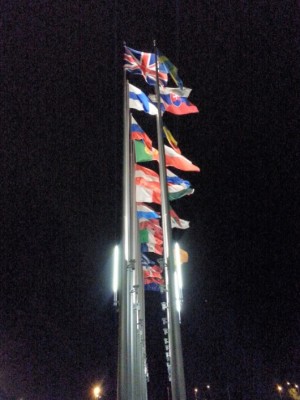 (../..)

----------------------------

***


("DraftNews", as already send to "EuroFoa"s Subscribers/Donors, earlier. A more accurate, full Final Version, might be published asap).

***

BRIEF NEWS
00:00 - 26.12.2017

00:00 - 26.05.2017

00:00 - 30.01.2017

00:00 - 14.10.2016

00:00 - 24.09.2016

00:00 - 27.07.2016

00:00 - 03.07.2016

00:00 - 01.06.2016

00:00 - 12.02.2016
Statistics
Visitors: 27178595
Archive
Login Form
Other Menu
EuroCorps, aged 15, may graduate in 2009, boosted by Strasbourg's Human Rights/Reconciliation symbols and fresh political will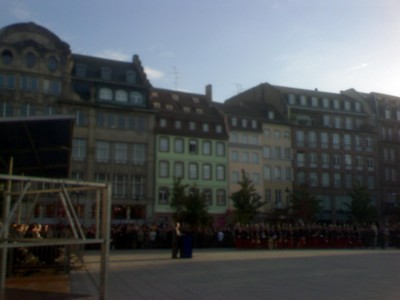 Popular : EuroCorps' chief, General Pittarch, and Strasbourg's Mayor Ries, speak to the People, downtown.
--- 
* EuroCorps, EU defence's etat major, which has just celebrated 15 years of age (1993 - 2008), is young enough to feel enthousiasm for missions to guarantee Human Rights, Peace and reconcilation : Strasbourg's Historic Symbols, but also maturing fast, (particularly under the current French EU Presidency), in order to prepare potentialy important developments in 2009 :

- "EUROCORPS" is a "unique tool" for "a Modern Europe", jointly managed by participating Nations without anyone deciding for others", to "support their efforts to promote Reconciliation, Peace and Human Rights' Values, which identify today's European ideal, with its Symbol-City : Strasbourg", stressed its Chief, Spanish General Pedro PITARCH, in a popular ceremony for the 15th Anniversary of the European Army Corps, at its Headquarters.

- "Today, we are ready and able to fullfil any Peace-keeping Mission may be decided by the Political leadership, since we can deploy up to 60.000 soldiers and/or other agents, mainly in land, but in coordination with Sea and Air operarions", (even to build vital Infrastructures, demining, keep public order, facilitate Elections, etc), said to EuroFora EUROCORPS' Spokesman and Press Director, Colonel Raul SUEVOS.

- "If there is an Agreement with the framework Nations, EUROCORPS could certainly contribute to guarantee manifold aspects of Peace setllements", told us recently General PITARCH.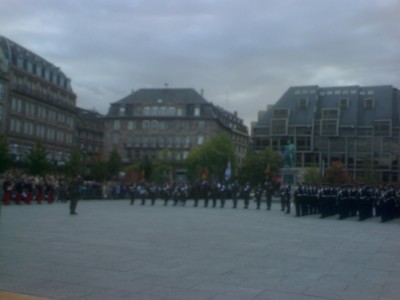 EuroCorps framework Nations' flags in Strasbourg's central square, on 2008, under the eyes of Napoleon's general KLEBER, famous for its Egypt campain, (reminded by German chancelor Merkel at Berlin's March 2007 EU Summit in a symbolic 1799 gift to the French President)..
---

EU Parliament asked, Summer 2008 in Strasbourg, " to place Eurocorps as a standing force under EU command", and "invited all (EU) Member States to contribute to it".
France, Germany, Belgium, Spain, and Luxembourg (participating with Funds, Telecoms and Officers), are EUROCORPS"' main "Framework Nations", due to be joined by Italy in 2009. Greece and Austria participate as "Contributing Nations", while Poland decided to upgrade its role. Turkey has liaison Officers for NATO relations, and even USA decided to send Officers to Strasbourg on 2009.

Observers await with impatience also the outcome of NATO's April 2009 Summit in Strasbourg in order to have a better view of EuroCorps' future.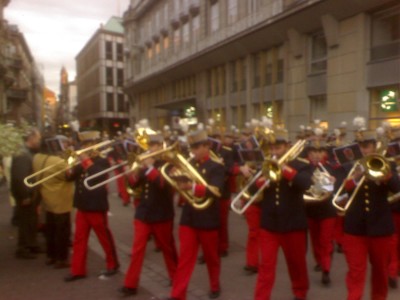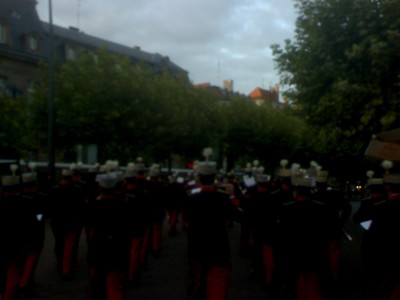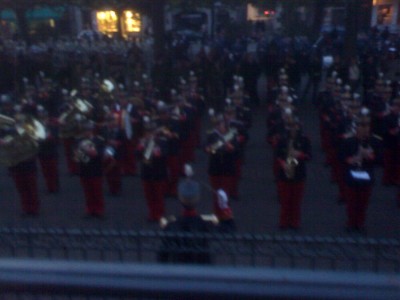 Since modern Defence must be able to use all Arms nowadays, EuroCorps tried to charm Strasbourg's People with Music accross popular streets...

Polls