Kohl is Here !
sábado, 01 julio 2017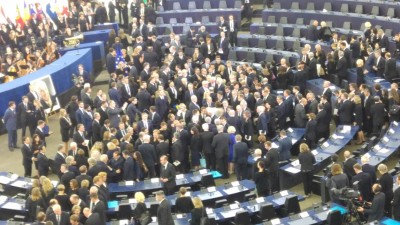 *Strasbourg/EU Parliament/Angelo Marcopolo/- "It" happened at the "End": Just after Ludwig Beethoven's European Anthem, when EUROCORPS' Army Officers slowly but definitively withdrew historic Helmut Kohl's coffin, among spontaneous Tears, particularly to all those People (including "Eurofora") who Lived and Strived for a European Dream the last 25-35 Years, inevitably Wondering whether it Risks, nowadays, to be also Taken Away from 500 Millions of Citizens, Undermined and Destroyed, or if it will Survive, ReVitalize and Develop in the foreseable Future :

=> Suddenly, a Fast and Dense, also Spontaneous, Dynamic Collective Move, brought all Together, as Joining bright Metal balls in a Magnetic Field, Centered right in the Front area of EU Parliament's superbe Strasbourg Hemicycle, about 190 Heads of States/Governments,  Leaders and Top Members of European Institutions, Key Ministers, EU Parliament's MEPs, Top Guests from various Important 3rd Countries, (etc), astonishingly Eager to Meet, Mix and Exchange between them, with No more Barriers, without Protocol intermediaries, etc., but in a Free and spontaneous way, which Formed a Spectacular, Collective Human Conglomerate, Durating for a much More Longer Time than expected, or ever seen before...

All placed under a Huge, Smiling Face of Helmut Kohl at a Giant Picture of that Historic "German and European Patriot", who "knew that Germany's and Europe's ReUnifications were 2 Sides of 1 Coin", (as Jean-Claude Juncker, EU Commission's President and Long-time Luxembourg's Prime Minister, as wel as €uroGroup's Chairman, called the deceased man, in Memory of whom, the 3 EU Institutions had decided to organise Today's "European Memorial" in EU Parliament in Strasbourg), this Unprecedented, Spontaneous Collective Event,

Forged a Real and Living Symbol, EmBodying and Inspired by Kohl's main Core Legacy, probably the "Soul" of what he Strongly Contributed to Leave to all Europeans as historic Heritage :

 A United, Peaceful and Fast Integrating Europe, with vital outreach "from the Atlantic Ocean to the Urals Mountains", according to the Famous De Gaulle's formula, where European People can Freely Meet, Exchange, Cooperate, and Thrive together, in a Safe and Facilitating, Productive Environment, with basic Human Rights, including in Topical BioEthics, as it had been Hoped and realy Started to be, particularly since the 1990ies. 
So that, for several Long Minutes, it all looked as if Kohl was, in Fact, still "Alive", in a way or another, precisely in that Unprecedented, Spectacular and Moving, spontaneous Collective "Choreography" designed by all those European and PanEuropean Leaders, obviously Eager to come Together, in the Center of EU Parliament in Strasbourg, near "his Homeland" of Rhineland-Palatinate, "in this region at the Heart of Europe", as German Chancellor Angie Merkel underlined in her speech here.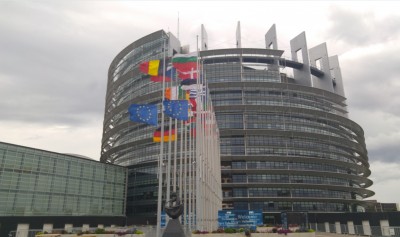 - Because Kohl "Ardently carried on De Gaulle's and Adenauer's work" on "Franco-German ReConciliation", and "Loved with all his Heart, in particular (Strasbourg's region) Alsace, that he had Often Visited", in Addition to the Famous Photo with former French President Mitterand, "Holding Hands in Verden", at the Military Cemetery of all those Killed during the World War, reminded Juncker. Therefore, "The fact that we are saying "Goodbye" to him here in Strasbourg, European Parliament's Seat, of which he was a constant Friend, a few hundred metres from the Rhine, is a ...Symbolic European gesture. This Beautiful city of Strasbourg, for him THE Capital of Europe, as the Seat of the Parliament Representing the European Peoples", concluded the President of EU Commission.

 - Also Because the "great European" that was Kohl, was "a Political Giant, able to Hear what Citizens have to say, and Look at the Horizon".

I.e., precisely the essential substance of what is the main duty of EU Parliament, as its President, Antonio Tajani, an Experienced former Long-Time EU Commissioner and MEP, stressed from the outset.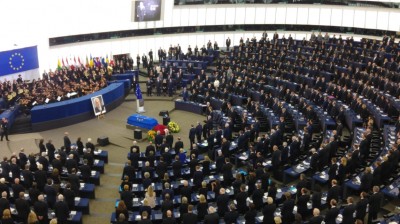 - "Get Near to the People, to what is Feasible and Reasonable", but also have "Unwavering Beliefs, Guiding in ...Decisions", with "Knowledge of the History, ForeSight, and Thinking in Long Time-Lines", is what he was, added afterwards German Chancellor Angie Merkel.

--------------------

+ "Kohl's contribution into ...Building mutual Understanding was Momentous. It's thanks to him that Words such as "Trust" and "ReConciliation" became Meaningful, once more", Both "in Franco-German and German-Polish Relations" : "It's Historically Symbolic that, when News of Berlin Wall's Fall reached him, he was in Warsaw", added EU Council's President, Donald Tusk, former Prime Minister of Poland.

- "With extraordinary perseverance, he Sought to define A Common Europe : He sought for what Binds us Together", Tusk stressed.

+  But Kohl also understood that "We (Europeans) Need a Stronger Europe, if we do Not want to become a Play-Field (for War) of Bigger States", the Polish-origin EU Politician added Oraly to his written Draft speech.

---------------------------------------

 - He was "Champion of a Generation which Dedicated its Life to a New European ReNaissance", noted EU Parliament's President Tajani.

=> "Many things which are, nowadays, taken for granted, in fact, stem back from him", who "helped to Shape ...the Europe in which we live today", soberly reminded German Chancellor Merkel.

 - "Already, Thousands of Pages have been Written in honor of his activities", observed young French President Macron.

Indeed, it's mainly During Kohl's Leadership in Germany (1982-1998), and in Cooperation with France and Other EU Countries, that were notoriously Created Many Important Europe's Building Blocks. F.ex. :

- Berlin Wall's Fall, and End of the Division between Western and Eastern Europe (1989).

- "Common Market" : Entry into force = 1993.

- "SHENGEN" Area of EU Citizens' Freedom of Movement and Security (1995+) ; "€URO"-common Currency prepared ;

-"EURO-CORPS"' Army Headquarters in Strasbourg (1993), and "ARTE" European TV (ibid).

- PanEuropean CoE's Enlargement to all Central-Eastern Countries up to Russia (until 1995-1996) ;

- ECHR : First Important Public Hearings/Judgements = mainy from 1994-1995, + Big Reform (entry into force : 1998) ;

- Europe's ReUnification by Integration into the EU, both completing Southwards (Spain and Portugal, Cyprus and Malta), and Northwards (Sweden, Finland), as well as Eastwards (Austria and Hungary, followed by another 11 Central-Eastern European Countries) made or prepared Accessions into the EU.

On the Contrary, Non European Countries Morocco and Turkey's demands (initialy presented Both the Same Year), were rejected or frozen (Luxembourg Summit, 1997) ;

- EU Parliament's Brand New Building in Strasbourg, (décided and built Earlier, but officialy inaugurated on 1998).

- CoE's PanEuropean Convention on Human Righs and Bio-Medicine : Agreed on 1997 and signed on 1998, (the only Legaly Binding International instrument on Bio-Ethics, extended in particular areas, several times, since).

- Beginning of "Trilateral", PanEuropean Summit meetings between Leaders of France, Germany and Russia, (Created during CoE's 1997 Summit in Strasbourg, by Kohl, Yeltsin and Chirac).
(etc).

---------------------------------------------
+ Kohl's EU Memorial revives in Strasbourg the
Franco-Germans-Russian, PanEuropean "Trio" ?!
------------------------------------------------

Precisely, this last act, as Chancellor, back on 1997, is probaby Revived Today, 20 Years Afterwards : on 2017, at a very Different Context, when Kohl's Memorial was organized in a way which leans towards ReViving the Franco-Germano-Russian "Trio" !

- Being "one of those who brought an End to the Separation of East and West decreed at Yalta", "he also directed his attention, Wisely, towards Relations with the former Soviet Union and present-day Russia. The Historian and Chancellor knew about the breadth and depth of Russia", Topicaly observed Today Juncker.

=> In a widely Symbolic Gesture, Kohl's Family reportedly Invited now Russian Prime Minister, Dimitri Medvedev, to be Present at this European Memorical Ceremony in Honour of the Historic German Chancellor.

>>> Significantly, the Russian Prime Minister was the Unique Non-EU Acting Top Official to be included among the Keynote Speakers at EU Parliament in Strasbourg. Medvedev spoke just before Macron and Merkel, who concluded.

Former US President, "Socialist" (DP) Bill Clinton, spoke Earlier, together with Spanish "Socialist" Former Prime Minister Felipe Gonzalez.
When "Eurofora"s co-Founder First met face-to- face  Kohl on 1997, during CoE's PanEuropean Summit in Strasbourg, he was Together with the former Presidents of France and Russia, Yeltsin and Chirac.

It was then, that they had Created a series of PanEuropean "Trilateral" Summits, France - Germany - Russia, according to De Gaulle's vision of a "Greater Europe, from the Atlantic Ocean to Ural Mountains".      
                                                                                                                                                                                                                                                       - "Many things Changed", when Kohl was Chancellor, and "Chose the Right Path", the Russian Prime Minister stressed Today, calling him an "Architect of United Europe", because "for European Peoples, he Opened an Epoch of Unity".

   - "Kohl had seen and knew what War meant", and strived to "achieve a situation where Europe wouldn't be Divided". He understood that his Country (Germany) could be really ReUnited when All Europe would be United, since People had understood the Dangers of Confrontation, and the Value of Peace.

 - "On this Path, Russia was a Reliable Partner", and values very much the fact that Kohl strived to Build "the Best Relations in History", between our Countries, he underlined.

- Kohl was not only a National, but also a PanEuropean Politician who Dreamed for a United Europe, where Russia was an integral part. He Dreamed of a Common Home, without Barbed Wire, withOut Fear, Enmity or Hostility that Divided, but according to a Dream where a Human Being is above States, Medvedev added.

 - But, even if the Berlin Wall was demolished, nevertheless, its Ideology is all over the World, we must admit, Nowadays, that Contradictions keep us all Far away from realizing that Dream of a Common Home.
 - We should focus on "a United, Safe and Prosperous Europe, as our Common Goal", the Russian Prime Minister invited.

- Helmut Kohl proved that Overcome Divisions was Achievable, and, Now, the Responsibility lies on Our Shoulders.

- Thus, in Russia, we shall always Remember him as a Friend, a Wise and Clever Politician, an Open and Sincere person", Medvedev concluded.

--------------------------

 - "Helmut Kohl, ... sought and maintained close contacts. So, he managed to establish in Germany, in Europe and in the World, reliable Relationships, build Trust and close Friendships". He "Knew how to Build Bridges. They ranged from Paris and Warsaw, to Washington and Moscow. He worked tirelessly for a Common Good of Germany with its Neighbors and Partners in the world", stressed later German Chancellor Angie Merkel, as a matter of wider principle.

- "As a Child and Teenager, ... he had Experienced the immeasurable Suffering that was brought ...by NAZIsm, and also the Fear of (Allies') Nights of Bombing". That's why "his Foreign Policy Maxim was clear : - We Need to act for a Europe in which there will Never again be War", she pointed out.

=> So that, while "when Helmut Kohl became Chancellor (since 1982), Germany and Europe were Divided", and "an Armed Confrontation on European soil was always a present Terror Scenario", on the Contrary, "at the End of his term in office, (on 1998), Germany was United and, for the 1st Time in History, with all its Neighboring States in Peace, with Freedom and Friendship", Merkel reminded.

----------------------------

+ Comming shortly after New French President Emanouel Macron apparently decided an U-Turn on the Crucial Issue of the Syrian Conflict, declaring, in an INTW to 7 EU Newspapers (signaled to "Eurofora" during the Latest EU Summit in Assad's departure was No more a Prerequisitive for Peace, and that the No 1 Priority was to Win against ISIL's Islamist Terrorism, therefore Cooperate with Russia, where he had just Send his Foreign Minister Drian to visit Moscow, (an Experienced former Defense Minister : Comp. several Drian's Replies to "Eurofora"s Questions), Today's highly Symbolic, joint Franco-German-Russian move, at the Historic location of Strasbourg, might Mark a possible, and much Needed,  PanEuropean ReVival, integral part of Kohl's legacy.

-----------------------------------------------------
Macron : Advance Beyond Technocracy
------------------------------------------------------------------------

+ But, in fact, the Young French President felt, Today, that the "Historic" German Chancellor's real "Legacy, was Not Limited just to a Political Balance Sheet, even if it's Awesome", with "Thousands of Pages already written about this", but "Goes much Further on" :

- "Kohl was, for France, not only a privileged Interlocutor, an essential Ally, (and) a tireless Builder". "He was More than that : Also a Friend !", Macron stressed. For that "Native of Rhineland, full of Curiosity on his Neighbours, looking Beyonf the River who is Near us here", in Strasbourg, the Franco-German "relation was marked by UnConditional Respect".

 - So that, After De Gaulle and Adenauer, Giscard d'Estaing and Schmidt, "who had Builded Europe's strong Foundations", even when "French People chose Leaders whose Economic Choices Upset some Partners, at the Beginning of the 1980ies", (i.e. with Mitterand : a Socialist), nevertheless, Helmut Kohl "gave us his Hand", he reminded. Thus, "Kohl and Mitterrand, then Chirac" (etc), "brillantly Proved that Europe is Great when the Kindness which inspires it, and the Friendship which is at its foundations, are also Great", he pointed out. Reminding f.ex. the Visit that Kohl made to Mitterand shortly after the German ReUnification, which had raised some Questions, Macron noted, "their Agreement" has shown that, "in such Moments, the PlayField of the World's Destiny stands at the level of Human persons".

- Naturaly, all that has also"to be Consolidated in Agreements and Institutions". But, "European Treaties and Institutions", must Not become "vain Technocratic constructions !", he Urged.

>>> Because, if you abandon them withOut Friendship, without the Flame which Forged them, wihOut the Human Destinies which Built them, then, you oblige nowadays' Europe to become Technocratic !, Macron Criticized.

 - What can Bring "Life" in it, is to "show that our Europe, which Unites us Today, is the Fruit of Many Generations' History, of People who rose Higher than scheduled, who Dared Face Hates or Fears", he stressed. Otherwise, "Any Building risks to lose its Meaning, and even its Beauty, if it's No more Inhabited !", he warned, speaking in Strasbourg.

- In other words, Realism, Political Shrewdness, are very useful. But you canNot Built anything on them ! Because it's only the Ideals, enlightened by Friendship, by the density of Life, which can Embody our Projects, and make them Live for a Long Time. "The moment will come, when History will Judge us too" : It will mark in favour of us, our Sincerity for Peace and Harmony among Peoples ; our Commitment for the European project ; our profound Friendship, born out of Common History, our closely interwoven Cultures, and the Challenges we Faced Together".

- "And, even if we might Doubt, sometimes, in front of such a Huge Task, it's enough to think at Helmut Kohl's Moto : "We haveN't seen Today, Any Reason for Resignation. We have many reasons for Realistic Optimism", Macron concluded.

----------------------------
Merkel : "Now, it's up to us"...
-----------------------------------

+ In Addition to the Various Other Main Points made by German Chancellor Angie Merkel, and already cited elsewhere in this article, (Comp. Supra + Infra), she also stressed the following :

 - "Helmut Kohl embodies an Era", and "Influenced a whole Generation". "But ...he never lost sight of the Big Picture. He ...has helped to decisively Shape Germany and Europe, ...in which we .. live today. Much of what is for us a matter of course, goes back to him :

 - "That the East and West of Europe are United, that we have a common Market, that it States there are no Border controls between the EU, the majority of these States have a common Currency, the European Union in its present Form at all, all of this is, and remains, much to do with the name Helmut Kohl", she said from the outset. Also "The way to the Enlargement of the EU and NATO to Central and Eastern Europe was already paved to a large extent", (etc). "Without Helmut Kohl, the lives of Millions of people who lived until 1990's behind the (Berlin) Wall, would have been completely in a different direction. Of course, also mine"; But "he embedded the German Unity in the European Union".

 - "You knew that you could Rely on him. He Stood for what he said or promised, without If and But", underlined Merkel at this pre-Electoral period.

 - "So he continued, Konrad Adenauer, Jean Monnet, Robert Schuman and other great Europeans. Europe is the work of generations. Each of them faces New Challenges. Each must find their own answers, as it makes Europe fit for the Future".

 - "Dear Federal Chancellor, Helmut Kohl ... Thank you for the opportunities you have given ...You have Achieved a lot. May they rest in peace. ... I salute you ...in Gratitude and Humility", Merkel concluded.

=> "Now it is up to us, to preserve your Legacy"

---------------------------------------------------
+ International impact : Bill Clinton plays his tune...
------------------------------------------------------------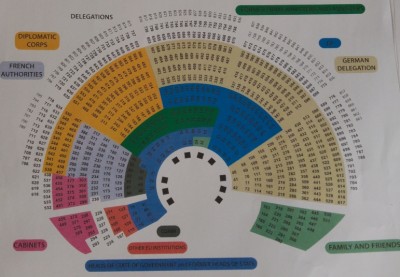 + Meanwhile, a Long list of Top Political Participants to Today's European Ceremony for Helmut Kohl in Strasbourg, Extending well Beyond Europe, reminded that his Legacy's impact, in fact, concerns, even Nowadays, also a much Wider part of the World :

- From Israel had come the Prime Minister Benjami Netanyahu himself, Together with hs Wife. EU Commission's President Juncker had observed from the outset, that Kohl  "was a Great Friend of Israel", with which "he was able to develop relationw ... with intelligence and passion".  Chancellor Merkel reminded what he had done for the "Memorial to the Murdered Jews of Europe", established "in the middle of Berlin": - "Against Fierce Resistance", Helmut Kohl has Urged that "the Monument had to be Built", and "Not in the Next Generation, but by our's. We, Now, Today, Here, and not "at some point"". And so it was decided in the German Bundestag with a two-thirds majority".

 - New US President, Don Trump, had send his Director of National Intelligence, Dan Coats. Moreover, former US President Bill Clinton was among the Invitees of Kohl's Family, (See Infra).
- Chinese President Xi Jinping had send, as his "Special Envoy" to this Strasbourg event, the vice-President  or the National Committee of Chinese People's Political consultative Conference (CPPCC), Gang Wang, Minister of Science and Technology, (who has often met and worked together with his EU counterparts also in Brussels).
- Indonesia has send its former President of the Republic, Bachruddin Jusuf Habibie.
- Singapore had send its Minister of State, Sam Chin Siong Tan.
- Qatar send, as Special Envoy of Emir Sheick Tamim bin Hamad Al-Thani, its MFA, Thani Bin Hamad Al-Thani.
- Turkey send its vice Minister for Europe, Ömer Celik, former Minister of Tourism.
(Etc).

The Bulk of the More than 190 Top Political Participants being, however, Naturaly from throughout the entire European Continent, both EU and Non-EU, (f.ex. Russian Prime Minister Medvedev, Ukraine's President Poroshenko, Albania's President Nishani, FYROM's Deputy Prime Minister Angjushev, etc).

 To whom were added, from EU side : 

- the 3 current Presidents of EU Parliament, Commission and Council,
- also 5 former EU Parliament's Presidents,
- 3 former EU Commission's Presidents,
- Seventeen (17) current Heads of State/Government (and 11 Former) from EU Countries (including UK's Prime Minister Theresa May, etc),
- the Presidents of the European Court of Justice and the Court of Auditors as well as of the EIB, EU's Committee of Regions, etc.,
- President of ChristianDemocrat/EPP Parties Joseph Daul,
- 9 EU Commissioners, (including 3 vice-Presidents),
- 12 Key Ministers,
- 2 Chairmen of EU Parliament's political Groups,
- 45 MEPs from 4 Political Groups,
- All Strasbourg areas' Public Administrations' Heads, (City, University, EuroMetropole, Lower-Rhine Department, Great East Region, etc).

----------------------------------------------------------

 - Previously, Former Prime Minister Gonzalez, (who, coming from Spain, which entered into the EU during Kohl's political career, is well fit to have also a Trans-Atlantic and Inter-Continental look of the World, up to Latin America and even at the North of Rio Grande), pointed out that the Historic Politician's death leaves "a Huge Political Vacuum".

(Spain send also another former Prime Minister, ChristianDemocrat/EPP Ajnar, as well as King Juan Carlos with Queen Sofia, etc).

--------------------------------------------------------------------------

- Particularly since "He had found truly Big Questions to Answer, and we are Here, because pf the Replies that he Found", stressed also Former US President Bill Clinton.
* In fact, the Most Important USA's President for Kohl's Historic Legacy, probably is Georges Herbert Bush, or "Bush Senior", (i.e. the Father of G.W.Bush), who was in charge at the period around the Preparation and the Aftermath of Berlin Wall's Fall (1989), i.e. between 1981-1993, initialy as Vice-President and afterwards also as President.

 - Indeed, Georges H. Bush issued, earlier, a Statement on Kohl's death, stressing that : - "Working closely with my very Good Friend to help achieve a Peaceful End to the Cold War, and the Unification of Germany, within NATO, will remain one of the Great Joys of my Life". And Kohl himself, would, reportedly, also call that Conservative American President : "the most important ally on the road to German unity."

But, "Bush Senior"s Age Health precautions, notoriously Hindering him to make Long Travels, (to the point that he was even obliged to kindly decline, with many Thanks and Wishes, an Invitation to Fellow Conservative, New US President Don Trump's "Inauguration" Reception last January 2017 at a snowy, winter-time Washington DC), it was almost inevitable that the subsequent former US President, Bill Clinton (1993-2001, who, in fact, didn't coincide with Kohl's career but Only for 3 full Years : 1994-1997), snaps this Strasbourg's Invitation...

--------

 - However, the "Socialist" (DP) US former Politician, (who found appropriate to make Jokes about the Deceased ChristianDemocrat German Chancellor's alleged ..."Appetite", according to "Hillary"'s remarks, as he said),

didn't hesitate even to Interfere in "Hot" European Political Issues, especialy by practicaly ... Assimilating the Asiatic "Turkey"  to .. "Poland, Hungary" and Other geographicaly, historicaly and culturaly European Countries !

Coming at the Eve of a Crucial EU Parliament Plenary's Public Debate and Vote on Turkey's controversial and unpopular EU bid, scheduled for Next Week in Strasbourg, that Clinton's blatant Interference in core European Political affairs inevitably looked strange... Particularly from someone during whose term in office: 1990-2001+ Europe faced 2 Bloody Wars in Former-Yugoslavia, the Second (After Kohl's departure from Government, on 1998-2001)including even NATO Military Attacks, Deliberate Bombing of Journalists at Belgrade RadioTV, and Depleted Uranium poisoning dangerously Land and Water used by Millions of Civilian People, etc., added to the attribution to Turkey of a controversial and unpopular "Candidate" status to EU Accession, which notoriously Blocked and/or Delayed EU Integration during the Next few Years (since Helsinki EU Summit of 12/1999), etc...

A fortiori when a Shady Lobby curiously still Persists to Push the notoriously UnDemocratic Turkish regime upon Europe, (Despite even recent Polls revealing that a qualified absolute Majority of 77% of EU Citizens, from the 9 Biggest EU Member Countries, such as France, Germany, UK, Italy, Poland, Spain, etc., do Not want even to think about Ankara's controversial and unpopular EU bid, as the German Press widely reported), as various other, synchronous, Facts indicate :

Among others, f.ex., at the Unique Big Van for TV Crews placed at EU Parliament's main Entrance during Today's Ceremony, "Eurofora" observed that, among 10 or more TV Channels present there, it's Only and Exclusively to a ...Turkish, ill-known, "Video-ReSellers" Company (as an EU Official told us), that was Given the 1st Place, much Closer to the Events, while, on the Contrary, All Other, even European TV Channels, were ...Pushed Far Away ! Including  even ..."EuroNews", EuroVision, RTL, BBC, and Mainstream German Radio-TV Channels such as f.ex. ARD, ZDF, Welt-N24, etc !

(See relevant Photos).

But, these weren't the only Bizarre Facts in Clinton's venue here:

Curiously, while EU Parliament's competent and politicaly responsible Direction had Rightfully scheduled to place Former US President Clinton's attributed Seat side by side with that of Former Prime Minister of (EU Member) Spain, Gonzalez, just Before that of Acting Prime Minister of Russia (and Former President too) Medvedev, another European, near German and French Leaders, Merkel and Macron, (i.e. logicaly Restoring the Historic PanEuropean "Trilateral" Summit format: France-Germany-Russia, created by Helmut Kohl, with Chirac and Yeltsin here in Strasbourg, precisely 20 Years ago : 1997-2017, Comp. Supra), on the Contrary, "Bill" changed everything, at the last minute :

 - Indeed, he did Not take at all the Seat officialy attributed to him by EU Parliament's Direction and even communicated to the Accredited Press in the formal Document of the Protocol, (as clearly shown Above and in the Photo attached herewith), But an entirely Different place :

The controversial "Socialist" Former US President Clinton was found, indeed, Surprisingly seated ...at the Right Side of ChristianDemocrat German Chancellor Merkel, inside the Block reserved to acting European Leaders (such as Merkel, Macron, Juncker, Tajani, Tusk, etc), Right at the Central Front Row of the Hemicycle !  
           I.e., at the ...Other Side of the Moon, compared too his Normaly and Officialy allocated Seat, (according to EU Parliament's politicaly responsible Direction's formal Protocol Document : See relevant Photo), which was, on the Contrary, at the Left Side, Together with anOther "Socialist" Former Prime Minister Gonzalez, from EU Member Country Spain, and Before European Acting Prime Minister of Russia Medvedev... It's Not yet clearly known How, and Why, suddenly, the "Socialist" "Bill" , jumped over EU Parliament's official Protocol, to find himself unexpectedly seated on what could be described as the most important place in this European Ceremony in Honour of the German ChristianDemocrat Helmut Kohl ! Indeed, the currently Available EU Parliament's and EU Commission's Videos that "Eurofora" and Others searched in order to find out what really happened, curiously, ...Ommit, (at least until now), the precise sequence of events which led to such a Big and Symbolic last-minute Change, (while, on the Contrary, they show almost Every Other Collective, or even Separate Movement of  Leaders present at EU Parliament today)...

Nowadays, Bill Clinton notoriously is Not at all a "favorite" of the current US Administration of New American President Don Trump, on the Contrary... And Trump had send Today to Strasbourg's ceremony for Kohl the New Director of National Intelligence (DNI), due to supervise All Security services of the USA, Dan Coats, an Experienced former Senator, (initialy eyed by Conservative f. US President GWBush to become Secretary of Defense), and even f. Ambassador to Germany, where he reportedly became known for having cultivated close Relations with Angie Merkel, even Before she becomes Chancellor, when she was still Chief of the Main Opposition Party, since the beginning of the 2000ies, as well as for having Upgraded the US Embassy at the Branderburg Gate, in Berlin's central "Paris-platz".

+ Could, then, such an Exceptional and Symbolicaly Important, (because obviously Politicaly-charged) last-minute Alteration of EU Parliament's Direction's official protocol order (Comp. Supra), have been provoked, perhaps, by a Mere ...Inferior Agent's controversial or even abusive Interference at his own initiative (and/or of one or another shady Lobby for which he/she might roll) ? It canNot be Excluded a priori, particularly given some various Other such, even comparatively smaller, incidents of Surprizing and Unexplained, Last-Minute attempts, by some, to Alterate EU Parliament competent services Official Protocol decisions ?

 - F.ex., Was it, perhaps, the Same, unknown intermediary Agent who, astonishingly, Tried, (repeatedly and even Physicaly !) to ...Hinder French former President, and EU + G8/G20 Chairman, Nicolas Sarkozy (arrived Together with New French President Emanouel Macron) from making the Sign of the Christian Cross in front of Helmut Kohl's coffin ?

While, on the Contrary, both Former Prime Minister of Italy, Sylvio Berlusconi, and Other Former Heads of State/EU Institutions were Free to do so, allowed by Other EU Parliament's Officers...

(See relevant EU Parliament's Videos, which show it all very clearly).

+ By a "Coincidence", he was exactly that Same, intrusive Agent, who, (only a Few Minutes before !), had, Curiously, and withOut Any previous Warning, Not even the slightest Explanation afterwards, suddenly Hindered also "Eurofora" (Contrary to what had been Officialy and clearly Agreed : See Infra) from taking simply an Original Photo (or even, at least, Attend the event, as other journalists) of the Welcoming, by EU Leaders, of the New French President Emanouel Macron, (who was, exceptionaly, accompagnied, Today, by Sarkozy, that he Invited to come Together with him to the Podium for the Traditional Photo), Despite the Fact that (Following ...3 Letters that exceptionaly send us the French Authorities, both from Strasbourg and Brussels, with "Elysée"'s Note to Médias, inviting to Cover the Arrival and/or the Speech of President Macron), the EU Parliament's Competent Press and Security Services had already Accepted (following a Written Demand) and Given us the relevant, Specific Authorisation, Both by an Official Letter, and by a Special "A" badge, (as several other EU Parliament's Agents witnessed) !

In General, from these 3 and Other Strange (but probably Politicaly motivated) Events on the Sidelines, it seems likely that, Despite an OverAll Positive stance of almost all EU Parliament's competent Services, and particularly from its Politicaly Responsible Direction, (f.ex. by New President Tajani, and Secretary General Klaus Welle, etc), as well as by Most of its Agents on the spot, Nevertheless, Some might have really Attempted to slyly Alter and/or, more or less, Spoil the Atmosphere and the Practical Functioning, on the sidelines of this exceptionaly important event, perhaps attempting to Diminish its Impact (particularly Mediatic), and possibly moved by a Hidden Political Agenda...

At any case, at least the Above-mentioned Fact of Bill Clinton's Unexpected and Spectacular, Big Change of EU Parliament's Official Protocol Decisions in the allocation of Seats to various Politicians during the Official Ceremony, (Comp. Supra), which had an Obvious and very Topical Geo-Political Significance, directly Linked with Strasbourg's History and personaly Helmut Kohl himself, (See Ibid), speaks for itself.

Perhaps, as Dmitry Medvedev himself Warned,  - who was, thus, by an unclarified yet last minute interference, Changed from an initialy Intergral Part of a Franco - German - Russian, PanEuropean "Trilateral" format, due to Sit Together, side by side, (according to EU Parliament's Direction's official Protocol document, distributed to Journalists, including "Eurofora" : Comp. Supra), into a mere, apparently, Marginal Invitee, left almost Alone, at the side of just Former PM Gonzalez, a "Socialist", and Separated far Away from the Franco-German couple of Macron and Merkel, (Contrary to the Official EU Parliament's Plan), ...even Long After Berlin Wall's Fall, nevertheless, some Ideologies, mutatis-mutandis Inspired by that Division which had Weakened Europe in the Past, still persist Today, attempting to expoit or even provoke relevant Contradictions, (Comp. Supra)...

>>> But, Independently of this, once again, at least at the Conclusion of the Exceptionaly Important European Ceremony which Marked the 1/7/2017, that Spectacular, Impressive and Spontaneous collective Rush, of all, more than 190 EU Leaders, Heads of State/Government, Directors of various European Institutions, key Ministers, MEPs, etc., from Various and Many European, but even 3rd Countries accross the World, who, suddenly, all Run to Meet eachother, Eager to Exchange Together, Speak, Discuss and/r Cooperate, Free of any Barriers, withOut Divisions, Nor Separations or Bureaucraties of intermediaries, etc., on Any Topical Issue that they Both Wanted about Europe's present and Future.

I.e. Helmut Kohl's main Legacy, (via the ReUnification of Europe, Schengen area, ECHR boost, etc.: Comp. Supra), also for Simple EU Citizens inside Shenghen area, as well as, mutatis-mutandis, between also other Neighbouring Countries in the Greater Europe of our Continent, artfully and usefuly Mixed, Free and Safe to interact here, at this Historic city of Strasbourg, with EU Parliament's main Mission, as its EU-Experienced but New President Antonio Tajani stressed, Earlier Today, precisely inspired by  Kohl :

- "Hear what Citizens have to say, and Look at the Horizon" !


(.../...)

------------------------------------

BRIEF NEWS
00:00 - 09.07.2018

00:00 - 31.05.2018

00:00 - 26.12.2017

00:00 - 26.05.2017

00:00 - 30.01.2017

00:00 - 14.10.2016

00:00 - 24.09.2016

00:00 - 27.07.2016

00:00 - 03.07.2016
Statistics
Visiteurrs: 27888151
Archive
Login Form
Other Menu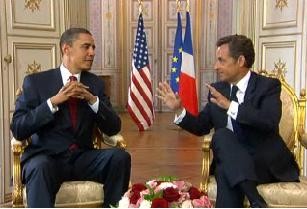 La Turquie, test-clé d'Independance de l'Europe face aux USA, les aménant de chercher en commun des nouvelles idées pour se mettre d'accord ?  
 Le débat, amical mais clair, entre les Présidents Américain et Français, Obama et Sarkozy,  la veille des elections européennes du 7 juin 2009, a montré que la question controversée sur la démande de la Turquie d'entrer dans l'Europe est actuellement le point central et le test le plus pertinent de l' indépendance de la France et de l'Europe par rapport aux Etats Unis.   
 Les electeurs européens, aussi bien en France qu'ailleurs en l'UE, auront une seule chance à trancher, ce dimanche 7 juin 2009, en choisisant leurs eurodéputés pour la période 2009 - 2014, car après ca risque d'être trop tard, vu que tous ceux qui suivent les affaires européennes dépuis des décennies savent qu'en réalité, le moment des décisions sur la Turquie viendra au plus tard en 2013, date rétenue dépuis longtemps pour une importante révision des "Perspectives Financières" de l'UE qui reflètent des choix Politiques fondamentaux.

    Le Président français, (récement encore représentant de l'UE, dans laquelle il joue un rôle important, ensemble avec la chancelière allemande Merkel, et autres leaders européens, ayant une influence notable auprès des Citoyens Européens, comme les derniers sondages montrent), réagissant à la repétition, par le nouveau Président Américain de la vieille position traditionelle de l'Washington poushant toujours vers la démande de la Turquie d'entrer dans l'Europe :

     - "Je ne peut pas laisser détruire l'Europe, (qui) est un élément de stabilisation du Monde", réponda Sarkozy. "J'ai dit au Président Obama que pour moi il était très important que l'Europe ait des Frontières", a-t-il souligné, confirmant la position Franco-Allemande commune, récemment rappellée ensemble avec la Chancellière Merkel.

    - "Il y a une différence (entre France/EU et les USA)...  sur les modalités. La position traditionnelle des Etats-Unis d'Amérique, c'est l'intégration" de la Turquie au sein de l'UE. "C'était la position du Président Bush, du Président Clinton, de tous les présidents américains".     
- "La mienne vous la connaissez : Ce n'est pas l'intégration dans l'Union Européenne. Mais j'ai proposé que nous réfléchissions, l'Europe, la Russie, la Turquie à la création d'un Espace Economique et de Sécurité en commun", a ajout Sarkozy rappelant son invitation de créer quelque chose de neuf et mieux adapté.

    Mais, "cela ne veut pas dire qu'il faut repousser la Turquie dans les ténèbres. La Turquie est un allié dans l'OTAN, (et) une Passerelle entre 2 Mondes, voilà quelle est la meilleure modalité. C'est cela dont nous avons parlé", revela-t-il. Si "nous avons une Différence sur les Modalités, nous n'avons pas une différence sur l'Objectif : Faire de la Turquie un élément de Pont entre l'Orient et l'Occident", Sarkozy assura Obama.

    - "Laissez-nous au moins une légère divergence sur un sujet, cela vous permettra de bien réfléchir pour les prochaines échéances", ajouta Sarkozy en réponse à un journaliste de l'opposition Socialiste qui avait soulevé la question de la Turquie, en la melant (comme un lobby turc notoirement essaie de faire pour exploiter la manipulation de quelques Arabes, la Civilisation Historique desquels fût pourtant detruite par l'ex-empire Ottoman-Turc) avec une question tout à fait différente : celle de la voile islamique (!), avec laquelle elle n'a rien à voir.

    - "Sur la Turquie, Monsieur, vous appartenez à un journal ...qui a appelé à voter, au moment de la présidentielle, pour mon adversaire.... Quel était votre argument à ce moment-là ? Vous disiez : « Attention, Nicolas Sarkozy va trop s'aligner sur les Etats-Unis d'Amérique », et je vois que deux ans après vous dites : « Ah, il y a un sujet sur lequel le Président Obama et le Président Sarkozy ne sont pas d'accord » Cela devrait vous rassurer, Monsieur" , réponda-t-il, en faisant sourire même le président américain, (et laissant entendre que trancher définitivemen la controverse sur la Turquie pourrait être au coeur de l' Elections Présidentielle  en France pour 2012 )
-------------------
    - "Ce que les Etats-Unis peuvent faire, c'est encourager ....TOUT PROCESSUS qui permettra à la Turquie d'être convaincue qu'elle a des amis, que ce soit la France, les Etats-Unis ou l'Europe", réponda Obama, apparamment n'excluant pas, a priori, le point de Sarkozy sur la création d'un espace commun d' économie et sécurité entre l' UE, la Turquie et la Russie (v. supra).

    "Les Etats-Unis ne sont pas membres de l'Union Européenne, nous ne pouvons pas dicter si un pays quelconque adhère ou n'adhère pas à l'UE"; Obama a admis, parlant de la "Turquie, (sur laquelle) le Président Sarkozy et moi nous sommes entretenus sur ce dossier avant".  "Maintenant le Président Sarkozy représente un Etat membre de l'Union Européenne et il a une position différente", opposée à démande turque d' entrée dans l'UE.    
 "La Turquie par contre est un allié de l'OTAN très important. ...La Turquie a fait connaître son intérêt à une intégration croissante avec l'Europe et nous (USA) encourageons cette attitude. J'ai souvent dit que l'adhésion de la Turquie à l'Union européenne serait importante".     
"Mais, (en tout cas) je crois qu'il est important de noter que le Président Sarkozy appuie fortement le travail que la Turquie fait au sein de l'OTAN et je crois qu'il s'intéresse à une intégration économique plus intense avec la Turquie". (Ce qui pourrait se faire, justement, avec un "parténariat privilegié" adéquat et/ou l'idée de créer un espace commun EU - Turquie - Russie  : V. supra).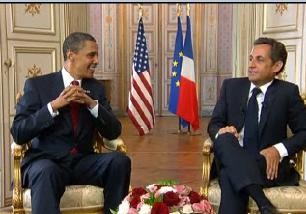 Est-ce que l'effort du Président de la France, soutenu par la chancelière Allemande et l'opinion publique de la plupart des Citoyens Européens la-dessus, de trouver un accord entre l' Europe et l' Amérique sur la Turquie, en proposant de sortir des chemins battus et créer du neuf, en etablissant "un Espace Commun d' Economie et Sécurité" (v. supra), suffira de calmer un lobby traditionaliste à quelques bureaucrates de Washington DC, datant dès l'époque de l' ex-"Guerre Froide", beaucoup plus ancien que le nouveau Président vénu de l' oxygen des "grands lacs" près de Quebec du Canada : Chicago, connu comme "la ville du vent" nouveau ?
-----------------------------------------------------------------------
Le Prémier Ministre Fillon appele à "faire vivre le Rève Européen"
------------------------------------------------------------------------  
 Seul l'avenir le dira. Mais, entre-temps, l' Europe ne peut plus attendre et perdre encore plus du temps et d'energie vitale sur la démande controversée de la Turquie, qui a notoirement menacé d'arrêter l'édification européenne dépuis 1999-2005 :

    Comme le Premier Ministre François Fillon a clairement dit, un peu plus tôt cette semaine, dans un discours éloquent sur les enjeux de l' Election Européenne de ce juin 2009 (V. résumé envoyé aux adhérents d'"EuroFora"),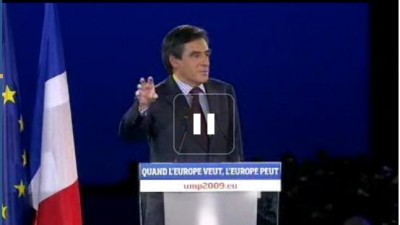 - "S' abstentir, c'est laisser à la Technocratie le pouvoir de dominer" la vie des Citoyens européens, qui devraient prendre l' Europe en branle le corps", et commencer d'agir par toutes les voies politiques démocratiques, prennant conscience que "l' Europe c'est Nous, (i.e. les Citoyens), et "Pas eux !" (i.e. les Technocrates), selon une image symbolique.

    - "Je me souviens de l' Europe obligée de faire Silence, (au Passé), quand "les Grands" décidaient de son sort", rappela Fillon.  "Je me souviens de l'Europe divisée, de l' Europe dominée" par d'autres, '"de l'Europe appauvrie""Je me souviens de Berlin occupé, muré, divisé comme un butin qu'on tire aux dès. Je me souviens du Silence de Varsovie. Je me souviens du Silence de Prague"..   
 - "Nous, les Européens, nous avons bien failli sortir de l' Histoire, et dévenir, pour du bon, les dès d'un jeu joué par d'autres".     
- "C'est pourquoi je ne peux pas concevoir une Europe qui ne serait pas Souveraine, une Europe qui ne serait pas Maitresse d'êlle-même", aujourd'hui et démain, martella-t-il. "Le Monde s'est habitué trop longtemps à une Europe faible, que l'on pouvait traiter avec condescendence".  
 - "Le moment est venu de rélever le défi : Le moment est vénu de montrer que, nous les Européens, avons décidé d'être débout, et d"être nous-mêmes".     
"Dépuis 2 ans (i.e. dès les Elections Présidentielles de 2007), avec Nicolas Sarkozy, nous avons oeuvrer pour relever notre Identité Nationale (de la France), dont nous sommes fiers. Et bien, l'' Identité Européenne mérite tout autant, elle qui prolonge les Génies de nos Nations".


    - "Je crois à la présence d'une Civilisation Européenne", déclara Fillon, largement applaudi par des milliers de personnes ayant entendu une série des Musiques entremelées characteristiques de differents pays européens, et des images lumineuses géantes avec des extraits symboliques de Goethe, de Victor Hugo, de Shakespeare, et d'autres auteurs italiens, espagnols etc celebres à travers l'histoire.

    - "L' Humanisme, la tolerance, la Liberté de la Conscience. La Solidarité. L' Etat de Droit. La confiance placée dans la Science, l' Innovation, le progrès. Toutes ces Valeurs, elles disent clairement où commence et où s'épanuit cette Europe" que nous voulons, observa-t-il.

    En harmonie avec les positions soutenues par le Président du Parlement Européen, eurodéputé allemand, Hans Gert Poettering, et la Chancelière allemande, Angie Merkel, sur la "Dignité Humaine" au coeur des "Valeurs de l' Europe" moderne. Ce qui fait qu'" avec un Elargissement sans fin", même vers la Turquie, c.a.d. "sans Frontières, l' Europe Politique, l' Europe des Valeurs et l' Identité européenne" ne peuvent pas exister, comme a dit aussi le Président francais, Nicolas Sarkozy, recemment à Berlin.

    Fait important : Cette observation de Fillon a été faite le jour-même que le Comité des Ministres du Conseil de l'Europe à Strasbourg concluait une semaine de réunion semestrielle sur les Droits de l'Homme, qui a examiné un grand nombre d'affaires des pires Violations (pex. Tuéries scandaleusement non elucidées, Persecutions et privations arbitraires de Liberté, personnes portées "Disparues", Tortures et "traitements inhumains et degradants", Usurpations illégales des Maisons et Patrimoines privées de Réfugiés, etc., pour lesquelles la Cour Européenne a condamné la Turquie dans plusieurs jugements, dont on attend toujours l' application)...

    - "C'est pourquoi un Elargissement sans fin de l' Europe ne peu pas être un objectif en soi. Parce qu'il ne peut que diluer l' élan européen, et detruire l' Idéntité Européenne"

    -" Voilà pourquoi nous disons, très sereinement, que nous ne sommes pas favorables à l' adhésion de la Turquie dans l'UE", conclua le Premier Ministre de la France; largement applaudi par des gens qui soulevaient le drapeau européen.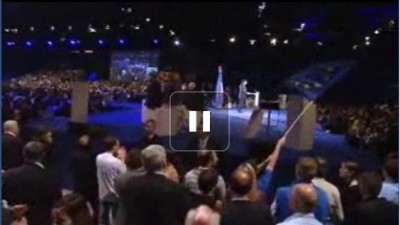 "Ce n'est pas un Slogan de meetings. Ce n'est pas la marque une "Hostilité" au régard de cette grande Nation (i.e. la Turquie), qui doit être étroitement associée à l' UE", pex. par un partenariat priviliegié, ou une autre formule adaptée.

    - "Mais il lui faut des Frontères à l' Europe, il lui faut des Frontières stables, qui lui permettent de renforcer son Unité et son Identité", a-t-il expliqué.

    - "Alors, c'est au nom de cette Europe charnelle, que je m'engage avec vous. Mais, cette Europe-là, ne peut avancer qu' à une seule Condition : celle de l' Europe Politique".

    "Nous avons longtemps douté qu'elle soit possible : Aux années 1970, Henri Kissinger (le notoire ex- Secretaire d'Etat Américain aux affaires etrangères, consideré, à tort ou à raison, comme chef d'orchestre du renversement du Président Allende en Chili, de l' invasion militaire de la Turquie à Chypre, etc), disait, avec une ironie blaissante : - "Ah, l' Europe ? : Quel numero de Télephone ?..." Pendant les 6 mois de la présidence française de l'UE, (7-12/2008), Henri Kissinger n'aurait aucune difficulté de rejoindre l' Europe !", observa-t-il en suscitant des nouveaux applaudissements nourris.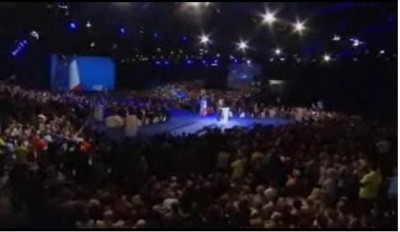 "J'au vu l' Europe Politique se dresser, et prendre ses responsabilités : L' Europe Politique c'est celle qui agit sans délai, et avant les Etats-Unis, pour stopper des faillites Bancaires qui s'enchaînent, qui nous auraint plongés dans une Depression pire que celles des années 1929. L' Europe Politique est celle qui, maintenant, doit mettre un fin à un Capitalisme Financier, qui a perdu sa boussole. L' Europe Politique est celle qui a réussi d'etablir le règles les plus ambitieuses au Monde dans la lutte contre le rechaufement Climatique. Samedi, nous celebrons l' anniversaire du debarquement de la Normandie, où nos amis Américains ont pris une part décisive à nôtre libération. Mais, en décembre 2009, à la Conference (Mondialle) de Copenhague, c'est nous les Européens, qui allons leur montrer le chemin vers cet avénir commun" pour la sauvegarde de l'Environement naturel. L' Europe Politique c'est celle qui, en août 2008, lorsque la Guerre faisait rase entre la Russie et la Géorgie, s'est interposée pour imposer la Paix. Et c'est elle qui doit, maintenant, se doter des moyens Militaires de se défendre par elle-même, pour elle-même", ajouta-t-il en évoquant clairement la création d'une Défense Européenn Autonome.
    "L' Europe Politique c'est celle qui doit bâtir des grands champions Industriels Européens, comme nous avons fait, auparavant, pour (l'avion) Airbus ou (la fusée) Ariadne. C'est celle qui doit exiger la Reciprocité dans les rlations Commerciale avec nos grands partenaires", sans Dumping Social ou Environmental, ni autre Concurrence Deloyale. "C'est celle qui doit se doter comme objectif d'être "le Continent de l'Esprit", réunissant les plus grandes Universités du Monde, en multipliant les Connexions, entre Scientifiques et étudiants."

    "Nous respecterons nos engagements, jusqu'au dernier", souligna le Premier Ministre de la France, peu après que les candidats-eurodéputés de la coalition Gouvernementale (UMP : Mouvement pour la Majorité Présidentielle) ont signé solennement, devant plusieurs milliers des Citoyens, une spectaculaire pancarte-géante avec "7 engagements" pour les Elections Européennes du 7 juin, auxquels figure aussi l'engagement de "s'opposer à l' adhésion de la Turquie dans l'UE".

     - "Parcque ce respet des engagements est une exigence si nous voulons rétablir la Confiance entre les Responsables Politiques et les Citoyens", conclua Fillon, la veille de ces Elections Européennes de juin 2009, après les Abstentions Majoritaires de 1999 et 2004, suivies de 3 "NON" à 3 Euro-Réferenda dépuis 2005, (dates auxquelles, quelques gouvernements du Passé, avaient donné le statut d'un "Candidat" et commencé des "Négotiationa d'adhésion" avec la Turquie, suivies d'un blocage sans précedent de l' édification européenne)..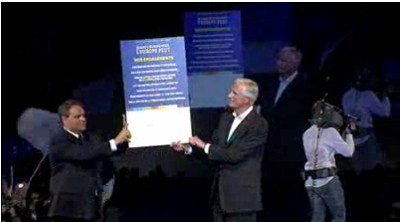 "Nore Europe n'est pas n' importe quelle Europe : L' UE Technocratique n'est pas la nôtre. ... L' UE sans Frontières n'est pas la notre. L' UE desincarnée n'est pas la notre". "Nous portons une idée de l'Europe" qui "n'est pas celle des Statistiques et des Bureaux(crates). L'Europe ce n'est pas qu'une Monnaie. Ce n'est pas qu'un Marché. économique".

- "L' Europe c'est d'abord une Culture. L'Europe c'est une Histoire", a-t-il dit, largement applaudi.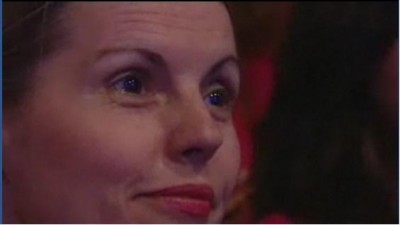 "L'Europe c'est une rencontre entre des Nations qui sont Millénaires et qui sont Brillantes. L'Europe c'est Paris. C''est Madrid. C'est Prague. C'est Londres. C'est Rome. C'est Varsovie. C'est Berlin. C'est Vienne. C'est Athènes : Quant on énonce ces Villes, alors on "sent" nos Héritages et nos Cultures entremelées qui circulent dans nos veines".

    - "Je suis Européen, parcque profondément Français, je sais ce que je dois aux influences de l' Atlantique et de la Méditerannée. J'aime ces Traditions qui offrent à chacun des nos Nations leur éclat. .. J'aime ses saveurs, ses paysages divers. Ils sont également miens, ou, plus précisement, je suis également fait d'eux. Je suis Européen, car, Français, j'aime l' Europe ouverte vers l' Amérique, vers l'Orient, vers l' Maghreb. J'aime les quais de Vénise, ceux d'Amsterdam. J'aime les quais de Thamise où sont vénues pendant des siècles s'amasser les richesses et les nouveautés du Monde. J'aime l' Europe curieuse. L'Europe qui rêve des lointains : L' Europe de Vasco de Gama, de Magelan. de Bougainville, de Charcot, de Monot... Cette Europe qui, aujourd'hui, s'élance vers l' Espace. Je suis Européen parce que Français, j'aime l' Europe qui prospère et qui invente. J'aime l' Europe des Trains à Grande Vitesse. J'aime l'Europe des Satellites et des Fusées. L'Europe de la Mode et des Atéliers d' Artistes. L'Europe des Grands Laboratoires, des Ingéniers. des Entrepreneurs, des Grands Architèctes, des Traditions Ouvrières. Comme rançais, j'aime l' Europe qui dit "NON" à la Tyrannie et qui se soulève à l'appel de la Liberté", a-t-il dit en

 
"Je me sens lié à ces femmes et ces hommes sans nom, qui ont levé la tête, et qui ont sécoué le joug sous lequel .. on les avait fait pliér", dit-il en évoquant pex.. la Révolution Française de 1789, le Siècle des Lumières, l'appel du Général de Gaulle contre l'Occupation NAZI, et les pires heures obscures qu'un  "Fascisme" ou "Communisme" devoyés, suivies de la Guerre Froide avaient plongé l'Europe au Passé.

"Ils sont des millions, ces Héros Anonymes de notre temps, que nous croisons sans le savoir dans nos rues et nos places. Et je ne peux pas concevoir l'Europe sans eux, et sans tous ceux qui poursuivent leur combat contre l'arbitraire et le fanatisme", ajouta Fillon. Faisant pex. rappeler un récent Film allémand, primé au Festival de Vénise, qui décrivait la vie d'un cadre à l'époque d'un régime oppressif, qui avait été chargé d'espioner la vie privée et familiale d'un couple soupçonné d'être dissidents politiques, mais, ému par leur honnêteté humaine et leur sacrifice pour sauver d'autres, a preferé risquer sa place et sa propre liberté pour les sauver, sans même qu'ils le sachent, condamné dépuis à faire un bas boulot d'anonyme perdu dans la foule..


"Quand je vois l'Europe moderne, je vois les résultats de l' Audace de ces hommes qui ont brisé les traditions de conflit et de violence. Je vois des nations soudées autour d'une monnaie unique et protectrice. Je vois 27 jeunesses appelées de grandir ensemble, sans défiance. Je vois 27 peoples unis, qui nous interdisent de jouer les blazés ou les indifférents".

Jettant "un régard lucide sur les errements de la construction européenne", Fillon a observé que "l' Europe n'a pas bésoin d'être idélisée pour être ce qu'elle est ; Cad. une aventure humaine, avec ses faiblesses et ses forces".

"Vous voulez que l' Europe agisse ? Fixez-lui des objectifs clairs. Vous voulez la Démocratie ? Agissez en Citoyens. Vous rédoutez la prétendue Bureaucratie des Bruxelles ? Alors renforcez, par votre Vote, les instances élues au Parlement Européen" qui sont chargés de la contrôler.

- "Si nous voulons faire vivre "le Rêve Européen", .. alors nous avons tous le dévoir de l' engagement", a-t-il conclu, appelant de "engager pour le drapeau tricolore et le drapeau étoilé, car ils symbolisent tous les deux la fierté de nôtre nation et la force de nôtre union".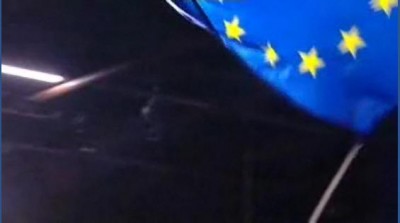 Polls