Home

newsitems

Spain Islamist Terror (linked to France,Germany,UK,Finland,Russia+) Reveals Big Socio-Pol. Problems
Spain Islamist Terror (linked to France,Germany,UK,Finland,Russia+) Reveals Big Socio-Pol. Problems
jeudi, 17 août 2017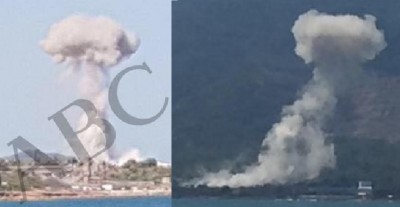 *Strasbourg/Angelo Marcopolo/- Barcelona's Islamist Terror, by Killing 15 and Wounding 130 Civilian People, cowardly Targetted by ISIS' adepts, amidst similar Brutal Attacks in Germany (Hamburg, Wupertal, etc), Finland, Russia, Paris, London, etc, in parallel with an UnPrecedented intensity of Mass Irregular Migrants' Influx in Spain, restarting also in Italy, Greece, etc, and Added to Worrying Factual Findings on Both Areas, Revealed surprisingly Big Socio-Political Issues, which Raise Crucial Questions, that should not be irresponsibly overlooked, when innocent Human Lives, all Europe, and Contemporary Society are at Stake :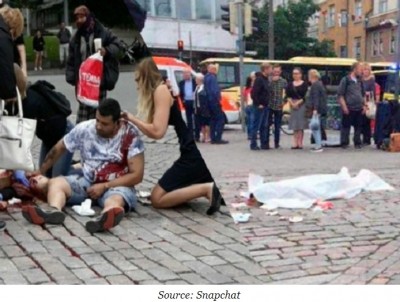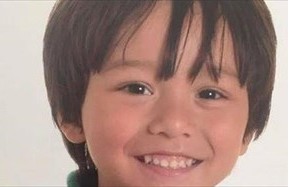 - First of all, this Bestial Tragedy didn't only Murder even Kids of just 8 or 12 y.o., but Killed or Wounded also various other Civilian People from Many European and other Countries in the World :  F.ex. 28 Victims from France, 13 from Germany, others from the UK, Italy, Greece, USA, China, Canada, Australia, Egypt, Argentina, etc., including a 10 Months Baby.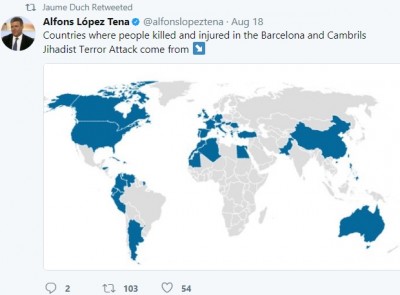 + There are Factual reasons to think that it was, probably, more or less Linked also with several Other European Countries, in addition to Spain, such as France (HQ near French Border, usa of a French Car, Visit to Paris, etc), Belgium (plans to Migrate there, Tickets for Brussels, etc), Switzerland (stay + Radicalisation in Zurich, etc), in Addition to some Neighbouring Arab Countries as Morocco (Origin of most among that Terrorist Gang, etc), Turkey (transit + stay), etc, while it was closely Preceded and/or Followed by Similar Deadly Terrorist Attacks these days in Germany, Finland (Turku : Cowardly Targetting Old Women and Young Girls !), Russia (Surgut), France, Belgium, the UK, etc.
 -----------------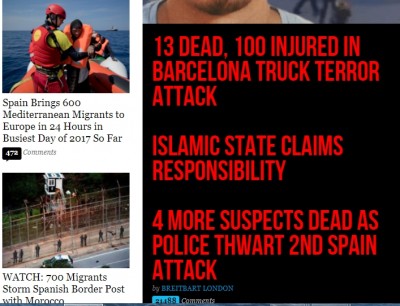 ++ Curiously, Spain was also Targetted, juste a few Days Earlier, by an UnPrecedented Intensity of Violent Aggressions by Organized Mass Irregular Migrants, armed with Clubs, Stones, Knives, etc. attacking in Groups of about 700 (sic !) the Spanish resorts in Borderlines at Morocco, followed by an equaly UnPrecedented "Rescue" of some 600 other Mass Asylum Seekers/Irregular Migrants from Africa at the Spanish Sea-Coasts, several "Dozens" of more Irregular Migrants arriving by Boat in South Spain's Andalusia Region, etc., while Greece was receiving a Total of more than 300 M.A.S./Irregular Migrants from Turkey during the Same 2 or 3 Days, (amidst a Recently Growing Trend of Smugglers' Traffic of Humans through Turkey, Now reaching even Romania, via the Black Sea, etc), and Italy had also to cope with a persisting African influx through Libya, etc.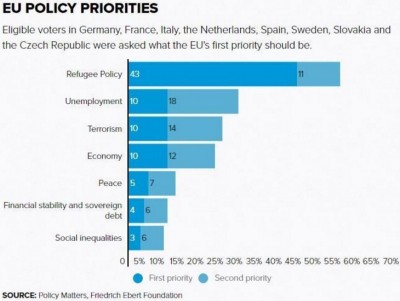 In Parallel, convergent European Polls, conducted throughout Many EU Member Countries, (including Germany, which is currently Debating on Crucial Parliamentary Elections for September 2017), revealed that the No 1 Topical Issue, which provokes Concerns to Most EU Citizens, is, by Far, that of various Problems related to Recent Massive A.S./Irregular Migration, followed by Terrorism, UnEmployment and/or Inequalities, etc.

Meanwhile, Additional Revelations about Many Brittish (curiously only "White") Children being Systematicaly Raped, Ill-Treated, and Brutaly Exploited by mainly Pakistani-origin, but also Turkish, etc. Gangs of recent Migrant Thugs, operating as Organized Crime during Decades, and Scandalously Covered by "Socialist" (Labour Party) Local/Regional Authorities accross the UK (since the infamous Tony "Bliar"'s Past era), have Shaken up anew all Great Britain, Extended, Now, even at "Hot" Fights around Press Freedom and the way according to which, such Horrible Crimes should be Investigated, clearly Denounced, without being abused or Exploited, but Not also Downplayed, more or less Unacceptably Muzzled, (as some Lobbies' members have practicaly pushed to do, inter alia, also by Gross Personal Attacks against Critical Journalists, even among the most Experienced and Mainstream)...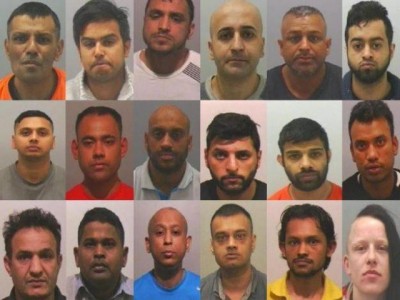 Therefore, American Medias close to New US President Don Trump's Voters, as, f.ex., "Breitbart" etc., Ironically Criticized the Fact that, by a Bad Coincidence, "Socialist" and Liberal MEPs had reportedly pushed an Expensive Video to be Broadcasted at EU Parliament's Websites, etc., with Claims about alleged numerous "Benefits" from the Controversial and notoriously UnPopular Recent Mass Migration "Tsunami" mainly through Turkey (2015-2016+) etc., ... the "Same Day" (sic !) that a Gang of Islamist Terrorists of Foreign, Non-European Origin (one of them having even, reportedly, Entered the EU among a Recent Wave of Mass Irregular Migrants, as also 2 Paris' Islamist Terrorists back on 2015, etc), were Brutally Attacking to Kill or Wound about 150 Innocent Civilian People in Barcelona (Spain) !

-------------------
Deadly Islamist Terrorism : "Tele-guided" "Lone Wolves" or Organized Crime (even linked with Religious Institutions and/or Elected Politicians) ?
----------------------------

>>> In this Particularly "Hot" and Dense Context, Barcelona's Massacre revealed several UnExpected, Astonishing and Scandalous Facts, which clearly seem to Refute the most Lenient Hypothesis and Versions usualy circulating among various Establishment's circles, which were leaning, until now, towards Diminishing or Minimizing the Gravity of the Islamist Terrorism Problem in Europe and elsewhere in the World, by Claiming that Perpetrators would be Only a Few "Isolated" and/or Mentaly Unstable Individuals, acting Alone and/or, at most, Exclusively under "Remote" Influence of some Anonymous Interlocutors located many Thousands of Kms Far Away, (f.ex. from Raqqa, etc) :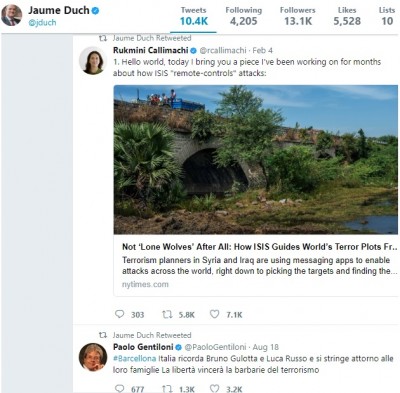 F.ex., while even the Experienced EU Parliament's Press/Communication Director, Jaume Duch, (a Native from Barcelona, who reacted almost Immediately and intensively against that Horrible Massacre), chose to point, in his perssonal Tweeter account, at an Old Article, published by Left/Liberal USA Newspaper "New York Times" before Many Months, which Focused mainly into Claiming that most Islamist Terrorists were only a Few Isolated "Lone Wolfs" Remotely Manipulated exclusively via the Internet by some Anonymous ISIS' members located in Far Away Syria, etc., on the Contrary, the Facts now Discovered in Spain, Revealed a very Different, Scandalous, and much more Dangerous Reality :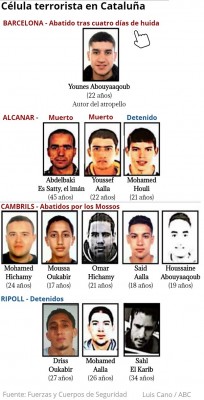 - Instead of reportedly only One (1) Islamist Terrorist, as f.ex. in France's Horrible Mass Massacre by a Heavy Lorry at the City of Nice last Year (July 2016), on the Contrary, this time, in Spain's Catalonia capital City of Barcelona there were at least Twelve (+ 12 !) Islamist Terrorists directly Involved in a Macabre Organized Crime, collectively and methodicaly Prepared, during More than 6 Months, by All of them, and, probably, some other, more or less Accomplices and Links, (on whom Investigations are still going on, f.ex. in France, Belgium, Switzerland, Morocco, etc)...

Meanwhile, most among those 12 Suspects had been Killed (either by Police or at the Explosion : See Infra), leaving just 4 Arrested, from whom 2 were afterwards liberated and placed under House Control. The Driver of the Killer Van, Yunes Abujakob (pictured at an earliar Photo in front of a Turkish kebab shop) was found later-on (UPDATED).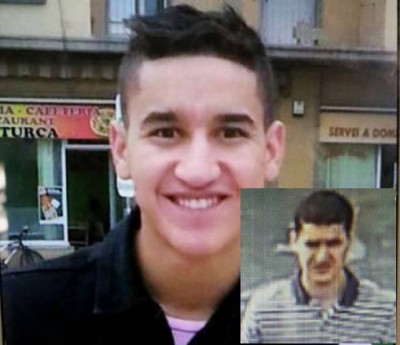 - By the way, the "Mythos" of alleged "Poor" Individuals, living in "Poor Neighbourhoods", and Facing "Discriminations", etc., who would have been Pushed to Terrorism because of that, does Not fit to the Facts : F.ex., at least one among Barcelona's Deadly Islamist Terrorists was reportedly being Paid ..2.000 € each Month, and had been Radicalized in ... Switzerland ! I.e. Similar Facts also to several Other Islamist Terrorist Attacks Targetting Civilians, as, f.ex., in the USA, at the San Bernandino (California) and Tennessee Massacres, where the Mass Killers had been Welcomed in America, Together with all their Family, given US Nationality, Educated, provided a quite Good Job (f.ex. in Digital Tech., etc), a Car, a Home, allowed to Travel Abroad, Choose any Foreign Wife they want and Bring her in the US, (who got immediately also US Nationality), have a Child, etc., Free to live a Normal Average Life. At the Same Time, it's also a Fact that, Despite an Historic Record-High UnEmployment of Young and Old People, f.ex. in Spain, Greece, etc., even HomeLess People (f.ex. in France, Germany, etc), nevertheless, Nobody saw yet, all these Years, any Impoverished Europeans to Target innocent Civilians for Brutal Killings...


+ More Important Finding : All that Deadly Terrorist Gang in Spain's Catalonia, Cowardly Targetting innocent Civilian People, including even small Children (Comp. Supra, as well as Focusing against Women at the Same Time in Finland), was reportedly Radicalized, Organized and Led by a ..."Religious" Muslim Imam preaching at a Mosque near the Spanish-French Borders, (and even Aiming to Establish himself at another Mosque in Belgium !), who was killed in a huge Accidental Explosion aside more than 100 Canisters with Explosive Substances, that his Gang was Preparing at a Collective Hide-out Near Barcelona : Even a Handwritten Message by himself, found there, in which he cruely Announces the forthcoming Massive Massacres cowardly Targetting Civilian People in Europe, reveals his Sordid Aims, as Chief of a Gang of Youngsters under his Influence, and almost All Residents at the City where his Mosque was located (Ripoll).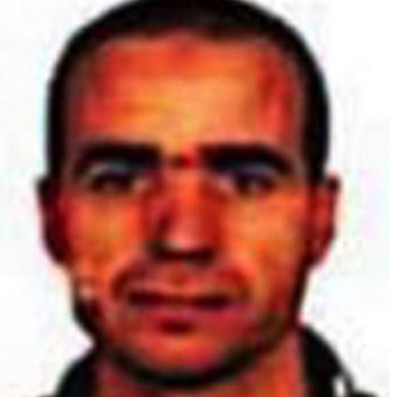 To the point that, if his Deadly Gang had Succeeded to cowardly Massacrate Civilian People in Spain, then, it's Horrible to thinks that such a Criminal might have been soon Preaching at a Mosque to Muslim Communities located Near EU's Headquarters in Brussels !...


A Fortiori, since it was also Revealed that this Brutal Terrorist - Imam (Abdelbaki es Satty), had already been Free to Establish himself as Chief of a Muslim Mosque in Catalonia, even after having, previously, been Condemned by the Spanish Courts for ... Drug Trafficking, and served in Prison a 2 Years sentence among other Ordinary Criminals !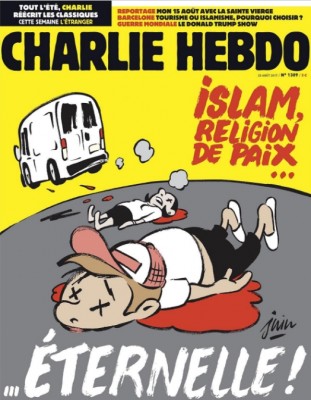 ++ Most Scandalous : Mainstream Spanish Press Revealed that even the Spiritual Father, or Religious Educator to Islam, who had probably Radicalized that Extremist Imam in the Past, was another Mosque Manager,  a Butcher established at a Barcelona's suburb (Vilanova i la Geltrú), Mohammed Mrabet, who had been already ... "Arrested on 2006 and Condemned on 2009 to 7 Years in Prison for being Involved in a Terrorist Organisation" !

=> In other Words, it's Already During more than a whole ...Decade (2007-2017) that the competent Public Authorities knew that Today's Deadly Terrorist Imam of Ripoll had been Trained, Educated and Influenced by another, previously Radicalized Imam in Barcelona, that Spanish Police and Judges had earlier found as a Key Suspect for Islamist Terrorism...

Particularly to "incite Young People to practice Jihad in Syria and Iraq" and to "create an area of Ideological Indoctrination around the Mosque". Inter alia, the Spanish Police had reportedly Found at his Home various "Manuals of Jihadism", "Texts Exaltating Terrorists", and "Recordings Glorifying Attacks", (etc).

But, on 2011, this Indoctrinator of the Imam of Ripoll (found Today Dead by an accidental Explosion of the Bombs that he had prepared : Comp. Supra), had been, finaly, Liberated, after anOther Court pointed at some Procedural Irregularities of a Hastily made Prosecution, (f.ex. : Phone Tape Recording without prior Authorisation by a Judge, Confessions allegedly taken "under Pressure", etc). This was Part of a Wider Police Anti-Terrorism Operation, concerning a Ring of 20 Suspects, 9 of whom were Found Guilty and Condemned Definitively.

The Lawyer of that Radicalized Barcelona Mosque Manager, Butcher Shop Owner Mohamed Mabret, who had Indoctrinated the Deadly Terrorist Imam of Ripoll (Comp. Supra), was Voted and Elected, only 4 Years Later, on 2015, as Deputy Mayor of Barcelona City : It's Jaume Asens, "close to Mayor Ada Colau", according to the mainstream Spanish Newspaper "ABC", etc.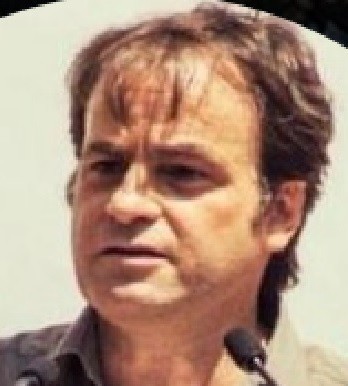 A Troubling Fact is also that this Local Politician, together with another Lawyer, (Meanwhile Elected, him too, as an MP of the Catalonia Region just a Few Years after serving such Islamist Extremists), Benet Salellas, who had also Defended anOther Released Suspect in that affair of Islamist Terrorism, are Both Members of an Atypical Leftist Party "CUP", whose Controversial Political Program asks to Give a Right to Vote and be Voted to All Non-European Migrants simply Residing in Catalonia...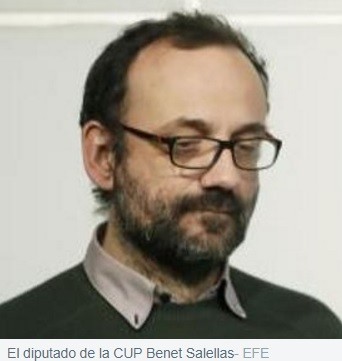 And one among the bigger Muslim Lobbies in Catalonia, Headquartered and Focused at Barcelona, had clearly Asked to Support those Parties which would "Respect all Muslims" and give them all (i.e. even mere Newcomer Foreigners, from Non-European Countries) a "Right to Vote" in the Elections, as its texts said.

Meanwhile, the Number of Muslim Migrants in Catalonia had very Rapidly ... Exploded, Growing from 30.000 up to 700.000 in just Ten Years, Becoming, in certain Catalan Municipalities, Bigger than 20 % of the Local Population (!), as Spain's Biggest Newspaper "El Pais" (Center-Left) had Warned, already on 2015, (i.e. precisely when the Latest Local Elections took place).

The most Alarming Fact is that, in Addition, among 98 Dangerous Mosques found, throughout All Spain, to Spread "the Most Radical" views of Islam, including "Salafism", etc., at least 50 were in Catalonia, (i.e. "More than the Half") !... They were among 216 Muslim Mosques in Catalonia, all in all, and 1.264 Mosques throughout Spain.

Since it has Recently been Denounced, even by traditional Muslim Arab Countries such as the UAE, Saudi Arabia, Egypt, etc., as well as by the New US President Don Trump, that some Foreign Muslim States as f.ex. Qatar, (courted by Turkey, notoriously Suspected to have Supported ISIS' Deadly Terrorism's growth around the Turkish Borders to Syria and Iraq for Years), are reportedly Spreading Radical Islamist Propaganda, (f.ex. by Funding Controversial Mosques inside sensitive Populations in European Cities' suburbs, etc) and even Violent Islamist Terrorism, it's obvious that those New concrete Findings at Barcelona Now, are very Worrying.

Today, such Deadly Islamist Terrorism personal Links between certain Mosques recently imported and established inside Europe, (as it was Revealed f.ex., in the Present Mass Massacre Casse at Barcelona and Ripoll : Comp. Supra, but also in several Other Horrible Massacres of Civilian People, f.ex. in Berlin's "Christmas Market" last Winter, etc), involving Wider than Expected Numbers of Muslim Local Residents of Foreign Non-European Origin, (as it was Revealed in this Barcelona Attack, thanks only to an Accidental Explosion of Bombs prepared by at least 12 Islamist Terrorists there, who, Otherwise, Risked to "vanish" withOut being Noticed : Comp. Supra), appears Obviously very Dangerous, particularly when it's Linked even with Personal ties to some Local/Regional/National Politicians who might have an Interest to Exploit a Clientelism vis a vis some Controversial Foreign Muslim Lobbies, able to Influence the Fight against Organized Crime, even Anti-Terrorist Operations' concrete results, and Key Political Issues of European Democratic Institutions, as, f.ex., in the cases cited above.

=> Thus, f.ex., it has Recently been Proven, beyond any doubt, that Many Local/Regional Authorities of the "Socialist" (Labour) Party in the UK had Scandalously Closed their Eyes and Covered up even the most Hideous Organized Crime Networks, Brutaly ans Systematicaly Raping, Bullying, Threatening, Exploiting and Degrading a great Number of Poor Children in the UK (Comp. Supra).

+ Mutatis - mutandis, also in Germany's Northern Rhine - Westfalia (NRW) Region ("Länder"), the Local "Socialist" Authorities have notoriously been Strongly Criticized recently for Grossly Failing to Protect (and even allegedly Covering up or Minimizing the Aggressions against) more than a Thousand of  poor Young Girls and Women at Koeln/Cologne, (depending from Pubic Transport to surrounding Villages, which had been Blocked, Trapping and Exposing them to Aggressions overNight), who were Brutaly Attacked and Sexually Abused by Gangs of Violent Thugs among those Mass "Asylum Seekers"/Irregular Migrants suddenly thrown inside Europe by Turkish a.o. Smugglers since 2015, (See, f.ex., CoE's relevant Pubiic Debate in Strasbourg on 2016 at "Eurofora"s NewsReports, such as : http://www.eurofora.net/newsflashes/news/coeforenquiryandjusticeonmobviolentattacksagainstwomen.html , etc).
 ---------------------------------

++ Now, even in the Present Horrible Massacre of innocent Civilian People from many European (f.ex. Germany, France, the UK, etc) and Other Countries in the World at Barcelona, Spanish Police sources, cited by Mainstream Newspapers (f.ex. "ABC", etc), Denounced the Fact that some inside the Local/Regional Authorities in Catalonia's capital, (notoriously dominated by "pro-Autonomy" Center and mainly Leftist Politicians), had reportedly ... Hindered the National Police and other competent Spanish Security Forces, (Ready and Willing to Immediately Act on the Spot), even from Approaching and Investigating the Area where 2 Big Explosions had taken place, shortly Before the Islamist Terrorist Attack with a Van and Knives against Civilian People at Barcelona :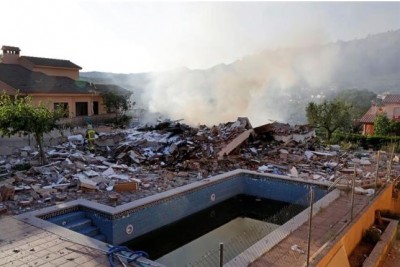 => That strange Obstruction had Resulted in a FALSE initial Appraisal of the Situation by the Local/Municipal Police of Barcelona, who had Curiously Anounced, at First, that it was Only a Banal "Gas" flow Accident, withOut any Relation to Islamist Terrorism ! It was only Many Hours Later, when more than ... 100 Canisters full of Explosive Substances were subsequently Found in that same location, that an Alert was, Finaly, given about something Fishy going on, with probable Deadly Terrorist implications. But, Meanwhile, such a Gross Blunder, gave to ISIS' Brutal Terrorists enough Time to prepare, run and Attack, with a Van and Knives many innocent Civilian People at Barcelona's Touristic Center, Killing 15 and Wounding more than 130 (Comp. Supra).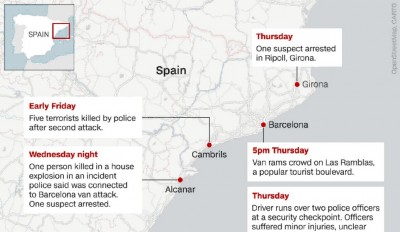 Something which May have been Prevented, if the experienced and well equiped Spanish Police and Security Forces had been Allowed, by pro-Autonomy Local Politicians, to simply Enter and Investigate the area of that Earlier Explosions, which had Revealed the existence of a numerous Islamist Terrorist Group Ready to Attack the City, mainstream Spanish Newspapers denounced...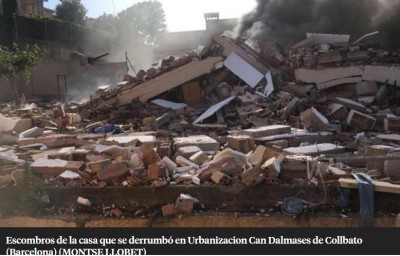 Even more Worrying, relevant Fact : What was Delayed, and/or Risked to be Ignored, by that Strange Obstruction, was, inevitably,  also the most Important Finding, inside that Location where had taken place an Accidental Explosion of some among the many prepared by a Gang of Islamist Terrorists (Comp. Supra), obviously were the remains (and a Hand-Written Letter Announcing a Massacre) belonging to its Ring-Leader, that Extremist Imam of Ripoll City's Mosque, whose identity Revealed (for the 1st Time so openly inside Europe) the Existence of Links between various Radicalized Mosques and Imams (f.ex. in Barcelona, Ripoll, Belgium, etc), including also with Politicians who had Recently benefited from a "Push" by a Part of the Local Population in order to be Elected at the Head of Barcelona's Municipality, or as MPs, etc., of an extremely Pro-Muslim Lobby Party (See a series of Facts cited Above).

>>> All these alarming Recent Facts, in Spain, the UK, Germany, etc., seem to clearly Warn that Something much More Dangerous -  than only some alleged "isolated" "Lone Wolfs", merely "Tele-Guided" from just a Few Accomplices located Exclusively in some Far Away Foreign Countries, (Comp. Supra) - Threatens European Citizens and Society Today.
It would be Blatantly Irresponsible to Hide this !

--------------
(Comp. also, in this regard, Experienced former Defense Expert and New US President Don Trump's Strategy Director in the White House's Security Council, Rich Higgins' Analysis, about Risks for systematic Combination of openly Terrorist and apparently Political methods for Shady Criminal Lobbies to infiltrate and Impose their Agenda with UnDemocratic means associating Manipulation to Blackmails and Violence, etc, f.ex. at : http://www.eurofora.net/newsflashes/news/hamburgattackrevealswidesecuritygap.html).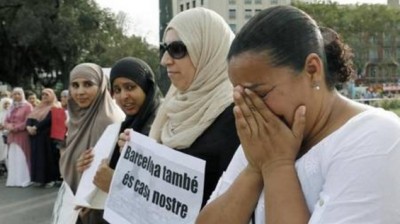 (../..)

***
(NDLR : Partly UPDATED)
("DraftNews", as already send to "Eurofora" Subscribers/Donors, earlier. A more accurate, full Final Version might be published asap). 
*** 

BRIEF NEWS
00:00 - 09.07.2018

00:00 - 31.05.2018

00:00 - 26.12.2017

00:00 - 26.05.2017

00:00 - 30.01.2017

00:00 - 14.10.2016

00:00 - 24.09.2016

00:00 - 27.07.2016

00:00 - 03.07.2016
Statistics
Visitors: 28561355
Archive
Login Form
Other Menu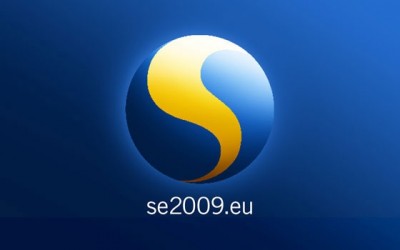 The incoming Swedish EU Presidency (July-December 2009) may still remain in favour of Turkey's controversial EU bid, despite June 2009 EU Elections' results, but it has "very strong demands on Turkey"'s obligation to respect EU Rules, said the Head of Swedish Foreign Ministry's Press Service, Cecilia Julin, to "EuroFora", reacting to critical Press reports.
    - "I know (that) the link is often made also to Sweden's position on Turkey"'s controversial EU bid. Indeed, "we (Swedish EU Presidency) are very much engaged in the future membership of Turkey, but not without fullfiling all the Criteria".
    - "It's very clear that we (Swedish EU Presidecny) have very Strong Demands on Turkey, in a sort of concept for Future membership of the Union, ...which will be a Long Process...", she stressed.
    This means, in particular, "the Copenhagen Criteria (on Human Rights, Democracy and Rule of Law), and also the adaptation to the Acquis of the European Union".
     - "If you listen to what Mr. Bildt (the Swedish Foreign Minister) says on Turkey at different occasions, it's very clear : We want Turkey to become part of the Union, in the Future. But we want it to fullfil all the Criteria : The Acquis of the European Union. That's very clear", she concluded.
    The Senior Official of the Swedish Foreign Ministry was reacting to critical Press Reports, from Brussels' Journalists invited by EU Commission's secretariat to Stockholm, who claimed that Bildt was abusing of a ..."Whip" (sic !) against Cyprus, by "threatening" the presence of UNO's Peace-keeping force at the "Green line" which separates the island's Government-controlled areas from the territories occupied by Ankara's army, if Nicosia didn't accept any political solution, regardless of Turkey's demands, before the end of 2009.
        Governing AKEL Party's new Secretary General, Andros Kyprianou, reacted by declaring that no-one can threat the People of Cyprus : -"We shall decide for our Future, and nobody else",  he reportedly said, asking to "keep calm". "In order to find a Solution soon, certain basic Principles must be respected", he stressed, calling those who feel an urgency to use their influence on Turkey. Other Political Parties were more critical.
    This was a reference to recently reported statements by Turkish Minister Bagis, Prime Minister Tayip Erdogan and Turkey's National Security Council (a Military-Political body), accused to push towards a partitionist "2 States" solution, contrary to UNO SC Resolutions for Cyprus' reunification.
    December 2009 is a crucial moment for EU's appraisal of Turkey's controversial EU bid, because EU Council has decided to review then Ankara's compliance with the European position on the recognition of Cyprus' Government, which was clearly set out by an EU reply of 21 September 2005 to Turkish Prime Minister Tayip Erdogan's claims, refusing to recognize even the existence of EU Member Cyprus, in controversial statements he made to London (former EU chair) on July 29, 2005.
    EU Parliament's latest Resolution on Turkey, adopted on March 2009 in Strasbourg, warned Ankara that "the non-fulfillment of Turkey's commitments... by December 2009, may further seriously affect the process of Negotiations" with the EU.
    In practice, the issue boils down to Ankara's "embargo" against Ships and Airplanes using Cyprus' seaports or airports at the strategic EU island, which traditionaly hosts one of the World's biggest Shipping flags. EU has already "freezed" 6 relevant Chapters in EU - Turkey Negotiations since December 2006, after Ankara refused to fullfil a commitment it had undertaken when EU had decided to open controversial "accession" negotiations with Turkey, back on December 2005.
    - "As far as EU - Turkey relations are concerned, it's clear that Turkey needs to fullfil its obligation of full, non-discriminatory implementation of the additional Protocol (to "EC-Turkey Association Agreement"),  This is an important issue....and should be addresseed as soon as possible as it clearly affects the pace of the accession negotiations.Issues covered by the Declaration of September 2005 will continue to be followed up, and progress is urgently awaited", warned earlier in Strasbourg the out-going Czech EU Presidency (former vice-Prime Minister Alexander Vodra).
    But the Head of the Swedish Foreign Ministry's Press Service, Cecilia Julin, dismissed "interpretations" by "some" that Foreign Minister Carl Bildt was reportedly "threatening" Cyprus with consequences on the UNFICYP, if it doesn't accept any solution until December 2009, while Turkey is reportedly delaying in an attempt to impose a partitionist "2 States" solution.
    On the contrary, Julin, stressed that "Sweden has strong demands on Turkey'"s respect of "Copenhagen Criteria and EU Acquis".
    Meanwhile, Sweden  is "concerned" about the risk of "Stalemate" in Cyprus' Talks, but is well aware that "the main responsibilities lie with the two leaders and the UNO", Europe playing only a role of "facilitator".
    After carefully verifying, the Head of Swedish Foreign Ministry's Press Service, stressed to "EuroFora" that Bildt's reference to UNFICYP "was not linked to a Threat", and dismissed those who "interpreted" it so.
    On the contrary, the Swedish EU Presidency acknowledged the fact that Peace Talks are mainly for the UN and the leaders of the Cypriot communities, EU's role being limited into that of a "facilitator".
    As for Turkey's reported attempts to impose a "2 States' solution", the Head of the Swedish Foreign Ministry's Press Service sharply replied by stressing that Turkey must respect the "EU Acquis" rules.
    In particular :
    - "Basically he (Bildt) underlined that it's the leaders of the two communities in Cyprus and the UN that have the main responsibilities for solving the problem", started to say the Swedish Senior Official to "EuroFora", referring to the above-mentioned "briefing".
    - "But the EU had a role in sort of pointing out the benefits and facilitating a little bit the outcome for the settlement of the whole Cyprus' issue", she added.
    - "And he did state the Fact, that the rest of the World (i.e. USA, etc) will, of course, look at the differend issues which are at the table, and the future of the UN Peace keeping force is part of what is at the table", she admitted.
    - "I understand that some have interpreted that as a Threat, by the Swedish Minister" "But", in reality, "it's a statement of a Fact, that, when we'll look at the differend issues, one of the issues on which we shall have to take a stand on, is the future of the UN Peace keeping force in Cyprus".
    Indeed, one of the questions usually raised for a Solution of Cyprus' issue is what International and/or European or other Guarantees, by a Peace-keeping force, might be needed afterwards, eventually for a transitory period.
    Questioned anew by "EuroFora" whether (according to critical Press Reports) this could be taken as a veiled warning that, if Cyprus didn't accept any Turkish demand for any solution whatever, it might be left alone to face Ankara's Military Invasion/Occupation, she denied :
    - "He (Bildt) didn't say it in that way"... "It was not linked to a threat, or anything like that", the Head of the Swedish Foreign Ministry's Press Service stressed.
    On the contrary, "he (Bildt) underlined that the main responsibility lies with the parties concerned on the island". "The EU can try to facilitate and show the benefits of reaching a settlement. But also, when the EU and the rest of the World (i.e. USA) will have to look at it, they will look at all the Facts on the table, and the presence of the UN Peace-keeping force is one".
    And "he (Bildt) didn't speak about that at all", she replied to "EuroFora" question on Turkey's reported attemps to impose, in one way of another, a partitionist "2 States solution".
    Asked whether Bildt's aim was to incite both parties to move forward efficiently, she agreed :
    - In fact, "the EU is really very concerned with the Stalemate in the situation. Yes !", the Head of Sweden's Foreign Ministry's Press Service anounced. That's why Bildt "was hoping for the two parties (i.e. for Turkey's also) to engage and break, a little-bit, the present stalemate, come to a solution of the issue" of Cyprus.
    But, replying  to a "EuroFora"s question on the risk, denounced by several politicians in case of strict Time Deadlines, for Turkey to provoke a stalemate and wait for the time to come to impose a partitionist "2 States' solution", she reacted by pointing at Turkey's obligation to respect "EU Acquis" :
    - "Turkey must fullfil the EU Acquis : That's clear !", the Swedish Senior Official stressed.
    More details are expected when Swedish Prime Minister Reinfeldt will debate his Programme with new MEPs at EU Parliament's plenary mid-July in Strasbourg, that he has visited already in 2008.
    Foreign Minister Carl Bildt became familiar with Strasbourg's CoE last year, when Sweden chaired the PanEuropean organization of Human Rights. As EU chairman-in-office, he will also chair the 27-member States strong EU Group inside the 47-member States strong CoE.
    Minister for EU affairs, Cecilia Malmstrom is well known at EU Parliament, where she has been an active MEP of the Liberal Group for many years, following also Press Freedom issues.
    Both have already made various statements at "EuroFora", on differend topical matters.
    ***

Polls