Home

newsitems

Freiburg FrancoGerman Summit Sarkozy-Merkel for 2011 EU Integration (economy,defense,culture/values)
Freiburg FrancoGerman Summit Sarkozy-Merkel for 2011 EU Integration (economy,defense,culture/values)
Friday, 10 December 2010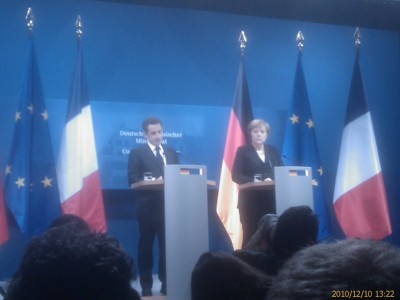 *Freiburg/Angelo Marcopolo/10-12-10/- Deeper EU Integration, spearheaded and stimulated by its central Franco-German motor, both in Structural Changes for a more Competitive Economy, strong support of €uro Currency, Defense, High Speed Rail and trans-Border Civil Society links, as well as in Europe's Cultural and Historic, Identity and Values, closer to the People, was spectaculary at the center, both practical and Symbolic, of the  Franco-German Summit between President Sarkozy and Chancellor Merkel in Freiburg.

Advancing far beyond the creation of a Permanent AntiCrisis Mechanism for EuroZone due to be decided next week at EU Brussels' Summit, and considering "EuroBonds" proposal to be premature before a strong Harmonization of EU Countries' Economies is realized for a better Cohesion, the two mainstream EU leaders anounced here their firm will to advance towards a much more comprehensive, deeper and decisive Integration, focusing on far-reaching Structural Changes in the Economy determining EU's Competitivity Worldwide, first at its Franco-German core, due to be joined soon also by other EuroZone Countries, followed by the EU as a whole, starting from the beginning of 2011, (at the same time that they were tuning their policies with the Program of the French Presidencty of G8-G20, as a key and topical tool for EU's role in Global issues, including Monetary).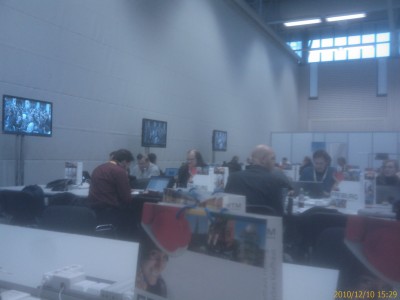 Simultaneously, an impressive series of various parallel events, at differend nearby locations, launched several Concrete Projects going in this direction, from the completion of the Franco-German Brigade around Strasbourg, to the creation of the core Metropolitan Region of Superior Rhine at nearby Offenbourg, to the inauguration of the High-Speed Railroad Bridge over the Rhine River between Strasbourg and Kehl, due to realize the EU Network link Paris - Bratislava, while State Experts and Heads of Big Business were gathered here to study concrete proposals for more Growth and Innovative Projects, f.ex. on Reneawable Energies, etc, up to the instauration of Franco-German Cultural Prize as part of a larger wish to create a Modern Common Cultural Space, while, at the same time, stressing Freiburg's choice as a Symbol of EU's Millenary Christian History and Values, all being scheduled to take place the same Day of the Anniversary of the International Declaration for Human Rights, (See infra).
----------------------------------
EU Integration : For Structural Changes from 2011 :
-----------------------------------------------
- "Well beyond next week's EU Council, we also examined how to pursue European Integration", anounced from the outset the host of Freiburg's Franco-German inter-Governemental Summit, Chancellor Angie Merkel.

- "There are a certain number of Structural Weaknesses that we must deal with, one after the other. This goes for all Europe, but more particularly for EuroZone, and France-Germany, even if many (EU) Countries are currently working to overcome these Structural Weaknesses, France and Germany are resolved to act, to put at the (Negotiation) Table these Structural issues, and see how we can overcome these problems in a Coordinated way, because it's the very Structure of our National Economies which is at stake", she stressed.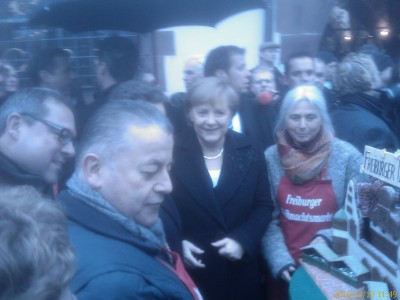 - "We must always give a good example when Competitivity is at stake, but this goes well beyond the mere Budgetary policy.These are issues linked to Labour Law, Fiscal system, etc.. I was very glad that the President (Sarkozy) reminded, f.ex., that Fiscal systems must be more Harmonized between France and Germany. France already started tackling this issue, and we shall do alike... And is we want to develop EuroZone's Economic Cohesion, we must take these issues into consideration and propose Solutions", Merkel urged.

- Already, "on the occasion of Greece (see surpra), we (EU) have said that EuroZone Members will do their outmost, in a coordinated way, to ensure Financial Stability" : This was Topical on February, it is topical Today, and will be Topical Tomorrow : Everybody should know that".

 "It's in this spirit that we (EU) shall adopt, Next Week at the European (Union) Council the Permanent Mecanism of (Financial) Crisis' Management and the perspective of an EU Treaty's reform", she anounced. "Just  a Year ago, nobody could guess that we'd be able to demonstate such a solidarity with a future Permanent Mecanism for Crisis Management, and this clearly shows our commitment for Europe".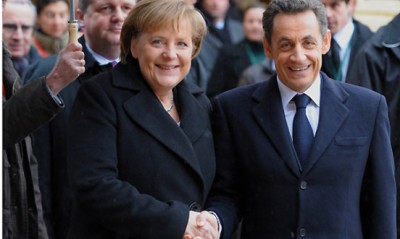 - "This must be very clear : We (France and Germany) are profoundly attached to the "Euro" (currency) !", Sarkozy stressed from the outset. That's why, "we shall defend the Euro, because it is Europe, and Europe is part, a non-negociable part, of our countries' Future". Therefore, "we, Germans and French, are totally determined !".

- "I fully share Mrs Merkel's position", and, that's why "I won't repeat what she said" on our talks "on Europe and the euro" currency. "Our trust and friendship becomes each time stronger", Sarkozy observed.- Thus, "I'm glad to see that our Converging analysis incite us to make Structural Proposals on the best ways to Deepen EU's roots and the €uro, during the year 2011", the French President also anounced, agreeing with Merkel.

Moreover, f.ex., "together with (French Prime Minister) Francois Fillon, we have decided to align our Fiscal" system "with Germany's, and I thank the Chancellor for her open mind, that's very important". Because "we can't say to our Partners : - "We are in EuroZone, we must converge in order to defend the Euro", and (despite that), we, Germans and French, give a bad example", he explained.

- "Thus, Franco-German convergence isn't, in our minds, but the Precursor of the necessary Economic Convergence in EuroZone, naturally, and, in even Wider terms, inside the entire EU", Sarkozy pointed out.

On persisting Journalists' Questions about €uroGroup President Jean-Claude Juncker's and others' proposals to emit EuroBonds, as part of a Permanent Financial Stabilisation mecanism, while refusing any current need for that, both Merkel and Sarkozy, reiterated their intention to do anything to save the Euro, without totally exclusing similar measures in the Future, particularly if EU integration advances faster, (as German Finances' Minister Schauble, reportedly suggested) :

Responding to 2 Questions on some EU politicians' proposals, (largely circulating among Journalists present at Freiburg's Press Conference, as "EuroFora" witnessed personally, since we were informed on that point immediately when we arrived on the spot), both Sarkozy and Merkel confirmed that they do not need "EuroBonds" now, but didn't really exclude some moves in the Future, under certain conditions :          
Once again, these conditions might be "more EU Political Integration", as German Finances' Minister, Schauble, reportedly suggested recently, and, at any case, what was needed was more "Cohesion", as it was stressed :

-   "I support Wolfgang Schauble, but it's not about a mutualization of risks, (between all EuroZone Countries), no", replied German Chancellor Merkel. Because, "on EuroBonds"' emission, "I clearly said that I did not think that the Mutualization of interests, even if only Partial according to a proposal, would be really useful in structural terms".

    -"What it's all about, it's to arrive to a Cohesion of Economy Policies", she stressed.

    - "First of all, .. the question is not (even) raised to augment the (money available to the EuroZone stabilisation) mecanism", because "Ireland benefited, according to the aims fixed for this Mecanism", from "less than 10% of its available Resources", i.e. leaving more than 90% intact, Merkel observed.  So that "this Debate is not at all Topical" now, she observed.

    - In fact, on Schauble's idea, it's more "about Competitivity, about Cohesion of Economic Policies in a Common Economic Space : This Cohesion must augment, instead of diminish, as it's sometimes done", Mekel stressed.

    - But "we have seen some Courageous Decisions" : F.ex.,  "We Respect what Greece is doing", (to reduce a Debt stemming from the Past, long before its €uro-entry of the 2000ies, in fact since former "Socialist" Governments of the 1980ies, which was overlooked by fomer "Socialist" EU Governments on 1999-2001 in a kind of Economico-Political Deal, accepting an earlier than normal entry of Greece to EuroZone, coinciding with 4/2000 Elections thus won by a former "Socialist" party, in exchange of closing its eyes to Turkey's controversial and impopular EU bid, since Ankara was attributed a "Candidate" Status, provoking the Biggest Institutional Crisis in EU's History with 3 "Nos" at EuroReferenda in France, Netherlands and Ireland between 2005-2007 : See previous relevant "EuroFora"'s NewsReports, f.ex. after EPP's Summit at Bonn and EU Summit in Brussels, 12/2009, etc). - "And when we see what Spain and Portugal did, mainly on Budgetary policy, this also incites Respect", Merkel observed.   
 - "We (EU) need Cohesion" :  "From Fiscal systems, up to the issue of Debt, until that of Labour Law, we are going to see, more and more, that Noone diverges compared to others". "F.ex., throughout all the EU, we succeeded to agree on certain prices for VAT, on some corridors. And such kind of agreements must be found also in other areas : We must continue to work on that", because "that's what we expect from Europe", the German Chancellor explained in more detail (See also supra). - "On the (€uroZone Permanent Stabilisation) Mecanism, I already told you  that we (France and Germany) shall do anything in order to defend the €uro, and .. our Political Will is very Determined", stressed in reply to the same Questions French President Sarkozy, sticking to the proclaimed Principles (See supra).

- However, "as far as it concerns "Euro-Bonds", ... if it's just to raise (National) Debts at an EU level, this would have as effect to make each State Unaccountable. But we want exactly the Opposite : I.e. to make States Accountable, and not to make them Unaccountable", he criticized.

 - But, "If, at one day or another (i.e. in the Future), we have more (EU) Integration, a more Harmonized Economic Policy, may be we can talk again", Sarkozy apparently agreed with Schauble's reported suggestion, pointing at an eventual (Money-sharing for Power-sharing) Opening at a Future Horizon..

- Merkel also agreed with Sarkozy that, indeed, "Germany will do, together with the others, all that is necessary to defend the Euro", as she sharply confirmed in reply to another Question on EuroGroup President Juncker's criticism of those who may reject his EuroBonds' proposal.

- "Euro has a capital Importance, well beyond that of a simple currency : - "If €uro fails, it's Europe which fails", and I'm absolutely serious when I say that", in relation to the Global Crisis, the German Chancellor firmly stressed.

As for "Luxembourg's Prime Minister" Juncker, he "is President of EuroGroup's Ministers of Finance, and, therefore, shares the same mood with us. But on the substance of that issuie, I've already said what I wanted to say, and how we are going to solve the problems, and wouldn't like to repeat explanations already given", she concluded carefully.

- "Whenever there was a need to instaure a mecanism for help to EuroZone Member Countries under (financial speculators') attack, the 1st and 1nd Contributors to this Support Mechanism are Germany and France", "demonstrating their European Solidarity" with "acts", so that they "don't have to take lessons from anyone", and nobody could treat them as "egoists", sharply replied also Sarkozy to the same question.

- "Concerning "EuroBonds", we weren't consulted before this idea was emitted, and it's not insulting anyone to say that we disagree", but "simply expressing an opinion. If we had been told beforehand, may be we'd have better understood, but ... we can't be the only ones not to be able to give our opinion".... "It's not forbiden to think with calm, particularly when we have to face a (Global) Crisis of such nature". "Everybody has the Right to have Ideas, none of them is unbearable", he added.

-  At any case, "I'm not convinced that French and German Citizens would be very glad if ... we accepted to Mutualize Europe's entire Debt, while there isn't yet enough Economic Harmonization, not enough Fiscal Harmonization, not enough Budgetary Harmonization". ... But, even "on EuroBonds, may be, one day, if we succeed to make more Economic Integration, more Fiscal Integration, more Budgetary Integration, then, one may talk anew", Sarkozy stressed, obviously agreeing with Merkel and pointing at Schaube's remark that measures as EuroBonds needed much more Political EU Integration, which is, at any case, both necessary and desirable...

 - "Germany and France were led to make Proposals, with just one aim : Solidarity in Europe, the interest of the €uro, and the interest of the European Construction". If we hadn't made these proposals, there wouldn't be any alternative" now, he noted.
- In consequence, "Next Week, at the European Council" in Brussels, we have a Double Responsinbility :"

    -"1st, make Permanent the Anti-Crisis Mechanism and to start the Reform of EU Treaty for that purpose, by giving the Signal that we defend Euro, and are not limited for that to the Year 2013, but that it's really a Permanent and Trustworthy Mecanism : It's a substantial Addition to what we have done until now".

    - "Then, we must think in Economic Governance's terms. Which are the Imbalances ? We've started this thought, but we must deepen it even more".- "And then, we must reflect on the way to overcome these Differences in Competitivity (See supra) : We already cited the example of the Fiscal system between France and Germany. And we must speak also with others (EU Countries),  But that's not the work of next Friday", she observed: "It's a task to which we shall involve ourselves into the Future, in a decisive manner, in order to show the Cohesion of Economic policy, and to prove that >>> it's not simply about Monetary issues, but it's really about the Political Cooperation, which must be deepened", Merkel concluded.

- "Precisely", agreed Sarkozy, adopting this Distinction into 2 Stages, the most far-reaching being scheduled at the beginning of 2011 :

    - a) "Next Week", in EU Brussels' Summit, "we are going to agree on the formulation of (EU) Treaty's Reform, .. in order to ensure that the Mecanism created during the Year 2010 will become Permanent. Something which already is very important".

    - b) But, moreover, "we express a joint observation that this is a Structural Crisis, and, therefore, needs Structural Replies, and we are going to bring these Structural replies together, Germans and French, serving Europe. That's the work of the first Weeks of the Year 2011", he explained.

- "Every time we meet, we are doing important things for (EU's) Future", smiled German Chancellor Angie Merkel, in reply to a question t Freibourg resulted into equally important agreements as in Dauville's last Franco-Germano-Russian Trilateral Summit, (comp. "EuroFora"'s relevant Newsreport).                                                                                                                                                                 
+ As for Brussels' EU Summit next week, it wasn't yet excluded that, in addition of the Economic Stabilisation Mecanism, various other topical Political issues might emerge, according to last-minute developments, a Sarkozy's counsellor carefully concluded in reply to an "EuroFora"'s question.
-----------------------------------------
Sarkozy on G8-G20 : EU's Model + Ideas must be defended at a Global level
---------------------------------------------------------
- "Growth in the World and in Europe", and Global Governance mainly on Monetary issues, are "2 other very Important issues", that "we are going to discuss overlunch", Merkel added.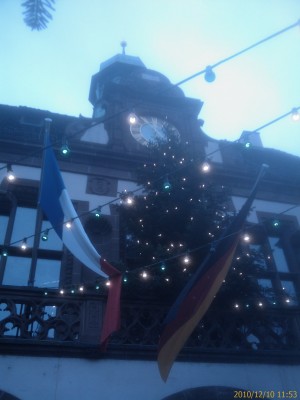 - "Nicolas Sarkozy gave a mandate,  earlier, to the Stiglitz Commission (from the name of the Economy Nobel Prize winner, who chairs it) to deal with issues of Growth. This Stiglitz Commission has just formulated its proposals, and we asked our Experts' Committees to draft proposals for the Strategies of Growth that we'll need. This will be presented in a while over Lunch, where Businessmen will take part too"', she observed.

This concerns a meeting of the "Evian process", which  involves important Businessmen from both countries reflecting on  great Economic policy orientations and landmark Projects, who meet in Freiburg with Merkel and Sarkozy and are expected to discuss proposals, including, f.ex. "on Renewable Energies, etc.", a French President's counsellor explained to "EuroFora".

- On "the French Presidency of G8 and G20" (November 2010 - November 2011), "we want to support, very actively, the French Presidency, and we (Germany) are absolutely in agreement with the Program proposed by the President (Sarkozy) for the G-20", that we shall "also discuss", Merkel concluded upbeat.

- "Concerning the G-20, .. France wants to work hand to hand with Germany on our Ambitious Objectives", confirmed Sarkozy .

This goes "mainly into defining ...a New Monetary World Order, where chancellor Merkel would play an essential role. As well as, "later-on, duing all the year (2011), in order to present the first Proposals to Reform the World Monetary Order, on November (2011) at the G20 Summit, in France" (nearby Haute Savoie).

- Because, "Europe has Ideas, a Model, and it's now that these Ideas and that Model must be defended at a Global level !", Sarkozy stressed.

- "In fact, we'd like to live this (November 2010-2011) French Presidency" of G8-G20 together with our German Friends, and, even wider, with our European Friends" : Because, "Europe has Ideas, a Model, and it's now that these Ideas and that Model must be defended on a Global level".

- "At the beginning of this 21st Century, New Ideas must fit a New World", . And these New Ideas, it's first of all German and France who must support them, at  the First place",  he pointed out strongly.      
-------------------------
High-Speed Rail Bridge over the Rhine
----------------------------
When Merkel observed from the outset that the deepening of Franco-German links are "Symbolized" today "not only" by the inter-Governemental Summit, "but also by ..(other relevant) landmark Events,  which take place nearby", she cited explicitly "the inauguration of the Railway Bridge at Kehl", which links France and German over the Rhine river, and "is a Symbol of Franco-German and European cooperation", as she said.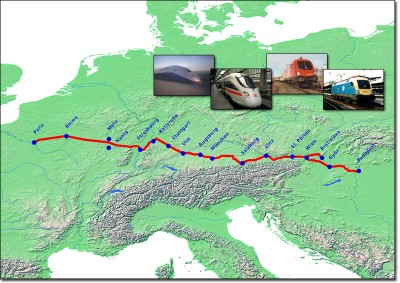 Affected by many Changes, during its Long History, the Strasbourg - Kehl Franco-German Bridge over the Rhine river wasn't great, until now, but only in two periods of time : that of Napoleon and Bismark, respectively, for obvious  Miitary and prestige Nationalist aims, respectively. For the first time, it s a common use of High Tech Speed Rail which boosts the Rhine Bridge.

The aim of this High Speed infrastructure is, after bringing Strasbourg - Paris' travel down to just 1,5 Hour, to make Paris - Stuttgart only in 3 Hours 20 minutes, contributing to the Paris-Bratislava "Magistrale" High Speed Rail Network strongly supported by EU Commission, French Transpot Minister Thierry Mariani observed.
-----------------------
Franco-German Brigade around Strasbourg :    
------------------------------------                                
+ Merkel also noted "the Fact that the first German unities are installed in France, in the Framework of the Franco-German Brigade, which will be celebrated by the French and German Defence Ministers in a while". "When someone thinks about NAZI Crimes during the 2hd WW, while today, at the beginning of the 21st Century, German soldiers are Welcome in France, it's a remarkable gesture"

 - "This is a New Signal of our Deepening Friendship and Will to give Permanent Roots to the Friendship between the German and French People",  between "2 Sovereign Countries in Peace, who have Founded Europe", Sarkozy stressed from the outset on this development.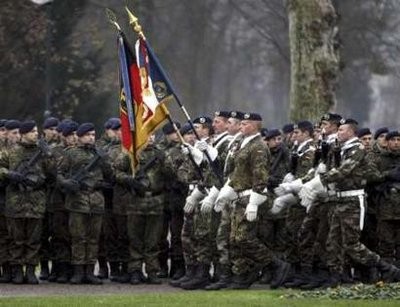 French President Sarkozy observed that he "had always been surprised" in the Past "to see that the Franco-German brigade wasn't felt but only as an installation of French troops in Germany", (close to nearby Kehl)..
------------
- "Cooperation between our two Nations is an Added Value to the benefit of all Europe", because "it always is the Starting point of New Stimulus", "contributing substantially to the success of European Integration", stressed from the outset German Minister of Defence, Karl-Theodor Zu Guttenberg, shortly afterwards in Strasbourg.

- Thus, -"France and Germany work together for a strong EU policy of Security and Defense", because "only a joint endeavour can guarantee Security in Europe, and for Europe", he added.

- After receiving History's lessons", and "the painful experience" of a "Europe which was marked by Conflicts between the greatest European powers", "at present, we can trust the Solidity of links of Friendship created by eminent Statesmen Charles de Gaulle and Konrad Adenaouer, reaffirmed earlier today by Nicolas Sarkozy and Angie Merkel today in Freiburg", he said, underlining that "now, our Peoples stress our common European will".

Today, "the Franco-German Brigade (part of which is naturally its German brigade installated now in Strasbourg),  is present at several fronts all over the World, contributing even to the NATO, he observed, calling the Soldiers to "deepen" the "Franco-German Friendship not only inside the Brigade, but also between the People", because "you are part of our Common European Future", Guttenberg concluded.
----------------------
New French Defence Minister, former Prime Minister and MEP Alain Juppé, stressed that "Defense Cooperation is, more than ever, at the Heart of our Nations' Friendship" : "Here in Strasbourg, this European Capital which is one of the best Symbols of Franco-German reconciliation, we learned the lecons of the sufferings of the Past, in order to build together a Peaceful Future in our continent".

- "Today, we want to give a New Momentum in this Historic link, in order to make make more Progres in the European Construction", because "we have one joint Ambition : Allow Europe to play its full Role in Wold', French Minister Juppé stressed.

- "If EU now speaks with a united and strong voice in several areas, it still has to make many progress in order to definitively  establish our Credibility as Global Actor of Crisis' Management" : "In the Humanitarian area, Haiti's Earthquake proved, once again, the fragility of EU's response", he critically obesrved.

+ At the same time, "the current need to monitor the Public Finances, aggravated by the (Global) Economic Crisis, exerces heavy pressures on our Defence Budgets", so that, "if we want to maintain our capacities" and "develop our Industrial and Technologic basis for Defence, we must ... work together more" closer, Juppé added.

=> "That's why, it's indispensable to reinforce EU's Defence, on the institutional, operational and capacity levels", and "this is necessary done though a cooperation always more closer between our two countries", the French Minister concluded.
20 Years after its creation, the Franco-German Brigade offers now a unique Operational Force in Europe, a Labo Test to experiment the European Defence of the Futuere, and a Tool available to be used everywhere, from EU's Common Security and Defence Policy up to NATO", Alain Juppé observed, speaking in Strasbourg, where another FrancoGerman-inspiration, followed by a growing Number of other participan EU Countries : EUROCORPS' Army HQs, develops, in parallel, EU's capacity to Manage an army on the spot.

+ Adding Today also a new French Battalion to the Franco-German Brigade, which grows, in consequence, from 2 to 3 Land forces' regiments, with Reconnaissance's forces, and is equiped with Boxer and Fennek vehicles, the Franco-German Brigade, "wearing the same insignia with the national colors of both countries, and installated on both sides of Rhine river", from now on, (thanks, precisely, to a part of its German component's transfert into Strasbourg, while the rest remains at nearby Kehl), it will be "better equilibrated", easier to "reinforce its inter-operability and competence-sharing experience", developing more "Synergies".

 This has become "indispensable", particularly "in a context where our forces are more and more called to be involved at the theaters of operations side by side", to "defend Values of Liberty, Democracy and Humanism, that EU brings in the World", witnessing of "our common History" while also "building the Europe of Tomorrow", Alain Juppé concluded.

But, probably the most striking Symbol in this regard were the Songs sung by the young Children from Families of the Franco-German Brigade, at nearby Offenbourg, during the ceremony which created the landmark "Metropolitan trinational Region of Superior Rhine", alias "Oberrhine", due to boost Science, Economy and Civil Society Integration and development in the same area where their grand-fathers were in the Past manipulated to quarell, provoke Destructive Conflicts, and kill eachother (See infra)..
----------------------------------
And... fiat Oberrhein !
-----------------------------------
+Meanwhile, the creation of the "Metropolitan Trinational Region of Superior Rhine", alias "OberRhein", which brings together Strasbourg's French region of Alsace, with its neighbouring German Kreis of Ortenau, as well a Swiss area around Bale, all located at EU's Geo-Political Center, was a key component of the various "landmark Events", which "Symbolized" the Deepening of Franco-German links, as Chancellor Merkel noted from the start, (See supra, and previous "EuroFora"'s NewsReport from the spot).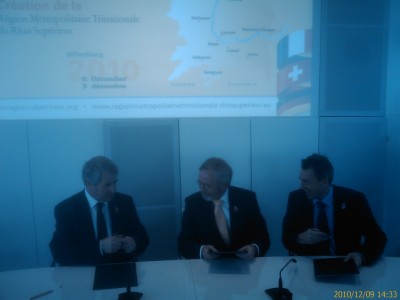 Symbolically, the event took place at mega-Publisher Burda's landmark Scyscraper's top floor, giving an eye-catching overview of splendid Rhine Valley's Nature, there where Modern Communication and Information Technologies and Centers are concentrated, together with Energy, Bio-Medicine and Agro-Entertainement sectors of Economy, as Dr. Hubert Burda stressed at the beginning of the trinational event, confirming afterwards to "EuroFora" his strong belief that "we are really very strong" as a potential Information/Communication EU Cluster, precisely there where Gutenberg's initial Printing machines were invented for the 1st time in History.

- "We need to go further : To Pass from "Cooperation" to "Integration", so that we don't only Speak together, but also Decide together", thanks to a "Voluntarist" policy, stressed from the outset the New French MInister for Territorial entities, and President of Strasbourg's Alsace Region, Phiippe Richert.

This concerns both EU's "Cohesion and Interregional" cooperation policies, as well as "Science", "Economy" and "Civil Society" involving Citizens , which will be a main Challenge during the next Years", he highlighted, citing also Hugo's litterature on Rhine river's links between Past and Future.

    - "According to the Franco-German "Agenda 2020", this will become a Precursor area, the 1st Integrated region in Europe, due to be transformed into a space for Competitivity and Innovation", with "excellent Transport links", echoed his German counterpart, the Minister for EU affairs, Werner Hoyer.

    Oberrhein's Metropolitan trinational Region is destinated to become "a Model", an "Example of a Pilot-Project for Europe", a "Core of Integrated Europe", stressed Hoyer at the conclusion of the official ceremony at nearby Offenbourg. (Comp. Hoyers' earlier statements to "EuroFora" at another NewsReport, focusing on the Freiburg Sarkozy - Merkel Summit).
---------------------
EU Identity :
---------------------
- "We have chosen the city of Freiburg because .. it recalls us anew that Europe has a Long History", as anyone can see if he stands  in front of the Cathedrals of Freiburg, as well as Paris or Strasbourg, where it's obvious that, already, many centuries before, accros generations, existed a large Community" of people in Europe, replied Merkel to a question raised at the Press Conference's conclusion.
-----------
Symbolically, they concluded the Public part of their Freiburg December 2010 Summit by a Press Conference in the City Theater's impressive Building, over which a huge inscription stressed that "Europe will be Cultural, or won't be !" , (as stun reply to a pro-Turkish lobby notoriously claiming to impose, on the contrary, a "Multi-Culti", appartheid-like approach, strongly denounced by Merkel recently in Germany, and contrary to Sarkozy's original idea on People's aspiration for a European Identity).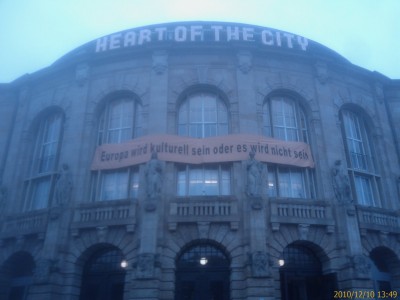 This Freiburg move started after Triple meeting around the Cathedral by Military Honours, saluting enthousiastic local People, who had massively filled the area, braving a lot of Snow but a few dissidents, added to a welcome in the Historic Church by Germany's Christian Catholic ArchiBishop Zollitsch, who stems from Freiburg, where Pope Benedict's visit is particularly expected next year, on 2011, especially after his upbeat observations, recently in Spain, on European Identity's over-Millenary roots, and their offspring potential, vital for EU's future.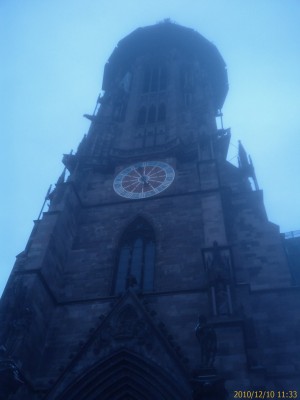 + Meanwhile, the incoming EU Chairman, Hungarian Prime Minister Victor Urban, has reportedly tabled at Budapest's Parliament a draft Constitutional Reform which refers to the Country's "Millenary History" and to the "role of Christianism".  Hungary has been notoriously saved by devastating semi-Occupation by former Ottoman-Turc Invasion Troops, during the 1600-1700 "Turkish Wars", which were reportedly faced successfully by an astonishing Coalition of Liberation Troops from various other European Countries, such as f.ex. France, Germany, Austria, Italy, Spain, Sweden, Slovakia, even the U.K., etc., which were united by common Christian beliefs. 
     
- "Europe is not only an Economic and Monetary union, but also a Spiritual and Cultural Unity", stressed later this same day Germany's Culture Minister Bernd Neumann, in another ceremony in Freiburg, together with his French homologue, Frederik Mitterand, where they jointly awarded, for the 1st time, a Franco-German Literature Prize "Franz Hessel", to two modern young writers, Kathrin Rôggle and Maylis de Kerangal (each 10.000 €), as part of the 2020 Franco-German Agenda which also includes the "Digitalization of our Cultural Heritage" and "support to Cooperative Projects on Film  and Contemporary Art", aiming to boost  a "joint Cultural Space in Europe".
------------------------------------                  
International Human Rights Day :   

--------------------------------------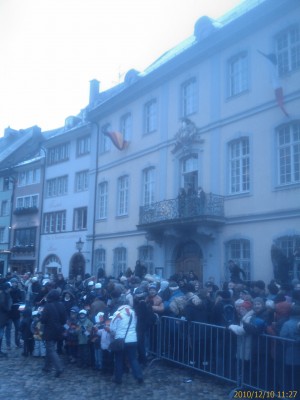 + The Franco-German Leaders chose, for the 1st time, to hold their Inter-Governemental Summit near Strasbourg, ECHR's Headquarters, on the same day of the 2010 Anniversary of UNO's International Declaration on Human Rights, dated from 1948, when Europe turned the page of Fascism and Nazism of the Past, starting the period of Modern Europe, (as a kind of Renaissance of its Enlightnement and Ancient Rome/Greece eras of Democracy and Citizens' Rights Historic European legacy).

Merkel has strongly pointed recently at the importance of Human Rights' Values both as "Europe's Soul", as she stressed in her landmark Strasbourg Speech in EU Parliament at the beginning of the 2007 German EU Presidency, "incompatible" with Turkey's controversial EU bid, as it resulted from statements made in a special event at Berlin on March 2009, where she launched EU Parliament's Electoral campaign, together with President Sarkozy, (given the notoriously serious violations  for which Ankara's Authorities still continue to be condemned by ECHR in a Record-high unimplemented yet judgements). She also highlighted the central role of respect of "Human Dignity'", as prerscribed by modern German Constitution's 1st Article, at a speech in the Federal Constitutional Cout at nearby Karlsruhe on May 2010, (comp. "EuroFora"s publication on that event), and she reiterated that point also at her speech to the Bi-Annual Congress of the Governing CDU Party, November 2010, (See "EuroFora"s NewsReport from the event).
As for her closest EU political partner Sarkozy, his strong reference to the Political Accountability of directly Elected Politicians, instead of Bureaucrats, and his calls for National and EU public Debates on main issues, (from Economic Governance, up to Turkey's impopular EU bid, via the "Europe's Future" debate, etc), naturally needs at least a healthy Freedom of Expression which is, according to ECHR's own case-law, a condition for all other Human Rights, (seriously violated even today f.ex. by controversial EU "Candidate" Turkey, according to both EU Commission's and EU Parliament's 2010 Reports), and implies an elementary Respect for each Human Person/interlocutor, that he obviously cultivates even in the "hottest" debates. 


+ This was echoed Today by Statements made, parallel to Freiburg's Franco-German Summit, by Foreign Ministers Michelle Alliot-Marie and Guido Westerwelle :

- "The Human Rights' Day is an Occasion to reaffirm our Values, and to take stock of a situation of Human Rights, measuring what needs yet to be done in order to ensure full Respect for Fundamental Freedoms", said Alliot-Marie, reminding that this year (2010) it was "paticularly dedicated to Human Rights' Defenders.

- "These Values... are at the foundation of our National Unity, and became now also those of the EU (thanks to the entry into force of EU Lisbon Treaty's "Charter for Fundamental Freedoms" since December 2009), MAM reminded, promissing that "the Promotion of Human Righs will continue to be a Major Axis of our Diplomacy".                                                               

- Westerwelle stressed that the "protection of Human rights is a Cornerstone of German Foreign policy", also because it's "Only when human rights are respected, (that) it can give permanent Peace and Economic Development", as he observed.

    But, "here much remains to be done: There are still too many people who come to Jail because they want to express their Opinions freely, ... victims of Racism... (or).. persecuted for their Faith", as he said after recent incidents of Murders of Christians in Iraq,  Egypt, Turkey and elsewhere.

Therefore, "the commitment to human rights and the protection of human rights defenders remain a Central concern of our Policy", Westerwelle concluded.
---------------------
Significantly, the move came just 1 Day after EU Parliament presented its new, 2010 Draft Report on Turkey's negotiation for its relations with the EU, which has just started to be debated in Committee, before Votes and Public Debates for final adoption, later on, in a Strasbourg's Plenary session.

But also shortly after ECHR strongly condemned the scandalous persistance of Impunity, even of identified Torturers in Turkey, even in the landmark case of a Child tortured by Turkish Policement when aged only 12, while anouncing that this will be followed next week in Strasbourg by the case of a young Girl, who attempted to commit suicide in Turkish Prisons after being arrested on mere suspicion of political affiliation, and reportedly humiliated, tortured and raped, by Turkish State's Agents who scandalously remain all Unpunished until 2010, further prolonging an exceptionaly Long List of Unimplemented ECHR Judgements condemning Turkey for Torture since  1995 !, i.e. for more than .. 15 Years !
----------------
Meanwhile, German Minister for EU affairs, Werner Hoyer, speaking to "EuroFora" at nearby Offenburg, in reply to a question on Chancellor Merkel's forthcoming visit to Cyprus, scheduled for January 2011,  had a eloquent, spontaneous reaction to our question whether Germany (including with her new Hat as UN Security Council's New Member) might contribute to find a Solution which would respect basic Human Rights (f.ex. of Refugees/Displaced persons, "Missing" people and their Families, etc), so that a real and stable ReUnification of Cyprus could become possible in the Future, according to EU's Principles and Values, as soon as Turkey might accept that :

- "This looks like a .. Quadrature of the Circle (like Squaring the Wheel) !", Hoyer criticized, laughing... 
                                                                                                                                                                                                                       - But, "We shall see... ", he nevertheless, added with a smile, not excluding anything, after "EuroFora" observed, (referring to Franco-German motos), that "nothing is impossible"...
***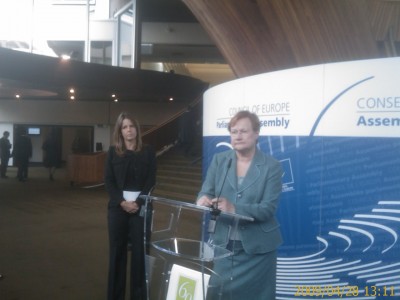 People in Europe and the World expect from CoE to make a succes of its "Monitoring" for Human Rights and Democracy, despite difficulties, said Finland's President Tarja Halonen to "EuroFora" at a crucial moment for the mecanism built 15 years ago by the paneuropean organization which celebrates its 60th Anniversary in 2009.
Halonen, known as "Mother" of CoE's "Monitoring" mecanism, a long-time MEP and former Foreign Minister before becoming Finland's President, holds a long experience in the mattter, after also serving twice as CoE and EU Chairwoman in the past. That's why she is well placed to judge how CoE's "monitoring" should deal today with some crucial issues of importance both to CoE and to the EU.
The move came just a Month before a crucial, last visit to Turkey, scheduled for June, by the President of CoE''s "Monitoring" Committee, Ukranian MEP Serge Holovaty, to finalize his Report on Ankara, the CoE Member State with the longest Monitoring procedure. From its results depends its overall credibility.
This is a Test-case, because, in fact, it's in order to avoid Sanctions threatened against Turkey by a CoE's Assembly's April 1995 Resolution for grave Human Rights violations, Democracy gaps, the continuing Military Occupation in Cyprus, the unresolved Kurdish problem, Aegean differend with Greece, etc., that MEPs decided to create, for the 1st time on April 1996, a "Monitoring" proces, allegedly destinated to check, without excluding Countries who did not fulfill all CoE's standards.
In the Past, the obliged withdrawal of Greece's Military regime and of its "Civil" cover-up out of the CoE had helped bring back Democracy in 1974. But, on the contrary, since April 1996, the idea was to "monitor" Human Rights' respect while keeping most concerned Countries inside the CoE. After Turkey's oldest example, this was extended also to several former "Eastern" European Countries, even if CoE's Assembly has imposed to some of them (fex. Ukraine, Russia, etc., after Belarus, Serbia, etc) various "Sanctions", that Ankara always avoided. Curiously more succesful even than .. USA itself, (a CoE "Observer" since 1995), which has been at least threatened with sanctions some years ago..
EU-effects of CoE's Monitoring process became obvious between 2001-2008, since the "closure" of this procedure, when CoE felt that a Country had met most of its Human Rights, Democracy and Rule of Law obligations, (i.e. the "Copenhagen Criteria" for the EU), helped trigger Negotiations with the EU for "Accession" or other closer relations : This occured already before the 2004 and 2007 EU Enlargements to former "Eastern" European Countries, as well as for the commencement of "accession" negotiations with Croatia, and of "open-ended" negotiations with Turkey in 2005.
    But a stricking new development are Holovaty's recent findings that on core Human Rights issues as Torture and Freedom of Expression, Turkey, even "5 Years after" CoE closed its "Monitoring", back in 2004, inciting EU to start accession Negotiations in 2005, still presents grave problems.
    His findings are of crucial importance after a 2008 CoE Resolution called, "if need be", to "seriously consider the possibility of Re-Opening the Monitoring procedure for Turkey" : A move which might affect Ankara's controversial EU bid, since EU Accession Negotiations are based on the Hypothesis that the Candidate fullfils the "Copenhagen Criteria" (See above)..
-------------------------
    Holovaty expressed his will to check  "Matters still Outstanding" and  those that he "didn't have an opportunity to discuss" at an earlier visit this year, "in order to discuss the more complex issues in greater depth", at his forthcoming New Visit to Ankara, before the December 2009 EU Summit.  This is all based on the 2004 CoE Resolution which stresses that, CoE "will continue.. post-monitoring Dialogue with the Turkish authorities,...in addition to a 12-points list,..and on any Other Matter that might arise in connection with Turkey's Obligations as a CoE member state".
    CoE's Resolution also asks  from Turkey "to secure the proper Implementation of Judgements, particularly in the Cyprus v. Turkey InterState case", of 2001, which concerns also the plight of many Hundreds of MISSING People. It adds Turkey's obligations to "execute" ECHR's Judgements in the Loizidou case,..and in particular adopt General Measures to avoid repetition or continuation of Violations found by the Court" to the detriment of Refugees.
    Nevertheless, Holovaty said to "EuroFora" that "MISSING" persons,"might be included" and cannot be excluded, but he has yet to examine the situation "to find out  which issues will be raised" to the Turkish Government.
    Therefore, "EuroFora" asked Halonen, as the Historic "Mother" of CoE's Monitoring mecanism, if she thought that, "whenever there are grave Human Rights Violations, as fex. "MISSING" persons, attested even by ECHR's judgements, they should be always checked by a Monitoring process. Or could they be forgotten ?"    
     - "We (CoE) must be, at the same time, Fair, Realistic, but not in the mind that "now we have Forgotten", etc., replied to "EuroFora"'s question Halonen, speaking as a matter of general principle.
    - "When we think of those People that are suffering from the lack of Democracy, of Human Rights, and of the Rule of Law", "we should find a base on how to deal with the (Monitoring) system more rapidly"', she stressed.
    - "Sometimes it's very difficult to combine Transparency and Effectivenes together, particularly in this specific case", she went on to say. But, "I have not found a (CoE Member) Country who could be insensitive in this sens", Halonen answered concerning grave Human Rights violations attested by the ECHR.
    - "I have no ready-made answer. I have the expectations that you, in the CoE, will, step by step, find the different types of the monitoring systems."
    Also "because this is a part of the UN's Post-Conflict system, (fex. when it comes to Cyprus' MISSING persons), and it's a more Global system". So that, "If we make a succes in Europe, the others will follow", throughout the World.  "But they expect that we (Europe) are this opportunity, this Opportunity to make a Succes", Halonen concluded.
    In addition, she advised to extend CoE's Monitoring to all its 47 Member States, "because, as long as we hear that, all these monitoring systems are "OK for the neighbor, but not for me", "it's very difficult" to understand. Something which could make easier to Compare...
    Finnish MEP Jaako Laakso, former CoE Rapporteur on the Occupied Territories of Cyprus and one of the 5 Signatories of the Historic CoE's call to create the "MONITORING" mecanism since 1996, was more specific :  - "We (CoE Assembly) have to find a way for the issue of Cyprus' MISSING People to be better followed", he stressed, anouncing his intention to "speak to Mr. Holovaty" about that. "There might be also other ways", added Laakso.
    - The 2008 "Year had been a very Bad one for Turkey with regard to Human Rights in general, and Freedom of Expression in particular", denounced, meanwhile, Holovaty's preliminary Post-Monitoringh Draft Report by Holovaty, published by the CoE on April 2009.
    "Amnesty International believes that freedom of expression is not guaranteed given the various articles of the Criminal Code that restrict it. .. "For example, 1,300 Websites are said to have been closed down by the (Turkish) authorities in 2008" ! While "the new Turkish Criminal Code was used to bring a total of 1,072 proceedings between June 2005 and April 2008, and led to the conviction of 192 people", for expressing views. "Representatives of the Özgür Gündem newspaper, which specialises in Kurdish affairs, ..complained about Numerous Attacks on their Freedom of Expression ...as was everyone who advocated a settlement to the question by means other than the intervention of the army" "According to their figures, 19 Newspapers had been suspended 43 times between 4 August 2006 and 4 November 2008" !...
    Moreover, on 2008,  CoE's "Ministers adopted its 4rth Resolution on the execution of the judgments of the ECHR, ...and outstanding issues regarding 175 Judgements and decisions relating to Turkey delivered between 1996 and 2008...  concerning Deaths resulting from the excessive use of force by members of the Security forces, the failure to protect the right to life, the DIisappearance and/or death of individuals, Ill-Treatment and the Destruction of property". CoE's " Ministers urged the Turkish authorities ...to ensure that members of Security forces of all ranks can be prosecuted without administrative
authorisation" for "serious crimes". Holovaty reminded.
"Nonetheless", Holovaty heard anew of "Several cases of Violence committed last year (2008) by the (Turkish) security forces". Amnesty International speaks of Many Cases of ill-treatment and Torture in the prisons and by the police". "Including, fex."'the death of Engin Ceber, a young man of 29 who died on October 2008 as a result of the TORTURE allegedly inflicted on him by police officers, prison staff and members of the gendarmerie. He was part of a group of people arrested on September 2008 during a demonstration and Press Conference in Istanbul'. Proceedings against suspects are "on-going" in this case.
- " I therefore noted an Obvious Contradiction between the Government's stated "zero tolerance" policy.... of Torture and other forms of ill-treatment, and the different testimonies given", denounced CoE's Rapporteur.  Turkish "authorities must make considerable efforts to guarantee that proper investigations are carried out into allegations of abuses by members of the security forces and that perpetrators are effectively punished" "In this respect, I have requested detailed Statistics on the number of Investigations, acquittals and convictions in cases involving allegations of abuse in order to show the positive impact of the measures taken to date", Holovaty said, repeating a permanently unsatisfied CoE's demand to Turkey since a Decade...
    - "The Political Crisis that shook the country in the spring of 2008 highlighted the Weaknesses of the (Turkish) Constitution", which comes from the Military regime of 1982, "and the Urgent Need of Reforms", stressed from the outset CoE's Rapporteur in 2009. In particular, "the ...Democratic functioning of state institutions, including the independence of the judicial system, are crucial", he observes.
    But, "the Electoral  system and the ways in which it is circumvented do not appear to give those elected complete Legitimacy, and tend to pervert the course of direct universal suffrage", denounces Holovaty, observing that, even 5 Years later, Turkey did not yet change the 10% nationwide Threshold for a party to take any seat, which is "far higher" than the "3%" maximum in Europe and already condemned as contrary to European Standards by the CoE.
    + Moreover, EU Parliament's 2009 Report on Turkey, drafted by Dutch MEP Ria Oomen-Ruijten and adopted in Strasbourg on March, expresses "Concern over the Failure of the (Turkish) Judiciary to prosecute cases of Torture and Ill-treatment, the Number of which is Growing". EU also "is concerned about continuing Hostility and Violence against Minorities" in Turkey. It also "calls on the Turkish Government to launch, as a matter of Priority, a Political Initiatve favouring a lasting Settlement of the Kurdish issue, (while "condemning violence.. and terrorist groups"). EU "regrets that No progress has been made on establishing full, systematic Civilian suprevisory functions over the (Turkish) Military".
    The final results of Holovaty's 2nd and last visit to Turkley will be known later this year, and, at any case, before EU's December 2009 Summit.
Polls