Home

newsitems

Sarkozy: We don't yield to Terror the Values needed for a strong Europe in the World !
Sarkozy: We don't yield to Terror the Values needed for a strong Europe in the World !
Thursday, 22 March 2012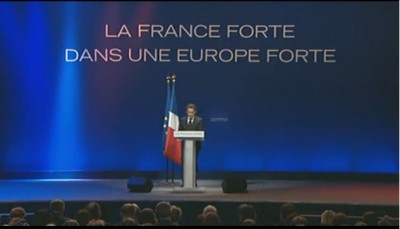 -"Everybody was Warned, and, from our side, it's crystal-clear : The Republic will Not Yield even a centimeter : France is a Democracy and Nobody will ever impose to it anything by Violence !", stressed from the outset President Sarkozy, in his first Speech in Strasbourg, since this week's Monstruous Slaughter of 3 Children and their Father, following the killing also of 3 unarmed Soldiers, apparently by an obscure, manipulated Fanatic Islamist dead at an armed clash with the Police, in what could also be taken as Reply to "EuroFora"s exceptional publication calling "Not to yield Europe's Future to threats of Terrorism !", (See yesterday's NewsReport, in the original in French : http://www.eurofora.net/newsflashes/news/toulousechildrenmassacreandeurope.html )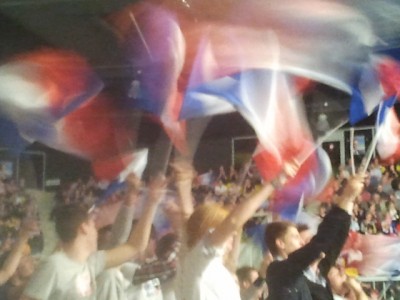 - "We are Strong when we are United around our Values", Sarkozy stressed, exceptionally placed under a special banner for " a Strong France in a Strong Europe",  specialy made for his Strasbourg speech,  as another topical Reply to the question raised by "EuroFora"'s yesterday's publication if anyone might accept, "Self-Censorship on the refusal of Turkey's EU claims, and swallow any reference to a European Civilisation, Identity and/or Values", after a scandalous Turkish pro-Government Media's attack against France and all Europe accusing them to "Block Turkey's EU Accession" and dare speak about a "European Civilisation", practically threatening with even Worse Crimes, if they don't obey to Ankara's orders to immediately Stop speaking about Identity, History and Culture, or for the Integration of Immigrants in their Host Country, otherwise accusing the Victims to be "responsible for all  Brutal, Bloody Aggressions they suffer".

    - On the contrary, "these Tragic Events which plunged France into mourning, remind us that we are Strong when we are United around our Values, and weak when we forget them", reacted Sarkozy. "These Moral Values are the Foundation of our Republic", and "Millions of People accross the World expect from France to be Faithful to them", In fact, "France's Identity appears when it Fights for Ideals of Justice, Freedom and Peace", because "France only counts in this World when it gives its name and face to the best Ideals of Humankind"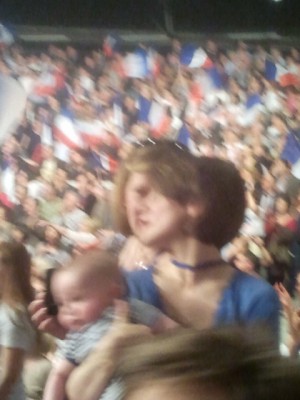 - It's precisely "these Values which were denied and trampled underfoot" by "the odious Crimes comitted against  innocent Children and unarmed soldiers" :  => "Search explanations for the criminal acts of that Mostruous Fanatic, suggest the slightest understanding for him, or, even worse : search the slightest pretext (excuse), would be an Unforgivable Mistake !", he ruled out, at another strong move against stances such as the provocative and dangerous Turkish Newspaper "Zaman" claims, published in English in an obvious attempt to mislead some abandoned, poor ignorant Arab youngsters who don't read the Turkish language since Arab Countries liberated themselves from the Ottoman-Turc Occupation which had notoriously destroyed the Arab Civilisation.

     - "Such Monstruous Crimes are.. Unacceptable for Human Conscience, for the Society , for the Civilisation" , but "makes us think about  ourselves, .. proving that Fighting against Fanatism, Racism, AntiSemitism must be an everyday task" :  "Hate against other persons does Not belong to our  History, nor to our Culture". "Our Values are that of a Republic which allows Freedom and gives everybody a Chance. Its Secular principles, which protect Freedom of Consience and Reigious Liberty", and "Equality between Men and Women, which avoids Communautarist" (Cultural) Ghettos. "We must Never make Concessions on (Human) Rights and (Civic)Responsibilities", nor to the Respect due to all those who incarnate the Republic", "because, if we accept to get lax on the Defense of Republican Values and Institutions, we'd weaken the links which unite our Citizens between them, independently of their origins, beliefs and social categories, opening a Dangerous breach for those who push towards Hate and Violence", Sarkozy warned firmly.

    + But, "this Crime also reminds us that we can't just stay indifferent to what is going on throughout the World", because our "Fate si at stake both Inside and Outside of our Borders", the French President stressed, developing an idea that he initiated recently at his landmark Mega-Meeting of more than 80.000 People at the Northern Paris, (See "EuroFora"s NewsReport from Villepinte).

    - "General De Gaulle, said, here, in Strasbourg, back on 1947, that "We must be ourselves, i.e. Western People, Faithful to a View on Humankind, on Life, on Law, on Relations between States, which made us what we are, to which is due our influence and aura, that we must defend and develop among the World's upheavals" : "We cannnot just abandon us to any Fate, because we are the French People !". "With one Policy inside and outside : The Defense of our Values", which allows us to be Strong, to better Protect the People, and defend our Interests".

    + Moreover, "it's by Fighting for Others that France better fights for itself : Inside = the Republic. Outside = Give a Voice to those who can't speak, use Law instead of Force, People's Freedom, Nations' Solidarity. Both inside and outside : Justice and Peace, That's our Policy !"

    => "France's fate is linked to that of Germany's, of Europe's, and of all the West, as in the period of Jean Monnet, Robert Schuman, General De Gaulle and Adenauer", even if the World has changed since then, the Means might be differend, but the Aims remain still the same, Sarkozy stressed with conviction.

    - "France wants to Help Build a New World, where each Peopla has a place". We have "special responsibilities both in Europe and in the World", that we undertook f.ex. in Copenhagen's Climate Conference, (December 2009 : See "EuroFora"s NewsReports from UNO's biggest ever Heads of State/Government Summit), speaking also for the Poorest Nations, for all Humankind, as well as when we interfered, on behalf of all Europe, to stop the War in which Georgia risked to disappear", back on August 2008, Sarkozy reminded. (Comp. "EuroFora"s Newsreport, then, from Italy, with Pope Benedict's call to France as EU President). France also undertook its Responsibilities when it had to protect the Libyan People from being slaughtered at Benghazi, back on March 2011, whern it started the Union for the Mediterranean trying to overcome the Hate of the Past and link Europe, Africa and the Middle East with a Common Destiny ; as well as when France incited USA to create the "G 20", during our 2008 EU Presidency at the moment that a Global Crisis stroke all the World, as a precious Tool to restore Trust" : but also when we brought inside the G20 the Financial Transactions' Tax, the Fight against Speculation on Raw Materials and Agriculture's Future" (2011 at Cannes' Summit ; See "EuroFora"s NewsReports from he spot),; but also when we incited all Europe to Help Greece threatened by Bankruptcy (2009-2012), when we worked together with Germany to bring Discipline and Solidarity inside €uroZone, followed by the creation of an "Economic Goverment", and "putting and Ends to the Crisis which had threatened to destroy the Common Currency and all the European construction", (2011-2012), he reminded.

    => - "In the Future, France will pay more attention to the respect of Universal Values that we intend to oppose to all Tyranies and to all Fanatism", while still "respecting People's Right to dispose of themselves", Sarkozy anounced, promissing "Solidarity with the People who choose Freedom, Democracy and Human Rights", those who are "Oppressed, whose Rights are denied, whose Dignity is trampled underfoot, who are not respected, who are Hungry, whose Natural Resources are usurpated", often even their Lives, as he said.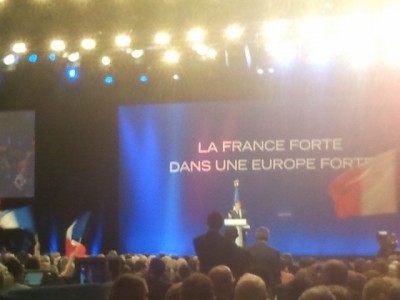 - Because, France and Europe "are for a New World Order", Sarkozy stressed, "that we must Help to be Born". "Globaisation without any Rules, it's Over !", he promissed. "Markets' absolute Power, is also over !" => From these Years of Global Crisis, I was deeply convinced that "we are living in a Decisive period for the World's Future" : "Globalisation must become a source of Empowerment and not of Abandonement :Otherwise, if we fail, it will all result in a kind of Balkanisation"
         But "We don't have the Right to fail",  he warned decisively, anouncing various "Initiatives", as for an International Organization for the Environment, and for "a new Economic and Ecological Planetary Deal", without Social nor Environmental Dumping, nor Monetary Manipulations of Currencies, or other Unfair Competition : It's only then that Humans will become able to place their Rights at the center, of Globalisation, and not Merchandises", as he said with vision.

     - "This Struggle we shall engage it together with Europe", Sarkozy went on. "But, in order for Europe to become a Tool of Change, EU must change itself", he observed.

    - Already, recently Political Will started to take the precedence over  Bureaucracy in Europe, thanks mainly to elected Heads of State/Government, he rightfully observed on EU Council.

     Facing unprecedented Events, we had to Invent, change Habits, get out of the usual paths, and only Heads of State/Government had the Authority to do so. Thus, a "New kind of Europe was born, more InterGovernemental, more SupraNational, more able to act": No other EU body could save the €uro", Sarkozy pointed out.  

    - But, "Europe faces a Risk : When a Crisis ends, Bureaucracy and routine come back, without having really learnt the lessons of the crisis, he warned.                                
      - However, Europe cannot remain the only Political Entity in the World to forget its Borders, and to forget its Roots !", Sarkozy denounced, obviously referring to EU's Identity, largely applauded by the audience...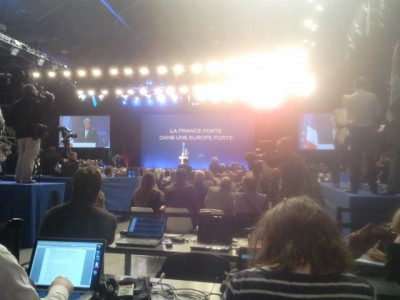 => In fact, Europe needs for its Borders to be Protected, to have an Industrial and Trade policies, for its Agriculture to be protected, for a part of Public Procurement to be given to its SMEs, It needs Reciprocity" (in Foreign, International Trade),

    If, during the last 5 Years, EU managed to take action, and not be lost, it was thanks to strong Initiatives undertaken together by France and Germany",                     
    - But now that the Danger for €uro to break down went away, EU's Future won't be in Institutional changes, but on its capacity to have a say on Global developments and to protect its Citizens, according to Sarkozy.

    + Moreover, it becomes obvious that we have now "3 Europe" :

(1) €uro's Europe, which integrates fast, thanks to a Common Currency"

(2) A Europe of Schengen, for which we also do as we did for €urozone : A convergence on Foreigners legal status, and a European Governance.

(3) Finally, a Europe for all the 27 EU Countries, which may allow itself to be more Flexible..

Right in the middle of this Europe of 3 Levels, there is a Hard Core,where Convergence is the rule, because when you have a Common Currency, you can't have Diverging Policies. There, France and Germany dedided to forge together, by more Integration,; an area of Stability and Competitiveness, which will attract all European Economy, Sarkozy highlighted. "Make France and Germany converge as far as possible, that's my task in order to Strengthen Europe", he anounced.

    - But all this will be useless if Europe is only limited into merely suffering from Globalization, instead of acting to shape it"  That kind of Europe which doesn't protect its Citizens, which doesn't defend its interests, will break down, because the People will reject  it !", Sarkozy warned. That kind of Europe which doesn't take care of Producers, but only of Consumer's, is Doomed, because Consumers, when they lose their jobs and salaries, cannot consume no more", he denounced, speaking in favour of protecting and developing EU's Industry.

    - "That's how we shall bring together that Europe which said "No" (to EuroReferenda of 2005-2007), with that Europe which said "Yes", and how we shall reconcile the People with a Europe which Protects them, he pointed out.

    + But, in this Fast-Changing World, we don't have much Time", Sarkozy warned. I already said (See Villepinte's speech) that, in 1 Year, if there is not enough progress; France will suspend Shengen, and start a "Buy EUropean act", and a "Small Business Act", as in the USA.       
          => Because only that Humanistic Europe which is able to influence the Fate of the World is precious. Not that, other Europe of a heavy Bureaucracy and too many and complicated Rules, not that other Europe which betrays the age of the Enlightnement and Progress, which doesn't even has the will to Defend itself !

    F.ex. France wants the European Defense ! If we returned inside NATO, (comp. "EuroFora"s NewsReports from NATO's Historic Anniversary Summit in Strasbourg, April 2009), it's because we are no more back to a Past when it was synonymous to subordination !  The USA don't take Decisions alone, no more !" France, together with Germany and other EU Countries has more Say inside NATO than before, and it's stronger together with its Democratic Friends. The Europen Defense will not be built against NATO, but together with our Friends. Our continent is full of Graveyards wherre Young American Soldiers sacrificed their lives to help liberate Europe from NAZIsm. Those who want to break the Friendship which exists between France and the USA must dare tel that openly !, he criticized.

    F.ex. during the operations on Libya, a moment came when when it was France which convinced with its ideas on how to engage on the spot, Sarkozy reminded for 2011;

    And France has Friends because they know that we'll never let them down in diffcult moments. F.ex. in Afghanistan, if we abandoned and left, we'd betray our friends and the Memory of our Soldiers, and let Deadly Fanatism and Terrorism prevail, as he said, 2 years before the orderly and progressive troops withdrawal planned to be completed in 2014.    

    In the Middle East, our choice is not in favour of one or another side among our 2 Friends, but just in favour of Pëace and Justice, Sarkozy stressed, confirming that, if he's reelected, immediately after his traditional visit to Berlin, the inauguration Day (comp. "EuroFora" co-Founder's NewsReport from Berlin's May 2007 1st official bilateral Summit Merkel - Sarkozy, together with the Journalists accompagnying the French President's 1st official AirFlight, published at TCWeekly+), he intends to directly head towards an exceptional visit right in the Middle East, "to the Israeli Peuple and to the Palestinian People, to propose them an Initiative in order to help Peace advance forward".

    In parallel, on Lebanon we shall support the Miracle of Diversity, if the Lebanese People really wants to safeguard the Unity of the Country, with all Relgions and Cultures living together", he added.

    France will also stand side by side with Eastern Christians when they are persecuted", Sarkozy added earlier, widely applauded, (in the same decisive tone as with his famous declaration, at the concludion of the International operation to help Libyan People, back on September 2011, in a landmark Top Conference of UNO - EU - USA/Canada - Arab Ligue - Russia at the Elysee Palace in Paris, he had Welcomed the New Libyan Leadership by saying that "the Clash of Civilisations has just Ended !" (Comp. "EuroFora"s NezwsReport from Elysee then).

    - Addressing himself to many Thousands of People from Strasbourg's region, Sarkozy signifcantly concluded, progressively more and more applauded, by driving the ball home, right to the starting point ;

    - "My  Friends, you want to keep your Culture, your Traditions, where the European ideal is Strong, your History, part of your Identity : Here, in Strasbourg's region Alsace, you feel, best from all, the Need for a Strong France in a Stronhg Europe, (as well as the Risks for a weak France in a weak Europe)".

    Finally, speaking the same day that People were still under the shock of a Monstruous, self-denounced Criminal who's just committed the Atrocious Murders of 3 innocent Children and their Father, shortly after killing also 3 disarmed Soldiers, (2 of immigrant origin), before being neutralized in an armed clash that he reportedly provoked with the Police, Sarkozy pointed at this

    - "so Special Day, when I have to work as President of the Republic in front of Victims' pain,  in order to take Hard Decisions, and safeguard the Unity of the Country, while also being a candidate according to the Democratic Timetable", in order to conclude with a passionate appeal to the applauding People :  - "Help me, my Friends,  to build a Strong France for a Strong Europe, able to bring the World to the path towards a New World Order",

     interrupted by a massive, vivid Applause before he finds the time to remind its "Moral, Economic, and Political", dimensions he highlighted earlier (See supra), "that Humanity needs so much", as his Draft Speech added.
***

BRIEF NEWS
00:00 - 22.01.2013

00:00 - 28.11.2012

00:00 - 19.10.2012

00:00 - 17.10.2012

00:00 - 21.09.2012

00:00 - 01.09.2012

00:00 - 03.08.2012

00:00 - 05.06.2012

00:00 - 03.05.2012
Statistics
Visitors: 4450228
Archive
Login Form
Other Menu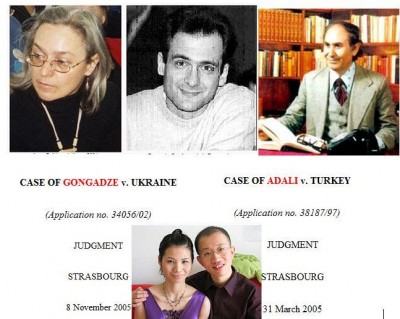 Hu Jia's prize brings SAKHAROV's wife to "EuroFora" on murders of Journalists Politkofskaya, Gongadze and Adali :
- Elena Bonner : "All Journalists' murders must be fully investigated", without Double Standards.                                                                                    

During a special Mega-Event to celebrate 20 Years of SAKHAROV Prize for "Freedom of Thought", attributed in 2008 by EU Parliament to jailed Chinese Cyber-Dissident Hu JIA, the move was reinforced by strongly criticizing the persisting impunity in three cases of Journalists' Murders, such as POLITKOVSKAYA in Russia, GONGADZE in Ukraine, and ADALI in Turkish-occupied part of Cyprus.

Any bureaucratic doubt about whether Cyber-dissidents like Hu JIA might have, or not, a right to be protected as all Journalists must be, particularly when they take risks to search, find and publish original and critical News on issues of general interest to the society, could not resist to the emotion provoked by the message of his Wife, Zeng JINYAN spectacularly transmitted at a big screen in EU Parliament's hemicycle :

- "The most important and most interesting thing he did was to ... say the Truth :.. to write about the phenomena he observed... He never stopped Publishing.. on websites, so that the Public could learn about the reality .. and understand it.  In my view, this has been his greatest contribution", stressed the young wife of the jailed man, eager to cite also the cases of other critical journalists who faced various kinds of "harassment".

 - "Welcoming all those who have suffered for defending Human Rights", EU Parliament's President, German MEP Hans Gert POETTERING, who had invited to Strasbourg all former Sakharov prize-winners from various Countries throughout the World, said that "China needs Europe, and Europe needs China : A great nation" with which "we want to have a good relationship", "association and ..friendship". "But we are never going to stop our fight for Human Rights, and No Government can expect this from us".

    - "It's impossible  to achieve goals of Peace, if Human Rights are left out. In fact, Peace and Human Rights are intrinsequaly linked", added POETTERING.

    It's in this spirit that MEPs adopted, on Thursday, a Resolution denouncing that "the criminal
investigation and trial following the murder of (a) Journalist ...raises serious concerns with regard to transparency and respect for the rule of law", when a "brutal killing has not yet been fully investigated and solved in a satisfactory way".

    The text refered to dissident Journalist "Anna POLITOVSKAYA", a critic of Tchechen conflict, killed some years ago in Moscow, where Russian Authorities have found, arrested and are currently judging two executants, while also searching to arrest also a 3rd one, allegedly escaped in Belgium. But they have not yet found the instigators.
     Similar texts were adopted recently also on dissident Ukranian Journalist Georgiy GONGADZE's murder, for which Ukranian Authorities have at least found, arrested and condemned 2 executants to 12 and 13 Years of jail, but not yet the instigators. For that purpose, they recently accepted an International Experts team to participate to the investigations.     
But, it's only for the Murder of dissident Turkish Cypriot Journalist ADALI, in the occupied territories of Cyprus, that Turkey has NOT yet found ANYONE responsible, and even claimed recently inside CoE that it would be "impossible" to do so !    
These astonishing differences exist despite the fact that ECHR condemned alike Ukraine and Turkey with 2 Judgements on the same year : 2005, for the murders of  Journalists GONGADZE and ADALI, strong critics of Corruption in Ukraine, and of Ankara's policies on mass-influx of Turkish Settlers in the Occupied Territories of Cyprus, respectively.    
Regarless of that, CoE's Committee of Ministers, who is entrusted with the duty to supervise execution of ECHR's judgements, has just asked Ukraine's Government to reply to further questions on Gongadze's murder before March 2009, while Turkey, curiously, got a longer postponement for answering questions on Adali's murder, until June...   
A comparison of these cases, raises serious questions about Double Standards :
------------------------
On TRANSPARENCY :
--------------------------
    On Gongadze's murder, CoE's body speaks even about the participation of
"an INTERNATIONAL group of Experts" in the Investigation, (f.ex. of "Tape Recordings"), accepted by Ukraine.
    On the contrary, on Adali's murder, CoE is obliged to repeatedly ask (for a 2nd
time) Turkey whether, at least, it informed the victims' Family, or not...
------------------------------
- On EFFICIENCY :
-----------------------
On Gongadze's murder, CoE formally "recalls that the Committee (of Ministers) ..URGED the Ukranian authorities.. to TAKE ALL NECESSARY INVESTIGATIVE STEPS TO ACHIEVE CONCRETE and VISIBLE RESULTS in the INVESTIGATION, aimed at the Identification of the INSTIGATORS and Organisers of the Murder", and "STRONGLY INVITED the Ukranian Authorities to provide information on the PROGRESS IN THE INVESTIGATION", before MARCH 2009.

But, on Adali's murder, on the contrary, CoE's body merely .. "took note" of the "arguments presented by" Cyprus, which denounce the absence of any proof of new "investigation" by Turkey. Following Turkey's own suggestion (!), it simply "noted" that there is "no limitation period" for "any new element" to "lead potentialy (sic !) to a Re-Opening of the Investigation". Without saying who might find any such "new" fact, since Turkey stoped searching... It also POSTPONED the issue until .. JUNE  !
-----------------------
 - On the PUNISHMENT OF THOSE RESPONSIBLE :
----------------------
 -  On Gongadze's murder case, Ukranian Authorities already arrested and condemned, at least 2 suspects, to 12 and 13 Years of jail. And on Politkovskaya's murder at least 2 suspects are judged, and a 3rd one "wanted".

On the contrary, on Adali's murder case, the Turkish authorities simply claim that "it had not been possible to obtain new .. information .. on the basis of which criminal charges could be brought against ANY person" !...

Moreover,  a LETTER sent by Turkey ...2 Years after CoE's 2006 call to re-investigate anew Adali's murder case, is totally EMPTY of Facts ! As Cypus' Delegation denounced earlier, Turkey's Letter ONLY CLAIMS that a "New Investigation" was made without any result, but does NOT even cite ANY FACT to prove it :

F.ex.,on the crucial issue of the "MOTIVATIONS" behind Adali's murder, noted by ECHR, Turkey MERELY CLAIMS that "all allegations  were investigated; without result", but OMITS ANY FACT TO PROVE IT !..(It doesn't even remind which were these "allegations").. .

+ On ECHR's astonishment that the Turkish Occupation regime didn't produce any "BALLISTIC REPORT" on the Shots which murdered Adali, Turkey again repeats, 12 years later, that, still, even until now, "it  was not possible to obtain the BalisticReport"...

- As for the astonishing absence of key-WITNESSES' Testimonies, denounced by ECHR, Turkey agains repeats various pretexts avoiding to reveal anything, (Fex. that a person "left" the Occupied Territories  "on 2002", or that another witness was heard, but without revealing nothing of what he said, etc).

Turkey obviously "FAILS TO MEET THE CRITICISM made BY THE COURT" for lack of any efficient Investigation in Adali's case, concluded Cyprus' Government.
---------------------------------------------
Replying to our Question which COMPARED these 3 outstanding cases of "JOURNALISTS MURDERS", Adali, Gongadze and Politkovskaya, in order to avoid "Double Standards" by asking from Ukraine and Russia more than what is asked EU candidate Turkey, many European personalities were critical /

They criticised Ankara's recent claim at the CoE to stop investigating, because it would be "impossible to find anyone" responsible for the 5 bullet shots which killed Kutlu ADALI in front of his Family Home, contrary to the other two Journalists' murders, where Ukraine and Russia at least arrested the executants, searching now for the instigators :
----------------------------------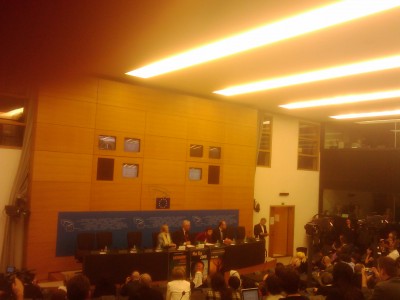 - "Where was that ? In Turkish Occupied Cyprus ? WITHOUT ANY DOUBT : Any murder of Journalist should be investigated in full ! All these Murders must be investigated !", replied the famous SAKHAROV's wife, Elena BONNER to our question on Adali's case, compared to Gongadze and Politofskaya.

    Elena Bonner spoke us EXCLUSIVELY shortly after being honored by the President
of EU Parliament on the occasion of 20 Years of her husband's SAKHAROV Prize.

    A strong personality, Sakharov's wife even had to struggle against an anonymous EU staffer who, astonishingly, tried to stop her speaking when h heard our question on "Turkey" (!) : - "Please, let me translate, she continues
speaking, don't stop us !", had to cry Sakharov's daughter, (a Journalist
herself), who was translating her mothers' reply, (obliged to speak louder to
make her voice heard despite the harassment).. (= + Audio Proof !)

    Earlier, Elena Bonner also fustigated "Double Standards" at another case, on
Western countries' attitude vis a vis Kosovo and the Kurds : -F.ex. "You have
recognized a few 400.000 Kosovars as an "independent" country, but you still
deny that to 30 millions of Kurds in Turkey !", she denounced.
-----------------------------
    - "This (ADALI's murder) is an issue which should be pursued by the Committee
for Human Rights. That's why we have one, and it's its duty to examine cases of
Journalists' murders as the one you referred to. You should bring the case in
front of that Committee", suggested in reply to our question on Adali, EU
Parliament's President, German MEP Hans Gert POETTERING.

    - "It's impossible  to achieve goals of PEACE, if HUMAN RIGHTS are left out :
in fact, Peace and Human Rights are intrinsequaly linked", added POETTERING.
--------------------------------------
    + "For us (European/International Federation of Journalists) it's clear :
Whenever a Journalist is Murdered, the Investigation should continue until
those Responsible are found !", replied earlier to another question on ADALI
EFJ/IFJ's Secretary General, Aidan WHITE.

    Speaking as a matter of General Principle, White asked us for "concrete data"
on the execution of ECHR's judgement on Adali case, in order to "look at it in
depth" and "make a formal statement", in comparison with the other Murdered
Journalist case, also pending at CoE's  Ministers for completing its execution,
on Ukranian Gongadze.
----------------------------------------------------
     From EU Rapporteur on Human Rights, vice-President of EU Parliament Liberties' Committee, MEP Giusto CATANIA, we were told that, since there is an ECHR judgement in both Adali and Gongadge's cases, "Turkey must naturally execute the judgement and make a full and efficient investigation, until those responsible for the Journalist's murder are found and punished".

    Even if "we (Catania's "EuroLeft" Group) support Turkey's EU perspectives, this does not mean that Ankara should not behave properly. On the contrary, it means that they have to meet tough conditions, particularly on Human Rights", was added on the occasion of Adali's murder case.

    Moreover, "since you raise the issue of Mr. Adali's muder as a part of a Series of Journalist's murders, including fex. Gongadze, Politkovskaya, ao., tthen we (EU) could also act together with CoE's Commissioner on Human Rights, Thomas HAMMARBERG, it was suggested.

    - "We (EU) must step up efforts against the problem of IMPUNITY : Real Peace cannot exist without Justice",  stressed also this week at EU Parliament in Strasbourg, French Minister on Human Rights, Mrs Rama YADE.
------------------------
                     

Polls