Home

newsitems

OECD Education Head Schleicher to EF: Global Stagnation on Science Students Performance may Hide Gap
OECD Education Head Schleicher to EF: Global Stagnation on Science Students Performance may Hide Gap
Tuesday, 06 December 2016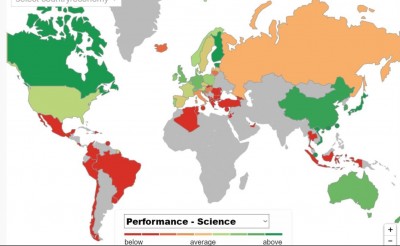 *Strasbourg/OECD Webinar/Angelo Marcopolo/- A Global tendency to augment a Gap in Students' Performance in Science, (from 15 years old), appears during the latest Decade or so, even if it's mainly driven by a Deceleration of former Middle-level areas, as OECD's Directior of Education, Andreas Schleicher acknowleded in fact, in Reply to an "Eurofora" Question, during a special Webinar Q & A Internet Exchange where we had been Invited to actively participate, on this 6 December 2016 Day of Publication of the latest, 2015-made, International Student Assessment Program (known as "PISA") Conclusions for 72 Countries Worldwide.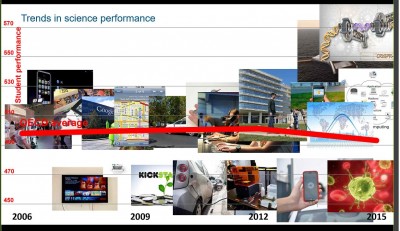 All in all, with Singapoor as First on 2015, China ranks Today always far Above OECD Average, among the Top Countries Worldwide, near Japan, Viet-Nam, Korea and Canada, followed by Australia (at the Pacific Ocean), as well as Finland, Estonia and Slovenia, Before Germany and Switzerland, etc., (i.e. Middle European Countries, between East and West), etc.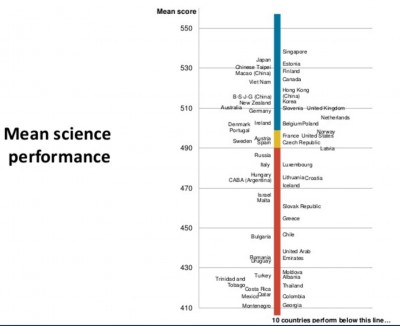 ------------------

- "Eurofora"'s asked whether OECD found that "a Lack of Global Progress in PISA (between the Previous Assessment of 2006, and the Latest, New one, of 2015 : i.e. after almost a Decade) might, in fact, Hide a Growing Gap", (among Countries, and/or other Areas, Schools, Students, etc), "or not".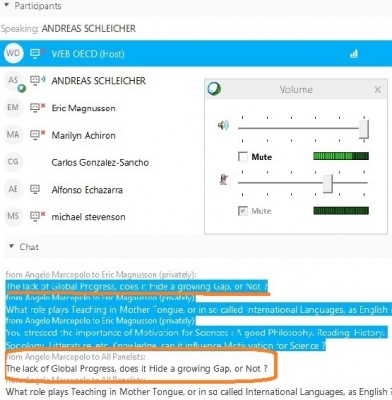 ------------
 
 - "Not Necessarily", reacted initialy, but after Careful Thought, OECD's Director of Education, and Special Advisor of OECD's Secretary General, Angel Guria, Andreas Schleicher, However, withOut Excluding that it might be, indeed, the case, in one way or another...

 - "I think that What we (OECD) did see, is that there are some Countries, at the very Top", ("Singapoor is the most prominent example", together with Macao, in China, etc), which  Keep Rising", he admitted.

 - "Meanwhile, there are Countries at the Bottom keep Catching up", Schleicher added.

 - "But, there are still Countries in the Middle Group, that have become somewhat Complacent", ("in other words, they are not changing significantly") ,"and there has been a Lack of Progress in sort of Moving Forward", he concluded.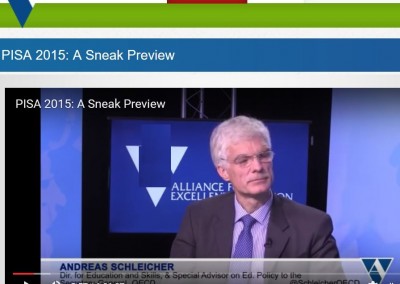 + In fact, it's no more about a simple Divide between Rich and well Educated Countries, and Poor and Less Educated Countries, since several Middle or Developing Countries are currently Catching up, i.e. by investing comparatively more in Education than elsewhere, (f.ex. Perou, Colombia, etc), Schleicher observed earlier.

+ To this is added, often, also "a Huge Viarability inside Schools, between Classes", etc, OECD's Education Director pointed out.

------------

- As far as the overall, Global situation is concerned, indeed, Worldwide, "Since 2006, Less than 1 Quarter (1/4, 25%) of the Countries are Improving their Performance", denounced previously Today, OECD's Secretary General, Angel Guria, speaking from London, at a Parallel event, for this same purpose.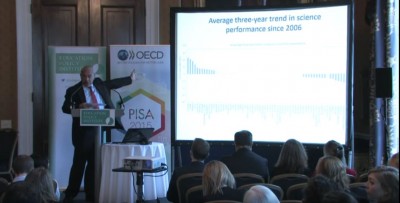 + This doesn't seem normal, and may provoke concern, also  "Because", at the Same Time, "Science itself is Moving at Lighting Speed", (from "Digital", Physics, Biology, to "Medicine", etc), he observed.

"But the Education of Science", at a Global level, has not moved at the Same Speed", i.e. "Science Education isn't Keeping up", (particularly compared to "Science itself"), and, "this Means, that a Cumulative Debt is created, and Every Day adds to it", Guria Warned.

------

In Real Practice, however, Certain Schools might be Performing much Better than Others, in one a same Country, during this period :

- F.ex., France gets an "Average" OECD overall Assessment in PISA, while, in Fact, "a Minority" of French Schools are "performint at very High Levels, compared to the Best Performing Countries", , but "a sizeable Number of Other Schools and Students have a very Low Performance", pointed out in substance PISA-competent OECD Analyst, Carlos González-Sancho, who holds a PhD from Oxford. France is one of the OECD Countries most affected by "Wide Disparities", but "Not Alone", he warned.

Concerning China, another Participant asked whether there was a "Fall in China's results", since, "when Shanghai had participated as a Municipality, in 2012, it was No 1 (of OECD) in all domains", while, "Now", when "3 other Provinces have been added", the "overall Performance (apparently) has Fallen". "Is this a Statisticlly Significant Drop, and What Explains it ?", he queried.  

 - "In this case, I doN't think that we can speak of a Drop, or Increase", compared to the Past, "Simply, Because it's Not Comparable", denied the PISA-specialist OECD Official.
Indeed, "Shanghai's Performance, as a Single Entity, in the Past, and what we (OECD) have this year, which is the Group of 4 Provinces, we canNot say that it has Droped, or gone Up, ...because they are Not the Same Entities".

=> Only "in the Future, if China chooses to Continue with the Current Format of Participation, we (OECD) could speak of a Trend". But, "for the moment, it's Not yet the case, and we canNot speak of a Trend" currently, he Carefuly pointed out. 
                                               
*** Last, but not least, OECD's PISA Specialist, significantly Added, at his own Initiative, the Hypothesis for Shanghai, (which notoriously was No 1 in the World on 2012), to have not "droped, as some (surprized of that 2015 Data's Differend Presentation) questioned,  but, perhaps, rather, "Gone (Further) Up",... as he Warned, in Conclusion.

I.e., mutatis-mutandis, according to a quite Widespread Trend, nowadays Visible almost entirely, at a Global Level, at least as far as Science Education is concerned, (Comp. also Supra).

>>> In other words, it's Urgent, both for China itself, and for the accuracy of OECD's World-wide Assessment on Student's Performances, to clearly Bring Shanghai back in the Map in a Crystal-clear way, f.ex. by including that City in the Next PISA for the 2016-2019 Period (which is just Starting Nowadays), in a Format Comparable (to the Past and/or to the Present) :

-  I.e. if not also as a City, (as in the 2012 Past), at least anew as a Part of a Group of Chinese Regions SImilar to the current 4 (of this 2015 PISA), in order for the Paris-based International Organisation to be Able to Compare in the Future (2012-2018 or 2015-2018 periods), analyse various Possible Causes, and propose Adequate Mesures.

Otherwise, its recent Merger with 3 Other Regions, in the latest such Query made by the International Organisation based in France (Paris), risks to give False Impressions, as far as overall Trends are concerned.

---

Meanwhile, at least one Central Point is for Sure : Main Factors for Science Education Performance amelioration Worldwide are "Students' Motivation", as well as "Quality of Teaching", more Widely speaking, as OECD's Education Director, Andreas Schleicher, highlighted, in conclusion of this almost 10 Years-long OECD Comparison in that field (2006-2015) Today.
 -------------
Strasbourg hosts OECD's main Annual PanEUropean Parliamentarian Public Debates Forum, thanks to CoE's Assembly, which has 47 Member Countries (including Russia), and several More Observers or other Special status participants accross the World, (as, f.ex. USA, Canada, Japan, Mexico, Morocco, Tunisia, even Australia, etc, recently approached also by China, which has already got such a Status in CoE's body for Cities + Regions : CLRAE, etc), Regularly visited, very actively, by OECD's Secretary General Angel Gurria himself, during Many Years, (Comp., f.ex., several Angel Gurria statements to "Eurofora"+, both in Paris' OECD Headquarters and elsewhere, but more often in Strasbourg's COE HQ).
(../..)


***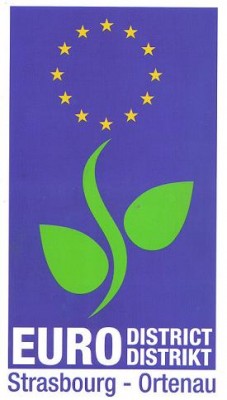 New Plan revealed during EU Parliament's session and while Strasbourg's Unified University was inaugurated, (biggest in France, aiming at EU links).
EuroDistrict Strasbourg-Ortenau's dynamics were boosted by a key Franco-German meeting during EU Parliament's session here, which anounced a swift towards ambitious European aims : To become a showcase for concrete achievements of European Cooperation that benefit Citizens' everyday life and Economy, while also developing a Culture able to serve and stimulate European Organizations' political activities.
With measures to be taken in 2009, Strasbourg-Ortenau's EuroDistrict should become EU's new "Metropolitan area" in the Decade 2010-2020, at the heart of Europe in the performant "OberRhein" region, a Franco-German Expert's Report anounced.
- "Defend European Institutions, and in particular EU Parliament" is a key point of the 2009 Report's threefold focus on "Infrastructures"' economy and quality, "Citizens' everyday life", and "Cultural and Political influence".
According to a Draft Statute, France and Germany agree that "an undeniable element of EuroDistrict's image" should be "Strasbourg's status, as Capital of a Democratic and Parliamentarian Europe".
    After parallel and joint meetings at EU Parliament, French and German Ministers for EU affairs, Bruno LE MAIRE and Gunter GLOSER, started working with representatives of Local and Regional Authorities from both sides at Strasbourg's Historic Town Hall, Place Broglie, for the 2009 Monitoring of EuroDistrict "Strasbourg-Ortenau, during which was published an important Experts' Strategic Study with proposals on how to develop it in the Decade 2010-2020.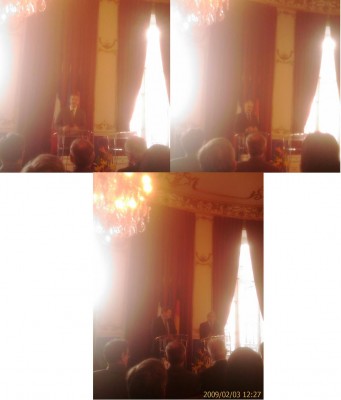 Introducing the 1st Experts' Report on "EuroDistrict" at a moment when it needs "New Ideas" as food for thought, Strasbourg's Mayor, Senator Roland RIES said that "a special Status" should allow "Citizens to share Infrastructures and a common European project", in agreement with his collegue, Mayor of Kehl and German spokesperson for EuroDisctrict, Dr. Gunther PETRY, who focused mainly on the useful role of "Local" authorities in "concrete" achievements.
    - Together with "facilitating Citizens' everyday life", "our countries have also a Political aim", which needs to find "New Forms of Cooperation", said German Minister for EU affairs, Gunter GLOSER. According to a "Subsidiarity principle", which starts from a smaller level, leaving to a bigger entity what it cannot achieve alone, EuroDistict should be the "1st level" in a "Concentric" schema, he added.
    - In fact, "it's a question of Europe's credibility : EuroDistrict must prove that Franco-German cooperation gives results", with "concrete achievements", said the new French Minister for EU affairs, Bruno LE MAIRE. Now, we "must advance further" : There is both "Local and National support" to make of Strasbourg-Ortenau's EuroDistrict "an example on what Europe must do in the Future if it wants to be credible in Citizens' eyes".
    - "Our Mission was to find the region's Potential of the region, "and search adequate Measures to use and develop it"; said German Expert Dr. Erwin VETTER. A main proposal is to "create a New Center for EU Competences", where everything should be concentrated : EuroDistrict, EuroCorps, EuroBest, etc : All in one area, while also linking Airports and other means of Transport, Culture, Education, Science and Research, etc. in order "to create 1 Metropolitan area" before 2020, he anounced.
    - With imagination and organisation "we tried to marry the French and German spirit", added French Expert Bernard COTTIN. He underlined "two points" :  - "In their Everyday Life, Citizens should feel that they are living in One Common Area", (fex. on Phones, Hospitals, Retirement, etc). But EuroDistrict should have also a "Cultural Dimension" : "Strasbourg, had been a little-bit left behind by both countries in the past, but must now find a New dynamic Momentum, at the Heart of Europe, strengthening its Cultural atous and becoming Multi-Cultural, in order to attain a European Dimension and develop the European Institutions", he concluded.
    Symbolically, both Mayors of Strasbourg and Kehl, Ries and Petry, gave to Ministers Gloser and Le Maire as a Gift two Books on Rhine River : Stylicised by both Logos chosen for "EuroDistrict" (as body of a flower), and for Strasbourg's new, Unified University, "UniStra", (as a long "S"), Rhine river came at the focus this week in Strasbourg, headquarters also of the oldest European Organisation : The Committee on Rhine's Navigation.. Meanwhile, Le Maire switched over from German (that he speaks fluently) to French, echoed, the other way round, by Gloser, who also understands French...
---------------------------------
The 2009 REPORT :
---------------------------------

Experts' proposals for EuroDistrict's Legal status is to start in 2009 with a "European Group for Transborder Cooperation", and "replace it, when possible, .. with an Original Form" of a new legal entity.                                                                                                                                                                                                                                                                                                                                                                                                                                                                                                                                                                                                                                                                                                                                                                                                           
Citizens' oriented measures include to facilitate "acces to Health", "Mobile Phones", "Transborder Workers"', "School exchanges", etc., and other measures interesting Citizens, as f.ex. the creation of "Common Hospitals or Rescue centers", etc. Already, an agreement on "Urgent Medical Care" will be signed on February 10.
As "Economic Capital" of one of EU's most performant areas, known as "Ober-Rhein Metropolitan Region" ("superior Rhine" area), Strasbourg-Ortenau's EuroDistrict "should also develop its role of European Cultural and Political Capital, Symbol of Franco-German entente and of a Democratic Europe", Experts' Report concludes.
This goes well beyond developping Bi-linguism, transbrorder Training and "systematic" rapprochment of both Cultures (in Cinema, Theater, Music, etc).
It adds a progressive transfert in EuroDistrict of "elements of the Franco-German Brigade", close to "EuroCorps" Headquarters, and culminates with the promotion of European institutions (see above).
The Report also proposes to launch an "initiative" for "EU Parliament's unique Headquarters", developing Strasbourg's attractiveness vis-a-vis MEPs and staff.
It also includes the development of "a Research and Higher Education pole", among French, German and Swiss partners, "linked with Strabourg's new; Unified University" and "Ortenau's HochSchulen"
It's not a coincidence that this same week was inaugurated Strasbourg's Unified University : - "UniStra" becomes the Biggest in France, (with more than 42.000 students, 5.200 staff, a brand new "European Doctoral College", some 100 Research centers, and a Capital of more than 400 million €  from the State), aiming to create closer links with nearby German and Swiss Universities, fex. Karlsruhe, Fribourg, Stutgard, Bale, etc, as French Minister for Scientific Research and Higher Education, Valerie PECRESSE advised.
(See other, related News, already sent to interested "EuroFora"s subscribers and donors, which will be also posted at the Website asap).
Last but not least :  Non-believers should meditate on the fact that all this was symbolically made in the same Strasbourg Historic Town Hall's room where even the establishement of Council of Europe was decided, 60 years back in 1949...
Polls