Home

newsitems

New French Defense Minister Le Drian to EuroFora: Dual, Civil-Military policy = Key also for EU
New French Defense Minister Le Drian to EuroFora: Dual, Civil-Military policy = Key also for EU
Tuesday, 04 December 2012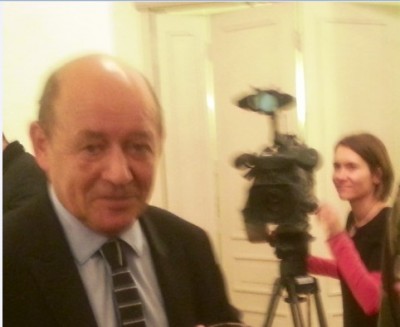 *Strasbourg/Officers' Mess/Angelo Marcopolo/- It's topically, amidst exceptionally dense recent and forthcoming moves on European developments, (f.ex. after a meeting with EU President Van Rompuy in Brussels, followed by the launch of "Pleiades B" Earth Observation Satellite by a Soyuz rocket at the European Space Centre in French Guyane and a 1st succesful Flight of EU Drone "Neuron", at the eve of his speech on EU Defense policy at the French National Assembly tomorrow Wednesday, just before a planned visit to EU Council's rotating Chairman Cyprus, to be followed by EU Decisions on Security/Defence policies next week in Brussels), that France's new Minister of Defence, John-Yves Le Drian, replying to an "EuroFora"'s question, stressed the importance of "Dual", Civil and Military aspects of Defence projects, which was also strongly supported by EU Parliament's competent Rapporteur and President of its Security and Defence Committee, MEP Arnould Danjean, to another relevant "EuroFora"s Question during the latest Plenary session in Strasbourg (See Infra) :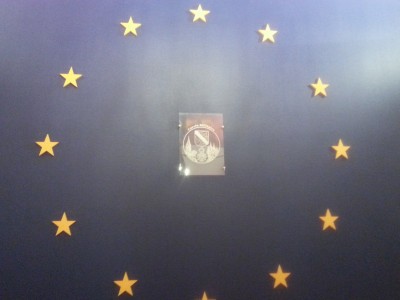 This "Dual" aspect of  EU's Security and Defence policy could obviously be also Key for a topically needed raprochment or even Unity among most, if not all EU Member States, ... including the current and forthcoming EU Council's rotating Chairmanshis by Cyprus and Ireland, who are not NATO Members, (even if Dublin already participates in NATO's "Partnership for Peace", and several Nicosia's politicians notoriously discussed similar moves in the Past), particularly at the eve of next week's EU Brussels' Summit due to fix the mandate of an exceptional 2013 EU Summit on Security/Defence policy, that France and 10 other EU Countries recently expressed their wish to relaunch.
-------------------------

  - Referring to the "White Book" anounced on a forthcoming Reform of French Defence policy, as well as his well-known interest for the "Dual" nature of Defence, i.e. with both Civil and Military aspects, (f.ex. on Protection against Major Natural or man-made Hazards, relevant Scientific Research and Technological development, etc), "EuroFora" asked Minister Le Drian if France wished to "develop that dimension" further, "both in France and in the rest of the EU", (in view also of his recent and forthcoming Top EU moves, at the eve of next week's EU Brussels Summit : comp. Supra).

- "I can't anticipate now the future Outcome of the "White Book" Commission's consultations, which have just started after the End of this Summer (2012) and are due to arrive at Conclusions on February (2013)", nor of the forthcoming EU Summit, carefuly started to reply to "EuroFora"s Question the new French Minister of Defence.

- "But, I can (already) tell you that I'm very much in favor of the fluidity of Defence's Industrial Budgets, (and more particularly) towards Small and Medium Businesses", Le Drian went on to positively add in his reply to our main query.

 - "In this regard, f.ex., I've just anounced a Plan on how Defence's Public Procurements could Seed not only in the field of Big Corporations, but also in that of Small and Medium Enterprises", he pointed out as a typical, concrete example.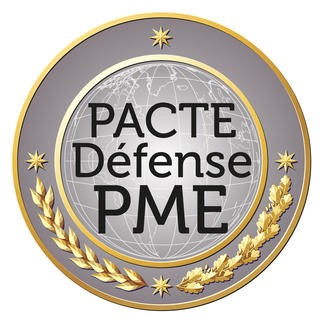 + Specialy when "they (SME) are often also a Lever for Innovation, but sometimes don't yet benefit enough from orders and/or commissioned work ordered by Defence" Administrations, "or from State's industrial projects", etc., Le Drian criticaly observed.

 - But all this amounts to a total of "more than 16 Billions € in (French) State's actions and industrial interventions, etc. for 2013", the Defence Minister pointed out.  

=> "Therefore, it's important to spread that also around SMEs, i.e. there where  Jobs and Innovations are", Le Drian concluded in reply to "EuroFora"s Question.
    
In this framework, f.ex.,  the French State's funds for the development of Dual Technologies, able to pass from Military to Civil industrial applications, will augment for + 25% on 2013, reaching soon 50 Millions €, while Funds to Research will grow for +10%, representing about 750 Millions € in favour of Innovation, and SMEs will have a Priority on Public Procurements up to 15.000 € each.  Biology and Health, ElectroMagnetism and Navigation, Optronics, Electronic components, Environmental GeoPhysics and Fluids, Materials, Simulations, systems and human factors, Robotics, Information and Communication systems, etc., are among the main Innovative sectors of activities that Security/Defence policy is interested to help develop.

+ But, concerning further possible developments on the re-launch of EU's Defence policy, the new French Minister invited "EuroFora" to carefully follow also "my presentation on European Security/Defence policy tomorrow, at the (French) National Assembly", where Le Drian is also due to reply to MP's topical questions.
---------------------------------------------------------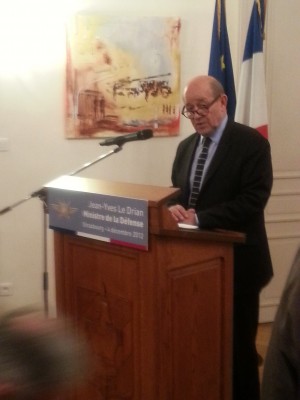 Meanwhile, the new French Defence Minister observed earlier, at Strasbourg's Officers' Mess, that, in fact, - "We are now at a moment in which the preparation of our Defence's Future is under Discussion, and we have initiated, at a National (French) level, a new "White Book", as it's done in our Country's History whenever there are Important Mutations" to be expected.

+ F.ex. "we (France) had 4 "White Books" : The 1st was initiated on 1972, when it was important to know how to apply correctly in practice the Nuclear Deterrent Force; there was also another "White Book" on Defence in 1974, at a moment in which we were reflecting on the progressive ending of the former "Cold War" ; A new "White Book" was initiated by (former) President Sarkozy on 2008, in particular on the growing New Challenge of Terrorism, etc", Le Drian reminded.

=> "Today (2012), we have a New Deal, which includes, at the same time, the developments on USA's stance, i.e. their progressive re-orientation focusing now on the Pacific Ocean, while we (France) have now completely returned back into NATO (after the 2009 NATO's 60th Anniversary Summit in Strasbourg/Kehl), as well as the Global Economic Crisis, which reduces Budgets in all Western Countries, even in the USA, where President Clinton has already anounced, even before his (November 2012) re-Election, a -487 Billions $ reduction in American Defence commitments, and this risks to be accentuated even more, according to the latest News, while a European Defence has still to be clearly designed, given also that various Threats continue to grow and new ones emerge" : "That's, briefly, the current landscape in which France's new "White Book" will unfold, .. in order to determine what kind of Model we should adopt for the Army during the forthcoming Years, able to keep our rank, ensure Security and fix our Priorities", described the new French Defence Minister.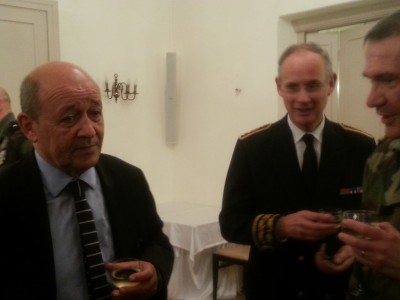 - "Among these priorities, for me, an efficient Force is that in which People feel well and trust eachother, by ensuring a good Balance between Aims and Means", stressed in conclusion Le Drian, who reportedly shares the rare, if not unique, feature to have been selected for a Government responsibility both by former President Sarkozy and current President Hollande, to whom he responded positively for the Ministry of Defence, on which he had, meanwhile, become his  personal advisor.

------------------------
+ EU Parliament's Security/Defence Committee's President Danjean to "EuroFora": Also in favor of "Dual" aspects in Defence
--------------------------
In the meantime, it's also the experienced EU Parliament's Security/Defence Committee's President, ChristianDemocrat/EPP MEP, Arnould Danjean, who, replying to an "EuroFora"s relevant question during his Press Conference at EU Parliament's latest Plenary session in Strasbourg, strongly suported a "Dual" approach of EU's Defence policies, while also observing that this is not an unanimous stance, and, therefore, that matter should be debated in view of EU's 2013 Defence Summit :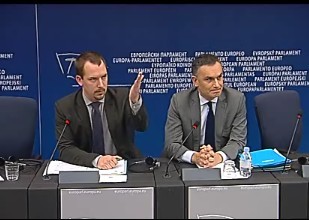 ---------------------------

- "....In your previous Report (adopted by EU Parliament on March 2010), you had highlighted the Dual aspect of Defence operations, including on Technology", "EuroFora" reminded Danjean.  - But, meanwhile, "in addition to that kind of possible Crisis that you reminded now, there are also many Environmental and other Crisis, of Natural or Man-made major Hazards, as on Haiti's Earthquake, etc., and elsewhere in the World, f.ex. in Russia's mass-killer Heatwave of 2010 (which affected even Military Bases, Nuclear Defence, etc. around Moscow), after France's similar 2003 Catastrophe (which threatened also its Nuclear Energy Independence, etc), including in many Poor Countries, but also China (with Giant Mudslides, Floods, etc), even in the USA with 2005 Katrina Hurricane, etc., we observed.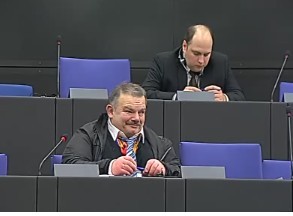 - "Therefore, and given also the fact that the World Meteorological Organization has recently anounced a probable multiplication of so-called "Extreme Weather Events" which could become very frequent in the foreseeable Future,  don't you think that this is an additional argument which should, normally, play an important role today for the development of Dual Defence Technologies and policies, since the Army is currently the only tool which can be used in such kind of Mass Urgencies, considering also the fact that EU's projected Civil Protection Force has not yet been established", we asked the President of EU Parliament's Security and Defence Policy.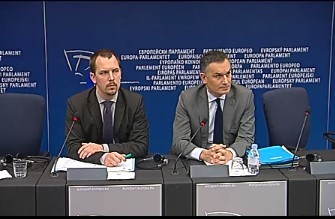 -----------

=> "EU's Militay means should be able be deployed, even in case if Natural or Man-made Catastrophes", positively replied Danjean to "EuroFora"s question.

 - "Indeed, the position of the (EU Parliament's Security and Defence Committee is that, indeed, a Continuum exists between the issues of Security, Defence, and, equally, in the necessary utillisation of Civil-Military Means". This was one among the most important topics in the Discussions that we (MEPs) had with Cathy Ashton after the Natural Disaster in Haiti,  that you ("EuroFora") reminded". In particular, "we (EU Parliament's Security/Defense Committee) believe that Military Means should not be marginalized, limited and restricted only to excusively military utilisations". On the contrary, "Military means should be also used in case of Natural and/or Man-made Catastrophes, in Humanitarian Crisis, etc.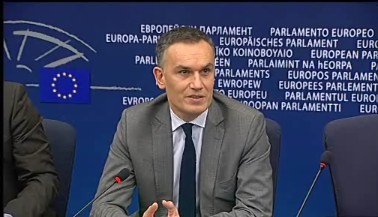 - "We (EU Parliament) also believe, from an Economic point of view, that, among the Investments which are supported by the EU, it would be good to have, in the area of Research, also Investments about Security and Defence", because "it's well known that Defence Investments often have considerable, positive effects on the Civilian sectors (of the Economy). In consequence, there is such a strong Imbrication between them, that we believe that it would be damaging for the EU to establish an excessively strict Partition among Funds destibated to one or another of these two sectors.

- "But the position that we want to promote is not accepted by all : F.ex. if you ask my collegues at the Committee of Industry, you shall find  much more Diverging views, including with some EU Member States which don't like an intrusion of EU Funds in Defence-related Industrial policies, for reasons of Sovereignity, or, sometimes, because of some Complicated issues, etc., so that there isn't an Unanimous (EU) position on this issue.

 - "However, I think that, given also the current situation in Europe, we can't ignore the Defence and Security Industry, and deprive it from EU Funds and Investments", he concluded.

 -"But this is a Question which has not been consolidated yet, and will certainly be at the Agenda of the (exceptional) EU Summit scheduled for 2013", the reply of EU Parliament's Security/Defence Committee's President to "EuroFora"s question concluded.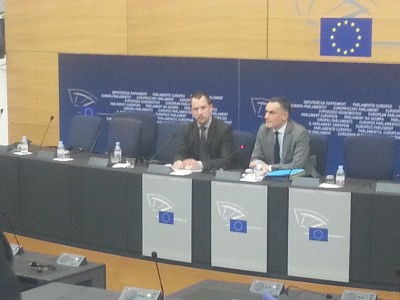 - Indeed, "EU President Van Rompuy is preparing a re-launch of EU's Security and Defence policy, mainly from the point of view of Industry and Technology, that we support : Even if our Defence Industries should eventually be reorganized, re-structured and modernized, nevertheless, we shouldn't forget the fact that Defence Industries are also areas of Growth and Jobs, Know-how, Innovation and (Technological) Excellence", Danjean observed earlier.

+  "We (EU Parliament) also ask for an EU Civil-Military operational Headquarters to be established, able to planify and lead several operations,  which doesn't exist yet", Danjean added on this occasion reminding that "26 EU Member States were ready to advance in this path", as he said, before EU Parliament's Plenary in Strasbourg voted to adopt his new Report during the November 2012 session.

 - Since the entry into force of EU's new "Lisbon Treaty", (December 2009-January 2010), "we (EU) already have the main institutional instruments which allow us to decide about making some very important move forward in European Security/Defence policy, and, therefore, there is no such excuse for eventually more Delays", critically observed earlier to "EuroFora", the experienced EU Parliament's Security and Defence Committee's President.
____________________

 + At any case, EU Parliament has already strongly suported another Danjean Report focusing on EU's "Strategic Autonomy", as early as since March 2010, and this point of obviously Crucial Importance, was  recently strengthened by Innovative developments on the "Neuron" Drone project and by the launch of "Pleades 1B" Satellite at Kuru by a Soyuz rocket, which were both welcomed by Minister Le Drian :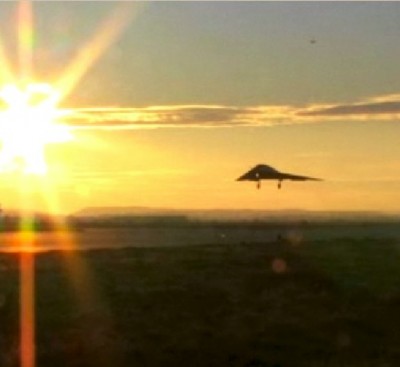 Led by France's "Dassault", "Neuron" Drone project includes also Swedish "Saab", Italian "Alena" (of the "Finnmeccanicca" group), Spanish "Casa" (EADS), Swiss RUAG and Greek "Hellenic Aerospace Industry", while another step towards a European Fight Drone was recently (2012) initiated by Dassault and BAE (UK). A 1st succesful demonstration Flight of "Neuron" Drone prototype was realized yesterday, on December 3, 2012.

The Pleiades 1B satellite for Earth Observation, able to picture 70 cm objects also in 3D, which was just launched at Kuru (French Guyane) by a Soyuz rocket managed by Arianespace, is a Franco-Spanish-Italian cooperation with Russia, partly open also to other European participants in future, (such as Sweden, Belgium, Austria, etc).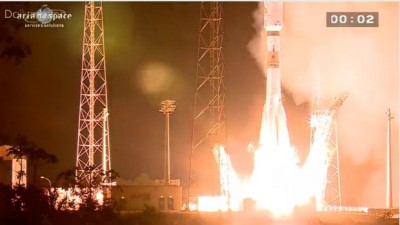 Both developments stem from projects decided between 2003 and 2009, mainly by Chirac and Sarkozy presidencies, but streamlined and continued also by the new French president Hollande, and marked by the presence of Defense Minister Le Drian, who visited the EU Space operational centre at Guyane when "Pleiades 1B" new Satellite was launched on December 2nd, 2012.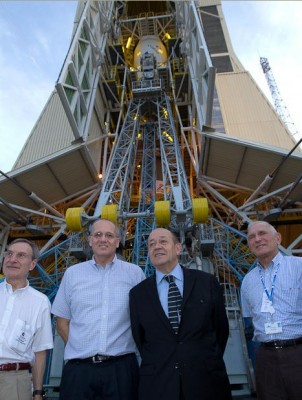 ------------------------
+ "Defence Basis" reform to spare Funds for New Equiment :
--------------------------
Another aspect of France's on going Reforms, known as "Defence Basis", launched by former President Sarkozy and agreed also by new President Hollande on its main principle, aiming to reduce technical costs by "mutualizing inter-army Support" activities, (such as Transports, Ammunitions, Monitoring, etc., as well as Health and Research, etc), in order to re-Invest spared Funds into new Equipment and Staff, obviously could also insire usefully all the EU, where the mutualisation of many Countries' logistics can certainly free a lot of spare Funds which could be invested in more useful Defence-related actions or needs.

Of course this takes some special features in Strasbourg's region, where, among various other particularities from a Defence point of view, is also the presence of EUROCORPS' Headquarters (composed out of 5 Main EU Member Countries and linked with another 4 or 5),  and of the Administration of French forces located in Germany, including the Franco-German bataillon, as well as 2 German battaillons, according to a recent Franco-German Summit's deal, (comp. "EuroFora"s NewsReports from nearby Freiburg on 2010, etc).
___________________________________
    Le Drian after a recent meeting with EU President Van Rompuy in Brussels, may reportedly visit anew EU rotating Chair, Cyprus,  later this week, (on the occasion of a relay flight for French forces returning from Afghanistan), where he has actively participated at a September 2012 Ministerial Conference organized by the current Cyprus' EU Council Presidency (July-December 2012), during which he had succesfully proposed for the EU to help Sahel-Mali in training, and re-organizing a regional Anti-Terrorist Force composed by West African Countries, that UNO has endorsed in a Resolution voted at New York, and EU Council is due to adopt on December 1O on a Report by EU's High Representative Cathy Ashton, concerning this strategic hotspot recently affected by armed extremist Islamist groups attributed to Al-Quaeda right in the middle of a planned Nigeria-Algeria "Trans-Saharian" Gas Pipeline able to link the biggest new Gas findings in the World with the Mediterranean Sea towards Europe, etc.

    On this same occasion, the French Minister might eventually meet anew on Saturday, December 8, with Cyprus' Defense Minister Eliades, (that he has already welcomed, earlier in Paris, on November 8), just before an important EU Summit in Brussels next week (13-14 December 2012), which is due to also shape the main outlines for the mandate of an exceptional EU Summit on Security/Defence Policy scheduled for 2013.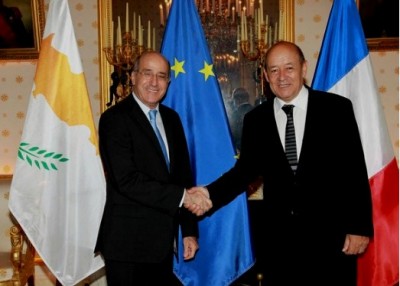 Eliades has been personaly born at the Lefconico village, currently under Foreign Turkish Military Occupation, where many Greek Cyriot Refugees have lodged Applications to ECHR in Strasbourg, and launched a Worldwide networked campaign, including at the Internet, asking to stop Ankara's continuing Violations of  their Human Rights to return back to their Ancestral Land and/or for their Family Homes and Private Properties to be restituted. Something that Turkey refuses, insisting to keep there a Camp for Ankara's Foreign Invasion/Occupation troops including an illegal Military Airport, etc.

    By another, convergent, coincidence, Cyprus' EU Council's chairmanship organizes at the island, the same days that EU Summit opens in Brussels, an obviously topical Conference on the Strategic issue of the "Security" of Gas/Oil "off-shore" findings and exploitation at the South-Eastern Mediterranean, (i.e. notoriously between Egypt, Israel, Lebanon and EU-Member State Cyprus), where several EU Countries' compagnies recently have had succesful bids agreed by Nicosia's Government on Oil/Gas searches at Cyprus' exclusive economic zone (EEC), including f.ex. Italy's ENI as well as France's Total, etc., (comp. "EuroFora"s positive question/reply contact with Total's CEO Christophe de Margairie, on 1/2012 at the French Presidential Elysée Palace, already sent earlier to Subscribers/Donors in brief).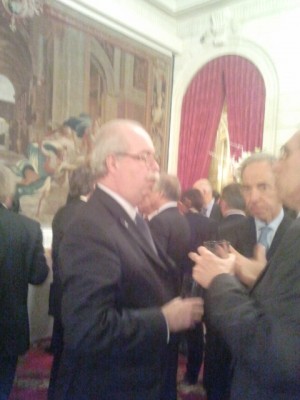 +Meanwhile, a converging Conference recently organized by the Cyprus' EU Council Chairmanship focused also on EU's fight against growing phenomena of "Sea Piracy", (mainly around the strategic Suez Channel, notoriously used for EU's Energy supplies by its own independent Ship Transports, in order Not to be obliged to always Transit through expensive, unstable and/or unpredictable 3rd Countries).

    => All these various issues topically have in common the Fact that they are obviously related also with Non-Military, i.e. "Dual", aspects of EU's Security and Defence policy, whose growing importance may obviously motivate even those EU Member Countries which are not yet fully participating in NATO's activities and/or reportedly hesitate on the issue of developing EU's Military forces, to find, nevertheless, both a generally useful practical interest and some politically non-controversial oportunities to get involved, together with most other interested EU Countries, in several European SDP projects and activities.
--------------------------------------


(../..)

***

(NDLR : "DraftNews", as already sent earlier to "EuroFora"s Subscribers/Donors. A more accurate, full Final Version might be published later on).

***
BRIEF NEWS
00:00 - 26.05.2017

00:00 - 30.01.2017

00:00 - 14.10.2016

00:00 - 24.09.2016

00:00 - 27.07.2016

00:00 - 03.07.2016

00:00 - 01.06.2016

00:00 - 12.02.2016

00:00 - 09.12.2015
Statistics
Visitors: 23021922
Archive
Login Form
Other Menu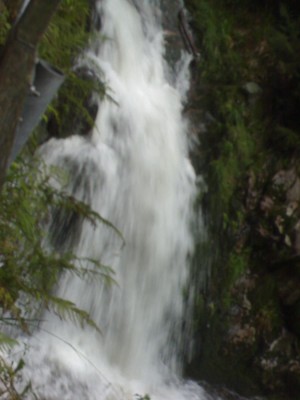 Benedict's "Source" to revitalize Europe : - "The World needs Hope", Pope says, calling to relaunch E.U. via Human Rights !
Paris - Lourdes - Strasbourg : 12 - 17 September 2008.

The vital need to re-launch Europe can be succesfully met by defending fundamental Human Rights of the People, said Pope Benedict XVI in his 1st speech in France, at his meeting with President Nicolas Sarkozy, who currently chairs the EU.

Sarkozy replied by welcoming Christian and other religions' contribution to indispensable Public Debates on crucial issues which affect Human Dignity, Europe, even Humankind, as BioGenetics.

- "When Europeans will see and personally experience that the inalienable Rights of the Human Person .., those of their free Education, their Family life, their Work, ..their Religious Rights, ..are respected and promoted, then, these Europeans will fully understand the greatness of the European construction and will be actively involved in it", Benedict XVI stressed.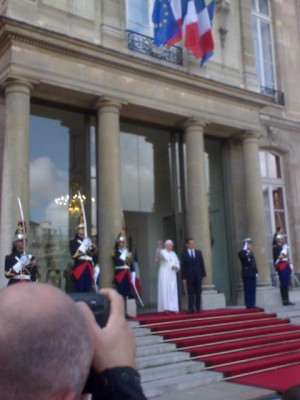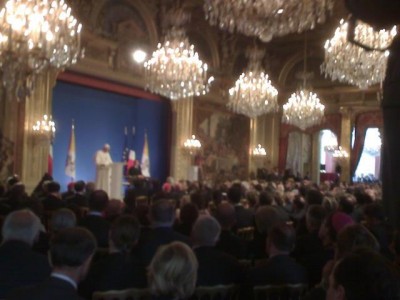 - "It's important that during France's EU Presidency, there is, indeed, a desire for the Church to contribute to protect Human Person's integrity, and I think that there is also a growing Conscience, beyond any polemics, to defend Human Rights, and, thus, contribute to ensure respect for Human Dignity", added to "EuroFora" the Pope's Spokesman, Vatican's Press Director Federico Lombardi.

- "Nobody really told us here that Lisbon Treaty was good for this or that reason to the People. They only told us that we "had" to ratify it, and tried to scare us, but failed", said 2 Irish pilgrims to "EuroFora", after 2 Majority Abstentions in 1999 and 2004 EU Elections and 3 "NO" to Referenda in France and the Netherlands in 2005, followed by the Irish "No" in 2008, during a Decade of EU Crisis since the controversial Turkey EU- bid (1999-2008).
More than .."224 cases of Murders, Torture, "Disappearancies" or Destructions" by "agents of Turkish Security forces", where all those responsible for so heavy Crimes still remain scandalously unpunished, despite regular condemnations of Ankara by Strasbourg''s European Court of Human Rights from 1996 to 2008, were examined the same week by CoE's Ministers, who decided to launch a fresh call "urging" the Turkish Authorities to end this dangerous "virtual Impunity" of criminals, without comparison to European countries.

- "Why not Ukraine, instead of Turkey ?", asked EuroFora a Journalist from "Kiev : the city where it's enough to cross the streets in order to realize that it's a European town", as Sarkozy recently said, before solemnly declaring this week, together with Ukranian President Jushenko and EU Commission's chair Baroso, EU's "recognition that Ukraine is a fully European Country, linked to Europe by culture and History".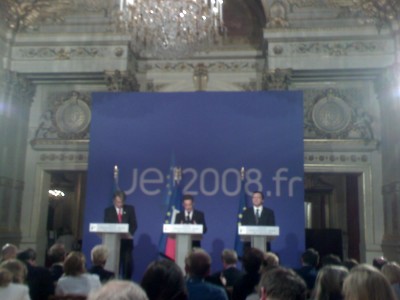 Europe's "Christian roots" and Values, with "openess and mutual respect" to other cultures and beliefs, were highlighted by Sarkozy in harmony with Benedict XVI.

The Human person should be protected "from his inception until his natural death", added the Pope, faithful to BioEthic principles defended by his predecessor and collaborator, John Paul II, of topical importance in France, Europe and the World today, as Sarkozy announced :

- "Fast and important progres in Genetic Science and procreation raise delicate BioEthical Questions to our Democracies", which "involve our view of Humans and Life, and can lead to Social Mutations. That's why they cannot remain only a business of experts", hestressed.

- "It's Politician's responsibility to set a proper framework for such Public Debates", as "France will do on BioEthics in 2009". "Religious and Philosophic traditions must take part, with their ideas and centuries' long experience : A positive Laicity is an open invitation to Dialogue", he said.

- "France engaged in Europe at another Debate on how to make Financial Capitalism more moral", and the "Social doctrine of the Church fits well what is at stake in modern Globalized Economy"

- "But, a "Real Dialogue is not for an elite of a Globalized world : It penetrates deep into the People : That's why Churches should actively participate : .. It's bringing New Oxygen to Public Debates", stressed Sarkozy.

- "Democracy must not be cut off Reason", which is "compatible with Faith", thanks to "the meeting between Christianism and Greek philosophy ", he added, referring to Pope's views. "It means to advance with logic arguments, search what's best and respect common principles of thinking :... It's an everyday need for Public Administration and the Political Debate", he added.
----------------------------
Pope Benedict's 1st visit to France looked like the start of a brillant, manifold demonstration that this was well-founded and could become true in the lives of the People : After its Theoretical foundations unfolded at a "speech to the world of Culture", inaugurating Bernadins' cultural centre, and its dogmatic instrument shaped at an address to the Clergy in the Historic Notre Dame' Cathedral, he started to resolutely reach out to the People :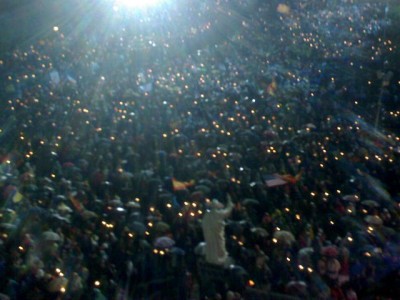 The move went upwards like Bach's music : Begining with a call to more than fifteen thousand enthousiastic Youngsters gathered at Notre Dame's parvis with overnight celebrations, it gained strength in an impressive open-air Mass at Paris'central Invalides'area facing Alexander III's bridge, attended by more than 150.000 people, French Prime Minister Fillon, many Ministers, Foreign Ambassadors, etc, and culminated in a series of pan-European Mega-meetings at Lourdes 150th anniversary, together with all French Bishops, EU Commission's vice-Chairman Barrot, and some 200.000 enthousiastic People from all over Europe and beyond : After a Sea of Lights astonishingly braved Saturday Night's rain, an open-air mass at riverside fields among Pyrenees' Mountains Sunday Morning, was followed on Monday by a Sea of "Compassion" to those facing Health or Life threats, surrounded by an endless gathering of People, whose gigantic dimensions obviously surprised the organisers..

Meanwhile, Benedict had the occasion to speak to the French Priests at Notre Dame of Paris, and with the Bishops at Lourdes, where they prepare a crucial November plenary meeting, due to take important decisions on imminent EU debates and choices about Europe's identity, BioEthics, etc.
-------
- "A new way of thinking about Laicity has become necessary", agreed the Pope with President Sarkozy at Elysee. While keeping the "distinction between Politics and Religion, to guarantee Citizens' Liberty", "religion is important for shaping Consciousness and contributing, together with others, to create a basic Ethical Consensus in society".

- "Searching Essential realities", (as "God" for christians), needs "Speech : "Logos" in greek, i.e. Reason", "able to shape a Community","with creative work transforming Human History". But "Dialogue" is instrumental for "Reason", because it's the way to "search" for Truth", in "Liberty", according to Greek Platonic Philosophy, with Socrates' dialectics. "Reason" implies "Spirit and Liberty", hence the polyphonic "Music" of "Dialogue", in a responsible, "well balanced" way, to avoid "destruction".

Starting with a "Dialogue between christians and intellectual or artistic movements" highlighted at Bernardins' Cultural Center. with former Presidents Chirac and Giscard d'Estain, UNESCO's chair Anastassopoulos, etc., as well as representatives of Muslim Communities, (including a separate Turkish), after contacts with Jews at Vatican's Embassy, the Pope turned towards the People :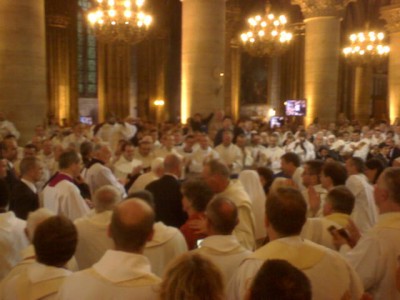 -------------------
To French Priests : "Church built on the rock" !
---------------------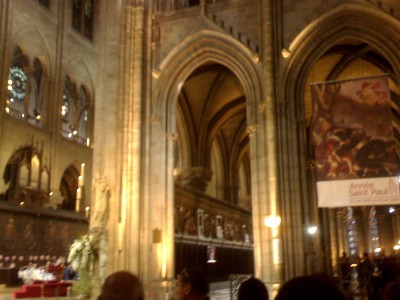 - Speaking to thousands of French Priests at Notre Dame's Cathedral, Benedict highlighted a solid "Church built on the Rock" of conscious and active persons, transmitting "a lively, energetic and sharp" "God's Speech, actively working on Human History".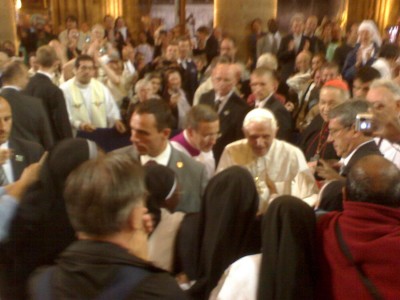 "Praying together" with "representatives of Christian Churches and ecclesiastic communities", (as Orthodoxes, Armenians, Protestants, etc), he called "to reinforce the Unity of the church", against "any form of Division", around Holy Spirit', "the Word","Christ's Justice", and "Love" to fellow- humans : Essentials which "resume all holy scripts", as he said.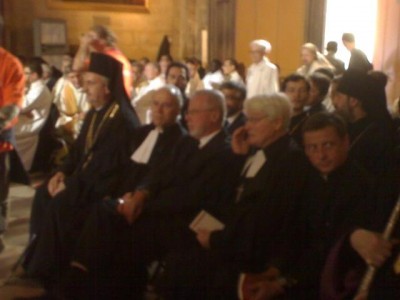 -----------------------
To Young People : "New Horizons"
------------------------
To some 15.000 enthousiastic Young People at Notre Dame's parvis, along Seine's river, Benedict spoke about "the Energy of the Holy Spirit" and "the Mystery of the Cross" : - "The Holy Spirit opens New Horizons to Human Intelligence .. and makes it conscious of the real greatness of Christ's sacrifice, dying and resurecting for World's life".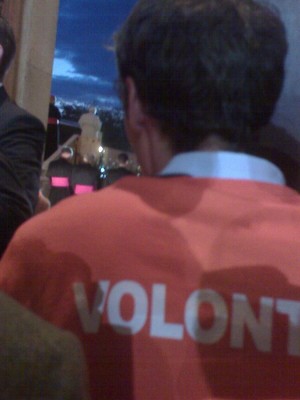 Some "may slander you as crazy, laugh at you, or even persecute you. But, "the Holy Cross is a symbol of God's love", and "givesmoral strength" : "Witness of People's pains, it's at the same time, a precious, unique expression of their Hopes", he told them at Paris' dawn.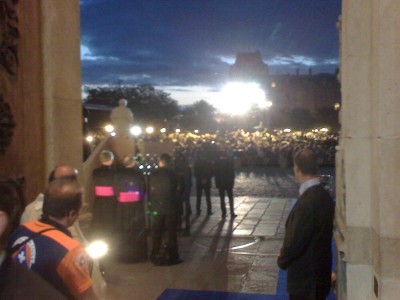 ----------------------------------
Invalides' plateau : "People chosen to become God's friends"
---------------------------------------
At the 1st open-air Mass in Paris' center area of Invalides, facing the Grand Palais, along the river Seine, during an impressive gathering of more than 150.000, French Prime Minister Fillon, Ministers Alliot-Marie, Bachelot, Dati, Jouyet, Assembly's President Accoyer, Senate's Chair Poncelet, former 1st Lady Bernadette Chirac, former Prime Minister Raffarin, many foreign Ambassadors, and other political personalities were present. (While earlier, from the Socialist opposition, Paris' Mayor Delanoye, artist Robert Hussein a.o. assisted at the Elysee meeting).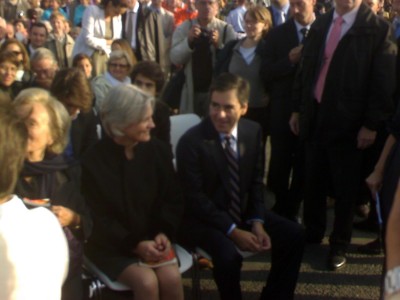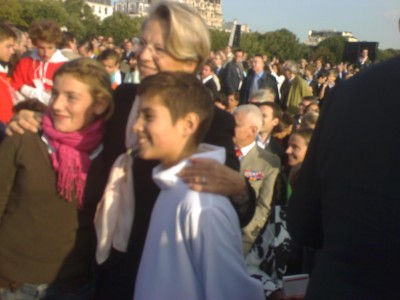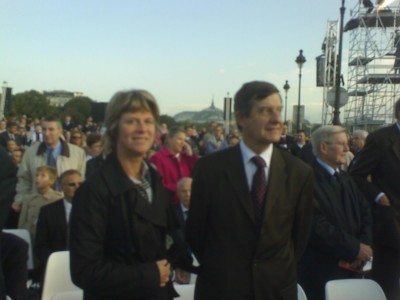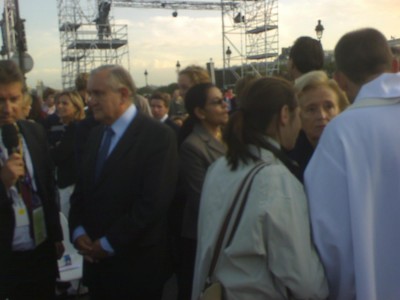 But the "Entry Song" focused on the "People chosen to become God's Friends". The September 11 mass was Dedicated to "Saint Chrysostomus, that great priest of Constantinople", with his "wonderful eloquence and great courage to face challenges", who "made out of despaired and godless people, a people of brothers", opening a possibility to "become all one complete entity", as Pope Benedict reminded.

- "Reason never enters in real contradiction with Faith", stressed Pope Benedict, who prepared his speeches for France during a short Summer rest at Brixen/Bressanone's Seminar, whose Library honors both "Faith and Science".. - "We must use not only our Reason, but also our Faith" : "Get away from Idolatry", "cupidity", "avidity for money, power or even knowledge deviating from essential aims", and other "falses appearances". and "build your Home on the Rock", "with the force that Holy Spirit gives to those who let it act in them", he said to the People of Paris.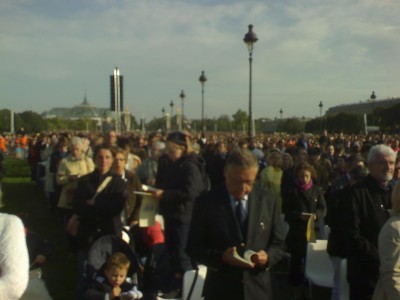 --------------------------------------------------
Benedict at Lourdes : - "Become Light (even) in the Dark !"
------------------------------------------------------------------
- "Our World needs Hope", stressed Pope Benedict, addressing an impressive TorchLight procession at Lourdes' sanctuaries, where a Sea of Lights held by Hundreds of Thousands of People gathered at Pyrenee's Mountains from all over Europe astonishingly kept their flames despite a heavy Rain at a windy Dark Night...

- "150 years earlier (1858 - 2008), ..here, in the cave, ... a simple young girl, Bernadette .. saw a Light". "The everyday life of her Family was, however, made of Misery, Sadness, Sickness, Misunderstandings, Rejection and Poverty... It was hard to live in Jail". Today, "we think to all Human Beings who suffer : The innocent Victims who face Violence, War, Terrorism, Hunger, Injustices, Catastrophes, Hate and Oppression, Violations of Human Dignity and of their fundamental Rights, of their Liberty to act and think. We also think to those who face Familial problems, sufferings from Unemployment, Sickness, Infirmity, Isolation, or their situation as Immigrants, without forgetting those who suffer and die for the name of Christ", he said.

- "But the Shadows of the Earth, did not hinder Sky's Light to shine : <<The Light shines in the Dark>>" ..."A Way full of Light opens in Human History even in its Darkest moments" : ..."As Night falls, Christ tels us : <<- Keep your Lamps alight !>>."Hold a Light while walking in the Night .. sums up our condition as Christians on their way : "We need light, and we are called to become Light !", Benedict stressed to People setting in motion Lights, Flags and Songs with enthousiasm.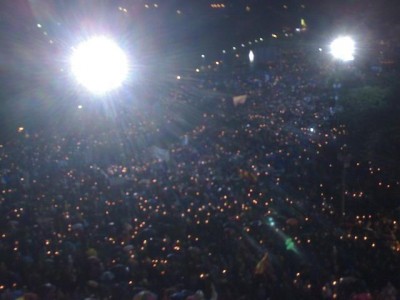 "<<- She looked at me as a Person, who speaks to another Person>>, the poor girl had noted."Light emerges from such a Dialogue", stressed the Pope : "A small Flame called Hope, Compassion and Tenderness dwells inside those who return after being moved by Lourdes' experience". "Christ .. entrusts us with the Mission to let the Light of Charity shine : To make of our Prayers an Act of Love to our brothers and to Fraternal Charity", he concluded.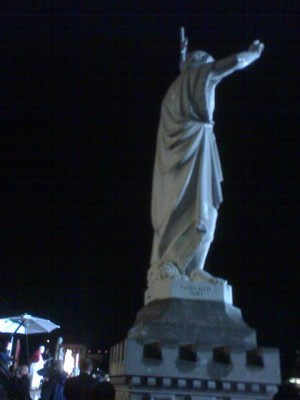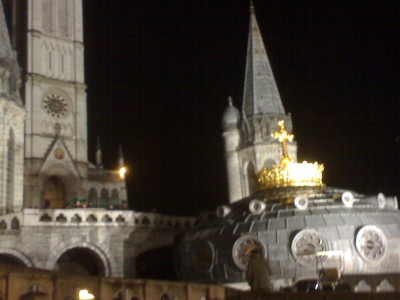 (../..)
Polls