Home

newsitems

E.Tymoshenko + Lawyers of jailed f.Prime Minister +Ukranian Government to EuroFora on ECHR+ EU moves
E.Tymoshenko + Lawyers of jailed f.Prime Minister +Ukranian Government to EuroFora on ECHR+ EU moves
Tuesday, 28 August 2012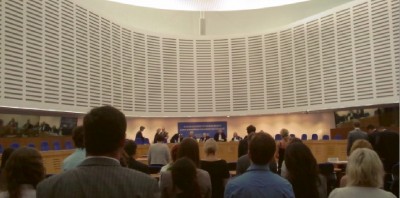 *Strasbourg/ECHR/- Both jailed former Prime Minister Tymoshenko's daughter, Eygenia, her Lawyer Vlasenko, and Ukranian Government's Legal Agent Kulchytsky, speaking to "EuroFora" inside the ECHR after the 1st Public Hearing on the world-famous case, clearly pointed at important EU/CoE forthcoming developments in the following days/weeks, after today's controvercy on allegations of inhuman/degrading  treatments in prison, including mainly a New Application to EuroJudges, now on the Substance of this affair,  but also at a call for EU Sanctions "directly against" those who are held as responsible for what was denounced as a politically motivated prosecution against a prominent opposition leader in the country, while the current Ukranian Authorities claim that all this wouldn't be but only an attempt to politically discredit a fight against corruption and other crimes, before the forhcoming October 2012 Parliamentary Elections.
----------------------------------------- 
- "EuroFora" was initially surprised by the fact, that during all ECHR's 1st Public Hearing on the case of former Prime Minister Tymoshenko, who has been already judged, condemned, and closed to Prison for almost a Year now (2011 - 2012), nevertheless,  there wasn't yet "any Discussion "about the Substance" of the issue, i.e. on the Condemnation istelf, but just about Prison conditions, as we observed in Questions raised to both Lawyers of Tymoshenko and of the Ukranian Government :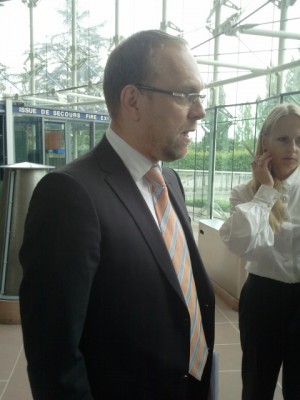 - It's "because ....this will be lodged the Day after Tomorrow", (i.e. immediately after the final verdict of the Ukranian Higher Court on Tymoshenko's complaint against her condemnation for allegedly brokering irregularly an Agreement with Russia on Gas transfert to the EU at prices now considered as excessive, by the current, Yanukovich Government), anounced, in reply to "EuroFora"s Question, Yulia Tymoshenko's Lawyer, Sergiy Vlasenko.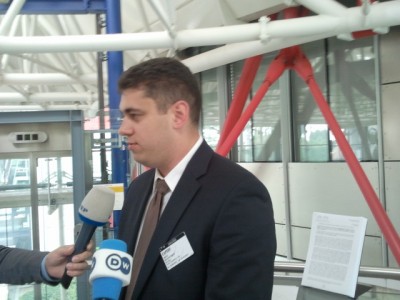 + "No, the Susbtance (of the Tymoshenko case) was not included in this complaint. It was only about the preliminary procedure detention. So that the Condamnation couldn't be taken into consideration" in this Hearing. However, meawhile, "we have exchanged more concrete arguments before the ECHR through Reports by writting", added in reply to "EuroFora" the Legal Representative of the Ukranian Government, Nazar Kulchytskyy.

- "The Worst of all was that we couldn't yet raise the Main Issues on Article 6 (of the PanEuropean Convention on Human Rights, which guarantees a "Fair Trial"), because the (Ukranian) Authorities have been constantly Postponing the last Court's decision" (on Yulia Tymoshenko's Appeal), which will be published Tomorrow. And that's when we would be able to Start asking for my Mother to be Released, ......because the main point is that she's already in Prison for more than a Year", anounced also her Daughter, Eugenia Tymoshenko, speaking to Journalists including "EuroFora" at the ECHR's premisses after the 1st Hearing.

+ However, "a decision made by the European Court" of Human Rights, "would be a Support for our fight". "We need Outside Pressure,".. "because the situation inside the country is "Unacceptable", and  it's "the only way for my Mother to be Released".... "We believe that once the (European) Court makes the Decision that it has to take, and which, we hope, will be supportive in her struggle in the Prison", things can start to change. -"May be the (Ukranian) Government might not ... (fully comply with ECHR's judgement at once, but, of course we'll fight, and, still, we'll have some arguments and documents in our hands", in order to face an "Immense Pressure from the Regime", helping to prove the fact that "the Truth is on our side", the Daughter of the jailed former Prime Minister of Ukraine added.
--------------------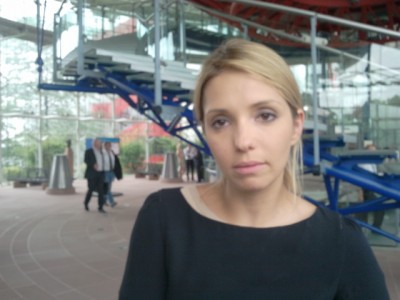 + Meanwhile, replying exclusively to an "EuroFora"s question on the role that EU prospects for Ukraine's European Integration might play in helping to find a mutually acceptable solution and ease the conflict in this and other similar cases, the Daughter of the former Prime Minister appeared adamant :

- "Ukrania is not only a CoE Member, (i.e. in principle obliged to comply with ECHR's Judgements).  "Already In 2008, when my  mother  was Prime Minister, were made "1st steps" towards EU Integration". F.ex., "there were discussions (with the EU) on a Trade Agreement, an Association Agreement, etc.", she reminded.

- "But now, when the situation Worsened, and Today .. we have even Political Prisoners, as a New Phenomenon in Ukraine,  of course,.... because of this existance of Political Oppression, the existance of a Waning Freedom in Ukraine", as she said. In fact, "not only my Mother is politcal prisoner, but also, until the recent past, there were also another 2 Political prisoners, now there is 1 more. But there are also Dozens of People more who are running to escape from the regime and its pressure, and it's very important to realize that Dozens of People  are oppressed now by the Prosecution Machine, controlled by (the President)", as Eugenia Tymoshenko found.

=> - "That's why, the EU obviously cannot  say that Ukraine is moving towards abiding to European commitments on Freedom and Human Rights", the Daughter of the Jailed former Prime Minister criticized, denounced from her point of view, (which largely fits most recent Critical reactions from various ΕU Officials on this and other similar cases).
-------------------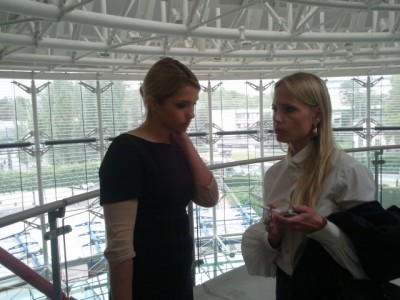 >>> In consequence, "the only Influence that can be done (exerted) (by the EU) to Change the way the (Ukranian) Government is treating its political opponents, is by Sanctions  applied Directly to the People who exert those pressure against Human Rights : F.ex. by restricting their Travels, by seizing their (Bank)Accounts, etc".     
    
- "Because several People who are in the Government now, they don't care about the political Situation in Ukraine and its Position (vis a vis the EU)", she denounced, apparently trying to explain by that argument the relative Inefficiency of EU action until now.

- , That is to say, No (EU) Sanctions which might affect certain People, but not the whole County ?", "EuroFora" asked to clarify : -  "No, (only) Directly to the(se) Persons", Eugenia Tymoshenco concluded.
-----------------------------------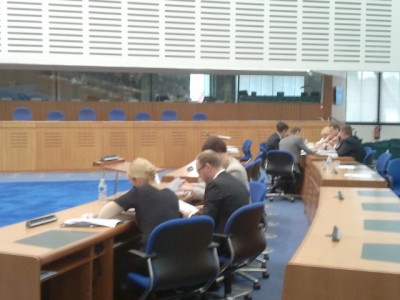 Denouncing what they claimed to be Inhuman/Degrading Treatments in Jail, contrary to Art. 3 of the PanEuropean Convention of Human Rights, during the 1st Publlic Hearing by ECHR, Yulia Tymoshenko's Lawyers criticized, among others, also a series of Concrete Facts, concerning, f.ex., Poor Food Quality, insufficient Water for Shower, bad Heating, insufficient or lacking facilities for Physical exercive, awakening at 5 a.m. to attend Investigations against her at Courts or even "in the Cell", Artificial Lights being kept open almost all day-long, Isolation, the only Window with a hole for Air Ventilation to her Cell being located "Too High" so that it was impossible to use it freely, Permanent Monitoring by Video, refusal of Independent Medical advise and/or Tests only by persons that she trusts, etc., as well as a "Violent" Transfert to a Hospital overNight, which would have caused "Bruises" to her Hands and Body, after allegedly being "beatten" by Guards, etc.
                                                                                                                                                                                       
    The Lawyers representing the Ukranian Government, dismissed such claims, pointing at several Changes by transfert to Betterr Cells, to the fact that Tymoschenko is using Food and Water by parcels brought by her Family or Friends, denied the alleged existence of permanently open Electric Lights, claimed that the Window wasn't inaccesible, (at least not in the latest Cell), contested the existence of 100% Permanent Video-monitoring and added thet Tymoshenko could ask from the Courts to stop or reduce Video-Monitoring, claimed that the former Prime Minister was in fact trying to avoid any Medical Treatment provided by State Doctors, even when they were included in a Committee with the participation of the Foreign Doctor she prefered, and denied any undue Violence during the precited overnight transfert to a Hospital, claiming that the alleged Bruises might have been caused by Herself, or be due to her supposed illness, etc., and criticized the fact that she had refused Forensic Examinations by a Medical Committee in which participated a German Doctor of her choice.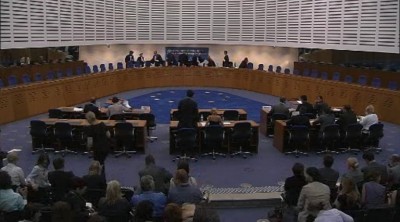 ECHR anounced that it had asked both parties to discuss in particular the Permanent Video-Monitoring and the overNight Forced Transfert claims, while also asking the Ukranian Authorities to comment on the alleged bruises in Tymoshenko's body. Her Lawyer observed that it was her Right to freely choose the Doctor and the Medical team that she trusted for any crucial Examination, (f.ex. Blood tests, etc).

    Earlier, EuroJudges had intervened, with Urgent Measures, mainly in order to ask for an appopriate Medical Care, which apparently was at least partly obtained, later-on, convincing Tymoshenko to stop a "Hunger Strike" that she had started, particularly after a German Doctor of her choice was allowed to follow her Health condition, and provide advise. But ECHR afterwards refused another Tymoshenko demand which included a wish to be transfered to an Independent Hospital abroad, in Germany.
---------------------
    Speaking to Journalists, including "EuroFora", at ECHR's premisses after the Hearing, former Prime Minister Yulia Tymoshenko's Daughter, Eugenia, described her Mother's version on what had happened during that "Forced Tranfert" to a Hospital :

- "It was late at Night", when "3 Guards came to my Mother's cell. She was lying down in pain,  and they tortured (took ?) her together. They said "we'll move you to the Hospital". She said that it was against the Law to Move her by Force. They said  : -"We've been given orders, we have to move you". ...So they grasped her, they took a blanket over her, and then, one put the Cuffs on her (arms), inside, through the blankets, ...And even though she was in the Blankets, because they didn't want to leave bruises on her body, still she had many bruises, because the Power used by the Guards was very Strong, and afterwards, she couldn't resist, and she just Cried, and cried  for Help, but .. (nobody heard her). She was kept  in the Hospital for 2 Days, and afterwars she showed her bruises", to her Lawyer, (who claimed, speakig earlier to EuroJudges, that he had immediately asked to see his Client, but was refused access for more than 1,5 Day under various pretexts).

    + By a symbolic coincidence, this 1st ECHR Hearing mainly focused on former Ukranian Prime Minister Yulia Tymoshenko's conditions of Detention, since now a Year, Christian Pope Benedict's "Prayer Intention for August" 2012, was anounced to be, precisely, "that Prisoners may be treated with Justice and Respect for their Human Dignity", as Vatican's Press service informed also "EuroFora" since the end of July 2012.                                                                                                                                                             
-------------------------------------    
    After many Months of Detention, suddenly, the incidents which incited ECHR to decide taking Urgent Measures about detention conditions in the Tymoshenko case, intervened while the Ukranian Autghorities had just anounced to the Press, on March and April 2012, that they felt to possess sufficient Evidence in order to start prosecuting the former Prime Minister also for 2 other, Different cases, concerning alleged Tax-Evasion when she had been working as a Business Manager in the Past, and a suspicion to have paid the Killers who had murdered another former Prime Minister and his wife, back on 1996, who had held also a Business with opposite interests, before being brutally gunned down by Killers who had allegedly been paid by a controversial former politician currently serving a jail-sentence in the USA, with whom she had briefly cooperated 15 years ago.      

    But Tymoshenko's Lawyer strogly denounced during the ECHR Hearing what he called the "Partiality" of Courts in Ukraine, claiming that there "was No Justice" possible as long as the current President Victor Yanoukovich's team was exerting excessive  "Pressure" against his political opponents in order to exclude them from the Political game.                                                                                                                                                                                                                                                                                                                                                                                                                                                                                                           
    President Yanoukovich's allies, including the deputy Prosecutor, etc., on the contrary, have claimed that Tymoschenko tried to discredit the Ukranian Auhorities' efforts against Corruption and Crime,  allegedly abusing of the Media and Political relations.
---------------------    
    Meanwhile, at an earlier affair before ECHR, former JHA Minister Lutsenko, who was the 1st to be jailed among leading politicians of the opposition,  after being reportedly slandered by German Newspaper "Bild" about a supposed 2009 incident at the Frankfurt Airport, which was exploited by his foes, obliging him to quit, etc., before the Error was, finally, aknowledged by Bild, asking too late for excuses about the way they reported on what really happened at the nearby City, (whose Press-Reporters are known for gross Publicity in favor of Turkey, a GeoPolitical "Competitor" of Ukraine in EU Accession stakes)... 
                                                                                                                                                                                                                                                                                                                                                                                                                                                                                                                                                                                                                                                                                                                                                                                                                                                                                                                                                                                                                                                                                                                                                                                                                                                                                                                                                                                                                                                                                                                                                                                                                                                                                                                                                                                                                                                                                                                                                                                                                                                                                                                                                                                                                                                                                                                                                                                                                                                                                                                                                                                                                                                                                                                                                                                                                                                                                                                                                                                                                                                                                                                                                                                                                                                                                                                                                                                                                                                                                                                                                    ----------------------------    
While previously, many Ukranian Media had reported that Detention was imposed to Tymoschenko for her behavior in front of the Court, on the contrary, the Ukranian Government's representative said today to ECHR in Strasbourg that the real reasons were a risk that she "might abscon", and/or "obstruct the establishment of the Truth" by the on-going Investigations, to which she was accused not to cooperate enough, but abuse of eluding tactics, (although her lawyer replied that she had been present, on time, in all Court's hearings, with the sole exception of a small delay of 20 minutes once, as he said).

    But similar claims have been already rejected by ECHR in a recent judgement on former JHA Minister Lutsenko, last July 2012, because Ukranian Courts had not replied properly to his arguments contesting the detention, while the Ukranian Authorities had motivated the deprivation of liberty by pointing to the big, National and International Press Interest for his case, alleged attempts to discredit the prosecution, while also contesting even his Right for Strong Critisicm against  excessive and/or groundless accusations. Added to rather "Selective" persecutions of mainly Opposition Politicians for alleged "Corruption", as ECHR found, Lutsenko's condemnation seems to have been made "Not only for suspicion to have committed an offense, but also for Other i.e. probably Political) reasons", EuroJudges concluded, condemning Kiev to pay more than 15.000 € to the jailed former Minister.
---------------
    EU Parliament has adopted a Resolution on Ukraine since June 2011, which expresses MEPs' "Concern  about the increase in Slective Prosecution of figures from the political Opposition in Ukraine, as well as the Disproportionality of measures applied, particularly in the cases of Ms Tymoshenko and Mr Lutsenko", particularly on "Custody", and "expressed its support for the Ukrainian Human Rights Commissioner, Nina Karpachova, who has asked the Ukrainian Prosecutor General to consider the possibility of applying preventive measures that do Not involve Detention".

    At the same occasion, MEPs "stressed that ongoing investigations of prominent Ukrainian political Leaders should not preclude them from actively Participating in the political life of the country", as their Resolution said on the occasion of "Yulia Tymoshenko and other key political figures", obviously in view of the forthcoming, October 28, 2012, Parliamentary Elections.

    + In addition, the PanEuropean CoE's Parliamentary Assembly's Bureau, which meets in Paris at the beginning of September, is due to examine also the Monitoring of Ukranian October 28 Elections, while it cannot be excluded that developments on the Yulia Tymoshenko and other such cases of Political Opposition leaders threatened with jail, might be discussed  in Strasbourg both by EU Parliament's forthcoming Plenary Session in Strasbourg from 10 to 13 September 2012, as well as in PACE's October Session, 1 to 5 October.

    Meanwhile, CoE's Committee of Ministers, which holds its scheduled Meeting for the implementation of ECHR's Judgements towards the end of September 2012, might eventually start examining also ECHR's condemnation of the Ukranian Authorities, back on July 2012, in the parallel case of jailed former JHA Minister Lutsenko, which contains several Legal points apparently similar to certain aspects also of Yulia Tymoshenko's affair, (comp. Supra), as a matter of general principle on controversial imprisonment of acting political opposition leaders.

    Experienced observers don't exclude the risk, (particularly if nothing is done, meanwhile, to find a mutually satisfactory solution, or, at least, to alleviate useless or disproportionate restrictions of liberty and/or avoid more sufferings), that some Lobbies opposed to Ukraine's European Integration strategic aims, (most often because they are also, in fact Anti-European, and therefore against any European Cultural, Historic and Geographic Identity, and/or prefer Turkey's controversial and unpopular EU bid), might exploit any attitude by the Urkanian Government which might be perceived and/or presented as contrary to Kiev's Human Rights commitments vis a vis the CoE, in order to provoke even more Problems, Blockades, etc., in its unfolding relations with the EU.
-----------------------------------------
    On the contrary, "EuroFora", as a matter of principle, has always strongly supported Ukrania's EU aspirations, being among those who believe that such an "unquestionably European Country", which might strengthen EU's Cultural, Historic and even Geographic Coherence and Identity, while also having an important potential on Gas Transport, interesting Airplane Technology (Antonov, etc., which could be used f.ex. in cooperation wit EU's Airbus in order to find a much better, more performant and less expensive solution for EU's Military Air-Transport needs, instead of the controversial, old, Low-Tech. and too expensive "A400M" old coucou, notoriously pushed by a pro-Turkish lobby), Danube River's Delta for Energy a.o. Ship Transports via the Black Sea, interesting Raw Materialls and good Agricultural Land, etc., in addition to its well-known, exceptional potential to serve as a "Bridge" between the EU and Russia, (both in Energy transfert, and in Culture, Language, etc).

    Therefore, (and while acknowledging the fact that "EuroFora" is not yet familiar enough with the rather complicated Internal Politics inside Ukraine), it seems wiser to try to find an adequate Solution able to ensure at least basic respect for Human Rights and Democracy, as well as the Stability of Ukraine, in a way which can be helpful to the Country's legitimate EU prospects.
    
    Attempts to accuse various Political Opponents, for differend Economic or other affairs, seem frequent, on Both sides of the Political divide in Ukraine's recent History : Even the current President, Victor Yanukovich, had been reportedly threatened himself by such methods in the Past.. But now that a basic Agreement appeared among various Political Parties on the need to both advance towards European Integration via the EU, (regardless of the Separate controversy of NATO, since many EU Members are not at all inside NATO, including the current EU rotating Presidency held by Cyprus, etc), while at the same time, now both main political sides also agree on the need to have good relations and links to Russia, the Time might have come f.ex., for President Yanukovich and/or his friends to take some initiatives whixh could honour Ukraine's well deserved place as an Historically, Culturally, Geographically and Economically integral part of a Political, Democratic Europe with a Popular identity, respecting its Citizens' basic Human Rights...

    He had already hinted himself, that he might be enclined to eventually consider taking such an initiative, that his Presidential capacity legally allows, (f.ex. decide a total or partial pardon, etc).
    

(.../...)

***

(NDLR : "DraftNews", as already send earlier to "EuroFora"s Subscribers/Donors. A more accurate, full Final Version is due asap.)

***


    The recent paradox of freezing EU Talks with front-runner Croatia, while continuing controversial EU - Turkey talks, despite Zagreb's acceptance of Refugees' Human Rights to return, that Ankara refuses fex. in Cyprus, while both have "Good Neighborhood" problems vis a vis Slovenia, or Greece, Cyprus and Armenia respectively, can it be justified by the non-fullfilment of EU criteria, as Slovenia says, or, is it "Double Standards" ?    
The question became unavoidable after statements by Presidents of Slovenia and Croatia, Tuerk and Mesic, respectively, to "EuroFora", exclusively or among Strasbourg's journalists this week at the CoE, on the sidelines of its 2009 Summer University for Political Schools, which topically brought them together as successive key-note speakers.

    Comming only a few Months before EU checks Turkey's compliance to its commitments on Cyprus, etc., scheduled for December 2009, this obviously has a special importance for the coherence of EU Enlargement's principles.

     Suspension of EU Negotiations is a normal consequence in case of a Candidate Country's failure to fullfil EU Conditions, such as "Good Neighborhood relations", stressed at first Slovenian President Danilo Tuerk, current CoE's chair.

    But, regarding EU's Criteria,  there shouldn't be any "Double Standards",  reacted Croatian President Stjepan Mesic, commenting the fact that Turkey's controversial EU negotiations continue, while they were recently "freezed" in the case of Croatia, an "unquestionably European Country", which oficially accepts to respect Refugees Human Rights, contrary to Ankara's notorious refusals or reluctance.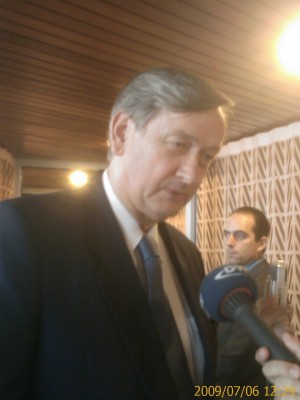 - "EU itself has set as a Criterium (for EU Enlargement) the "Good Neighborhood relations",  and their absence justifies the "Suspension" EU Negotiations, (f.ex. with Croatia), because of a Border dispute affecting the territorial integrity of an EU Member Country, stressed Slovenian President, Danilo Tuerk, CoE's Chairman in office (May - November 2009), speaking to Journalists in Strasbourg including "EuroFora".    
Questioned earlier what "consequences on EU's Enlargement policy" can have the "Ban on EU Membership Negotiations", imposed to Croatia, Tuerk replied that "this question comes down to the fulfillement of (EU) Criteria for membership. One has to look at each Candidate Country ., from the point of view whether it fullfils the Criteria that EU has set. One of them are Good Neighborhood Relations, I'd like to remind. And also, there are other factors, such as Justice, Home affairs, Rule of Law, and others".

    - "Now, ..Candidate Countries are at Different Levels of fulfillement of Criteria", he observed.

    - " Croatia is obviously the closest to that. I'm rather optimistic : I think that in the coming Months we'll have an opportunity to look at all these issues constructively and hopefully we'll be able to make progress". "My main concern, at this point, is the situation in Bosnia : We haven't seen enough progres domesticaly. We haven't seen enough during ..political parties within their country.We need a New Energy, a new energetic move towards the Candidature for EU membership. "Other (Western Balkan) Countries (Serbia, Montenegro, FYROM, Albania) have been making soaring Progress, and I think that they should be ready, in a few Years, for the Candidate status".

    - "As far as the Western Balkans are concerned, .. nobody should be left outside" the EU, Slovenian's President concluded, ommitting to mention Turkey's controversial EU bid.

    - "This process may be seen as Slow, but..  Slovenia has also has also been exposed to various "Booms of Slowness" in our accession period. But now we can say that the process was relatively quick, because changes which occur after becoming EU member, are quite large, and they require proper Preparations before the (EU) membership becomes a new factor, an impacting line for a new (EU) member country".
----------------------------
EU "Solidarity" ?
------------------------------   
Slovenian statements made some participants from certain 3rd Countries as FYROM, etc. claim that "the Principle of EU Solidarity" would "produce a.. rising European Union Nationalism (sic !), against Non-EU Countries", as they said, asking unhappy foreign countries to form a "bloc" to exert pressure on the EU...    
But Croatian President Stjepan Mesic dismissed that, supporting "EU Integration", "after the Economy also in Political" issues, as "the achievement" of our times. In EU there is "diversity, but it's United", he stressed, "EU has to be United so that it can become a central factor of Peace" also at the surrounding areas, he replied.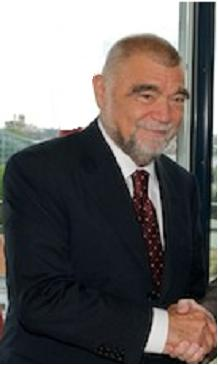 Speaking later exclusively to "EuroFora", the experienced twice President of Croatia, former President of the International "Non-Aligned" movement, denounced "Double Standards" in the way EU treats recently Croatia compared to Turkey :   
 - "I think that there shouldn't be Double Standards", stressed the Croatian President, in reply to a Question comparing the freeze of EU - Croatia talks, with the continuation of EU - Turkey talks, despite the fact that Croatia is an "unquestionably European country", while Turkey's EU bid is notoriously controversial.

    Mesic was reacting to the observation that, even if he confirmed his "respect of Refugees' Human Rights to return, etc. (See infra), nevertheless, EU talks are suspended with Croatia.. While for oher, controversial candidates, who refuse to respect Refugees' Rights to return, etc., as fex. Turkey does in occupied Cyprus and elsewhere, EU negotiations continue".

    - "I believe that Croatia's accession will confirm that all European Countries who fulfill all of the Conditions and achieve European Standards, have to join the EU. There shouldn't be any Double Standards", went on to add in reply President Mesic.

    In this relation, Croatia's President found "of paramount importance", CoE's "mechanisms enforcing ECHR's judgements"
    
    - "On Refugees and Displaced persons, the process will be completed only after the last person demanding to return will be allowed to do so !", President Mesic Croatia stressed earlier, setting a general standard of obvious importance also for otherr candidates, as f.ex. Turkey, often accused to exclude or heavily restrict Greek Cypriot Displaced persons' return to their Family Homes and ancestral land, provoke difficulties to Turkish-Kurd IDPs return to their home regions at the South-East, etc.

    Some "2.000 People are still reported Missing" in former Yugoslavia, for some Years, (as in Cyprus, modern Europe's oldest case, for 3 Decades. Nagorno-Karabach, Tcecnya in Russia, etc, more recently), and Investigations "will only be completed after establishing the fate of the last one of them", he added.
    
    Speaking earlier on "War Crimes", President Mesic stressed that "Leaders are responsible for (the) Wars (of the Past), not the People", and called against Impunity :  "Individuals have to be held Responsible for Crimes. International Penal Tribunals have to persecute those individuals", perpetrators of War Crimes, he underlined.

    Such statements naturally made Mesic rather popular at ECHR, whose President, French EuroJudge, Professor Jean-Paul Costa, looked particularly smiling when he welcomed him later on Wednesday afternoon, after Slovenian President Daniko Tuerk earlier this week.
           

***
Polls