Home

newsitems

Conseil de l'Europe : Remous sur les Enfants et la loi pour Adoptions+ via Mariages d' Homosexuels
Conseil de l'Europe : Remous sur les Enfants et la loi pour Adoptions+ via Mariages d' Homosexuels
Monday, 22 April 2013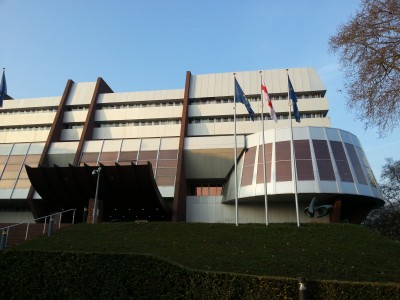 *Strasbourg/Conseil de l'Europe/Angelo Marcopolo/- Aussi bien le Président de l'Assemblée Parlementaire du Conseil de l'Europe, Jean-Claude Mignon, et son Rapporteur Général pour les Droits des Enfants, Dr. Stella Kyriakides, que le Président du plus grand Groupe Politique d'EuroDéputés (célui des ChrétiensDémocrates du Parti Populaire Européenne), Luca Volonté, ont exprimé, chacun de sa façon, leur préoccupation vus a vis un projet de loi très controversée en France, qui a déjà suscitée des réactions populaires d'un rare ampleur, surtout quant au sort des Enfants qui risquent d'être ainsi soumis à l'autorité d'homosexuels et/ou de naître de manière artificielle/technocratique, pour la 1ère fois dans l'histoire de l'Humanité dans un grand pays à population nombreuse.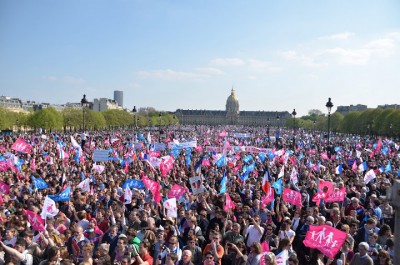 Ils s'exprimaient en marge de la session plenière de l'Assemblée Parlementaire paneuropéenne du CdE, (qui a 47 Etats-Membres, y compris la Russie, les USA, Japon, etc. ayant un statut d'observateur),  la veille du vote apparamment final d'une loi très controversée qui cherche à imposer contre la volonté de la Majorité du Peuple en France non seulement le "marriage" entre homosexuels, mais aussi l' adoption d' enfants par des couples homosexuels, ouvrant inevitablement (quoi qu'en prétendent certains de ses auteurs, conscients de sondages négatifs sur ces points) la voie même vers la Gestation pour autrui, avec l'exploitation des "Mères Porteuses", ainsi que la PMA (Procreation Médicalement Assistée), l' IVF (In vitro Fertilisation), avec Tests PreNatales, etc., qui ménacent d'abandoner dangereusement la procréation Humaine à une caste incontrôlée de Technocrates, fragisilisant, par contre, encore davantage les Naissances Naturelles dans des Familles Naturelles Homme-Femme, notoirement frappées aussi par la Crise Economique Globale, l'évolution (souvent provoquée) des moeurs, etc.,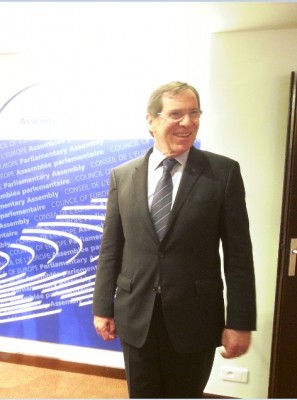 - Un journaliste russe, prennant la parole lors de la conférence de presse habituelle du Président de l'Assemblée Parlementaire du Conseil de l'Europe, souleva d'emblée une question sur "la loi sur le mariage pour tous (qui) sera adoptée par les députes de l' Assemblée Nationale en France demain", s'interrogeant de "l'attitude" de l' organisme PanEuropéen des droits humains "vis a vis ce projet de loi" controversée, et, plus particulièrement, sur le fait que la situation, déjà délicate, "de l' adoption d' enfants" risque de "se dégrader" considerablement "puisque des pays comme p.ex. le Russie ont déjà dit qu'ils réviseraient leurs accords bilatéraux avec la France après la réalisation des mariages homosexuels".

- Après avoir rappelé qu'il avait, "en tant que Président" de la PACE,  soutenu, avec un vote décisif face à un "pat" entre deux franges opposées mais "à égalité" dans le Bureau de l' Assemblée Paneuropéenne, "la décision de  créer un rapporteur chargé des LGBT", "expression" que "je n'aime pas trop",  comme il a rappélé, le Président Jean-Claude Mignon a clairement annoncé qu' "en ce qui me concerne, en tant que députe français, je ne voterais pas le projet de loi qui seras soumis demain à un vote solennel à l' Assemblée Nationale".

- La raison principale de son réfus ne tient pas tellement au fait qu'il serait "opposé au mariage pour tous", mais surtout "parce que je considère qu'il y a un certain nombre des problèmes qui ne sont pas résolus,  notamment celui de la Procréation par Assistance Médicale et celui concernant l' Adoption des Enfants", a dénoncé l'expérimenté Président de l' Assemblée Parlementaire de l' organisation PanEuropéenne chargée de veuiller sur les Droits Humains, la Démocratie et l' Etat de Droit sur 47 pays comprenant près d'un milliard de citoyens.
-------------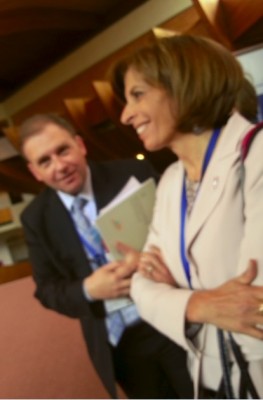 + Entre temps, le nouveau Rapporteur Général du Conseil de l' Europe sur les droits des Enfants, leader de la Délegation nationale de Chypre, Mme Stella Kyriakides, (qui est aussi professionellement Psychologue spécialisée aux Enfants, ayant fait des études et récherches post-universitaires en Angleterre, etc., avec une longue experience sur tels sujets), parlant à "EuroFora", a annoncé son intention de consulter le comité responsable au sein de la PACE afin de prendre position plus particulièrement sur le sujet des enfants (souvent provenant des Familles naturelles pauvres et/ou opprimées, etc. à travers le Monde), qui risquéraient d'être livrés à l' autorité de couples homosexuels par adoption, voire, plus tard, GPA et/ou PMA, IVF, etc., si ce projet de loi controversée et vivement critiquée par la majorité de la population française (selon plusieurs sondages concordants, qui citent des pourcentages d'opposants majoritaires et grandissants, au fur et à mésure des manifestations populaires qui se sont étendues à Paris et ailleurs dans plusieurs autres villes à travers le pays entier).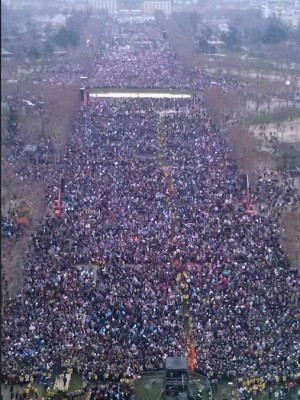 Mais, Dr. Kyriakides a aussi observé que, comme il a été clairement confirmé à "EuroFora" même par le Directeur de toute l' Assemblée Parlementaire paneuropéenne, l'experimenté Wojciech Sawicki (Polonais), en tant que Rapporteuse Générale du Conseil de l'Europe, (titre spécial, ayant été attribué à un nombre limité de parlementaires paneuropéens qui ont été élus par leurs collégues afin de s'occuper, chacun d'un domaine spécial concernant les Droits Humains, la Démocratie et l' Etat de Droit, etc), elle est déjà officiellement habilitée par le CdE pour s'exprimer sur tout ce qui concerne, de près ou de loin, la protection des droits réconnus par la communauté paneuropéenne et internationale aux enfants.

A cet égard, entre autres, p.ex., au moins la Convention du Conseil de l'Europe sur "la Protection des Enfants contre l' Exploitation et les Abus Sexuels", oblige chaque Etat-Membre à prendre des "Mésures, législatives au autres, nécessaires pour Prévenir toute forme d' exploitation et d'abus sexuel concernant les Enfants, et pour Protéger ces derniers", selon son article No 4, (Chapitre II, dédié aux "Mésures Préventives"), etc.

Selon le plus récent Bulletin d'Information de l'APCE qui vient d'être publié au mois d' avril, dans un Editorial signé par Dr. Kyriakides,  le Conseil de l'Europe va donner "un nouveau départ" à sa "Campagne Un sur CINQ" (la proportion d' enfants estimés d'avoir à affronter au moins un Abus par rapport à l'ensemble, i.e. environ 20% en moyenne), surtout à partir d' Autumne 2013, "afin de briser le silence, et de faire entendre la voix des enfants, qui ne s'exprimaient pas jusque-là", grace aussi à la Convention du Consel de l'Europe sur la protection des enfrants contre l'exploitation et les abus sexuels, (connue aussi comme "Convention Lanzarote), qui "est dévenue l' étendard de nombreux Etats membres du CdE dans la bataille pour la protection des enfants et la lutte contre toute forme d'abus et d'exploitation sexuels concernant les enfants" : Un "problème qui était auparavant entouré de silence, de peur et de stigmatisation", où "ce silence mettait les enfants dans une position encore plus Vulnerable", comme elle denonce.

Ainsi, la Rapporteuse générale du Conseil de l'Europe sur les enfants appelle tous les Etats-membres, surtout, de "renforcer le Développement des services de Protection de l' Enfance", invitant à "davantage d' initiatives et engagements" d'agir efficacement contre "les abus" qui "sont ... ceux dont on parle le moins, mais aussi ceux qui entraînent de consequences particulierement Néfastes, et un Risque plus élevé de comportements antisociaux, car les enfants ... risquent de se taire plus longtemps", tandis que "les abus sexuels sur les enfants ne connaissent pas de frotières et doivent être combattus efficacement".
---------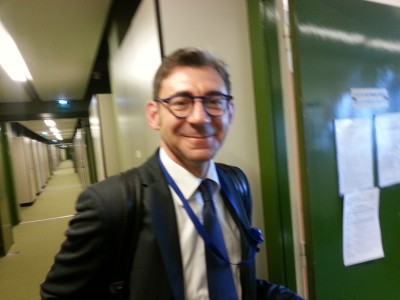 -  En tout cas, "le Conseil de l'Europe, comme gardien de la Démocratie et des Droits humains, doit montrer qu'il se tient près des Citoyens" qui protestent massivement en France maintenant, comme aussi en d'autres pays à divers autres moments (y compris même aux USA, la Russie, etc), contre ce projet de loi controversée sur le mariage d' Homosexuels, adoption d'enfants y comprises, (et qui ouvre objectivement la voie vers la Gestation pour autrui, la Procréation Medicallement Assistée, la Fertilisation in Vitro, les Tests PreNatals, etc. pour plusieurs milliers de cas), a souligné à "EuroFora" le Président du plus grand Groupe Politique dans l' Assemblée Parlementaire du CdE, célui des Chrétiens-Démocrates/Parti Populaire Européen, Luca Volonté (Italien).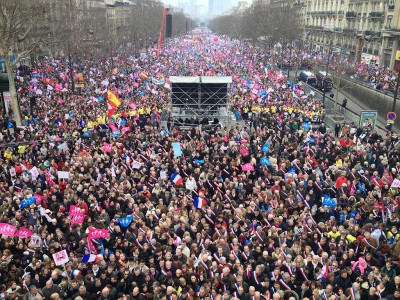 Le Président Volonté, qui s'interesse aussi à examiner les denonciations de Violences Policières contre les larges Manifestations Populaires à Paris et ailleurs, (dont le charactère apparament démésuré et excessif, dans divers cas, risque aussi de faire l'objet d'un Recours réussi auprès de la Cour Européenne des droits de l'homme), est aussi Rapporteur du Conseil de l'Europe sur "les Violations (des droits de l'homme) commises contre des communautés Réligieuses", qui sera débattu en Public et voté le mercredi 24 avril, lors de cette session Plénière de l' Assemblée Parlementaire du Conseil de l'Europe à Strasbourg.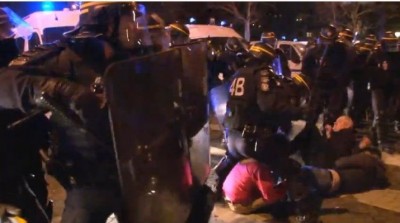 En plus, une Declaration officielle, signée par plusieurs EuroDéputés de divers groupes politiques et/ou pays,  à l' initiative du Président Volonté (qui a déjà fait adopter par le CdE son Rapport sur la Famille), récemment publiée et mise en circulation par le Conseil de l'Europe, appelle à défendre "le Droit à une Famille, unité Naturelle et fondamentale de la Société", "fondée sur le Mariage entre un Homme et une Femme", qui "a droit à la Protection de la Société et de l'Etat", et, "par sa nature, convient seule pour donner Naissance et élever des Enfants", où, les eurodéputés de l'APCE  aussi "font leur le Droit International concernant les droits de l'homme (et de l'enfant) qui oblige les Etats à promouvoir et à protéger les Droits de la Famille Traditionelle".
 (V. :http://www.eurofora.net/newsflashes/news/coeprotectionofnaturalfamilyandchildren.html )
(../..)
BRIEF NEWS
00:00 - 26.12.2017

00:00 - 26.05.2017

00:00 - 30.01.2017

00:00 - 14.10.2016

00:00 - 24.09.2016

00:00 - 27.07.2016

00:00 - 03.07.2016

00:00 - 01.06.2016

00:00 - 12.02.2016
Statistics
Visitors: 26004078
Archive
Login Form
Other Menu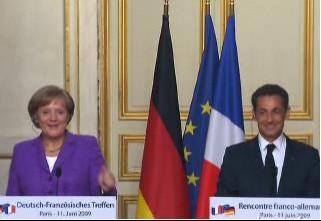 The official presentation of a "Program" respecting People's choices voted in the June 7, 2009 EU Elections, to be debated in EU Council and EU Parliament during its 1st Session on July in Strasbourg, is the No 1 Priority, according to Democratic principles, for the Franco-German axis, said the main winners at the ballot box, French President Nicolas Sarkozy and German Chancellor Angie Merkel.
They stressed  that the New EU Commission's President must have a "Program" in favor of an EU which "protects" its Citizens, regulates financial markets and aims at a "Political" Europe" : a wording they have used as incompatible with Turkey's controversial EU bid.
They also declared ready for a "political" endorsment of "Mr. Barroso's candidacy" in June's EU Council, considering that an official decision would have to be made after EU Parliament's debates and votes, possibly from next month (July), with the legally necessary final acceptance shortly after Lisbon Treaty's entry into force, hoped for September or October.

- "A Program, and Mr. Barroso" : This resumes, in substance, the anouncements made by Sarkozy and Merkel, on the question of current EU Commission's President, Barroso's declared wish to succeed to himself for a second mandate, to be extended during the following 5 years.

 In their 1st meeting after EU Elections, they observed that "the Franco-German axis counted in European Elections' campaign... But, we both keep a realistic view : We saw the number of those who abstained, and we must absolutely give them an answer. We also see the disilusionment of an important number of Europeans vis a vis Europe, and we are aware of the responsibilities we have".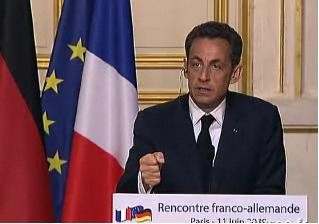 - The "Duty" of the new EU Commission's President, after June 7, 2009 EU Elections' result, "is to act for a Europe which protects the Europeans, to commit himself into working for a better Regulation of Financial transactions, ... and to have a Political will for Europe", underlined Sarkozy.

Therefore, "we have asked M. Barroso... to clarify, to officialy present the intentions he has", he anounced.

- "We want to speak also about the Programme", explained Merkel.

- "It's important that for the next EU Parliament's mandate (2009-2014) we take the right Decisions for Europe.  Obviously on Persons, but mainly Decisions on Issues", she stressed.

- "It's not simply a question of a Person, it's also a question of a Programme". We are "really asking Mr. Barroso to commit himself on a Program, and on Principles, on Values", Sarkozy added.

EU President-in-office, Czech Prime Minister Jan Fischer, accepted the Franco-German stance :

- "Barroso must present his Programme. The Czech Presidency agrees with that", Fischer reportedly said later, after meeting Sarkozy.

But Press reports from Brussels claimed that Barroso had preferred to be officially appointed by EU Council since June, (i.e. next week), "because this was implied by the current Treaty of Nice, according to him", and considered any delay until the possible ratification of the new, Lisbon Treaty on September/October, as "undemocratic".

- "At any case, independently of what Germany and France ask, it's also EU Parliament's wish". "We shall propose Mr Barroso's candidacy... But even in the framework of Nice Treaty, EU Parliament has to be associated in this Decision", the French President observed.

If this is correctly done, then "we support Mr. Barroso's candidature", and "if the (EU) Parliament agrees, we might ratify this decision since July", (i.e. next month), they both said.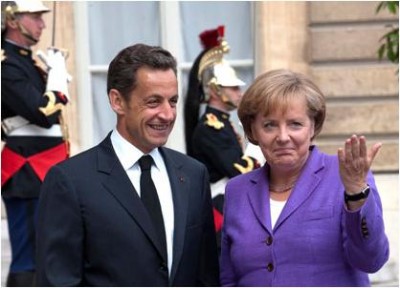 - "France and Germany support Baroso's candidacy, But we want to speak also on the Program. We believe that this Program should be established in close cooperation with EU Parliament, and that's why we have followed an appropriate way", said Merkel.  - If EU Parliament wants, this election can take place on July,  but this must be done in full agreement.
- "We shall support Mr. Barroso's candidacy, without doubt", said Sarkozy. "But we have asked from Mr. Barroso, as I told him yesterday, to put into detail.. his intentions, at the eve of his 2nd mandate, if the situation avails itself.

    France and Germany "don't want to take an Official Legal Decision by writting" during "the next (EU) Council" (on June 18-19), declared Sarkozy.  Because they prefer, at this stage, only "a Political decision" on June, "so that we (EU Council) can work together with EU Parliament", which starts to meet only Next Month, since July in Srasbourg, "leaving a Legal decision by writting for later".

    - "If the Conditions are fuillfiled in EU Parliament, we (EU Council) are ready to give the agreement and make it offficial", said Merkel

    - "But, now we are working in the base of Nice Treaty. If tommorow we want to work in the spirit of Lisbon Treaty, we have to find a proper way", she added.

    - "Of course it's Legally complicated, because we are going to make a Political proposal to the forthcoming Council, for an EU Commission's President, on the basis of Nice Treaty : So, we (EU Council) will not appoint the Commissioners. Only the President.  If EU Parliament agrees, it could endorse this position on July", explained Sarkozy.

    But, on Autumn, "if Ireland ratifies Lisbon Treaty, there will be, at any case, a 2nd Decision, to appoint the Commission's President, this time on the basis of Lisbon treaty, and then, we, the EU Member States, would have to appoint (also) the EU Commissioners", he added.

    As for the precise Timing :  - "Everything is suspended until the Irish vote... Now, we must all make everything possible to help Ireland to say "Yes"" to Lisbon Treaty... The Irish Referendum, ..will take place either on September or on October. It's a Question which depends on the Irish. And,  then, we shall have the Choice of the Candidates for the permanent Institutions of Europe".

    However, "if Ireland says No, we, French and Germans, have to assume our responsibilities, and we'll do so", he concluded.

    But British and Swedish governments were reportedly eager to have a final EU Council decision on Barroso since this month, on June's European Council. While the other EU Member Countries are divided, several of them preferring to wait until EU Parliament pronounces itself, on July, and/or until Lisbon Treaty might be ratified by Ireland at the beginning of the Autumn. Barroso's current mandate ends on November.

    There are also various, contradictory and/or unpredictable reactions inside EU Parliament vis a vis Barroso's wish to continue a 2nd mandate, because many MEPs are openly or secretly opposed, reluctant, or hesitating.

    In the biggest EU Countries, as France and Germany, EU Citizens voted on June 2009 EU Elections for a renovated, non-technocratic but Political Europe which cares for its Citizens, with an Identity, Values and Borders, declared incompatible with Turkey's controversial EU bid, by mainstream, pro-European Governing Parties. Similar choices were also supported in several other small or medium EU Countries.

    On the contrary, whenever, in other Countries, Governing and other mainstream Parties didn't make these choices or eluded them, EU Citizens massively voted for euro-Sceptics whenever they were the only ones to to promise anti-bureacratic change and oppose Turkey's demand to enter into the EU, (f.ex. in the UK, Netherlands, etc).

    It's seems to be an Open Question whether Sarkozy and Merkel's conditions will be really accepted by Barroso, who was appointed on 2004 in a different political context, (with Socialist Prime Ministers in Germany, France, etc), had rejected in the Past the idea of EU becoming "equal to the USA" as "ridiculous", and pushed for Turkey's contoversial EU bid, trying to "soften" or contain the changes desired by the People who voted for Merkel and Sarkozy with another policy vis a vis Turkey on 2005 in Germany and on 2007 in France, as they did all over Europe on 2009.

    In addition to many EPP Governments, it's 3 remaining Socialist Prime Ministers : Gordon Brown in the UK, Zapatero in Spain, and Socrates in Prortugal, who support Barroso, as well as Liberal Swedish Prime Minister Reinfeldt. But their Parties lost the June 2009 EU Elections.

    Questioned whether there was still "Time" for "other" possible "Candidates", Sarkozy and Merkel did not deny, nor made any comment on that, but simply said that "it's not for us to make publicity for any candidates. We anounced our choice ("A Program, and Mr. Barroso"). But we respect any other candidate".

    Among various other names cited are former Belgian Prime Minister Verhofstadt, former UNO's Human Rights Commissioner Mary Robinson of Ireland, Italian former EU Commission's vice-President Monti, etc. Meanwhile, Luxembourg's PM Juncker, (who had been unanimously accepted by EU Council for EU Commission's Presidency on 2004, but refused), announced his intention to resign from "EuroGroup"'s Chair. Thus, he might be available for another Top EU job.

    As "EuroFora"'s "opinion" said (See publication dated 9/6/09) : - "If the current candidates (i.e. Barroso, etc) to the Top EU jobs promise and guarantee to respect People's democratic choices, then, it's OK".

"Otherwise, Europe must find new candidates, really motivated and able to implement these democratic choices of the People."

    Because, "in Democracy, the forthcoming choices for EU's Top Jobs,...should be made according to EU Citizens' Votes in June 7, 2009 European Elections, and main EU Governments' strategic policies".
        

***

Polls