Home

newsitems

CoE Venice Commitee heads to EuroFora on Constitution Reform tabled by Ukranian President Poroshenko
CoE Venice Commitee heads to EuroFora on Constitution Reform tabled by Ukranian President Poroshenko
Thursday, 26 June 2014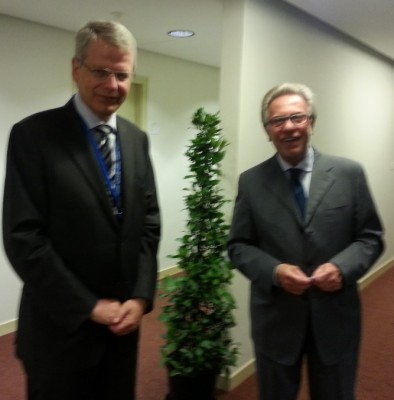 *Strasbourg/CoE/Angelo Marcopolo/- It wasn't yet clear if Negociations can still take place, or not, on the - crucial for Peace- draft Ukranian Constitutional Reforms,  during the last Day of the Ceasefire Deadline, but also the 1st in which President Porochenko will speal with EU Leaders in Ypres/Brussels, while Dissidents' representatives from Eastern Ukranian areas of Donetsk-Luhansk accepted to start participating in Tripartite Consultations, since he officially revealed the main content of his proposals  on "DeCentralisation of Power" for the 1st time Today, after a meeting with the President and the Director of COE's "Venice" Commission in Strasbourg, following his Speech and relevant Questions/Replies with MEPs at CoE's Assembly.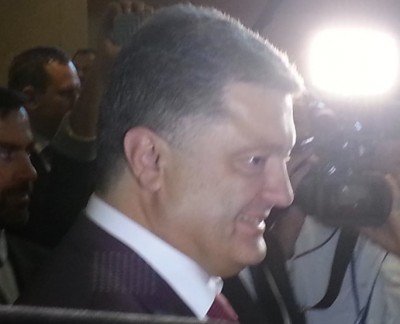 As "EuroFora" had reported earlier, it's a "preliminary" CoE Expert's estimation on Constitutional Reforms in Ukraine, crucial for Peace, that is due "around Mid-July", before a final Adoption by CoE's "Venice" Commission at its next Plenary Session on October 2014, which is scheduled exceptionaly in Rome, for the celebration of ... Years since the establishment of CoE's PanEuropean Watchdog on Constitutional Law, as the Director of its Secretarat, Thomas Markert confirmed us.

 - For the moment, COE "Venice" Commission's President, the experienced Gianni Bucquicchio from Italy, (who has served for many years in the past as former Director of "Venice" Commission's Secretariat in Strasbourg, and is also Husband of COE's former Deputy Secretary General, Maud de Boer - Bucquichio, from the Netherlands), confirmed to "EuroFora", together with the current "Venice" Commission's Director, Thomas Markert from Germany, that, in fact, Ukranian President Poroshenko had promissed "to send" them his Draft Amendments to the Constitution "when he will return back to Kiev", i.e., just after the Ypres/Brussels' contacts during Tonight's and Tomorrow's (26 - 27) EU Summit.  

- Meanwhile, "I am personay leaving for Italy now", added Bucquicchio, (i.e. there where is scheduled to take place a special October 2014 Plenary Sesssion of CoE's "Venice" Commission, due to celebrate its 100th "Jubilee" meeting, exceptionaly in Rome, where various CoE Top Officials and other European Political personalities have been already invited, and which could Officially and definitively Adopt the final Report on Ukraine's Constitutional Reforms, as "EuroFora" had predicted.

- Thus, wishing "Bon Courage" to Markert with a smile, Bucquicchio left immediately to Italy, which is taking over from Greece the rotating EU Presidency for the Semester of July - December 2014, starting right away with an exceptional series of 2 Plenary Sessions of EU Parliament in Strasbourg, as soon as since Next Week, from July 1 to 3, and followed by a longer weekly session of July 14 - 17, back here : The first since May's EU Elections.

 -Poroshenko's Draft Constitutional Amendments are mainly about DeCentralisation : that's a Priority for now, but also about balance of powers between the Government and the Parliament, Courts' Reforms, etc., Markert confirmed to "EuroFora", as expected, (Comp. : .....).
  >>> - "In fact",  as far as it concerns the most Crucial Political aspect for a possible Peace Deal in Ukraine, i.e. "on DeCentralisation" of Power, "the Constitutional" Amendments "are only One Aspect of it : It's a Start", as he characteristically stressed.

    +  Because much "has also to be done in Detail, in Legislation", Markert anounced. "So, it (DeCentralisation of Power) goes well Beyond the task of Venice Commission", he experienced CoE's Top Official anounced.

    - As "for the Constitution(al part), it's rather about Removing some (Legal) Obstacles to DeCentralisation", he explained.

    - Thus, now, "we ("Venice" Commission) have to Act very Quickly; because the Constitution is a Leading text, which has to be done" fast enough, he stressed.     -  And, at any case;  "I think that; the Constitution as such won't be (yet) the (Political) Solution" for Peace in Ukraine. Because such "a Solution has to be in the (subsequent) Laws", that the Ukranian Parliament is due to make immediately aftewards, in order to give a concrete reality to a DeCentralisation (Comp. Supra), he distinguished.

    => - "So, what we (CoE's "Venice" Commission) have Now to do, is to Remove  some Obstacles to DeCentalisation in the Constitution", in order "to leave enough Room for a Solution".

    -  I.e. for an eventual Political Agreement, "which is not" so much "in the Constitution itself, but Needs much More (legal) Details", in subsequent Laws,  CoE's experienced "Venice" Commission's Director Highlighted.  
------------------------

    + For the remaining part, at any case, "COE is very Present in Ukraine, no just with the "Venice" Commission, but also with various other mechanisms : Such as; f.ex. certain Inter-Governemental CoE Programs which include Local/Regional Bodies' issues, (some with a quite long Experience of Ukraine, already), mainly "at the Directorate-General of Democracy"s, (headed by DG. Snezana Samardzic-Markovic, from Serbia), but also the Congress of Local and Regional Authorities of Europe (CLRAE), CoE's watchdog on Local/Regional Democracy, etc.

    => Indeed, CLRAE's current President,  Austrian ChristianDemocrat Herwig Van Staa, from Tirol, (an experienced former Head of CLRAE's Chamber of Regions), has just anounced to "EuroFora", earlier this week, that he intends to visit on July Ukraine, including, if possible, the Dissident Regions of Donetsk/Luhansk : - "Yes, I would really like to go there !",  as the mainstream Top COE's Official anounced to "EuroFora".

    + In addition, "there will be an Expert from the CLRAE, who will assist the "Venice" Commission (already now) on our assessment of the (Constitutional) Amendments on DeCentralisation", Markert added in this regard.
---------------------

    - The "Preliminary" Opinion of COE's "Venice" Commission's Expert could be ready "on Mid-July", its Director Thomas Markert anounced to "EuroFora", while Poroshenko earlier anounced that he hopes that the Ukranian Parliament will definitively adopt all the proposed Constitutional Reforms around "September", i.e. just in time before CoE's competent body convenes its next Plenary Session at Rome on October : Dates which seem to imply, eventually prolonged "Dialogue" between Kiev and Donetsk/Luhansk, etc. may be throughout all this Summer...
-----------------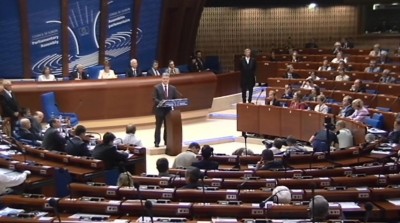 Poroshenko, in his written Speech to CoE's Assembly, (where the Biggest National Delegation : that of all Russian MEPs, was for the 1st time in CoE's History, totaly Absent, since a last-minute Minority Amendment last April 2014,  pushed far beyond what Moscow would tolerate as "Sanction", by adding to a Suspension of the Right to Vote, even that of any Participation to PACE's Governing bodies ; See : .....). presented his own policy, in Conclusion, as that of "the Men of Peace", and declared that he agreed on the obvious fact that "there should be Dialogue and willingness to reach an Agreement", in order "to save people's lives",

as he said, after 2 Months of Kiev's Military Attacks against Dissident Regions, which notoriously provoked many Destructions and Killings, even of Civilian People, and even more everyday Sufferings to a large part of a Population of several Millions of People, already long before his May 25 Election and June 7 Inauguration, which was followed, recently, by the 1 Week Ceasefire since 22 o'clock at the 20th of June, leaving Now only 1 Day more, before the Friday Deadline that he fixed.
---------------

 - Ukraine's, mainly South-Eastern "Regions and local communities strive for more authority at the local level and more Autonomy in Decision-making", the new Ukranian President observed. .

 - "They also want the Right to Speak and Sing songs in the Languages they choose, and to lay wreaths of Flowers on Monuments, as they see fit", he added in concreto, pointing at Cultural aspects. .

 - "All of that will be provided to them by the DeCentralisation of Power programme in my proposed Constitutional Amendments", due to be checked by CoE's "Venice" Commission of PanEuropean Top Legal Experts on Constitutional Law, Poroshenko confirmed, (Comp. Supra).

  - In this regard, he promissed to "Devolve Power to the Regions", f.ex. Contrary to what was done in Ukraine "before", when any "elected President.. had the authority ... to Nominate the Heads of Local districts and Regions", as he reminded, citting something obviously Incompatible with CLRAE's General Principles of Local and Regional Democracy, (as f.ex., strong CoE's Criticism against Member Countries such as Russia, the Netherlands, Turkey, etc, had already clearly Denounced, and even Sanctioned such discrepancies of the Past).

+ From what he has already anounced earlier this week, it reportedly results also that "a significant part of Taxes collected on the territory of the local government body, will remain there", (another elementary requirement of the CLRAE, as a matter of General Principle on any DeCentralisation), etc.

>>> But also amendments due to "eliminate Regional and District Administrations", and "establish...Executive committees of Local councils; to which the main functions of local power will be delegated"; as well as "introduce the posts of Presidential Representatives", (etc).

According to other, Press sources, Poroshenko's Drafts include also the power given to Presidential Representatives to Stop the Decisions of Local Councils, if they are in breach of Ukranian Laws, by taking the mater to the Court, (something that the current Heads of Regional/District Administrations can't yet do).

Local councils, will, reportedly, be empowered to Adopt regional Budgets, and authorize budget Spending, approve regional socioeconomic Development Programs, and regulate Law enforcement issues, according to Press sources.

++ In parallel, "Early Local Elections are to be held in Ukraine, in connection with the Amendments to the Constitution, so that the Elected Leaders of the Territorial Councils will receive New powers and Responsibilities", Poroshenko added now iN Strasbourg. For that purpose, the Future "Elected Representatives will establish Local Councils, which, in turn, will form Executive Committees", according to his proposed Plan.

>>> In fact, only "Some elements" of his overall Plan of Reforms, "are Not subject to Discussion : The "Parliamentary-Presidential" model", (as he called the relations between Executive and Legislative Powers), "the Unitary system", (i.e. the Exclusio of any Federalism), "European integration", (i.e., practically, the signature and later Ratification of EU's Trade Deal for Neighbouring, "Associated" Countries), "and the existing Language system, with 1 Official Language" (is a vis the National State), "plus Multiple Regional Languages", (apparently mainly, or even exclusively, vis a vis Local/Regional Authorities), "with a comprehensive guarantee of the Development and Use of every Minority Language", as he sketchily promissed.

=> On the Contrary, "Everything else, can be subject to wide Public Debate", Poroshenko declared, (without, however, going yet as far as to explicitly mention the opening of a Dialogue with the Dissident Regions), "and I can assure you that such debates are already under way", he added, rather vaguely, (i.e. without yet naming his interlocutors; even if it seems that, reportedly, even certain Dissidents would have acknowledged a recent Poroshenko's trend to start speaking with some "valuable" members of Civil Society, but, according to them, without having given yet to the Dissidents a real Chance for Negotiation.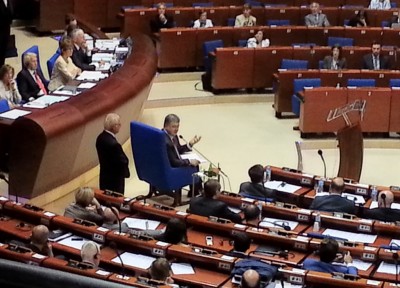 - On this, obviously Crucial, point, President Poroshenko anounced, in Strasbourg, in an oral Reply to a Question raised by an Icelandish MEP, after his written Speech, that the Dissidents of Donetsk-Luhanslk Easter areas had just "confirmed... their Interest in Participating" at the "Meetings with the Trilateral Commission", composed of "a representative of the Russian Ambassador, the ex-President of Ukraine (Kuchma), and the Ambassador (Heidi Taglavini of Switzerland) from the OSCE", as he said.

 - But, as he reminded, "Tomorrow (on Friday, June 27) will be the End point", because of the Time Deadline that he had imposed for the 1 Week-long Suspension of Kiev's Military Attacks against the Dissident Regions. Therefore, the remaining Time for eventual Dialogue between the Parties in the conflict, is now "Less than 12 Hours before the End of the Ceasefire", Poroshenko acknowledged.

=> In consequence, "a Lot depends on Tomorrow's Negotiations", he warned from CoE Assembly's plenary in Strasbourg, before leaving, later-on, for Brussels :

 - "If the key Political elements of the Peaceful Plan are accepted by the Separatists", (as he called the also Federalists/Autonomists Dissidents of Donetsk and Luhansk areas, who had never asked for "Autonomy" before the February 21, 2014 non-elucidated Deadly "Snipers" provocation, which topled a Compromise Agreement signed by former President Yanukovich and the 3 former Opposition Leaders, under the auspices of 3 EU Foreign Ministers from Germany, France and Poland), "thet wil give us Strong Hopes".

- But, "if it's Rejected", then, "we wille have to make a very Important Decision Tomorrow", and, at least for the time being, "I canNot comment on what type of Decision we will make", Poroshenko warned.

=> An interesting point, however, is the fact that the New Ukranian President, replying to another, relevant Question by German MEP Hunko, speaking in the name of the European Left, didn't explicity exclude "ro Extend the Cease-Fire Tomorrow", as he had asked him, in order to "pave the way for Negotiations", as Hunko highlighted, given the "Hopes attached to the Cease-Fire", particularly since now it was confirmed that the Dissidents "are prepared to engage in Talks with you" :

- Indeed, "after Yesterday's Phone Conversation with the Russian President", (by Chancellor Merkel, Poroshenko, and President Hollande, etc), "their position changed", towards "recognizing the Cease-Fire", as the Ukranian President said, (while Both Sides have, in fact, been accusing eachother, since the beginning  Stopof this week, to violate the 7 Days-long cease-fire, Dissidents' appeals to Stop Military Attacks, pull the Army out of inhabited areas, and open Negociations, having also been a leitmotiv for long).  

=> - So, "we will see Tomorrow", Poroshenko simply replied, apparently Not Excluding an obviously Necessary Extension...
-------------------------

A preliminary contact has treportedly taken place shortly after the Dissidents/Federalists declared a parallel Ceasefire, as long as Kiev's Military is due to suspend its 2  Months-long Attacks against Donetsk/Luhansk areas, as early as since Monday, June 23, at Donetsk, with the participation of OSCE Swiss Presidency's representative for Ukraine, Heidi Tagliavini, former Ukranian President Kuchma, Russian Ambassador to Kiev Mikhail Zurabov, Mediator Viktor Medvedchuk (leader of "Ukranian Choice"), self-proclamed "Donetsk Respublica"'s head Alexander Borodai, and "Luhansk Respublica"'s officials, as well as Oleg Tsaryov, leader of the "South-East" public movement, who recently became Speaker of the Assembly of the so-called "Union of People's Republics" bringing recently  Donetsk and Luhansk areas Together.

---------
Dissidents reportedly said that for fully-fledged and succesful Peace Talks, Kiev's Militay must really Stop Fire and withdraw its Military troops from Donetsk-Luhansk areas, Compensate inhabitants for the Destructions of Family Homes by Army Bombs and Shelling, guarantee Amnesty for Militants and politcal Prisoners : I.e., in fact, points which are already included, more or less, in one way or another, among Persident Proshenko's Plan.

But they also asked for coordination between Poroshenko and the Dissident areas on Constitutional Reforms concerning their status, i.e. for Dialogue on the most important matter for them, as it was expected, and as both the April 17, Geneva Agreement by EU-USA-Russia and Ukraine Foreign Ministers, as well as President Poroshenko's own Plan's 1st point (about "Negotiation") have predicted.

-----------------------
 -  Now, either this can be done in the Short Time available of  just 1 (one) Day (June 27) before the 1 Week Ceasefire Time Deadine expires, tomorrow Evening at 10 p.m., or it might, eventualy, have anew a smaller but possibly useful chance to be made later-on, i.e. during the subsequent preparation of the Draft Laws which will be afterwards necessary for the concretisation of the Decentralisation Reforms, as it results from what COE's "Venice" Commission's Director told "EuroFora", (Comp. Supra).  
-----------

+ But if a serious Negotiation might not be really possible, or would be Insufficient after the main Constitutional Reforms, then, the only possibility in order to gine Peace a Chance, obviously, cannot be other than a ProLongation of the CeaseFire, for a period as long as it might be necessary for all the parties to this Ukranian Conflict to hold between them a sbstantial, and hopefuly fruitful Dialogue.
Consultations of trilateral contact group held in Donetsk are the 1st step towards peaceful dialogue on the settlement of the situation in the East of Ukraine, a Poroshenko's Press Release earlier noted, prefering to speak about "representatives of Local government and the State government".

- "I know that the fact of such consultations has been perceived Controversially by the public. The so-called "hawks" demand rapid and severe Military actions. Others demand large-scale Compromises to avoid war. I will answer both parties: Our goal is Not War. It is not Ukraine who started it. Our goal is Peace. But I would like to emphasize: peace Not for Any price and under any conditions".
-----------------------

However, it's also the German Foreign Minister, Frank-Walter Steinmeier who reportedly welcomed, earlier this week on Tuesday, Monday's preparatory move of Talks between all the parties in the Ukranian Conflict, speaking precisely of that second meeting of the Trilateral Contact Group in Donetsk, and welcoming the work done in this regard by new Ukranian Foreign Minister Pavlo Klimkin (former Ambassador to Germany), Leonid Kuchma, former Ukranian President, Russian Ambassador Michail Zurabov and OSCE Swiss Presidency's Envoy Heidi Taglavini, etc :
- "The Discussion on conditions under which a Truce might be proclaimed and the militants might lay down arms and agree to the operation of the OSCE expanded Monitoring mission, is itself a considerable Step forward," the German Minister emphasized, according to Poroshenko's Press Office.

------------------------------------------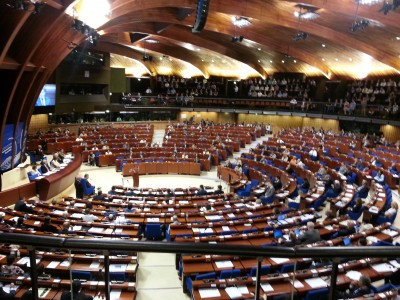 + But, on this Thursday, (June 26), after Poroshenko declared at CoE's PanEuropean Assembly in Strasbourg that the Ukranian "Parliament Today, registered (his) Draft Amendments to the Constitution", (Comp. Supra), expressing the Hope that his "idea" on the proposed De-Centralisation "will be supported by the Ukranian Parliament now", the Question is if the Ukranian President really has, anymore, as thing stand now, any more Legal possibility to Negociate with the Dissidents on this Crucial issue, or not...

- Informed Diplomatic sources from the Ukranian Permanent Representation to the CoE in Strasbourg, told "EuroFora" that, in principle, since Poroshenko's Draft Amendments to the Constitution for DeCentralisation had already been "Registered", earlier Today, by the "Rada" (the National Parliament) in Kiev, then, the Content of the proposed Changes had ipso-fato become cystal-clear and legaly fixed in their present version. So that things would, from now on, depend on what would the Rada do.

But, the strange fact that Poroshenko, (as "EuroFora" found on the spot), had not yet given to CoE's "Venice" Commission in Strasbourg the full Text of his Constitutional Amendments, but simply promissed to do so only after his return from Brussels to Kiev, (Comp. Supra), fuelled speculations that this might be an interesting manouver in order to still keep a real Chance to Negociate with the Dissidents, and/or to discuss with EU Leaders, some more or less important Modifications, in an attempt to Find an Agreement between all the Parties involved in the Conflict.

-However, to the simple Question by "EuroFora", to a Press Officer of the Ukranian Presidency accompagnying Poroshenko from Strasbourg to Brussels, later this Afternoon, (June 26), on whether he still had, or not, at this moment, (i.e. after the anounced registration of his proposed Constittional Amendments to the Rada), the (Legal) "Possibility to Negociate" on the Content of that Crucial De-Centralisation Reform, (on the occasion of his imminent, last-minute, contacts with EU Leaders and/or the representatives of the Dissidents), the immediate Reaction was merely a : - "No Information on that point !".

At least, this didn't seem to exclude, a priori, the only remaining Hope, Today : that of a last-minute Beginning, at last, of a, long overdue, inclusive, substantial and transparent Dialogue between Kiev and the Dissident areas, in the common quest of an Agreement on the necessary Reforms for a Peaceful Future of the Country, obviously urgently needed now, both for Ukraine and for all Europe...

But; naturally, in order really have a Chance to Succeed, such an indispensable attempt, certainly Needs, at least, a real Ceasefire, or even a Truce Agreement, and enough Time ahead, (in addition to the obviously necessary also, positive Political Will, by a sincere desire, interest, and/or objective necessity), ... while only a Few Hours are still left until the Expiration of a Too Tight Time Deadline.
 ----------------
A fortiori when, as experienced CoE's Secretary General Thornbjorn Jagland stressed earlier Today in Strasbourg, during a CoE's PanEuropean Parliamentary Assembly's Debateon Political and Humanitarian developments in Ukraine, "the way to Unite a Divided Country is to get .....a Constitution that Everybody can embrace"...
- "Obviously, the Constitution Needs to be the outcome of Consensus", strongly stressed also,  CoE PanEuropean Parliamentary Assembly's 1st Speaker, who had been collectively  chosen by PACE's Bureau in order to Open this Summer's Plenary Session's Debate on Ukraine, President of the Liberal Group of MEPs,  Jordi Xuclà from Spain.

     => - Therefore,  "we need a Dialogue and Agreement between Majorities and minorities. We canNot have toing and froing, and a substitution of one by the other; time and again. Indeed, we cannot have Changes to the national Identity, depending on Who is in Power", he denounced.

      -Because, "in the Past, various constitutional Reforms have Failed in Ukraine". Since those "Reforms have meant Alternation in Power, such as Changes in Majorities and Minorities, and were Not made in a context of Democratic Standards..... Depending on Who is in Power, and Who is in Opposition, has also meant a Change in the perception of the Country's national Identity", he reminded.

    - But, now, "the Time has come", "to look at Constitutional Reforms", and "this is ... the right Moment for us" (CoE), to "be Concerned about the Way in which Constitutional Reforms are panning out in practice", urged the 1st Speaker of the Assembly of the PanEuropean Organisation for Human Rights, Democracy and Rule of Law.

       -  "We (CoE's Assembly) talked about Solutions, and the fact that there was a window of opportunity for Constitutional Reforms. ...We must Ensure that the Window of Opportunity .... does Not Close", he Warned in conclusion.

(../..)


BRIEF NEWS
00:00 - 26.12.2017

00:00 - 26.05.2017

00:00 - 30.01.2017

00:00 - 14.10.2016

00:00 - 24.09.2016

00:00 - 27.07.2016

00:00 - 03.07.2016

00:00 - 01.06.2016

00:00 - 12.02.2016
Statistics
Visitors: 26007205
Archive
Login Form
Other Menu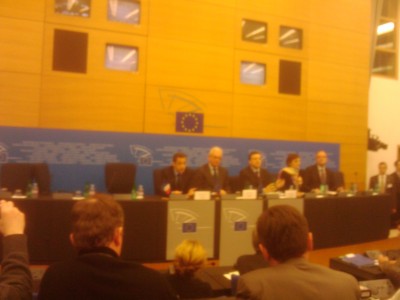 Recent developments proved that Europe can suceed to overcome challenges by aiming at great objectives, and this is needed also in 2009, said EU chairman, French President Nicolas Sarkozy.

    - "It's in the name of Great Ideas, Projects, Ambition and Ideals, that EU can overcome" challenges, stressed Sarkozy at EU Parliament in Strasbourg, in conclusion of a dense 7 months EU Chairmanship. "It's even easier for Europe to have Great projects, able to overcome national egoism, instead of limiting itself only to small projects" (unable to do alike), he observed.     
- "Europe must remain Ambitious and understand that the World needs her to take Decisions". "The World needs a Strong Europe", which "thinks on its own, has convictions, its own responses, its imagination" : "A Europe which does not limit itself into following" others, (as it did in the Past, when it followed USA, f.ex. on Bosnia). On the contrary, "Europe should undertake its own responsibilities", he said, after a series of succes in stopping the War between Russia and Georgia, and organizing the 1st EuroZone's Summit in Paris, which incited the Washington DC G-20 Summit to extend similar decisions World-wide.  

    - "When you sweep it all under the carpet, prepare yourself for hard tomorrows", he warned. "What hinders decisions is the lack of Courage and Will, the fading away of Ideals", he stressed before EU Parliament's 2008 debate on Human Rights and Sakharov prize on Freedom of thought attributed by MEPs to Chinese cyber-dissident Hu Jia, followed by an EU - Turkey meeting on Friday.

    - "I don't abandon my convictions" and "I will take initiatives" on EU level also in 2009, Sarkozy announced later. "France will not stop having convictions and taking initiatives" on Europe. + "It's an Error to wish to pass over the Heads of those who are elected in their Countries" : "It's an integrism I always fought against"', he warned.
---------------------
French EU Presidency faced 4 unexpected Crisis :

- An institutional crisis, with the Irish "No" to EU Lisbon Treaty, just before it started. A geopolitical crisis, wth the threat of War between Russia and Georgia risking to throw Europe back to Cold-war divisions, on August. A World-wide Financial and Economic crisis, arriving at a bad moment before crucial 2009 EU elections. And even a Strasbourg's mini-crisis, with EU Parliament's roof curiously falling down, from unknown reasons, in a brand new building on August, provoking an unprecedented transfert of the 2 September Plenary Sessions...

But it wasn't enough to stop Sarkozy ! On the contrary, it stimulated him...
---------------------------------------

- "The better way to deal with the recent problems of EU institutions (as the "3 NO" by France, the Netherlands and Ireland) is to take them as a "Test" in order to find solutions closer to Citizens' concerns", said later in Strasbourg Sarkozy's new choice as Ministe for EU affairs, Bruno Le Maire.

- On the Institutional front, Sarkozy gave Time to the Irish to think about it, and stroke on December a deal including a New Referendum after the June 2009 EU Elections, in exchange of a promise to keep the rule of "one EU Commissioner for each EU Member Country", and some opt-outs on Defence and Fiscal EU policies, Abortion, etc. If the Irish get a "Yes" Majority, then the institutional package could be completed in 2010 or 2011 on the occasion of Croatia's probable EU accession.

He was accused in Strasbourg to upgrade EU Council and downgrade EU Commision, but he replied that "strong Political initiatives by EU Council reinforce also the more technical role of EU Commission, under the political-technical leadership of its President", all 3 "working together with EU Parliament".


- But, meanwhile, Sarkozy energetically spearheaded an Historic 1st Summit of EuroZone's 15 Heads of State and Government at EU's core, exceptionally enlarged to a partial participation of British Prime Minister Gordon Brown, on October 12 in Paris' Elysee palace, which started to tackle succesfully the growing world Financial crisis.

    It also paved the way for its endorsement by a subsequent Brussels' 27 EU Member States' gathering, before it all come to Washington's G-20 Summit. And "Europe was united, it asked for the 1st G-20 Summit, and it will also organise the next G-20 Summit on April in London", he observed.   
 But a Conference with EU, Russia, African and other Developing Countries, hosted in Strasbourg shortly after Washington G-20 Summit by the French EU Presidency, took a Resolution asking to enlarge participation to Global Economic Governance. Many found, indeed, illogic and unacceptable that f.ex. states as Turkey were given a seat at G-20 level, while all African Countries, and even the African Union itself, representing the greatest Continent on Earth, were excluded...

    Meanwhile, even USA''s "Paulson No 3" Plan, was, in fact, inspired by Europe's No 1 Plan", Sarkozy observed, largelly applauded by MEPs.

    And "Europe showed Solidarity" by mobilizing some 22 Billion credit for Hungary, 1,7 billion for Ukraine, as we do nowadays for Baltic States, etc., he added.

    The move on Economy was extended on December by an EU stimulus' plan totalling some 200 billion Euros, including 5 Billions released by EU Commission for big Projects, as well as various parallel National plans for Economic revival, (fex. 26 billions in France alone). They might appear limited, compared to USA President-elect Obama's reported plan to boost the American economy with 800 billion $, but at least succeded to overcome Europe's divisions for the first time on Economic governance, opening new horizons.

- The French President stressed even harder the unique role of an active EU Council's chairmanship, when he moved swiftly and efficiently, at the beginning of August, to succesfully stop War between Russia and Georgia, at the last minute, which threatened to bring Europe back to Cold War division.

"We (EU) also wanted to avoid a situation like in Bosnia, in the Past, when EU was absent, so that our American friends took their responsibilitues, and EU only followed", despite the fact that the conflict took place in Europe. Now, it was the EU who took its responsibilities".

A roadmap towards a new PanEuropean Security policy, before which all unilateral moves to place new Missiles (from USA or Russia) would be freezed, was proposed by Sarkozy after a meeting with Russian president Medvedev, at the eve of Washington DC's G-20 Summit.

Ukraine's "European" character was stressed at a Sarkozy - Jushenko Summit, September in Paris, while EU adopted on December an "Eastern policy", in which, "I'm convinced that our (EU's) future is to find with our Neighbours the conditions for Economic Development. Peace and Security, by explaining them that.. they must respect (Human Rights') Values, and adopt behaviors different from the Past", explained Sarkozy in Strasbourg.

Meanwhile, the "Union for the Mediterranean" was created, since July's Summit if 45 Heads of State and Government in Paris, as "an organisation for a permanent Dialogue, that we need", mainly in order to tackle the Israeli-Palestinian conflict, by bringing together, for the 1st time, Israelis and Arabs, where "Europe must be present, in order to avoid a frontal clash".

- "If Europe doesn't take its part for Peace in the Middle-East, nobody else will do that in our place", Sarkozy stressed.
-----------------------
    Meanwhile, other EU Agreements were brokered during the French EU Presidency on Immigration, (fex. common Asylum rules, etc), and Climat- Energy :

    - On Climat-Energy, the 2007 German EU Presidency had fixed a triple 20% aim for 2020 (20% renewable Energies, 20% reduction of CO2 emmission, 20% energy efficience/economies), and the 2008 French EU Presidecny realized that, making the necessary compromises in order to modernize EU's industry, but without throwing some former Central-Eastern European Countries into abrupt Economic break down risking "social explosion".

    - Defence-Security EU policy was mainly postponed for April 2009, since both German chancellor Merkel and French president Sarkozy want to strike a deal with the new American president Obama in Strasbourg's NATO Summit.

    However, with all these 4 unexpected Crisis diverting attention to other urgencies, People wil wonder now, what happened to the famous deal proposed by freshly-elected French President Sarkozy on Turkey's controversial EU bid, back on August 2007, to continue EU - Turkey negotiations, but on the double condition that core chapters, intrinsequally linked with EU Membership, will be excluded, and that a collective Reflexion and Debate on Europe's future would start before the end of 2008.

    It was meant to reply to the crucial question : What kind of Europe do we want in 10 or 20 Years from now : A large Market, or a Political Europe, with a popular identity ? In Sarkozy's thinking, presented in his 2 landmark speeches on Europe in Strasbourg, shortly before and after the 2007 Elections, (on February and July 2007), Turkey's controversial EU bid would be incompatible with the second choice.

    It's true that EU Commision's Chairman, Jose Barroso, (who had notoriously declared, as former Portuguese Prime Minister, that he found "nonsense" the idea that Europe might become equal to the US), had repeatedly tried to avoid that Sarkozy's criticism on Turkey might start winning a larger audience in Europe, preferring a discrete "wismens' committee" work. And that most of the personalities later chosen in order to participate in a Committee on Europe's Future, are too much linked with Socialist parties and/or American policies, to be really critical of USA's notorious wish to impose Turkey to the EU, as Sarkozy had noted himself since March 2007..

     - "It's on EU Council's presidency to take political initiatives. EU Commission has other competences", stressed Sarkozy. The "European Ideal" is to "build Europe with the States, not against them". "Ask Europeans to chose between their countries and Europe won't work. You don't choose between your two parents : We must add them together".

    "France and Germany have an Historic Duty to work together, precisely because of what happened to the Past. We have to work hand by hand. We cannot be separated.It goes beyond me and Mrs Merkel today, Mr Schroeder and Mr. Chirac yesterday. It's not a choice, it's a duty to Europe and to the World".  "We need Germany, as Germany needs Europe". Compromise is inevitable, here as everywhere, and each one made some steps towards eachother's positions.

    But "it's true that Mrs Merkel didn't chose her Socialist partners, while I chose mine", Sarkozy said, in an indirect hint that the Socialist Minister of Finance in Germany might be a cause of minor past disagreements in Economy, which were overcome in recent negotiations.

    "We (France and Germany) have particular duties in Europe", but "in a Europe of 27 Member States, it's not enough for France and Germany to agree between them.

    "I always thought that Great Britain has a special role to play in Europe. ... Now, everybody "saw what it cost payed the UK for having been too exclusively open towards the US (and) Financial services. Europe needs the UK, but also the UK needs Europe" :- "We were able to face the hardest moment of the Financial crisis because the UK clearly chose Europe", stressed Sarkozy, reminding Gordon Brown's exceptional participation to the Historic 1st Heads of State/Government Summit of EuroZone, October 12 in Paris (See EuroFora's Reportage from Elysee Palace then).

     - "Some look at Europe with old glasses aged 30 years ago. While we must look at her in relation to what it will be in 30 years" in the Future, Sarkozy concluded.


Polls