Home

newsitems

CoE Ukraine Debates with Poroshenko to help bring parties in conflict to Dialogue on Peace Reforms ?
CoE Ukraine Debates with Poroshenko to help bring parties in conflict to Dialogue on Peace Reforms ?
domenica, 22 giugno 2014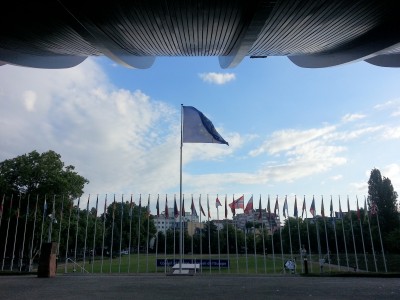 *Strasbourg/CoE/Angelo Marcopolo/- A probable 1st European Public Debate on the Ukranian Humanitarian and Geo-Political Crisis, since a Plan presented by President Poroshenko, (who will participate next week in Strasbourg to CoE's PanEuropean Parliamentary Assembly's Plenary Session, during which will be also elected the Secretary General of the Organisation for Human Rights, Democracy and Rule of Law for the period 2014-2019, shortly before Brussels' EU Summit is due to choose its Candidate for New EU Commission's President, and discuss with the Ukranian President the outcome of a short CeaseFire Time Deadline that he set for Friday, 10 a.m.), might, hopefully, help the "Peaceful Plan" for "a Settlement" of the Eastern Ukraine conflict, avoid any "Ultimatum" trap (Comp. Infra), and succesfuly evolve into a fully-fledged, Democratic Dialogue and Negotiation on the planned Constitutional Reforms, due to be examined by CoE's "Venice" Commission asap.

A "Peaceful" Plan of the President of Ukraine, on the Settlement of the situation in Eastern Regions" of the Country, (i.e. Donetsk and Luhansk), as are officially called the proposals unveiled by Poroshenko Friday Evening, after last-minute Consultations and Changes, except from a much needed, but brief Suspension of Kiev's Military Attacks against the Dissident Regions for a Week, (20 - 27 June 2014), contains, mainly, 3 other series of particular points :

- It asks from the Dissidents to unilateraly "Disarm" themselves, to leave all Local Public Administration Buildings, to Return all Power back to pre-existing Local Governments, to Restore Kiev's Central Radio-TV, to let establish a 10 km BufferZone cutting off their regions from the Ukranian - Russian Borders; (etc).

- In exchange, it promisses "Amnesty" for "those who didn't commit serious Crimes", and a "Corridor for the Escape of Russian and Ukrania Mercenaries", (as it calls them) ; followed by "Coordination.. with (undisclosed)Representatives of the Donbas" area on future "Candidates Governors" to be appointed at the Head of Regions by Kiev's National Authorities, as well as a "DeCentralisation of Power", "through the Election of Executive Committees, Protection of Russian Language", and (not determined yet, but relevant) Draft Amendments to the Constitution".

- Finally, this is due to be accompagnied by "Early Local and Parliamentary Elections", on the Political field, as well as by a "Program to create Jobs in the region", and the "Restoration of Industrial objects and Social Infrastructure", damaged by Kiev Military's attacks.

+ As a last-minute Change, that Pan added also a point promissing "Security Guarantees for all the Participants of Negotiations", but without explaining who might participate, and who not.

An uncertain indication was only given by the Presidential Spokeswoman Irina Herashenko, who spoke only about some meetings of Poroshenko's intention to "meet" with "Intellectuals and Journalists",  as well as to "expand .. Dialogue with (undetermined Representatives of Donetsk and Lugansk Regio,ns", (without mentioning at all the Leaders of the Dissidents who organized the pro-"Autonomy" Popular Referenda of May 11, 2014, and a Resistance to Kiev's Military Attacks since mid-April 2014).

Dissidents who might Refuse to Disarm themselves before the Friday 27 June, 10 a.m. Time Deadline, would be reportefly "Eliminated", according to some Press Reports, (which are not, however, published at the official website of President Poroshenko).
----------------------------------------------

=> The 1st Public Reaction from the Federalists Dissident Regions, reportedly was self-declared Lugansk Republic's head, Valeri Bolotov's statement that "nobody will lay down his arms, as long as there is no full Withdrawal of the (Kiev's) Army from our territory", while at Donetsk, Militants, supported by Thousands of Civilian People, reportedly demonstrated by taking an "Oath" to never abandon unilateraly the defense of their Home regions.

However, shortly afterwards, all the Dissident Regions' Leadership clearly promissed to fully Respect the Ceasefire, at least until the Deadline set by Poroshenko (on June 27 : Comp. Supra), addi,ng also a promisse to Stop any Troops' Movements, during the ceasefire. But they accused Kiev's Military to Disrespect, in fact, the Ceasefire, by reportedly persisting to launch Mortar a.o. Attacks against at least 3 differend areas.

Most importantly, Dissidents reportedly denounced from the outset mainly the fact that "there is No Negociating Point" with them in Poroshenko's Plan, as it stands for the moment.
---------------------------------------------

An immediate comment by the Russian Foreign Ministry, (after denouncing also a Kiev's Military Fire even at the Russian Borderline, which reportedly "Destroyed a Building" and wounded a Rusian Customs officer), strongly Critcized the fact that "Unfortunately, the initial analysis shows that this is Not a proposal for Peace or Negotiations, but rather an Ultimatum to militia groups in southeast Ukraine, to Lay Down their Arms".

Because, "so far, the Key component is Missing – that is the proposal to commence Negotiations", as it pointed out.

- Indeed, most provisions in Poroshenko's Plan "look like an Ultimatum", explicitly denounced the Russian Foreign Minister Lavrov :  - "The point is that, all those who Disagree with the present (Kiev's) authorities, and the way they came to power (back on February 21, 2014, just after the Deadly "Snipers" provoked Violent Clashes), have only several days, a Week, to Lay Down their Arms. Otherwise, Leave Ukraine, and, then, we may take a look to see whether you have committed grave crimes or not, and if not, then you May be Amnestied," he reportedly observed.

- "The plan Lacks the Key thing - a proposal to start Dialogue. This is a drastic departure from the Geneva statement of April 17, which is still supported by all of our Western partners, the USA, the EU and the Ukrainian authorities or at least they say so". Lavrov reminded that "the Ukrainian authorities have subscribed to this (Geneva, April 17) Statement which makes it quite clear that, apart from stopping the violence and all forms of extremism, it is necessary to Start an Inclusive Dialogue, that should embrace All Regions and All Political Forces, in order to come to Agreement on the Constitution Reform".

=> "It calls for 'immediately' starting the CONSTITUTIONAL REFORM THROUGH such DIALOGUE", he underlined. "Enough Time has passed since April 17, when it was adopted, for the new Ukrainian authorities to state concrete proposals on how such a Dialogue, (the commencement of which was demanded by the parties to the Geneva statement), can be organised. We haven't seen anything like that happening yet," Lavrov denunced.
----------------------------

+ However, Russian President Vladimir Putin's 1st official reaction, diplomatically was to express his "support" to "the decision by President of Ukraine Petro Poroshenko on Ceasefire in East Ukraine, as well as his intent to take a number of specific Measures to reach a Peaceful Settlement", but, "at the same time", he "noted that the proposed plan will Not be Viable or realistic; IF no practical steps are taken to commence Negotiation process"

Therefore, "the peace plan proposed by President Poroshenko should Not take the Form of an Ultimatum to militia groups. The Opportunity that opens up with the end of hostilities should be used to Start Constructive Negotiations and to reach a political Compromise between the parties to the conflict in southeast Ukraine.

The President of Russia calls on all parties to the conflict to cease hostilities and sit down at the negotiating table.

--------------------------------------------------
=> OSCE's Chairman-in-office, Swiss President Didier BurkHalter, reportedly found "an important Chance" towards a sustainable Desescalation of Tension in Ukraine, and expressed the "Hope that it would Open a Window of Opportunity for DIALOGUE", as the experienced also Foreign Minister stressed in conclusion, (obviously referring to the famous April 17, 2014, Geneva Agreement on Ukraine by EU-Russia-USA Foreign Ministers).

----------------------------
Even Pope Francis, has recently launched, at the beginning of June 2014, a vibrant Call for "Dialogue" and "Reconciliation", among "All Parties involved", by "overcoming MisUnderstandings", as he reportedly stressed already since June 2, i.e. in the middle of some  very Tragic Days particularly for the Civilian Population at the Dissident regions of Eastern Ukraine, (comp., f.ex. : ......), when he reportedly "Prayed for the Victims... in some Regions of Ukraine", "with a very Sad Heart".
---------------------------------

    Speaking on Saturday, June 21, German Chancellor Angie Merkel reportedly welcomed the Ceasefire, and stressed that ""the Suffering of the People in the SouthEastern Ukraine must come to an End"/

- For that purpose, Merkel "is convinced that it is now time to find a Political Solution", for which,  "the proposal submitted by the Ukrainian president's peace plan, forms a very good Basis".

-------------------------------------
CoE's Secretary General, Thornbjorn Jagland, welcomed "an Important Step towards Lasting Peace and stability in Ukraine", and expressed the "Hope" that "this will Enable the Necessary  Negociations to take place, as Soon as possible".
"What is Essential Now, is that all sides Refrain from Violence, and respect Human rights and the rule of Law", he urged for the moment.
------------------------------------

++ Reacting at least to the initial Comments, Ukranian President Poroshenko, added, inter alia, that "Immediate (i.e. in less than a Week) fulfillment of the peaceful Plan will Open the Path to the political Dialogue", (but without explaining how this would be done in real practice).

=> In this regard, he "Invite(d)" not only the previous, "legally elected representatives of local government, civic organizations", etc., but also "Everyone else to this Dialogue", as he said for the 1st time.

 - In particular, "diametrically Different Views will not be a barrier to Participation in the Negotiations", he promissed, as a matter of principle. Therefore, "I am ready to Talk with those who have Erred, who Mistakenly stood in the position of Separatism", as he said on the most Crucial point, (as if he Opened ...Half of a Window of Opportunity for real Peace, since it obviously remains still to clarify whether all those Dissident People who don't think that they "erred", or that they made only "Mistakes", will be allowed to participate to Peace Talks, or not...
 
+ Apparently Excluding just those "who were involved in the acts of terrorism, murder or torture", as he said, (without explaining, however, if by "Terrorism" he meant all those Dissidents who were obliged to take arms just in order to Defend their Home Towns from Kiev's Destructive and Deadly Military Attacks, or, on the contrary, only those who might have abused of Violence in order to attack innocent Civilians at their workplace in an attempt to provoke Fear, Destructions, etc. in order to Submit them under their Power)...  

- "I guarantee Safety for All Participants of the Negotiations", i.e. "for Anyone who wants to speak the language of Arguments, instead of the language of Weapons", at last Poroshenko added, more Positively, apparently excluding only those who, from both sides, might eventualy insist to abuse of Violence, Army, and Mlitary Weapons, instead of Political Dialogue...

 - Naturally, for him, "the issue of territorial integrity of Ukraine is out of discussion!"; as well as "the issues of unity, territorial structure, language and GeoPolitical Orientation", as he added for the Ukranian State.

 - Instead, "the Way Out of this situation ...is in a Broad DeCentralization of Power", Poroshenko suggested, (i.e. apparently Excluding Federalism).

=> In particular, "I will convey Part of my Powers to Local Authorities and territorial Communities", while the long-awaited, crucial "respective Amendments to the Constitution can be adopted in a few Weeks", so that "We can count on final Adoption already in September", he promised, (almost reaching the Time Period qu' "EuroFora" had guessed recenty, (Comp. ...)

+ Afterwards, "Under the New Constitution, we will hold the Elections to Local (but "Not Regional".. ) Councils. The Councils will form ... executive committees and Elect their Heads. And (for the 1st time in Ukraine's History), it will be they, Not Appointees from Kyiv, who will Rule the Regions and manage local Budgets", which "will be substantially Increased", since "Part of Taxes will be redistributed for the benefit of communities, cities, districts and regions", he promissed, (i.e. practically eyeing to bring Ukraine's Local/Regional Authorities close to CoE's general Standards throughout Europe for ordinary Local/Regional Democracy, according to CLRAE's principles).

++ Moreover, in the particular case of Ukraine, "Decentralization provides for the extension of the rights of Regions in matters of Historical Memory, Cultural Traditions and Language policy", he promissed : Thus, "Local communities of Donbas will have a right to freely use Russian Language (only for Local use), along with the State Language (due to remain Ukranian for all National level uses, according to Poroshenko's initial offer). And "Communities will determine themselves to what Monuments they should lay Flowers. What they should Celebrate, and what Songs they should sing at the Holiday table. ...in which Churches to pray", he added, (obviously citting, except from ...Chrysanhemes, also some among the Symbolic but Important for the People, Cultural and Historic Identity issues).

 - On Economy, "Donbas" area will have "Help" from "Ukraine"'s State and "also the EU", because it "will Not be able to deal with its problems Alone", "in  conditions of Decentralization", he estimated.

=> Thus, "We (i.e. the National, Ukranian State) will Help to Restore the Infrastructure Destroyed", and "at the cost of the (National) State, we will Restore Housing Destroyed during Combat Actions (as he called Kiev's Military Attacks since alreadu long Before Poroshenko's Election : since April and May 2014, but notoriousy Intensified afterwards), we will Restore Workspaces", so that Donbas residents" (who were notoriously obliged to massively transfrom themselves into IDPs/Refugees since Kiev's Military Attacks) will have a place to Return, to live and to work", as he promissed.
 
But, naturally, "for the Investors in the Economy of Donbas", (as well as, more or less, all Ukraine, Nation-wide..), "It is clear that there will be no Investments, unless there will be Peace", the experienced former Businessman Poroshenko acknowledged.

+ Moreover, any really "Peaceful Plan canot be implemented without a Broad Support of Residents of Donetsk and Luhansk regions", he also admitted, (inevitably touching upon Political Compromise and Agreement matters).

 However, "I understand that not all People are ready to perceive or even hear the <<peaceful Plan>> under the roar of Cannon Fire", he acknowledged, indirectly but surely pointing at the necessary, but short Ceasefire of 1 week only.

Nevertheless, he prefered to "think that even those (Civilian People : mainly Women, unarmed Elders, etc) who had Sacrificed their bodies and souls to create Shields (f.ex. right in front of Kiev Military's Tanks, as many emotional Videos and Photos attest in several Villages of the Dissident areas) a few Months ago, have ..Changed their mind today", as he speculated.. And he called for "Pressure", "both from Kyiv and local residents" upon Dissident "Militants", while accusing only those that he called "Gangs of Mercenaries", or even mere .. "Terrorists", to be alone responsible for having "Paralyzed normal life and left people without means of living", (after many Months of notorious and systematic Kiev Military's Attacks, with many Tanks, Army AirPlanes, Helicopters, Mortars, etc, in addition to Water, Electricity, Transports, Mobile Phones, Medical Drugs, Banks and Social Revenues, even Hospitals' Destructions and/or Cuts,  by recent Military a.o. Bombings...., Comp., f.ex. : ...)
----------

 - Otherwise, i.e. "to Solve the Problem by (Military) Force, is Not an Easy task, (as 3 Months of mostly vain Kiev's Military Attacks have largely shown, from April and May 2014, until now June 2014...) - Because "It means to sacrifice new and Numerous Casualties, consciously and forcedly. To pay much Bigger Human Price, than the losses we (Dissident Regions' Civilian Population of Donetsk and Luhansk, at Eastern Ukraine) have Unfortunately already Suffered today", Poroshenko admitted.
------------------------

- Nevertheless, "I will not let Donbas (Eastern Ukraine's areas) transform into something similar to Transnistria", (a "self-declared Republic", mainly with Rusian-speaking population, legaly part of Moldova, both former parts of USSR, but now living de facto peacefuly side by side, however in Difficult conditions), he declared.
- "We (Kiev's rulers) still have a choice and a chance to Resolve the Problem Peacefully, or by Force..... We foresee Various Scenarios", among which, the "Peaceful Scenario is the Main. It is our Plan A"

"But", if it doesn' work, then,  "we (Kiev's Government) have a detailed plan B" also, Poroshenko Warned in conclusion, saying that he prefered "Peace" as "Better Option".
-----------------------------------

 - On Sunday, June 22, German Chancellor Angie MERKEL, speaking by Phone both with French President Francois Hollande and Russian President Vladimir Putin, reportedly "stressed the need for All Sides to respect the CEASEFIRE, and to SET IN MOTION a Political DIALOGUE PROCESS", officially anounced her Spokesman, Steffen Siebert from Berlin.

According to a parallel communiqué by Hollande, (who had previously spoken also with USA President Obama), ensure a full control over the Russo-Ukranian Border was also part of the talks.
---------------------------------------

- Almost in response, Russian President Vladimir Putin, reportedly declared on Sunday, that "the fact that (Ukranian) President Poroshenko has declared a Ceasefire is without question an Important Step towards reaching a final settlement, and perhaps is one of the most important conditions for this to happen. Russia will certainly Support these plans", he promised.

 - "But ultimately, it is the Political process that is Most important", he stressed. Therefore, "It is important that this ceasefire Open the Way to a DIALOGUE between All of the Parties to the Combat, so as to find solutions that will be acceptable to all sides, in order to ensure that People in SouthEast Ukraine have no doubt that they are an integral part of the country, have the Same Rights as all other citizens, and know that these rights are Guaranteed, including by Ukraine's Constitution. This requires a Substantial and Detailed Dialogue. This is the Key to Success", Putin concluded.
-------------------------------------------------------

>>> At any case, during the forhcoming CoE Assembly's Debates on Ukraine, and President Poroshenko's 1st visit to Strasbourg, next Thursday, among various other possibilities, It's obvious, that, since the most Important point for a Peaceful Solution on the Ukranian Conflict notoriously is a possible Federalisation and/or DeCentralisation Reform, then, if anyone in Kiev might eventually, more or less Refuse to Negociate Directly with the South-Eastern Regions' Dissidents, then, at least, f.ex. CoE's "Venice" Committee might include such a necessary pluralist Debate, between All Parties involved, perhaps through an adequate use of Consultation procedures during the preparation of its Report on the forthcoming Ukraine's Constitutional Reforms this Summer and/or Autumn...


(../..)

----------------------------------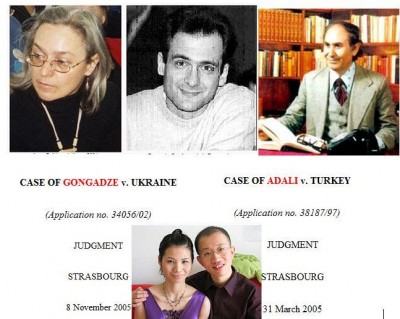 Hu Jia's prize brings SAKHAROV's wife to "EuroFora" on murders of Journalists Politkofskaya, Gongadze and Adali :
- Elena Bonner : "All Journalists' murders must be fully investigated", without Double Standards.                                                                                    

During a special Mega-Event to celebrate 20 Years of SAKHAROV Prize for "Freedom of Thought", attributed in 2008 by EU Parliament to jailed Chinese Cyber-Dissident Hu JIA, the move was reinforced by strongly criticizing the persisting impunity in three cases of Journalists' Murders, such as POLITKOVSKAYA in Russia, GONGADZE in Ukraine, and ADALI in Turkish-occupied part of Cyprus.

Any bureaucratic doubt about whether Cyber-dissidents like Hu JIA might have, or not, a right to be protected as all Journalists must be, particularly when they take risks to search, find and publish original and critical News on issues of general interest to the society, could not resist to the emotion provoked by the message of his Wife, Zeng JINYAN spectacularly transmitted at a big screen in EU Parliament's hemicycle :

- "The most important and most interesting thing he did was to ... say the Truth :.. to write about the phenomena he observed... He never stopped Publishing.. on websites, so that the Public could learn about the reality .. and understand it.  In my view, this has been his greatest contribution", stressed the young wife of the jailed man, eager to cite also the cases of other critical journalists who faced various kinds of "harassment".

 - "Welcoming all those who have suffered for defending Human Rights", EU Parliament's President, German MEP Hans Gert POETTERING, who had invited to Strasbourg all former Sakharov prize-winners from various Countries throughout the World, said that "China needs Europe, and Europe needs China : A great nation" with which "we want to have a good relationship", "association and ..friendship". "But we are never going to stop our fight for Human Rights, and No Government can expect this from us".

    - "It's impossible  to achieve goals of Peace, if Human Rights are left out. In fact, Peace and Human Rights are intrinsequaly linked", added POETTERING.

    It's in this spirit that MEPs adopted, on Thursday, a Resolution denouncing that "the criminal
investigation and trial following the murder of (a) Journalist ...raises serious concerns with regard to transparency and respect for the rule of law", when a "brutal killing has not yet been fully investigated and solved in a satisfactory way".

    The text refered to dissident Journalist "Anna POLITOVSKAYA", a critic of Tchechen conflict, killed some years ago in Moscow, where Russian Authorities have found, arrested and are currently judging two executants, while also searching to arrest also a 3rd one, allegedly escaped in Belgium. But they have not yet found the instigators.
     Similar texts were adopted recently also on dissident Ukranian Journalist Georgiy GONGADZE's murder, for which Ukranian Authorities have at least found, arrested and condemned 2 executants to 12 and 13 Years of jail, but not yet the instigators. For that purpose, they recently accepted an International Experts team to participate to the investigations.     
But, it's only for the Murder of dissident Turkish Cypriot Journalist ADALI, in the occupied territories of Cyprus, that Turkey has NOT yet found ANYONE responsible, and even claimed recently inside CoE that it would be "impossible" to do so !    
These astonishing differences exist despite the fact that ECHR condemned alike Ukraine and Turkey with 2 Judgements on the same year : 2005, for the murders of  Journalists GONGADZE and ADALI, strong critics of Corruption in Ukraine, and of Ankara's policies on mass-influx of Turkish Settlers in the Occupied Territories of Cyprus, respectively.    
Regarless of that, CoE's Committee of Ministers, who is entrusted with the duty to supervise execution of ECHR's judgements, has just asked Ukraine's Government to reply to further questions on Gongadze's murder before March 2009, while Turkey, curiously, got a longer postponement for answering questions on Adali's murder, until June...   
A comparison of these cases, raises serious questions about Double Standards :
------------------------
On TRANSPARENCY :
--------------------------
    On Gongadze's murder, CoE's body speaks even about the participation of
"an INTERNATIONAL group of Experts" in the Investigation, (f.ex. of "Tape Recordings"), accepted by Ukraine.
    On the contrary, on Adali's murder, CoE is obliged to repeatedly ask (for a 2nd
time) Turkey whether, at least, it informed the victims' Family, or not...
------------------------------
- On EFFICIENCY :
-----------------------
On Gongadze's murder, CoE formally "recalls that the Committee (of Ministers) ..URGED the Ukranian authorities.. to TAKE ALL NECESSARY INVESTIGATIVE STEPS TO ACHIEVE CONCRETE and VISIBLE RESULTS in the INVESTIGATION, aimed at the Identification of the INSTIGATORS and Organisers of the Murder", and "STRONGLY INVITED the Ukranian Authorities to provide information on the PROGRESS IN THE INVESTIGATION", before MARCH 2009.

But, on Adali's murder, on the contrary, CoE's body merely .. "took note" of the "arguments presented by" Cyprus, which denounce the absence of any proof of new "investigation" by Turkey. Following Turkey's own suggestion (!), it simply "noted" that there is "no limitation period" for "any new element" to "lead potentialy (sic !) to a Re-Opening of the Investigation". Without saying who might find any such "new" fact, since Turkey stoped searching... It also POSTPONED the issue until .. JUNE  !
-----------------------
 - On the PUNISHMENT OF THOSE RESPONSIBLE :
----------------------
 -  On Gongadze's murder case, Ukranian Authorities already arrested and condemned, at least 2 suspects, to 12 and 13 Years of jail. And on Politkovskaya's murder at least 2 suspects are judged, and a 3rd one "wanted".

On the contrary, on Adali's murder case, the Turkish authorities simply claim that "it had not been possible to obtain new .. information .. on the basis of which criminal charges could be brought against ANY person" !...

Moreover,  a LETTER sent by Turkey ...2 Years after CoE's 2006 call to re-investigate anew Adali's murder case, is totally EMPTY of Facts ! As Cypus' Delegation denounced earlier, Turkey's Letter ONLY CLAIMS that a "New Investigation" was made without any result, but does NOT even cite ANY FACT to prove it :

F.ex.,on the crucial issue of the "MOTIVATIONS" behind Adali's murder, noted by ECHR, Turkey MERELY CLAIMS that "all allegations  were investigated; without result", but OMITS ANY FACT TO PROVE IT !..(It doesn't even remind which were these "allegations").. .

+ On ECHR's astonishment that the Turkish Occupation regime didn't produce any "BALLISTIC REPORT" on the Shots which murdered Adali, Turkey again repeats, 12 years later, that, still, even until now, "it  was not possible to obtain the BalisticReport"...

- As for the astonishing absence of key-WITNESSES' Testimonies, denounced by ECHR, Turkey agains repeats various pretexts avoiding to reveal anything, (Fex. that a person "left" the Occupied Territories  "on 2002", or that another witness was heard, but without revealing nothing of what he said, etc).

Turkey obviously "FAILS TO MEET THE CRITICISM made BY THE COURT" for lack of any efficient Investigation in Adali's case, concluded Cyprus' Government.
---------------------------------------------
Replying to our Question which COMPARED these 3 outstanding cases of "JOURNALISTS MURDERS", Adali, Gongadze and Politkovskaya, in order to avoid "Double Standards" by asking from Ukraine and Russia more than what is asked EU candidate Turkey, many European personalities were critical /

They criticised Ankara's recent claim at the CoE to stop investigating, because it would be "impossible to find anyone" responsible for the 5 bullet shots which killed Kutlu ADALI in front of his Family Home, contrary to the other two Journalists' murders, where Ukraine and Russia at least arrested the executants, searching now for the instigators :
----------------------------------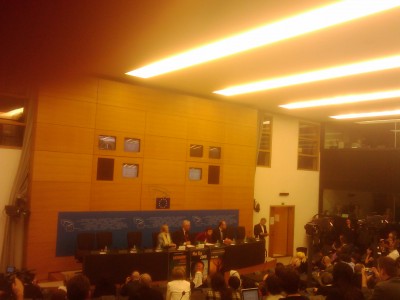 - "Where was that ? In Turkish Occupied Cyprus ? WITHOUT ANY DOUBT : Any murder of Journalist should be investigated in full ! All these Murders must be investigated !", replied the famous SAKHAROV's wife, Elena BONNER to our question on Adali's case, compared to Gongadze and Politofskaya.

    Elena Bonner spoke us EXCLUSIVELY shortly after being honored by the President
of EU Parliament on the occasion of 20 Years of her husband's SAKHAROV Prize.

    A strong personality, Sakharov's wife even had to struggle against an anonymous EU staffer who, astonishingly, tried to stop her speaking when h heard our question on "Turkey" (!) : - "Please, let me translate, she continues
speaking, don't stop us !", had to cry Sakharov's daughter, (a Journalist
herself), who was translating her mothers' reply, (obliged to speak louder to
make her voice heard despite the harassment).. (= + Audio Proof !)

    Earlier, Elena Bonner also fustigated "Double Standards" at another case, on
Western countries' attitude vis a vis Kosovo and the Kurds : -F.ex. "You have
recognized a few 400.000 Kosovars as an "independent" country, but you still
deny that to 30 millions of Kurds in Turkey !", she denounced.
-----------------------------
    - "This (ADALI's murder) is an issue which should be pursued by the Committee
for Human Rights. That's why we have one, and it's its duty to examine cases of
Journalists' murders as the one you referred to. You should bring the case in
front of that Committee", suggested in reply to our question on Adali, EU
Parliament's President, German MEP Hans Gert POETTERING.

    - "It's impossible  to achieve goals of PEACE, if HUMAN RIGHTS are left out :
in fact, Peace and Human Rights are intrinsequaly linked", added POETTERING.
--------------------------------------
    + "For us (European/International Federation of Journalists) it's clear :
Whenever a Journalist is Murdered, the Investigation should continue until
those Responsible are found !", replied earlier to another question on ADALI
EFJ/IFJ's Secretary General, Aidan WHITE.

    Speaking as a matter of General Principle, White asked us for "concrete data"
on the execution of ECHR's judgement on Adali case, in order to "look at it in
depth" and "make a formal statement", in comparison with the other Murdered
Journalist case, also pending at CoE's  Ministers for completing its execution,
on Ukranian Gongadze.
----------------------------------------------------
     From EU Rapporteur on Human Rights, vice-President of EU Parliament Liberties' Committee, MEP Giusto CATANIA, we were told that, since there is an ECHR judgement in both Adali and Gongadge's cases, "Turkey must naturally execute the judgement and make a full and efficient investigation, until those responsible for the Journalist's murder are found and punished".

    Even if "we (Catania's "EuroLeft" Group) support Turkey's EU perspectives, this does not mean that Ankara should not behave properly. On the contrary, it means that they have to meet tough conditions, particularly on Human Rights", was added on the occasion of Adali's murder case.

    Moreover, "since you raise the issue of Mr. Adali's muder as a part of a Series of Journalist's murders, including fex. Gongadze, Politkovskaya, ao., tthen we (EU) could also act together with CoE's Commissioner on Human Rights, Thomas HAMMARBERG, it was suggested.

    - "We (EU) must step up efforts against the problem of IMPUNITY : Real Peace cannot exist without Justice",  stressed also this week at EU Parliament in Strasbourg, French Minister on Human Rights, Mrs Rama YADE.
------------------------
                     

Polls