Home

newsitems
newsitems
EU's Almunia to EuroFora on Eco Stimulus plans, before London G-Summit : Keep the Rules or Opt-out !
Wednesday, 25 March 2009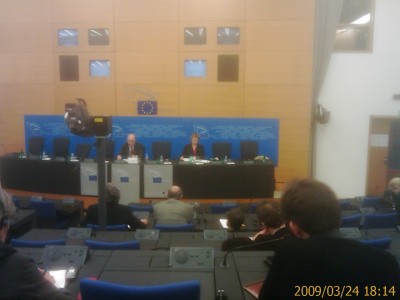 EU Commissioner on Economy and Finance, Joachin Almunia, replying to 3 "EuroFora" questions in Strasbourg before next week's London Global Summit, made it clear that all EU Member States must, more or less, respect EU Rules on the Monetary Stability Pact when they draft their Economic Stimulus policies, unless they want to "Opt-out" of EuroZone, as the UK has already done...
  Several EU Countries must correct imbalances in rather strict Time deadlines, and this is not an  "impossible task", but "a very possible and attainable task", as Almunia told us. But it's only the UK which could practically ignore EU's calls, "because of the Opt-out they have"....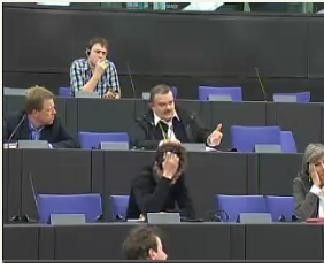 The issue got a larger, EU-wide and even Global Political dimension, one day later at EU Parliament, when USA's new President, Barack Obama's call on Europe to augment Spending against the Economic Crisis at the eve of G-20 Summit, was considered by some EU officials, (as EU chair, Czech Prime Minister Topolanek or EU Commission's President Baroso, etc), as partly deviant to Euro-Zone rules of the EU, whose priority now seems to be a new, multi-polar agreement on the Regulation of World's Financial Markets, to avoid similar abuses and crisis in the Future.  
 Even if he appeared as partly sparing for the moment some of EU's driving forces, as France or the UK, Spain, etc, who got more Time than others, Almunia stressed that, as a matter of principle, all EU Member States should comply with the same rules, applied according to the particular situation of each one of them.

        The results of EU Commission''s check on 5 EU Countries : France, the UK, Spain, Greece, Ireland and Cyprus, gave, at first, an impression to some that a "difference" was made "between EU Countries", as an Italian journalist said.

        F.ex. paradoxically, Greece seems to have, in comparison, some better indicators than other EU Countries checked this week :

    * Deficit in Greece, after reaching 3,7% of GDP in 2007, is estimated at 3,7% in 2008, over 3% in 2009, and exceeding 4% in 2010, according to EU Commission's forecast, (while the Greek Government tabled on just 3,2%). Only Cyprus does better, with a lower deficit than the threshhold of 3%.

    France comes next, whose deficit aims for 2009 and 2010 were revised upwards at 5,6% and 5,2%. In Spain, it's expected to arrive at 6,2% in 2009 and 5,7% in 2010.

    But in the UK, Deficit estimates mount at ..9,5% in 2009/10. In Ireland, the deficit already reached 6,3% in 2008, and is expected to rise up to 11% in 2009, and 13% in 2010 !
(../..)
Read more...
World's richest Countries (Qatar+EFTA) to join EU fight v. Crisis at Energy + Banks Strasbourg Forum
Friday, 13 March 2009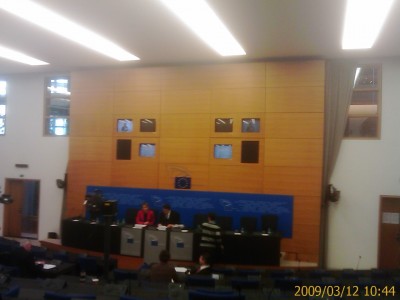 EU must debate with key European and Global players to find a New Strategy in front of "a New Balance between Energy and Banks", in order to meet EU Citizens' Energy and Environment needs with the right Projects in front of the Crisis, replied EU Rapporteur, MEP Paul Rübig to "EuroFora", announcing an innovative Forum on Energy supply and Financial markets, next week in EU Parliament in Strasbourg.
The richest countries in the World in GDP per capita, Lichtenstein and Qatar, famous also by its involvement in key EU and UNO projects, will join Strasbourg's European Forum on Energy and Financial crisis, which brings together politicians, experts, producers and investors from 27 EU Member States and EFTA (Norway, Switzerland, and Iceland), as well as some Global Economic players, announced EU Rapporteur, Austrian MEP Paul Rübig (ChristianDemocrat/ EPP), and the Chairwoman of EU - EEA JPCommittee, Bilyana Raeva (Liberal).
To find out how EU can pay for big infrastructure projects after the crisis, and if it must find new ways to meet its needs, EU Commissioners for Energy and External Relations, Anders Piebalgs and Benita Ferrero-Waldner, will be among the key-note speakers in Strasbourg's "Forum for Security of Energy Supplies and the impact on Financial Markets".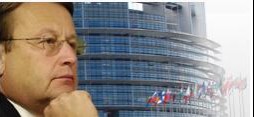 - We want to see what Europe can do to protect EU Citizens, by preserving the Climat and ensuring affordable Energy, stressed Rübig in a Press Conference.

Currently, each EU Citizen pays 700 € per year for Energy. But most Fossil Energy enters the EU from only 2 countries, Norway and Russia, from which the flow is uncertain, as it may diminish or be partly blocked., while the International Energy Agency expects that, until 2030, World's needs will augment up to +60%

Timely, the move comes when EU intensively prepares a series of crucial Summits of Heads of States and Governments on EU-World issues : The same week that EU Parliament will be debating with UK Prime Minister Brown in Strasbourg the April London G-Summit on Global Economic and Financial Crisis, where new US President Obama will start his 1st visit to Europe at the eve of NATO's Strasbourg Summit (3-4 April 2009), preceded by a meeting with French President Sarkozy at Normandie and followed by an EU - USA Summit organized by Czech Prime Minister Topolanek at Prague.

The idea is to see how Alternative Sources and our Partners would be able to interfere with EU Energy Security supply, said Chairwoman Raeva.

The Conference, organized on March 25, will bring together representatives of EU, Qatar, and EFTA Countries : Norway, Switzerland, Iceland and Lichtenstein at InterParliamentary level, with input from different sources, and "could be the basis for Future EU policies", she added.

- "Security of Supply will play an important role in the Future of European Energy policy, and, therefore, we must study the impact of the Financial Crisis on the Energy market", said Rübig.

According to various News sources, the currently falling price of oil/gas, in parallel with the Financial Crisis, push to drop or postpone the most expensive Energy Infrastructure projects which might be affected by various (political or economic) aleas. Thus, EU has to make choices and/or innovate.

We look upon working between Politicians responsible for Energy policy at National, European and International levels, by joining the forces of EU Parliament's Committees on Energy and EEA JPC, which brings together EU and EFTA Countries :  

Norway, which is on Oil/Gas business around the World, and has a good experience on Energy Distribution, could help have a better European policy. Iceland, who was recently pushed to a kind of  bankruptcy, and destroyed by a Financial industry, might have interesting observations to make on how to improve things at EU level. Switzerland, which is always going in a very clear and sustainable way, is important for Banks, as well as Lichtenstein and even Norway, which grew large Funds out of the Energy business. "Qatar is next to Iran, and it's important for Energy supply, where also Norway is an important player", observed Rübig, adding that he invited also OPEC's President, big International Companies, etc. to have a Dialogue on what might be the Future and what EU can do.

It's important to have a Debate, to see what changed in the Energy Market and to examine Future Investment, in order to find out the right Strategies :  F.ex. last year the price of oil barril was 150 $. But we don't know why it was brought down to 40 $, and what it means for the future : If it continues decreasing, we have to change Strategies.

Replying to "EuroFora"'s questions, Rubig stressed the need "to seek the right Strategies and how to get Europe forward in the next 5 Years (2009-2014). "We want to create a win-win situation and show New Opportunities". There is a dramatic Change in the USA, also at the Political level. Now we are in front of EU Elections, so, there will be a change in EU Parliament. There will be a change also at EU Commission's' level. We try now to bring some New Questions in the debate, and this meeting will be also the basis for the questioning of the New or existing Commissioners which will be presented after EU Elections, and a chance to prepare the Right Questions.

Of course, within the EU, we try to look when there will be New stocks, how are the existing Natural stocks, how to distribute it over the next 50 years. How is the Research, what should be done immediately or in the future, and a lot of Technologies that we desire, like on Renewable Energies : It's a wide area where we have to focus our Agenda, and the 7th EU Framework program on Research has to play a major part.

But, even if we get 20% from Renewables, there will be still 80% of Fossile Energies. So we should have in the Research a special focus on Energy Efficiency, on the Fossiles' Technologies. We have to look at an Intelligent Energy program, to see what we can do with the Fossile energies around the World, how to process them in the right way, to think also on the Logistics :

Because Decisions on Pipelines, Ships, Local Demand, Storage, etc. are very Costly, Expensive, and the overall Investment is way behind the framework of what we could at a European level.

Debate should focus on what does it means for the International Banking system, because now there is a problem for all big projects in getting refunded, while big International Banks are suffering from the Crisis. So, what does it mean for infrastructure projects, for building up all the machinery, all the necessary equipment to deliver on the spot, what will be the appropriate Pipeline, how are the machines, etc. for which there is a lot of financing to do behind ?

The question is : - "Is the Banking system ready and able to do the job, and what do we have to do at the WB or in the IMF to get the right structure in future, so that we can build some huge infrastructure projects, if the market demand will be quite big to survive ?"

"Because the combination between reduced activities from the Financial side, with the big International Banks, and from the other side the reduced prices for fossile Energy, opens a Debate on what should we do in this area, in front of the New balance between Energy and Banks", he concluded.
***

Qatar competes with Lichtenstein as the 1st Country in the World in GDP per capita, closely followed by other key participants to Strasbourg's Forum, as Luxembourg, Norway, Switzerland, Denmark and Ireland, Sweden, Finland and the Netherlands, Austria, and until recently Iceland, (respectively 1st or 3rd, 2nd or 4rth,  5th or 7th, 4rth or 6th both, from 7th to 13th, 11th or 14th, and 3rd or 8th), according to IMF, WB or CIA estimations, out of 187 countries worldwide.

The Emir of Qatar, Sheikh Hamad bin Khalifa Al Thani, was present at Paris' EU Summit for the creation of the Union for the Mediterranean, July 2007, after contributing to Peace in Lebanon, and has already addressed EU Parliament in Strasbourg in 2006 on the Middle East Peace process and other issues.

His wife, HH. Sheikha Mozah, is actively involved in Education and UN projects, incl. "Alliance of Civilisations". Qatar, with no other "mountains" than the original style sky-rocketing high Skyscrapers it builds itself, and is also known as headquarters to TV Al Jazeera TV Media. With immense Gas deposits and links to Global Finance, it currently builds infrastructures with New Technology Liquified Gas transportable by Sea and River Ships.




MEPs : Yes to Mexico as "Strategic Partner", No to "Accession aim" for Turkey = Commonwealth/EEA ?
Thursday, 12 March 2009

 EU Parliament voted for a "Strategic Parternship" with Mexico, but against "Accession aim" of EU-Turkey negotiations, revealing sharp Divisions between MEPs on Turkey at the eve of June 2009 EU Elections.
    MEPs' hot debates, in harshly disputed Amendments on Turkey's controversial EU bid, were in sharp contrast to the almost unanimous, calm ambiance the same day in EU Parliament in Strasbourg, to gladly speak and vote in favor of Mexico's strategic partnership..  

    Crossed visits by French and American Presidents, Sarkozy and Obama, to Mexico and Turkey respectively, before and after the Turkey and Mexico EU debates, reminded an earlier remark by Top French politician that our American friends shouldn't force the EU on Turkey's accession bid, as the EU never asked the US to enlarge to Mexico...


    EU Parliament just voted to reject "Accession" as "shared Objective" of the "Negotiations" with Turkey, that it prefers "long-lasting and Open-ended". But, on the contrary, it accepted as "common Objective" the "conclusion by 2009 of Accession Negotiations with Croatia", the frontrunner Western Balkan candidate.

    The Turkish problem could be solved by creating a new, intermediate level of strong links with the EU, a kind of "Commonwealth", inspired by the "European Economic Area" currently existing with Switzerland,  Norway and Iceland, said to "EuroFora" EU Parliament's Rapporteur on Enlargment Strategy, mainstream German MEP Elmar Brok.

    The idea is backed by the 2009 Election Manifesto of the largest Group of MEPs from the ChristianDemocrat/European Popular Party, as well as some smaller Groups from the Center or mainly the Right, but also several Independent MEPs and others accross various Parties and EU Countries, including at least one among "Greens/Regionalists", (generally pro-EU entry for Turkey).
(Turkey compared to Mexico : More Debt, less GDP)

    Shortly before June 2009 EU Elections, MEPs were sharply divided on Turkey's controversial EU bid, but, on the contrary, generally accepted the principle of accession, sooner or later, first for Croatia (the frontrunner Candidate) and afterwards for FYROM (aspiring to become Candidate), as soon as they fulfill the conditions.

    Croatia's fast moves towards concluding Accession negotiations, and FYROM's expectation to start negotiating, are currently "stalled", as EU Commissioner Oli Rehn said, because of "bilateral issues" which became also "European issues", about Border and Name disputes with EU Members Slovenia and Greece respectively.

    But the opposition to Turkey's demand to enter into the EU was widespread accross many MEPs from various EU Member Countries :

    - "Turkey is not a European Country, but in Asia minor". "We (EU) should forge a privileged Partnership,  but NO ENTRY in the EU", clearly said from the outset German MEP Bernd Posselt, on behalf of the largest Group, ChristianDemocrats/EPP.

    - On the contrary, "our group continues to support negotiations with Turkey, with a view to accession, but we shouldn't have any illusions about the Complexity of the process, and the length of Time it might take", said for the Socialists, Dutch MEP Jan Wiersma, citing f.ex. the Armenian Genocide, Freedom of Expression, Cyprus, etc. and stressing that "we(EU) shall never accept an Islamisation of the country".

    - "Blackmail would be Poor council", warned Turkey Polish MEP Konrad Szymanski, for the UEN Group.  Referring to the "Nabucco Statement" that Turkish Prime Minister Erdogan reportedly made in Brussels, threatening to block a controversial Pipeline Project if EU insisted for Ankara to fullfil its commitments mainly on Cyprus, Szymanski found  "worrying, this latest attempt to link ...Cooperation to the Negotiations, which have been slowing down for entirely different reasons". Distinguishing between the two,  he noted that, "if we put aside the accession" controversy, "Turkey is a promissing Partner on energie policy". But the current situation of its controversial EU bid "is "not optimistic", since "we are witnessing many Delays from the Turkish side".

    - ""There is 1 Clear Message : For the 3rd Year in a row, too little was done" by Turkey to meet EU Criteria, criticized EU Rapporteur, Dutch MEP Ria Oomen-Rujten. + And "we are not talking about "opening Chapters", etc. We (EU Parliament) are talking about things who impact on Citizens' lives", she added.

    - "We (EU) don't accept Blackmails about pipelines, neither on Cyprus, nor anything else", stressed also EU Parliament's Rapporteur on Enlargment Strategy, German MEP Elmar Brok, in reply to "EuroFora"'s question on the same Turkish PM's claim.

    It's along these main Dividing lines that all other MEPs, from various political Parties and Countries, moved during a hot debate, (even if those strongly opposed to Turkey's controversial EU bid were more numerous to take the floor) :
------------------
NO ?
------------------
    - "Things are going BACKwards" in Turkey, denounced, on behalf of German Liberals (growing in Polls before 2009 National Election), MEP Alexander Lambsdorf.   - "Critical Journalists have difficulties in getting Accreditation. We are concerned by the growing Number of Torture cases which is very worrying. etc.; This all looks like a ridiculus "merry go round", and it wasn't good to mix up in a same debate Turkey with Croatia, nor even FYROM, who have an undisputable EU vocation : "Next time we must do it separetely", he asked.

    - For Bastian Belder, of the Democratic Group, from the Netherlands, "we (EU) can't go by with this" situation in Turkey : Freedom of Expression is oppressed, unless some Media are puppets, lackeys, while there are Discriminations against Christians and other Minorities, etc. All this is an  Obstacle to EU Enlargment" towards Ankara, he denounced.

    - "Turkey is Asia, not Europe !", stresssed also the Italian MEP Mario Borghezio, from the "Union of Nations" Group. It's an Islamic Country which prohibits even to publish a critical cartoon on Moameth, and hinders the construction of other Religious buildings than Mosquees. Even our (EU's) Rapporteur (Mrs Ria Oomen-Ruijten), who wears pretty shirt and pants, could not enter in the Turkish Parliament !", he ironised.

    - Brittish MEP Gerard Batten, of the Democratic Group, observed that "if Turkey joins the EU it will be the Poorest and more Economically Backward member state, with a Population of over 72 Million People", Thus, "Hundreds of Thousands, if not Millions of People will migrate to other EU Countries, as Britain". And, "Thousands of Turks will be able to go to the South of Cyprus and Occupy it legally !" Moreover, "EU will border Syria, Iraq and Iran, with enormous potential for Conflicts", he noted, concluding that "the UK Independence Party opposes Turkey's entry" in the EU.

    - For the French Leader of the Right, Carl Lang from Strasbourg :  - "The Time has come to put an END to Turkey's EU Accession process ! The People of Europe don't want Turkey. Let's respect our People and respect Europe !". "This situation made of Deadlocks, Disagreements, Ambiguity, etc. is bad for both the EU and Turkey : Let's get out of this Hypocrisy and put an end to False Impressions !'".  "Turkey is an Asian country. Not a European one, neither Geographically, nor in Culture, or History. The Turkish Army occupies an  EU Member Country... It's time for each one to find its Liberty; Independence and Sovereignity, starting by Cyprus !", he concluded.

    - "People laugh about these unbelievable negotiations which could carry on for ever. Nothing really came out of the promisses, but a Miserable result. Turkey is not a European Country. It should NOT join the EU; but get a privileged partnership", stressed  Dutch MEP Philip Claeys.

     - Polish MEP  Boguslaw Rogolski denounced that "People are Discriminated in Turkey, both Minorities and Religions, and Human Rights are not respected, while Turkey does not even recognize Cyprus and occupies its land. For the sake of Europe, it's better to leave Turkey out, he concluded.

    - Even "Green/Regionalist" Dutch MEP Bart Staes who "was among those who had voted in favor of commencing (EU - Turkiey) Negotiations in 2005", now denounced that changes went "too slowly" : Turkey is "at a STANDSTILL during the 3 Last Years". This is "Unacceptable !".   - The Army is not supervised by Civilians, there is no really Free Expression, and TORTURE is intolerable, while there is no Political Solution to the Kurdish problem, he criticized

    - Bulgarian MEP Dimitri Stoyanov, spoke "against Turket's EU bid" after the votes, stressing that "there is no progres" by a State which wants to impose its own interests above Europe's human Rights and Christian values. Thus, "for 80 years, Turkey did not implement an Ankara's agreement, according to which it owes 10 Billion $ to Bulgaria", he said. In addition to the Armenian Genocide, "what to say f.ex. about the torture and genocide of Bulgarian people in the 19th Century at Stara Zagora and other cities, or when Turkish Islamists set fires at Bulgarian homes ?", he asked, pointing at "Islamist terrorists" even recently, and concluding that all this risks to be very bad for Europe.

    + "Errare Humanum est, perseverare Diabolicum" (make an Error is Human,  but insist is Devil's work): This latin moto fits well Turkey's accession negotiations' lamentable saga", added later French MEP Bruno Gollnish (Right). "Since 2005, the same Negative observations are repeated on Human Rights, Minorities' respect, commitments vis a vis the EU, etc., but accession is kept as an aim. However, the real problems are"  that a) "Europeans do not want ...a liberty of movement (for Turkish citizens) which would necessary result from accession", and b) "the fact that Turkey belongs, in Geography, Culture, Language and Religion, to a differend zone than Europe". "Thus, we must abandon this fiction, stop this accession mascerade, and start ..talks for a Partnership based on mutual interets. We must abandon any accession process", he concluded.

    - Brittish MEP Jim Alister (Independents), said that he had "Never supported Non-European Turkey's entry into the EU, but the current Economic downtown makes (him) more convinced than ever"  : - "When it comes to the Massive Additional Cost of Enlargment to include Turkey, we would be burdened beyond what we can bear", he warned. "With a reduced Tax base, falling income, and increased welfare outlay, and a cripling Debt ... we cannot go on taking our diminishing cheque-book to pay for Turkish Enlargment... It is inescapable common and Fiscal sense".
------------------------------------
YES, IF...
---------------------------
    Compared to all that, some critical points made by Cyprus' and Greece's MEPs appeared as... soft music :  Paradoxically, Greece's and Cyprus' MEPs were among the few to speak quasi-unanimously in favor of Turkey's controversial EU bid, but under certain Conditions :

    - Speaking for the "EuroLeft" Group,  Cyprus' MEP Adamos Adamou, sticked to the hope that "EU Accession aim remains a ..Driving force for ..changes in Turkey's policies, in order to guarantee Minorities Rights, a Political Solution of the Kurdish issue, the recognition of Armenian genocide, and the lifting of embargo against Armenia". However, "Turkey must fulfil its obligations vis a vis the EU, as all other Candidates". "But, Turkey fails to comply with its commitments on Cyprus as EU member state. It refuses to open its Seaports and Airports to Cyprus' Ships and Planes, and to lift its VETO against Cyprus' participation to Internatiional Organizations. And, while it aims to find a role in the area, it persists to violate International Law by occupying Cyprus. Today, in the middle of Talks to solve Cyprus' issue, EU must insist on Principles and press Turkey to allow real progress, to stop its Occupation and act to clear out the fate of the "Missing" People. The Energy Chapter cannot open, if Turkey doesn't stop hindering Cyprus to use its Sovereign Rights in its Exclusive Economic Zone", warned Adamou. He reminded Rehn's statements that : "EU Commission is concerned by the harassment" against Ships searching for Gas in Cyprus'", and the 12/2005 EU Council's conclusion to discourage any acts which may affect negatively the Good neighborhood relations and the Peaceful resolution of differends".

    - "Turkey is now at a crucial crossroads, both internaly and for its geopolitic role. That's why it's necessary to reaffirm its European orientatiion", found Socialist MEP Marie-Heleni Koppa from Greece. "But, the climat of Tension provoked recently by Turkey at the Agean Sea provokes new problems", she criticized.

    - "I recognize Turkey's European perspectives", said MEP Georges Demetrakopoulos from Greece, (EPP). "But, for this to have a happy end, Turkey must : 1) Respect Minorities' Rights, and avoid, fex. policies it applies at Imvros and Tenedos" islands. "2) Ameliorate its relations with Greece, EU Member which supports its EU perspectives, by lifting, fex. the casus belli, and putting full Stop for ever to violations of Agean" space. 3) Make progress on Cyprus issue, marked by the withdrawal of Turkish Occupation troops, and a constructive stance", he concluded, reminding that he "was raised with the generation which reminded that "Borders are at Kyrenia", (Cyprus' city occupied by Ankara's army since 1974).

    - "I agree with EU Commissioner Rehn and Rapporteur Oomen-Rujten that it's vital for Turkey to propactively support the on going Talks" in Cyprus, and that, in order "to facilitate a suitable climat for negotiations", Turkey must "withdraw Turkish Forces and allow the two leaders to negotiate freely their country's future", underlined Cyprus' MEP Kyriakos Triantafyllides. But he also "called on Turkey to comply with its obligations regarding investigations into the fate of "Missing" persons, and to stop interfering in the Republic of Cyprus' exclusive economic zone. In so doing, Turkey will itself facilitate its way towards accession", he promissed.

    However, Greek MEP Maria Panayotopoulou-Cassiotou complained that a Question she has tabled since February by writting to EU Commissioner Rehn, on what has recently done Turkey  to meet its obligation vis a vis the EU to develop good-neighborhood relations with Greece, "didn't get any answer", neither by writting or orally during this debate, despite promisses.

    - "We saw only one golden year, but after 2004 (i.e. since the start of controversial "Negotiations" with the EU, in 2005, which notoriously provoked part of the "NO" to the French and Dutch Referenda on EU Constitution), the pace of reforms has been slowing down too much in Turkey", observed Dutch "Green" MEP Jost Langedjik, Chairman of the EU - Turkey JPC. "It's true that problems as the Freedom of Expression, etc. have not been solved. That all Religious Foundations' rights are not protected, nor a solution found on Alevis, neither on the Kurdish issue, or on the border with Armenia, etc., Despite all that, I think that many MEPs still support Turkey's EU bid, but we (EU) want to see real changes, he added.

    - "Unfortunately, we witnessed a Slow-down of reforms in Turkey in recent Years", noted EU Commissioner for Enlargement, Oli Rehn. But he found as "positive developments" recently, more TV in Kurdish language, the appoitnments of a Womens' Committee, of a "new Negotiator" and a "new Program" for the EU process. Curiously, Rehn said he was "encouraged" by Erdogan's earlier statements to Brussels, without mentioning the Nabbuco blackmail (See above)...
    However, he underlined the need to "genuinely respect Freedom of Expression" in Turkey, stressing that it's "a core European value". EU Commissioner added also later, in reply to MEPs, that, on Cyprus' issue "it's important to ensure that any Solution is in line with EU's founding Principles of Liberty, Democracy, respect for Human Rights and fundamental Freedoms, and the rule of Law". I.e. "a solution that creates a United Cyprus, ..able to curry the obligations of EU membership".

     - "We (EU) are concerned at the increased number of reported cases of Torture and ill-treatment, in particular outside official places of detention", warned EU chairman-in-office, Czech vice-Prime Minister Alexandr Vondra. "Significant efforts are needed" by Turkey after "2008 did not deliver the expected level of reform", he noted, citting also the "need for anti-Corruption" measures, the "Return of Displaced People", etc. "Urgent progress is awaited", he added, on the "important issue" of the "need for Turkey to fulfil its obligation of non-disrcimination" vis-a-vis Cyprus' related Planes or Ships, which "affects the pace" of negotiations, and on the EU "Declaration of 21 September 2005" : a reply to Turkey's 29 July 2005 refusal to recognize EU Member Cyprus.

    - Danish MEP Hanne Dahl said that "it's right to criticize Turkey on many points", but "I am for its accession to the EU", which must become "a continent respecting several, different Religions" and "various Peoples of different Cultures".

    - Turkish-origin Socialist MEP from the Netherlands, Emine Bozkurt, saw some amelioration in more TV time in Kurdish, the "creation of a Womens' Committee" in the Turkish Parliament, the establishment of "shelters" for "abused women" fleeing their family home, etc.,urging Turkey only to find women "where to go after those shelters", fight more against trafficking, mostly of women, and integrate more Women in Elections. Thus, she found that Human Rights would be "on the Agenda"

    - "We need a Wider, not a Deeper EU", according to British MEP Martin Callanan (EPP), who expressed "support" for "an eventual aim" of Turkey's "eventual EU membership", without "unfair and unbalanced obstacles", as he said. "However", he expressed also"Concerns" : "I am worried about Human Rights abuses in Turkey, ..and some actions taken against Minorities", "the Erosion of the Secular republican ideal and the growth of religion in politics", etc.

    - "Much has been said on the Lack of progress by Turkey. We (EU) invite her to prove its commitment in 2009 : Turkey has to deliver on long-awaited changes", concluded after the Debate, EU chairman-in-office, Czech vice-prime minister Alexandr Vondra.  
    "But, US President Obama may visit Turkey soon, as a modern Muslim country, and, thus, I think, it's not the time to give up our involvement" vis-a-vis Turkey, whose "strategic importance should not be underestimated", concluded in reply the Czech politician.
--------------------
* Votes' surprises :  - No to "Accession" as "shared Objective",  Yes to ECHR judgements asking to Investigate "MISSING" persons' fate. EU Resolution denounces lack of progress on reforms, but growing number of "Torture" cases.
-----------------------
    But, a clear Majority in EU Parliament rejected afterwards a Socialist Amendment which claimed that  Turkey's "Accession" was "the shared Objective" of the negotiations, (which would not even be "long")...

    On the contrary, the adopted Resolution warns that "those negotiations" are only "the starting point for a Long-lasting and Open-ended process".

    - EU Parliament has just "rejected a Socialist request to fix Accession" as the goal of EU - Turkey negotiations. "This is a big success, and break-through for us (EPP), because the Resolution avoids expressly to specify Accession as a goal, and speaks of an Open-ended process, which lasts long, and whose exit today is still Unclear". "It's a large success for those who say "Yes" to a Partnership with Turkey mainly in Foreign Policy, but "No" to accession !", observed, after the votes, German ChristianDemocrat MEP Bernd Posselt.

    At present, EU Parliament "is concerned to see in Turkey, for the 3rd consecutive Year, a continuous Slowdown of reforms", and "calls on the Turkish Government to prove its..will to continue".

In particular, on Human Rights and Democracy :

    - "The Number" of "cases of Torture and ill-treatment" is "growing" in Turkey, denounces EU 2009 Resolution, expressing "Concern over the Failure of the (Turkish) Judiciary to prosecute" the torturers.

    EU "regrets that Freedoms of Expression and of the Press are still not fully respected in Turkey", denouncing "frequent Website bans", "Pressures on, and Lawsuits against Critical Press", while "People continue to be prosecuted for expressing non-violent opinions".
    
    In a last minute move, at the eve of a crucial CoE Ministers' 2009 check of Turkey's obligation to apply ECHR's judgements on Greek Cypriot "MISSING" People, next week in Strasbourg, MEPs adopted an Amendment "calling on Turkey to comply with its obligations under International Law, relevant UN SC Resolutions and ECHR's rulings" on "Investigations into the fate of MISSING persons"."This is done on the occasion of recent statements by Turkish soldier Olgac about killing, in 1974, 10 Greek Cypriot prisoners, who still remain MISSING", noted earlier, for the EuroLeft Group, Cyprus' MEP Adamou.

    EU is "concerned about continuing Hostility and violence against Minorities" (Religious or Ethnic) in Turkey. It "calls on the Turkish Government to launch, as a matter of Priority, a Political Initiatve favouring a lasting Settlement of the Kurdish issue, (while "condemning violence.. and Terrorist groups"). But MEPs also "call on the Turkish Government...to address the Problems encountered by ..the Greek Minority, with regard to their Education and Property Rights" in Imvros and Tenedos islands, as well as "for the immediate re-opening of the Greek Orthodox Halki Seminary".

    MEPs "call on the Turkish Government to sign and submit for ratification the statute of the International Criminal Court", which persecutes mainly War Crimes and Crimes against Humanity.

    But EU also "regrets that no progress has been made on establishing full, systematic Civilian suprevisory functions over the (Turkish) Military". EU Parliament rejected an Amendement which asked Ankara to go softer against the "Ergenekon" scandal of Turkish Nationalist Extremists. MEPs "welcome .. the Trial against those accused of being members of the Ergenekon Criminal Organization", and "encourage .. to continue Investigations and to Fully Uncover the organizations' networks, which reachinto the (Turkish) State's structures", by using "Fair Trial" and "Rule of Law".  
 "Concerned by the Closure cases, opened in 2008, against two Parliamentary Parties, especially.. the DTP (pro-Kurdish)", MEPs denounce "the ongoing Polarisation with Turkish society, and between the main Political Parties".

    On Social issues, EU Parliament "regrets that No Progress has been made.. on Trade Union Rights"; which "remain subject to constraints", while "Women's access to Education.. regrettably remains the lowest among OECD countries". MEPs also "point .. to the need to address the Problem of Development Disparities among Turkish Regions, and between Rural and Urban areas, which is a Major Obstacle" to social prosperity.

    On GeoPolitical mainly aspects, EU Parliament "regrets ...that the NATO -
EU Strategic Cooperation" on many issues "continues to be blocked by Turkey's Objections, which has Negative Consequences for the protection of the EU personel deployed, and urges Turkey to set aside these objections as soon as possible".

    The problem, due to be debated during NATO's Heads of State/Government Summit, April 2009 in Strasbourg, at the initiative of German Chancelor Angie Merkel, (See earlier NewsReports), concerns mainly Turkey's refusal to recognize EU Member State Cyprus.
    
    It's one of the main "Issues covered by an EU Declaration .. of 21 September 2005", (which rejected a Turkish refusal of 29 July 2005), as reminded by EU Parliament's Resolution, which "invites (EU) Council to continue to follow up and review progress made" by Turkey in its obligation to comply.

    This reminder is made in the same paragraph where MEPs warn Ankara that the "non-fulfillment of Turkey's commitments", "by December 2009, may further seriously affect the process of negotiations" : Threat which might convince Turkey to move, and find a Solution, before EU reviews anew the situation on Autumn 2009..

    But the concrete "Turkey's commitments" explicitly cited in that paragraph, are mainly to "fully" "implement" EU Rules on free access of Ships and Planes from all EU Member States, including Cyprus, according to "the EC-Turkey Association Agreement and its .. Protocol", for the non-implementation of which MEPs express "regrets"

    Meanwhile, on Cyprus' overall political issue, EU Parliament "calls on Turkey to facilitate a suitable climate for negotiations by withdrawing Turkish forces, and allowing the two leaders to negotiate freely their country's future".

    EU Resolution "stresses the need for a comprehensive Solution of the Cyprus' question, based on UN SC Resolutions and on the Principles on which EU is founded". EU will "accept any agreement.. provided that it's in conformity with the Principles on which EU is founded, including the 4 fundamental Freedoms, except for temporary transitional Derogations, that is accepted after a Referrendum".

    Affecting such hot issues as 200.000 Greek Cypriot Refugees/Displaced People, the vote of a last-minute compromise Amendment, tabled by "Green" MEPs of Turkish-origin Ozdemir from Germany, and Dutch MEP Landedjik, on "temporary transitional Derogations" from EU's "fundamental Freedoms", (which reportedly had surprised initially even EPP's President, French MEP Joseph Daul), upset most Cyprus MEPs. Triantafyllides protested, after the vote, against "unacceptable derogations, even if transitional, to EU Principles and fundamental Freedoms,"at the moment that Talks are unfolding between the leaders of the two communities, which are the only one to decide". But Kasulides looked more "cool", pointing to the fact that EU set the principle of a solution "in conformity with the 4 fundamental Freedoms", tolerating "only temporary transitional derogations", and not permanent, if and as "agreed".

    On Greece - Turkey relations, EU Parliament "reiterates that the repeal of the Casus Belli ("cause for War"), declared by the Turkish GNA in 1995, would provide important impetus for further improvement of" bilateral "relations" between "the Turkish and Greek Governments". EU Resolution also "calls on the Turkish Government to make serious and intensive efforts to solve any outstanding dispute", as in the Aegean Sea, "peacefully and in accordance with UN Charter", and "other relevant International
conventions...", (fex. the International Treaty of the Sea, etc).

    MEPs also "call on the Turkish Government to re-Open its border with Armenia", and support "a process of reconciliation... allowing for a frank and open Discussion of Past events", in an indirect but obvious reference to the issue of the Armenian Genocide.

    On Iraq, EU "recalls its earlier appeals to the Turkish Government to respect .. Iraq's Territorial Integrity, Human Rights and the Rule of Law", "when conducting anti-terrorist operations", according to the Resolution, "and to make sure that Civilian casualties are avoided".

    Finally, EU Parliament refused an Amendment which apparently attempted to give Turkey a Monopoly of intermediation between "the West and the Arab and Islamic world", (as if Morocco, Algeria, or Tynis weren't geographically and traditionaly closer to EU Members Spain, France or Italy than ..Ankara !), via the "Alliance of Civilisations" project, but curiously forgot Israel and Jews, as well as other big Religions (fex. Budhists, African animists, etc). ..

    The rejected amendment, tabled by some Socialists and supported by most Greens and Leftists, but opposed by the EPP and the Liberals, the other Groups being divided, vainly searched to "praise Turkey on being a co-sponsor" of that "project, officially under UN auspices", as it claimed, and said that Ankara alone should "take measures on a Global scale (sic !), especially in the Political and Cultural spheres", according to Turkish Prime Minister Erdogan's ambitions.

    Apparently, EU Parliament's Majority believes that Europe, in 2009 AC., is big and experienced enough to be able to create direct links with its Arab and Israeli, as well as African or Asian neighbours...
-------------------------------------------------
In the meantime, Mexico...
--------------------------------------------------
    But while Turkey's controversial EU bid was still struggling with such "hot"  Metaphysical imbroglios, ... Mexico, on the contrary, gave way to a much more pragmatic, calm, and efficient-looking debate :

    - EU Investments ..  tripled (X 300% !) since a first EU - Mexico agreement, which came into force only since October 2000, (Europe becoming the 2nd investor), observed EU Commissioner Ferrero Waldner

    Mexico,, with a Population of over 100 Millions, "its Strategic Situation" between USA and Latin America, "and its Network of Trade Agreements", (as NAFTA with Canada and USA, but also Japan and Australia), "is of great Strategic Importance for European Exports". It is Member of the G-5 and G-8, "UNO's 10th biggest contributor", and an important actor against Climate change, while "many of Mexican immigrants in the EU are Highly Skilled", notes an EU Parliament Resolution adopted this week in Strasbourg.

    Thus, Spanish MEP Jose Ignacio Salafranca's Report for an "EU - Mexico Strategic Partnership" was discussed and voted calmly and quasi-unanimously the same day, contrary to the disagreements provoked by Turkey's controversial EU bid...

    While the initial 1997 EU - Mexico Agreement touched upon "Political Dialogue, gradual creation of a Free Trade Area, and Cooperation", the new 2009 "Strategic Partnership" aims not only to deepen Bilateral links, but also to boost a far-reaching Political Dialogue to "develop coordination on issues of World importance", inside "International Organizations", at a "Multilateral level", for "concrete issues of Global reach" on areas in the political, security, environment (fex. fight against Climate change), and socio-economic fields.

    EU Decisions are due soon, in view of the EU - Mexico Summit before the end of March 2009.
---------------------
    => Could all this boil down into making the idea to propose Turkey an EU-"Commonwealth", to develop from the EEA, which includes Switzerland, Iceland and Norway, advance further ?  
 Because, otherwise, the obvious alternative, as things stand, is the risk for ...EU itself to evolve as a kind of new "European Commonwealth", regardless of its name, while real European Integration might evolve, in the forseeable Future, through a revitalized EuroZone, which almost coincides with Shengen's area on Freedom and Security, (with a special arrangement for the UK, as it was already done at EuroZone's Historic 1st Summit at Elysee on October 12, 2008, which was surprisingly successful)...
==========================================================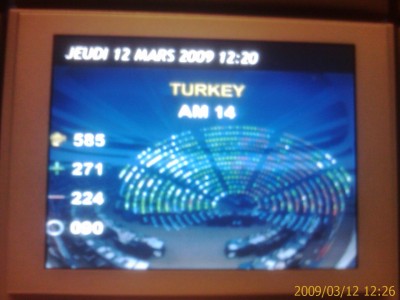 * "Missing" People : Turkey and Mexico
- In Turkey's case, Europe regularly asks to implement ECHR judgements which have condemned Ankara's authorities for persistent failure to investigate what really happened to many "Missing" persons in Cyprus and mainland Turkey.

Thus, after decades of inaction, followed by some recent revelations on possible crimes against innocent people, EU Parliament adopted, this week in Strasbourg, a last-minute Amendment urging Turkey to implement ECHR's judgements on "Missing" persons. The decision was not easy, since pressure is exerted by some sectors to limit the issue only in the search of Missing persons' remains (fex. bones, etc), without seeking to find out what happened to them and who was responsible.  (See PHOTO)

- In Mexico's case, EU, (as fex. during the visit of French President Sarkozy in Mexico this week), declares its solidarity with Mexican Authorities' struggle against several "Disappearances", mainly of women, advises to use legal methods against organised Crime, in this and oher fields, and offers practical help and cooperation for that purpose. In other words, Mexico's authorities are rather seen as sincerely trying to fight against impunity of criminals, (sometimes too hastily, risking perhaps inevitable errors), and EU offers to help.

In the rest of Latin America, several former Officials have been prosecuted as suspects to be responsible for "Enforced Disappearances" committed during the 1970ies, and some measures have been taken also by EU Member States' National Judges against some suspects, including even former President Pinochet, briefly detained in the UK.

The long-time President of UNO's committee on Enforced Disappearances, Professor Corcuera, in earlier statements to "EuroFora", stressed that, "from a legal point of view, these Crimes are considered to be continuing to be committed as long as their Families don't know what happened to the Missing People, and justice isn't done by finding and punishing those responsible for their disappearance".

CoE's Committee of Ministers is due to take exceptionally important decisions on Turkey's obligation to make effective investigations to establish the fate of MISSING persons, find and punish those responsible for their disappearance, according to ECHR's case law, next week in Strasbourg.
Strasbourg's European Science Foundation a key for EU Research "Joint" Programs ?
Thursday, 12 March 2009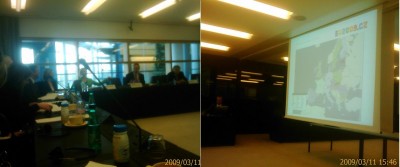 A new role by Strasbourg-based "European Science Foundation" (ESF)'s can become key for Research funding in the EU in future, sooner than expected, revealed a Hearing on "Joint Research Programming" organized at EU Parliament by the Chairwoman of the EP Committee on Industry, Telecom, Research and Energy, German MEP Angelika Niebler.

Despite the growing importance of Innovation in Global competition, RST funding in the EU rather "decreased" during the last 6 Years, except in a few Memer Countries, such as Esthonia (No 1 among the 27 in RST funds' growth). Added to the fact that EU already used to spend comparatively less than its main competitors in RST, is new US President Obama's Economic Stimulus Plan which reserves, out of 700 Billions $ in total, more than 10 Billions $ in RST.
Europe can only meet today's challenges if it succeeds to mobilize and coordinate together its National Research Programs, since 85 % of RST Public Funding in the EU is made through National channels.
"Joint programming (by grouped EU Member States) could become at least as important as the (EU's) Framework programme", stressed EU Commissioner for Research, Jan Potocnik, who launched since the 2nd half of 2008 a call "towards Joint Programming in Research" (JPR) as a New European method of "working together to tackle common challenges more effectively", echoeing several appeals from EU Council and Parliament.
As Institutional tool, EU Treaty's Article 169 allows EU Commission to participate in Research programms jointly decided y many EU Memer States, if EU Parliament approves it. Coordination is obviously needed to establish a coherent approach with cross-border results.
But the right instruments have yet to be developed in Europe, as indicated the presence of representatives from EU Commission's, the Economic and Social Committee,  and of a "High Level Group" on Joint Programming, etc. in Strasourg's EU Parliament's hearing.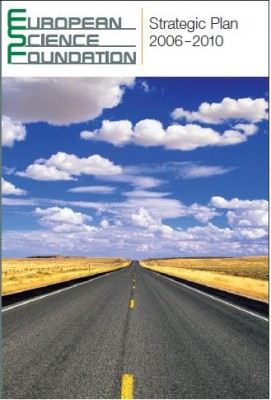 In this relation, Strasbourg-based "European Science Foundation' (ESF)'s recent Strategy, after some 35 Years of Experience, to shift the focus from EU Research (closely followed in the Past, f.ex. via EU Parliament's Rapporteur Linkohr, etc), towards fostering a common overall view and Networking among EU Member States' National Research Programms, to advance RST and explore New directions at European level, fits well the new trend. But today, this is currently accentuated and accelerated by the urgent need to find efficient replies to the Economic Crisis, able to guarantee also the Future, mainly through Innovation.

Significantly, the key-Expert who introduced at EU Parliament's Hearing was a Professor of Charles University in Prague, Czech Republic (the 2009 EU Chair), who is, at the same time, a long-time member of Strasbourg's ESF...

Original features of JRP is that funding sources are always Public, between EU Member States, without being obligatory, and that it doesn't necessarily need participation of all 27 EU Member States, while remaining "open" to all those willing to join.

Identifying jointly agreed Priorities among a wide spectrum of RST areas, is obviously a key issue, as already indicated the presence, at EU Parliament's Hearing, f.ex.  of an "Alzheimer JP pilot", and of the "Advisory Council for Aeronautics research in Europe" (ACARE), etc.

ESF's latest "Strategic Plan", a precious overall view on all RST projects' areas in Europe, regroups most of them inside large Bio-Science and Earth-Science poles (including International Law, Aero-Space, etc). 

Indicating the currently growing importance of the latter, ESF has just chosen as its new Director of Science and Strategy Development, Dr. Marc Heppener (Dutch) from the European Space Agency (ESA).

Heppener's most urgent tasks include the preparation of ESF's New overall Strategic Plan for 2011-1015, to update the current tool which ends in one year (2010).
Experienced at the "interplay between Science and Politics" at an European/International level,  ESF's new Strategy Development Director wants to stimulate "joint use of the Financial and Political clout" of ESF's 80 Member Organizations from 30 Countries, in order to "contribute strongly to the overall European research potential".
However, a current Geo-Political Problem for ESF is that, curiously, while it includes not only EU and EFTA Countries, (Norway, Switzerland, Iceland), but even Turkey, on the contrary, it doesn't yet include European Countries such as Latvia and Malta (EU Members), Serbia and Ukraine (important for several Technologies), nor Georgia, Moldova, Armenia, etc. Furthermore, opposite to earlier trends, it also doesn't include Russia.
This obviously unbalanced situation might either incite the ESF to review its structure's core, or give the focus to EU's European Research Council (ERC) and various other EU satellite bodies to activate  and boost Joint Programming in the European Research Area (ERA).
EU Parliament's Art : Shape Europe anew with Parthenon's white marble ?
Wednesday, 11 March 2009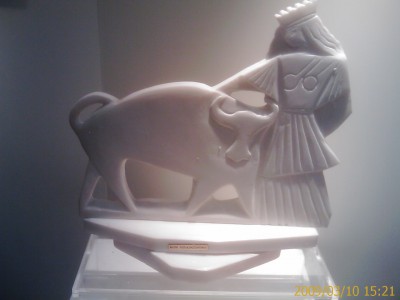 Renew Europe's Historic Legend with Parthenon's pure white marble at the eve of crucial 2009 EU Elections, was the ambition of an interesting Art Exhibition, with more topical Symbols than expected, organized by EU Parliament's 1st vice-President Rodi Kratsa-Tsagaropoulou and MEP Marie Panayotopoulos- Cassiotou, Chair of the Inter-group on Family policy, during March A session in Strasbourg.     
According to the Ancient Legend, God Zeus, charmed by young Girl Europe, was trasformed into a strong Bull with Wings, and when she tamed him with Human affection, they flew over the Sea to live together in a New Land with large, fertile landscapes.  

- "There, they saw the Continent with a "Large Front" ("Eureia -opse" in Greek => Eur-opse => Europe)", reminded the Sculptor, Mary Papaconstantinou, of the European Women Association, honored by awards in Paris, Athens and Strasbourg.

    Thus, Europe's Legend combines Symbols of Energy and Strength, with caring Human personality, to bring towards New, large Horizons :

    - "Modern Art for this Ancient Greek Legend here in Strasbourg reminds that Europe, placing Human dignity at its heart, always finds the strength to overcome any Crisis towards New achievements. And EU Parliament offers Citizens a chance to artfully interact", said MEP Panayotopoulos-Cassiotou.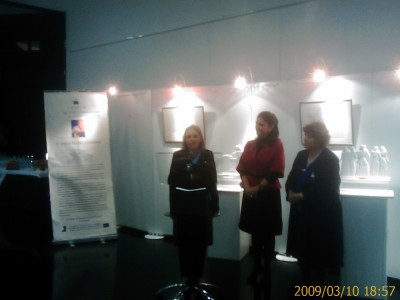 Structured like some Rembrand's pictural sequences, Europe's sculptural exhibition forms a series of many statutes, sized and flat as a PC screen, representing many scenes inspired from the original Legend, "according to Moschos' text, a Writer of the 2nd century B.C.", said Sculptor Mary to "EuroFora".  
    Made by sparkling pure white Marble full of Symbols, they incite to think but also to act, as in front of a Book with half of its pages full of written text, but another half, free to write on white paper..
    While several EU politicians think that one of the most important characteristics of the 2009 EU Elections is that from their outcome may depend Europe's Identity and Future, Culture Minister of Greece, Antonis Samaras (a former MEP) send the message that, precisely, such modern Art linked to Historic legends may help "EU Citizens search the origins of Europe's Identity".
     - "The Legend says that they founded a New City, Thebes, and that reminds us that Europe is always a project of Invention and Creation", added EU Parliament's vice-President, Rodi Kratsa - Tsagaropoulou.
    Sculptor Mary Papaconstantinou said that she "tried for years to find the same White Marble from Penteli Mountain that was used by Praxitelis and all those who created Parthenon", symbol of Democracy and one of the 7 wonders of the World.
    - "By shaping this millenary Greek Marble to revive Europe's Ancien Legend with Modern Art, it reminds that Europe is a Hope for a better Future after Crisis, combining Energy for Development, with care for the Human person", said the sculptor's compatriot from Chios island, famous from French artist Delacroix's historic painting, MEP Panayotopoulos - Cassiotou.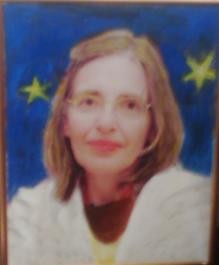 She now lives with her Family close to Rhine river, at EU's heart, near Bonn, where had started to work for the first time on European issues the new EU Parliament's Secretary General, Klaus Welle :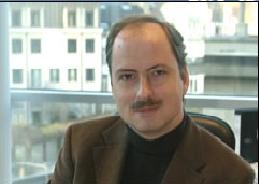 By a symbolic coincidence, Europe's legend built anew with Parthenon's marble, marked for ever the beginning of young and energetic Welle's duties as new head of EU Parliament's administration, since he saluted the retiring, out-going S.G., the experienced Harold Rohmer, shortly afterwards, at another gathering on the same floor of Louise Weiss' superb building in Strasbourg...
    Organisers of both events said that it was a pure coincidence. People are free to believe them, or hope otherwise...
**********************   
They disagree in almost everything, except from one thing :

- EU Parliament's Art unites even opposed politicians in a common belief for Europe : Cyprus' example...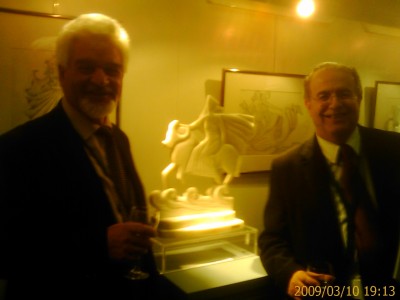 Rarely united together, but posing for "EuroFora" with the statute of Europe and Zeus flying over the Sea, ChristianDemocrat/EPP's MEP Yannis Kasulides, a frontrunner Presidential candidate in 2008, former Foreign Minister and Government Spokesman, and EuroLeft's MEP Kyriakos Triantafylides, Chairman of EU - Palestinian Council delegation, from the governing party AKEL (new Left) of the elected President, disagree on almost everything, except from their common claim that Europe of the Ancient Legend, when she flew with God Zeus from Ancient Phynecia to the West, must have crossed the island of Cyprus !

Hard to prove the contrary, 3.000 years later...
Read more...
BRIEF NEWS
00:00 - 09.07.2018

00:00 - 31.05.2018

00:00 - 26.12.2017

00:00 - 26.05.2017

00:00 - 30.01.2017

00:00 - 14.10.2016

00:00 - 24.09.2016

00:00 - 27.07.2016

00:00 - 03.07.2016
Statistics
Visitors: 28963056
Archive
Login Form
Other Menu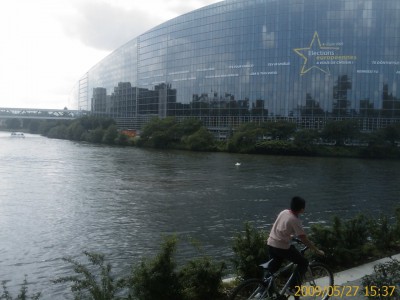 (Opinion).

 In Democracy, the forthcoming choices for EU's Top Jobs, as the New EU Parliament's President, new EU Commission's President (+ probably EU Council's President, EU Foreign Minister, etc) should be made according to EU Citizens' Votes in June 7, 2009 European Elections, and main EU Governments' strategic policies.

At the heart of the biggest EU Countries, in France and Germany, EU Citizens clearly voted for a renovated, non-technocratic but Political Europe based on Values, declared explicitly incompatible with Turkey's controversial EU bid.

This main choice was also supported in several other small or medium EU Countries, such as Austria (cf. promise of a Referendum), Spain (cf. EPP program's reservations vis a vis Enlargment), etc., while EPP Parties won also in Poland, Hungary, Cyprus, etc.

In other Countries, whenever Governing coalitions didn't make these choices or eluded them, continuing to let a Turkish lobby push for its entry into the EU, they paid a high price, and risked to damage Europe, by obliging EU Citizens to massively vote for euro-Sceptics whenever they were the only ones to offer a possibility to promise  real change and oppose Turkey's demand to enter into the EU :

It's for this obvious reason that British UKIP (IndDem) succeeded now (after many statements against Turkey's EU bid) to become Great Britain's 2nd Party, unexpectedly growing bigger even than the Governing Labour Party, as well as the Liberal party  ! Facts prove that it's not an isolated phenomenon : A similar development occured in the Netherlands, where Geert Wilders "Party for Freedom" (PVV) became also the 2nd biggest in the country, (after EPP), boosting the chances of a politician who had withdrawn in 2004 from an older party "because he didn't agree with their position on Turkey". And in several other EU Member Countries, even previously small parties which now focused on a struggle against Turkey's controversial demand to enter in the EU, won much more or even doubled the number of their MEPs (fex. Bulgaria, Hungary, Greece, etc).

On the contrary, whenever Socialist and oher parties were explicitly or implicitly for Turkey's controversial EU bid, they obviously lost Citizens' votes and fell down to an unprecedented low.

In consequence, EU Citizens clearly revealed their main political choices, in one way or another : They voted to change for less Bureaucracy, but more Politics and Values in a Europe really open to EU Citizens, but without Turkey's controversial EU bid.

Recent political developments are obviously different from the old political landscape which existed in the Past of 1999-2004, when Socialists based on Turkish 1% vote governed undisputed not only in Germany, but also in the UK, Greece and elsewhere, France followed old policies decided when it had been divided by "cohabitation", before the 3 "NO" to EU  Referenda since May 2005, before Merkel, before Sarkozy, etc.... before the surprises of 7 June 2009 new EU Elections.

If the current candidates to the Top EU jobs promise and guarantee to respect People's democratic choices, OK.

Otherwise, Europe must find new candidates, really motivated and able to implement these democratic choices of the People.

The beginning of crucial, final Decisions are scheduled for the 1st EU Parliament's plenary session in Strasbourg, in the middle of July, and they could be completed towards the October session, when Lisbon Treaty's fate will have been fixed.


See relevant Facts also at : http://www.eurofora.net/newsflashes/news/2009electionsandturkey.html
http://www.eurofora.net/newsflashes/news/daulelections.html
http://www.eurofora.net/brief/brief/euroelectionresult.html
 ***
Polls