Αρχική

newsitems

Investigative Journalist Daphne's Murder and Independent Web's Importance over Establishment's Media
Investigative Journalist Daphne's Murder and Independent Web's Importance over Establishment's Media
Δευτέρα, 16 Οκτώβριος 2017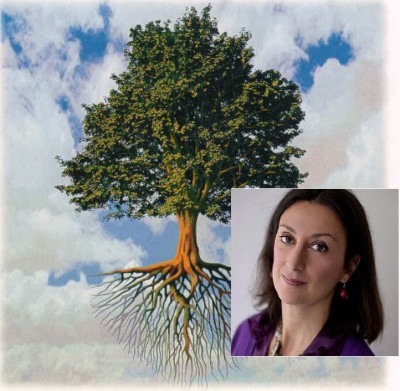 *Strasbourg/Angelo Marcopolo/- A Journalist's independent Web "NoteBook", which became Popular by its Freedom of Criticism and Investigative Journalism,  proved to be much more Dangerous for Corrupted Criminals, than a routine Ordinary Job to Establishment's Medias, judging by the Target of those sly Murderers who Exploded a Bomb in her Car, brutaly Killing Daphne Caruana Galizia, near her Family Home in Malta, earlier Today.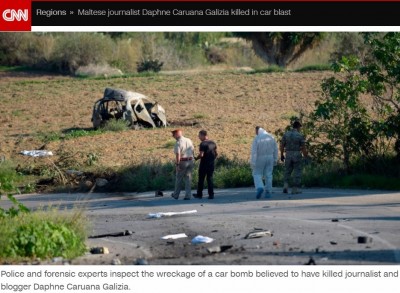 --------------------

 - "Her Blog sometimes achieved a Larger Readership, than All the other Newspapers in Malta combined", reported the "Independent" (a former mainstream Newspaper, which has recently become an Internet "Pure Player" 100%)

 - Daphne "had been Sued for Libel over Articles she wrote for her Blog", as "AP" Agency calls Daphne Caruana Galizia's "Notebook" at the Web, nicknamed "Running Commentary", (often with Acid Criticism on some Politicians).

They reportedly included alleged Revelations about "Corruption", including Offshore Compagnies in the "Panama Papers" recent scandal, (f.ex. said to be related to Azerbaijan, etc), links to "Prostitution racket in London", Senior Officials' visits to "Brothels in Germany", etc.

Her Criticism reportedly Focused mainly at the Governing Socialist ("Labour") Party's Leaders, but was also extended to at least a part of the main Opposition Party's leadership, etc.

Just 2 Weeks before her Murder, she had reportedly filed (in vain) a report to the Police complaining about being "Threatened".

At her Latest Publication in her personal, Internet Website, (shortly before the Deadly Explosion), she had also Denounced that "there are Crooks everywhere you look now," to the point that "the situation is Desperate", observed "CNN".

That Last Article concerned mainly the Prime Minister's chief of staff, "Eurofora" confirmed.

But, reports that the Head of the Team of Magistrates charged with the Inquiry on that Murder had "personally" persecuted Daphne in the Past, obviously risks to cast a Shadow on the Investigation.

Thus, the Maltese Government has just declared that it asked also a Help from USA's "FBI" in order to Investigate that Crime : A move which Reminds a similar Attempt by a former Ukranian President in the Famous case another Critical Web Journalist Gongadze, in the Past, which had also arrived at the ECHR and was Pending at CoE's Committee of Ministers i Strasbourg. But, recently, at the USA, several FBI's Senior Officials have been notoriously Criticized (mainly, but not only, by New US President Don Trump's supporters) reportedly as partial former Cronies of Hussein Barack Obama's previous Administration, (widely Criticized for Spying more on his Political Opponents than against Deadly Islamist Terrorists...

--------------------------------

 - EU Parliament's President, Antonio Tajani, stressed that this "Journalist who Sacrificed her life to seek out the Truth", "won't be forgotten."

- EU Commission's vice-President, Frans Timmermans tweeted that ": "If journalists are Silenced, our Freedom is Lost".

- President of European ChristianDemocrat/EPP party, Joseph Daul, (former Long-Time Top MEP from Strasbourg), in a Press Release send to Journalists, including "Eurofora", by his Spokesman, Siegfried Muresan, a MEP from Romania, noted that "Daphne Caruana Galizia has Dedicated her Life to uncovering the Truth through her reporting", trying with "Investigative Journalism" to "make the World a more Transparent and Better Place". With "such a Horrific Crime", "the Free World ... lost a champion of Democracy and Free Speech".

------------------------------------------------------

="Daphne" (alias "Laurier" in French) is the Greek Name of the Tree whose Leafs were used, during the Ancient Greek Civilisation, in order to Honour mainly Heroes, (who made sacrifices to realize an Exceptional Achievement, for the sake of a Collective Ideal and the General Good of Society or Humanity).

People like Caruana Galizia merit their "Daphne" leafs, for ever :

=> She must Not be Forgotten - ...Neither her Coward Killers,  until Justice is done, and the full Truth revealed.

The Tree of Daphne has Many Leafs !
(../..)
-------------------------

BRIEF NEWS
00:00 - 09.07.2018

00:00 - 31.05.2018

00:00 - 26.12.2017

00:00 - 26.05.2017

00:00 - 30.01.2017

00:00 - 14.10.2016

00:00 - 24.09.2016

00:00 - 27.07.2016

00:00 - 03.07.2016
Statistics
Επισκέπτες: 27913303
Archive
Login Form
Other Menu
ΕΔΑΔ-Τουρκία : ΡΕΚΟΡ στυγνών Παραβιάσεων Ανθρωπίνων Δικαιωμάτων τη Δεκαετία "Υποψηφιότητας" σ ΕΕ (1999 2008) !

---------------------------------------------------------
* Στρασβούργο/ΑΚΜ/ 13-14 Οκτωβρίου 2008/
-------------------------------------------------------------------  
 Δέκα χρόνια μετά την αμφιλεγόμενη απόδοση στην Τουρκία καθεστώτος "υποψήφιου" για ένταξη στην ΕΕ, η Αγκυρα κατέχει ΡΕΚΟΡ από καταδίκες για στυγνές παραβιάσεις Ανθρωπίνων Δικαιωμάτων, όπως αποκάλυψαν νέες Στατιστικές του Ευρωπαικού Δικαστηρίου ΑΔ στο Στρασβούργο :

    Συγκεκριμένα η Τουρκία έρχεται 1η από 47 χώρες ΣτΕ σε καταδίκες για βαριές παραβιάσεις στη Δεκαετία 1998-2008 : Οπως Ανθρωποκτονίες (171 καταδίκες, έναντι 82 για Ρωσία, 15 Βουλγαρία, 13 Αγγλία), Βασανιστήρια κι Απάνθρωπες-Ταπεινωτικές μεταχειρίσεις (192 καταδίκες, αντί 107 Ρωσία, 37 Βουλγαρία, 32 Μολδαβία, 11 Ελλάδα), Στέρηση Ελευθερίας (325 καταδίκες, έναντι 190 για Πολωνία, 176 Βουλγαρία, 127 Ρωσία), καταπίεση Ελευθερίας Λόγου (161 παραβιάσεις, έναντι 39 γι Αυστρία, 13 για Γαλλία και Μολδαβία), στέρηση Περιουσίας (444 καταδίκες, έναντι 286 Ρωσία, 270 Ιταλία), κα.

    Εξάλλου, μετά από μικρή μείωση το 2005, οι νέες προσφυγές εναντίον των Τουρκικών Αρχών στο ΕΔΑΔ για επιπλέον παραβιάσεις ξανάρχισαν ν αυξάνονται σταθερά τα πρόσφατα έτη 2007 και 2008.

    Η δε Κύπρος, όπου συνεχίζεται η Τουρκική κατοχή, είναι η μοναδική περιοχή στην Ευρώπη όπου "είναι σαφές ότι τ Ανθρώπινα Δικαιώματα ΔΕΝ ΠΡΟΧΩΡΗΣΑΝ αρκετά" τα τελευταία 10 Χρόνια, έστω κι άν δεν υπάρχει πλέον εμπόλεμος κατάσταση, όπως τώρα  μεταξύ Γεωργίας και Ρωσίας, αλλ "αντίθετα, πρόσφατες Ελπίδες για Ειρήνη κι επανΕνωση της νήσου", είπε ο Πρόεδρος του ΕΔΑΔ, κ, Ζάν-Πώλ Κόστα, εκφράζοντας την "λύπη" του.

    Πρόκειται για "τυπική περίπτωση μαζικών παραβιάσεων", πρόσθεσε σ απάντηση ερώτησής μας για την Κύπρο (βλ. πληρέστερη είδηση σχετικά).
    
    Αλλ "άν υπάρξει θέληση από Κράτη και Κοινωνία, τ Ανθρώπινα Δικαιώματα δεν θα παρακμάσουν στον 21ο αιώνα. Αντίθετα θα προοδεύσουν". Χρειάζεται "νέα ορμή" για "υπεράσπισή τους, με συνεχή επαγρύπνηση", κατέληξε ο κ, Κόστα σ άλλες, γενικότερες δηλώσεις του νωριτερα στο Στρασβούργο.


Polls