Αρχική

newsitems

UN Resolution on Syria CeaseFire Violated by Turkish Invasion killing Damascus Forces+Kurds at Afrin
UN Resolution on Syria CeaseFire Violated by Turkish Invasion killing Damascus Forces+Kurds at Afrin
Saturday, 03 March 2018
*Strasbourg/Angelo Marcopolo/- Shortly before Important CoE's PanEuropean Political Meetings in Paris, where Syria, including the Turkish Military Invasion at its Kurdish Region of Afrin, is due to be discussed, (See: ....), UN Security Council's Unanimous recent Resolution for a Cease-Fire in that Country is Repeatedly Violated by Turkey's Military Invasion, which is more and more Violently Aggressing, Occupying, Bombing, Selling and Killing both pro-Syrian Government Forces and Kurds at the Region of Afrin, despite several Top Political Calls (including by France and the UN) to Respect International Law, (See Infra).

---------------------------------

- The Unanimously Adopted UN SC Resolution, of 24 February 2018, "reaffirms" a "Strong Commitment to the Sovereignity, Independence, Unity and Territorial Integrity of Syria", "recalls the Legal Obligations ... to Cease all Attacks against Civilians", and clearly "Demands that All parties Cease Hostilities, withOut Delay", "for at least 30 consecutive Days, Throughout Syria" (1st Article).

--------------------------------------------------------------------------------
+ UN SC Resolution also asks for "Negotiations" between the "Parties" involved in the Syrian Conflicts, and this Includes practically Anyone with the Sole Exception of ISIL, Al-Queda and other Terrorist Organisations officially Declared by the UNO as such.

I.e. something which Excludes an important Part of Eastern Ghouta's various (even Foreign) Jihadists, but, on the Contrary, should, normaly, Include Syrian Kurds of YPD/SDF, as those who Face Turkish Attacks in Afrin's area, and notoriously are the Best Allies of the USA-led International Coalition against ISIL's Deadly Islamist Terrorists cowardly Targetting Civilian People.       
                                                                                                                                             But Turkey still persists to Refuse any Peaceful Negotiation with the Syrian Kurds, who did Not Attack Turkey, but, on the Contrary, Helped to Fight against ISIS' Horrible Terrorism. And Now, Ankara also Refused, de facto, any Negotiation even with the Syrian Government on Afrin, Despite crystal-clear Condemnations, by Damascus, of the Turkish Military Invasion still going on inside Syria, blatantly Violating its Sovereignity, Territorial Integrity, and International Law.

On the Contrary, the Turkish Military has even Started to Target pro-Syrian Goverment Forces, as reveals also the latest WarPlane Bombings of a former Russian Base in Afrin, where it has just Killed about 40 Persons after more than 5 Hours of Deadly Aerial Attacks, (See Infra).

----------------------------------------------
UN SC CEASE-FIRE VIOLATIONS
BY TURKEY's SYRIA INVADING TROOPS, GO CRESCENDO...
---------------------------------------------------------------------------------
- Already while UNO's Top Political Body was discussing Cease Fire in Syria at New York, during February 24, the Turkish Military Invades and Occupies 2 Syrian Kurdish Villages at Afrin Region : Hecilere and Abu Kab, adding even Deadly Air Strikes which killed Syrian Pro-Government Fighters in Raju's area.

=> And, Scandalously, the only thing that Turkey did, just 1 Day AFTER that important UN SC Resolution (on 25 February) was, on the Contrary, to ... Attack, Invade and Occupy Seven (7 !) Villages in the Syria's Kurdish Region of Afrin : "Samalik, Sheykh Muhhamadli, Welikli, Dudah, Kavanda, Maydan Ikbis" and, later, even "Umranli" !....

Such an Exceptionaly Big Push for Violent Army Attacks and extended Military Invasion and Occupation of 7 More Villages in just 2 Days, as that of Turkish Military inside the Syrian Kurdish Region of Afrin; was Not Observed at Any Other Area of Syria, by Anybody Else then, as, f.ex., a relevant, Chronological MAP of the Syrian Conflict clearly revealed, (See, f.ex., relevant Screenshot of the "SyrianCivilWarMap"'s Data, taken by "Eurofora" then).

 ----------------------

>>> So that French President, Emmanuel Macron, was obliged, on February 26, to call Turkish President Tayip Erdogan by Phone, in order to "underline that UNO's Security Council decided, as a matter of Absolute Necessity, to Cease Fire", and that this "must be, Immediately and Fully, Respected, in order to put a Stop to Indiscriminate Bombing", as an Official Press Communiqué of Elysée Palace, stressed that Day.

+ Macron also "stressed", speaking to Erdogan, that "the Humanitarian Truce applied throughout All the Territory of Syria, INCLUDING AFRIN" Kurdish region, as the French Presidential Palace made it Clear.  

-------------------------------------------------------------

=> But the Only "Reply" is, in Fact, Later that Same Day : February 26, for Ankara's Troops to Attack and Add  +2 More Syrian Kurdish Villages of Afrin Region under Turkish Military Occupation : Anqalah and Sinnarch... While, on February 28, the Turkish Army launches an Attack against Badinli Village, which is, reportedly, "repelled" by the Syrian Kurds at the last minute.

+ Moreover, in Parallel, Turkish-Backed Islamist Armed Gangs, such as "Jabhat Tahrir Souriya (Ahrar al-Sham and Nour al-Din al-Zinki)", apparently coming from Nearby Idlib Region, (the Notorious "Snake-Pit" of Islamist Extremists and Al-Queda-like Terrorists, over-Concentrated near Turkey's Borders, since the Beginning of the Syrian Conflict, and even More After ISIL's Brutal Jihadists were Recently Defeated almost Everywhere Else throughout Syria), reportedly "Captured" the Kurdish Villages of Qah and Darat, (which had Already been Occupied, Earlier, by the Turkish Army, all along the Borderline between Idlib and Afrin Regions)...

Ankara's Military which currently Invades and Occupies the Syrian Region of Afrin, is, indeed, notoriously escorted by various Islamist Armed Gangs, (that Turkey and its Cronies call "Rebels"), while Turkish President Erdogan has, reportedly, already Declared his Intention to, in Fact, Replace the original, Ancestral Kurdish Inhabitants of such Regions, around the Syrian-Turkish Borders, by anOther, Different kind of Population, chosen by Turkey, (i.e. a kind of "War Crime", f.ex. according to the Statute of the International Criminal Court).

=> Indeed, as it was earlier Denounced by the Top-Selling, Mainstream French Newspaper "Figaro" : - At this "Bataille of Akrin", in Fact, "Erdogan is Setting up (Islamist) Jihadist Sanctuaries, accross his doorsteps" :

- "The beginning of the End for (ISIL Terrorists' Chief) El Bagdadi's Troops, ... Reveals, to the World, the Hypocritical Game of the Turkish Army:" Indeed, "Since the (ISIL's) Caliphate collapsed", Turkey has again returned Back to its Worse Policies : After having Occupied Jarabulus and Al Bab (at the adjacent Kurdish Regions of Syria, near the Turkish Borders), it's, Now, for the Kurdish area of Afrin to Suffer by a kind of (Military) Siege: The Turks attack the Syrian Kurds with the Help of Jihadists Katibas, sometimes Called "Moderate Rebels" (sic !) or "Free Syrian Army"... I.e., "as if Erdogan wanted to become a Caliphe, at the place of (other) Caliphes"...

- Because, "these Milicias reveal the profoundly Destablizing role of the Turkish Diplomacy in that Area, particularly at (Nearby) Idlib" : "Under the Disguise (Pretext) of ensuring a Borderline Free of Any Kurdish presence", in fact, "Ankara has Set up Jihadist Sanctuaries at its own Doorsteps", Top French Newspaper "Figaro" Denounced meanwhile.

----------------

UNO's CeaseFire seems to be Respected in All Other Areas of Syria, except from the Kurdish Region of Afrin and (at a lesser degree) Eastern Ghouta, a Part of Damascus' Capital City, (where Russians observe Regularly a Curfew during at least 5 Hours Each Day, and establish Humanitarian Corridors - Rejected and even Attacked by Islamist Jihadists).

But, while Eastern Ghouta's Jihadists (including Al Queda-like Gangs) are obviously enDangering the Capital City of Syria, near Damascus' Center, (See MAP), particularly with Shelling, as also these Last Days when at least 17 Civilian People were Hit, (in addition to Rockets against the Russian Embassy),

on the Contrary, Turkey has Failed to prove in what way Syria's most Peaceful Area, (as USA's Defence Secretary, Mattis, has Recently ReMinded) : that of the Borderline Kurdish Region of Afrin might, perhaps, endanger the Turkish Capital City, Ankara, which notoriously is located Far Away, at a big Distance of Hundreds of kms...

And, at any case, obviously, for any Country, Protecting its own Capital City, is Not at all the Same as Invading anOther, Foreign Country.

-------------------

=> In Consequence, to French President MACRON's above-mentioned Call upon Turkish President Erdogan, on February 26, against extending even further Ankara's Military Invasion in Syria's Kurdish Region of Afrin, (Comp. Supra), is Added, soon Afterwards, on February 28, even UNO's Under-Secretary-General for Political Affairs, Jeffrey FELTMAN's (USA) Official Statements to the UN Securiy Council in New York, who Strongly Criticized the fact that even that "Brief Respite that (UNO's SC) Unanimously Demanded, only Days Ago, in Resolution 2401, has Not Materialized" everywhere in Syria, since, at least in certain areas, "The AirStrikes, shelling, and ground offensives continue" : "We (UNO) Need Implementation", But "that is Not Happening", as he Denounced.  

>>> In particular, concerning mainly the Syrian Kurdish Region of Asrin, Feltman stressed that "we (UN) canNot Forget that (UNSC's Unanimous) Resolution 2401 Demands a Cessation of hostilities Throughout (all) Syria".

=> But, Nevertheless, "Violence Continues in AFRIN", (that UNSG significantly Chose to Cite 1st), Idlib", etc, he Denounced. The First Area ("Afrin"), obviously concerns Directly Turkey's Military Attacks against Syrian Kurds and Pro-Government Syrian Forces, but Also the Second ("Idlib") involves, indirectly but surely, Turkey, since it concerns various Islamist Jihadists and outright Terrorists, who have been Concentrated and Piled up there, by Gathering the Remnants of Al-Quaida-like and/or ISIL's collapse, elsewhere in Syria, who have all been, in one way or another, notoriously tolerated and even Supported also by the Turkish Government...

- UNO's Political USG Denounced, for those Areas, (i.e. "Afrin" at First), "the Humanitarian challenges and Suffering of the People", and, even, went as far as to "Emphasize that Developments in these Areas will undoubtedly render the situation in Syria even more Complex", as he Warned.

=> Therefore, "there will be No sustainable Solution (in the Syrian Conflict) if the (UNO) Council's Resolutions are Not Implemented", Feltman stressed, Urging "all" UN Security Council's "Member States, to Use their Influence" in order "to Ensure Implementation of the Cessation of Hostilities", and "Fulfill their Obligations to End the Fighting in Syria", as well as to make a "Serious Investment in a Political Solution". That's why, UNO's SC "Calls for a ReNewed Commitment, by ALL Concerned Member States to Seriously Work to Implement this Cessation of Hostilities", he pointed out, (as far as Also Turkey's Militarily Aggression in Afrin is concerned).

------------------------

What was Turkey's immediate reaction, at Afrin's Battlefield ?

- After the above-mentioned Turkish Army's "Attack on Badinli" Village, that Same Day of February 28, (reportedly "Repelled" by YPG Syrian Kurds),

+ "Turkish Air Strikes in Afrin", "Killed 13 Pro-(Syrian) Government Fighters" the Next Day, 1st of March, while "Heavy Clashes", with "Many Casualties on Both Sides", were also observed "in Balai Kuy" Village, "between YPG (Syrian Kurds) and the Turkish Army", which also "strongly Shelled ... with Artillery", again, the "Badinli" village, at the Same Time thay Ankara was "Sending New Military Convoys to the Afrin canton", (etc. : See also Infra)...

Such Facts were Reported by various Converging Sources, and particularly by Specialized Web-Media "SyrianCivilWarMap" (SCWM), a Team of Freelance Reporters systematically Publishing (in 3 Coordinated Internet Platforms) relevant Factual Informations, that they claim to gather directly from original sources on the spot, (and which has already been used by Mainstream Medias, including, f.ex., Germany's ARD TV, etc). Its Credibility has been, until now, proven several Times, to be quite Resilient, (as, f.ex., on the Recent "Breaking News" about Pro-Governemental Syrian Popular Forces coming to Join Syrian Kurds' Defensive Fight against the Foreign Military Invasion and Occupation by Turkey's Army, etc).

+ Thus, in Addition, from the 2nd of March 2018, the Turkish Army reportedly "re-Captured" the Villages of Adah Manli and Ali Bakki, "Captured", for the 1st Time, the Villages of Maskanli and Mamali, and "Reached" the important "Raju Town".

- And, this Saturday, 3 of March, the Turkish Military and its Cronies re-Captured Umranli Village, and reportedly Invaded and Occupied, for the 1st Time, the Syrian Kurdish Villages of Bafliyun, Jamelka, Ramadiyah and Shamanli.

- "SCWM"'s anouncement about also "Raju Town" being Occupied by the Turkish Army, was Not yet Totally Confirmed by Other Sources, until now : London-Based NGO the "Syrian Observatory for Human Rights" ("SOHR") said that Turkish Military had Seized a Majority of that Key Town's Setltlements, but Not All, while Syrian Kurdish Forces-led "SFD" Alliance, (the main Ally of the USA-led International Coalition against ISIS), reportedly said that Turkish Army and its Cronies had "Infiltrated" Rajo Town, But "Clashes were (still) Continuing" between SDF and the Intruders.

+ The Worse and most Deadly Hit, was, however, that of Long and Heavy Air-Strikes by Turkish WarPlanes, during more than 5 Hours (from 05 up to 10 a.m.), against a Group of Pro-Syrian Government Forces, located at a former Russian Base in Afrin's Kafr Jina Village, which seems to have Massacrated more than 36 People, (withOut any Fight, since the Syrian Kurdish Region of Afrin is notoriously Deprived, not only of any real Tanks (Unlike ISIL's Islamist Terrorists, who had even Heavy "Abraham" Tanks), and mainly Airplanes, but also from any kind of Air Defence, resulting into a too Easy Pray  for Turkey's Military Invasion's WarPlanes.
At least as long as there is Not Yet any kind of Air Blockade, or "No - Fly Zone" protecting Afrin, Contrary to what France, the UK and USA had done in the Recent Past in Libya, (See, f.ex.: ... + ..., etc), as well as Russia, for 2 Days over Afrin, just After the Recent Downing even of a 3rd Russian Airplane and the Death of its Pilot while Crossing over Nearby Idlib Region, (notoriously Full of Armed Islamist Extremists and Terrorists, Gathered there, Near Turkey's Borders, particularly after the Failure of Al-Queda-like and ISIL's atrocious Terror regime, almost Everywhere else around Syria and Iraq, since the New US Administration of President Don Trump).

------------------

- Meanwhile, various alleged "War Crimes" were Reportedly and apparently Documented :  

Including, f.ex., (after an Earlier Atrocious Mutilation of a Syrian Kurdish Woman's Body, who had been Killed, and Afterwards Sullied in Public, and Video-Taped by a Band of Coawards Islamist Extremists, Cronies of the Turkish Army : See : ...+ ..., etc), Brutal Killings of Defenseless Prisoners of War (POWs), earlier Arrested and Investigated by Turkish Soldiers, as Revealed by several Videos, (Combined Together), published and debated also by "SCWM" and Others, (See: ... + ....), etc.

+Added to Deadly Humanitarian Law Breaches against Civilian People at Afrin's Syrian Kurdish Region, such as, those already Attested by "AMNESTY" International, "HUMAN RIGHTS WATCH", etc, as they've announced Recently :

- Including"Indiscriminate Shelling of Civilian People in Afrin", by the Turkish Military, (i.e. "use of Artillery in Civilian Areas", Prohibited by International Law), regarding which, AMNESTY "Verified Witness Testimony from ... Afrin, that "painted a Grim Picture", resulting from "15 People's Intervews", whose "accounts had been Corroborated by Video Analysis", revealing "Indiscriminate ShellFire", according to BBC, (published on February 28) :  

- F.ex., at Maabatli Village, a Shell hit a House Killing 5 of the 6 People inside : "The Attack Destroyed the House completely, Killing the Father, Mother and three Children younger than 15. A fourth child... is in Critical condition". But, "there are No Military headquarters next to the house… The closest frontline is 41 km Away, at the (Syrian-Turkish) Border", a Resident witnessed.  
                                                                                                                                                                                                                                                                                                                                                                                                                                                                                                                                                             - And, according to "Human Rights' Watch", "the Turkish Military .... Failed to ...Avoid Harming Civilians in 3 Attacks", earlier "in Afrin", which "Killed 26 Civilians, including 17 Children", (etc).

+ In General, During all this Period of Time of 1,5 Month, since the Beginning of the Turkish Military Invasion at Afrin's Syrian Kurdish Area, there is Not yet any systematic Independent Observers' Access to all those Villages which were Attacked and are now Occupied by the Turkish Army and its Jihadist Armed Gangs.

Given Turkey's notoriously Bad Record in Dealing with Kurdish People, and Ankara Government's recent Threats to practically "Replace" the genuine Population of the Occupied Afrin's Syrian Kurdish area by some Other People, Chosen and Transfered there by the Invading Turkish Army, obviously, the Worst Abuses can be Expected, (particularly in the Absence of real External, Independent OverSight)...

In such a Context, Ankara's Prime Minister Yildirim's latest Boasting that the Invading Turkish Military would be, Now, "Surrounding" Afrin's Capital City, (that they seem to have Approached at a Distance of about 20 Kms), located right in the Middle of the synonumous Syrian Kurdish District, appears naturally Alarming, (and having Obviously ByPassed, Far Too Long, the Limits set up, Earlier, inter alia, also by French President Macron and others, between a so-called "Border Security" Operation (as Ankara Claims) and a Blatantly illegal Military Invasion and Occupation of an Independent Country, in gross Violation of International Law...

-----------------------

- Naturally, Syrian Kurdish People, and their Pro-Syrian Government Allies, also Fought Back, during these Clashes, strongly Resisting to Turkey's Military Invasion, and sometimes even ReGaining Ground :

F.ex., in Addition to Earlier Events, also on February 27, YPG reportedly Succeeded to Liberate the Syrian Kurdish Village of Umranli from the Turkish Army, and on February 28, they  managed to "Repel an Attack on Badinli" Village by the Turkish Military. While on the 1st of March, it was reported that YPG "shot down a Turkish Military Helicopter, near the (Syria - Turkey) Border", that, during Ankara's Military Invasion, 8 Turkish Soldiers were Killed in "Clashes" Facing Syrian Kurds and Pro-Syrian Government Forces, (who Lost, however, also 13 among them, that Same Day, "by Turkish AirStrikes" : Comp. Supra), as well as that Afrin's Defenders "Destroyed a Turkish Tank" when it Attacked "Raju District", (etc).

And it's More than a Month and a Half now, that Turkey's Army has proven Unable yet to Reach Afrin City, even so Near to the Turkish Borders and practically Surrounded by Idlib's numerous Armed Islamist Extremist Jihadists, Deprived of Regular Army to Defend it, withOut real Tanks, Neither Airplanes or Helicopters, Not even Air-Defense, and particularly Difficult to Communicate with Bigger Syrian Kurdish Regions, much Further at the East, as well as very Far Away from the main bulk of Syrian Government's Army...

On the Contrary, Turkey's Military has reportedly Lost at least 1 Military Airplane, 2 or 3 Army Helicopters, several Tanks and various Other Vehicles, a Growing Number of Killed or Wounded Soldiers, (and Much More among its Islamist Extremist Jihadists' cronies), during this Longer than expected Invasion and Occupation of Syria's most Peaceful Kurdish Region, (as USA's Defence Secretary Mattis has already observed, right from the Start).

Foreign Observers, in Europe and elsewhere, found Now an Occasion to Remark the Fact that the Turkish Army, (Contrary to Most Other Countries in Europe and accross the World), has ..."Not Fought in Any real War", since the Foundation of the Turkish Republic, all the Way Long Between 1923 - 2018, i.e. almost during a Century ! Turkish Soldiers, indeed, have Only Bullied, from Times to Times, a Few very much Weaker and/or practically UnArmed Targets, (as, f.ex. Cyprus, etc), and/or Massively Oppressed Internal Political Dissidents, (as f.ex. the Turkish Kurds, and/or various Other Opponents in case of Military "Putsch", as Back in the 1980ies, etc), but they DidN't even Fought during the 2nd World War, nor at Any Other Real, fully-fledged Clash, Anywhere Else... And having, Now, to Face even Syrian Kurdish ... Women and Young Girls, notoriously Defending their Homeland, (as they have also just done, Earlier, quite Efficiently, even against ISIS' Brutal Islamist Terrorists, cowardsly Targetting Civilian People), could Not really make anyone feel really "Proud" at all...

To this Exceptional InExperience, was Recently Added also the UnPrecedented Incident of Massive "Cleansing" and "Witch-Hunt" even Inside the Turkish Military, which has notoriously Affected a Large Number of Top Officers and numerous Soldiers since that Strange, 6 Hours-Long, alleged "Coup" Attempt of July 2016, after which, even Experienced Top Army Leaders, as well as Thousands of Turkish Soldiers, have been Exceptionally Dismissed, Persecuted, Arrested and Jailed, (if not Brutally Lynched by Violent Mobs), often ill-treated in Inhuman/Degraded ways. So that Many Dozens of Turkish Army Officers have recently Asked for Political Asylum throughout Europe and elsewhere, (including, f.ex., a Dozen of Turkish Dissidents Refugees, together with their Families, who reportedly asked Asylum in Neigbouring Greece after arriving by Boat at Rhodes' Island, just a few Days ago, but also Earlier, around NATO's Headquarters in Mittel-Europa, f.ex. Germany, the Netherlands, Belgium, etc). In Addition, the "Purges" inside the Turkish Army seem to Persist even Nowadays, as, f.ex., the Latest Dismissals and Arrests of another Group of 178 Officers and Soldiers in Turkey, have just Reminded.

Politically Worse : Ankara has, Unwillingly, provoked an UnPrecedented Alliance between Syrian Kurds and the National Syrian Government's Forces, who have Started, for the 1st Time, to Fight Together against the Turkish Military Attacks and UnProvoked Invasion inside an Independent Country, which has Loudly Denounced such a Brutal Violation of International Law.

In Addition, about a Thousand more of various Critics inside Turkey have been recently Prosecuted, Arrested and even Jailed, just for Calling for Peace and Criticizing the Military Invasion of Syria's Kurdish Region of Afrin, (including Academicians, the National Leadership of Medical Doctors,  simple Social Medias users, etc). This has Trggered several clear "Condamnations" of Ankara's Oppressive practices even there, included by EU Parliament's latest Resolution on Turkey, thanks to a Last-Minute Amendment supported and Voted by All Political Groups on February in Strasbourg, (See : ...).

Last, but not least, even Morally, the Horrible recent Spectacle of Turkey-backed Islamist Gangs, Cowardly Sully the Body of a Mutilated and Killed Syrian Kurdish Woman, (See Video, already Published at: ...), or Brutally Kill a Defenseless Prisoner earlier Arrested and Questioned by Turkish Soldiers, (as 2 Other, more Recent Videos apparently Reveal, taken Combined Together : Comp. Supra), and/or Shamelessly ... Take a Selfie on the Background of an Atrociously Burned Alive and Calcinated Corpse of a Killed Man, (as the Latest Photo surfaced on the Web, allegedly from Afrin, seems to reveal), etc., obviously will Not Fix the ambient Feeling of participating in a Dirty War...

But, probably Most of All : The very Idea that Europeans, including Russians, Americans and Other influential People accross the World, who could and should have ReActed Efficiently Earlier to Turkey's Deadly Military Invasion and Occupation of Syria's Kurdish Areas, with clearly UnProvoked but Destructive Turkish Army Attacks, against, precisely, those Brave Syrian Kurdish People who notoriously Dared and Succeeded to Help Efficiently Face the Worse Islamist Terrorist of ISIL's Coward Killers Targetting innocent Civilian People even throughout all Europe, the USA, and various Other Countries accross the World, might, perhaps, Totally Abandon them withOut any Real and Timely Help for Peace, obviously Risks to Hurt Europe, America and Every Honest Country much Worse, Deep inside its own Conscience, Values, History and Identity, than Anything Else...

(../..)


-------------------------------------

BRIEF NEWS
00:00 - 23.04.2019

00:00 - 01.04.2019

00:00 - 04.03.2019

00:00 - 29.01.2019

00:00 - 08.12.2018

00:00 - 09.07.2018

00:00 - 31.05.2018

00:00 - 26.12.2017

00:00 - 26.05.2017
Statistics
Επισκέπτες: 32033654
Archive
Login Form
Other Menu

    The recent paradox of freezing EU Talks with front-runner Croatia, while continuing controversial EU - Turkey talks, despite Zagreb's acceptance of Refugees' Human Rights to return, that Ankara refuses fex. in Cyprus, while both have "Good Neighborhood" problems vis a vis Slovenia, or Greece, Cyprus and Armenia respectively, can it be justified by the non-fullfilment of EU criteria, as Slovenia says, or, is it "Double Standards" ?    
The question became unavoidable after statements by Presidents of Slovenia and Croatia, Tuerk and Mesic, respectively, to "EuroFora", exclusively or among Strasbourg's journalists this week at the CoE, on the sidelines of its 2009 Summer University for Political Schools, which topically brought them together as successive key-note speakers.

    Comming only a few Months before EU checks Turkey's compliance to its commitments on Cyprus, etc., scheduled for December 2009, this obviously has a special importance for the coherence of EU Enlargement's principles.

     Suspension of EU Negotiations is a normal consequence in case of a Candidate Country's failure to fullfil EU Conditions, such as "Good Neighborhood relations", stressed at first Slovenian President Danilo Tuerk, current CoE's chair.

    But, regarding EU's Criteria,  there shouldn't be any "Double Standards",  reacted Croatian President Stjepan Mesic, commenting the fact that Turkey's controversial EU negotiations continue, while they were recently "freezed" in the case of Croatia, an "unquestionably European Country", which oficially accepts to respect Refugees Human Rights, contrary to Ankara's notorious refusals or reluctance.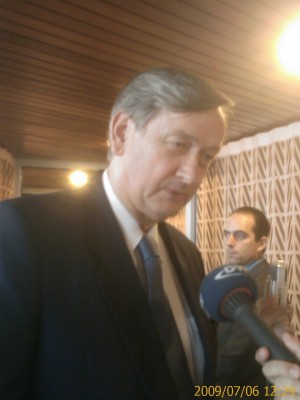 - "EU itself has set as a Criterium (for EU Enlargement) the "Good Neighborhood relations",  and their absence justifies the "Suspension" EU Negotiations, (f.ex. with Croatia), because of a Border dispute affecting the territorial integrity of an EU Member Country, stressed Slovenian President, Danilo Tuerk, CoE's Chairman in office (May - November 2009), speaking to Journalists in Strasbourg including "EuroFora".    
Questioned earlier what "consequences on EU's Enlargement policy" can have the "Ban on EU Membership Negotiations", imposed to Croatia, Tuerk replied that "this question comes down to the fulfillement of (EU) Criteria for membership. One has to look at each Candidate Country ., from the point of view whether it fullfils the Criteria that EU has set. One of them are Good Neighborhood Relations, I'd like to remind. And also, there are other factors, such as Justice, Home affairs, Rule of Law, and others".

    - "Now, ..Candidate Countries are at Different Levels of fulfillement of Criteria", he observed.

    - " Croatia is obviously the closest to that. I'm rather optimistic : I think that in the coming Months we'll have an opportunity to look at all these issues constructively and hopefully we'll be able to make progress". "My main concern, at this point, is the situation in Bosnia : We haven't seen enough progres domesticaly. We haven't seen enough during ..political parties within their country.We need a New Energy, a new energetic move towards the Candidature for EU membership. "Other (Western Balkan) Countries (Serbia, Montenegro, FYROM, Albania) have been making soaring Progress, and I think that they should be ready, in a few Years, for the Candidate status".

    - "As far as the Western Balkans are concerned, .. nobody should be left outside" the EU, Slovenian's President concluded, ommitting to mention Turkey's controversial EU bid.

    - "This process may be seen as Slow, but..  Slovenia has also has also been exposed to various "Booms of Slowness" in our accession period. But now we can say that the process was relatively quick, because changes which occur after becoming EU member, are quite large, and they require proper Preparations before the (EU) membership becomes a new factor, an impacting line for a new (EU) member country".
----------------------------
EU "Solidarity" ?
------------------------------   
Slovenian statements made some participants from certain 3rd Countries as FYROM, etc. claim that "the Principle of EU Solidarity" would "produce a.. rising European Union Nationalism (sic !), against Non-EU Countries", as they said, asking unhappy foreign countries to form a "bloc" to exert pressure on the EU...    
But Croatian President Stjepan Mesic dismissed that, supporting "EU Integration", "after the Economy also in Political" issues, as "the achievement" of our times. In EU there is "diversity, but it's United", he stressed, "EU has to be United so that it can become a central factor of Peace" also at the surrounding areas, he replied.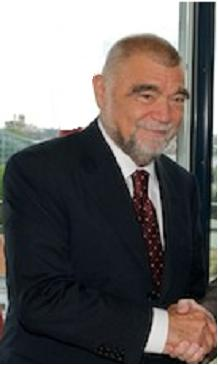 Speaking later exclusively to "EuroFora", the experienced twice President of Croatia, former President of the International "Non-Aligned" movement, denounced "Double Standards" in the way EU treats recently Croatia compared to Turkey :   
 - "I think that there shouldn't be Double Standards", stressed the Croatian President, in reply to a Question comparing the freeze of EU - Croatia talks, with the continuation of EU - Turkey talks, despite the fact that Croatia is an "unquestionably European country", while Turkey's EU bid is notoriously controversial.

    Mesic was reacting to the observation that, even if he confirmed his "respect of Refugees' Human Rights to return, etc. (See infra), nevertheless, EU talks are suspended with Croatia.. While for oher, controversial candidates, who refuse to respect Refugees' Rights to return, etc., as fex. Turkey does in occupied Cyprus and elsewhere, EU negotiations continue".

    - "I believe that Croatia's accession will confirm that all European Countries who fulfill all of the Conditions and achieve European Standards, have to join the EU. There shouldn't be any Double Standards", went on to add in reply President Mesic.

    In this relation, Croatia's President found "of paramount importance", CoE's "mechanisms enforcing ECHR's judgements"
    
    - "On Refugees and Displaced persons, the process will be completed only after the last person demanding to return will be allowed to do so !", President Mesic Croatia stressed earlier, setting a general standard of obvious importance also for otherr candidates, as f.ex. Turkey, often accused to exclude or heavily restrict Greek Cypriot Displaced persons' return to their Family Homes and ancestral land, provoke difficulties to Turkish-Kurd IDPs return to their home regions at the South-East, etc.

    Some "2.000 People are still reported Missing" in former Yugoslavia, for some Years, (as in Cyprus, modern Europe's oldest case, for 3 Decades. Nagorno-Karabach, Tcecnya in Russia, etc, more recently), and Investigations "will only be completed after establishing the fate of the last one of them", he added.
    
    Speaking earlier on "War Crimes", President Mesic stressed that "Leaders are responsible for (the) Wars (of the Past), not the People", and called against Impunity :  "Individuals have to be held Responsible for Crimes. International Penal Tribunals have to persecute those individuals", perpetrators of War Crimes, he underlined.

    Such statements naturally made Mesic rather popular at ECHR, whose President, French EuroJudge, Professor Jean-Paul Costa, looked particularly smiling when he welcomed him later on Wednesday afternoon, after Slovenian President Daniko Tuerk earlier this week.
           

***
Polls